Inspired by the Chinese takeout staple, our Americanized beef fried rice recipe meets all of your expectations: It's flavorful, easy to prepare, and offers limitless ingredient possibilities.
Our beef fried rice features a combination of tender seared beef chunks, crunchy vegetables, and chewy rice in a flavorful soy sauce blend. This not-so-authentic version offers a whole new perspective on the classic. It is lighter, tastier, and best of all, healthier than any takeout food.
Is Beef Fried Rice Healthy?
Yes, unlike many fried rice recipes, ours is healthy.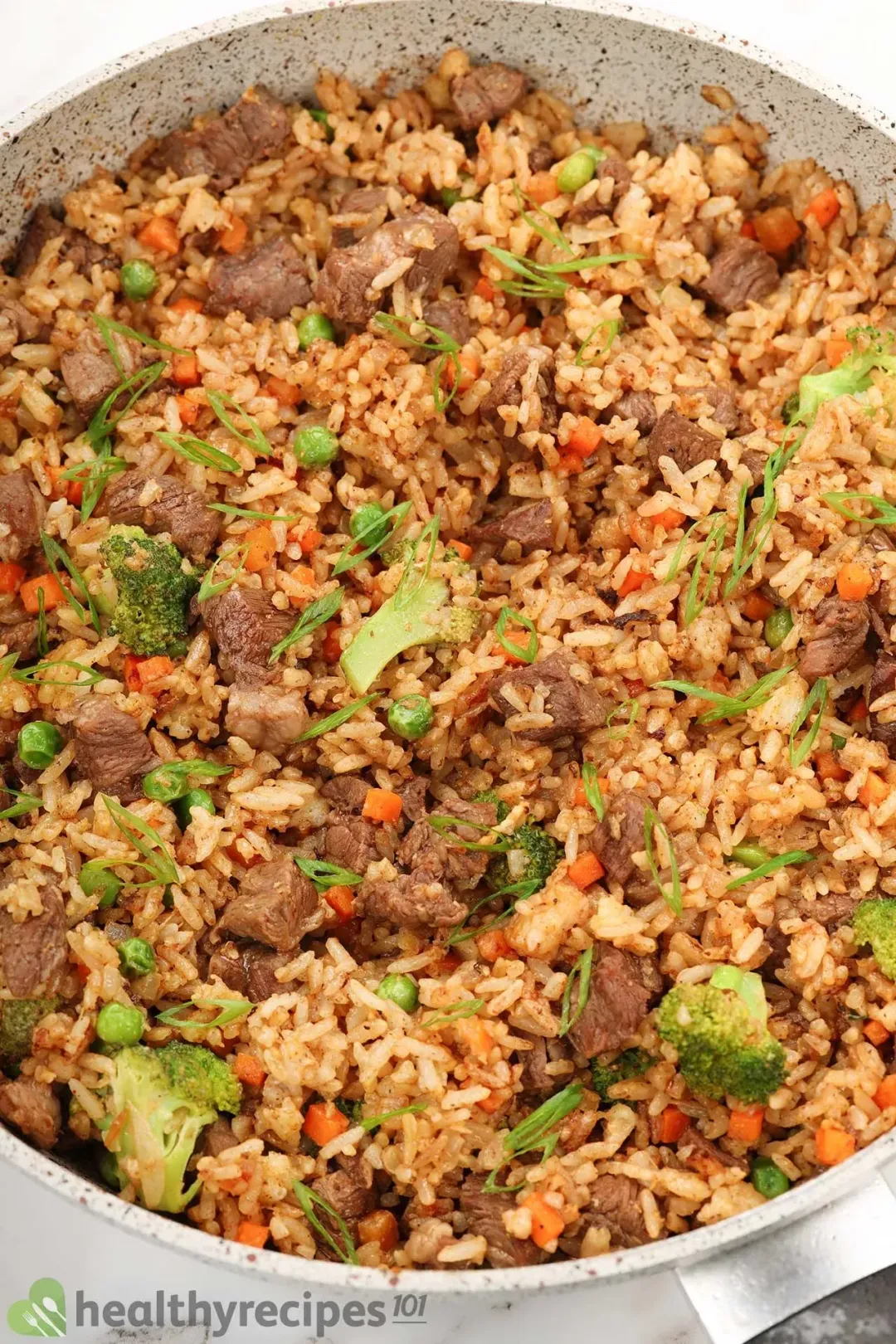 It's not calorie-dense: Though containing a few calorie-rich ingredients like meat, rice, and olive oil, our beef fried rice contains only 493 calories per serving. That's a relatively low total for a filling rice dish.
It's low in sodium: Fried rice is typically loaded with soy sauce, salt, and MSG. Our recipe uses low-sodium soy sauce and a minimal amount of added salt but still comes out bursting with flavor.
It's packed with protein: There are 26 grams of protein in each serving — up to 52% of your recommended daily intake. This means the dish can keep you feeling full longer and you won't have to deal with those stereotypical post-rice munchies.
It's rich in vitamins and minerals: With various fresh vegetables combined on the same plate, our fried rice is a creative way to consume more of your favorite veggies.
What Types of Rice Are Best?
Long-grain white rice is the classic choice for fried rice, but medium-grain rice or brown rice also work in this recipe. Long-grain and jasmine varieties maintain their shape better than others under high heat and also clump up less. 
If you want to reduce the carb count, try experimenting with different grains like quinoa or cauliflower rice.
Fried rice is best made with old rice from the previous day's meal. A fresh batch of cooked rice with higher moisture content, on the other hand, tends to stick to the pan's surface and will not crip up. Most of the time, the rice ends up soggy and clumpy.
If you're in a hurry or have a batch of freshly warmed rice, spread it out on a baking sheet or a big plate. Refrigerate the rice uncovered for half an hour to let the excess water evaporate.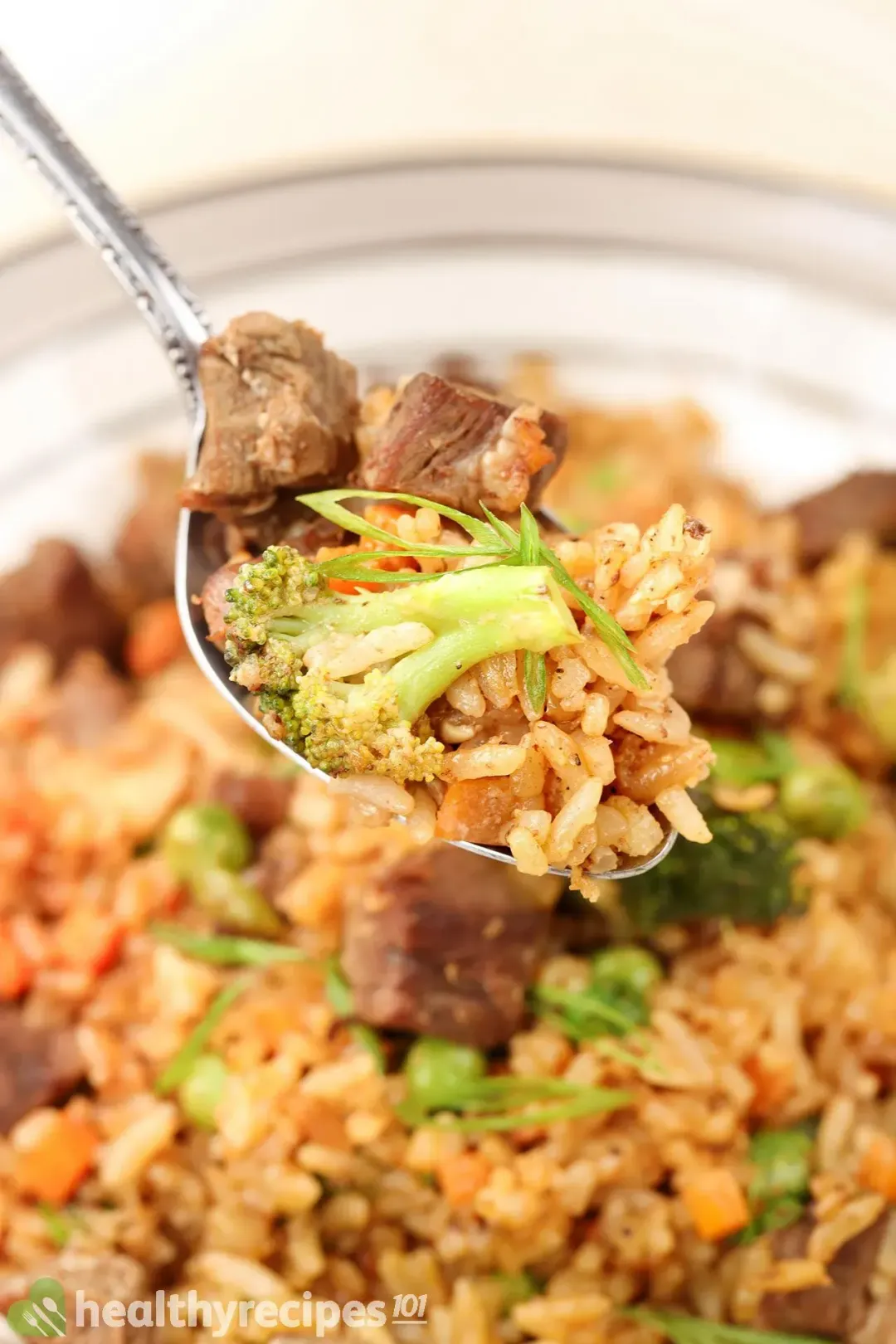 Ingredients for Beef Fried Rice
Cooked Rice: White rice or brown rice works in this fried rice recipe, so use whichever you have on hand. Just ensure that your rice is cooked and chilled before adding it to the pan.
Beef: You should always brown the meat first, caramelizing its natural sugar to make it more flavorful. Other delicious protein alternatives include chicken and shrimp.
Eggs: Eggs add moisture and protein. Note that they should be cooked fully before serving the dish.
Vegetables: We used a blend of green peas, broccoli, and carrots, but please feel free to add any others you love.
Oyster Sauce: Oyster sauce — thick, slightly sweet, and salty —  is one of the major flavor enhancers in the pan. You can find it at the grocery store's Asian section.
Soy Sauce: The authentic Asian seasoning with umami and rich flavoring is a must in any fried rice recipe. We always use low-sodium soy sauce; however, the regular sauce can be substituted. Also, we encourage diluting the sauce with a bit of water to reduce the saltiness.
Sesame Oil: You can consider the teaspoon of sesame oil an optional step at the end. It will add a wonderful nutty flavor, enhancing the overall taste.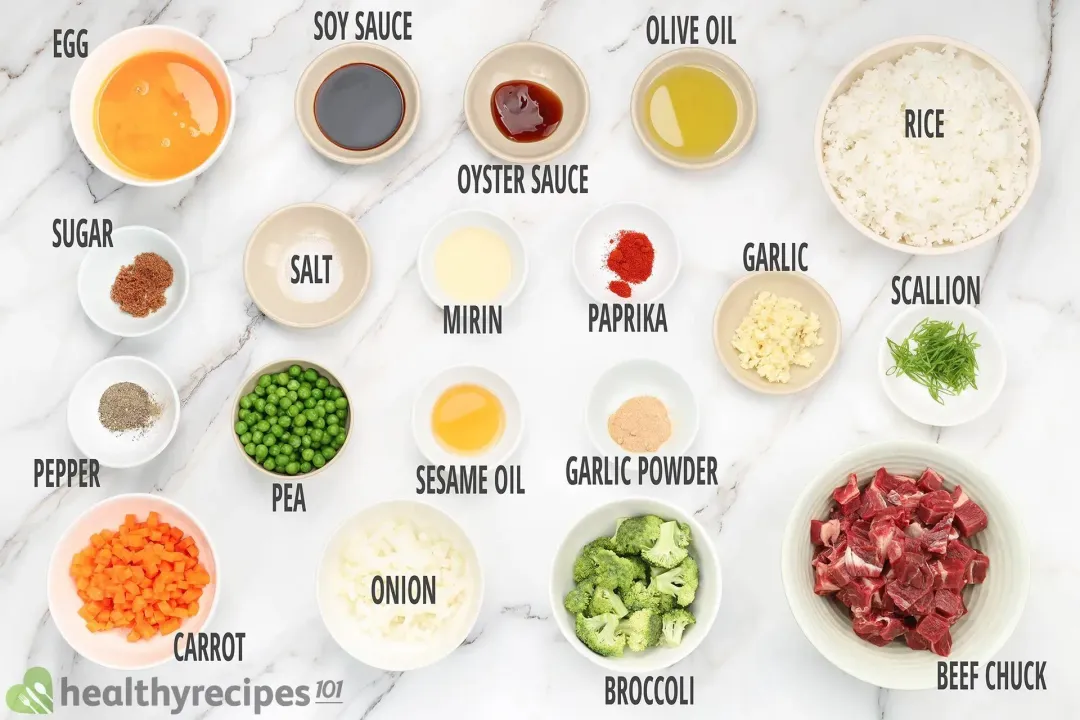 Tips for Making Perfect This Recipe
High Heat: High temperatures help brown the vegetables and rice quickly, preventing them from steaming in the pan and becoming too mushy.
Customized Version: The beauty of this recipe is there are no fussy ingredients. You can cook it with anything that's in your pantry right now. Some leftover cooked rice, eggs, meats, and a few diced veggies, and you're already on your way to a plate of delicious fried rice.
How to Store and Reheat Leftover Beef Fried Rice
If you end up with too much fried rice and wonder what to do with it, the good news is the dish is fridge-friendly and tastes amazing once appropriately reheated.
Fried rice contains moisture from the meat and vegetables which can be a haven for bacteria growth, especially when left at room temperature for more than 2 hours.
The first thing you should do is to transfer your cooled fried rice into an airtight container or Ziplock bag. Refrigerated rice can last 4 – 6 days while frozen rice should be consumed within 6 months.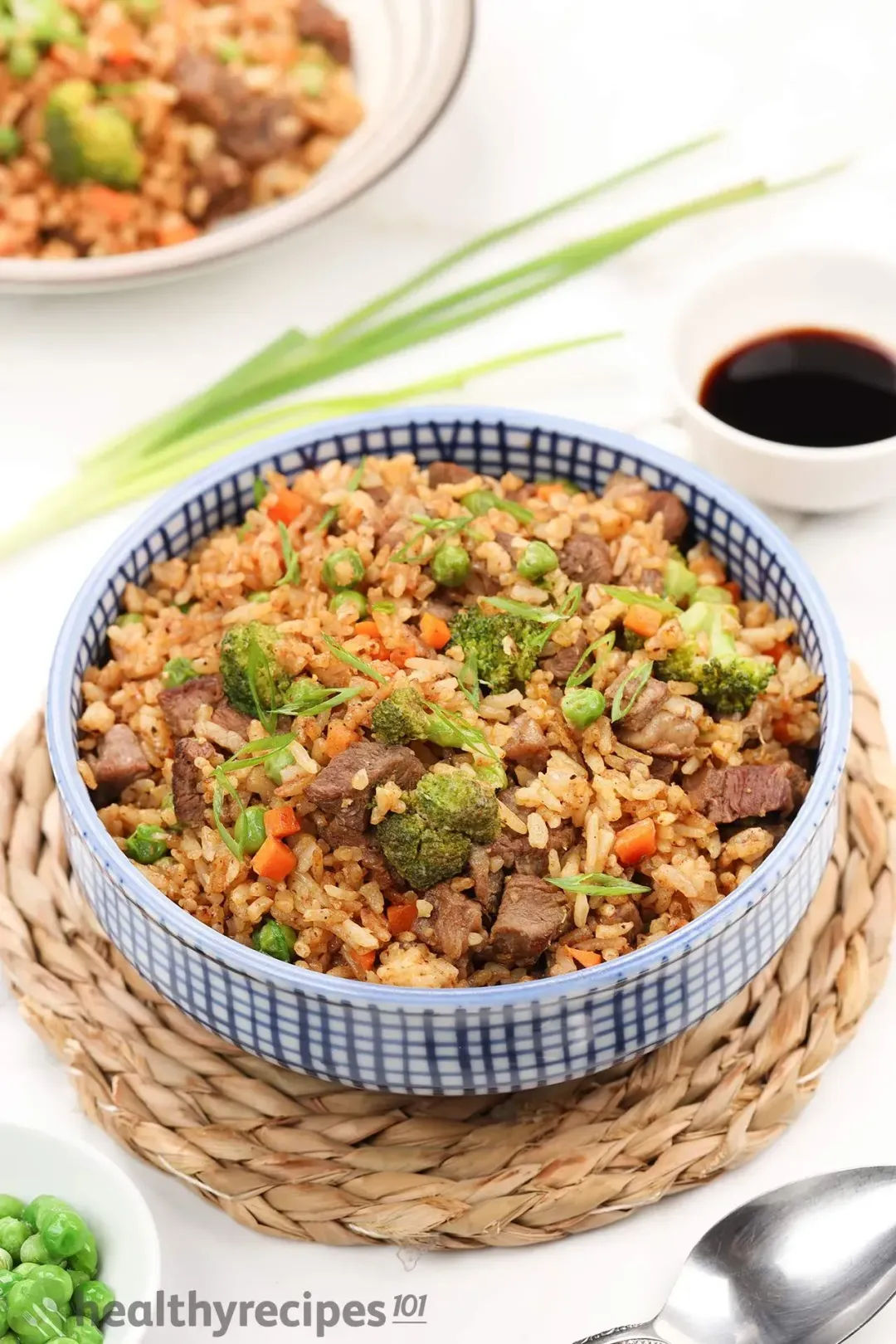 The trickiest part is to make sure it doesn't dry out and get too tough. A great tip is to sprinkle in a tablespoon of water before reheating the rice. It helps separate the dried grains.
If you go with the microwave, set it on medium power and stir the rice once or twice halfway through to prevent any spots. Also, cover the rice with microwave-safe plastic wrap to regulate the moisture.
However, if you're going to warm the fried rice on the stovetop, we suggest adding a teaspoon of oil to the pan first and giving it a few seconds to warm. The rice won't stick to the bottom of the heated pan so you'll still come out with the right texture and flavor.
What to Serve With Beef Fried Rice
Since beef fried rice is already a party of various elements — protein, carbs, and veggies — it's usually considered the main dish. You can pair it with a winter melon meatball soup that sparkles with natural veggie flavors.
Our orange pineapple juice is a refreshing drink to round out the meal. The sweet citrus flavor is a fantastic counterpoint to the hearty fried rice and soup. The flavors all combine for a wholesome tasting experience.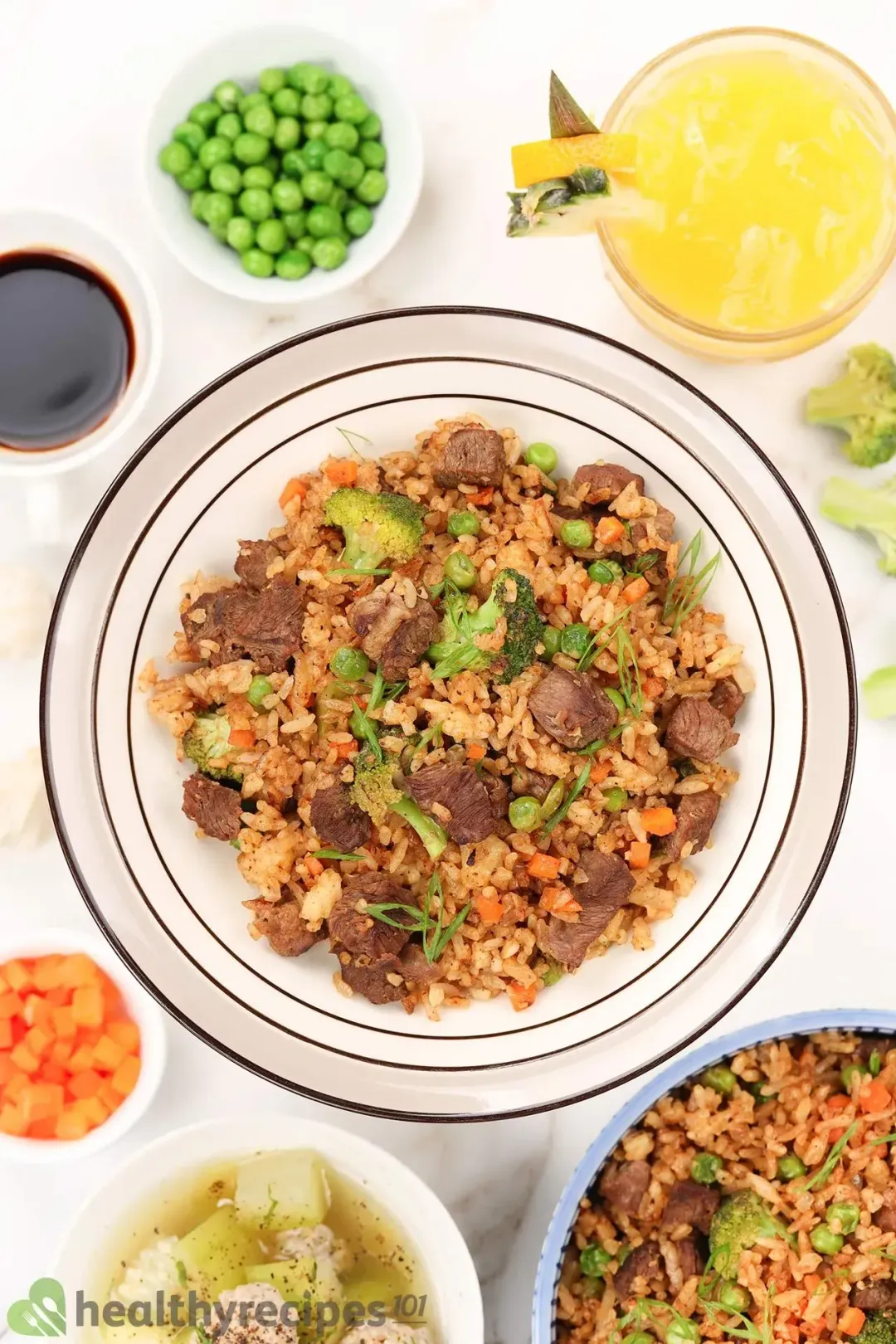 Indulge in the Richness of Beef Over Rice with These Scrumptious Recipes
This classic Chinese dish gets a healthy makeover in this beef broccoli recipe. Tender strips of beef are stir-fried with fresh broccoli and a flavorful sauce made with garlic, ginger, and soy sauce.
This quick and easy dish is perfect for busy weeknights when you want something healthy and delicious. Tender strips of beef are stir-fried with colorful vegetables like bell peppers, broccoli, and carrots, then tossed in a flavorful sauce. Serve over rice or noodles for a complete meal.
For those who love the combination of beef and rice in their meals, our roundup has plenty of tasty choices to choose from.
Beef Fried Rice
This American-style beef fried rice recipe makes a super quick, delicious, and healthy dinner with any ingredients in your pantry.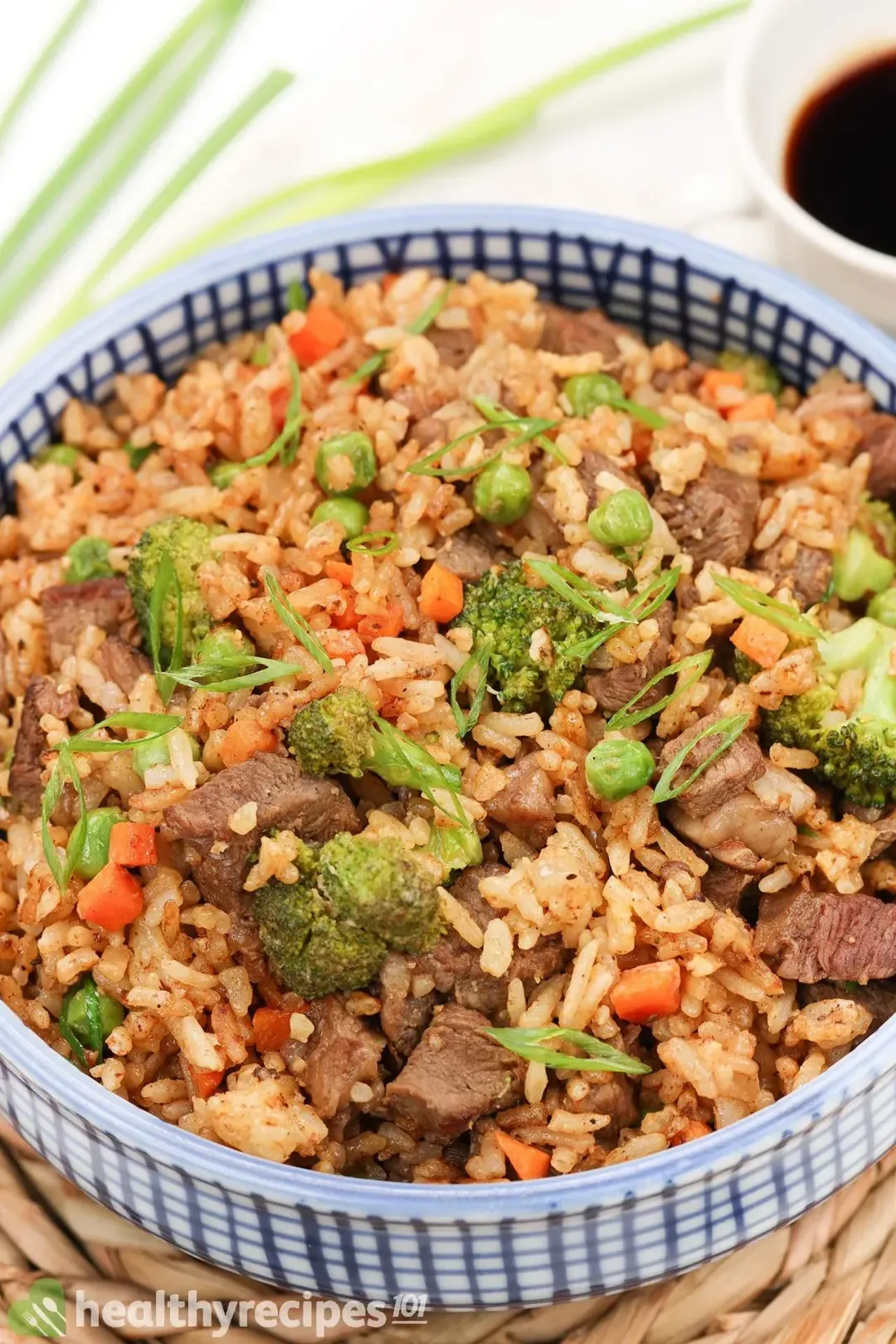 cook TIME

20 mins

prep TIME

10 mins

total TIME

30 mins
COURSE

Dinner, Lunch, Main Course

CUISINE

Chinese

SERVINGS

CALORIES

493 kcal
INGREDIENTS
3 1/2 cups

cooked long-grain rice

(cooled)

2 oz

frozen green peas

(thawed)

2 1/2 tbsp

olive oil

(divided)

1 tbsp

reduced-sodium soy sauce

2 tbsp

scallion

(chopped)
INSTRUCTIONS
1
Combine 2 medium eggs and 3 1/2 cups cooked rice in a large bowl and stir until well combined. Set aside.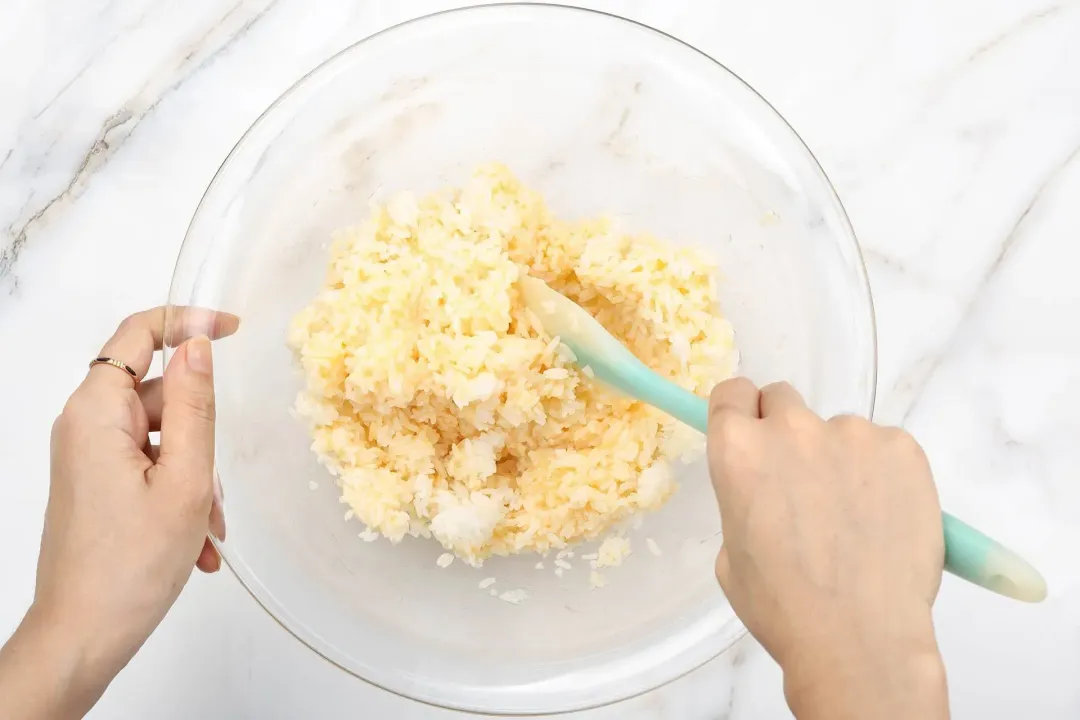 2
Heat a pan with 1 tbsp olive oil over medium-high heat. Add 12 oz cubed beef chuck, 1/4 tsp paprika, and 1 tsp garlic powder. Stir-fry the beef for 2 minutes. Remove from the pan and set aside.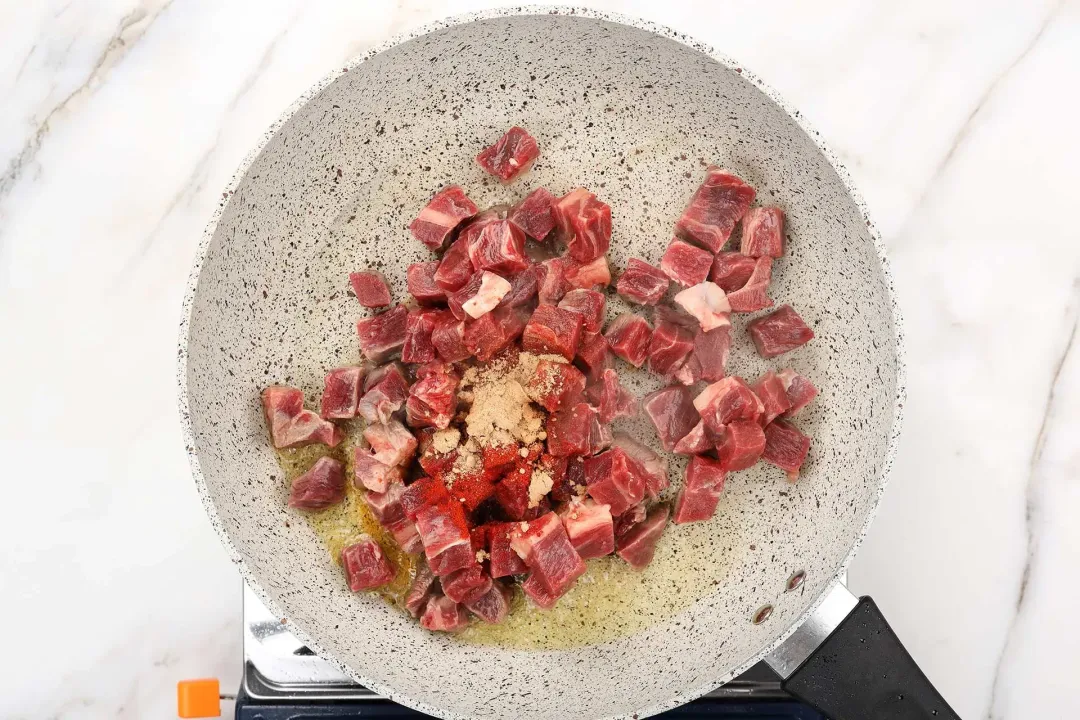 3
Reduce the heat to moderate. Add the remaining 1 1/2 tbsp olive oil to the pan. Then add 2 tbsp garlic and sauté for about 30 seconds until fragrant.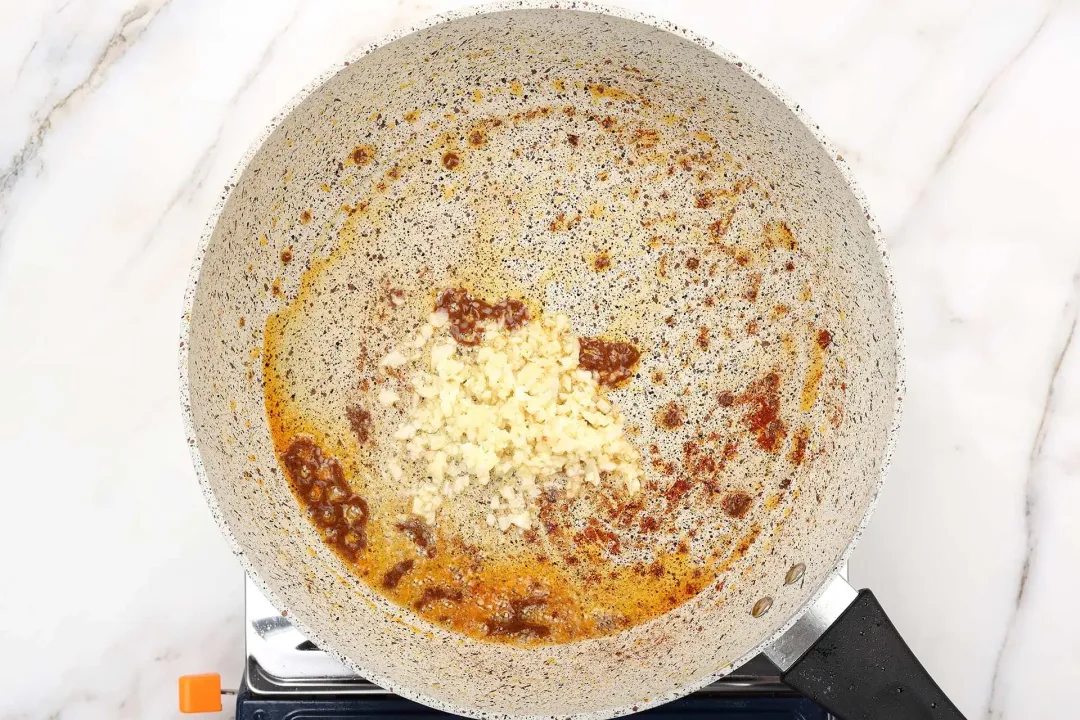 4
Add 2 oz onion, 2 oz carrot cubes, 2 oz green peas, and 2 oz broccoli florets to the pan and cook for about 3 minutes until tender.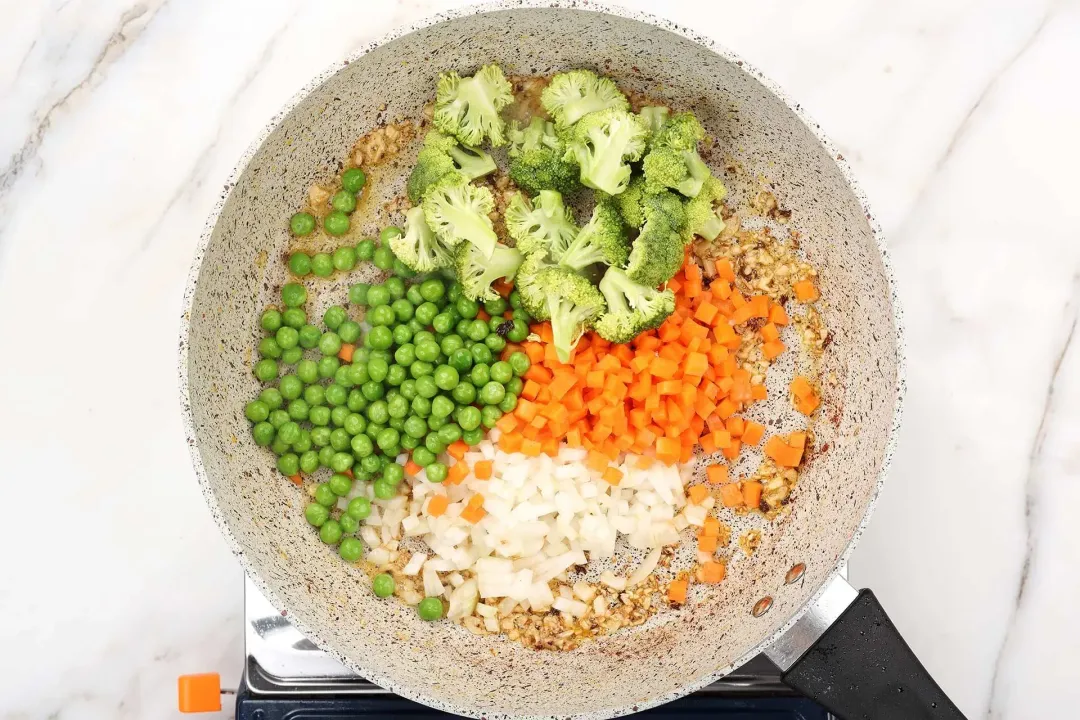 5
Add in the rice, stir occasionally to heat it thoroughly, and break up any clumps. Fry it for 5 minutes.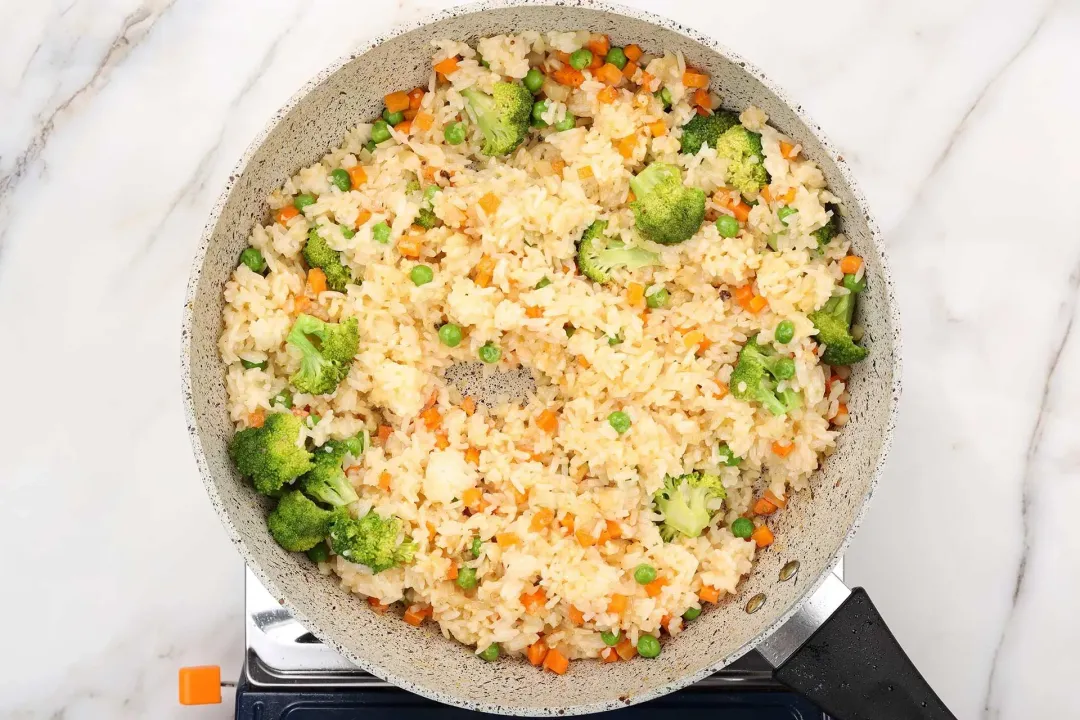 6
Taste and season with 1 tsp brown sugar, 1 tbsp sesame oil, 1 tbsp cooking mirin, 1 tbsp soy sauce, 1/2 tbsp oyster sauce, 1/4 tsp salt, and 1/2 tsp pepper. Cook for another 3 minutes.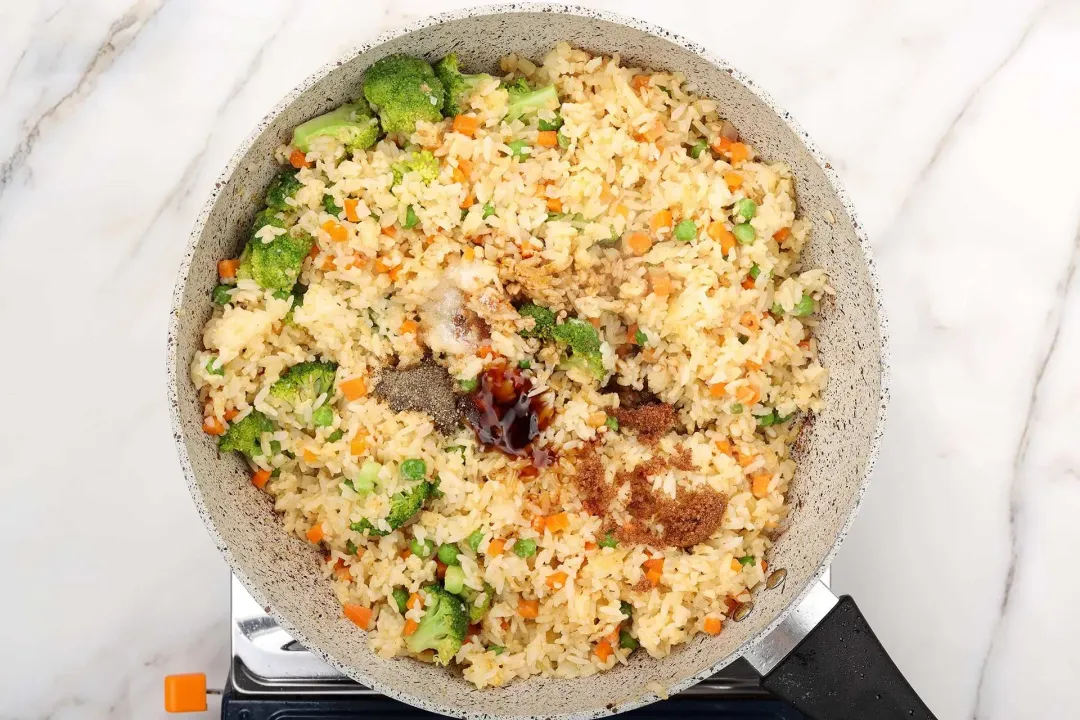 7
Add beef back to the pan and continue sautéing the rice. Stir every 15 - 20 seconds for 5 minutes or until you notice the rice and veggies are heated through and slightly browned.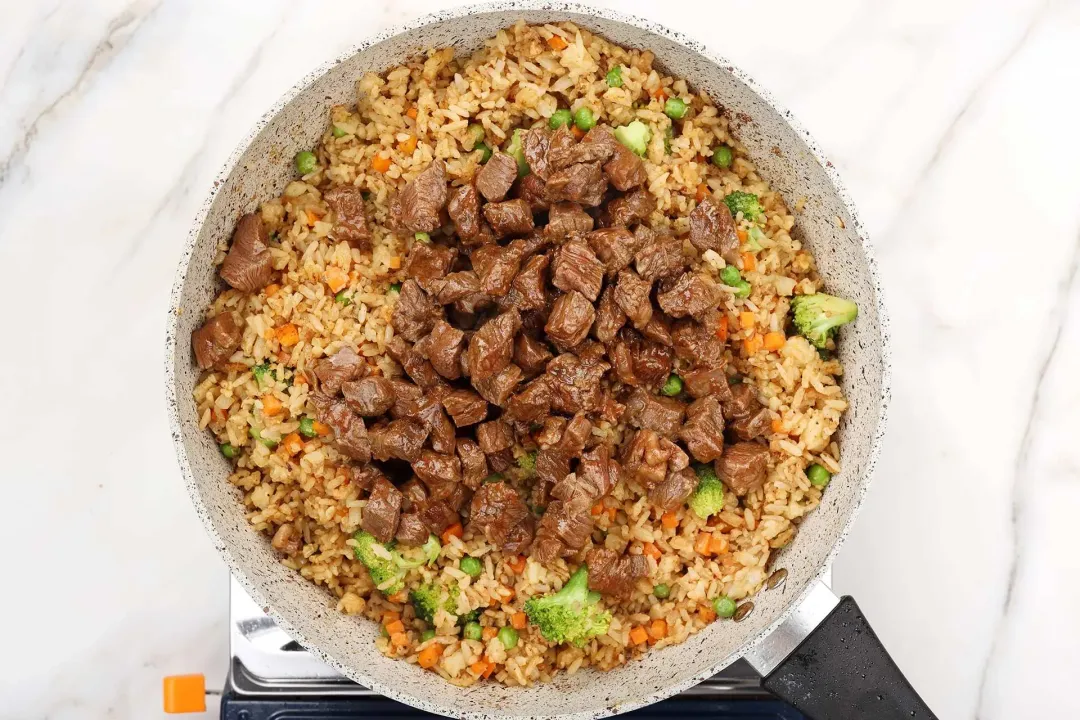 8
Remove the pan from heat. Garnish with 2 tbsp chopped scallion. Serve warm.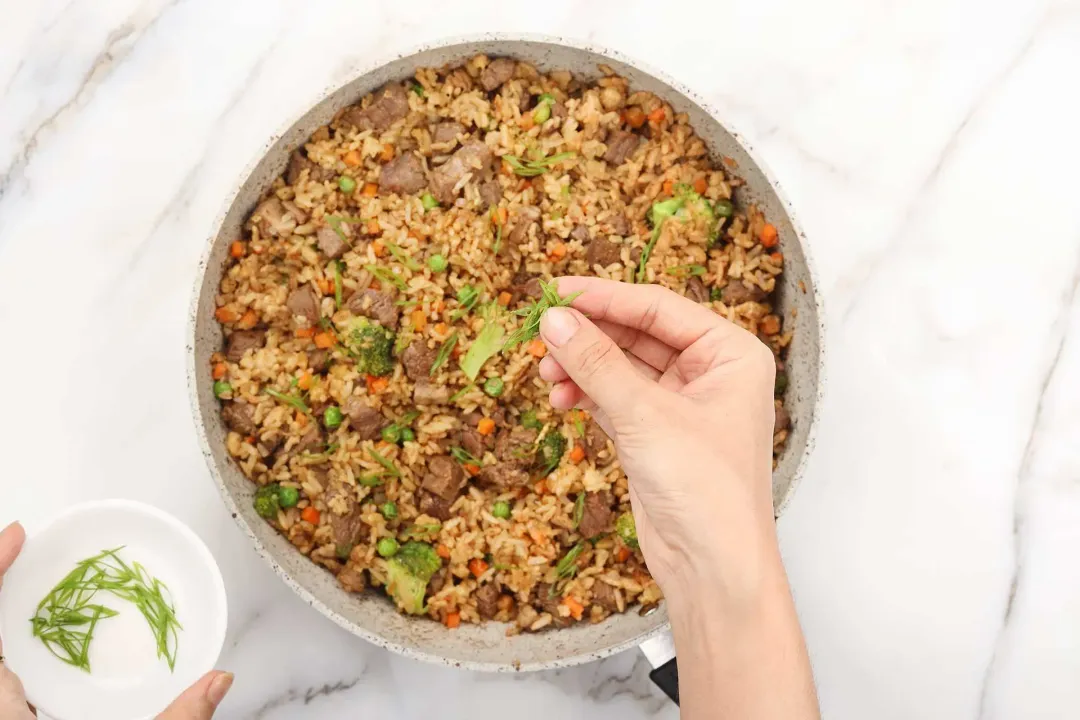 NUTRITION
Nutrition Facts
Beef Fried Rice
Amount Per Serving (1 serving)
Calories 493
Calories from Fat 180
% Daily Value*
* Percent Daily Values are based on a 2000 calorie diet.
Keywords: beef fried rice, beef fried rice recipe, how to make beef fried rice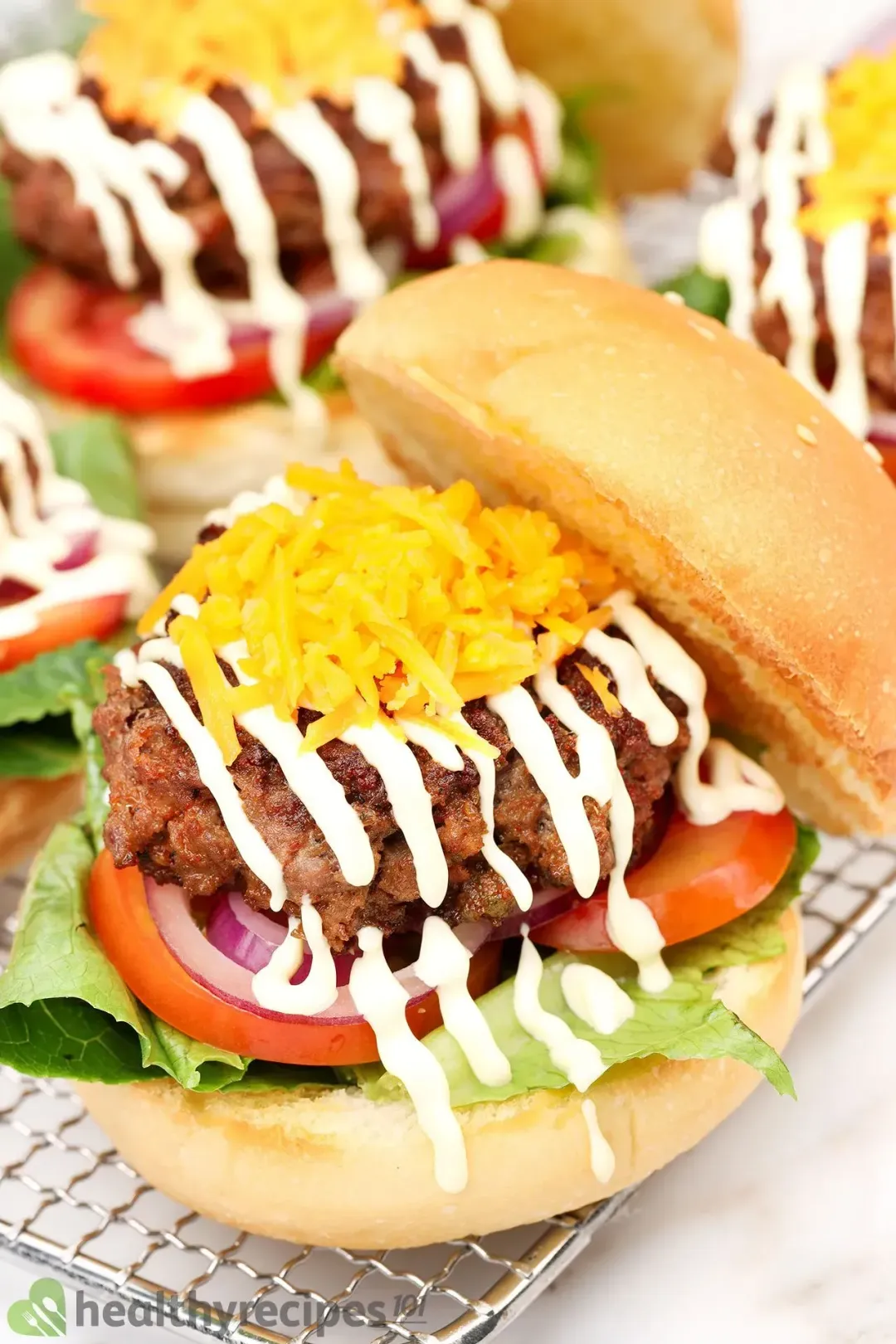 Previous Recipe
Beef Burger
Beef Burger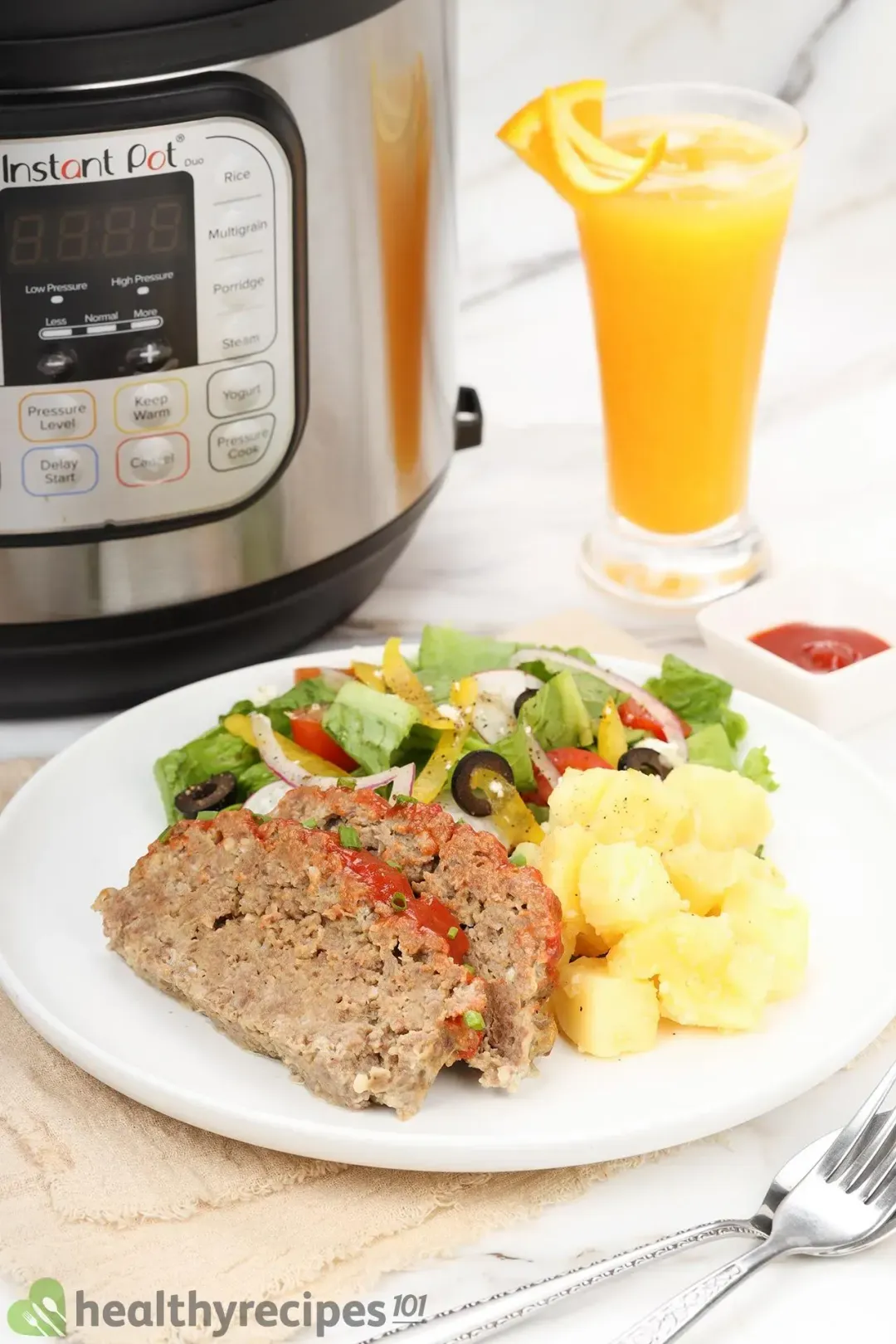 Next Recipe
Instant Pot Meatloaf
Instant Pot Meatloaf
Head Chef, Culinary Consultant
Tuyet Pham is an award-winning Saigonese chef who believes that joy is the secret ingredient to delicious food. At Healthy Recipes 101, Tuyet personally tests and simplifies every recipe, ensuring maximum flavor with minimal effort. With a background at prestigious French restaurants P'TI Saigon and Le Corto, Tuyet knows how to make every dish exceptional.
Writer, Author
Luna Regina is an accomplished writer and author who dedicates her career to empowering home cooks and making cooking effortless for everyone. She is the founder of HealthyKitchen101.com and HealthyRecipes101.com, where she works with her team to develop easy, nutritious recipes and help aspiring cooks choose the right kitchen appliances.
Nutrition Reviewer
Lizzie Streit is a Minneapolis-based dietitian and founder of It's a Veg World After All. She completed her MS in Human Nutrition from Drexel University, and is an expert in culinary nutrition, recipe development, and nutrition communications. Lizzie's philosophy is centered around making nutrition recommendations, and especially the advice to eat more vegetables, approachable and realistic. She is excited to be working with the team at Healthy Recipes 101 to ensure that their recipes are both nutritious and delicious.
Savory beef fried rice for a filling dish.