Our beef stir-fry recipe generates an addicting dish packed with nutrients and a satisfying mouthfeel in a matter of minutes.
Tender beef chunks are cooked in a quick homemade sauce with choice green vegetables and served on a bed of steamed rice. This flavorful and appealing combination will awaken your taste buds, making this beef stir-fry a true winner on the table.
Is Beef Stir-Fry Healthy?
With lean protein and various vegetables included, yes, our beef stir-fry is healthy. To be specific: 
It has a proper amount of calories: Though containing a few calorie-rich ingredients like lean beef and rice, our beef stir-fry has only 505 calories per serving. This is relatively low for a filling dish, allowing you ample space to add a soup or drink to the meal.
It's low in sodium: Asian stir-fry dishes have a bad reputation of loading in too much soy sauce, salt, and MSG. Our recipe uses low-sodium soy sauce and only a minimal amount of added salt but is still bursting with flavor.
It's packed with protein and vitamins: There are 28.5 g of protein in each serving — 57% of what the USDA recommends to consume daily. Plus, with various types of vegetables combined in the same dish, it's not exaggerating to say the meal is brimming with vitamins and minerals.
Best Beef for Stir-Fry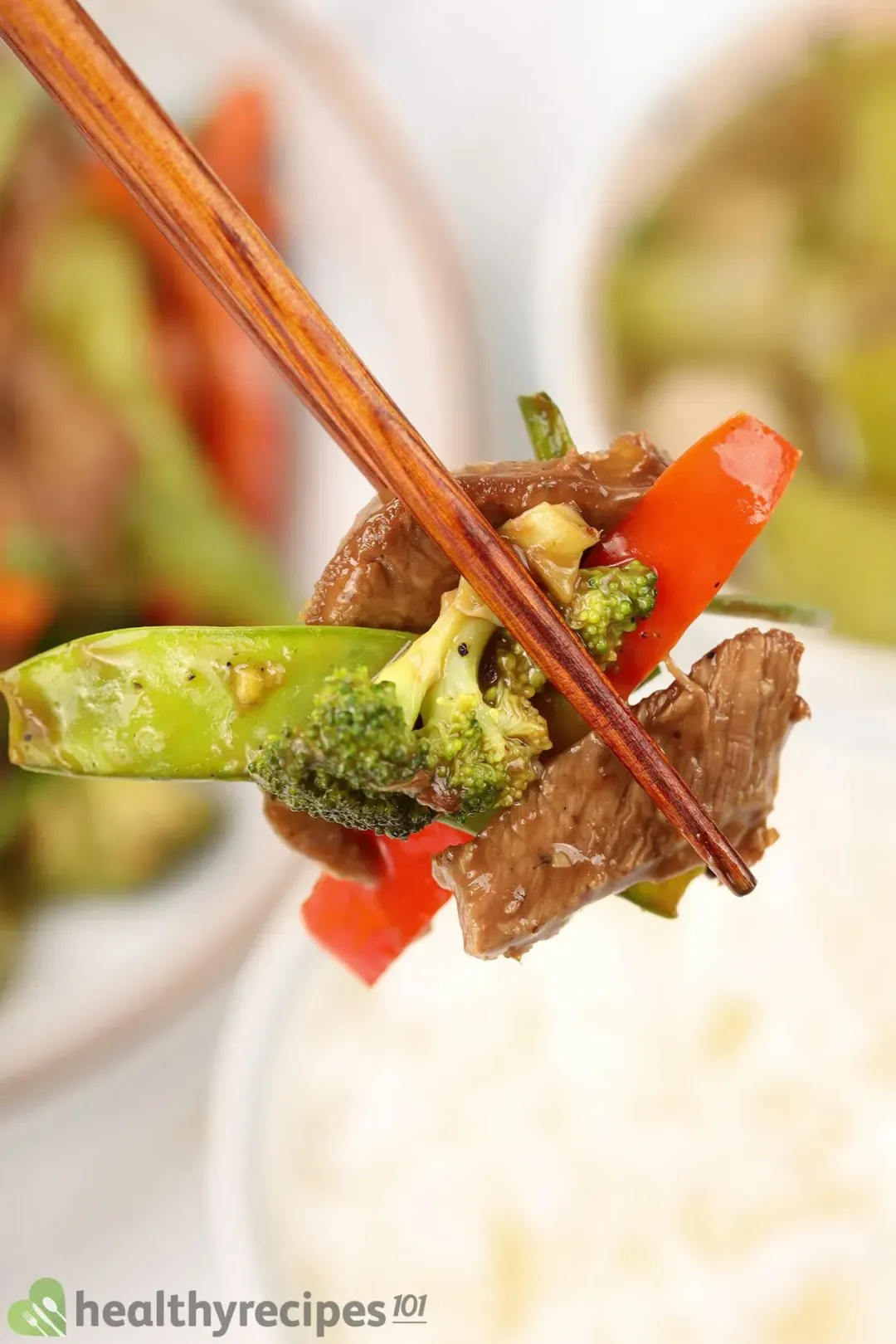 Flank Steak: This cut has the right amount of marbling for a tender and buttery flavor once cooked up quickly over high heat. It's also less expensive than prime cuts but is equally delicious, especially once marinated for an extended period.
For this stir-fry recipe, the flank is the marinade's best friend. It soaks up all the flavor you throw at it and turns out juicy in the pan.
Sirloin Steak: Sirloin is lean, chewy, and a bit pricier than flank steak. It boasts the beefy flavor but requires a longer marinating time — at least an hour.
Chuck Steak: Since this cut comes from the cow's shoulder, it can be a bit tougher than others. However, once allowed to marinate overnight, it becomes tender and juicier.
How to Cut Beef for Stir-Fry
The key in making beef stir-fry is to make sure that you slice it properly. The rule of thumb in slicing up steak is to cut against the grain.
When you look at your steak, you'll see the muscle fiber running through the meat in one direction. You need to cut perpendicular to those grains instead of the parallel. The result will be tender, chewy meat.
Vegetables for Stir-Fry
The beauty of stir-fried beef is that it can be made with any green leftovers in your fridge. Our recipe includes bell peppers, carrots, broccoli, and snow peas.
Carrots and peppers — red, green, or yellow — add a beautiful color to our stir-fry while snow peas contribute a slightly nutty taste and crispy texture. Broccoli is an excellent fiber and vitamin boost.
Our selection of veggies make for an interesting conglomeration of color, texture, and flavor. But like we said before, please feel free to be creative with any vegetables you have on hand.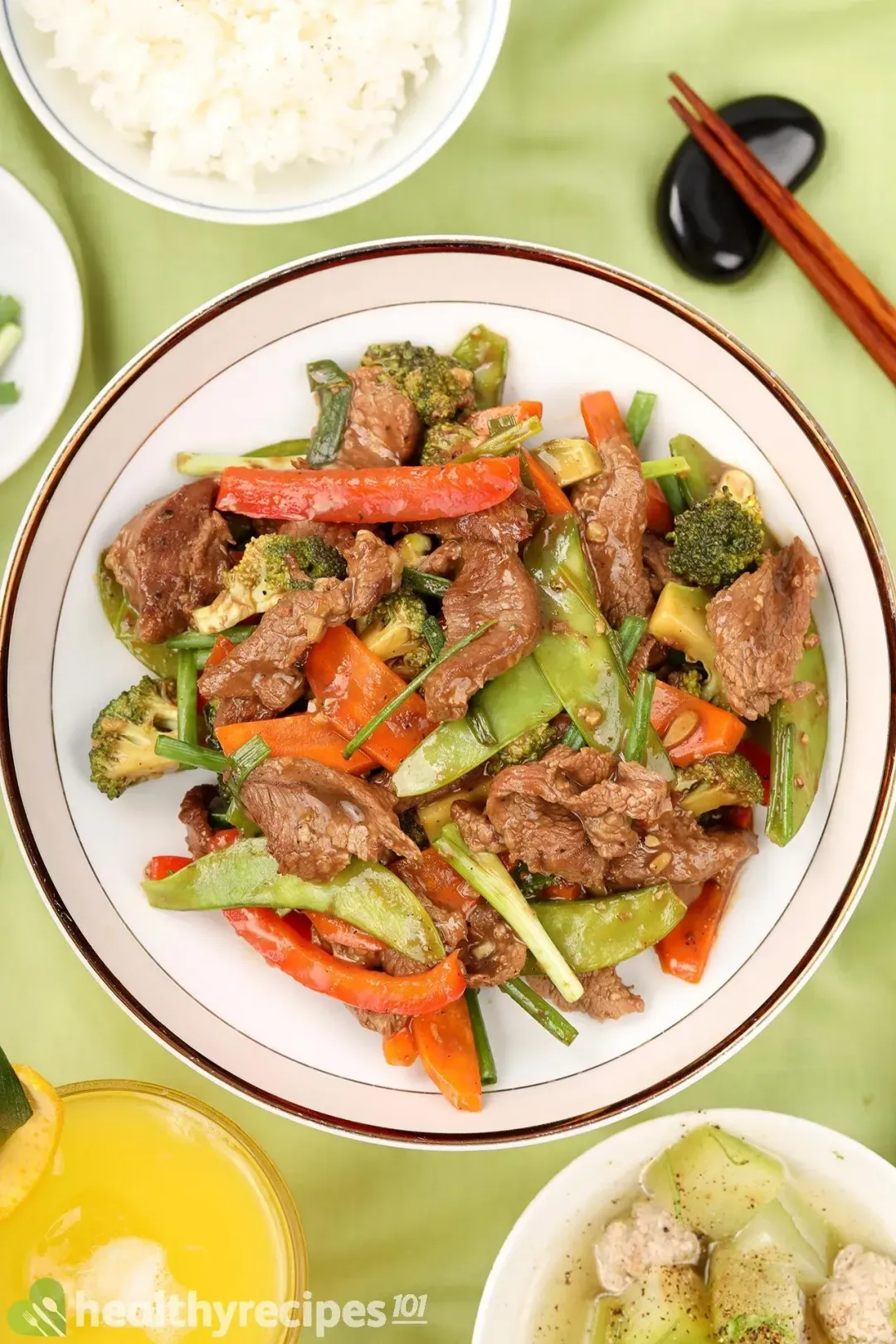 Beef Stir-Fry Sauce/ Marinade
Each stir-fry is different, but they all have the core ingredients of protein, various vegetables, and a sauce that balances savory, sweet, and tangy flavors.
Our marinade is quite similar to many Chinese stir-fried dishes but with a few extra flavorings. It packs a big flavor punch and is extremely quick to whisk together.
Savory: Soy sauce — the traditional addition to Asian stir-fry — is the main flavor enhancer in the sauce. The umami kick from soy sauce gives meat and veggies a deep dimension right from the start.
Tangy: Mirin is a Japanese cooking wine that can be found easily in the Asian section of any grocery store. It adds a slightly tangy and umami note to the sauce and is often used as a tenderizing agent in Asian meat marinades. 
Plus, a dash of lemon juice helps break down the proteins for a more tender texture and provides a bit of fruity tang.
Sweet: Brown sugar lends a little sweetness to balance out the salty soy sauce and tangy vinegar.
Aromatic: Sesame sauce, with its deep and unique scent, is our secret for a rich flavored stir-fry.
Tips for Making Perfect Beef Stir-Fry
Our beef stir-fry may look like we combined ingredients recklessly, but there is a bit of planning in our pan: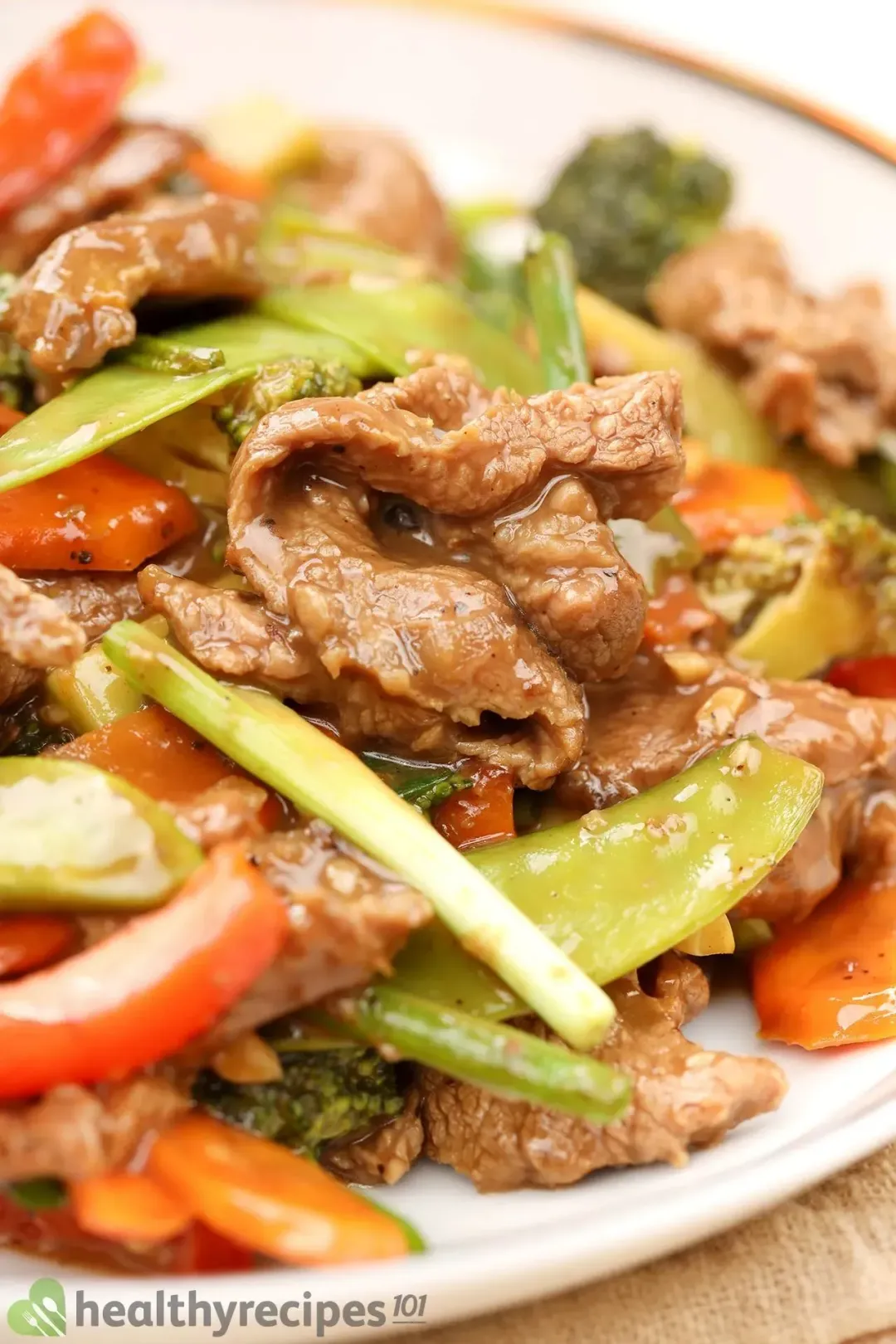 Marinating: For this recipe, we marinate the beef in a mixture of cornstarch and olive oil to tenderize the meat and help protect its juiciness from the high heat of the pan. Even a few extra minutes spent marinating while you prep the remaining ingredients can make a noticeable difference in the texture and flavor.
Same-Sized Ingredients: As mentioned above, you can go with all varieties of vegetables but make sure to cut them all to a similar size. That way they'll all cook in roughly the same amount of time.
Do Not Overcook or Overcrowd: Nothing worse in a stir-fry dish than overcooked and soggy vegetables. It's better to undercook during the stirring phase and then bring them up to the right tenderness once you add the sauce at the end.
Also, if you load too many veggies in the pan, they'll end up stacked all over each other and won't achieve the right texture. Divide your vegetables into two batches or use a larger pan if necessary.
Stir-fry can be one of the quickest meals if you plan a bit ahead. Other such recipes to keep at the ready are chicken teriyaki stir-fry and shaking beef.
Store and Reheat
Store: Place the beef stir-fry leftovers in an airtight container. Refrigerate for up to 3 – 4 days or keep frozen for no longer than 3 months. Note that the texture and flavor of your vegetables may change over time if you leave them too long in the freezer.
Reheat: Beef stir-fry reheats wonderfully for a quick lunch or dinner, but the trickiest part is to avoid overcooking the meat.
Microwave: Transfer the desired portion to a microwave-safe dish and heat for 1 – 2 minutes. Stir midway through to ensure no cold spots remain.
Stove: Place the leftovers in a skillet over medium heat, drizzle with a tablespoon of water, and stir often until heated through.
What to Serve With Beef Stir-Fry
Traditionally, an Asian-inspired beef stir-fry is served over a bed of warm steamed rice. The rice soaks up the meat flavor and sauce to form a wholesome, comforting meal.
Stir-fried beef and noodles is another delicious option. You can toss the cooked noodles right in the pan as you finish cooking.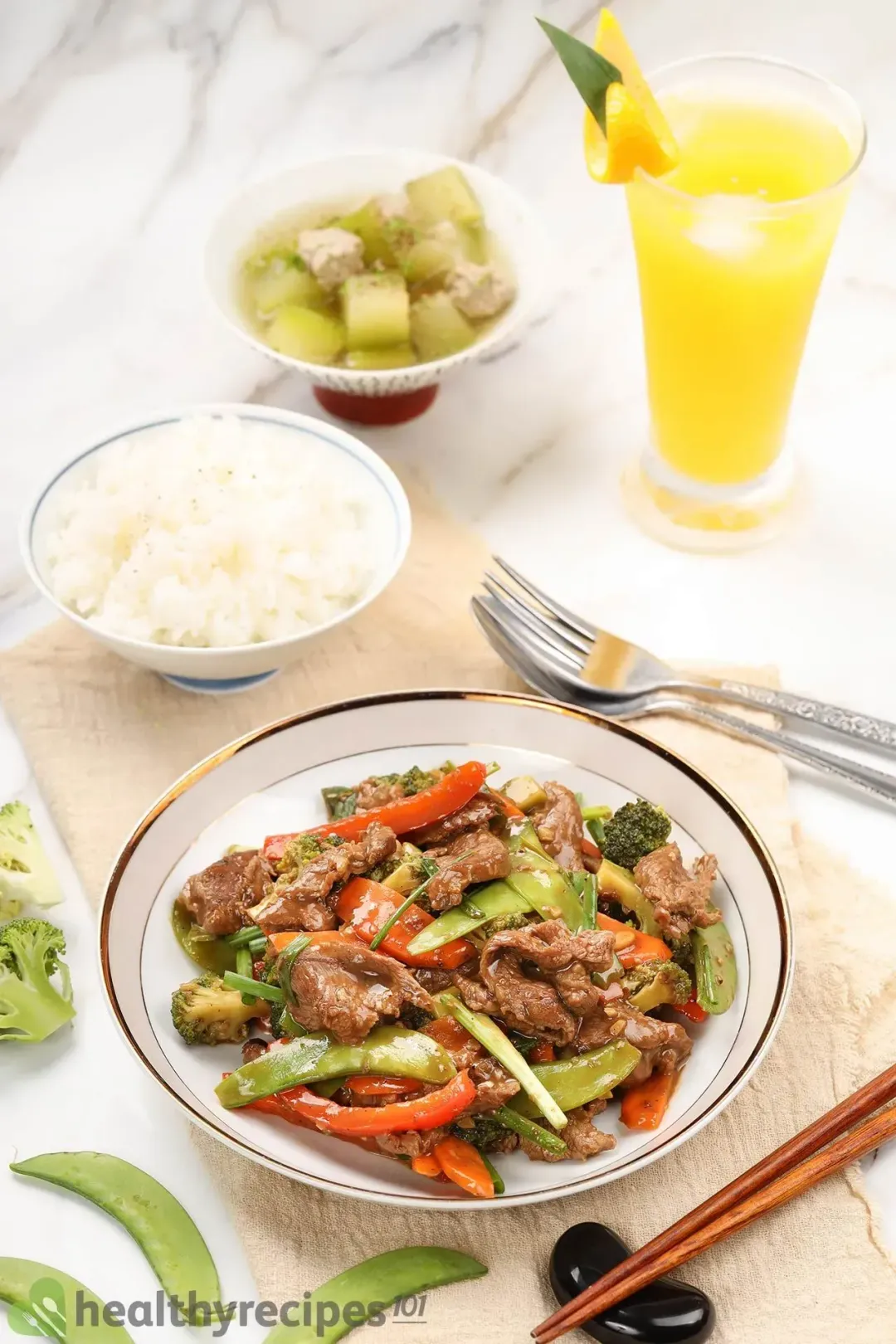 Take Your Taste Buds on a Journey with These Flavorful Beef Over Rice Meals
This Korean-style dish features thinly sliced beef marinated in a mixture of soy sauce, sesame oil, and other flavorful ingredients. Grilled or pan-fried to perfection, it's typically served with rice and a variety of vegetables for a healthy and satisfying meal.
This comforting and hearty dish features tender chunks of beef cooked in a rich tomato sauce with vegetables like onions, carrots, and bell peppers. It's easy to make and perfect for a cozy night in.
If you can't get enough of beef and rice dishes, explore our roundup to discover even more delectable options.
Beef Stir-Fry
This beef stir-fry recipe boasts the juicy beef with crisp-tender carrots, bell peppers, snow peas, and broccoli enveloped in an homemade umami sauce.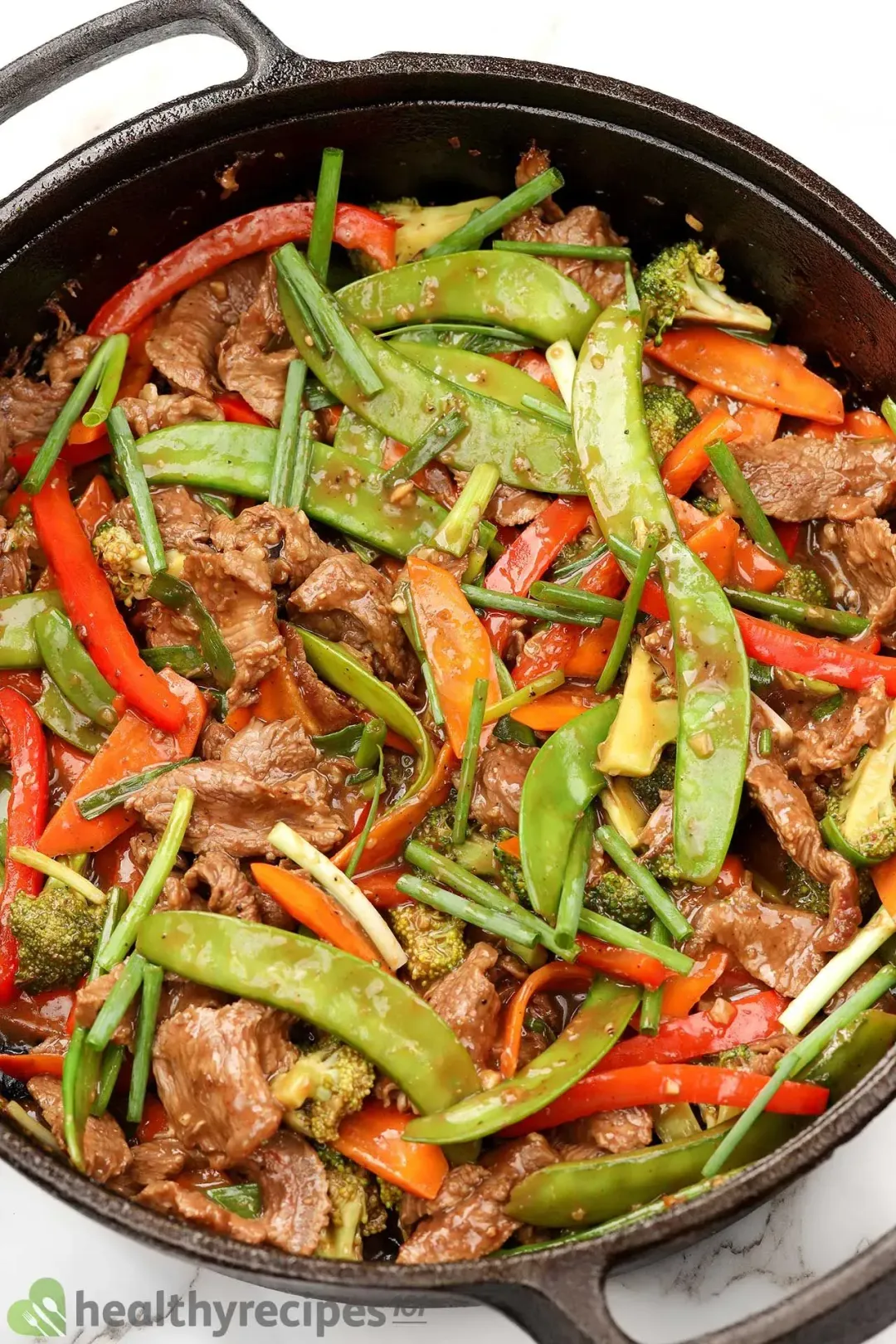 cook TIME

10 mins

prep TIME

15 mins

total TIME

25 mins
COURSE

Dinner, Lunch, Main Course

CUISINE

Chinese

SERVINGS

CALORIES

495 kcal
INGREDIENTS
14 oz

beef flank

(sliced)

2 oz

red bell pepper

(sliced)

2 tbsp

olive oil

(divided)

2 tbsp

reduced sodium soy sauce

2 tbsp

cornstarch

(divided)

0.5 oz

scallion

(chopped)

3 1/2 cup

cooked medium-grain rice
INSTRUCTIONS
1
Make the sauce: In a small bowl, whisk together 1/2 tsp pepper, 1/2 tbsp lemon juice, 2 tsp mirin, 2 tbsp soy sauce, 1/2 tbsp oyster sauce, 1 tbsp rice vinegar, 1 1/2 tsp hoisin sauce, 1 tbsp cornstarch, 1 fl oz water, 1 1/2 tsp sesame oil, and 1 tsp brown sugar. Set aside.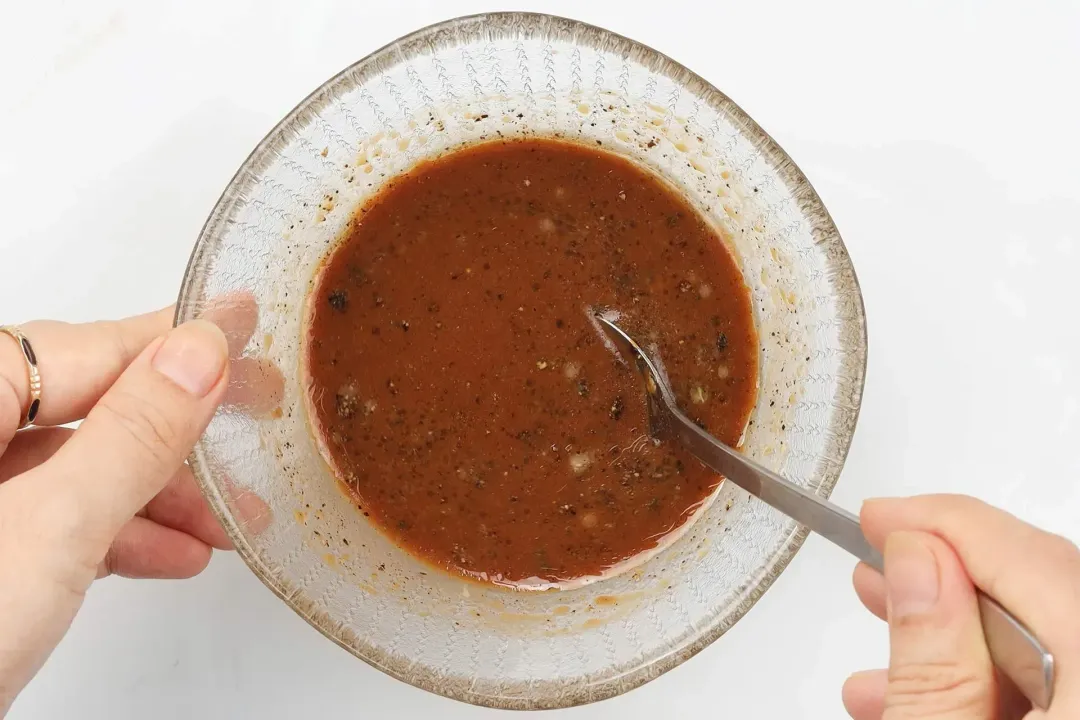 2
Marinate the beef: In a small bowl, add 14 oz beef flank, 1 tbsp cornstarch, and 1/2 tbsp olive oil. Toss well to coat the beef, then allow it to sit for 10 minutes.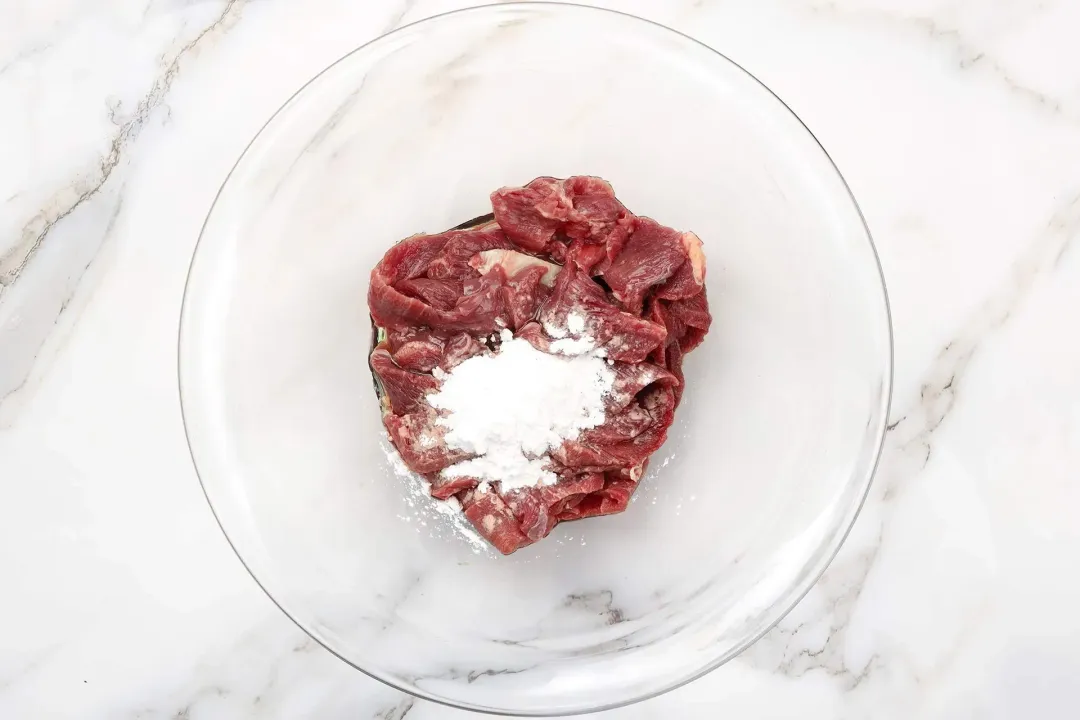 3
Stir-fry the vegetables: Heat 1 tbsp olive oil in a skillet over medium heat. Add 2 oz carrots, 4 oz broccoli, 2 oz snow peas, and 2 oz red bell pepper. Stir-fry for 3 minutes. Transfer to a plate.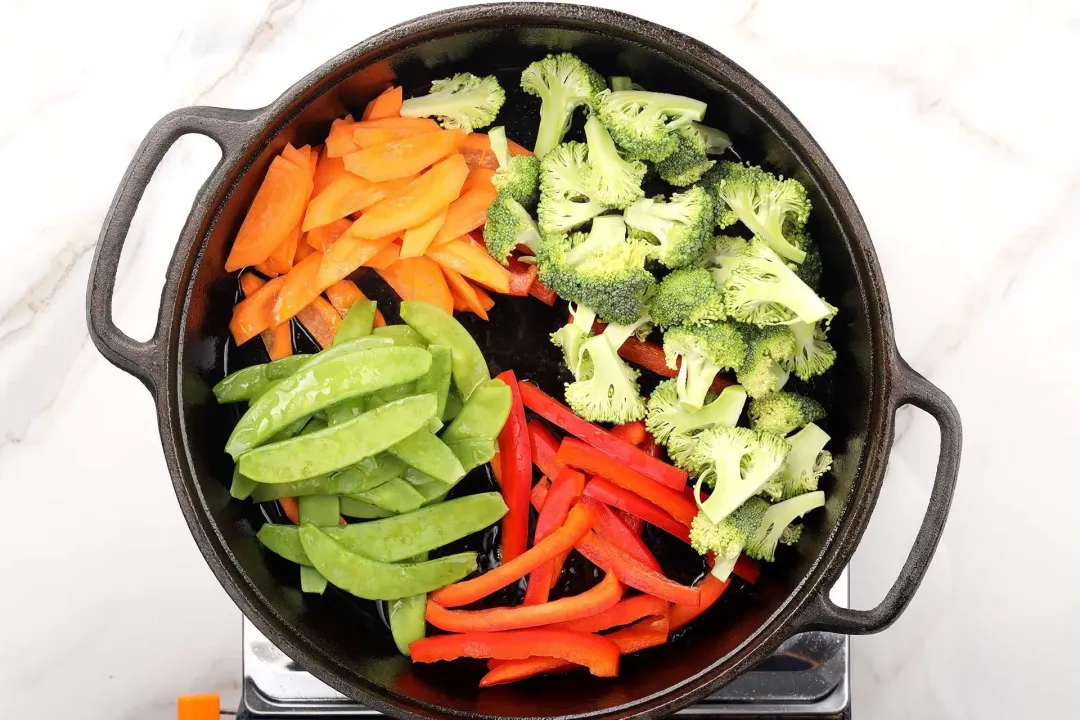 4
Stir-fry the beef: Heat the remaining 1/2 tbsp olive oil in the skillet, add 2 tbsp garlic and 1 tsp ginger. Stir-fry for 30 seconds until fragrant. Add beef chunks and stir occasionally for 1 minute before adding vegetables. Stir to combine and cook for another 3 minutes.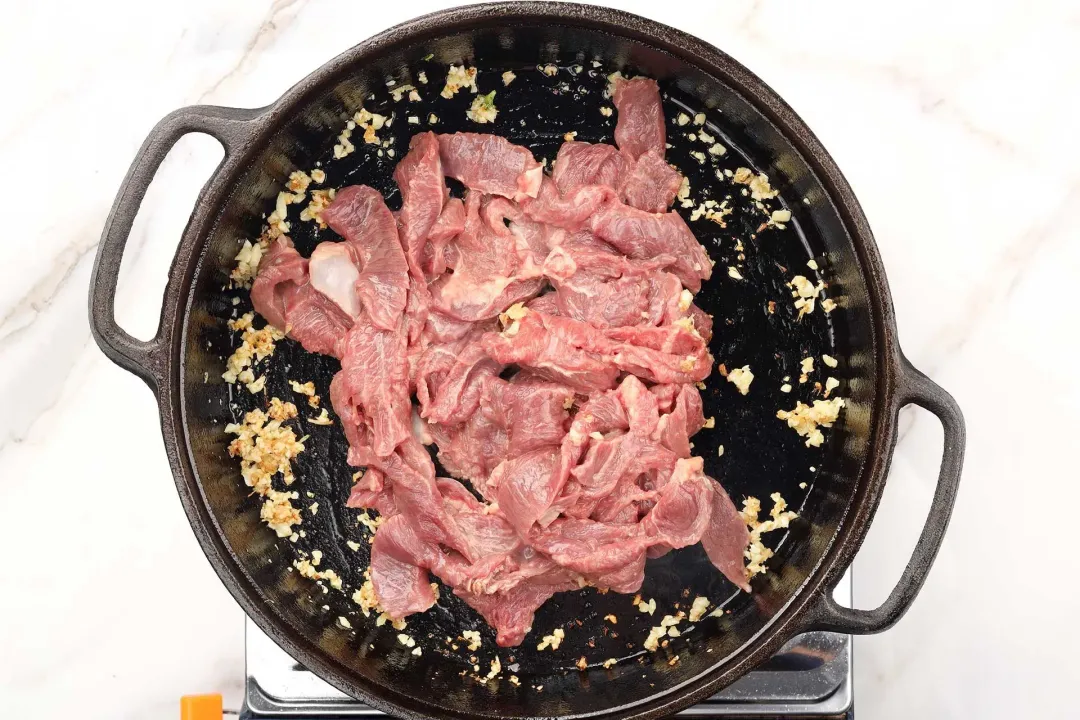 5
Toss the sauce: Reduce the heat to low and pour in the sauce. Toss to combine everything and cook for an additional 2 minutes. Remove from heat.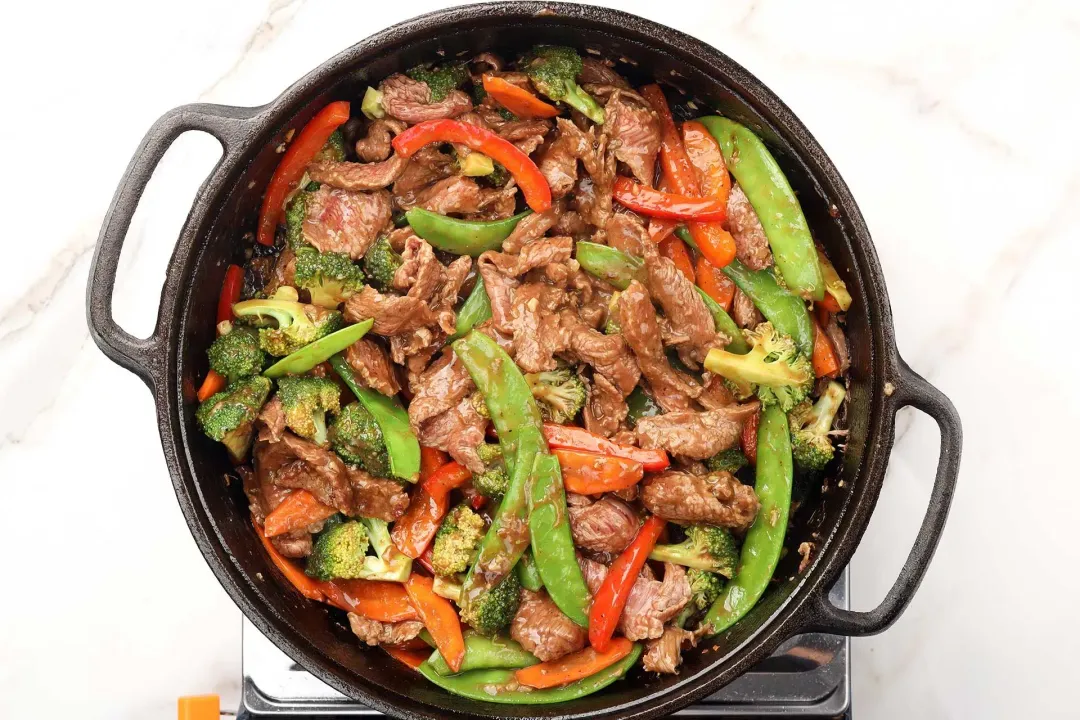 6
Garnish: Top with 0.5 oz scallion.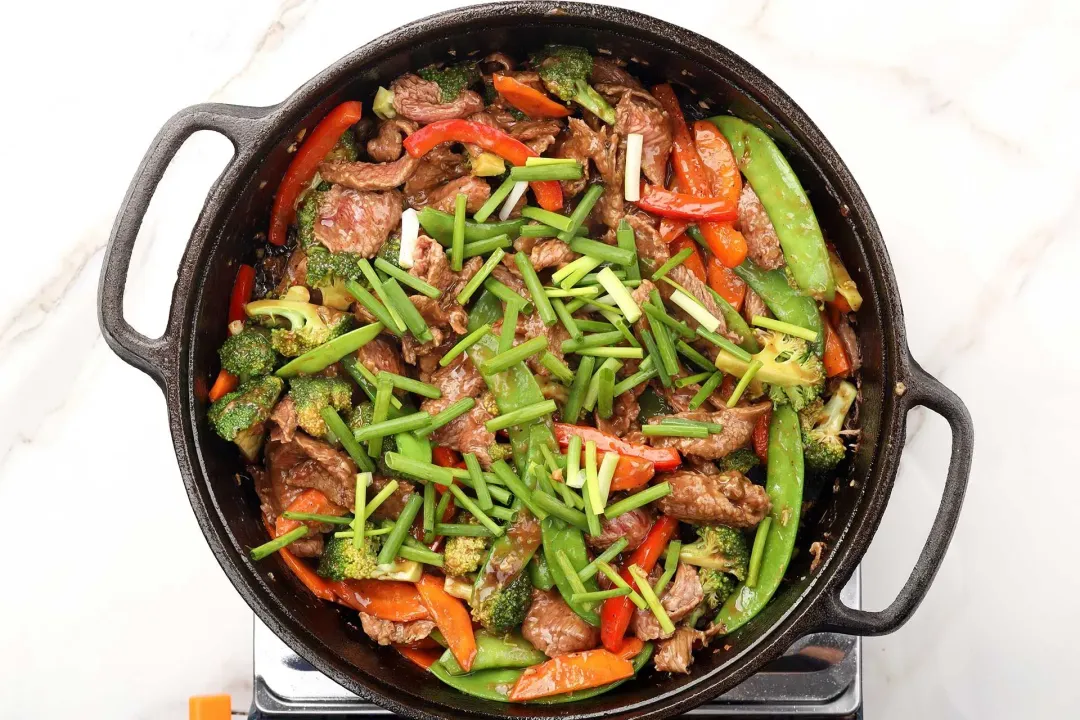 7
Serve: Divide the stir-fried dish into 4 serving plates. Serve immediately over steamed white rice.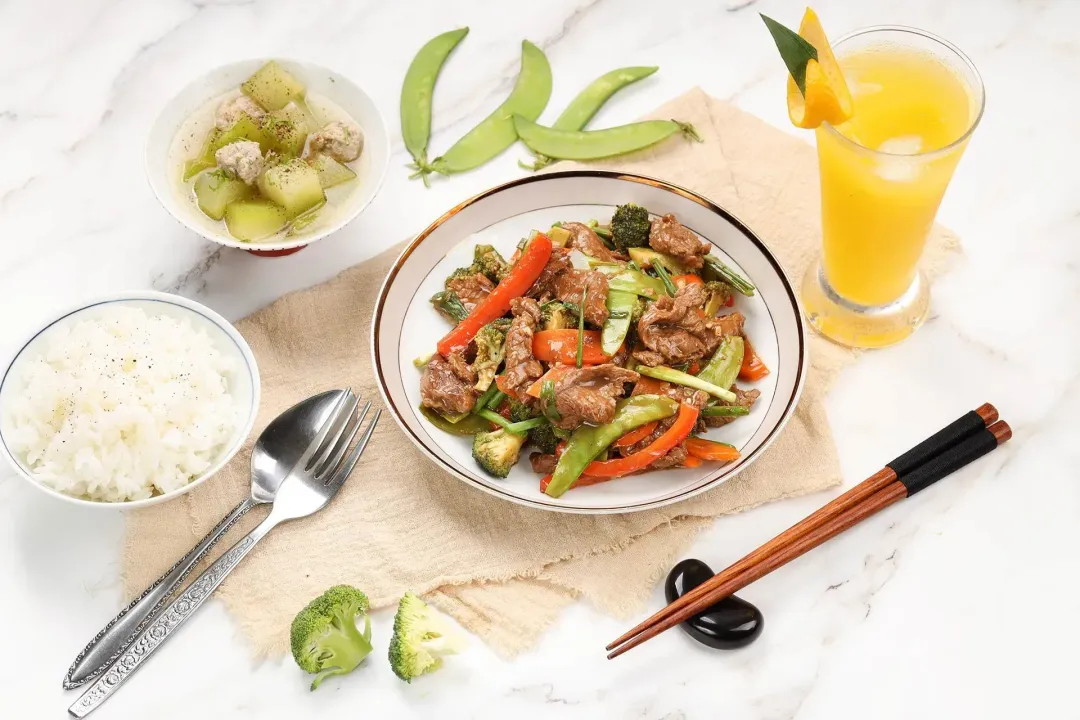 NUTRITION
Nutrition Facts
Beef Stir-Fry
Amount Per Serving (1 serving)
Calories 495
Calories from Fat 126
% Daily Value*
* Percent Daily Values are based on a 2000 calorie diet.
Keywords: Beef Stir-Fry, Beef Stir-Fry Recipe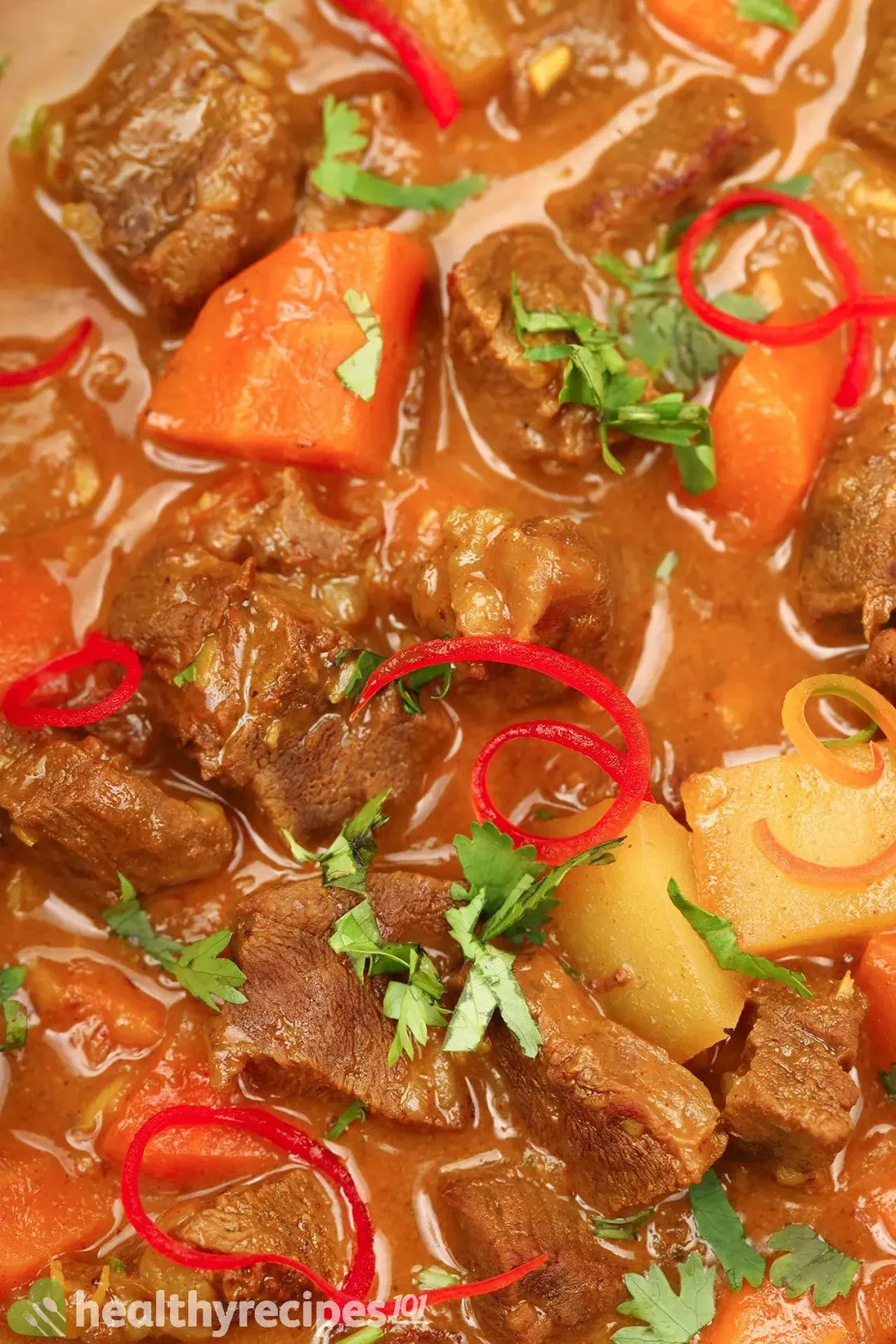 Previous Recipe
Beef Curry
Beef Curry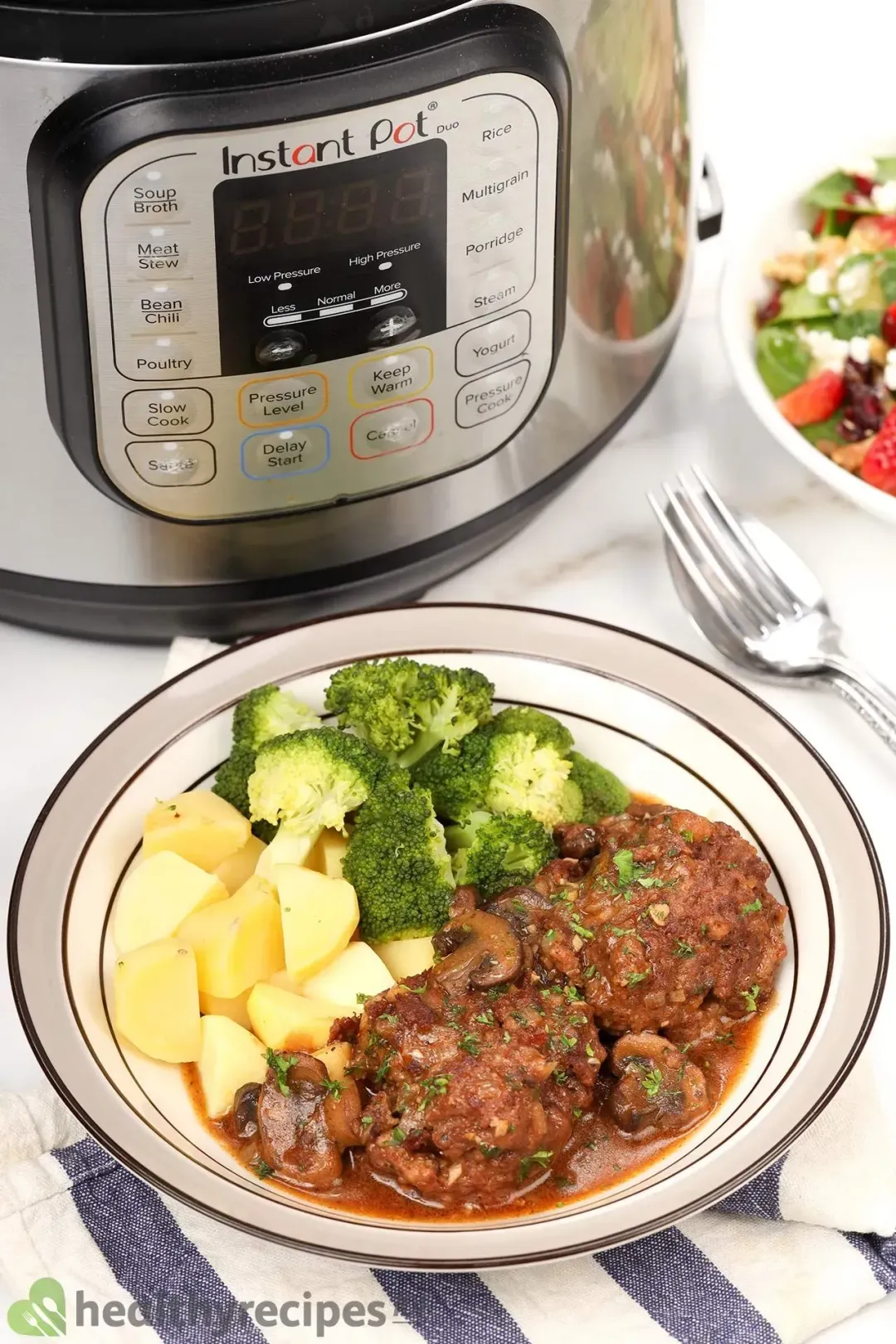 Next Recipe
Instant Pot Salisbury Steak
Instant Pot Salisbury Steak
Head Chef, Culinary Consultant
Tuyet Pham is an award-winning Saigonese chef who believes that joy is the secret ingredient to delicious food. At Healthy Recipes 101, Tuyet personally tests and simplifies every recipe, ensuring maximum flavor with minimal effort. With a background at prestigious French restaurants P'TI Saigon and Le Corto, Tuyet knows how to make every dish exceptional.
Writer, Author
Luna Regina is an accomplished writer and author who dedicates her career to empowering home cooks and making cooking effortless for everyone. She is the founder of HealthyKitchen101.com and HealthyRecipes101.com, where she works with her team to develop easy, nutritious recipes and help aspiring cooks choose the right kitchen appliances.
Nutrition Reviewer
Natalie Butler is a registered dietitian nutritionist with a passion to help others live their best life through food, fitness, safer beauty and a healthy lifestyle. She has expertise with a variety of diets and diseases and believes that there is no one-size-fits-all approach for health.
I cooked the beef stir fry and it definitely did not disappoint! It was a flavor explosion in my mouth with the combination of beef, vegetables, and spices.