Our homemade beef burger recipe makes this delicious American staple rivaling that of any restaurant-quality version, no grill required.
These beef burgers are composed of juicy and perfectly seasoned beef patties, crunchy vegetables, bright mayo sauce, and freshly shredded cheddar cheese. It's a satisfying dish guaranteed to make your taste buds sing.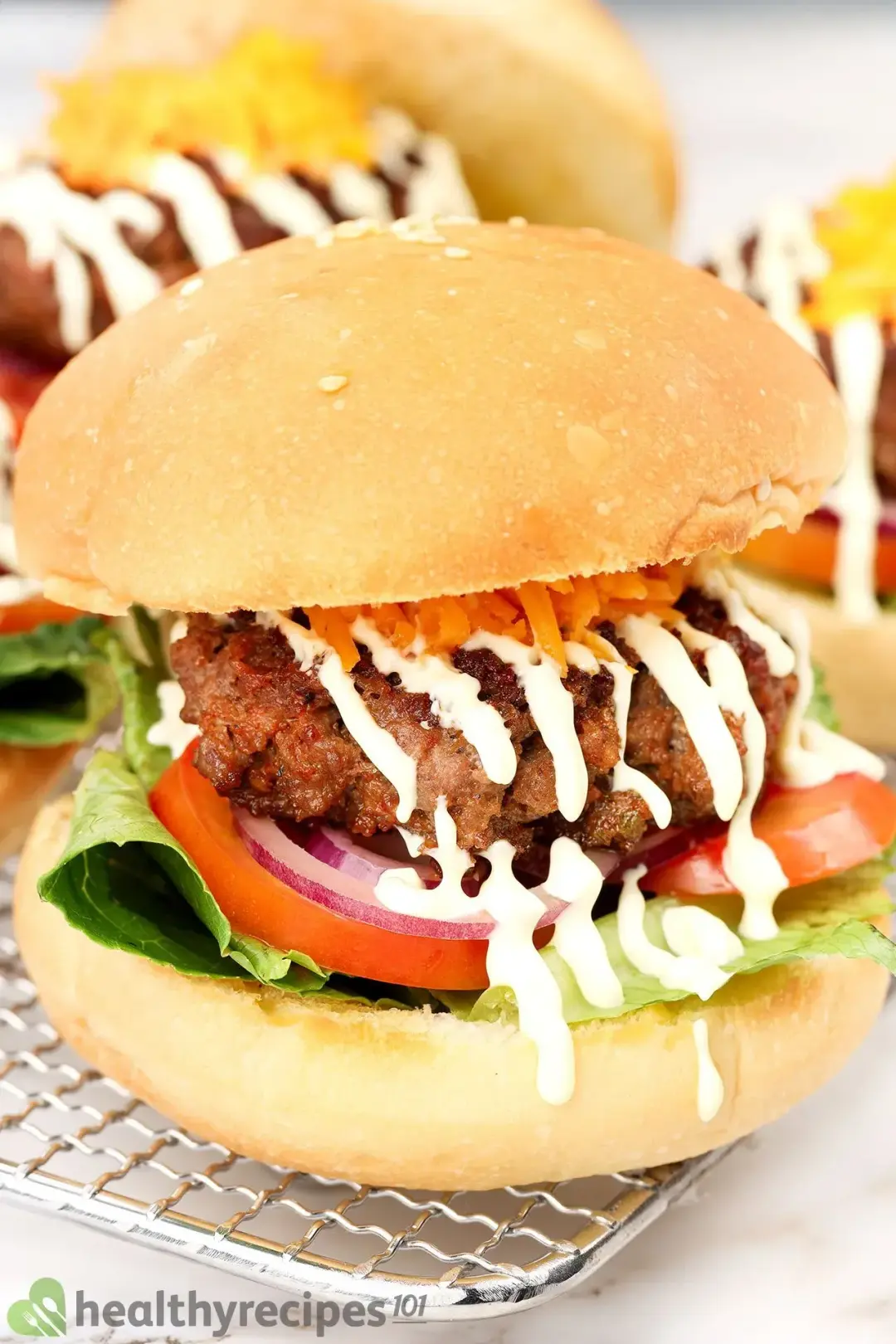 Is This Beef Burger Recipe Healthy?
Unlike the bad rap fast food versions get, our beef burger is relatively healthy. 
Nutritionally, beef burgers are protein-packed patties. Each serving of ours provides 22.7 g protein — up to 45% of the recommended daily intake.Our beef burgers, with the abundance of veggies included, yield a noticeable amount of fiber, vitamins, and minerals. 
Nonetheless, beef burger recipes often have a high concentration of saturated fats and sodium – nutrients found in certain foods such as cheese and salt. Their excessive consumption has been connected to a variety of ailments, including heart disease
Our beef burger recipe contains less saturated fat and sodium, with 10.5 g and 540 mg, respectively. This is due to the minimal use of ingredients.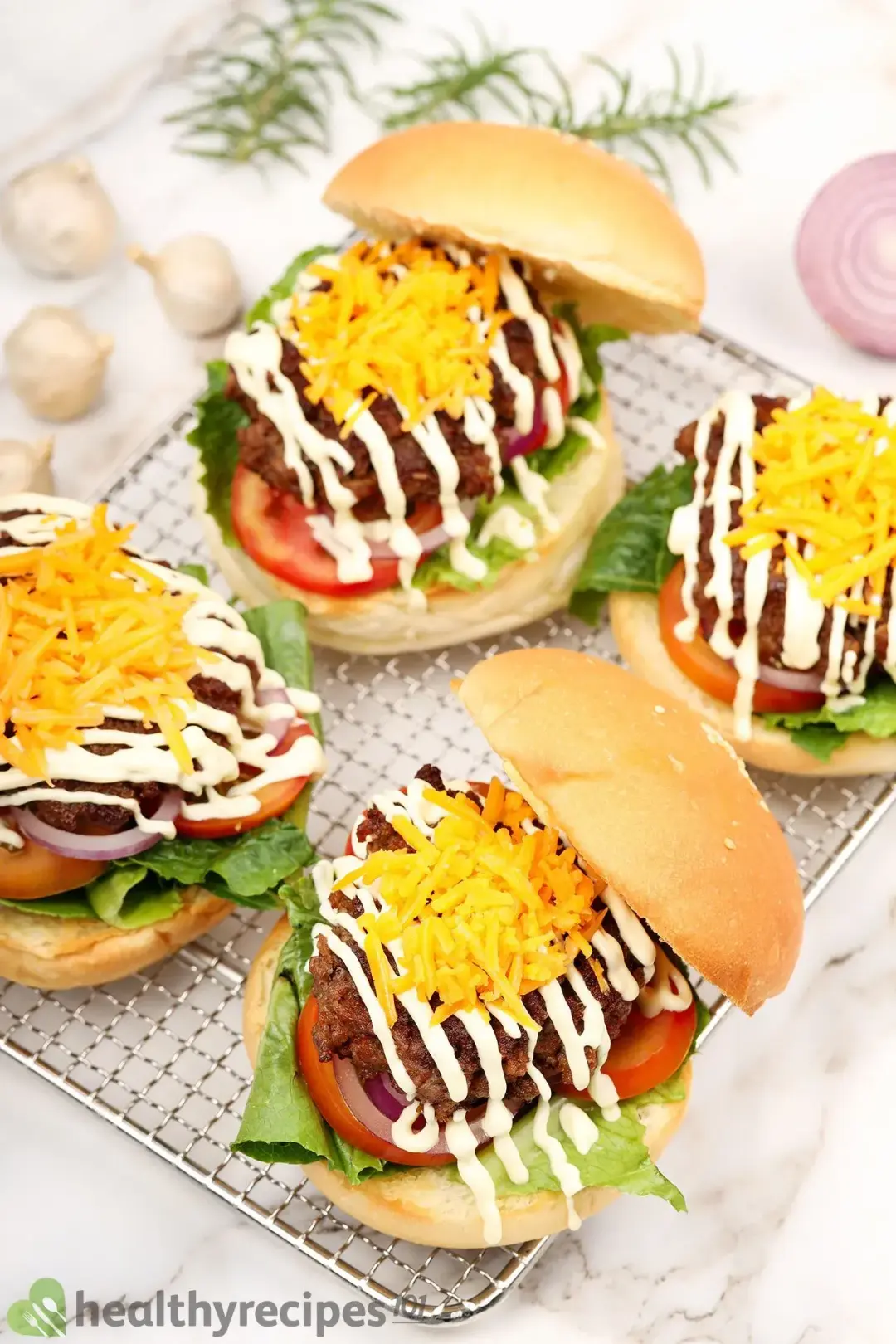 What Type of Beef Is Best for a Burger?
A juicy burger — the one you can sink your teeth into — is really about the beef. The rule is simple: buy good quality beef and you'll have an amazing burger.
The ideal ground beef is about 80% –  85% lean and 15% – 20% fat. Any meat leaner than 90% is likely to leave your burger dry and crumbly.
And if you can, always buy freshly ground beef from the butcher. This type tends to be less compressed which means it'll turn out more tender than the packaged meat once cooked.
Ingredients for Beef Burgers
A fantastic burger always starts with delicious ground beef, and is made all the more spectacular with vegetables and seasoning. Here's what we used in this recipe:
Ground Beef: 85/15 ground beef might sound slightly fatty for your taste, but the patties need fat for a tender and juicy interior. Also, most of the fat will be released and stay in the pan while you cook the meat, so you don't have to worry about greasy patties. Without the fat, your burger will dry out before being cooked through, leaving you with a tasteless, unappealing piece of beef. 
Hamburger Buns: We went with classic sesame seed buns since they're tasty, popular, and inexpensive. Other great alternatives include potato buns, Brioche buns, Pretzel buns, or whole grain buns – for a healthier option. 
Seasoning: The basic blend of salt and pepper is to enhance the flavor of  the meat, and paprika enhances the flavor with an exotic smoky hint.
Sauce: We love the mayo-based sauce with Greek yogurt — easy to make and delivers an impressive flavor. It adds creaminess and another dimension to the whole experience.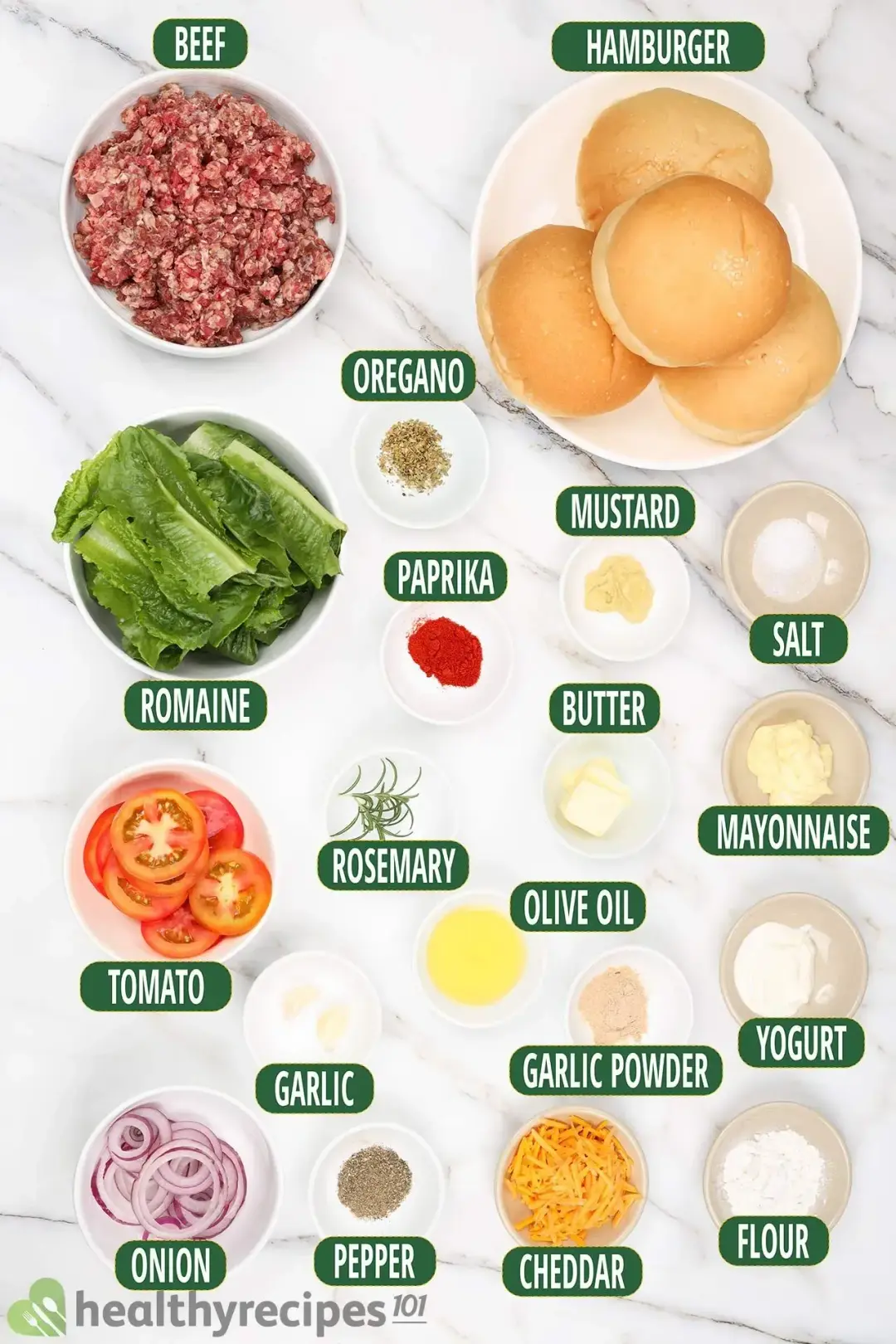 Toppings: 
Cheese: Shredded or grated variations are all great in this beef burger recipe. We chose cheddar for its nice tang with bold flavor.
Tomatoes: Ripe tomatoes add a slight sweetness and acidic note to your buns.
Lettuce: Green leaves add further appeal to the dish and also offer a textural contrast.
Red Onion: Freshly sliced red onion rings give a punch of potent flavor. If this is too strong for your taste, you can also cook them to reduce their intensity.
Once you master our classic-flavored burger recipe, feel free to get funky with your preferences. Ultimately, the choice is yours. 
With our instructions and method, you can't go wrong.
How to Make Burger Patties From Ground Beef
Before we began, we made sure all of the ingredients were ready to go on the kitchen counter. Then we continued as follows: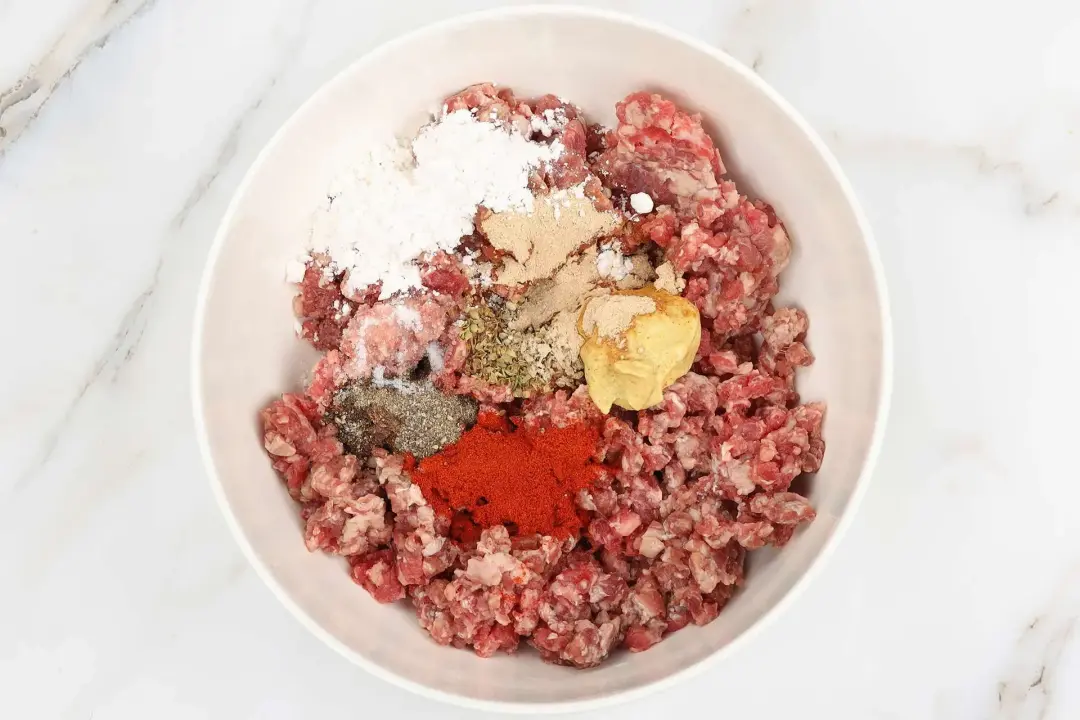 Mix the patty mixture.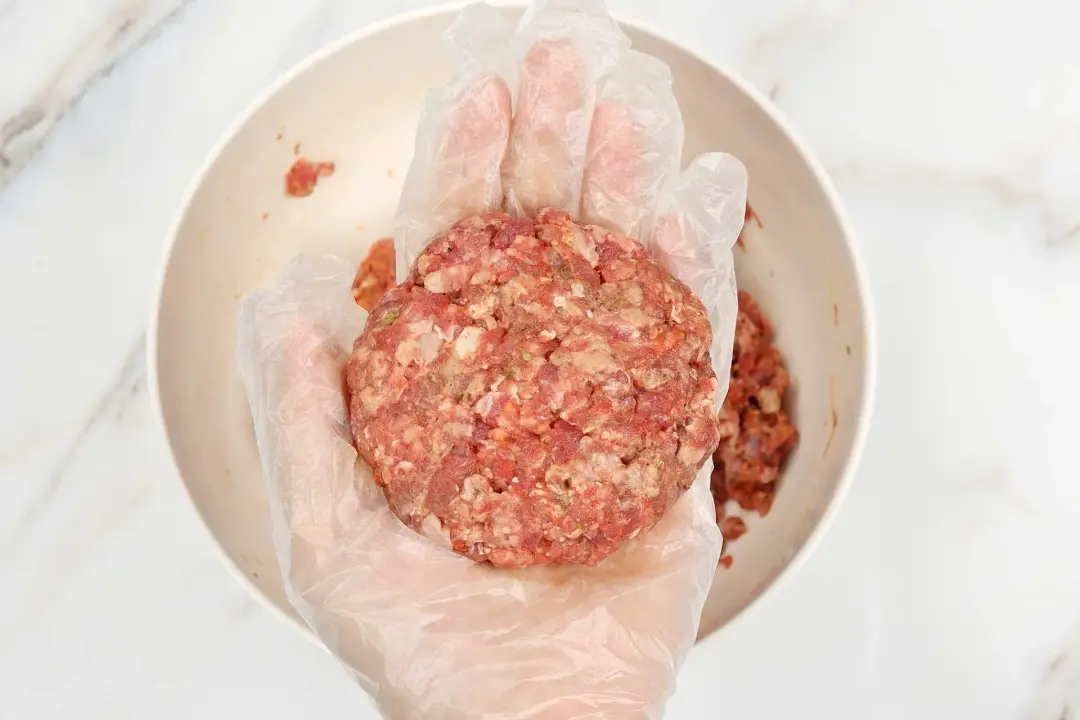 Shape the patties.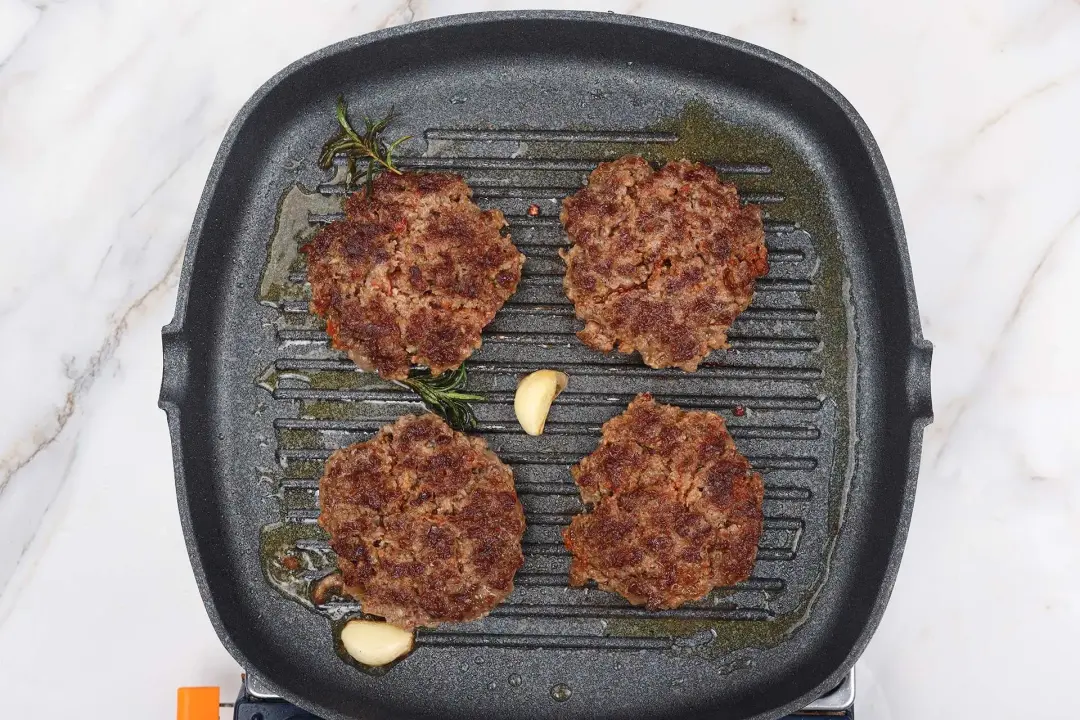 Cook the patties.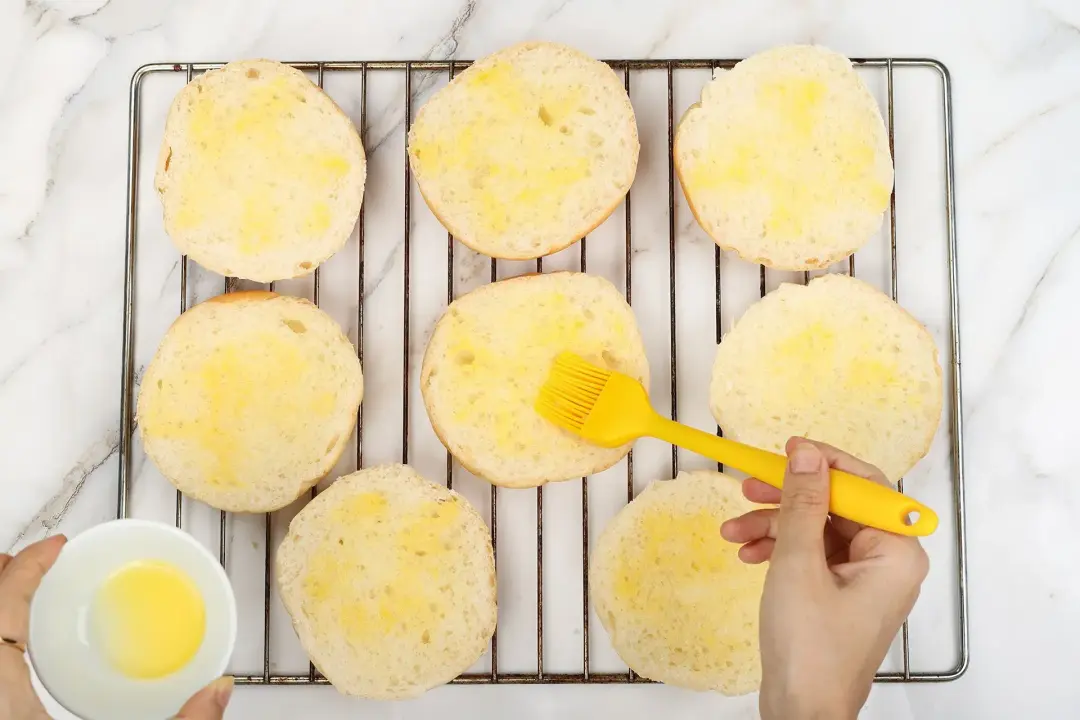 Bake the buns.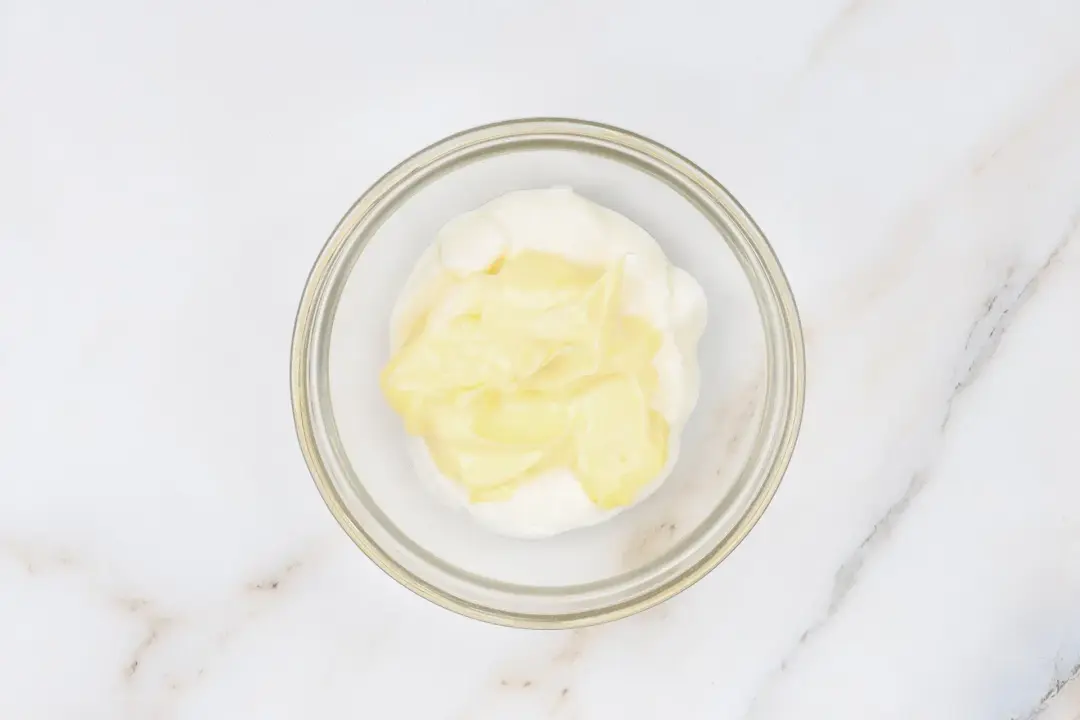 Make the sauce.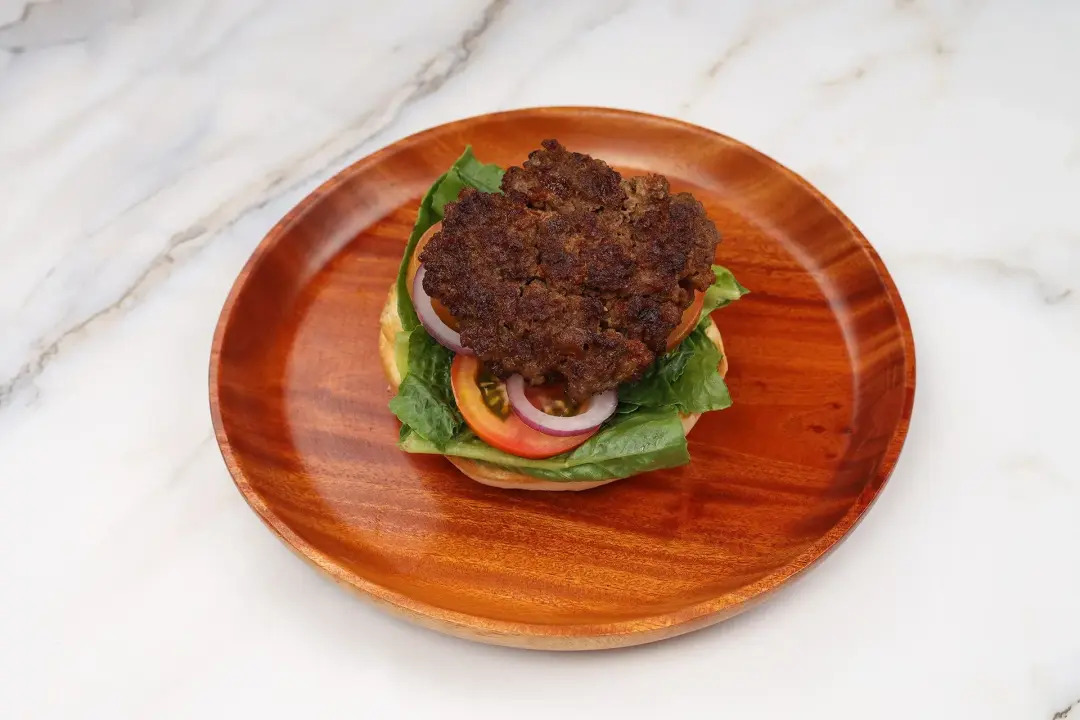 Layer vegetables and patties on the buns.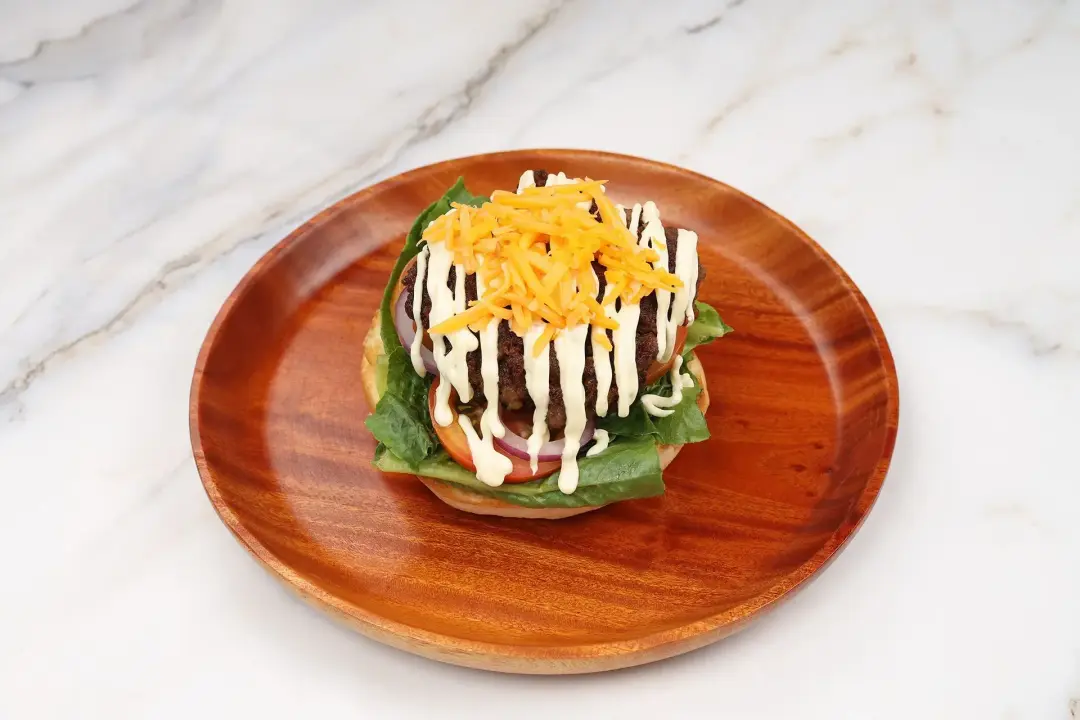 Add sauce and top with cheese. Serve
Tips for Making the Best Burger
There is nothing more disappointing than a burger patty that is skinny and smaller than the bun it's in. To correctly size your patties, shape your meat about 1-inch thick and 1-inch larger than the buns.
The fat content in beef is the first factor for a juicy patty; the other is your shaping technique. The more you mix and mash the meat while shaping the patties, the more compressed and tough the finished burger will be. 
Instead try to handle the beef as little as possible and only gently pat the edges into a round shape. Don't worry if your patties have minor cracks; resist the temptation to reshape it until it looks neat.
Our beef burger is a quick meal. Even if you prefer your patties well-done, the burger should be done in less than 10 minutes. 
If the cooking process lasts any longer than that amount of time, chances are your supposed-to-be juicy meat will come out as a crumbly puck. It's best if you always keep an eye on the side of the burgers. 
If you see a pinkish part in the middle, your medium-rare patties are ready. And the second the pinkish or light red line disappears, you have a medium burger.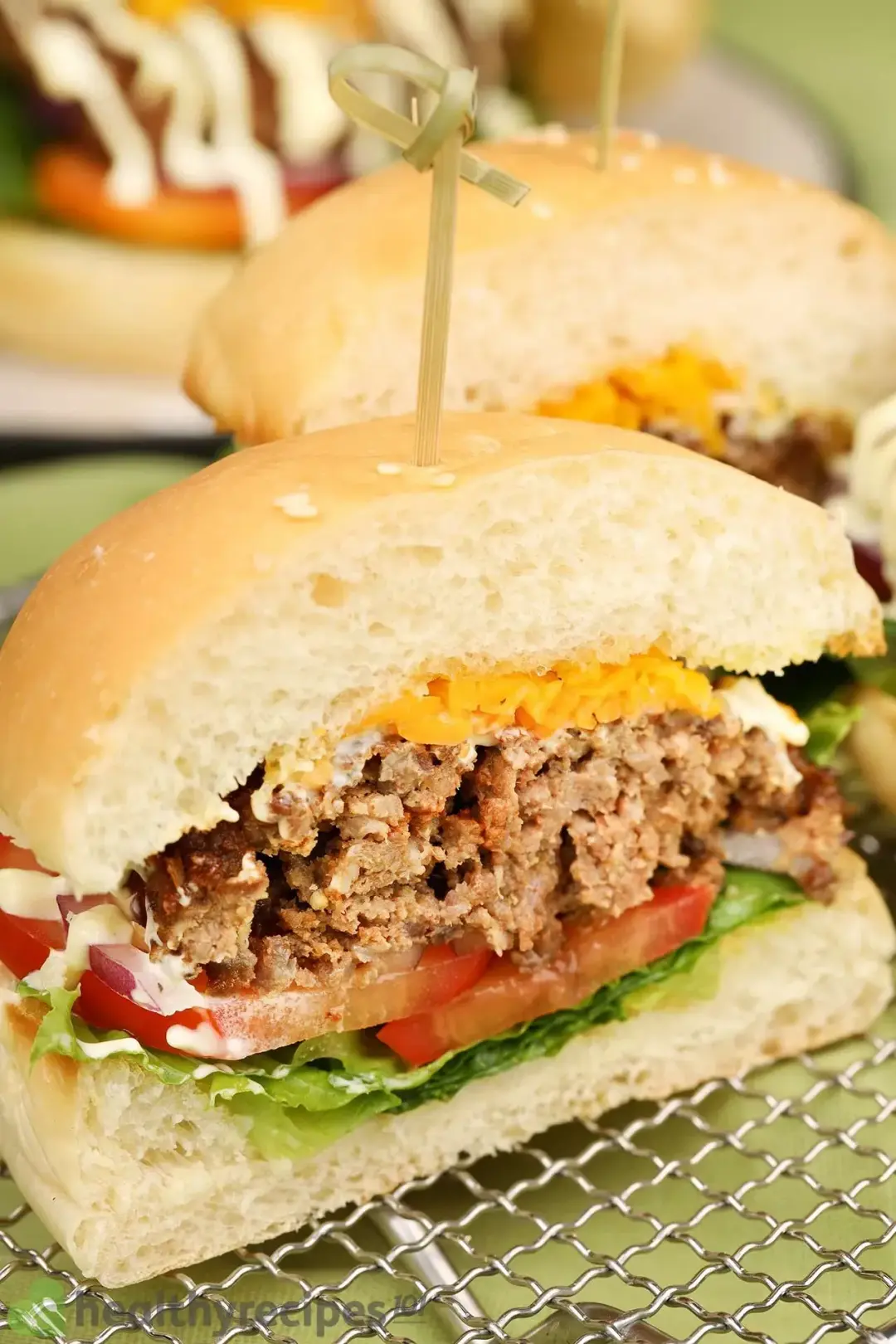 Store and Reheat Leftover Beef Burger
To maximize the quality, we recommend placing the ground beef patties and buns separately in an airtight container or wrap tightly in plastic wrap. Cooked hamburgers can be safely refrigerated for up to 3 – 4 days. If frozen, it should remain good quality for about 3 months.
Of course, you can use the microwave or a skillet to reheat the burger, but the oven is probably the most effective way. To do so, place your patties directly on a metal rack and place over a baking sheet so that the excess fat doesn't drip all over the oven.
Cook the meat at around 400°F for a few minutes until warm and the internal temperature reaches 165°F.
Check out our air fryer chicken burger recipe – an easy option for when you need a fast, hassle-free dinner.
What to Serve With Our Recipe
Burgers and french fries are just like peanut butter and jelly — they are a universal combination that pairs perfectly with each other. Check out our air fryer version for a less-greasy-yet-healthy twist on preparing the classic combo.
A light salad with seasonal fruits and fresh vegetables like our kale salad or Greek salad is a crowd-pleaser. They provide a gorgeously refreshing taste with pleasant tangy notes that help cut through the beef's fatty flavor, leaving you craving the next mouth-watering bite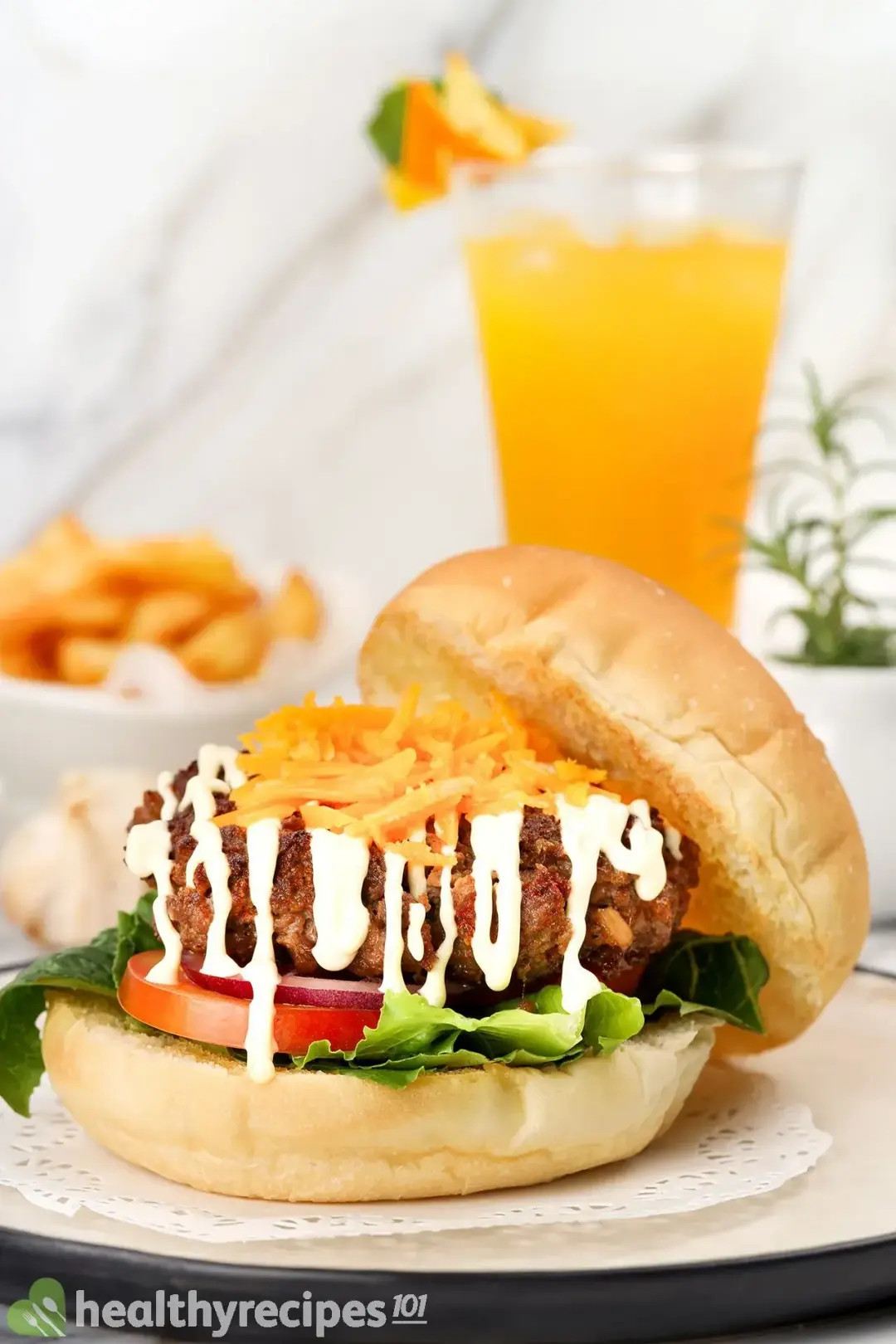 If you're interested in other burger recipes as healthy as this one, we've got some seriously delectable ones:
Beef Burger Recipe
Our beef burger recipe is quick, simple enough to execute as a weeknight dinner and gourmet enough to impress a crowd.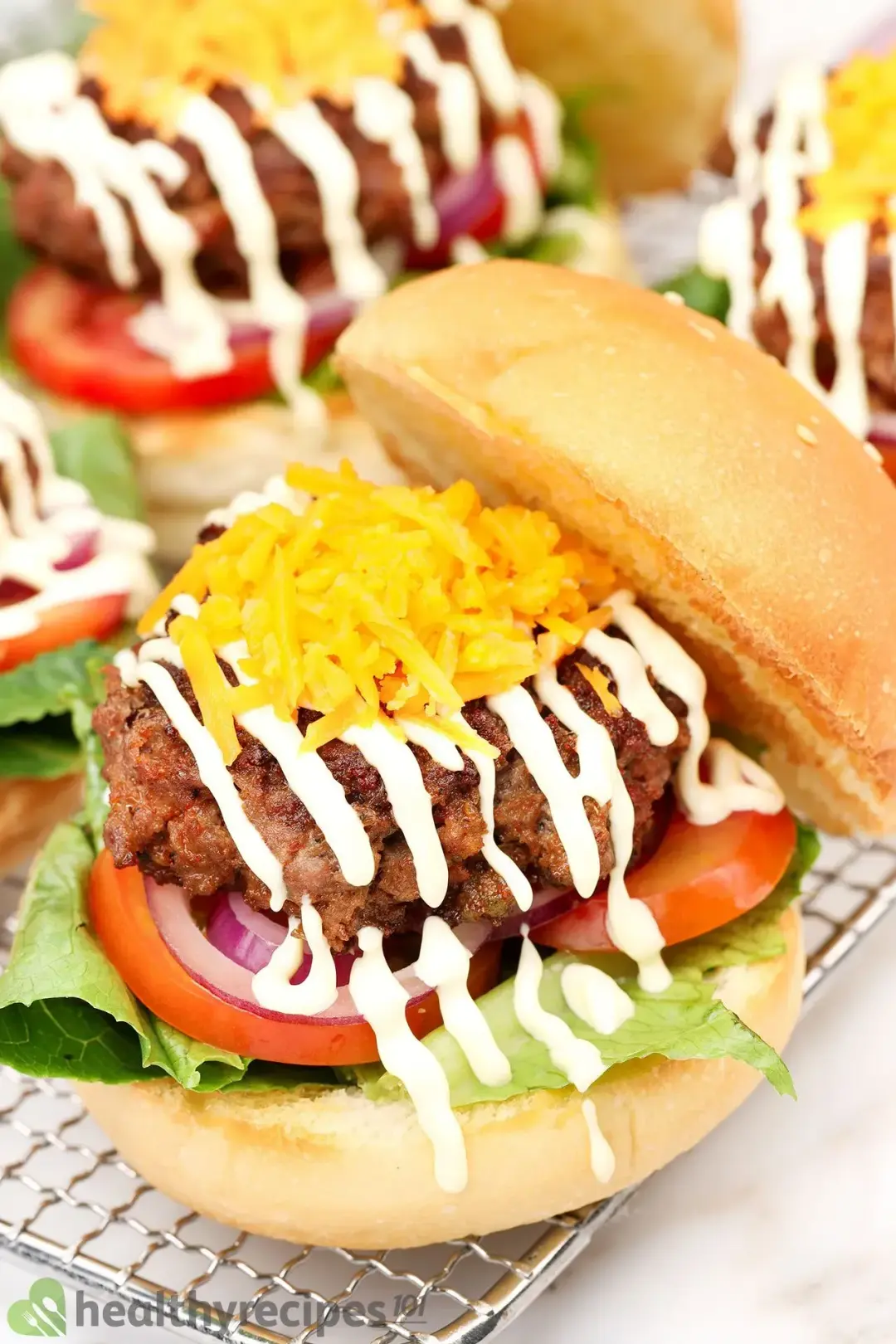 cook TIME

10 mins

prep TIME

10 mins

total TIME

20 mins
COURSE

Dinner, Lunch, Main Course

CUISINE

American

SERVINGS

servings

CALORIES

483 kcal
INGREDIENTS
12 oz

85% lean ground beef

1 tsp

garlic powder

1 tsp

paprika

0.3 tsp

salt

0.5 tsp

ground pepper

0.5 tsp

oregano

2 tsp

traditional Dijon mustard

1 tbsp

all-purpose flour

1 tbsp

olive oil

2 cloves

garlic (crushed)

1 tsp

fresh rosemary

1.5 tbsp

unsalted butter

4

hamburger buns

2 tbsp

Japanese mayonnaise

1 tbsp

plain Greek yogurt

2 oz

romaine lettuce

4 oz

tomatoes (sliced)

1 oz

red onion (sliced)

1 oz

shredded cheddar cheese
INSTRUCTIONS
1
In a large bowl, mix together 12 oz ground beef, 1 tsp garlic powder, 1 tsp paprika, 1/4 tsp salt, 1/2 tsp ground pepper, 1/2 tsp oregano, 2 tsp mustard, and 1 tbsp flour.
2
Divide evenly into 4 balls (about 3.3 oz each). Shape each ball into a 3/4 - 1 inch-thick patty. Preheat the oven to 430 ℉.
3
Add 1 tbsp olive oil, 2 cloves of garlic, and 1 tsp fresh rosemary in a nonstick skillet, heat over medium-high. Add patties, sear on high heat in the first 1 minute, then reduce the heat to medium-low and cook each side for about 2 - 3 minutes. Transfer patties to plate.
4
Spread 1 1/2 tbsp unsalted butter on 4 hamburger buns. Bake at 430 ℉ for 3 minutes.
5
Meanwhile, make the sauce: in a small bowl, whisk together 2 tbsp mayonnaise and 1 tbsp Greek yogurt.
6
Layer romaine, sliced tomatoes, sliced red onion, and then patties on the burger buns.
7
Add the mayonnaise sauce and top with 1 oz cheddar cheese. Serve warm.
NUTRITION
Nutrition Facts
Beef Burger Recipe
Amount Per Serving (1 serving)
Calories 483
Calories from FDA
% Daily Value*
* Percent Daily Values are based on a 2000 calorie diet.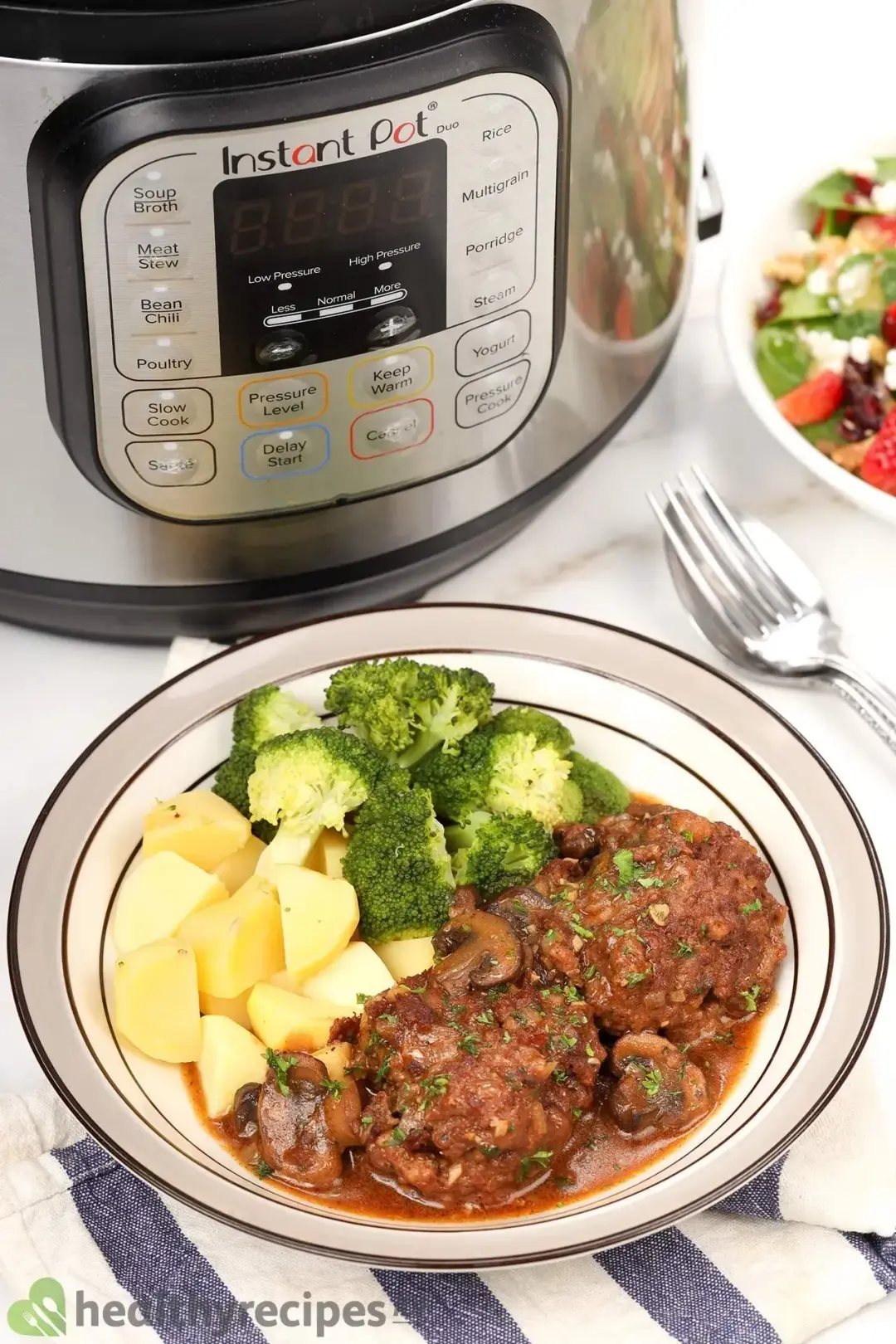 Previous Recipe
Instant Pot Salisbury Steak
Instant Pot Salisbury Steak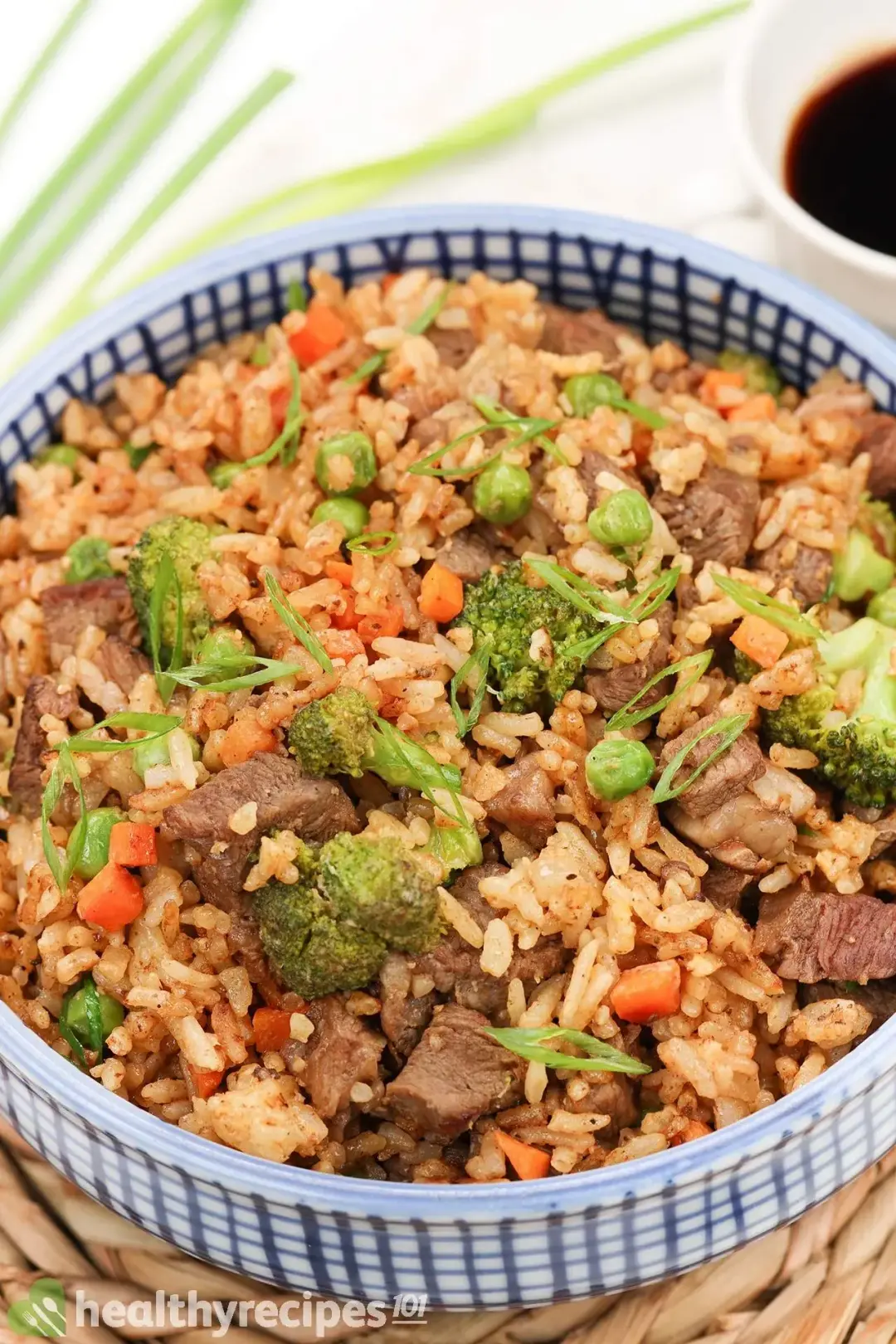 Next Recipe
Beef Fried Rice
Beef Fried Rice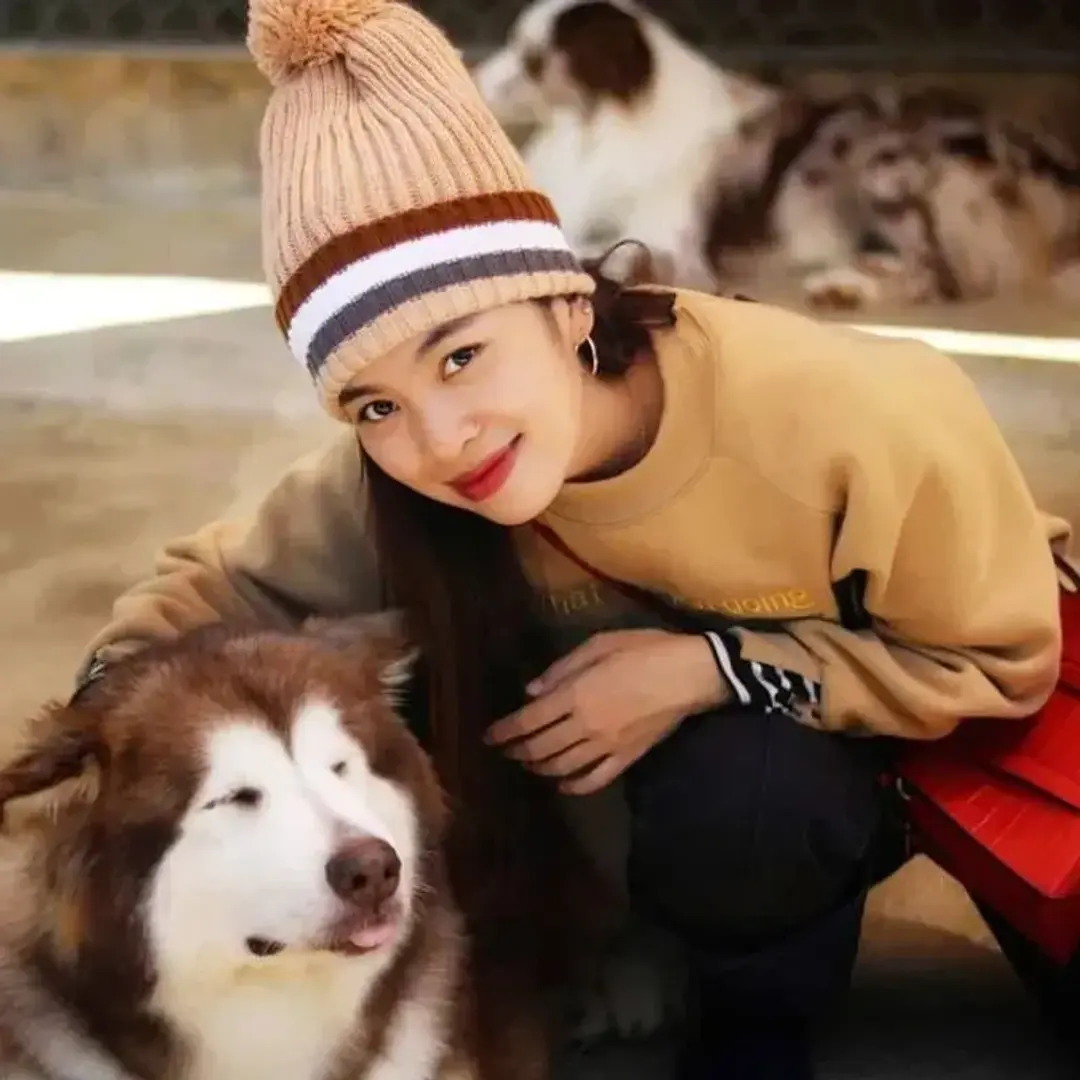 Chef, Culinary Consultant
Tuyet Pham is an award-winning Saigonese chef who believes that joy is the secret ingredient to delicious food. At Healthy Recipes 101, Tuyet personally tests and simplifies every recipe, ensuring maximum flavor with minimal effort. With a background at prestigious French restaurants P'TI Saigon and Le Corto, Tuyet knows how to make every dish exceptional.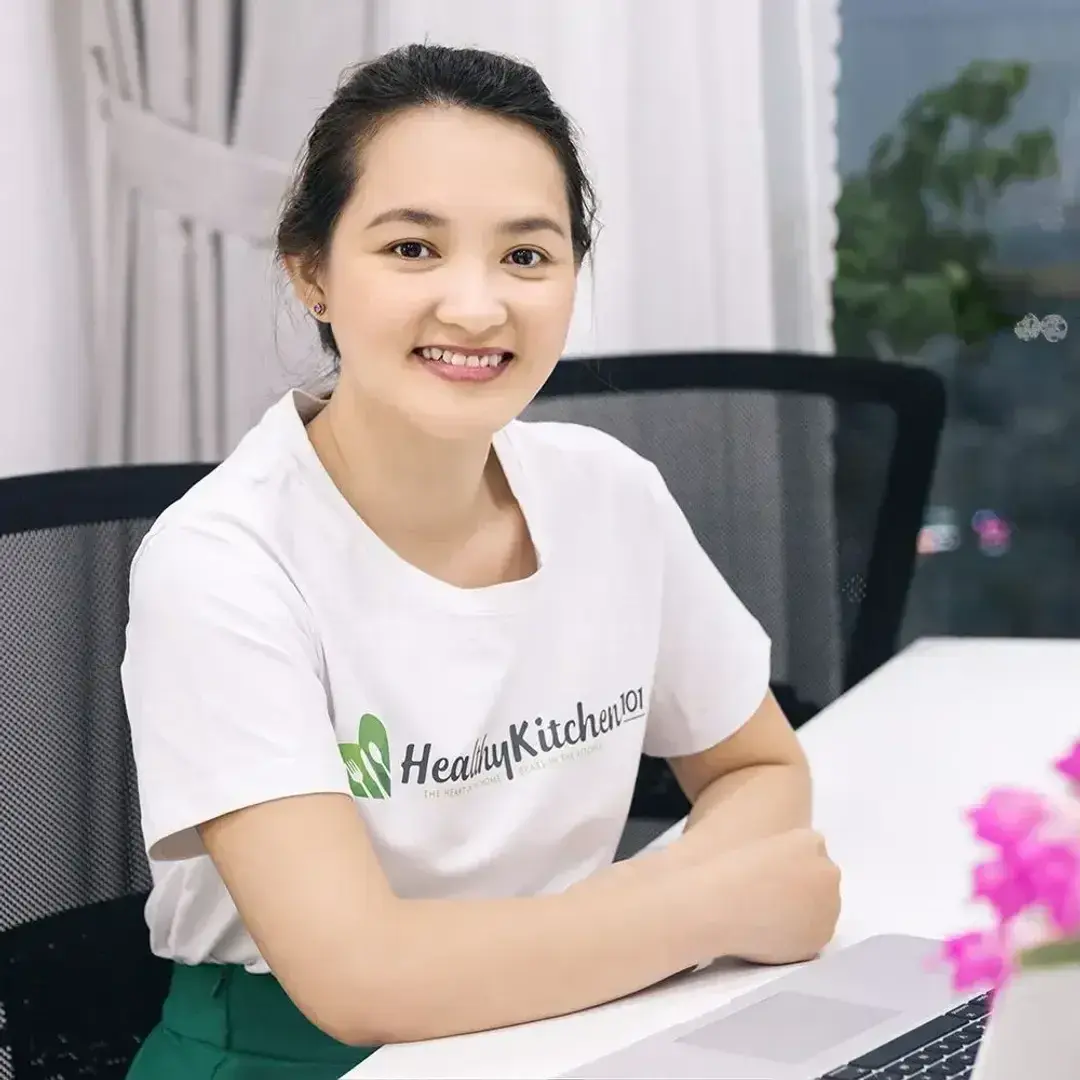 Writer, Author
Luna Regina is an accomplished writer and author who dedicates her career to empowering home cooks and making cooking effortless for everyone. She is the founder of HealthyKitchen101.com and HealthyRecipes101.com, where she works with her team to develop easy, nutritious recipes and help aspiring cooks choose the right kitchen appliances.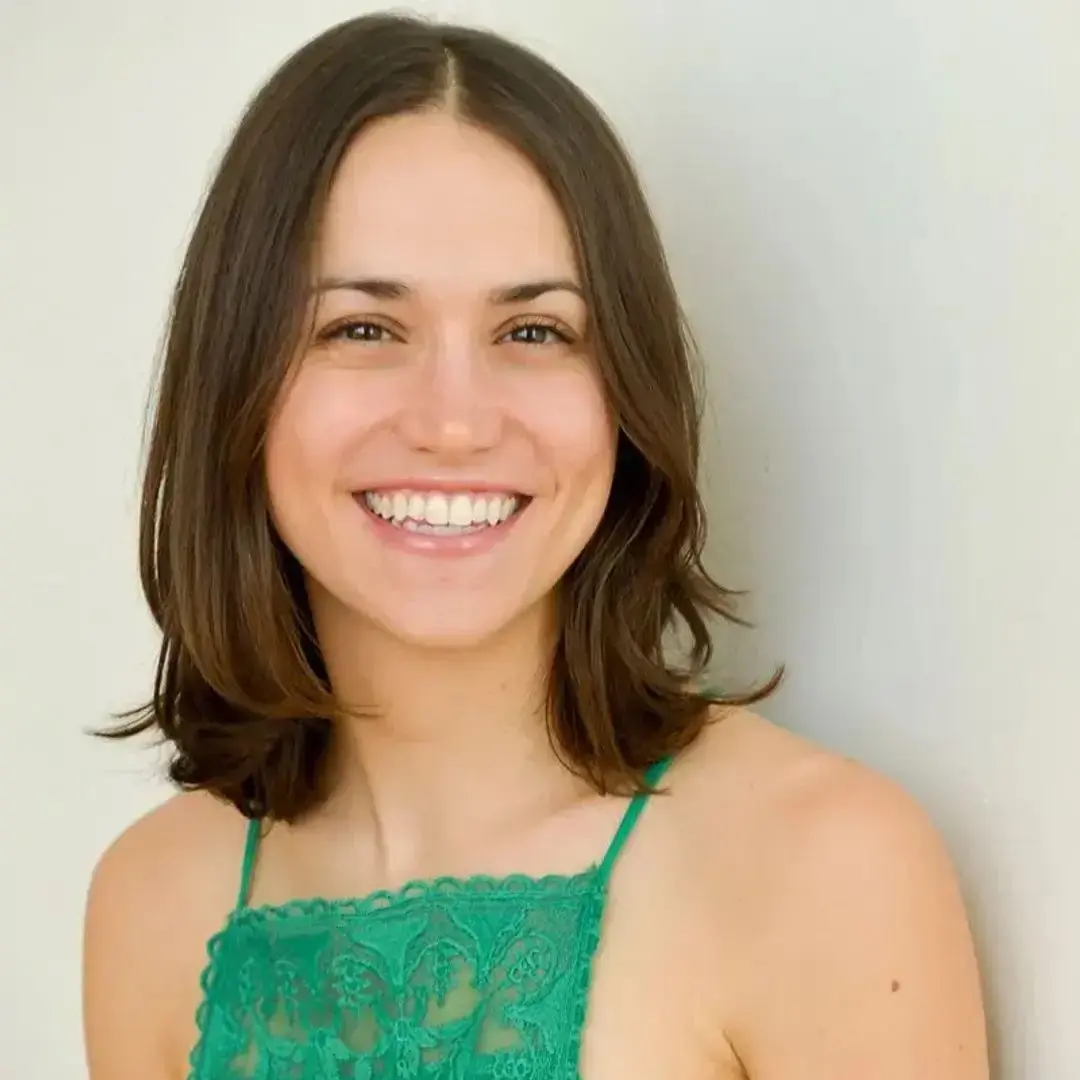 Nutrition Reviewer
Lizzie is a Minneapolis-based dietitian and founder of It's a Veg World After All. She completed her MS in Human Nutrition from Drexel University, and is an expert in culinary nutrition, recipe development, and nutrition communications.
Comments/ Reviews