This beef kabobs recipe is a party-friendly guide to a smoky, tasty, crowd-pleasing treat for summer feasts. Juicy, tender beef and colorful pieces of vegetables are threaded alternately on skewers, then grilled on high heat in the oven.
Keep scrolling for more!
What Are Beef Kabobs?
Beef kabobs are made by threading marinated beef chunks on a skewer, along with vegetables, and putting these meat sticks on direct heat to an outdoor grill. However, for homemade versions, they can also be cooked in the oven.
Nowadays, it's a favorite food for outdoor picnics and summer barbecues in the US.
The Differences Between Kebabs and Kabobs
"Kebab" is a universal street food that's prepared with meat roasted on a skewer or a spit over or next to an open heat source. It's popular in many European and Middle Eastern countries, as well as many regions in South and Central Asia in different forms and variants.
"Kabob" is a mainstream delicacy in North America, while "kebab" is seen the most in British menus. These two names do not refer to the same dishes as they follow different cooking methods, but in reality, they have been used quite interchangeably in both the US and the UK.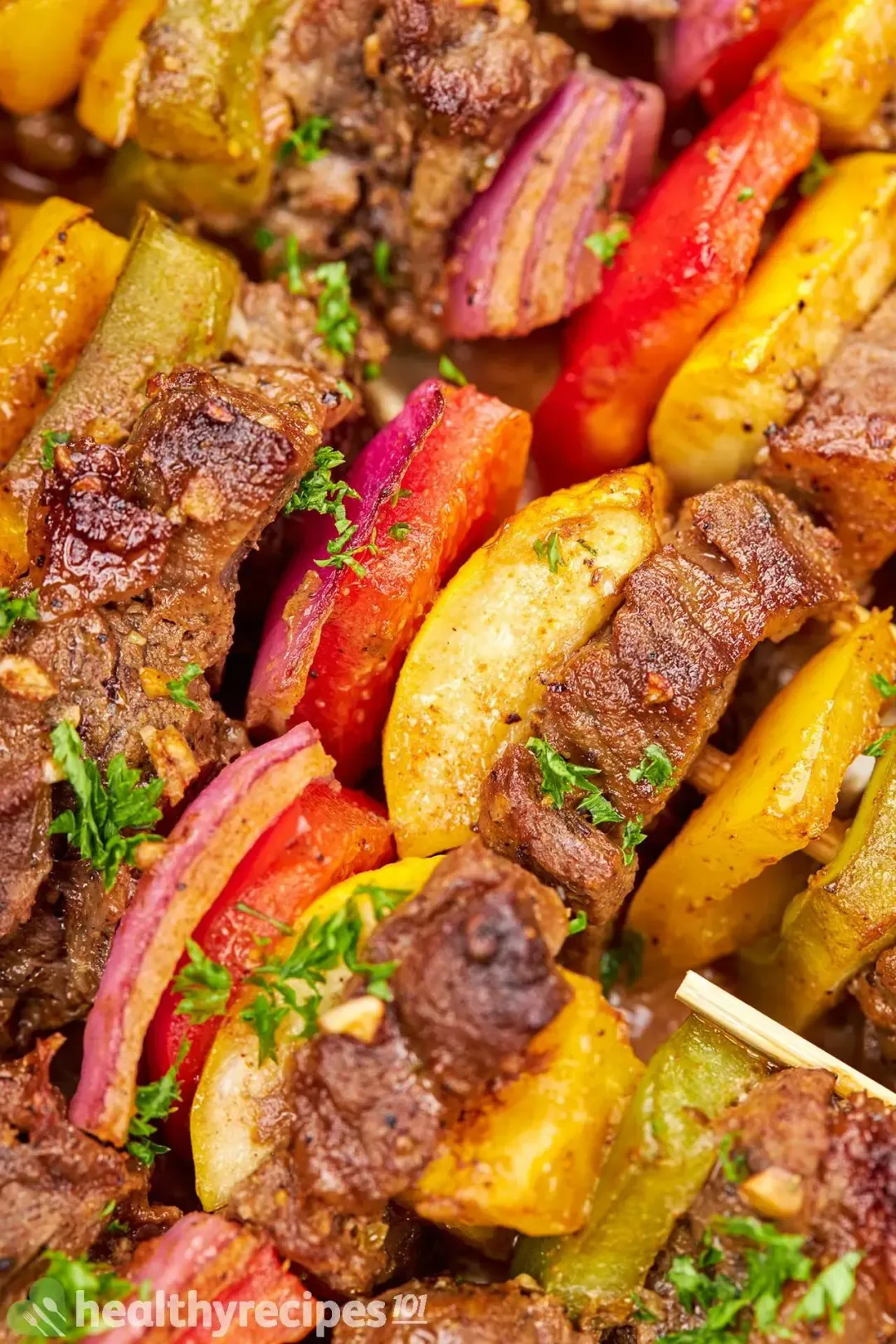 Is This Recipe Healthy?
As beef kabobs are a sizzling menu item, it's no surprise that they're packed with protein and fat. This dish should be incorporated into your diet as a full meal rather than a side snack to gorge on.
For such a nutrient-dense delicacy, we still managed to keep everything under control. As a result, a serving of these beef kabobs will give you 452 calories and 43.8 grams of protein, most of which are from the grilled steak.
Put simply, beef kabobs are okay to consume for healthy adults without specific health issues and who are not facing any risks for obesity, high blood pressure, or diabetes.
Best Cut of Beef to Use for Kabobs
There aren't many requirements for the right beef cut for a beef kabob. The marinade and high-heat grilling will do most of the work in enhancing the smoky robust flavor.
That being said, our only rule of thumb when selecting the beef cut for grills is to stay away from the thin ones such as petite sirloin steak or skirt steak. Thick cuts of beef are the best as they won't cook too fast and dry out, and they can hold on to the skewers well.
Besides beef chuck roast, the star of today's beef kabob recipe, other great options are filet mignon and top sirloin. These three types can all give you lean-but-still-juicy beef chunks with little fat and big beefy flavors, so opt for whichever works best for your budget.
Marinade
In today's recipe, we use a marinade of paprika, olive oil, chili powder, oregano, pepper, salt, garlic, onion powder, lemon juice, vinegar, sugar, mustard, and soy sauce to impart bold flavors to the beef. This marinade helps to add more moisture and break down the protein structure within the meat.
Marinating, therefore, is a must-do step to tenderize the beef and optimize the flavor, texture, and juiciness — especially when using tough and thick cuts like the beef chuck roast in this recipe. Such a simple process means a juicy beef kabob can be easily achieved even with economical beef cuts.
You can also reserve some of the marinade to baste the kabobs after grilling and before serving to get all of its savory goodness. And of course, please feel free to change up the spices and seasonings to your liking.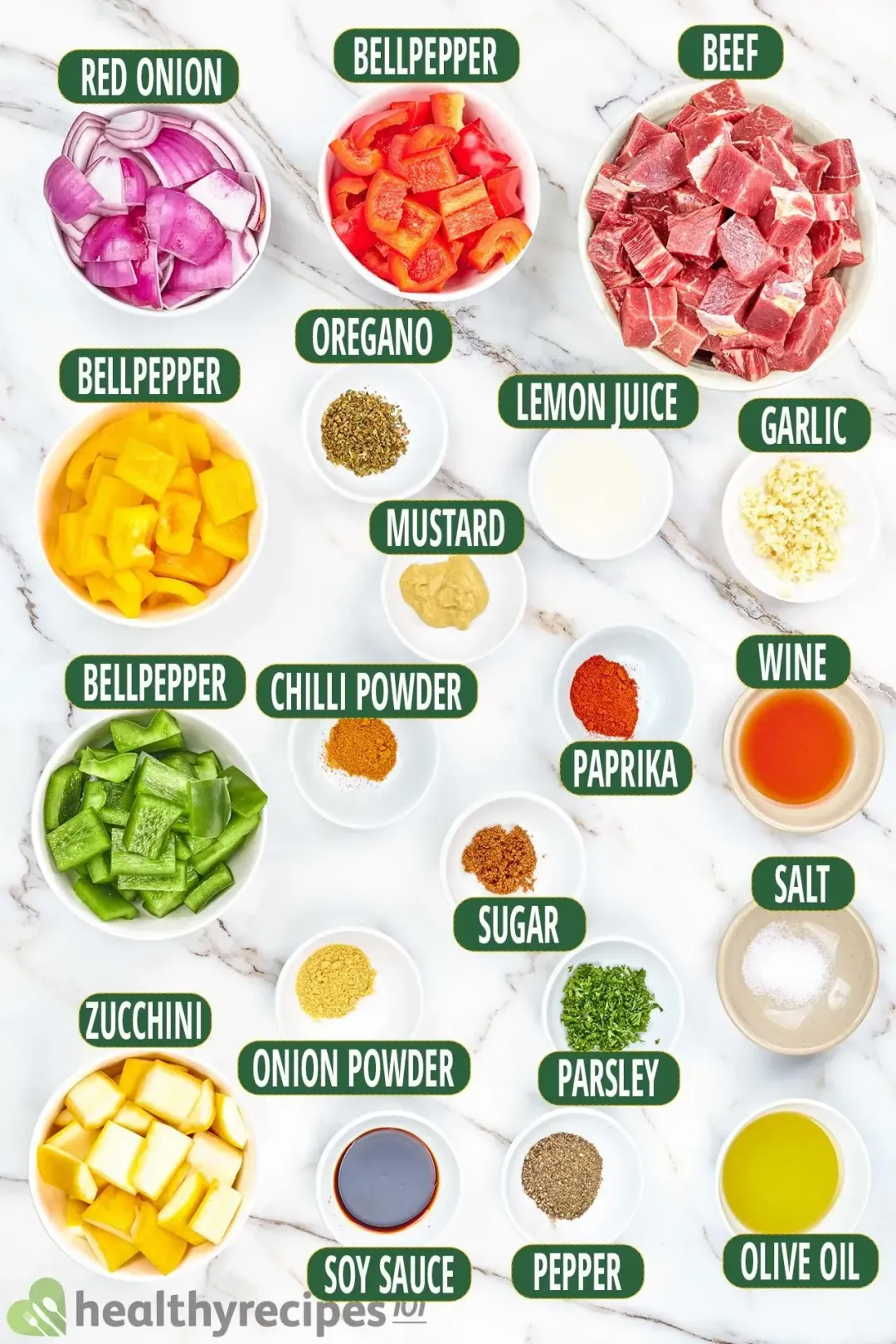 Tips for Making
For beef kabobs, there are a few rules to keep in mind to get the perfect final result. Some of which are:
1. Grilling time:
The grilling time may vary quite a lot based on the type of steak cut, oven model, and distance from the heat source to the skewers. As steak can overcook easily, we suggest keeping a close eye on them and doing no more than a 15-minute grilling session.
Keep in mind that the kabobs will continue to cook even after you've taken them off the grill because of the heat they retain. Please take this into account when estimating the cooking time.
2. Cut all items to the same size: To encourage even cooking, be sure to cut all the steak cubes in uniform size (about 1-1.25 inches each) so they cook evenly. The veggies should also be cut into pieces that are about the same size as the steak cut.
3. Use wooden or bamboo skewers and pre-soak them:
Pre-soaking the wooden skewers in water is meant to prevent them from burning up on the grill. For thick cuts of beef, use double skewers so they hold on better and thus making it easier for you to rotate them when cooking.
Remember to always use bamboo or wooden skewers for beef kabobs to make sure the steak stays juicy and slightly pink on the inside. Metal skewers can transfer heat, so they would overcook the meat fast and also make it so much more difficult for you to grab them (by hand) when on the grill.
4. Thread it loosely: When threading the items onto the skewers, make sure to keep a little space between each of them. With a loosely threaded kabob, all the ingredients will get more heat circulation and be able to cook more evenly without the outside being charred while the inside stays underdone.
5. Allow some resting time after grilling: Allow the grilled beef kabobs to rest for about 5 minutes after removing them from the grill. This allows the juices in the beef to re-settle, keeping it nice and juicy, with flavor in every bite!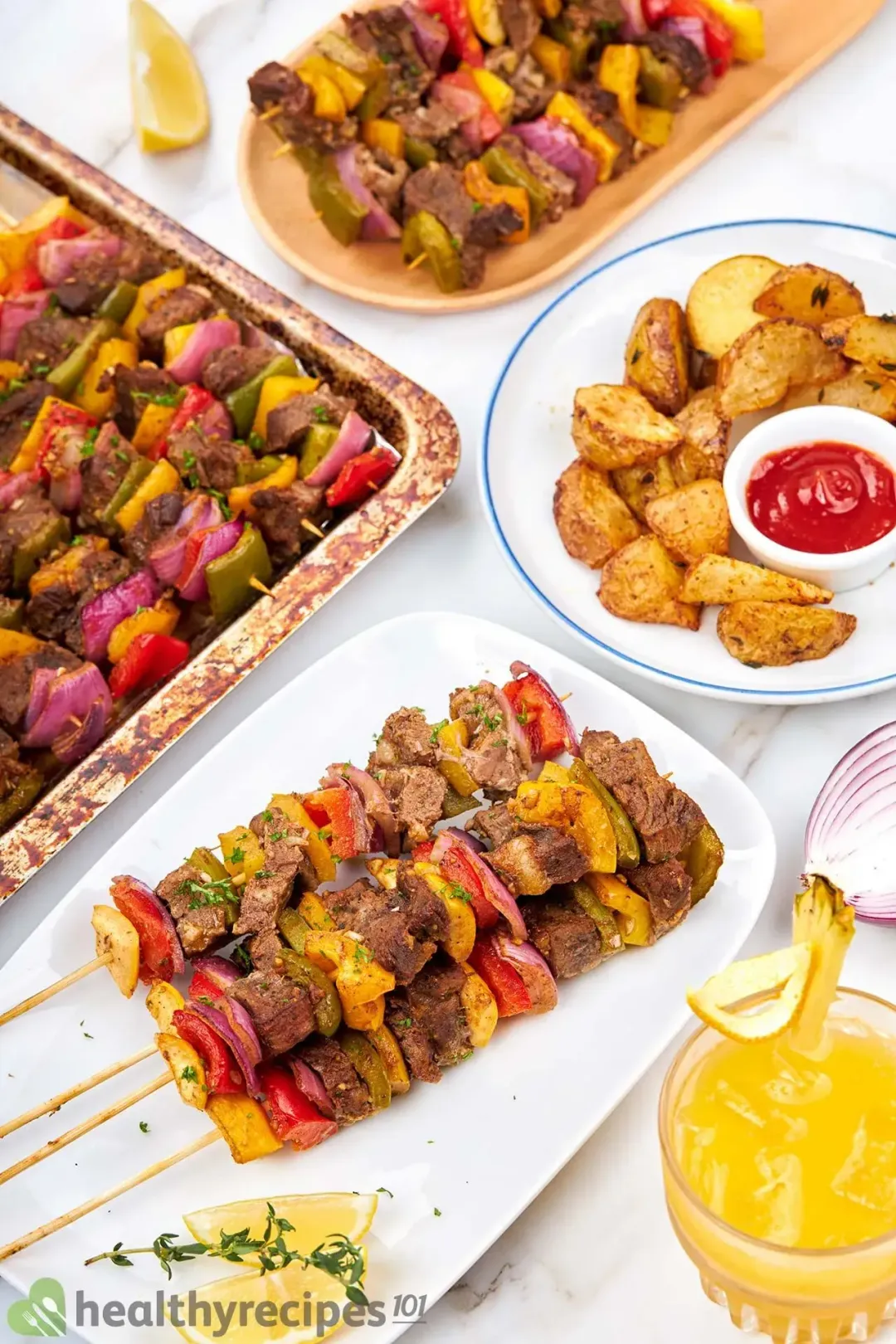 How to Store and Reheat The Leftover
Although we doubt if there would be any unfinished servings of beef kabobs, it's good to know that leftovers can still last well for up to 3 days in the fridge.
Let the beef kabobs cool down completely to room temp, then store the leftover portions properly in airtight containers. When ready to reheat, simply pop them in the microwave, the oven, or directly on a grill to quickly warm them through before serving.
If this dish Beef Kabobs strikes your fancy, we think this Shrimp Kabobs Recipe will also suit your likings.
What to Serve With
Air fryer potato wedges: We decided to make a combo of finger foods by pairing our smoky beef kabobs with these delicious crispy potato wedges. They come with a similar flavor to French fries but with much less grease, and also require very little time and effort to make.
Orange pineapple juice: This five-ingredient beverage delivers robust flavors and an abundance of vitamins and nutrients. Incorporating this sweet-sour orange pineapple juice in today's big meal can help reset your taste buds and aid in digestion big time.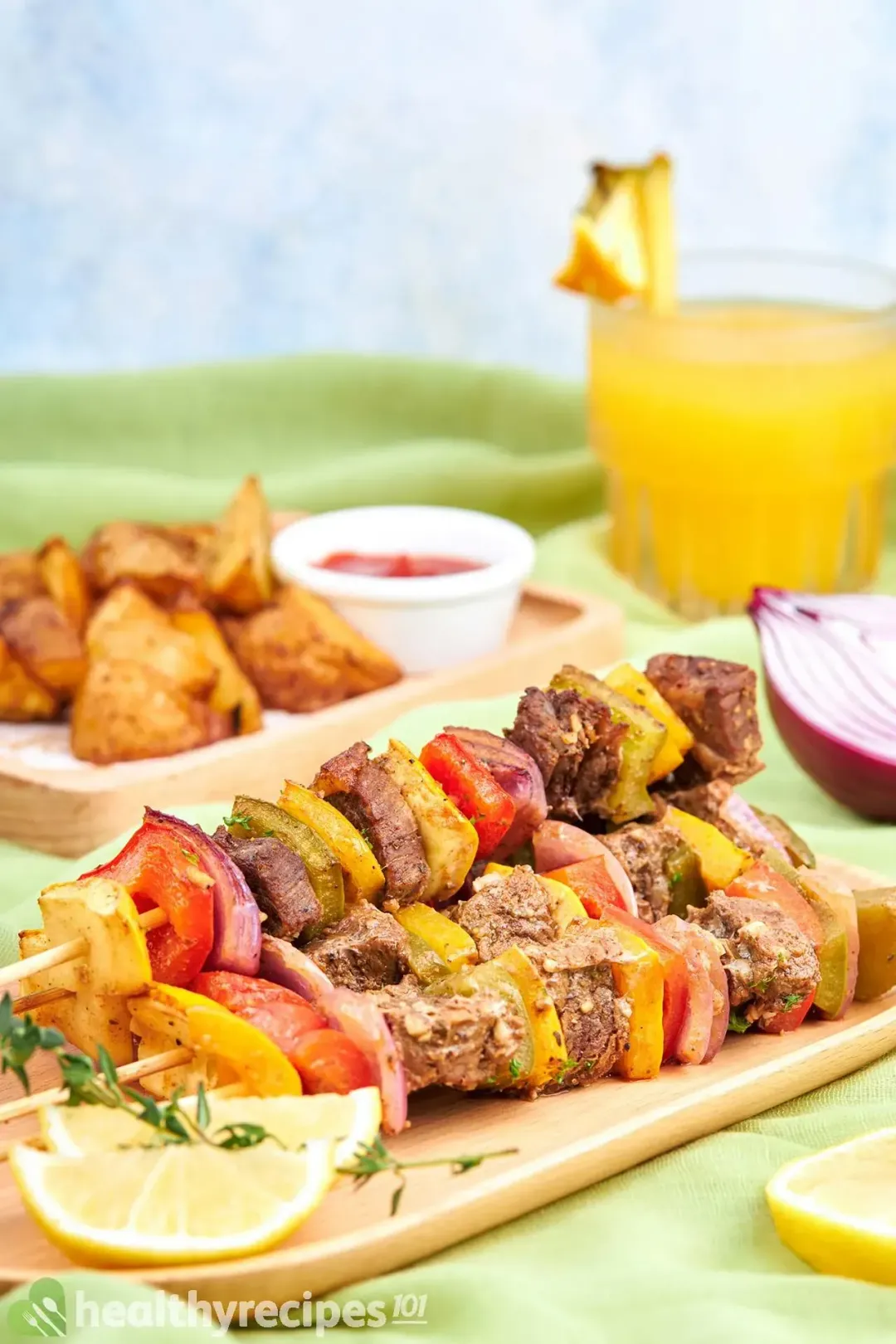 Get Creative in the Kitchen with These Exciting Beef Finger Food Recipes
Looking for a quick and delicious dinner idea? Try our beef fajitas recipe! Tender strips of beef, sautéed peppers and onions, and a blend of Mexican spices make this dish a crowd-pleaser. Serve with warm tortillas and your favorite toppings for a satisfying meal.
This recipe for air fryer empanadas is a healthier take on the classic Latin American pastry. Made with a flaky crust and filled with savory beef and vegetables, these empanadas are perfect for a quick and easy meal or snack. The air fryer method ensures that they come out crispy and delicious without the need for deep frying.
For those who love beef finger foods that are just as tasty, our roundup offers a variety of delectable options to satisfy your cravings.
Beef Kabobs
This beef kabobs recipe is a party-friendly guide to a smoky, tasty, crowd-pleasing treat for summer feasts. Juicy, tender beef and colorful pieces of vegetables are threaded alternately on skewers, then grilled on high heat in the oven.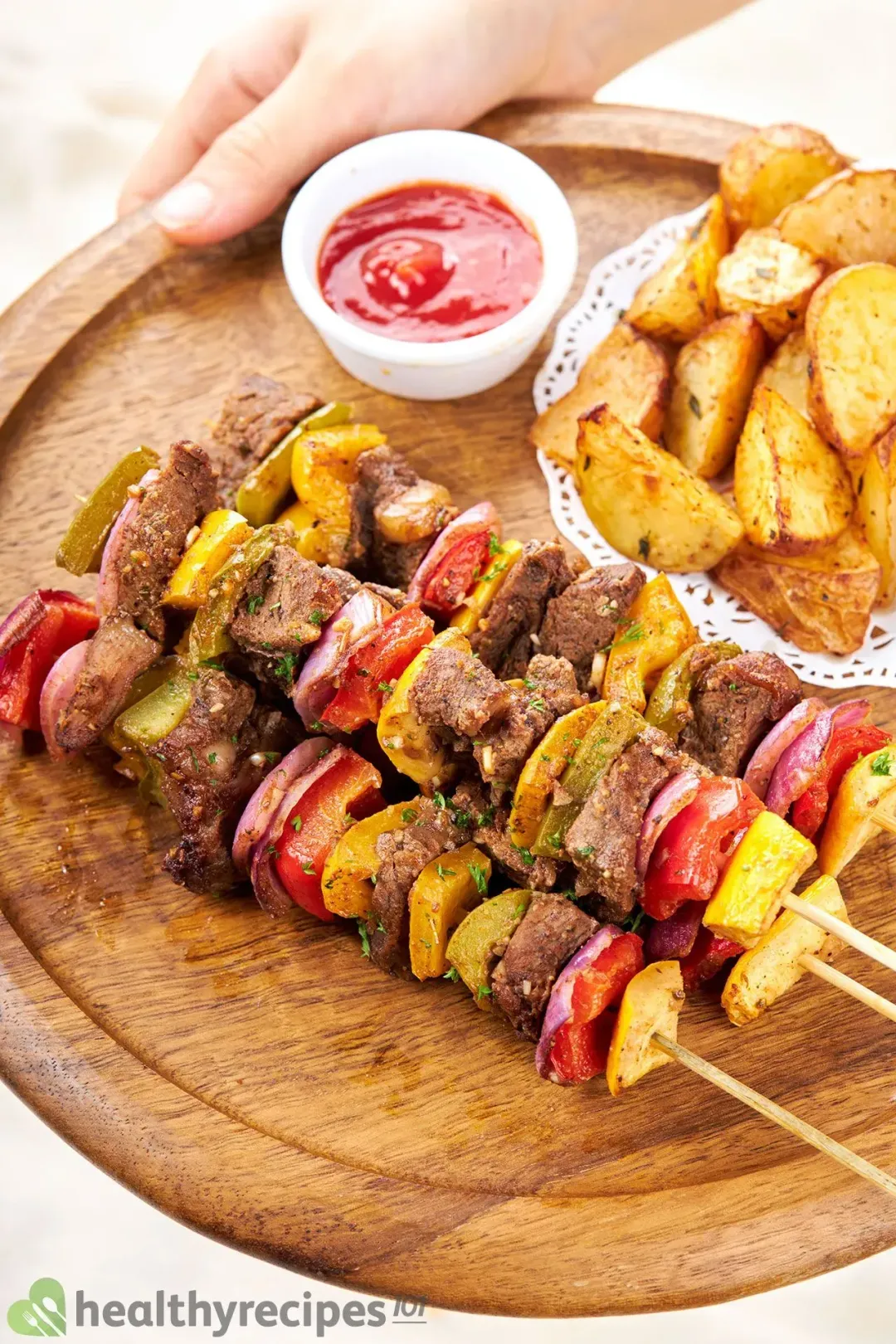 cook TIME

35 mins

prep TIME

10 mins

total TIME

45 mins
COURSE

Main Course

CUISINE

American

SERVINGS

CALORIES

452 kcal
INGREDIENTS
28 oz

beef chuck

(chunked)

6 oz

yellow zucchini

(chopped)

6 oz

green bell pepper

(chopped)

6 oz

yellow bell pepper

(chopped)

6 oz

red bell pepper

(chopped)

1 tsp

ground black pepper

1/2 tbsp

reduced-sodium soy sauce

1 1/2 tsp

traditional Dijon mustard
INSTRUCTIONS
1
Preheat the oven to 475°F.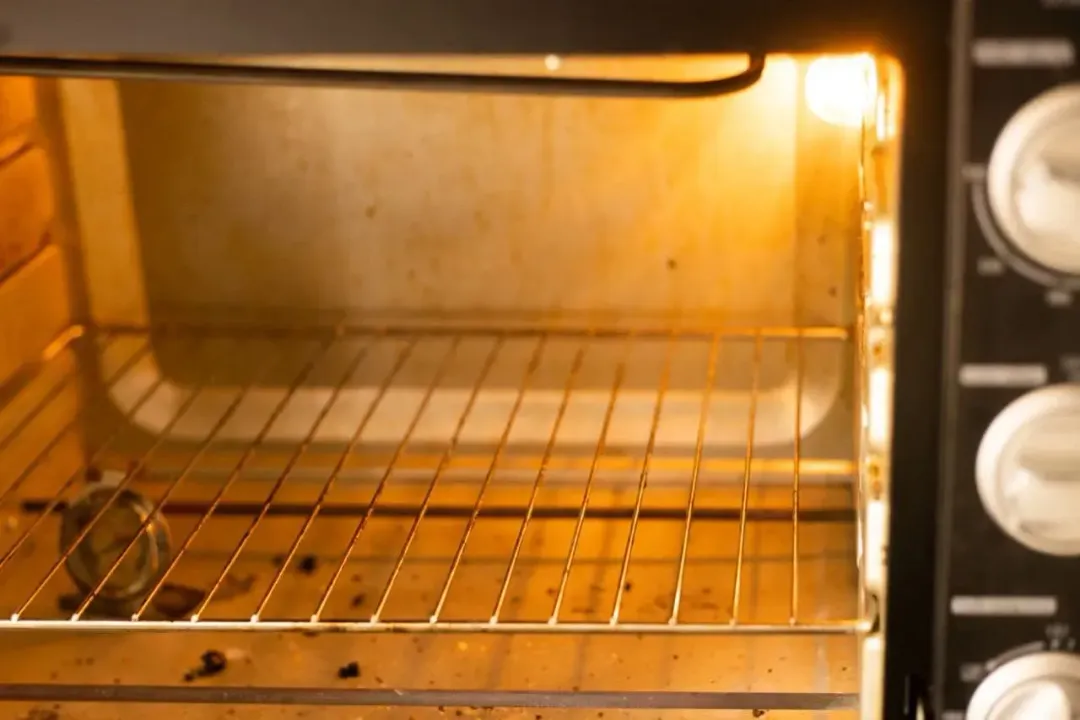 2
In a mixing bowl, combine 28 oz beef chuck with a marinade of 1 tsp paprika, 3 tbsp olive oil, 1/2 tsp chili powder, 1 tsp oregano, 1 tsp ground black pepper, 1/2 tsp salt, 1 tbsp minced garlic, 1 tsp onion powder, 1 tbsp lemon juice, 1 tbsp wine vinegar, 1 tsp brown sugar, 1 1/2 tsp Dijon mustard, and 1/2 tbsp reduced-sodium soy sauce. Toss and rub the beef with the marinade, make sure it's coated evenly.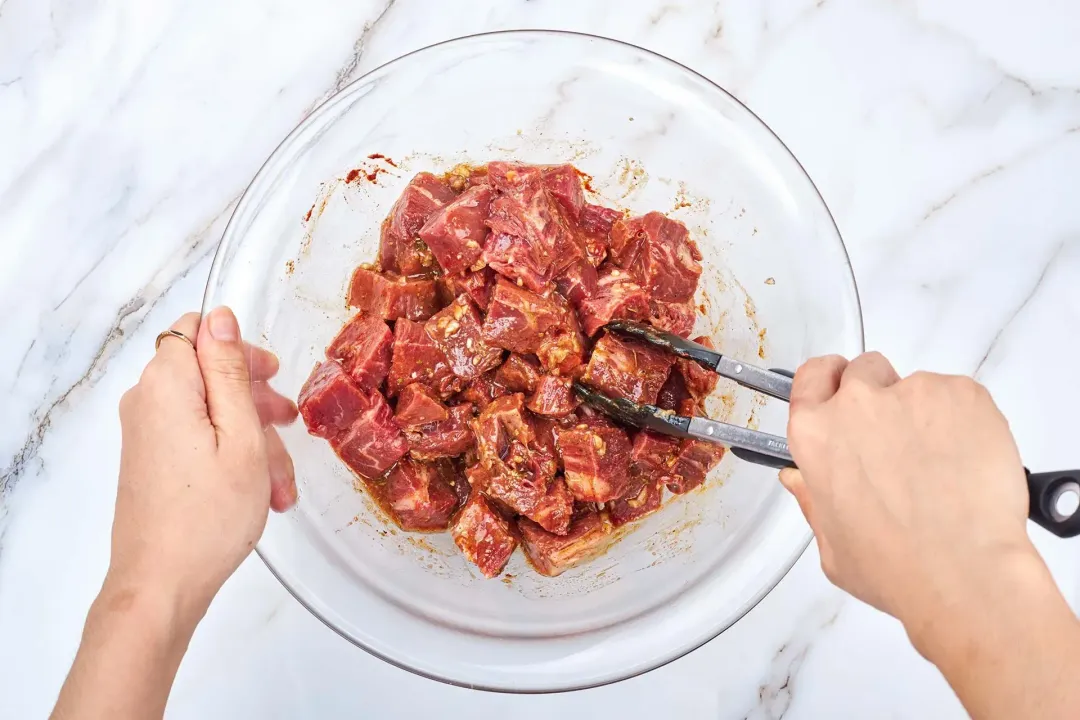 3
Add 6 oz yellow zucchini, 6 oz green bell pepper, 6 oz yellow bell pepper, 6 oz red bell pepper, and 6 oz red onion to the mixing bowl. Toss to marinate.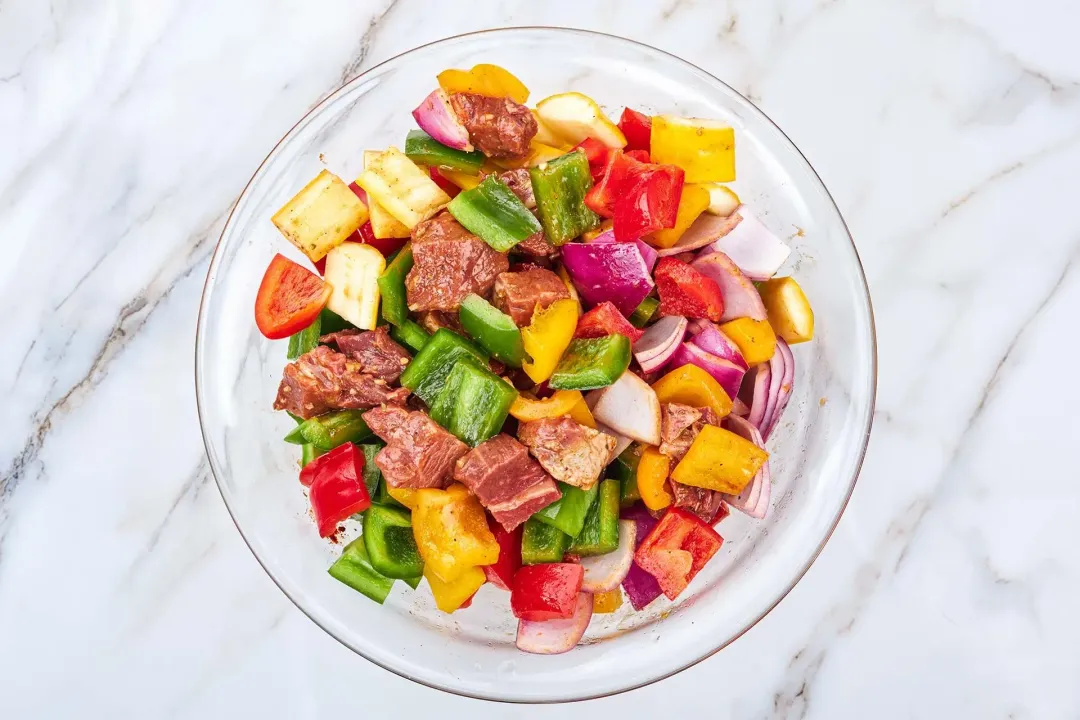 4
Carefully thread and alternate the beef and the vegetables on the skewers. Don't try to thread too many pieces on one skewer, instead, keep a little space between each.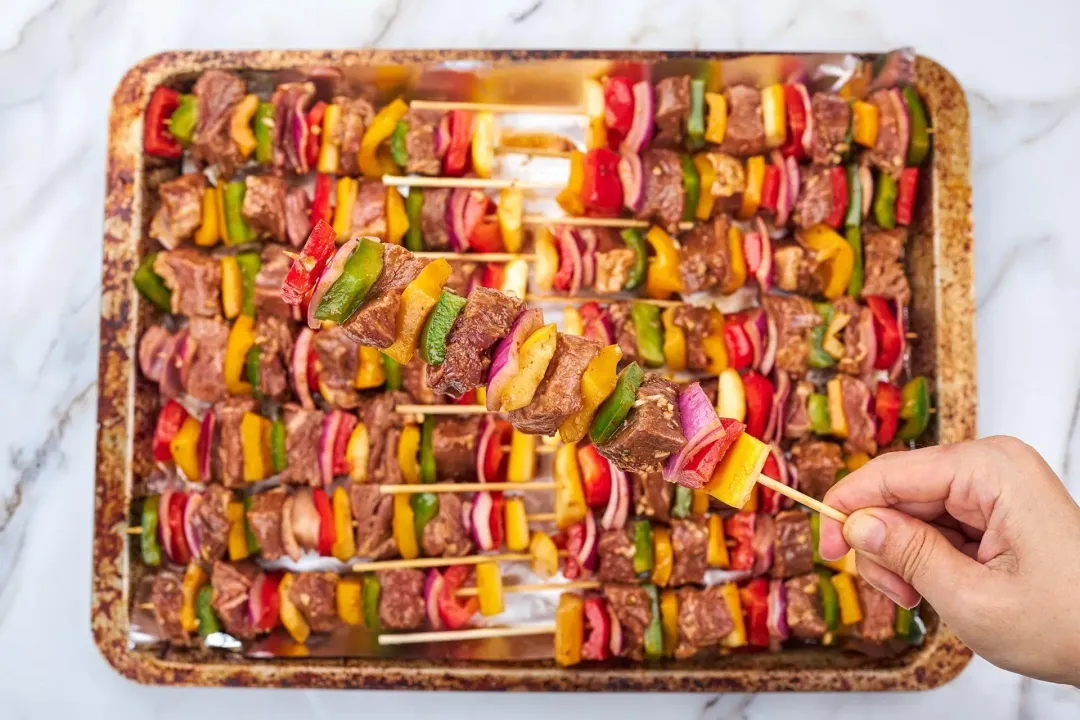 5
Add the skewers to the baking sheet lined with aluminum foil. Grill the kabobs for 15 minutes on the top rack of the oven. No need to turn them midway.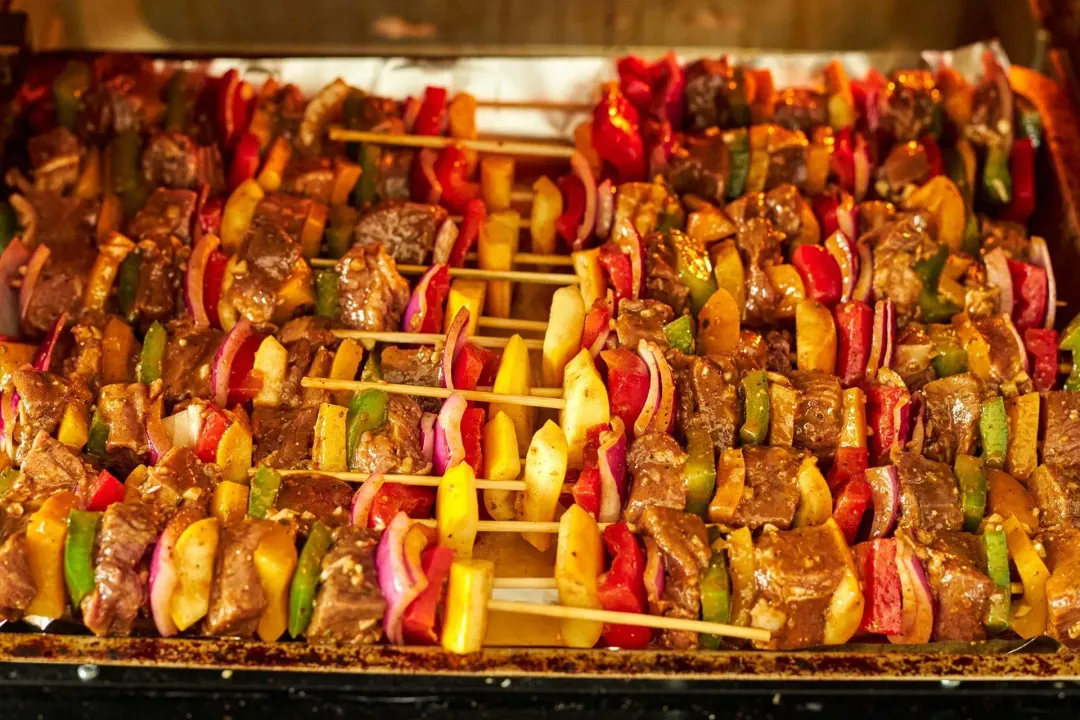 6
Remove the kabobs from the oven. Let the meat rest for 5 minutes, garnish with 1 tbsp chopped parsley, and serve hot.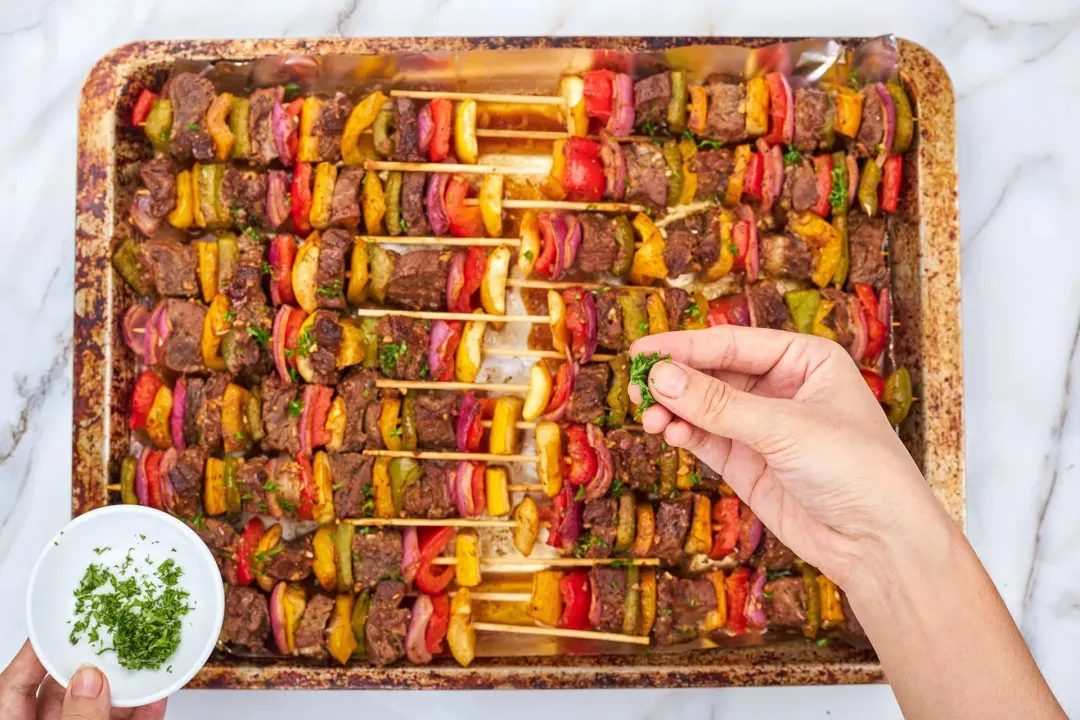 NUTRITION
Nutrition Facts
Beef Kabobs
Amount Per Serving (1 serving)
Calories 452
Calories from Fat 207
% Daily Value*
* Percent Daily Values are based on a 2000 calorie diet.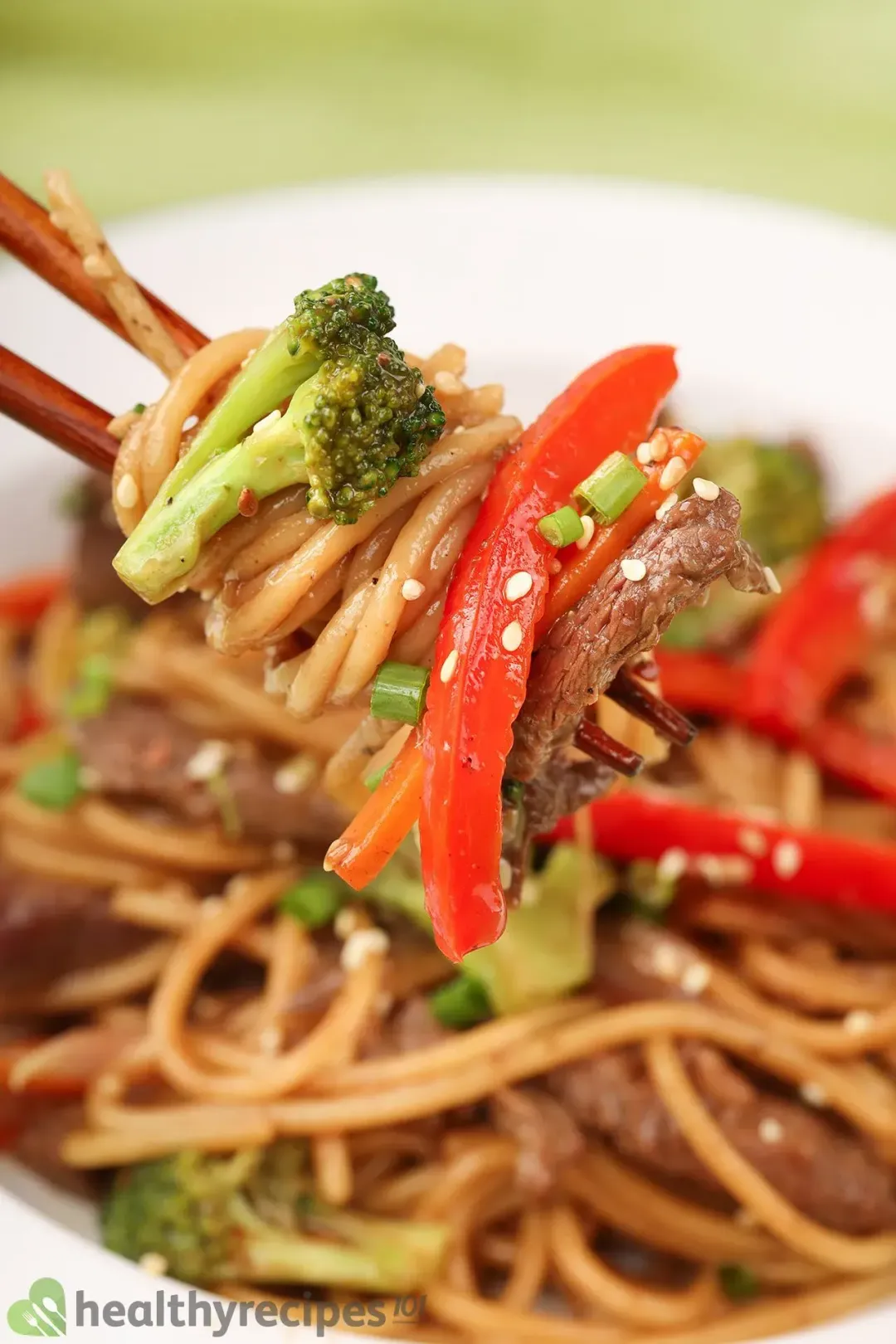 Previous Recipe
Beef Lo Mein
Beef Lo Mein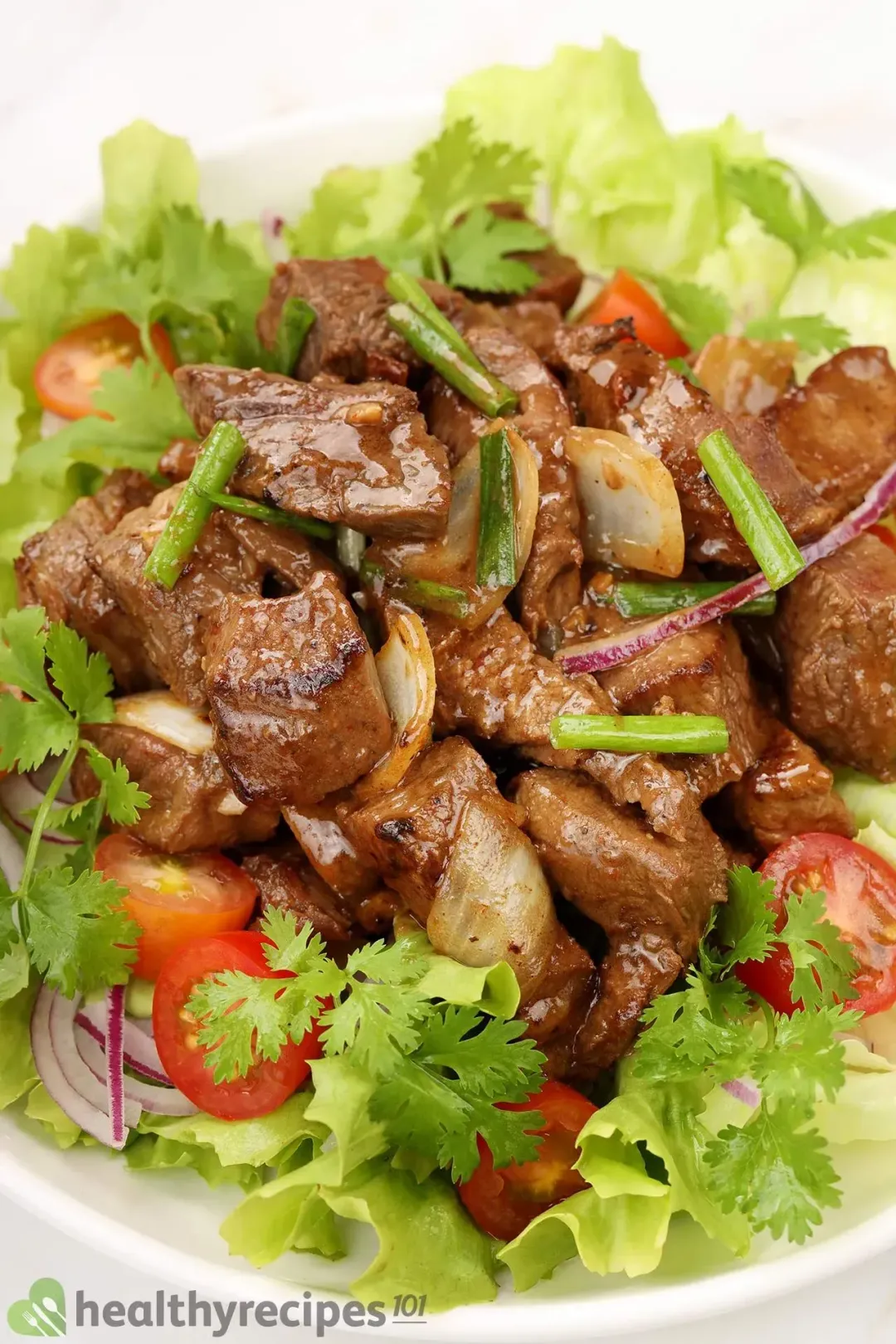 Shaking Beef
Head Chef, Culinary Consultant
Tuyet Pham is an award-winning Saigonese chef who believes that joy is the secret ingredient to delicious food. At Healthy Recipes 101, Tuyet personally tests and simplifies every recipe, ensuring maximum flavor with minimal effort. With a background at prestigious French restaurants P'TI Saigon and Le Corto, Tuyet knows how to make every dish exceptional.
Writer, Author
Luna Regina is an accomplished writer and author who dedicates her career to empowering home cooks and making cooking effortless for everyone. She is the founder of HealthyKitchen101.com and HealthyRecipes101.com, where she works with her team to develop easy, nutritious recipes and help aspiring cooks choose the right kitchen appliances.
Nutrition Reviewer
Natalie Butler is a registered dietitian nutritionist with a passion to help others live their best life through food, fitness, safer beauty and a healthy lifestyle. She has expertise with a variety of diets and diseases and believes that there is no one-size-fits-all approach for health.
great way to enjoy a healthy and protein-rich meal that is also visually appealing.