If you love spaghetti and meatballs, this spaghetti bolognese recipe might be your new favorite. It's quick to make, easy to store, and tastes delicious — a mouthwatering meal you can have every day.
How Our Spaghetti Bolognese Is Healthy
There is 25 g of protein in each serving, which accounts for about 25-54% of your daily needs. Everyone's protein needs are different, but considering this is just one meal of your three a day, 25 g is a decent amount.
What's more important for healthy eating is to keep an eye on your calorie intake. Each serving will provide you with an ideal amount: 473 calories.
Finally, we also tried to keep the saturated fats and sodium content within their healthy limits. There are 6.6 g saturated fats and 563 mg sodium in each serving, which roughly translates to less than 1/3 of the daily recommendations.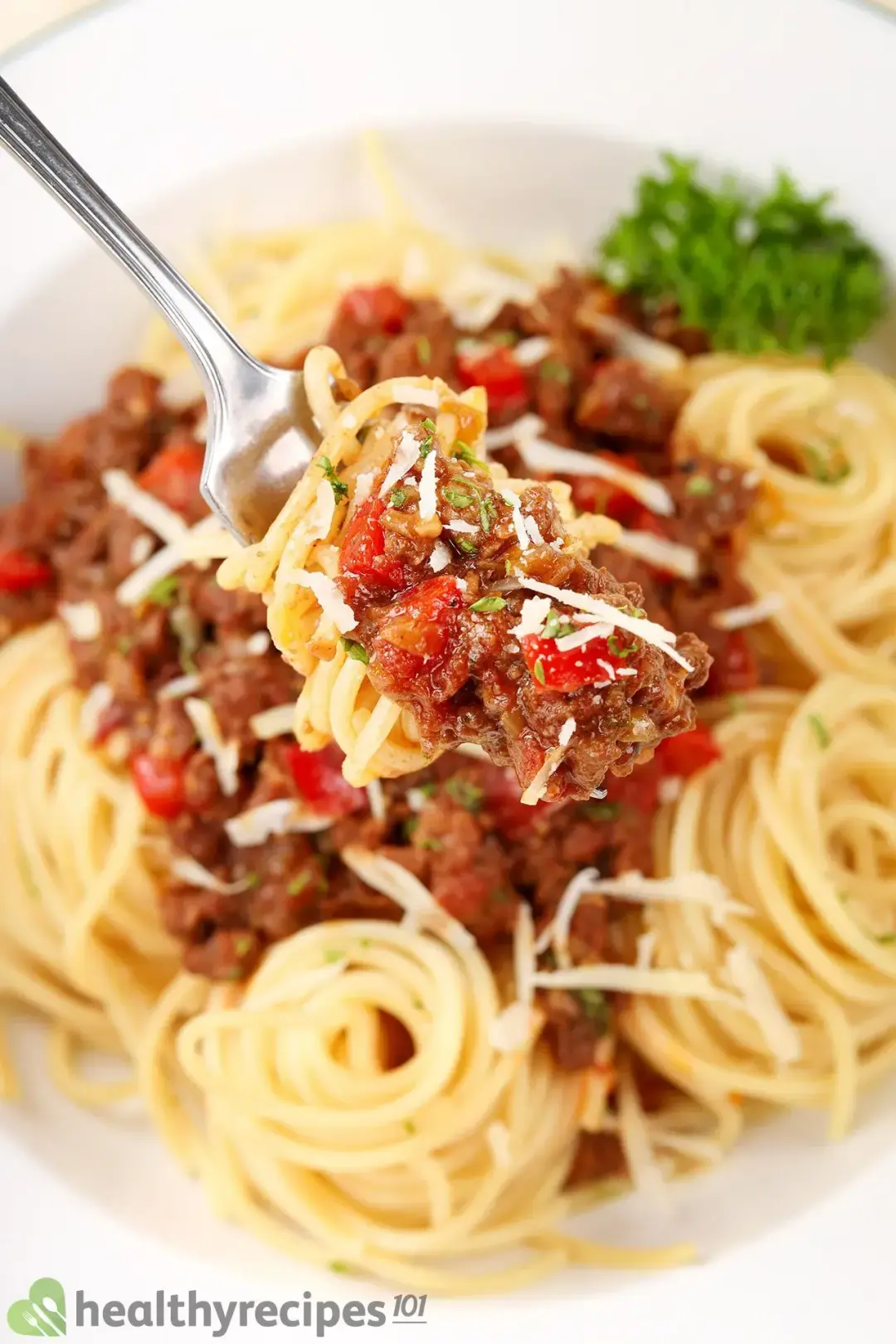 Homemade Spaghetti Sauce for This Recipe
There's a good reason that we didn't use store-bought spaghetti sauce: It's impossible to find something not heavily salted. They're convenient, that's for sure, but most of the ones we found have a terribly high sodium content.
The good news is, it's easy to make a healthy and tasty spaghetti sauce at home. You only need the following:
Onion and garlic: the flavor base of many dishes, including this one. It's crucial to cook them until translucent to release the sweetness and mellow out the pungent smell.
Tomato paste: to bring a concentrated acidic taste to the sauce and an appetizing red shade. Sure, the tomato sauce already has some tomato paste, but more is better.
Tomato sauce: the main ingredient. We also added diced tomatoes and peppers.
Ground beef: we're fond of the 85% lean choice, which is easy to find and has a healthy amount of fat. Even leaner options would result in a less flavorful sauce, so this is the one to go for.
Italian seasoning: containing all the crucial herbs to give the sauce an irresistible aroma.
Brown gravy mix: to give the meat a deeper flavor. Any brand will do (we're using Knorr's).
Paprika and pepper: to give the sauce a kick; you can add more, less, or none depending on your liking.
Some sugar and salt: to balance out the flavor of the sauce. The end result should taste really umami, not too acidic, and moderately salty.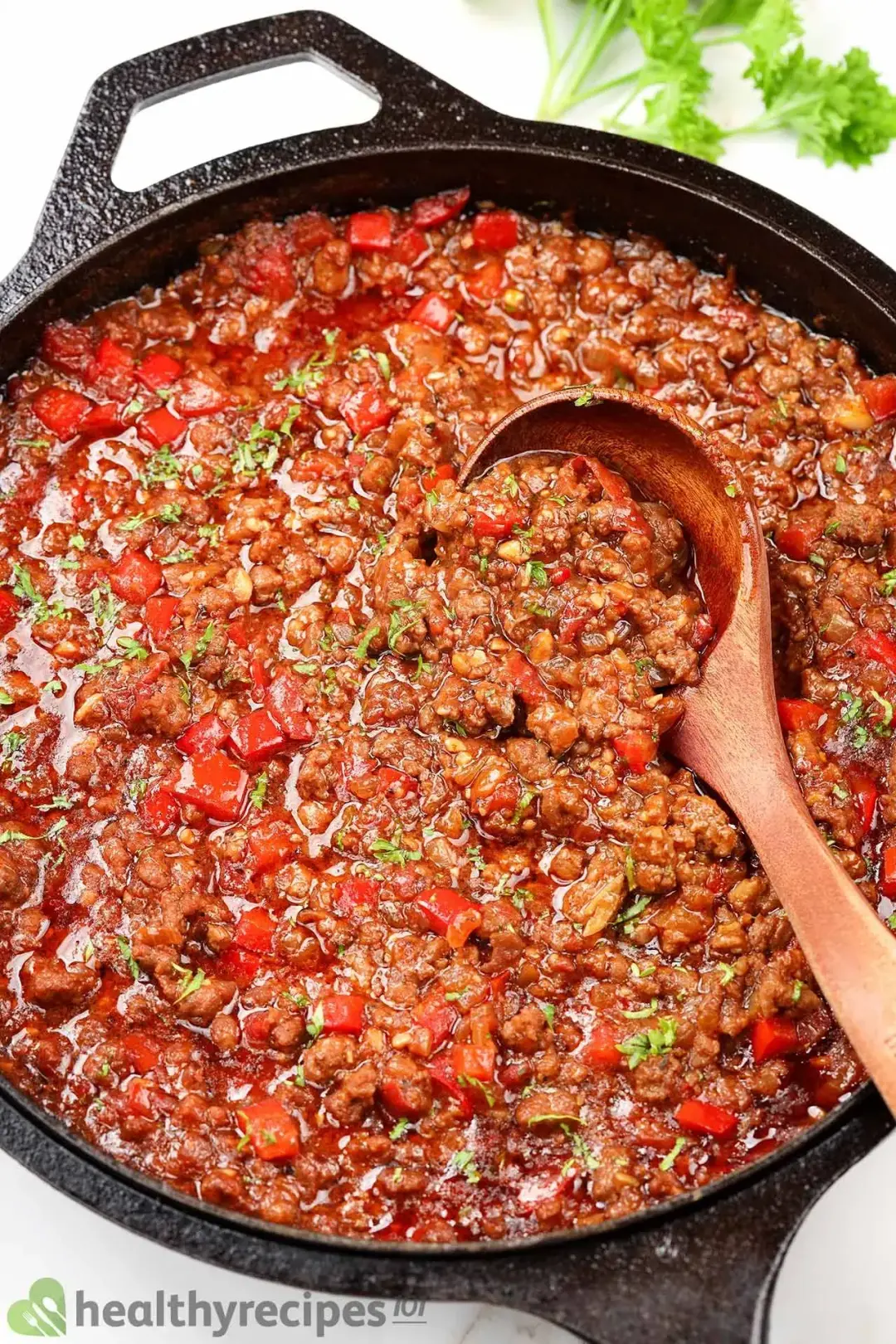 Finally, we cook the meat sauce with some chicken stock. It thins out the concentrated sauce while adding more flavor.
We highly recommend that you make this sauce in your own free time, because freezing it is a breeze. We'll go into more details in the storage section below.
How to Make Spaghetti Bolognese
First, turn on your burner and sauté the aromatics in a pan. Then add tomato paste, diced tomatoes and peppers, tomato sauce, beef, and seasonings.
It's crucial that each time you add an ingredient, you give it a good stir so it fuses well with what's already in the pan.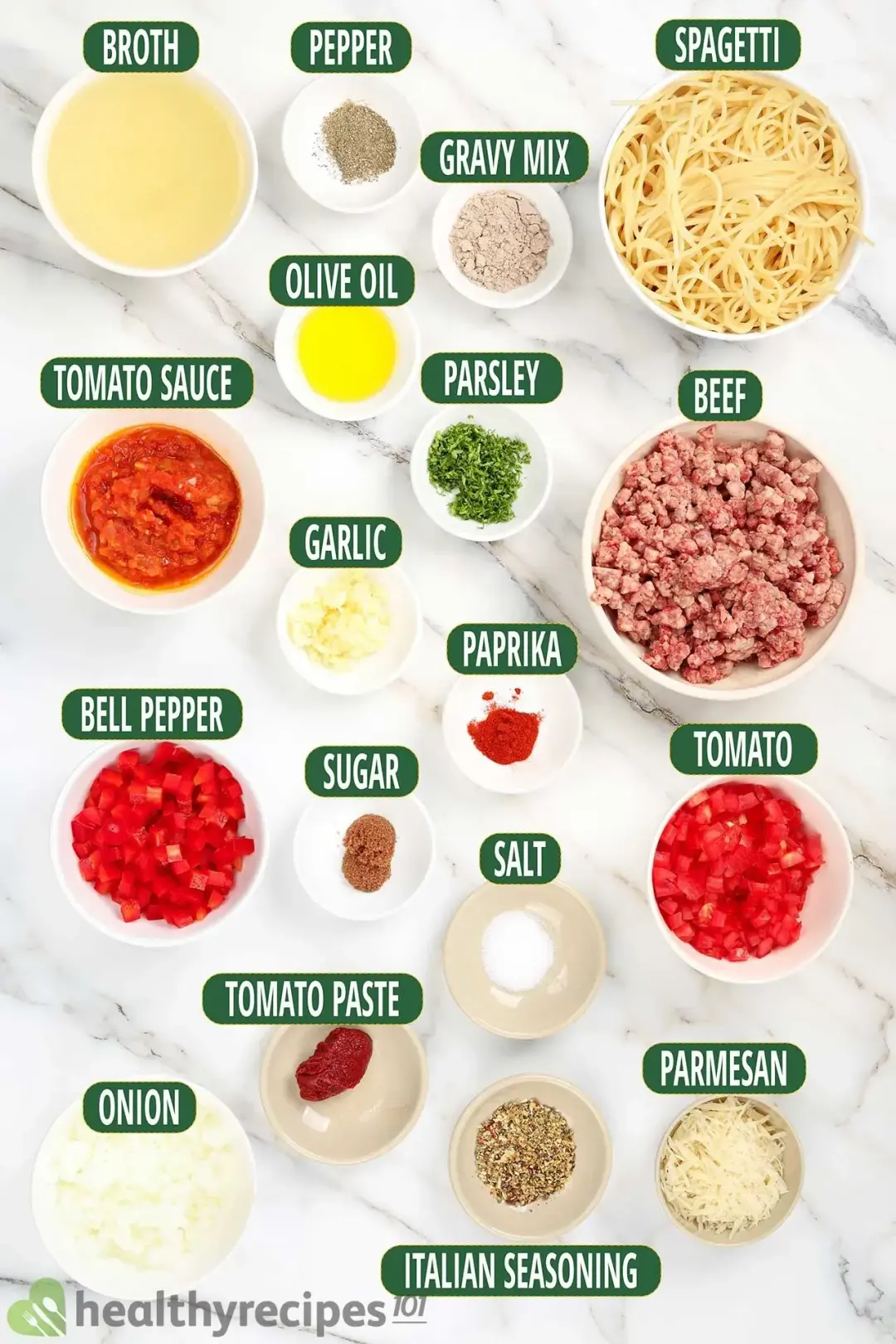 Finally, add the chicken broth and simmer the whole thing for 10 minutes. This step tenderizes the meat and fuses its flavor with the sauce — a crucial step that shouldn't be skipped.
All there's left to do now is ladle the sauce onto the pasta and serve. If you want to, sprinkle some parmesan on top for extra savoriness and some parsley for garnish.
Here's a recap: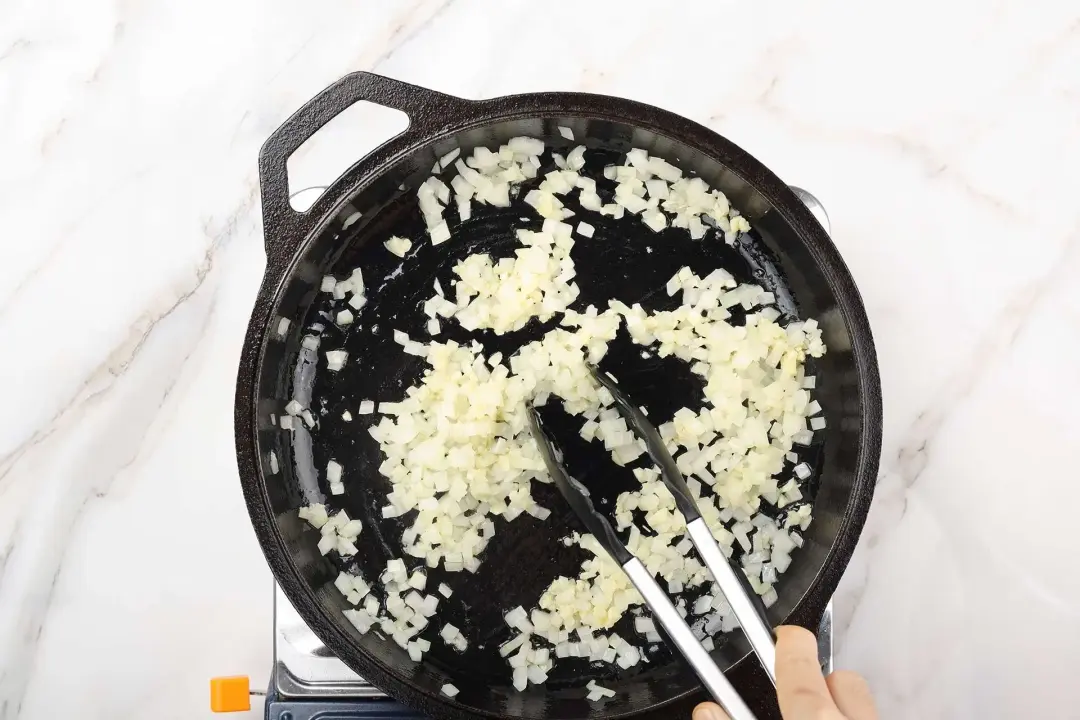 Saute the aromatics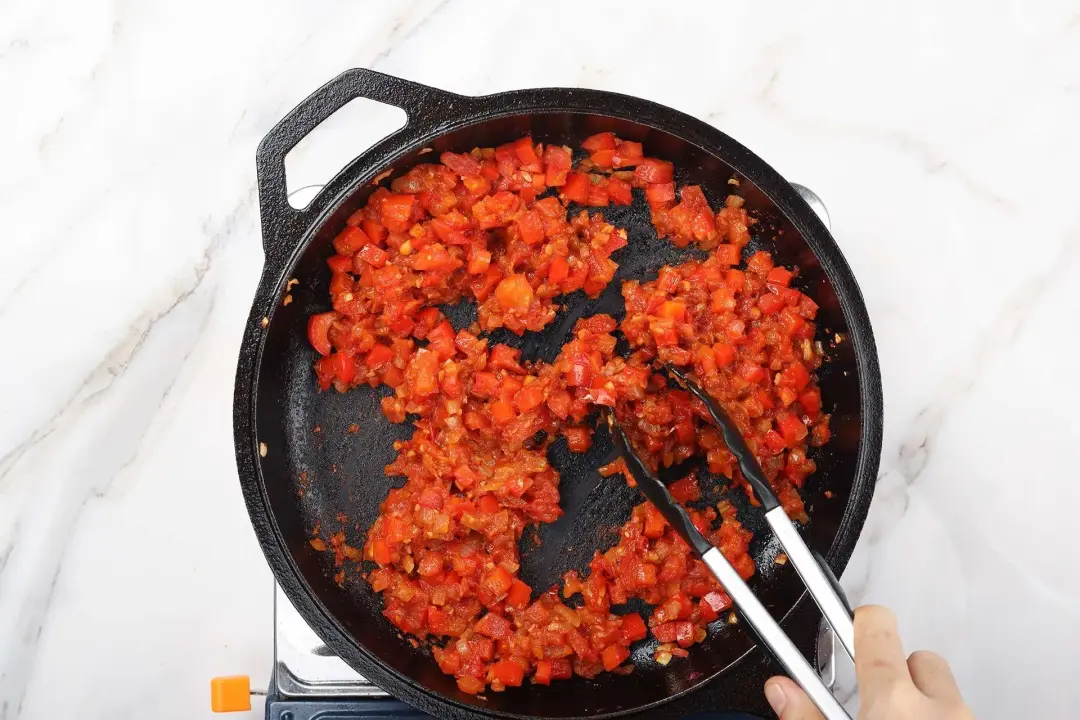 Add the tomato paste, diced tomatoes, bell peppers, and tomato sauce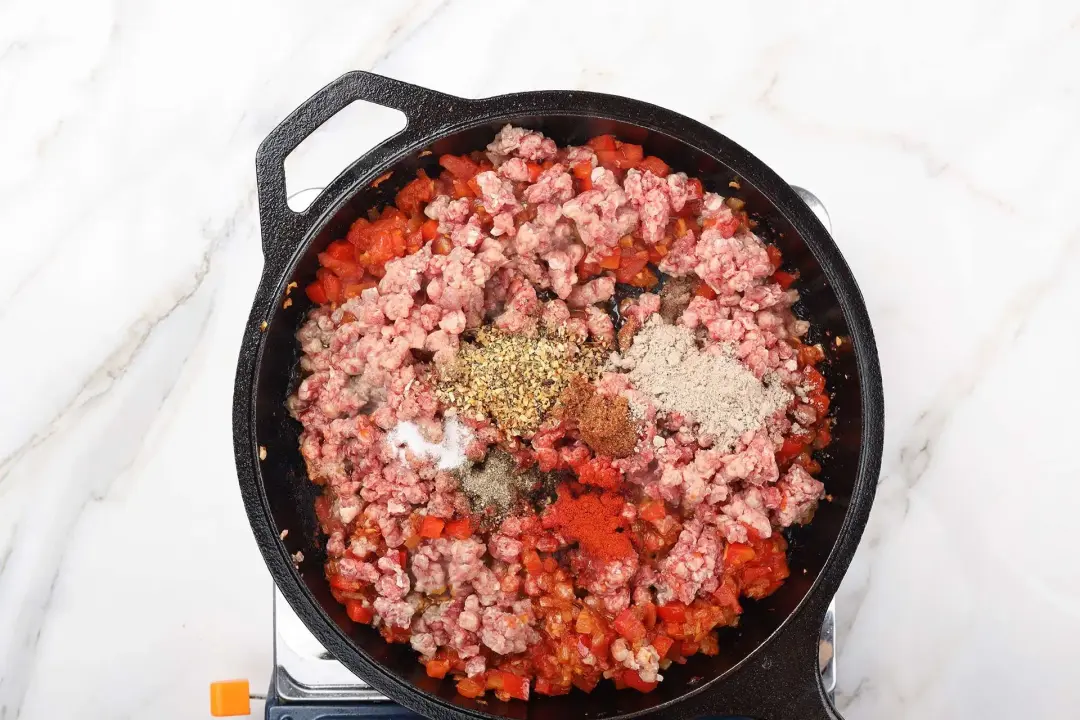 Add the beef and seasonings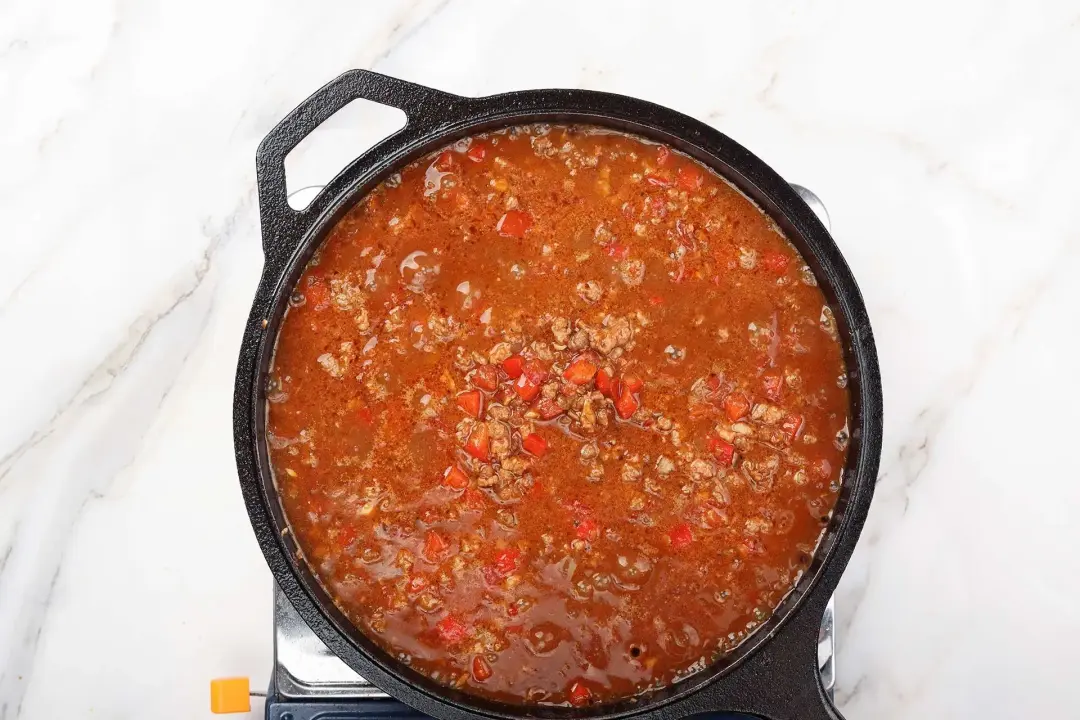 Add the stock and simmer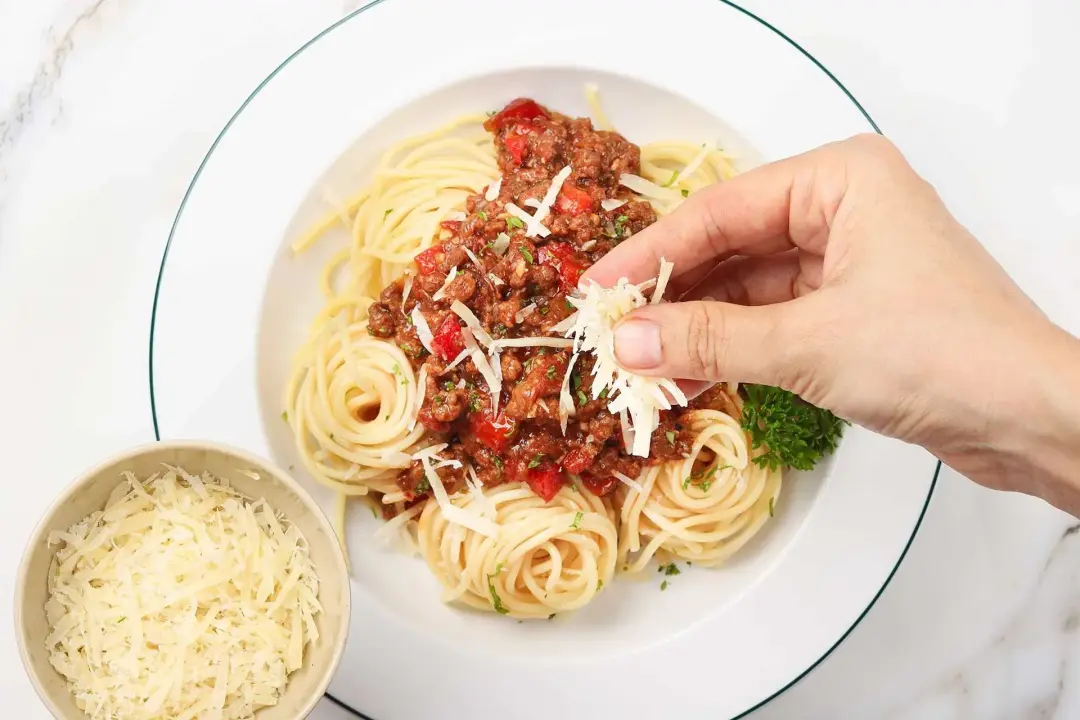 Serve with pasta and enjoy
For exact measurements, refer to the spaghetti bolognese recipe at the end of this article.
If you haven't got cooked spaghetti, make some before you make the meat sauce following the package instructions. It's usually about 6-8 minutes (6 for al dente, 8 for well-done).
How Long Does Spaghetti Last in the Fridge?
Spaghetti is an easy dish to store. Simply cover the leftovers and place them in the fridge — they'll last for 5 days maximum.
As we mentioned earlier, you can cook up a large portion of sauce and freeze it to keep it for months. Here's what you need to do:
Divide the sauce into servings and place each serving into containers/ Ziploc bags. We prefer portioning the sauce into bags and stacking them inside the freezer — a good way to save space.
To reheat, simply take out a bag, bang it with a rolling pin, then add the broken bits of sauce straight to a pot. Turn the heat on medium and once it's all melted and bubbling hot, it's ready to eat.
You can also freeze the pasta, but you need to store it separately from the sauce and cook it until al dente only. Store it pretty much the same way you would with the sauce, and reheat it in the same pot as the sauce.
What to Serve With Spaghetti Bolognese
We're serving our spaghetti with a kale salad and a glass of cucumber and lemon juice. They both add a refreshing element to the meal and plenty of micronutrients.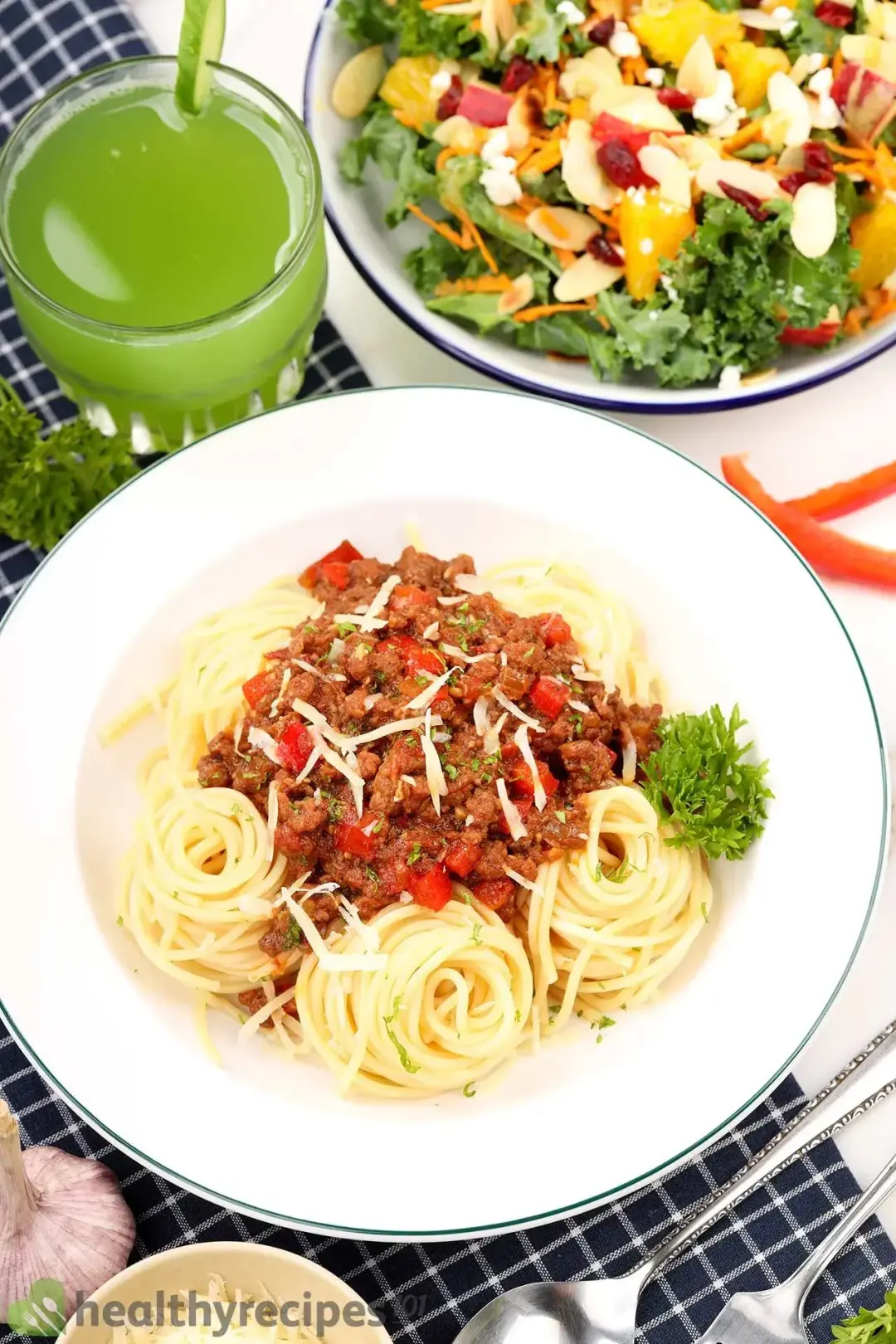 More Quick & Easy Spaghetti Ideas:
Trying to include more spaghetti in your meal plan? Save these delicious and easy spaghetti recipes into your list:
Spaghetti Bolognese Recipe
This spaghetti bolognese recipe will make you a delicious meal in 25 minutes. It's suitable for everyday cooking.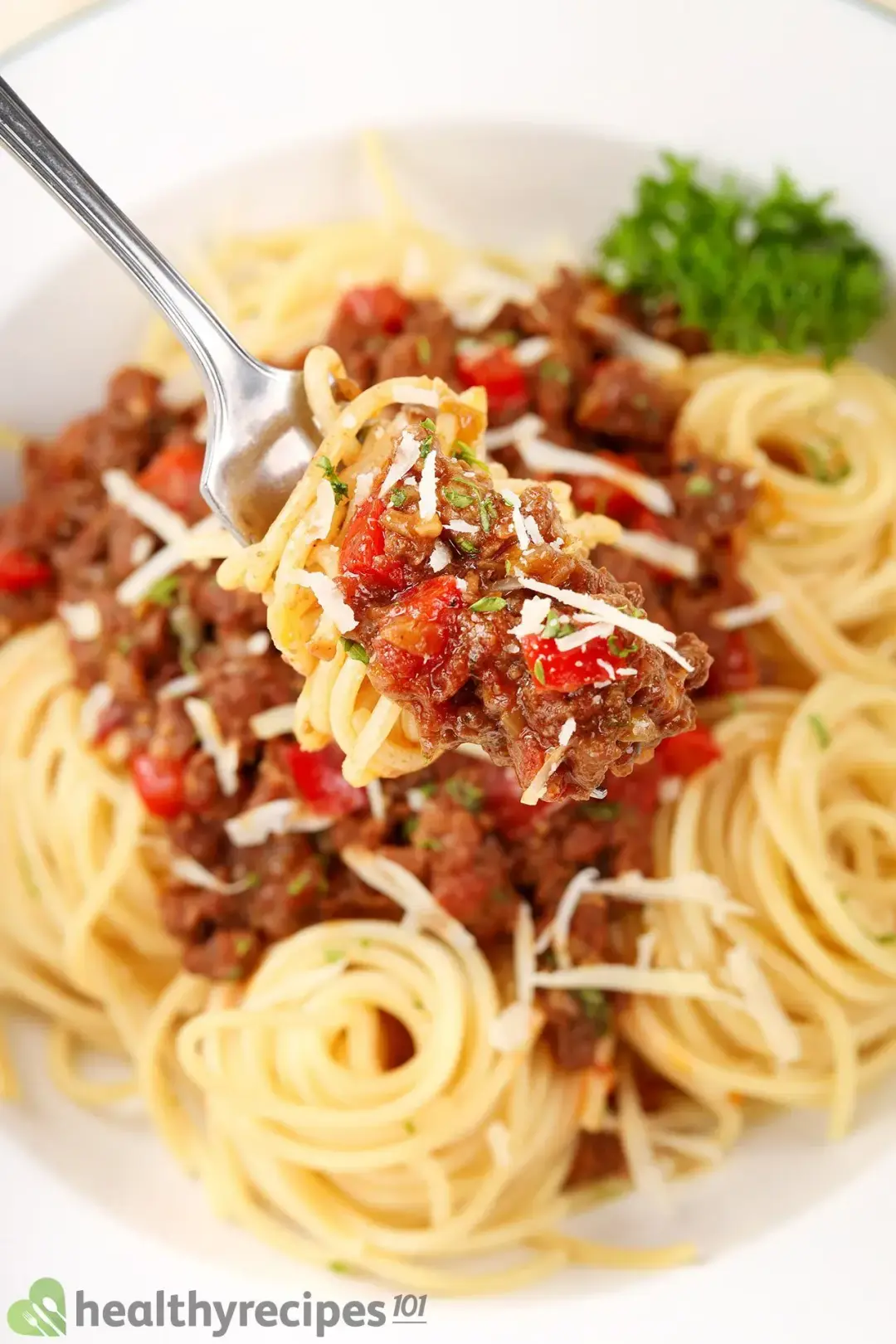 cook TIME

20 mins

prep TIME

5 mins

total TIME

25 mins
COURSE

Main Course

CUISINE

Italian

SERVINGS

servings

CALORIES

473 kcal
INGREDIENTS
1 tbsp

olive oil

2 tbsp

garlic about 5 cloves, minced

2 oz

onions about 1/2 medium, diced

1 tbsp

Hunt's tomato paste

5 oz

tomatoes about 1/2 medium, diced

2 oz

red bell peppers about 1/2 medium, diced

0.5 cup

homemade tomato sauce

12 oz

85% lean ground beef

1 tbsp

Italian seasoning

1 tbsp

brown gravy mix

2 tsp

brown sugar

0.5 tsp

paprika

0.5 tsp

salt

0.5 tsp

ground black pepper

1 cup

unsalted chicken broth

14 oz

cooked spaghetti from 6 oz uncooked

0.5 oz

parmesan cheese shredded

2 tbsp

parsley finely chopped
INSTRUCTIONS
1
Heat 1 tbsp olive oil in a skillet over medium heat. Sauté 2 tbsp minced garlic and 2 oz diced onions for 2 minutes.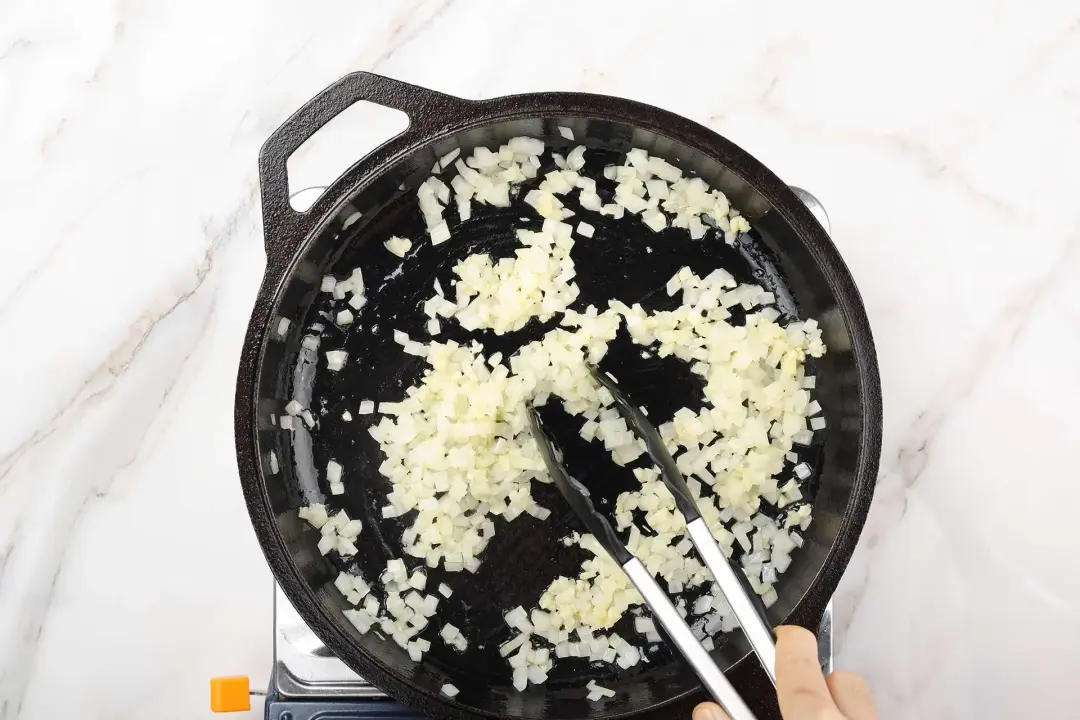 2
Add 1 tbsp tomato paste and stir to cook for about 1 minute, then add 5 oz diced tomatoes and 2 oz diced bell peppers. Give it a stir and cook for 2 minutes. Add 1/2 cup of tomato sauce and stir for 1 minute.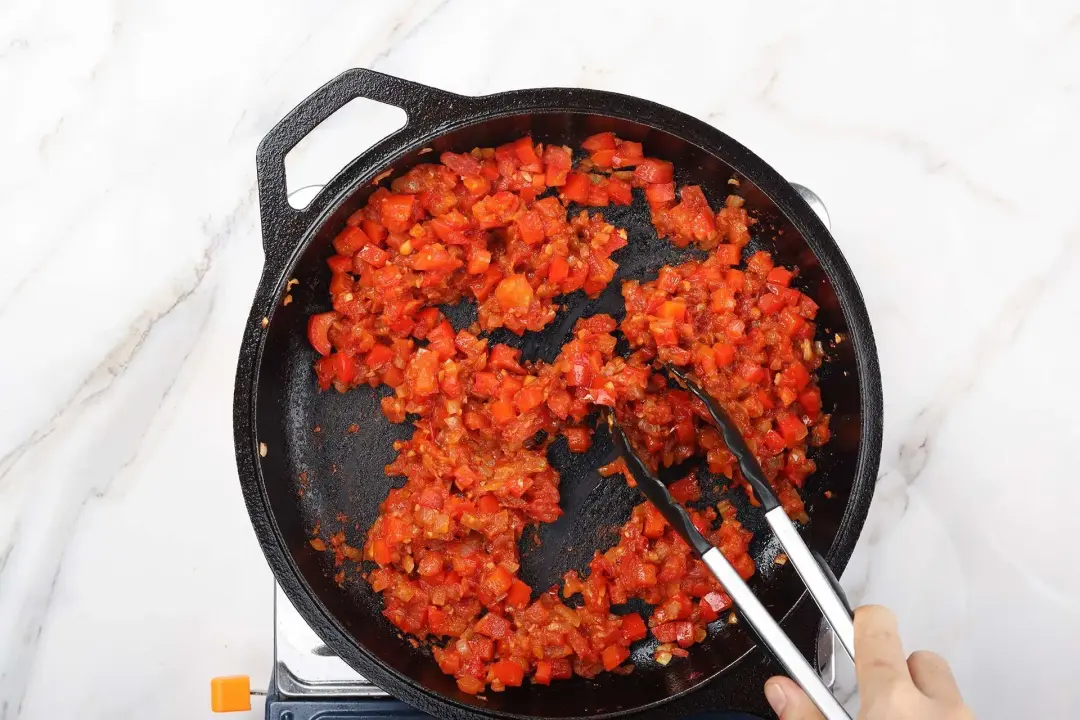 3
Add 12 oz ground beef, 1 tbsp Italian seasonings, 1 tbsp brown gravy mix, 2 tsp brown sugar, 1/2 tsp paprika, 1/2 tsp salt, and 1/2 tsp ground pepper. Stir to cook for 5 minutes.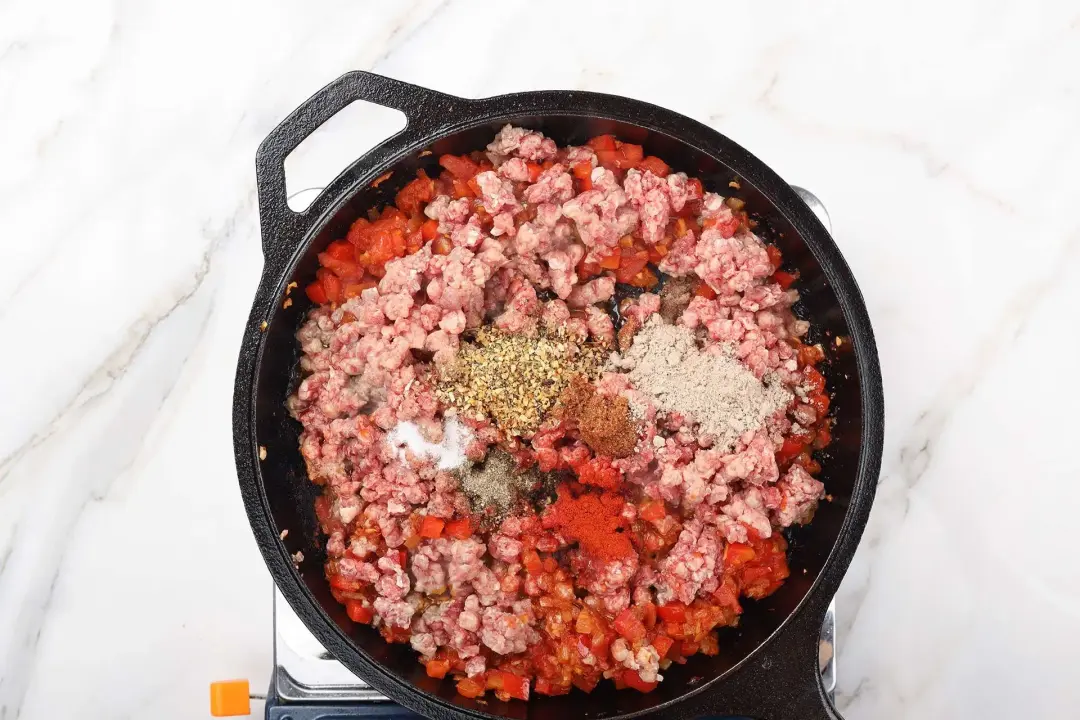 4
Slowly add 1 cup of chicken broth to the skillet. Scrape the bottom to release any bits that migt be stuck to it. Simmer everything on low heat for 10 minutes.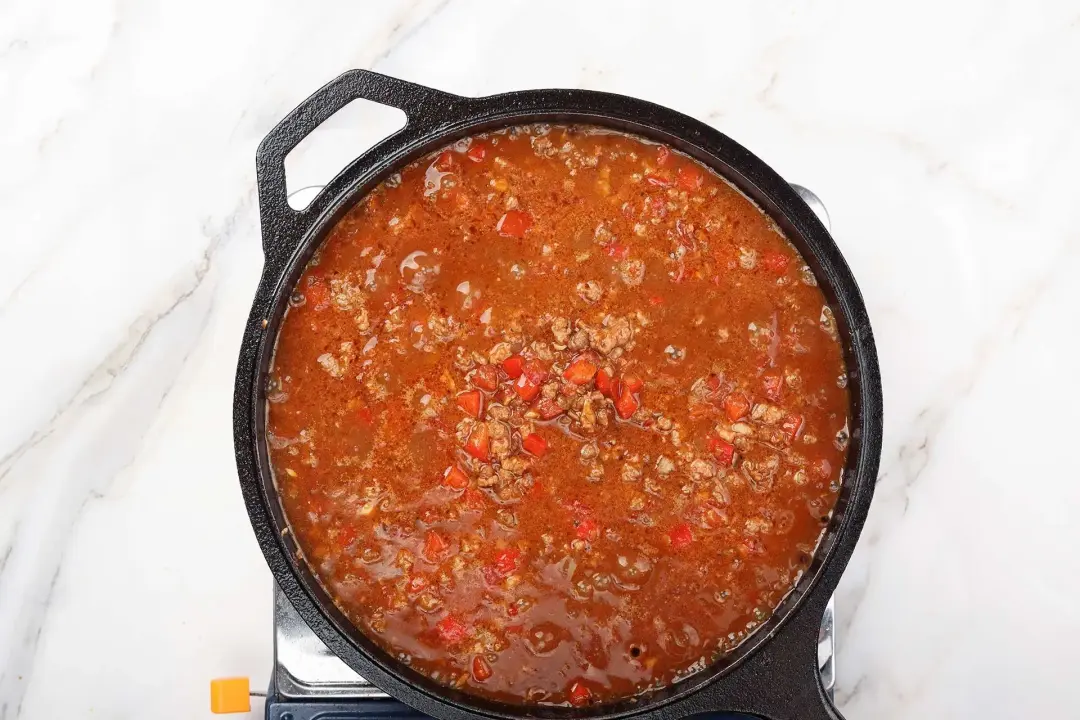 5
Portion 14 oz cooked spaghetti into serving dishes. Ladle on top a good amount of meat sauce (eyeballing is important). Sprinkle parmesan and parsley on top and enjoy.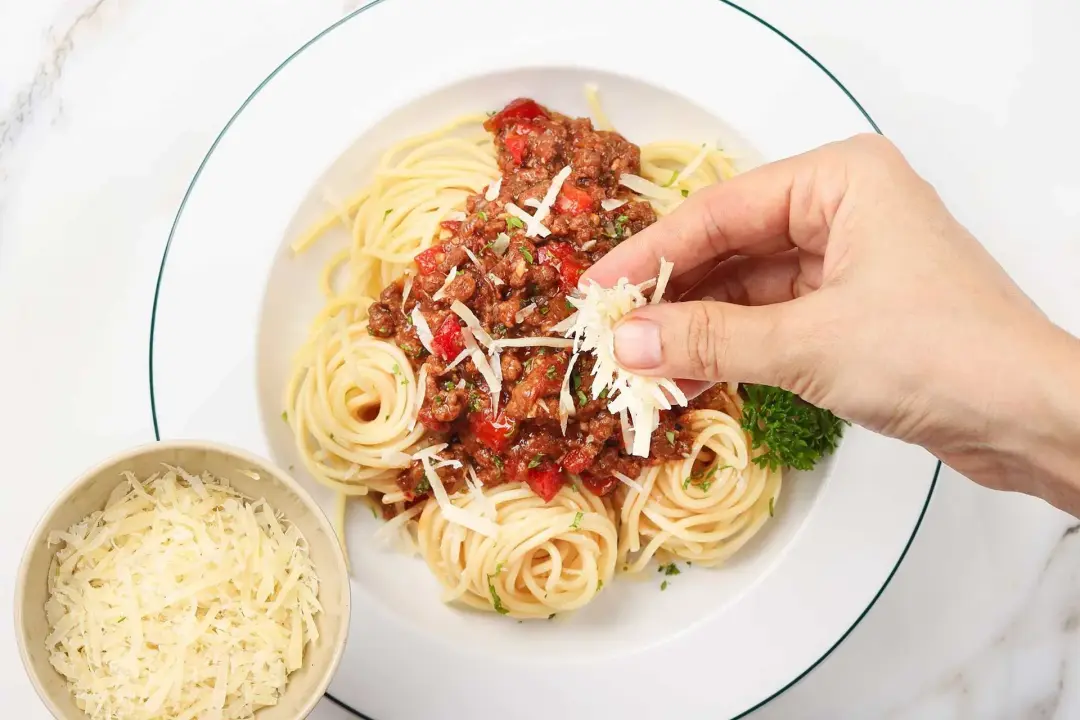 NUTRITION
Nutrition Facts
Spaghetti Bolognese Recipe
Amount Per Serving (1 serving)
Calories 473
Calories from FDA
% Daily Value*
* Percent Daily Values are based on a 2000 calorie diet.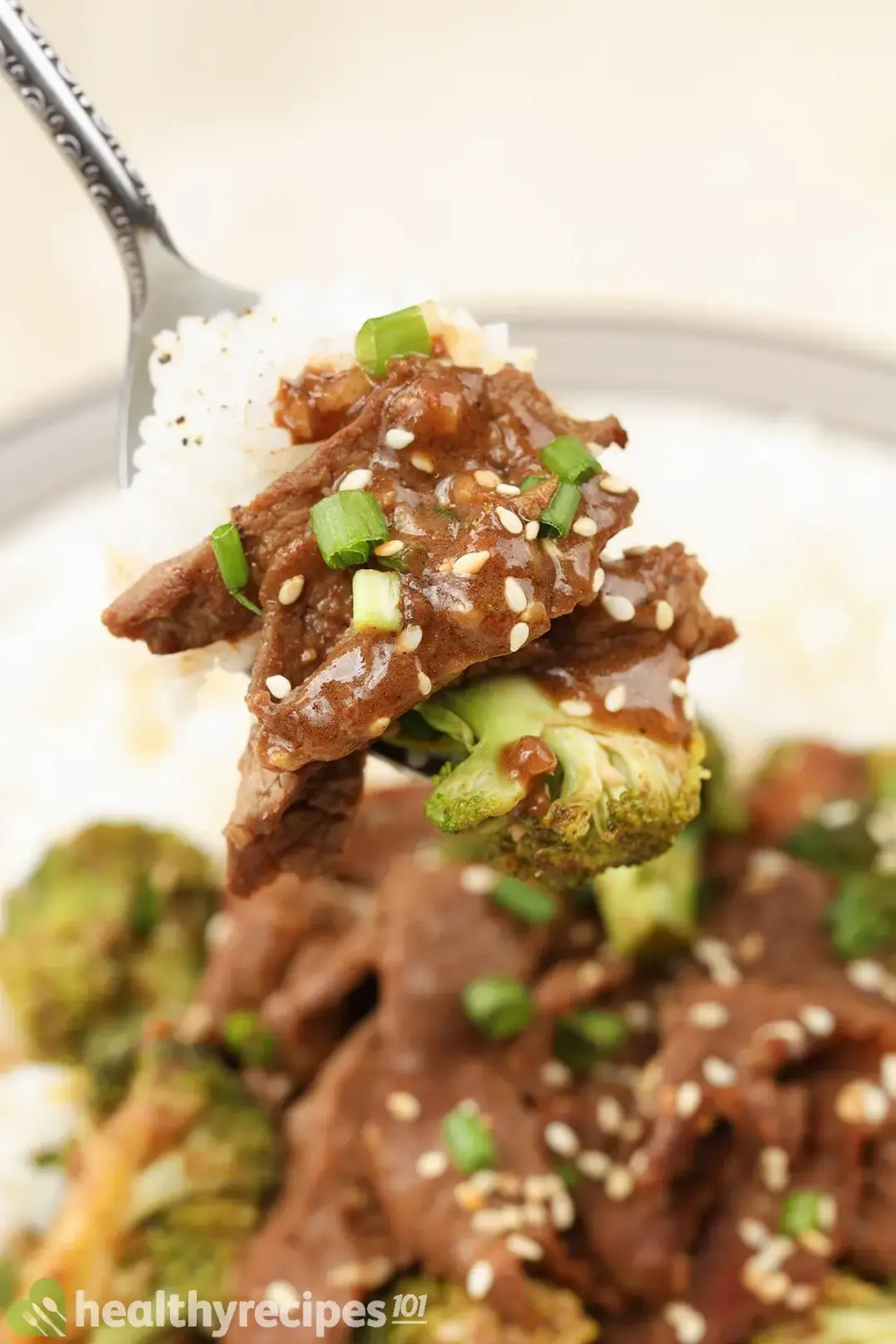 Previous Recipe
Beef and Broccoli
Beef and Broccoli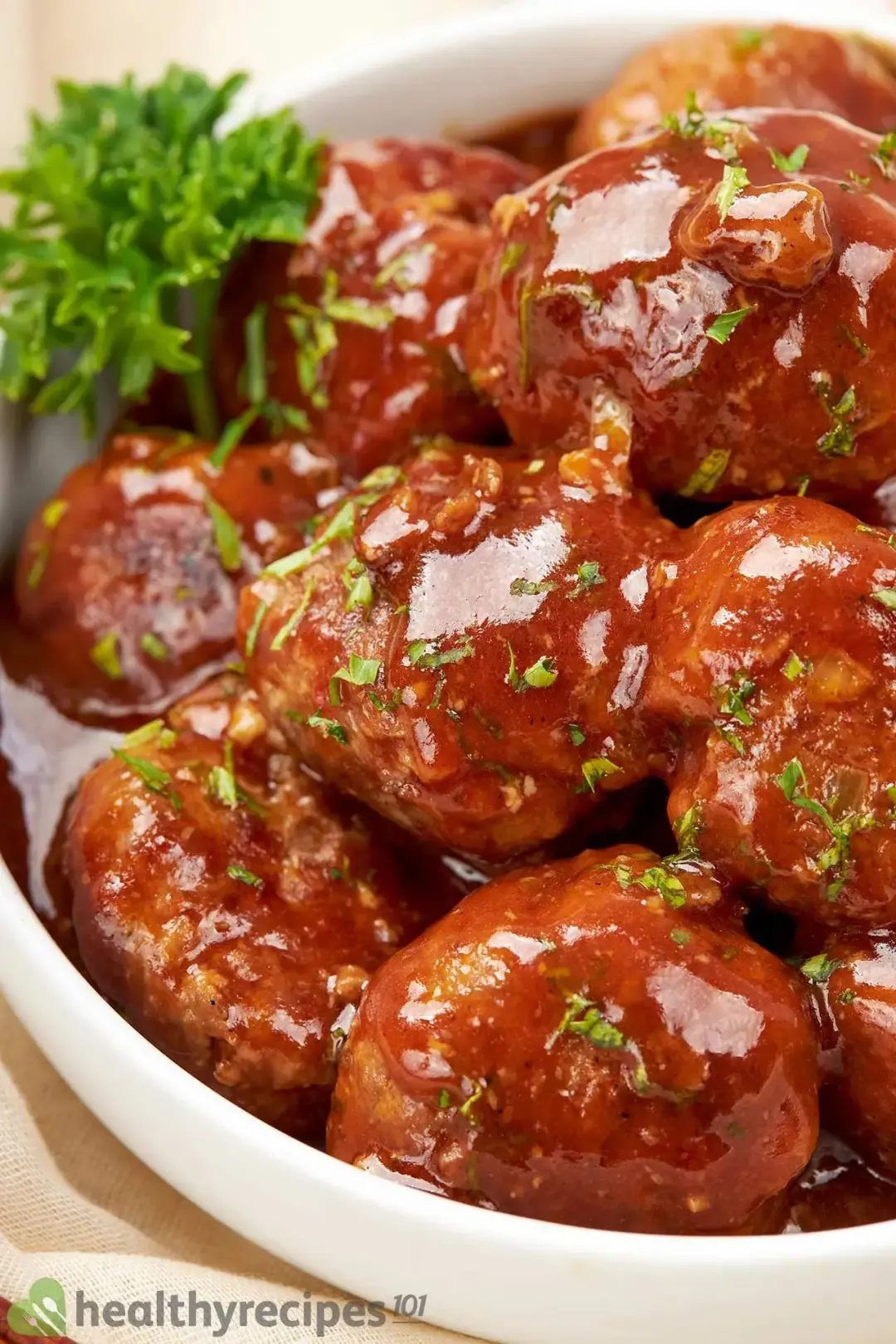 Next Recipe
Cocktail Meatballs
Cocktail Meatballs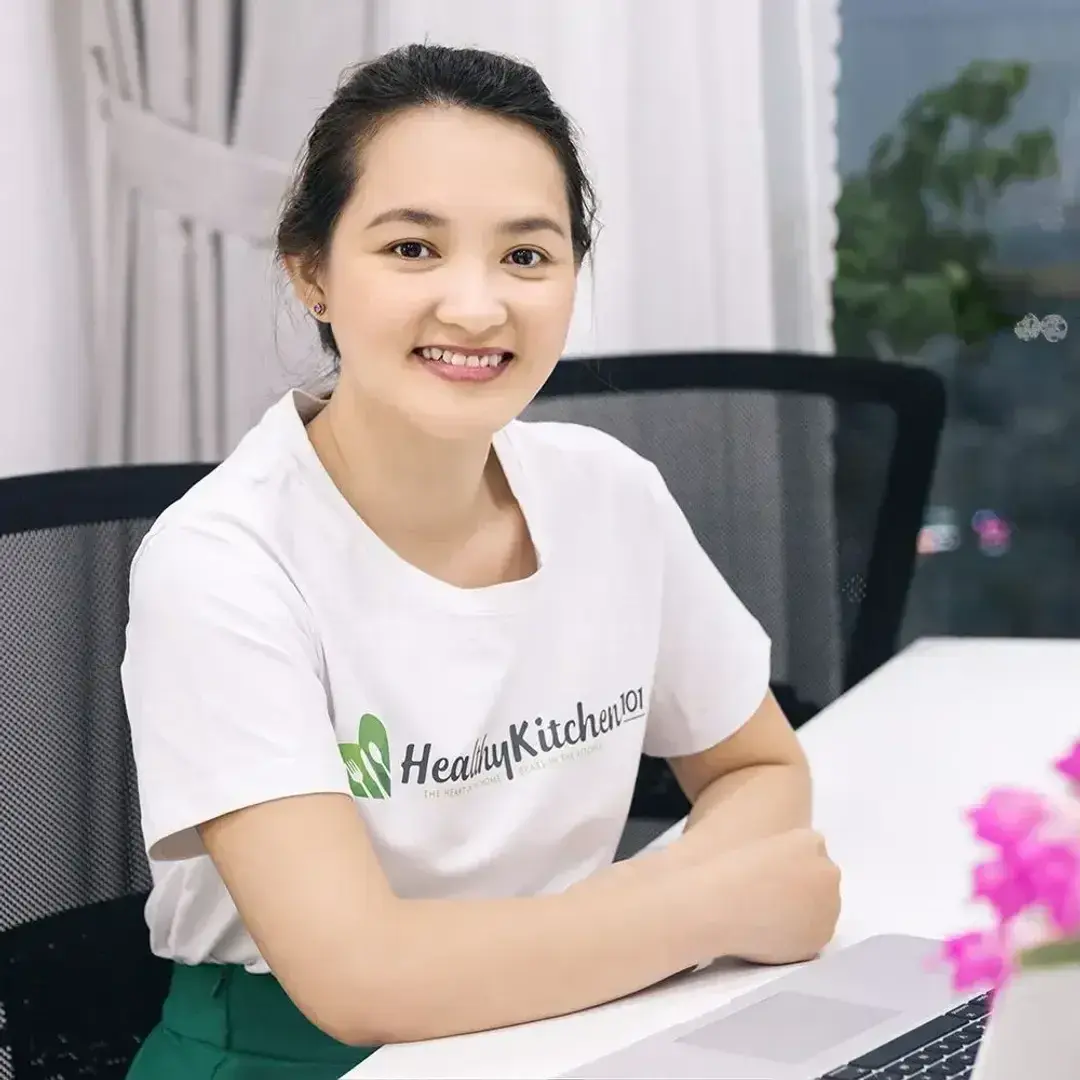 Luna Regina
Luna is the founder and chief recipe developer of Healthy Recipes 101. Apart from cooking, she also loves reading, programming, exploring the outdoors, and collecting useless facts about everything.