Our Instant Pot Mongolian beef recipe will show you how to make a delicious beef and vegetable stir-fry in just 30 minutes.
What Is Mongolian Beef?
Mongolian beef is a Taiwanese dish of beef sautéed with onions or vegetables, and it's often served with cooked rice. What makes it delicious is the dark and sticky sauce, which is super fragrant and flavorful.
Although named 'Mongolian', the dish doesn't actually belong to the cuisine. It's named so because, in people's minds, anything 'Mongolian' must be a luxury food packed with meat.
Because of the notion 'more meat is better', the dish doesn't include a lot of vegetables.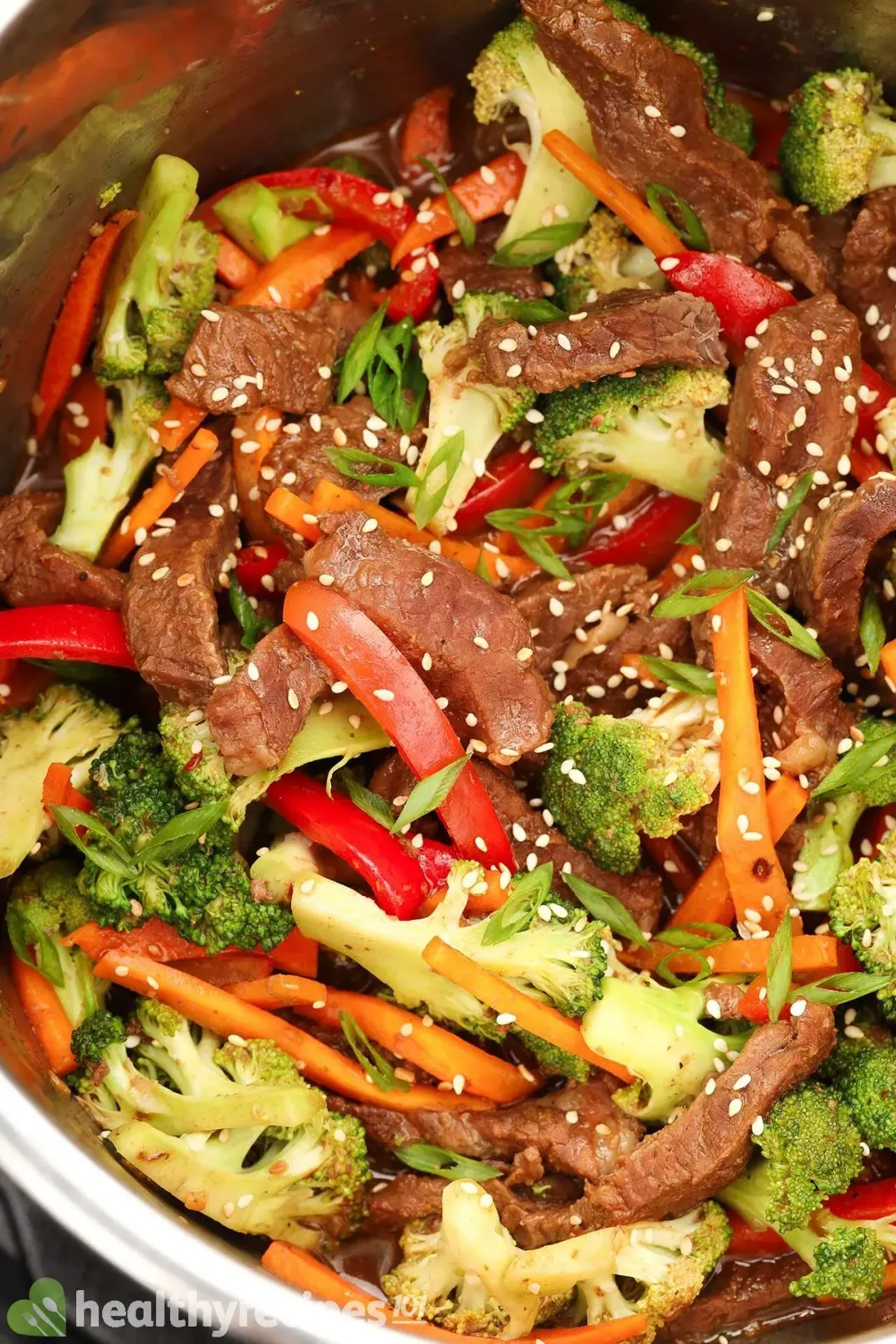 1. Hunan Beef vs Mongolian Beef
With vegetables added, Mongolian beef looks a lot like 'Hunan beef', a Chinese staple full of aromatic and strong spices. Compared to Hunan beef, Mongolian beef is much less spicy and so friendlier for most people, especially kids.
If you're not a big fan of dishes with a strong taste and intense heat, you should definitely not mistake Mongolian beef for Hunan beef.
2. Is Instant Pot Mongolian Beef Spicy?
Mongolian beef is not spicy but it does exude a pleasant warmth thanks to the black pepper and chili flakes. If you like the heat to be more intense, feel free to garnish with some sliced fresh chilies.
How Healthy Is Mongolian Beef?
When served with rice, Mongolian beef provides a nutritionally balanced meal. It has lean meat, complex carbs, a healthy amount of fat, and tons of micronutrients from both the meat and vegetables combined.
There's one tiny problem: the sauce typically has a lot of sodium, which experts recommend us to consume less of to reduce the risk of diseases.
To mitigate this risk, we used only a moderate amount of seasoning. Our chefs also paid close attention to the taste to make sure the dish isn't any less flavorful than it should be.
To learn more about the restrictions we should make to our diets, check out our dietary guidelines.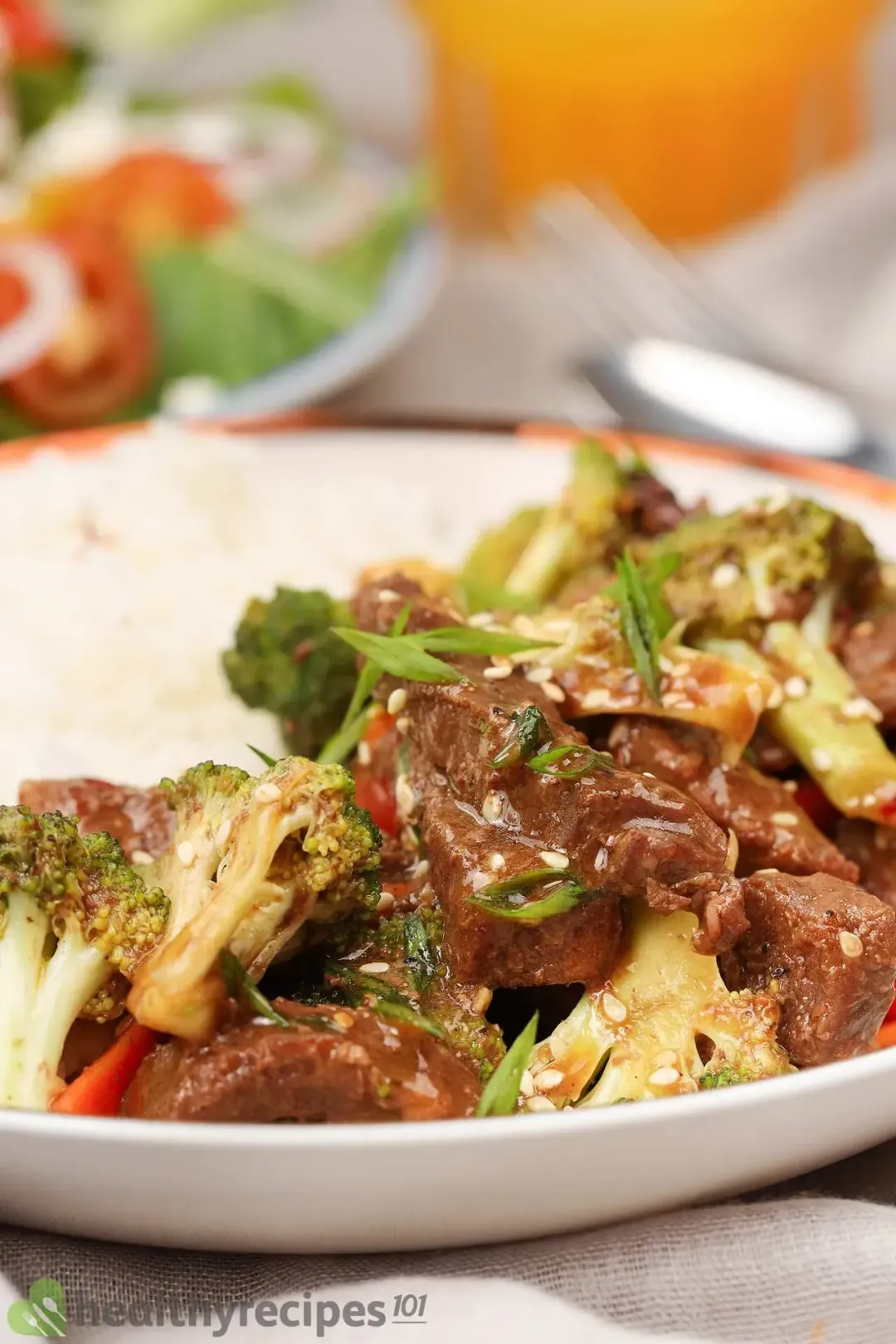 Ingredients for Instant Pot Mongolian Beef
Let's take a look at the ingredients our Instant Pot Mongolian beef recipe calls for.
1. Types of Beef
The best beef to buy for sautéing should be the most tender cuts you can find. These are the ones with only a few connective tissues and are located in the body parts that the animal doesn't use a lot.
By this logic, tenderloin steak is the best choice — it's the most tender cut of all. But since it can be costly or difficult to find, the flank or striploin both work just fine.
You can ask the butcher to slice the beef for you, but if you're doing it yourself, make sure to slice the meat against the grain. Otherwise, your meat will still be a little tough even when cooked in a pressure cooker.
Our tip for you: look closely at the meat to determine the parallel lines of muscle fiber and slice perpendicular to them.
Traditionally, the next step is to coat the meat with about 2 tablespoons of cornstarch to make it extra tender. But since the Instant Pot does a good job of tenderizing meat anyway, there's no need to.
Before sautéing the beef, heat the skillet and fry off some minced garlic and ginger with sesame oil. These delicious aromatics are integral to Asian cooking, bringing a mild warmth and a delicious aroma to the beef.
2. The Dark Sauce
The main components of the dark sauce are hoisin and soy sauce. They are the soul of Chinese cuisine and are used in place of salt in a lot of their dishes.
Chinese cuisine is all about balance, so into the sauce goes some brown sugar for sweetness and some lime juice for a little tanginess. White sugar also works but it doesn't add such a beautiful color to the sauce as brown sugar.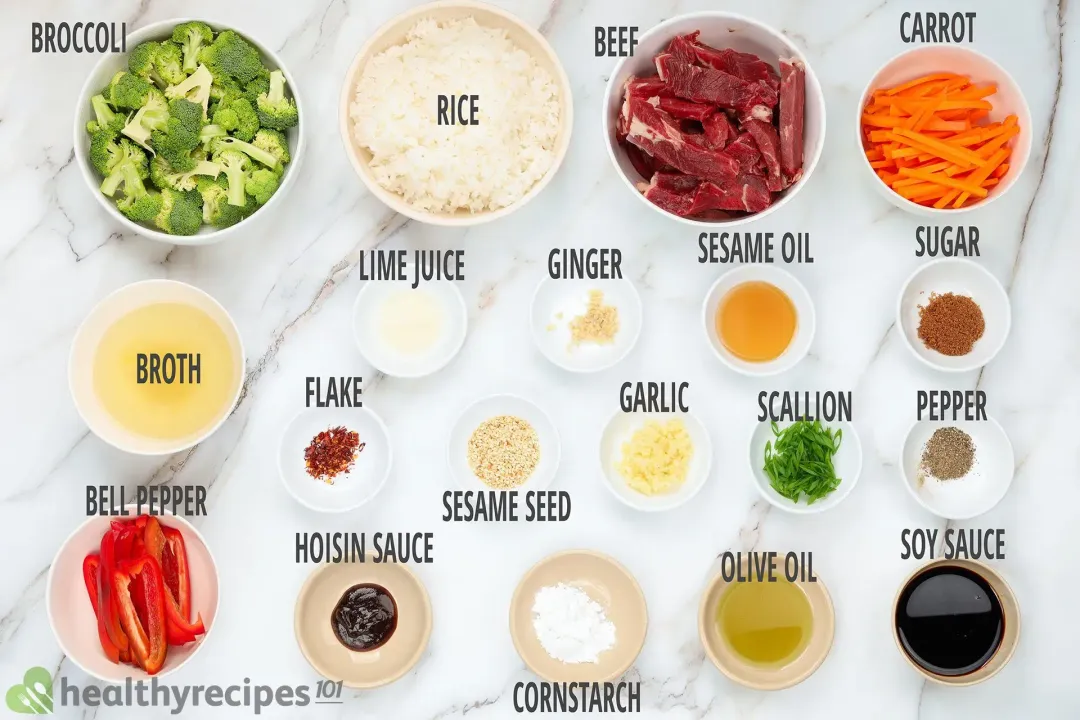 For an extra kick, we've added black pepper and dried chili flakes to the traditional recipe. You can adjust the amounts to your liking.
Finally, a cornstarch-broth slurry is added to the mix to thicken the sauce and give the meat a tasty, sticky texture.
3. Choice of Vegetable
For this recipe, we picked bell peppers, carrots, and broccoli because we believe any vegetables that give a nice crunch will pair with the beef perfectly.
To maintain their crunchy texture, we don't want to pressure-cook the vegetables but just sauté them briefly. It's best to cook them before the aromatics, set them aside, and then add them back when the beef is done.
4. The Rice
Mongolian beef should never be served without rice, so it should be prepared before you even touch the beef. Have the rice cooker on 'cook' mode before you cook the beef.
In case you don't own a rice cooker and you have never worked with rice before either, here's how to cook Jasmine rice:
Wash 1 1/2 cups of raw Jasmine rice with water, twice. It's to clean off excess starch that would otherwise cause the grains to clump together, giving it a mushy texture even when it's not overcooked.
Place the rice in a pot with 2 1/4 cups of water. Bring it to a boil and simmer over low heat for 20 minutes.
Remove from the heat and set aside. Fluff your rice with a fork to separate the grains, and close the lid to preserve the moisture.
5. Finishing Touches
After the beef is cooked and plated, garnish with some freshly chopped green onions, toasted sesame seeds, and some more chili flakes if you want.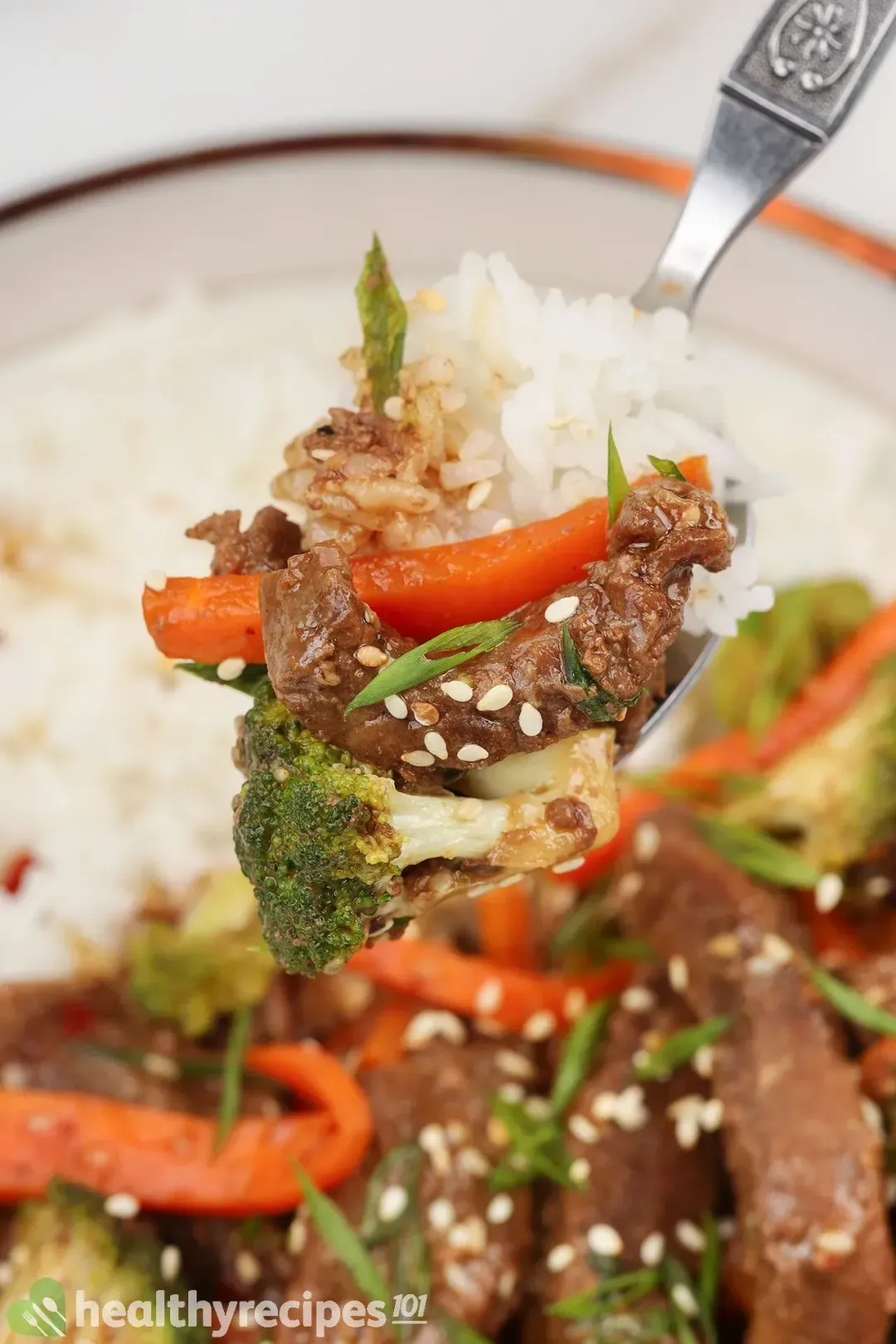 Tips for Making This Instant Pot Mongolian Beef
We often cook the rice simultaneously with the beef to save time, and so things are made a lot easier with the use of a timer. Once the rice is heated, set the timer for 20 minutes so you can concentrate on the other ingredients.
We didn't use dark soy sauce like in our traditional Mongolian beef recipe as we were afraid you may not have it in your pantry. If you do, use half soy sauce and half dark soy sauce for a richer sauce.
How to Store, Freeze, and Reheat Mongolian Beef
Portion the leftovers into containers to get them ready for storage. They will last for about 5 days in the fridge and up to 3 months in the freezer.
To reheat, you can heat them in a skillet with some water or microwave them on high for 2 minutes.
To see more instant pot recipes, check out our best instant pot dinner roundup.
Side Dishes for Instant Pot Mongolian Beef
There are plenty of side dishes to choose from, and today we're going for our Greek salad. Its tanginess will cut through the savoriness of the beef, and bring a feeling of indulgence to the whole experience.
To complete the meal, we're going for a glass of freshly squeezed orange juice. It packs vitamin C and boosts the immune system.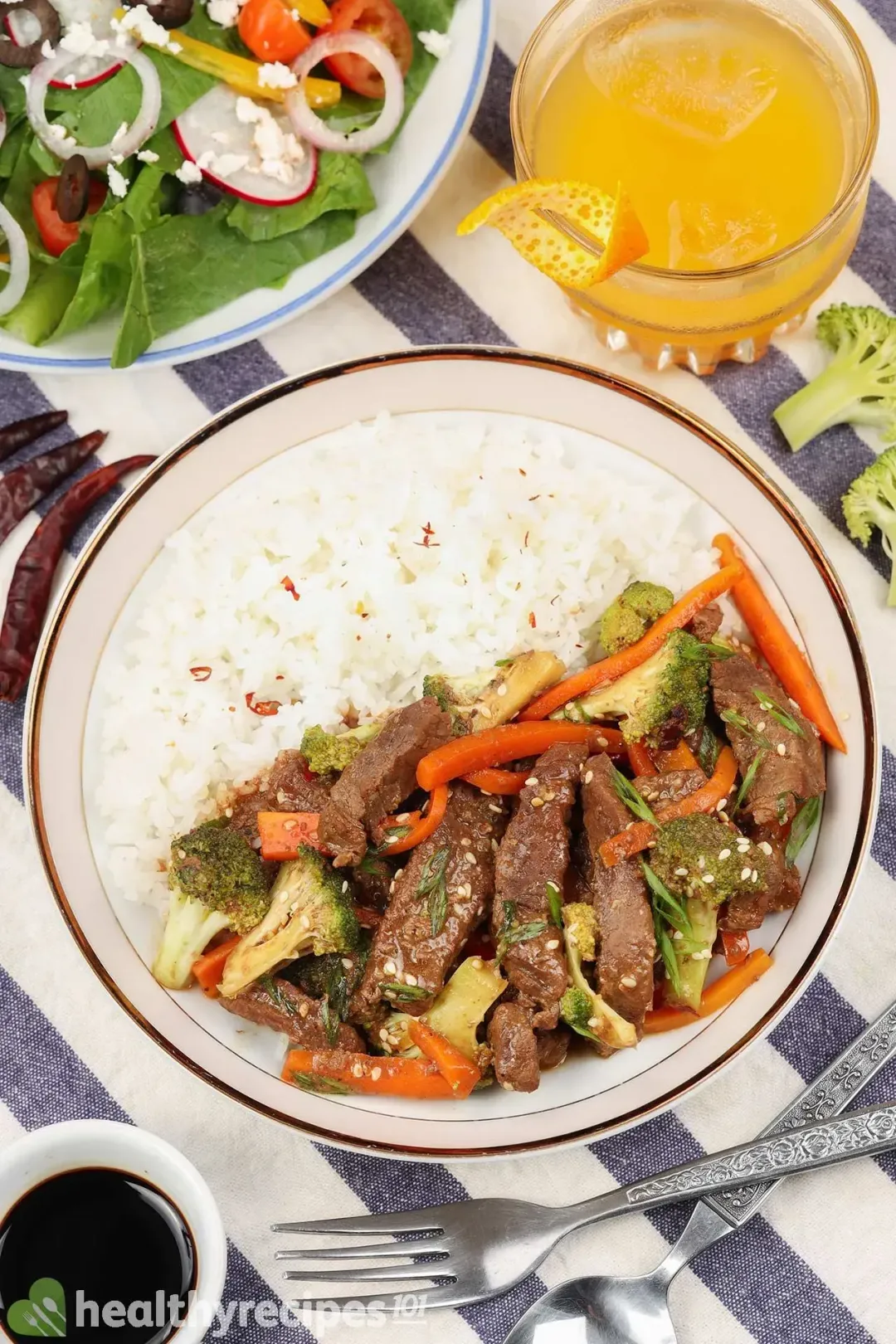 Get Creative in the Kitchen with These Delicious Instant-Pot Beef Recipes
This French classic is made easy with the Instant Pot. Tender beef, cooked with bacon, mushrooms, and red wine, makes for a rich and comforting meal that's perfect for any occasion.
This recipe for Instant Pot Shredded Beef is perfect for those who love tender and juicy beef. With just a few simple ingredients, this dish can be made in under an hour and is perfect for meal prep or a quick weeknight dinner.
Craving some hearty and delicious Instant Pot beef recipes? Look no further than this carefully curated roundup that's sure to impress.
Instant Pot Mongolian Beef
Our Instant Pot Mongolian beef recipe turns out tender beef slices, and crunchy vegetables drenched in a salty-sweet and fragrant sauce.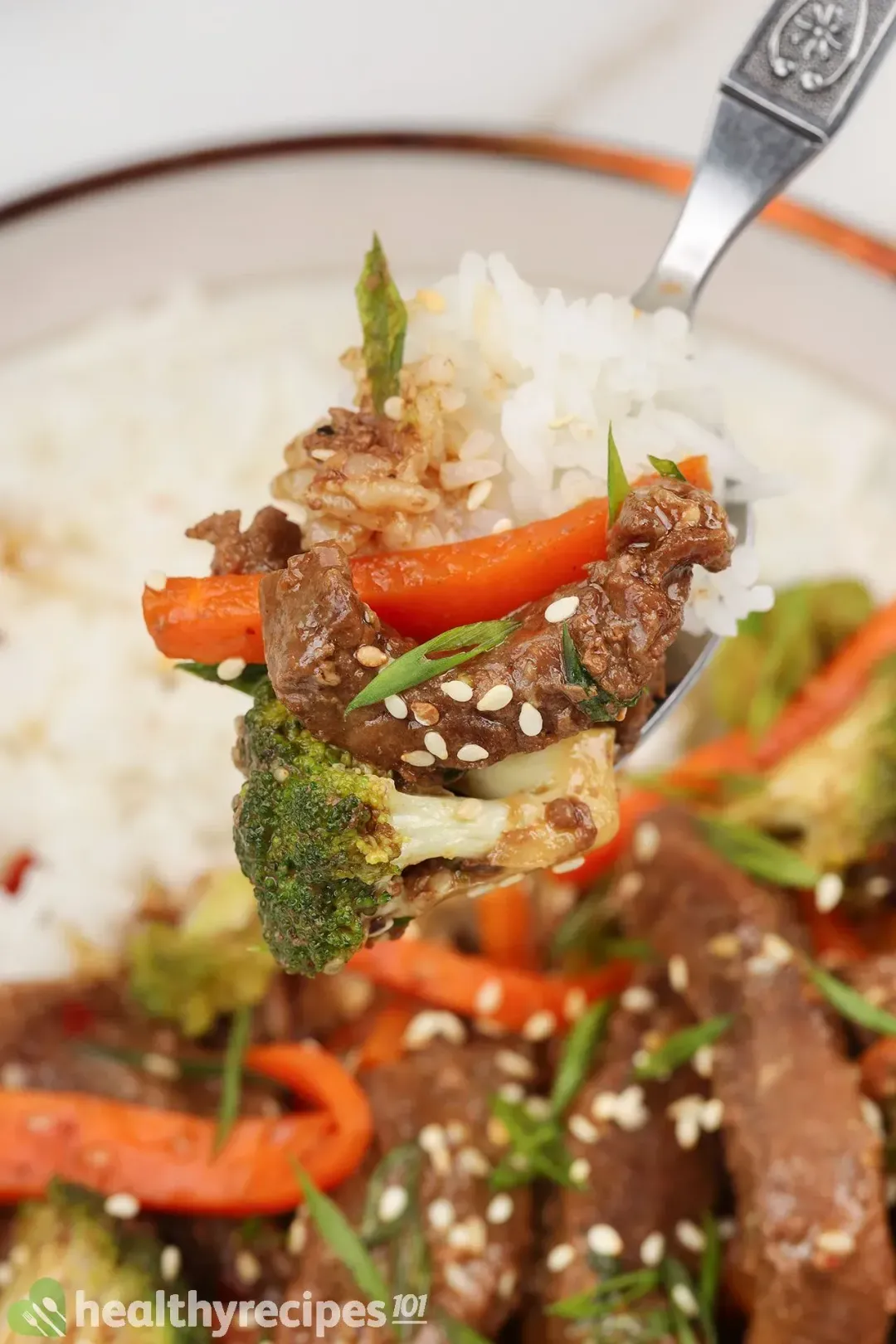 cook TIME

25 mins

prep TIME

5 mins

total TIME

30 mins
COURSE

Main Course

CUISINE

Asian, Taiwanese

SERVINGS

CALORIES

501 kcal
INGREDIENTS
18 oz

beef striploin

(cut into strips)

3 tbsp

reduced-sodium soy sauce

2 oz

red bell pepper

(julienned)

6 oz

broccoli

(cut into florets)

1/2 cup

unsalted chicken broth

1/2 tsp

chili pepper flakes

(divided)

3 cups

cooked Jasmine rice

1/2 tbsp

sesame seeds

(toasted)
INSTRUCTIONS
1
In a bowl, combine 2 tsp cornstarch, 1/2 cup chicken broth, 3 tbsp soy sauce, 1 tsp hoisin sauce, 1 tbsp brown sugar, 1 tsp lime juice, 1/2 tsp black pepper, and 1/4 tsp chili pepper flakes. Set aside.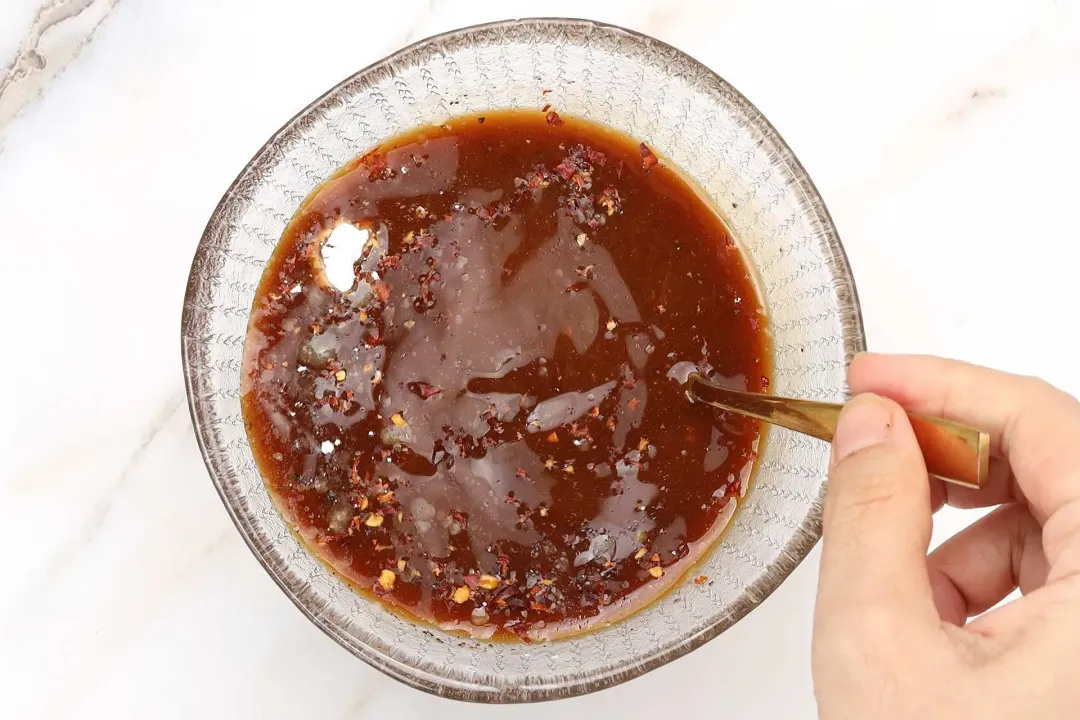 2
Turn the Instant Pot on and select 'sauté' mode. Heat 1 tbsp olive oil for about 1 minute. Add 2 oz red bell pepper, 4 oz carrot, 6 oz broccoli, and cook for 3 minutes. Place into a bowl and set aside.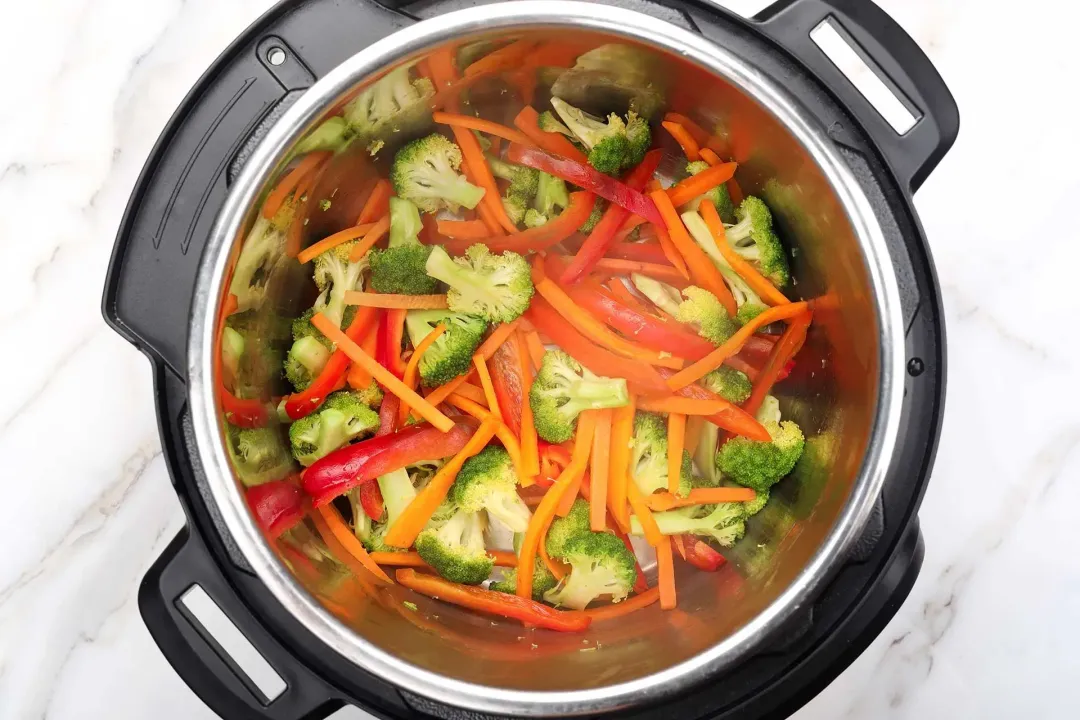 3
Add to the pot 1 tbsp sesame oil, 1 tbsp garlic, and 1/2 tsp ginger to cook for 30 seconds or until fragrant, then add 18 oz striploin. Stir for about 1 minute.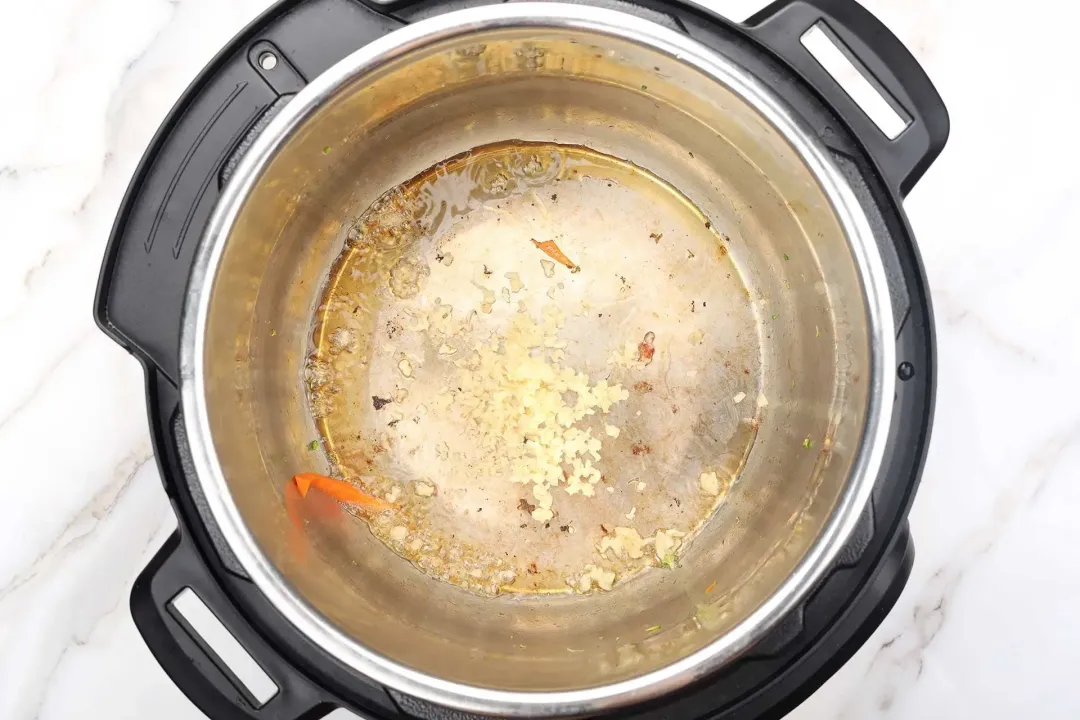 4
Add the sauce and stir around until the beef is cooked on the outside, then close the pot. Select 'meat stew' mode, switch the steam handle to 'sealed', and adjust the timer for 15 minutes to let it cook.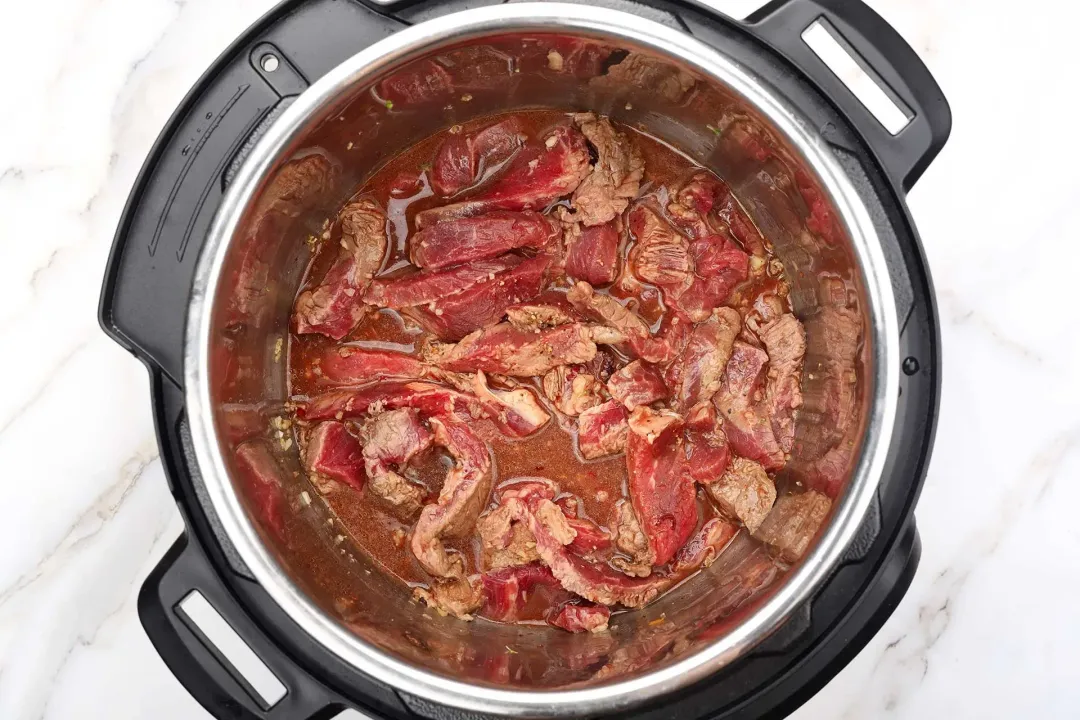 5
Place a kitchen towel onto the steam handle and turn it to 'venting' with a spoon. Select the 'sauté' mode and cook everything for another 3 minutes until the sauce reduces a little, then add the vegetables. Give it a quick stir.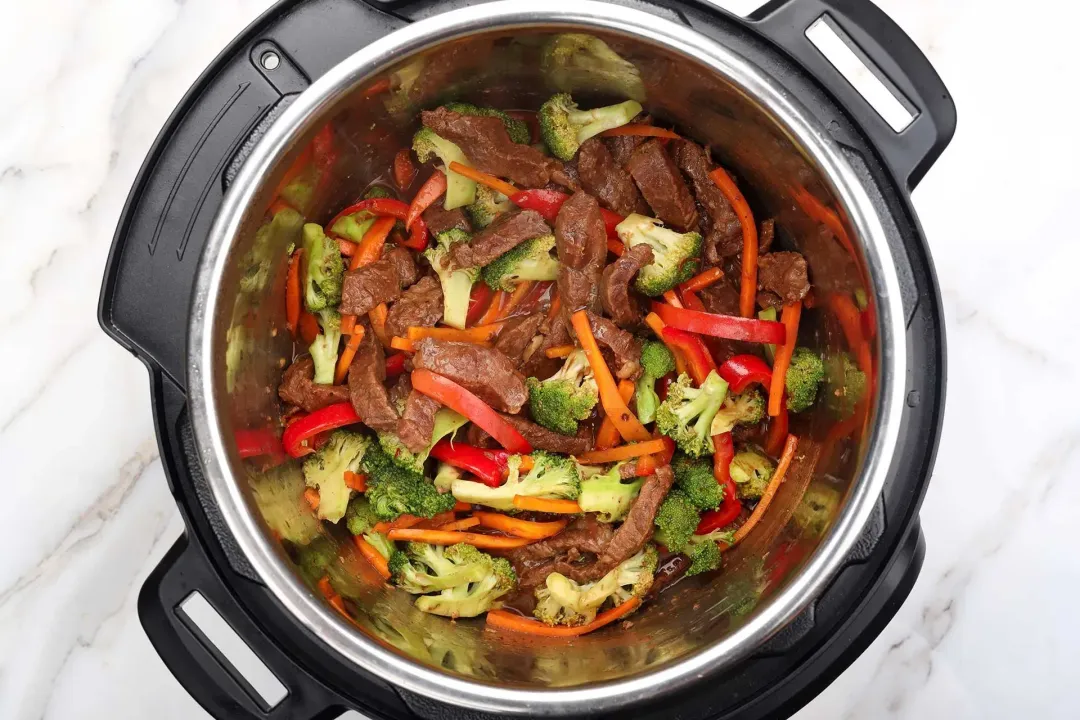 6
Turn off the pot. Sprinkle 2 tbsp chopped scallion, 1/2 tbsp toasted sesame seeds, and the remaining chili pepper flakes on top.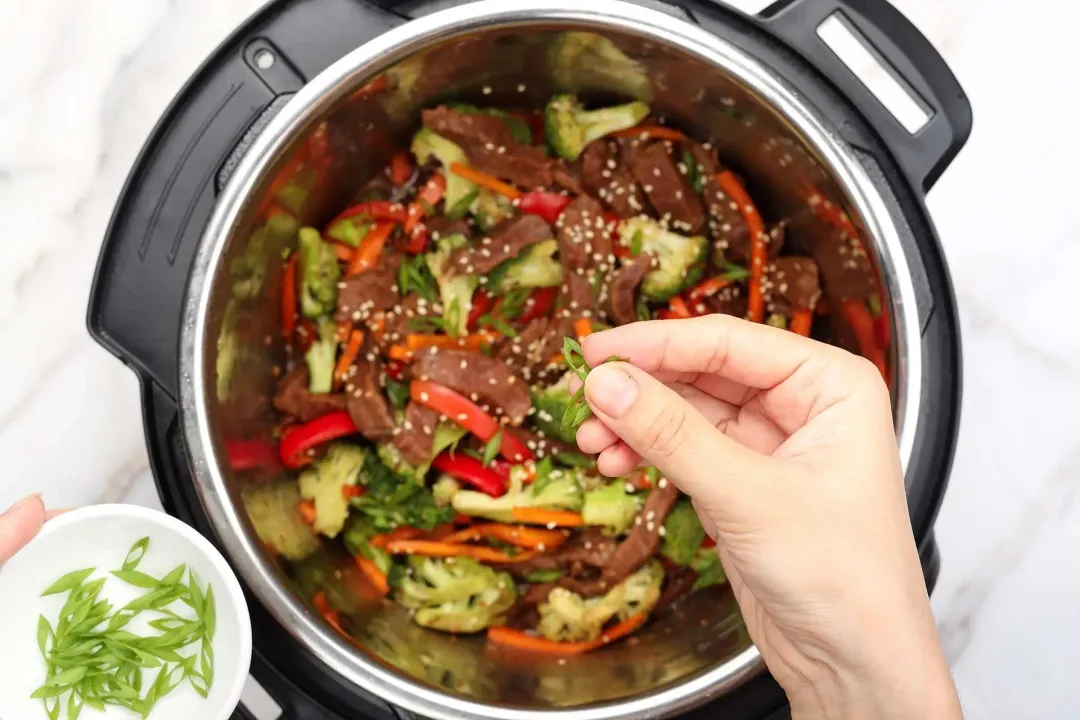 7
Enjoy with 3 cups of cooked rice.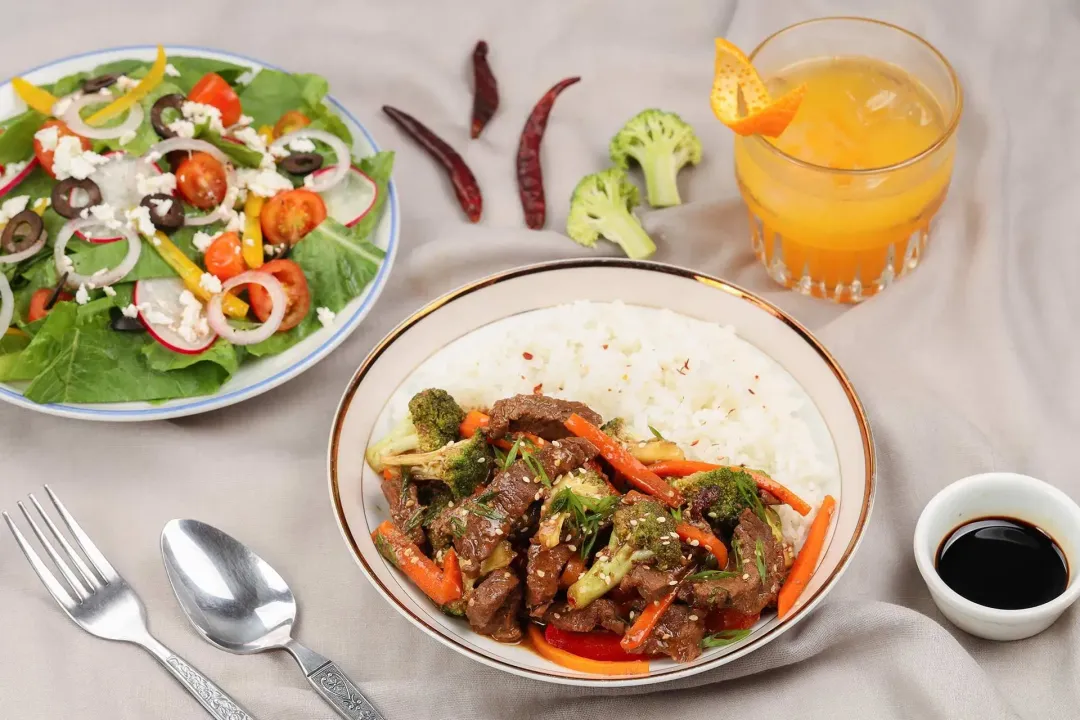 NUTRITION
Nutrition Facts
Instant Pot Mongolian Beef
Amount Per Serving (1 serving)
Calories 501
Calories from Fat 153
% Daily Value*
* Percent Daily Values are based on a 2000 calorie diet.
Keywords: how to cook mongolian beef in the instant pot, instant pot mongolian beef, instant pot mongolian beef recipe, mongolian beef in instant pot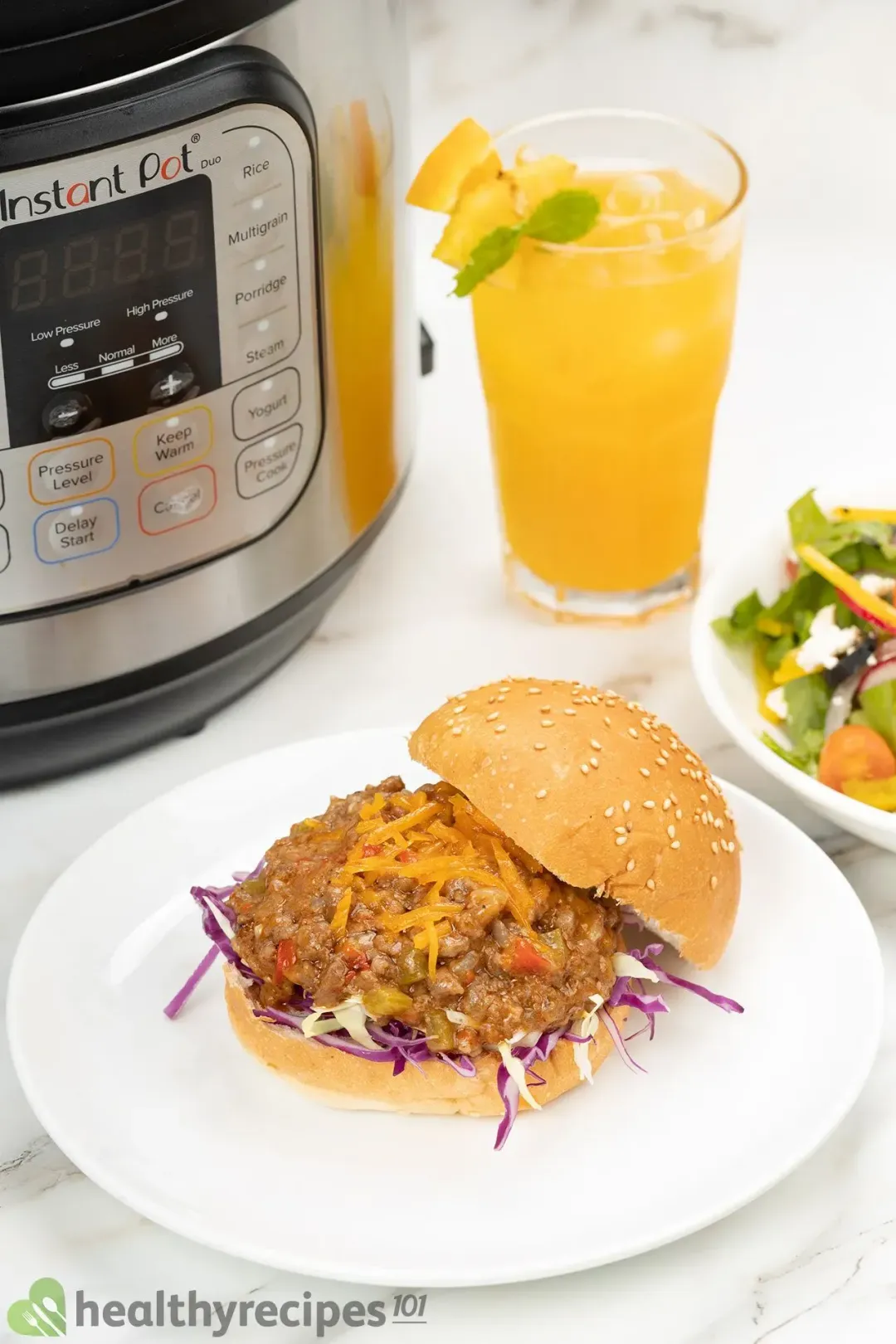 Previous Recipe
Instant Pot Sloppy Joes
Instant Pot Sloppy Joes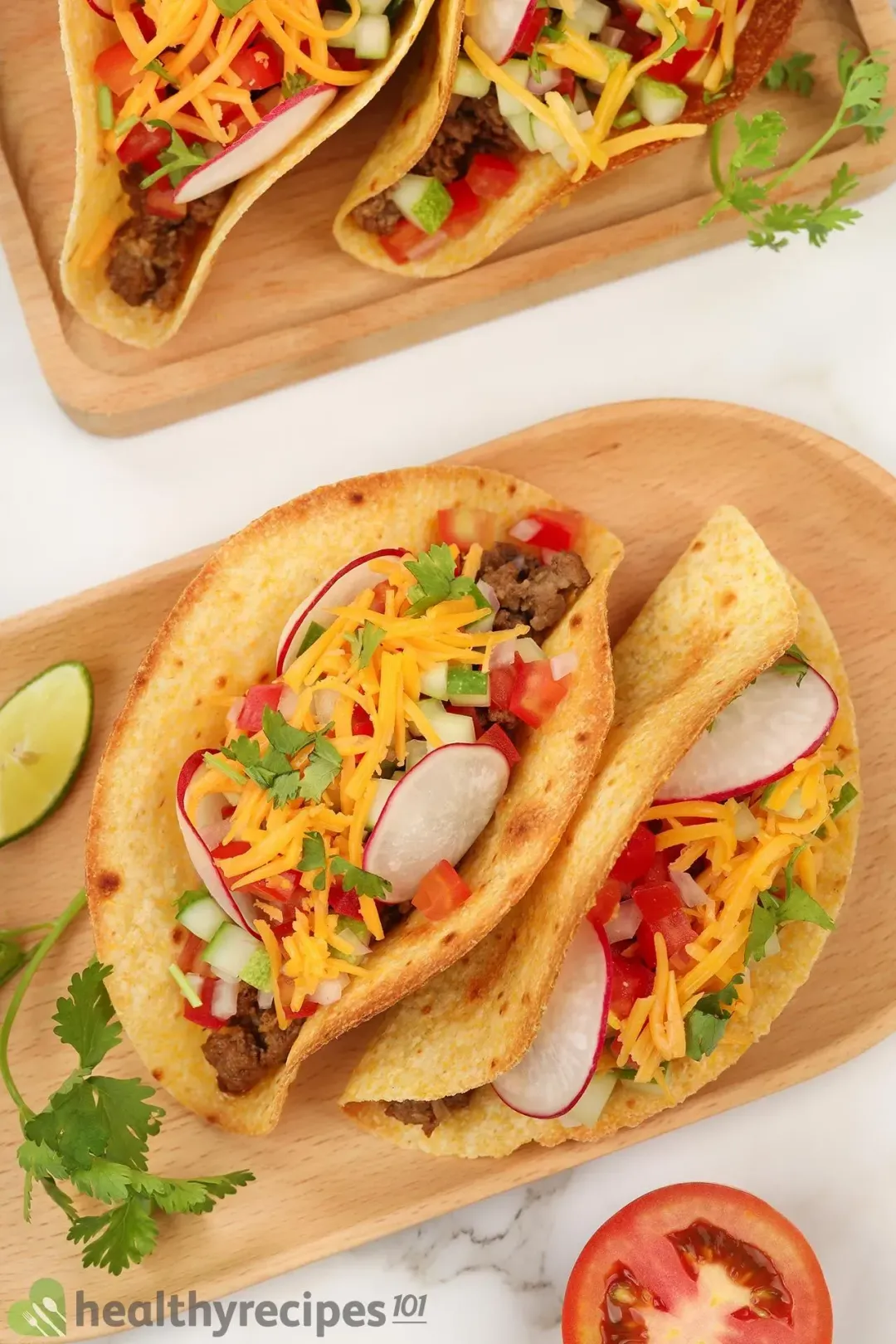 Next Recipe
Ground Beef Taco
Ground Beef Taco
Head Chef, Culinary Consultant
Tuyet Pham is an award-winning Saigonese chef who believes that joy is the secret ingredient to delicious food. At Healthy Recipes 101, Tuyet personally tests and simplifies every recipe, ensuring maximum flavor with minimal effort. With a background at prestigious French restaurants P'TI Saigon and Le Corto, Tuyet knows how to make every dish exceptional.
Writer, Author
Luna Regina is an accomplished writer and author who dedicates her career to empowering home cooks and making cooking effortless for everyone. She is the founder of HealthyKitchen101.com and HealthyRecipes101.com, where she works with her team to develop easy, nutritious recipes and help aspiring cooks choose the right kitchen appliances.
Nutrition Reviewer
Natalie Butler is a registered dietitian nutritionist with a passion to help others live their best life through food, fitness, safer beauty and a healthy lifestyle. She has expertise with a variety of diets and diseases and believes that there is no one-size-fits-all approach for health.
Love the sweet and savory sauce, goes so well with the beef.