For many, trying to replicate an Easy Mongolian Beef recipe is a daunting prospect, so they opt for takeout instead.
There's nothing wrong with that from time to time. But there's so much reward in creating a warming dish with a depth of flavor from your kitchen at home.
Mongolian Beef vs Szechuan Beef
Contrary to its name, Easy Mongolian Beef actually originated outside of Mongolia. The cooking method is traditional to Taiwan.
From there, the stir-fried dish made its way into American-Chinese restaurants. On the other hand, Schezuan beef originates from China, specifically the Szechuan region. 
The two flavor profiles also differ. Mongolian beef tastes mild compared to Szechuan beef, which has bold sweet and savory characteristics.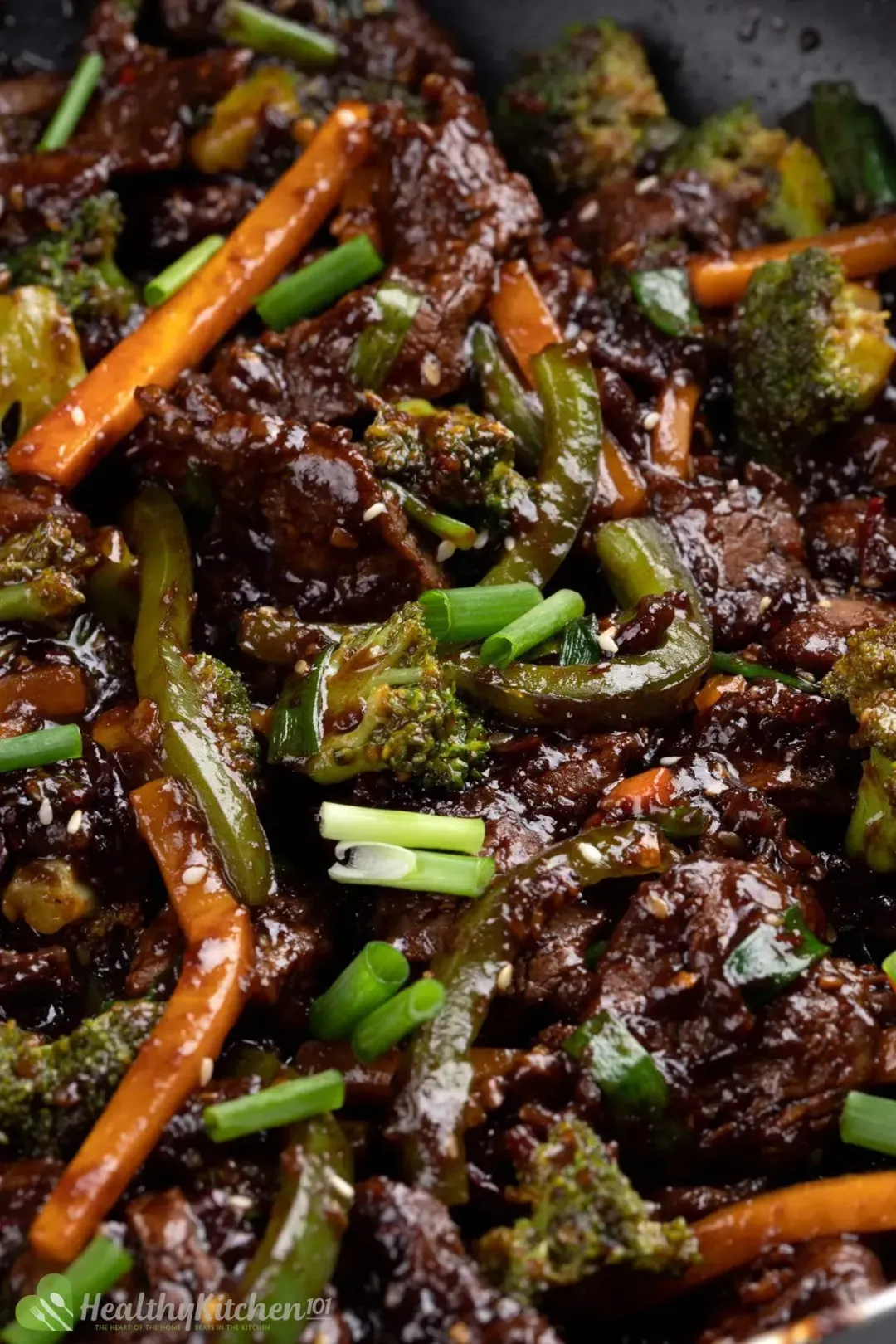 Ingredients
Beef tenderloin is common in stir-fry recipes for its tender texture, which produces a soft result that's pleasurable to chew.
Cornstarch is not only a thickener for sauces, but also keeps the beef moist. Flour or egg whites are a couple of ingredients that have the same effect.
All the vegetables, that is, broccoli, carrots, bell pepper, and scallions, add nutritive value. You can omit them to suit your taste, but it will remove a chunk of the nutrients from your meal.
The hoisin, dark soy, and lite soy sauces are essential to flavoring the beef without exceeding sodium amounts. Leaving them out would result in a much duller dish.
You can however substitute them with chicken/beef stock. But you may want to keep a little hoisin and soy sauce to produce the dark, velvety presentation.
Equally, wine and vinegar's acidity help to balance the saltiness and add an overall vibrancy to the sauce. Ginger, garlic, and red pepper flakes add a pungency and kick to the dish while brown sugar tones down the spiciness. To add savory flavor, we included chicken broth and sesame seeds, and completed the meal with plain white rice.
What is Easy Mongolian Beef?
Easy Mongolian Beef recipe is a mildly spicy dish that incorporates the sliced beef cut, a crispy coating, and a velvety sauce. It's then served with steaming, hot rice.
It's currently a popular takeout for many American families, carrying eastern flavors into western homes.
Preparation Tips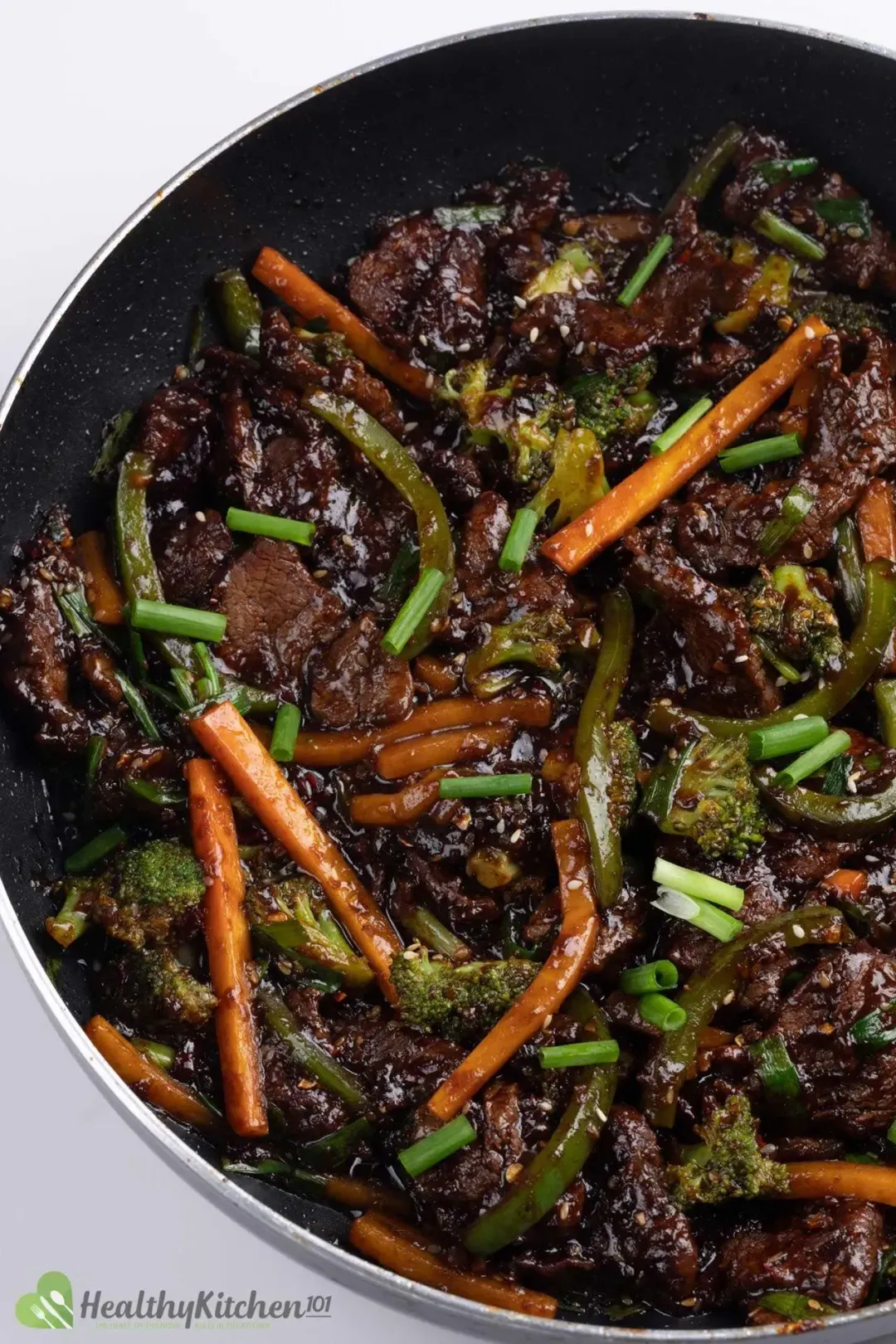 Don't let the pile of ingredients scare you— Mongolian Beef is actually easy to make. But, a few steps before cooking the beef will help you achieve the ideal tender texture. 
If using a tougher beef cut, wrap it in cling film and flatten it with a rolling pin to tenderize. Or use a meat hammer to accomplish a similar, softer outcome. 
Then proceed to cut the beef against the grain to make it more tender and easier to chew.
The key to preserving the moisture in the meat is the velveting technique where you coat it with cornstarch. As the beef fries, it loses water. 
Coating it significantly reduces moisture loss from the beef.
We also recommend using a large frying pan, as overcrowding leads to sticky beef pieces that are hard to separate. Another way to avoid this is to fry the meat in batches.
Lastly, avoid overcooking the meat. A dry result is unappealing and defeats the object of the steps that ensure a tender Mongolian beef outcome.
Sauce for Mongolian Beef
The sauce for this dish is unique to Mongolian Beef. By reducing soy sauce together with sugar and cornstarch, you can create a sweetness that balances the salty soy sauce.
A quintessential step in making the sauce is velveting. This involves coating the beef with cornstarch to preserve its moisture while maintaining the flavor and thickness of the sauce.
You may also substitute cornstarch for flour. It will most likely result in a thicker sauce but will maintain the overall taste of the traditional Mongolian Beef dish.
Lastly, if the recipe turns out to be too sweet for your taste, you can cut down the sugar. But keep in mind that the sweetness from the sugar balances the saltiness of the soy sauce.
How Many Calories in This Recipe?
This recipe contains just 496 calories of savory, delectable nutrition. It's mostly made up of protein, which is excellent for promoting muscle mass.
Adding a salad and beverage to this dish completes a filling meal while keeping it healthy. And seeing that it's relatively high in calories, you can best serve this as a main meal during lunch/dinner.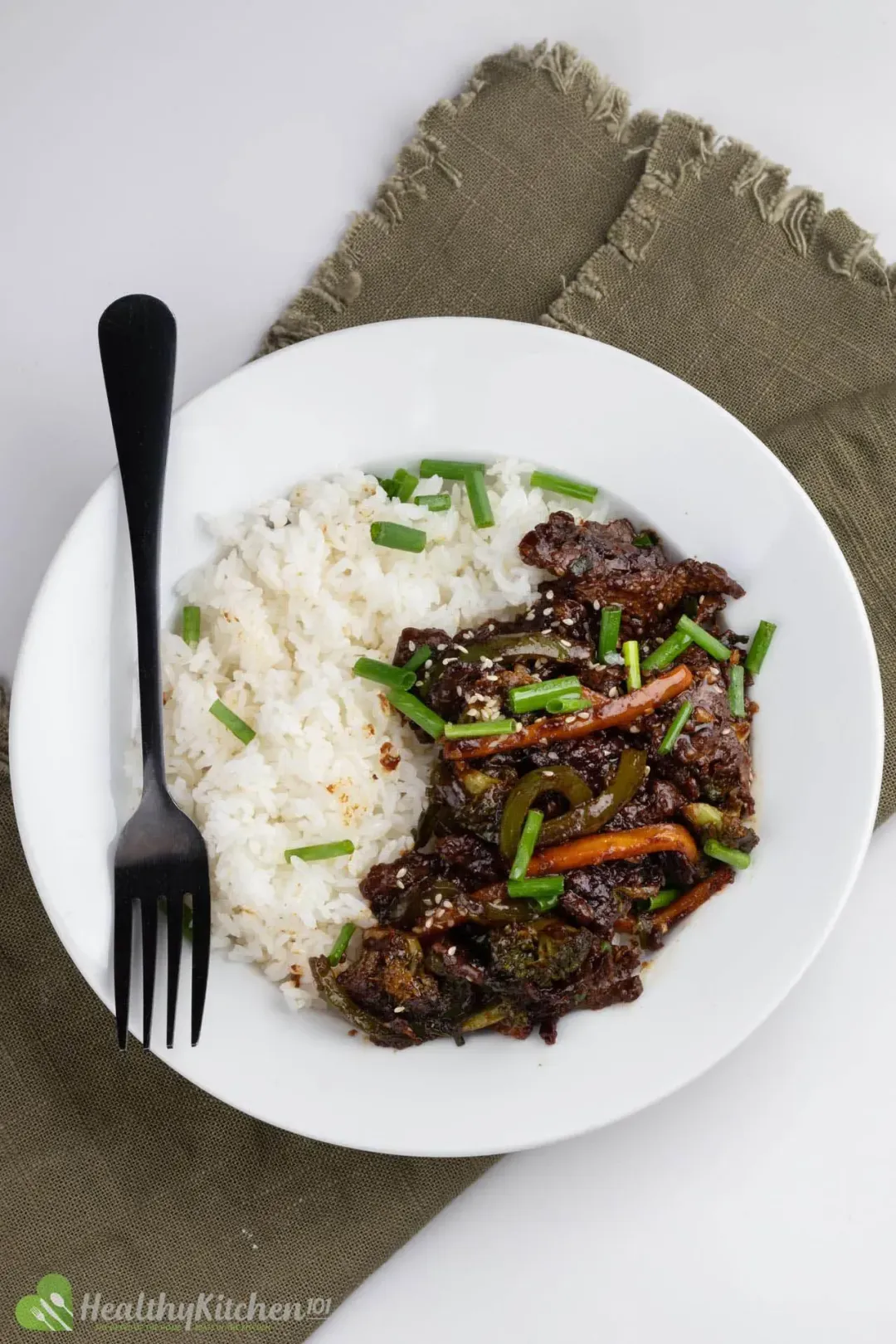 How to Make Easy Mongolian Beef Stir Fry
There are two main parts to successfully achieve this Mongolian Beef recipe, namely, the crispy beef and velveted sauce:
Crisping – Start by deep-frying the coated beef to achieve a rich and crusted texture. Make sure the oil is at a high temperature. 
This way, you'll spend less time cooking the beef. Extended frying time may increase oil uptake, resulting in a higher-calorie meal. 
Velveting – To hero the dish, create a thick sauce from the velveted beef by including cornstarch in the mixture. Reduce the sauce at a high temperature and finally add the beef and vegetables to complete the velveted sauce.
Is Easy Mongolian Beef Healthy?
Beef tenderloin is lean meat serving 6.5g of fats per 4 oz serving, with 2.2g as saturated fats. It is, therefore, a great source of low-fat protein that will help maintain muscle mass.
As a source of Vitamin B3 (Niacin), a 4 oz serving of beef provides 38% of the recommended daily intake. Niacin aids your digestive system by helping convert food to energy in your body.
In addition to preserving the moisture of the beef, we also reduce the oil uptake during deep-frying. Coating beef with cornstarch reduces water loss, which in turn reduces oil absorption and results in a lower-calorie meal.
Can You Substitute Flank Steak in Mongolian Beef?
If beef tenderloin isn't available, use flank or sirloin steak which are both just as tender and easy to cook. We also tried beef striploin in this Instant Pot Mongolian Beef Recipe and it turned out just as tender and succulent.
For those who prefer white meat, we suggest going for a lean cut of pork loin which is equally tender. And if you like seafood, our Mongolian Shrimp Recipe is a fantastic choice.
What to Serve With Easy Mongolian Beef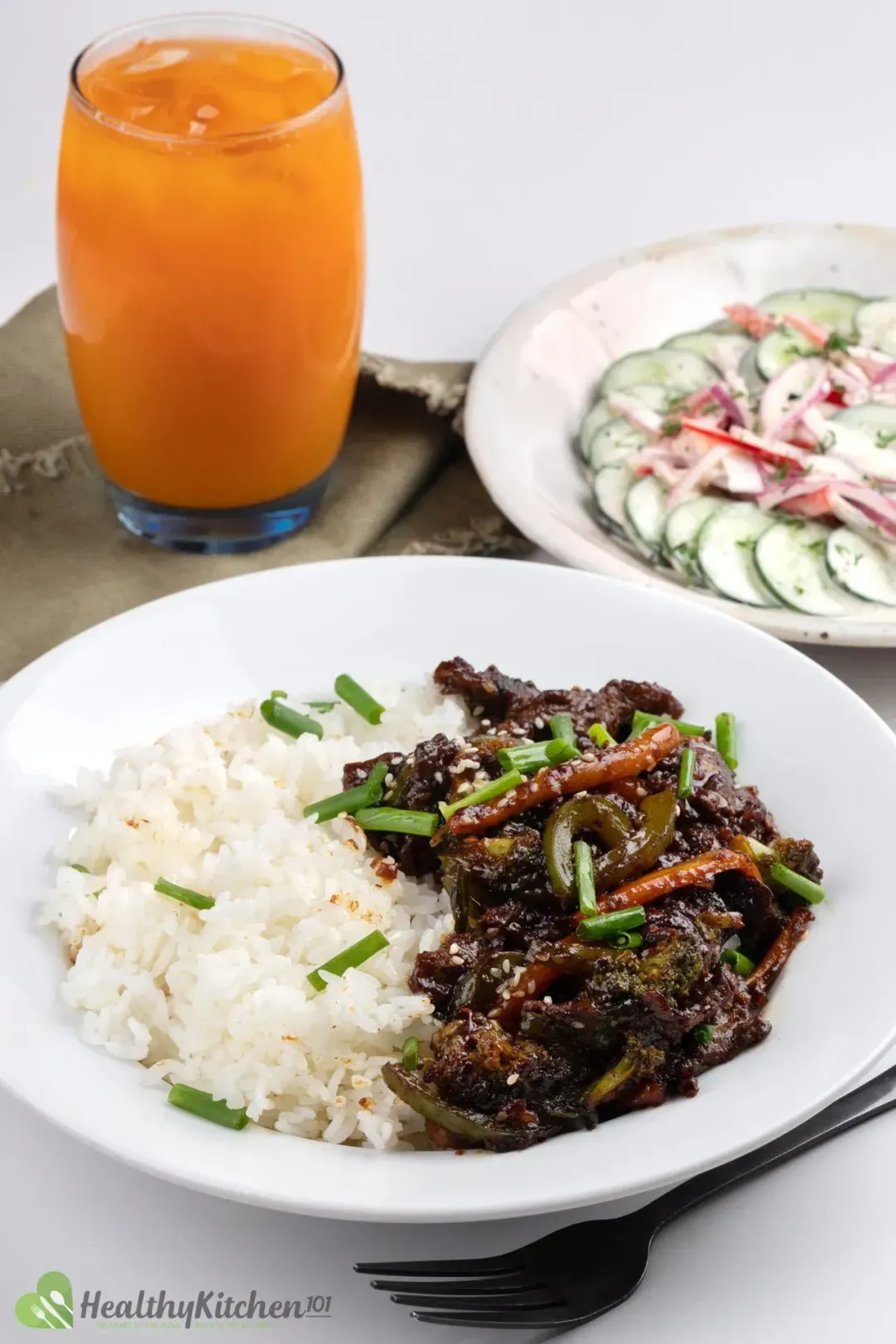 The rich, sweet, and salty flavors of Mongolian Beef go well with simple side dishes. The following complements may help to balance the spiciness of the beef. 
1. Noodles
Noodles are also an excellent option to contribute carbs in place of rice. You can saute them together with the beef for a saucy texture throughout the dish.
2. Cucumber Salad
A cucumber-mayonnaise salad adds a complementary balance of moisture and coolness. Taste, texture, and nutritional content complete this delicious dish without taking away from the flavors of the Mongolian beef. 
3. Carrot Orange Pineapple Juice
You can round off this meal with a simple beverage. Carrot juice is refreshing, but more importantly, it's low in calories while providing essential nutrients like vitamins A and C. 
Experience the Ultimate Taste of Beef Over Rice with These Mouth-Watering Recipes
Beef tapa is a classic Filipino breakfast dish that's easy to make and packed with flavor. Marinated in a mixture of soy sauce, calamansi juice, garlic, and sugar, this thinly sliced beef is then pan-fried until it's tender and juicy. Serve it with garlic rice and a fried egg for a delicious start to your day.
This article explores the history and cultural significance of beef kofta, a popular dish in Middle Eastern cuisine. It offers a detailed recipe that combines ground beef with aromatic spices and herbs, as well as serving suggestions and nutritional information.
For those who enjoy the taste of beef and rice recipes, take a look at our roundup for more delicious options.
Easy Mongolian Beef
Easy Mongolian Beef recipe is a popular dish that's easy to integrate into your weekly meals. The inviting warmth and savory-sweetness from this recipe make it great for family dinners, gatherings and holiday feasts.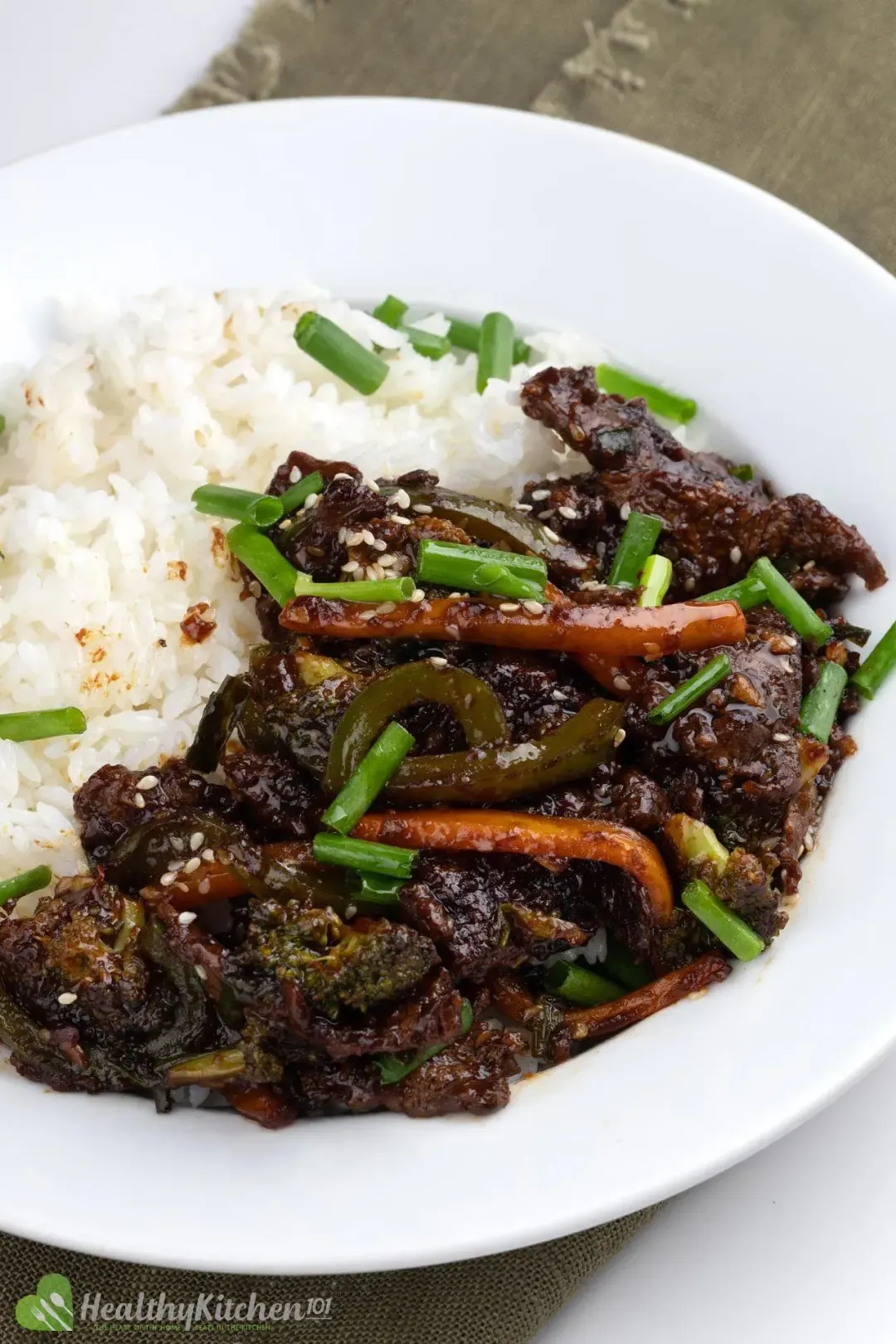 cook TIME

13 mins

prep TIME

10 mins

total TIME

23 mins
COURSE

Dinner, Lunch, Main Course

CUISINE

American, Asian

SERVINGS

CALORIES

496 kcal
INGREDIENTS
10 oz

beef tenderloin

(thinly sliced)

4 oz

broccoli florets

(halved)

3 oz

green bell pepper

(sliced)

3 cups

cooked medium-grain rice

(equal to 1 cup uncooked)

1 tbsp

premium dark soy sauce

6 tbsp

unsalted chicken broth

1 1/2 tbsp

lite soy sauce
INSTRUCTIONS
1
Holding your knife at a 45° angle, slice 10 oz beef against the grain (across the muscle lines) into ¼ inch thick pieces.
2
Coat the beef with 4 tbsp cornstarch and leave it to sit for at least 5 minutes.
3
Meanwhile, bring a pot of water to boil and add 4 oz broccoli and 2 oz carrots. Cook for 4 minutes until just tender. Remove from heat and drain water from the vegetables.
4
Add 1 cup of soybean oil to a large wok or deep pot. Heat at high temperature and dip in a chopstick to check for readiness. If it sizzles, add the beef and fry each batch for 30-40 seconds at high heat. Avoid overcrowding the wok. (Depending on the size of the wok, each batch may be 1/2 or 1/3 of the beef.) Remove from the heat and leave to drain. Remove oil from the pan, leaving 1 tablespoon.
5
Mix 6 tbsp chicken broth and 1 tbsp cornstarch until dissolved to make a cornstarch mixture. Set aside.
6
Heat the frying pan with oil at high heat for 30 seconds. Immediately add 1 tsp ginger and 1 tbsp garlic and cook for 30 seconds until garlic starts to turn brown.
7
Add lite soy sauce, 1 tbsp dark soy sauce, 1 tbsp white vinegar, and 2 tsp hoisin sauce to the pan. Stir for 30 seconds then add 1 1/2 tbsp brown sugar and stir for another 30 seconds until it dissolves.
8
Add the beef and 3 oz bell pepper and stir fry for 1 minute. Then add the cornstarch mixture and 1 tbsp white wine, stir it and add the cooked vegetables and 1 oz scallions. Stir fry for 2-3 minutes until well coated with the sauce.
9
Finally, add the 2 tsp red pepper flakes and 2 tsp sesame seeds and stir to evenly distribute.
10
Remove from heat and serve over rice.
(*) Only some of the oil is absorbed during deep frying and we have calculated nutritional values based on the amount in the final product. The total amount consumed is 4 tablespoons of soybean oil.
NUTRITION
Nutrition Facts
Easy Mongolian Beef
Amount Per Serving (1 serving)
Calories 496
Calories from Fat 171
% Daily Value*
* Percent Daily Values are based on a 2000 calorie diet.
Keywords: easy ground beef recipes, Mongolian Beef, Mongolian Beef Recipe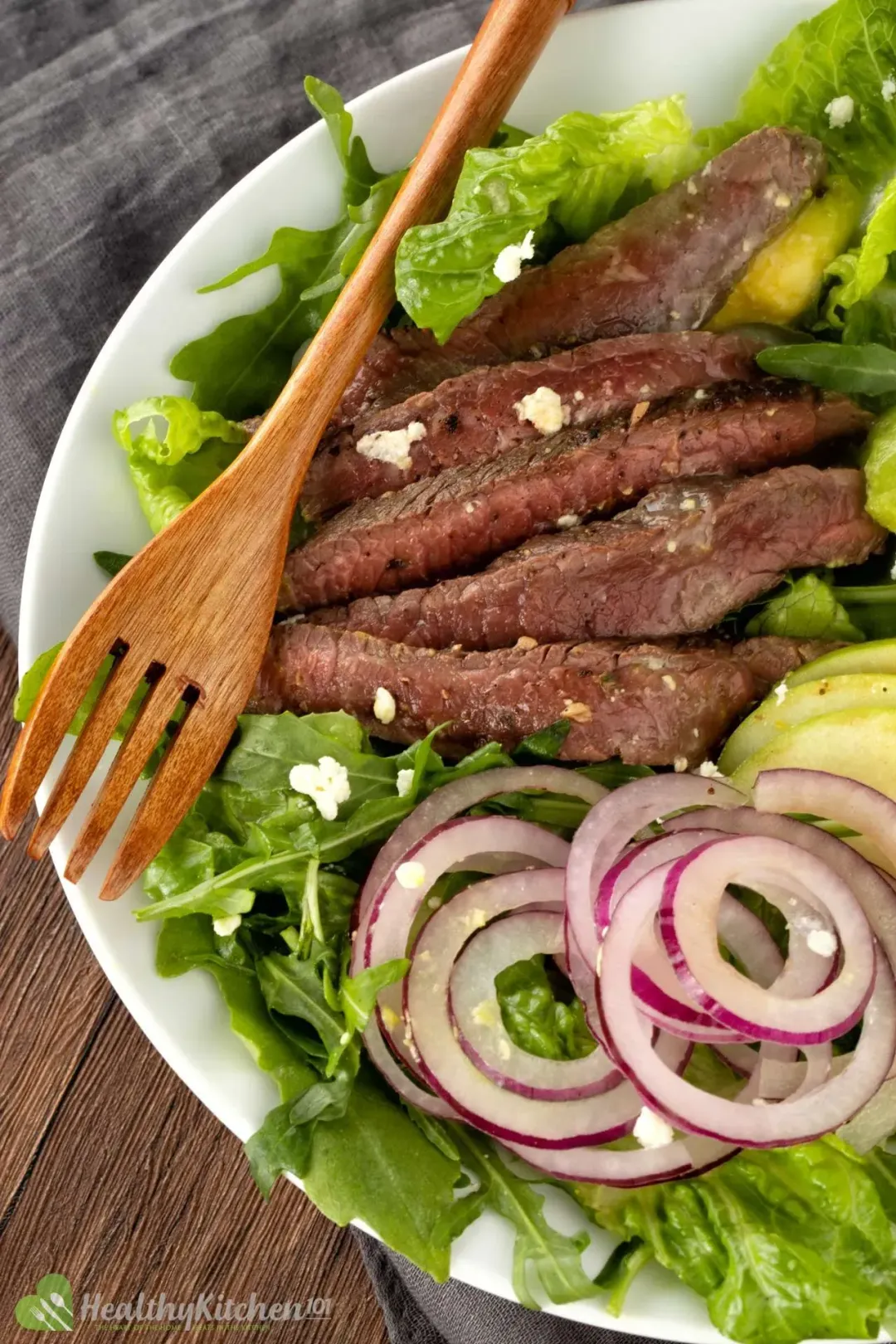 Previous Recipe
Steak Salad
Steak Salad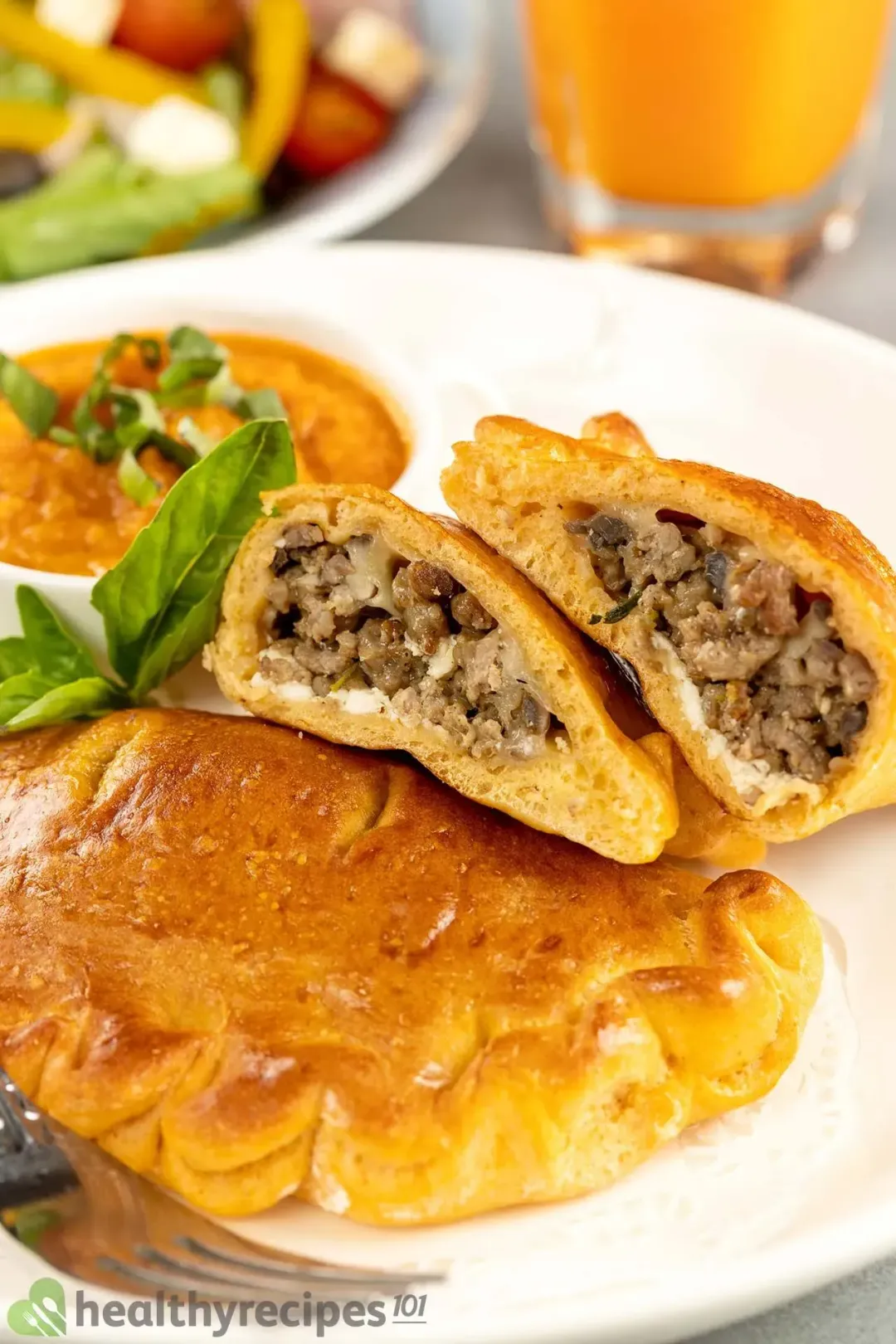 Calzone
savory and delicious Mongolian beef recipe!