Instead of dining out at those expensive Korean restaurants, why not recreate that experience at home with our Korean beef bowl recipe?
This main dish calls for juicy ground beef and julienned carrots flavored with ginger, garlic, soy sauce, and other spices, offering an authentic Korean meal. The best thing is it only takes 12 minutes from start to finish to complete this beef goodness.
So, it's time to leave those takeout days behind and start your home-cooking journey!
How Healthy Is Our Korean Beef Bowl Recipe
Our Korean beef bowl contains a host of nutrients that boost your energy levels throughout the day.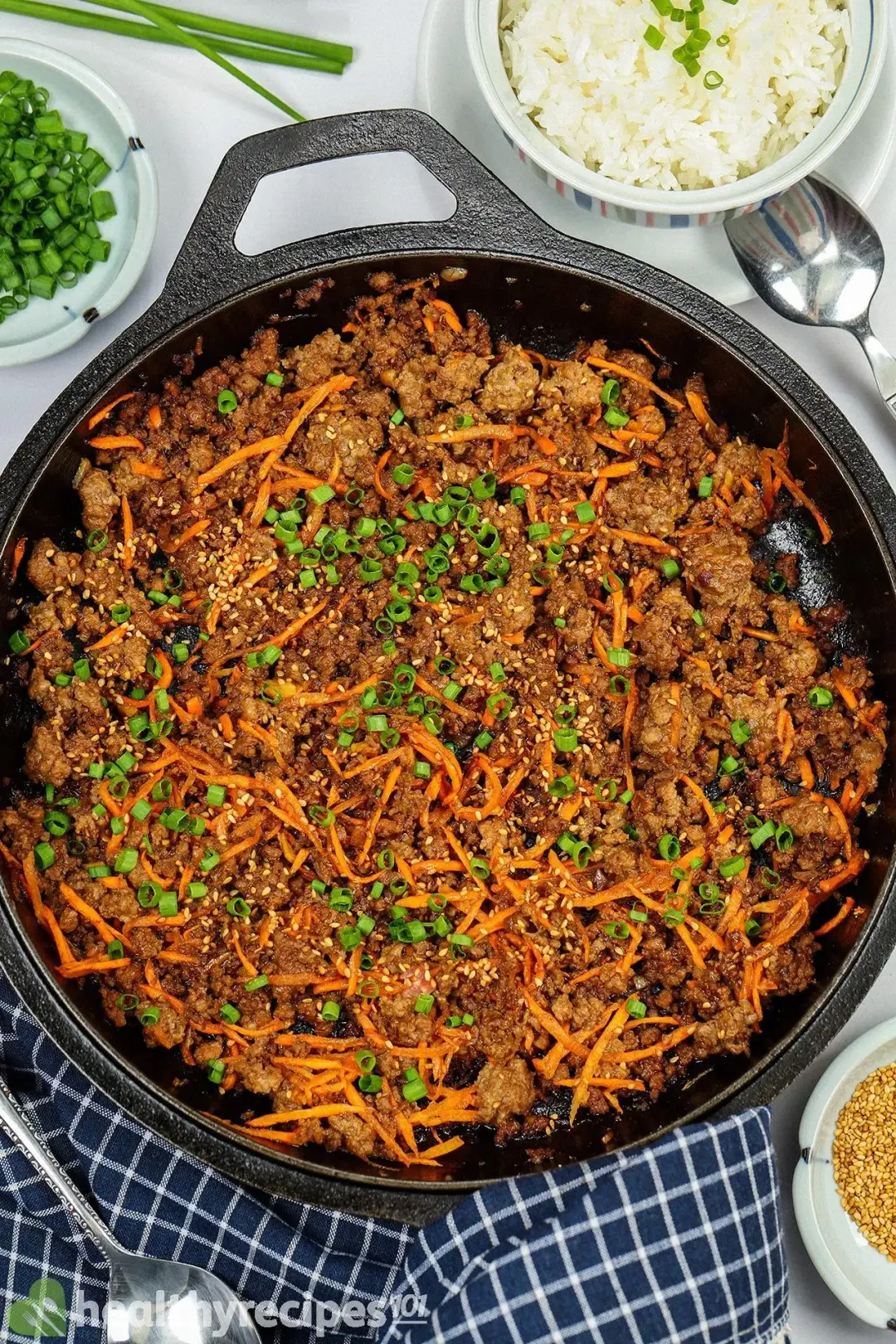 Ground beef is an excellent source of complete protein, which helps promote weight control. This red meat also offers tons of vitamins, including E, K, and B-complex, and minerals (Iron and Zinc) to your diet.
Additionally, the pairing of garlic and ginger, a signature of many Asian-style dishes, brings many unexpected health benefits.
Overall, this main course yields 469 calories, with the amount of saturated fat and sodium kept strictly in check, at 5 g and around 529 mg, respectively.
Ingredients for Korean Beef Bowl
With these easy-to-find ingredients, you'll be able to pull together a tempting Korean beef bowl in no time.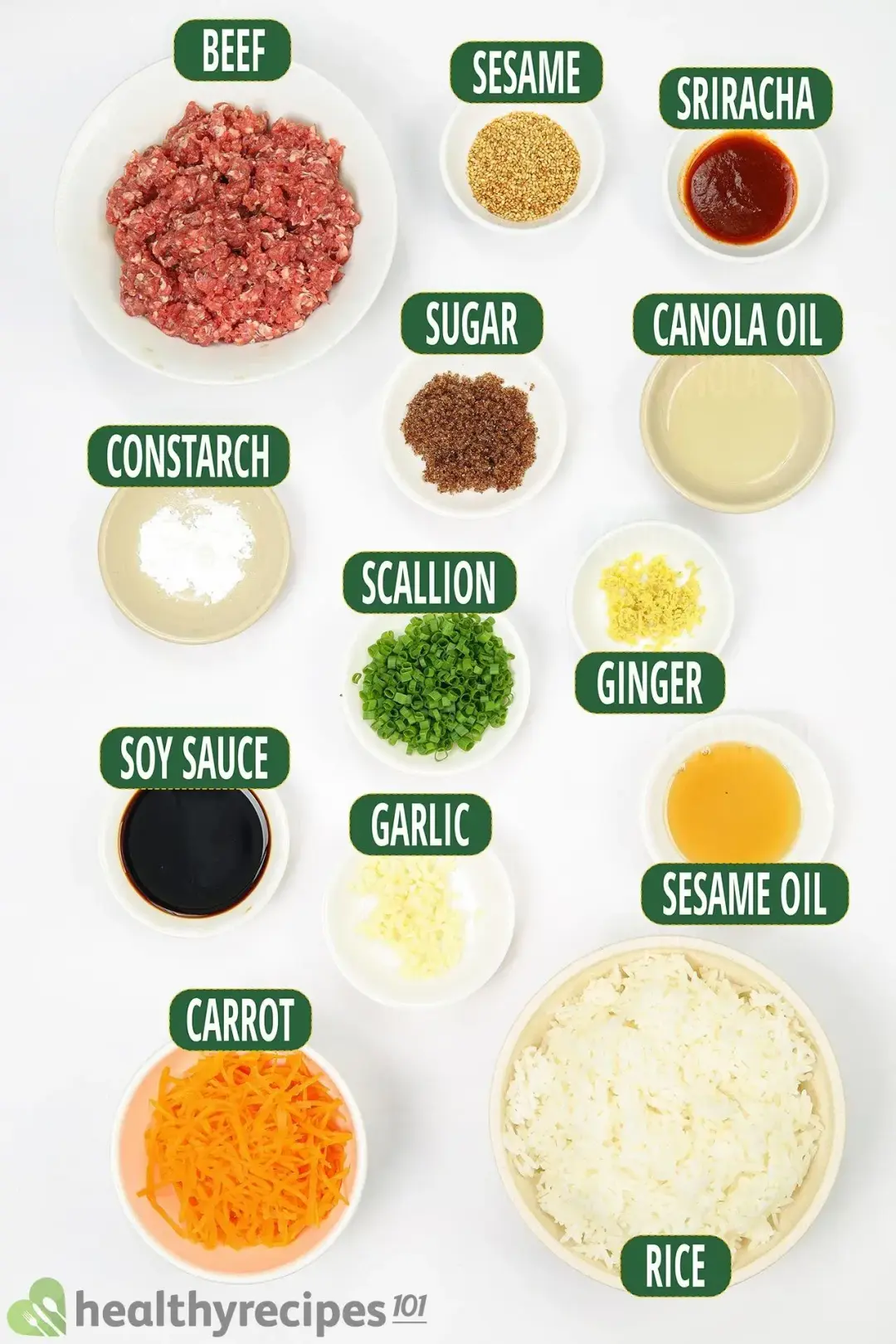 Cooked rice: We prefer the soft and slightly chewy texture of cooked medium-grain rice. However, if you have other types of rice on hand, feel free to use them in this recipe.
Ground beef: This is a budget-friendly ingredient for many dishes—soups, stews, or stir-fries. Always brown the ground beef quickly with aromatics and seasonings to bring out its natural sweetness.
Carrots: This vegetable adds a bright orange hue, a crispy texture, and a subtle earthy taste to our dish. For an alternative, consider replacing julienned carrots with bean sprouts.
Garlic and ginger: Sautéed garlic possesses a caramelized sweetness while ginger gives our beef a slightly spicy aftertaste.
Soy sauce: Its umami flavor followed by a hint of bitterness adds greater depth to many Asian dishes. To reduce the amount of sodium intake, our chefs opt for reduced-sodium soy sauce—less salty yet still flavorful the same.
Sriracha: The complexity of this hot sauce adds more character to our Korean beef bowl—it's moderately spicy with tangy and garlicky notes.
Brown sugar: Brown sugar gets its toffee-like flavor and brownish color from molasses.
Garnish: Sprinkle on some chopped scallions and roasted sesame seeds for a finishing touch.
What Is The Best Rice to Use?
Rice holds a soft spot in the hearts of many Asians as it's a symbol of wealth and prosperity. This grain comes in different varieties, and here are some of the best choices for this recipe: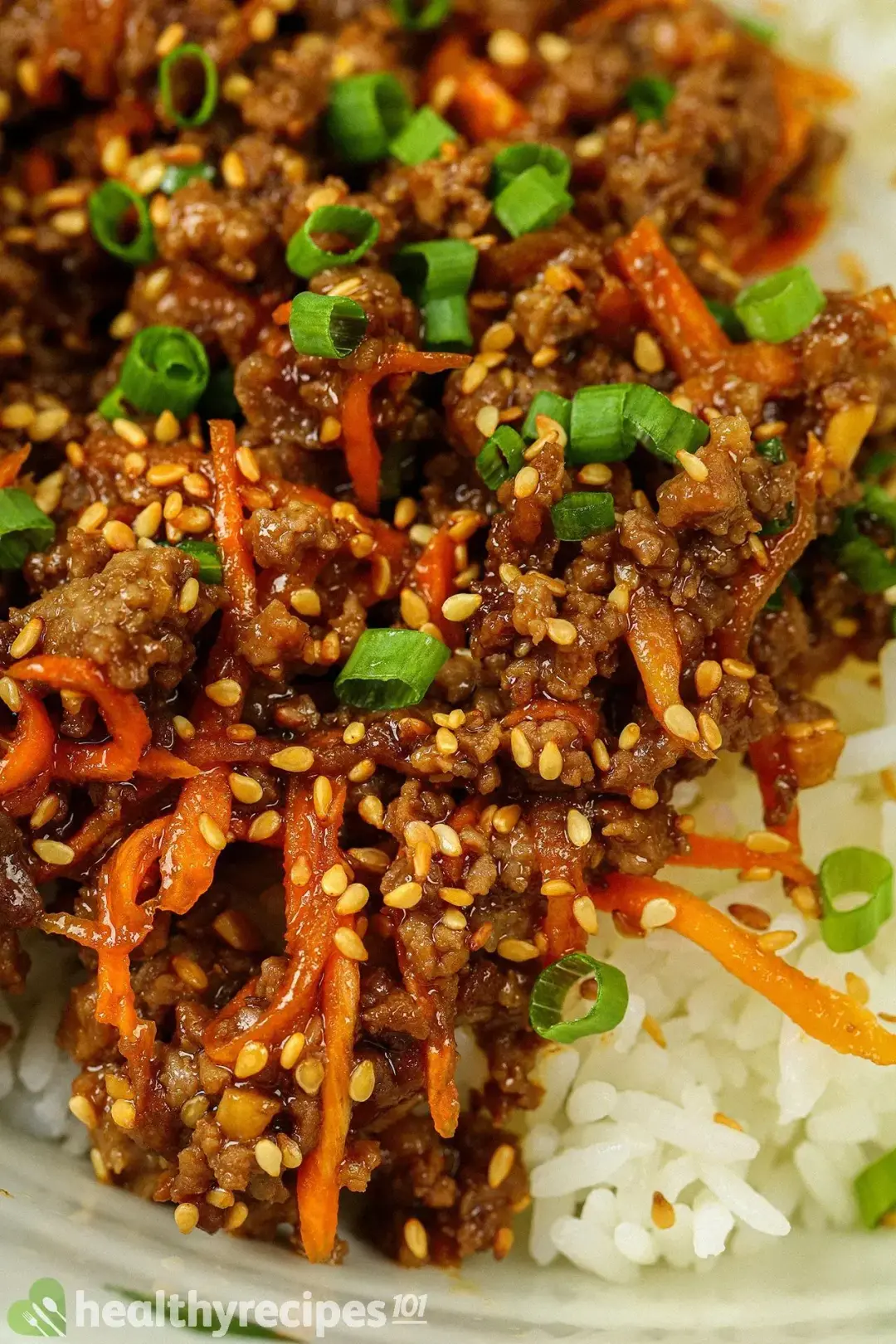 Medium-grain white rice: Medium-grain rice is a Korean staple since it tends to have a softer and fluffier texture when cooked. Korean chefs love using this rice for making traditional dishes like kimbap and bibimbap.
Jasmine rice: This aromatic rice is widely used in Vietnamese, Japanese, Thai, and Indian cuisine. Once perfectly cooked, Jasmine rice has a floral scent and a mild sweet taste.
Brown rice: Brown rice leans on the firmer side than regular white rice, allowing it to hold its shape better after being cooked. Plus, eating this fibrous rice provides you with many surprising health benefits.
Black rice: It also comes under the name of "The Forbidden Rice" as this grain was once only reserved for the Chinese royal family. When cooked, black rice turns slightly purple with a chewy texture and nutty taste.
How to Store and Reheat Leftovers
If you make too much for one sitting and wonder how to store it properly, follow our instructions below.
To store the leftovers, place them in an airtight container and refrigerate them for up to 4 days. You can also place your leftover portion in a freezer-friendly container and freeze it for 4-6 months.
To reheat the dish, transfer it to a microwave-safe bowl, add a teaspoon of water or oil to prevent the beef from drying out, then microwave until heated through.
What to Serve With Korean Beef Bowl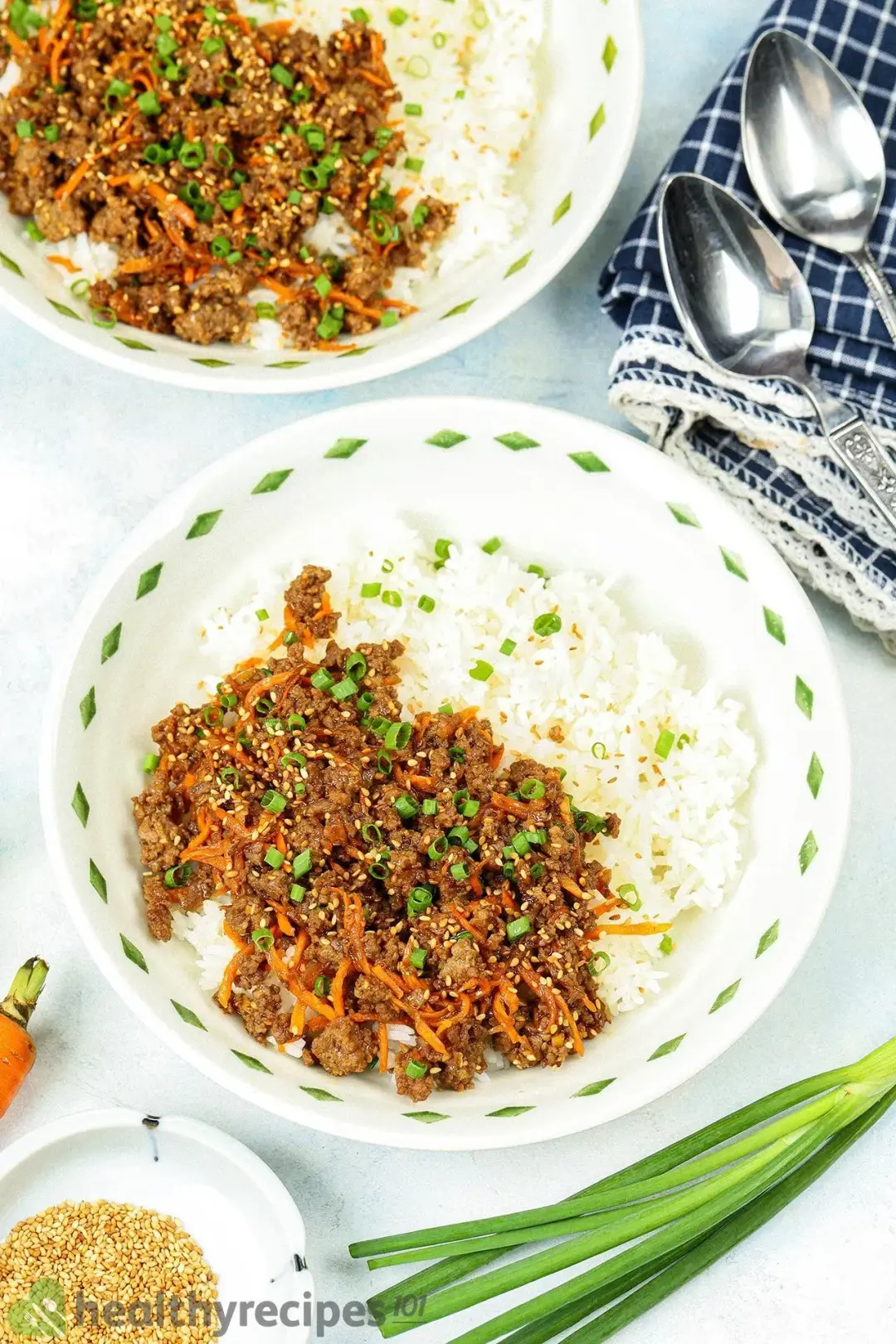 For those who want some side dishes to accompany a Korean beef bowl, take a look at these ideas.
How to Make Korean Beef Bowl
This Korean beef bowl recipe combines simple ingredients to produce a wholesome Korean signature—robust ground beef and carrots tossed with soy sauce.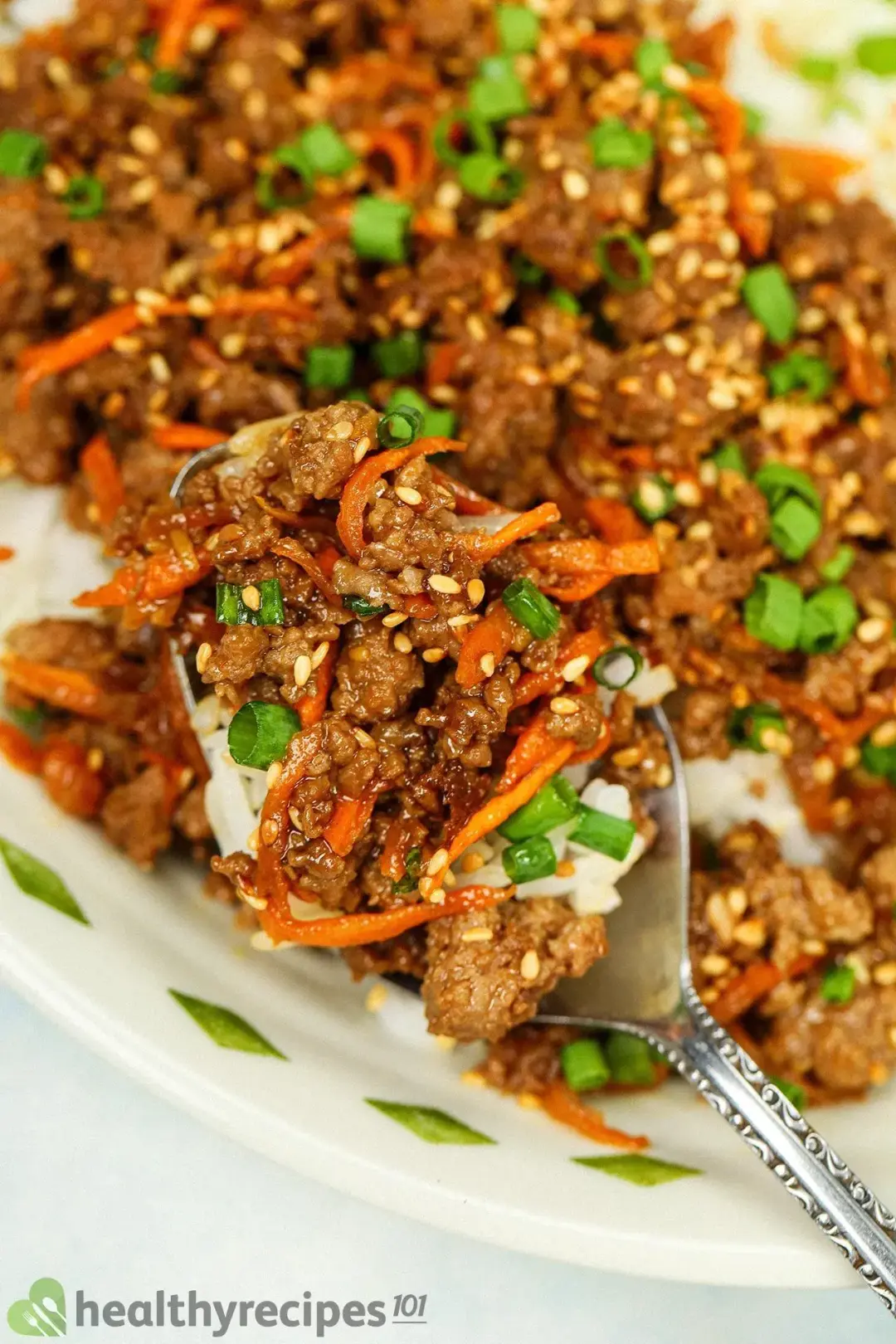 cook TIME

7 mins

prep TIME

5 mins

total TIME

12 mins
COURSE

Main Course

CUISINE

Korean

SERVINGS

servings

CALORIES

469 kcal
INGREDIENTS
10 oz

85% lean ground beef

2 oz

carrots peeled, julienned

1 tsp

ginger finely chopped

1 tbsp

garlic minced

1 tbsp

brown sugar

1 tsp

cornstarch

1 tbsp

canola oil

1 tbsp

sesame oil

3 tbsp

reduced-sodium soy sauce

2 tsp

sriracha

0.3 cup

scallion chopped

1 tbsp

unsalted roasted sesame seeds

3.5 cups

cooked medium-grain rice
INSTRUCTIONS
Prep:
1
Cut off the carrot tops and roots, then peel away the skin. Cut the carrot in half—crosswise. Split those in half again—lengthwise. Julienne the carrot.
2
Use a tip of a metal spoon to scrape off the ginger skin. Cut the peeled ginger into thin slices, then chop these slices finely.
4
Slice off the root and the tough top part of the scallions before chopping them into small pieces.
5
Cook the rice using a rice cooker or an Instant Pot.
Cook:
1
Sauté the garlic and ginger: Place a shallow frying pan over medium heat. Add 1 tbsp canola oil, 1 tbsp minced garlic, and 1 tsp chopped ginger. Stir frequently until fragrant, about 30 seconds.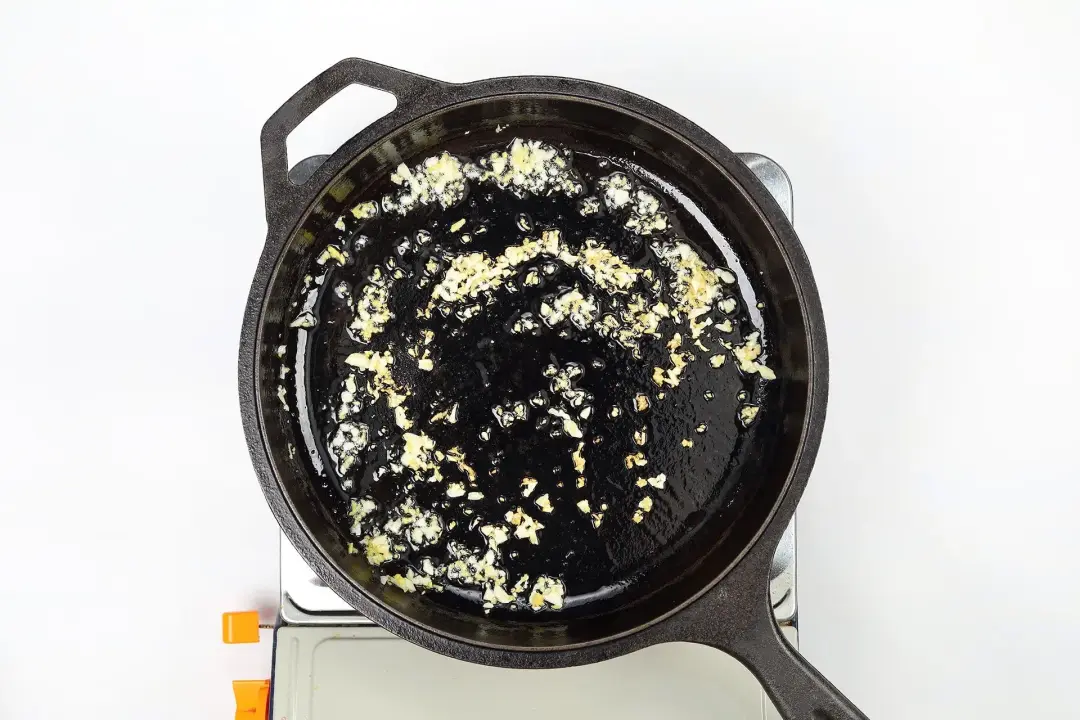 2
Cook the ground beef: Continue adding 10 oz 85% lean ground beef into the same pan, then cook for 2 minutes.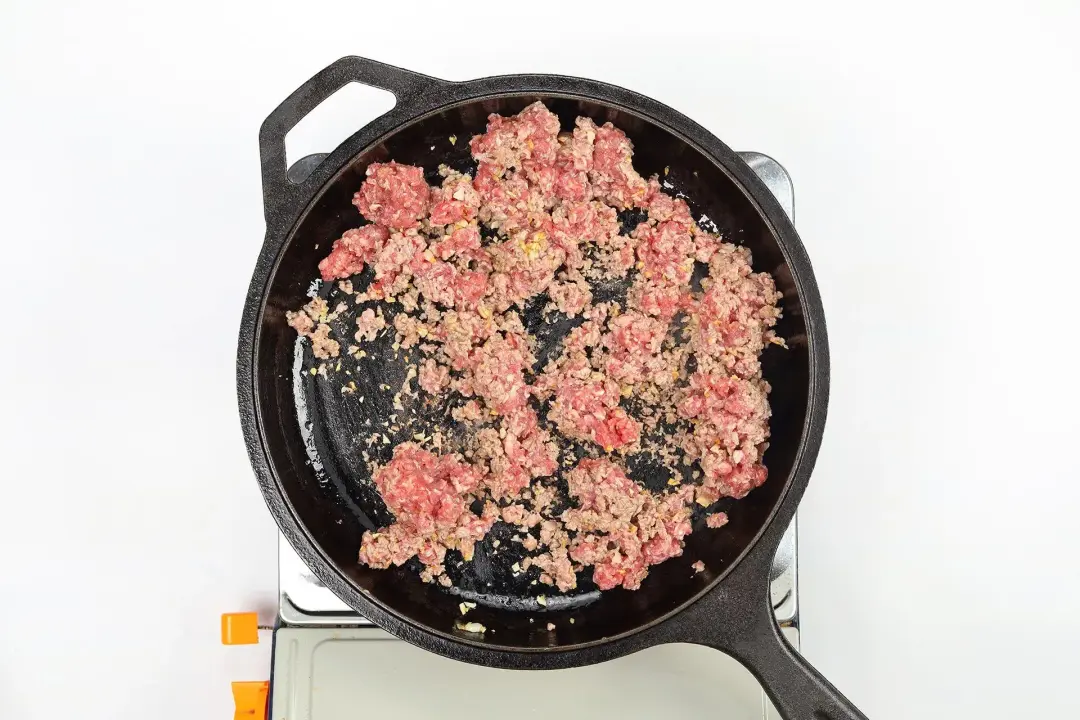 3
Combine the seasonings: Pour in 3 tbsp reduced-sodium soy sauce, 1 tbsp sesame oil, 2 tsp sriracha, 1 tbsp brown sugar, and 1 tsp cornstarch. Stir to cook for another 2 minutes.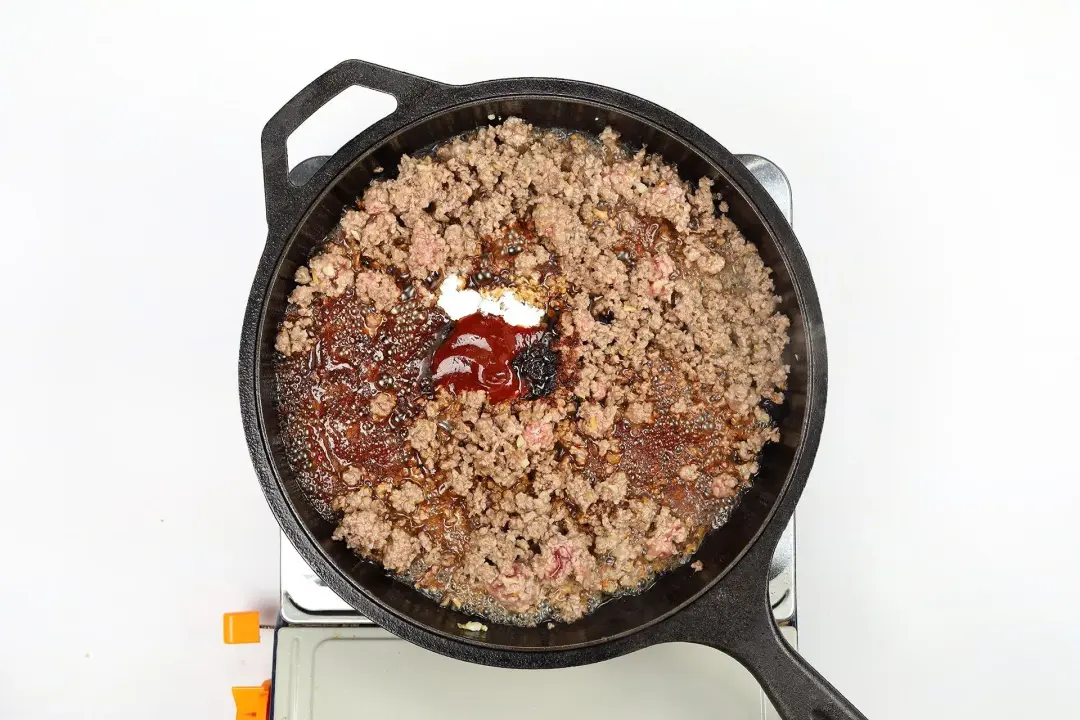 4
Add the julienned carrot: Stir in 2 oz julienned carrot and cook for 1 minute.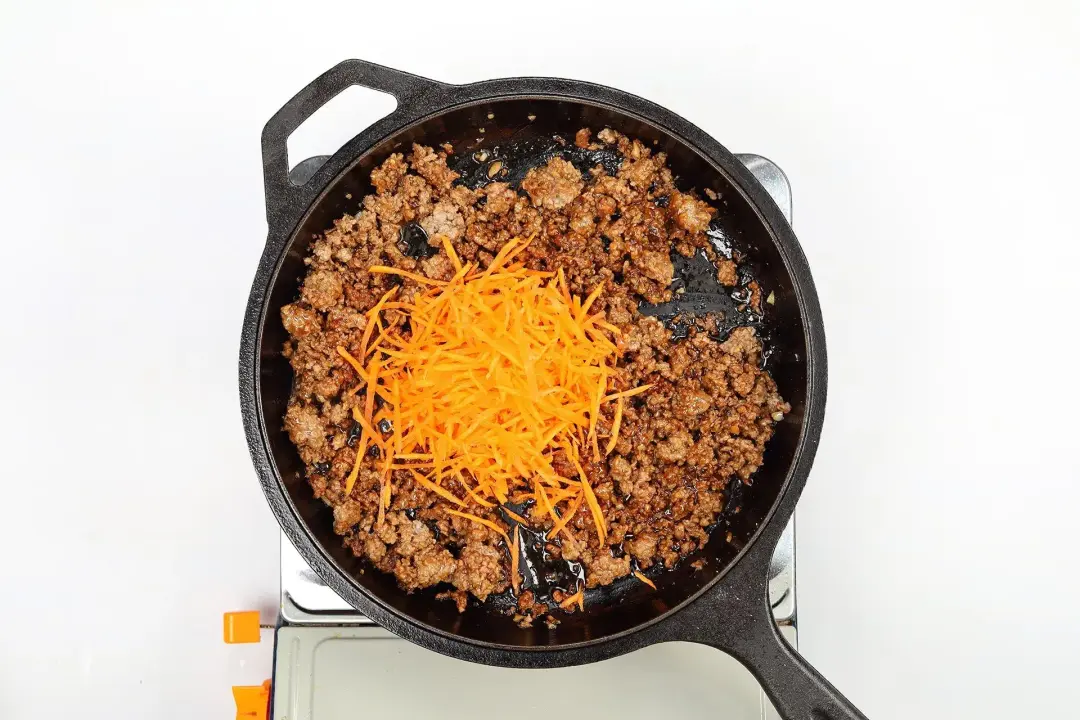 5
Garnish and serve: Arrange the beef and white rice in a bowl. Sprinkle on top some chopped scallion and unsalted roasted sesame seeds. Enjoy!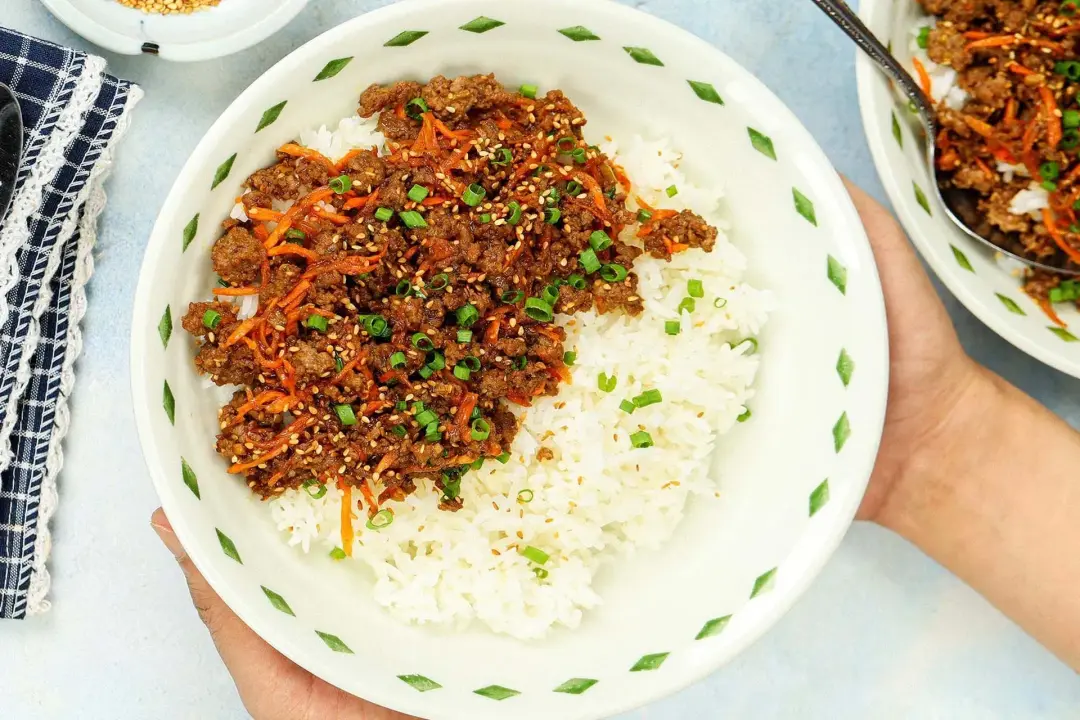 NUTRITION
Nutrition Facts
How to Make Korean Beef Bowl
Amount Per Serving (1 serving)
Calories 469
Calories from FDA
% Daily Value*
* Percent Daily Values are based on a 2000 calorie diet.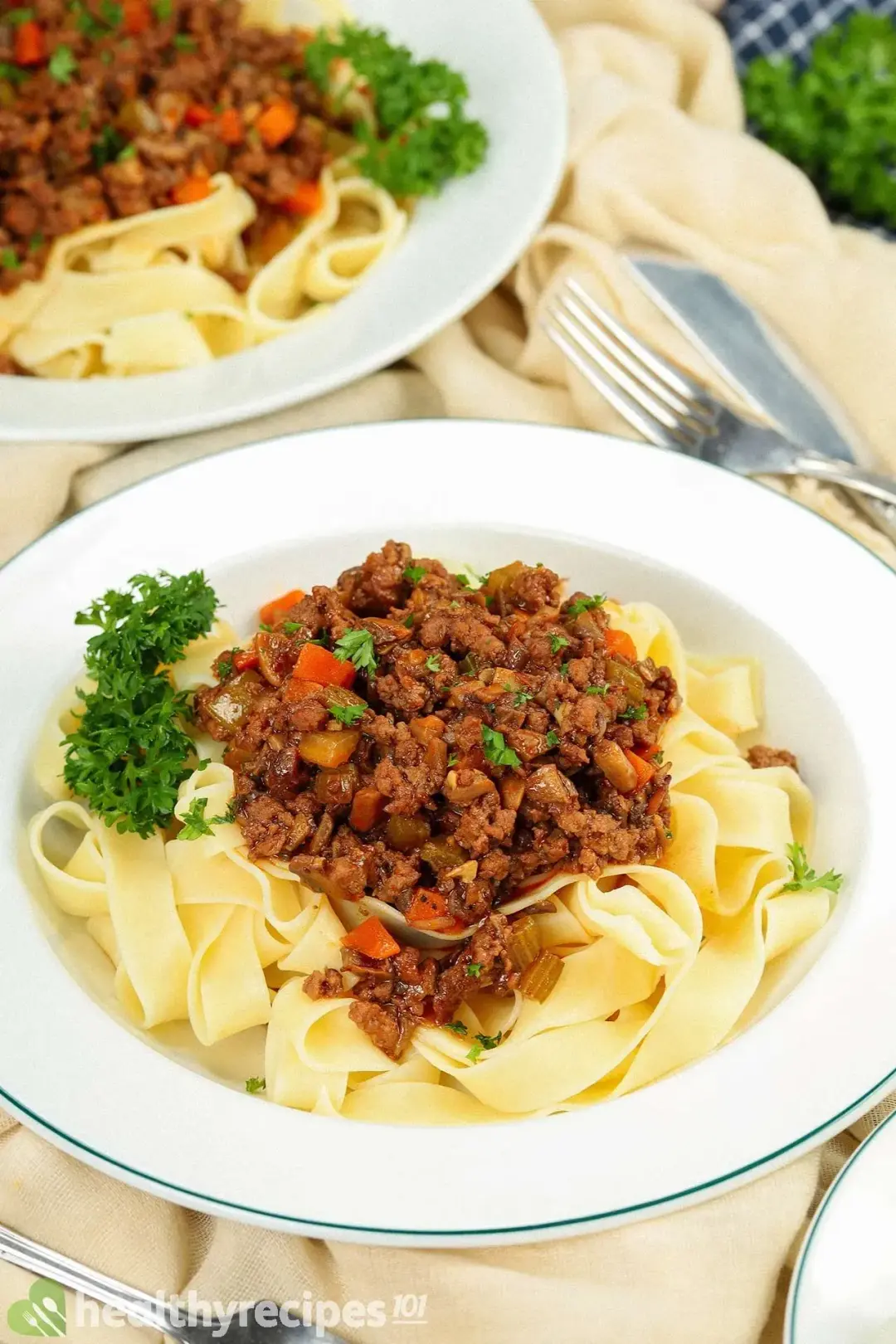 Previous Recipe
Vegetable Beef Ragu
Vegetable Beef Ragu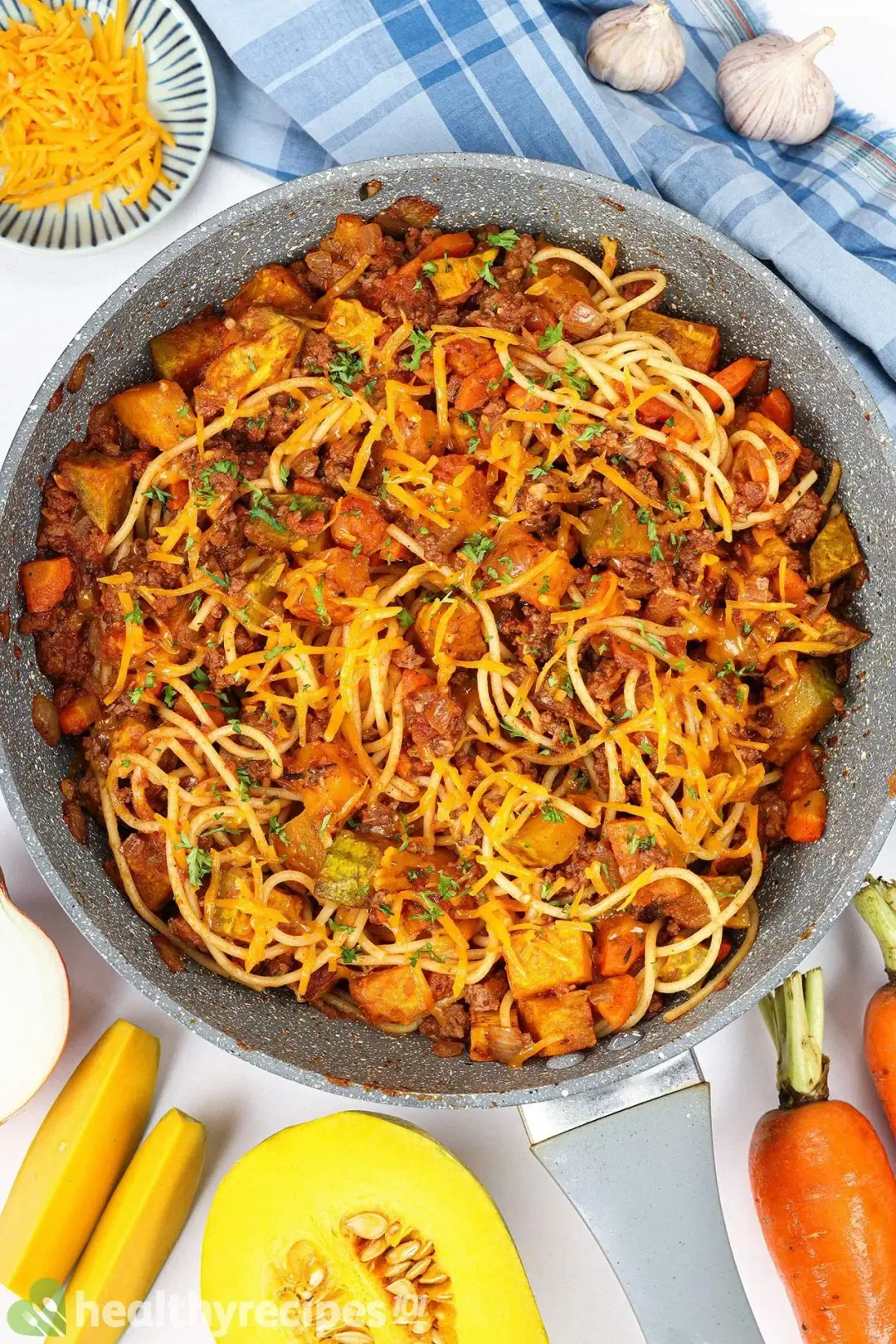 Next Recipe
Beefy Butternut Squash Pasta
Beefy Butternut Squash Pasta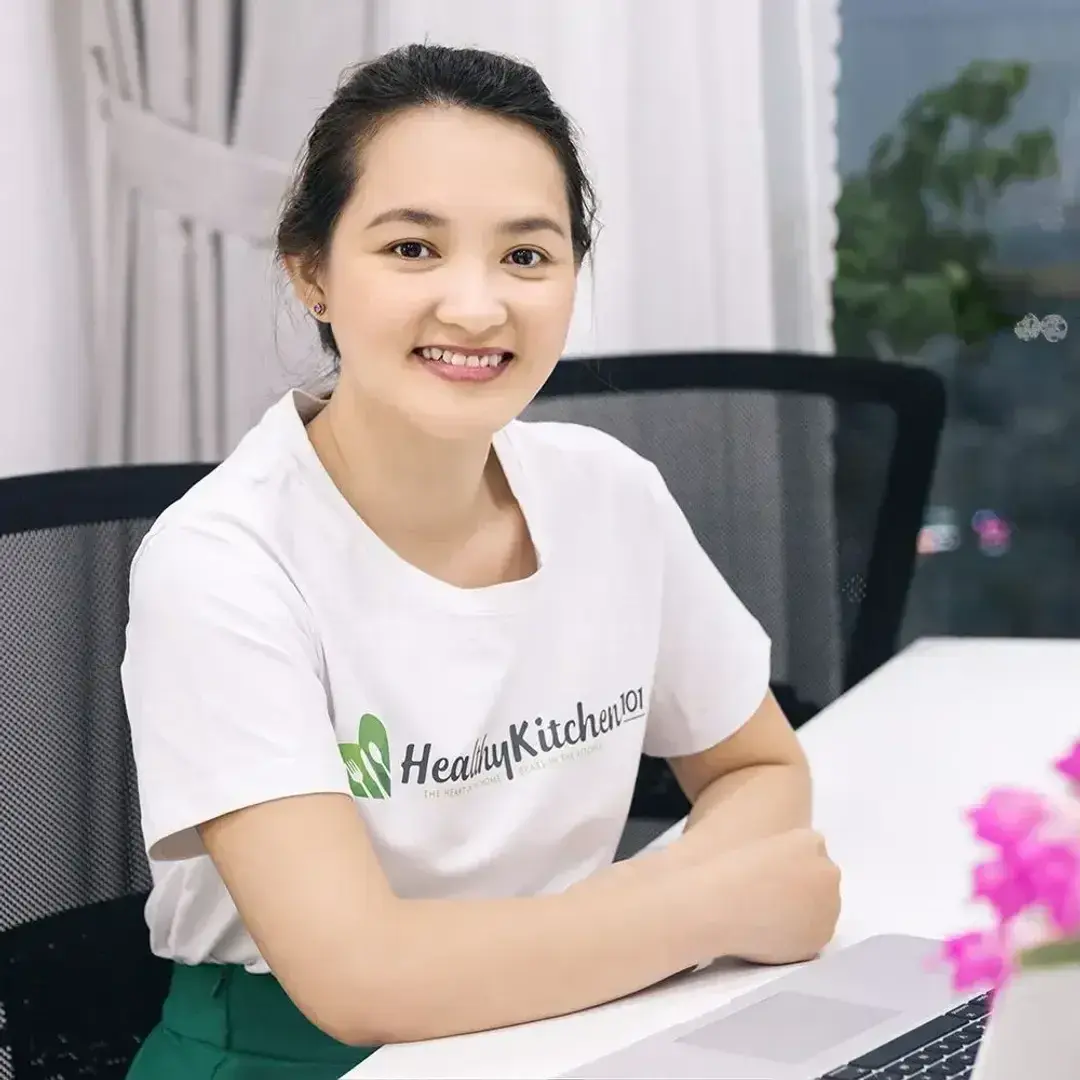 Luna Regina
Luna is the founder and chief recipe developer of Healthy Recipes 101. Apart from cooking, she also loves reading, programming, exploring the outdoors, and collecting useless facts about everything.