Take away the weeknight dinner monotony with this diverse and flavorful Hunan beef recipe. It's loaded with tender beef and fresh veggies, stir-fried in a sauce that warms the taste buds while leaving a lingering sweetness. Coming together in one pan in less than 30 minutes, this dish is a quick and easy way to bring the warmth of homemade Chinese food to your meal.
What Does Hunan Beef Taste Like?
Hunan beef originates in Hunan province, southern China. It typically consists of stir-fried beef and veggies drenched in a sauce made of soy sauce, oyster sauce, chili, garlic, ginger, and optional spices.
This dish's most prominent flavor is its bold spiciness, accompanied by a harmonious mixture of sweet and tangy undertones. Texture-wise, it varies between tender beef, crunchy vegetables, and the soft white rice or chewy noodle it's served with.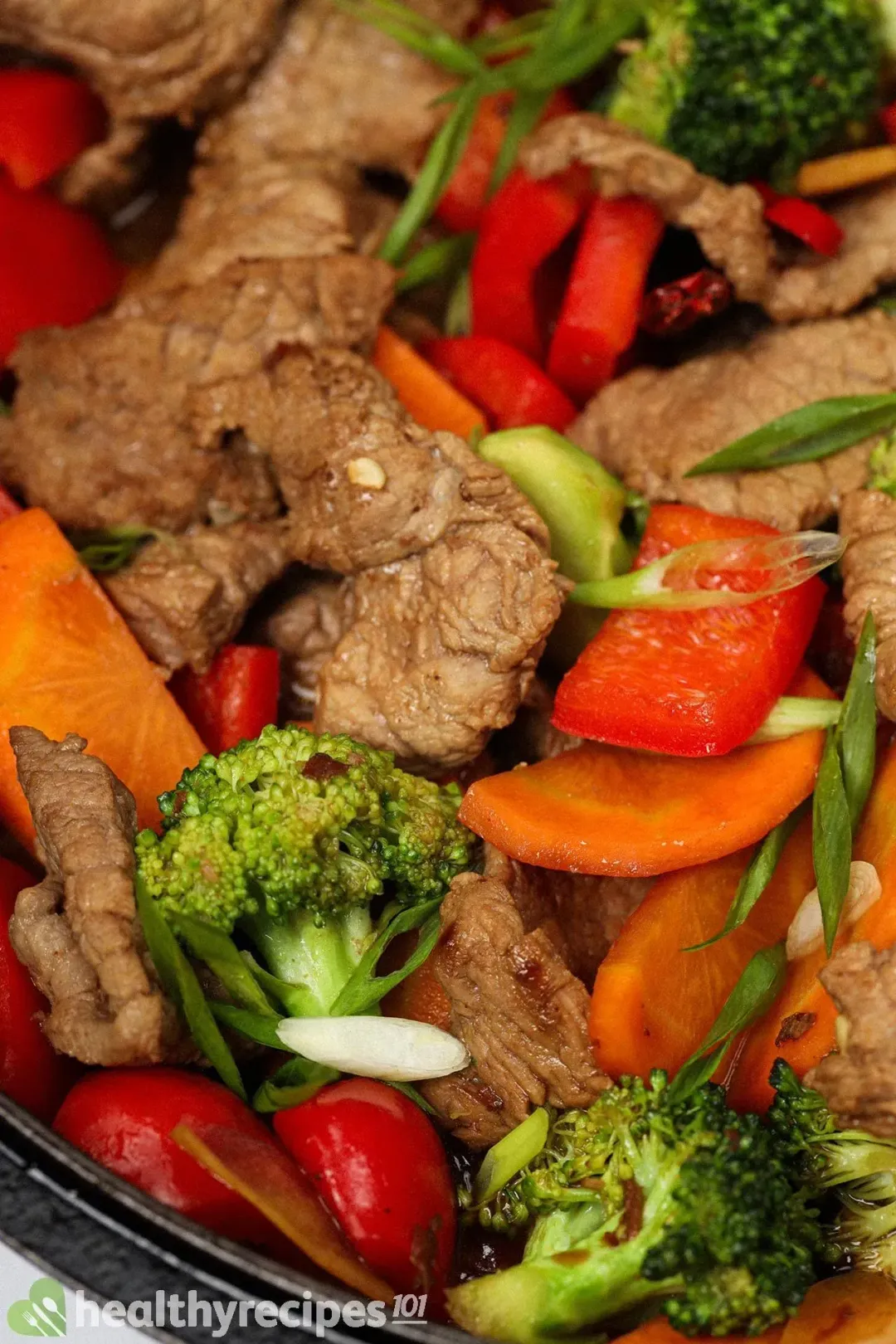 Szechuan Beef vs Hunan Beef – What's the Difference?
Szechuan beef is another Chinese stir-fried dish that shares several similarities with Hunan beef. However, there are several fundamental differences that separate these two traditional dishes:
Even though both are Chinese dishes, they originate from different regions. As evident from the name, Hunan beef originates from Hunan province whereas Szechuan beef comes from Sichuan province.
Both dishes have sauces made from classic Asian condiments like chili peppers, garlic, ginger, soy sauce, etc. However, Szechuan beef is distinguished by the use of Szechuan peppercorn—a staple in Sichuan cuisine.
As the ingredients are mostly similar, Szechuan beef and Hunan beef share a similar sweet-spicy flavor profile. However, Hunan beef is defined by the intense and vibrant heat while Szechuan has the distinct Szechuan peppercorn tingly sensation that lingers afterward.
Ingredients for Hunan Beef
Even though this is an Asian recipe, the ingredients are quite common. You can find most of them readily available at supermarkets, markets, and specialty stores.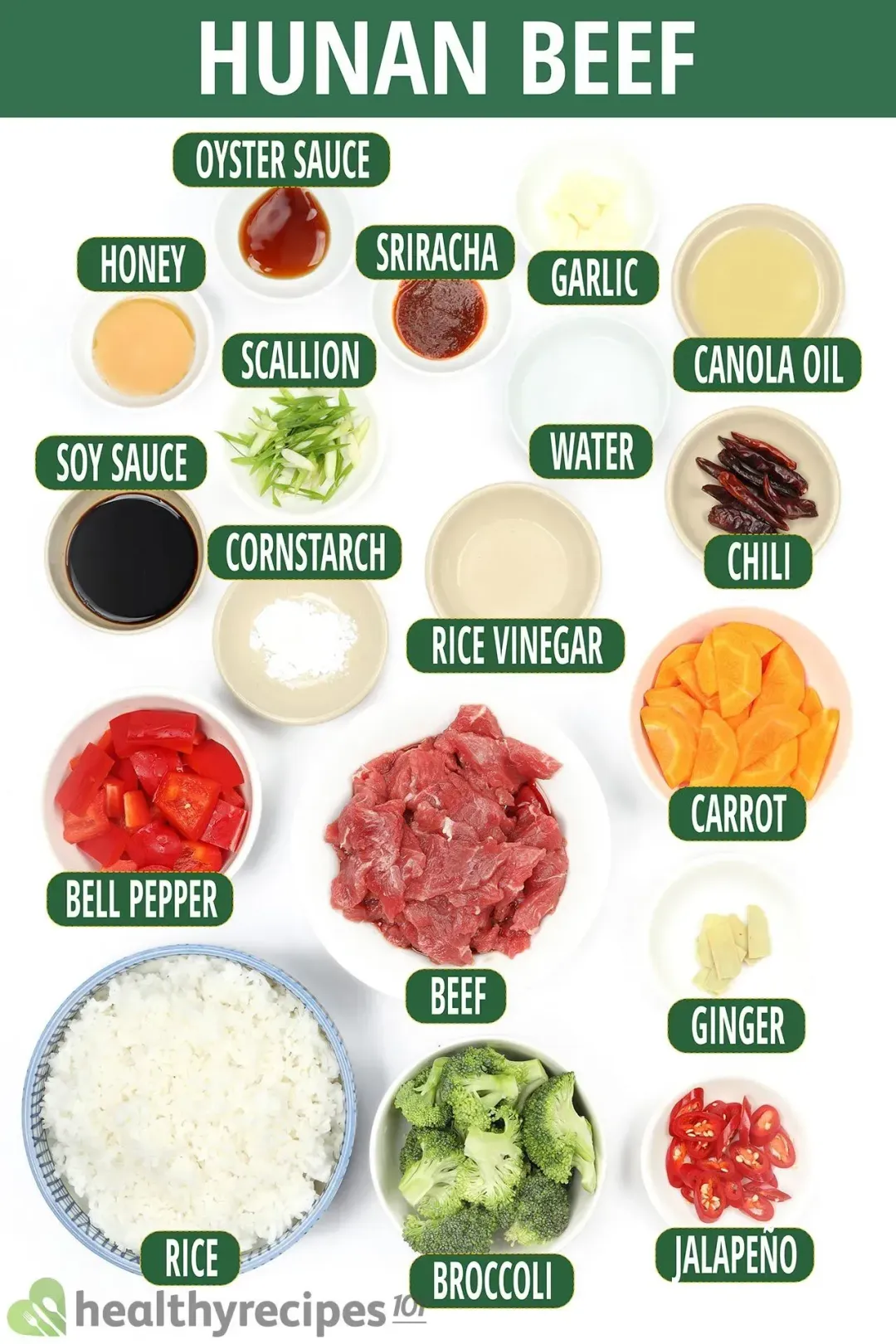 Beef: Chinese Hunan beef often uses dry smoked beef, which has a very unique smoky and spicy taste. It's not a common ingredient, so we substituted it with regular beef, using one of the most common cuts for stir-frying—flank steak. This beef cut is affordable and intensely flavorful, although it can be quite lean and tough. When you're slicing the strips, make sure to cut across the muscle grains to break up the fibers for a tender and less chewy texture.
Vegetables: There's a wide variety to choose from, so just toss in any veggie that you like. We went with crunchy ones like carrots, broccoli, and bell peppers to contrast with the tender beef and soft rice. 
Aromatics: It wouldn't be a Hunan beef dish without ginger and garlic. These aromatics are stir-fried along with the beef and vegetables, infusing them with the signature peppery and spicy aromas.
Condiments: We used classic Asian condiments like soy sauce, oyster sauce, Sriracha, and rice wine vinegar. They give the sauce a glossy and syrupy texture base, along with a harmonious mixture of sweet and spicy flavors.
Dried Chili Pepper: Since this dish is known for its heat, we added some dried chili peppers to deepen the spiciness. We used puya chili pepper, which has a fruity undertone that reminisces of licorice and cherry. You can most likely find it stocked at supermarkets or Mexican and Latin American markets and specialty stores. If you prefer a milder variety with a similar taste, switch it out for guajillo chili.
Rice: Hunan beef is usually laid over a bed of white rice to make a simple yet flavorful and filling main dish. You can also serve it with jasmine rice for an additional subtle fragrance.
Garnishing: Like with most Asian dishes, we sprinkled on some chopped scallions for garnishing and to give the dish a hint of sharp pepperiness.
Is Hunan Beef Healthy?
Containing a balanced amount of meat and veggies, Hunan beef is a healthy dish that packs a wide variety of nutrients.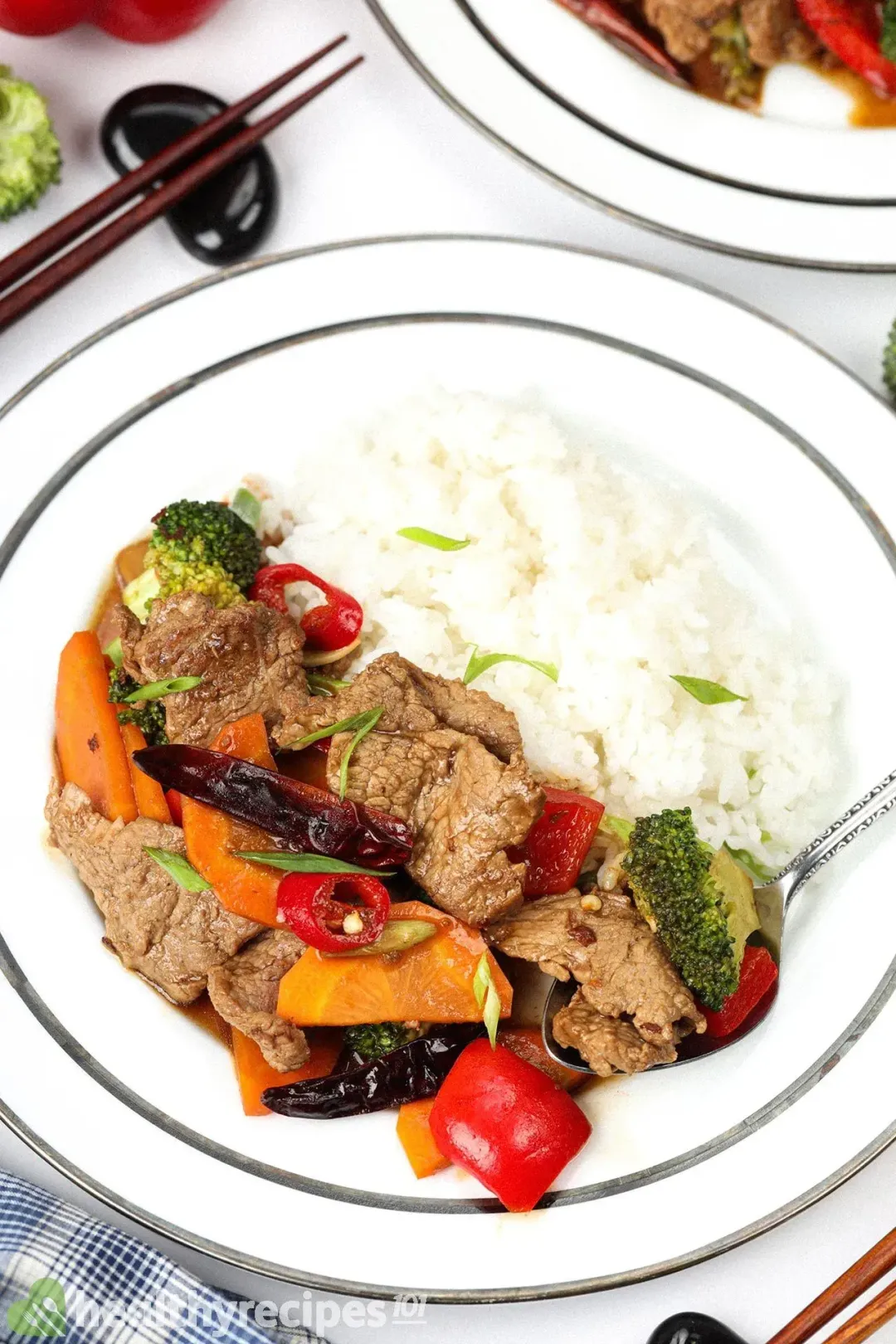 To cut down on unhealthy fat, our recipe uses lean beef. This type of meat is trimmed of fat while still providing nutrients like protein, heme iron, zinc, and vitamin B12. Specifically, we used flank steak, a cut from the cow's belly muscles that's quite lean with very little fat.
As for veggies, we went with broccoli, bell peppers, and carrots—resulting in the dish's rich vitamin content. They also increase the nutritional value by providing fiber and minerals like potassium, magnesium, calcium, and many more.
Furthermore, with careful calculation, each serving contains approximately:
472 calories
2.2 g saturated fat
579 mg sodium
These amounts strictly follow the standards set by our nutrition guidelines.
How to Store and Reheat Leftovers
This dish should last for up to 2 days when kept in the fridge. To reheat, stir-fry the beef or put the whole dish in the microwave on full power for 1 minute.
What to Serve With Hunan Beef
Make a wholesome and warming homemade meal with this Hunan beef. It's already packed with flavors, so we recommend these simple side dishes to lighten the palate: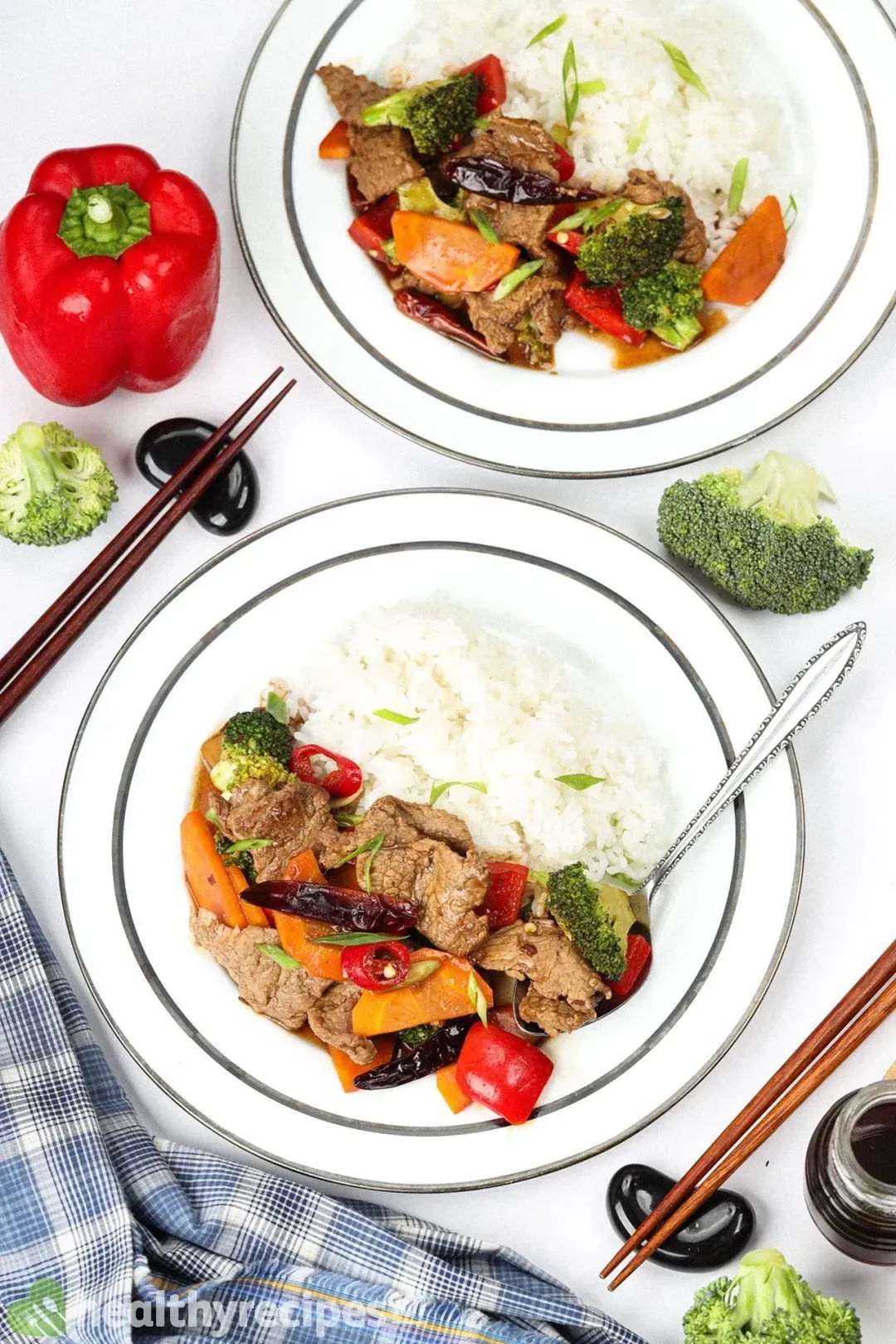 Transform Your Leftover Beef into a Delicious Meal with These Rice Recipes
This quick and easy beef stir-fry recipe is perfect for busy weeknights. Loaded with tender strips of beef, colorful vegetables, and a savory sauce, this dish is both healthy and satisfying.
Beef Vindaloo is a spicy Indian curry that's perfect for those who love bold flavors. This recipe uses a blend of spices and vinegar to create a delicious and aromatic dish that's sure to satisfy.
If you're looking for easy-to-make yet flavorful meals featuring beef and rice, our roundup has plenty of options to choose from.
How to Make Hunan Beef
This Hunan beef recipe is loaded with tender beef and fresh veggies, stir-fried in a sauce that warms the taste buds while leaving a lingering sweetness. Coming together in one pan in less than 30 minutes, it's a quick and easy way to bring the warmth of homemade Chinese food to your mealtimes.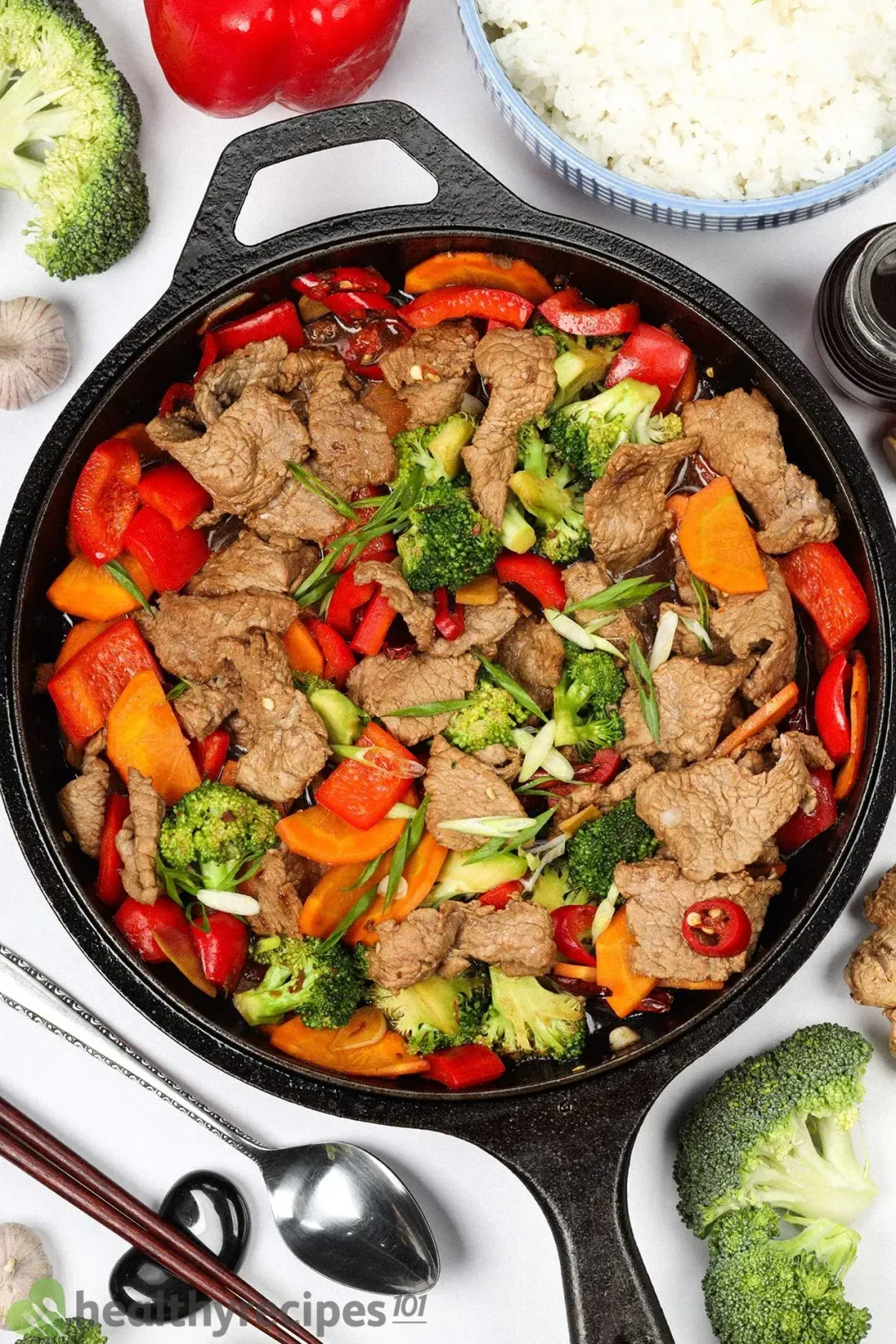 cook TIME

10 mins

prep TIME

15 mins

total TIME

25 mins
COURSE

Main Course

CUISINE

Chinese

SERVINGS

CALORIES

472 kcal
INGREDIENTS
10 oz

flank steak

(cut into strips)

4 oz

carrots

(half moon sliced)

4 oz

broccoli

(florets separated and halved)

4 oz

red bell peppers

(coarsely chopped)

1 oz

red jalapeño

(sliced)

2 tbsp

scallions

(bias cut)

1/2 tbsp

ginger

(thinly sliced)

1 tbsp

garlic

(cloves separated)

2 1/2 tbsp

reduced sodium soy sauce

3 1/2 cups

cooked medium-grain rice

(from 1 3/4 cups uncooked)
INSTRUCTIONS
Prep:
1
Cook the Rice: Rinse the rice, then cook with any available appliance, such as the rice cooker, Instant Pot, or saucepan. Check the package for the specific time and water amount. Most types of rice take around 15-20 minutes and follow the 1 cup rice to 2 cups water ratio.
2
Cut the Beef: Slice a chef's knife across the muscle grains and cut into thin strips. To identify the grains, look for lines that run lengthwise along the meat.
3
Slice the Carrots: Peel the skin off lengthwise, cut off the ends, then cut the carrot in half lengthwise and thinly slice.
4
Cut the Broccoli: Cut the broccoli in half, then separate into individual florets. Cut the florets in half.
5
Chop the Bell Pepper: Slice lengthwise around the core then discard it. Then chop each slice into bite-sized pieces.
6
Cut the Scallions: Cut off the roots, then angle the knife diagonally and thinly slice.
7
Cut the Ginger: Remove the skin, then thinly slice.
Cook:
1
Make the Sauce: In a bowl, mix 2 fl oz water, 2 1/2 tbsp reduced sodium soy sauce, 1/2 tbsp oyster sauce, 1 tsp sriracha, 1 tsp rice wine vinegar, 1 tbsp honey, and 1 tsp cornstarch until well-combined.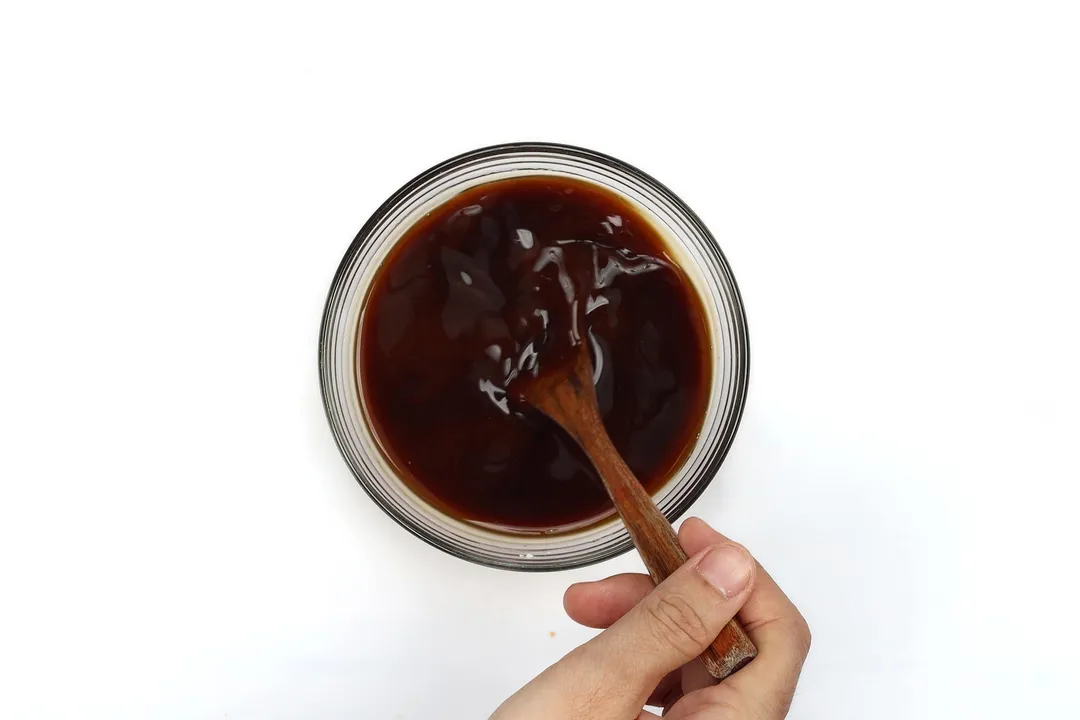 2
Stir-fry the Beef: In a pan over medium heat, stir-fry 10 oz flank steak with 1 tbsp canola oil for 2 minutes until brown.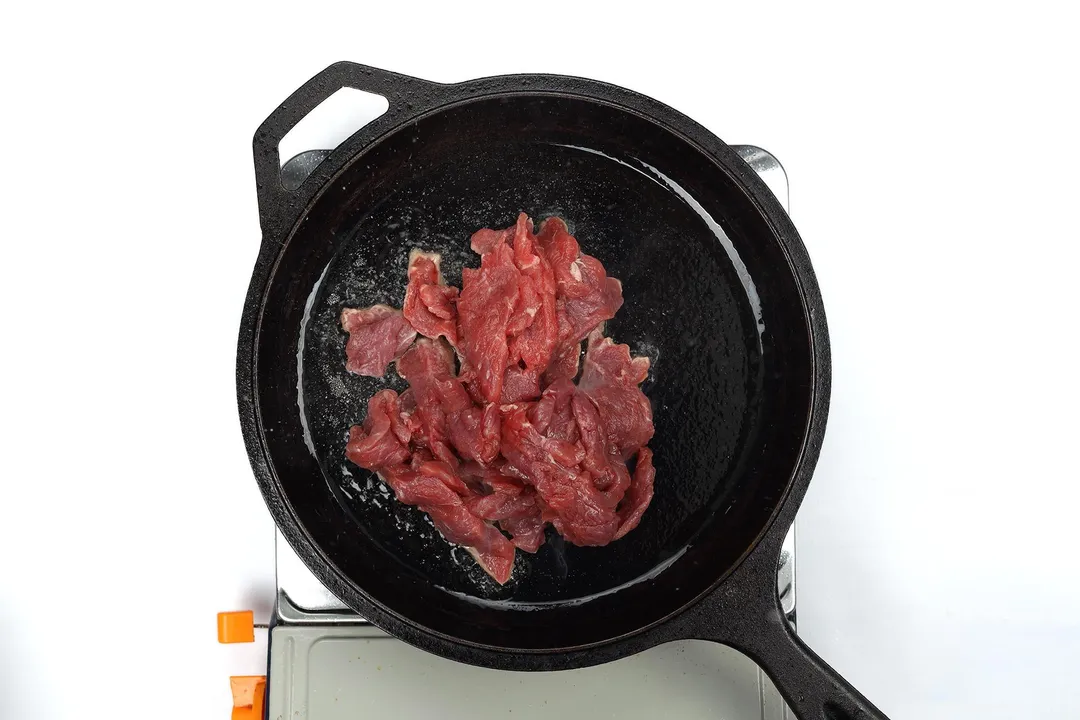 3
Stir-fry the Aromatics: Remove the beef then add 1 tbsp canola oil to stir-fry 1/2 tbsp ginger and 1 tbsp garlic for 30 seconds until fragrant.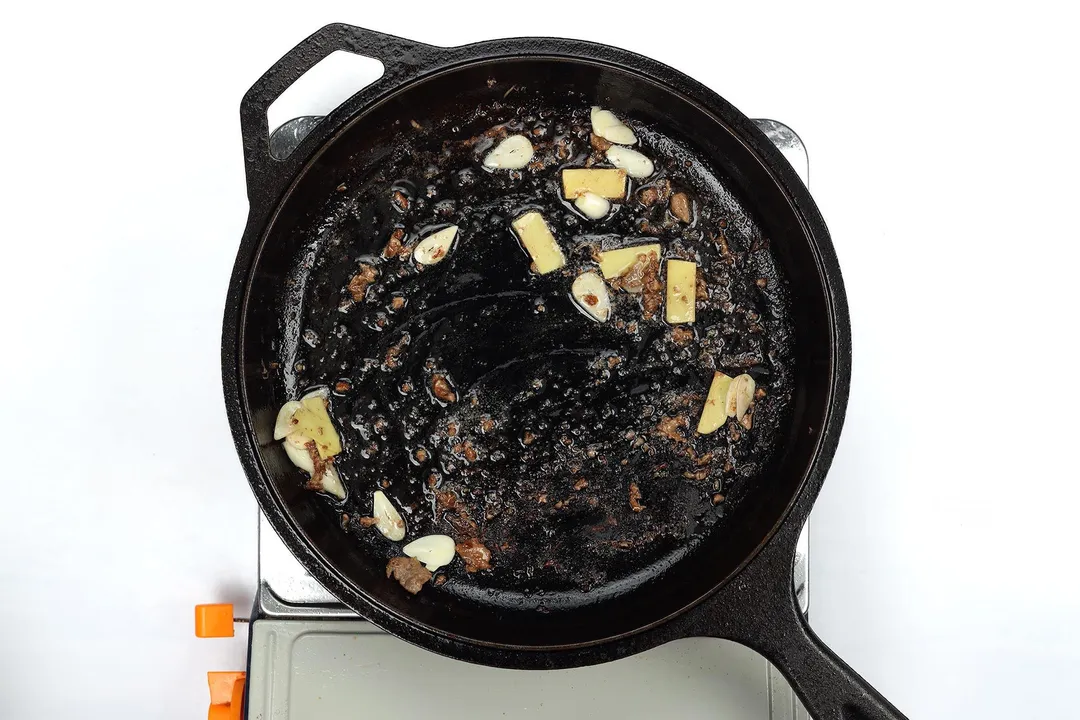 4
Add the Broccoli and Carrots: Add 4 oz carrots and 4 oz broccoli to the pan and stir-fry for 2 minutes.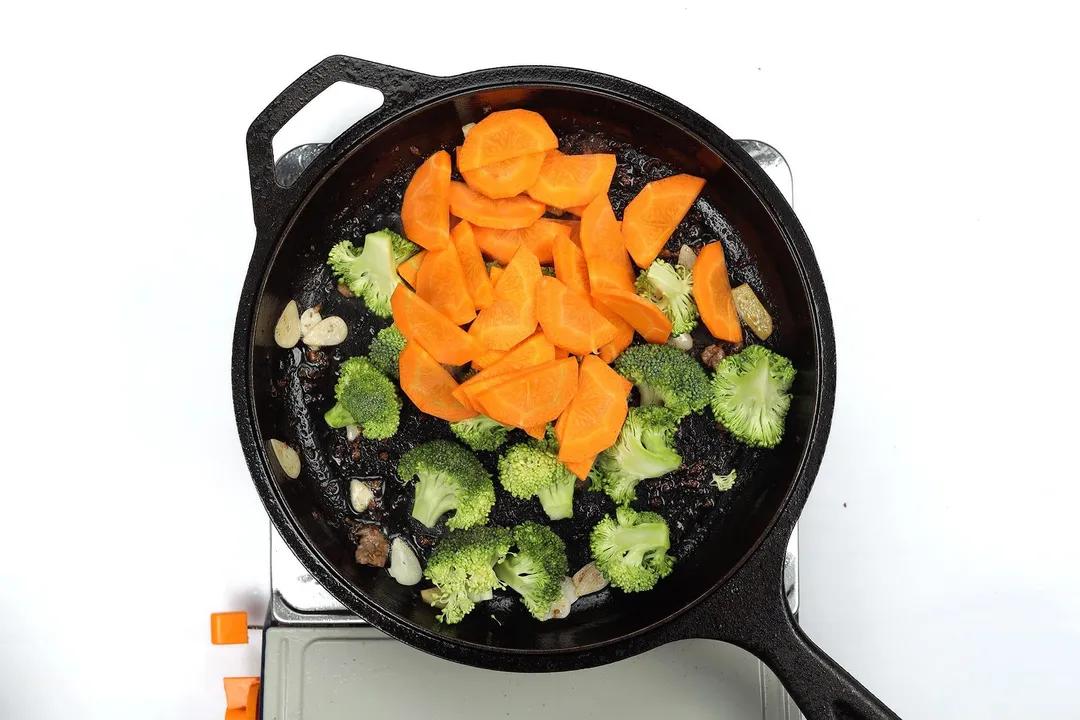 5
Add the Remaining Veggies: Continue adding 4 oz red bell peppers, 1 oz red jalapeño, and 8 dried chili peppers to stir-fry for another 2 minutes.
6
Add the Beef and Sauce: Add the stir-fried beef and sauce into the pan then stir-fry for another 3 minutes.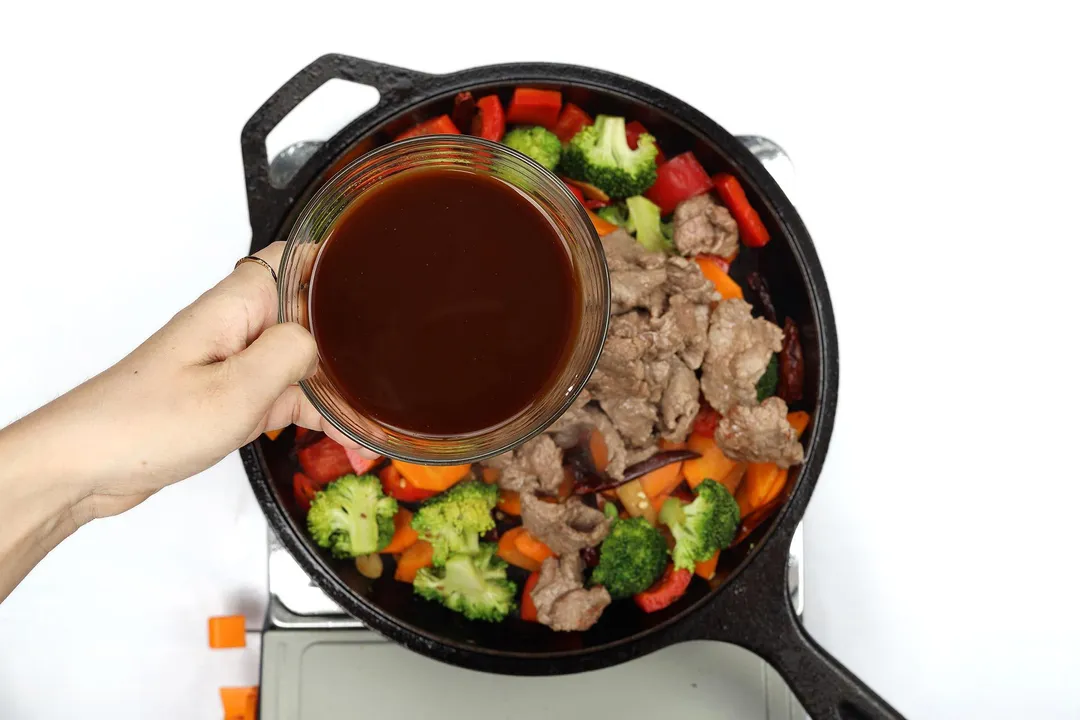 7
Garnish and Serve: Take off the heat, transfer onto serving plates, garnish with 2 tbsp scallions, and serve with 3 1/2 cups cooked medium-grain rice.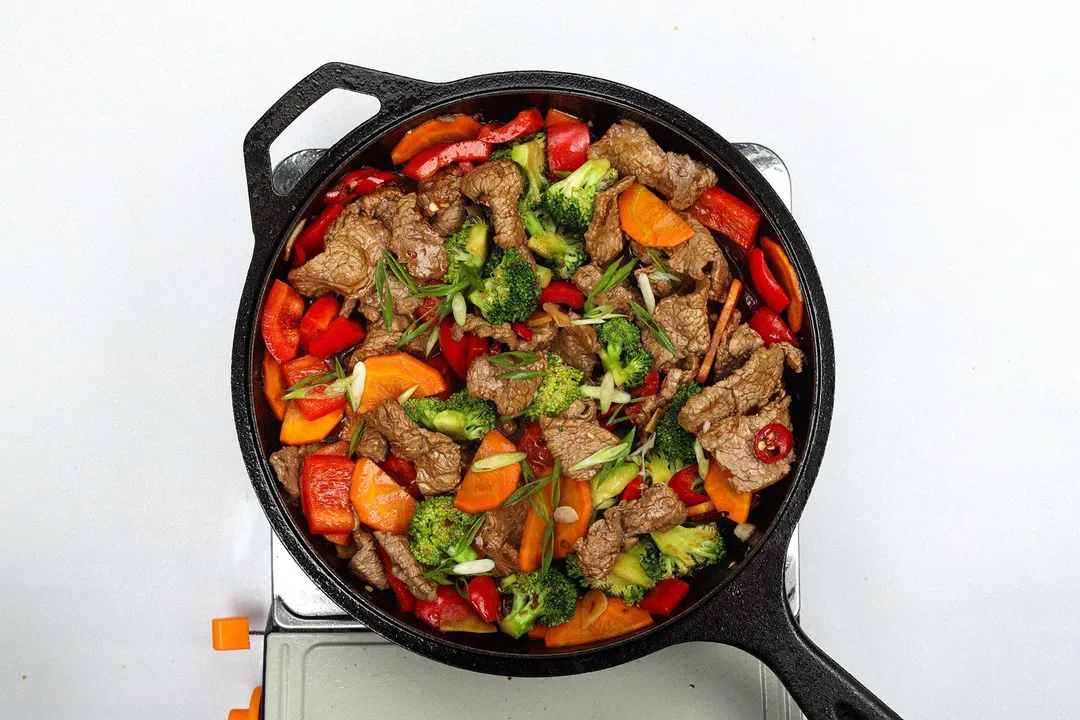 NUTRITION
Nutrition Facts
How to Make Hunan Beef
Amount Per Serving (1 serving)
Calories 472
Calories from Fat 104
% Daily Value*
* Percent Daily Values are based on a 2000 calorie diet.
Keywords: how to make hunan beef, hunan beef, hunan beef recipe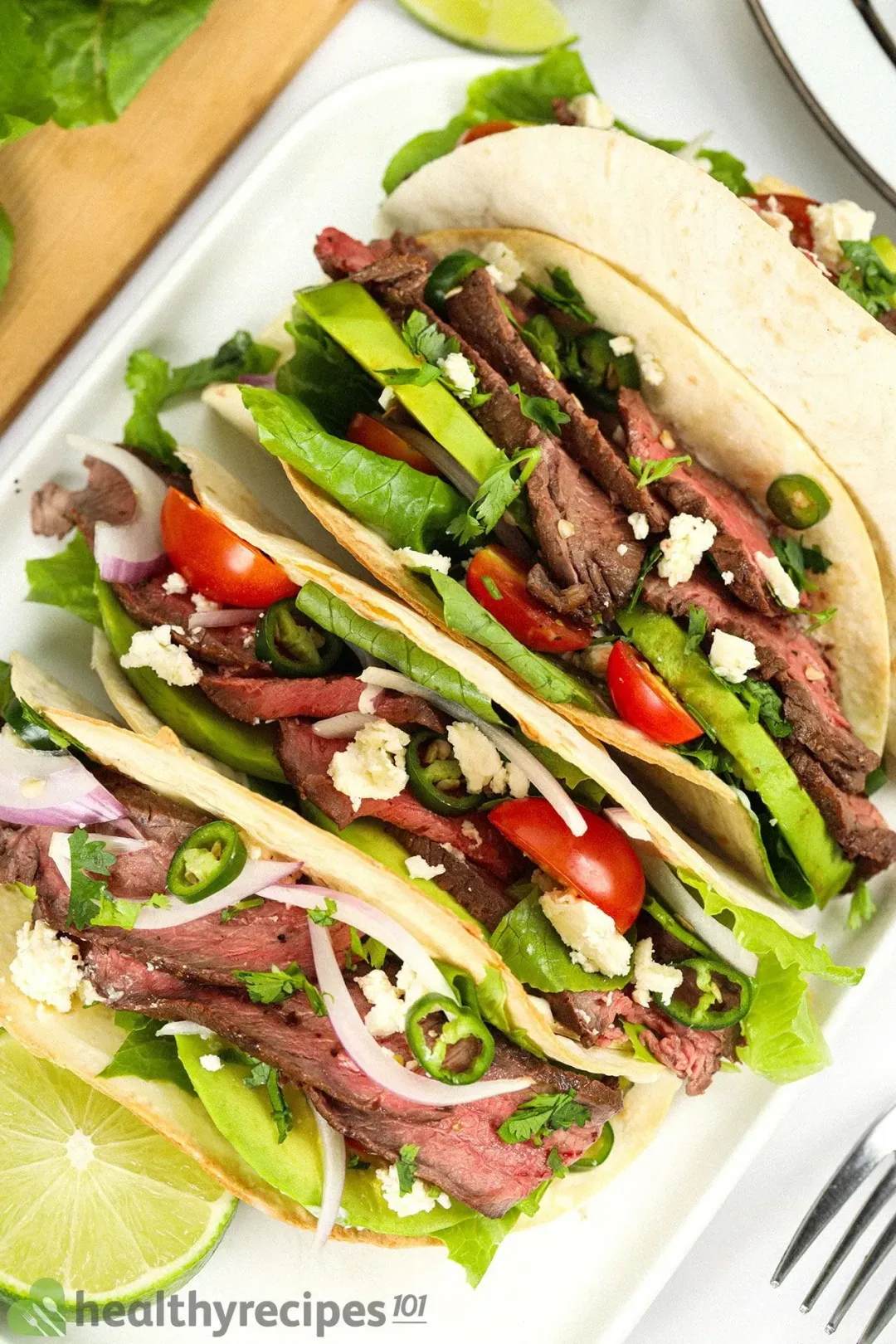 Previous Recipe
Steak Taco
Steak Taco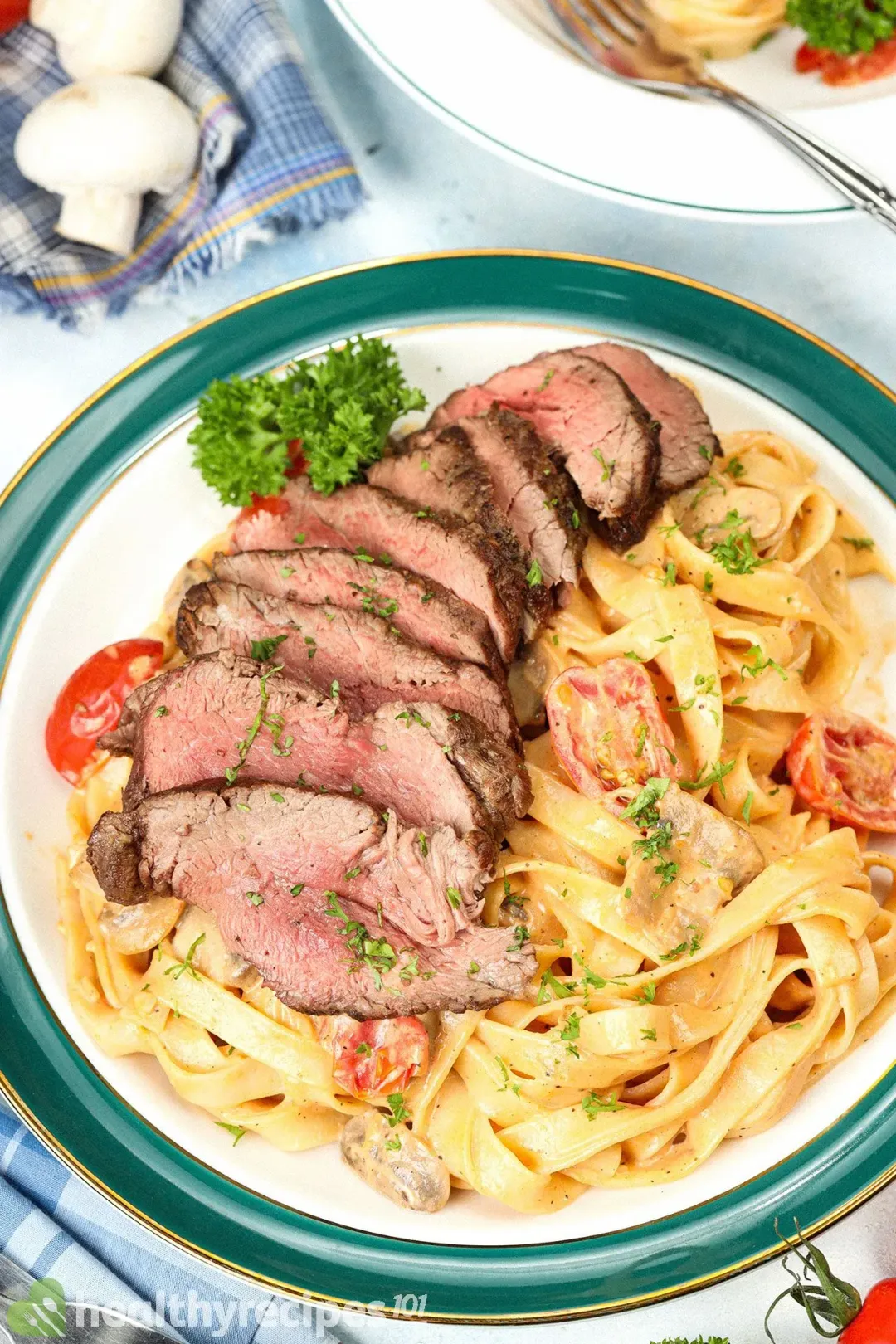 Next Recipe
Creamy Steak Fettuccine
Creamy Steak Fettuccine
Head Chef, Culinary Consultant
Tuyet Pham is an award-winning Saigonese chef who believes that joy is the secret ingredient to delicious food. At Healthy Recipes 101, Tuyet personally tests and simplifies every recipe, ensuring maximum flavor with minimal effort. With a background at prestigious French restaurants P'TI Saigon and Le Corto, Tuyet knows how to make every dish exceptional.
Writer, Author
Luna Regina is an accomplished writer and author who dedicates her career to empowering home cooks and making cooking effortless for everyone. She is the founder of HealthyKitchen101.com and HealthyRecipes101.com, where she works with her team to develop easy, nutritious recipes and help aspiring cooks choose the right kitchen appliances.
Nutrition Reviewer
Natalie Butler is a registered dietitian nutritionist with a passion to help others live their best life through food, fitness, safer beauty and a healthy lifestyle. She has expertise with a variety of diets and diseases and believes that there is no one-size-fits-all approach for health.
Delicious and flavorful beef recipe with a perfect balance of sweet and spicy flavors.