Hearty, rich, and utterly satisfying, this beef and mushrooms recipe promises a filling dinner that takes little effort. Everything comes together in one single pan in approximately 30 minutes, making the dish a great option for busy weeknight dinners.
Taking inspiration from Asian cuisine, we stir-fried tender beef with a saucy mixture of mushrooms, onion, and savory condiments. Served over a fluffy bed of white rice, this homemade dish is a delicious comfort food that brings warmth to the dining table.
Is This Beef and Mushrooms Healthy?
Yes, it is.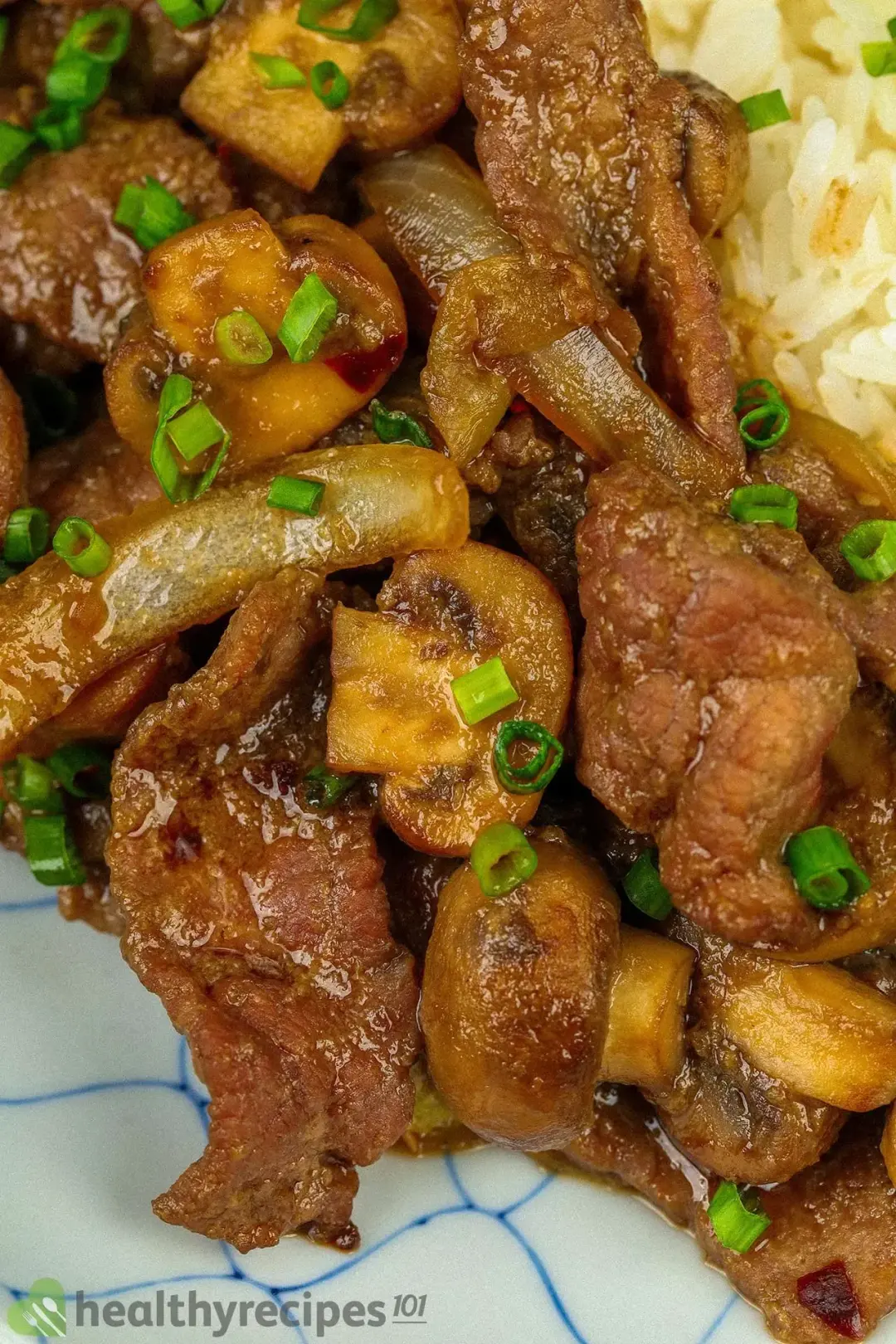 Beef being one of the main ingredients, this dish is chock-full of complete proteins. We kept an eye on sodium and saturated fat and made sure neither exceeds the daily intake limit. As such, each serving provides around 472 calories, 576 mg sodium, and 3.4 g saturated fat.
With health guidelines in mind, we picked the most nutritious ingredients possible for this dish. We used lean beef, which is low in saturated fat and a good source of nutrients such as omega-3 fatty acids, vitamin B12, zinc, and heme iron.
Accompanying the beef are white mushrooms, which offer many nutrients like fiber, vitamins, selenium, and potassium while also being low in calories.
Ingredients You'll Need for Beef and Mushrooms
In addition to beef and mushrooms, this recipe requires a few extra vegetables and condiments. Almost everything is a pantry staple, so you can assemble the ingredients quite easily.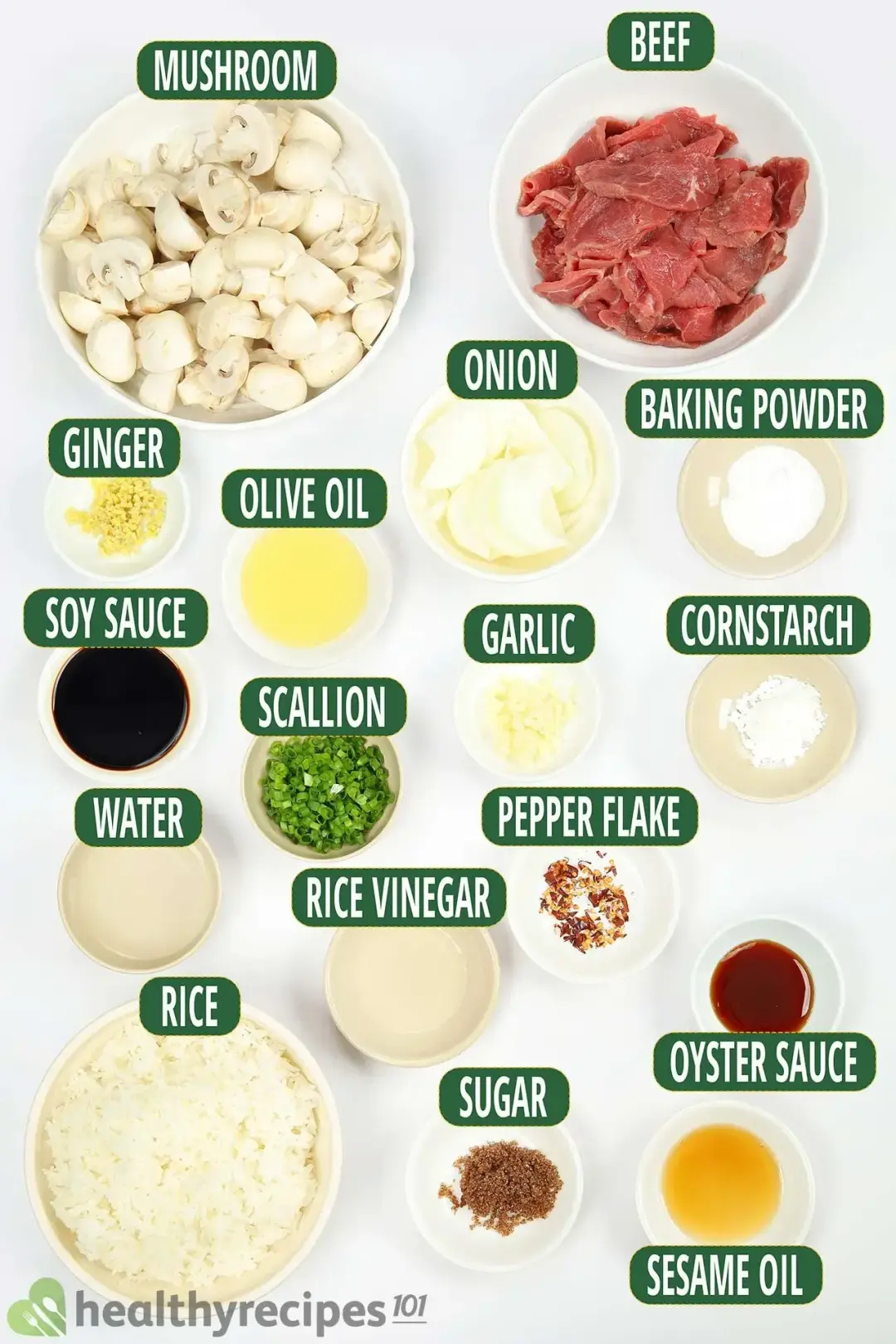 Beef: We used flank steak for this recipe, which is arguably the most common choice for stir-frying. It offers a rich and savory taste that's further enhanced after it's marinated and cooked. The marinade also helps to tenderize the meat and keep the cut from becoming too chewy. When purchasing this cut, make sure to choose one that's consistent in thickness so that it cooks evenly.
Mushrooms: We opted for white mushrooms, which have a pleasantly earthy and subtle flavor that deepens significantly when cooked. You can also switch them for cremini mushrooms if you want a slightly bolder taste.
Vegetables: Garlic and ginger were used to fragrant the food while frying. Onion caramelizes quite beautifully when fried, so we also added a generous number of slices to intensify the dish's overall taste.
Rice: We served the beef and mushroom mixture over a fluffy bed of white rice. It softens the overall taste and also makes the dish a lot more filling.
Baking Soda and Cornstarch: The flank steak cut can be relatively tough, so we used baking soda and cornstarch to tenderize it while still maintaining the original flavors.
Sauces and Oils: Since this is an Asian dish, we went with the essentials – soy sauce, oyster sauce, rice vinegar, and sesame oil. They harmonize and blend together quite seamlessly, creating a rich and savory sauce that browns the beef to perfection.
Seasonings: To deepen the sauce, we used some brown sugar and pepper flakes. These seasonings impart a sweet undertone to the sauce while lending a hint of spiciness to kick up the flavors.
What Kind of Beef Is Best for Stir-Fry?
Using the right beef when stir-frying is quite crucial as it could significantly affect the taste and texture. In addition to flank steak, here are a few other beef cuts that can also be used: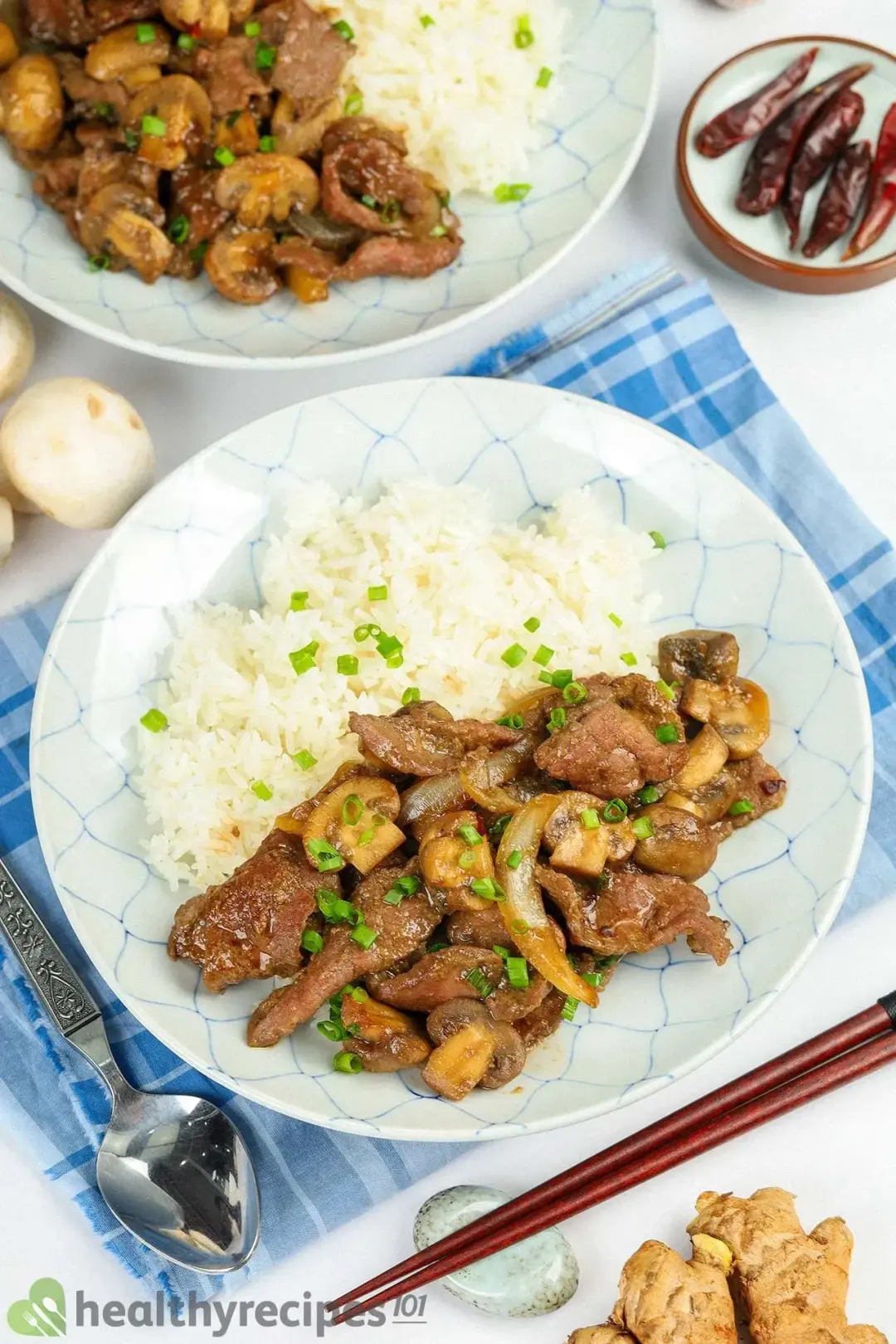 Sirloin is a cut from the rear back of the cow. It's divided into two parts: the top and bottom sirloin. The top is generally more tender while the bottom—mostly referred to as sirloin steak—can be tougher. This cut should be thoroughly marinated before stir-frying to maximize the taste and improve the texture.
Skirt steak is a long and thin cut that comes from the short plate or the diaphragm area. It's buttery in taste and has a tender texture that browns beautifully when cooked on high heat.
Ground beef is a beef cut that has been finely ground into small pieces. It's used in a variety of recipes, such as burgers, meatballs, tacos, and meatloaf. In stir-fried dishes, it's paired with lots of colorful veggies and an optional bed of rice or noodles.
How to Store and Reheat Leftovers
This beef and mushroom dish should last for one day when kept in an airtight container in the fridge. The rice should be kept separated so it doesn't become soggy.
Reheat by microwaving the dish for one minute, or stir-fry the beef and mushrooms on the stovetop and heat the rice in the microwave.
What to Serve With Beef and Mushrooms
This dish is quite filling and flavorful, so you'll need only a light side dish to accompany it. We recommend the following dishes to create a complete meal: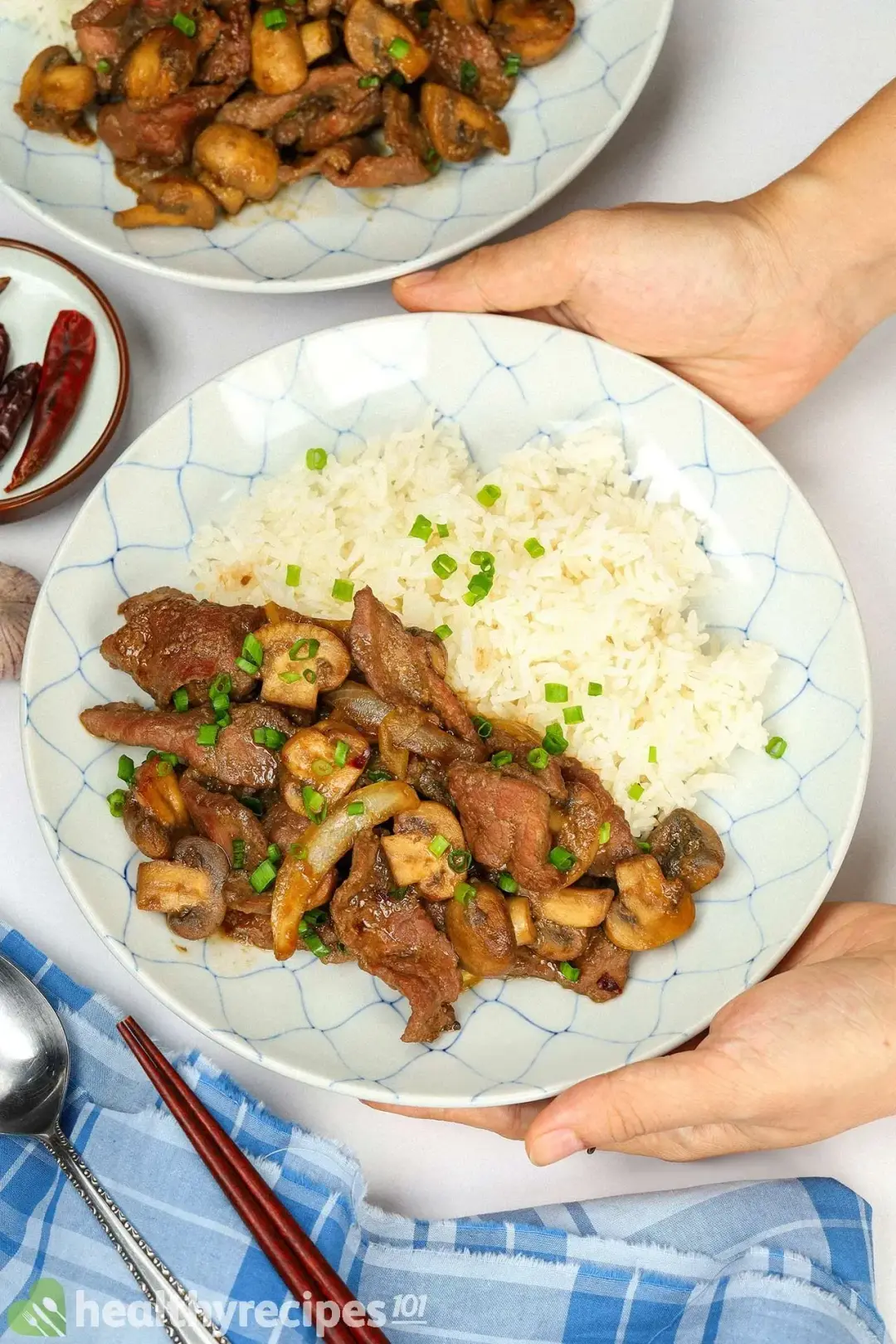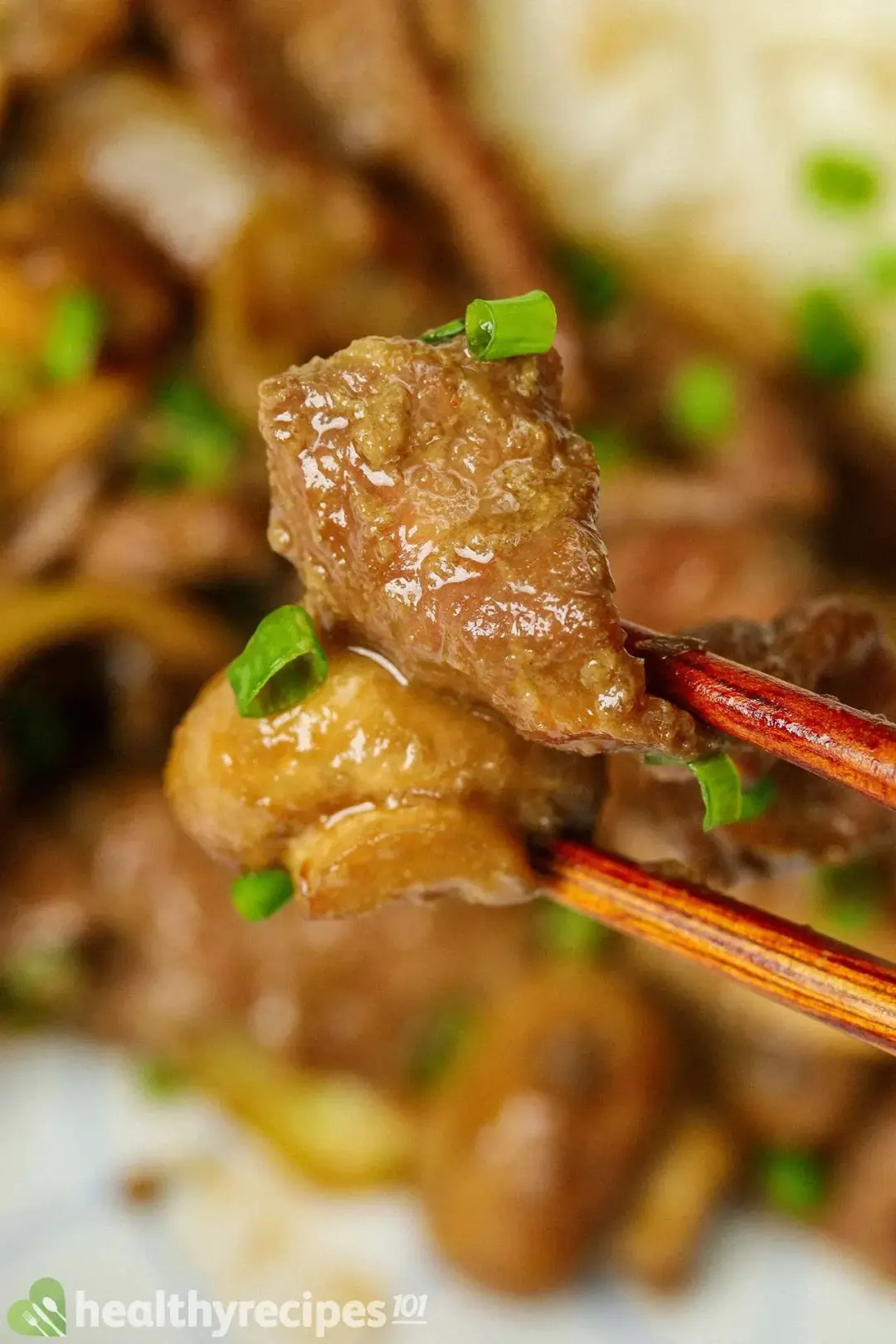 How to Make Beef and Mushrooms
This beef and mushrooms recipe promises a filling dinner that requires little effort. Served over a fluffy bed of white rice, it's a delicious comfort food to serve on busy weeknights.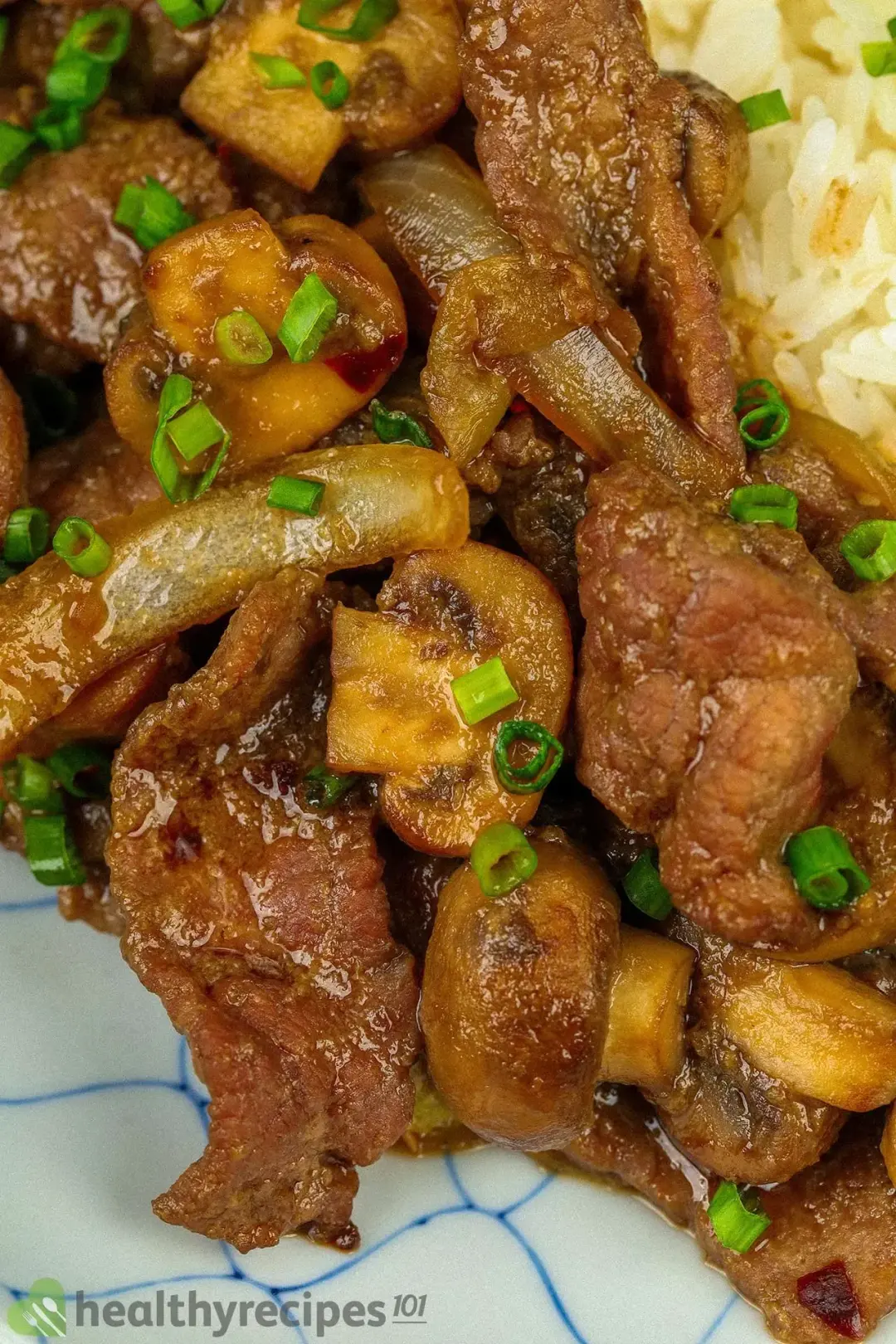 cook TIME

15 mins

prep TIME

15 mins

total TIME

30 mins
COURSE

Main Course

CUISINE

Asian

SERVINGS

servings

CALORIES

472 kcal
INGREDIENTS
12 oz

flank steak cut into strips

12 oz

white mushrooms sliced

3.5 cups

cooked medium-grain rice from 1 3/4 cups uncooked

1 tsp

ginger minced

1 tbsp

garlic minced

4 oz

onions sliced

0.3 cup

scallions chopped

2.5 tbsp

reduced sodium soy sauce

0.5 tbsp

oyster sauce

1 tbsp

sesame oil

1 tsp

rice vinegar

2 tbsp

olive oil

1 fl oz

water

0.3 tsp

red pepper flakes

2 tsp

brown sugar

0.5 tbsp

cornstarch

0.5 tsp

baking powder
INSTRUCTIONS
Prep:
1
Cook the Rice: Rinse the rice, then cook using a rice cooker, the Instant Pot, or any preferred appliance.
2
Prepare the Beef: Pat dry with paper towels, then cut across the muscle grains into preferred-size strips.
3
Slice the Mushrooms: Remove the stems, then cut in half.
4
Mince the Ginger: Peel off the skin and thinly slice the ginger. Cut into matchsticks. Crosscut the sticks into small pieces.
5
Mince the Garlic: Thinly slice each peeled clove, then rock the knife back and forth over the sliced pieces until they become fine pieces.
6
Slice the Onion: Trim off the ends and slice in half. Remove the skin, then thinly slice lengthwise.
7
Chop the Scallions: Cut off the white roots. Bunch the scallions together and chop into 1/8-inch pieces.
Cook:
1
Marinate the Beef: In a small bowl, toss 12 oz flank steak with 1/2 tbsp cornstarch, 1/2 tsp baking powder, and 1 tbsp olive oil to marinate.
2
Make the Sauce: In another small bowl, mix 2 1/2 tbsp reduced sodium soy sauce, 1/2 tbsp oyster sauce, 1 tbsp sesame oil, 1 tsp rice vinegar, 1 fl oz water, and 2 tsp brown sugar until well-combined.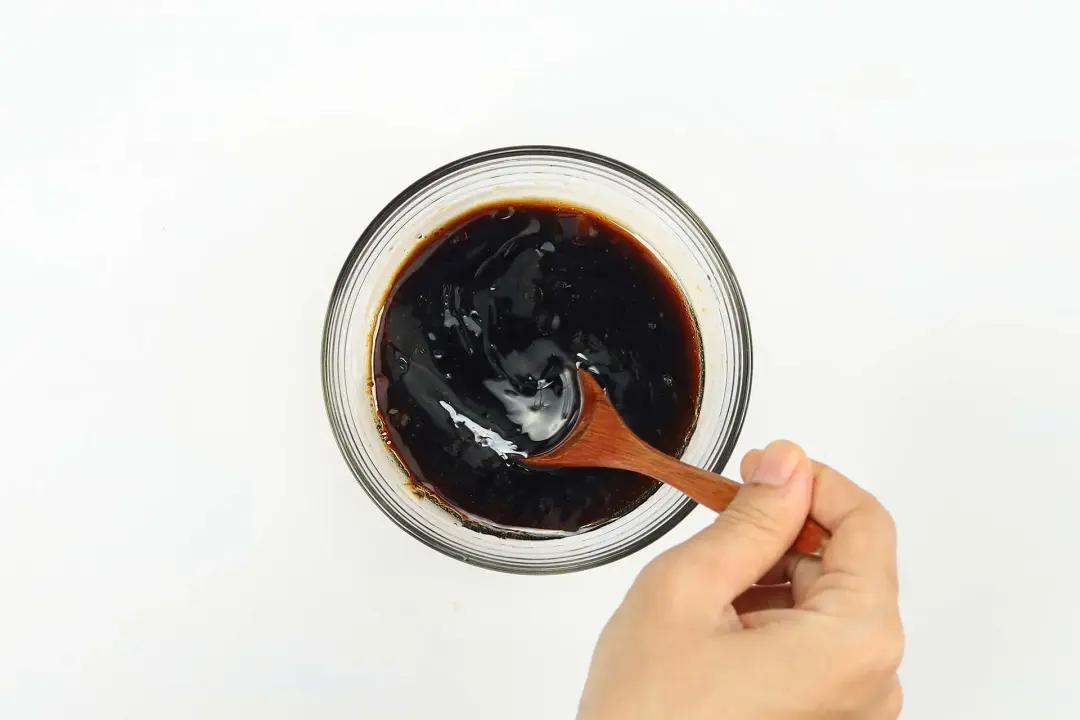 3
Stir-fry the Aromatics: In a pan over medium heat, stir-fry 1 tsp ginger and 1 tbsp garlic with 1 tbsp olive oil for 30 seconds until fragrant.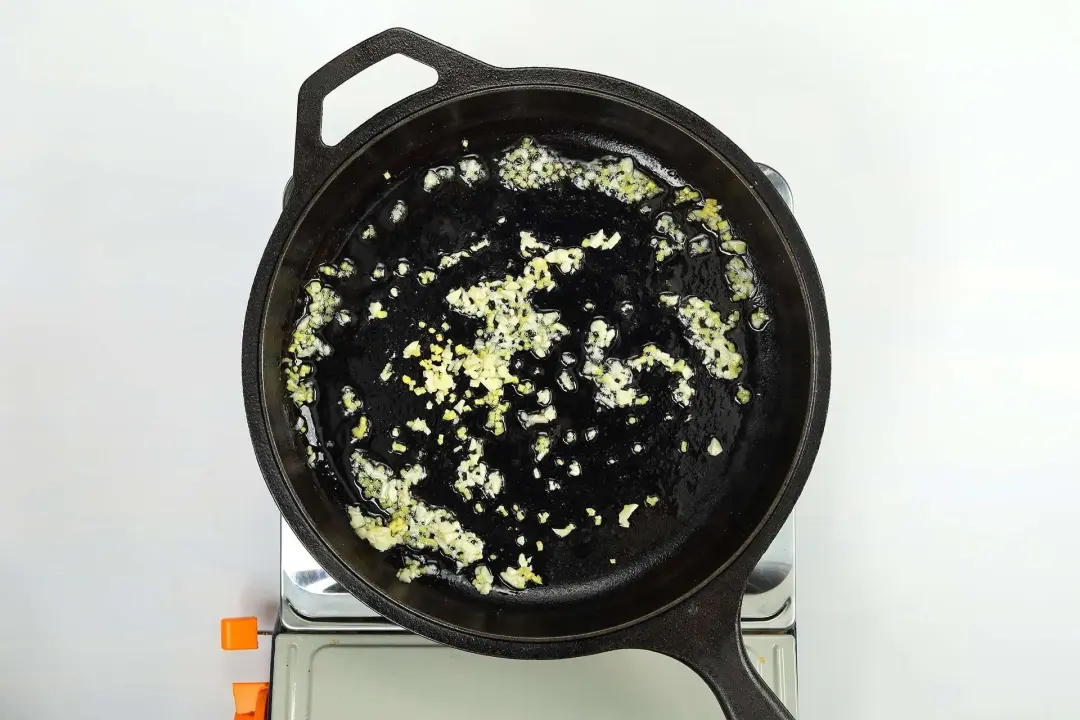 4
Add the Mushrooms: Add 12 oz white mushrooms and stir around for 3 minutes until browned.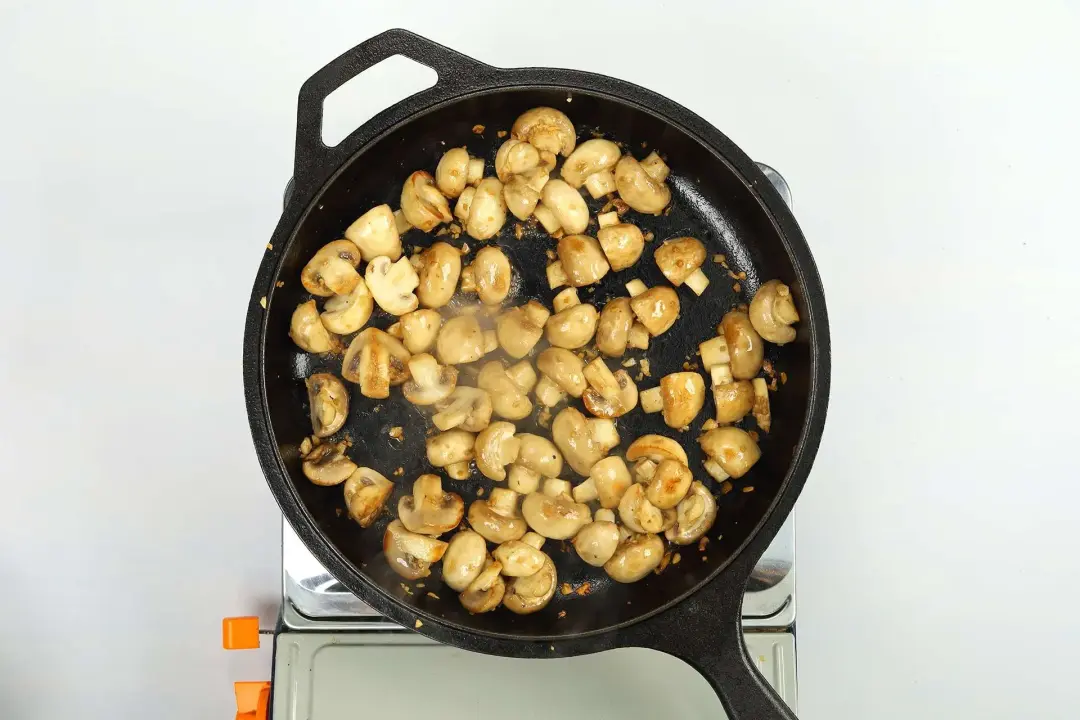 5
Add the Onions: Add 4 oz onions and stir around for another 2 minutes.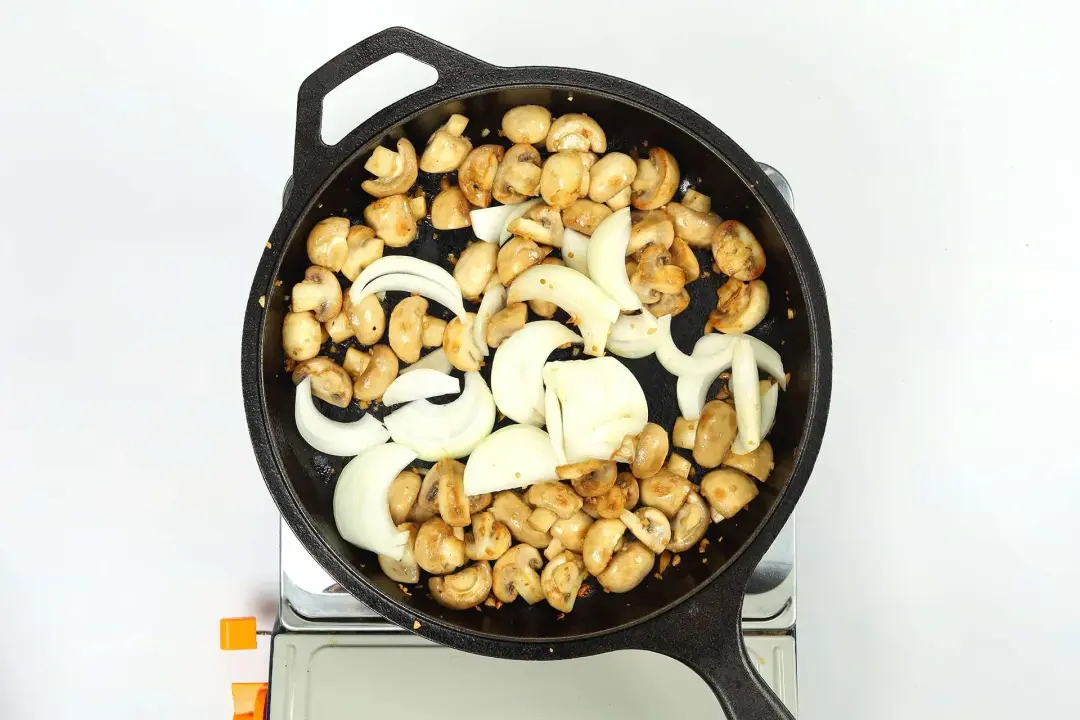 6
Add the Beef: Add the marinated beef and continue stir-frying the mixture for 2 minutes.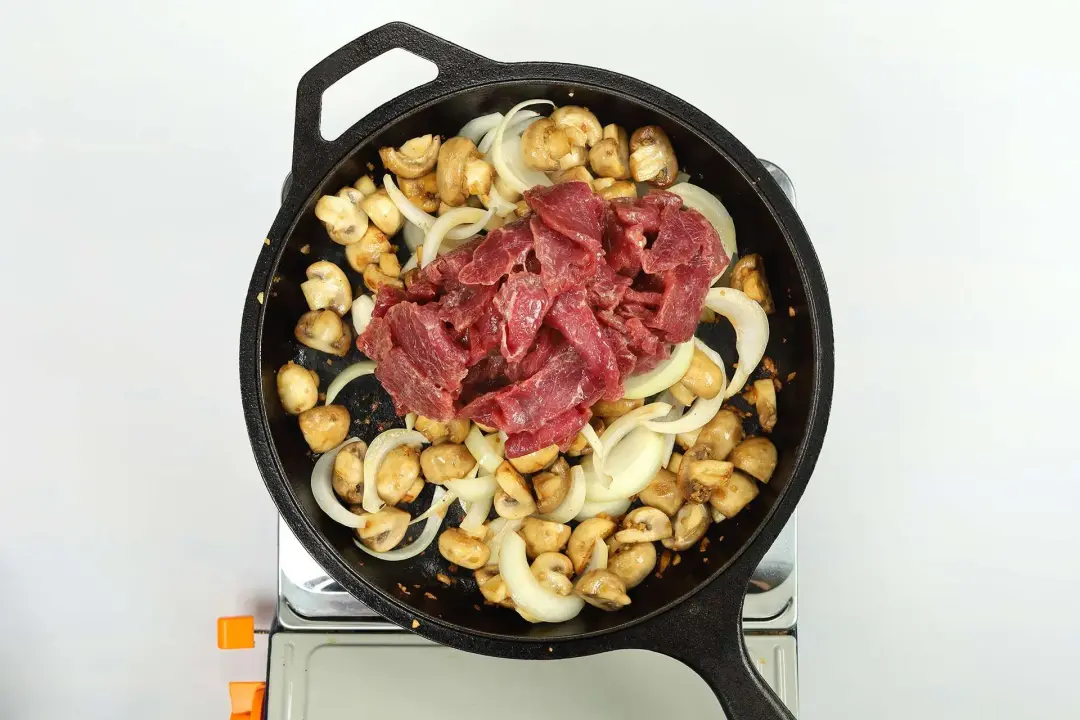 7
Add the Sauce: Add the sauce and stir-fry the ingredients for 3 minutes to thoroughly blend everything together.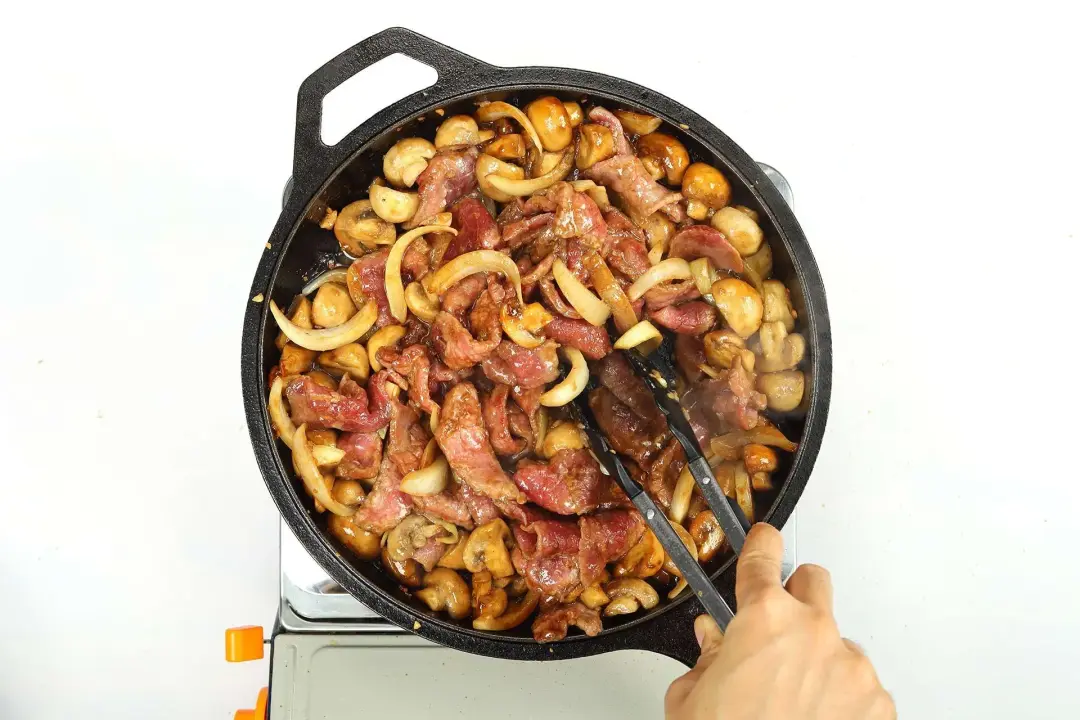 8
Add the Scallions: While the food is cooking, add 1/4 cup scallions and 1/4 tsp red pepper flakes.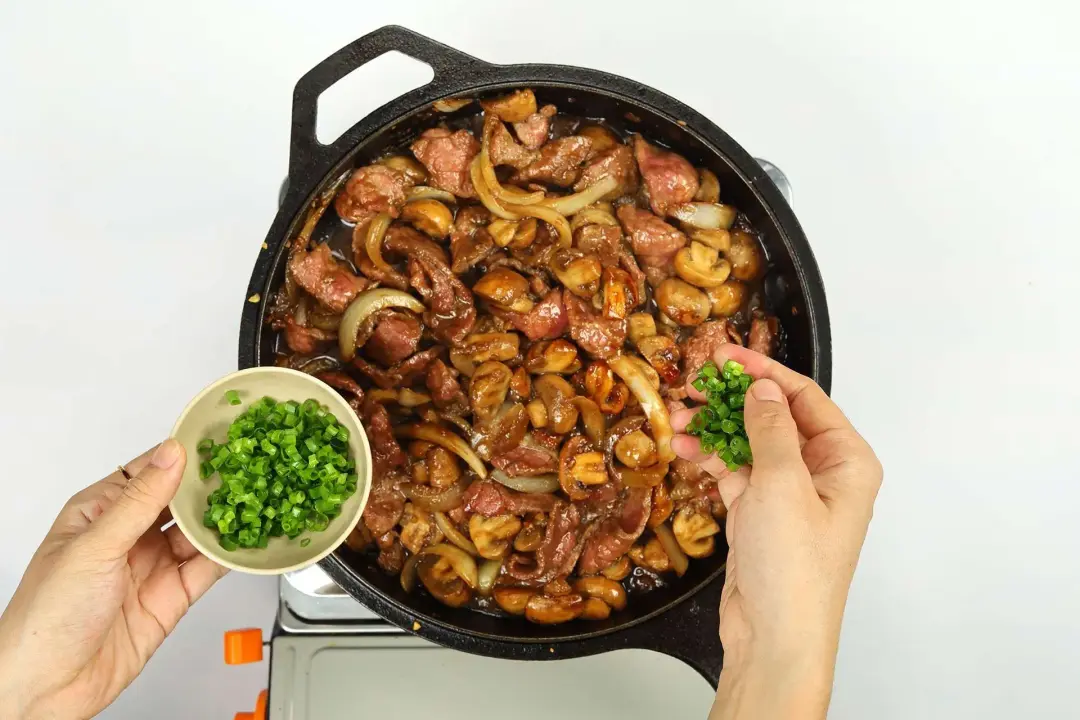 9
Serve the food: Transfer the stir-fried beef and mushrooms onto serving plates, along with 3 1/2 cups cooked medium-grain rice. Enjoy while hot.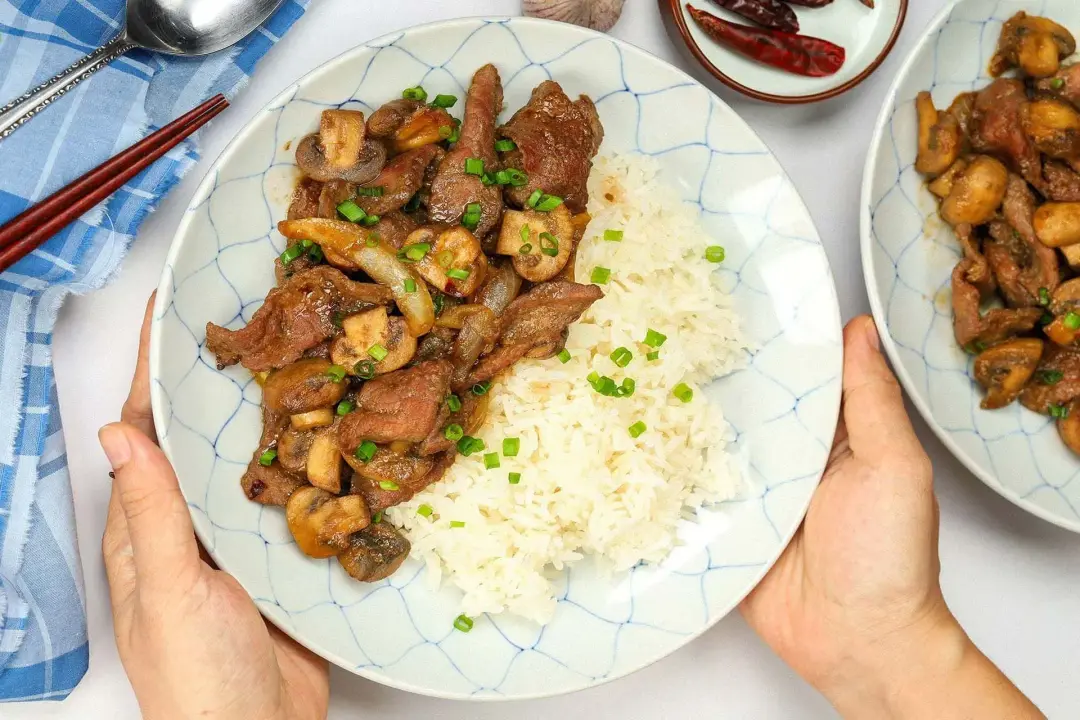 NUTRITION
Nutrition Facts
How to Make Beef and Mushrooms
Amount Per Serving (1 serving)
Calories 472
Calories from FDA
% Daily Value*
* Percent Daily Values are based on a 2000 calorie diet.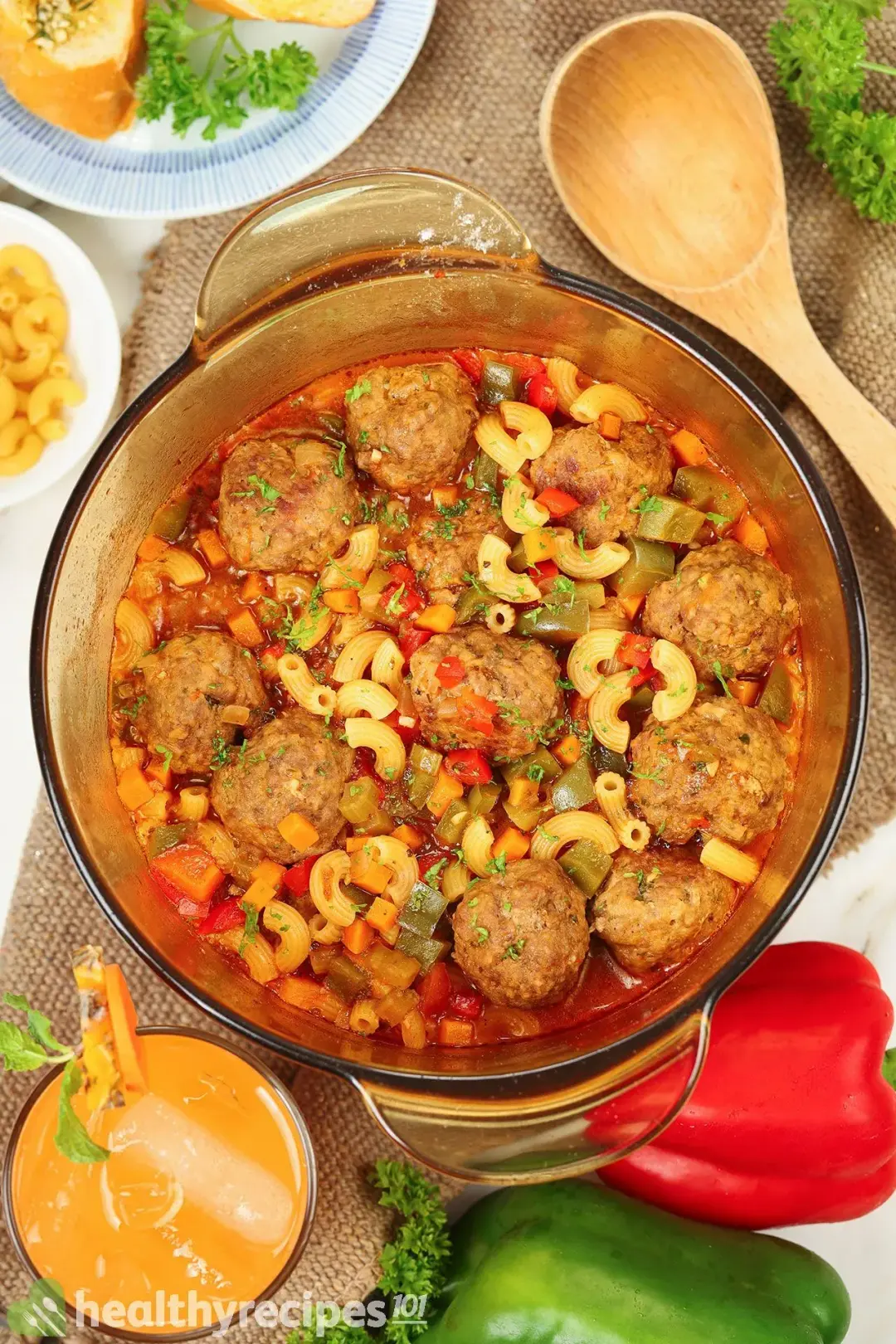 Previous Recipe
Meatball Soup
Meatball Soup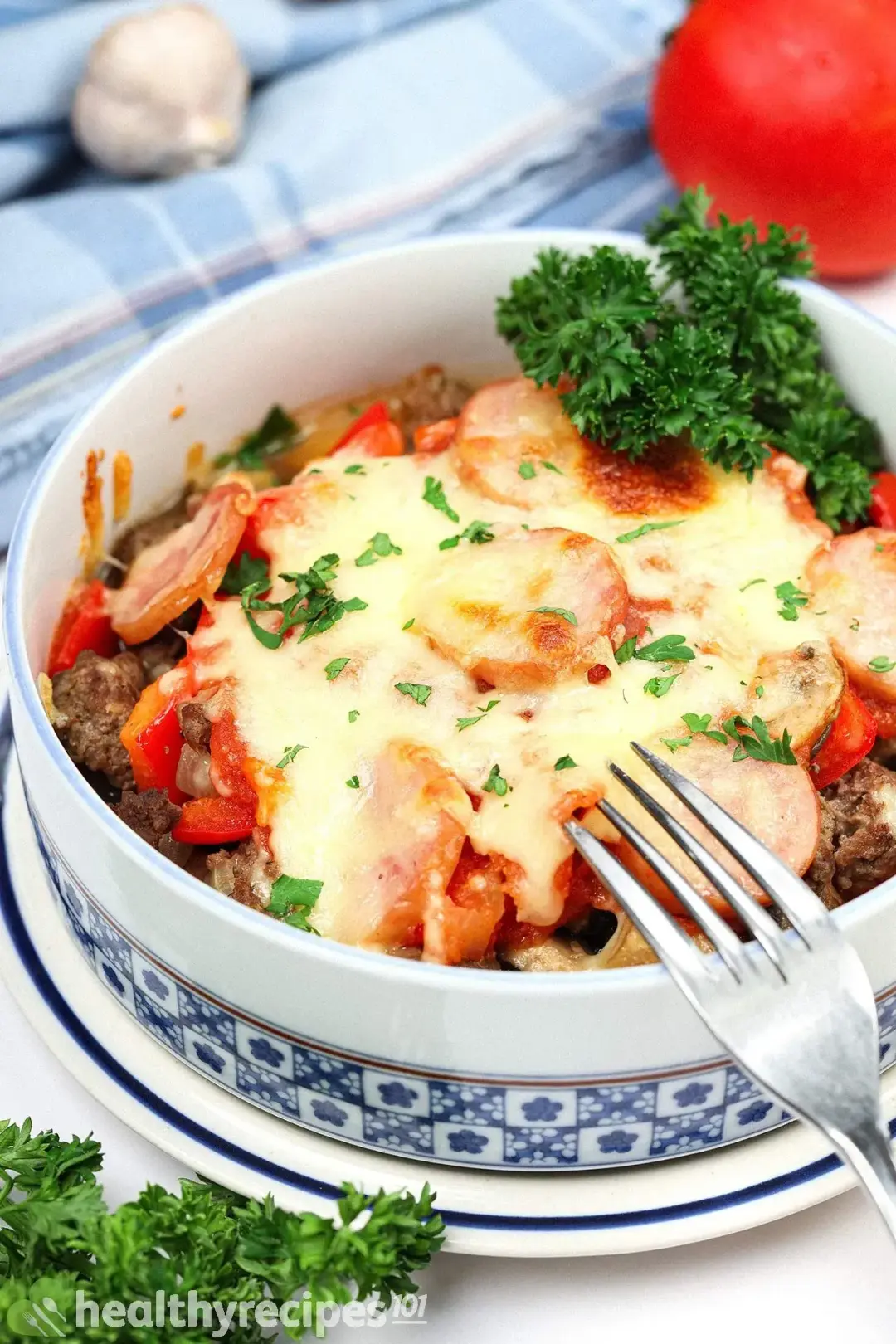 Next Recipe
Crustless Pizza Bowl
Crustless Pizza Bowl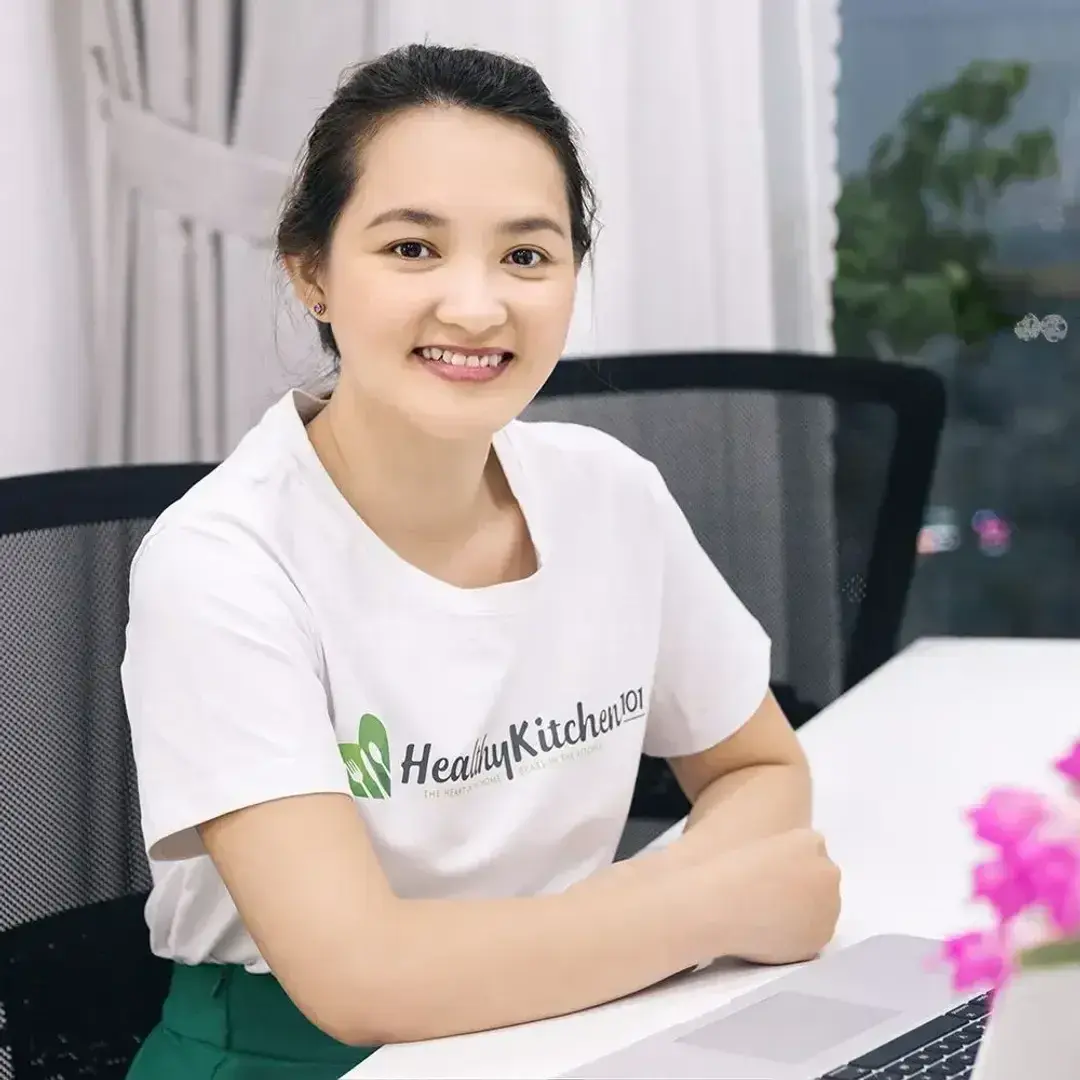 Luna Regina
Luna is the founder and chief recipe developer of Healthy Recipes 101. Apart from cooking, she also loves reading, programming, exploring the outdoors, and collecting useless facts about everything.