This delicious Thai beef salad recipe embodies what makes Thai cuisine special: the bold flavors, vibrant herbs, and fresh ingredients.
The salad features beef as its main protein source, a collection of fresh vegetables, and the signature spicy and savory fish sauce dressing. Read on to find out more about this unique salad.
Is Thai Beef Salad Healthy?
This Thai beef salad is healthy.
It contains 219 calories per serving, a reasonable number for a side dish or a snack.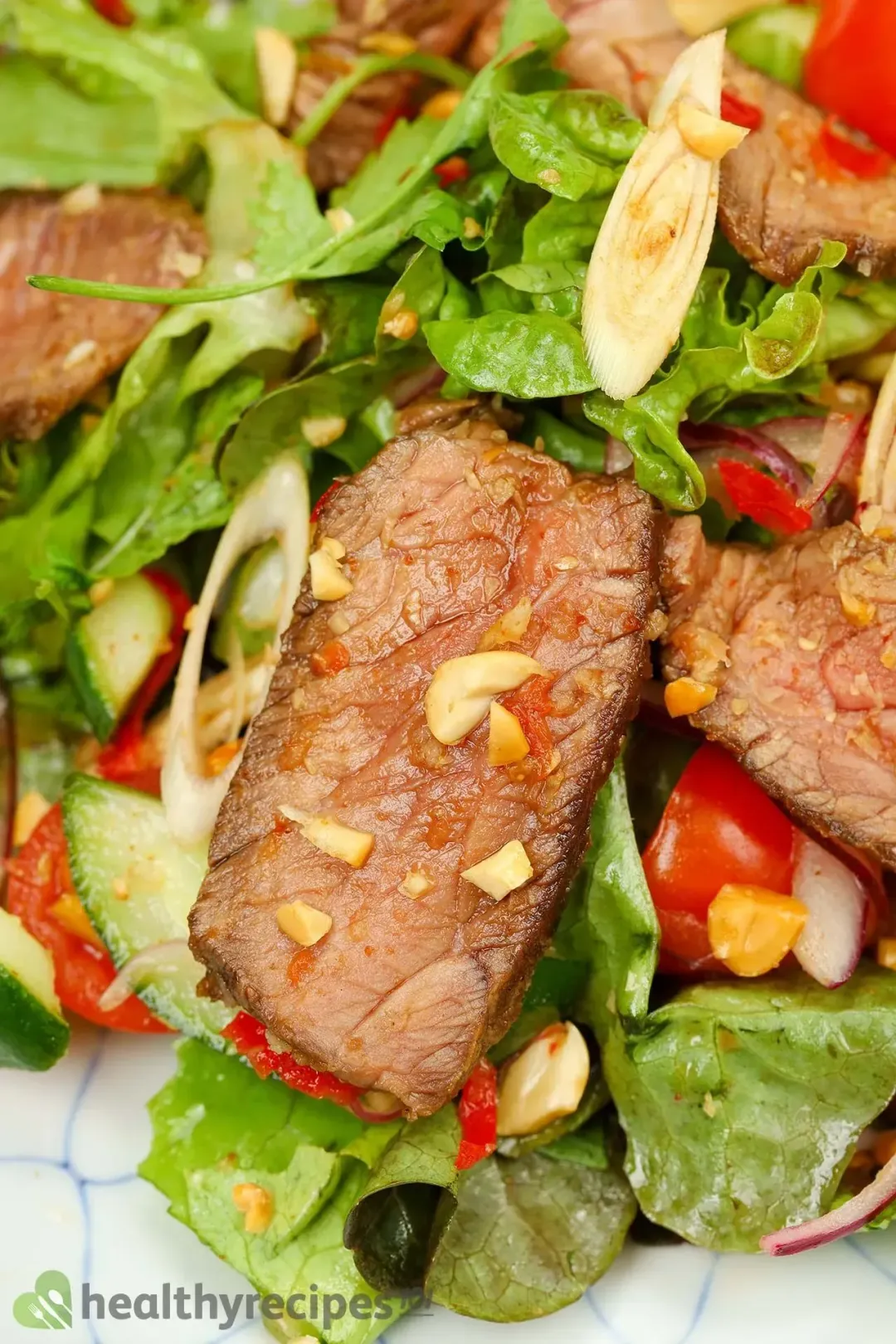 There are 2 g saturated fat in each serving of this salad, making it a suitable choice for anyone working on losing some weight.
The variety of flavors in this dish comes from fresh ingredients and seasonings. These ingredients help limit the level of sodium to only 256.7 mg.
There is also 12.3 g of protein, thanks to the use of beef. Protein promotes muscle health and may help prevent sarcopenia.
The spiciness from jalapeños and bird's eye chili is an outstanding aspect of this dish. These intense ingredients contain capsaicin (the chemical that gives them their signature heat), which may reduce risks of all-cause diseases, most notably heart related.
The remaining members in the vegetable lineup of this recipe (lettuce, tomatoes, cucumbers, and red onion) make this dish rich in antioxidants, which may contribute to the prevention of cancer, heart and lung diseases. Also, consumption of vegetables has been linked to positive developments regarding skin and digestive health.
Ingredients for Thai Beef Salad
Beef flank steak is the cut of choice in this recipe because it is versatile and inexpensive. Flank steak is also a lean cut, so we take care when cooking it as it can be dry and tough if it's overcooked or sliced too thick.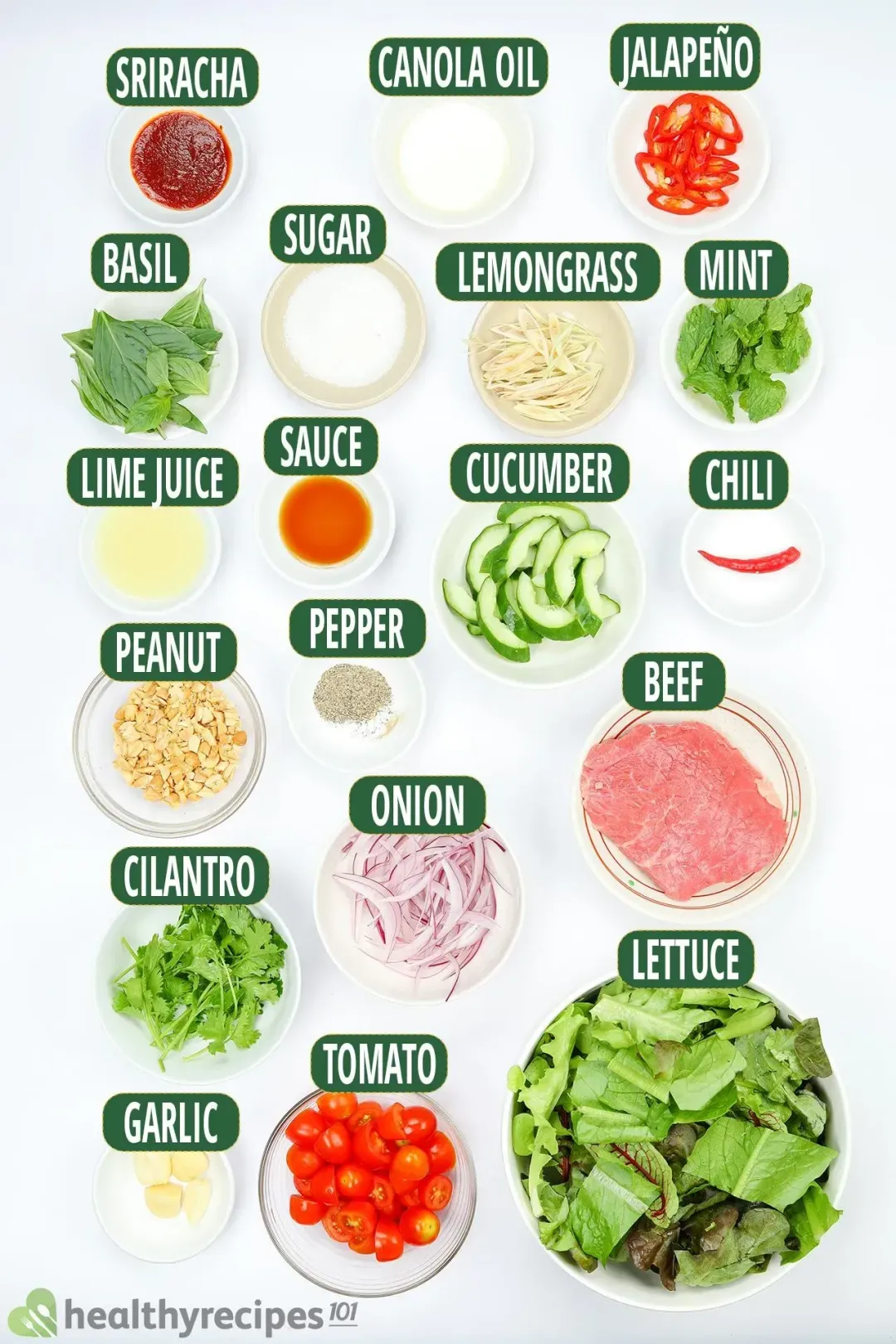 There are a lot of different vegetables featured in this recipe. Most of them are common salad ingredients like onion, cucumber, lettuce, and cherry tomatoes.
Asian cuisine in general, and Thai cuisine in particular, often features fresh herbs. This recipe is no exception, showcasing mint, cilantro, and Thai basil.
Lemongrass and roasted peanuts are toppings that add their signature citrus and nutty flavors with crunchy textures to an already stacked salad.
The dressing is what sets this salad apart from the rest. It is made from fish sauce, bird's eye chili, red jalapeños, garlic, lime juice, and Sriracha.
As you can see from its components, this dressing is spicy. Using a pestle and mortar, garlic, bird's eye chili, and red jalapeños are pounded until they form a paste.
This paste combined with fish sauce, Sriracha, and lime juice creates an intense yet exciting mixture of classic Thai cuisine flavors.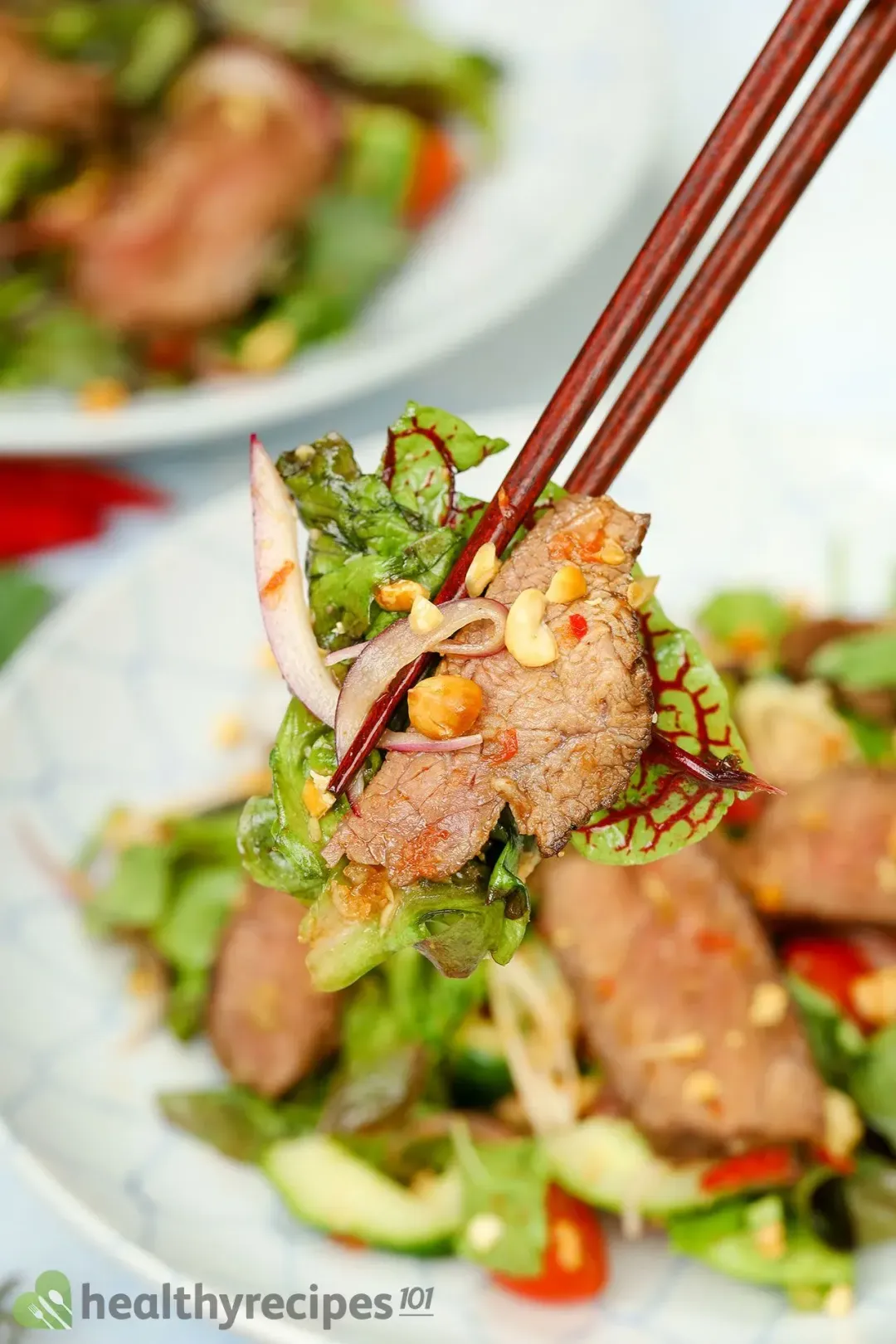 Variations and Add-Ins
There are many ways you could customize this salad. Here are just a few suggestions:
Use a different protein: You can swap beef with other proteins such as pork, chicken, or shrimp.
Make it spicier: Not removing jalapeños seeds will increase the spiciness. Using different types of chilies like habanero or serrano will also spice up the salad more.
Other add-ins:
Nuts: cashews, walnuts, almonds, etc.
Fruits and vegetables: carrots, papaya, cabbage, shallots, etc.
How to Store Thai Beef Salad
We recommend storing the components of this salad separately and combining them right before serving.
Beef: Flank steak can last 3 to 5 days when refrigerated in airtight containers. You can make the steak ahead of time and store it whole. Slice and reheat it on the stovetop before serving.
Salad: Similar to beef, the vegetables can last 3 to 5 days in airtight containers.
Dressing: The dressing can maintain its best quality at room temperature for around 2 days.
Garnish: Roasted peanuts should be stored in airtight containers at room temperature.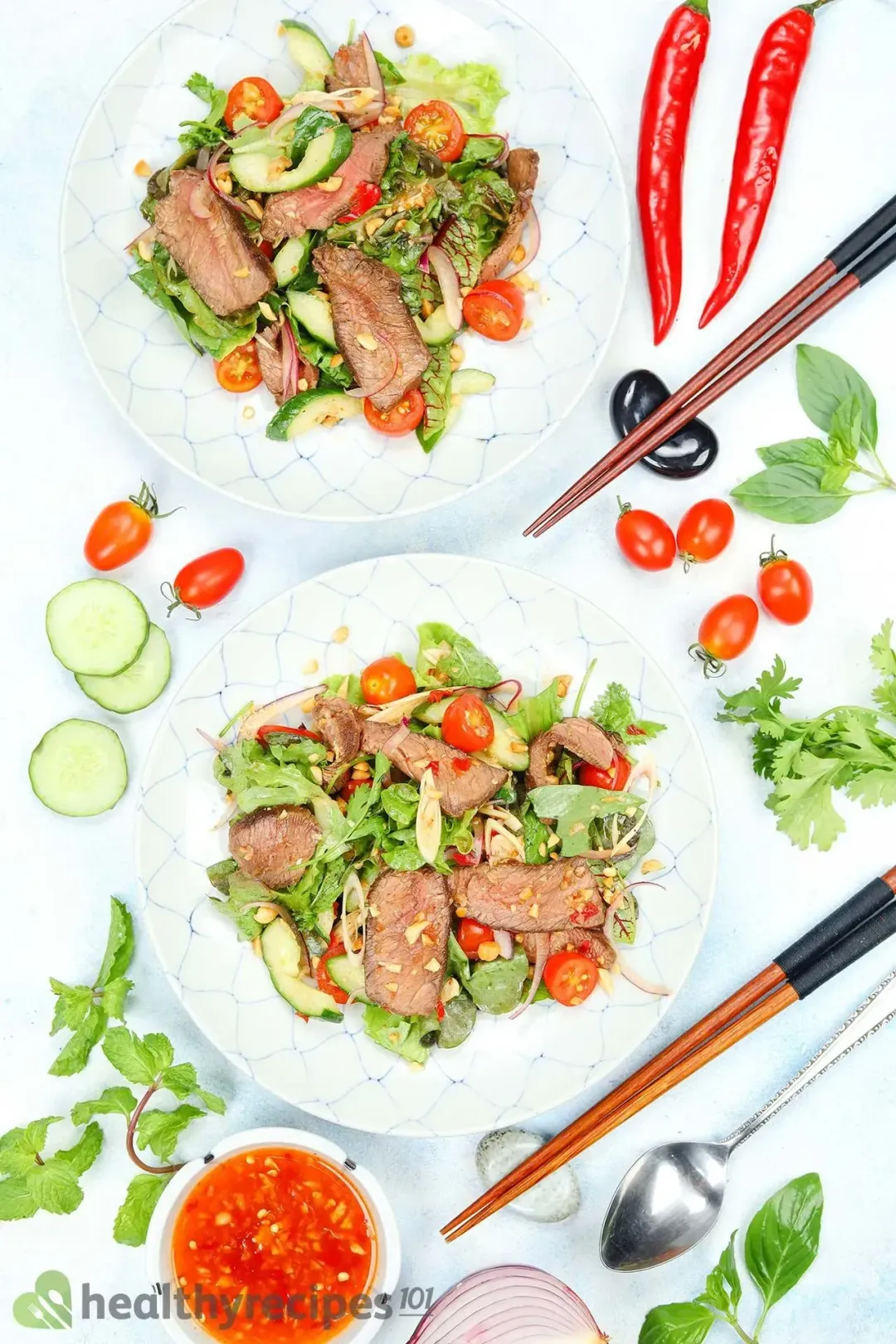 More Delicious Beef Salads for You to Try
If you're looking for a healthy and satisfying salad, this steak salad recipe is the perfect choice. Made with tender grilled steak, fresh greens, and a tangy vinaigrette dressing, this salad is packed with protein and flavor. It's perfect for lunch or dinner, and can be customized to suit your taste preferences.
This taco salad recipe is a delicious and easy way to enjoy all the flavors of your favorite Mexican dish in one bowl. It's made with seasoned ground beef, fresh veggies, crispy tortilla chips, and a creamy avocado dressing that will have you coming back for more.
If you're a fan of tasty beef salad recipes, you won't want to miss out on our carefully curated collection. Browse through our roundup to discover more delectable dishes.
How to Make Thai Beef Salad
Our Thai beef salad recipe adds beef to a fresh and diverse salad with lots of herbs and spices that come together to give you an unforgettable experience.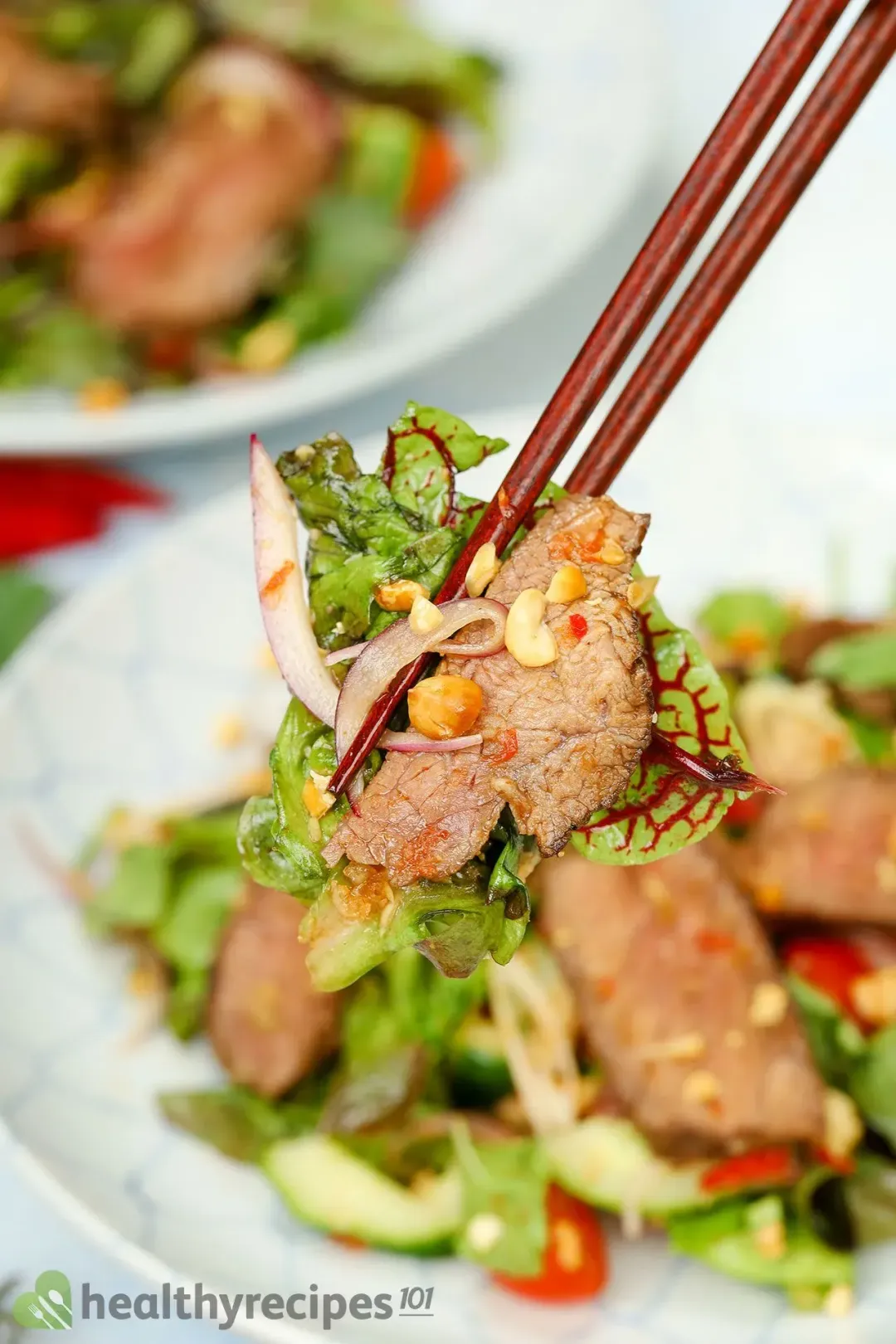 cook TIME

20 mins

prep TIME

7 mins

total TIME

27 mins
COURSE

Side Dish

CUISINE

Thai

SERVINGS

CALORIES

219 kcal
INGREDIENTS
4 oz

cherry tomatoes

(halved)

2 oz

lettuce mix

(roughly chopped)

0.5 oz

red jalapeños

(sliced)

1 oz

unsalted roasted peanuts

(crushed)

0.25 oz

lemongrass

(sliced)
INSTRUCTIONS
Prep:
1
Beef: You can ask your butcher or grocery store to trim the fat and leave the rest of the cut as is when buying. Do not rinse raw beef as this can cause bacteria to spread to your hands and kitchen surfaces.
2
Cherry tomatoes: Wash cherry tomatoes gently with your hands under cold running water. Place them on a cutting board and cut each tomato in half.
3
Lettuce mix: Discard the lettuce leaves that are wilted or damaged. Fill a large bowl with cold water and dunk the lettuce mix in. Let them soak for a few minutes to remove any dirt. Take the lettuce out of the water and dry the leaves in a salad spinner.
4
Cucumber: Wash gently under cold running water. Place the cucumber on a cutting board and cut it in half lengthwise. Use a spoon to scrape the seeds out. Place the cut face down on your board and slice to desired thickness.
5
Red onion: Wash under running water. Trim the stem and root, cut in half through the root and peel away the skin. Cut across the onion half to make slices.
6
Garlic: Separate the cloves from the garlic bulb. Put the cloves on a cutting board and press the flat side of a knife on the clove and apply pressure with your palm. Only press hard enough so the skin is loosened. Peel the skin away and cut off the root of the clove.
7
Jalapeños: Wear gloves to protect your hands. Cut off the stem end with a knife. Carefully work a small knife inside the pepper to remove the core and seeds (optional). Start slicing the pepper diagonally to desired thickness.
8
Bird's eye chili: Remove the stem of the chili and leave it whole.
9
Peanuts: Transfer the roasted peanuts to a resealable bag and place them on a cutting board. Beat the bag with a rolling pin until they're in an even layer.
10
Lemongrass: Cut off the top and bottom of the stalk. Cut lengthwise down the middle and remove the tough outer layer. Chop diagonally.
11
Herbs: Fill a bowl with cold water. Put the herbs in the bowl and agitate them gently to remove any dirt. Repeat the process until the water is clear. Drain the herbs with a salad spinner.
Cook:
1
Prepare a mortar and pestle. If you don't have one, you can use a rolling pin or heavy pan and crush the ingredients on the cutting board. Add 4 cloves of garlic, 1 tsp bird's eye chili, 0.25 oz red jalapeños and 2 tbsp sugar in a bowl and pound until they combine into a paste. Add 1/2 tbsp Thai fish sauce, 1 fl oz lime juice, and 2 tsp Sriracha to the same bowl and stir until fully combined.
2
Place a pan on medium heat until it's hot. Add 2 tbsp canola oil, 6 oz flank steak, and 1/2 tsp pepper. Sear all sides for 4 minutes. Then cook in the air-fryer for another 7 minutes at 390 °F.
3
Take the beef out and slice to your desired thickness.
4
Prepare a big salad bowl and add the salad ingredients: 2 oz lettuce mix, 2 oz cucumber, 2 oz red onion, 0.25 oz Thai basil, 0.25 oz red jalapeño, 1/4 cup cilantro, 2 tbsp mint leaves, 4 oz cherry tomatoes, 0.5 oz peanuts, 0.25 oz lemongrass, and beef.
5
Add the dressing and mix well.
6
Sprinkle with 0.5 oz peanuts, serve, and enjoy.
NUTRITION
Nutrition Facts
How to Make Thai Beef Salad
Amount Per Serving (1 serving)
Calories 219
Calories from Fat 116
% Daily Value*
* Percent Daily Values are based on a 2000 calorie diet.
Keywords: how to make thai beef salad, thai beef salad, thai beef salad recipe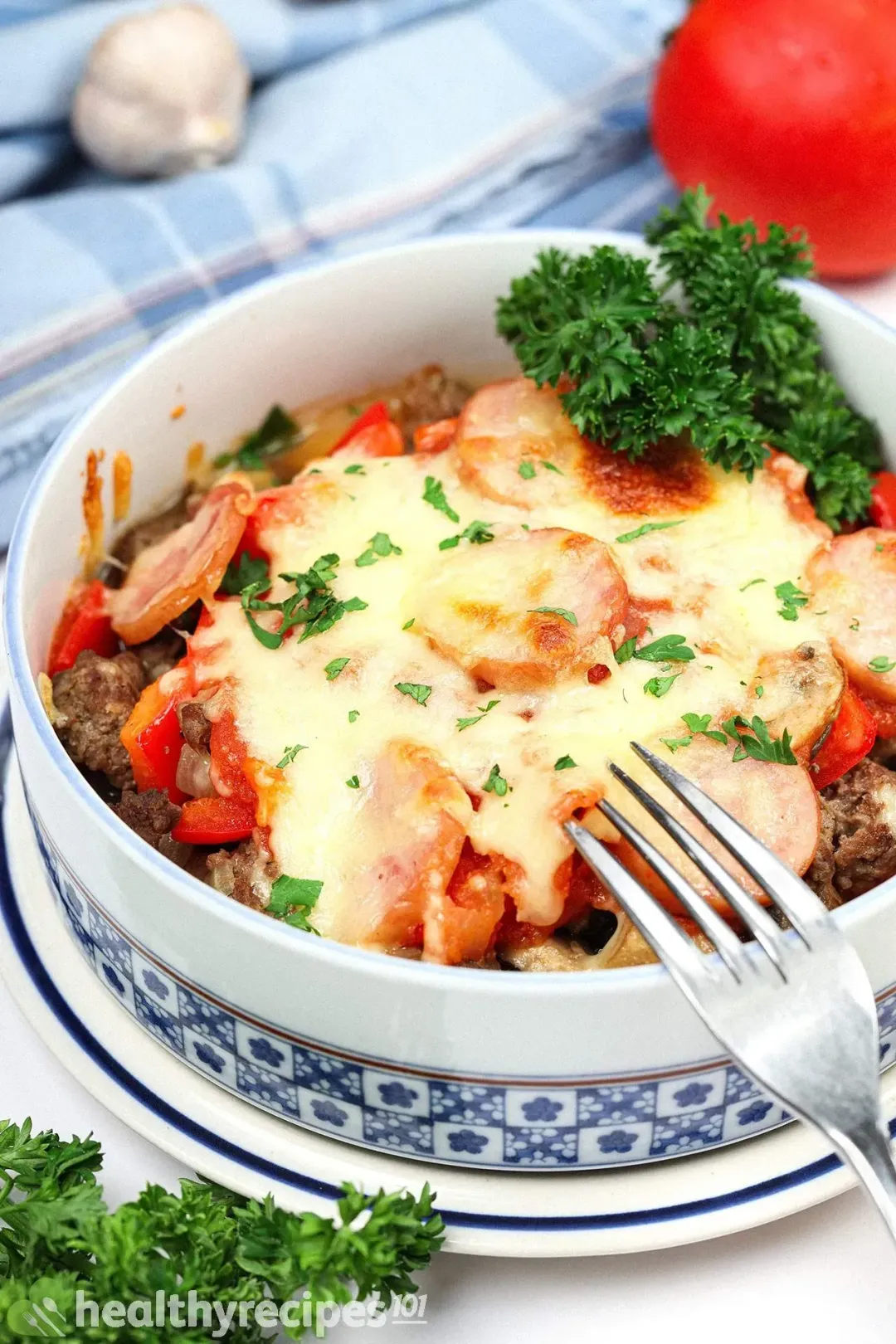 Previous Recipe
Crustless Pizza Bowl
Crustless Pizza Bowl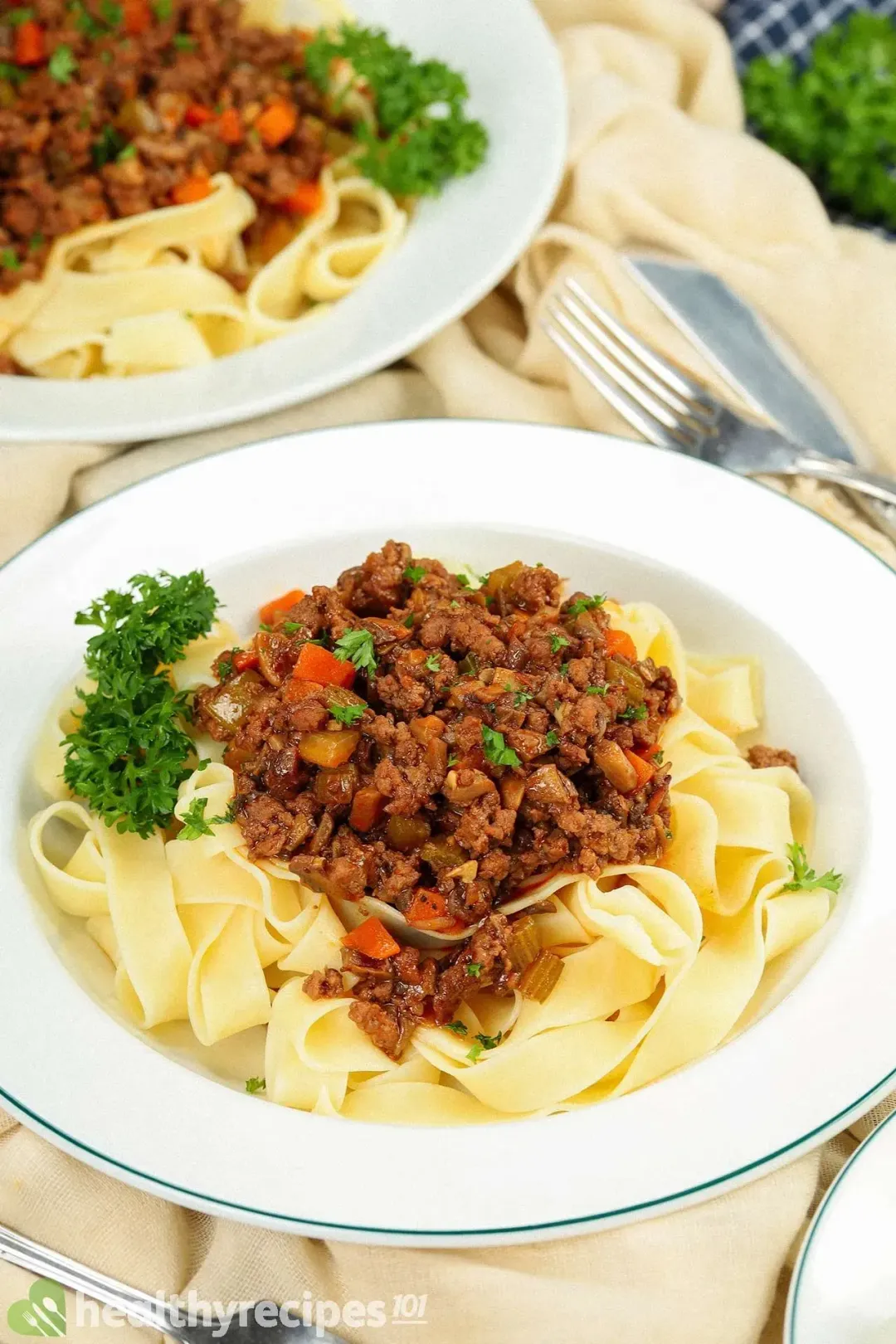 Next Recipe
Vegetable Beef Ragu
Vegetable Beef Ragu
Head Chef, Culinary Consultant
Tuyet Pham is an award-winning Saigonese chef who believes that joy is the secret ingredient to delicious food. At Healthy Recipes 101, Tuyet personally tests and simplifies every recipe, ensuring maximum flavor with minimal effort. With a background at prestigious French restaurants P'TI Saigon and Le Corto, Tuyet knows how to make every dish exceptional.
Writer, Author
Luna Regina is an accomplished writer and author who dedicates her career to empowering home cooks and making cooking effortless for everyone. She is the founder of HealthyKitchen101.com and HealthyRecipes101.com, where she works with her team to develop easy, nutritious recipes and help aspiring cooks choose the right kitchen appliances.
Nutrition Reviewer
Natalie Butler is a registered dietitian nutritionist with a passion to help others live their best life through food, fitness, safer beauty and a healthy lifestyle. She has expertise with a variety of diets and diseases and believes that there is no one-size-fits-all approach for health.
Fresh and zesty salad recipe