This crustless pizza bowl recipe offers a quick, easy, low-carb, and mess-free way to enjoy pizza. It bakes up the most exciting parts of a pizza and neatly serves them up in a bowl, saving you the trouble of putting together the base. 
With the crust removed, this dish highlights the beautiful layers of toppings. They are drenched in cheesy goodness, allowing you to feel every ingredient melting deliciously on the tongue.
Are Crustless Pizza Bowls Healthy?
Given the proper ingredients and proportion adjustments, they can be relatively healthy. For our recipe, each serving contains approximately:
460 calories
9.4 g saturated fat
437 mg sodium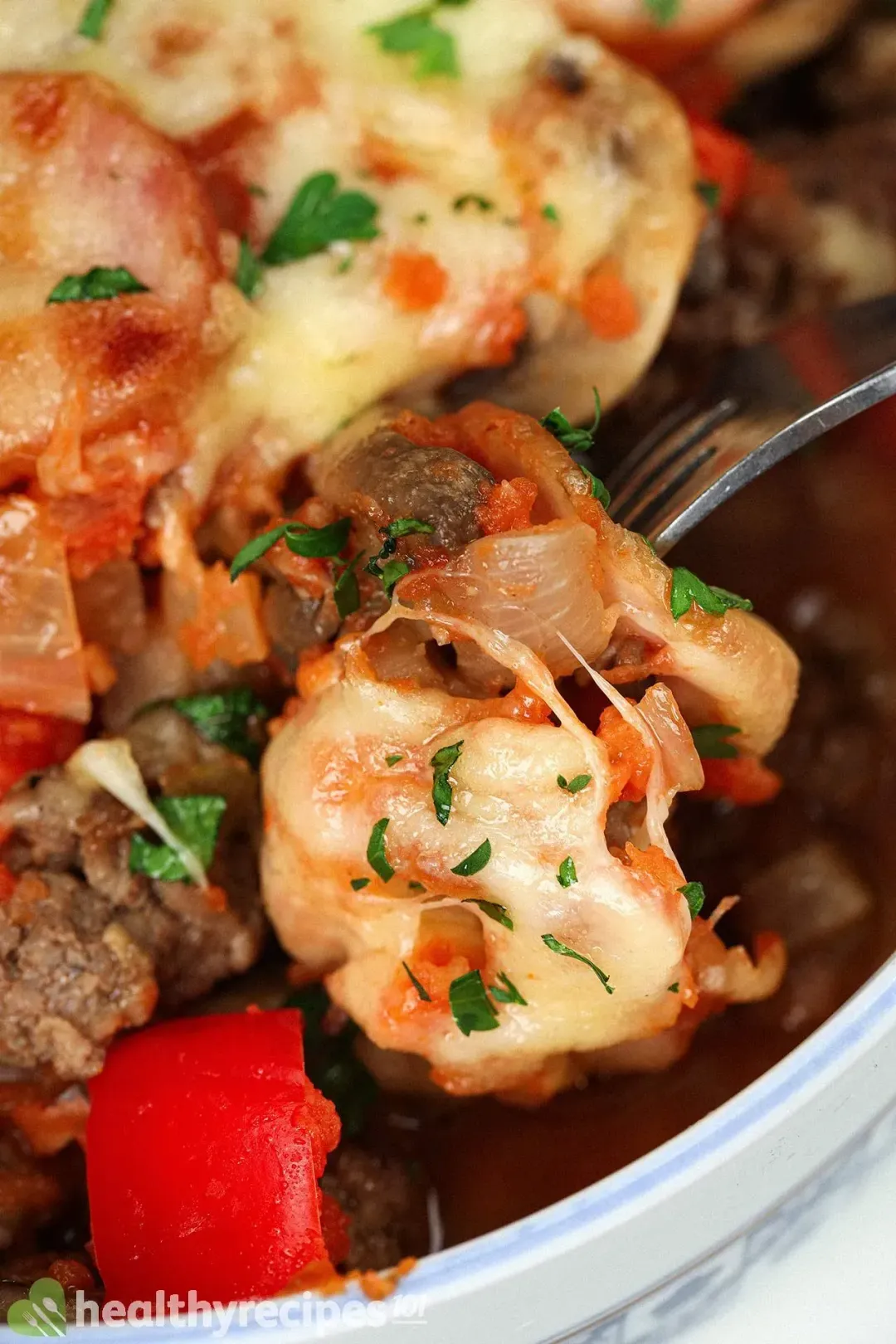 These amounts strictly follow the standards set by our nutrition guidelines.
Since highly processed red meat can potentially raise the risk of heart disease, we opted for lean red meat—recommended by the American Heart Association (AHA). Lean red meat is a good source of high quality complete protein, heme iron, zinc, vitamin B12, and other nutrients. Our recipe uses 90% lean ground beef—which indicates that it only has 10% fat.
The recipe also features a decent amount of white mushrooms. They offer amazing nutrients like fiber, vitamins, selenium, potassium, etc. while also being low in calories.
Ingredients for This Recipe
Much like actual pizza, this recipe is entirely customizable. Our recipe features some classic 'toppings' but feel free to make adjustments to your liking.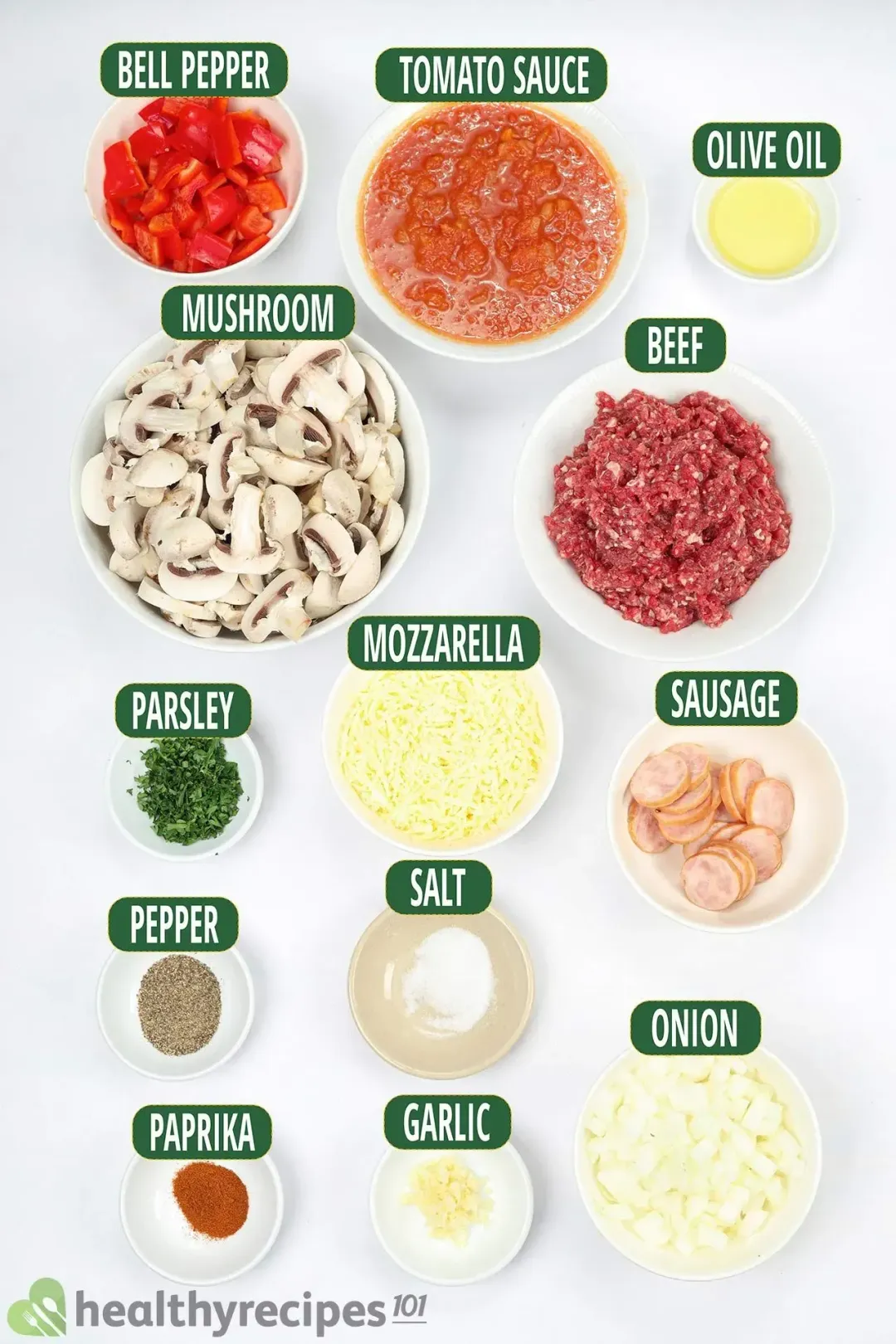 Beef: Since this dish mimics actual pizza, we used ground beef for a similar mouthfeel. The meat is browned and then baked so it's perfectly rich and savory.
Tomato Sauce: This sauce ties the whole dish together with its delectable sweetness and thick consistency. We recommend making your own homemade sauce for a truly vibrant taste.
White Mushrooms: This classic pizza topping is essential in recreating that typical pizza taste. We went with white mushrooms, which have a subtle earthy taste that deepens beautifully when cooked.
Other Vegetables: Our recipe uses red bell peppers as toppings and onions and garlic as aromatics, but you can go with any of your preferred veggies. We recommend using crunchy ones for the extra texture.
Sausage: Go with your preferred sausage variety for the desired flavor. You can also substitute it with other types of food since this recipe is entirely customizable.
Cheese: A pizza's melted cheese surface is one of the dish's highlights. We went with mozzarella because it has a mild milky taste that's pleasant to the palate and a deliciously stringy texture when melted.
Seasonings: We kept the spices to a minimum and only used a small amount of salt, pepper, and paprika to build up the flavors without making the dish overwhelming.
What Are the Best Cheeses to Put On Crustless Pizza Bowls?
When it comes to cheese on pizza, the choices are endlessly diverse. If you don't like mozzarella or want to try out other varieties, here are a few of our suggestions: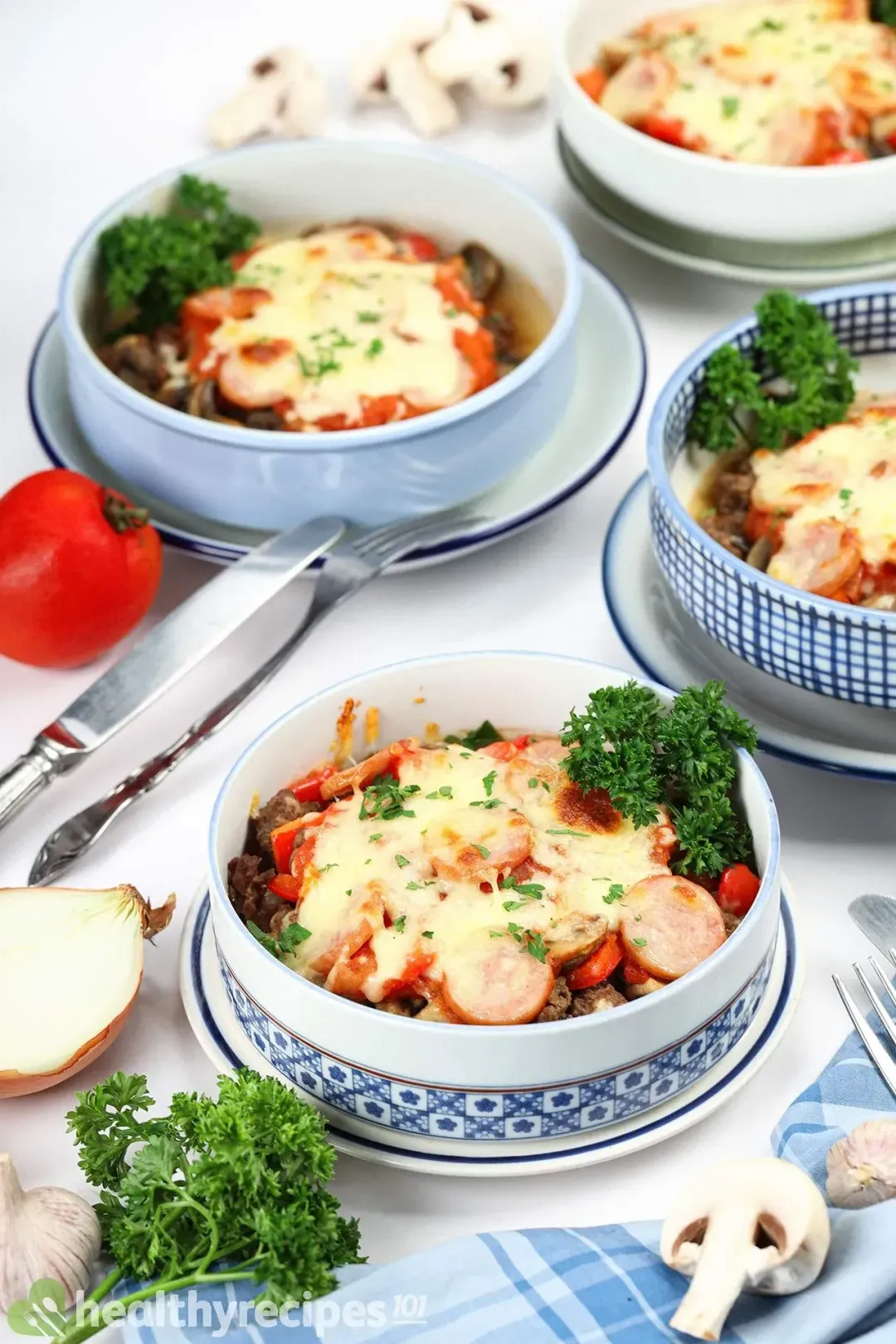 Sharp, earthy, and creamy, cheddar is a great choice if you like a bit of flavor intensity in your pizza bowl. When melted, this type of cheese is delectably smooth with a thick consistency that looks and tastes incredibly appetizing.
This is an Italian cheese whose taste varies from mild to sharp depending on various factors. It has a smooth and semi-soft consistency that tastes great both melted and whole, so you can bake it with the pizza bowl or just crumble the pieces on for garnishing.
With pizza, parmesan is more often grated over the surface as garnishing rather than melted straight into the food. Regardless, it still infuses the dish with its signature tangy and nutty flavor that immediately captivates the taste buds.
How to Store and Reheat
This crustless pizza bowl keeps well in the fridge for around 1 or 2 days. Store it in an airtight container or cover the bowl with foil. 
Reheating can quickly be done in the microwave on high for 1 minute or until thoroughly heated. Remember to remove the foil and use a microwave-safe container.
What to Serve With Crustless Pizza Bowl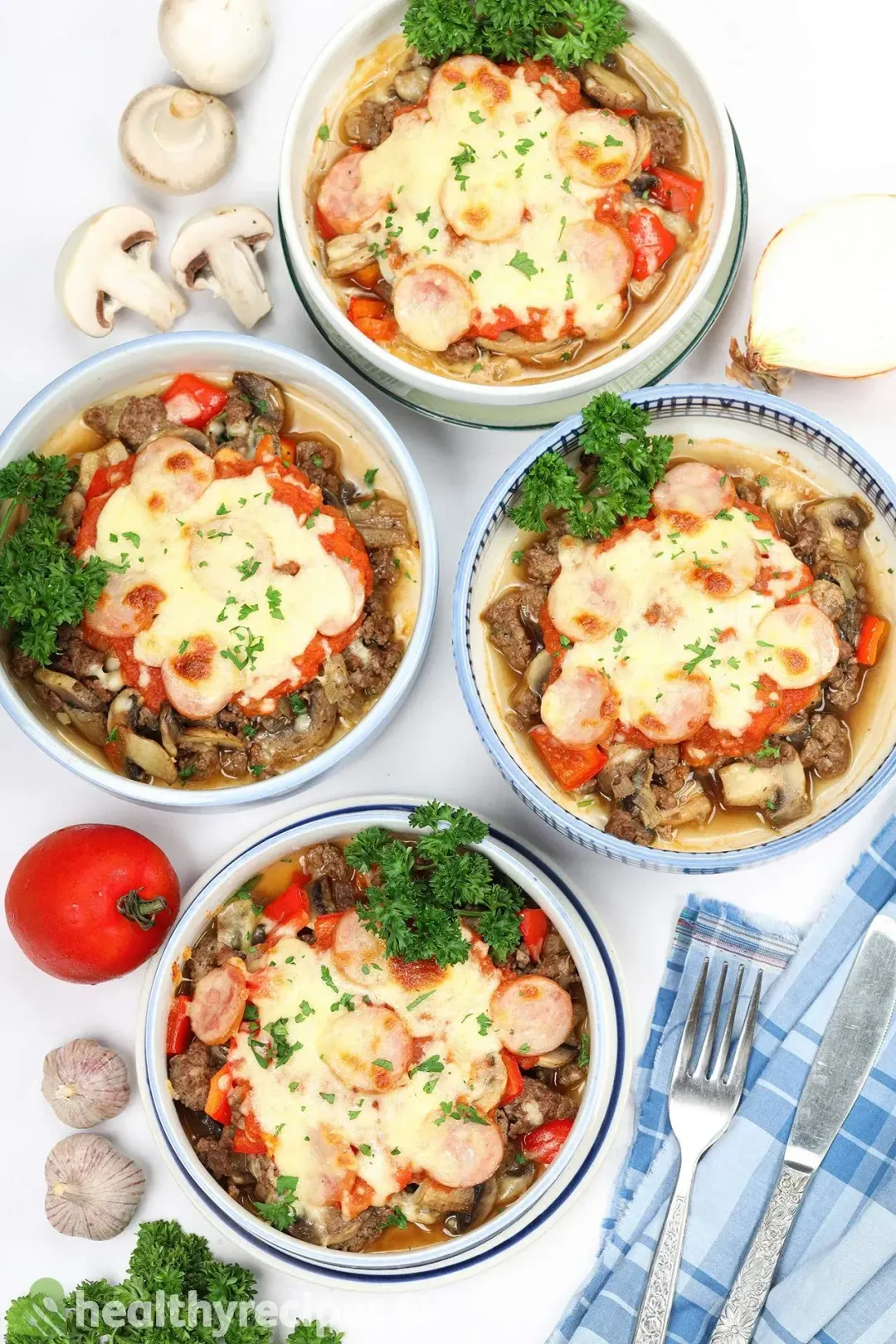 If you're looking for ideas on side dishes to accompany this pizza bowl, here are some of our suggestions:
Spinach Salad
Watermelon Arugula Salad
Beet and Feta Cheese Salad
Healthy Greek Salad
Mustard Potato Salad
Experience Both Comfort and Flavor with These Recipes, too
When it comes to comfort food, meatloaf is a classic. This recipe puts together ground beef, breadcrumbs, eggs, and spices to create a flavorful and moist loaf of meat. It is perfect for a family dinner or a special occasion.
This tortilla pie, on the other hand, is a more modern one. A fun twist on traditional Mexican cuisine, if you will. Its layers of tortillas, seasoned beef, and melted cheese make for a flavorful and filling meal.
For those who enjoy oven-baked beef recipes that are equally satisfying, take a look at our collection for more ideas.
How to Make Crustless Pizza Bowl
This crustless pizza bowl recipe bakes up the most exciting parts of a pizza and neatly serves them up in a bowl. The crust is removed, highlighting the layers of sausage, veggies, and beef drenched in cheesy goodness that melts right on the tongue.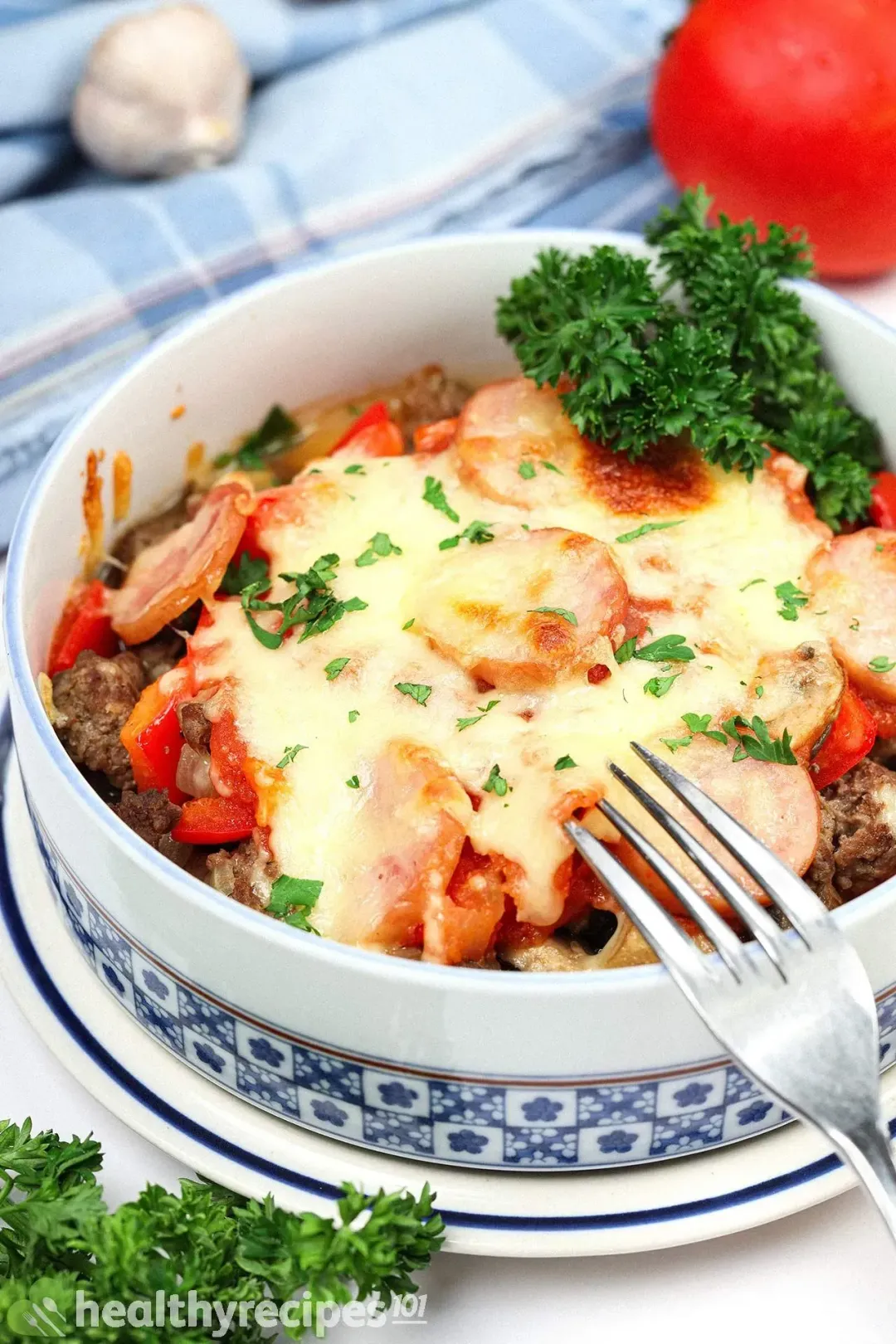 cook TIME

20 mins

prep TIME

7 mins

total TIME

27 mins
COURSE

Main Course

CUISINE

American

SERVINGS

CALORIES

460 kcal
INGREDIENTS
14 oz

90% lean ground beef

12 oz

white mushrooms

(sliced)

2 oz

smoked sausage

(sliced)

1 1/2 cup

homemade tomato sauce

2.5 oz

fresh mozzarella cheese

(shredded)

4 oz

red bell peppers

(coarsely chopped)
INSTRUCTIONS
Prep:
1
Prepare the Beef: Pat the beef dry with paper towels.
2
Prepare the Mushrooms: Remove the stems, then cut the caps in half.
3
Chop the Bell Peppers: Slice off the top and bottom. Slice the rest lengthwise around the core into large pieces. Continue slicing the pieces into large sticks then chop the sticks into bite-sized pieces.
4
Dice the Onion: Lay each half flat on the board and thinly slice it. Next, slice each half horizontally, then rotate the halved onion towards you and slice vertically again to chop into small pieces.
5
Mince the Garlic: Thinly slice each peeled clove then rock the knife back and forth in a fanning motion over the sliced pieces until they are finely minced.
6
Chop the Parsley: Bunch the parsley leaves together and thinly slice. Then, using the knife in a rocking motion, chop the sliced pile once or twice, until they are finely minced.
Cook:
1
Sauté the Aromatics: In a pan over medium heat, add 4 oz onions and 1 tbsp garlic to sauté with 1 tbsp olive oil for 1 minute until fragrant.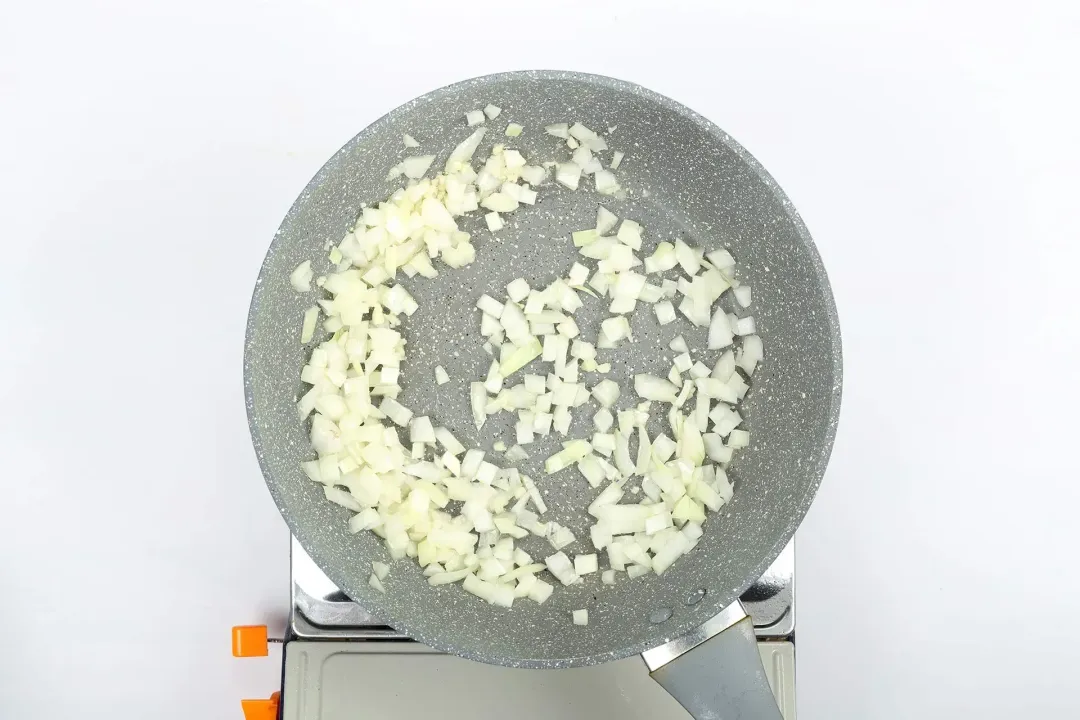 2
Add the Beef: Add 14 oz 90% lean ground beef and sauté for 3 minutes.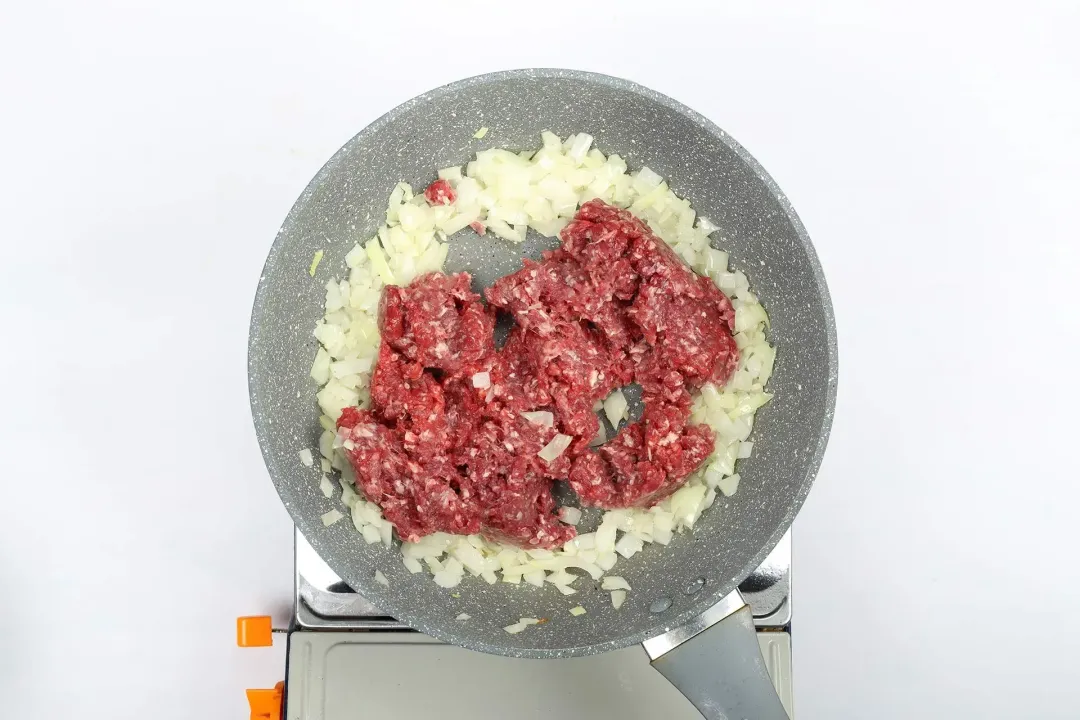 3
Add the Mushrooms: Add 12 oz white mushrooms and continue sautéing for another 4 minutes.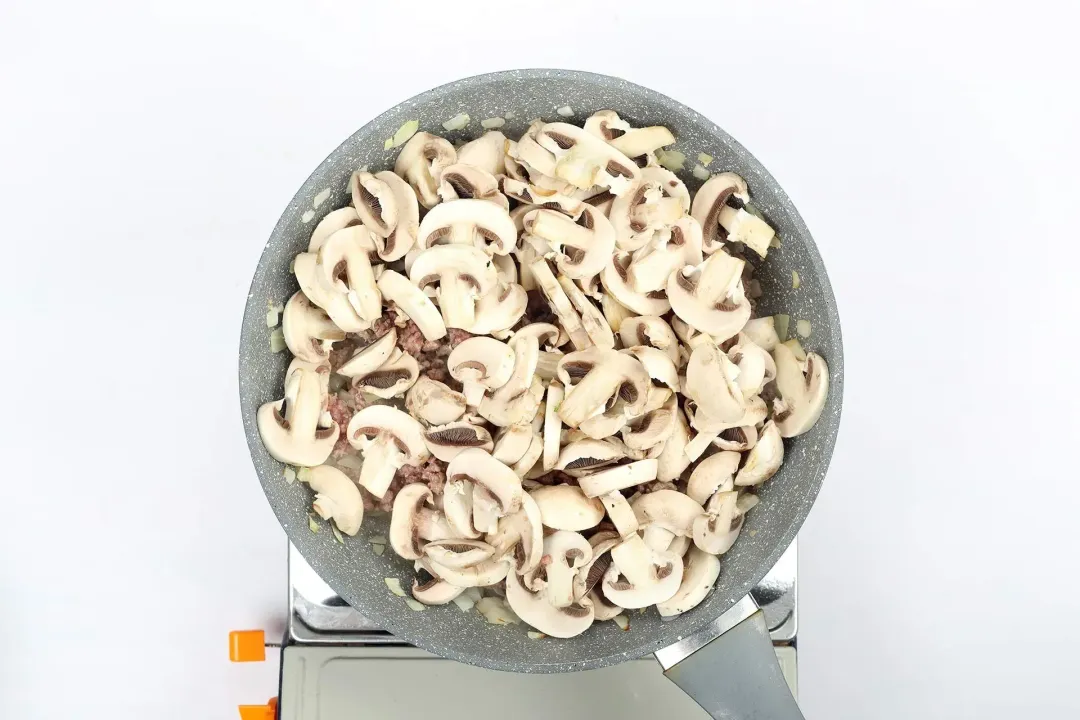 4
Add the Seasonings: Add 1/2 tsp paprika, 1/4 tsp salt, and 1/2 tsp pepper to the mixture. Stir around for 1 minute to thoroughly mix.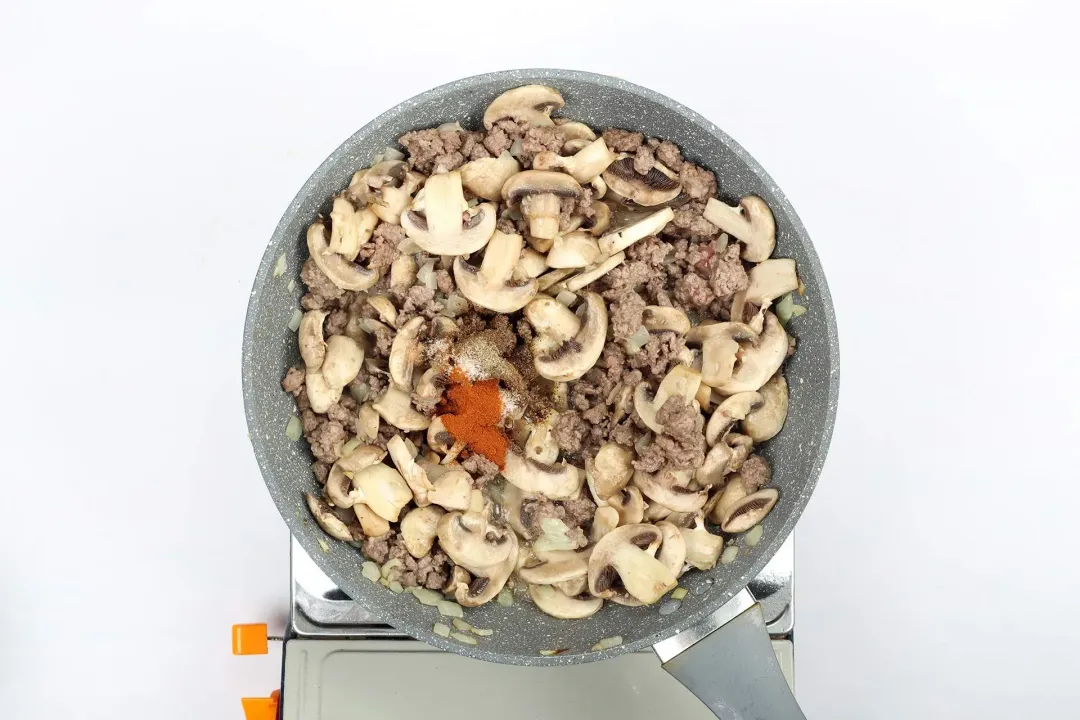 5
Add the Bell Pepper: Add 4 oz red bell peppers and sauté for 2 minutes then take off the heat.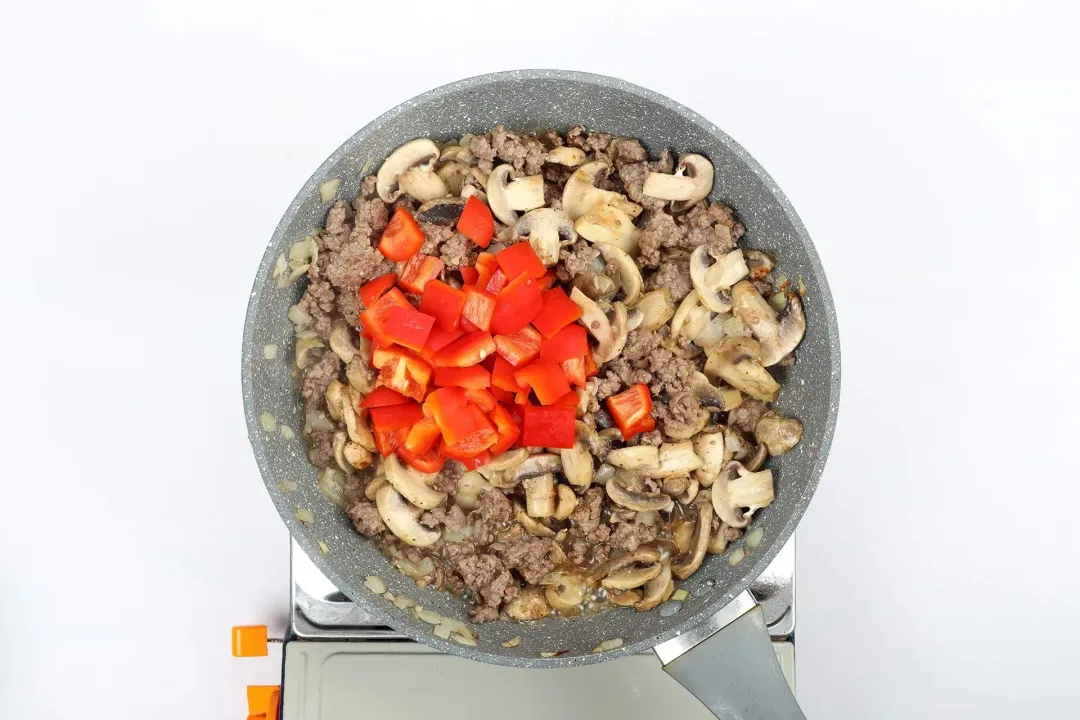 6
Transfer Into a Bowl: Transfer the sautéd mixture into oven-safe bowls then layer 1 1/2 cup homemade tomato sauce, 2 oz smoked sausage, and 2.5 oz fresh mozzarella cheese on top.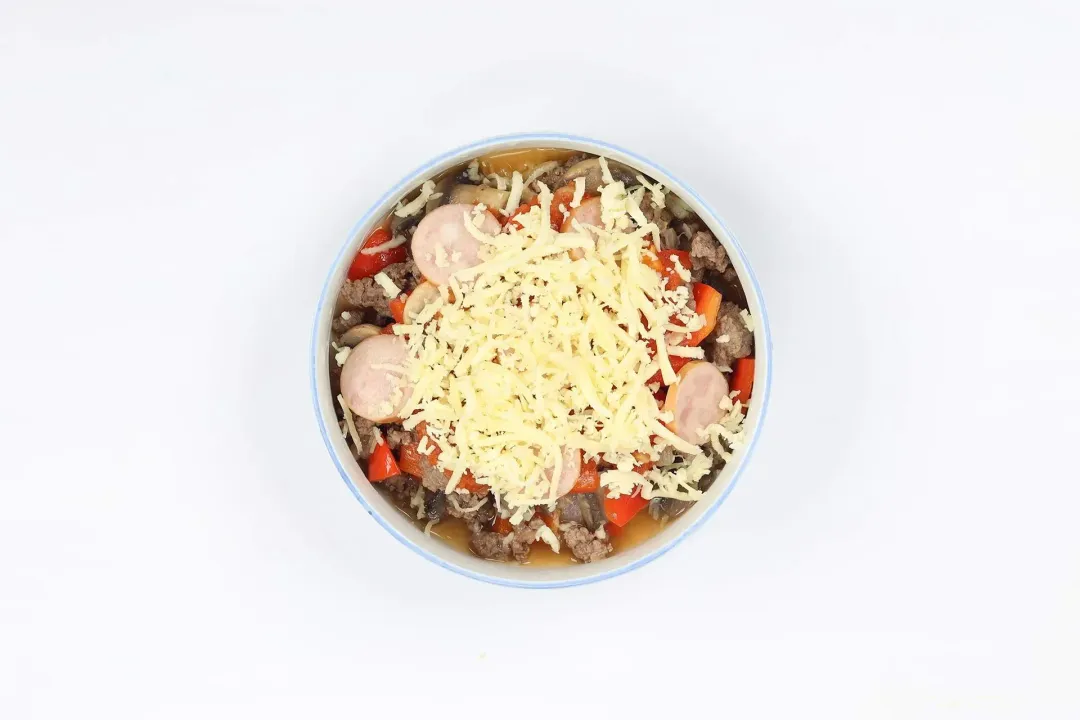 7
Bake: Bake the bowls at 450°F for 7 minutes.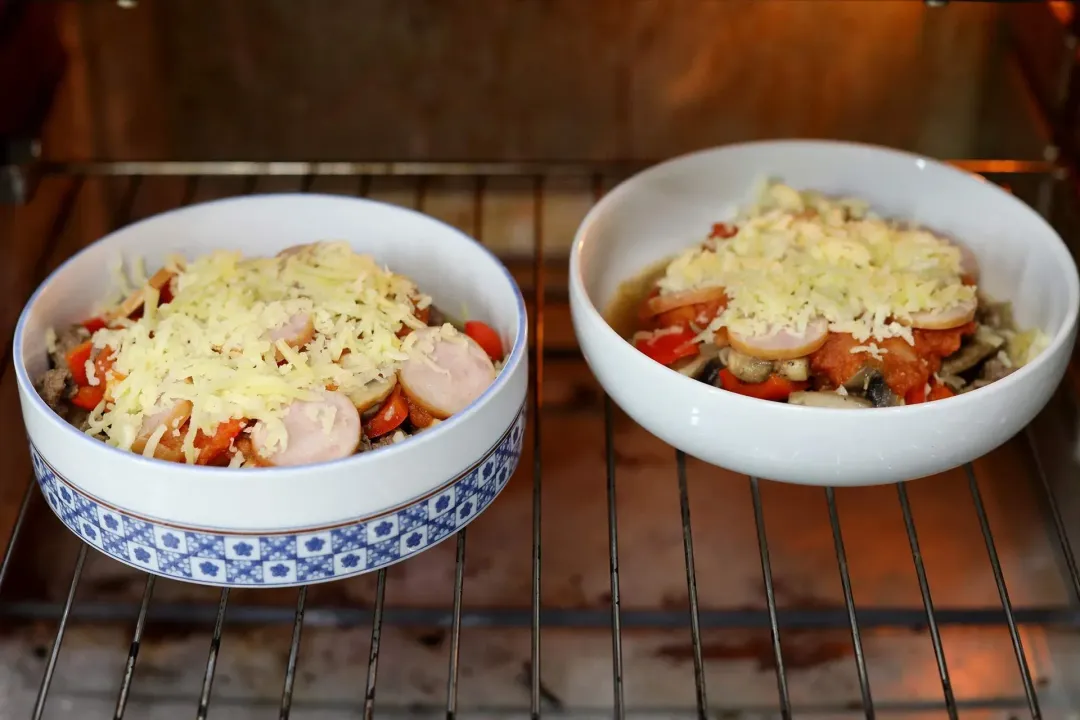 8
Serve: Remove from the oven when finished baking, garnish with 2 tbsp parsley then serve hot.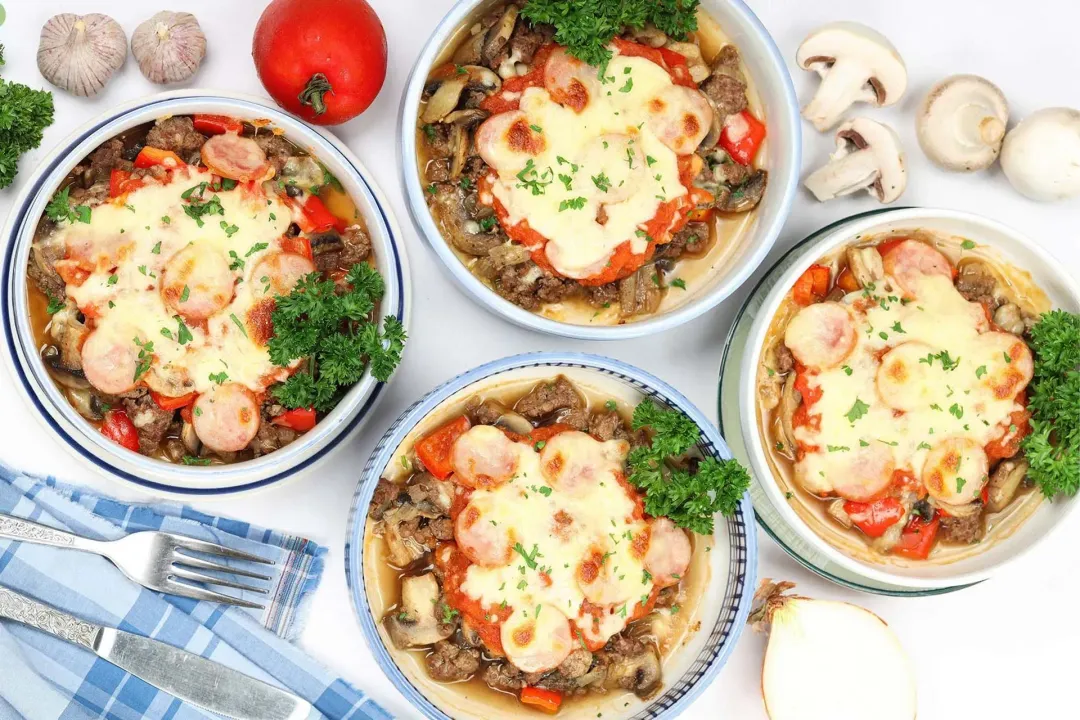 NUTRITION
Nutrition Facts
How to Make Crustless Pizza Bowl
Amount Per Serving (1 serving)
Calories 460
Calories from Fat 271
% Daily Value*
* Percent Daily Values are based on a 2000 calorie diet.
Keywords: crustless pizza bowl, crustless pizza bowl recipe, how to make crustless pizza bowl, pizza bowl, pizza bowl recipe, pizza in a bowl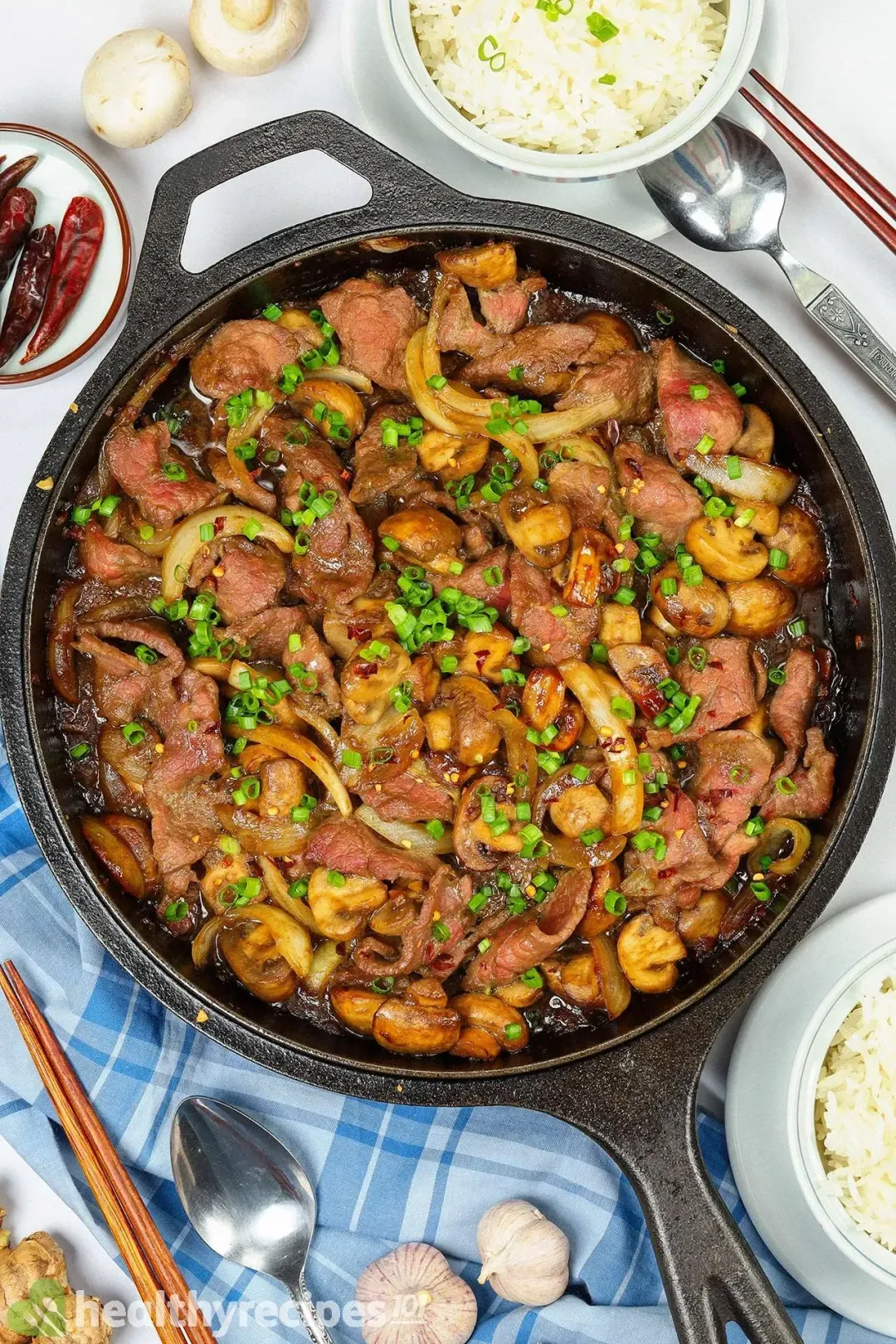 Previous Recipe
Beef and Mushrooms
Beef and Mushrooms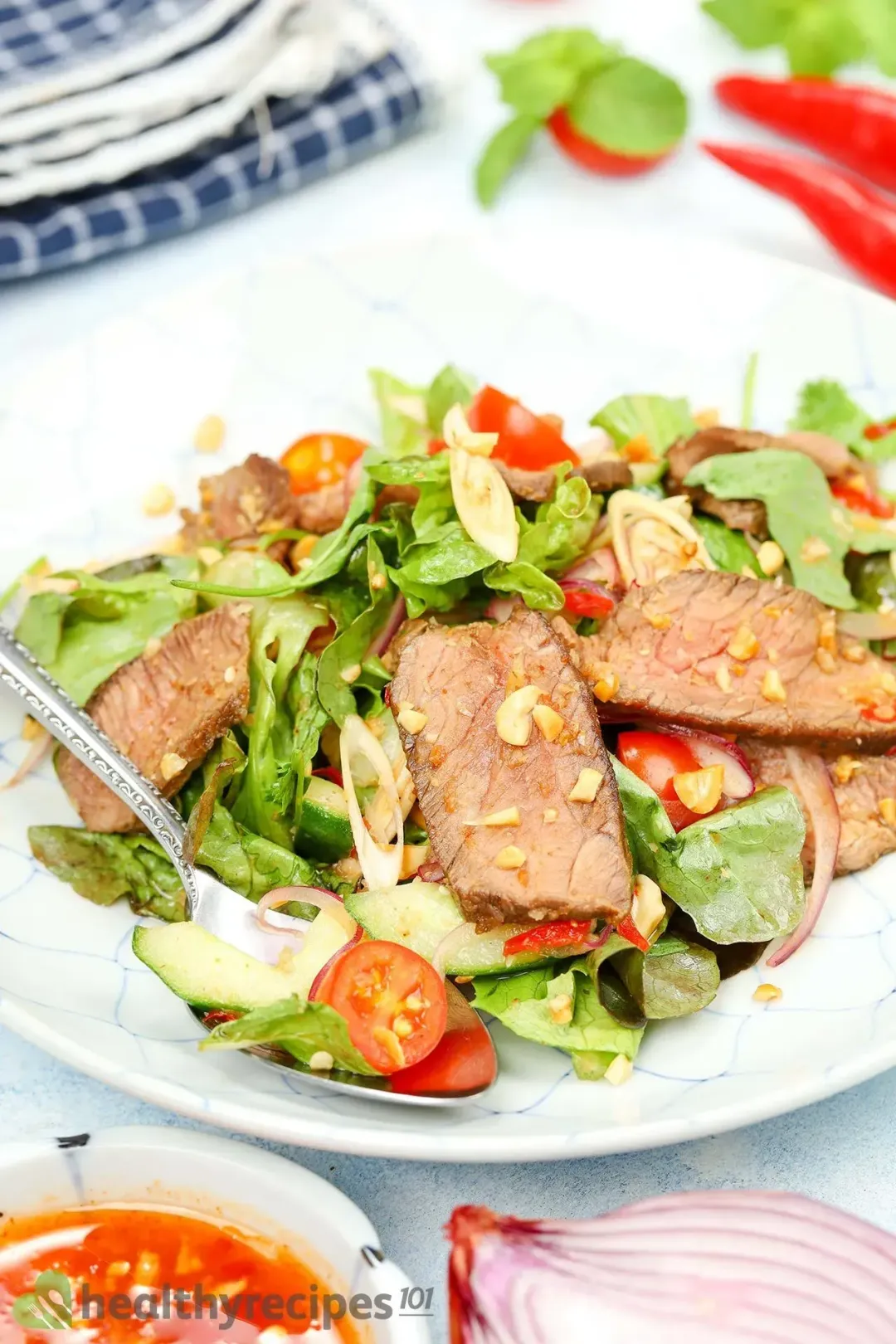 Next Recipe
Thai Beef Salad
Thai Beef Salad
Head Chef, Culinary Consultant
Tuyet Pham is an award-winning Saigonese chef who believes that joy is the secret ingredient to delicious food. At Healthy Recipes 101, Tuyet personally tests and simplifies every recipe, ensuring maximum flavor with minimal effort. With a background at prestigious French restaurants P'TI Saigon and Le Corto, Tuyet knows how to make every dish exceptional.
Writer, Author
Luna Regina is an accomplished writer and author who dedicates her career to empowering home cooks and making cooking effortless for everyone. She is the founder of HealthyKitchen101.com and HealthyRecipes101.com, where she works with her team to develop easy, nutritious recipes and help aspiring cooks choose the right kitchen appliances.
Nutrition Reviewer
Natalie Butler is a registered dietitian nutritionist with a passion to help others live their best life through food, fitness, safer beauty and a healthy lifestyle. She has expertise with a variety of diets and diseases and believes that there is no one-size-fits-all approach for health.
This crustless pizza bowl is the perfect way to enjoy a delicious meal without the extra calories! It was quick and easy to make and tasted amazing!