We believe nothing helps bring people closer than a pot of steamy beef stew—especially when having it on those chilly winter days. In our collection of beef stew meat recipes, you'll find a wealth of cooking ideas that are healthy, easy, and incredibly tasty.
Come and join us in the kitchen!
Reasons to Love
There's a never-ending list of reasons why we love making and enjoying beef stew meat, and it will take forever for us to share all of them. Here, we will name only the three most crucial qualities that make our versions worthy of being on your menu.
Beef stew meat is healthy: Loaded with vegetables and red meat, two essential food groups, you will gain access to an abundant source of nutrients. Beef is rich in B-complex vitamins, heme iron, and zinc, while vegetables offer dietary fiber and other micronutrients. Our chefs always keep a strict eye on the amount of saturated fat, added sodium, and calories to ensure our recipes are diet-friendly.
Most of its cooking time is hands-off: Beef stew may need hours of slow-cooking for the meat and veggies to become fork-tender and flavorsome. However, most of the cooking time is hands-free. You can either continue preparing other dishes or sit back, relax, and wait for your delectable beef stew to come together.
It requires minimal cooking skills: Your work is made easy—chop up the beef and vegetables, combine the seasonings and liquid, cover the lid, and let it cook. Plus, if you have an Instant Pot stand-by, you will be able to make the dish in half the time compared to the traditional technique.
Best Beef Stew Meat Recipes
Listed below is our highly-recommended collection of beef stew meat recipes. Do try them out and share your experience with us by leaving a comment.
What Are the Best Cuts of Beef for Stewing?
Beef cuts fall into two categories—tough and tender—and each serves different cooking purposes.
While tender cuts ( filet mignon, ribeye, tenderloin, etc.) are great for grilling, pan-searing, and braising, tough cuts work best for stewing. The high content of collagen-rich connective tissues  are broken down into gelatin once they are slow-cooked for hours; this helps tenderize the meat and thicken the broth.
Chuck: Due to its desirable toughness and medium-fat concentration, this lean shoulder cut is the first option that comes to mind whenever we plan to make beef stew.
Round: Bottom round cuts come from the outer legs of the cow. These are slightly tougher, lower in fat content than the chuck and somewhat less flavorful. However, this meat cut is relatively inexpensive, so if you have to work with a tight budget, we suggest choosing the round.
Brisket: Brisket point cut is another fantastic and economical beef choice for stewing as it possesses a good balance of lean muscles and fat. 
Sirloin: The toughness of sirloin lies between that of the chuck and the round. This cut leans on the more pricey side as it has a noticeable beefy taste. 
Seasonings
Here are some staple spices and herbs that will help accentuate the flavor of your beef stew meat.
Spices
Salt and black pepper: A pinch of salt and ground black pepper will do the trick for a wholesome beef stew.
Brown gravy mix: This spice blend imparts a robust flavor to your beef. You can purchase instant gravy mix at your local grocery store, or make it at home by combining beef bouillon granules, all-purpose flour, and pepper.
Paprika: Paprika gives your stew an alluring deep red hue and a tongue-tingling sensation. 
Cayenne powder: For those who are looking for a more impactive spicy punch, stir some in your pot of beef stew.
Herbs
Oregano: This Mediterranean-native herb goes naturally well with the stew. The earthiness and subtle bitterness of oregano add greater depth to your beef stew.
Bay leaves: Only a few bay leaves are enough to help enhance the taste of your broth. However, we recommend adding this ingredient near the end of the cooking process to ensure it doesn't turn bitter.
Thyme: It's the notes of peppermint, lemon, and pepper from this aromatic that make your stew taste warm and comforting. 
Rosemary: Rosemary's woody scent makes it a perfect fit for many beef dishes, such as steaks, soups, and stews.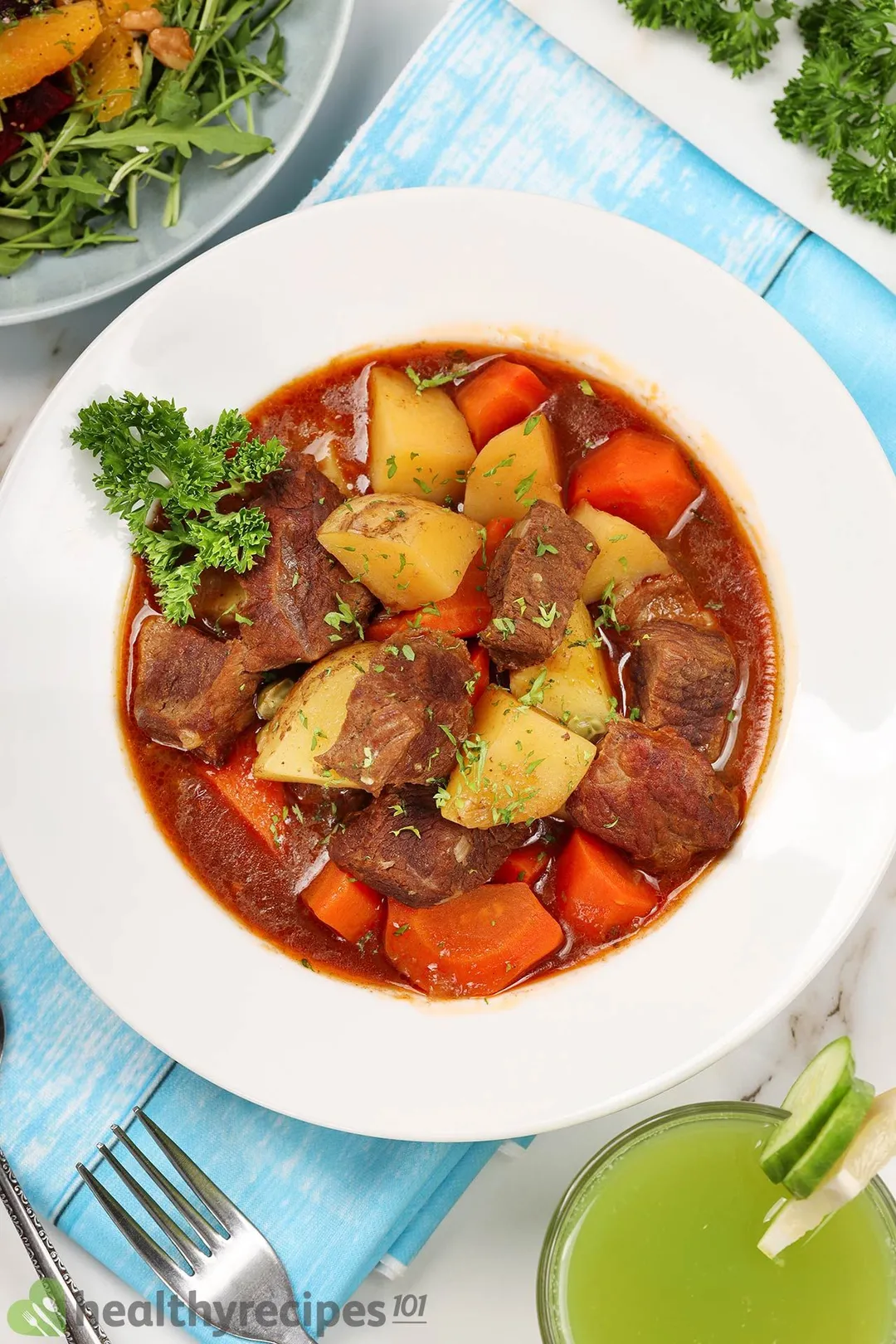 Beef Stew Meat Recipes
Today's beef stew meat round-up includes everything you need to prepare a wholesome dinner—from cooking tips to top-notch beef stew recipes.
Ingredients
Directions
Choose a recipe that you like.
Assemble all the essential ingredients.
Follow the instructions to give you incredibly tasty beef stew meat recipe in less than 1 hour!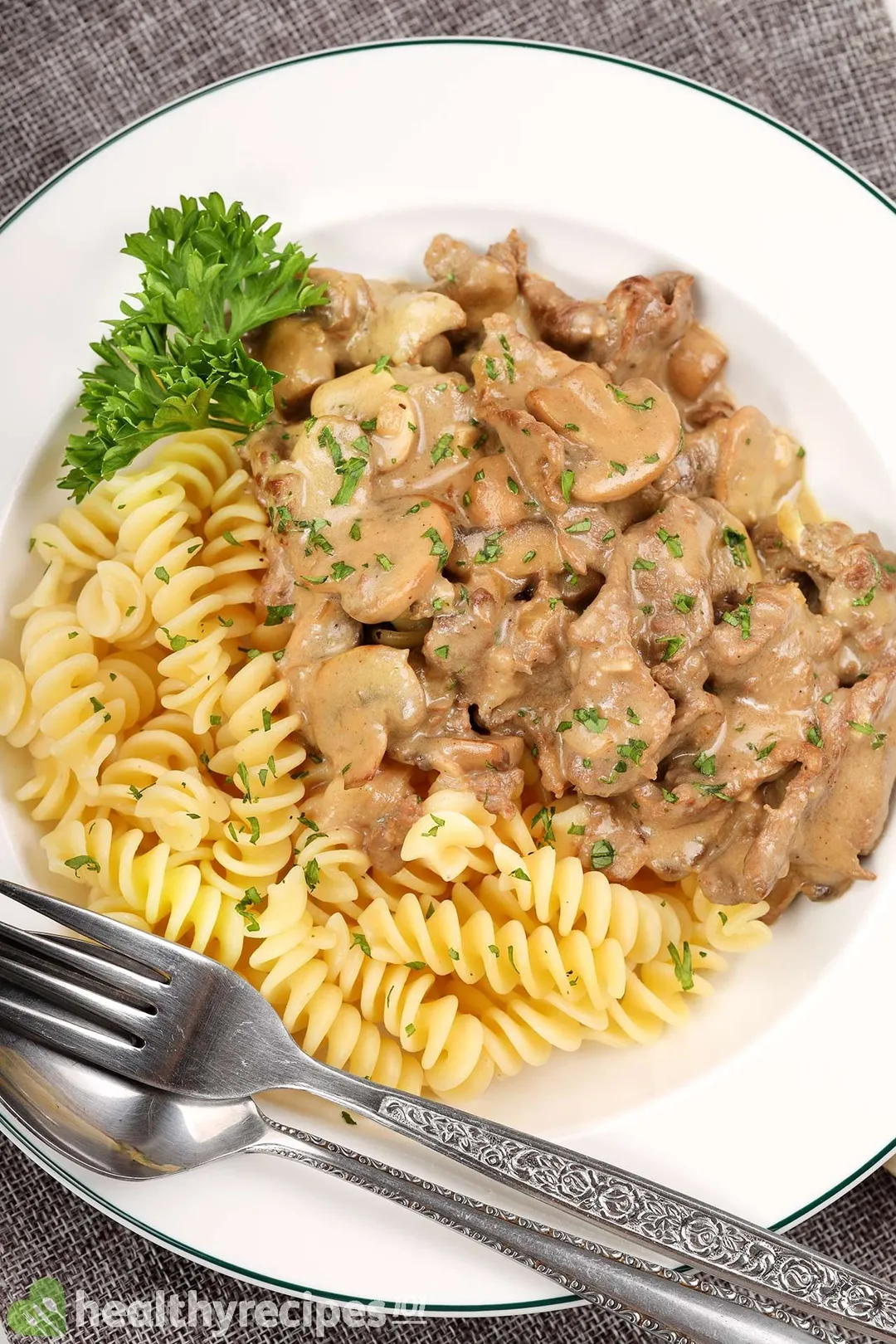 Next Recipe
Beef Stroganoff Recipes
Beef Stroganoff Recipes
Writer, Author
Luna Regina is an accomplished writer and author who dedicates her career to empowering home cooks and making cooking effortless for everyone. She is the founder of HealthyKitchen101.com and HealthyRecipes101.com, where she works with her team to develop easy, nutritious recipes and help aspiring cooks choose the right kitchen appliances.
Comments/ Reviews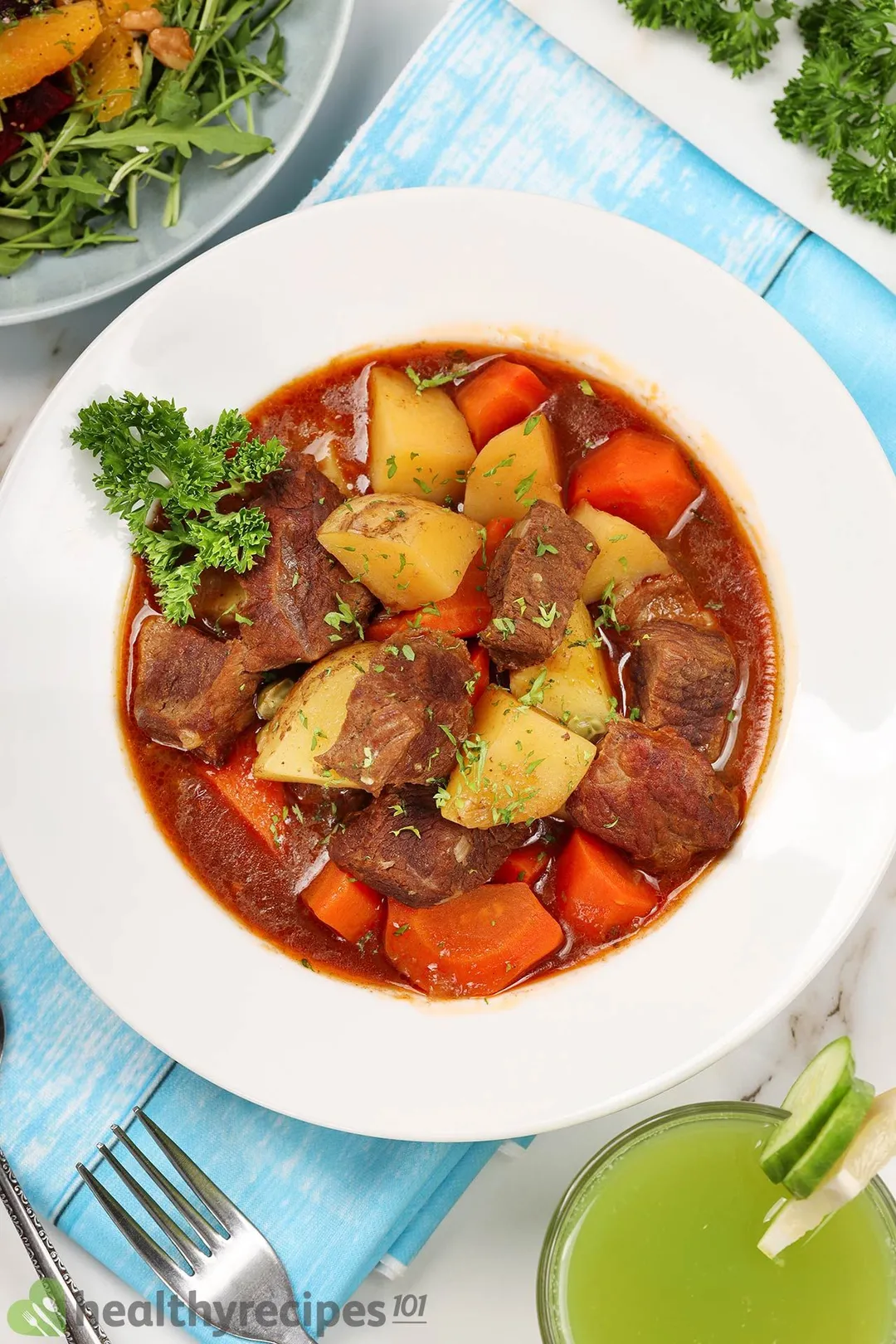 Beef stew meat is a flavorful and filling dish that's perfect for a cozy dinner at home.