Our chicken and cauliflower recipe features fresh vegetables and tender chicken; all stirred in a savory, creamy parmesan sauce. Each bite melts in your mouth with heavenly flavor, and a beautiful contrast of tender meat and crisp cauliflower.
This recipe will surprise your tastebuds with simple ingredients, especially when you're looking to keep your meal light and healthy. We also guarantee that it'll give you an unexpected edge this National Food Day (October 24th).
Is Chicken and Cauliflower Healthy?
Yes, our chicken and cauliflower recipe is relatively healthy.
In terms of ingredients, we use skinless chicken breast as it is low in fat and a great source of protein. Chicken skin is known for being fatty, making the skinless option one of the healthiest parts of this nutritious bird.
Cauliflower, on the other hand, is a powerhouse of vitamins and fiber. It helps strengthen bones, boost the cardiovascular system, and support general health.
Nutritionally, there are 496 calories in each serving of our chicken and cauliflower recipe. We paired the dish with a green salad and fresh juice drink to get a balanced and fulfilling 750-calorie meal.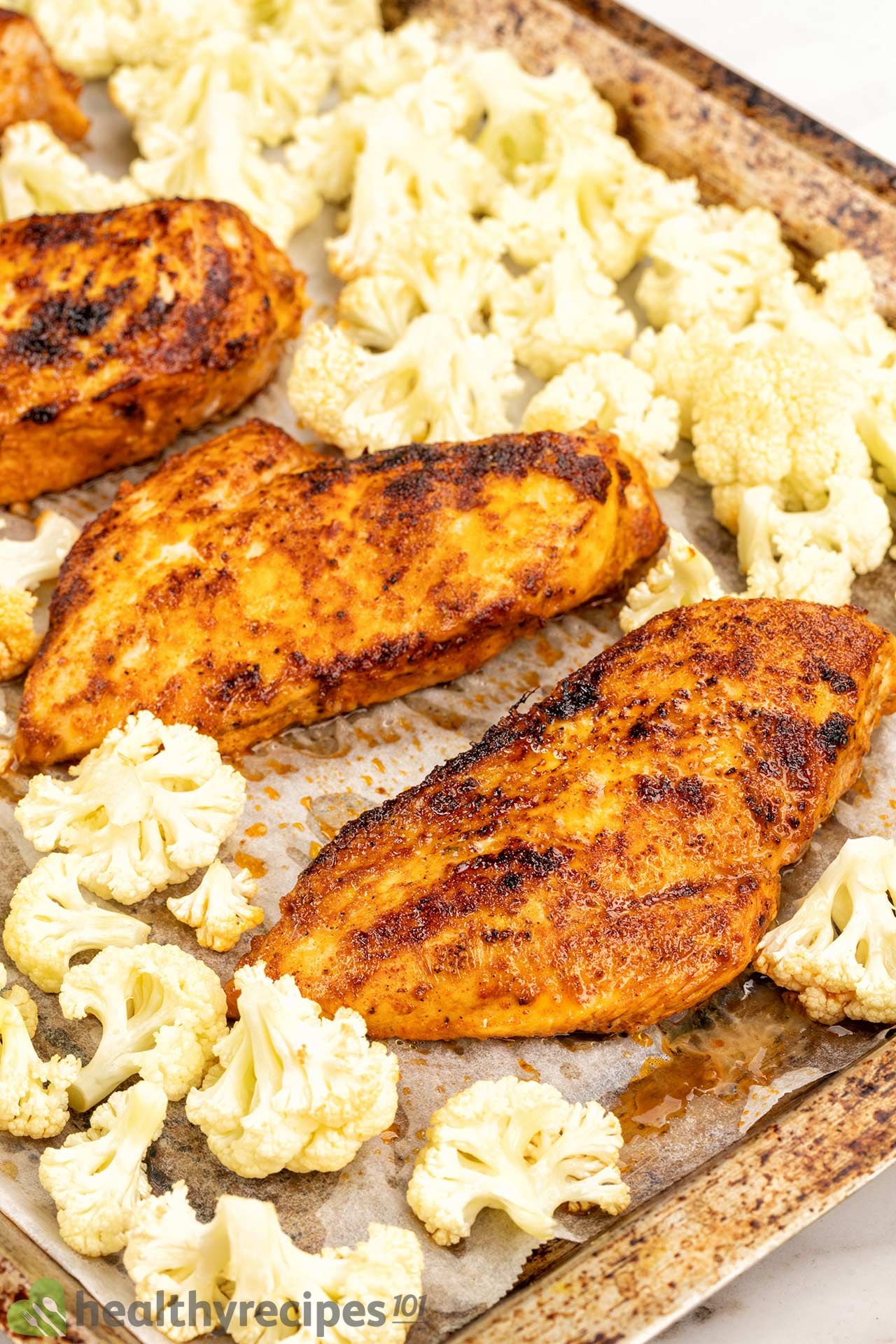 Each serving of our chicken and cauliflower also provides up to 57% of your recommended vitamin C intake and 60% of your advised daily vitamin K requirement. We also limit the amount of salt, butter, and cheese used in the recipe, so that the sodium and saturated fat content aligns with the USDA's Dietary Guidelines (while still being delicious).
Types of Chicken You Can Use
There are a variety of chicken meat cuts, and most of them are soft, juicy, and adaptable so that they can be used interchangeably in this chicken and cauliflower recipe. Here is a quick lowdown on the best cuts for this dish:
Chicken Breasts: Chicken breasts are one of the most popular parts of the chicken available in stores. The cut is rich in protein, low in fat, and so versatile, tasting delicious whether stuffed, oven-roasted, pan-fried, or in salad.
Chicken Thighs: Chicken thighs can be bought bone-in, skin-on, or boneless and skinless. Higher fat content makes the meat more tender and flavorful, so it's understandable why this cut is many people's favorite.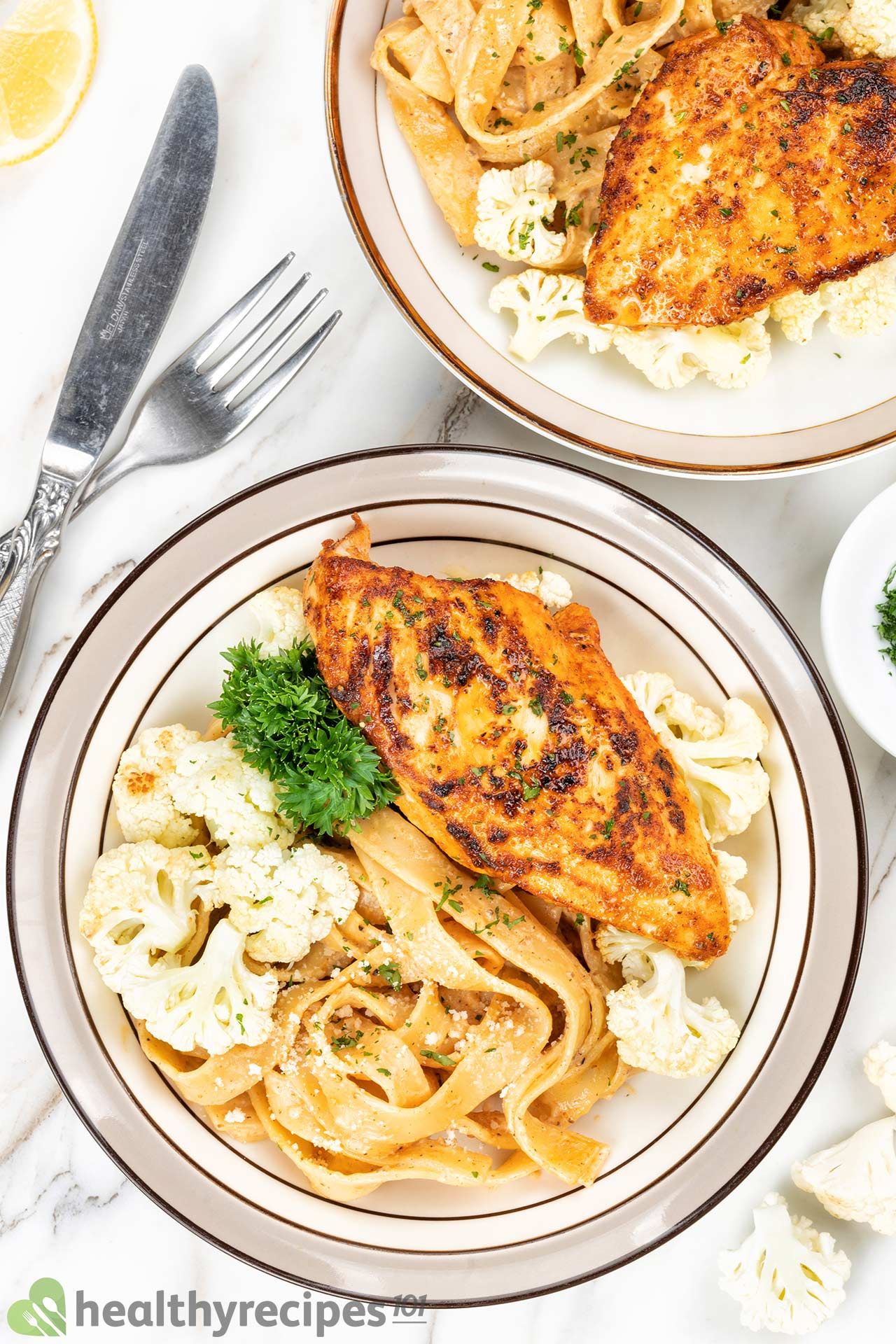 Main Ingredients
Chicken: Our preference for chicken and cauliflower recipe is chicken breast. Other substitutions that work well for the dish are chicken thighs and tenderloins.
Cauliflower: Cauliflower should be cut into small bite-sized florets to ensure they all cook through at the same rate.
Cheese: You can go with your favorite type of cheese here, but we advise good melters like Cheddar, fontina, Gouda, and parmesan. They will melt into a smooth and creamy sauce that is perfect to coat the pasta.
Lemon Juice: One secret to making ultra-tender and juicy chicken breasts is to add an acidity that balances out the finishing flavor. We often go with lemon juice or lime juice because these fruits are always readily available in the kitchen.
Seasoning: The blend we use to rub the chicken couldn't be simpler. All you need is salt, pepper, garlic powder, onion powder, paprika, and Italian seasoning. Salt and pepper flavor the meat, while the other additions add brighter flavors, greater aroma and a little sweetness.
Paprika adds a more complex dimension while also helping the meat achieve a golden brown color once baked in the oven. This homemade rub also works beautifully on other things like pork, beef, and seafood.
Dairy Products: Milk and heavy cream thicken the sauce and give a richness that brings the entire dish together.
Pasta: You can go with any type of pasta in your pantry, spaghetti or fettuccine. They are all delicious in this chicken and cauliflower recipe.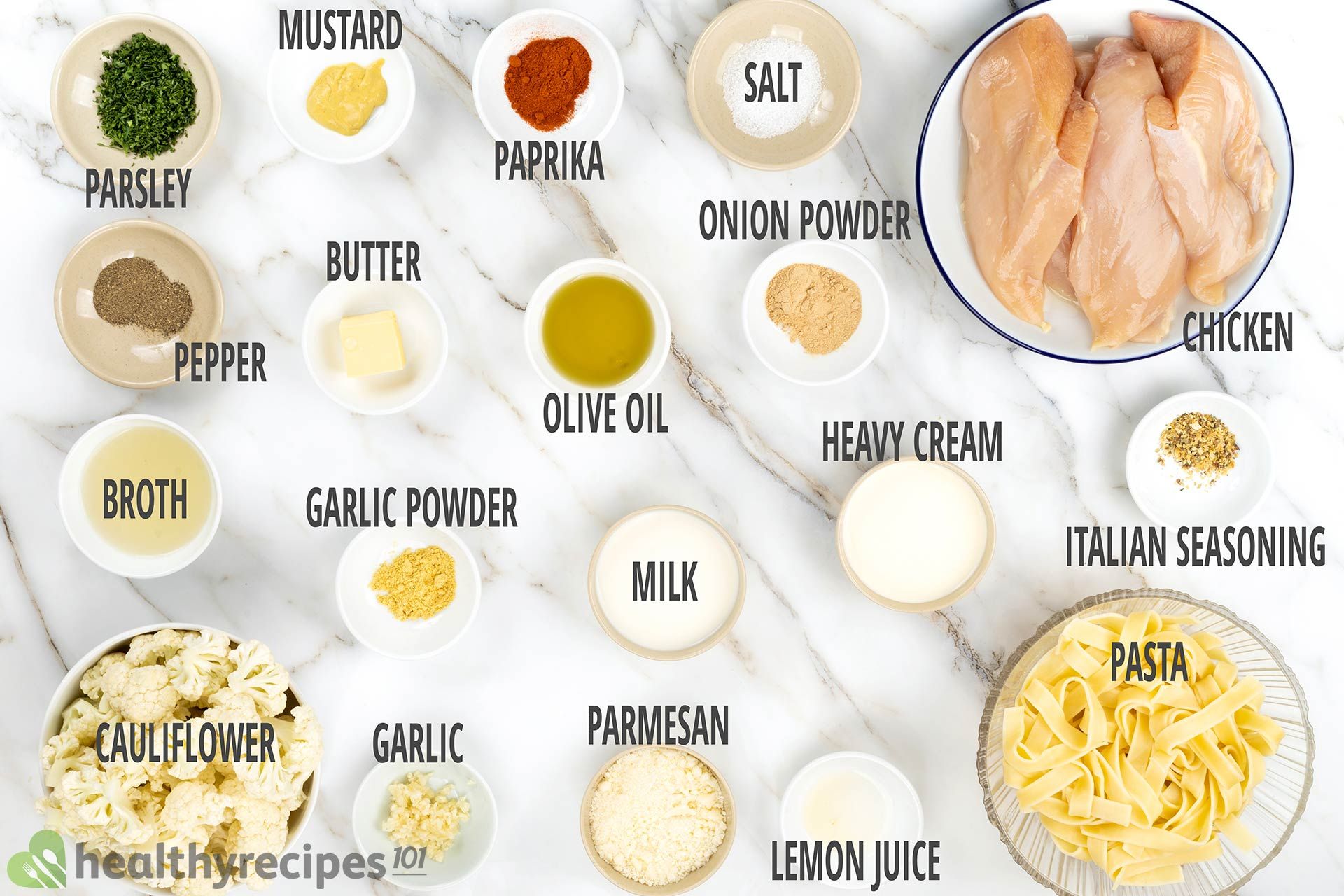 If you are craving some cauliflower ideas, check out our Kung Pao Cauliflower or Cauliflower Alfredo Recipe. They are simple, tasty and healthy, as with all recipes on our website!
How to Make Chicken and Cauliflower
These simple steps sum up how to make our delicious baked chicken and veggies with silky, rich sauce. Best of all, it's ready to eat in less than an hour.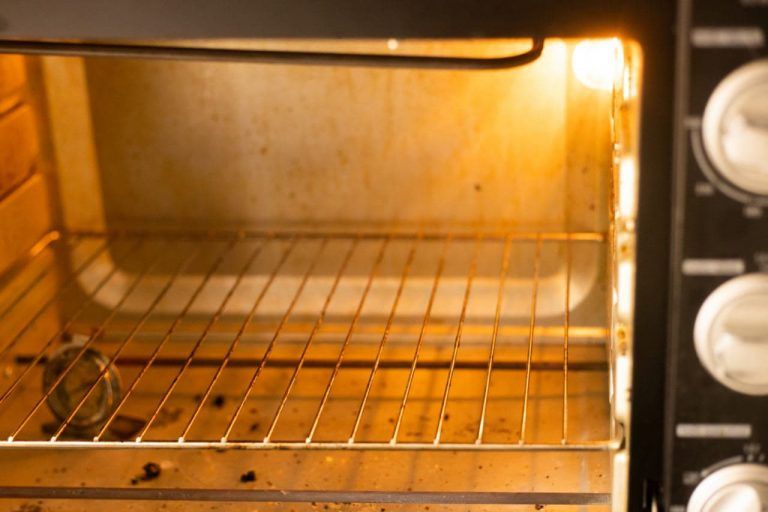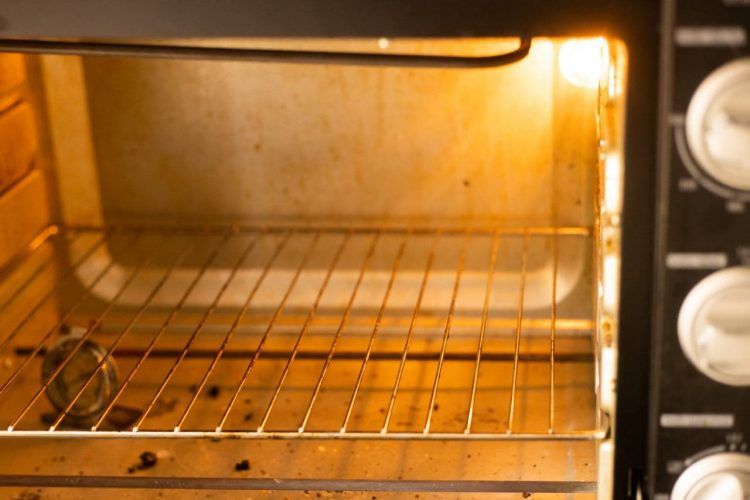 Preheat the oven to 400℉.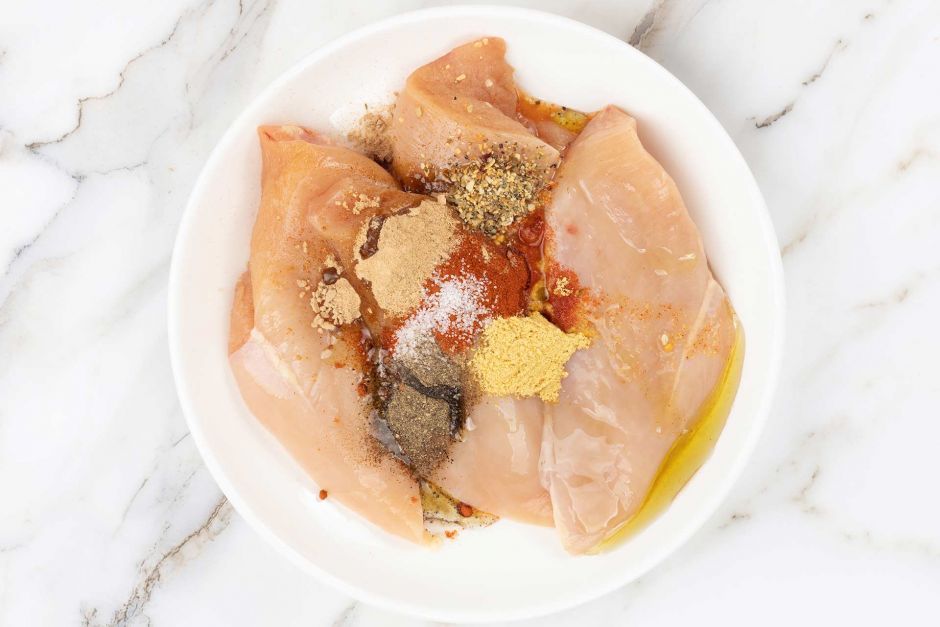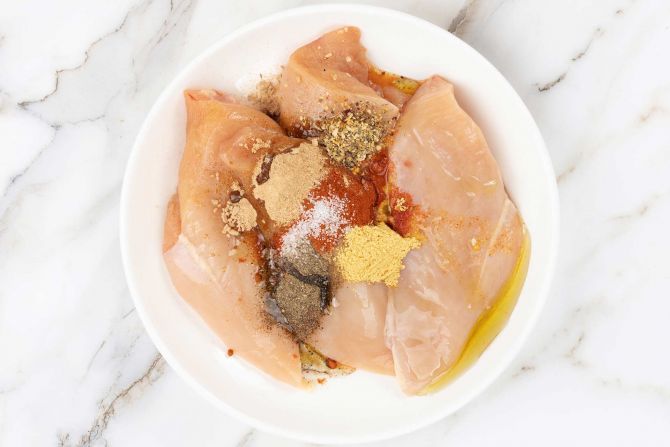 Season the chicken breasts.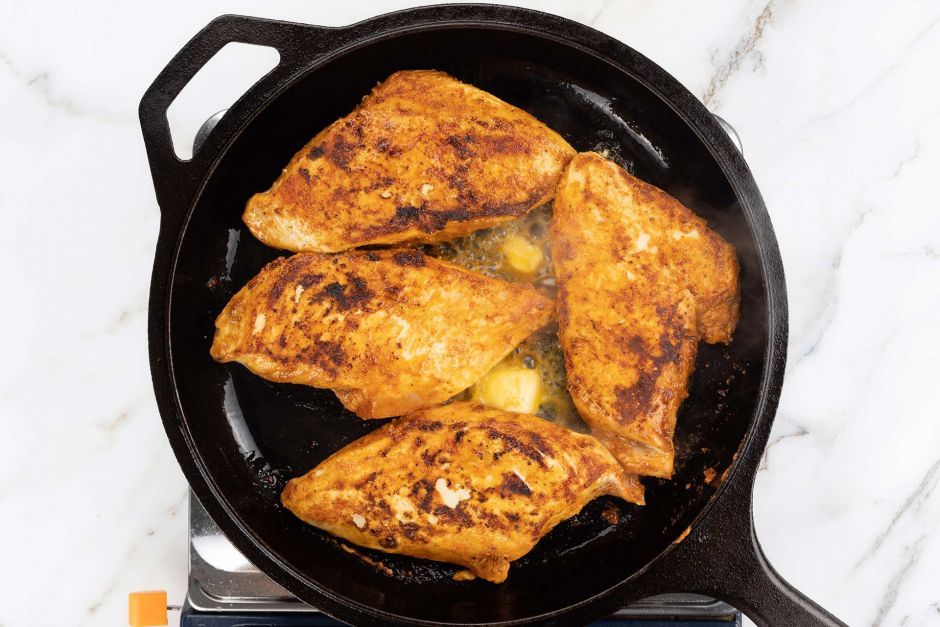 Sear the chicken.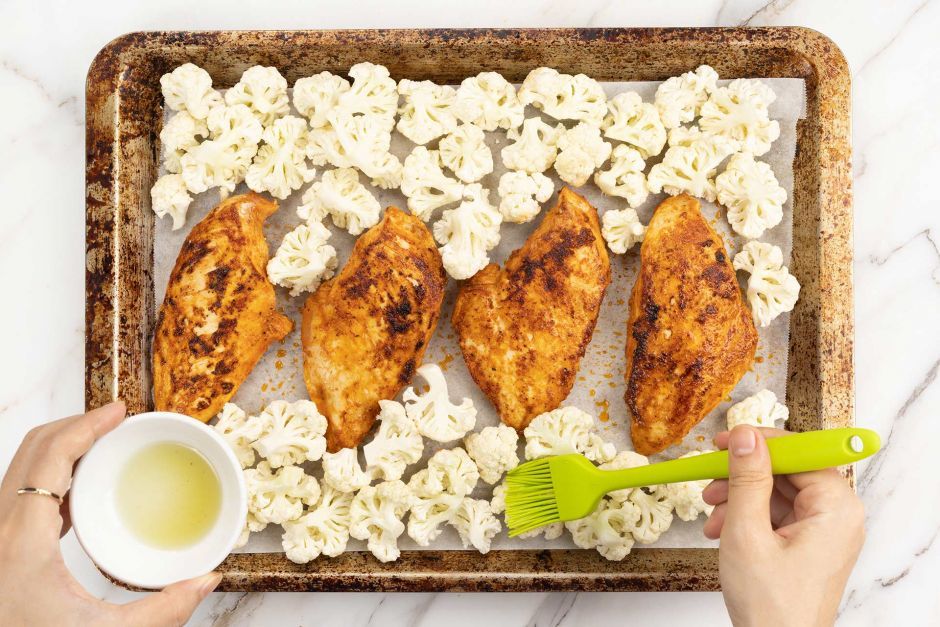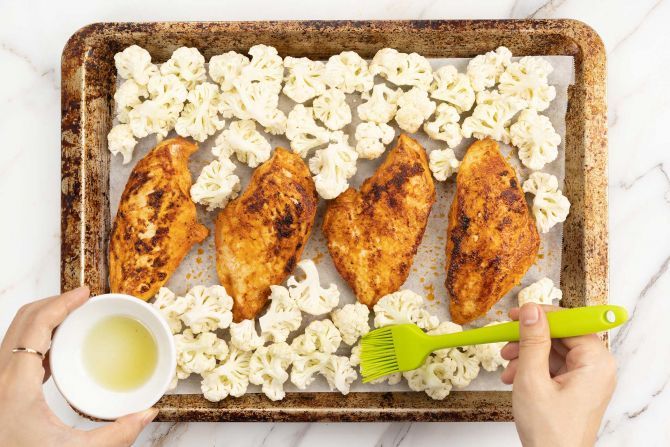 Brush the remaining olive oil on the veggies.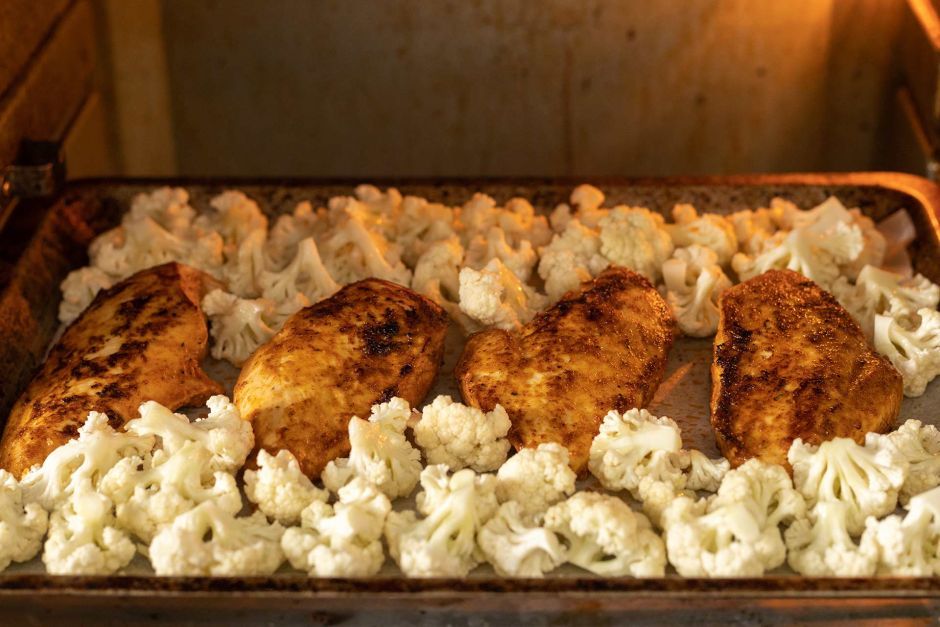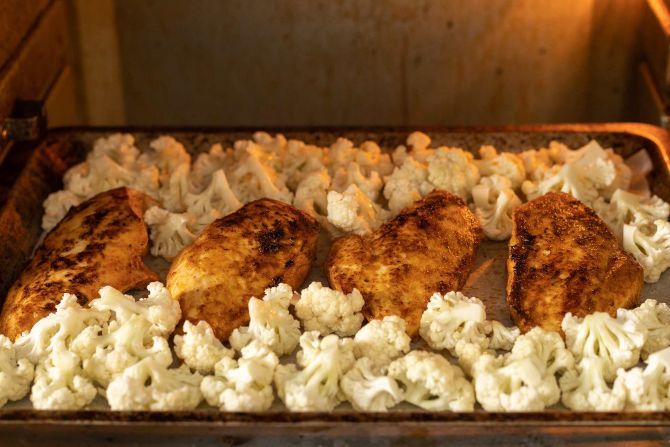 Bake the chicken with cauliflower.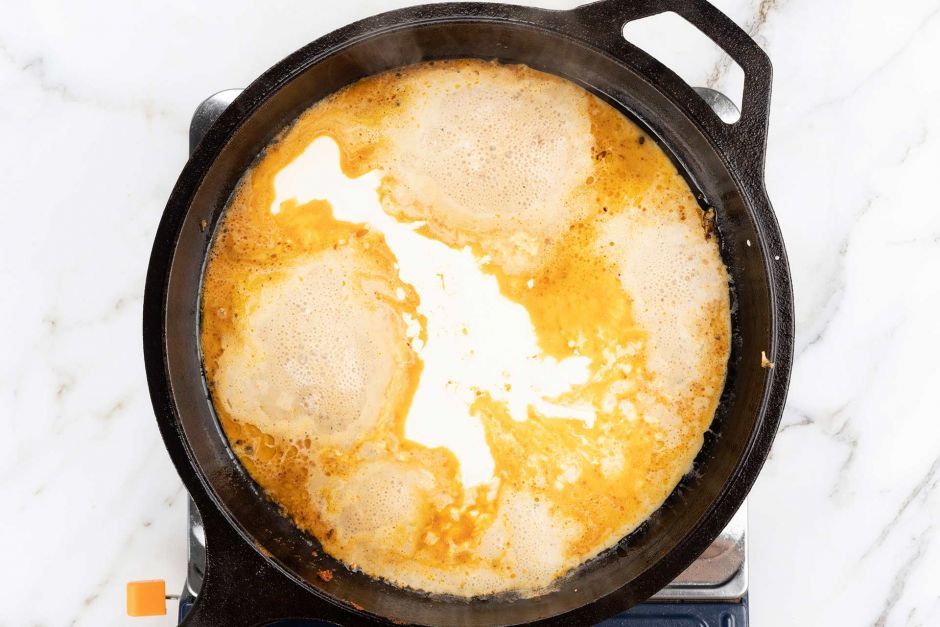 Coat the cooked pasta in the sauce.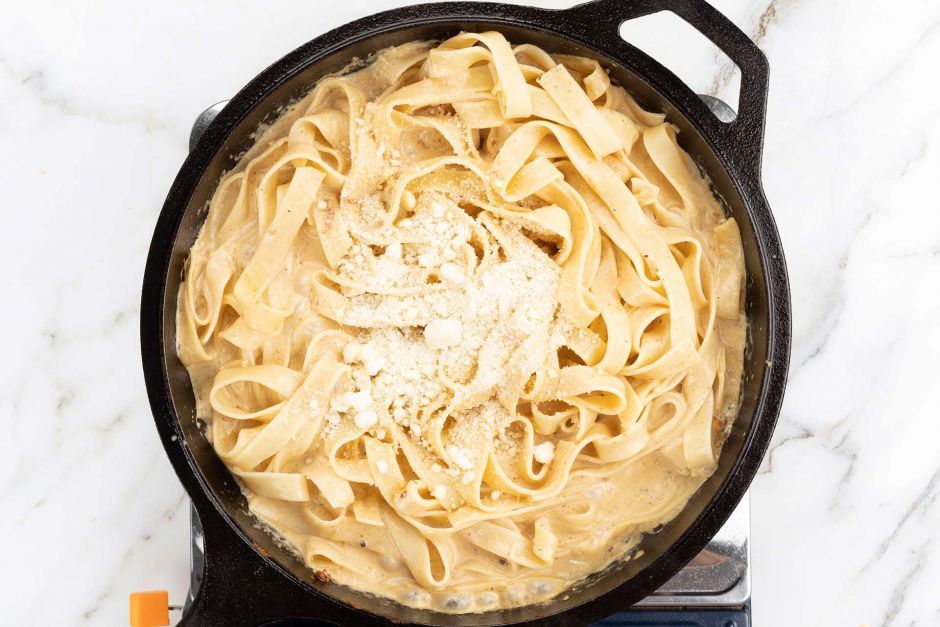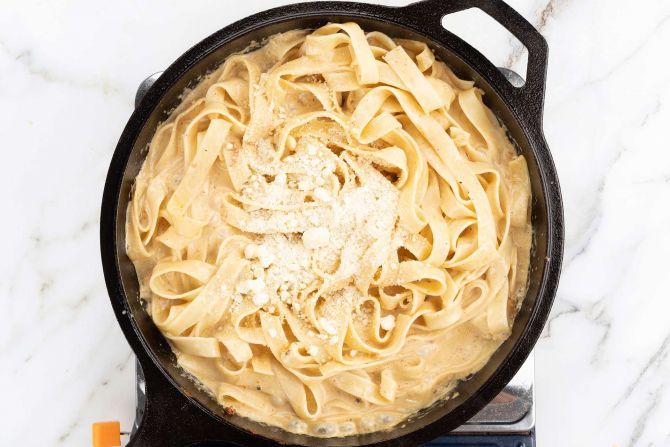 Coat the cooked pasta in the sauce.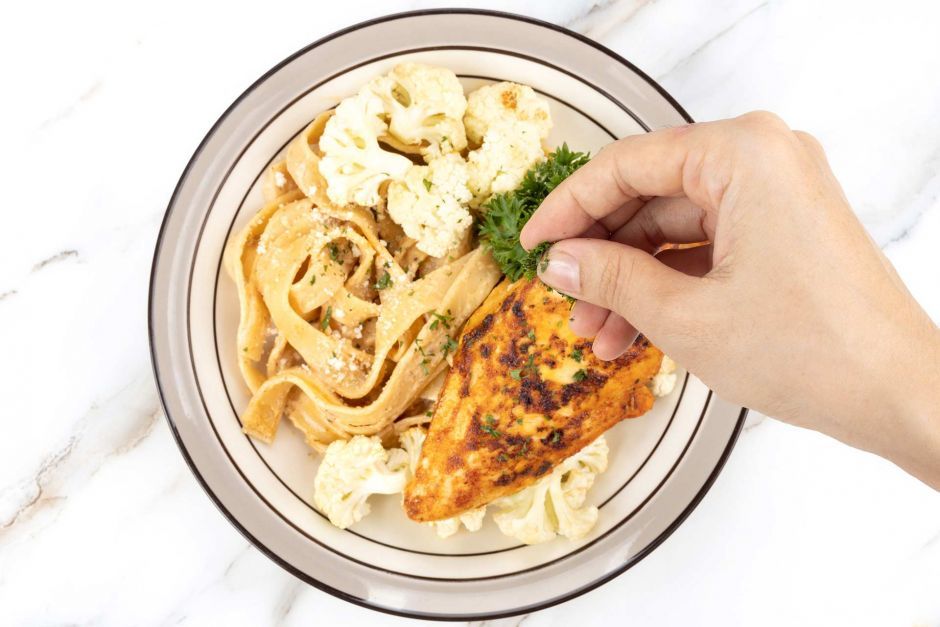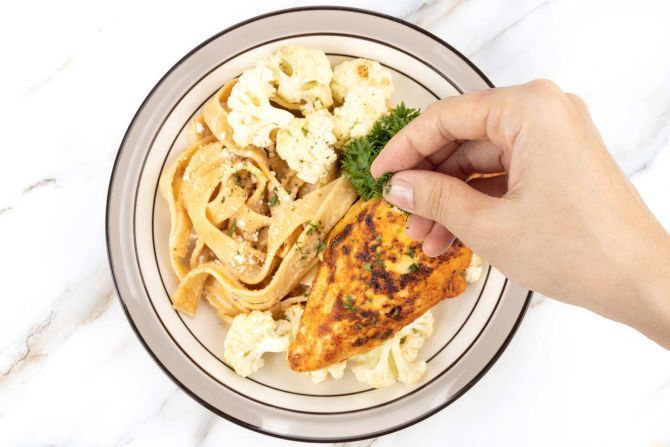 Garnish and serve.
How to Store and Reheat Chicken and Cauliflower
To store the food, place the chicken, veggies, and the sauce in separate containers and refrigerate for up to 2 – 3 days. We don't recommend freezing this chicken and cauliflower since the cream sauce may separate after being frozen.
To reheat, microwave the food or warm it in a covered skillet over low heat. Add a little water if necessary and cook, without boiling, until the meat and veggies are completely heated through.
What to Serve With Chicken and Cauliflower
To serve up this wholesome chicken dish, we recommend having a fresh contrast like green salad alongside bread, pasta, or rice to go with the creamy sauce.
Greek Salad: With crunchy lettuce, ripe tomatoes, and vinegar-olive oil dressing, greek salad is bursting with juicy, tangy flavor. It's the perfect contrast to the rich chicken and sauce. Plus, a salad full of vitamins and minerals is always a great addition to any meal.
Lime Watermelon Juice: We combined a fresh lime watermelon juice with sweet and tangy notes to lighten up the meal and refresh your taste buds.
Nutritional values in this table vary somewhat to those below due to different app calculations. Read more...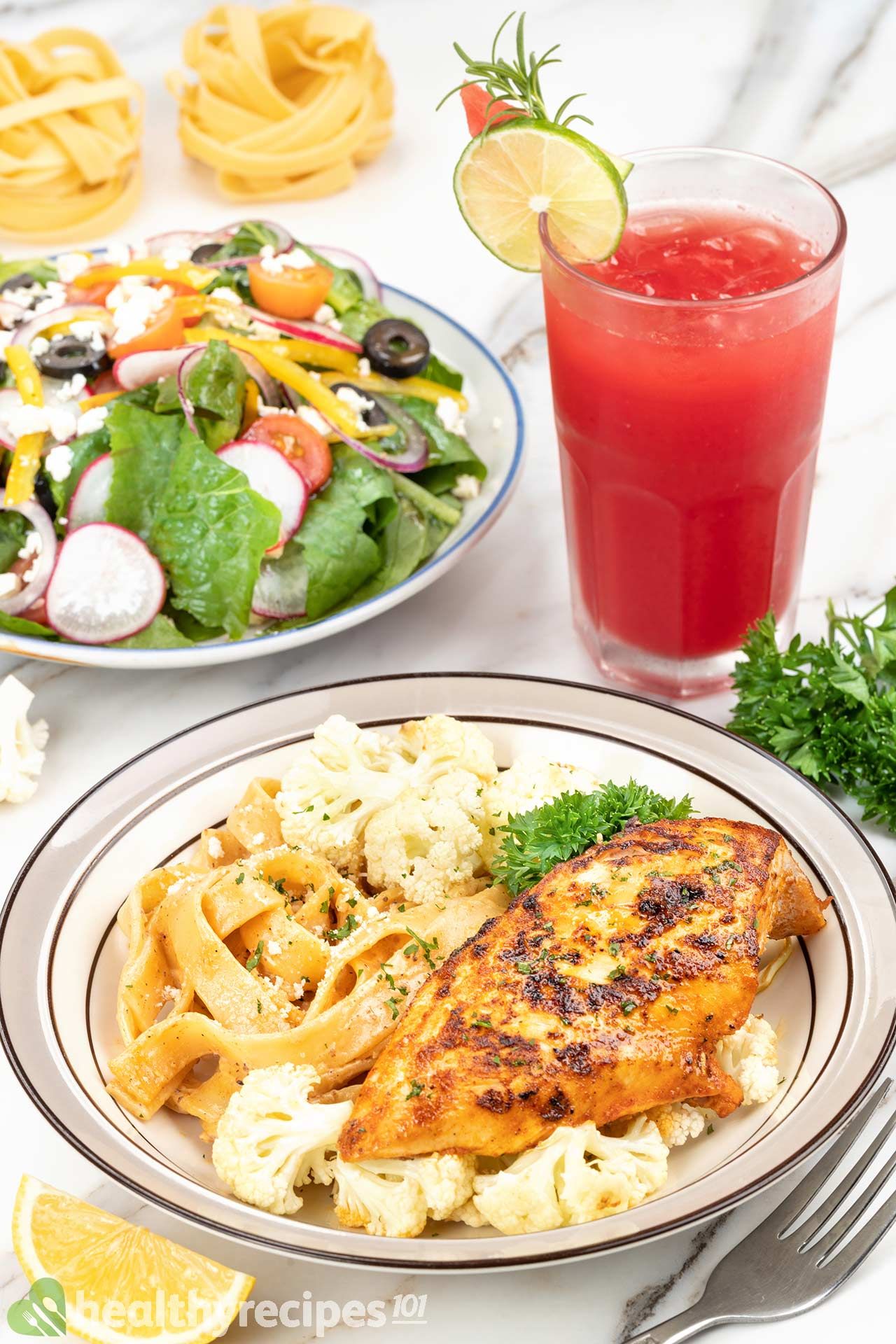 If you're interested in other cauliflower recipes as healthy as this one, we've got some seriously delectable ones: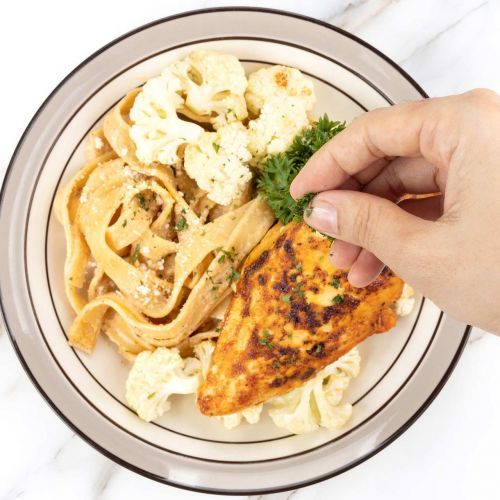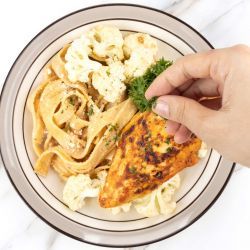 Chicken and Cauliflower Recipe
This chicken and cauliflower recipe is an easy way to get a hearty yet healthy dinner ready on the table without much time and effort.
Ingredients
22

oz

skinless boneless chicken breast

1/2

tsp

onion powder

1

tsp

paprika

1/2

tsp

garlic powder

1/2

tsp

salt

divided

1/2

tsp

ground pepper

1

tsp

lemon juice

1/2

tsp

Italian seasoning

1 1/2

tbsp

olive oil

divided

1

tbsp

unsalted butter

divided

14

oz

cauliflower

1

tbsp

garlic

chopped

1/4

cup

unsalted chicken broth

4

tbsp

heavy cream

1

oz

shredded parmesan cheese

1/4

cup

milk

10

oz

cooked fettuccine

2

tbsp

parsley

chopped
Instructions
Preheat the oven to 400℉.

Rub 22 oz skinless boneless chicken breast with 1/2 tsp onion powder, 1 tsp paprika, 1/2 tsp garlic powder, 1/4 teaspoon of salt, 1/2 tsp ground pepper, 1 tsp lemon juice, and 1/2 tsp Italian seasoning. Set aside.

In a pan, sear the chicken with 1/2 tablespoon of olive oil over medium heat for 2 minutes on each side. Add 1/2 tablespoon of butter while cooking the chicken in the pan.

Transfer the chicken and 14 oz cauliflower florets to a baking sheet. Brush the remaining olive oil on the veggies.

Put the baking sheet into the preheated oven and bake for 20 minutes.

Meanwhile, set the pan back to medium-high heat, add the remaining butter and let it melt. Add 1 tbsp garlic and cook until fragrant.

Add 1/4 cup unsalted chicken broth, the remaining salt, 4 tbsp heavy cream, 1 oz parmesan cheese, 1/4 cup milk, 1 tsp Dijon mustard, and 10 oz cooked fettuccine to the pan. Stir for about 1 minute until the pasta is coated in sauce. Transfer the pasta to plates.

Remove chicken and cauliflower from the oven. Arrange on the plates with the pasta. Garnish with chopped 2 tbsp parsley and serve.
Nutrition
Nutrition Facts
Chicken and Cauliflower Recipe
Amount Per Serving (1 serving)
Calories 496
Calories from Fat 189
% Daily Value*
Fat 21g32%
Cholesterol 145mg48%
Sodium 560mg24%
Potassium 940mg27%
Carbohydrates 30g10%
Protein 45g90%
Vitamin A 508IU10%
Vitamin C 52mg63%
Calcium 166mg17%
Iron 2mg11%
* Percent Daily Values are based on a 2000 calorie diet.