Our healthy version of ground chicken lasagna will clear up any misconception people may have about this baking dish. 
Our chefs season ground chicken with simple spices and herbs before simmering it in a homemade tomato sauce. Meanwhile, whole flour, olive oil, and whole milk are whisked together in another pan to form a creamy white sauce. Once the sauce, ground chicken, and pasta are ready, we assemble the lasagna in a baking dish, then pop it in the oven to cook.
When the lasagna is baked to perfection, you will have rich, cheesy, and savory goodness for dinner.
Is This Recipe Healthy?
There's a common assumption held among healthy eaters that lasagna dishes contain tons of carbs and fat, making it an unhealthy meal choice. However, today's ground chicken lasagna recipe, which strictly follows our nutrition guidelines, proves that this baked goodness can be healthy too.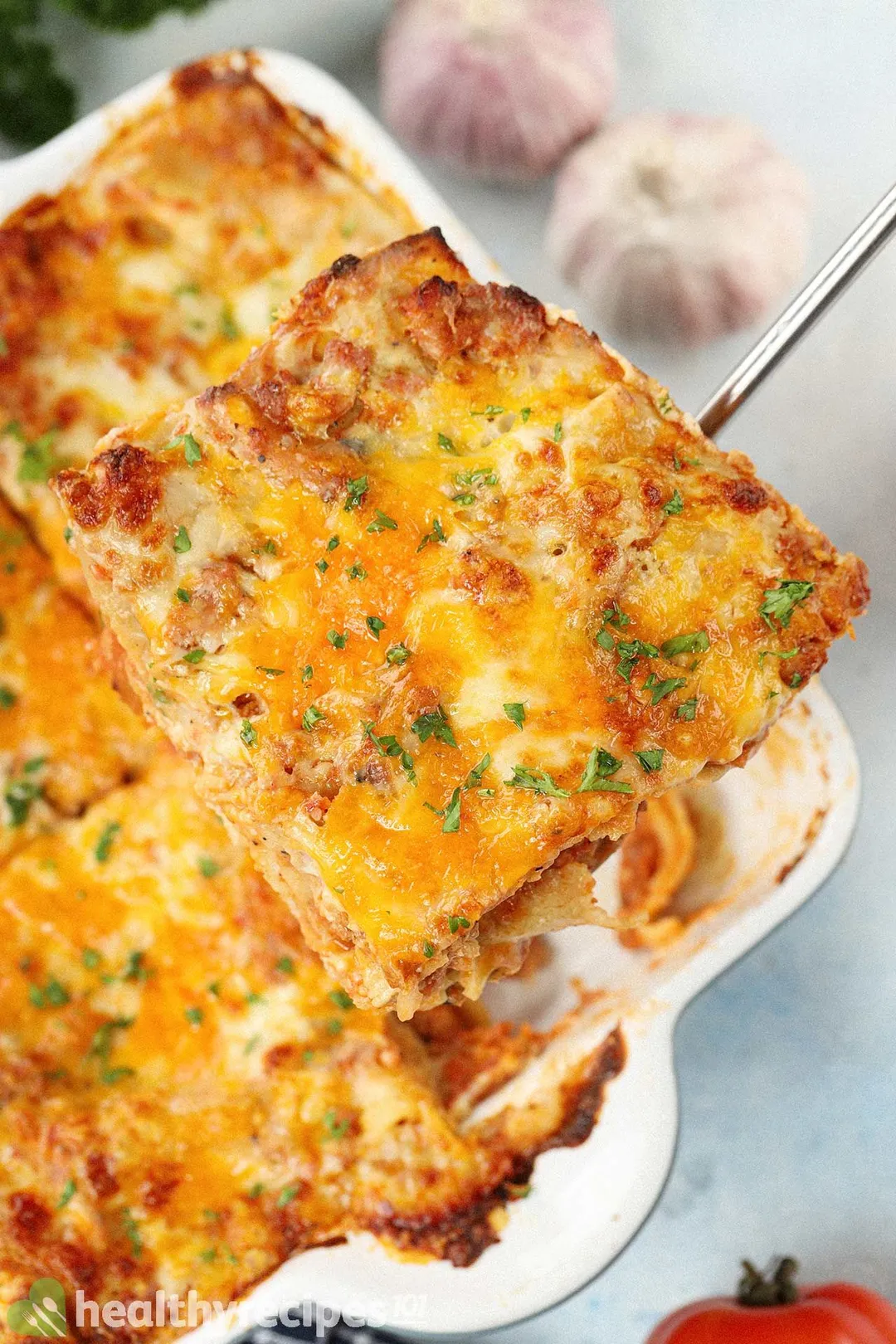 Let's take a look at an overview of the nutrition profile.
Despite being a dairy-rich dish, each serving of ground chicken lasagna yields only 502 calories with 7.3 g saturated fat and around 585 mg sodium—quite decent for the main course.
Thanks to the ground chicken, mozzarella, and cheddar cheese, you will gain approximately 32.7 g of high-quality protein per serving. Besides, dairy products help boost your calcium, which improves your bone health.
Main Ingredients
Here are some of the main ingredients you'll need:
Chicken: Though chicken thighs are slightly higher in fat than chicken breasts, still, it is a great source of lean protein. Moreover, thanks to its higher fat-to-protein ratio, chicken thighs are more forgiving to work with—lowering the risk of overcooked, dried ground chicken.
Lasagna sheets: For convenience, our chefs opt for oven-ready lasagna sheets. If you can only find the regular kind at the grocery store, cook it until a little under al dente (half of the suggested time on the packaging), and it will work fine.
Onions and garlic: The combination of sautéed garlic and onion create the foundation for many pasta sauces.
Homemade tomato sauce: Instead of buying store-bought tomato sauce, which may contain a considerable amount of preservatives, we made ours from scratch for an authentic taste. 
Flour: We vigorously whisk together all-purpose flour and olive oil at a 2:1 ratio to form a roux for the white sauce.
Whole milk: Whole milk per se does a great job at adding creaminess to the lasagna. However, if you don't mind a few extra calories, add some heavy cream to your white sauce for a richer flavor.
Cheese: Our chefs stick with the classics—shredded cheddar and mozzarella cheese.
Spices and herbs: The flavorings include Cajun seasonings, salt, black pepper, and oregano.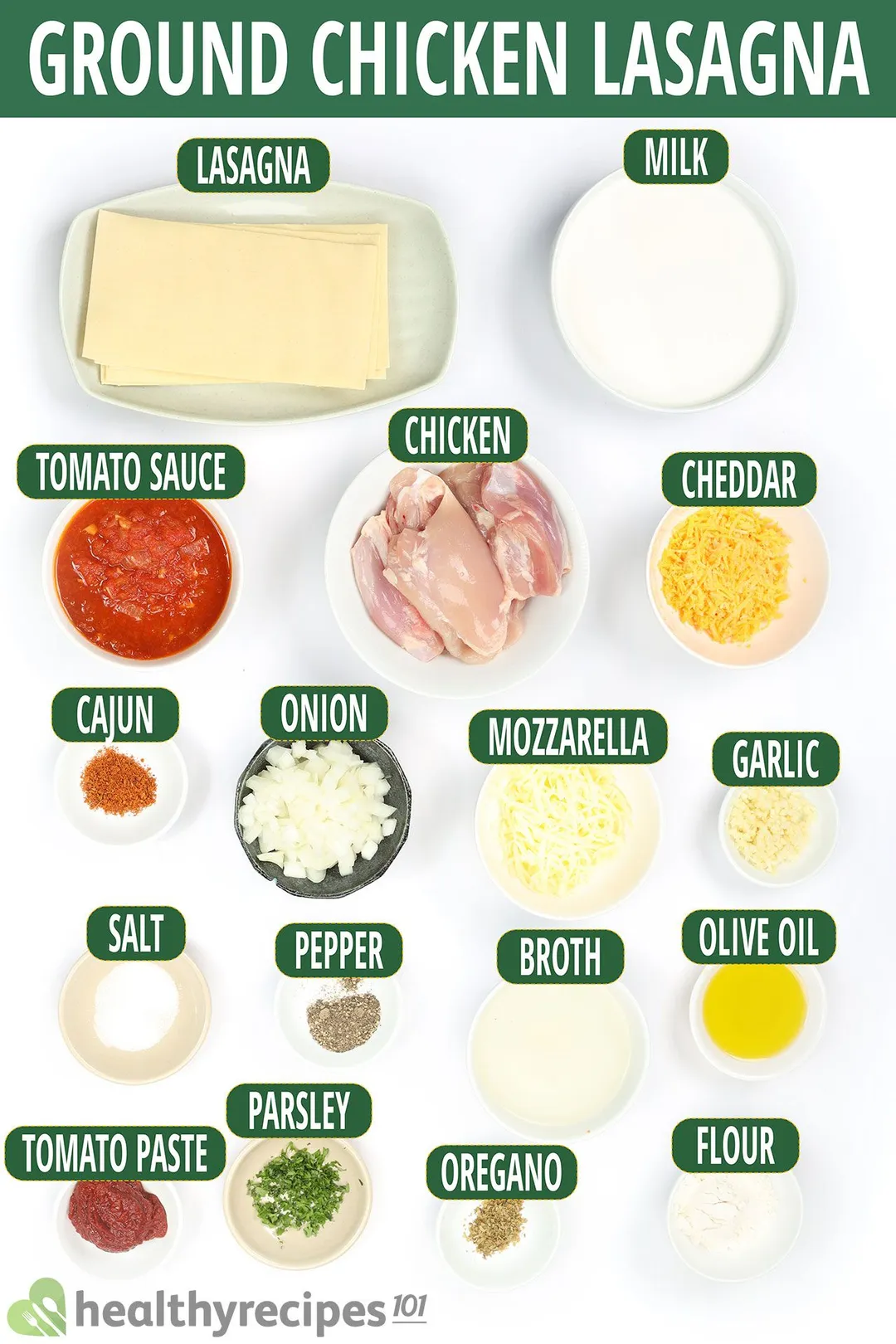 How Long to Cook Lasagna
We bake the ground chicken lasagna twice at two different temperatures:
At 400°F: Starting with the lower temperature will allow all the ingredients to cook through. We carefully cover the top of the lasagna with aluminum foil to protect its surface from direct heat, then bake for 30 minutes.
At 480°F: After half an hour of baking, we remove the cooked lasagna from the oven and add the cheese. To ensure the cheese is melted and caramelized, we place the dish on the top rack of the oven and bake it again at 480°F for 5 minutes.
What to Serve With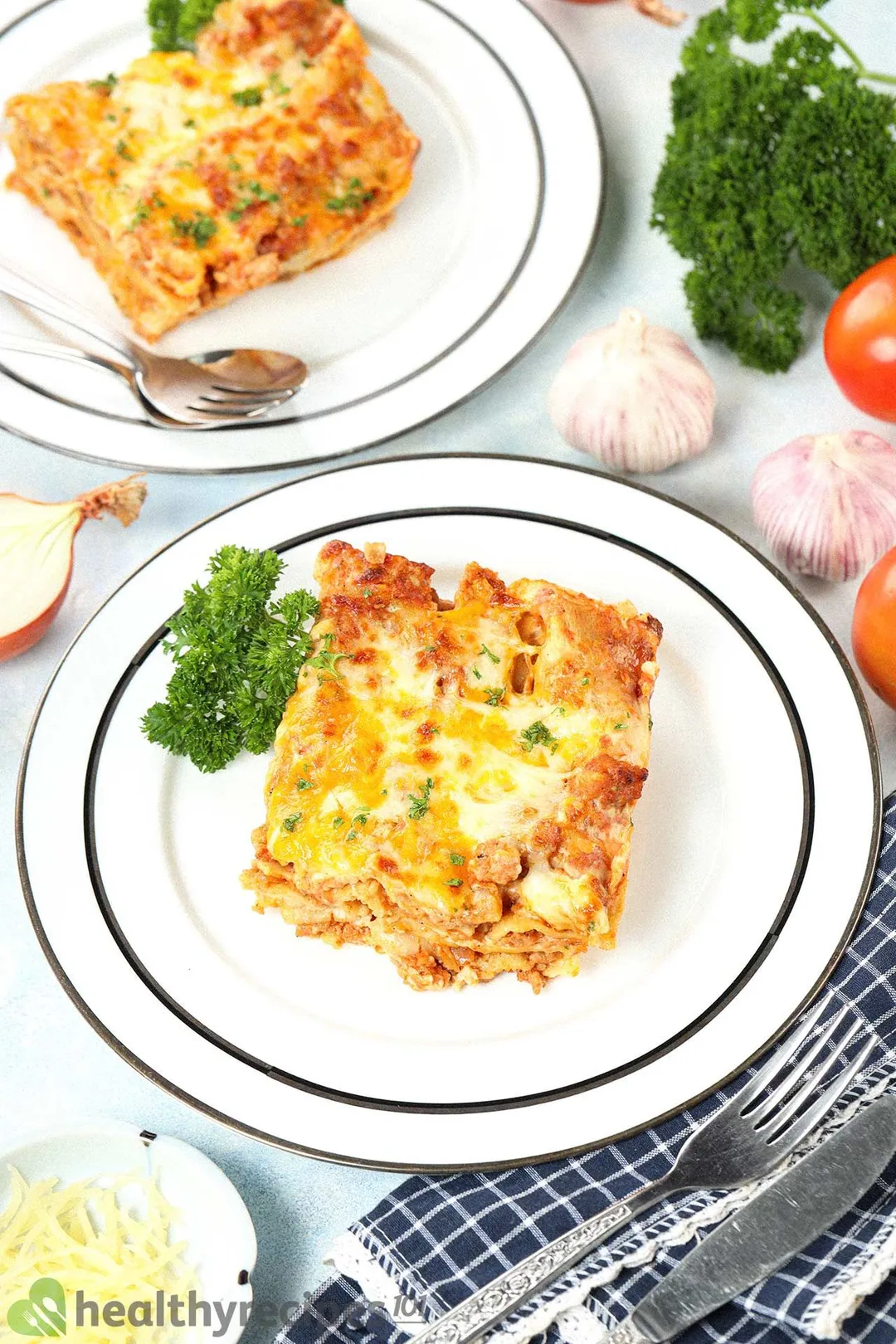 Pastas with Chicken Only
This chicken spiedini recipe will show you how to make this Italian dish at home. It's skewers of marinated chicken grilled to perfection and served with pasta.
This chicken lasagna recipe is a comforting creamy dish with light flavors and isn't greasy at all. You just have to layer savory ground chicken, fresh spinach, luscious milk sauce, and melted cheese in a baking dish, then bake, serve, and enjoy.
Ground Chicken Lasagna
Today's ground chicken lasagna offers a nutritious and delicious meal with ground chicken, cheese, and pasta.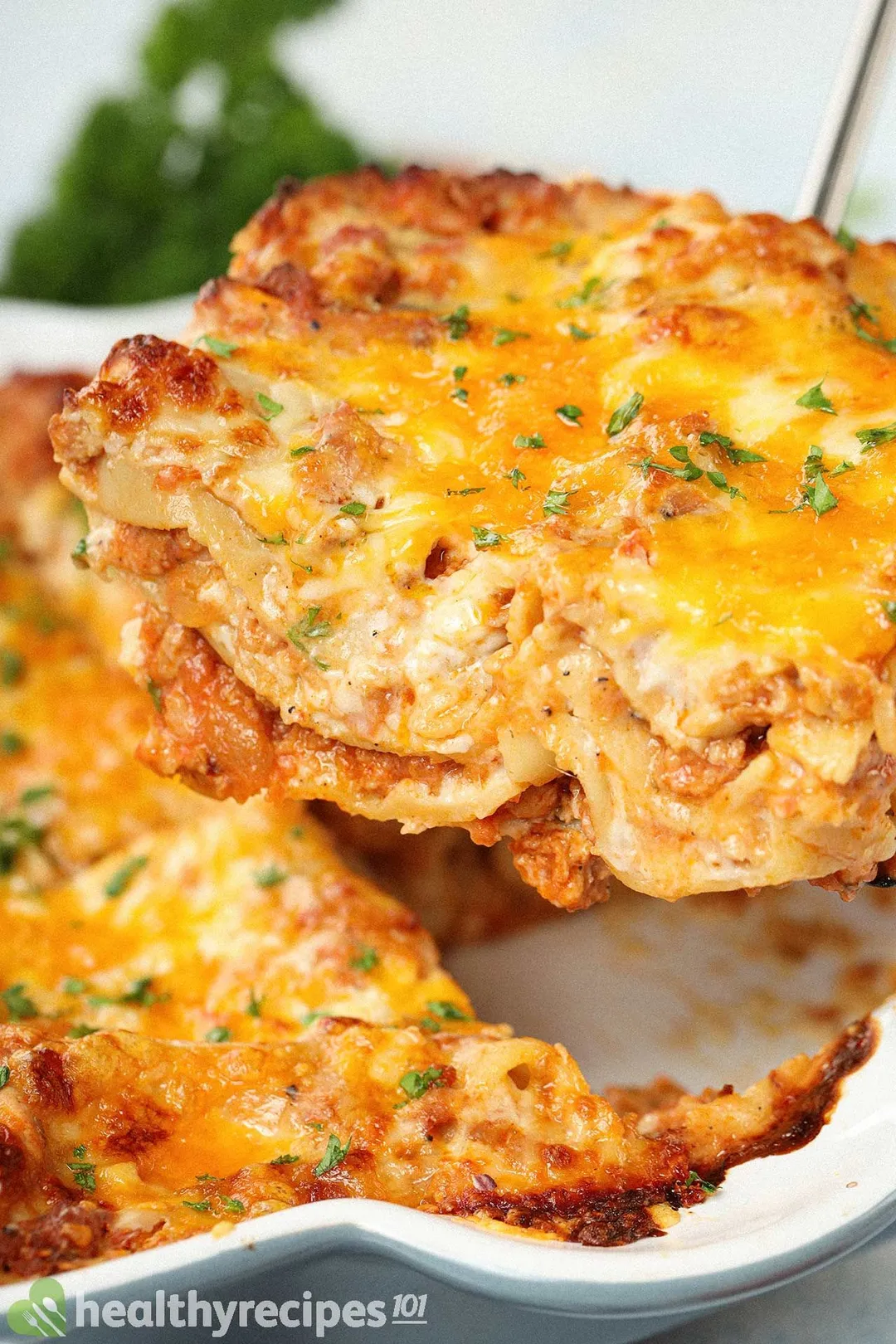 cook TIME

53 mins

prep TIME

7 mins

total TIME

1 hr
COURSE

Main

CUISINE

American, Global

SERVINGS

CALORIES

498 kcal
INGREDIENTS
14 oz

skinless boneless chicken thigh

1 oz

cheddar cheese

(shredded)

1 oz

mozzarella cheese

(shredded)

1/2 cup

unsalted chicken broth

3/4 cup

homemade tomato sauce

2 tbsp

Hunt's tomato paste
INSTRUCTIONS
Prep:
1
Place the chicken thigh skin-side down on a cutting board. Use a sharpened knife to slice under and cut along the back of the bone. Discard the bone. Pull off the skin of the chicken thighs with your hand; discard the skin. Cut the skinless, boneless chicken thighs crosswise into strips, then slice those strips into small chunks. Grind those chunks in a food processor.
2
Halve the onion and peel away the skin. Trim one end and lay the halved onion face down. Make vertical slices, 1/8 inch apart, such that you cut towards the root; leave about 1/8 inch at the end so the root stays intact. Turn the half 90 degrees and grip the root. Slice the onion horizontally, again leaving 1/8 inch at the end to keep the root intact. Slice the onion into small, even cubes. Discard the root.
3
Finely mince the peeled garlic.
4
Finely chop the fresh parsley.
Cook:
1
Sauté the garlic and onion: Place a large non-stick pan over medium heat. Add 1 tbsp olive oil, 2 tbsp minced garlic, and 4 oz diced onions. Sauté until the garlic is fragrant and the onions are translucent for 1 minute.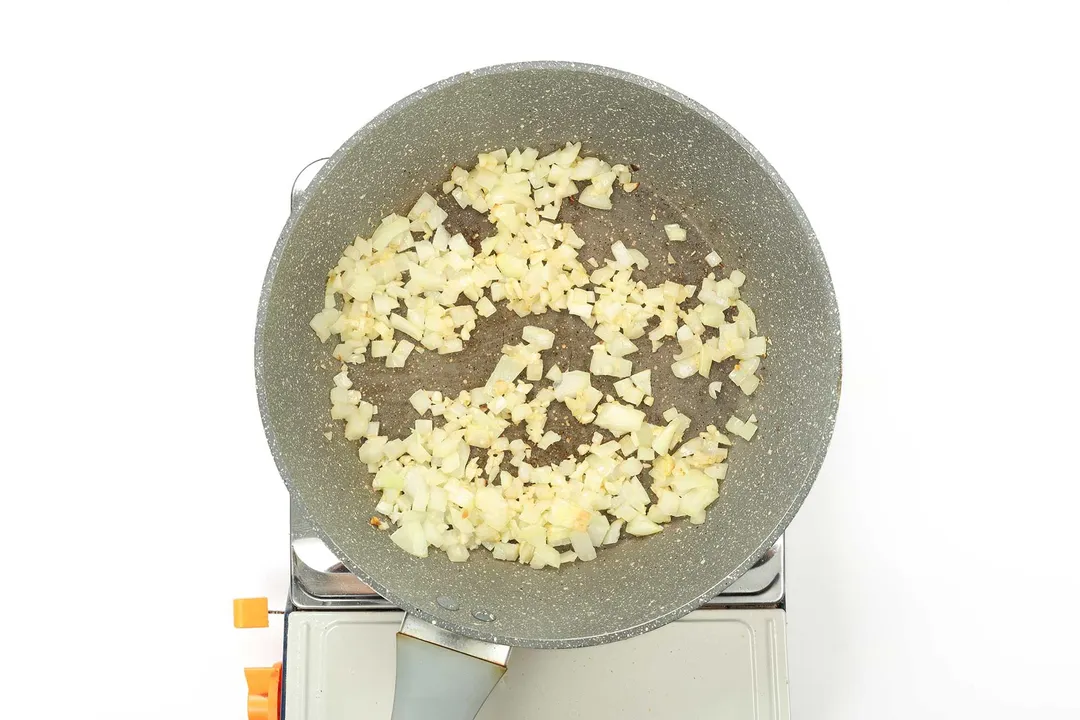 2
Add the tomato paste: Add 2 tbsp of Hunt's tomato paste to the non-stick pan. Mix well for 30 seconds.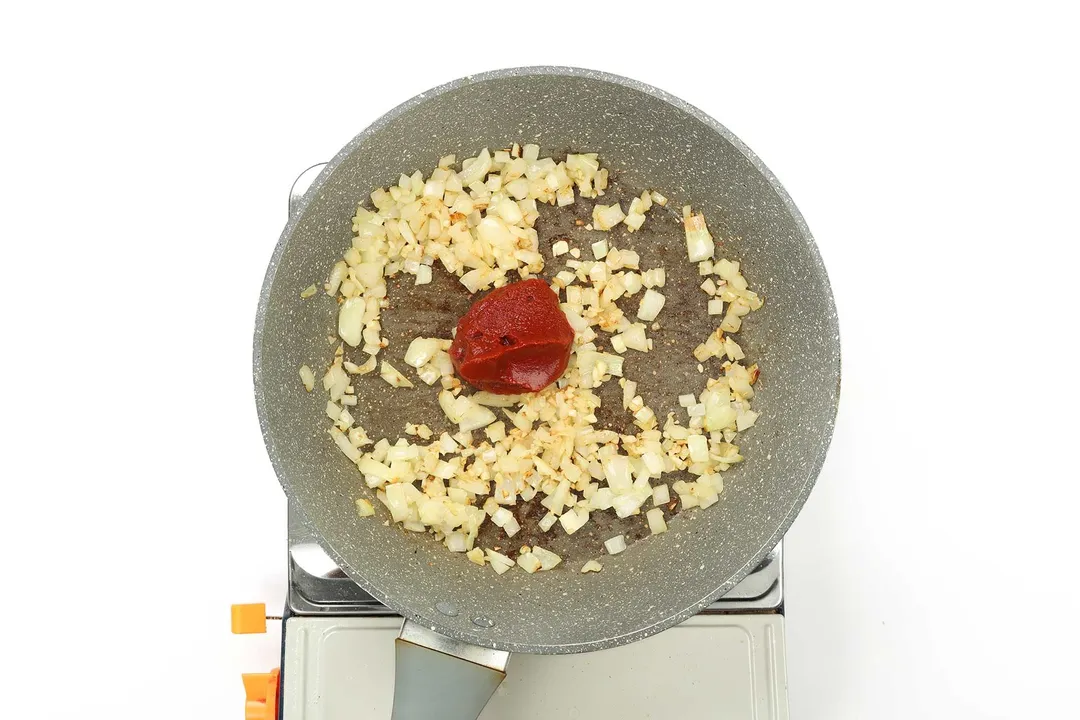 3
Add the ground chicken: Add 14 oz ground chicken. With a silicone spatula, stir and chop the ground chicken vigorously to cook for 5 minutes to prevent it from clumping.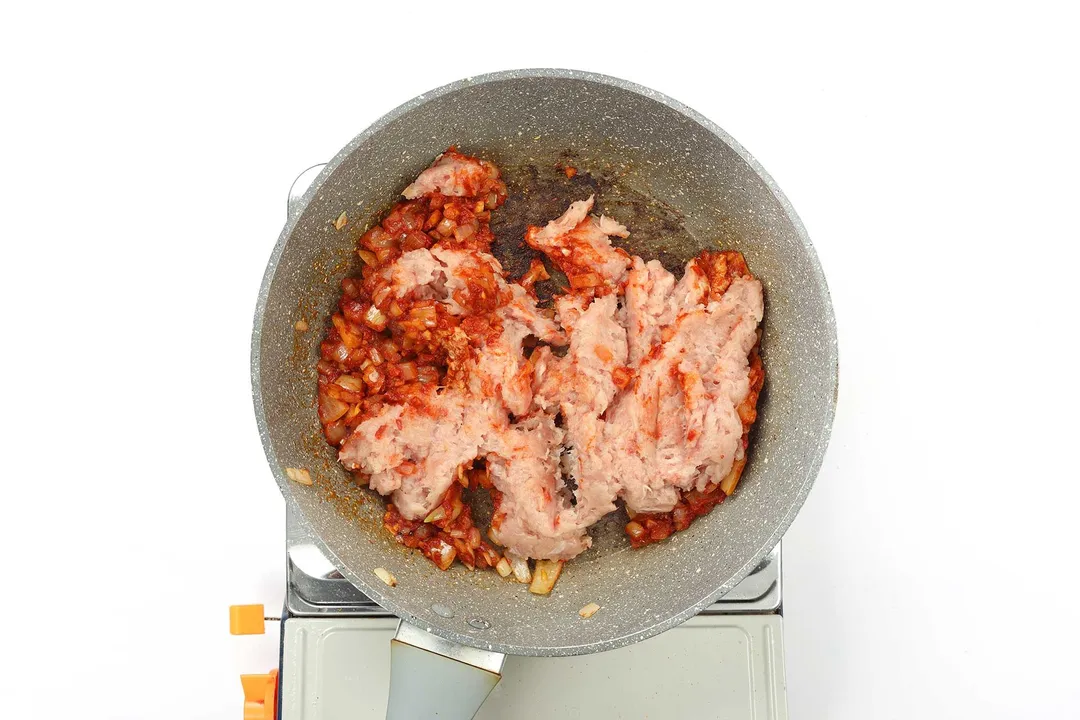 4
Incorporate the flour and seasonings: To the ground chicken, add 1 tbsp all-purpose flour, 1/2 tsp oregano, 1/2 tsp Cajun seasoning, 1/2 tsp salt, and 1/2 tsp black pepper. Stir well for 30 seconds.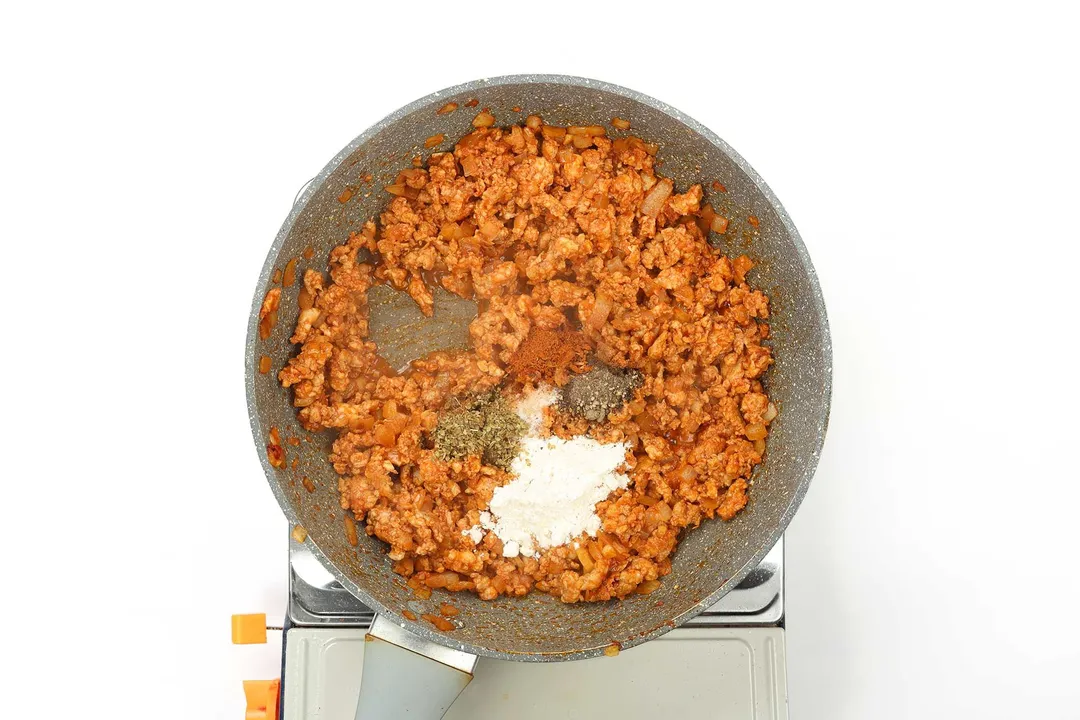 5
Add the chicken broth and tomato sauce: Gently pour in 1/2 cup unsalted chicken broth and 3/4 cup homemade tomato sauce. Mix well and let the mixture simmer for another 5 minutes. Turn off the heat and set the chicken tomato sauce aside.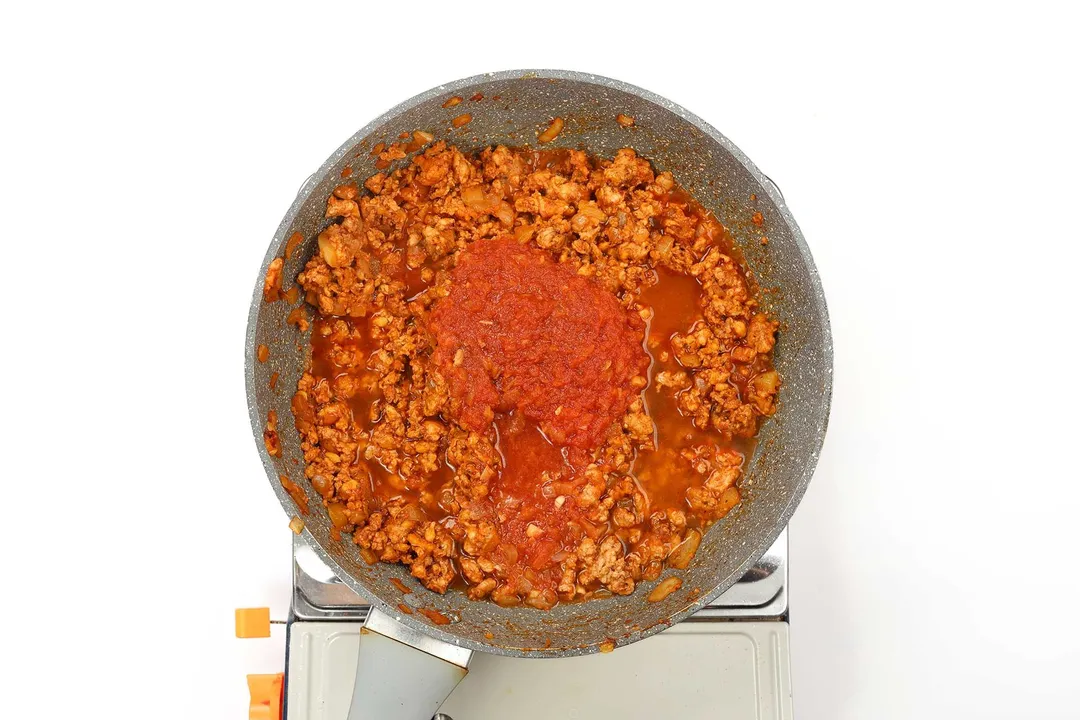 6
Make the roux: Prepare another hot shallow pan, then add 1 tbsp olive oil and 2 tbsp all-purpose flour. Stir continuously to avoid lumps.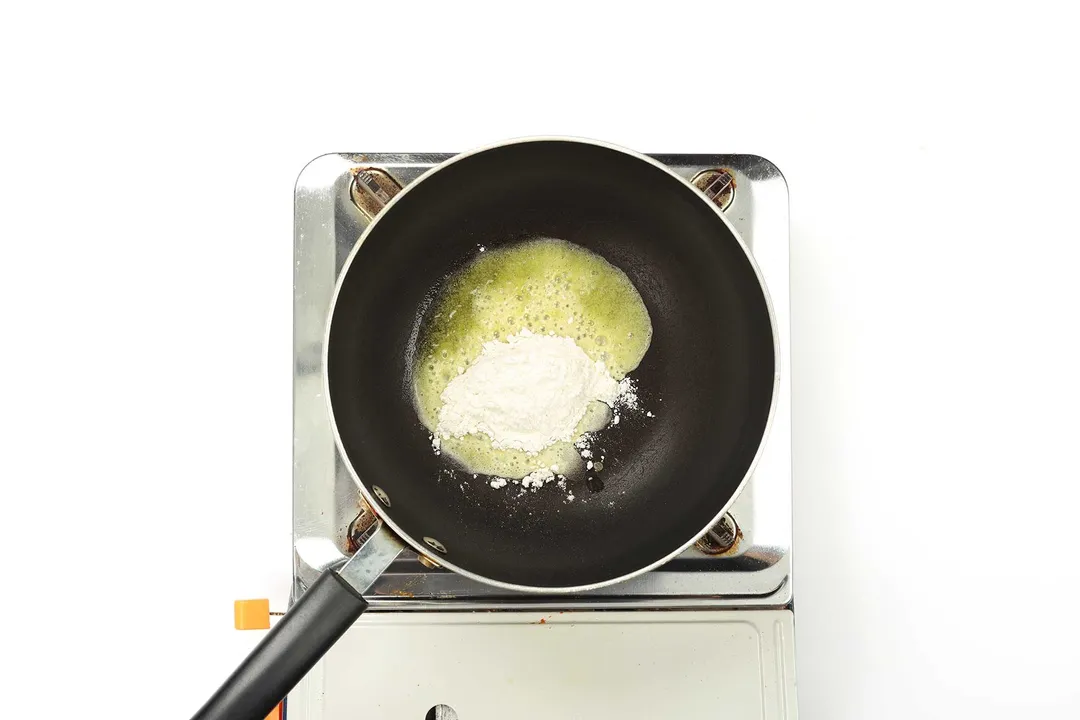 7
Add the whole milk: Turn to low heat, then pour in 2 cups of whole milk. Mix frequently for 5 minutes until thickened. Remove the white sauce from the heat.
8
Assemble the ground chicken lasagna: Prepare a deep baking dish. Start by spreading a thin layer of white sauce at the bottom of the baking dish, then add a layer of chicken tomato sauce, followed by a layer of lasagna sheet. Repeat this layering process and ensure you finish it off with the white sauce. Preheat the oven to 400°F to prepare for the next step.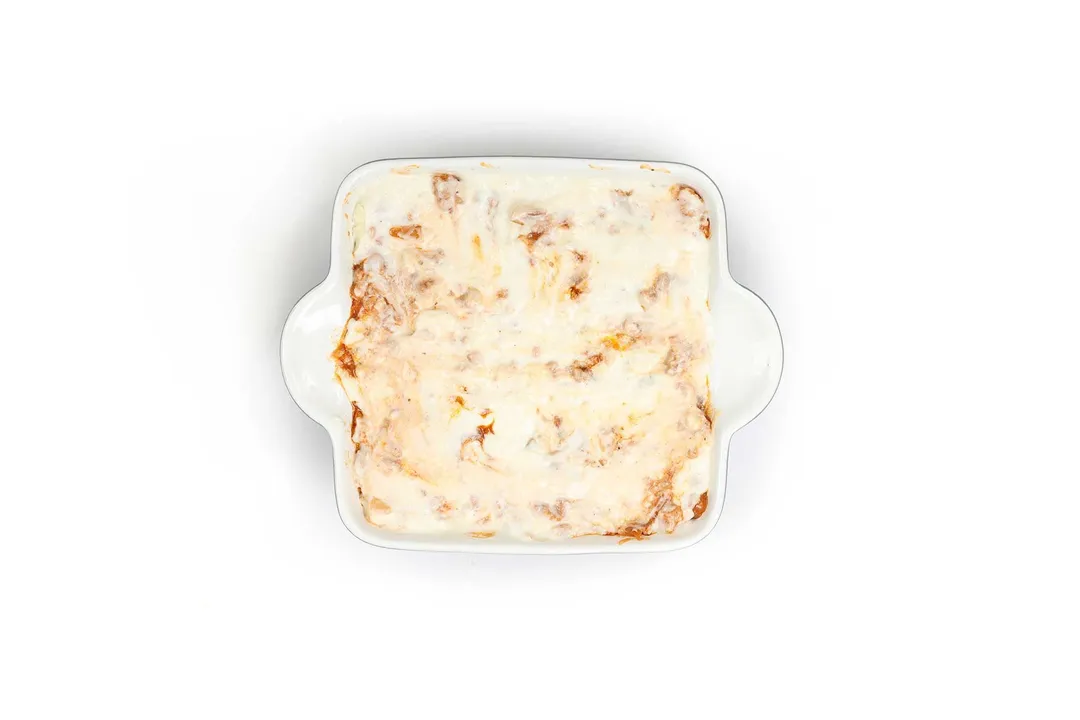 9
Bake the lasagna: Cover the top of the lasagna with aluminum foil. Arrange the baking dish on the middle rack of the oven, then bake at 400°F for 30 minutes.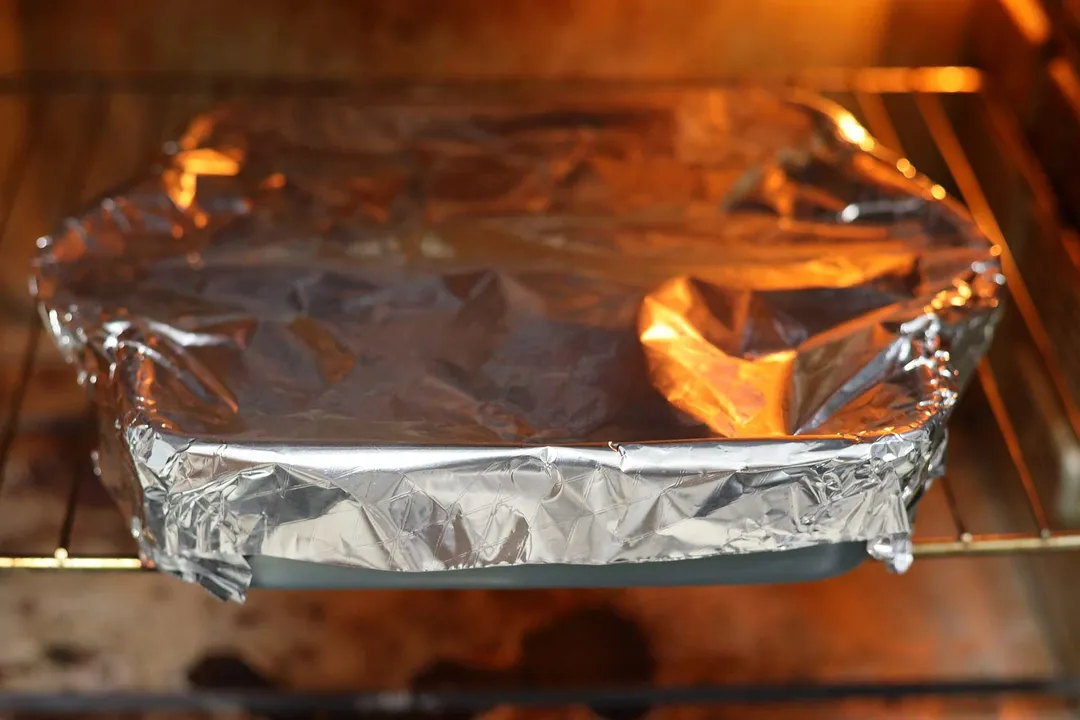 10
Add the cheese: Remove the lasagna from the oven, then layer 1 oz cheddar cheese and 1 oz mozzarella cheese on top of the lasagna. Bake it again at 480°F for 5 minutes.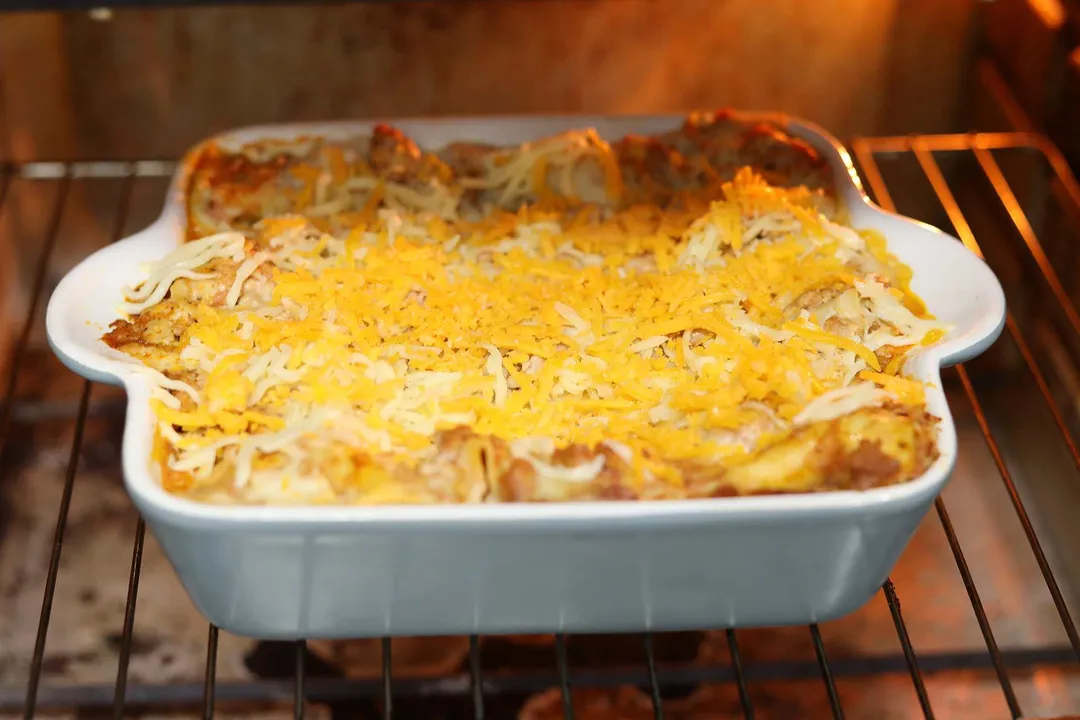 11
Garnish and serve: Allow the lasagna to chill in the fridge for at least 15 minutes, if not overnight, before cutting into it. Transfer your desired portion onto a serving plate, garnish with 2 tbsp parsley, and enjoy.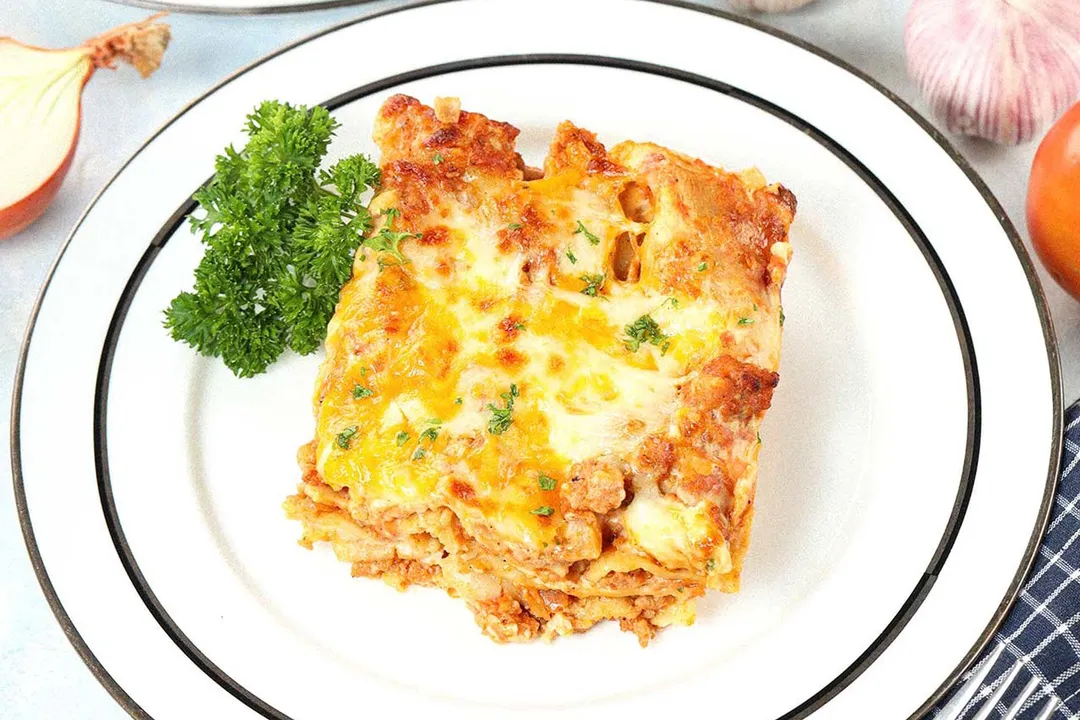 NUTRITION
Nutrition Facts
Ground Chicken Lasagna
Amount Per Serving (1 serving)
Calories 498
Calories from Fat 216
% Daily Value*
Monounsaturated Fat 10.8g
* Percent Daily Values are based on a 2000 calorie diet.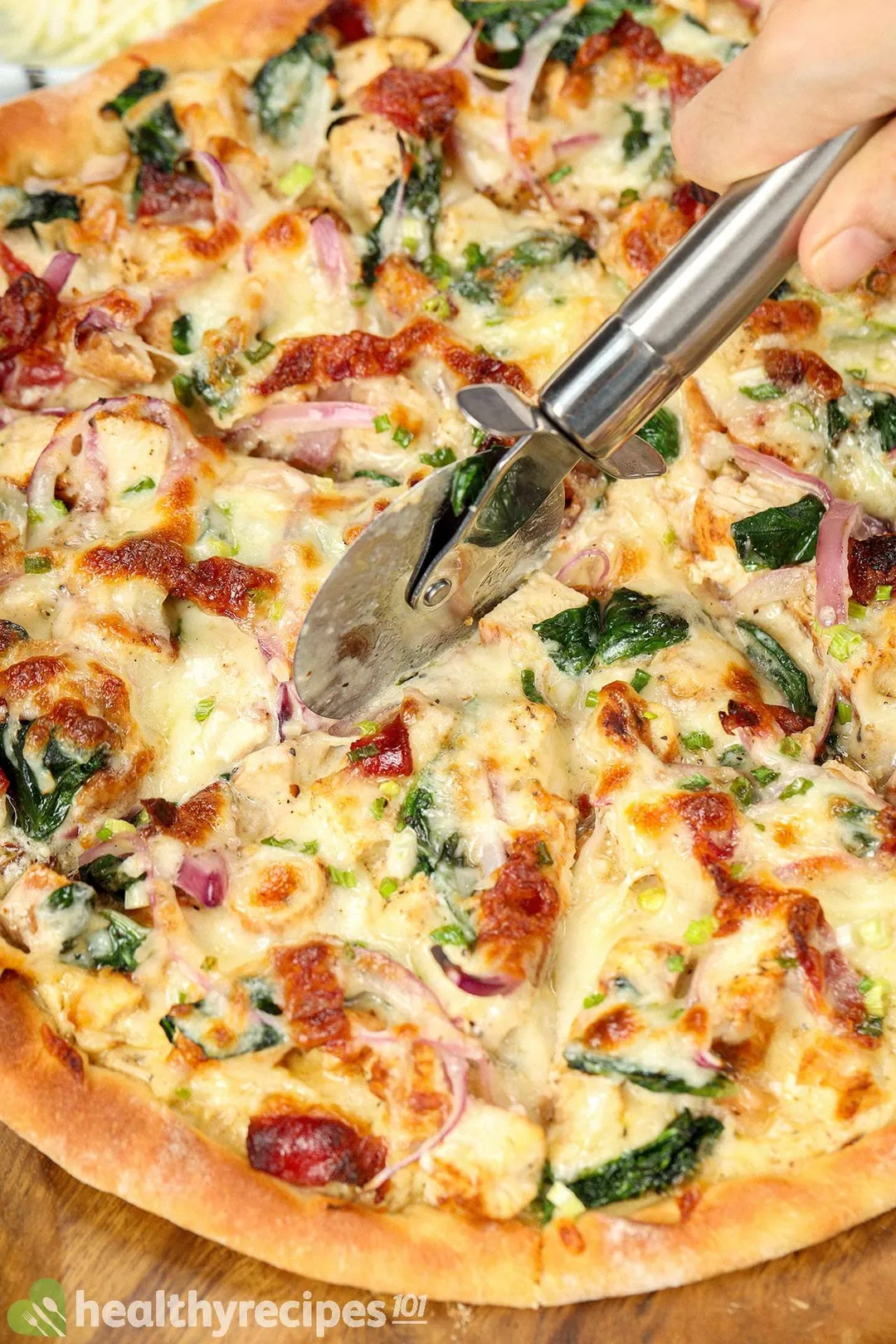 Previous Recipe
Alfredo Chicken Pizza
Alfredo Chicken Pizza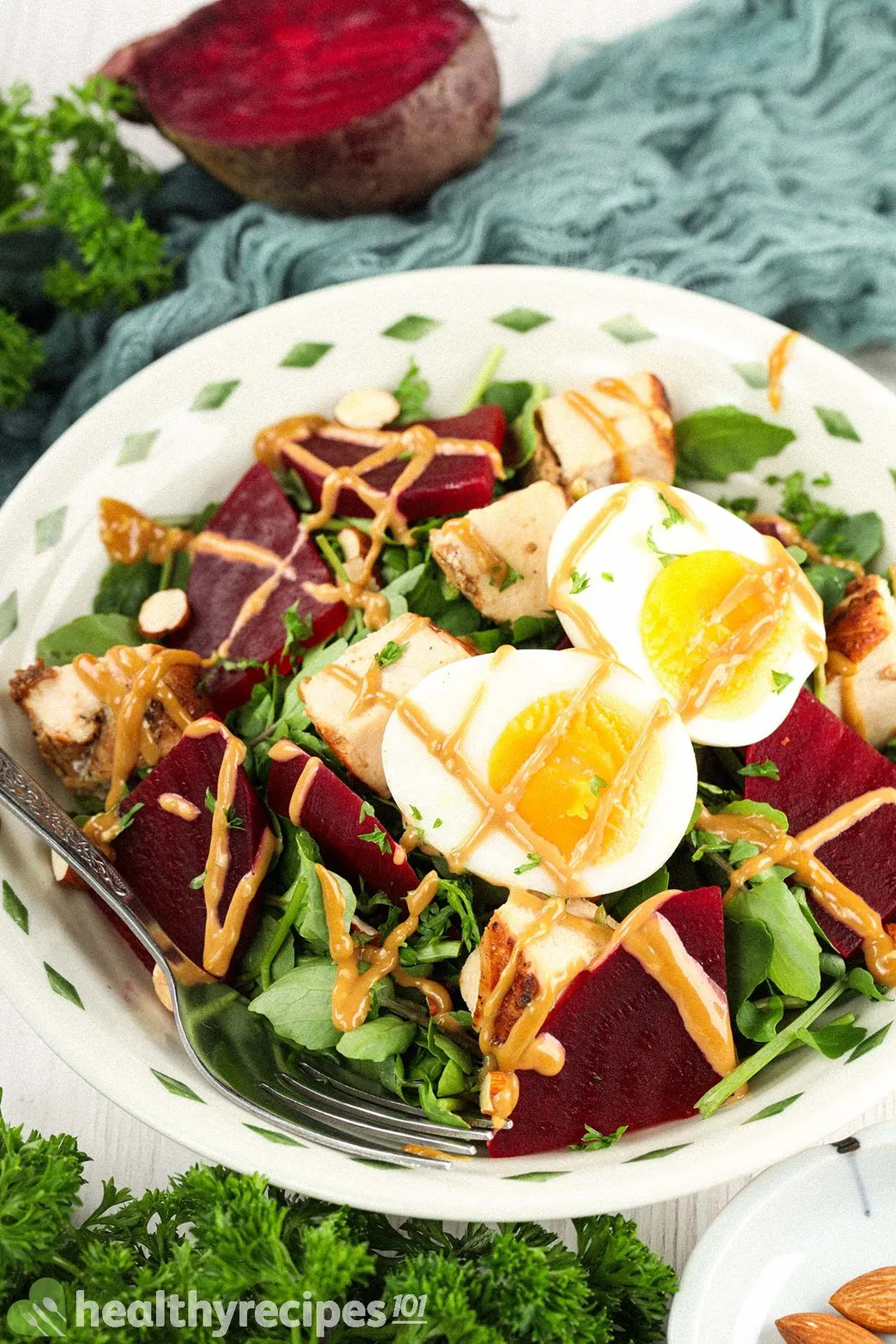 Next Recipe
Chicken and Egg Salad
Chicken and Egg Salad
Head Chef, Culinary Consultant
Tuyet Pham is an award-winning Saigonese chef who believes that joy is the secret ingredient to delicious food. At Healthy Recipes 101, Tuyet personally tests and simplifies every recipe, ensuring maximum flavor with minimal effort. With a background at prestigious French restaurants P'TI Saigon and Le Corto, Tuyet knows how to make every dish exceptional.
Writer, Author
Luna Regina is an accomplished writer and author who dedicates her career to empowering home cooks and making cooking effortless for everyone. She is the founder of HealthyKitchen101.com and HealthyRecipes101.com, where she works with her team to develop easy, nutritious recipes and help aspiring cooks choose the right kitchen appliances.
Ground chicken lasagna is a healthier twist on a classic comfort food dish.