This Instant Pot teriyaki chicken recipe is one of the easiest and quickest ways to make a wholesome dish in a pressure cooker.
The dish is made with succulent pieces of chicken simmered in an umami-sweet Japanese sauce. Best of all, the meal can be ready and on the table in less than 30 minutes, and there's only one pot to clean up after.
Is Cooking Teriyaki Chicken in the Instant Pot a Healthy Option?
Instant Pots work by maintaining a high-pressure environment in the pot, which significantly shortens the cooking time and helps to make food tender. Whether or not using an Instant Pot is a healthier method of cooking is still being debated, compared to other methods like broiling, baking, or stir-frying.
Our teriyaki chicken recipe is healthy due to careful nutrient calculation, not just method. However you choose to cook your food, it will be the ingredients you use and their quantities that will have the biggest impact on the final nutrient profile. Thus, cooking in the Instant Pot is only healthy as long as you are using a healthy recipe.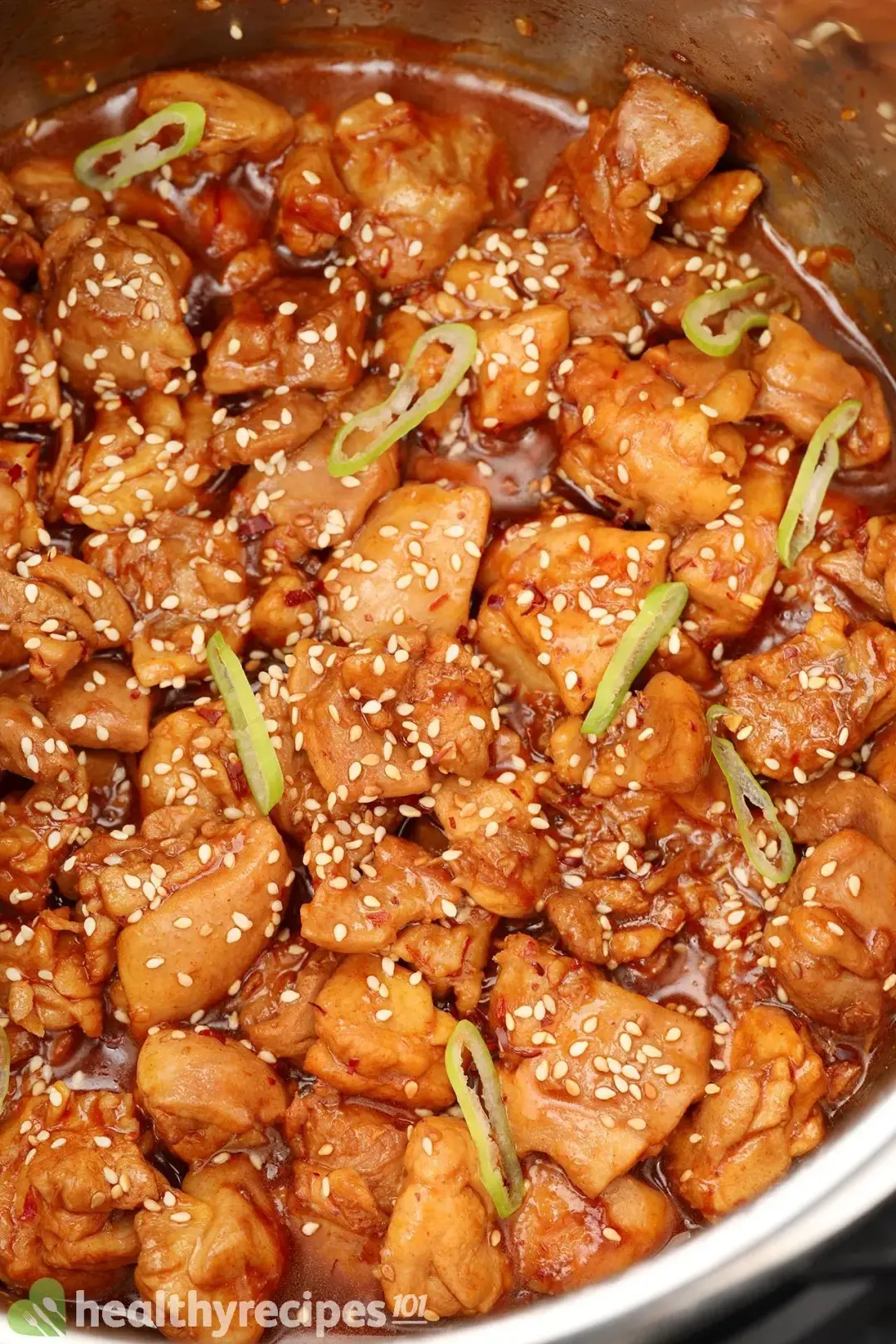 Ingredients for Teriyaki Chicken
This Instant Pot teriyaki chicken is packed with fresh and healthy ingredients.
Chicken Thighs: We prefer to use skinless and boneless chicken for this recipe since all you need to do prep-wise is cut them into size-bite chunks.
Cornstarch: Thickening agent is a non-negotiable component in teriyaki chicken. It helps the sauce cling to the chicken pieces.
Herbs: Finely chop your fresh garlic and ginger so that they can more fully infuse into the sauce, giving the dish an aromatic note.
Teriyaki Sauce: the famous teriyaki sauce is a breeze once you have the know-how, and it can be made with simple pantry ingredients. The umami flavor from the soy sauce balances out the sweetness from sugar, and a splash of lemon juice elevates the taste of each element in the pot for a satisfying experience in every bite.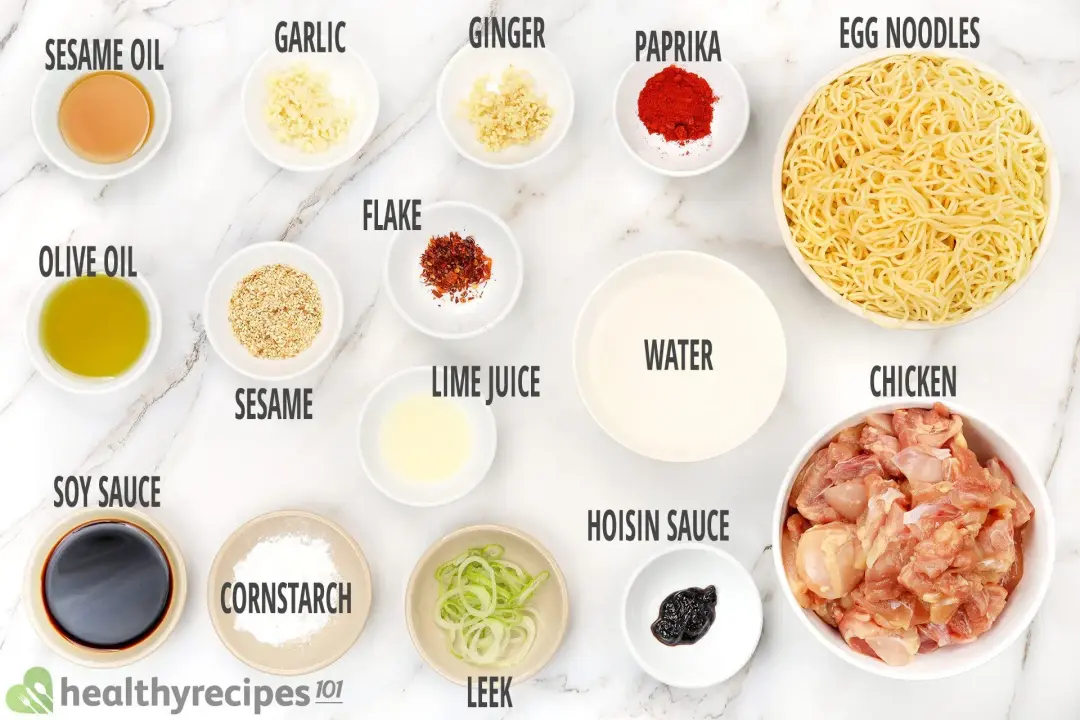 If you love this recipe, this traditional teriyaki chicken is a more convenient version. For more recipes on teriyaki, have a look at our air fryer teriyaki chicken.
How to Cook Teriyaki Chicken in the Instant Pot
The amazing thing about this teriyaki chicken is that all the components are cooked in the same pot, allowing the chicken to get evenly coated in the delicious sauce.
Here is how we make the dish: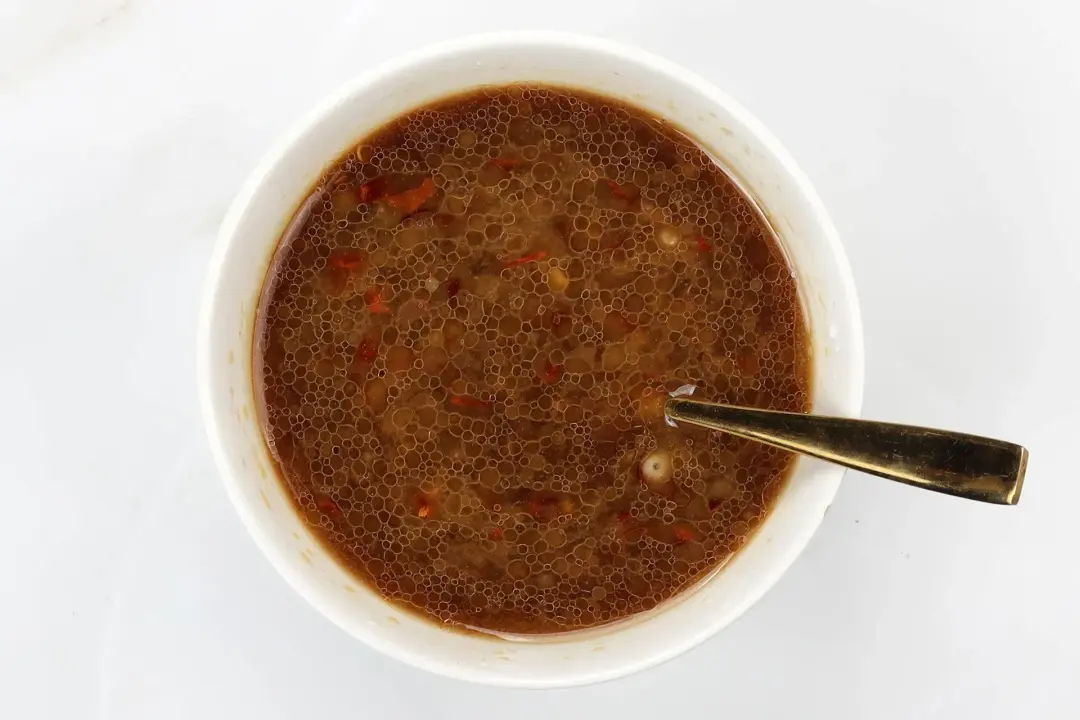 Make the teriyaki sauce.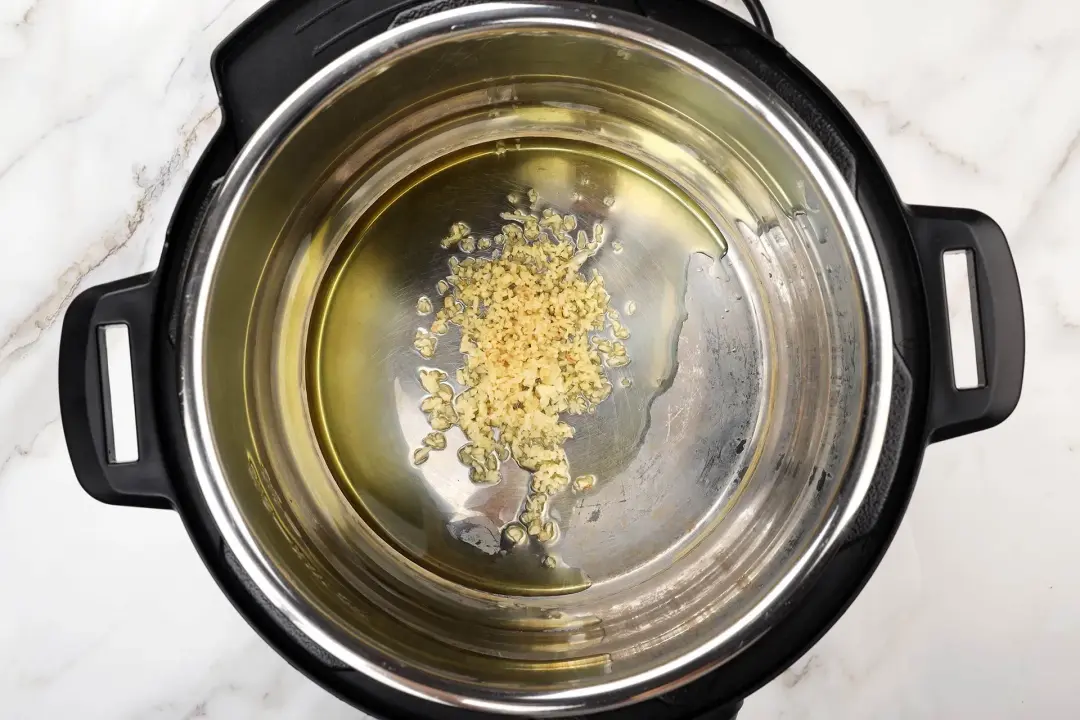 Stir fry the herbs.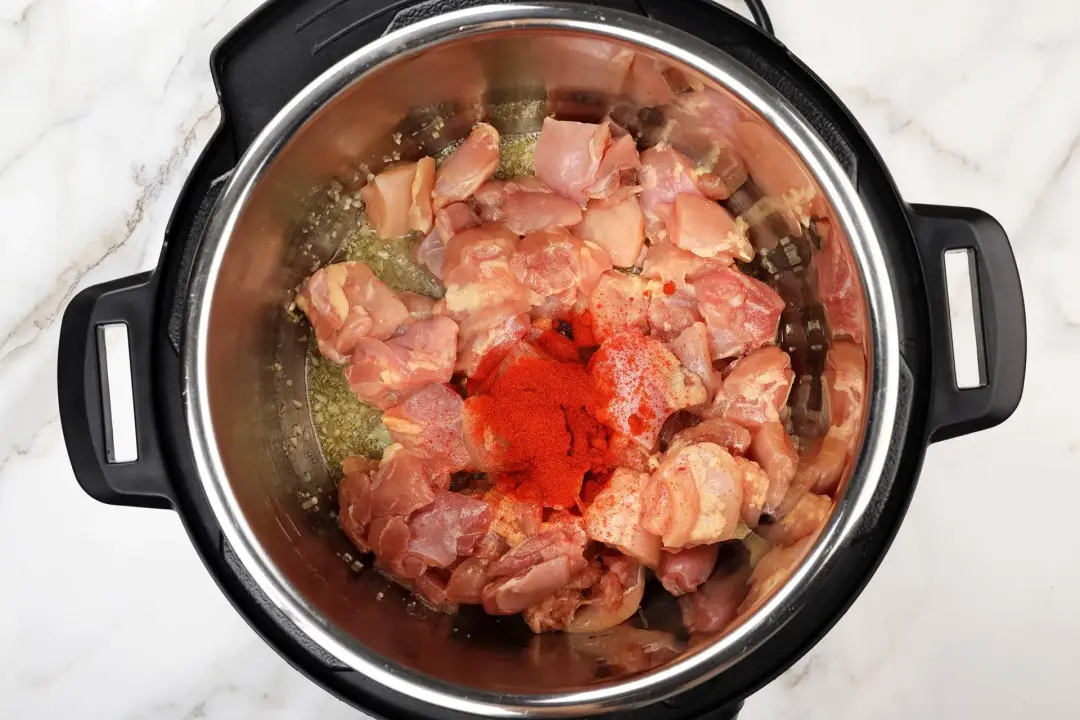 Sear the chicken.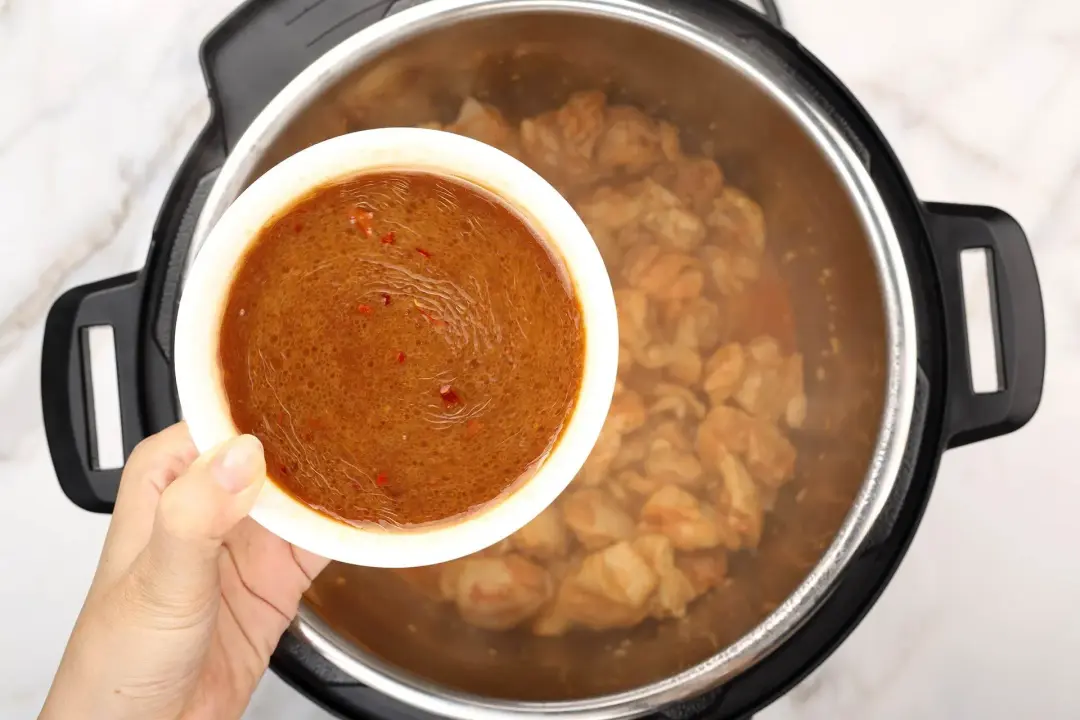 Add the teriyaki sauce.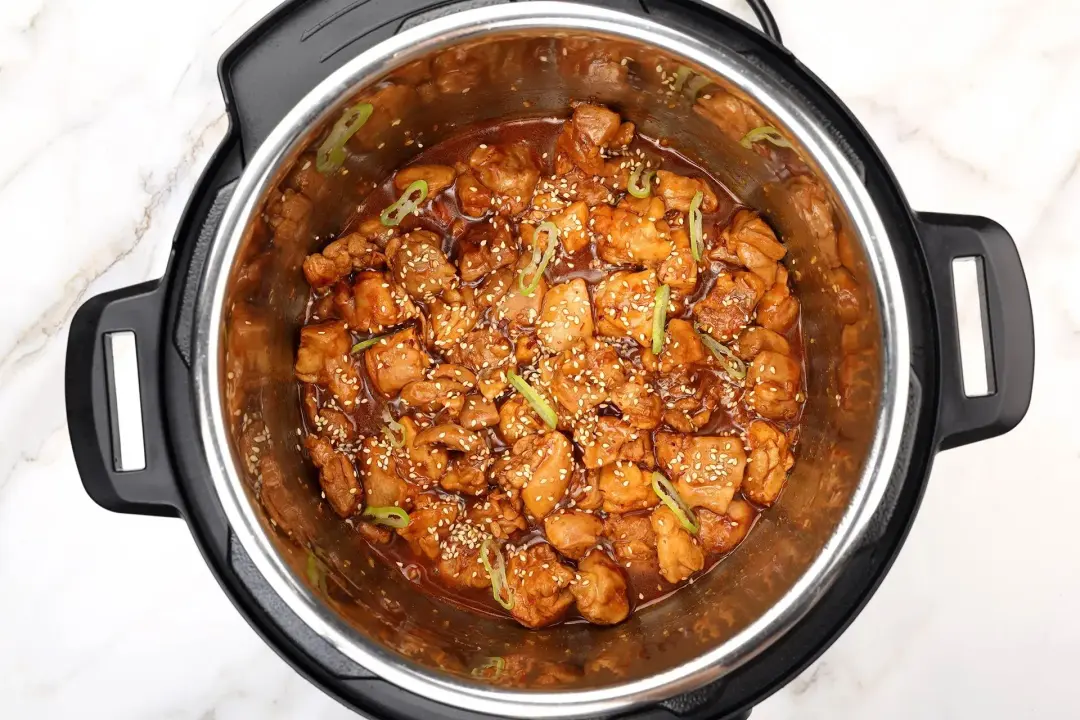 Garnish.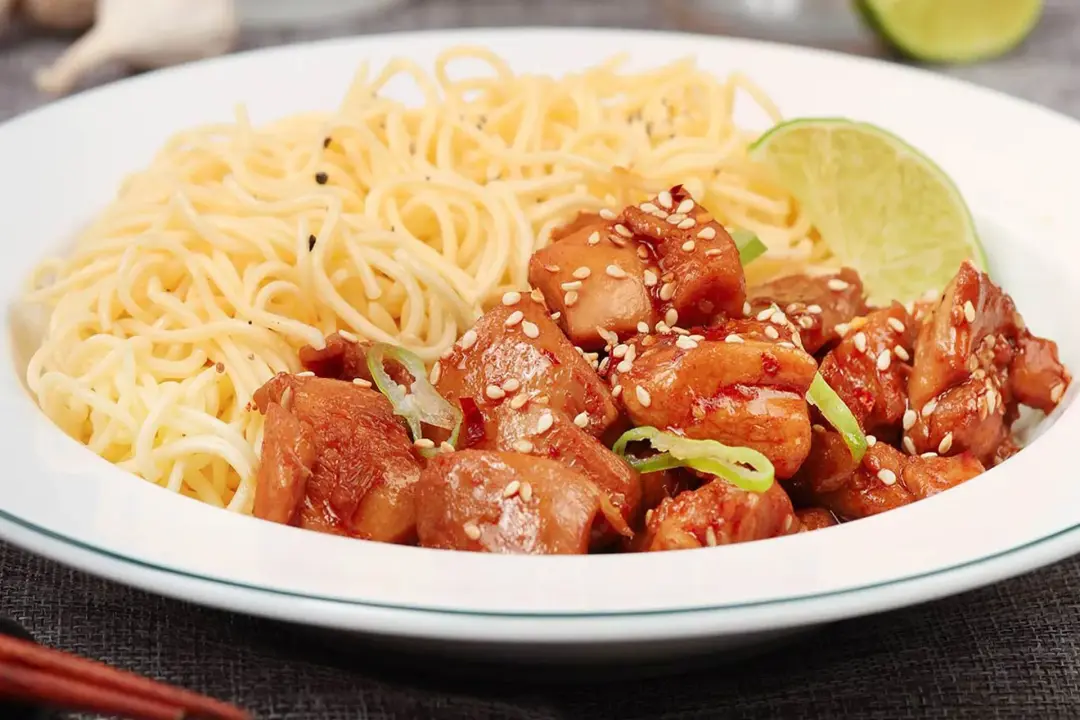 Serve.
Can I Use Frozen Chicken?
Yes, you can. To skip the thawing step and to turn your frozen chicken into a fully safe-to-eat meal, increase the cooking time by at least 50%. For this recipe specifically, you should sear the chicken for 5 – 7 minutes.
Note that we do recommend you use proper thawed meat as it will cook faster and taste better. However, if frozen chicken is all you have, it will still taste good.
Tips for Making Instant Pot Teriyaki Chicken
Before allowing the chicken to simmer in the teriyaki sauce, we first sear the meat. This step helps create a slight browning on the skin of the chicken chunks.
This helps the exterior pick up all the flavors from the teriyaki sauce while preventing the interior from drying out. Try this simple extra step and experience a noticeable difference in flavor and texture.
When Adding Thickening Agent
Cornstarch power should not be added directly to the hot simmering sauce in the pot, as this will produce a clumpy consistency. Instead, mix the cornstarch with cold teriyaki sauce.
This way, the starch can go more easily into the hot liquid, absorb water, and thicken the sauce. Note that you should also continuously stir while adding the thickening agent to help it disperse evenly and avoid clumps.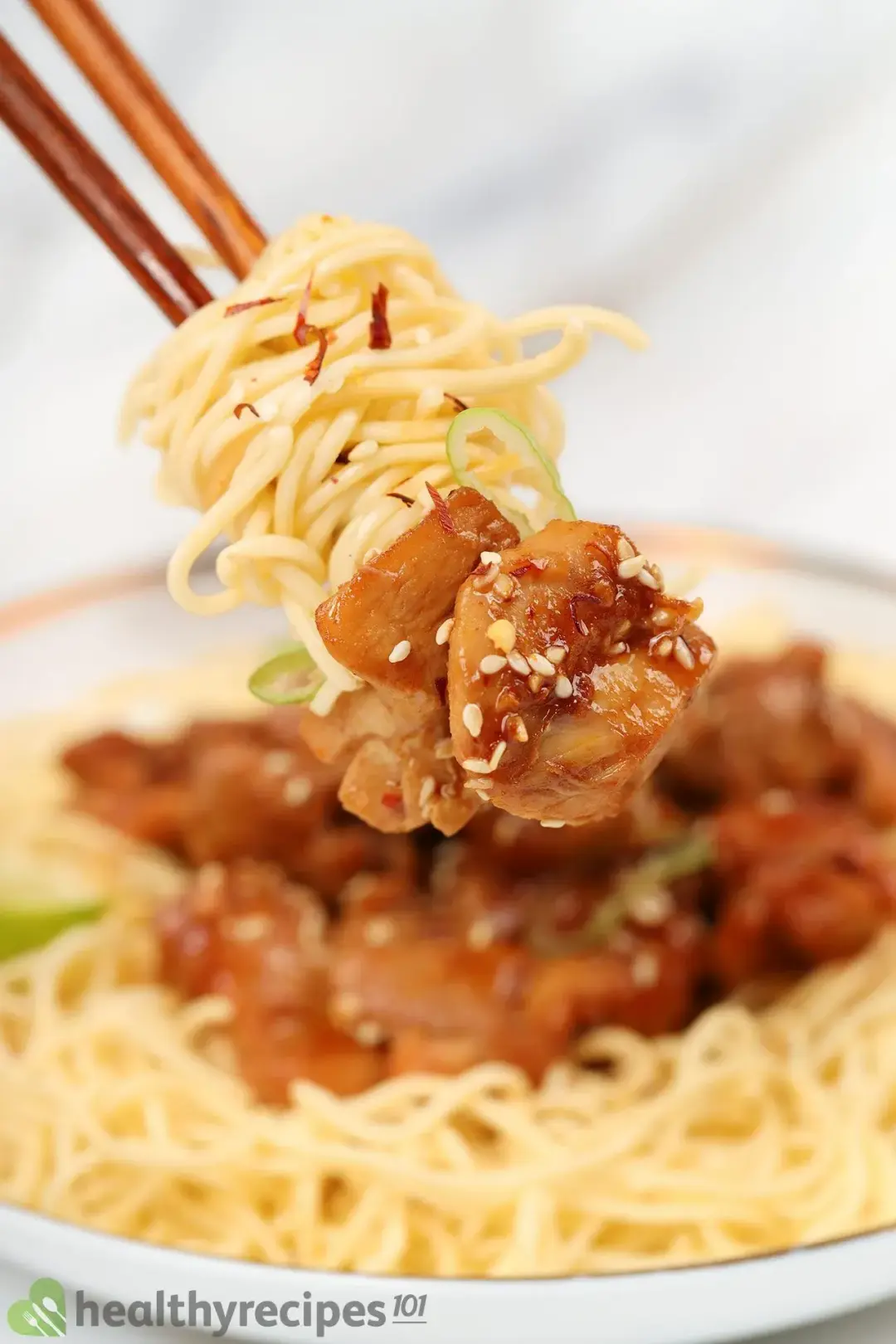 Store and Reheat
You can divide the Instant Pot teriyaki chicken into serving size portions and place them in separate airtight containers. Refrigerated teriyaki chicken can last for up to 4 – 5 days. Frozen, on the other hand, can last up to 3 months.
When ready to use, put it in the microwave for a few minutes until heated through. You can add a splash of water and reheat it on the stove too; make sure to stir the dish frequently so that the noodles don't dry out and everything remains coated evenly in sauce.
For more helpful tips, see our favorite instant pot chicken breast recipes or check out our instant pot dinner roundup.
Side Dishes for Teriyaki Chicken
Teriyaki chicken is full of protein and starch, and is often paired with steamed rice or fried rice in a pineapple in restaurants. At home you have the freedom to serve it in a variety of ways.
Our favorite is to team up the dish with healthy vegetables. We've put together this combination to create a complete meal that can provide nourishment and energy after a long day.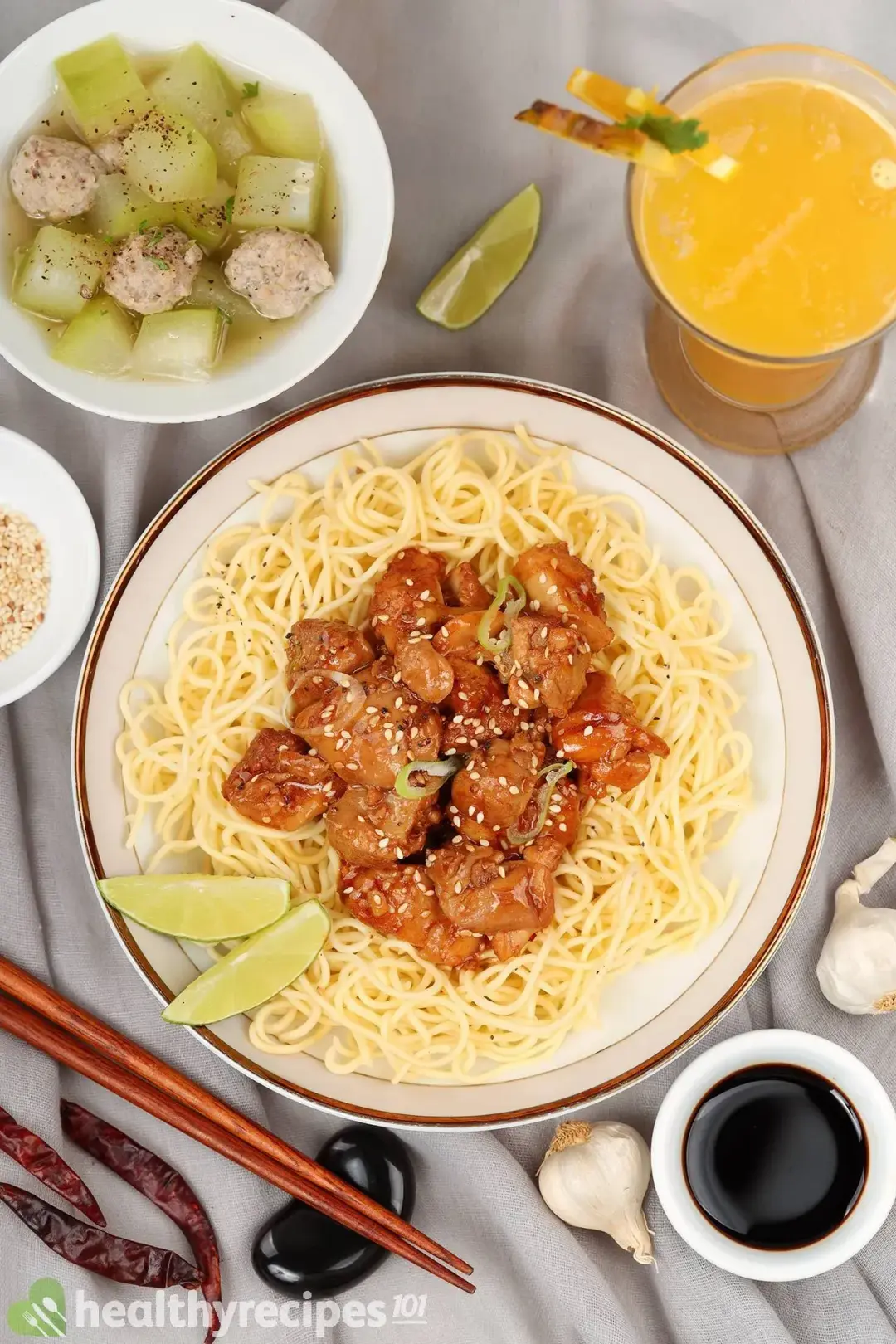 Winter Melon Meatball Soup: This classic Chinese-style soup made with winter melon and pork is warm, wholesome, and a perfect addition to dinner.
Orange Pineapple Juice: The tropical fruits in this simple orange pineapple juice create a refreshing note that will help to balance the meaty taste from chicken and soup. Plus, it's a great way to get an extra vitamin boost.
If you're interested in other chicken recipes as healthy as this one, we've got some seriously delectable ones: top 50+ chicken roundup and the best of chicken thigh recipes.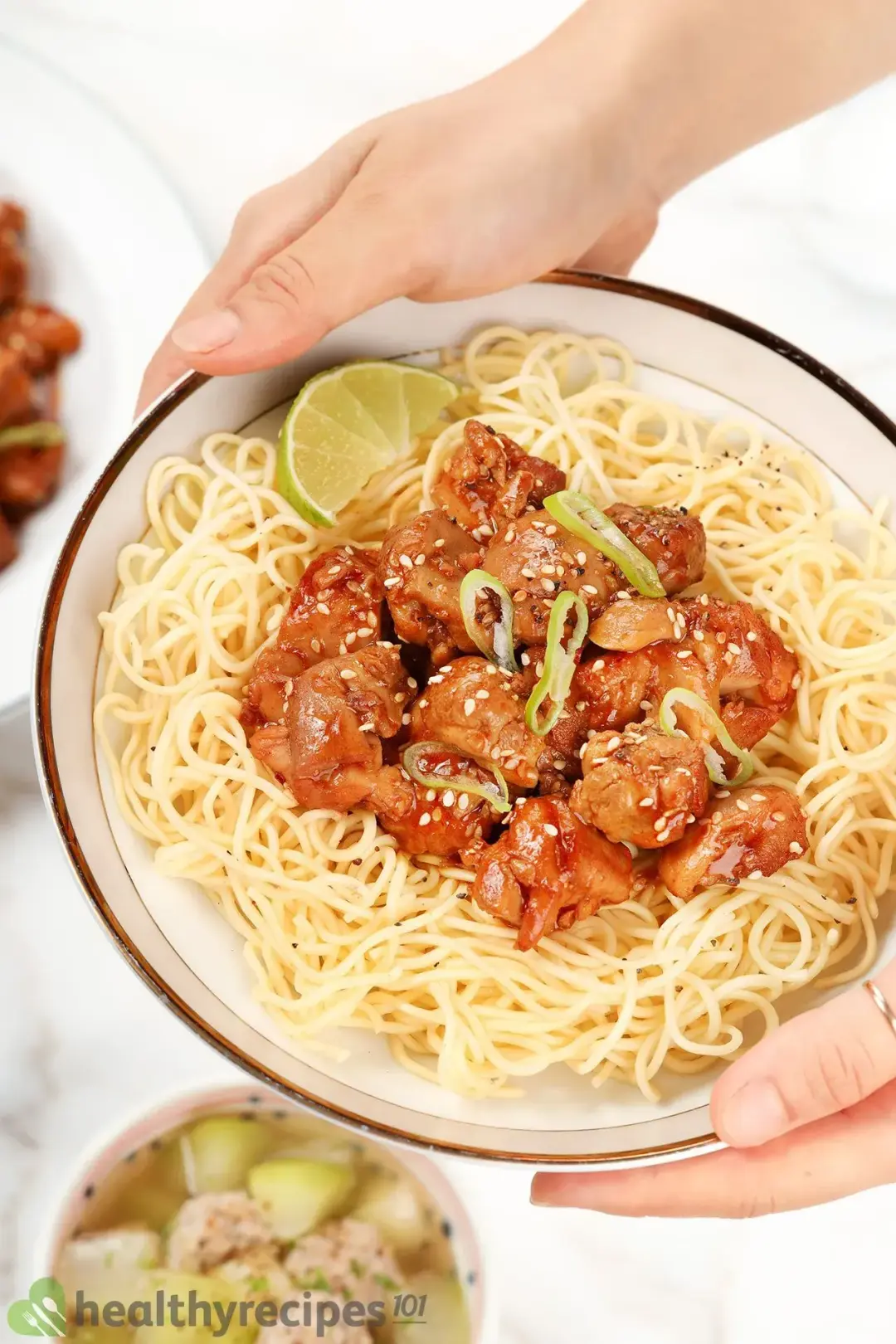 Instant Pot Teriyaki Chicken Recipe
This Instant Pot teriyaki chicken recipe requires minimal effort and easily found pantry ingredients but produces big flavor.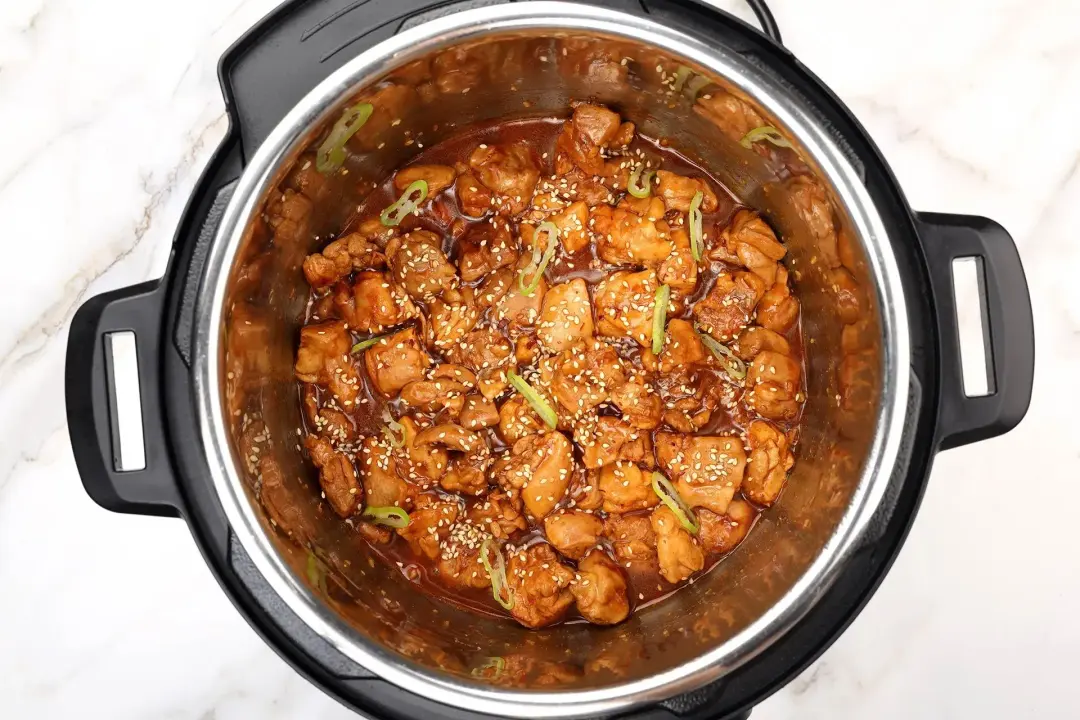 cook TIME

15 mins

prep TIME

10 mins

total TIME

25 mins
COURSE

Dinner, Lunch, Main Course

CUISINE

Japanese

SERVINGS

servings

CALORIES

494 kcal
INGREDIENTS
24 oz

skinless boneless chicken thighs (cubed)

4 fl oz

water

2.5 tbsp

reduced sodium soy sauce

1 tbsp

sesame oil

2 tsp

cornstarch

0.5 tsp

hoisin sauce

1 tsp

lime juice

0.5 tsp

pepper flakes

2 tbsp

olive oil

1 tbsp

ginger (chopped)

1 tbsp

garlic (chopped)

1 tbsp

paprika

1 tbsp

sesame seeds

2 tbsp

leeks (chopped)

14 oz

cooked egg noodles (from 6 oz uncooked)
INSTRUCTIONS
1
Make the teriyaki sauce: In a small bowl, whisk together 4 fl oz water, 2 1/2 tbsp soy sauce, 1 tbsp sesame oil, 2 tsp cornstarch, 1/2 tsp hoisin sauce, 1 tsp lime juice, and 1/2 tsp pepper flakes.
2
Turn on the "sauté" setting on the Instant Pot, then add in 2 tbsp olive oil, 1 tbsp ginger, and 1 tbsp garlic. Cook and stir until fragrant, about 30 seconds.
3
Add 24 oz chicken and 1 tbsp paprika. Stir fry for 3 minutes.
4
Pour the teriyaki sauce into the pot. Constantly whisking, cook for another 7 minutes, until the sauce thickens enough to coat the chicken chunks.
5
Garnish with 1 tbsp sesame seeds and 2 tbsp leeks.
6
Transfer the chicken to serving plates. Serve over 14 oz cooked egg noodles.
NUTRITION
Nutrition Facts
Instant Pot Teriyaki Chicken Recipe
Amount Per Serving (1 serving)
Calories 494
Calories from FDA
% Daily Value*
* Percent Daily Values are based on a 2000 calorie diet.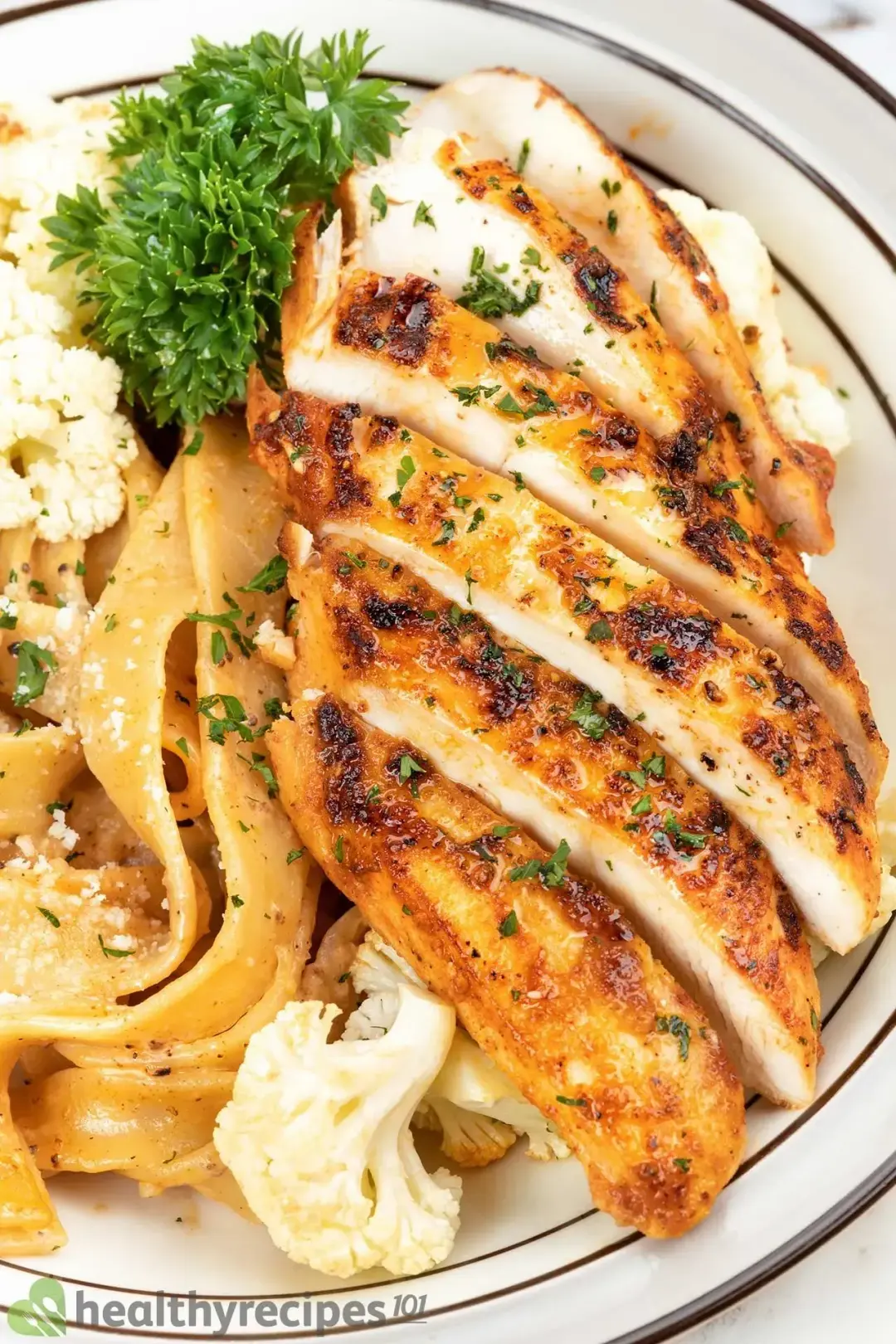 Previous Recipe
Chicken and Cauliflower
Chicken and Cauliflower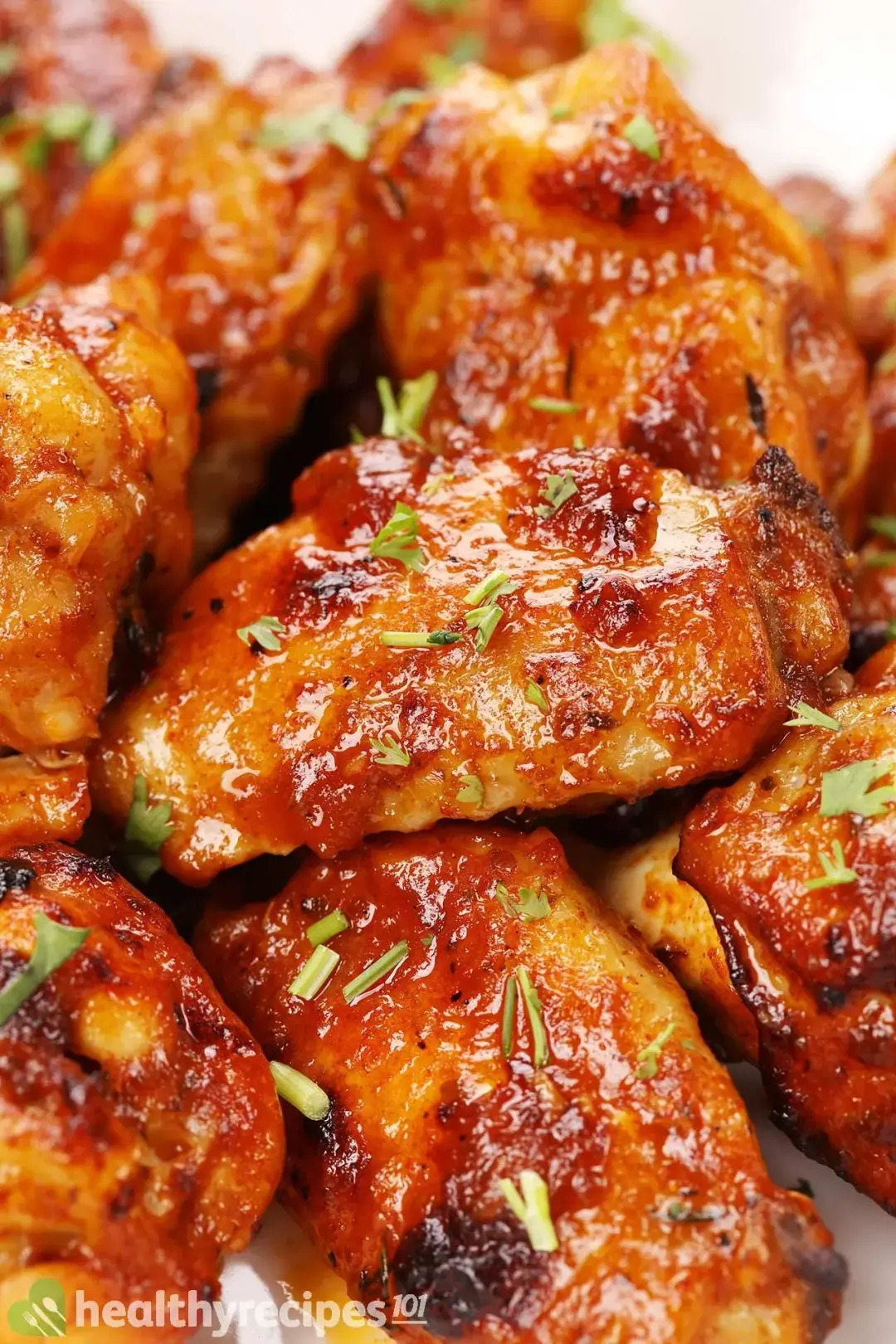 Next Recipe
Instant Pot Chicken Wings
Instant Pot Chicken Wings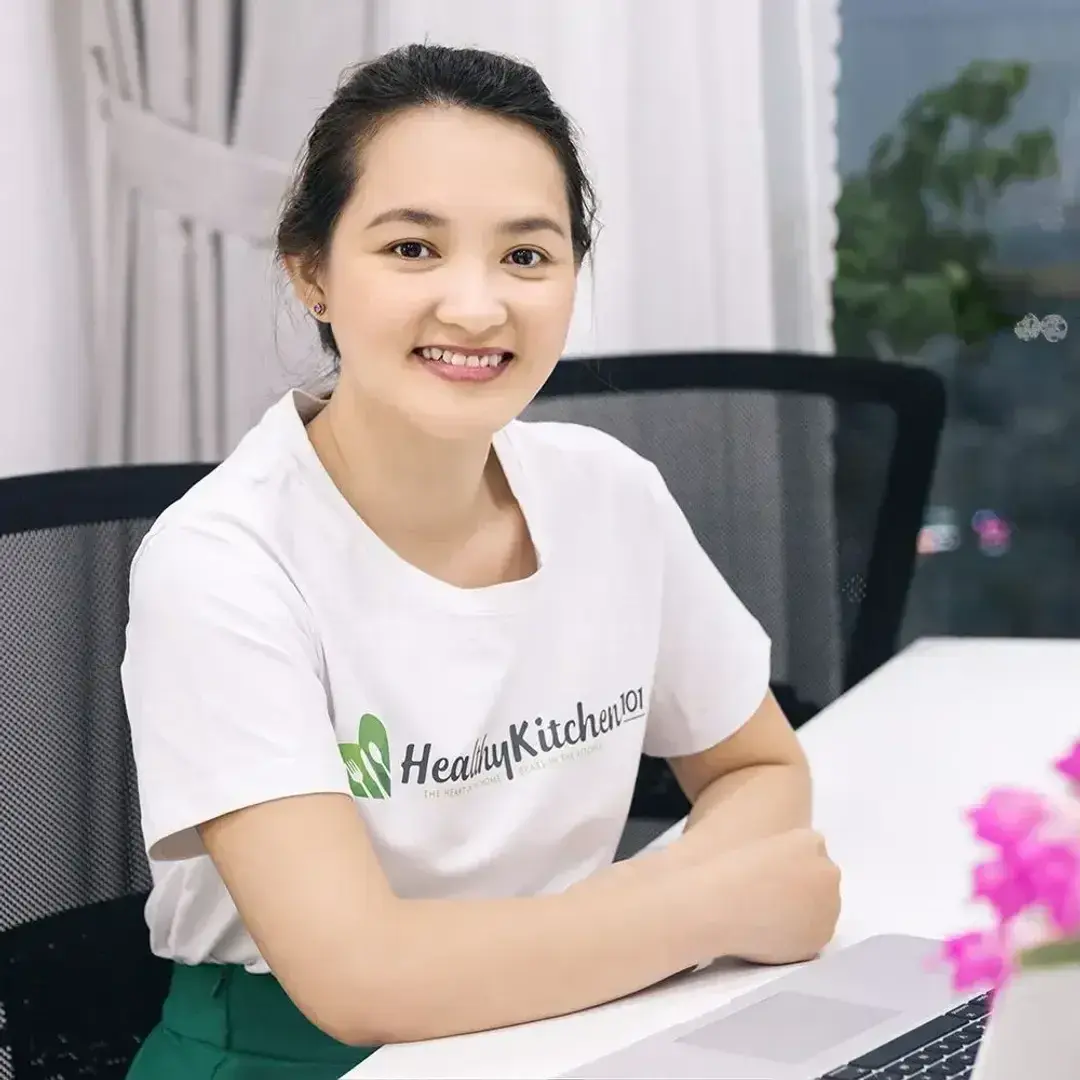 Founder
Luna Regina is an accomplished writer and author who dedicates her career to empowering home cooks and making cooking effortless for everyone. She is the founder of HealthyKitchen101.com and HealthyRecipes101.com, where she works with her team to develop easy, nutritious recipes and help aspiring cooks choose the right kitchen appliances.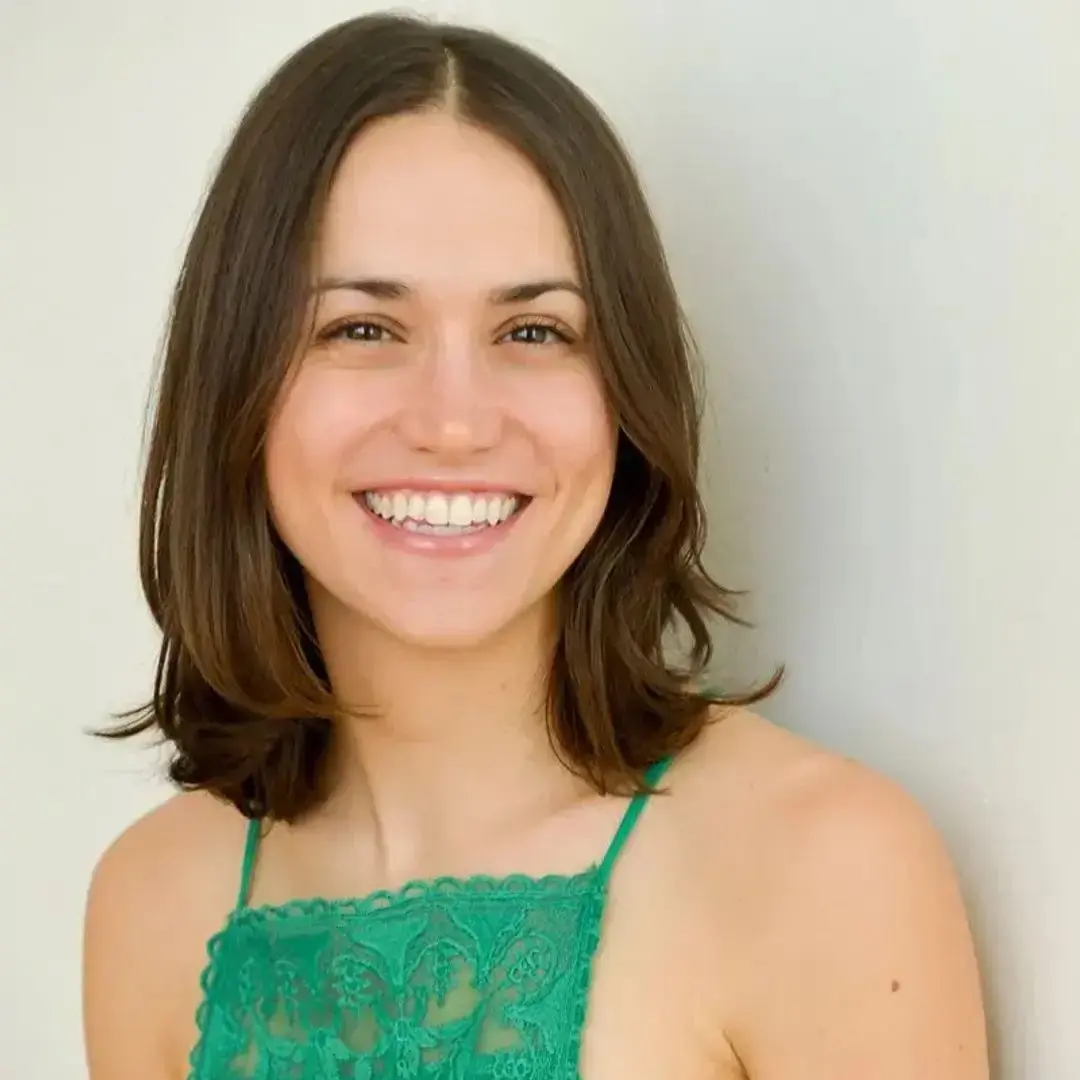 Nutrition Reviewer
Lizzie is a Minneapolis-based dietitian and founder of It's a Veg World After All. She completed her MS in Human Nutrition from Drexel University, and is an expert in culinary nutrition, recipe development, and nutrition communications.
Comments/ Reviews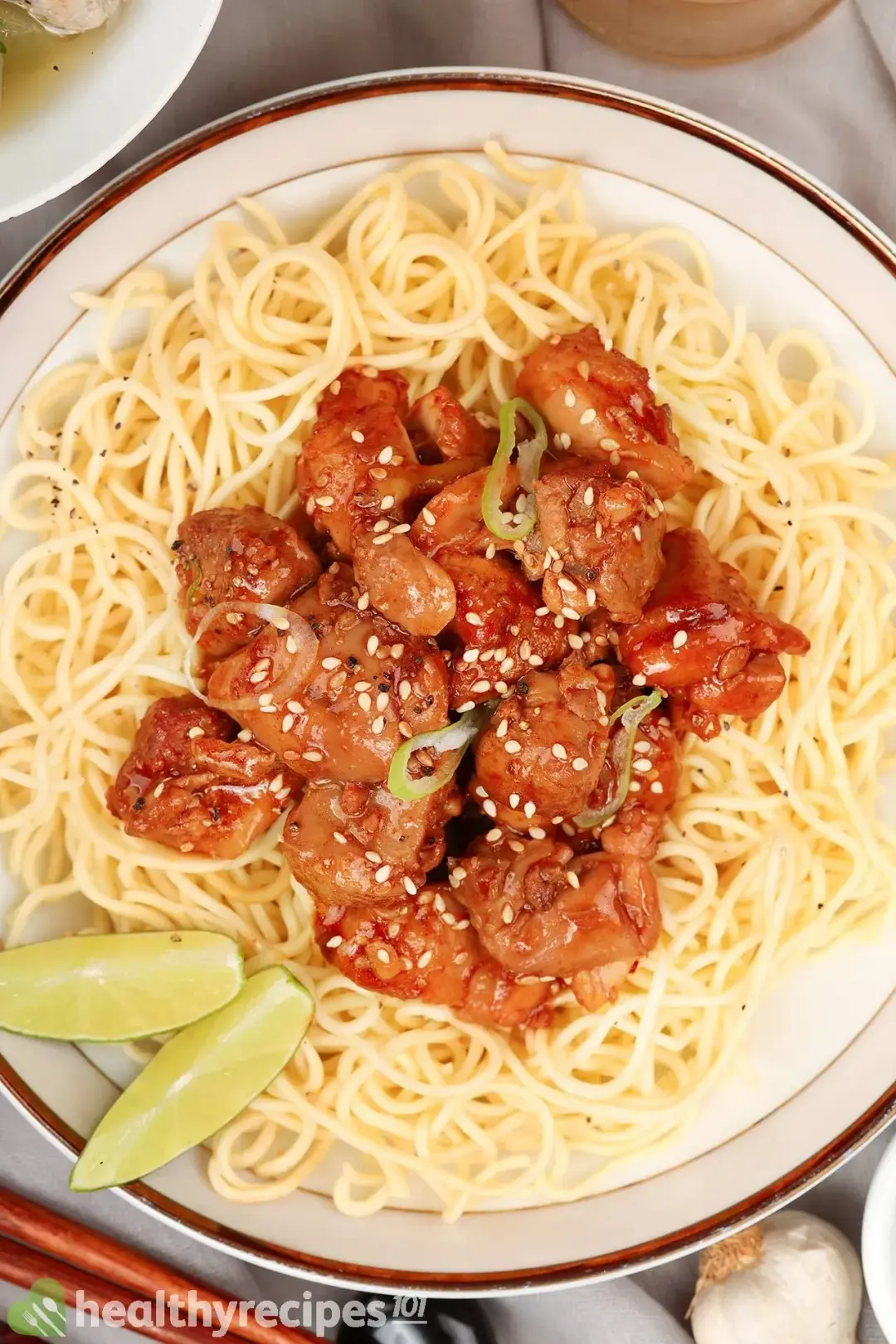 Instant Pot Teriyaki Chicken Recipe