Our healthy chicken larb recipe requires nothing more than a few simple ingredients and 15 minutes to make.
If you don't know what it is, here are some facts about today's dish.
What Is Larb?
Larb, also known as laab, is a national dish of Laos. It's a type of meat salad often served with sticky rice and crunchy vegetables.
The dish contains minced meat — usually chicken, pork, beef, or fish, mixed with fresh mint and toasted ground glutinous rice. Larb is generally seasoned with fish sauce, lime juice, fermented fish paste, and red pepper flakes.
Although the dish originated in Laos, it's also widely popular in Thailand and internationally.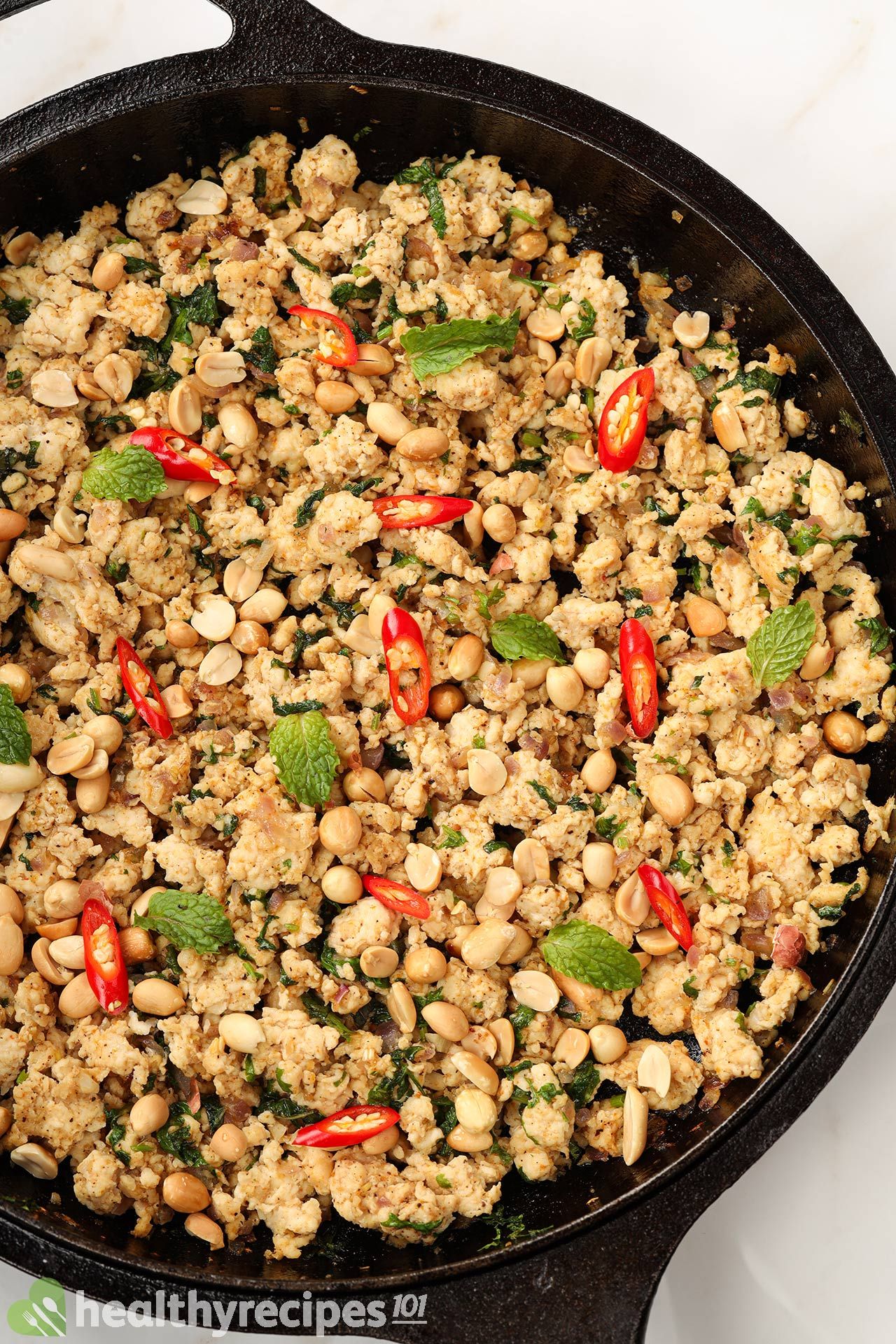 Is Chicken Larb Healthy?
Yes, our chicken larb recipe is healthy. Here is why:
Lean chicken meat: As mentioned, larb can also be made with beef, pork, or fish, but we're using boneless, skinless chicken breast. It's much lower in fat and calories compared to ground beef and pork, yet contains more protein.
Low in fat: Since we're using skinless chicken, the main sources of fat in this recipe are only canola oil and roasted peanuts. But don't worry, both of them provide you with only 2 grams of saturated fat per serving.
Monitoring the sodium content: Our recipe contains both salt and fish sauce to ensure the dish is well-seasoned. But don't worry, it's less than 600 mg of sodium per serving, which means it's still within your recommended limit.
Want to know about your daily recommended intake of sodium and more? Check out our healthy eating guidelines.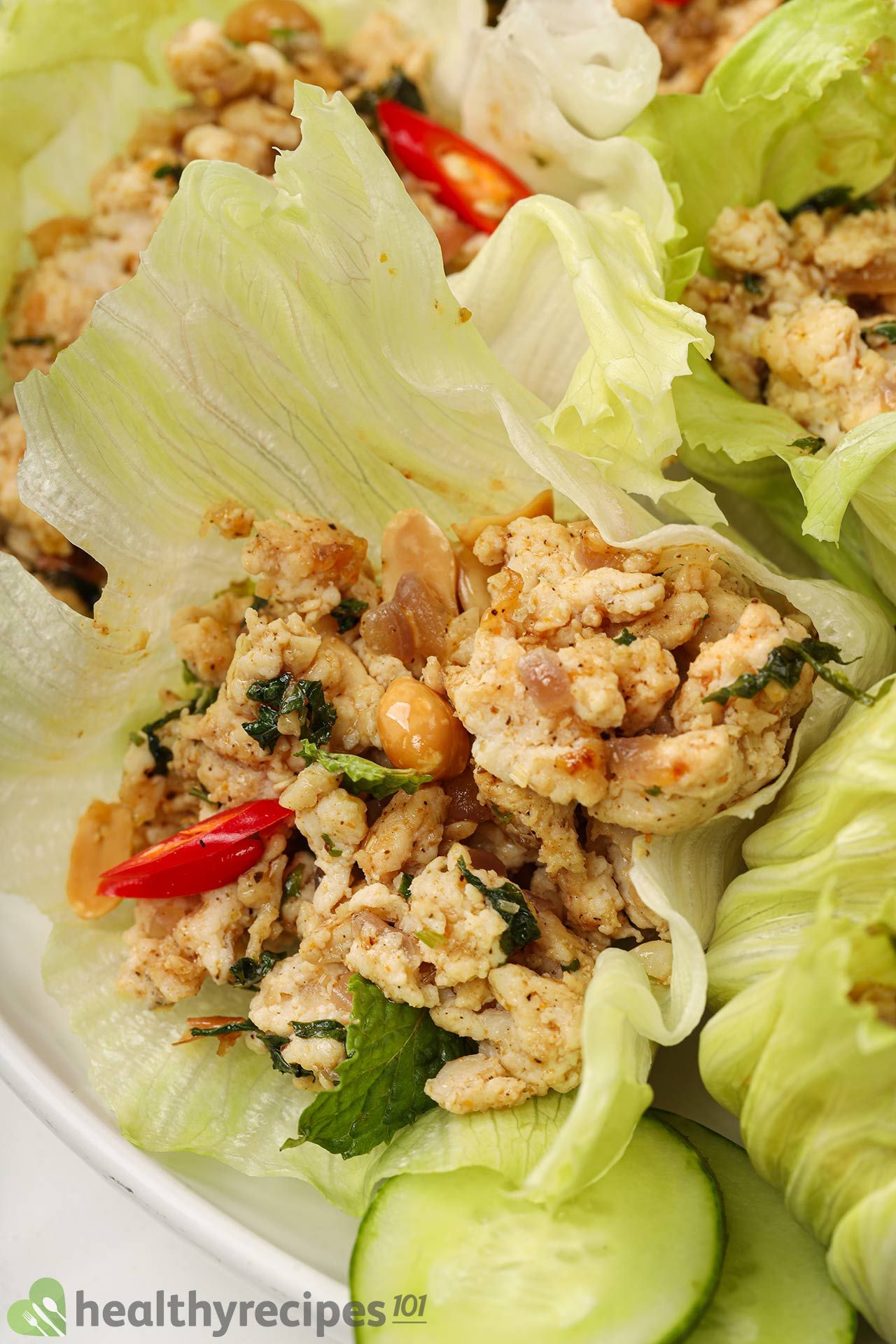 Chicken Larb Ingredients
Here are the main ingredients to our chicken larb recipe:
Meat: We're using ground boneless, skinless chicken breast for this recipe but there are a few other options for you to pick. We'll get to that in a minute.
Aromatics and seasonings: We're sautéing the chicken with red onions and minced garlic. After that, we season it with lime juice, sugar, black pepper, salt, fish sauce, chili powder, and sriracha.
Vegetables: Larb goes well with crunchy vegetables so we're serving our chicken larb with cucumber and iceberg lettuce. You can also use carrots or cabbage as well.
Rice: Traditionally, larb is served with glutinous rice but for today's recipe, we're going for medium-grain white rice.
Can You Substitute the Meat in This Recipe?
Yes, you can.
Larb can be made with other types of protein such as ground beef, pork, duck, or fish.
If you're using ground meat, we suggest using one with a high percentage of lean meat (80% or higher). This helps reduce your fat intake as much as possible.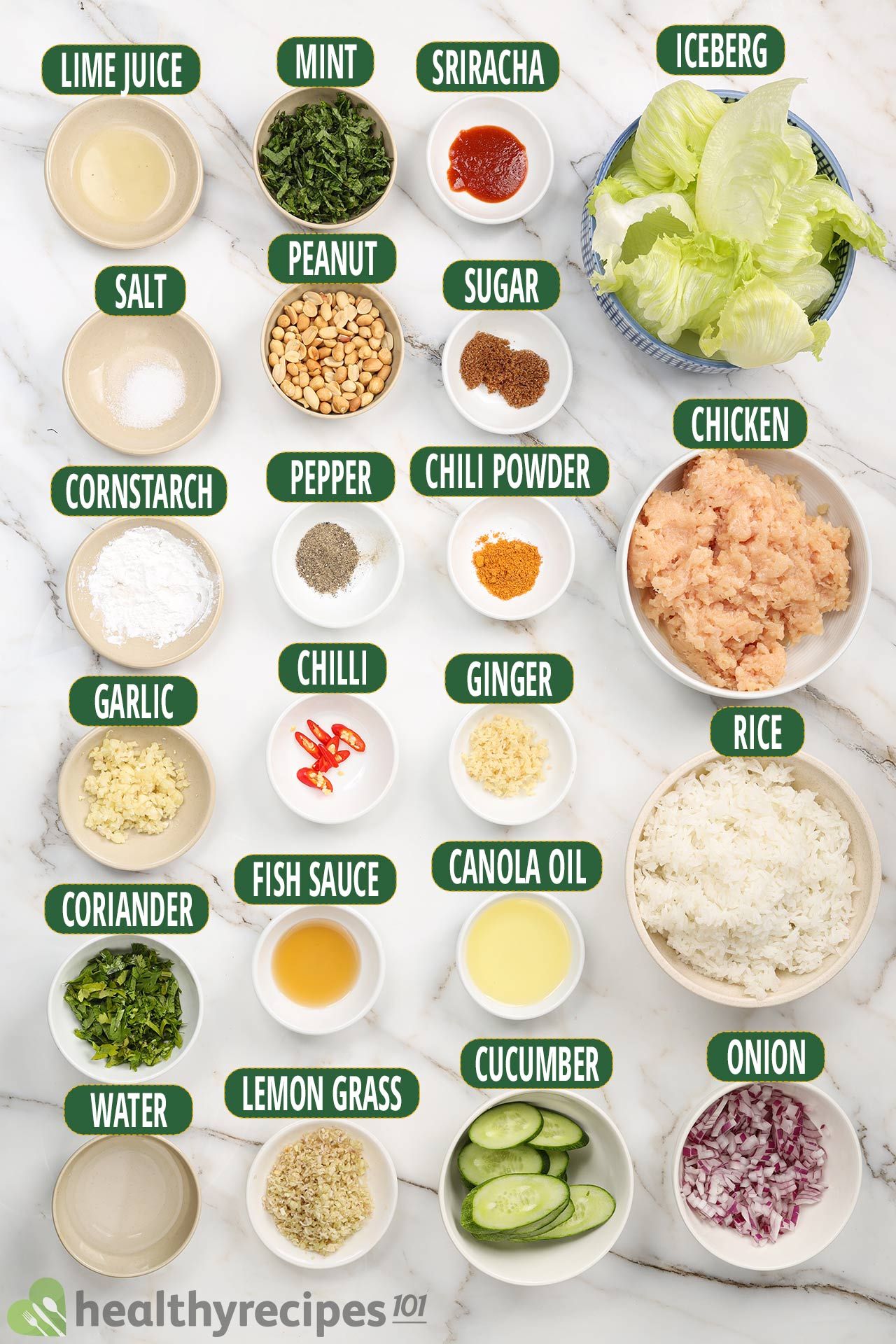 As for fish, freshwater catfish or tilapia are traditionally used. That being said, saltwater fish such as cod or haddock work just as well.
If you're vegan, you can be creative and reinvent this recipe using mushroom, corn, and/or tofu. If you do try it, please let us know in the comment section below.
How to Make Chicken Larb
First, start by sautéing the aromatics like garlic, ginger, lemongrass, and red onion over medium heat. You need to stir them constantly to avoid burning.
They need to be cooked in the fat for at least 30 seconds to take the raw edge off and make them fragrant. Otherwise, they would be quite pungent and flavorless.
Next, add the ground chicken and cook over medium heat. If there are big chunks of chicken, use a wooden spoon to break them down into smaller pieces.
When the chicken is cooked, your larb is basically ready to eat. Add fresh herbs and garnish with peanuts and chili before serving it with warm, cooked rice.
Here is a summary of our healthy chicken larb recipe:
Step 1: Sauté the aromatics.
Step 2: Cook the chicken.
Step 3: Season the chicken.
Step 4: Add the herbs.
Step 5: Garnish and serve.
Full ingredients and measurements are available in the recipe card below.
How to Store and Reheat Leftover Chicken Larb
Leftover chicken larb should be kept in an airtight container in the refrigerator where it'll last up to 7 days. Be sure to keep the chicken and other fresh vegetables such as cucumber and iceberg lettuce in separate containers.
Larb will also last for up to a month in the freezer. You can store it in either a freezer-safe container or a Ziploc bag.
Transfer the chicken to a microwavable container and reheat it for 2 minutes. If your chicken larb is frozen, you should let it thaw or defrost it in the microwave before reheating.
Side Dishes for Chicken Larb
We're serving our chicken larb with a side of Thai mango salad.
On one hand, the chicken is flavorful and savory. On the other hand, the salad is spicy, sweet, and sour.
Eaten together, they create a balance of all the flavors in one single bite. Try for yourself and you'll see that these two Thai-inspired dishes pair so well you'll think they were made for each other.
Here's a quick look today's meal's nutrition facts:
Recipes
Course
Calories
Saturated fat
Sodium
Chicken Larb
Main Dish
498
2.3 g
553 mg
Thai Mango Salad
Side Dish
256
2.3 g
226 mg
Total
754
4.6 g
779 mg
Nutritional values in this table vary somewhat to those below due to different app calculations. Read more...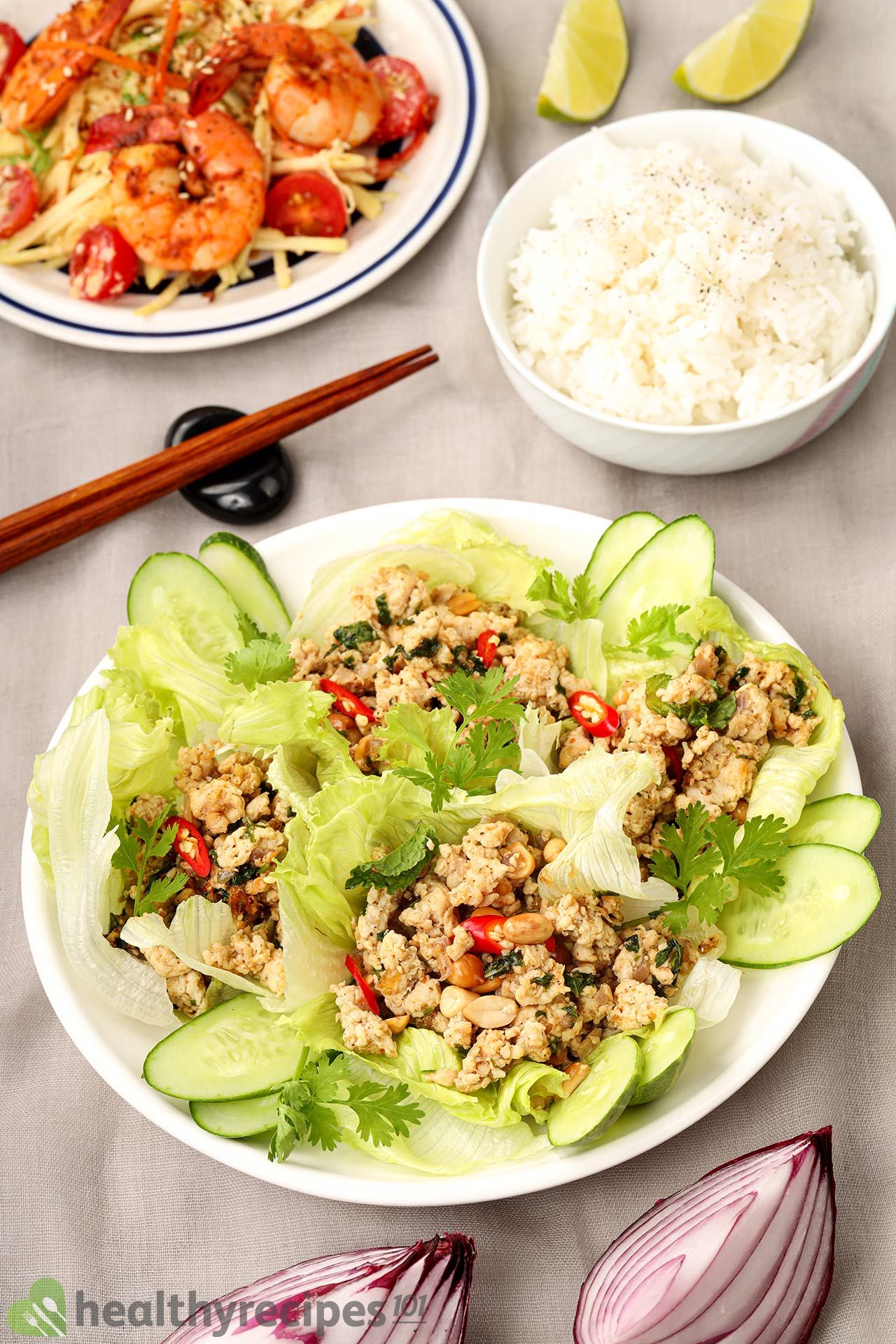 Easy, Healthy Chicken Recipes You May Like
Besides this tasty chicken larb recipe, we also have several amazing others chicken meals that we would like you to try. They're easy to follow and strictly comply with our guidelines: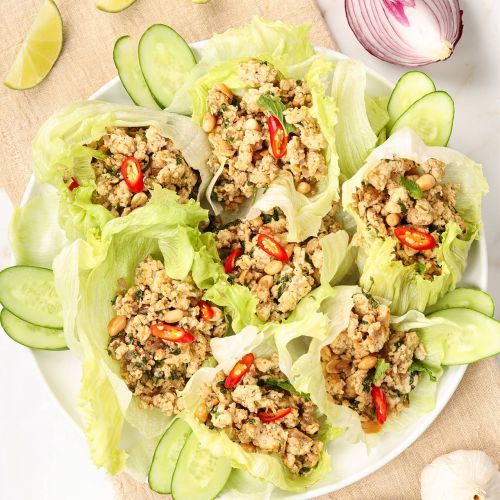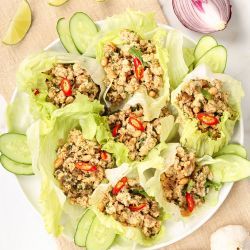 Chicken Larb Recipe
Our healthy chicken larb recipe takes only 5 minutes to prepare and 10 to cook. Your dinner will be ready in a blink of an eye.
Ingredients
15

oz

skinless boneless chicken breast

ground

2

tbsp

canola oil

2

tbsp

garlic

minced

1

tbsp

ginger

minced

2

tbsp

lemon grass

minced

2

oz

red onions

finely diced

2

tsp

cornstarch

1

tbsp

lime juice

3

tbsp

water

2

tsp

brown sugar

1

tsp

red bird's eye chilli

1/2

tsp

black pepper

3

cups

cooked medium-grain rice

0.25

oz

mint leaves

chopped

0.25

oz

coriander

chopped

1/2

tsp

salt

1/2

tbsp

Thai fish sauce

2

oz

peanuts

roasted

1/2

tsp

unsalted chili powder

1

tsp

sriracha

4

oz

cucumber

sliced

4

oz

iceberg lettuce

separated
Instructions
Sauté the aromatics: In a cast iron over medium heat, add the canola oil, garlic, ginger, and lemongrass. Stir constantly for 30 seconds or until fragrant. Add the red onions and stir for another minute.

Cook the chicken: Add the chicken to the same skillet and cook for 5 minutes. Break any big chunks into smaller pieces and stir occasionally while you cook.

Season the chicken: Add the cornstarch, lime juice, water, sugar, pepper, salt, fish sauce, chili powder, and sriracha. Cook and stir for an additional 3 minutes.

Add the herbs: Add the mint leaves and coriander. Stir for 30 seconds and turn off the heat.

Garnish and serve: Sprinkle with the roasted peanuts and bird's eye chili. Lay the iceberg lettuce in a large serving platter and scoop the chicken larb on top of the lettuce. Serve with warm, cooked rice and cucumber.
Nutrition
Nutrition Facts
Chicken Larb Recipe
Amount Per Serving (1 serving)
Calories 498
Calories from Fat 153
% Daily Value*
Fat 17g26%
Cholesterol 78mg26%
Sodium 554mg24%
Potassium 678mg19%
Carbohydrates 52g17%
Protein 32g64%
Vitamin A 415IU8%
Vitamin C 8mg10%
Calcium 56mg6%
Iron 4mg22%
* Percent Daily Values are based on a 2000 calorie diet.