This air fryer chicken fajitas recipe may not be 100% authentic, but it sure is healthy, easy to make, and delicious. Let's begin!
Are Air Fryer Chicken Fajitas Healthy?
In short, yes. Here's why our chicken fajitas recipe is healthy:
Low-fat: Cooking in an air fryer allows us to minimize the oil and thus reduce the amount of fat per serving.
Relatively low in calories: One serving of our air fryer chicken fajitas contains 470 calories per serving.
Low in sodium: Fajitas often contain sodium-intensive ingredients such as tortillas, mayonnaise, and cheese. We're skipping the mayonnaise for this recipe and using a small amount of cheese.
High in protein: We love using boneless skinless chicken breast for our recipes. It's an affordable, flavorful cut of chicken that is high in protein and low in calories.
If you want to know more about recommended intakes of calories, fat, and sodium, check out our healthy eating guidelines.
And if you love chicken fajitas, we have already written about two other ways to prepare them. Have a look at our easy chicken fajitas recipe and Instant Pot chicken fajitas recipe.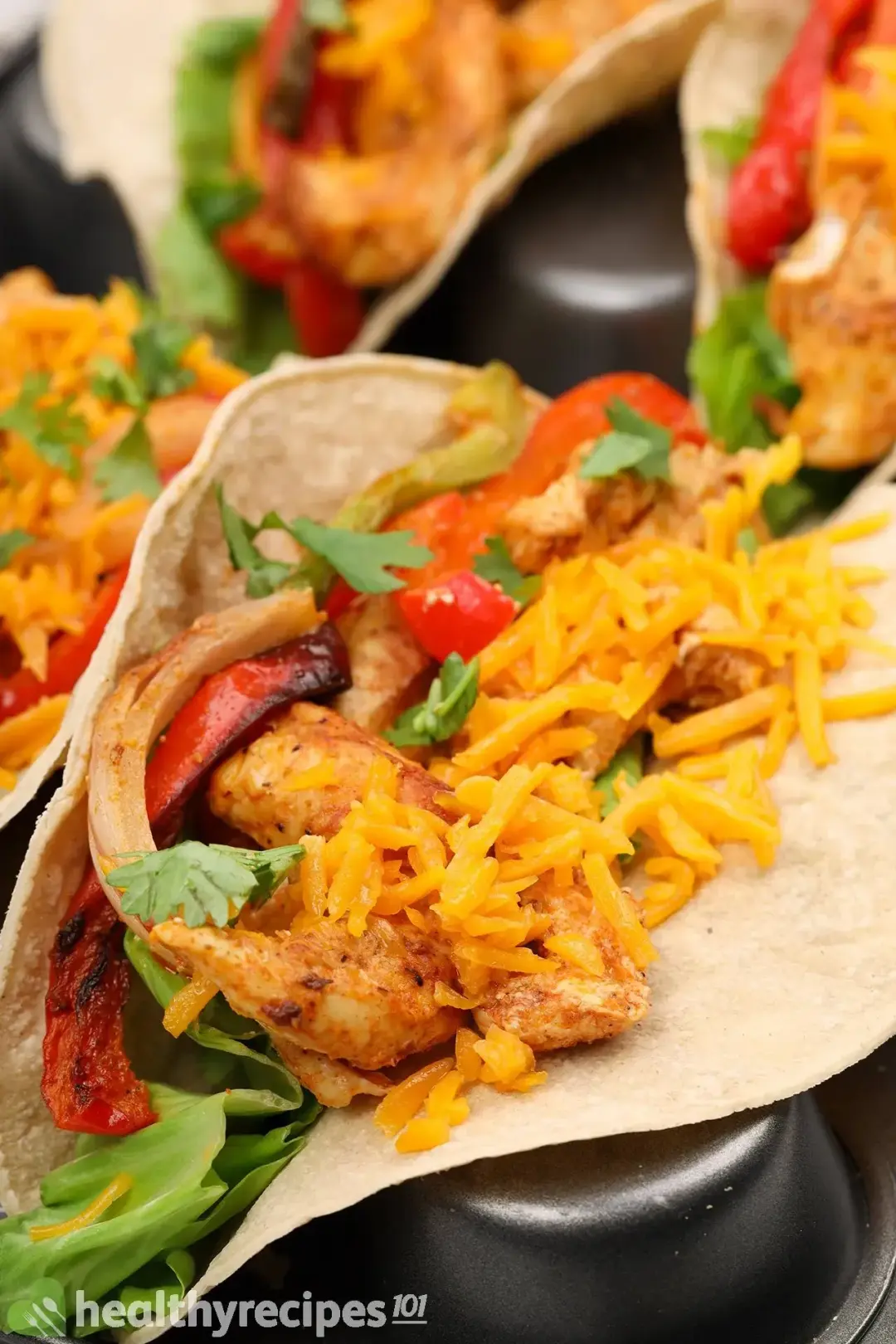 What's in Chicken Fajitas?
Here are the ingredients to our air fryer chicken fajitas recipe:
Chicken: Boneless, skinless chicken breast is the best choice as it is lean and low in fat and calories.
Tortillas: We're using 6-inch corn tortillas for this recipe.
Cheese: Shredded cheddar cheese is the best pick for any Mexican-inspired recipe.
Vegetables: We're using red onions, bell peppers, and lettuce escarole. You can use iceberg or romaine lettuce for this recipe if you prefer.
Herbs: We're only using coriander for this recipe. If you don't have any, you can skip it.
Seasonings: Paprika, dried oregano, cumin powder, cayenne pepper, garlic powder, onion powder, salt, black pepper, lime juice, and Dijon mustard all combine for an excellent flavor.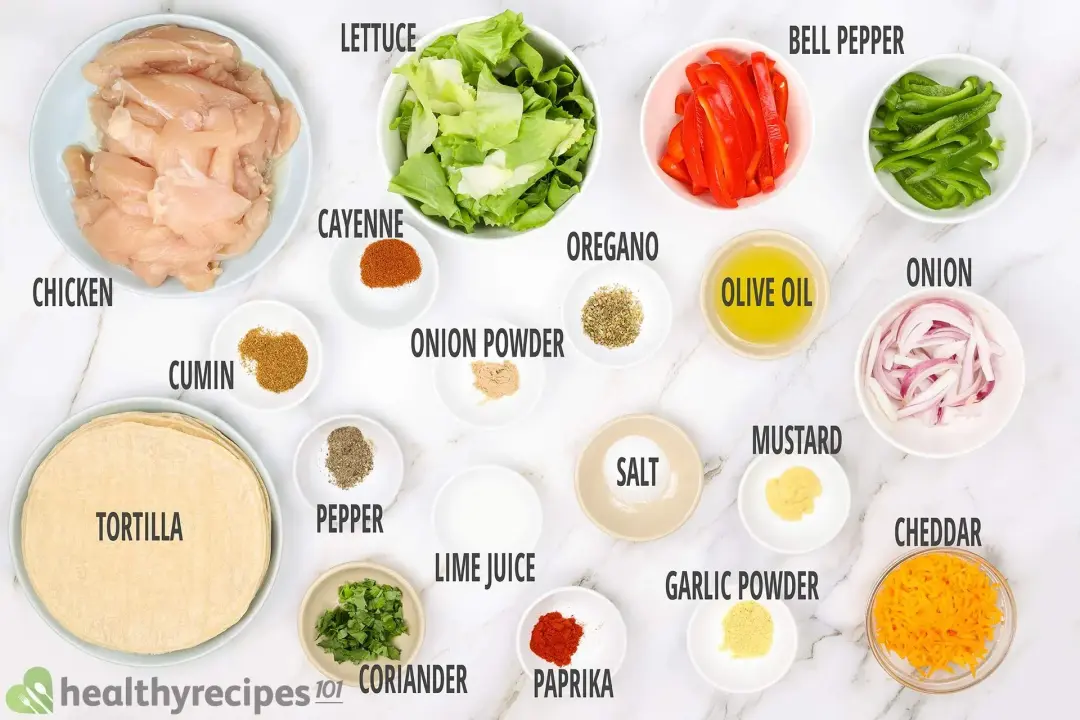 How to Season Chicken for Fajitas
Here is how to prepare and season the chicken for fajitas:
First, place a piece of boneless, skinless chicken breast on a cutting board and slice it into thin strips. Transfer the sliced chicken to a large bowl.
Add all the spices to the chicken and mix well to marinate.
You can either use a wooden spoon to help you mix or wear kitchen gloves and use your hands. Make sure all the seasonings coat the chicken evenly.
Our recipe doesn't require you to let the chicken sit, so there's nothing wrong with cooking it right away. However, you can extract even more flavor if you let it marinate for 15 minutes at room temperature or up to 2 hours in the refrigerator.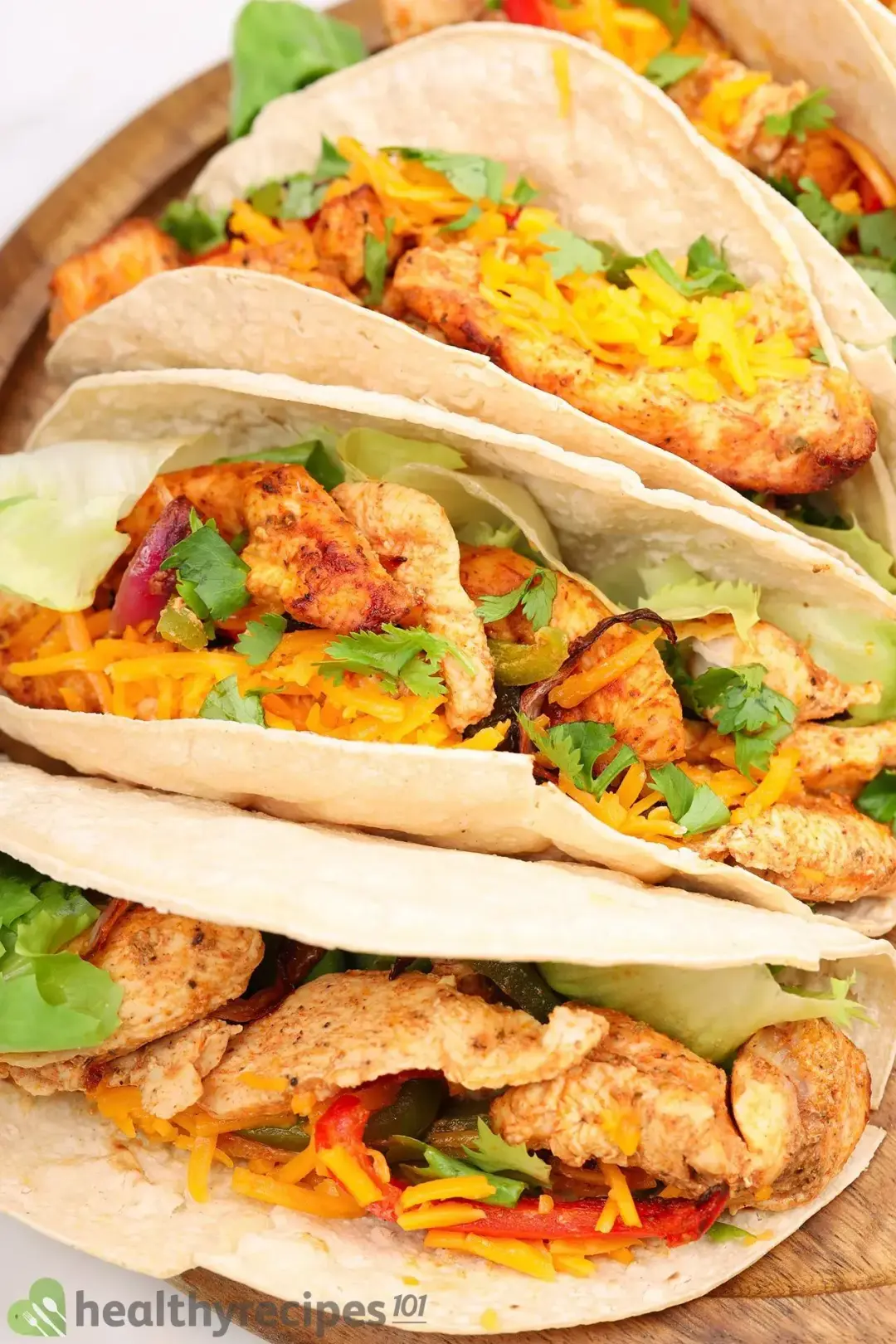 How Do You Make Chicken Fajitas in an Air Fryer?
First, you will need to marinate the chicken. We recommend placing the chicken and all the seasonings in a large bowl so it's all easier to mix.
Once the chicken is evenly coated with all the spices, add the vegetables to the same bowl. Toss everything together so that the seasonings can cling onto the vegetables as well.
Pro tip: It's important not to put the veggies in at the beginning because they may soak up too much of the spice and leave the chicken under-seasoned.
Once everything is marinated, transfer it all into the air fryer and cook for 15 minutes. Just before the chicken is finished, throw your tortillas in the oven so everything will be ready at the same time.
Once the tortillas are warmed through, stack them on each other and cover them with a kitchen towel. This will keep them from drying out.
Here's a summary on our air fryer chicken fajitas recipe: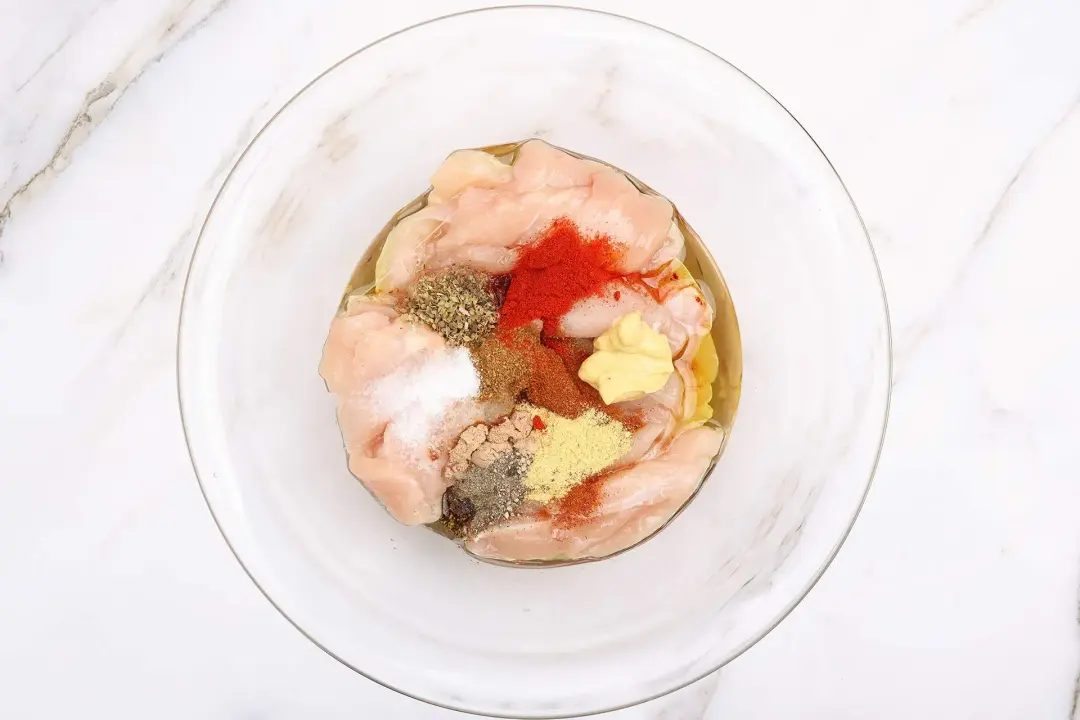 Marinate the chicken.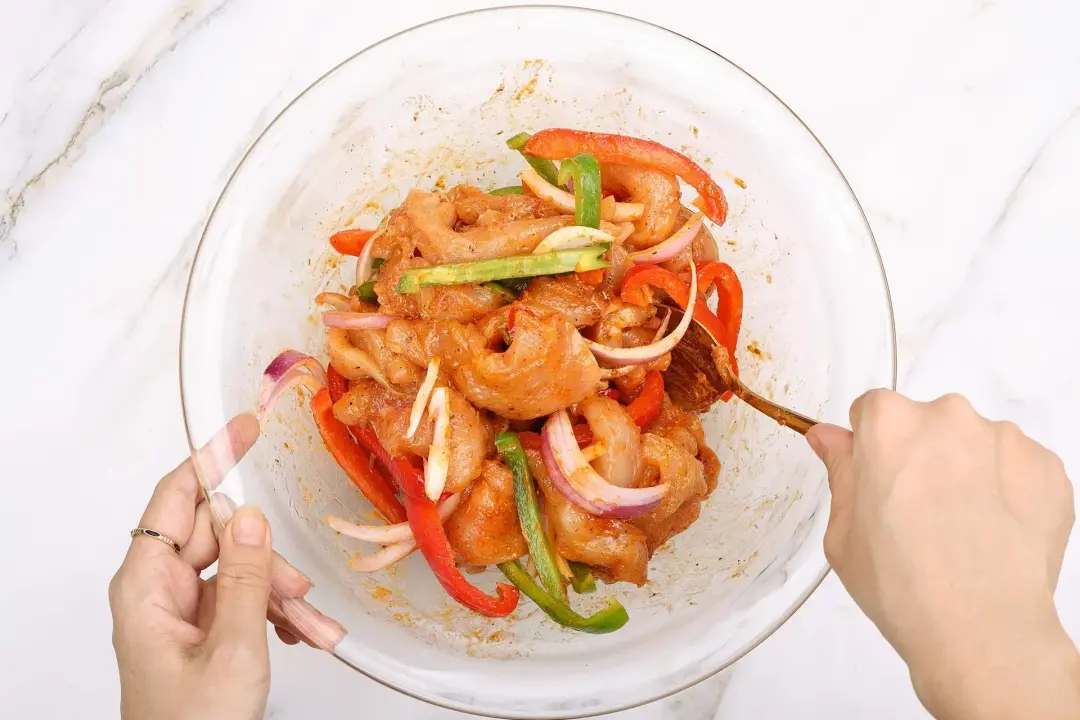 Season the vegetables.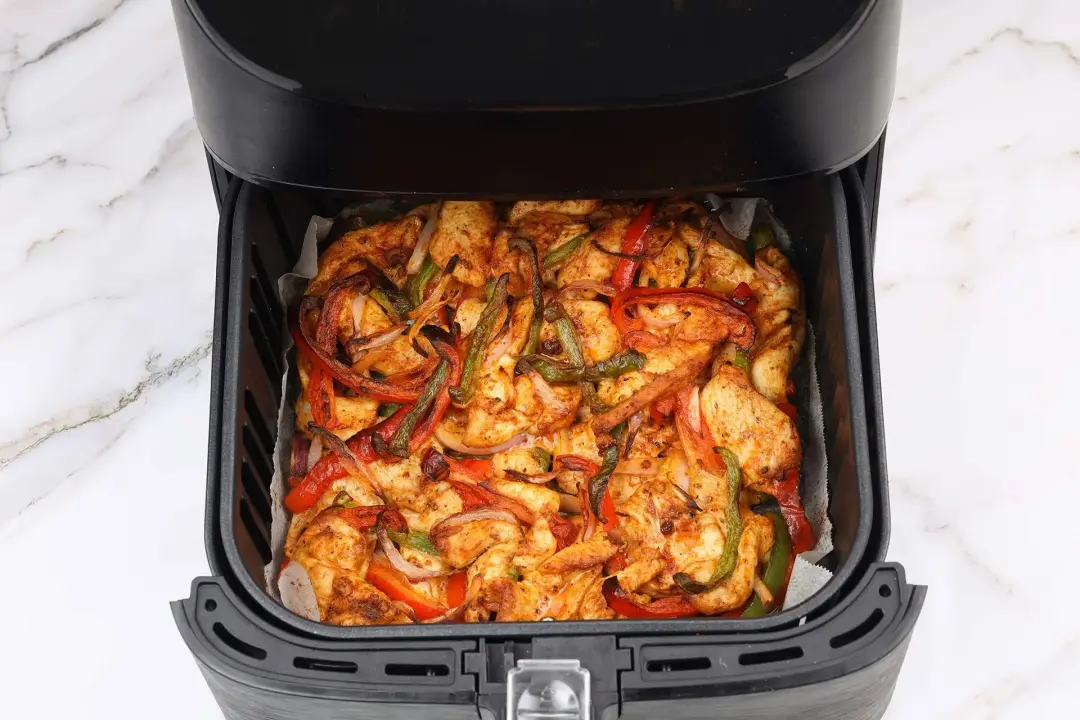 Cook the chicken.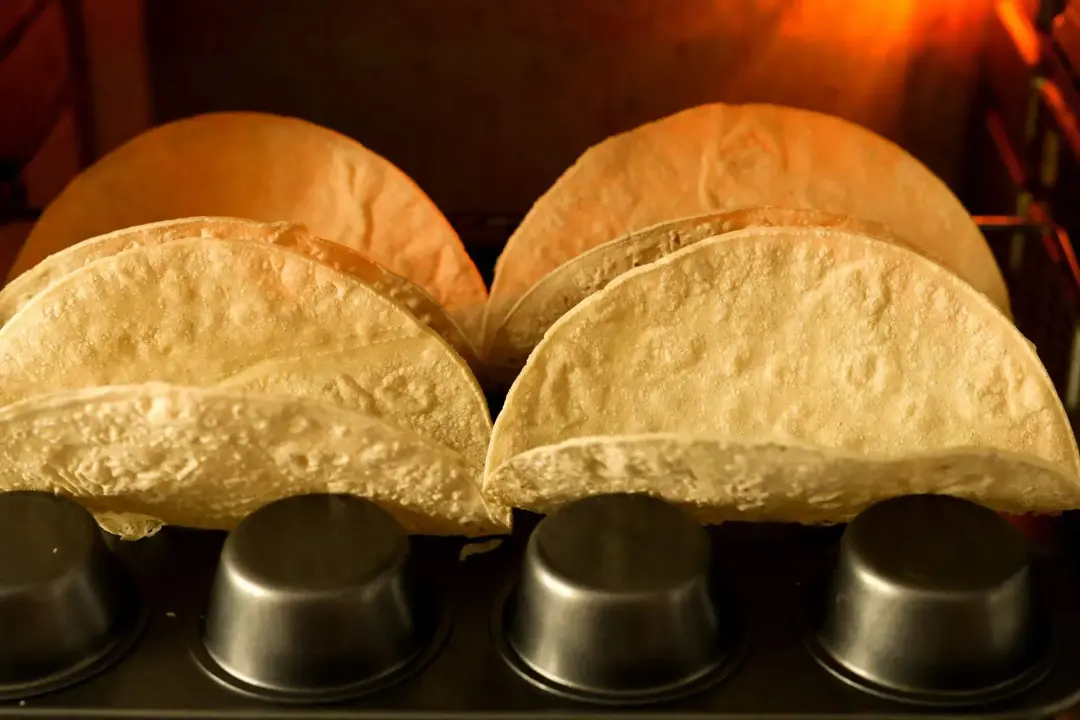 Warm the tortillas.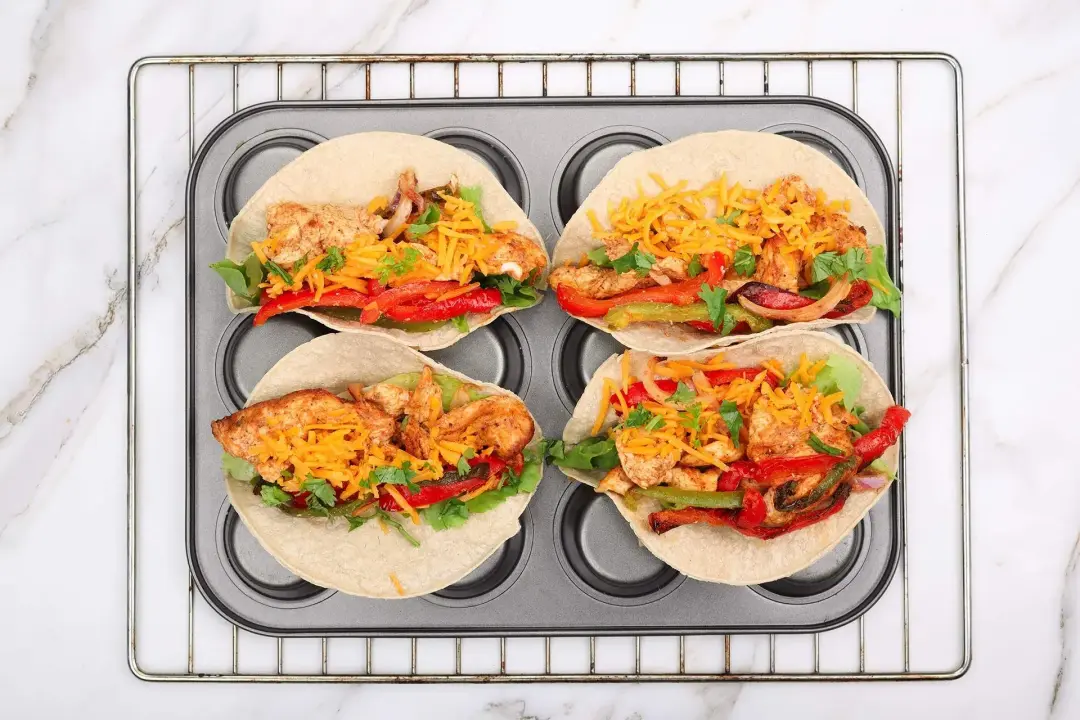 Garnish and serve.
Full ingredient measurements are available in the detailed recipe section below.
How Long Do Chicken Fajitas Last in the Fridge?
If you have leftover chicken fajitas, keep them in an airtight container. They should last up to a week. We recommend storing the chicken, tortillas, shredded cheese, and other toppings in separate containers to prolong their shelf lives.
If you love this recipe, you may also love this traditional Chicken Fajitas Recipe, or Instant Pot Chicken Fajitas Recipe is a more convenient version. For more recipes on air fryer, have a look at our air fryer dinner ideas.
How Do You Reheat Chicken Fajitas in an Air Fryer?
Here's how to reheat chicken fajitas in an air fryer:
Before you reheat the fajitas, preheat your device to 355°F for 5 minutes.
Line the basket of your air fryer with parchment paper or aluminum foil.
Put a tortilla on the bottom, arrange the fajitas and shredded cheese on top, and air-fry for 5 minutes.
What to Eat With Chicken Fajitas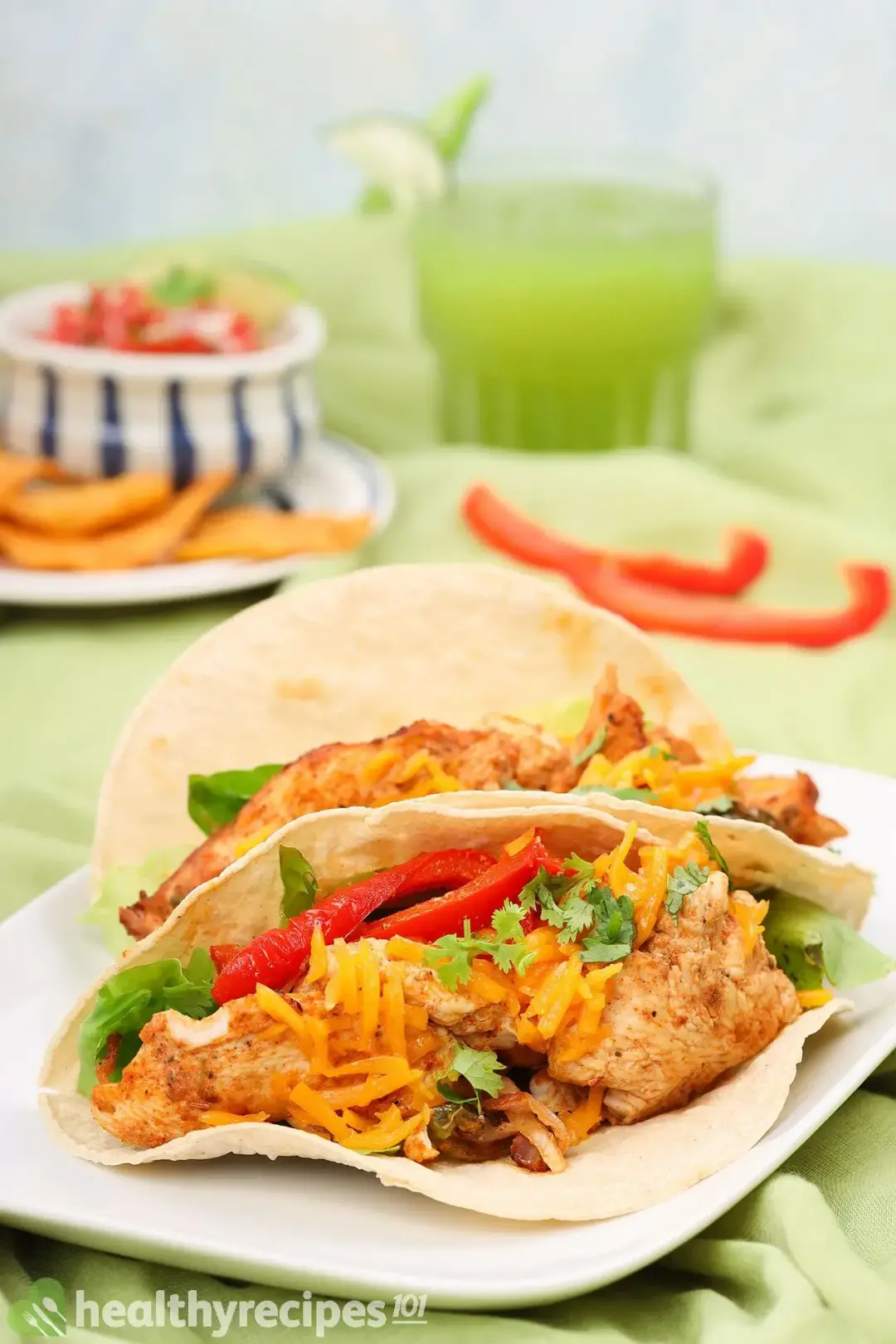 For today's meal, we're serving our chicken fajitas with a side of pico de gallo. It will add freshness and balance the spicy flavor of the chicken.
We also recommend having a glass of fresh celery cucumber juice as a dessert to cleanse your palate after the meal. The drink will help fill your stomach and make you feel satisfied.
Other Air Fryer Chicken Breast Recipes To Love
Here are a few of our favorite recipes with chicken in air fryer: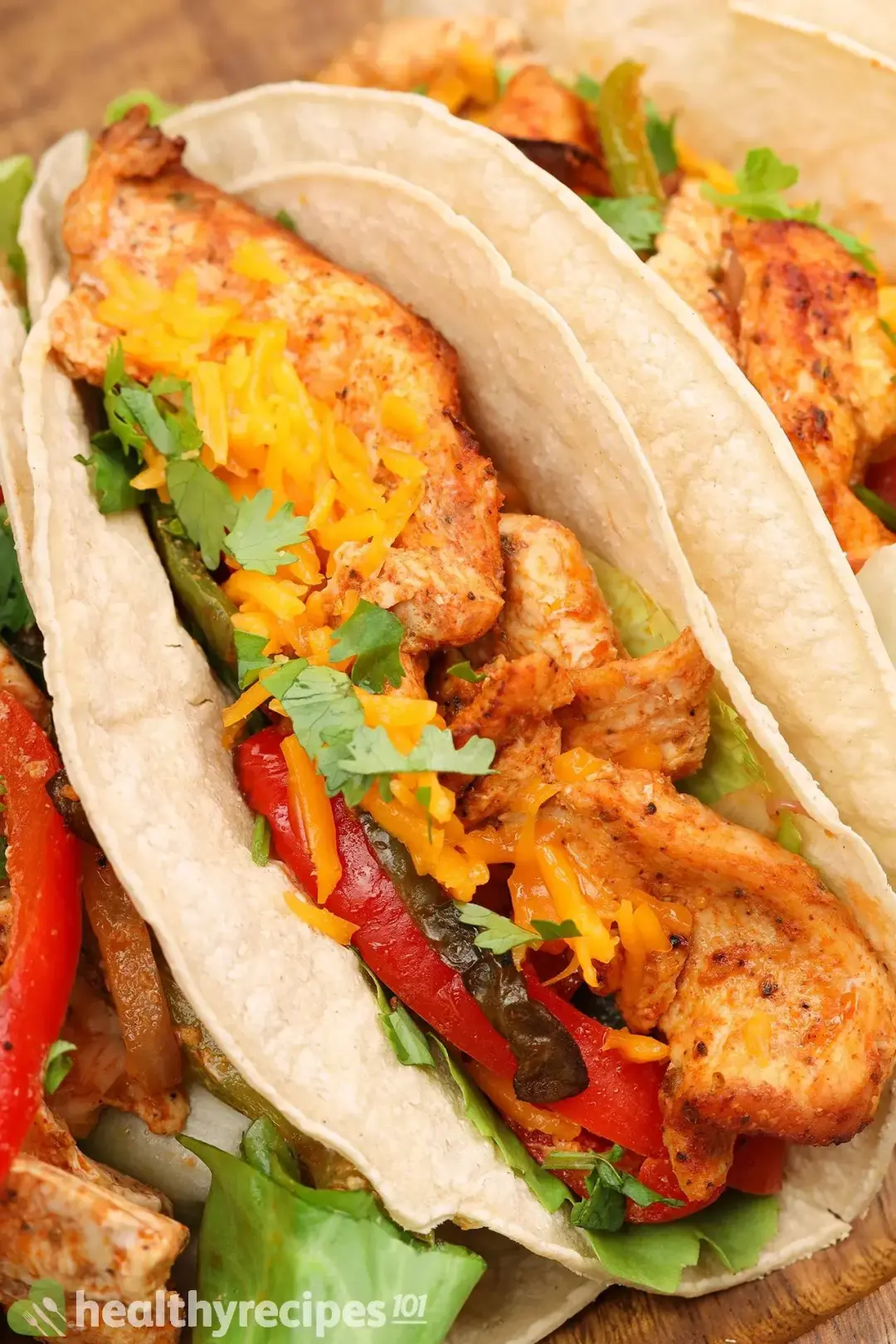 Air Fryer Chicken Fajitas Recipe
These air fryer chicken fajitas may take 28 minutes to make, but they're so tasty they'll be gone in a flash. Let's see how they're made.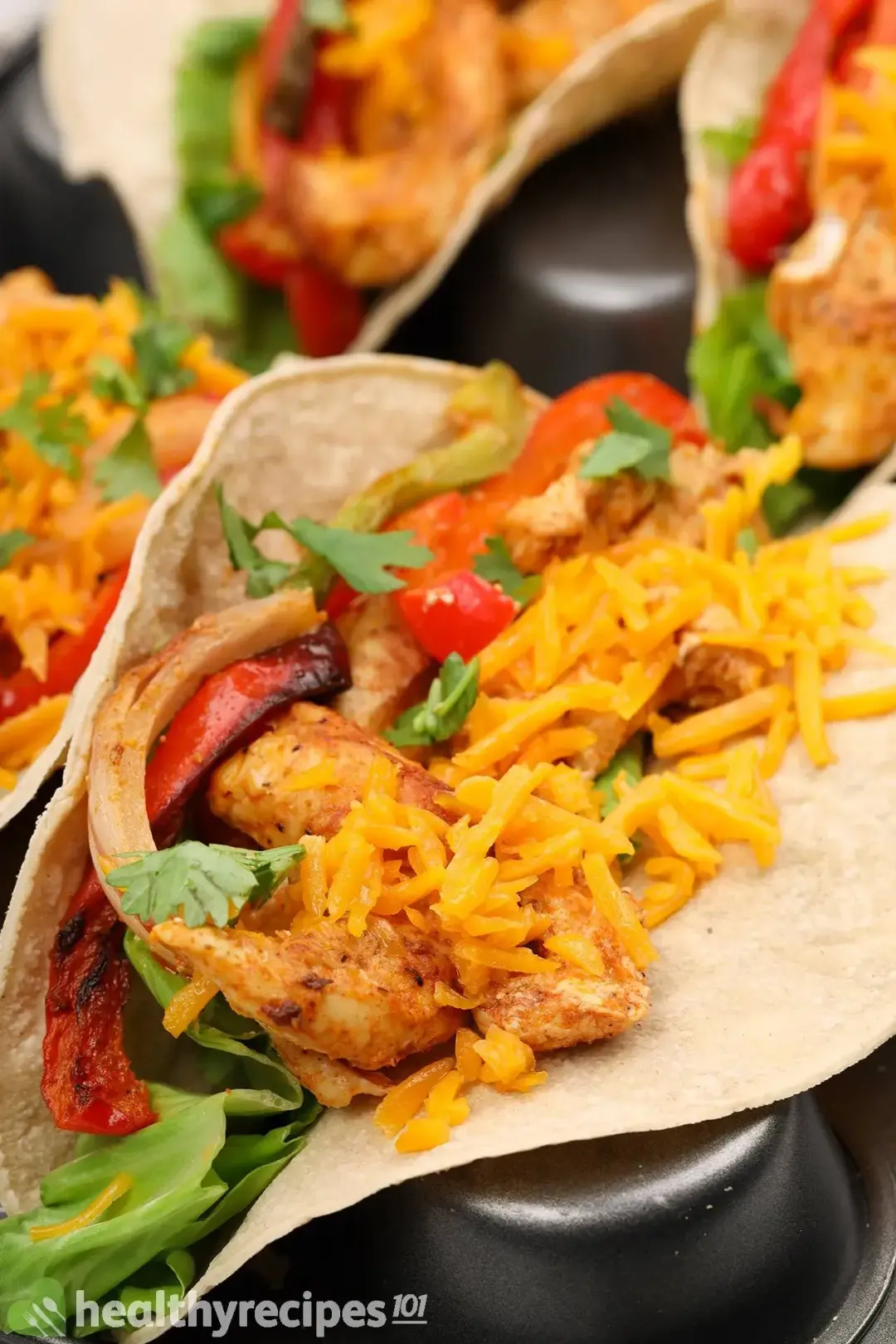 cook TIME

18 mins

prep TIME

10 mins

total TIME

28 mins
COURSE

Main Course

CUISINE

Mexican

SERVINGS

servings

CALORIES

473 kcal
INGREDIENTS
24 oz

skinless boneless chicken breast (cut into strips)

1 tsp

paprika

1 tsp

dried oregano

0.5 tsp

cumin powder

0.5 tsp

cayenne pepper powder

0.5 tsp

garlic powder

0.5 tsp

onion powder

0.5 tsp

salt

0.5 tsp

black pepper

2 tbsp

olive oil

1 tsp

lime juice (freshly squeezed)

2 tsp

traditional Dijon mustard

2 oz

green bell peppers

4 oz

red bell peppers

2 oz

red onion (sliced)

8

6-inch corn tortillas

2 oz

escarole lettuce

2 oz

cheddar cheese (shredded)

2 tbsp

coriander (roughly chopped)
INSTRUCTIONS
1
Marinate the chicken: In a large mixing bowl, add 24 oz boneless skinless chicken breast, 1 tsp paprika, 1 tsp dried oregano, 1/2 tsp cumin powder, 1/2 tsp cayenne pepper, 1/2 tsp garlic powder, 1/2 tsp onion powder, 1/2 tsp salt, 1/2 tsp black pepper, 2 tbsp olive oil, 1 tsp lime juice, and 2 tsp Dijon mustard. Mix well so that the seasonings coat the chicken evenly.
2
Season the vegetables: Add bell peppers and red onions to the same bowl. Mix to coat the vegetables with the seasonings.
3
Cook the chicken and veg: Preheat your air fryer to 355°F for 5 minutes. Line your air fryer basket with parchment paper and put the marinated chicken and vegetables inside. Air-fry for 15 minutes.
4
Warm the tortillas: While the chicken is cooking, place the tortillas in a preheated oven at 390°F and bake for 3 minutes.
5
Garnish and serve: Put the cooked chicken, bell peppers, red onions, escarole lettuce, and shredded cheese inside the tortillas. Sprinkle with fresh coriander and serve.
NUTRITION
Nutrition Facts
Air Fryer Chicken Fajitas Recipe
Amount Per Serving (1 serving)
Calories 473
Calories from FDA
% Daily Value*
* Percent Daily Values are based on a 2000 calorie diet.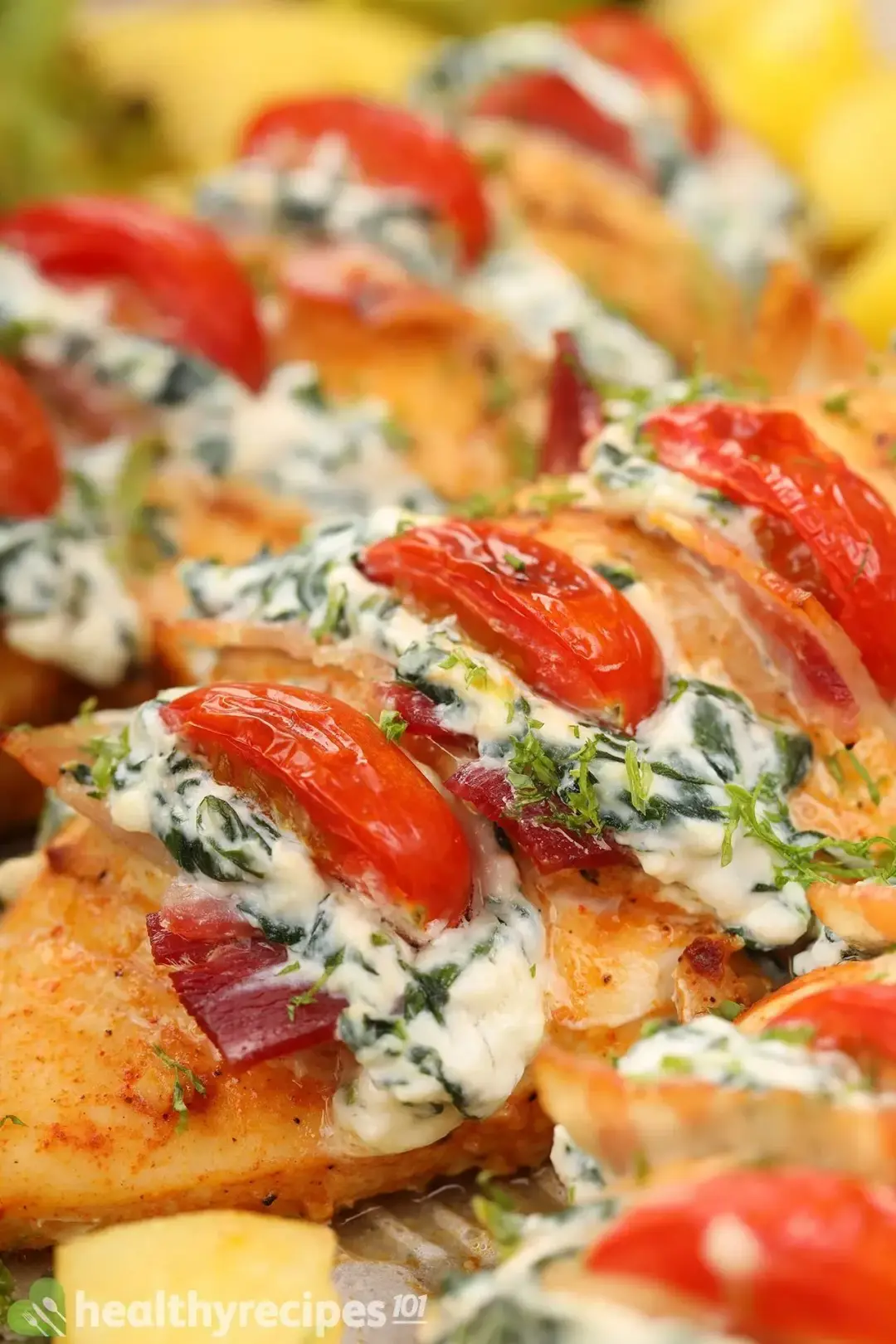 Previous Recipe
Hasselback Chicken
Hasselback Chicken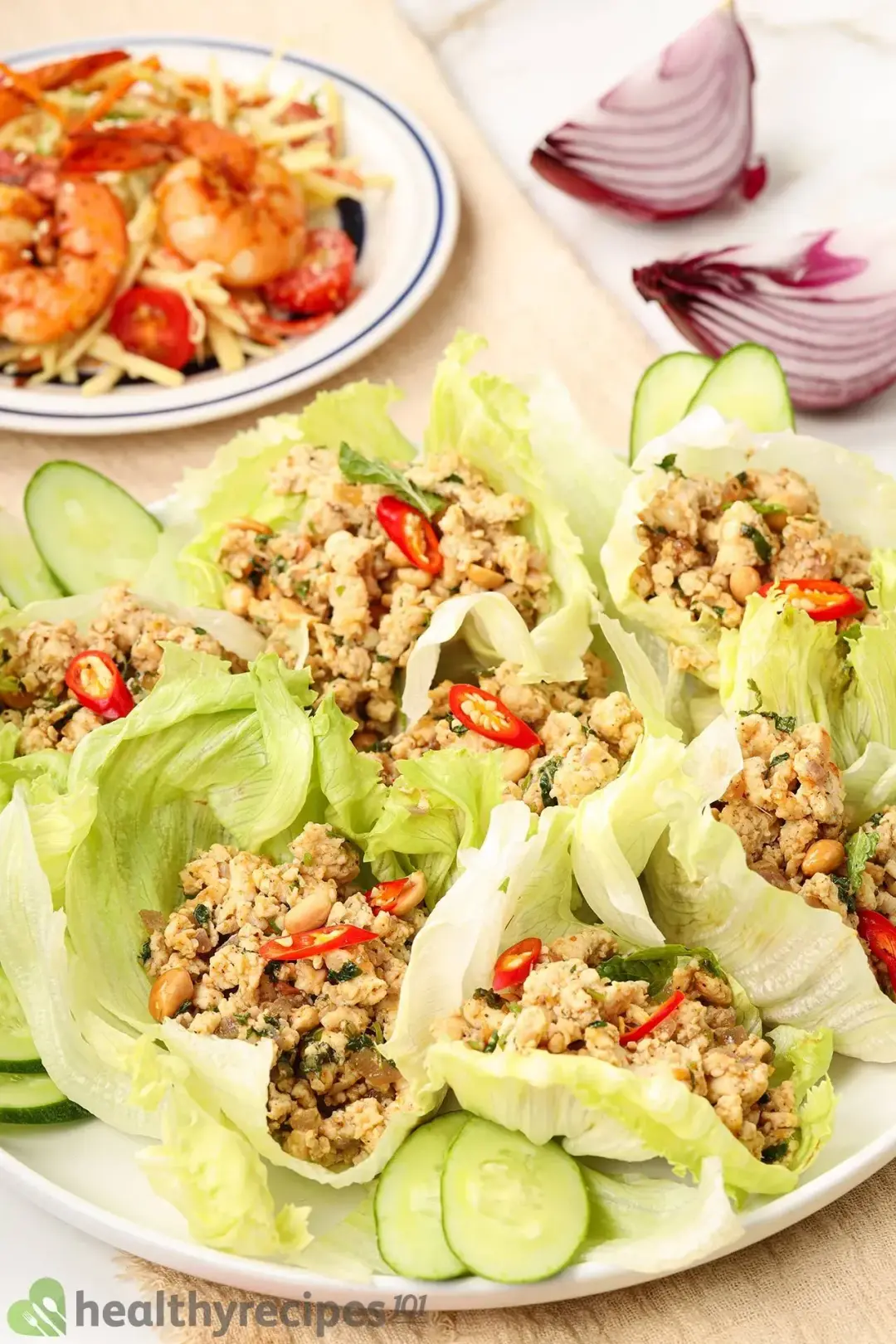 Chicken Larb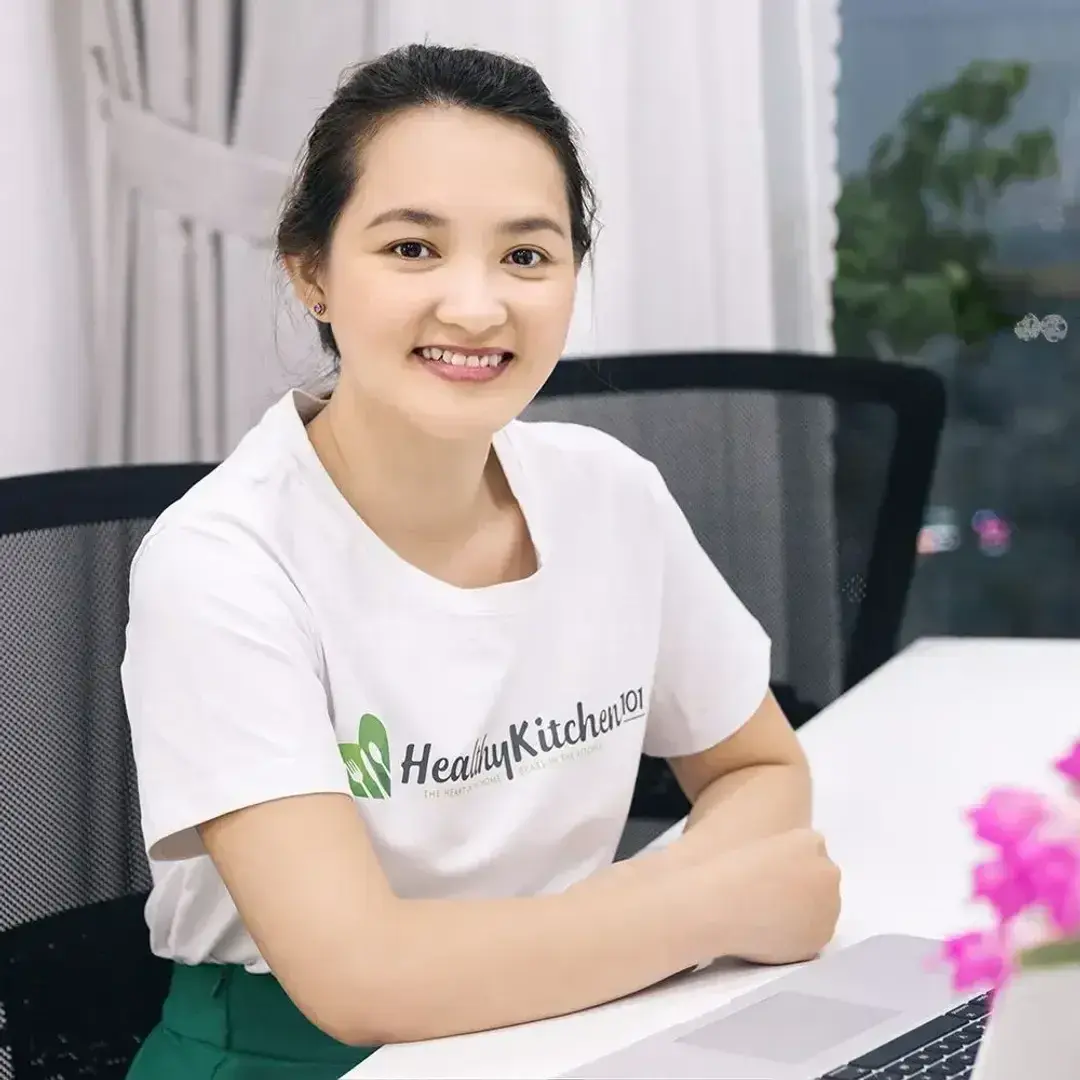 Founder
Luna Regina is an accomplished writer and author who dedicates her career to empowering home cooks and making cooking effortless for everyone. She is the founder of HealthyKitchen101.com and HealthyRecipes101.com, where she works with her team to develop easy, nutritious recipes and help aspiring cooks choose the right kitchen appliances.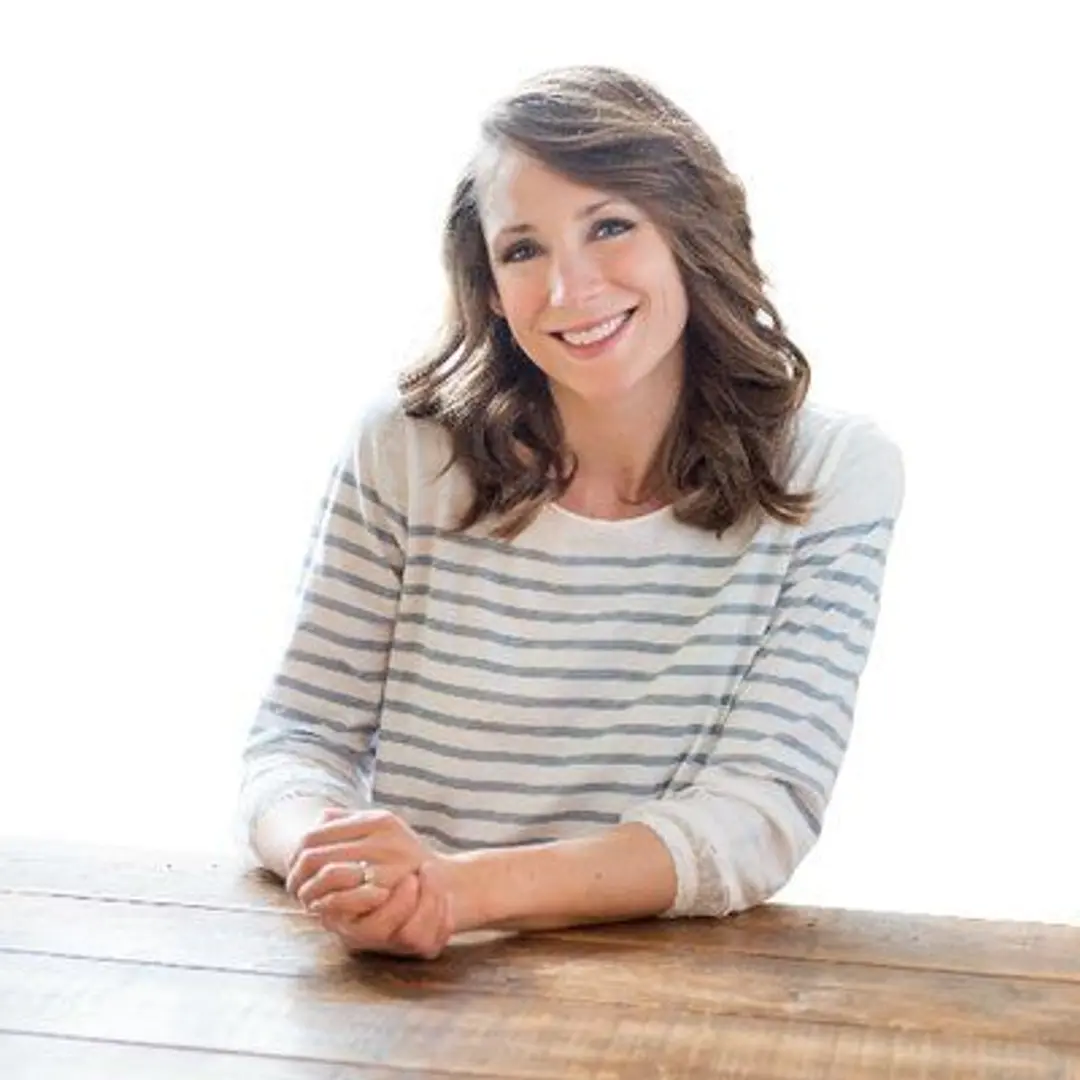 Nutrition Reviewer
Natalie is a registered dietitian nutritionist with a passion to help others live their best life through food, fitness, safer beauty and a healthy lifestyle. She has expertise with a variety of diets and diseases and believes that there is no one-size-fits-all approach for health.
Comments/ Reviews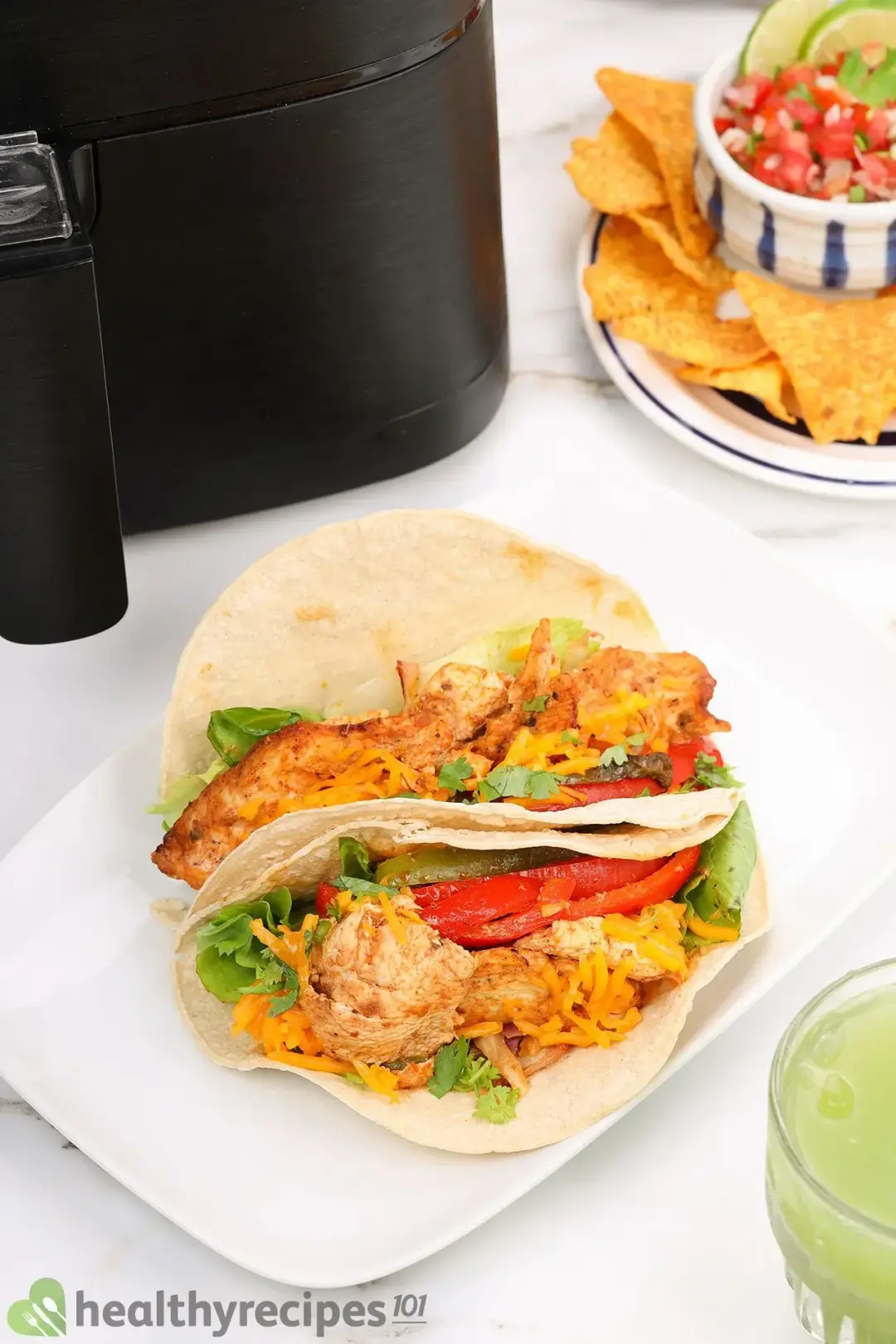 Air Fryer Chicken Fajitas Recipe