Offering so many flavors and textures in just one bite, tacos are hands-down our favorite dish to make and enjoy at family gatherings. Today's ground chicken tacos are loaded with crunchy romaine lettuce, tender ground chicken, tomatoes, onions, spices, and herbs—transforming the simple into the incredible.
Though the ingredient list seems daunting at first glance, this Mexican specialty only takes 20 minutes to complete.
Are Ground Chicken Tacos Healthy?
This ground chicken tacos recipe is a healthy and tasty dish worth keeping in your back pocket.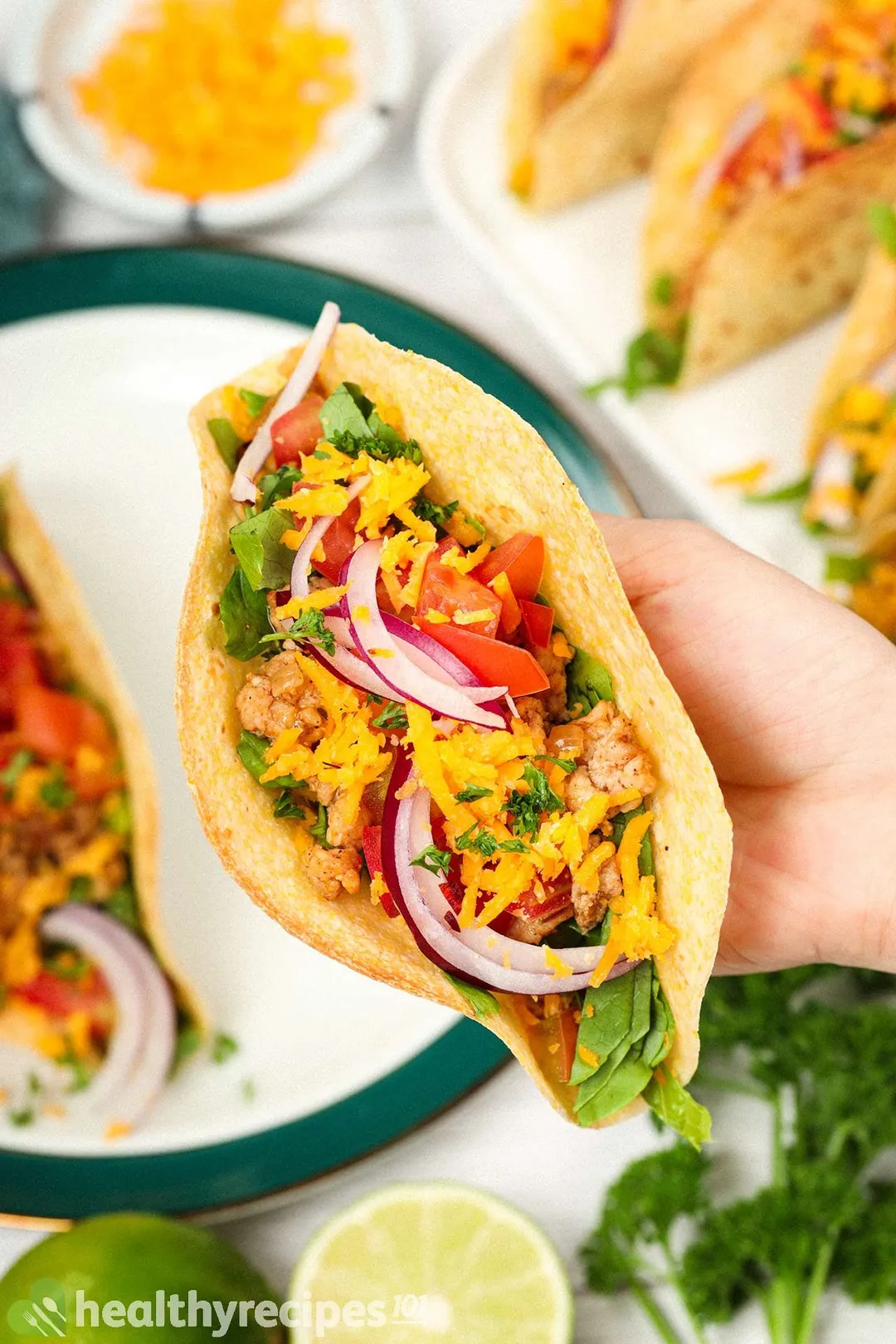 Our chefs opt for skinless, boneless chicken thigh—one of the leanest chicken cuts—as the primary protein source for today's tacos. Thus, each serving offers you 34.7 g of high-quality protein, up to 69% of the recommended daily intake. Moreover, we prefer making ground chicken from scratch to ensure it is free from harmful additives.
Our tacos are also loaded with shredded lettuce, yellow onions, red onions, and diced tomatoes for a boost of dietary fiber and micronutrients. The abundance of Lycopene found in ripe tomatoes links them to a myriad of health benefits.
When it comes to the choice of ingredients and the portion size, we have carefully calculated them to make sure our dish follows our nutrition guidelines. Specifically, one serving of this ground chicken tacos contains 468 calories, 7.1 g of saturated fat, and around 547 mg of sodium.
Ingredients
Our tacos get their incredible texture and flavor from fresh vegetables, succulent ground chicken, Mexican spices, and herbs—you can get your hands on these at any grocery store. Moreover, if you love a bargain, purchase the greens at the farmer's market instead.
Here are some of the main ingredients: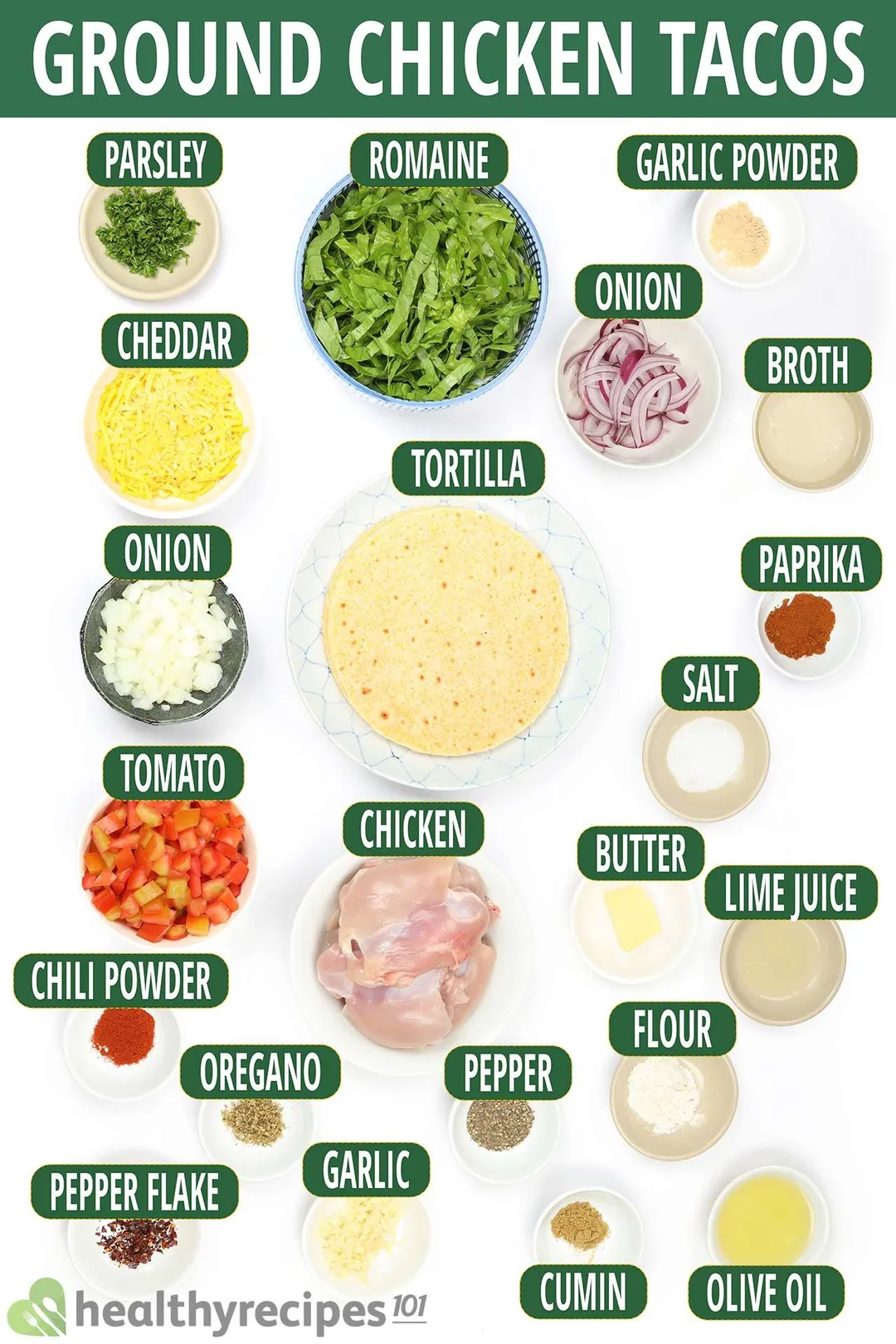 Ground chicken: The texture of the homemade ground chicken will differ slightly based on your choice of chicken cut. Chicken thigh is our favorite as it has a good balance of protein and fat (around 53% of protein verse 47% of fat)—lowering the risk of overcooked, rubbery chicken chunks.     
Romaine lettuce: Shredded lettuce adds a refreshing note and an exciting crunch to the tacos. For those who fancy a more vibrant presentation, we suggest mixing shredded lettuce and red cabbage—the green and bright purple hue help emphasize the color contrast.
Tomatoes: Nothing tingles our taste buds more than the umami flavor of fresh tomatoes. Instead of using regular tomatoes as we did, you can aim for halved cherry tomatoes if you have any on hand. 
Yellow and red onions: Why have to choose when you can have both yellow and red onions in one dish? Yellow onion adds a gentle sweetness, while its red variant introduces a mild spiciness to the dish.
Cheese: We are somewhat picky when choosing cheese for tacos because not any type works well for this Mexican goodness. Medium cheddar, crumbled feta, and shredded pepper jack are our chef's go-to cheese—their flavor helps elevate the pungency of Mexican spices.
Garlic and garlic powder: These essential flavorings add a garlicky note with a subtle caramelized aftertaste to the ground chicken.
Cumin: Warm, earthy, and slightly citrusy, cumin is a quintessential spice in North American and Middle Eastern cuisine.
Other spices and herbs: While the blend of paprika, chili powder, red pepper flakes, salt, and pepper introduces a lingering heat to the chicken, oregano adds a minty aroma and mild bitterness.
What to Serve With Ground Chicken Tacos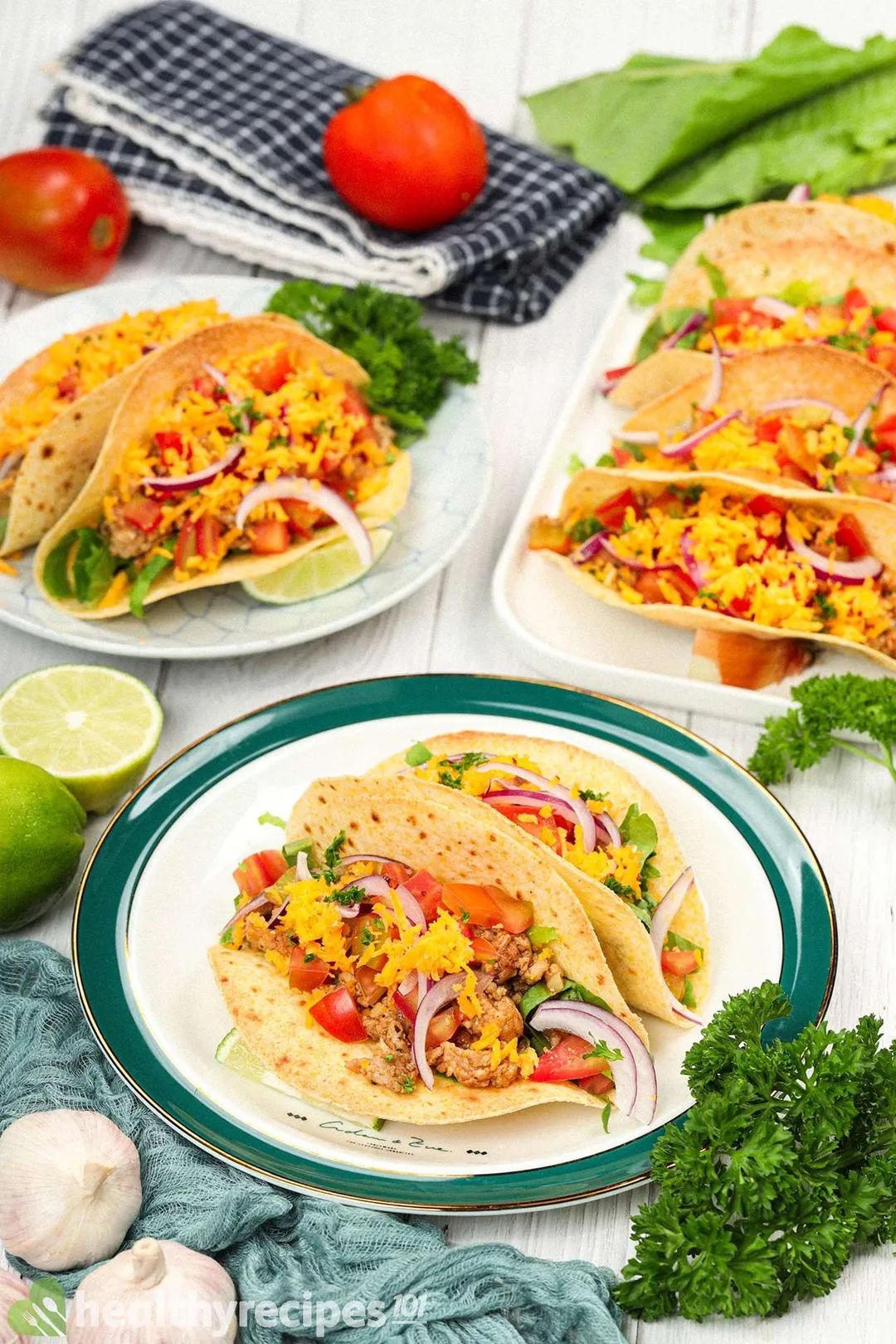 Fun, Easy Snacks for Parties
This recipe has shredded chicken breast, tortilla chips, and vegetables smothered in melted cheddar cheese, served inside crispy shells and completed with white sauce drizzles. It's a symphony of flavors and textures.
Popcorn chicken is a popular fast food item that can now be made healthier with this recipe of ours. Don't worry, although drenched in that flavorful sauce, it still has the same crispy exterior.
Ground Chicken Tacos
Our ground chicken tacos recipe, featuring juicy ground chicken and fresh vegetables, brings an eye-catching and mouth-watering Mexican dish to your dinner table.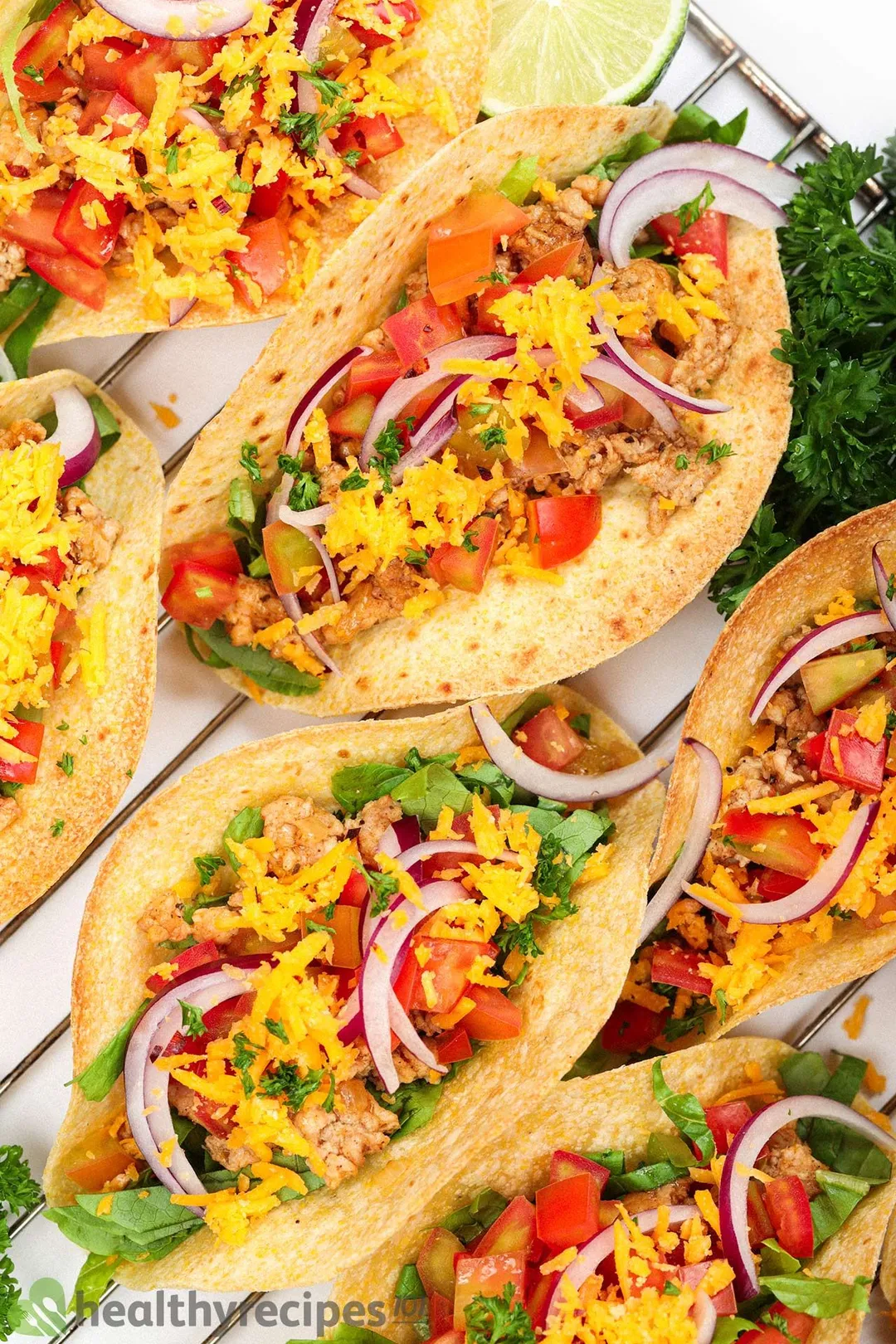 cook TIME

14 mins

prep TIME

6 mins

total TIME

20 mins
COURSE

Main Dish

CUISINE

Mexican

SERVINGS

CALORIES

468 kcal
INGREDIENTS
20 oz

skinless, boneless chicken thigh

3 oz

romaine lettuce

(cut into thin ribbons)

2 oz

cheddar cheese

(shredded)

1/2 tbsp

all-purpose flour

1/4 cup

unsalted chicken broth

1/2 tsp

red pepper flakes
INSTRUCTIONS
Prep:
1
Arrange the chicken thighs skin-side down on a cutting board. Use a sharpened knife to slice under and cut along the back of the bone. Discard the bone. Pull off the skin of the chicken thighs with your hand. Discard the skin. Slice the skinless, boneless chicken thighs crosswise into strips, then cut those strips into small chunks. Grind the chicken chunks in a food processor.
2
Halve the tomatoes lengthwise, then cut those halves in half again into wedges. Slice away the seeds with a paring knife. Cut each tomato wedge into 1/4-inch strips, then cut those strips into small cubes.
3
Remove the root of the romaine lettuce and separate the leaves from the bulb. Stack the leaves on top of each other, then slice them crosswise into thin ribbons.
4
Halve the onion lengthwise and peel away the skin. Trim one end and lay the halved onion face down. Make vertical slices, 1/8 inch apart, such that you cut towards the root; leave about 1/8 inch at the end so the root stays intact. Turn the half 90 degrees and grip the root. Slice the onion horizontally, again leaving 1/8 inch at the end to keep the root intact. Slice the onion into small, even cubes. Discard the root.
5
Halve the red onion lengthwise and remove the root and head. Grip the half by the side and make 1/8-inch slices across the half.
6
Finely mince the peeled garlic.
7
Finely chop the fresh parsley.
Cook:
1
Sauté the garlic and yellow onion: Place a non-stick pan over medium heat. Add 2 tbsp olive oil, 1 tbsp minced garlic, and 2 oz diced onion. Sauté them for 2 minutes.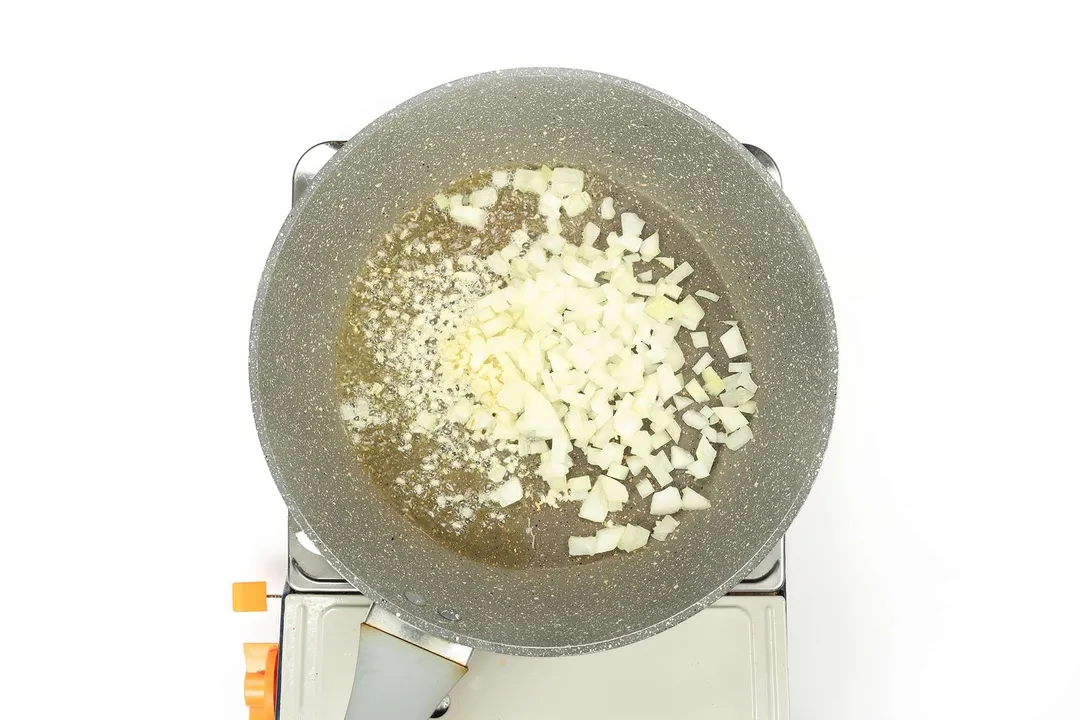 2
Add the ground chicken, spices, lime juice, and flour: Stir in 20 oz ground chicken, 1/2 tsp garlic powder, 1/2 tsp cumin, 1/2 tsp chili powder, 1/2 tsp paprika, 1/2 tsp oregano, 1/2 tsp salt, 1/2 tsp pepper, 1/2 tbsp all-purpose flour, and 1/2 tbsp lime juice. Stir well to cook for 5 minutes.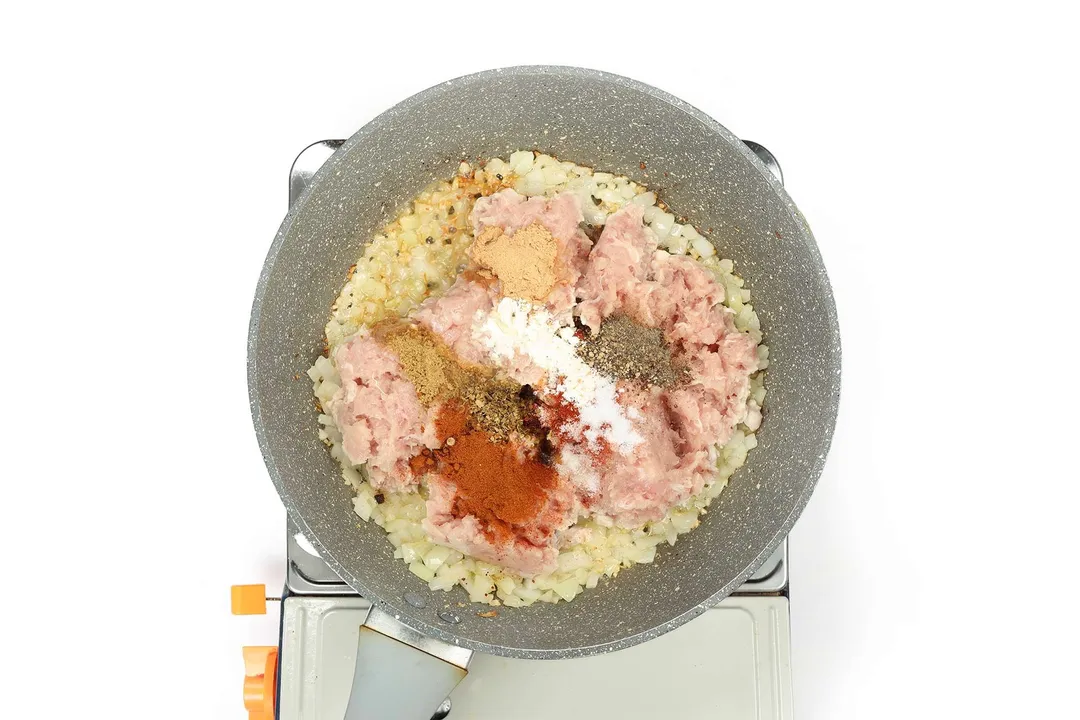 3
Add the butter and chicken broth: Add 1 tbsp unsalted butter and 1/4 cup unsalted chicken broth to the same pan. Mix well for another 3 minutes.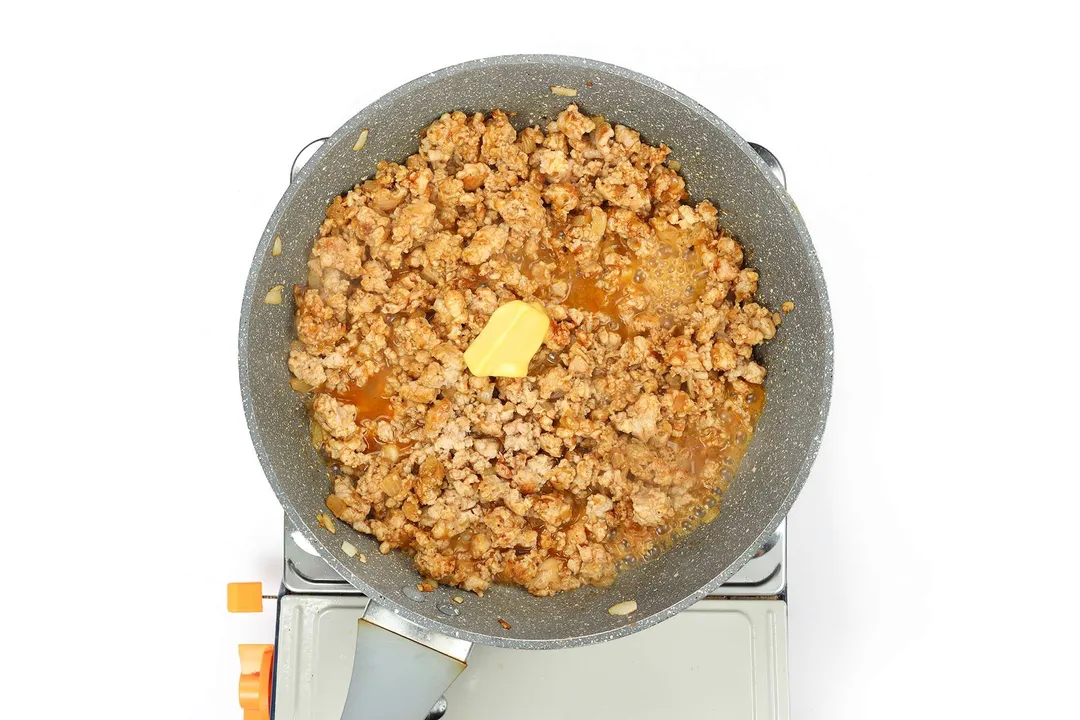 4
Bake the taco shells: Place 8 6-inch corn tortillas in a stainless taco rack (you can substitute with an upside-down muffin pan as in the clip). Preheat the oven to 375°F, then bake the corn tortillas for 4 minutes.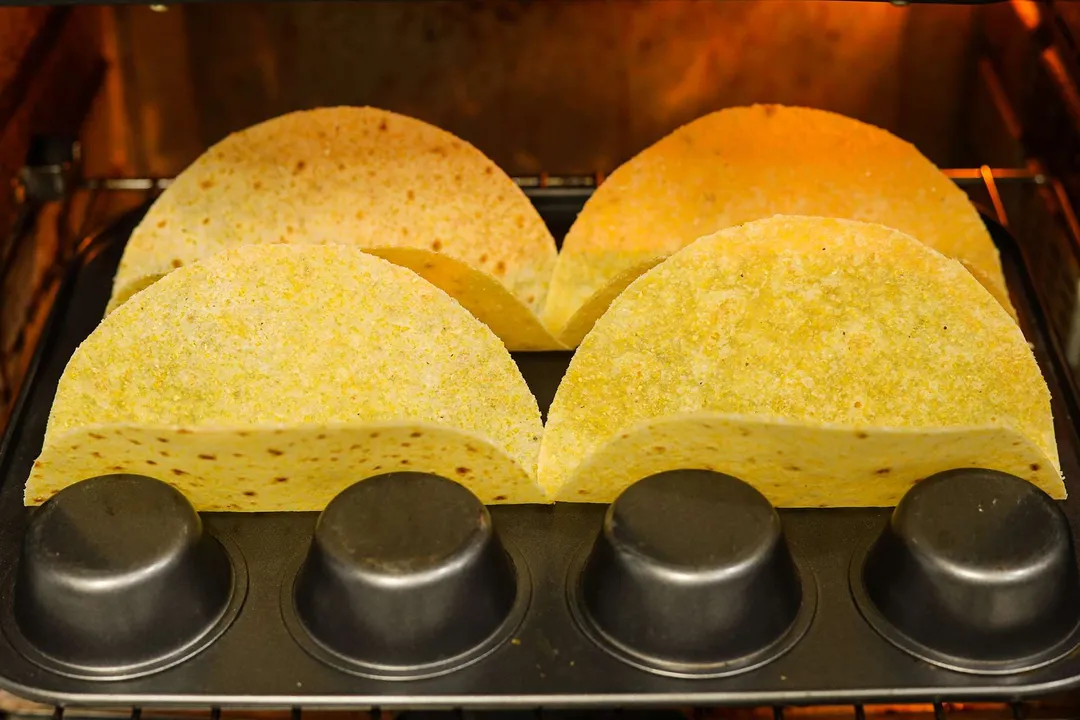 5
Assemble the ground chicken tacos: Fill each taco shell with romaine lettuce, cooked ground chicken, diced tomatoes, sliced red onion, and cheddar cheese. Sprinkle some red pepper flakes and chopped parsley on top. Serve hot and enjoy!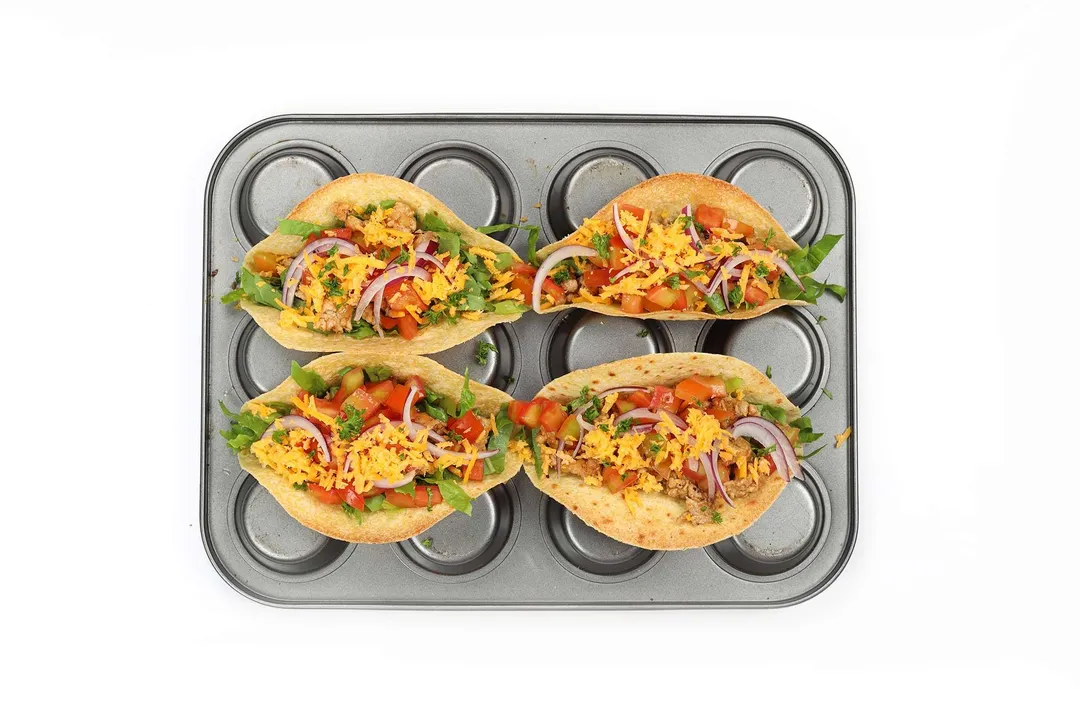 NUTRITION
Nutrition Facts
Ground Chicken Tacos
Amount Per Serving (1 serving)
Calories 468
Calories from Fat 206
% Daily Value*
* Percent Daily Values are based on a 2000 calorie diet.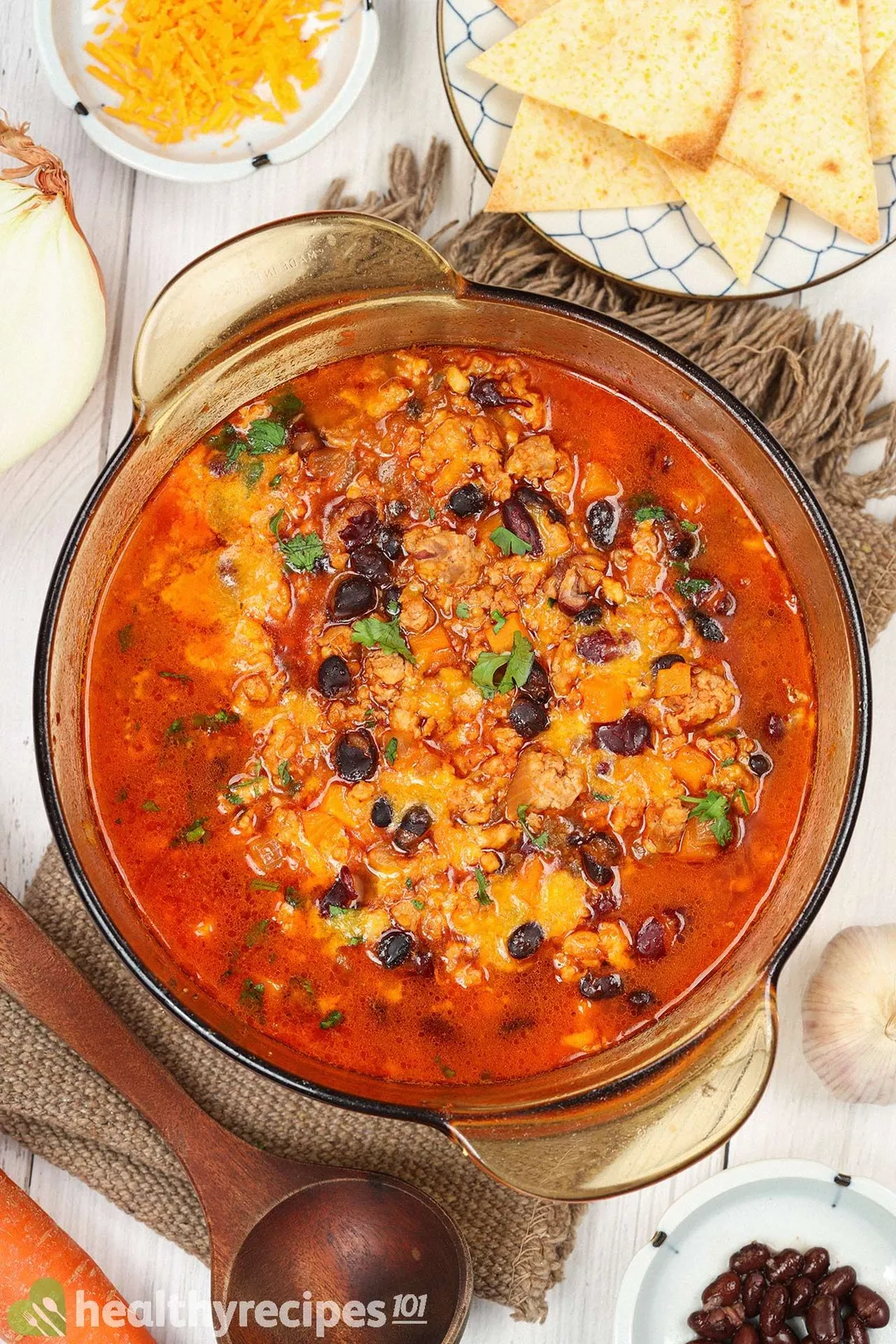 Previous Recipe
Ground Chicken Chili
Ground Chicken Chili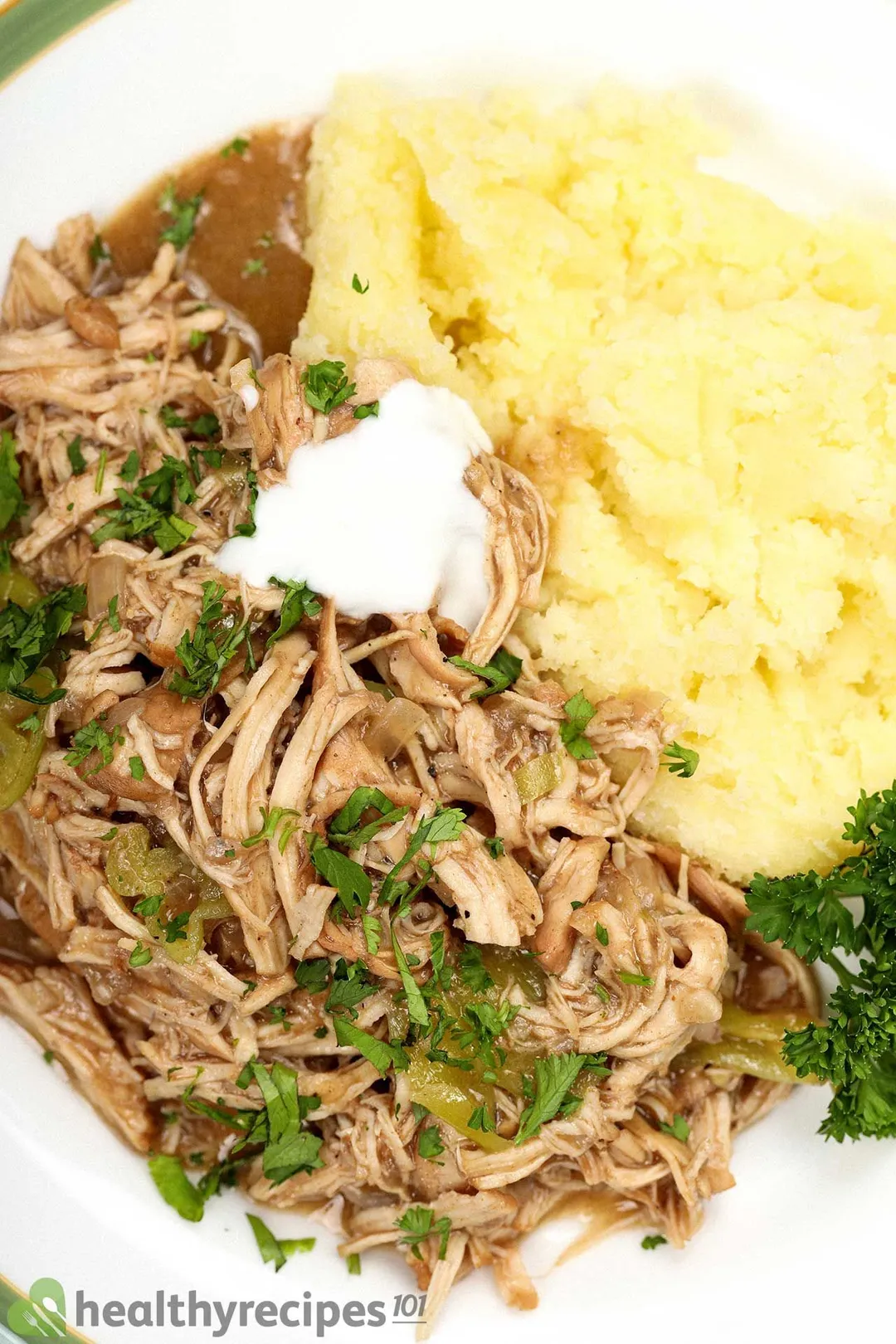 Next Recipe
Mississippi Chicken
Mississippi Chicken
Head Chef, Culinary Consultant
Tuyet Pham is an award-winning Saigonese chef who believes that joy is the secret ingredient to delicious food. At Healthy Recipes 101, Tuyet personally tests and simplifies every recipe, ensuring maximum flavor with minimal effort. With a background at prestigious French restaurants P'TI Saigon and Le Corto, Tuyet knows how to make every dish exceptional.
Writer, Author
Luna Regina is an accomplished writer and author who dedicates her career to empowering home cooks and making cooking effortless for everyone. She is the founder of HealthyKitchen101.com and HealthyRecipes101.com, where she works with her team to develop easy, nutritious recipes and help aspiring cooks choose the right kitchen appliances.