Chicken pot pie is easily one of the most popular recipes stateside with many different variations within the US. To many food enthusiasts, the dish can be considered among the top ten must-try American cuisines. Not that its deliciousness is beyond words or anything of that sort, but it is, in a way, a unique image of a warm, traditional American family meal.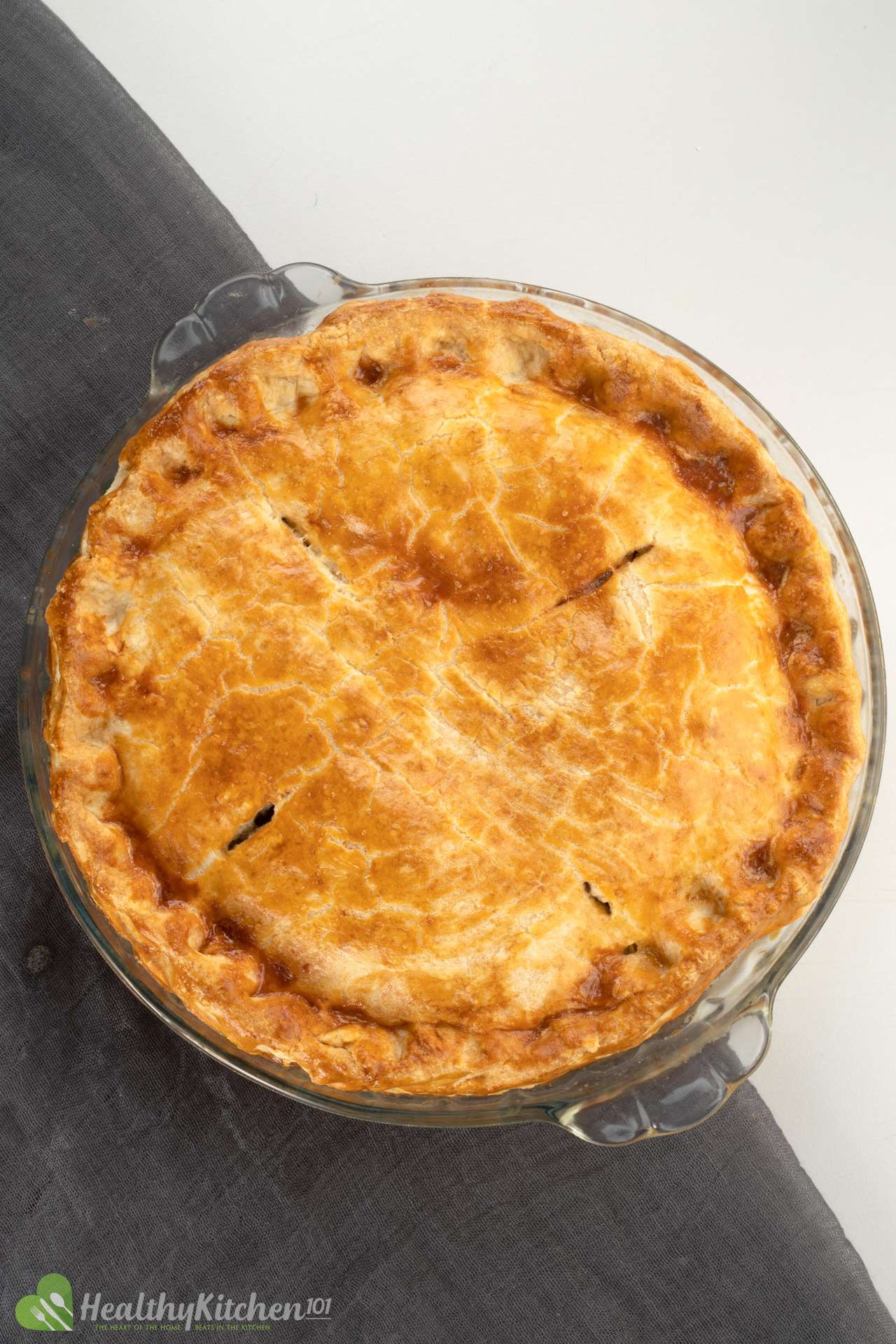 From the browned crusts to the delicate and mild flavor of chicken and vegetables, all contained within one pot and served hot for a whole family. This pie projects an experience of warmth and comfort.
One can enjoy the pot pie, not for its flavor alone, but also for what it can represent.
Time for a little bit of history.
The Origin of Chicken Pot Pie
According to Wikipedia, the pie has its roots in ancient culture – Greece to be specific, where artocreas (meat pie) existed. Later on, the cooking style of mixing meat with other ingredients and encasing them with a pastry shell came to the US, possibly in the 19th century. Gradually, its popularity built through neighborhood gatherings and dinner parties.
Thanks to the first settlers, the recipe got to travel around and ended up pretty much everywhere on US soil. It was a matter of logic that the recipe was commonly adopted into family meal times, because it is so open to modifications and creativity that literally anything edible can be treated as fillings. Chicken has been and is relatively easy to come by, as well as being filling, so it made sense to have this in the pie.
What's in a Chicken Pot Pie?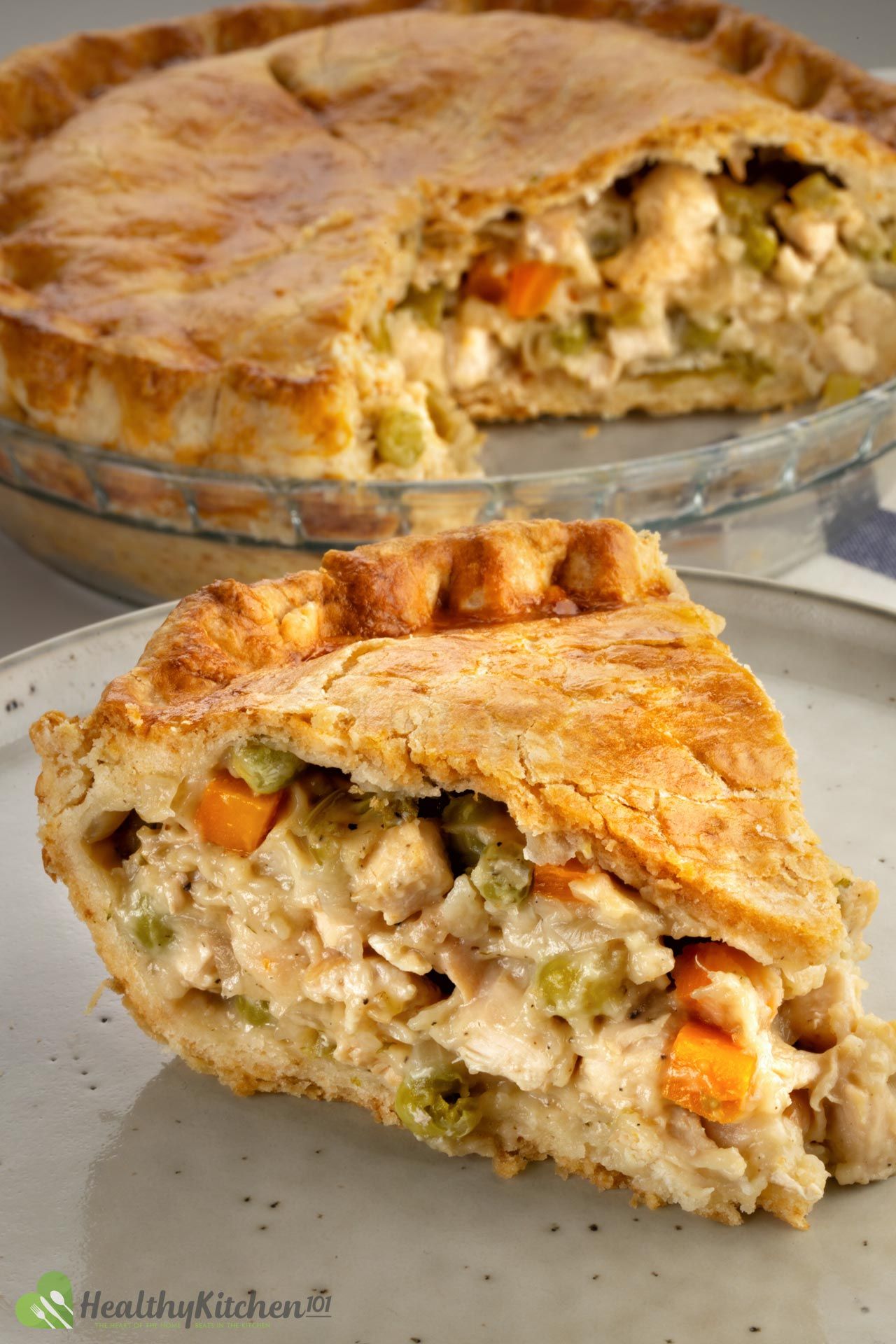 The making of the pie is rather straightforward; we will get to that later. For now, let's take a look at the nutritional content.
Let's start with the crust. You can always buy the premade, refrigerated products for the sake of convenience. But if you're looking for a gorgeous, flaky, buttery crust, we suggest making your own. It may take some time to make, but it is actually quite a straightforward process. All you need is some sort of cold, solid fat (such as butter, shortening, or lard), flour, salt, cold water, and leavening agent (if desired). The mixing can be done by hand or with a food processor.
Then there's the filling. For this recipe, we're going with a variety of vegetables like carrots, celery, onions, and frozen peas. These veggies act as a necessary source of fiber. Meanwhile, the lean chicken breast meat helps to raise the protein percentage of the pie. The filling has a thick, creamy consistency with a rich, delightful taste thanks to the butter, milk, and chicken broth all working in harmony.
The filling can be changed and mixed up as much as you – the cooks – desire. Give it a go! Come back to this recipe with your own ideas and inspiration and see what amazingness you can make!
Why Is It Important to Chill the Pastry in the Fridge?
Putting your pastry in the fridge to chill will help it relax, since low temperature can settle down the gluten strands. This means it won't shrink too much and maintain its shape when it is baked. Refrigeration also helps to keep the butter from melting, leading to a flakier pastry once cooked.
This resting should last for at least 2 hours. If your dough is too hard to roll, simply press down on the dough with a rolling pin a few times to make the dough pliable.
What to Serve with Chicken Pot Pie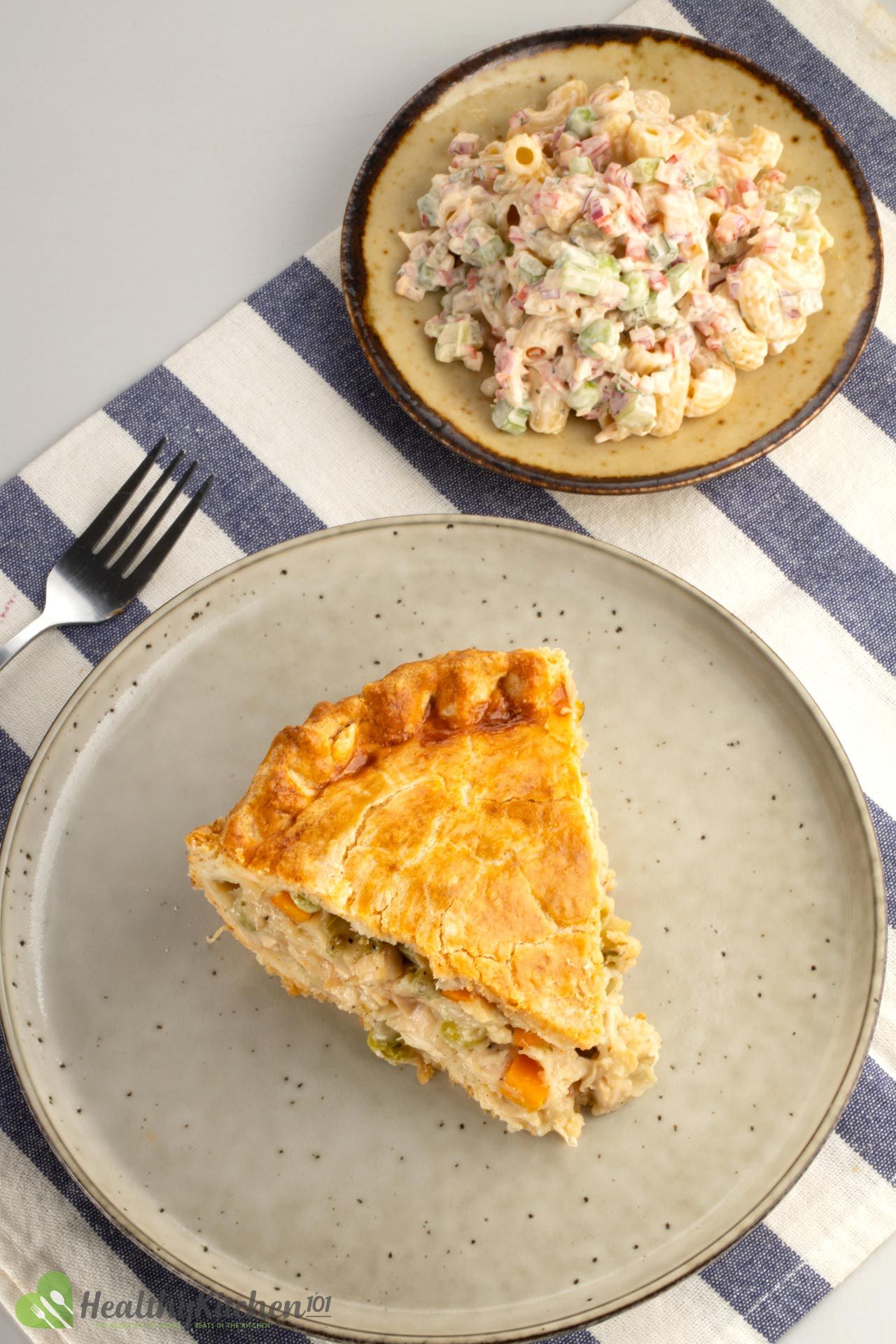 Chicken pot pie may seem like a wholesome dish on its own, but it still needs a side dish or two to make a full, nutritious meal.
For a rich and comforting dish like this, we recommend something light and fresh to balance out the richness of the pie, such as our macaroni salad, for example.
Here is a table for you to keep track of the basic nutritional facts of each side dish and the total when you pair them with chicken pot pie:
Nutritional values in this table vary somewhat to those below due to different app calculations. Read more...
Thank you for reading this chicken pot pie recipe. Be sure to also check out our collection of healthy chicken delicacies for even more amazing chicken dishes. Happy cooking!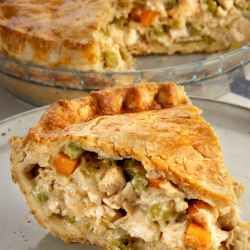 Chicken Pot Pie Recipe
This homemade chicken pot pie recipe may take some effort, but we can absolutely guarantee you it is worthwhile. Your hard work will pay off with a delicious, comforting pie— what could be better?
Ingredients
8.8

oz

all-purpose flour

divided into 1 3/4 cup and 1/3 cup (*)

1

tsp

salt

divided (*)

1 1/2

tsp

baking powder

(*)

2.63

oz

unsalted butter

cold, divided into 2.3 oz and 0.33 oz (*)

2.3

oz

vegetable shortening

cold (*)

1/3

cup

cold water

2

tbsp

olive oil

16

oz

skinless boneless chicken breast

cubed

1/2

tsp

black pepper

6

oz

yellow onions

diced

1

tbsp

garlic

minced

3.6

oz

carrots

diced

3.6

oz

celery

diced

1 1/2

cups

unsalted chicken broth

3

tbsp

whole milk

2

tbsp

heavy cream

1/2

cup

frozen peas

1 1/2

tbsp

chopped parsley

optional

1

medium egg

beaten
Instructions
Make the pie dough
In a big bowl, add 1 3/4 cup all-purpose flour, 1/2 teaspoon salt, and 1 1/2 teaspoons of baking powder. Mix with a fork.

Cut 2.3 oz cold unsalted butter and vegetable shortening into cubes and add to the flour. Using a fork, cut the cold fat into the flour until crumbs are formed.

Add cold water, one tablespoon at a time, into the crumbs and mix thoroughly until a dough is formed.

Turn the dough onto a clean work surface. Gather any crumbs and add back to the dough. Divide into two. Flatten each dough ball into a round disk. Wrap in cling film and refrigerate for at least 2 hours.

Optional: pastry can also be made in a food processor following the same order
Make the filling
Heat olive oil in a pan over high heat.

Add cubed chicken breast pieces to the hot pan. Season with salt and pepper, 1/4 teaspoon each. Reduce the heat to medium. Sear for 6 minutes, turning halfway. Once chicken is lightly golden browned on all sides, turn off the heat, transfer the chicken to a plate and set aside.

Turn down to medium heat. Add onions, garlic, carrots, celery, and butter. Stir and cook for 4 minutes.

Add 1/3 cup all-purpose flour and return the chicken to the pan. Mix well to incorporate the flour. Add chicken broth, along with the remaining 1/4 teaspoon salt and pepper, and stir until thickened.

Add milk, heavy cream, and frozen peas. Stir and cook for another 5 minutes on low heat. Turn off the heat and sprinkle with chopped parsley.
Assemble the pie
Take the first pie dough out of the fridge. Unwrap and put it on a clean, floured work surface.

Apply flour onto your hands and rolling pin, and start to roll out the pastry into a flat pie crust about 1/8 inch thick. This will be the bottom crust.

Lay the bottom crust in a 9-inch pie dish. Scoop your filling into the dish and set aside.

Take the second dough out of the fridge and roll it out in the same way to form the top crust.

Cover the dish with the top crust. Trim the dough around the edges of the pan, leaving about 1 inch of dough overhanging. Fold the excess dough in and tuck it underneath. Crimp around the edges of the pie with your fingers and knuckle to decorate.

Brush the surface of the pie with beaten egg.

Make 4 indentations in the middle of the top crust with a knife for the steam to come out while baking.

Bake for 45 minutes at 375 degrees Fahrenheit.

Take the pie out of the oven. Let it cool for at least 45 minutes before you cut into it and serve.
Nutrition
Nutrition Facts
Chicken Pot Pie Recipe
Amount Per Serving (1 serving)
Calories 494
Calories from Fat 252
% Daily Value*
Fat 28g43%
Cholesterol 87mg29%
Sodium 430mg19%
Potassium 583mg17%
Carbohydrates 37g12%
Protein 23g46%
Vitamin A 3203IU64%
Vitamin C 10mg12%
Calcium 90mg9%
Iron 3mg17%
* Percent Daily Values are based on a 2000 calorie diet.