This air fryer teriyaki chicken recipe cooks a delicious meal of chicken and rice using just an air fryer (and a rice cooker/ pot).
Is Air Fryer Teriyaki Chicken Healthy?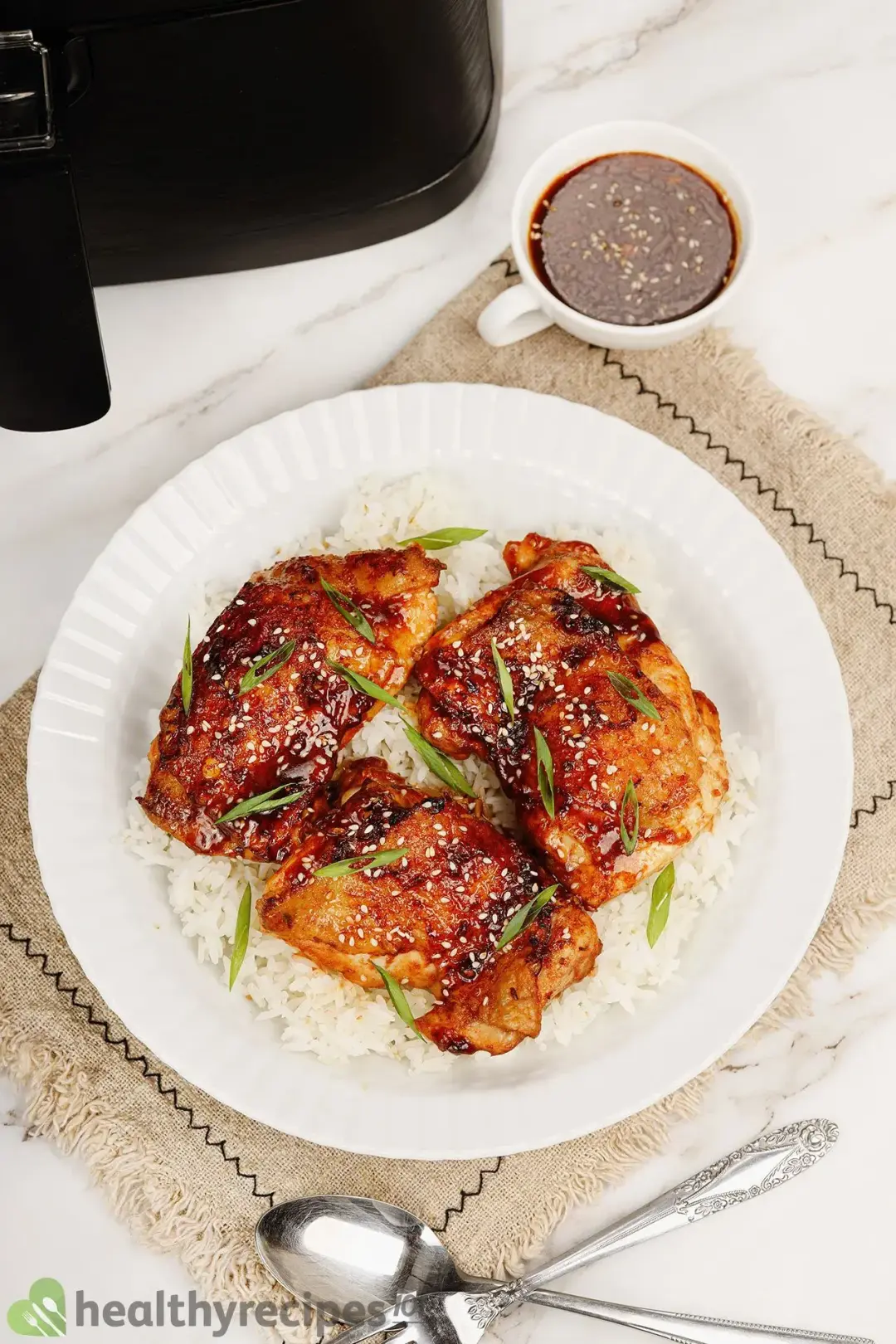 Teriyaki chicken is a healthy dish with chicken, rice, and vegetables —  ingredients from different food groups. The USDA's dietary guidelines encourage you to eat from all food groups to gain not only macronutrients but also micronutrients like vitamins and minerals.
The guidelines also suggest that we should control our calorie intake and try to limit added sugar, sodium, and saturated fats. Teriyaki chicken naturally has a low level of saturated fats and added sugar, but its sauce often contains lots of sodium.
These limits aren't very difficult to adhere to once you've followed carefully-crafted recipes like ours. Besides flavor, it's also our top priority to use ingredients in reasonable amounts and portion out the servings to a healthy size.
1. How Many Calories Are in Teriyaki Chicken?
Each portion of our air fryer teriyaki chicken recipe, rice included, gives you 493 calories. This amount equates to about 18.3 – 23.5% of the recommended daily intake.
Due to differences in age, sex, and activity level, we all have different calorie needs. Have a look at our guidelines to see which amount fits you best.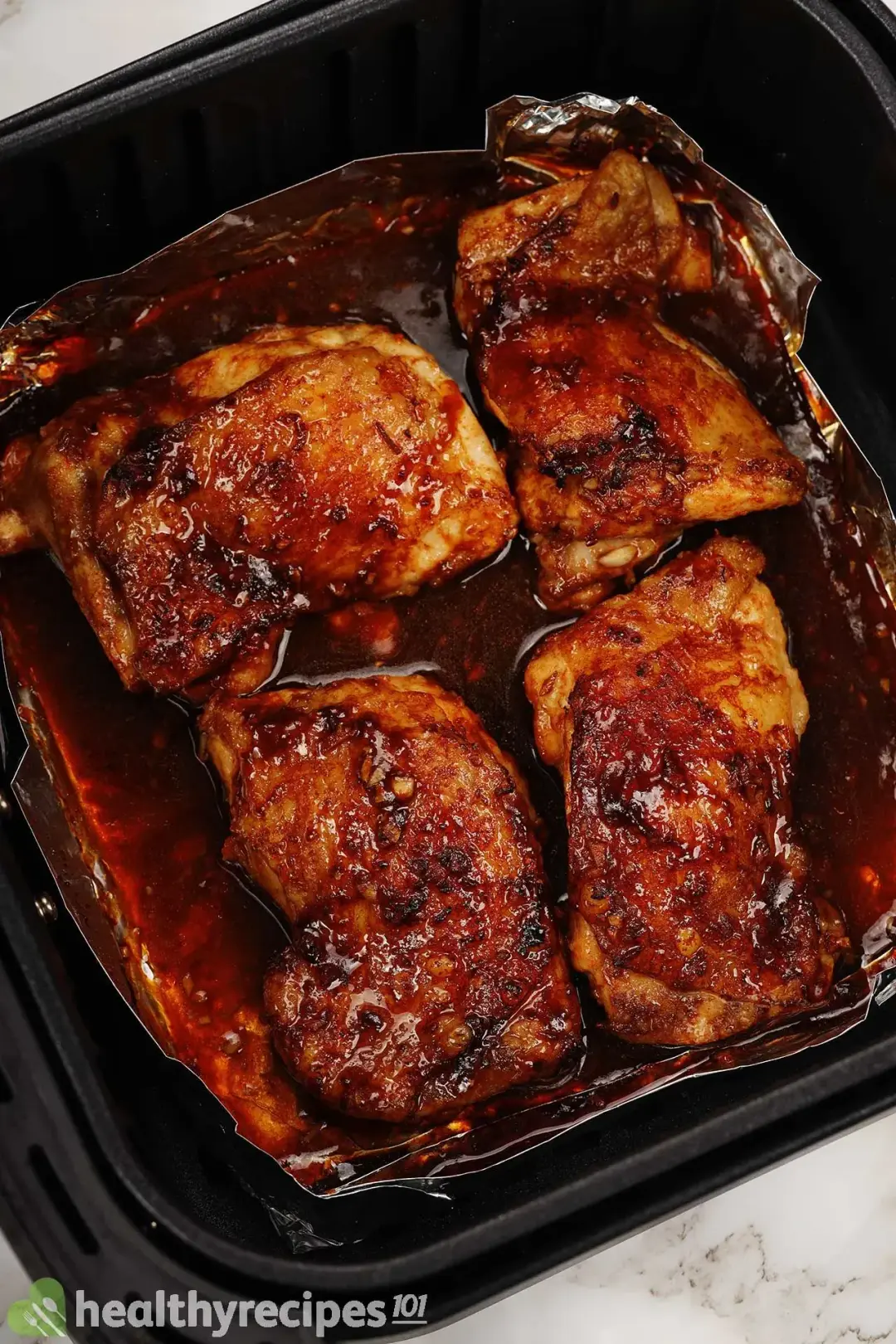 2. Sodium Level
After our adjustments, one serving contains 584.3 mg sodium, 25.4% of the daily recommended limit.
Main Ingredients for Air Fryer Teriyaki Chicken
1. Chicken
Teriyaki chicken works best with skin-on thighs. As all of the fat's rendered out, the skin shrinks and lends its wonderfully soft, chewy texture to the dish.
Still, if you prefer skinless thighs or bone-in thighs or both, feel free to go with your preference. Chicken breast also works, but we highly recommend thighs — they're juicier and more flavorful.
Before air-frying the chicken, we rubbed it with some olive oil, paprika (for the nice color), fresh garlic, and garlic powder. This step is optional, but we found that the meat's flavor was greatly enhanced.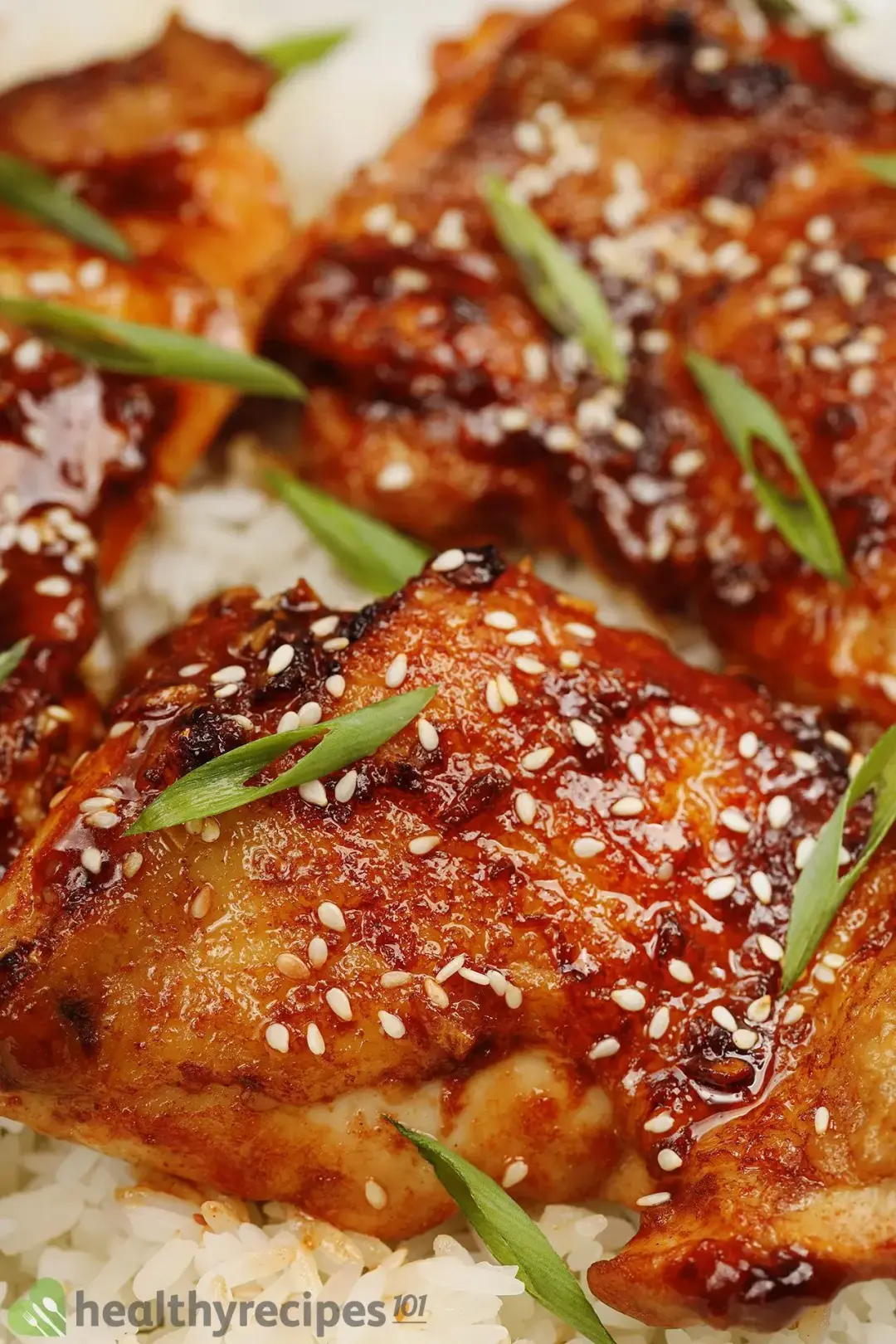 2. Teriyaki Marinade for Chicken
The marinade includes soy sauce, mirin, sugar, stock, garlic, and ginger. These are the basic ingredients that you'll find a lot in Japanese cooking — a combination of saltiness, sweetness, and a mild fragrance.
Mirin, in case you're not familiar, is a sweet Japanese rice wine that gives this dish its staple aroma. You can easily find it in Asian stores, along with 'sake', also a popular Japanese rice wine. Just to be clear, they're not interchangeable.
The stock we're using is unsalted chicken stock, but what's originally called for is dashi stock, made with tuna flakes or bonito flakes. If you have it on hand, that's great, but otherwise, chicken stock will still provide great flavors.
We also want to stress that you should make teriyaki dishes with Japanese soy sauce (we have the product link in the recipe card). It possesses a unique floral fragrance that makes Japanese cuisine popular. We're not exaggerating — you have to try it to believe it.
For some extra umami, we added a bit of hoisin sauce. It's also frequently used in Asian cooking in general.
If you haven't got the time, it's okay to cook without marinating the meat.
3. Snow Peas
Traditionally the chicken is served with rice and some cooked greens on the side, like edamame or broccoli. We tried snow peas and they worked really well — fresh and crunchy even after cooking.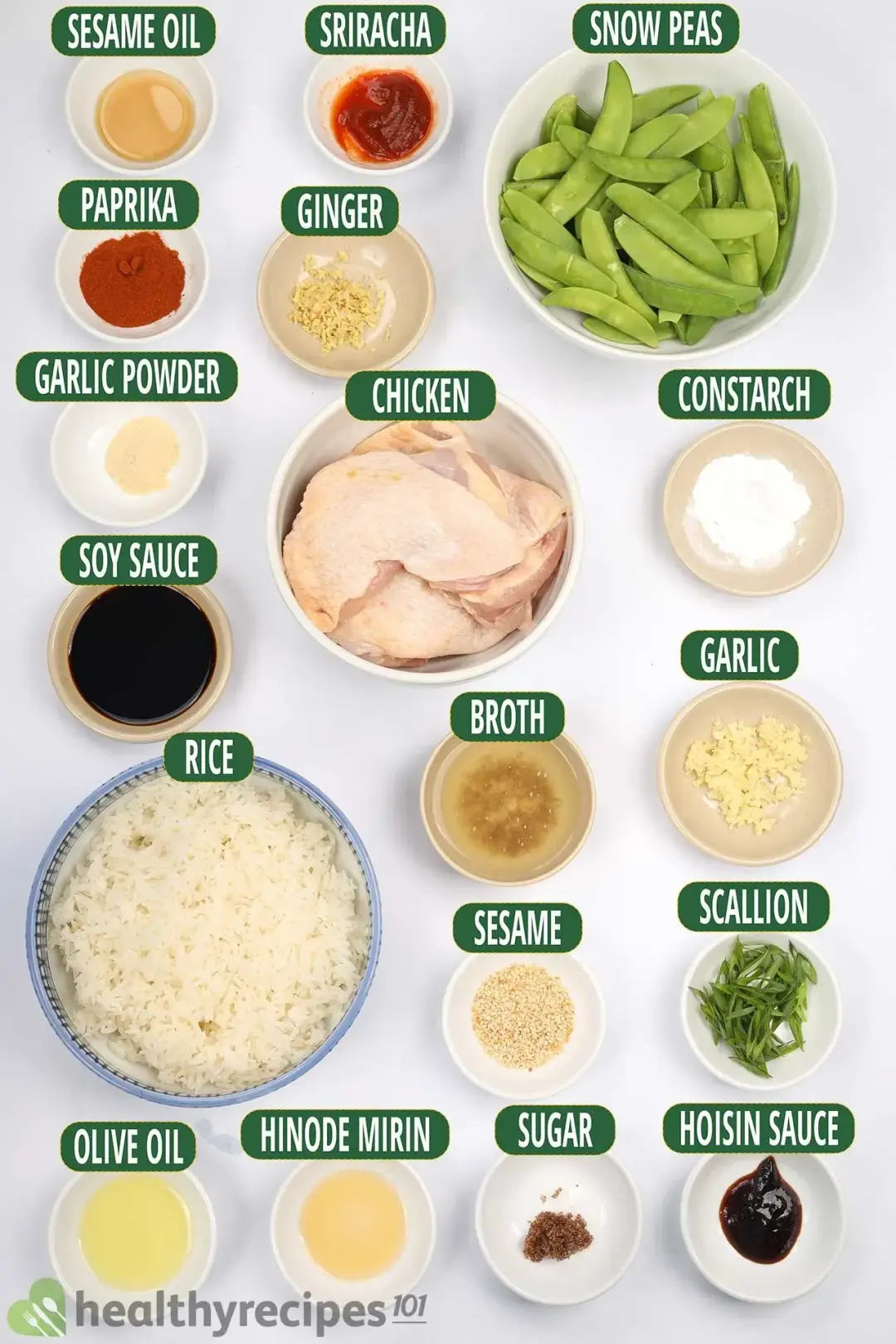 How to Thicken Teriyaki Sauce
A traditional teriyaki chicken recipe would ask you to grill the meat and brush it every once in a while with teriyaki sauce. Under the intense heat of the grill, the sauce naturally thickens and coats the meat.
Still, as we're making teriyaki chicken in an air fryer, it can be troublesome to keep taking the meat out for brushing. That's why we ask a thickening agent for help, in this case, cornstarch.
How to Make Chicken Teriyaki in an Air Fryer
To help you save time, we'll show you how to cook the chicken and the sauce in the same air fryer: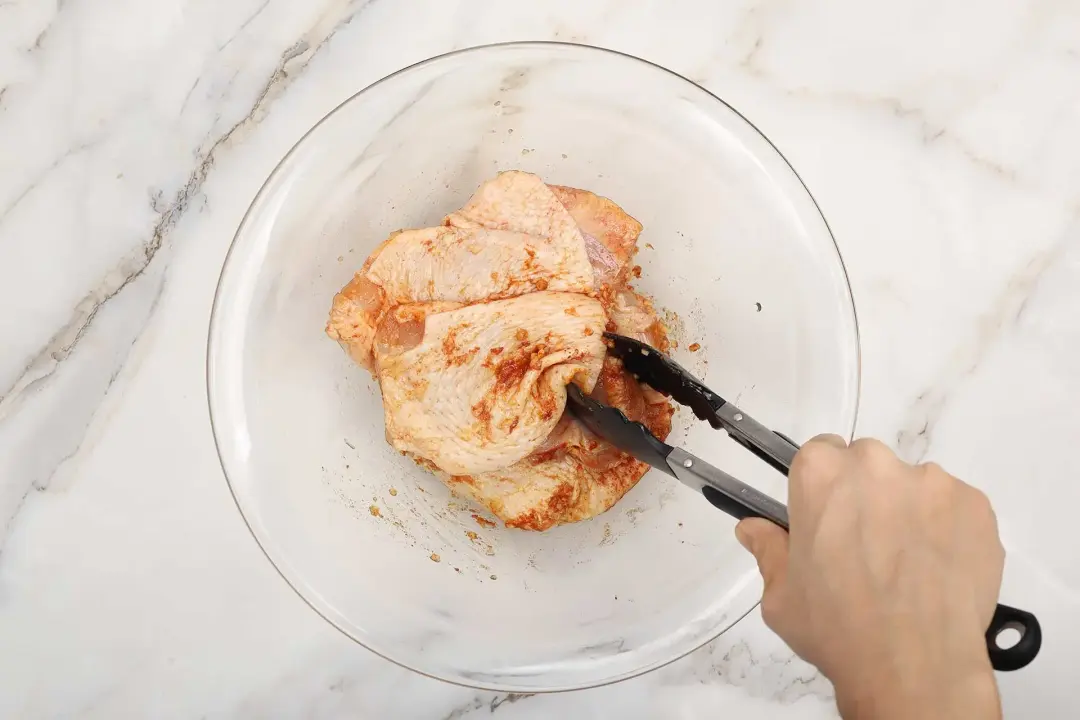 Rub chicken with oil and seasonings.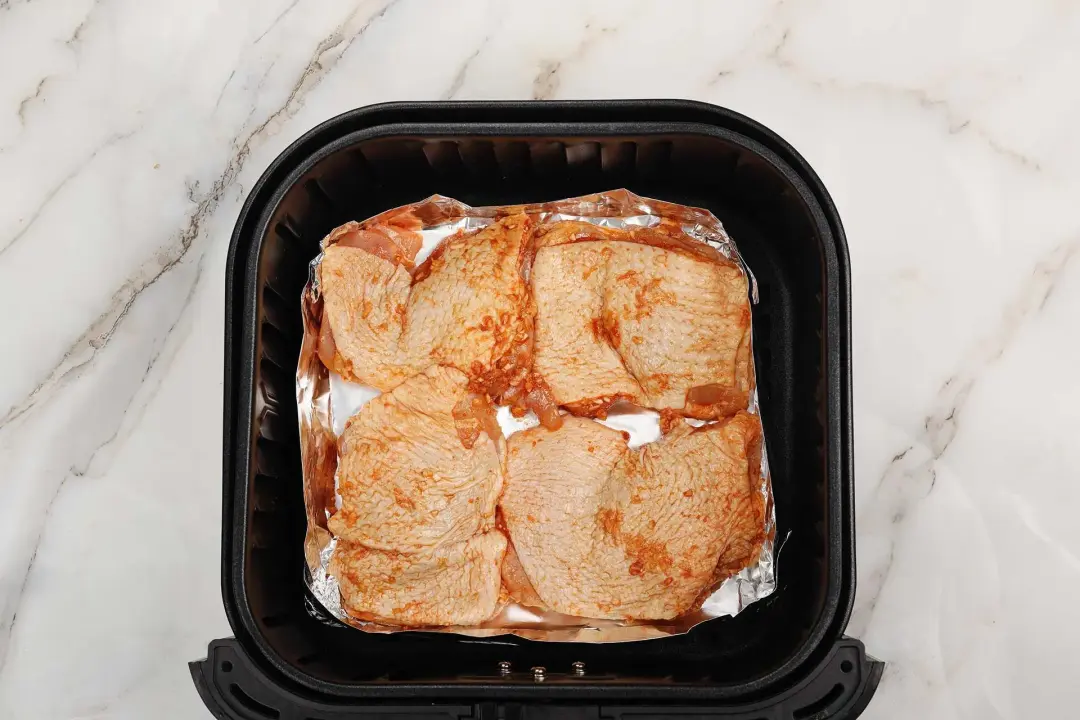 Make a baking tray out of foil, and place in the air fryer. Add the chicken and cook.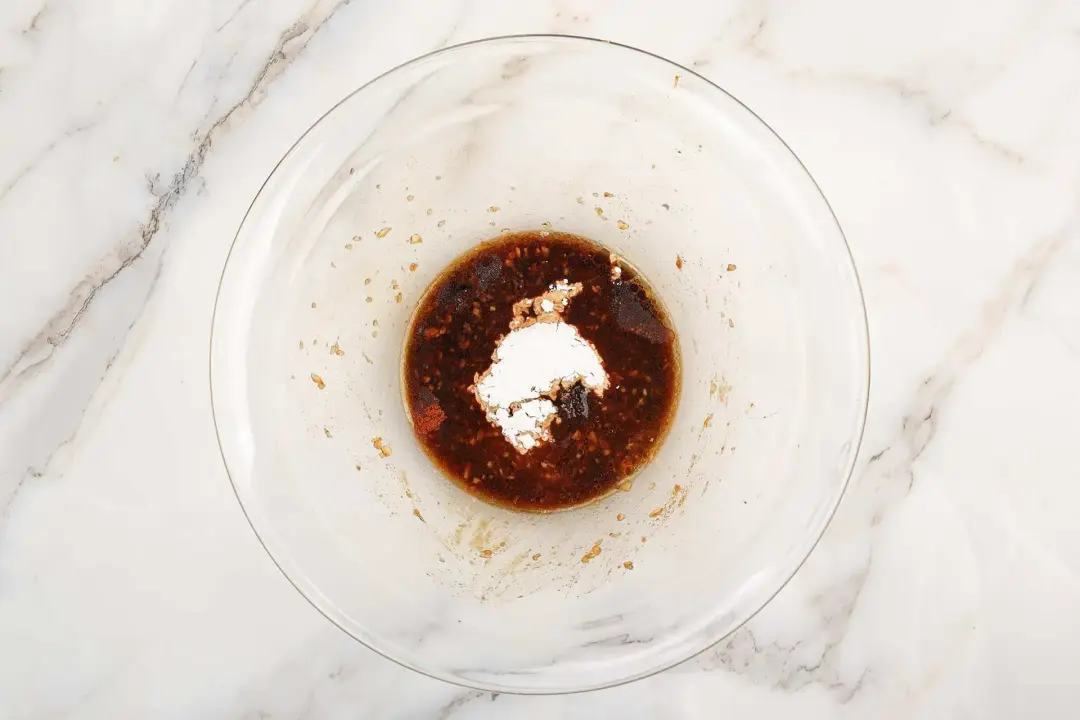 Mix the sauce and set aside.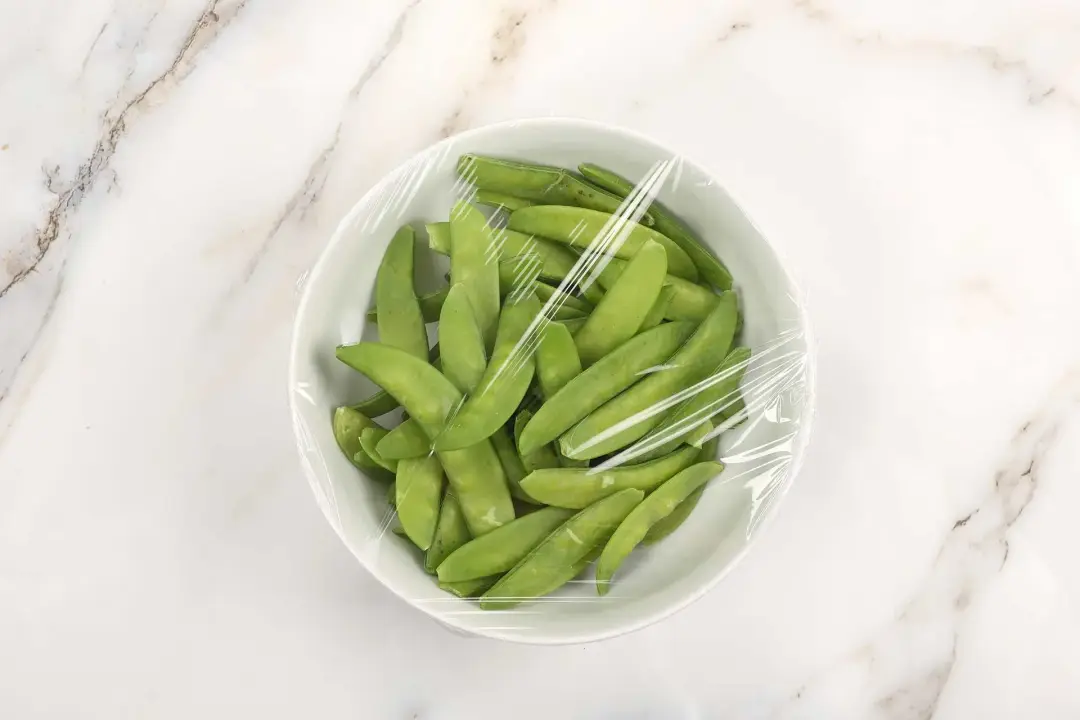 Microwave (or steam) the snow peas.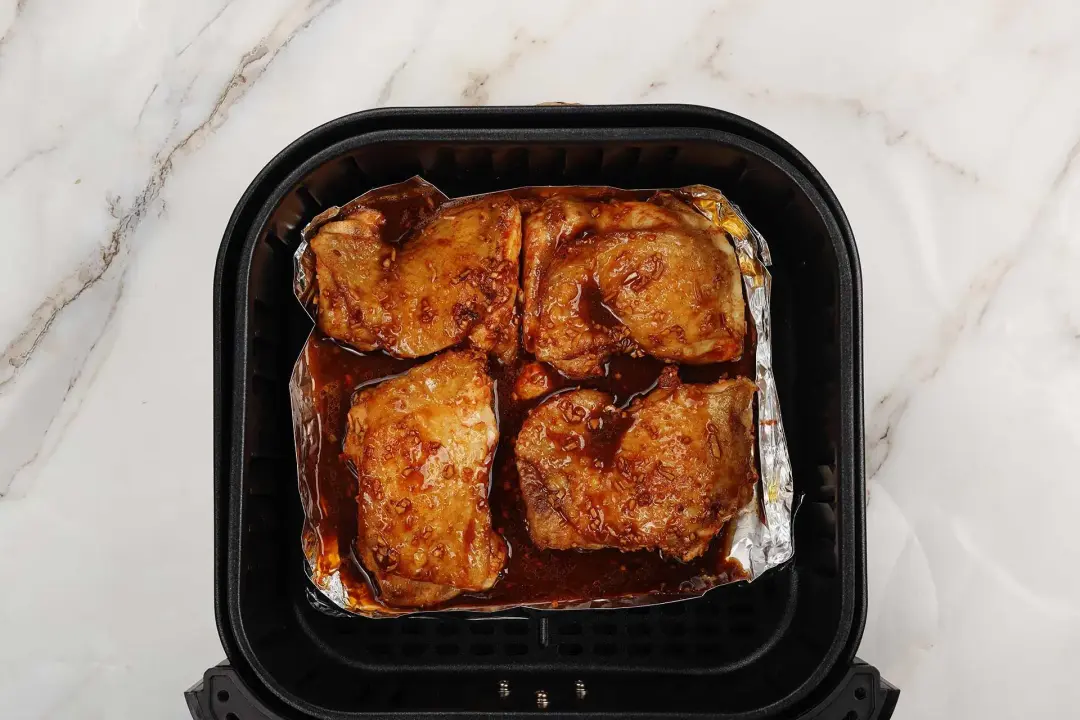 Add the sauce to the chicken tray and cook for some more to thicken.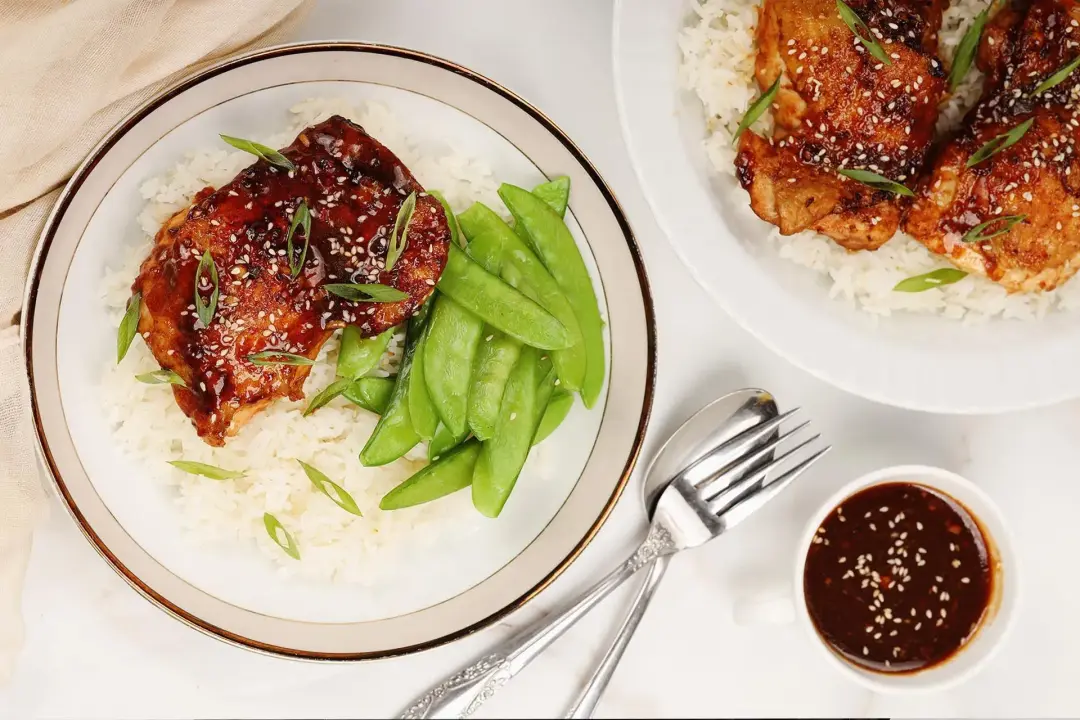 Serve it all with cooked rice.
We assume that you have cooked rice in the fridge and are about to reheat it. If not, have the rice cooker running before cooking the chicken, because this dish tastes best when served with hot rice.
We also assume that you own a microwave. If you don't, you can steam the snow peas instead, for about 5 minutes.
How Long Does Teriyaki Chicken Last in the Fridge?
Teriyaki chicken lasts for 5 days in the fridge and up to 3 months in the freezer. Place your chicken and sauce in a container of choice, and refrigerate away.
If you need to preserve many portions at once, it's a good idea to use Ziploc bags/ biodegradable bags, one for each serving. Reheating will be much easier, especially when it comes to freezing.
What to Eat With Air Fryer Teriyaki Chicken
Like most Japanese meals, we're serving this dish with a warm bowl of miso soup and a glass of refreshing juice:
Air Fryer Teriyaki Chicken Recipe
This air fryer teriyaki chicken recipe will help you prepare a wholesome meal in 25 minutes. You'll need your air fryer, a microwave, and a pot or a rice cooker.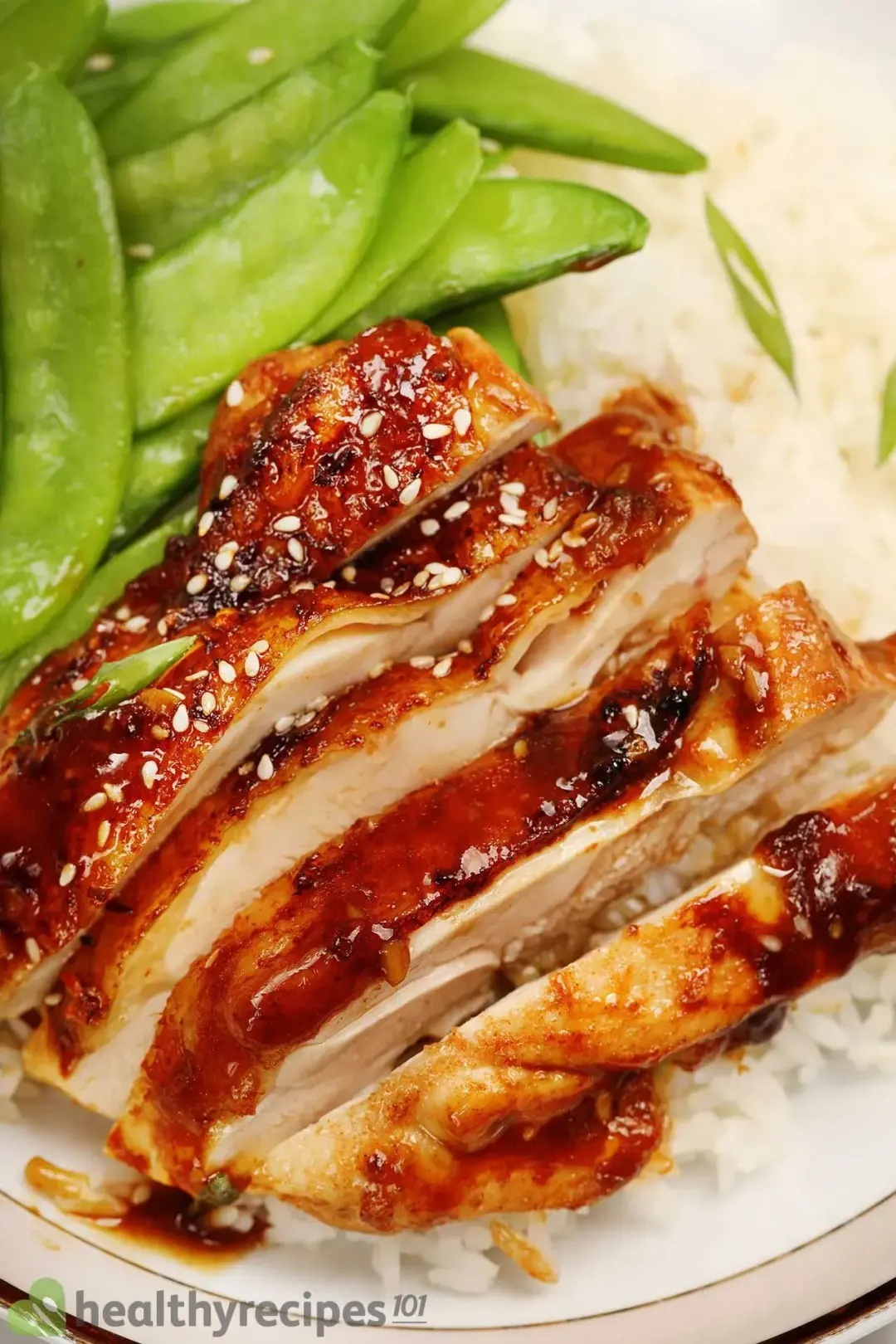 cook TIME

20 mins

prep TIME

5 mins

total TIME

25 mins
COURSE

Main Course

CUISINE

Japanese

SERVINGS

servings

CALORIES

490 kcal
INGREDIENTS
12 oz

boneless chicken thighs

1 tbsp

olive oil

1 tbsp

garlic (about 3 cloves, minced)

1 tsp

paprika (divided)

0.5 tsp

garlic powder

0.3 cup

unsalted chicken broth

3 tbsp

reduced-sodium soy sauce

2 tsp

cornstarch

1 tbsp

sesame oil

1 tsp

ginger (cut into matchsticks then minced)

1 tsp

hoisin sauce

1 tsp

mirin

1.5 tsp

sriracha

0.5 tsp

brown sugar

6 oz

snow peas

1 tbsp

white sesame (toasted)

2 tbsp

scallion (finely chopped)

3 cups

cooked medium-grain rice
INSTRUCTIONS
1
Rub 12 oz chicken with 1 tbsp olive oil, 1 tbsp garlic, 1/2 tsp paprika, and 1/2 tsp garlic powder.
2
Shape a foil sheet into a baking tray (like so), and place it in the air fryer. Place the seasoned chicken into the tray, and cook at 400°F for 15 minutes.
3
In the meantime, mix together 1/4 cup chicken broth, 3 tbsp soy sauce, 2 tsp cornstarch, 1 tbsp sesame oil, 1 tsp ginger, 1 tsp hoisin sauce, 1 tsp mirin, 1 1/2 tsp sriracha, 1/2 tsp brown sugar, and the remaining paprika (1/2 tsp.) Set aside.
4
Place 6 oz snow peas into a bowl, cover with plastic wrap, and microwave on medium for 3 minutes. Carefully remove the wrap and shock them in cold water, to keep them crisp and green.
5
Once the chicken's done, gently pour the sauce on top and cook for another 5 minutes at the same temperature.
6
Sprinkle on top 1 tbsp sesame and 2 tbsp chopped scallions. Serve with 3 cups of cooked rice and cooked snow peas.
NUTRITION
Nutrition Facts
Air Fryer Teriyaki Chicken Recipe
Amount Per Serving (1 serving)
Calories 490
Calories from FDA
% Daily Value*
* Percent Daily Values are based on a 2000 calorie diet.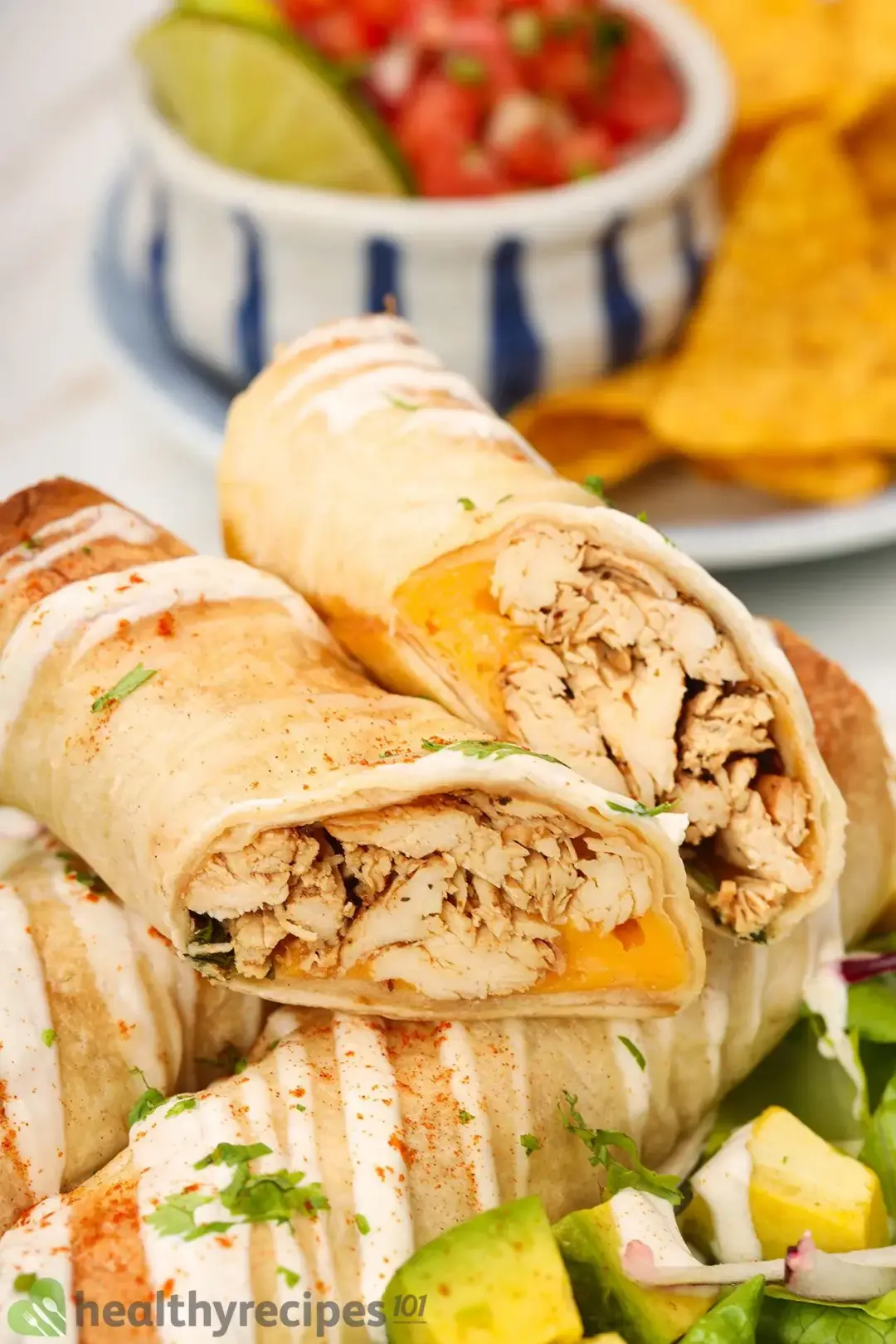 Previous Recipe
Chicken Flautas
Chicken Flautas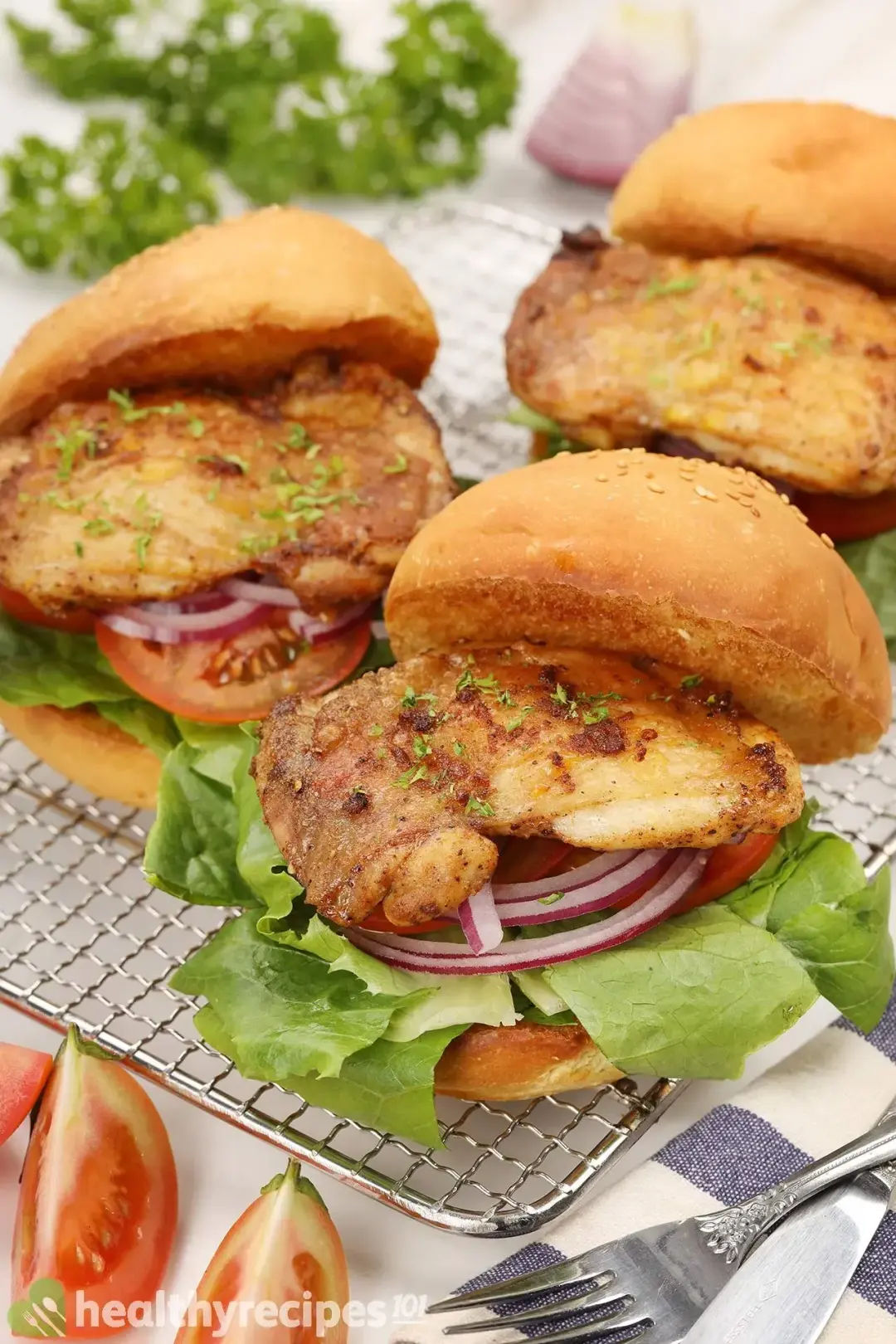 Next Recipe
Air Fryer Chicken Burger
Air Fryer Chicken Burger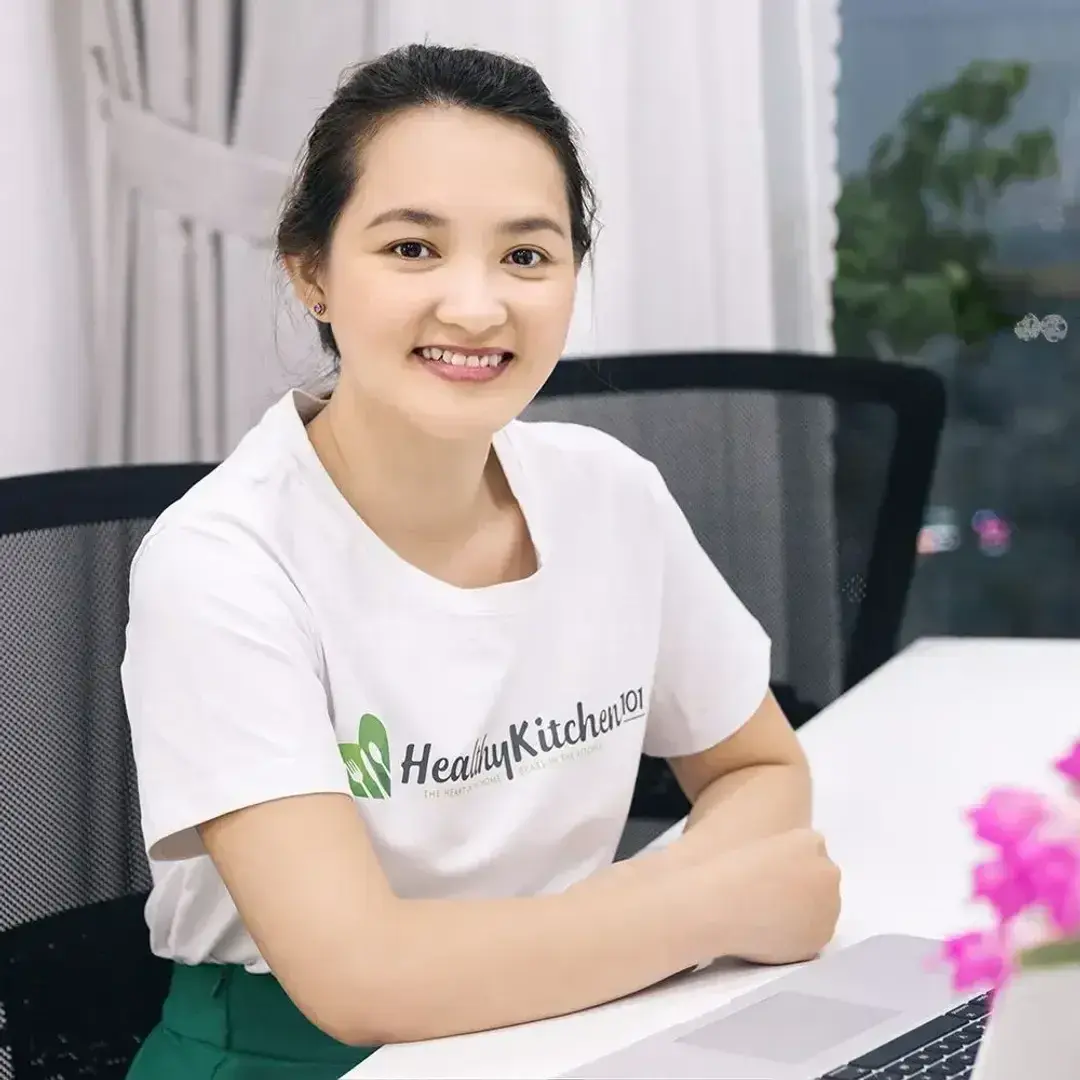 Founder
Luna Regina is an accomplished writer and author who dedicates her career to empowering home cooks and making cooking effortless for everyone. She is the founder of HealthyKitchen101.com and HealthyRecipes101.com, where she works with her team to develop easy, nutritious recipes and help aspiring cooks choose the right kitchen appliances.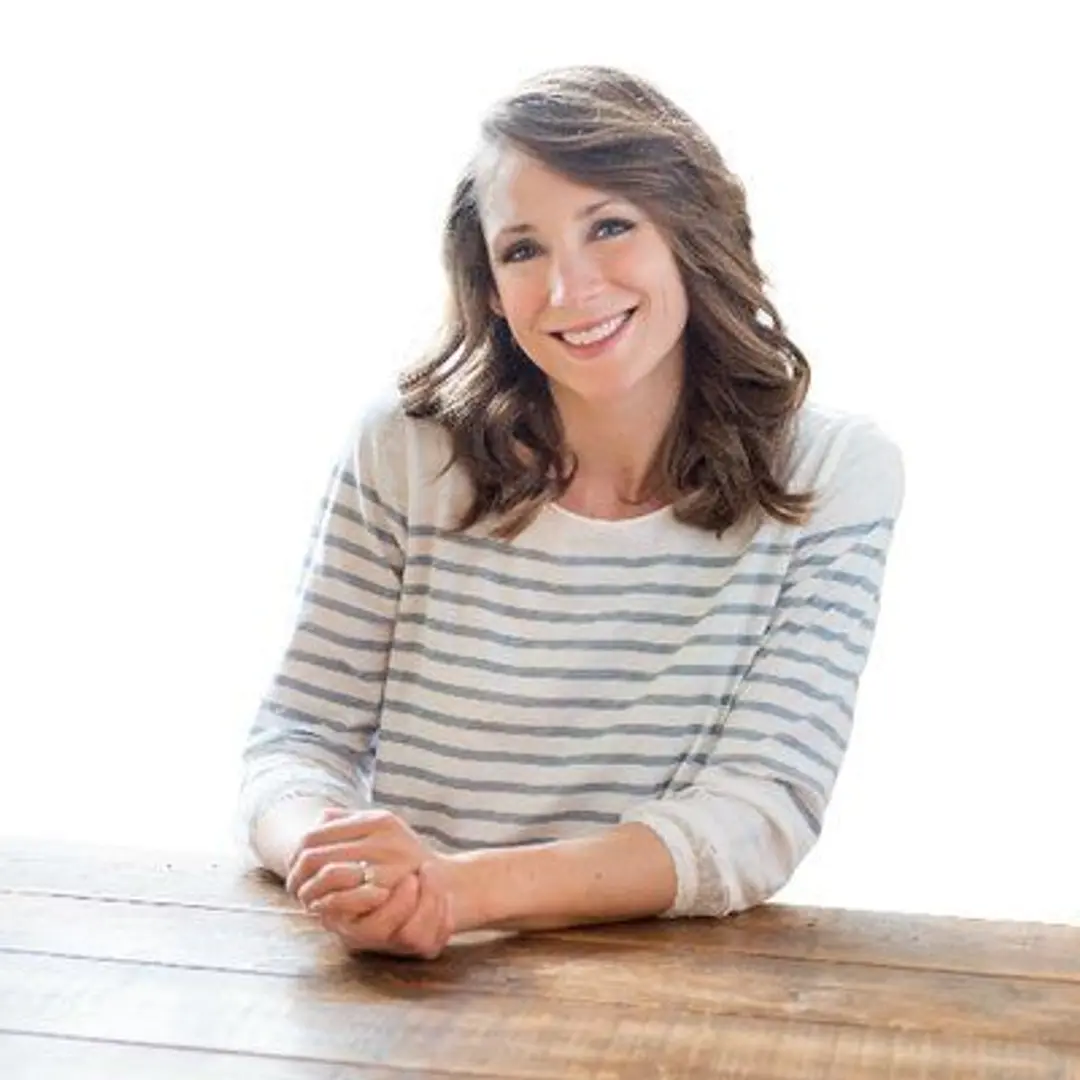 Nutrition Reviewer
Natalie is a registered dietitian nutritionist with a passion to help others live their best life through food, fitness, safer beauty and a healthy lifestyle. She has expertise with a variety of diets and diseases and believes that there is no one-size-fits-all approach for health.
Comments/ Reviews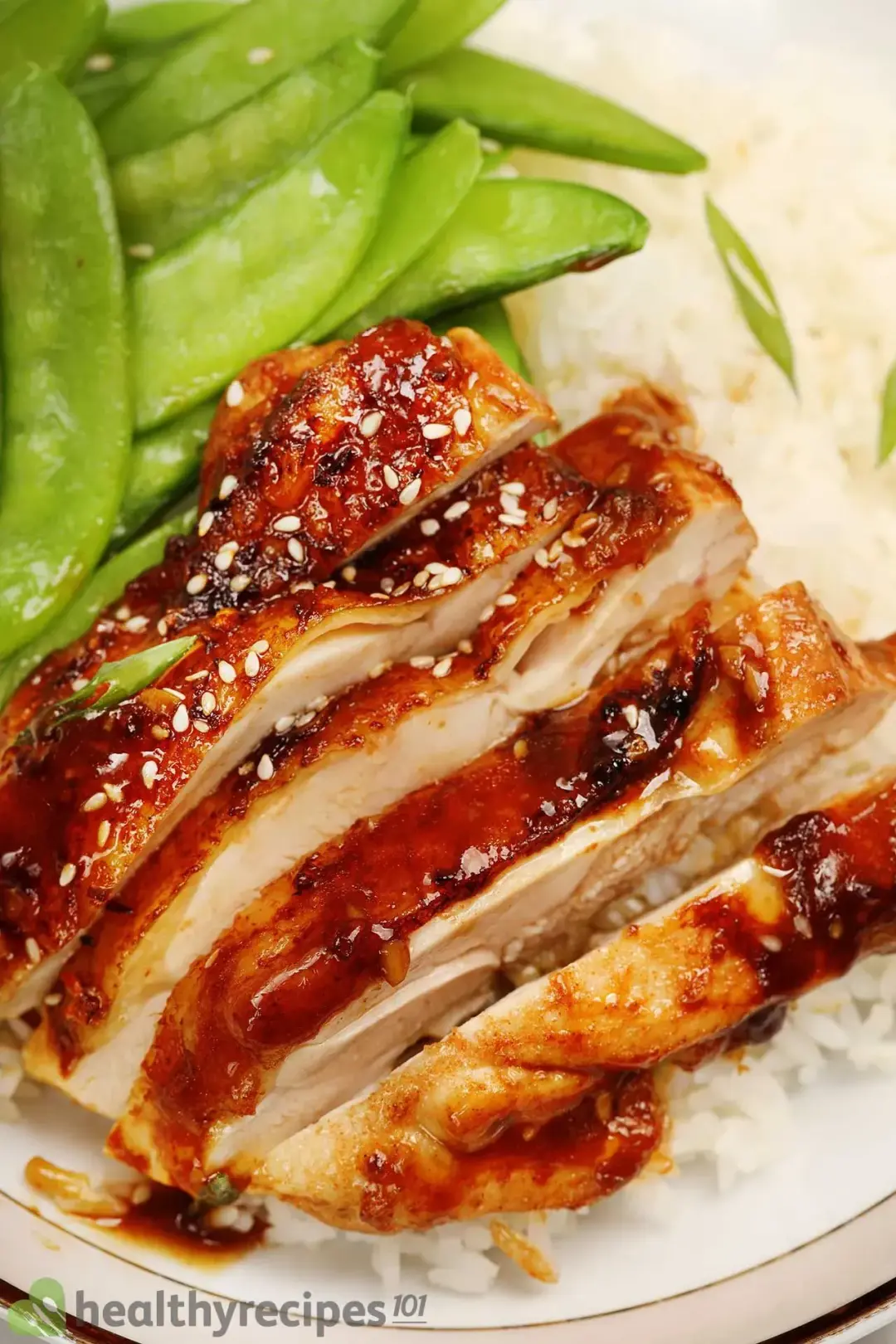 Air Fryer Teriyaki Chicken Recipe