Pursuing a healthy lifestyle doesn't mean you have to completely give up on fried food—enjoying them once in a while causes no harm.
In today's almond chicken recipe, our chefs will show you a healthier way to crisp up your almond-crusted chicken and sweet potato—with the assistance of a trusty air-fryer.
Is This Dish Healthy?
This almond chicken dish is superior to those unhealthy deep-fried versions at many fast-food franchises.
From the cooking technique and portion size to the ingredient choices, our chefs have paid close attention to all the details to ensure it is diet-appropriate.
Unlike deep-frying, which involves submerging the food in tons of cooking oil, air-frying only requires a little to no added fat to crisp up your chicken—reducing the amount of fat intake.
Though air-fried food is a better option than deep-fried, moderate consumption is necessary to maintain a healthy lifestyle. 
Hence, our chefs have carefully portioned the meal so that the calorie count, amount of saturated fat, and sodium stay within healthy limits. Each serving has 507 calories, 3.7 g saturated fat, and around 585 mg sodium.
As for the ingredients, we pair the protein-dense chicken breasts with crystal lettuce and sweet potato to form a diverse nutrition profile.
Ingredients
Purchasing and preparing all the cooking ingredients for almond chicken will be as easy as falling off a log: most components are pantry-ready and require minimal prepping skills.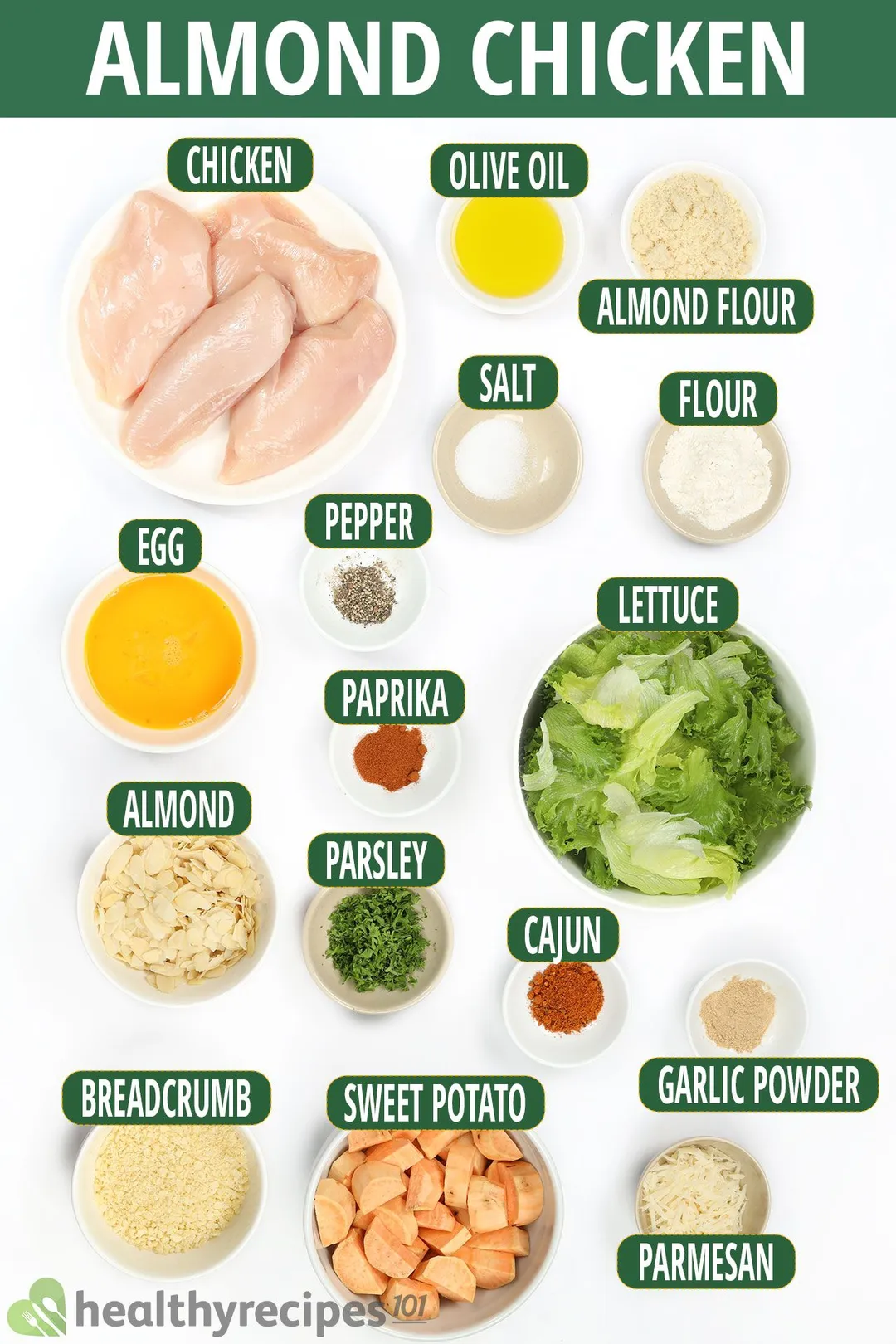 Chicken: We opt for chicken breasts to reduce the time spent on deboning, trimming, and skinning. However, if you don't mind going the extra mile on prepping, chicken thighs make a great substitute.
Sweet potato: Belonging to the morning glory family, sweet potato is a nutritious and delicious cooking ingredient that deserves more attention. When air-fried to perfection, sweet potato possesses a noticeably sweet, smoky flavor and a crispy texture that pair well with many savory dishes.
Crystal lettuce: Keeping the pairings easily accessible, our chefs opted for a bag of pre-packaged crystal lettuce. If you are a big fan of greens, especially lettuce, we suggest tossing romaine, iceberg, and red lettuce together for a more colorful visual and satisfying mouthfeel.
Cheese: Thanks to its natural umami flavor and notes of ripe fruit, Parmesan cheese stands out from the rest. When added to the batter, it coats your chicken with an extra layer of complex richness.
All-purpose flour: A thin layer of all-purpose flour helps seal in the moisture of the chicken breasts, preventing them from drying out when cooked at high temperatures.
Almond flour and almond slices: While almond flour introduces a nutty and toasty taste, almond slices add more texture to the batter. 
Panko breadcrumbs: We mixed breadcrumbs with Parmesan cheese for an extra cheesy flavor. For lactose-intolerant diners who want to mix up the coating, skip the cheese, and add some desiccated coconut.
Eggs: Giving the chicken breasts an egg wash before breading is essential as it creates a sticky base for the almond mixture and breadcrumbs to cling onto better.
Cajun seasonings: A dash of Cajun seasoning is enough to enliven the natural flavor of the chicken, making it savory, spicy, and slightly earthy.
Garlic powder and paprika: When high heat is involved, we prefer working with garlic powder over fresh garlic. The powder infuses the sweet potato with a concentrated garlicky note without the risk of burnt, bitter garlic bits.
Salt and black pepper: You can always count on this classic duo to balance out the flavor of your dish.
How to Store and Reheat the Leftovers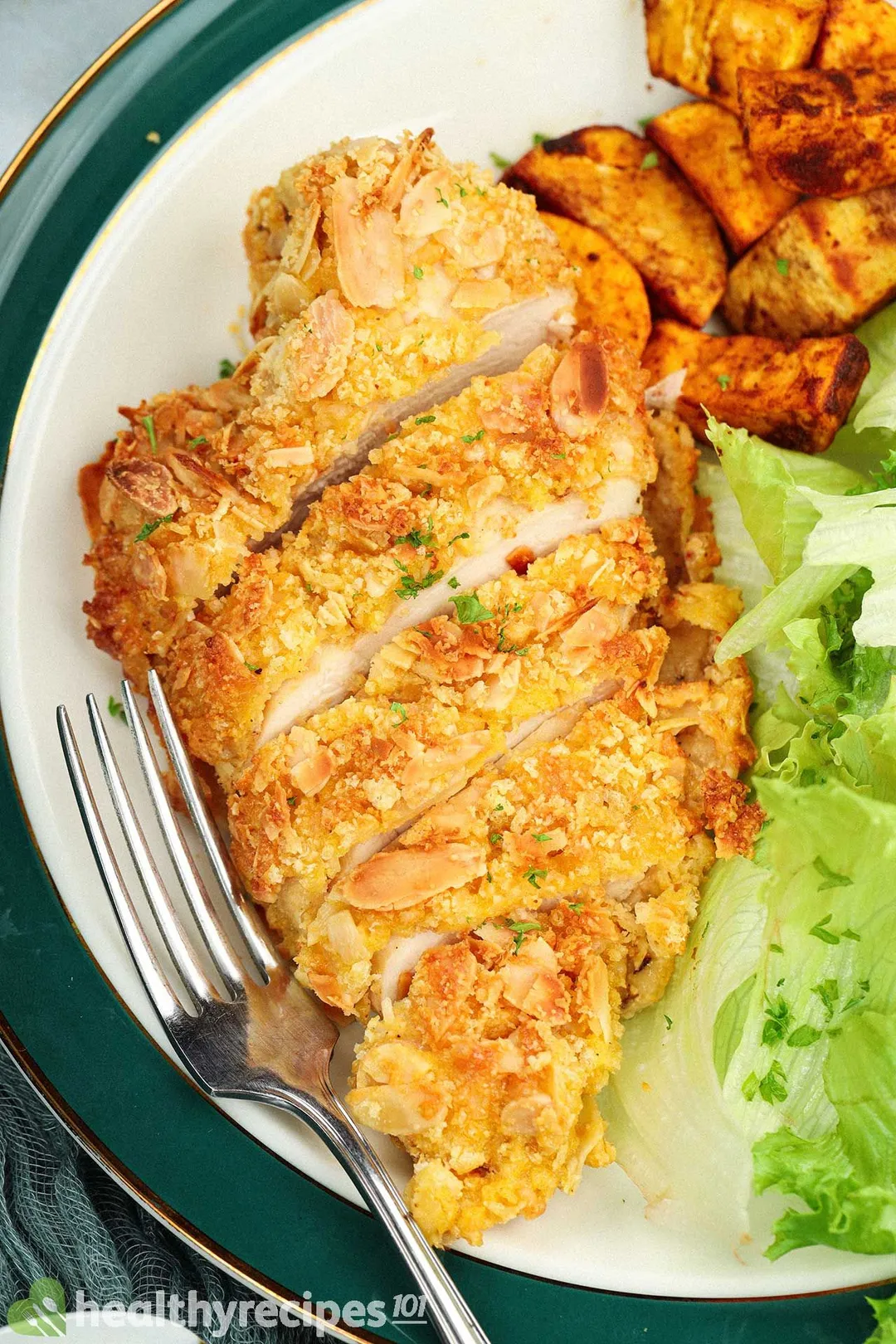 1. How to Store
We recommend preparing enough to enjoy in one sitting as fried food is much trickier to store than other dishes—you might have to sacrifice the crispy outer coat.
When placed in an airtight container and stored in the fridge, your leftover almond chicken should last for 2-3 days.
Like other air-fried meals, almond chicken doesn't freeze well once cooked. Thus, if you plan to make it far ahead of time, you can batter the chicken breasts beforehand, place them in a freezer-safe bag, and store them in the freezer for up to 1 month. 
When it's time to serve, pop them in the air-fryer and watch the magic happen.
2. How to Reheat
To reheat the leftovers, you can bake them in the oven or microwave them until hot.
When baking, loosely wrap the refrigerated chicken with aluminum foil to prevent the crust from burning, and reheat them in the oven at 356° F for 6-7 minutes.
As for microwaving, transfer your food onto a microwave-safe platter covered with plastic wrap, and microwave it at 'high' until hot. Avoid putting aluminum foil in the microwave as it can potentially catch fire.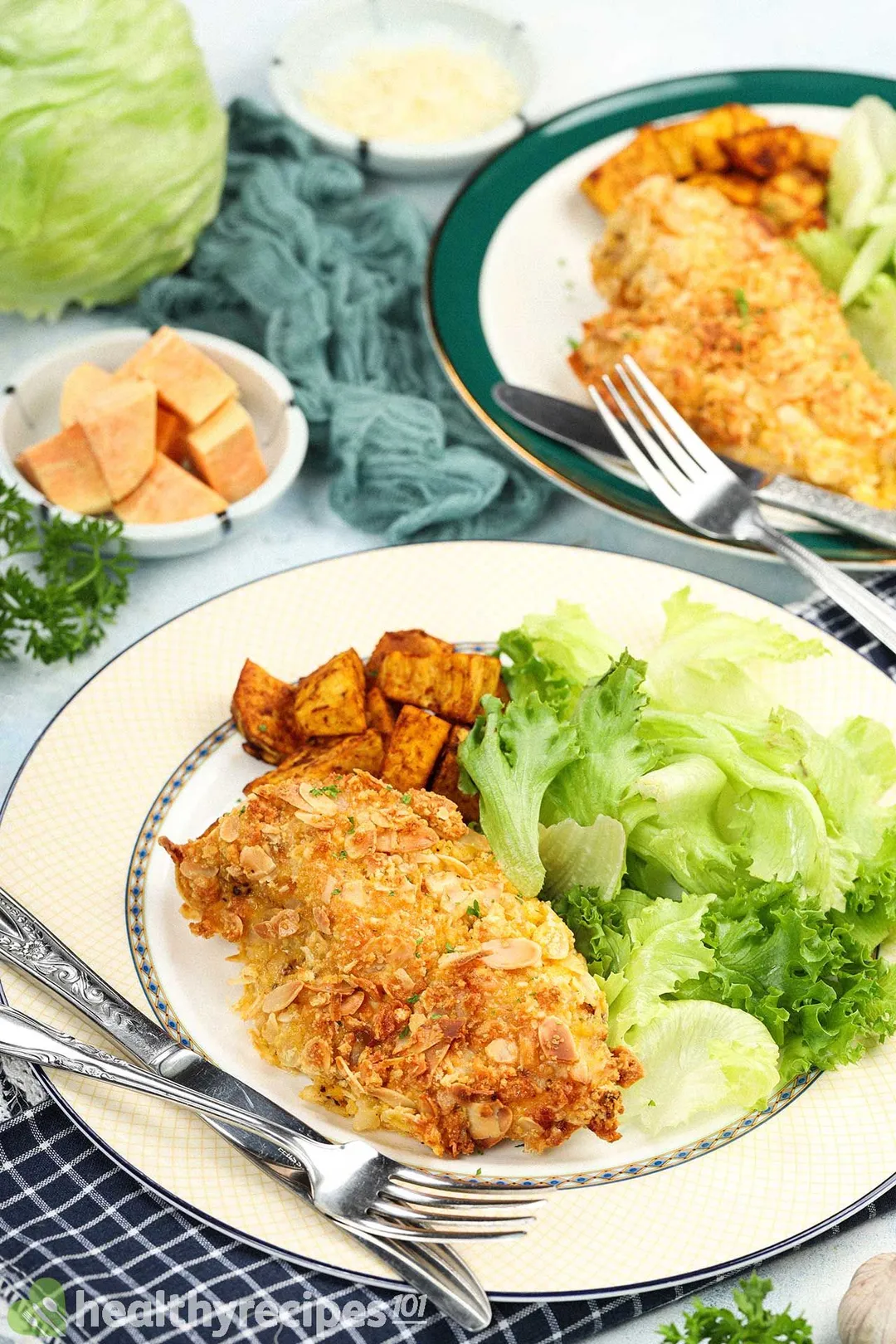 More Tasty Air Fryer Chicken Dishes to Try
Our air fryer stuffed chicken breast recipe will help you create a fancy meal in just 30 minutes. It combines cream cheese, parmesan, and spinach together, basic ingredients everyone loves.
These chicken legs are as tasty as if they were grilled, but without the hassle of lighting up a grill. The meat is tender, the skin is sticky, and everything is dipped in a mayonnaise sauce.
Almond Chicken
Today's almond chicken recipe delivers a main course full of textures and flavors: savory chicken breasts that make a wonderful crackling sound with every bite.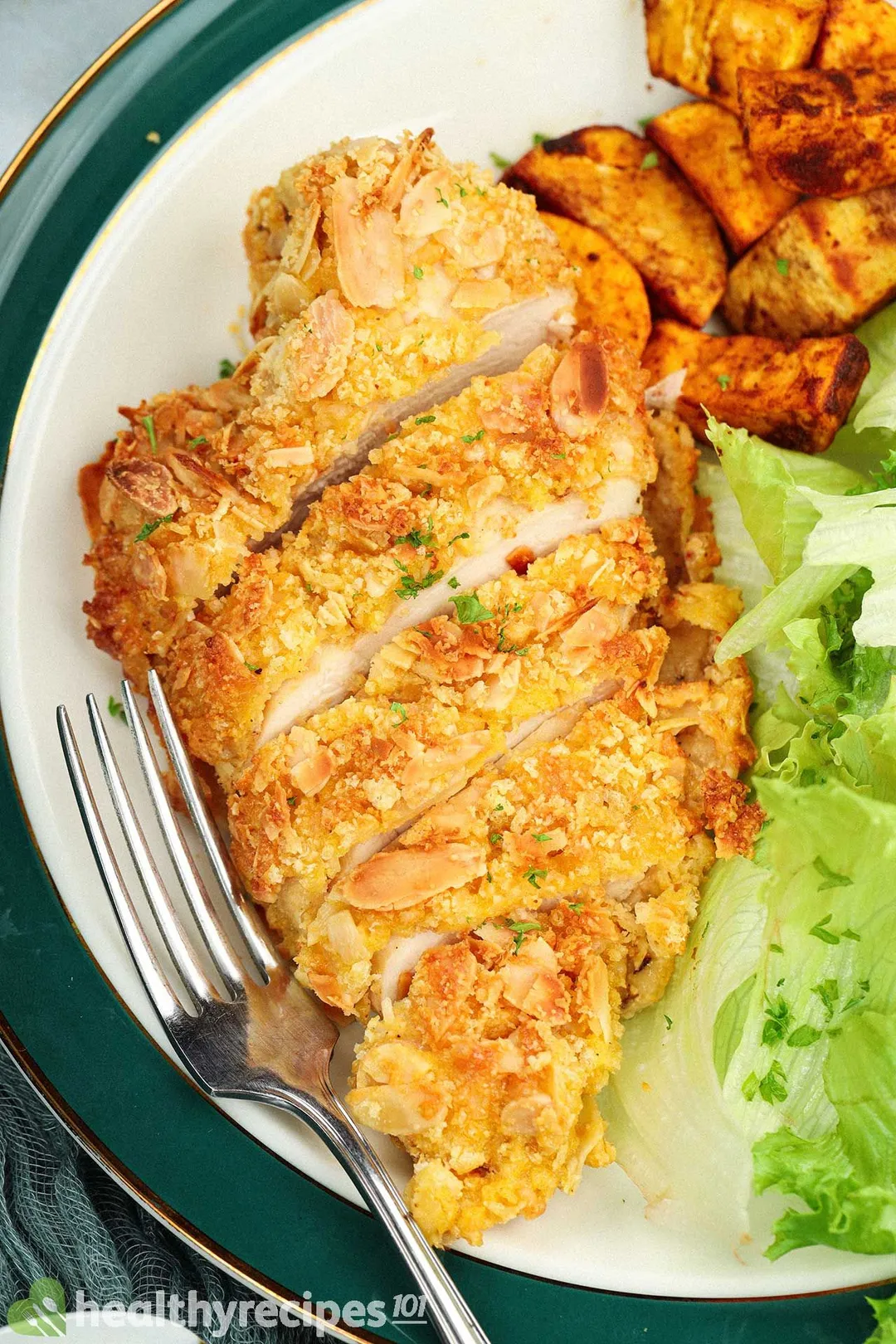 cook TIME

28 mins

prep TIME

7 mins

total TIME

35 mins
COURSE

Main

CUISINE

American, Global

SERVINGS

CALORIES

507 kcal
INGREDIENTS
20 oz

skinless, boneless chicken breast

10 oz

sweet potato

(cut into half-moon chunks)

0.5 oz

shredded parmesan cheese

1/2 cup

plain panko breadcrumbs
INSTRUCTIONS
Prep:
1
Use a peeler to peel away the skin of the sweet potato. Discard the skin. Place the peeled sweet potato on a chopping board. Slice it crosswise into 1-inch thick slices, then cut those slices in half.
2
Finely chop the fresh parsley.
Cook:
1
Season the sweet potato: In a large mixing bowl, add 10 oz sweet potato, 1 tbsp olive oil, 1/2 tsp paprika, and 1 tsp garlic powder. Mix well.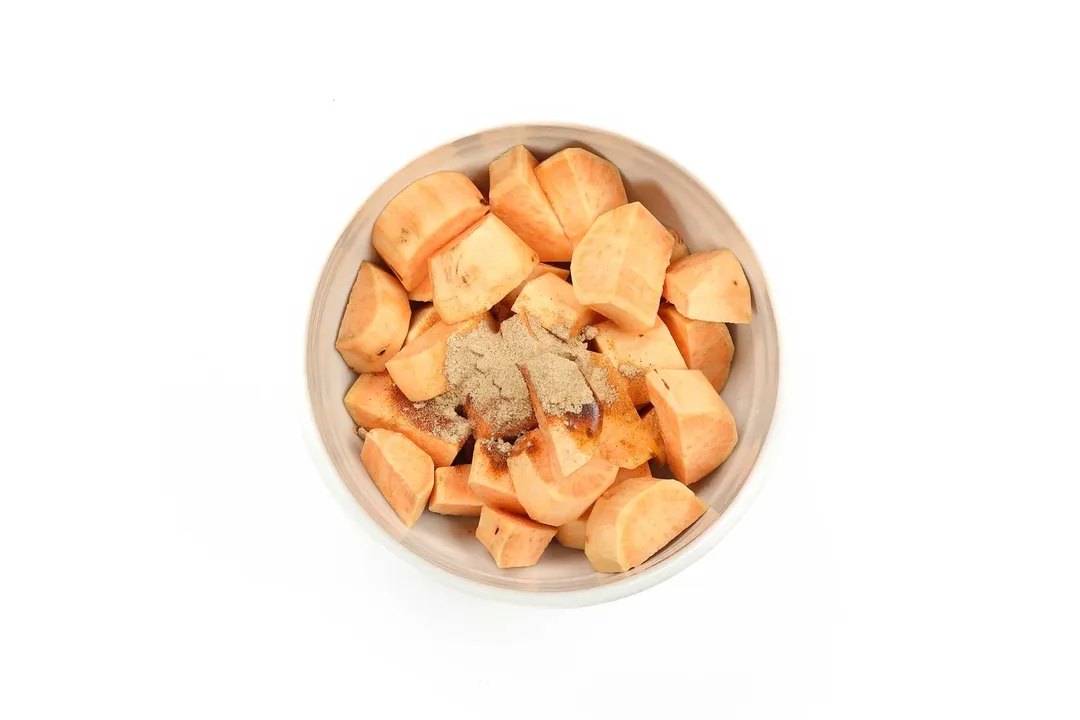 2
Air fry the sweet potato: Line the air-fryer basket with parchment paper for easy cleanup (optional). Add the well-seasoned sweet potato to the basket and cook them at 400°F for 12 minutes. Remove the air-fried sweet potato from the air fryer.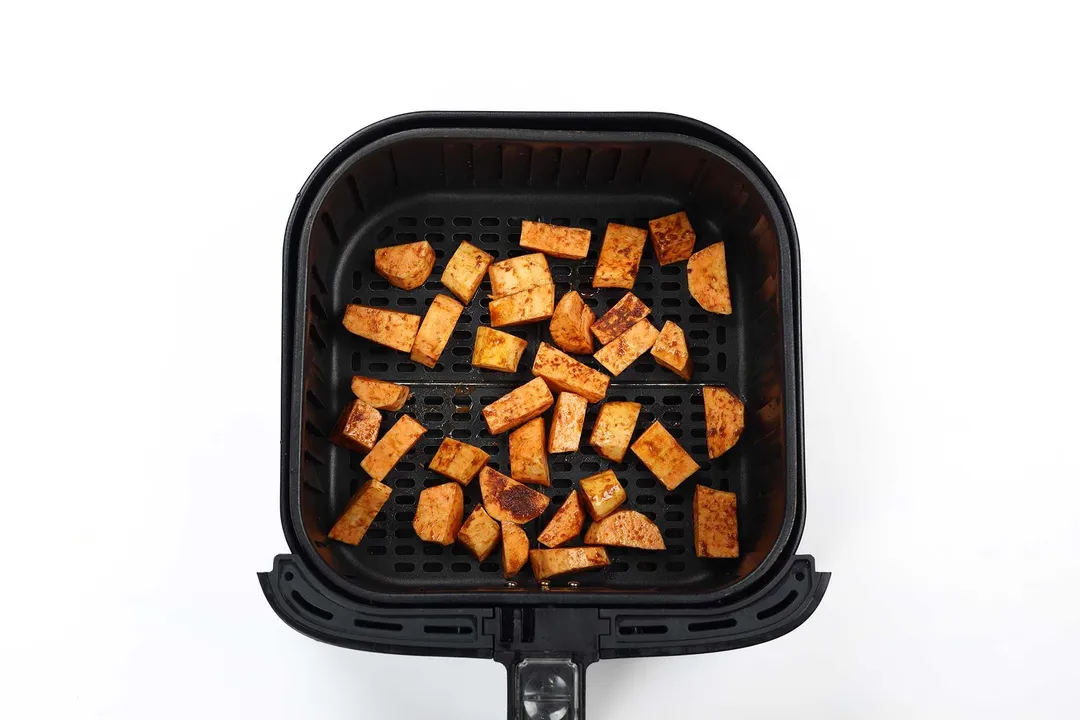 3
Marinate the chicken breast: On a large platter, add 20 oz skinless, boneless chicken breast, 1 tsp Cajun seasoning, 1/2 tsp salt, and 1/4 tsp black pepper. Gently rub the seasonings onto both sides of the chicken breasts.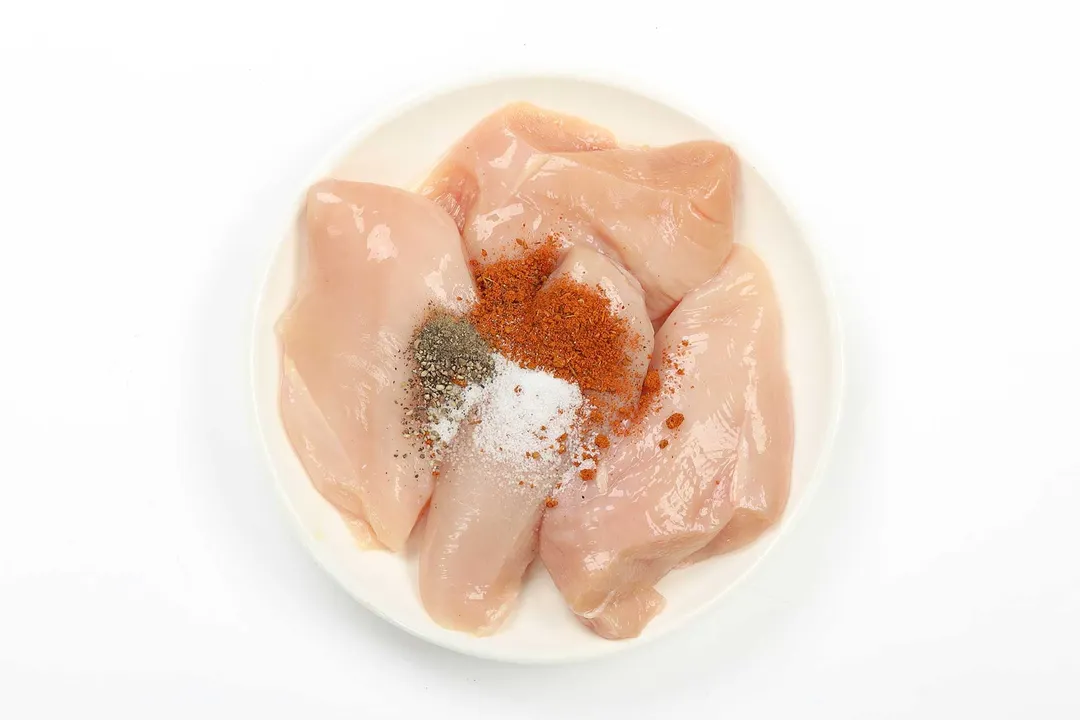 4
Combine the almond mixture: Combine 1/2 cup plain panko breadcrumbs, 1 tbsp olive oil, 1/4 cup almond flour, 2 oz almond slices, and 0.5 oz parmesan cheese in another large mixing bowl. Mix well.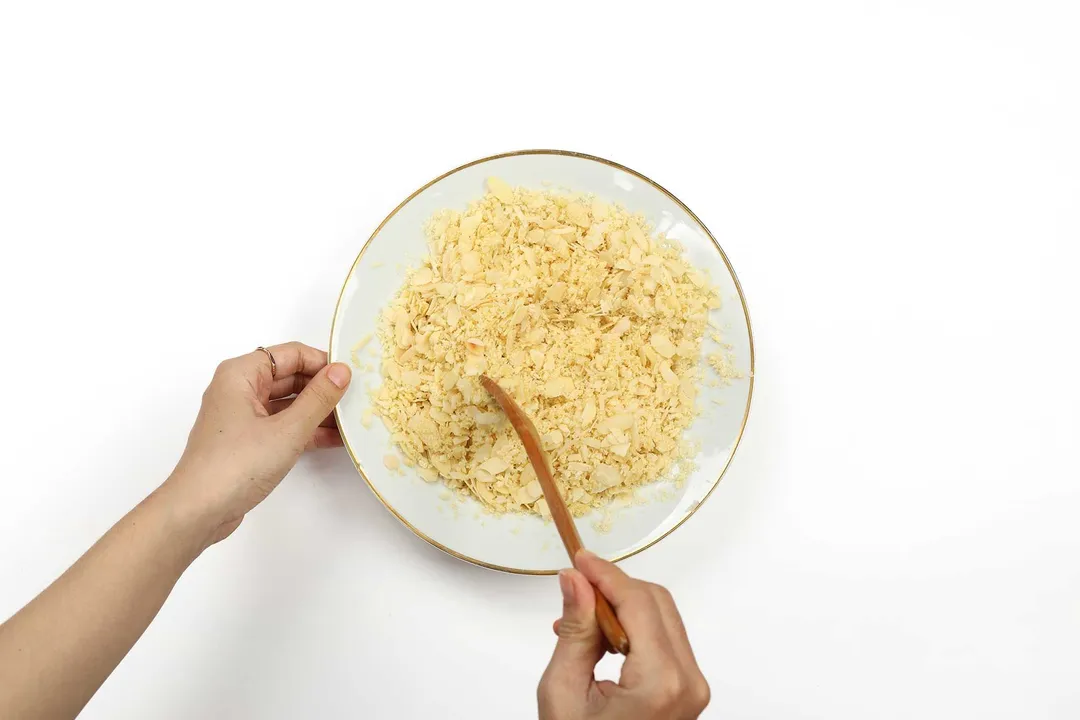 5
Batter the well-seasoned chicken breast: Prepare three shallow dishes for the all-purpose flour, almond mixture, and beaten eggs. Add the almond mixture to one dish. Add 2 tbsp all-purpose flour to another one. Lightly beat 2 medium eggs in the last dish.
Dip the chicken breast first in the flour, next in the eggs, then in the almond mixture, back to the eggs, and lastly in the almond mixture one more time. Gently shake off any excess batter. Repeat the process for the rest of the chicken breasts.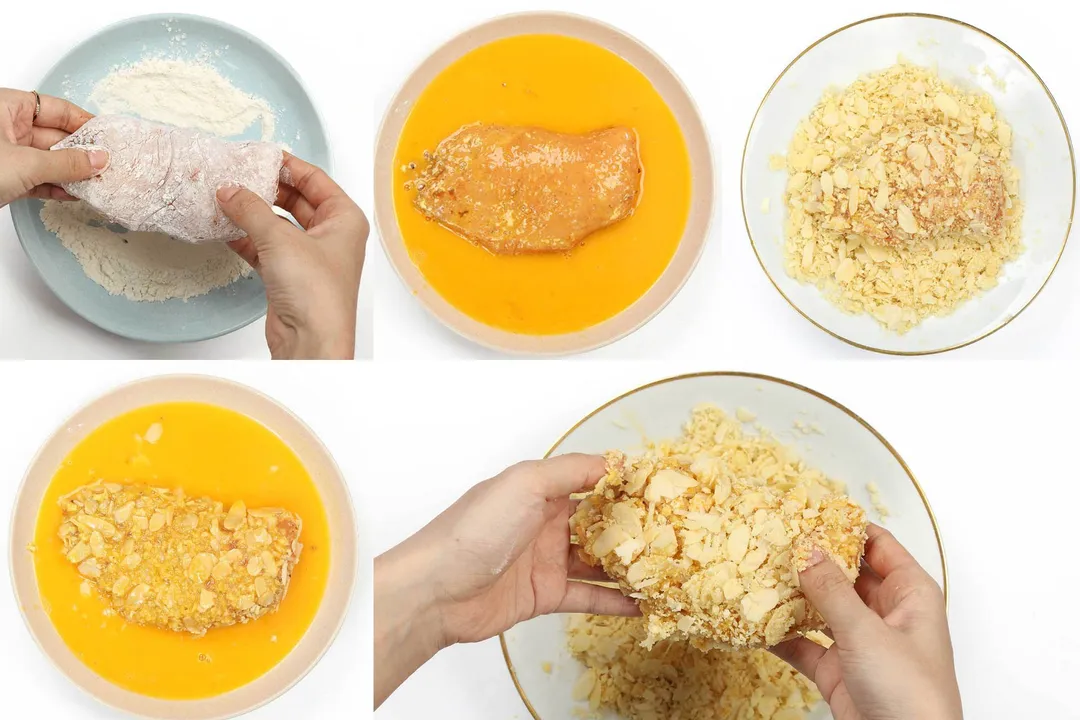 6
Cook the battered chicken breasts: Place the battered chicken breasts in the air-fryer basket. Cook them at 400°F for 15 minutes. Remove the almond chicken from the air-fryer.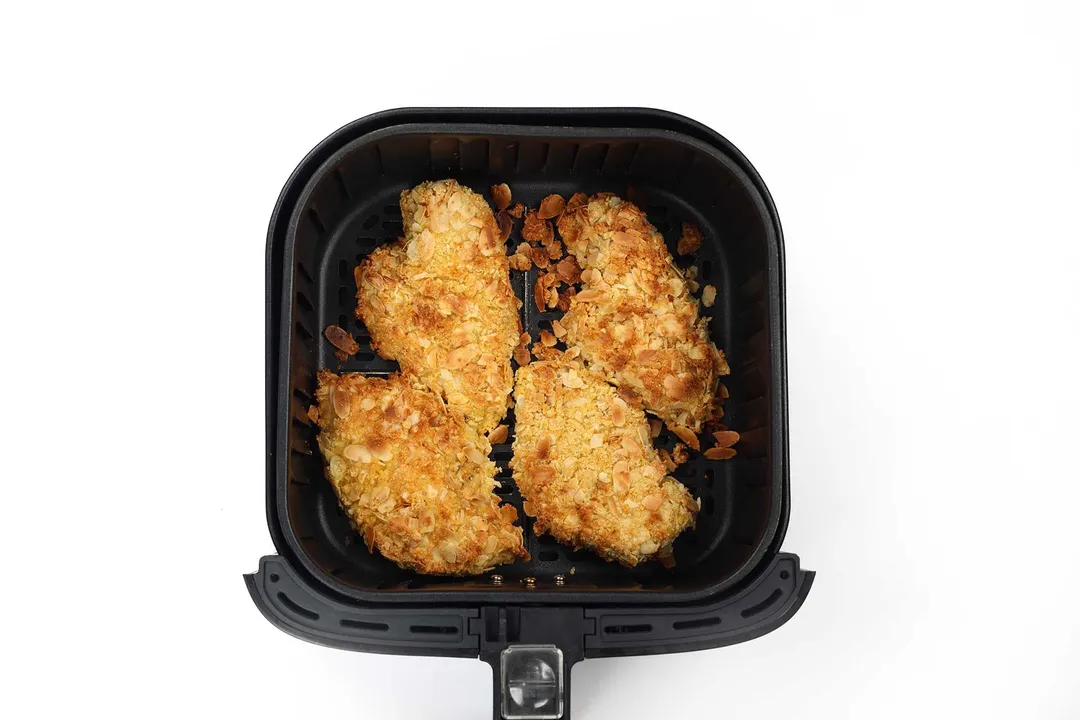 7
Garnish and serve: Transfer your desired portion onto a serving plate along with the air-fried sweet potato and crystal lettuce. Enjoy!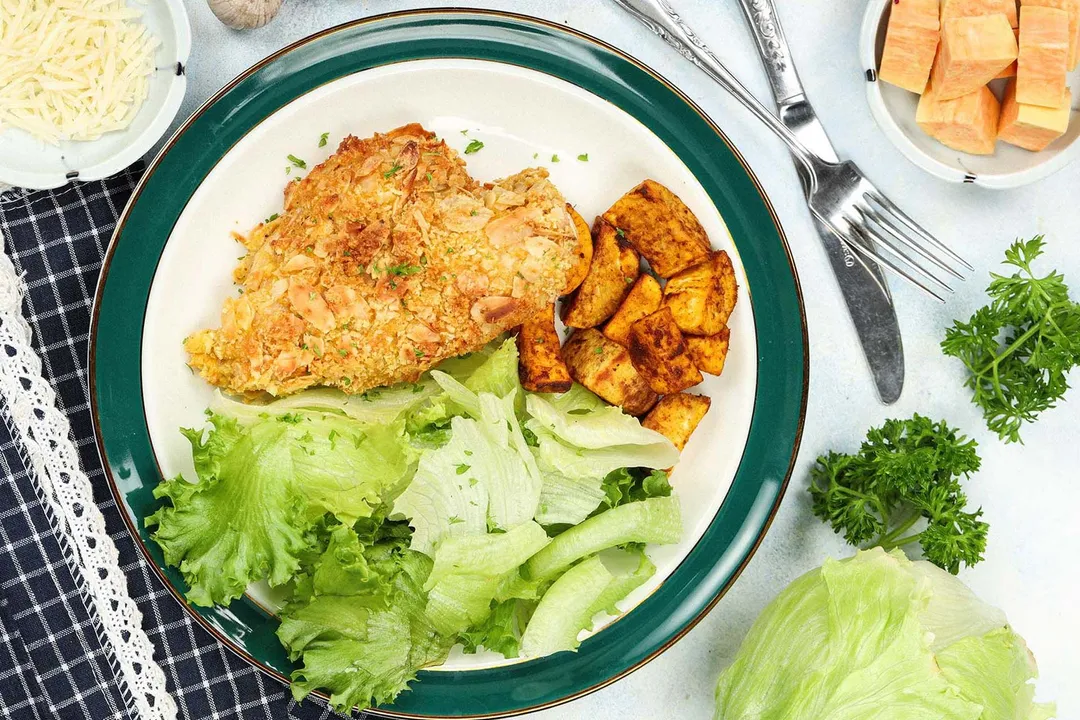 NUTRITION
Nutrition Facts
Almond Chicken
Amount Per Serving (1 serving)
Calories 507
Calories from Fat 201
% Daily Value*
Monounsaturated Fat 11.5g
* Percent Daily Values are based on a 2000 calorie diet.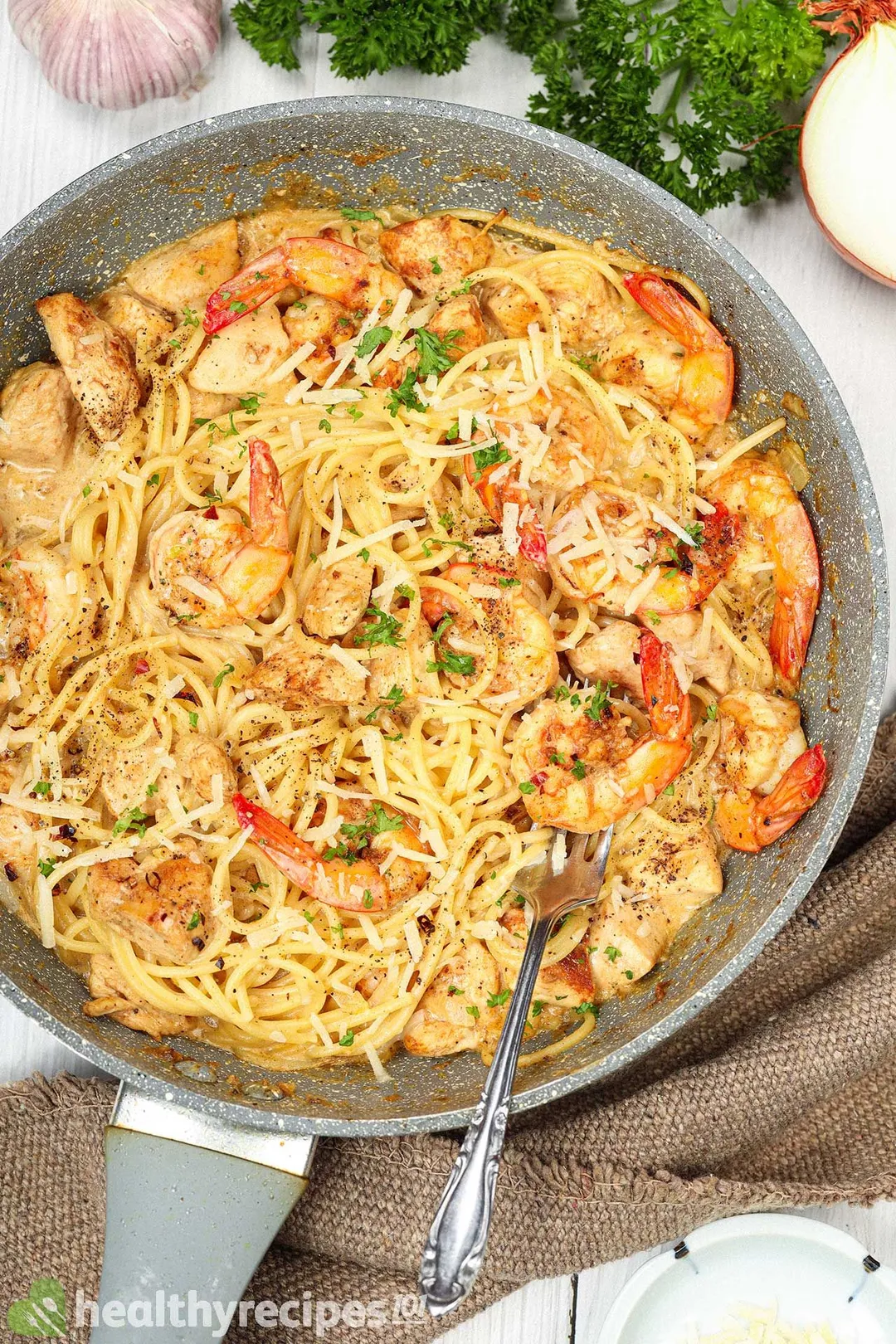 Previous Recipe
Chicken and Shrimp Alfredo
Chicken and Shrimp Alfredo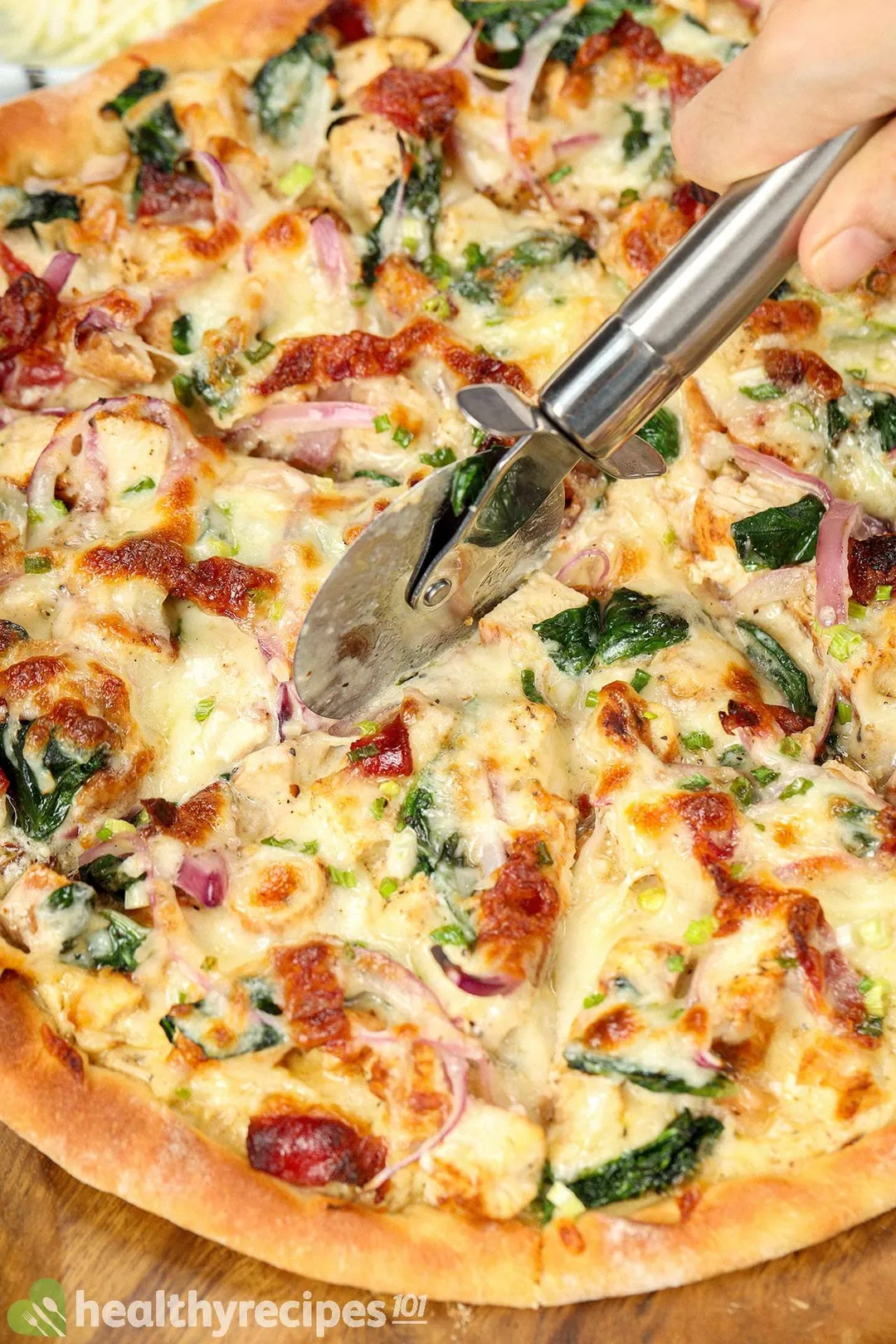 Next Recipe
Alfredo Chicken Pizza
Alfredo Chicken Pizza
Head Chef, Culinary Consultant
Tuyet Pham is an award-winning Saigonese chef who believes that joy is the secret ingredient to delicious food. At Healthy Recipes 101, Tuyet personally tests and simplifies every recipe, ensuring maximum flavor with minimal effort. With a background at prestigious French restaurants P'TI Saigon and Le Corto, Tuyet knows how to make every dish exceptional.
Writer, Author
Luna Regina is an accomplished writer and author who dedicates her career to empowering home cooks and making cooking effortless for everyone. She is the founder of HealthyKitchen101.com and HealthyRecipes101.com, where she works with her team to develop easy, nutritious recipes and help aspiring cooks choose the right kitchen appliances.
This chicken looks great, absolutely delicious! Thanks for sharing!

Crunchy almond coating on chicken.