Today's air fryer chicken legs recipe is a quick and easy guide to an explosion of goodness.
Juicy and tasty chicken drumsticks are seasoned with an aromatic blend of spices and fried to golden perfection. Using the air circulation system, they're made crispy on the outside while remaining succulent on the inside in a matter of 25 minutes.
Is This Chicken Recipe Healthy?
Chicken legs, or drumsticks, are one of the most affordable, customizable, and healthy sources of protein from meat. Not only are they incredibly moist and juicy, but they're also savory and flavorful.
In today's air fryer chicken legs recipe, we kept the chicken skin on when frying so you won't miss out on that deep-fried chicken flavor and crispy texture. With the air-frying method, you'll get crunchy fried chicken drumsticks with only a small amount of oil for coating and absolutely no breading.
For these reasons, this dish is undoubtedly healthier, faster, and more convenient than either pan-frying, baking, or broiling. It's keto and low-carb compatible and put together easily within 25 minutes.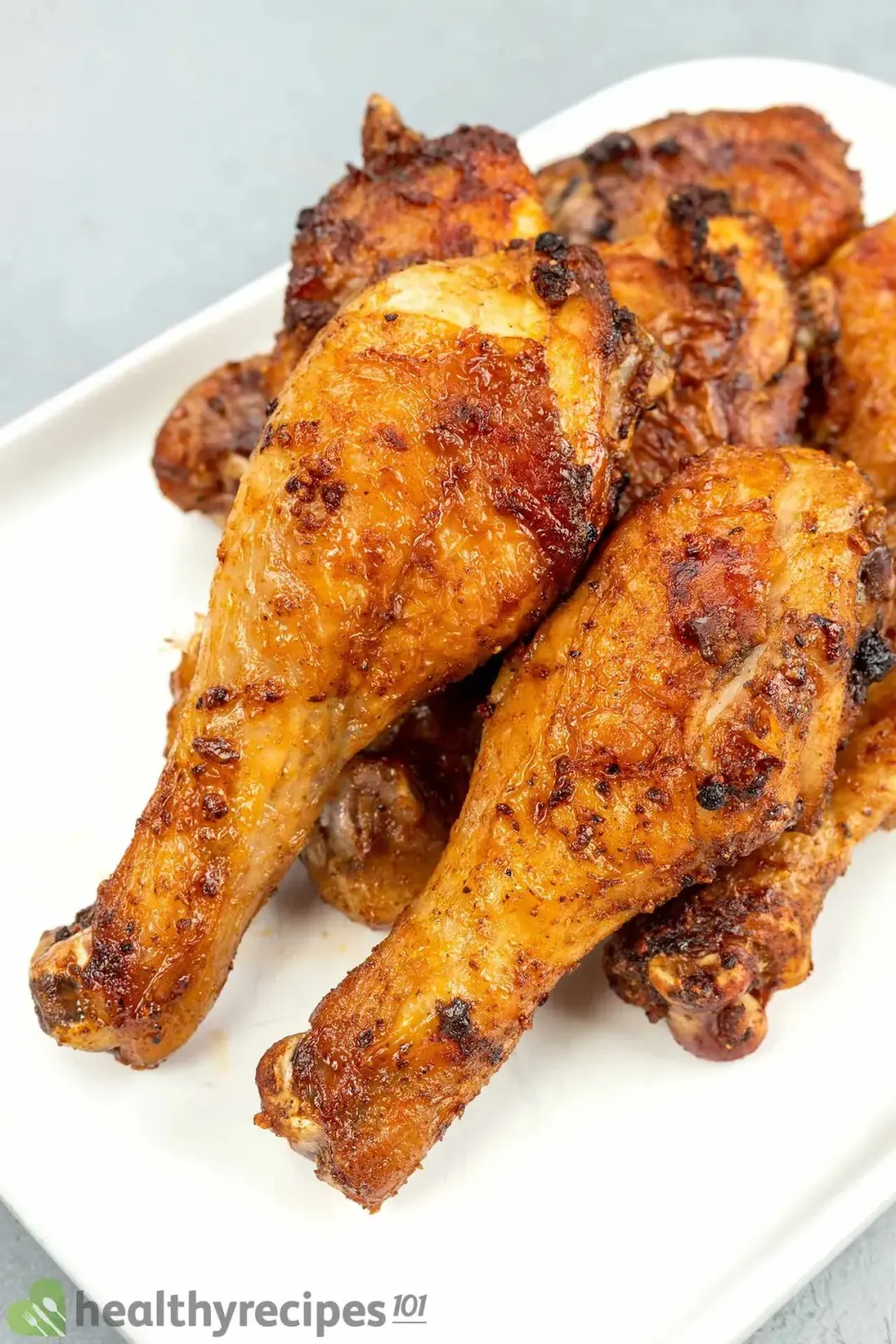 How to Season
For this recipe, we season the chicken legs with a simple spice blend of garlic powder, onion powder, Italian seasoning, paprika, salt, ground black pepper, chili powder, and olive oil.
To season the chicken legs, simply mix them together in a small bowl, then use your hands to rub them evenly onto the meat. Another way to do it is to place the chicken in a large zip-top bag, add the spice mix into it, seal it, then shake them up to toss.
The addition of oil in the mix helps the seasoning stick to the meat when cooking, resulting in more flavorful, crispier chicken. Altogether, these spices give the dish a pleasant smoky barbecue aroma but without overpowering the chicken flavor.
Can You Cook Frozen Chicken Legs in the Air Fryer?
Yes, absolutely.
Chicken legs are juicy and full of flavor. They lend themselves very well to the air fryer.
Whether the chicken is frozen or not, you can easily create moist and tasty fried chicken using the rapid air circulation system. The air fryer will distribute the concentrated heat around the chicken pieces to cook them evenly while allowing the coating to fully absorb the flavor.
In love with this recipe? You may find this Air Fryer Fried Chicken Recipe helpful. Otherwise, scan through our air fryer dinner recipes for lots of dinner ideas.
Cooking Tips
Patting the chicken drumsticks dry with a paper towel before rubbing in the spices helps remove excess moisture. This allows the seasoning to stick to the surface better and also results in crispier skin after frying.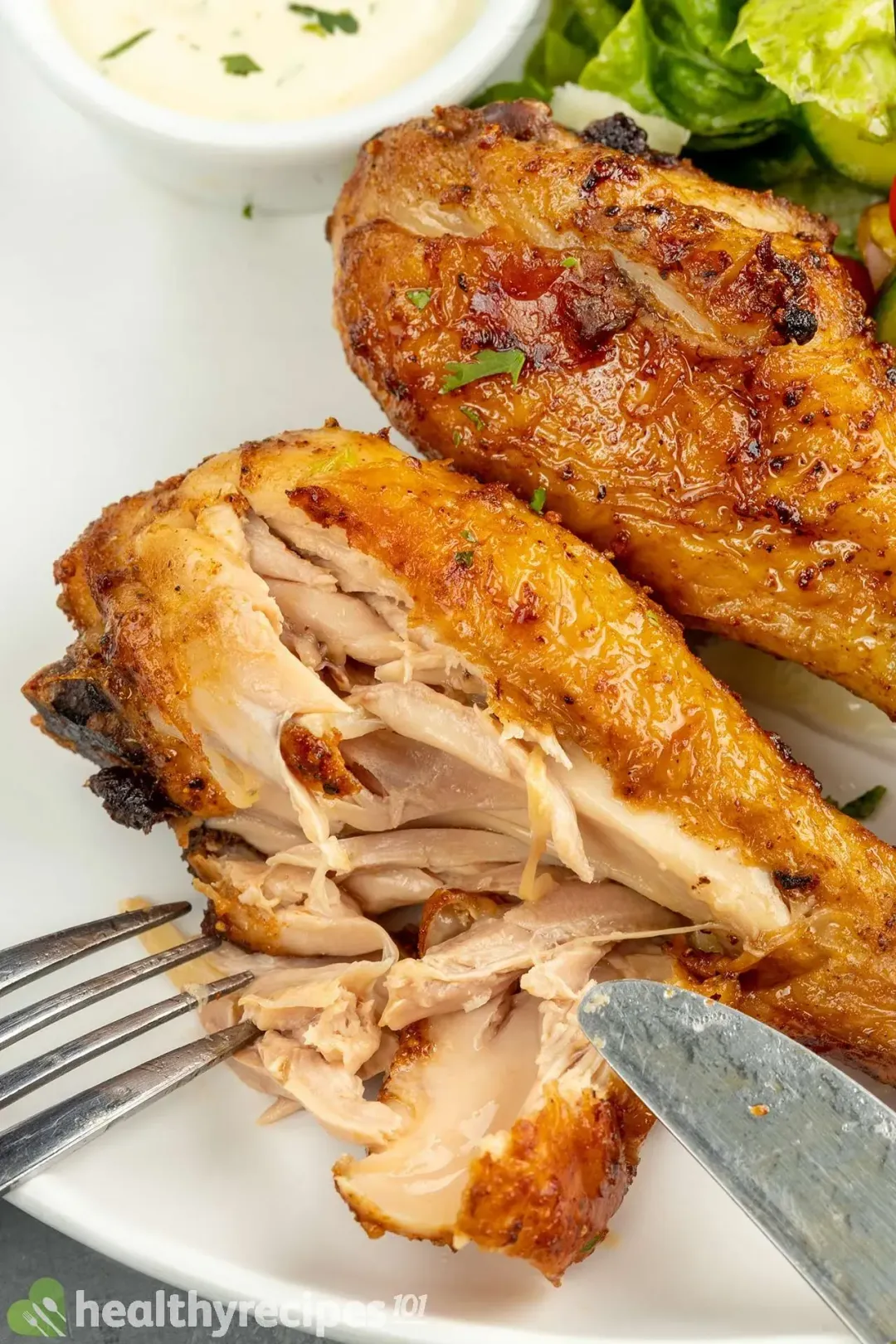 Make sure the air fryer is preheated
Preheating the oven is a must, so when the chicken legs are added, the basket is already hot and ready to go. The 25-minute cooking time in this recipe includes preheating.
If your air fryer doesn't come with a preheating mode, simply turn it on with an empty basket, and run for a few minutes before cooking.
Adjust the temperature for crispy frying
Chicken drumsticks fry better at a high temperature. Cooking on high heat, the skin will turn brown faster while the meat remains incredibly juicy. You can see our Air Fryer Buttermilk Fried Chicken Recipe for the crispiest drumsticks.
Frying chicken at a high temperature also helps get rid of dry meat, rubbery skin and bloody spots around the bone.
Different air fryers cook at different temperatures. So if this is your first time using a newly bought air fryer, please pay double attention when monitoring the cooking process.
You should only open the air fryer onc:e when flipping the chicken over. This is also the only chance for you to check their doneness.
Don't keep pulling the rack out constantly, or the heat will escape, and the chicken won't get enough hot air to cook.
Generally, chicken drumsticks are considered perfect as long as their skin is fried to a golden-brown crisp. However, sometimes it might be difficult to be 100% sure that the chicken is done just by the look of it, especially if you're unfamiliar with air-frying.
In this case, a rapid-read digital thermometer could help. Insert it into the thickest part of the drumsticks (not touching the bone) to check if the internal temperature has reached 165℉.
Don't stack the chicken drumsticks in the frying basket, otherwise, they won't be able to cook evenly. It's important to place them in a single layer to expose as much skin to the hot air as possible.
As long as they don't lay atop each other and the air can circulate to all the corners, you're good to go.
Let meat rest after cooking
The chicken should be allowed to rest before tearing, cutting, or sticking a fork into it. The moisture needs some time to reabsorb into the chicken pieces and tenderize the meat even more.
Check out our Instant Pot chicken legs recipe with simple ingredients you might already have on hand. 
How to Store and Reheat
Leftover air-fried chicken legs can last well up to 3-4 days in the fridge and 3-4 months in the freezer. As long as they're stored in air-tight containers, you're good to go.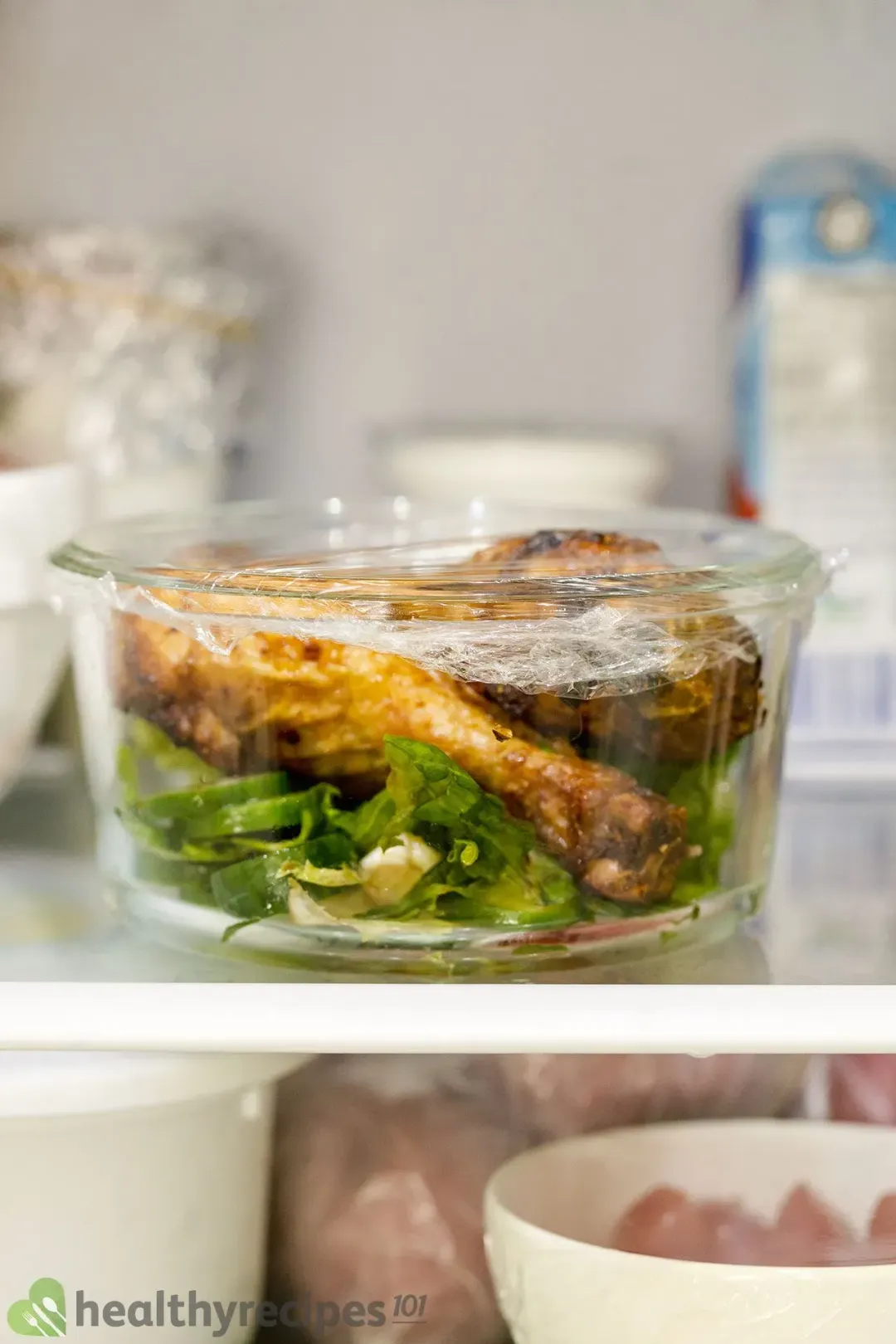 To defrost and reheat, thaw the frozen chicken legs in the fridge overnight. Next, put them back into the air fryer to cook for another round, or warm them in the microwave for a couple of minutes.
To play it safe, follow our full guide on how to reheat fried chicken to retain the best taste and quality.
What to Serve With
These savory chicken drumsticks, bursting with aroma are easy to make and super versatile. They can pair well with pretty much anything; below is a sample meal that we made out of it for your reference.
1. Home Fries
Easy to prepare and packed with flavor, these spicy hot home fries are the perfect pair for the air-fried chicken legs. They add a healthy source of carbs to your meal, as well as mouth-watering flavors and a crispy texture.
2. Fresh Lime Juice
This fresh lime juice requires nothing more than simple ingredients and 10 minutes of whisking and stirring. It's a refreshing drink to complement our meal since we've got all the essential macronutrients from the previous two dishes.
What are your thoughts on this? Please share your final result!
If you are craving some chicken dinner ideas, our chicken recipes in air fryer and top delicious chicken roundup are definitely worth a try. It's simple, tasty and healthy, as with all recipes on our website!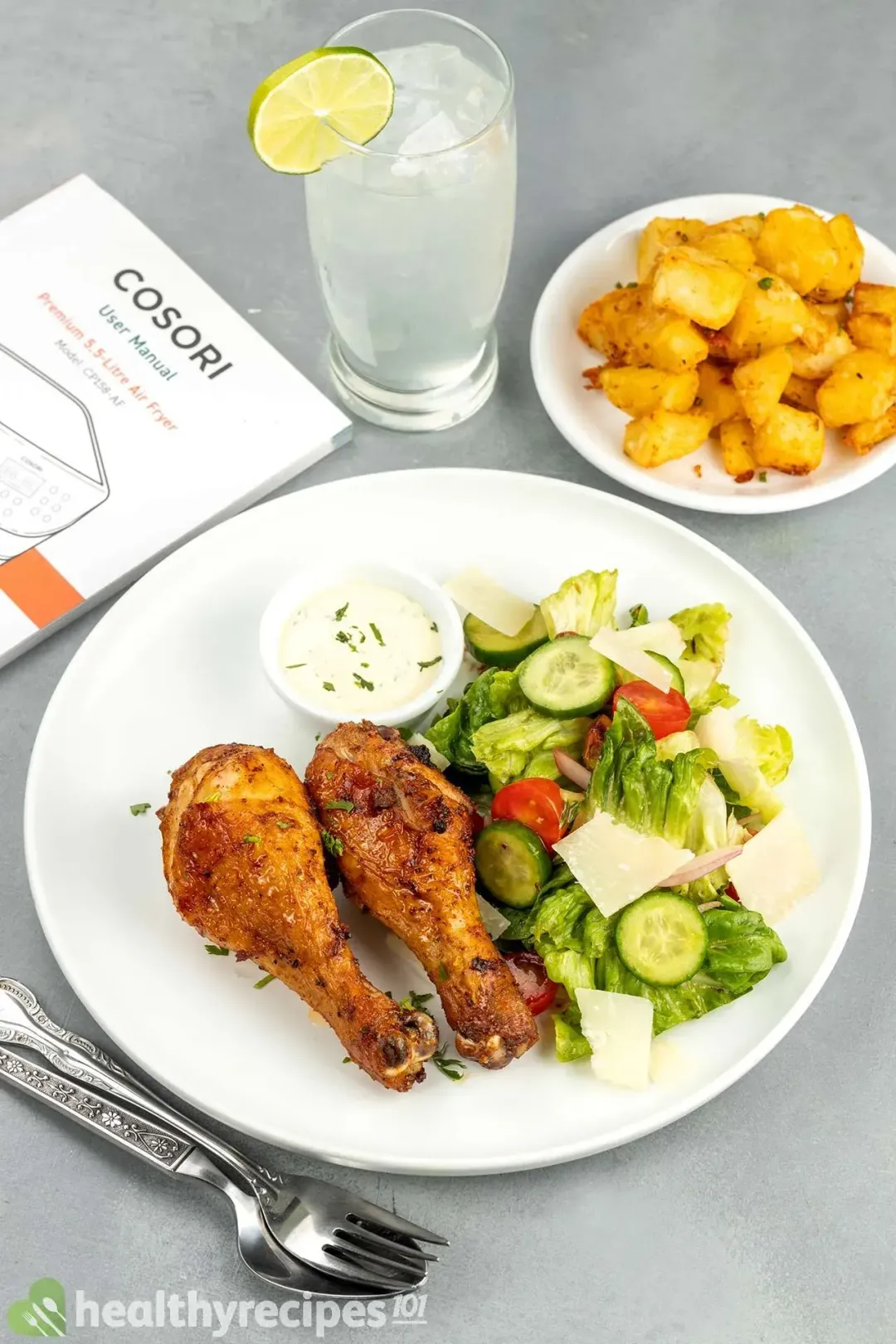 Also, Walk Through These Delicious Air Fryer Recipes
Complying with healthy eating guidelines, our air fryer chicken Schnitzel recipe will show you how to prepare a nutritious meal of breaded chicken, spiced roasted vegetables, and Hollandaise sauce. Homemade, Hollandaise sauce.
In this Air Fryer Greek Chicken recipe, score chicken thighs and marinate them before cooking them to juicy pieces. Grilled chicken and a tangy, creamy salad are featured in this air fryer Greek chicken recipe. Everything is ready in 30 minutes and tastes fantastic.
Air Fryer Chicken Legs
In today's air fryer chicken legs recipe, we kept the chicken skin on when frying so you won't miss out on that deep-fried chicken flavor and crispy texture. With the air-frying method, you'll get crunchy fried chicken drumsticks with only a small amount of oil for coating and absolutely no breading.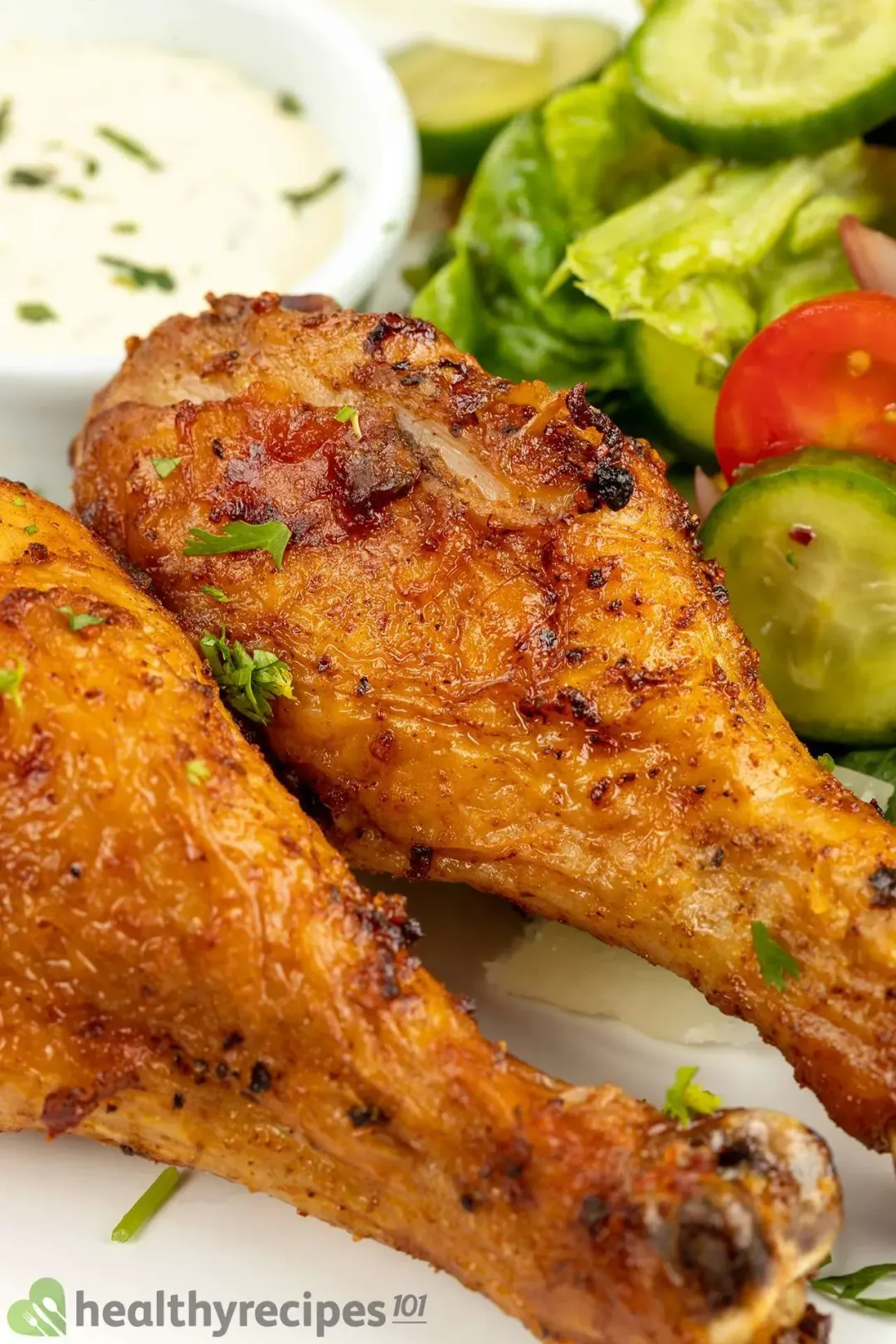 cook TIME

25 mins

prep TIME

20 mins

total TIME

45 mins
COURSE

Main Course

CUISINE

American

SERVINGS

CALORIES

454 kcal
INGREDIENTS
40 oz

bone-in chicken drumstick

(yields 8 drumsticks)

2 tbsp

plain Greek yogurt

2 tbsp

Japanese Mayonnaise

1 1/2 tbsp

olive oil

(divided)

1/4 tsp

ground black pepper

1/2 tsp

traditional Dijon mustard

1 tbsp

coriander

(finely chopped)
INSTRUCTIONS
1
Preheat the air fryer to 370℉.
2
Rub the 40 oz bone-in chicken drumstick with 1/2 tsp garlic powder, 1/2 tsp onion powder, 1 tsp Italian seasoning, 1 tsp paprika, 1/4 tsp salt, 1/4 tsp ground black pepper, 1/4 tsp chili powder, and 1/2 tbsp of olive oil.
3
Place the chicken drumsticks in the air fryer basket in a single layer. Cook for 15 minutes, then pull it out, flip sides, and cook for another 10 minutes.
4
While waiting, make the dipping sauce: In a small bowl, whisk together 1/2 tsp Dijon mustard, 2 tbsp Greek yogurt, 2 tbsp Japanese Mayonnaise, and 1 tbsp coriander. Stir well.
5
Make a salad dressing in another bowl: Whisk together 1 tbsp of olive oil, 1 tbsp balsamic vinegar, and 1/2 tsp honey until well combined.
6
Combine the vegetable mix from 4 oz romaine lettuce, 4 oz cherry tomatoes, 1 oz red onion, 4 oz cucumber, 2 oz pistachio, and 1 oz parmesan slices. Pour the salad dressing over, toss it up if desired.
7
Serve the air-fried chicken drumsticks hot, with the dipping sauce and the vegetable mix on the side.
NUTRITION
Nutrition Facts
Air Fryer Chicken Legs
Amount Per Serving (1 serving)
Calories 454
Calories from Fat 234
% Daily Value*
* Percent Daily Values are based on a 2000 calorie diet.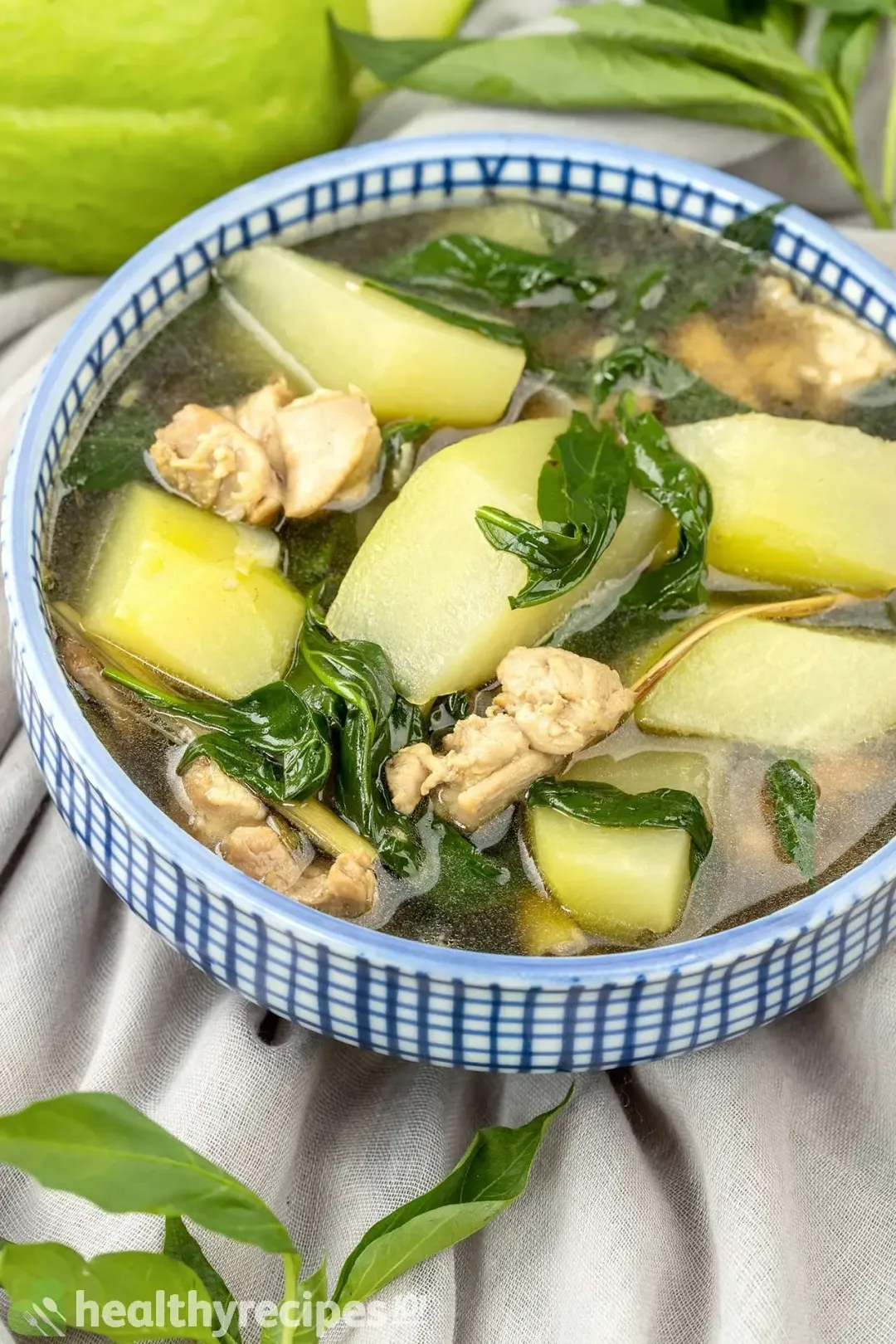 Previous Recipe
Chicken Tinola
Chicken Tinola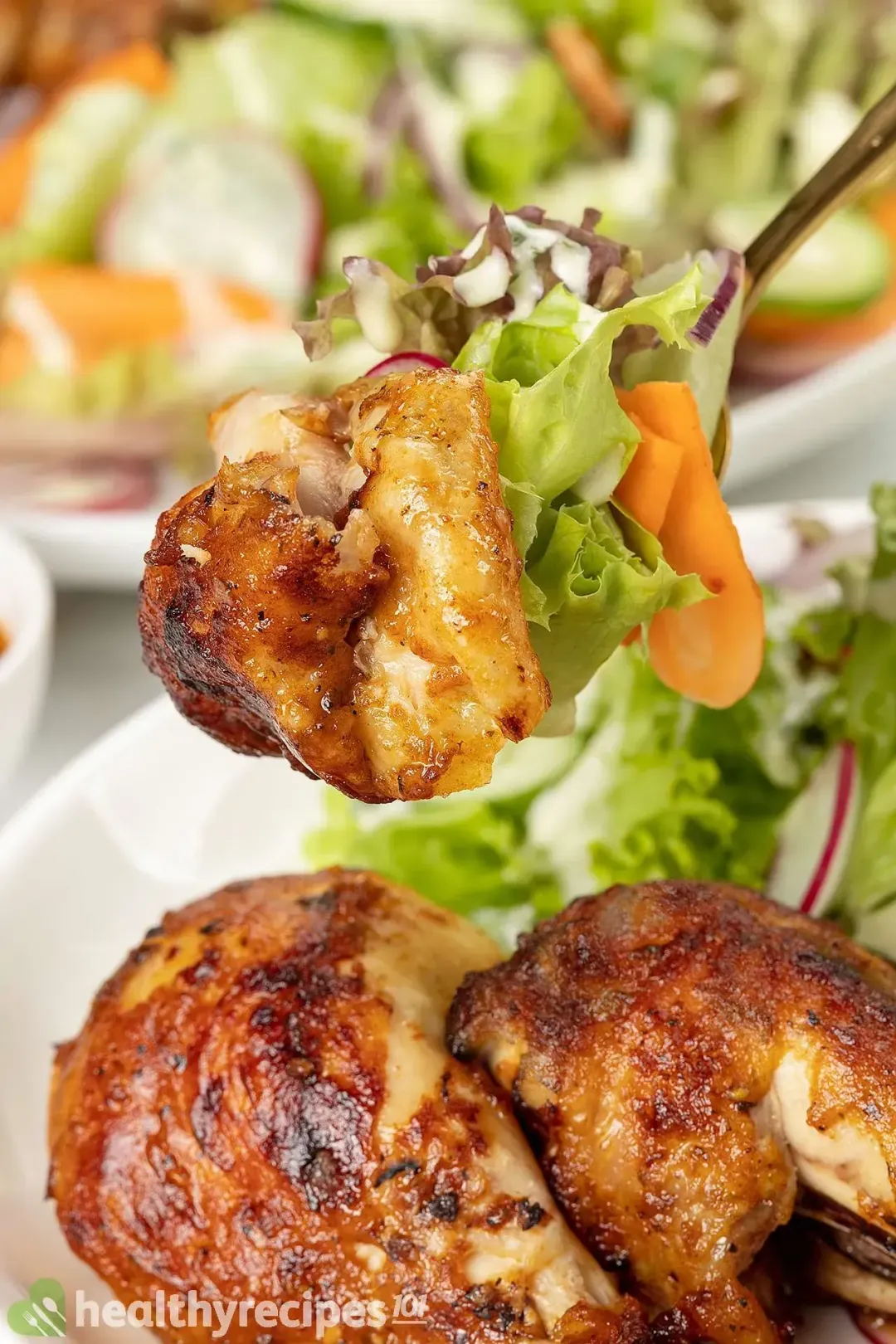 Next Recipe
Instant Pot Chicken Legs
Instant Pot Chicken Legs
Head Chef, Culinary Consultant
Tuyet Pham is an award-winning Saigonese chef who believes that joy is the secret ingredient to delicious food. At Healthy Recipes 101, Tuyet personally tests and simplifies every recipe, ensuring maximum flavor with minimal effort. With a background at prestigious French restaurants P'TI Saigon and Le Corto, Tuyet knows how to make every dish exceptional.
Writer, Author
Luna Regina is an accomplished writer and author who dedicates her career to empowering home cooks and making cooking effortless for everyone. She is the founder of HealthyKitchen101.com and HealthyRecipes101.com, where she works with her team to develop easy, nutritious recipes and help aspiring cooks choose the right kitchen appliances.
Nutrition Reviewer
Lizzie Streit is a Minneapolis-based dietitian and founder of It's a Veg World After All. She completed her MS in Human Nutrition from Drexel University, and is an expert in culinary nutrition, recipe development, and nutrition communications. Lizzie's philosophy is centered around making nutrition recommendations, and especially the advice to eat more vegetables, approachable and realistic. She is excited to be working with the team at Healthy Recipes 101 to ensure that their recipes are both nutritious and delicious.
look like the perfect choice for a quick, healthy dinner. The combination of spices and herbs will make them really flavorful!