Our chicken and shrimp Alfredo recipe gives you a popular signature Italian dish that the whole family can enjoy.
In just 30 minutes this delicious one-pan dish will be ready to serve on your table. Our chef seared the chicken breasts and shrimp until they were golden, whipped up the cream sauce, and tossed everything together with the pasta. It's a dreamy, decadent main course that you can serve on any occasion.
That's not all. With the ingredients carefully selected and portioned, we also made sure this dish is nutritionally balanced while also maintaining its rich and savory taste.
How Healthy Is This Recipe?
To start off, the main ingredients are chicken breast and shrimp. According to data provided by the USDA, both of them are high in lean protein— offering 43.1 g of complete protein within each serving.
Now the cream sauce looks packed with fats and calories, but it's not. Thanks to our chef's great attention to detail, each serving is rich and tasty, yet yields only 7.4 g saturated fats and 504 calories.
These amounts, much like the 570 mg sodium each serving also contains, are what our nutritionist and we believe to be moderate for a main dish.
Ingredients You Will Need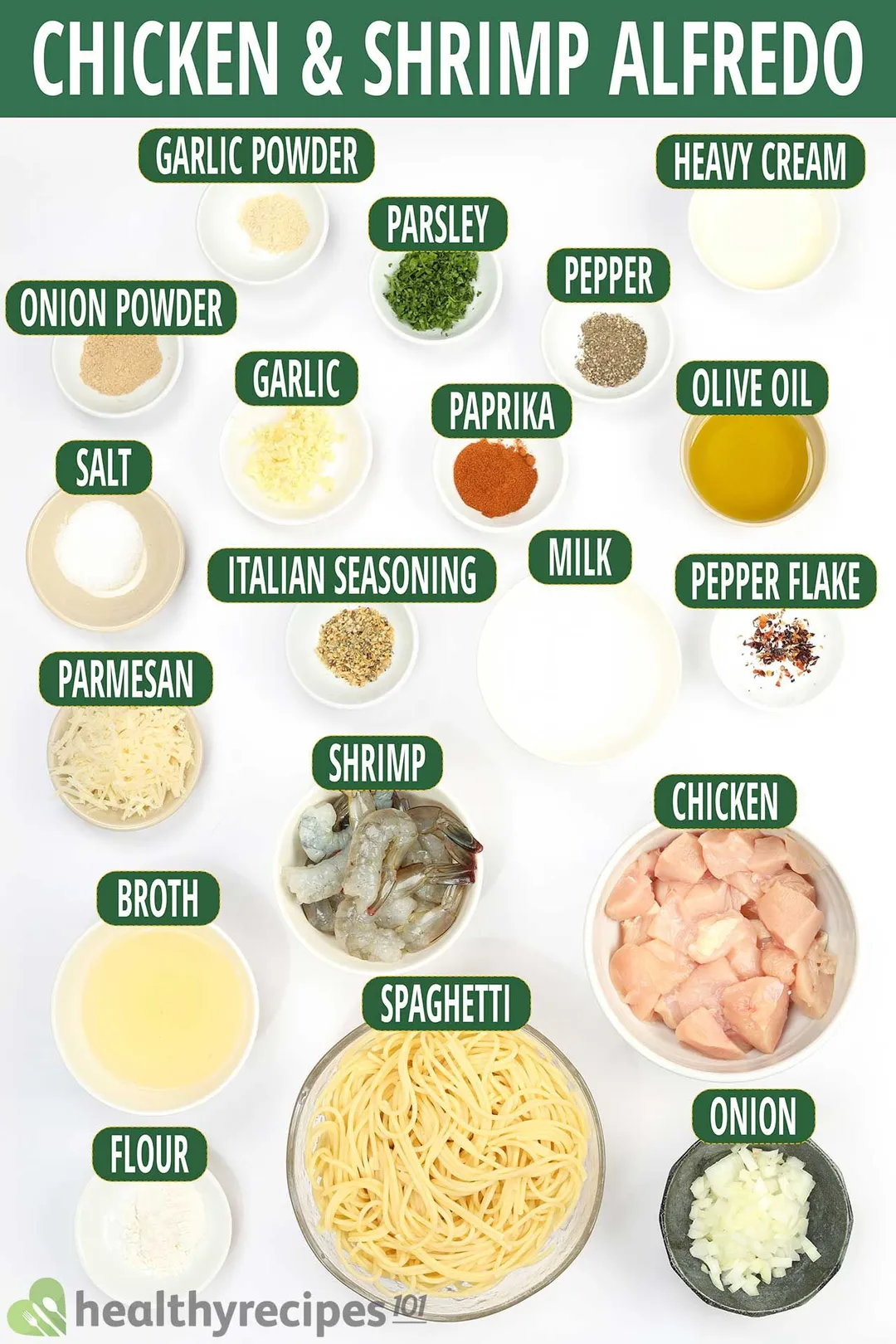 Shrimp: We find medium to large shrimp ideal for pasta, but since jumbo shrimp can be trickier to portion, we aim for medium shrimp instead.
Chicken: We used skinless boneless chicken breasts to keep the preparation minimal and reduce the saturated fat amount.
Pasta: Fettuccine is undoubtedly a classic for this recipe. You can also use anything that's available in your pantry like we did with this pack of spaghetti.
For the Sauce
The white roux: Like most roux, this is made from milk, cream, and flour, but minus the butter to lower the saturated fat content. 
Seasonings: We used garlic powder, onion powder, Italian seasonings, and paprika to infuse the sauce with complex flavors.
Chicken broth: To add a bit of warmth to the sauce, we use a good broth we have in the fridge. You can use any broth you like, chicken or vegetable.
Finally, the titbits: onion, garlic, parmesan, red pepper flakes, salt, and pepper. Learn more details about the measurements and cooking steps in the recipe card at the end of this article.
Tips to Making
If you use skin-on chicken, pan-sear with the skin-side down first to achieve the perfect crispy exterior. This should take about 2 minutes or until bubbles form around a chopstick when dipped in.
Cook the protein separately and don't overcrowd the pan to get a caramelized outside and juicy inside.
When boiling pasta, follow the lower number of minutes stated on the package. This will give you an 'al-dente' texture that is slightly chewy and not fully cooked, which allows more flavors to be absorbed when the pasta is swirled in sauces.
You can also add other vegetables like button mushrooms or spinach for textures and a few extra earthy notes. With just pasta and proteins, the dish would be a hit when these ingredients are added.
How to Store and Reheat Leftovers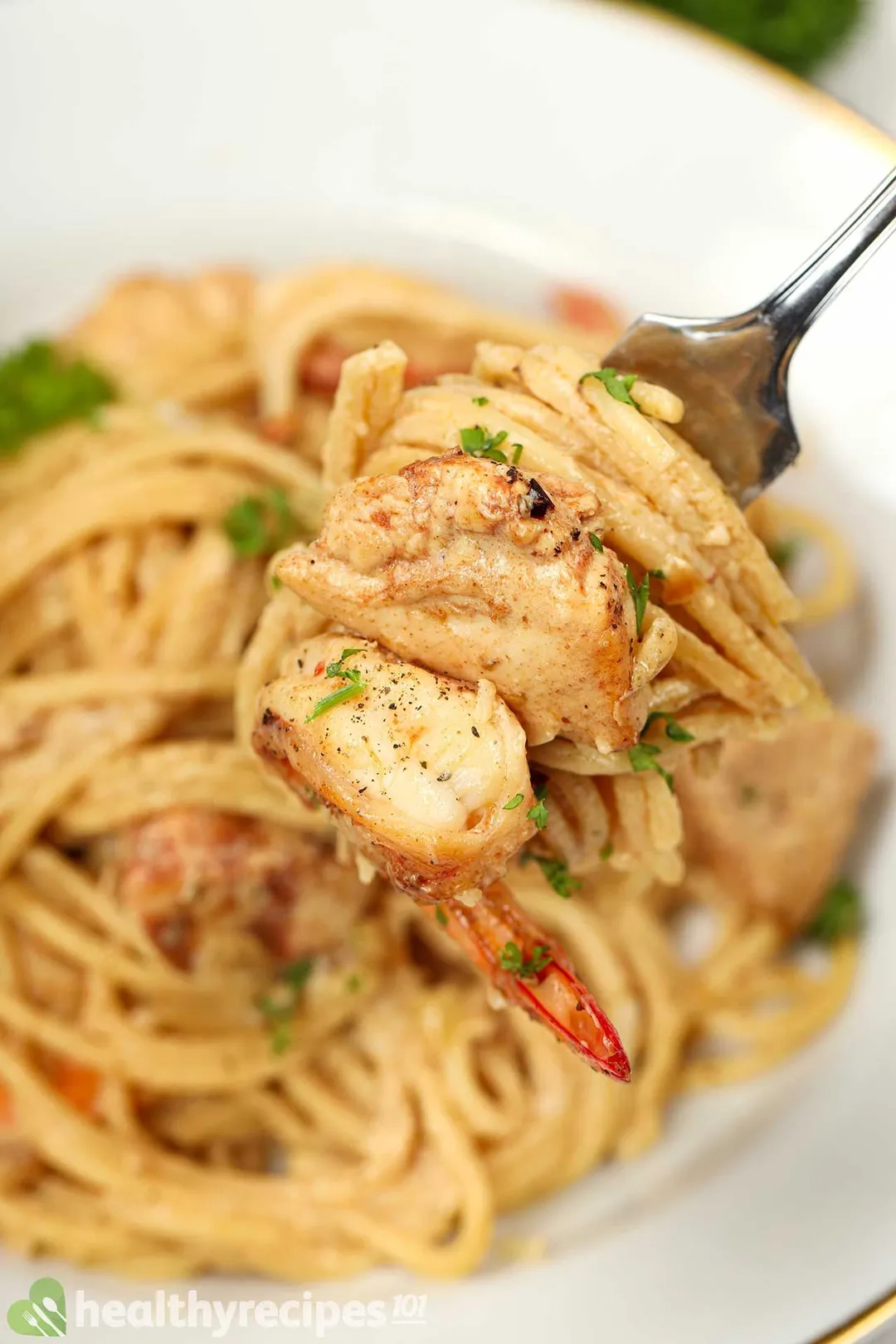 Though many online sources may suggest keeping the leftover chicken and shrimp Alfredo in the freezer for months, we personally wouldn't recommend it. Leaving any dairy-rich pasta in the freezer is not advisable because the pasta will turn mushy, and the sauce will separate once thawed.
Refrigerating is a more efficient way to preserve this dish. Portion your leftovers into several airtight containers, and store them in the fridge for 2-3 days.
To reheat, transfer your leftovers onto a non-stick pan over medium heat, add a tablespoon of olive oil, and stir occasionally for 2-4 minutes.
What to Serve With
Over the years, our chef has made this dish for countless meals and found that it pairs best with a light and fresh side of salad. Here are a few that we recommend: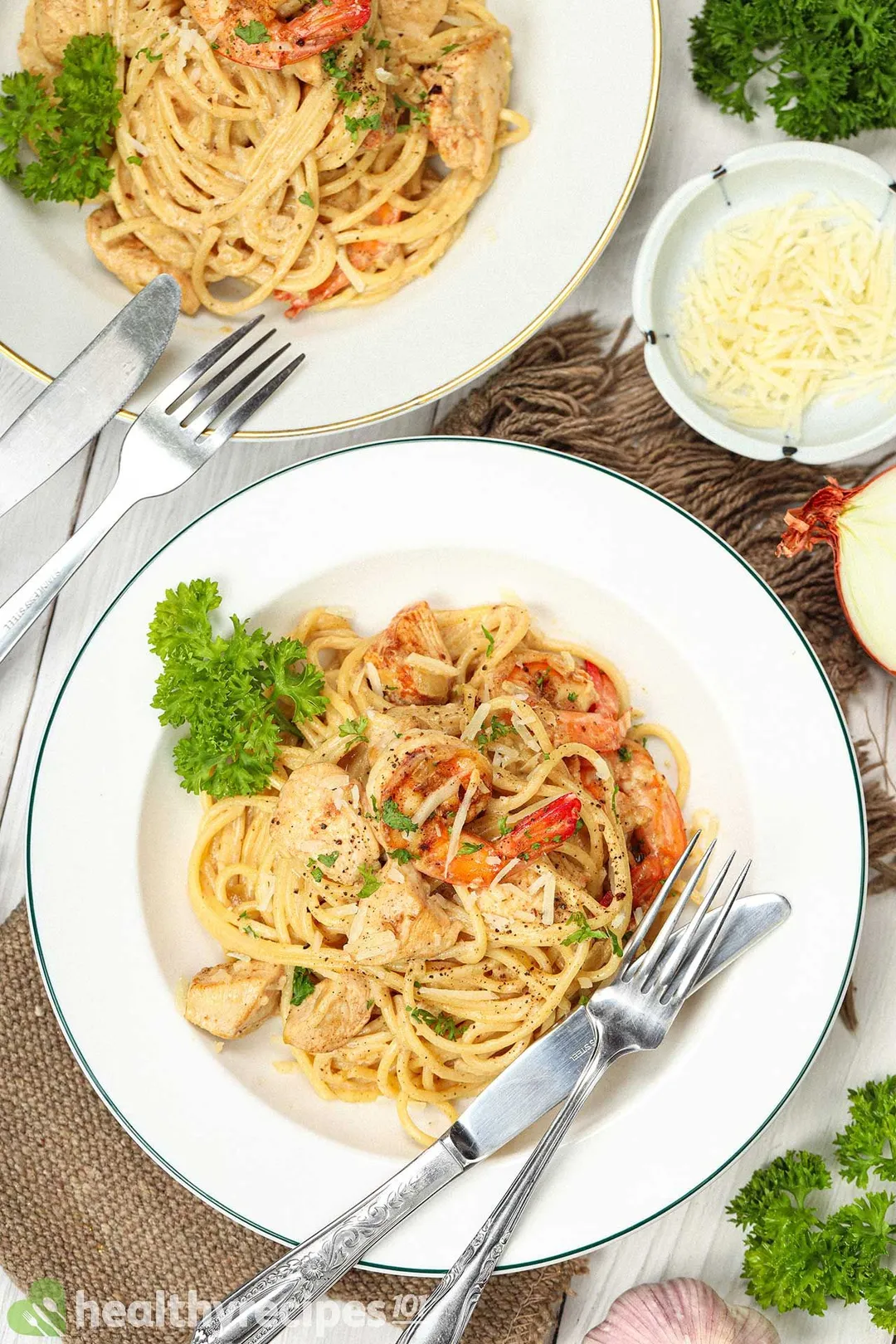 Try These Chicken Noodle Recipes to Spice Things Up
Our chefs sear the chicken thighs until the outer layer turns slightly crispy, yet just long enough so the interior remains juicy. Meanwhile, we add sautéed onion and mushrooms to the white cream sauce seasoned with thyme, garlic powder, salt, and pepper.
With the delicious textures of chicken and shrimp, our chicken and shrimp carbonara recipe creates a super addictive meal. The al dente spaghetti is tossed in a creamy carbonara sauce and topped with crispy bacon, pan-fried chicken, and succulent shrimp.
Chicken And Shrimp Alfredo
Our chicken and shrimp Alfredo may become your new favorite dish to make, share, and enjoy with your family. Who doesn't love a comforting meal that comes together in less than 30 minutes, with no mess left behind to clean up?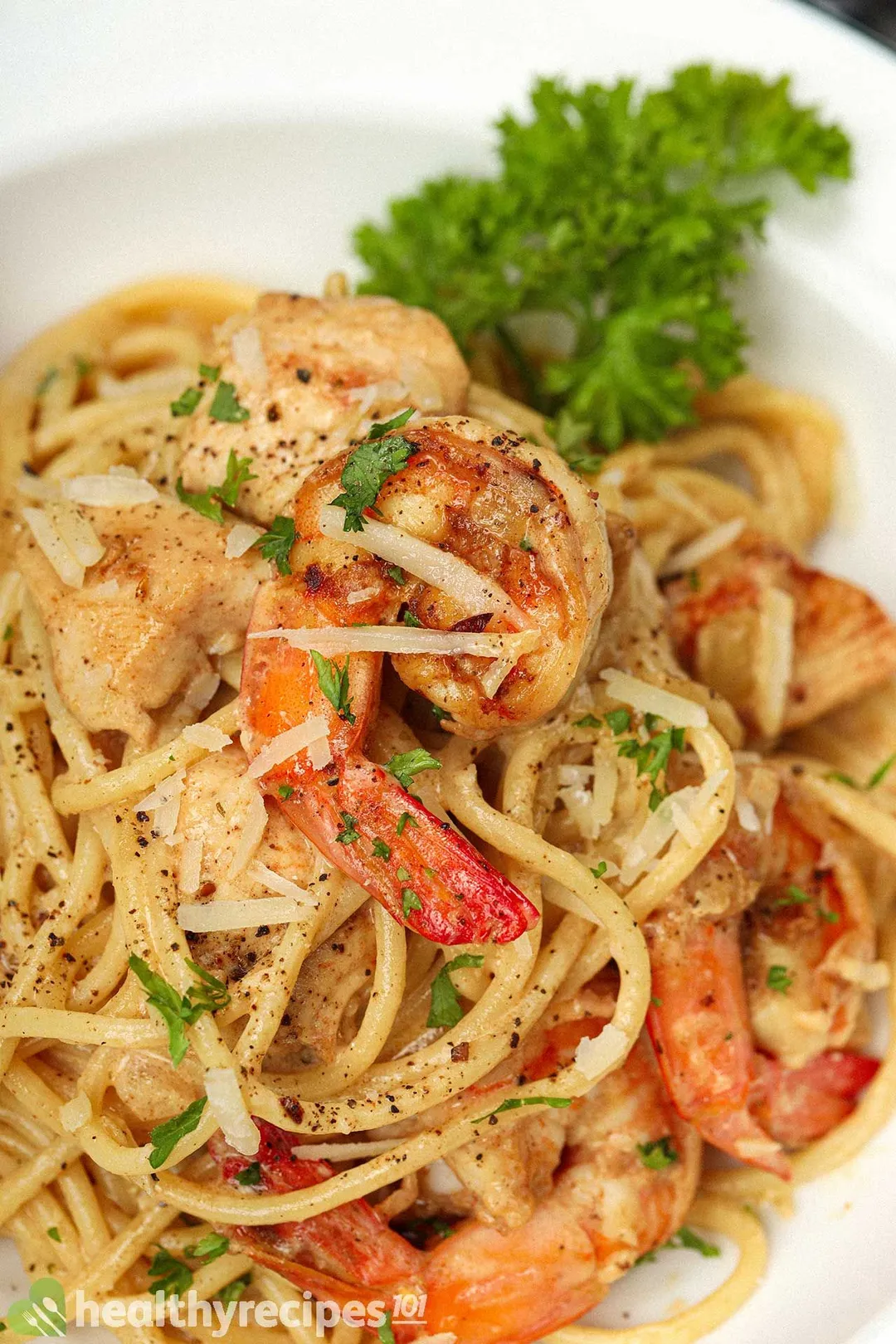 cook TIME

13 mins

prep TIME

12 mins

total TIME

25 mins
COURSE

Main

CUISINE

Italian

SERVINGS

CALORIES

504 kcal
INGREDIENTS
10 oz

skinless boneless chicken breast

(cut into 1-inch cubes)

6 oz

peeled shrimp

(from 12 oz whole shrimp)

1 oz

shredded parmesan cheese

1/2 cup

unsalted chicken broth

1/2 tbsp

all-purpose flour

1/2 tsp

red pepper flakes
INSTRUCTIONS
Prep:
1
Bring a pot of water to a boil. Add the pasta and cook until al dente, following the packaging instructions. Quickly rinse the cooked pasta under the faucet to prevent clumping.
2
Place the chicken breast on a cutting board. Slice the chicken breast crosswise into 1-inch thick strips, then cut those strips into small cubes, about 1-inch thick. Repeat this process with the remaining chicken breasts.
3
Prepare a bowl of ice water to keep your shrimp cold during prep. Hold the shrimp by the tail and twist off the head. Next, pull off the legs and peel off the shell, but leave the tail for decorative purposes. Run a paring knife along the back of the shrimp, about 1/4-inch deep, and remove the vein.
4
Halve the onion and peel away the skin. Trim one end and lay the halved onion face down. Make vertical slices, 1/8 inch apart, such that you cut towards the root; leave about 1/8 inch at the end so the root stays intact. Turn the half 90 degrees and grip the root. Slice the onion horizontally again, leaving 1/8 inch at the end to keep the root intact. Chop the onion further into small, even cubes. Discard the root.
5
Finely mince the peeled garlic.
6
Finely chop the fresh parsley.
Cook:
1
Pan-sear the chicken breasts: Place a large non-stick pan over medium heat. Add 1 tbsp olive oil, 10 oz cubed skinless, boneless chicken breast, and 1/2 tsp paprika. Stir to cook for 4 minutes. Remove the chicken from the heat.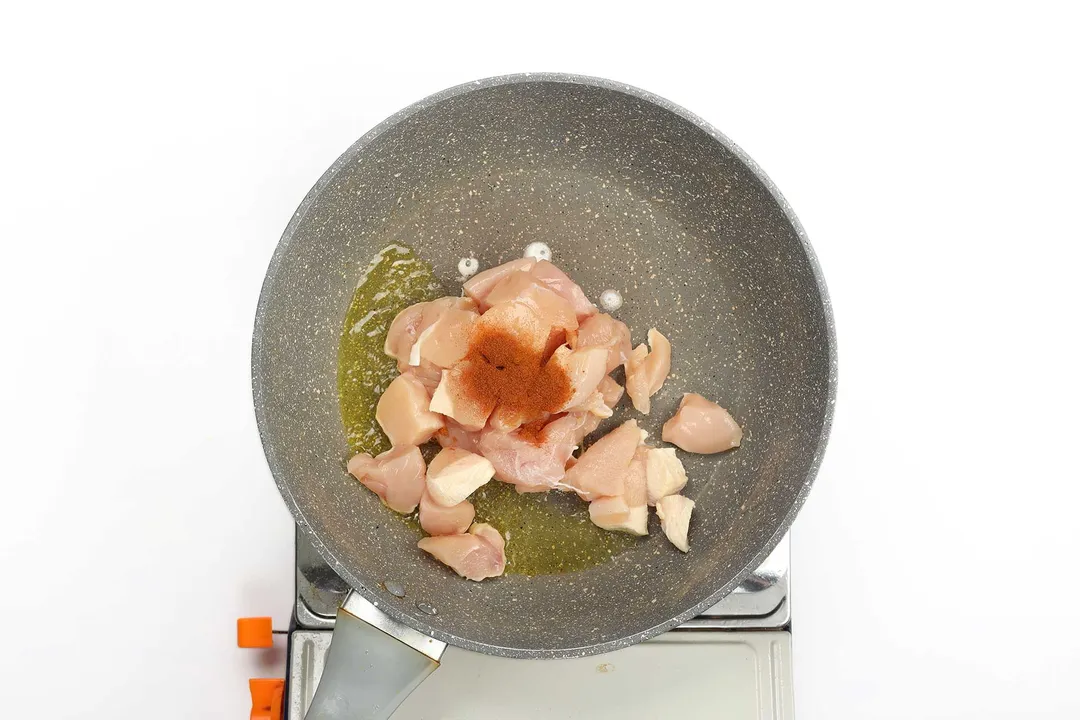 2
Pan-sear the shrimp: Add 1 tbsp olive oil, 6 oz peeled shrimp, and 1/2 tsp paprika to the same pan. Cook the shrimp for another 4 minutes, then remove them from the heat.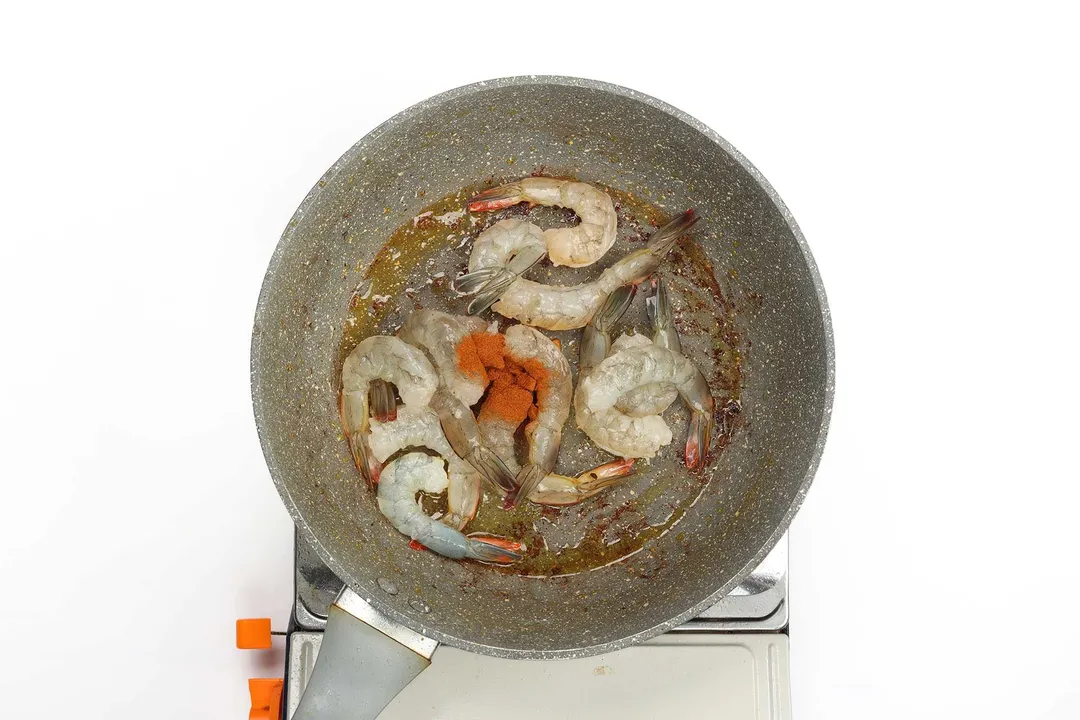 3
Sauté the garlic and onion: Grease the same pan with the remaining olive oil. Add 2 oz diced onion and 2 tbsp minced garlic. Stir well for 1 minute, before combining 1/2 tbsp all-purpose flour into the pan. Mix well for 30 seconds.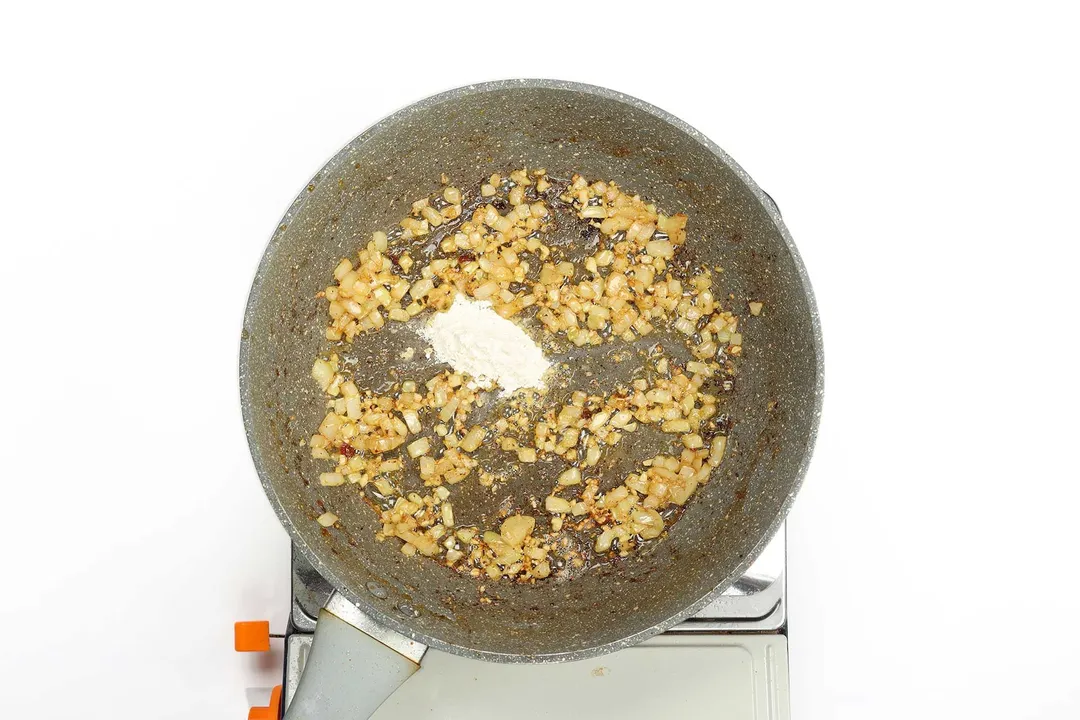 4
Add the liquid, cheese, and seasonings: Pour in 1/2 cup unsalted chicken broth, 1/2 cup whole milk and 4 tbsp heavy cream. Add 0.5 oz shredded parmesan cheese, 1/2 tsp garlic powder, 1/2 tsp onion powder, 1 tsp Italian seasoning, and 1/2 tsp salt. Mix well for 30 seconds.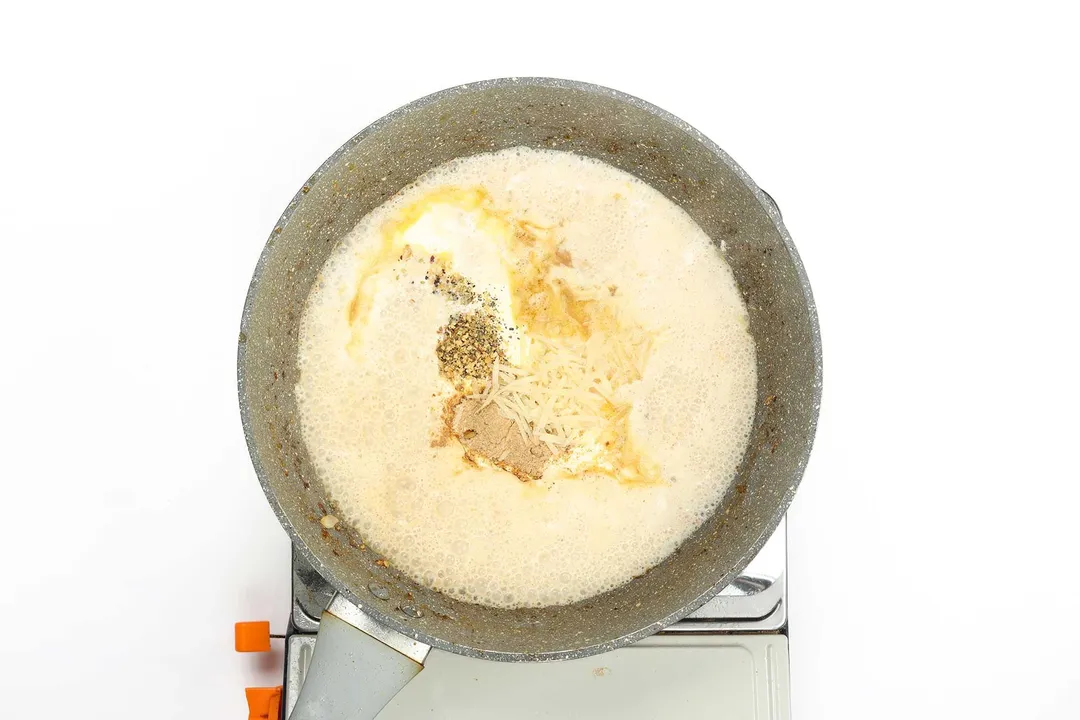 5
Incorporate the chicken, shrimp, and cooked spaghetti: To the cream sauce, add 12 oz cooked spaghetti, pan-seared chicken, and shrimp. Turn the heat to low, then stir to coat the pasta and toppings in the sauce for 2 minutes.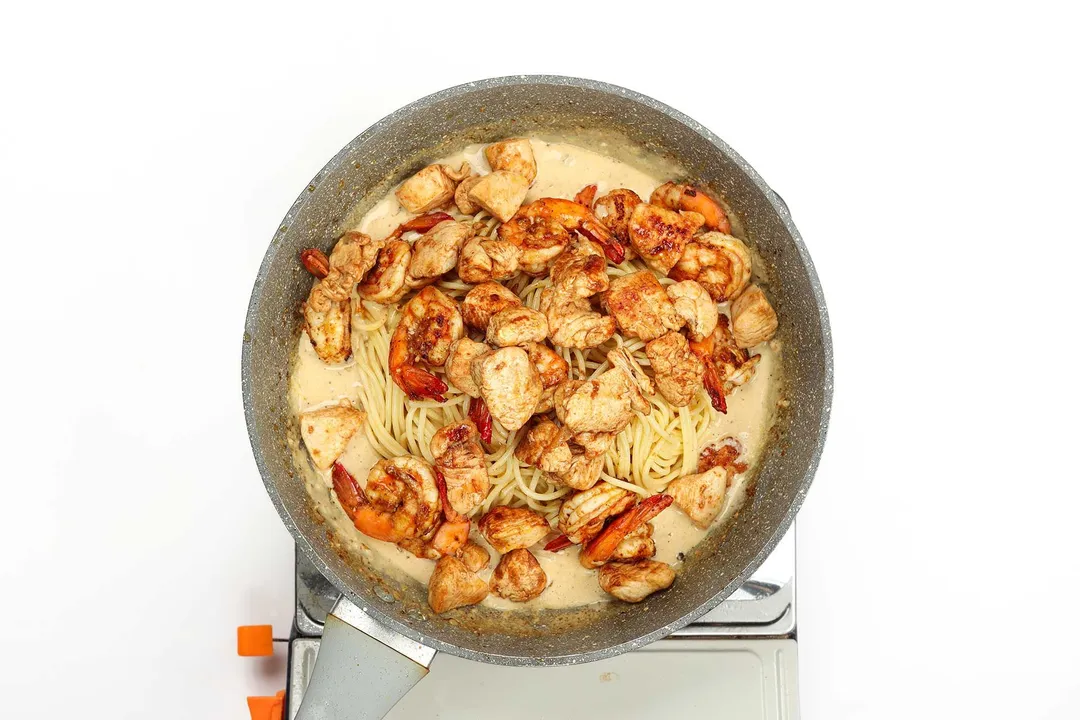 6
Garnish and serve: Transfer your desired portion onto a serving plate. Garnish with 0.5 oz shredded parmesan cheese, 1/2 tsp black pepper, 1/2 tsp red pepper flakes, and 2 tbsp chopped parsley. Enjoy!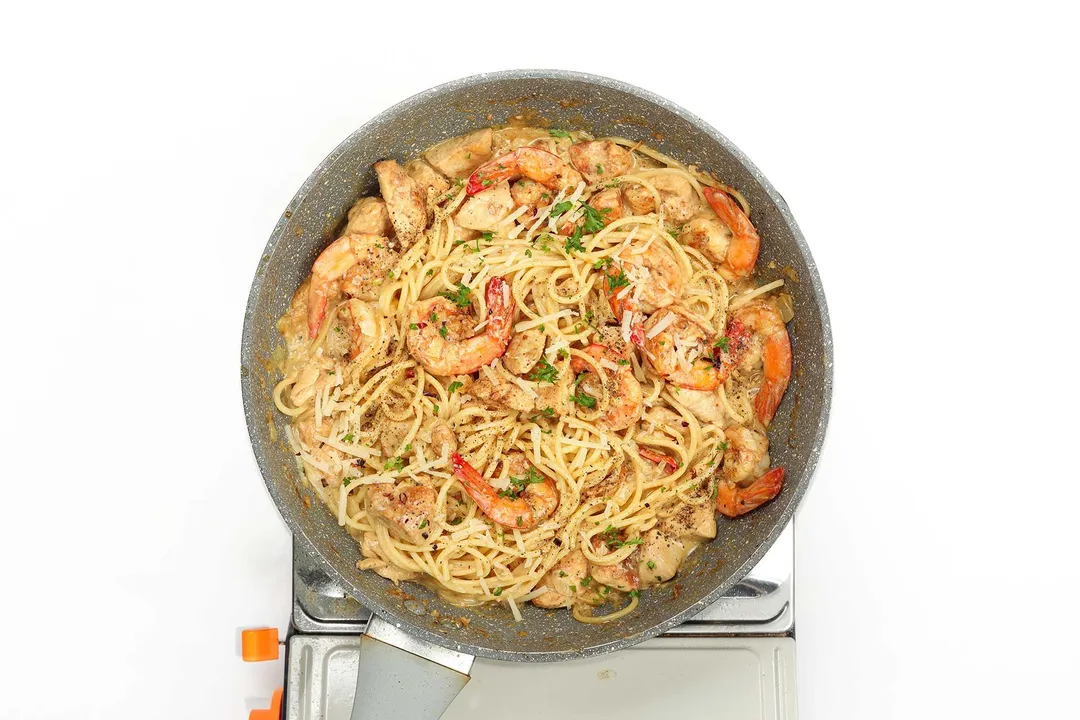 NUTRITION
Nutrition Facts
Chicken And Shrimp Alfredo
Amount Per Serving (1 serving)
Calories 504
Calories from Fat 199
% Daily Value*
Monounsaturated Fat 10.3g
* Percent Daily Values are based on a 2000 calorie diet.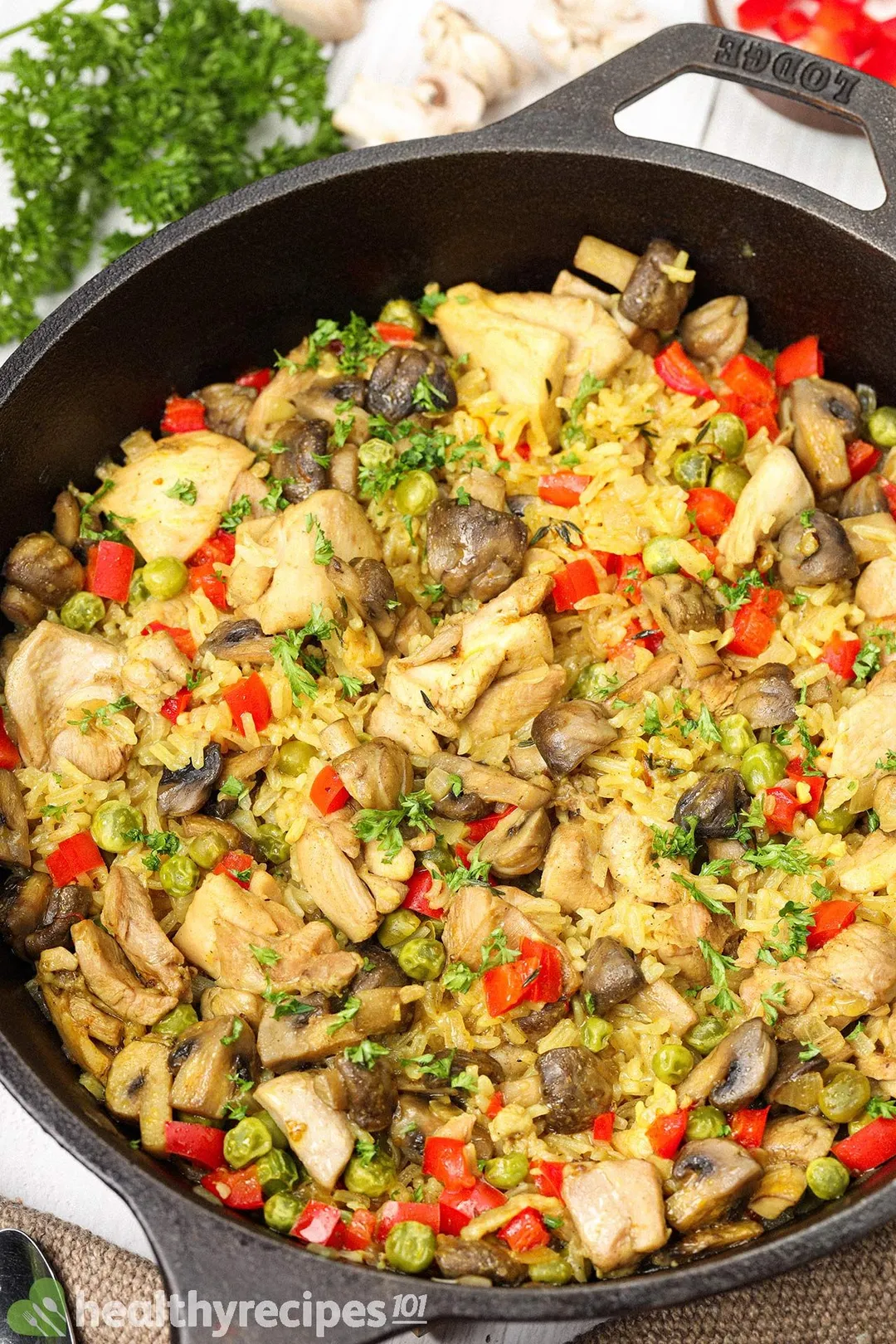 Previous Recipe
Chicken Paella
Chicken Paella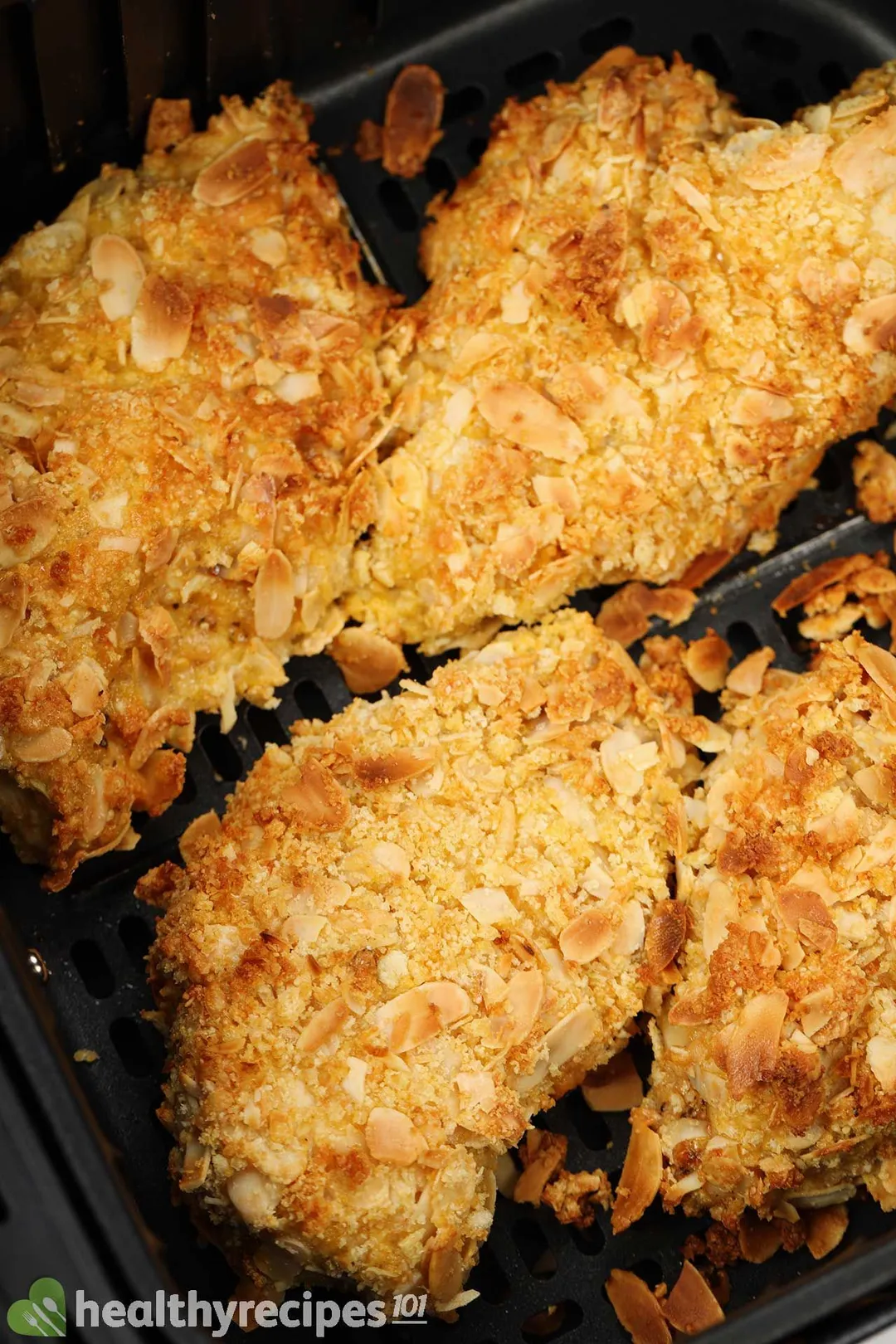 Next Recipe
Almond Chicken
Almond Chicken
Head Chef, Culinary Consultant
Tuyet Pham is an award-winning Saigonese chef who believes that joy is the secret ingredient to delicious food. At Healthy Recipes 101, Tuyet personally tests and simplifies every recipe, ensuring maximum flavor with minimal effort. With a background at prestigious French restaurants P'TI Saigon and Le Corto, Tuyet knows how to make every dish exceptional.
Writer, Author
Luna Regina is an accomplished writer and author who dedicates her career to empowering home cooks and making cooking effortless for everyone. She is the founder of HealthyKitchen101.com and HealthyRecipes101.com, where she works with her team to develop easy, nutritious recipes and help aspiring cooks choose the right kitchen appliances.
This chicken and shrimp alfredo was absolutely delicious! The creamy sauce was the perfect compliment to the garlic sautéed chicken and succulent shrimp. I added some salty parmesan for extra flavor, which worked perfectly! Highly recommend!