Our chicken Paella recipe may not be the most authentic interpretation, but it presents a healthier way to enjoy this Spanish dish. 
We sauté garlic and onion until caramelized to create an aromatic base for the chicken, vegetables, seasonings, rice, and broth. Simmered in a low-heat shallow pan, all the ingredients are cooked to perfection—succulent chicken thighs, tender vegetables, and fluffy rice.  
Is Chicken Paella Healthy?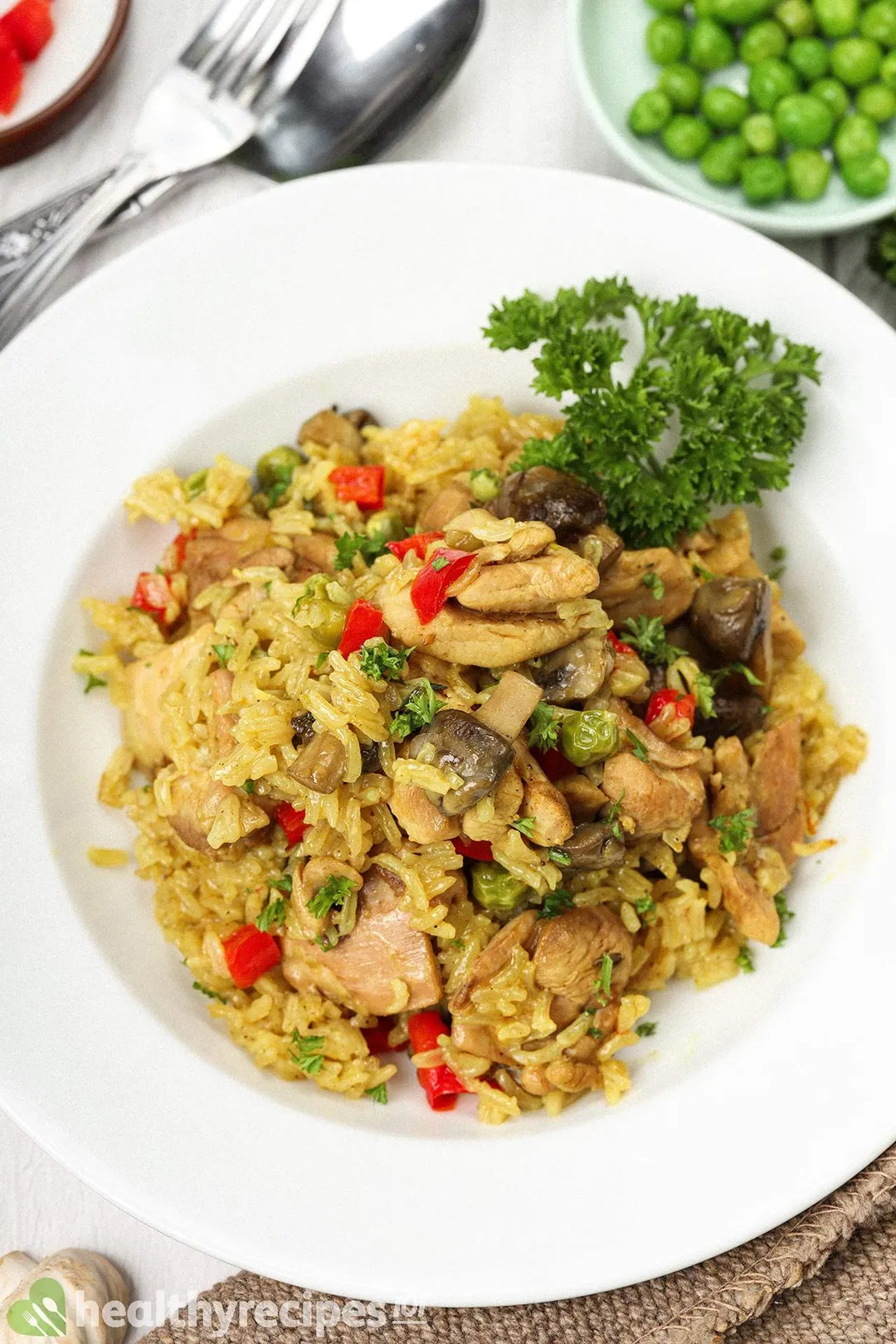 This chicken Paella includes a wide range of cooking ingredients from three main food groups – grains, protein, and vegetables—making it a nutritious meal.
Though chicken thighs have a higher fat content than chicken breasts, they are a great source of lean protein. Our chefs remove the skin, which contains extra fat, to ensure the dish is diet appropriate.
Since chicken Paella doesn't have a fixed rule for toppings, we go for a mix of fibrous and vitamin-rich vegetables such as mushrooms, red bell peppers, onions, and green peas.
Nutritionally, each serving of chicken Paella yields 499 calories with 2.4 g saturated fat and around 567 mg sodium, and provides up to 30.9 g of high-quality complete protein.
Ingredients for Chicken Paella
Apart from saffron, which may be a little harder to find, most of the required ingredients are accessible at any nearby grocery store.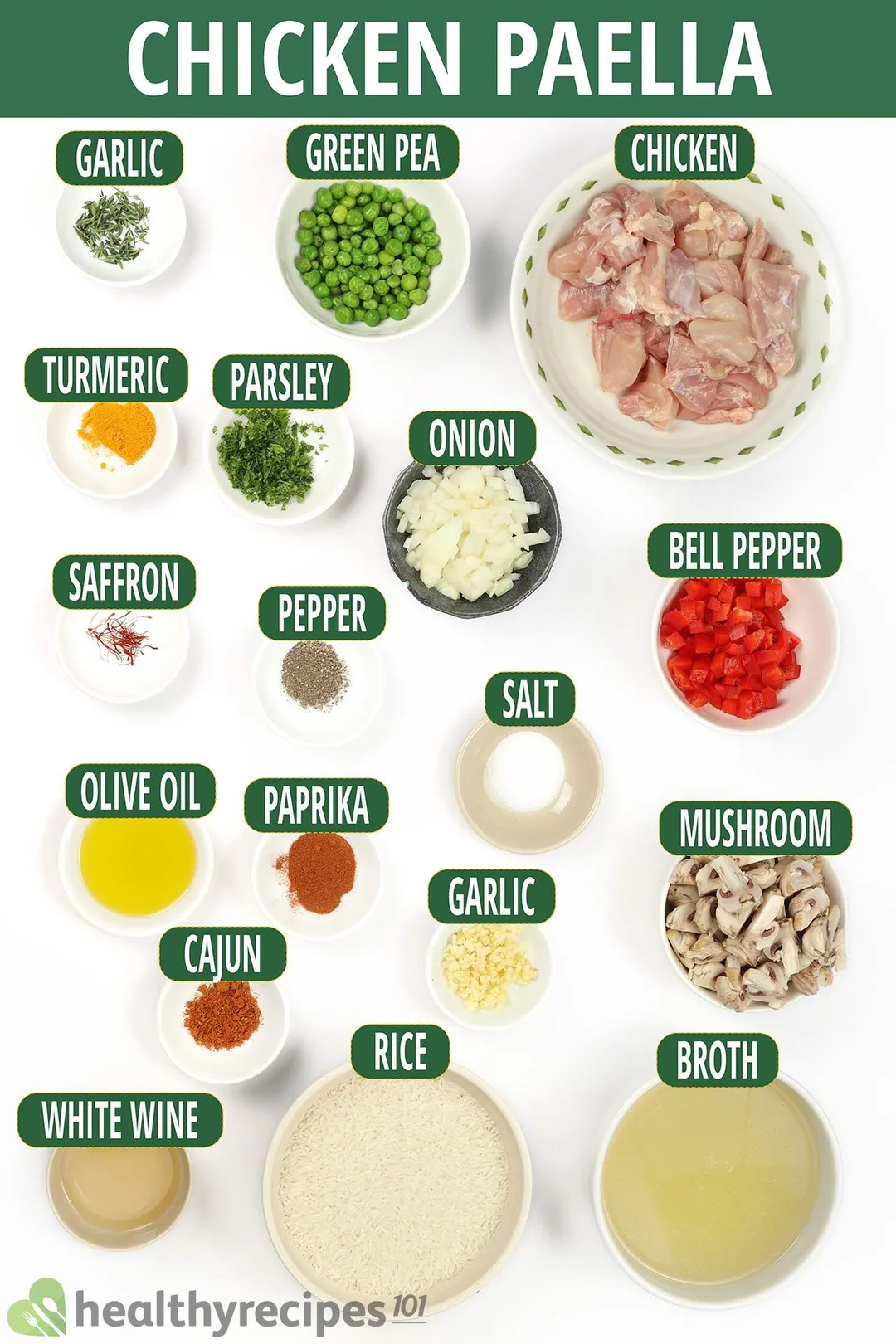 Online shopping will solve this problem: Place an order for all the cooking items on the Walmart website, and the staff will deliver the goods to your doorstep in no time.
Chicken: We prefer chicken thighs—which belong to the dark meat category—for many of our slow-cooked rice dishes. Since this cut leans on the fattier side, it is more flavorful and less likely to dry out. If you want to swap chicken for other protein choices, we suggest giving shrimp a whirl. Check out our step-by-step shrimp Paella recipe.
Vegetables: We call for white mushrooms, red bell peppers, onions, and green peas as add-ins. These vegetables add extra color, crunch, and flavor but won't outshine the deliciousness of chicken thighs. 
Chicken broth: Simmering the rice in unsalted chicken broth instead of vegetable stock or plain water is an effective way to accentuate the chicken flavor.
White wine: A dash of white wine helps sharpen the savory taste of this chicken goodness. However, if you want an alcohol-free chicken Paella, feel free to skip this ingredient.  
Turmeric: This natural food coloring gives chicken and rice an eye-catching golden hue, offering a visual feast to the eyes. Flavor-wise, a pinch of turmeric powder is enough to infuse your dish with a warm, earthy, and woody note.  
Saffron: Due to its rareness and the extremely laborious process undertaken for its harvest, saffron is one of the most expensive spices in the world. Apart from being a color enhancer, saffron adds a sweet, floral taste to the dish.
Thyme: Our chefs adore the subtle earthiness of fresh thyme; we find its dried form may be overpowering.
Other spices: Using salt and pepper as the flavor base, we sprinkle some paprika and Cajun seasoning to spice up the chicken and vegetables.
Rice: An authentic chicken Paella dish specifically calls for Bomba rice as it absorbs more flavor than other types of rice—perfect for smothering in a broth. However, if you cannot find Bomba rice, you can get away with using long-grain rice.
How to Store and Reheat Leftovers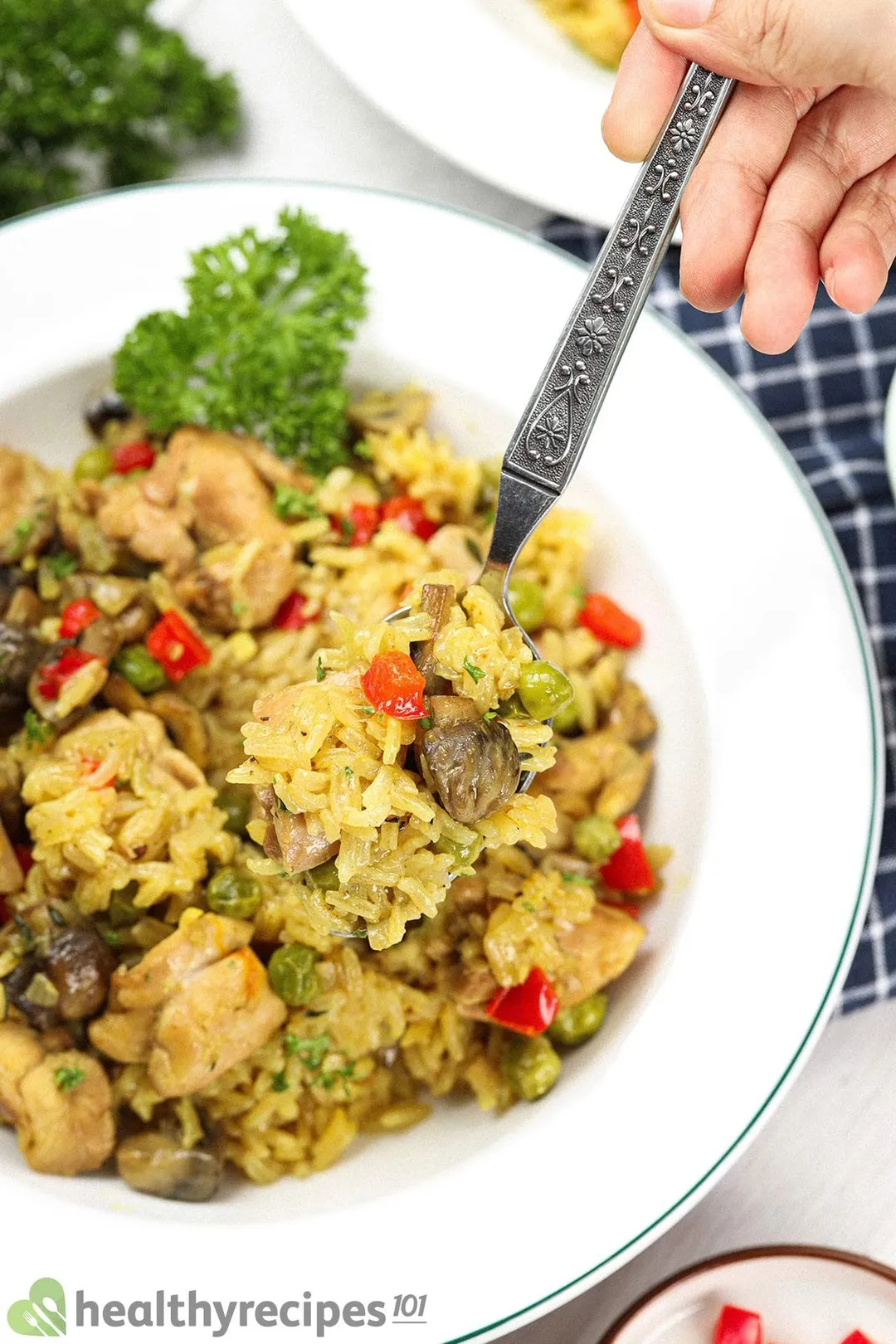 1. How to Store
You have two options: refrigerating or freezing your leftovers.
If you plan to clear out your leftover chicken Paella a few days later, place it in an airtight container and put it in the fridge. It should last for 3-4 days.
To freeze your leftover food properly, place it in a freezer-safe bag, label the date, and pop it in the freezer. It will stay consumable for up to 2 months.
2. How to Reheat
Reheating the chicken Paella in a shallow pan is the best option as it retains the flavor and texture of the dish better. Heat a tablespoon of olive oil in a medium-heat pan, add your leftovers to the pan, and stir well for 4-5 minutes until the food is warm and ready to serve.
What to Serve With Chicken Paella
Here are some quick and easy pairings for chicken Paella: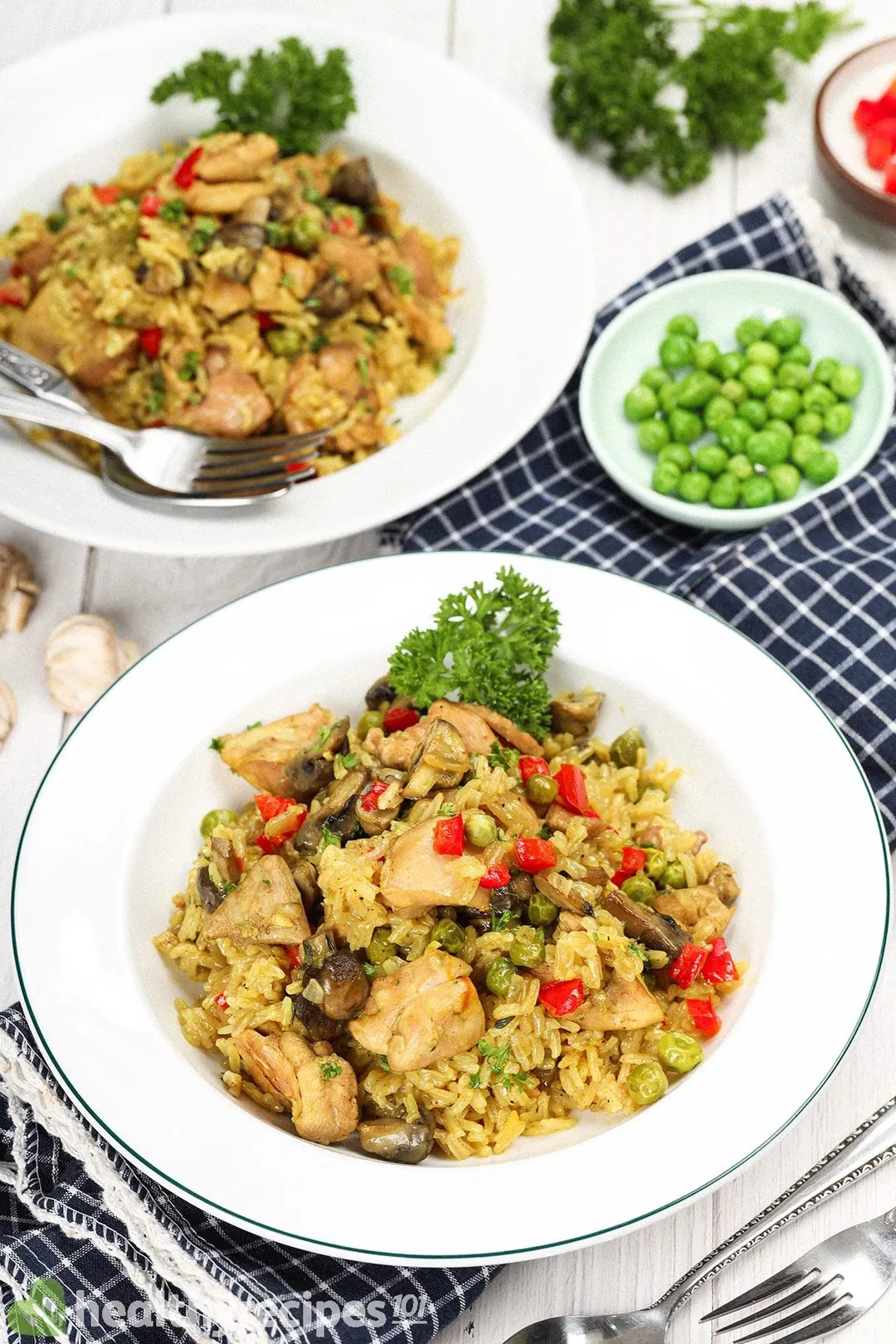 Tasty Chicken Breast Skillets to Go With Cooked Rice
This chicken bog is a one-pot recipe that cooks an easy dinner filled with textures and flavors. It's the recipe you want to make to serve a large crowd.
If your taste buds are craving spices, try this chicken jalfrezi recipe. It is a popular Indian quick stir-fry dish with big and bold flavors.
Chicken Paella
Are you ready for a Spanish-style chicken feast put together in less than one hour? Featuring well-seasoned chicken and fresh vegetables, our chicken Paella dish delivers complex flavors and exciting textures to your dinner table.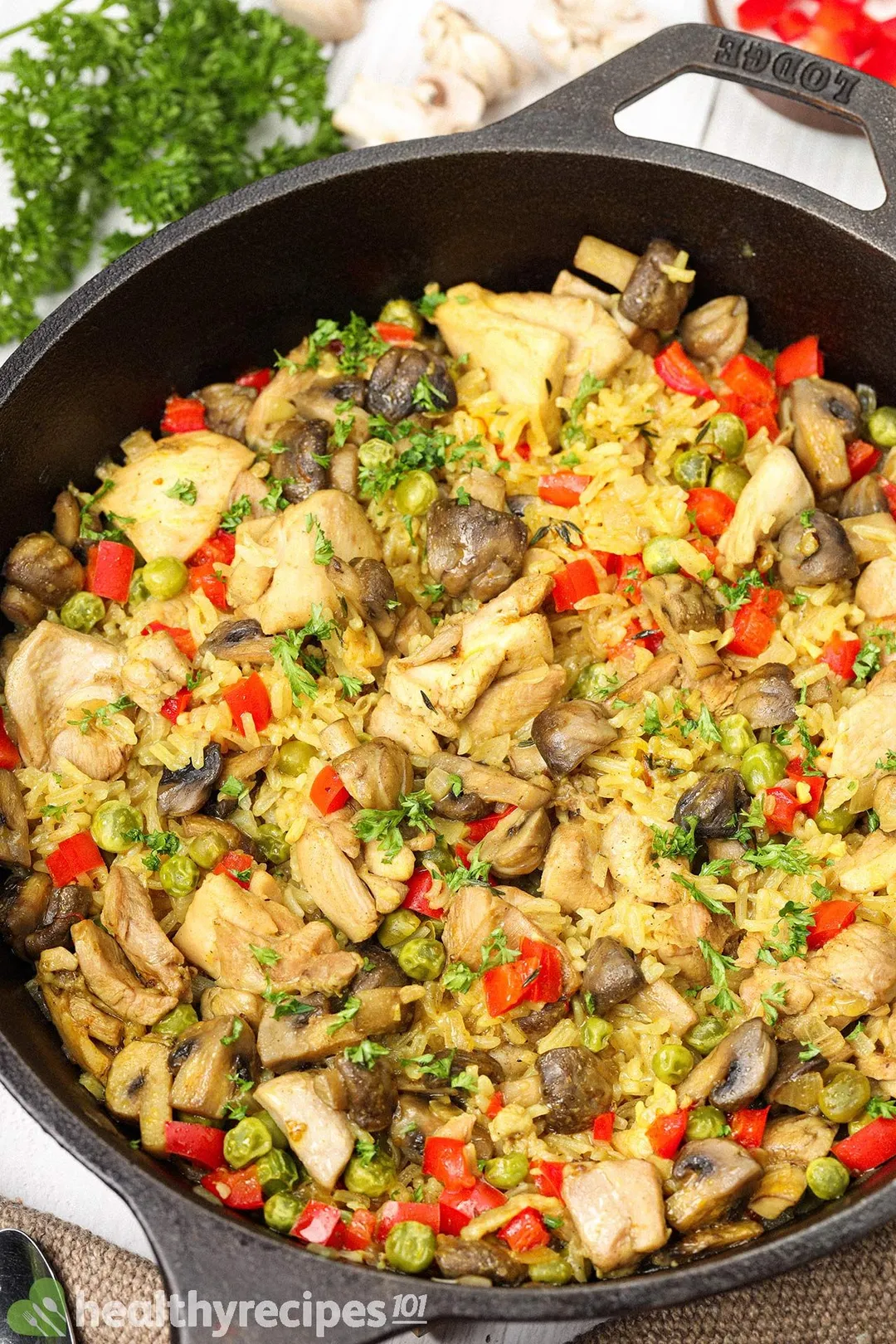 cook TIME

33 mins

prep TIME

7 mins

total TIME

40 mins
COURSE

Main

CUISINE

Spanish

SERVINGS

CALORIES

499 kcal
INGREDIENTS
16 oz

skinless boneless chicken thighs

(cut into small chunks)

6 oz

white mushrooms

(quartered)

2 oz

red bell peppers

(diced)

1 1/2 cups

uncooked long-grain rice

2 cups

unsalted chicken broth
INSTRUCTIONS
Prep:
1
Place the chicken thigh skin-side down on a chopping board. Use a sharpened knife to slice under and cut along the back of the bone. Discard the bone. Pull off the skin of the chicken thighs with your hand; discard the skin. Cut the skinless, boneless chicken thighs crosswise into strips, then slice those strips into small chunks.
2
Place your mushrooms stem-side up on the cutting board. Slice them in half, then cut those halves crosswise to quarter.
3
Slice off four sides of the red bell pepper, about 3/4 inch away from the core. Trim off any excess seeds and discard the core and the seeds. Cut the flesh lengthwise into strips. Stack the strips and slice them crosswise to dice.
4
Halve the onion and peel away the skin. Trim one end and lay the halved onion face down. Make vertical slices, 1/8 inch apart, such that you cut towards the root; leave about 1/8 inch at the end so the root stays intact. Turn the half 90 degrees and grip the root. Slice the onion horizontally, again leaving 1/8 inch at the end to keep the root intact. Slice the onion into small, even cubes. Discard the root.
Cook:
1
Sauté the garlic and onion: Place a shallow cast iron pan over medium heat, and add 2 tbsp olive oil, 1 tbsp minced garlic, and 2 oz diced onion. Sauté for about 1 minute until the garlic is fragrant, and the onion is slightly translucent.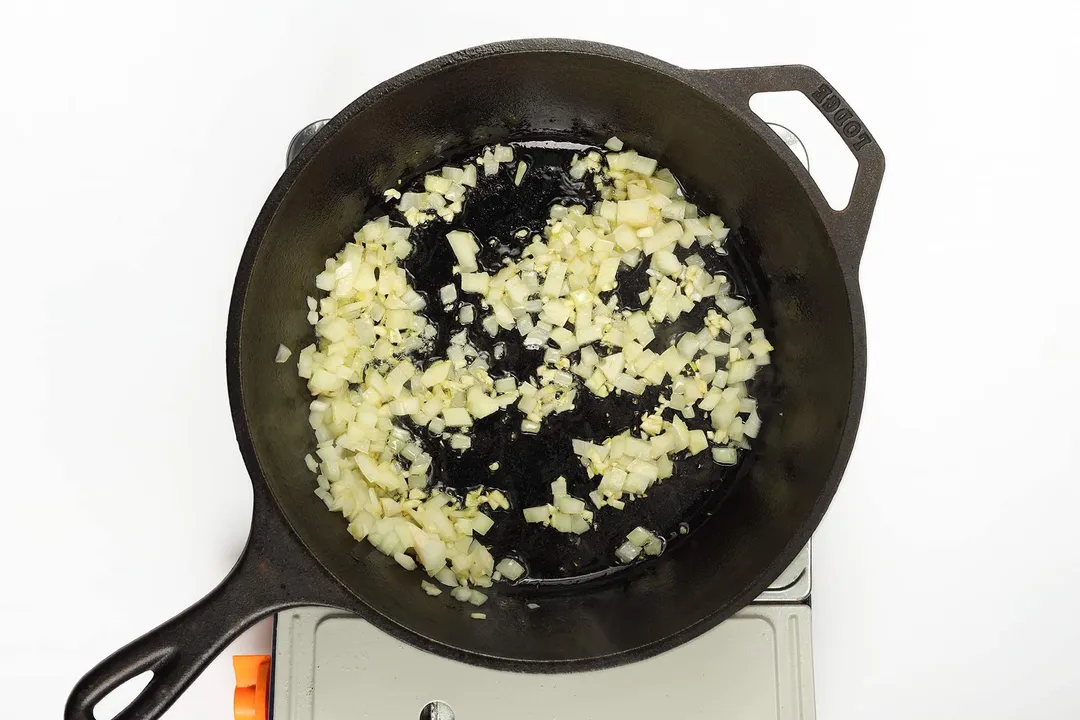 2
Add the white mushrooms: Add 6 oz diced white mushrooms to the pan. Stir occasionally to cook for 3 minutes.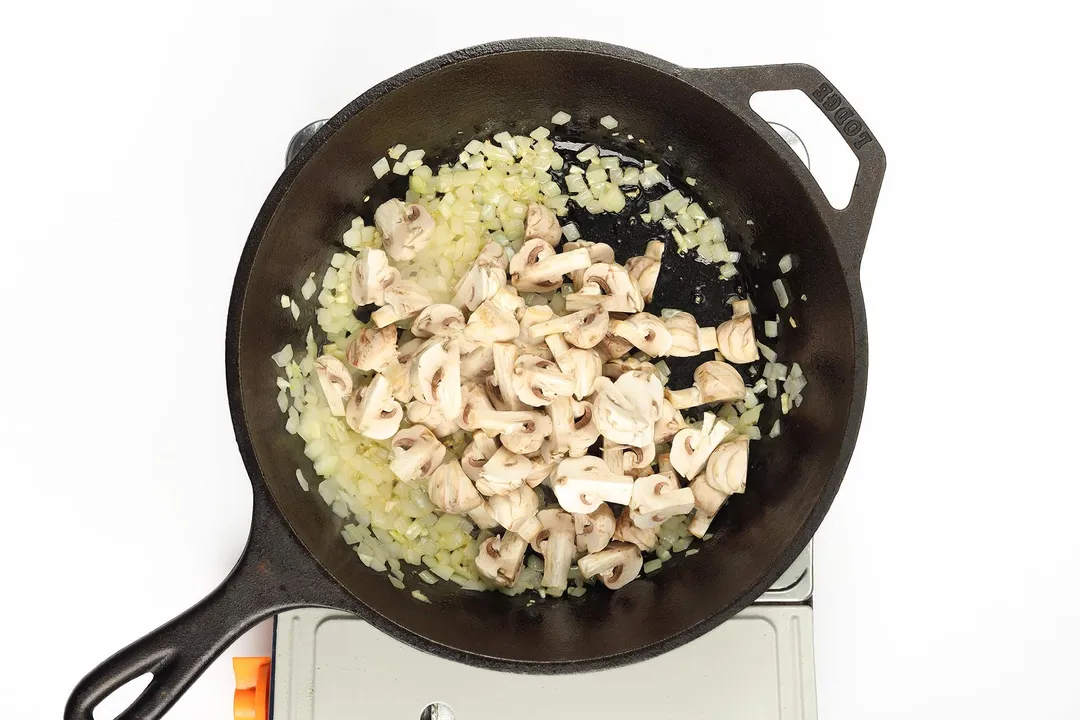 3
Combine the chicken thighs: Add 16 oz skinless, boneless chicken thighs to the same pan. Stir-fry for another 2 minutes.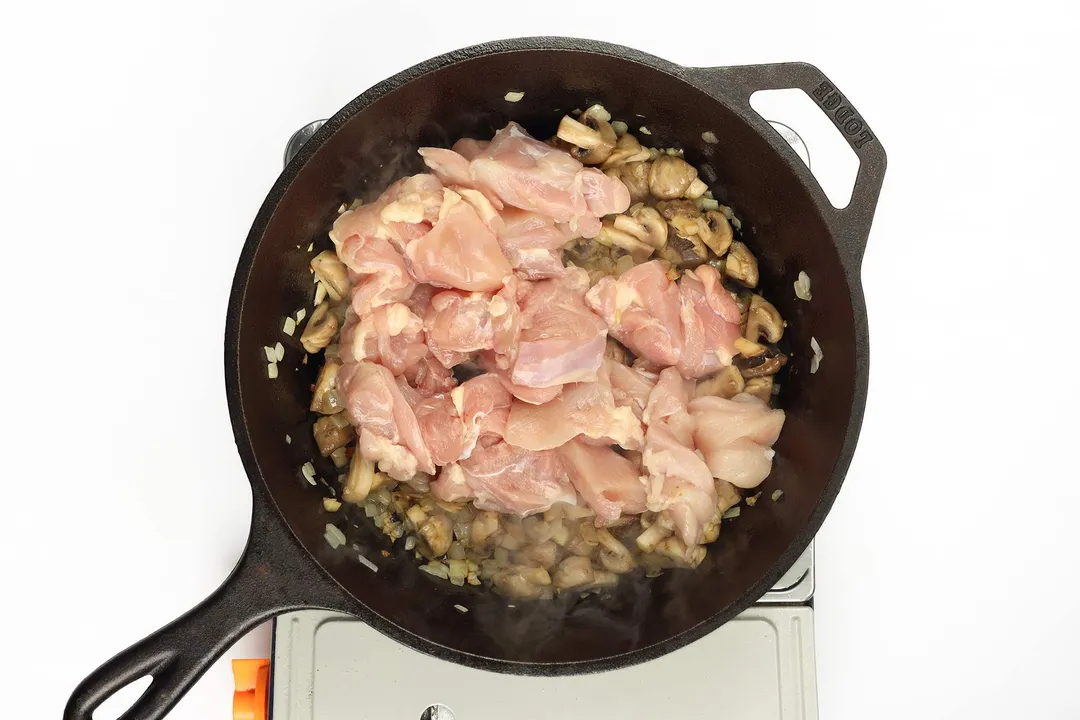 4
Add the green peas, red bell pepper, lemon juice, white wine, spices, and herbs: In the same pan, add 2 oz green peas, 2 oz diced red bell peppers, 1 fl oz white wine, 1/4 tsp turmeric, 1 tsp paprika, 1/2 tbsp Cajun seasoning, 1/8 tsp saffron, 1 tsp thyme, 1/2 tsp salt, and 1/2 tsp black pepper. Stir to cook for 2 minutes.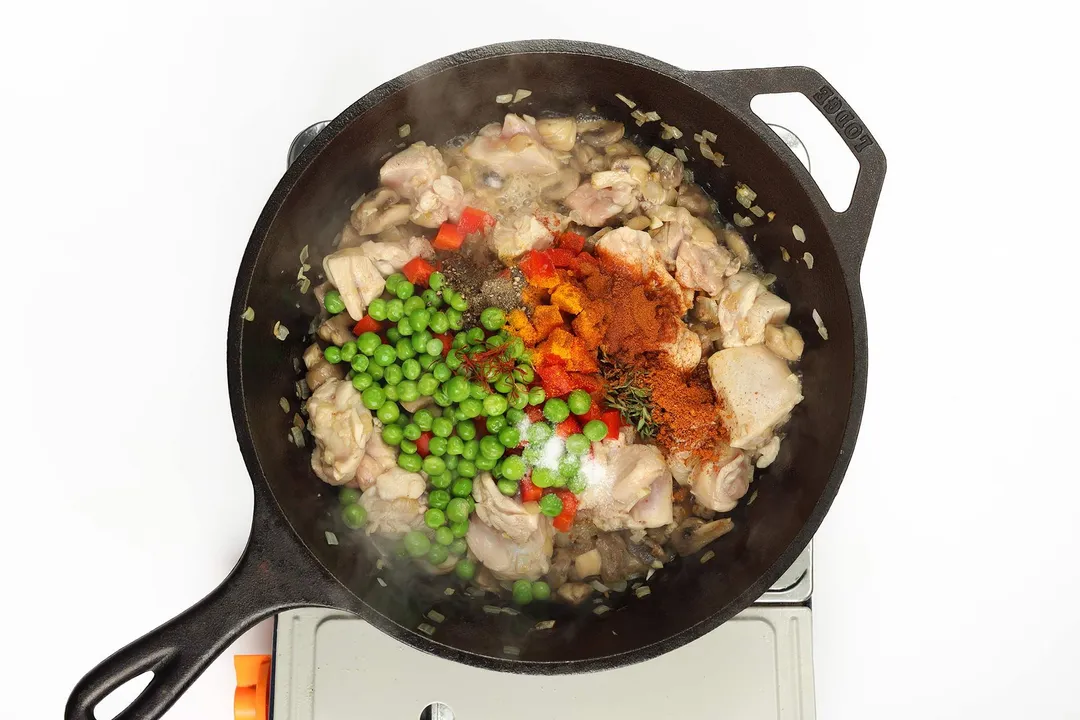 5
Combine the rice: Add 1 1/2 cups uncooked long-grain rice and 2 cups unsalted chicken broth to the pan. Stir well. Cover the lid and let all the ingredients simmer on low heat for 25 minutes. Turn off the heat.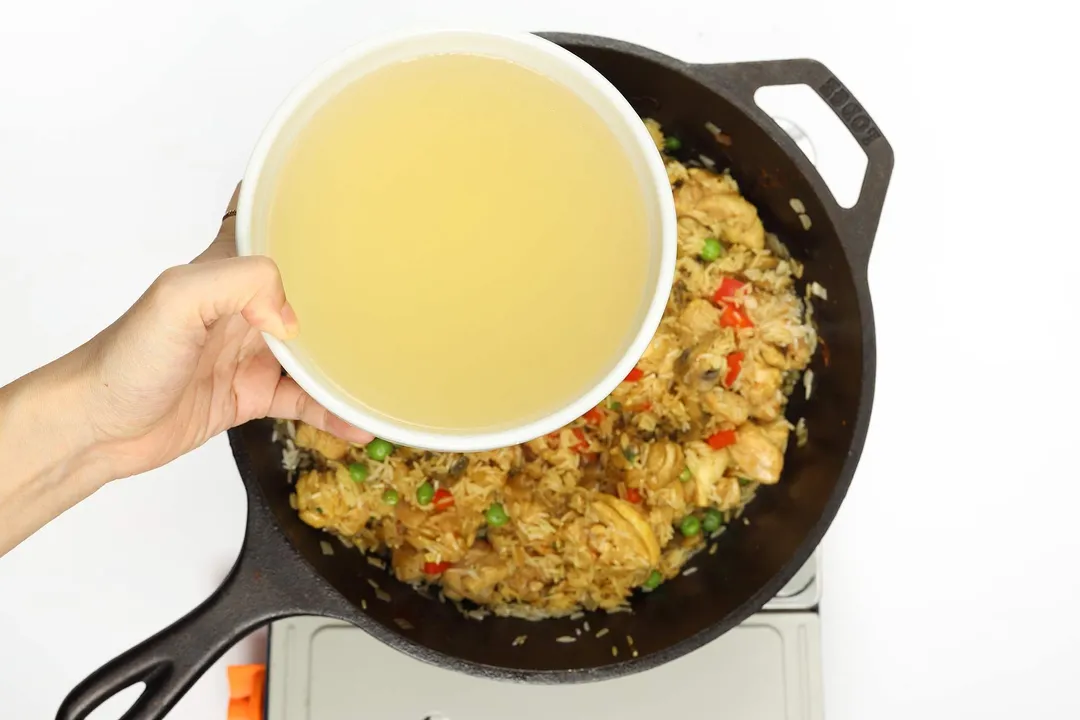 6
Garnish and serve: Transfer your desired portion onto a platter. Garnish with 2 tbsp chopped parsley. Enjoy!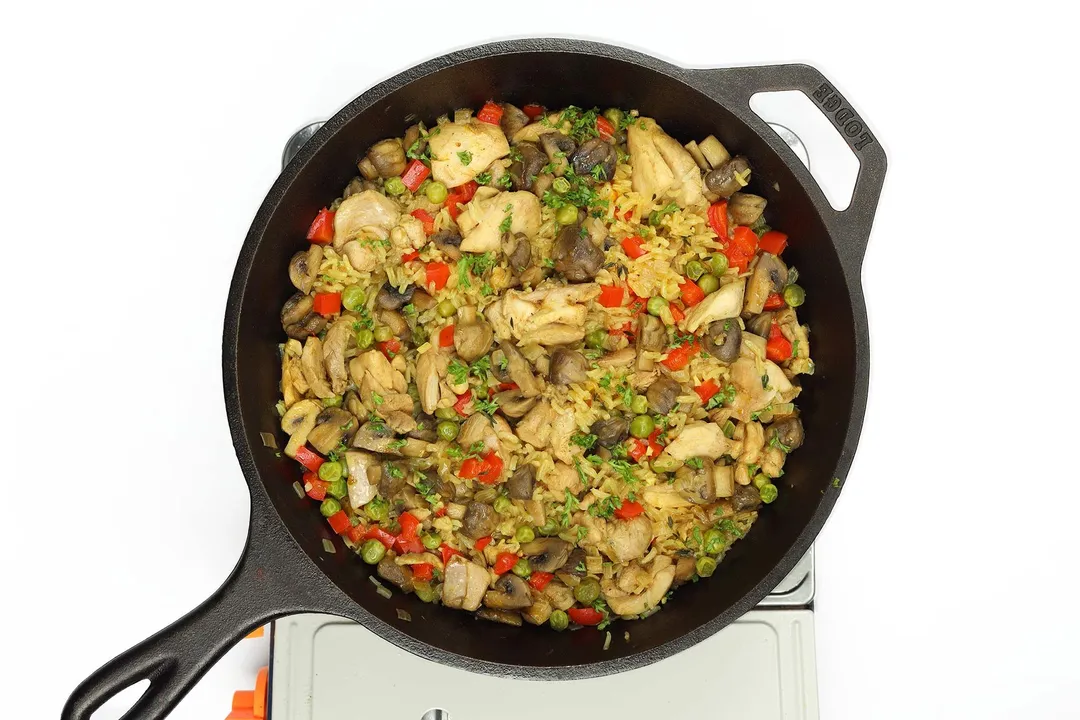 NUTRITION
Nutrition Facts
Chicken Paella
Amount Per Serving (1 serving)
Calories 499
Calories from Fat 113
% Daily Value*
* Percent Daily Values are based on a 2000 calorie diet.
Keywords: chicken Paella, chicken Paella recipe, how to make chicken Paella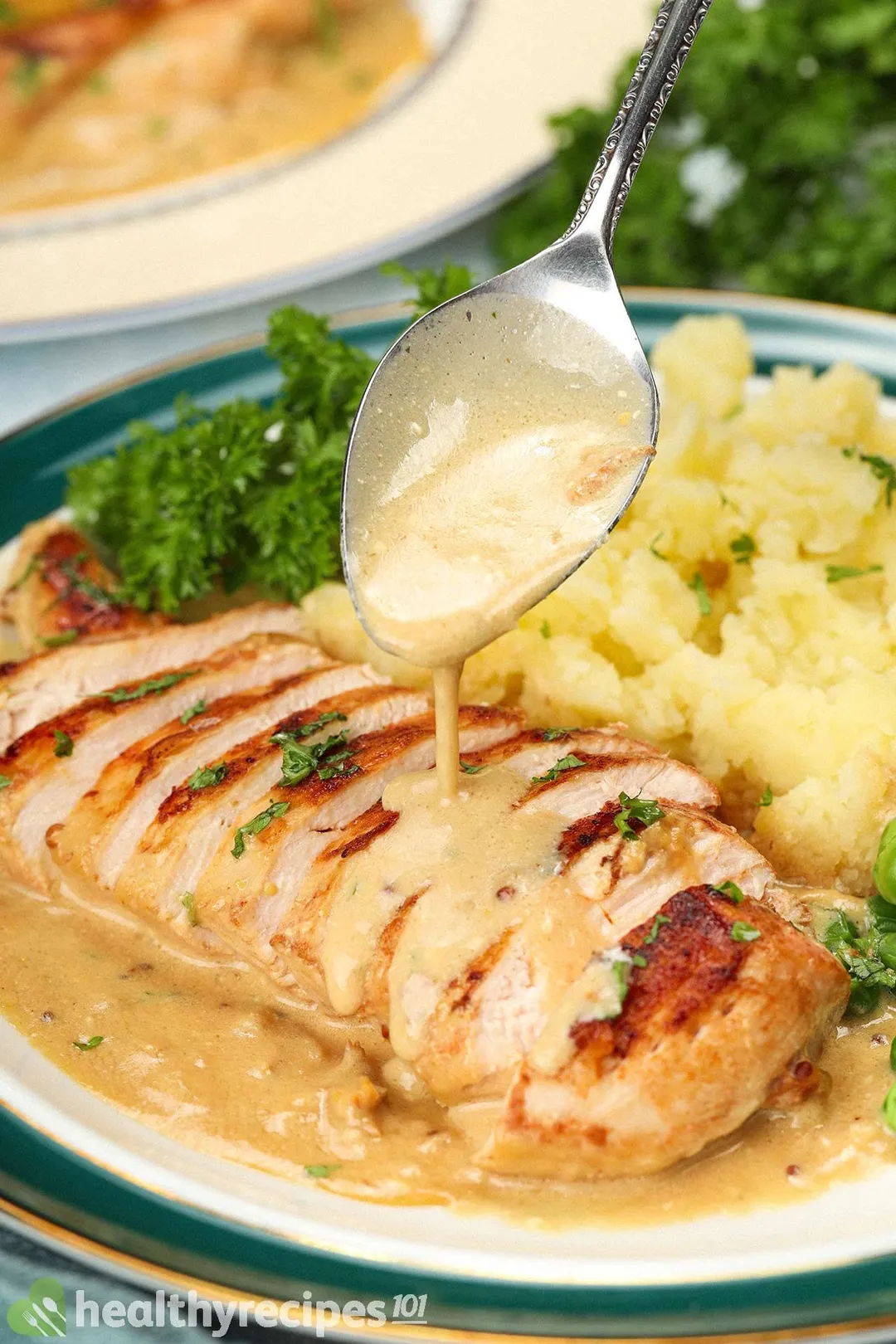 Previous Recipe
Honey Mustard Chicken
Honey Mustard Chicken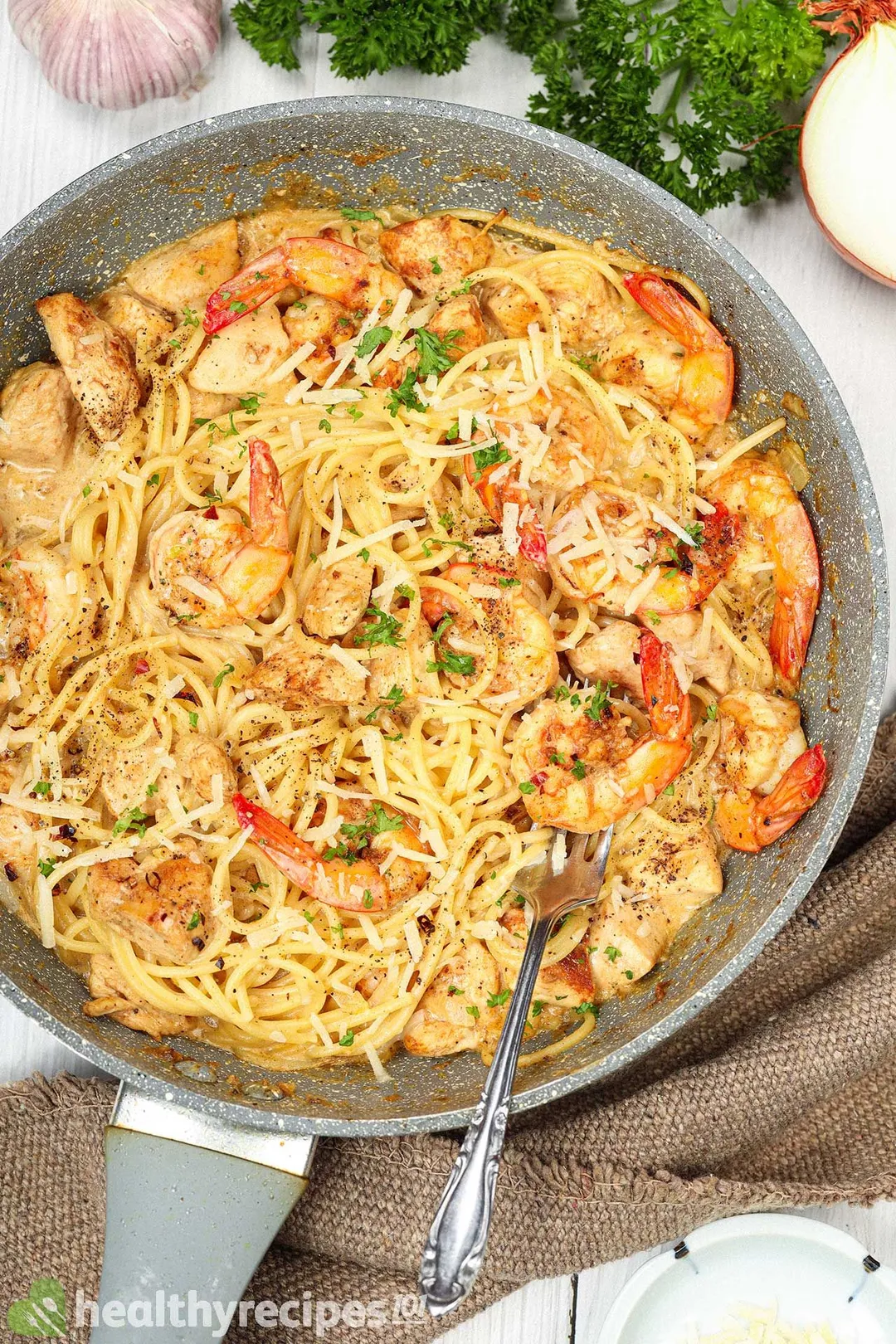 Next Recipe
Chicken and Shrimp Alfredo
Chicken and Shrimp Alfredo
Head Chef, Culinary Consultant
Tuyet Pham is an award-winning Saigonese chef who believes that joy is the secret ingredient to delicious food. At Healthy Recipes 101, Tuyet personally tests and simplifies every recipe, ensuring maximum flavor with minimal effort. With a background at prestigious French restaurants P'TI Saigon and Le Corto, Tuyet knows how to make every dish exceptional.
Writer, Author
Luna Regina is an accomplished writer and author who dedicates her career to empowering home cooks and making cooking effortless for everyone. She is the founder of HealthyKitchen101.com and HealthyRecipes101.com, where she works with her team to develop easy, nutritious recipes and help aspiring cooks choose the right kitchen appliances.