Today's chicken coconut soup recipe will make you a creamy chicken soup that's fresh and light.
What Is This Soup?
This soup is a Thai staple that cooks chicken and mushrooms in a coconut milk broth. It's savory, salty, sour, lightly sweet, and seriously hot like a typical Thai dish. It can be served as-is or with rice, which is what we do in this recipe.
Although named 'chicken coconut soup' in English, the dish is referred to as 'Tom Kha Gai' or 'soup galangal chicken'. Each suggests that there is one ingredient more important than all, but in reality, all are equally crucial.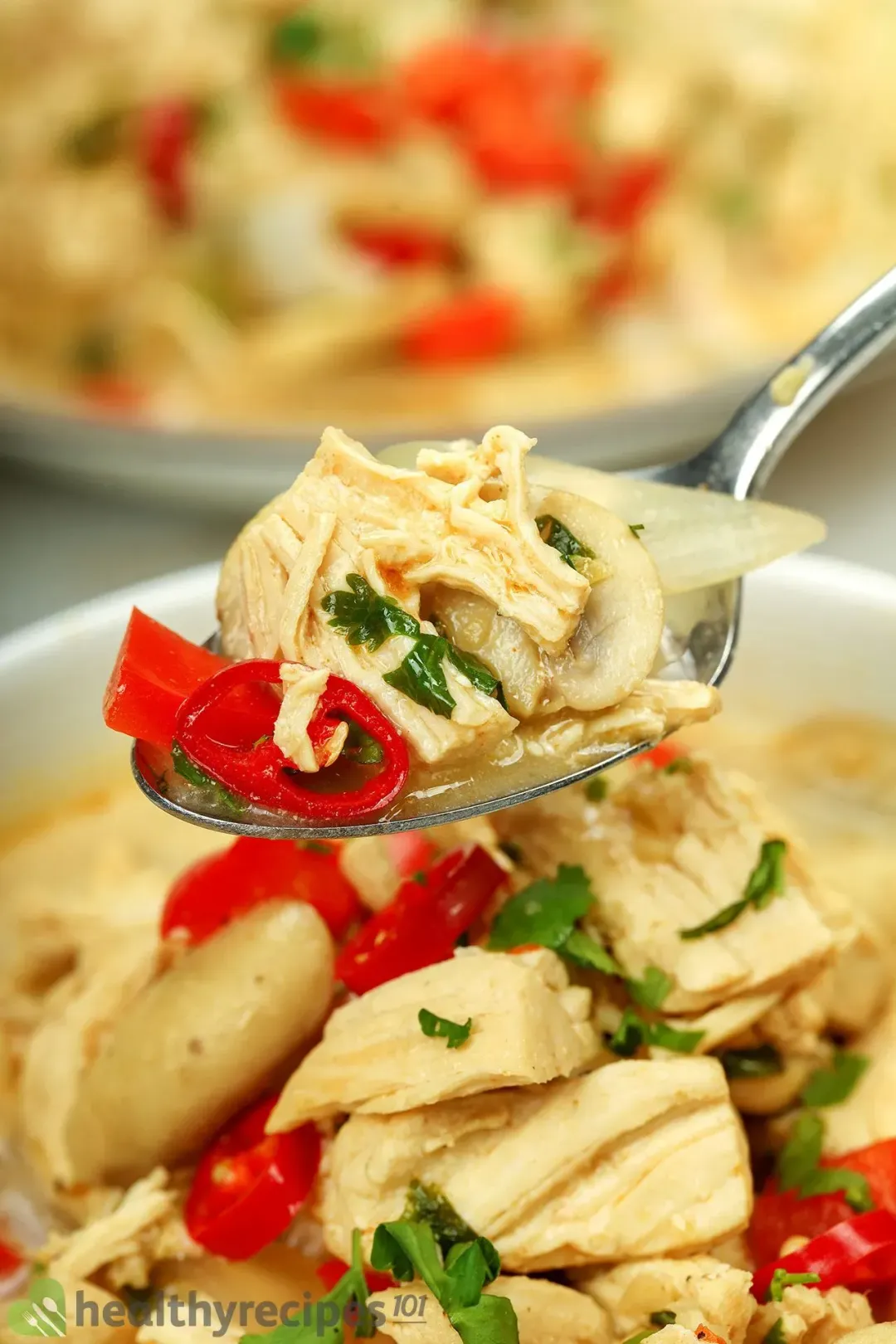 While the smell of galangal, lemongrass, and the herbs is indeed stronger than coconut milk, coconut milk can't be replaced with any other product. You can go for other dairy products instead of coconut milk, but there will be a lack of flavor.
As galangal isn't very popular in the market, we opt for ginger instead, which is a thing Thai people sometimes do. Still, ginger doesn't share the same characteristics as galangal, and for the sake of keeping the dish authentic, use galangal if you have access to it.
How Healthy Is This Recipe?
With an abundance of ingredients, the soup is quite nutritious.
For starters, the chicken is full of micronutrients, such as B vitamins, iron, magnesium, selenium, phosphorus, and has lots of protein. There are 36 g of protein in each serving of this soup.
The mushrooms and aromatics also contain phytonutrients and antioxidants.
Because creams of all kinds are high in saturated fats, we used less to keep the dish's saturated fat level within healthy limits. The soup has 5.8 g saturated fats per serving, and our taste-testers still find it satisfying.
High in Saturated Fats, Is Coconut Milk Good for You?
It's always good to watch out for saturated fats, and while consuming less is reasonable, avoiding them entirely is rather extreme. If coconut milk is your favorite food, it deserves to be in your diet, in a moderate amount of course.
Main Ingredients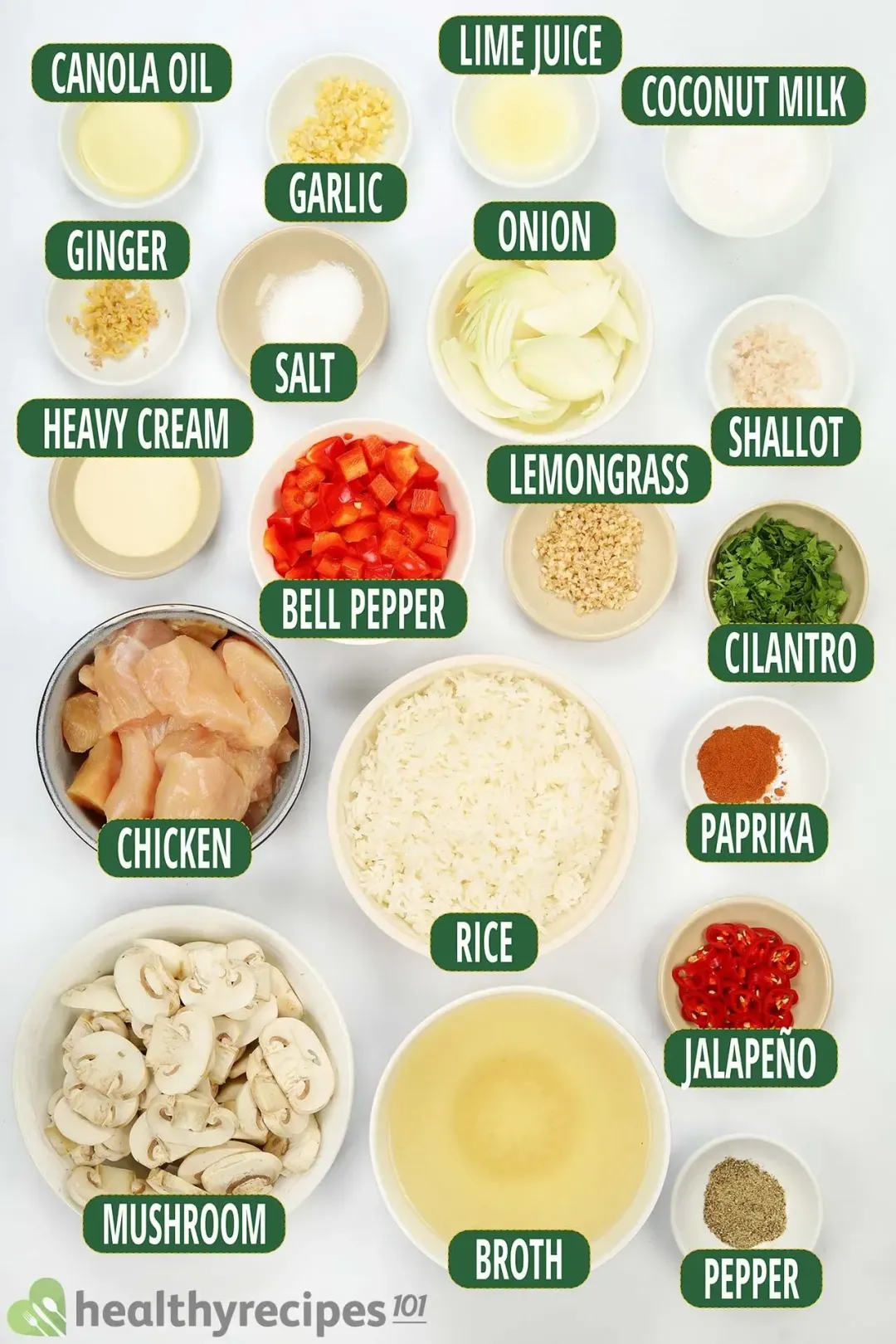 Chicken: chicken breasts, cut into small chunks so they cook quickly and evenly.
Coconut milk: can be swapped for coconut cream. We enriched the soup with some heavy cream as well.
Broth: something mild in flavor like chicken broth or vegetable broth.
Veggies: mushrooms, bell peppers, and onions. Straw mushrooms are the classic choice, but button mushrooms (which we use) or shiitake mushrooms work as well.
Aromatics: ginger, garlic, lemongrass, and shallots. You can also add dill, cilantro, and green onion to the soup at the end.
Seasonings: salt, pepper, paprika, lime juice. It's more authentic to use fish sauce in place of salt, so make the swap if you prefer the umami aroma of this condiment.
Chilis.
Step-by-step instructions are detailed in the 'Chicken Coconut Soup' recipe card at the end, with pictures and videos.
Storing and Reheating
The soup keeps for up to four days in the fridge or up to three months in the freezer. We prefer using Ziploc bags because, while frozen, the soup separates from the bags easier than it does from solid containers. Cooked rice also keeps similarly.
To reheat, transfer the soup to a pot and simmer on low heat until it's bubbling. For the rice, mix it with some water (1 tbsp per serving) and either microwave it on medium for 2-4 minutes, or stir it in a non-stick pan over low heat until heated through.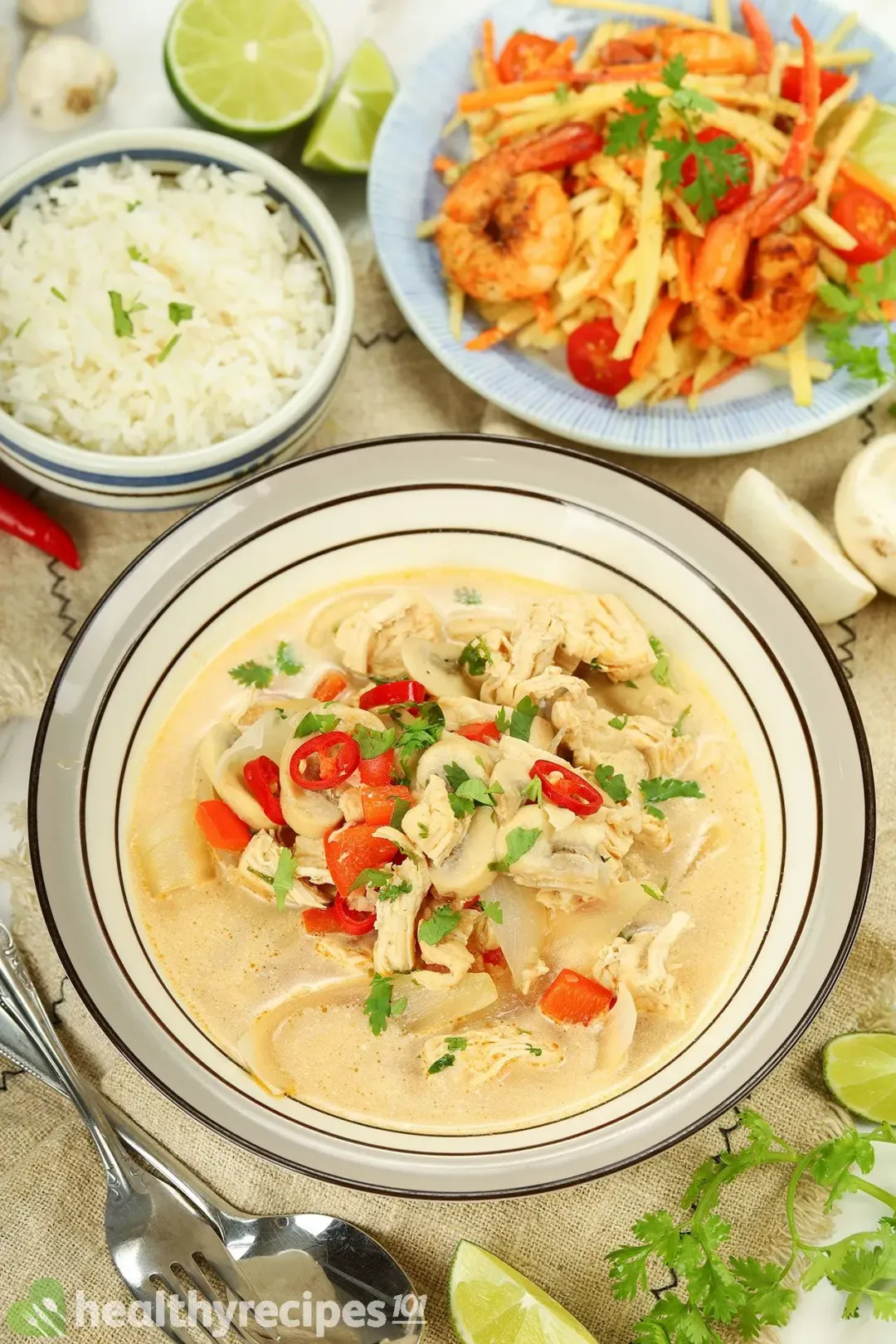 Other Kinds of Chicken Soups We've Tried
Super savory and rich, this pot of chicken dumplings will make you the coziest night ever. We especially love the chewy dough balls cooked in the broth.
Our ground chicken chili recipe takes on a beautiful color and tastes just as it looks: full of flavors and textures. It has ground chicken and crunchy diced vegetables simmered in a tomato-based broth.
How to Make Chicken Coconut Soup
Today's creamy chicken coconut soup recipe is a little more special than your typical favorite creamy dishes: it's full of different flavors and aromas.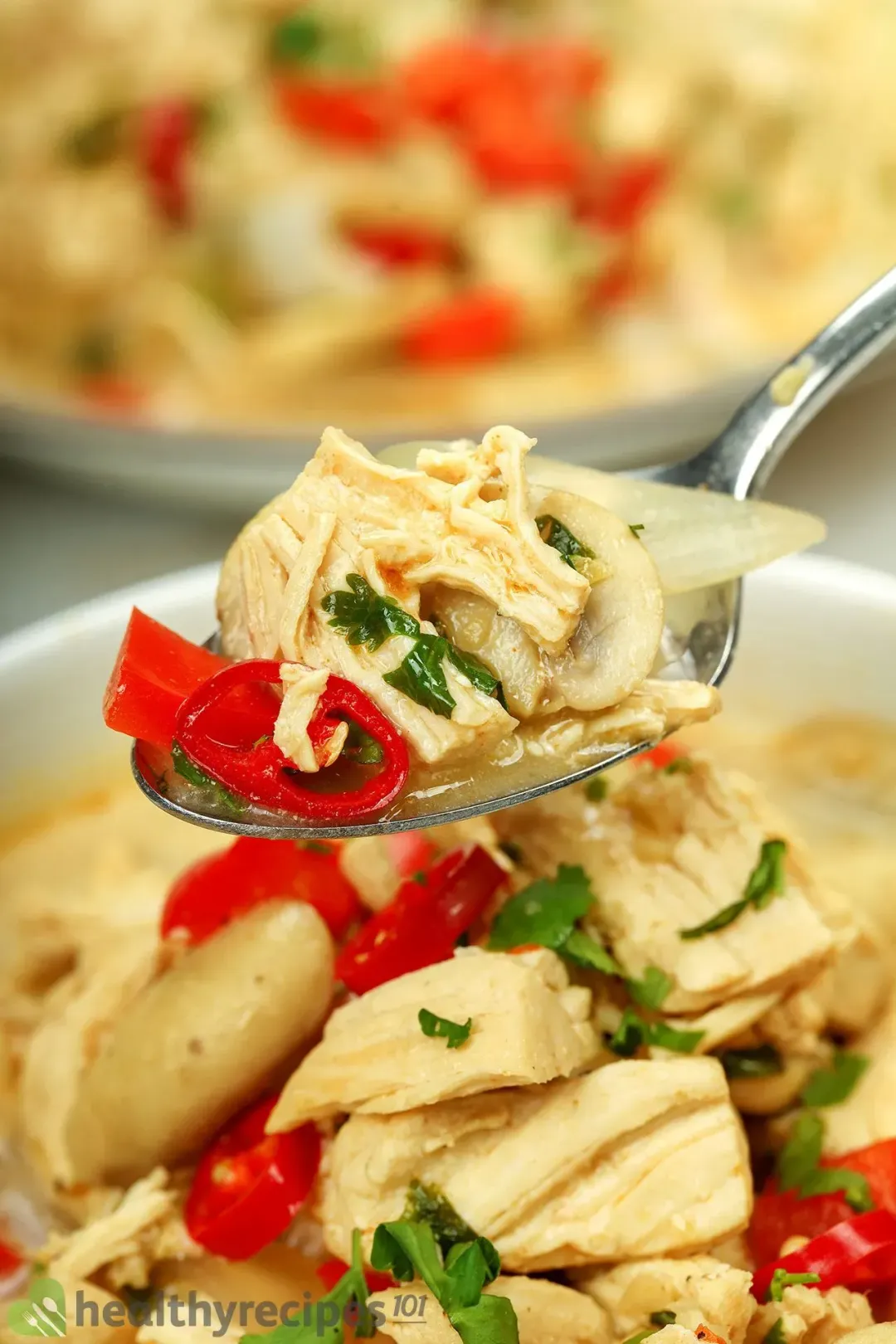 cook TIME

27 mins

prep TIME

8 mins

total TIME

35 mins
COURSE

Main Course

CUISINE

Thai

SERVINGS

CALORIES

499 kcal
INGREDIENTS
18 oz

skinless boneless chicken breast

(cut into chunks)

8 oz

white button mushrooms

(sliced)

4 oz

red bell pepper

(chopped)

4 oz

onion

(cut into wedges)

1 oz

red jalapeno

(thinly sliced)

1 tbsp

lemongrass

(finely chopped)

2 cups

unsalted chicken broth

1 tsp

ginger

(finely chopped or grated)

1/2 tsp

ground black pepper

1/4 cup

cilantro

(chopped)

3 cups

cooked medium-grain rice

(from 1 1/2 cups uncooked)
INSTRUCTIONS
Prep:
1
Cut the chicken breasts: Cut 18 oz chicken breasts into 2" cubes.
2
Slice the mushrooms: Cut 8 oz white button mushrooms into 1/8" slices.
3
Chop the bell pepper: Cut the top and the bottom off a red bell pepper. Cut it open and remove the seeds as well as the white parts. Cut the pepper into 1/2" strips, and the strips into square pieces. Measure out about 4 oz.
4
Cut the onion into wedges: Half an onion lengthwise, slice off the root, and peel away the skin. Also length-wise, cut each half in half, and each quarter in half again. Measure out about 4 oz, and submerge the onion in water immediately to avoid crying.
5
Chop the garlic: Slice away the root of three cloves of garlic, crush with the side of a knife, to easily remove the peel. Chop them finely, then measure out about 1 tbsp.
6
Chop the shallot: Half a shallot lengthwise and remove the peel. Cut off the ends and chop them finely. You can put it in your food processor and give it 5-6 pulses. Measure out about 1 tbsp.
7
Chop the lemongrass: Take one stalk and cut off the green top. With a mortar, give the white stalk a good whack so it breaks open, then thinly slice into fine bits. You can also blend it in your food processor. Measure out about 1 tbsp.
8
Chop (or grate) the ginger/galangal: Break one knob off a ginger root, and put away the rest. Scrape off the skin with a spoon, and either grate or chop it.
9
Chop the cilantro: Chop two handfuls of cilantro and measure out 1/4 cup (unpacked).
10
Slice the chilis/jalapenos: Remove the top of the chili and slice in half. Remove the seeds, if you desire less heat, and thinly slice. Measure out 1 oz, or to your preference..
11
Cook the rice: Wash the rice in a pot 2-3 times to remove dirt and excess starch. Drain, add water (1-1/2 – 2 cups water for 2 cups raw medium-grain rice), and let simmer on low heat for 15-25 minutes, covered. Choose a tall pot to avoid bubbling over or you can cook it in your rice cooker.
Cook:
1
Sauté the aromatics: Heat 2 tbsp canola oil in a pot over medium heat for 1 minute. Add 1 tbsp garlic, 1 tbsp shallot, 1 tbsp lemongrass, 1 tsp ginger, and sauté for about 1 minute.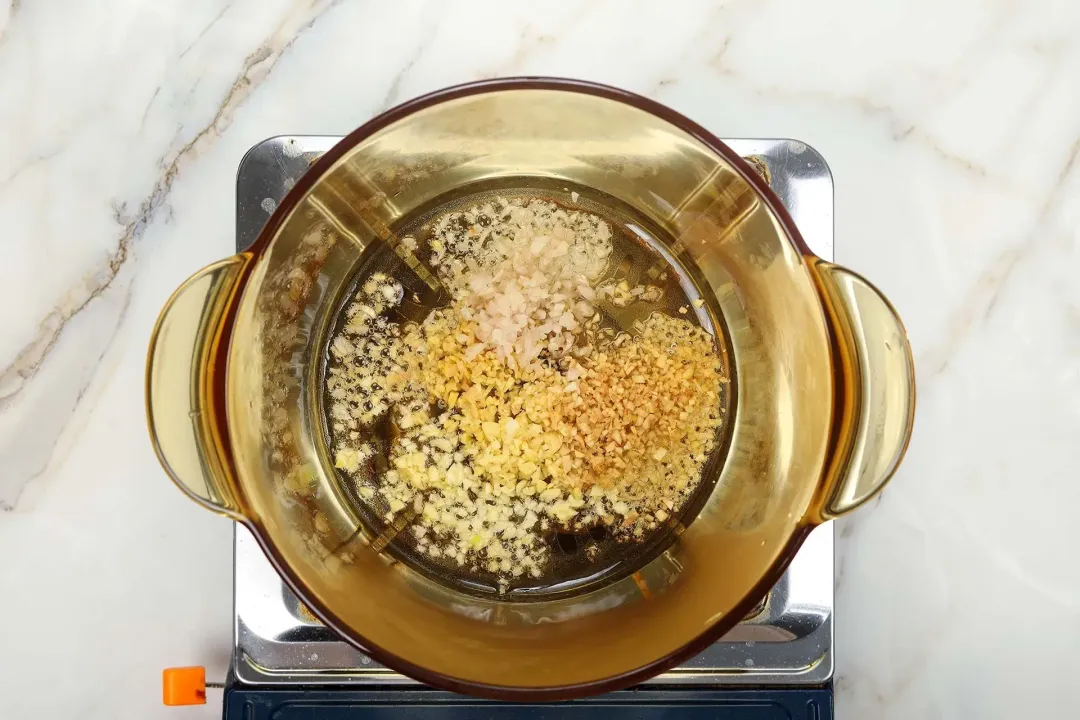 2
Add the chicken: Add 18 oz chicken breast and allow to cook for 4 minutes. Flip and cook for another 4 minutes.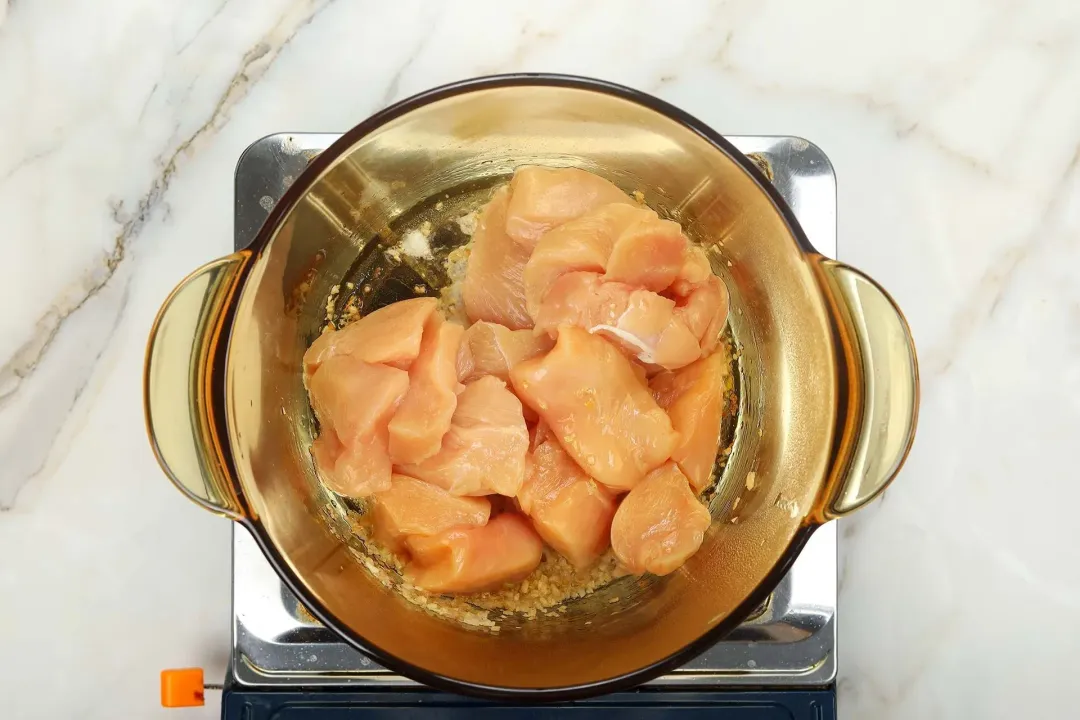 3
Add the mushrooms: Add 8 oz sliced mushrooms and stir. Cook for 3 minutes.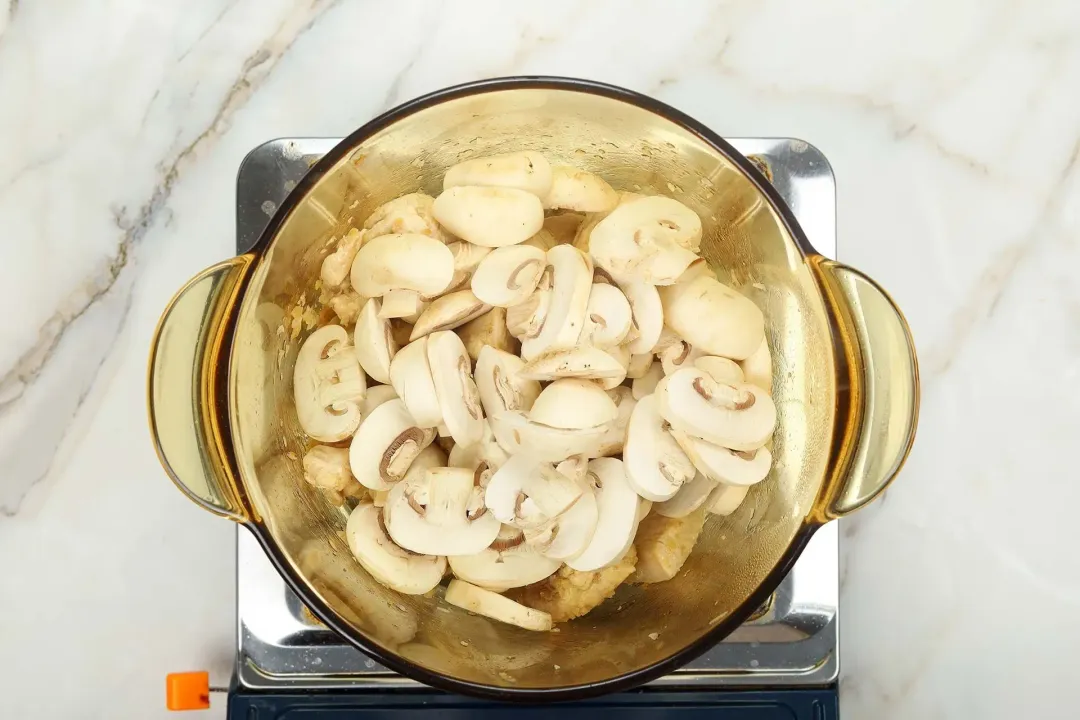 4
Add the other veggies and seasonings: Add 4 oz pepper, 4 oz onion, 3/4 tsp salt, 1/2 tsp black pepper, and 1 tsp paprika. Stir and cook for 2 minutes.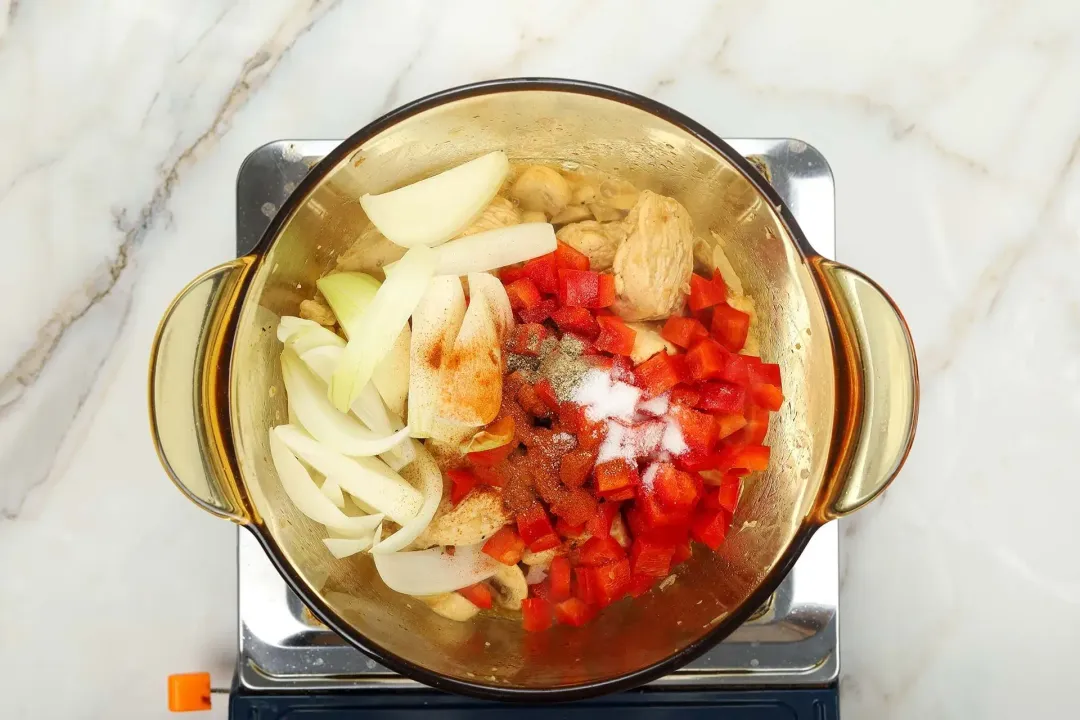 5
Add the broth: Pour in 2 cups unsalted chicken broth and simmer on medium heat for 10 minutes, uncovered.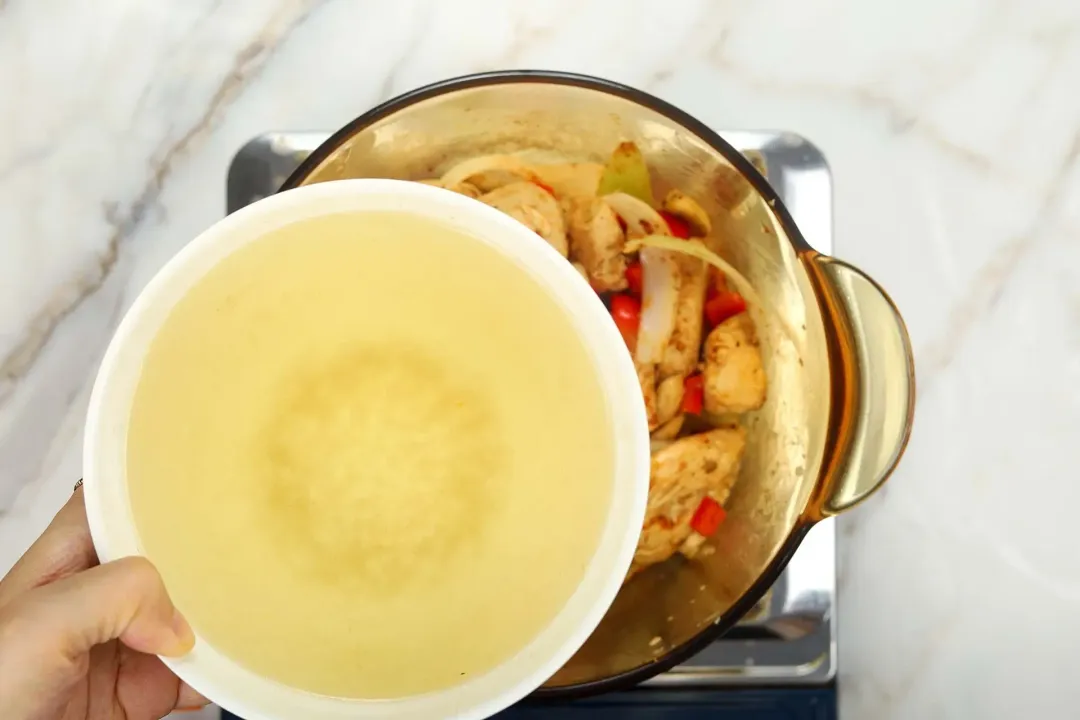 6
Add coconut milk, cream, and lime juice: Add 1/4 cup coconut milk, 2 tbsp heavy cream, and 1 tbsp lime juice. Turn the heat to medium and simmer for 2 additional minutes.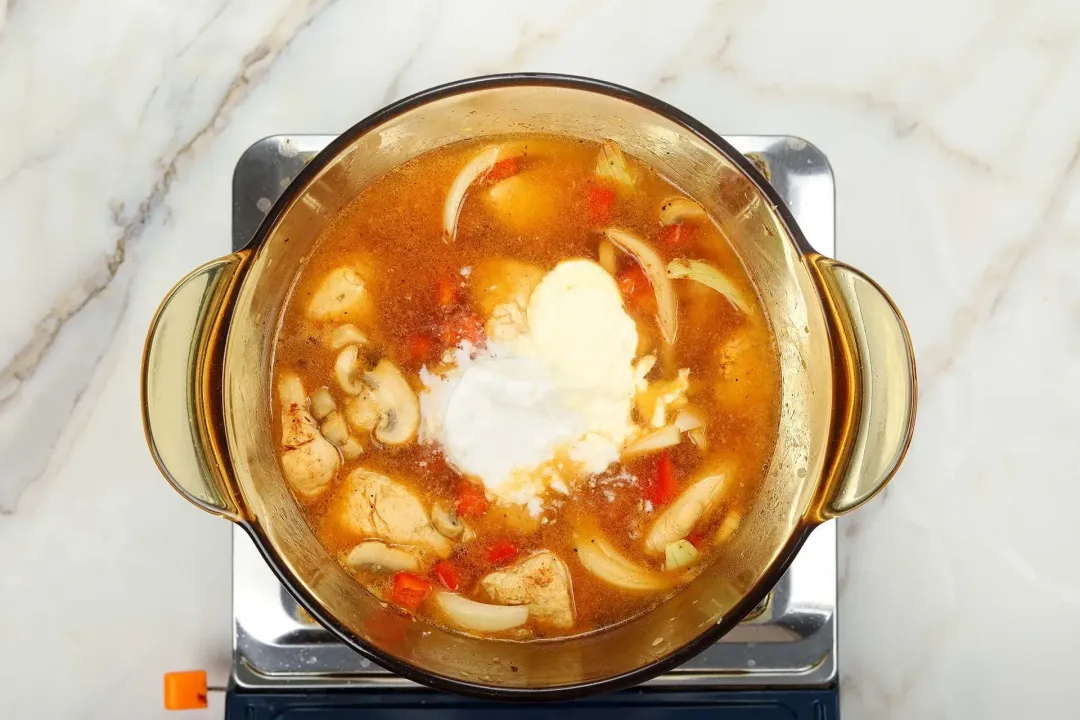 7
Shred the chicken: Turn off the heat and remove the chicken. Shred with two forks then add the chicken back to the pot.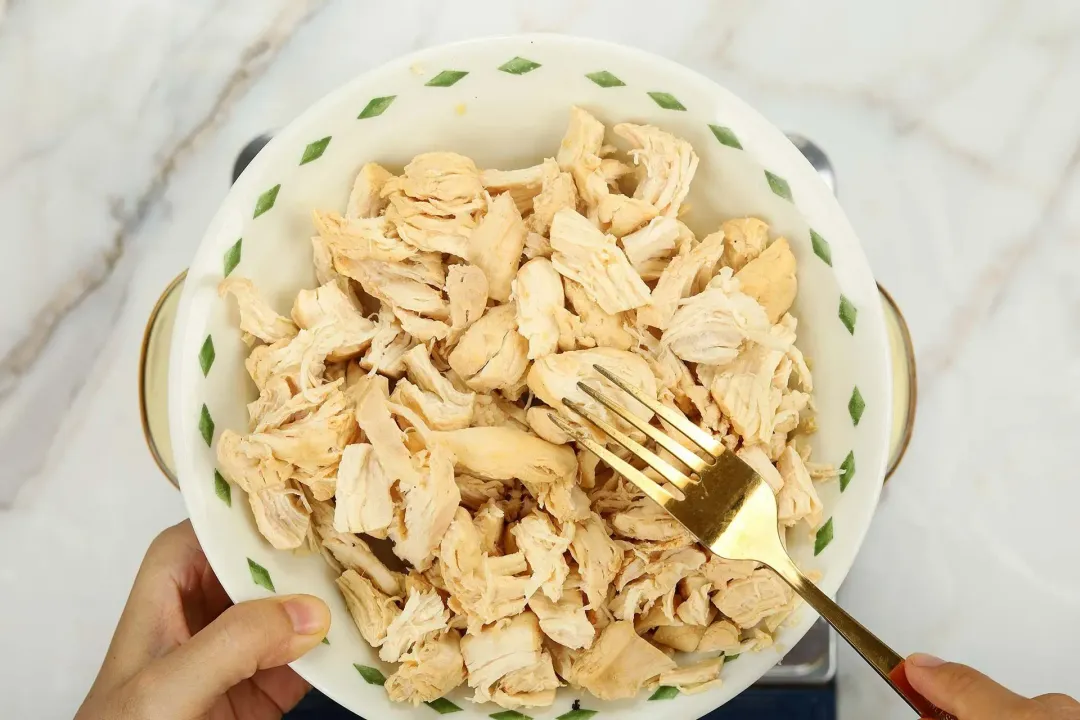 8
Add garnish: Sprinkle on 1/4 cup chopped cilantro and 1 oz sliced chilis (or the amount you want).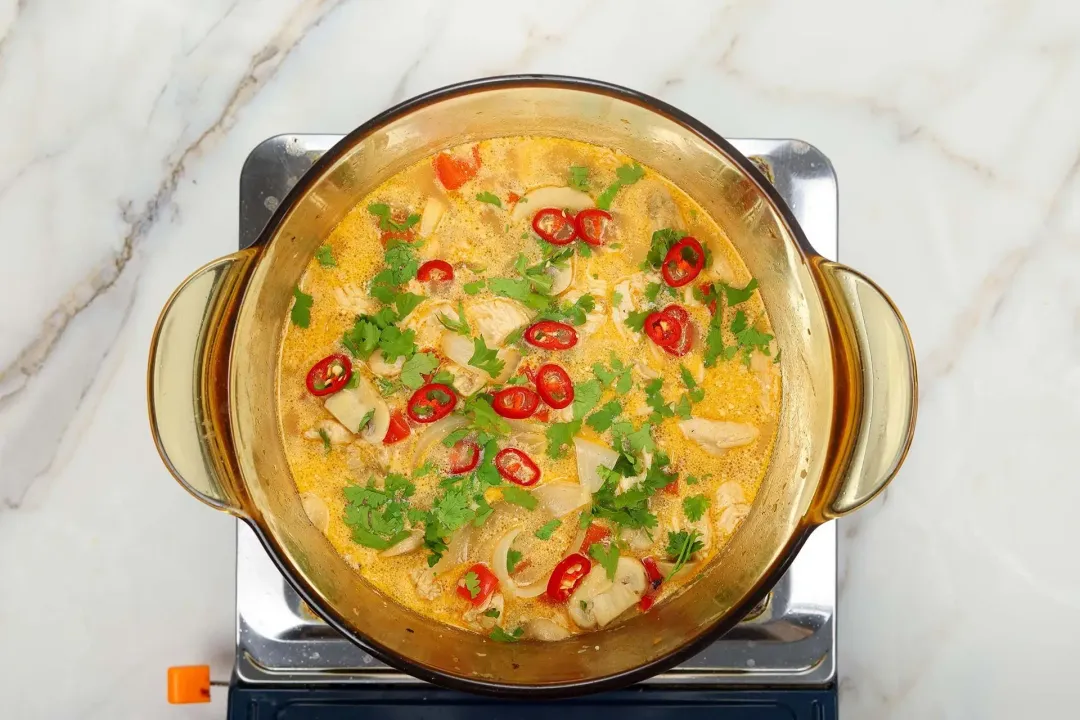 9
Enjoy: Ladle the soup into serving bowls and enjoy with 3 cups cooked rice.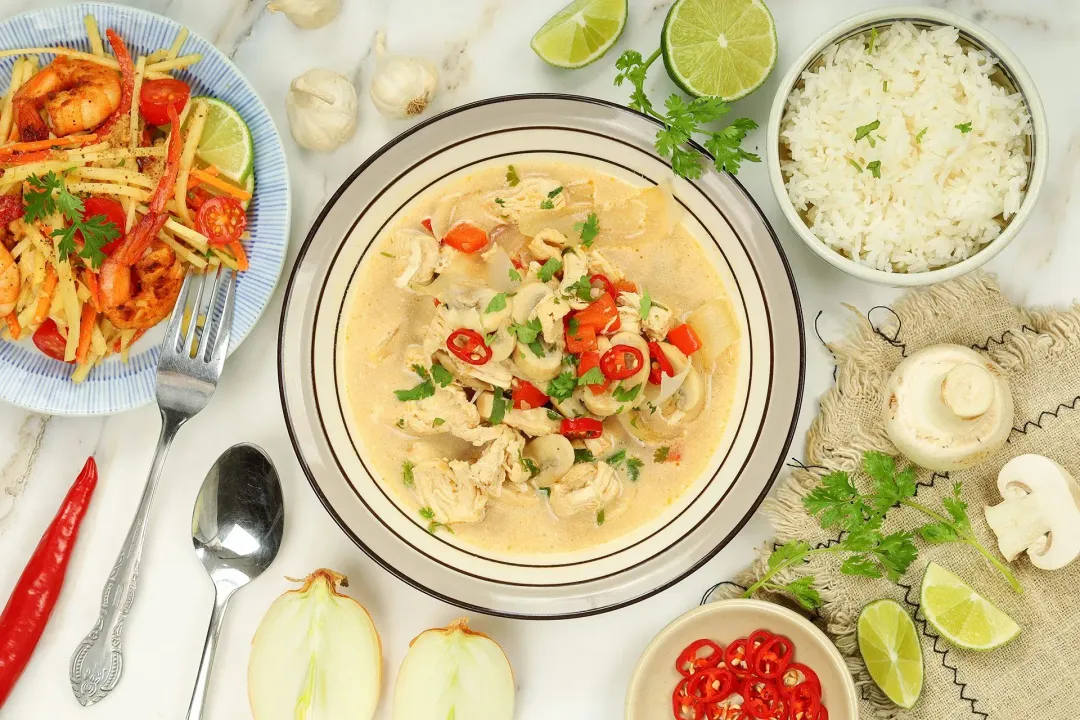 NUTRITION
Nutrition Facts
How to Make Chicken Coconut Soup
Amount Per Serving (1 serving)
Calories 499
Calories from Fat 151
% Daily Value*
* Percent Daily Values are based on a 2000 calorie diet.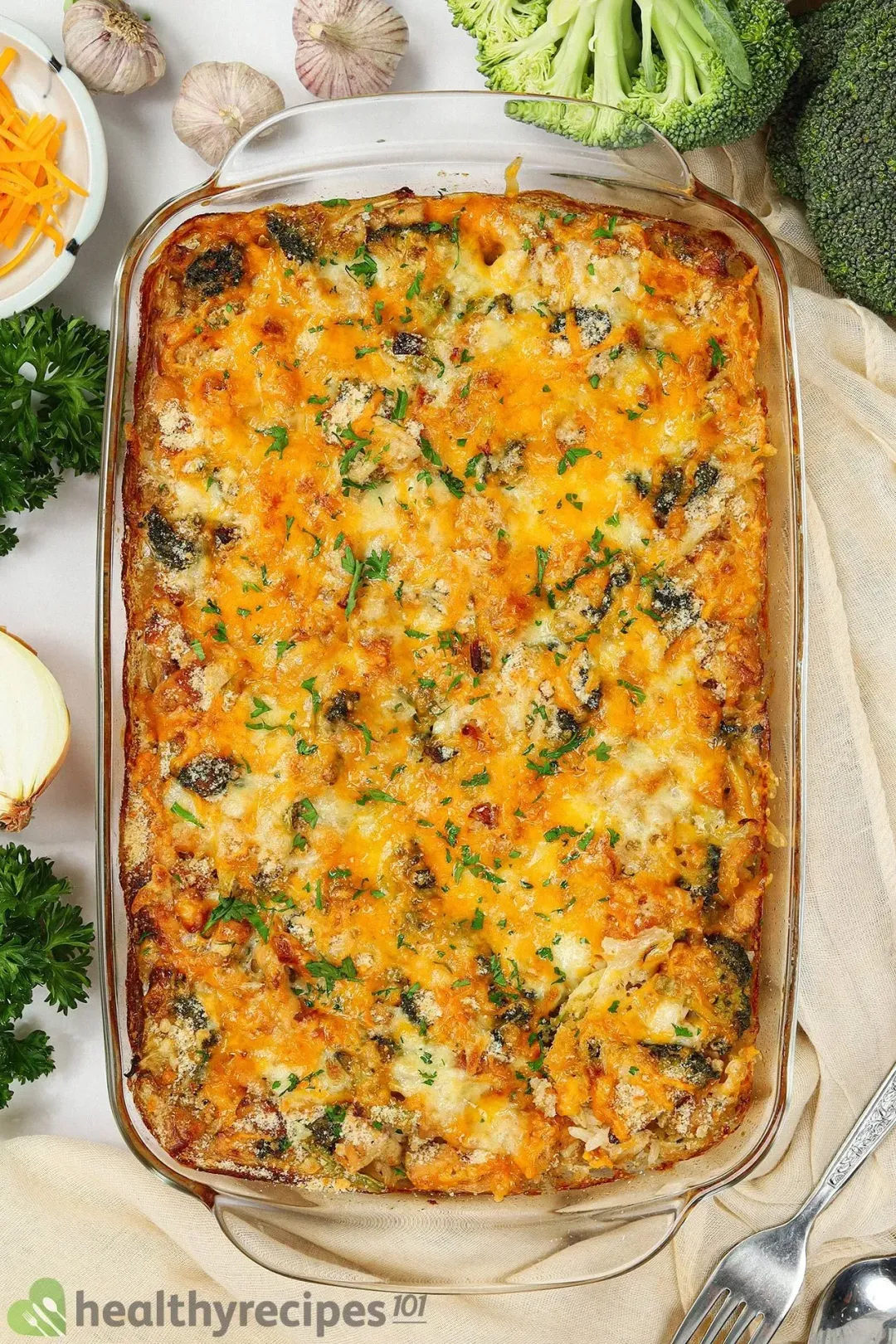 Previous Recipe
Chicken Broccoli Rice Casserole
Chicken Broccoli Rice Casserole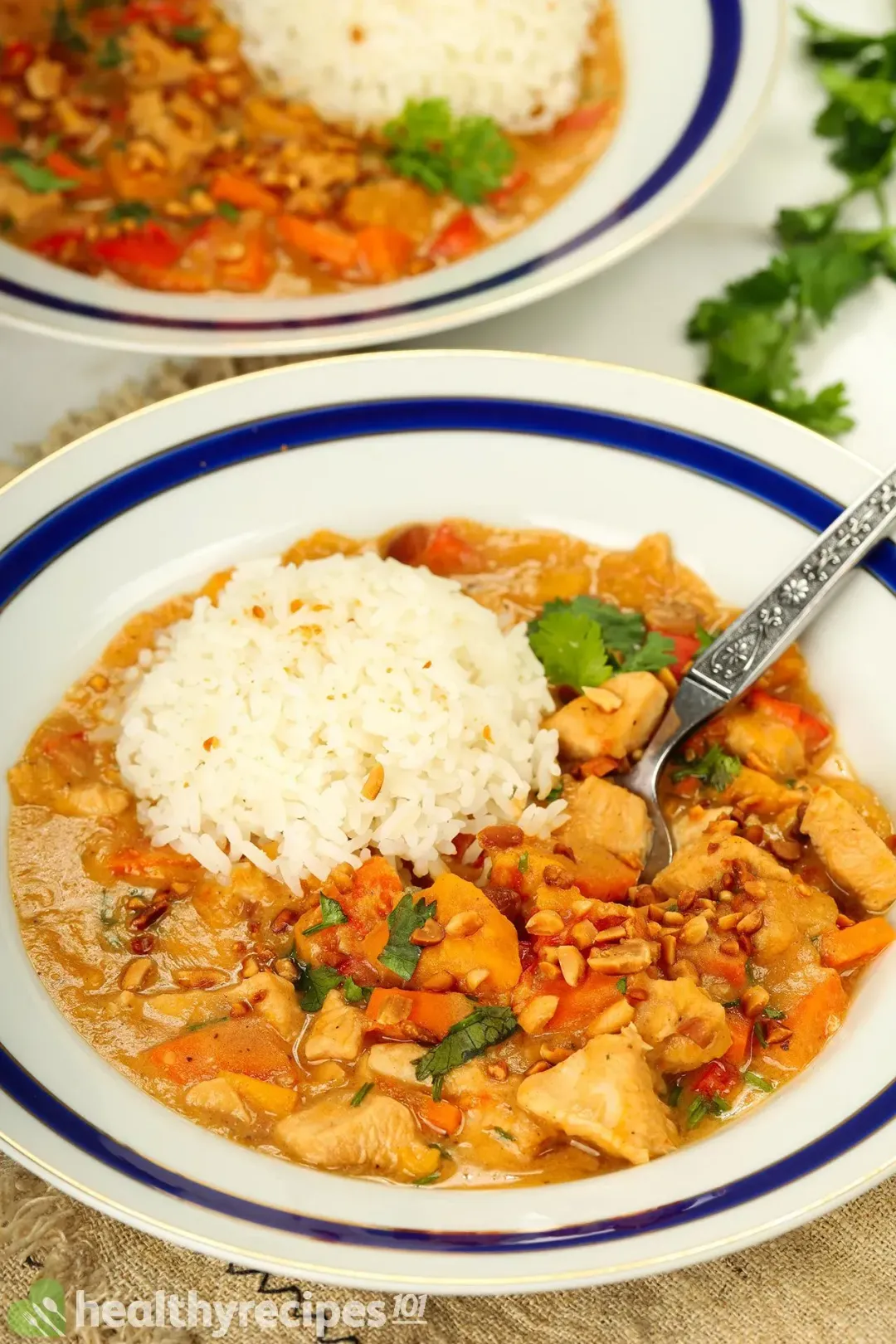 Next Recipe
Peanut Butter Soup (African Peanut Soup)
Peanut Butter Soup (African Peanut Soup)
Head Chef, Culinary Consultant
Tuyet Pham is an award-winning Saigonese chef who believes that joy is the secret ingredient to delicious food. At Healthy Recipes 101, Tuyet personally tests and simplifies every recipe, ensuring maximum flavor with minimal effort. With a background at prestigious French restaurants P'TI Saigon and Le Corto, Tuyet knows how to make every dish exceptional.
Writer, Author
Luna Regina is an accomplished writer and author who dedicates her career to empowering home cooks and making cooking effortless for everyone. She is the founder of HealthyKitchen101.com and HealthyRecipes101.com, where she works with her team to develop easy, nutritious recipes and help aspiring cooks choose the right kitchen appliances.
Nutrition Reviewer
Natalie Butler is a registered dietitian nutritionist with a passion to help others live their best life through food, fitness, safer beauty and a healthy lifestyle. She has expertise with a variety of diets and diseases and believes that there is no one-size-fits-all approach for health.