Have you ever experienced that horrible feeling when you were sick, lost your appetite and didn't want to eat anything?
If you haven't, you are surely lucky. If you have, however, I do hope you have your favorite comfort food to restore your palate. For me, that would be my mom's chicken and dumplings.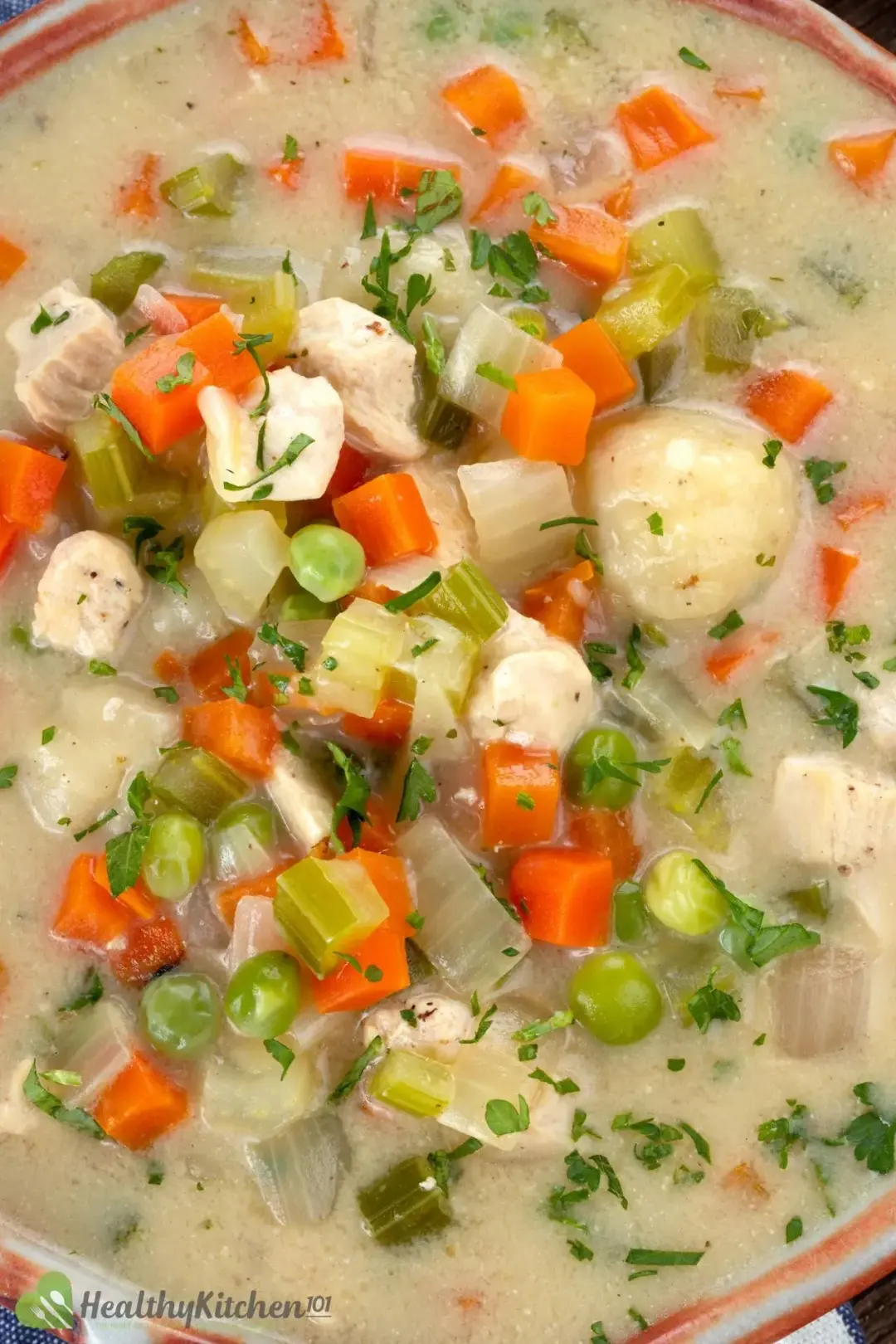 I might be exaggerating a little bit, but that one dish did save me from starvation many times. Back then I would like to think that it had this magical power that could heal any sickness and ailment. In some way, it actually kind of did. So when I moved out, I had to ask her for the recipe. And I am more than happy to tell you that it is super simple to make! You can also use this recipe for National Dumpling Day (September 26).
The Original Homemade Chicken And Dumplings
Now, what is the original chicken and dumplings?
Chicken and dumplings is one of the classic Southern American comfort food that everyone loves. This comforting savory treat consists of chicken cooked to tenderness, with soft pillowy dumplings and aromatic chicken broth-based soup.
I have done some research on its origin, and it is vaguely pointed out on Wikipedia that the dish originated in the Southern and Midwestern US, during the Great Depression; or it might be a French-Canadian dish.
Nonetheless, although its origin is still a matter for debate, we can all agree that the recipe is so simple, though it does take a bit of time to make.
Originally, in order to make chicken and dumplings, you would need to cook a whole chicken by boiling it with some herbs and a bunch of vegetables like onions, carrots, and celeries. Those are the key ingredients for a flavorful bowl of chicken and dumplings.
The boiling process will take from 45 minutes to an hour, depending on the size of your chicken. Once you are done cooking, you will be rewarded with a beautiful, tender chicken and a pot of steaming broth with a mesmerizing aroma.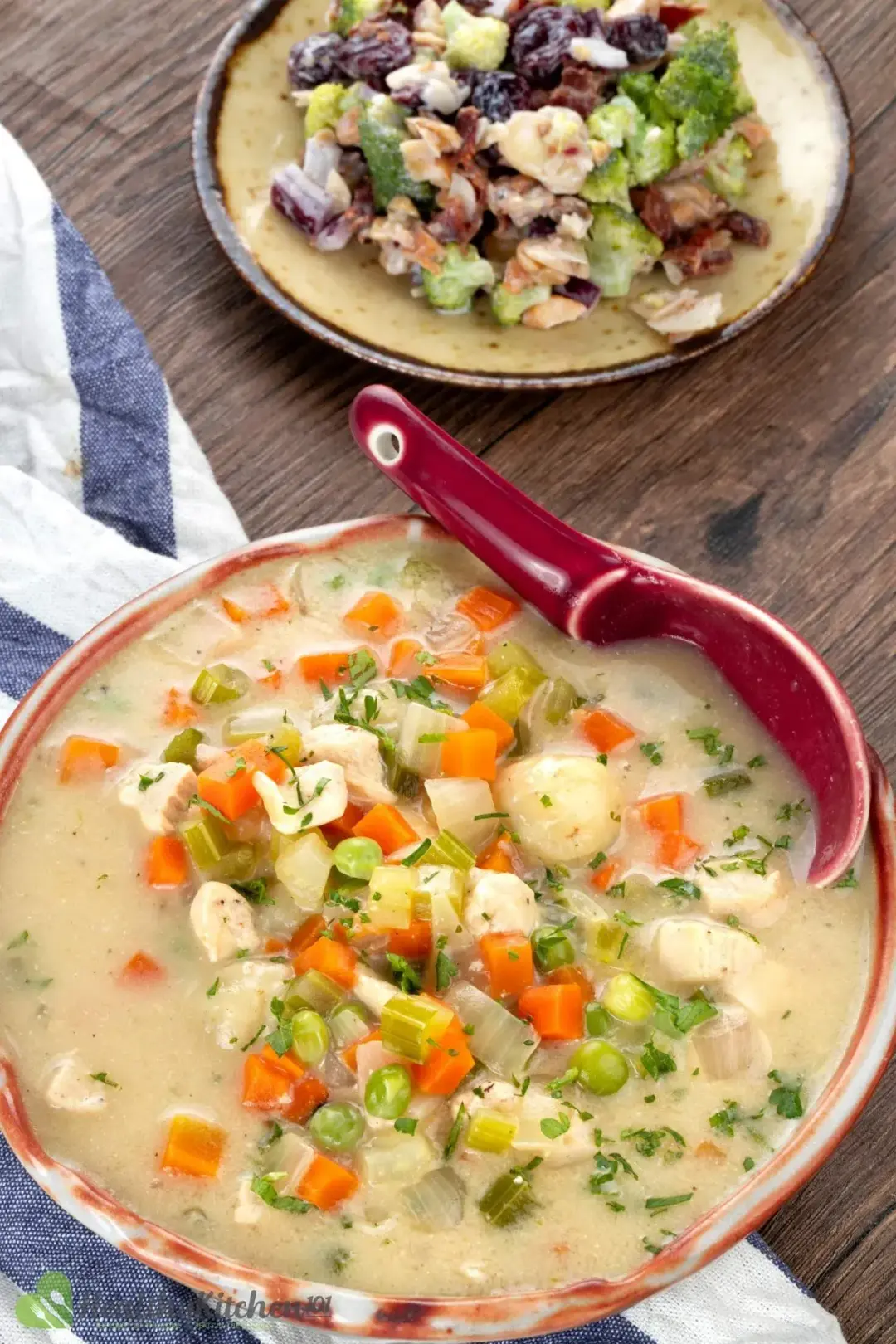 If you have the time, by all means, do it the original way and make your own chicken broth. I promise you it will taste so much better than any pre-made broth.
Usually I would prefer taking time to make the chicken broth from scratch, but sometimes, after a long day, I'm just too hungry and tired to wait an hour for it to be cooked. In times like these, we just have to be flexible and compromise. Even though I'm not really into pre-made bouillons, I still have to use them once in a while. The better the broth quality, the better your chicken and dumplings will be. So just get the best broth you can find in your local grocery store and you're good to go.
Now, when you're talking about broth-based soup, there will be a debate about the consistency of the soup. There is no 'perfect soup consistency'. It all comes down to personal preference: Some people like their soup thick, some like it a little bit diluted.
Making a light, liquidy soup is easy. If you want a runnier soup, just add more liquid. You can either add more broth or water. Making a thicker soup is slightly more tricky. And you will soon find out why in the next paragraph.
We also have this corralled chicken dishes for family feasts, dedicated to chicken lovers. The recipes are easy to follow and complied with our healthy eating standards.
How Do You Thicken Chicken And Dumplings?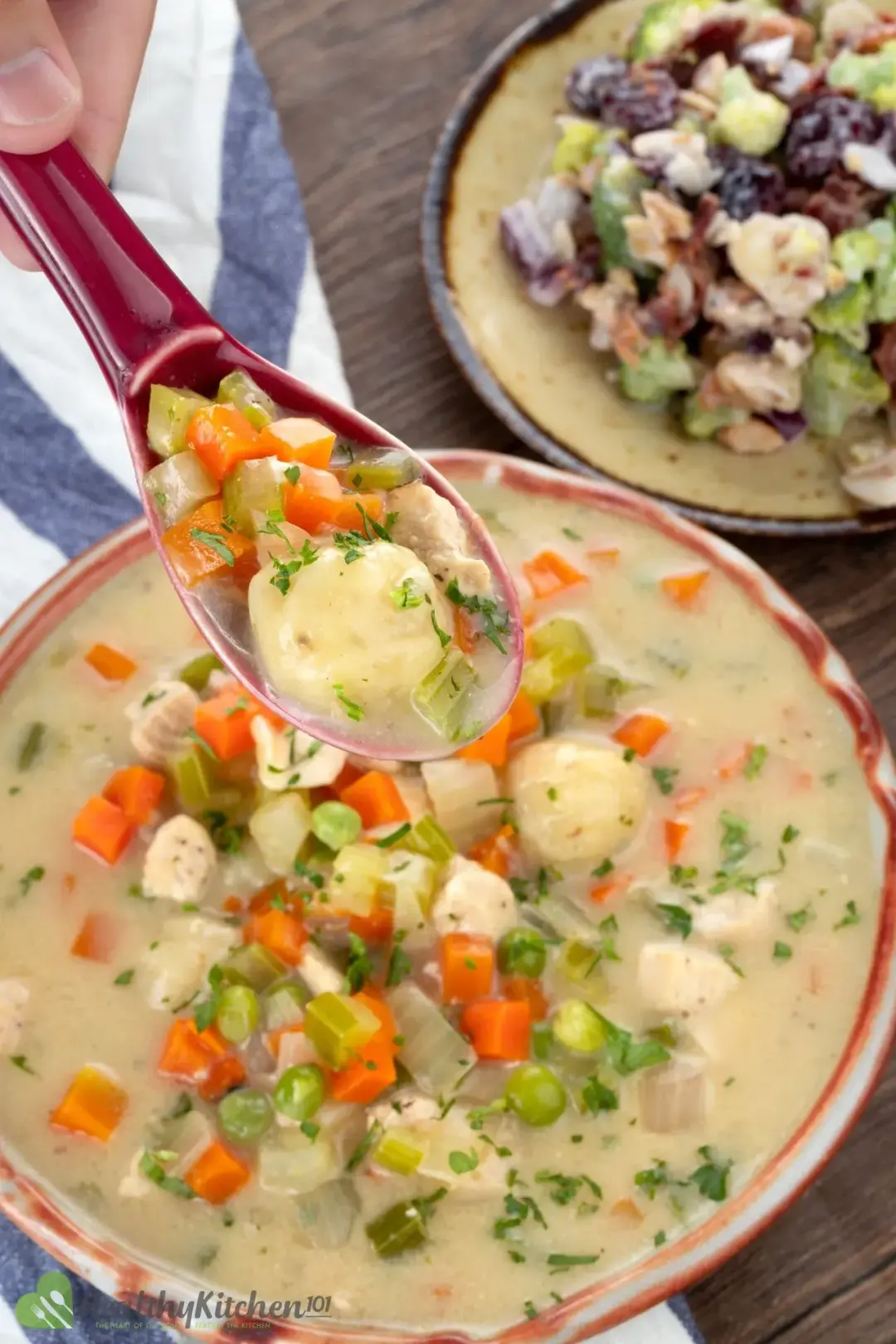 There are basically two easy ways for you to thicken your soup.
The first method would be adding more flour to the 'roux'. 'Roux' is just a fancy name for that flour paste you make when you cook flour in butter. It is often used as a base for many soup dishes and sauces.
Usually a simple roux recipe calls for equal portions of butter or oil, and flour. So if you want your soup or sauce to be thicker, increase the amount of flour used when you make the roux.
Now if you finish making the roux and add in the chicken broth, but  realize the soup is still not as thick as what you aimed for in the first place, don't worry. You can still fix it with a 'slurry', which is just another fancy name for a mixture of cornstarch and water. Just dissolve equal portions of cornstarch and cold water ‒ normally I go with 4 tablespoons of each, and then add this mixture to your simmering pot of soup, a tablespoon at a time until you've reached your desired consistency.
How Do You Make Fluffy Dumplings?
Another key to a perfect bowl of chicken and dumplings lies within the dumplings. A bite from that soft, pillowy, doughy cloud and you're like in heaven. Getting them right is not an easy task though.
On my first few trials, I made them from scratch and the dumplings turned out too dense. They just didn't have that light texture I was looking for. So I asked my mom for some advice, and apparently I might have gotten carried away and overmixed my batter.
When making the batter, once you've add the wet ingredients to the dry ingredients, you would want to mix them until you can no longer see any visible pockets of white flour. And just until then. If you mix the batter for too long, you'll develop the gluten in the flour, which is what makes the dumplings dense, and we don't want that.
Moral of the story: Don't overmix your batter.
What to Serve with Chicken and Dumplings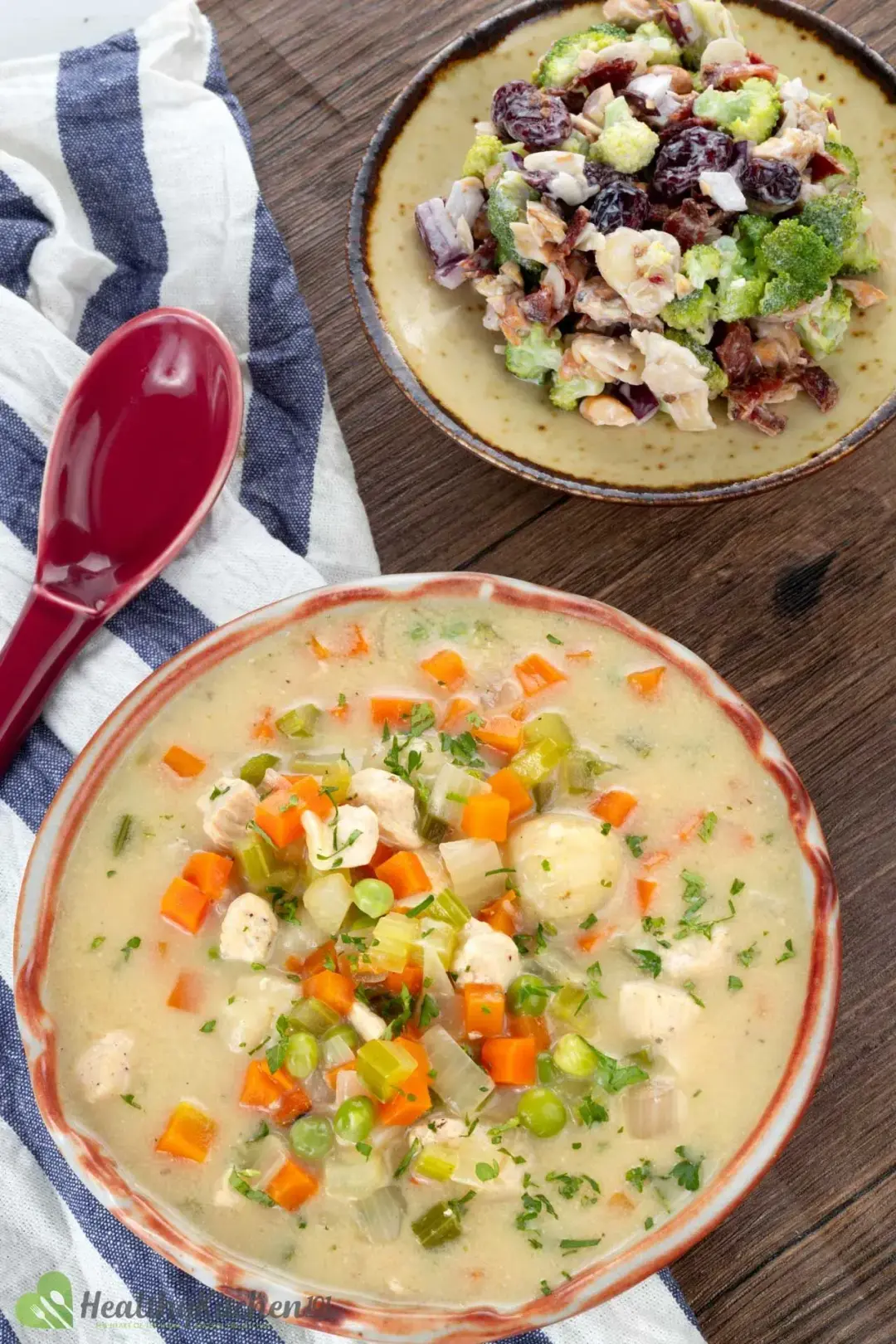 These chicken and dumplings are delicious enough to stand alone on the menu. However, we figured it could use one side dish to become a hearty, nutritious meal.
Our recommendation is broccoli salad. It's fresh, healthy, and doesn't take much effort to make. 
Healthy Chicken and Dumplings Recipe
Healthy Chicken and dumplings recipe, one of the best comfort foods, an American classic, a friend in need, in sickness and in health.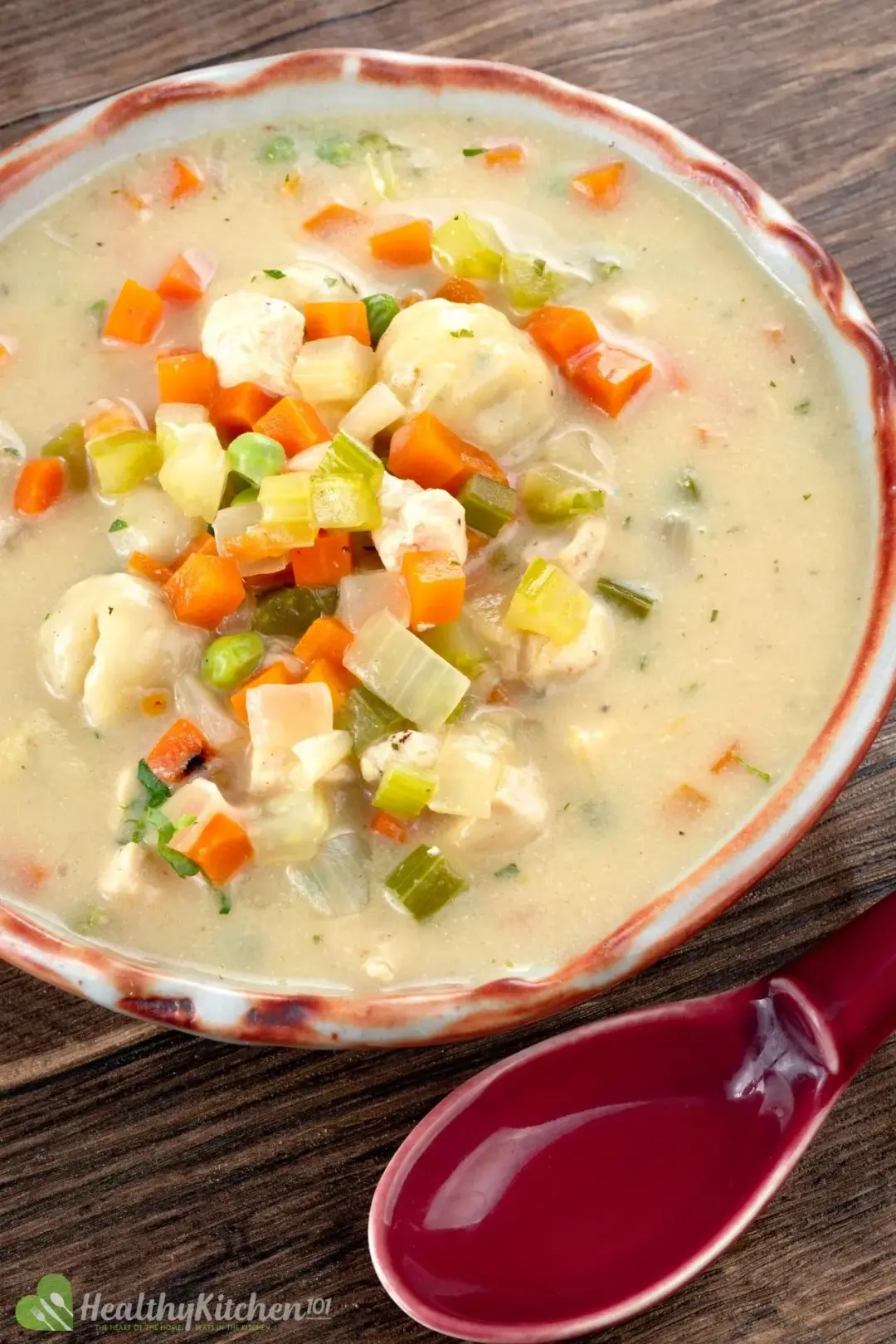 cook TIME

25 mins

prep TIME

15 mins

total TIME

40 mins
COURSE

Main Course, Soup

CUISINE

American

SERVINGS

servings

CALORIES

498 kcal
INGREDIENTS
1 tbsp

olive oil

12 oz

skinless boneless chicken breast (2 medium)

0.5 tsp

salt (divided)

0.5 tsp

black pepper (divided)

1.5 tbsp

unsalted butter

5.3 oz

onion (1 medium, diced)

7 oz

carrots (2 medium, diced)

3.9 oz

celery (2 medium stalks, diced)

1.3 cups

all-purpose flour (divided)

5 cups

unsalted chicken broth

1

bay leaf (fresh or dried)

0.8 cup

frozen peas (thawed)

0.5 cup

heavy cream (divided)

0.3 cup

whole milk

2 tsp

chopped parsley (divided, optional)

0.5 tbsp

baking powder
INSTRUCTIONS
Make the dumplings
1
In a small bowl, add 1/4 teaspoon salt, whole milk, and 1/4 cup heavy cream. Stir to dissolve the salt.
2
In a large bowl, combine 1 cup flour, 1/4 teaspoon black pepper, baking powder, and 1 teaspoon chopped parsley. Mix thoroughly.
3
Make a well in the center of the flour and pour the milk mixture in. Mix with a fork to form a dough. Turn the dough a few times to gather crumbs.
4
Using a teaspoon, scoop out small balls (you can roll them in the palm of your hands to make them smooth.) This recipe makes 28 small dumplings. Cover with cling film and set aside.
Make the chicken soup
1
In a large pot, heat olive oil over high heat. Add chicken, season with black pepper and salt— 1/8 teaspoon each. Sear until golden on all sides for 6 minutes. Transfer the chicken to a bowl and set aside.
2
Turn the heat down to medium. In the same pot, add onions, celery, carrots, and unsalted butter. Cook for 8 minutes or until vegetables are softened.
3
Add 1/4 cup flour to the pot and mix in with the veggies. Then add the cooked chicken, bay leaf, the remaining salt and pepper, and unsalted chicken broth. Stir well to dissolve the flour. Turn the heat to high and let it boil. Once boiling, reduce the heat to medium and let simmer for 5 minutes.
4
Take the prepared dumplings and drop them in the pot. Let the dough cook for 5 minutes or until they float to the surface.
5
Turn the heat to low. Add frozen peas and 1/4 cup heavy cream. Stir well and cook for 1 minute. Taste and check for seasoning.
6
Transfer to a bowl, garnish with the remaining chopped parsley, and serve.
NUTRITION
Nutrition Facts
Healthy Chicken and Dumplings Recipe
Amount Per Serving (1 serving)
Calories 498
Calories from FDA
% Daily Value*
* Percent Daily Values are based on a 2000 calorie diet.
Note:
If you want your soup to be thicker, follow step 3 and simmer for another 5 minutes or more until you reach your desired thickness.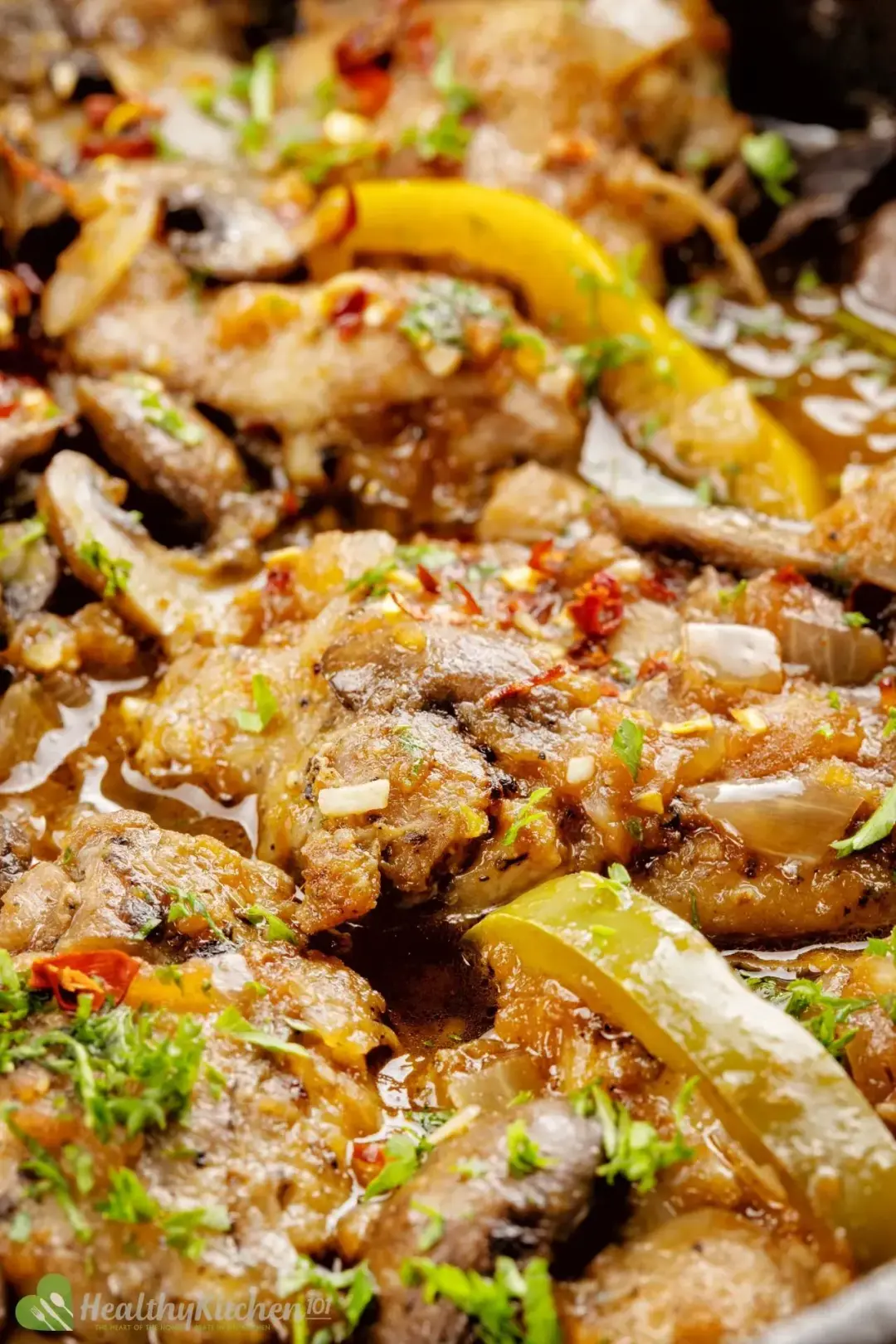 Previous Recipe
Chicken Cacciatore
Chicken Cacciatore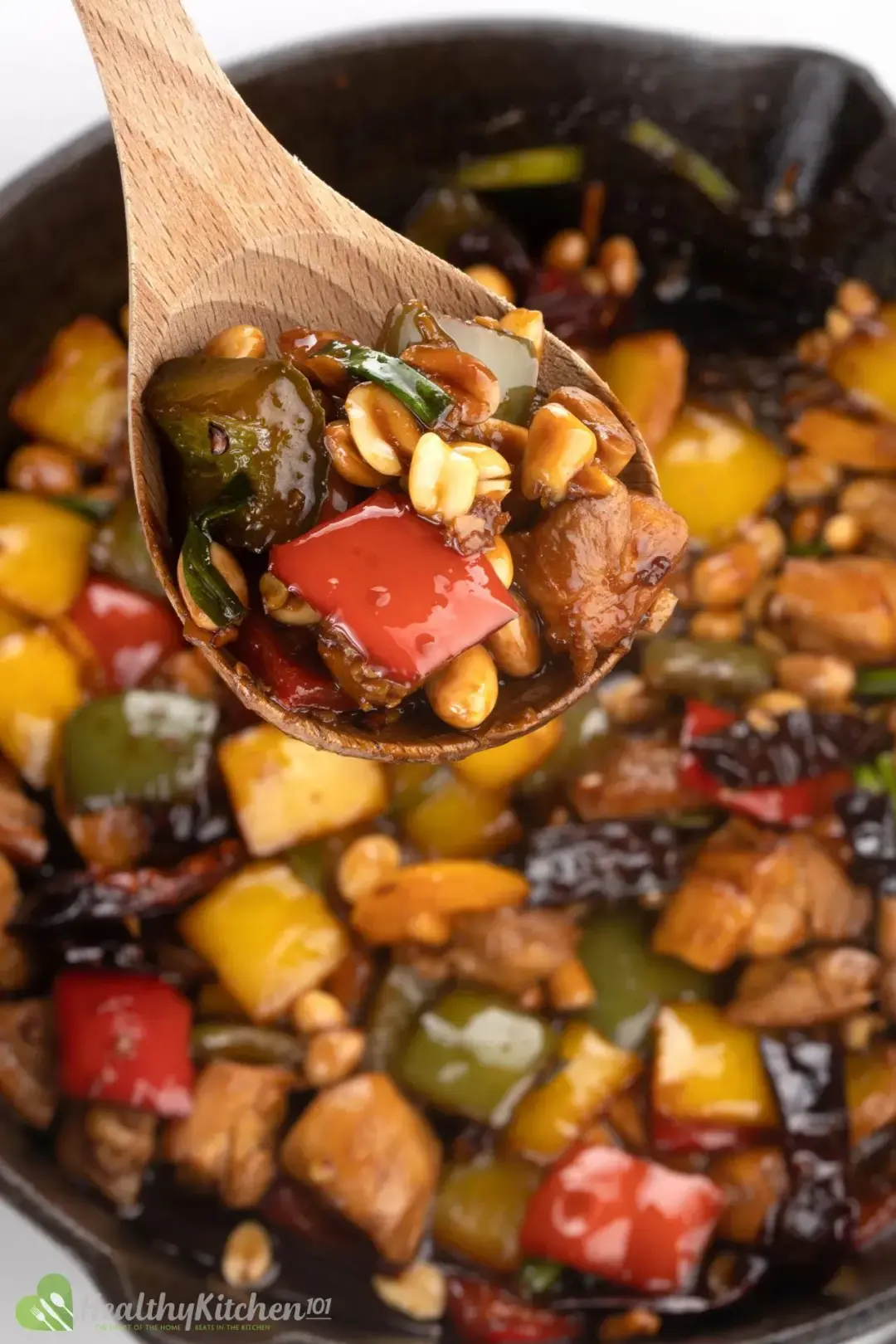 Next Recipe
Kung Pao Chicken
Kung Pao Chicken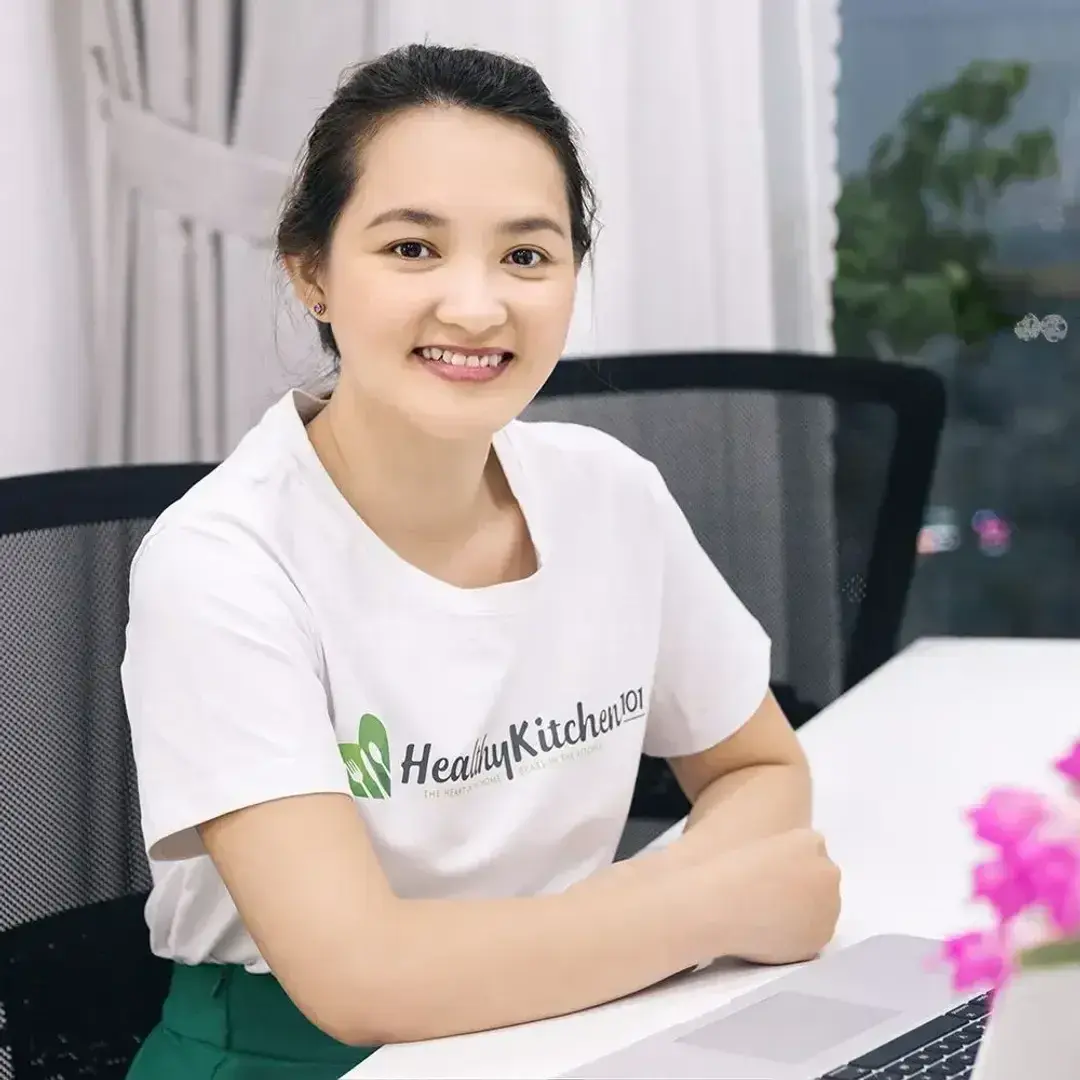 Founder
Luna Regina is an accomplished writer and author who dedicates her career to empowering home cooks and making cooking effortless for everyone. She is the founder of HealthyKitchen101.com and HealthyRecipes101.com, where she works with her team to develop easy, nutritious recipes and help aspiring cooks choose the right kitchen appliances.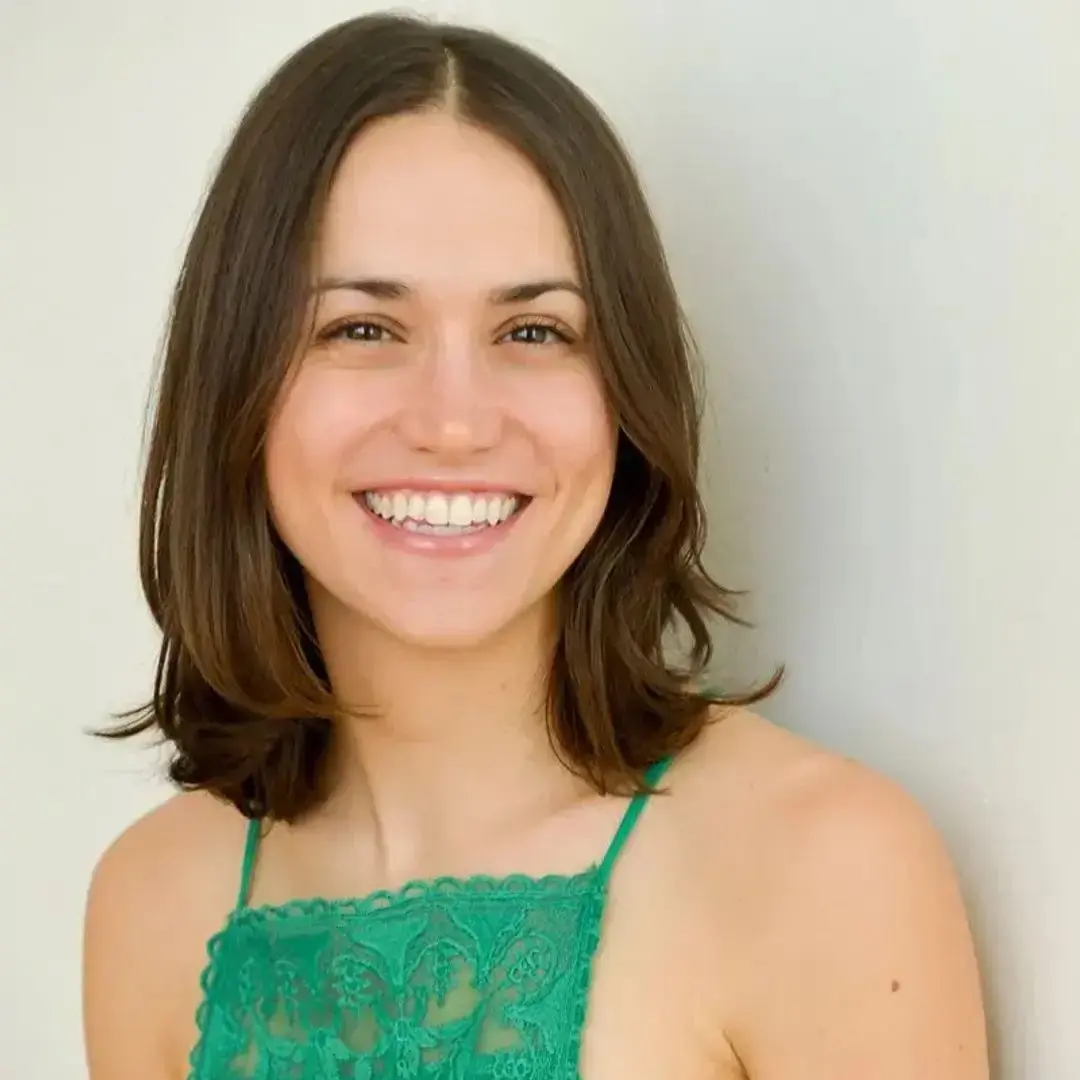 Nutrition Reviewer
Lizzie is a Minneapolis-based dietitian and founder of It's a Veg World After All. She completed her MS in Human Nutrition from Drexel University, and is an expert in culinary nutrition, recipe development, and nutrition communications.
Comments/ Reviews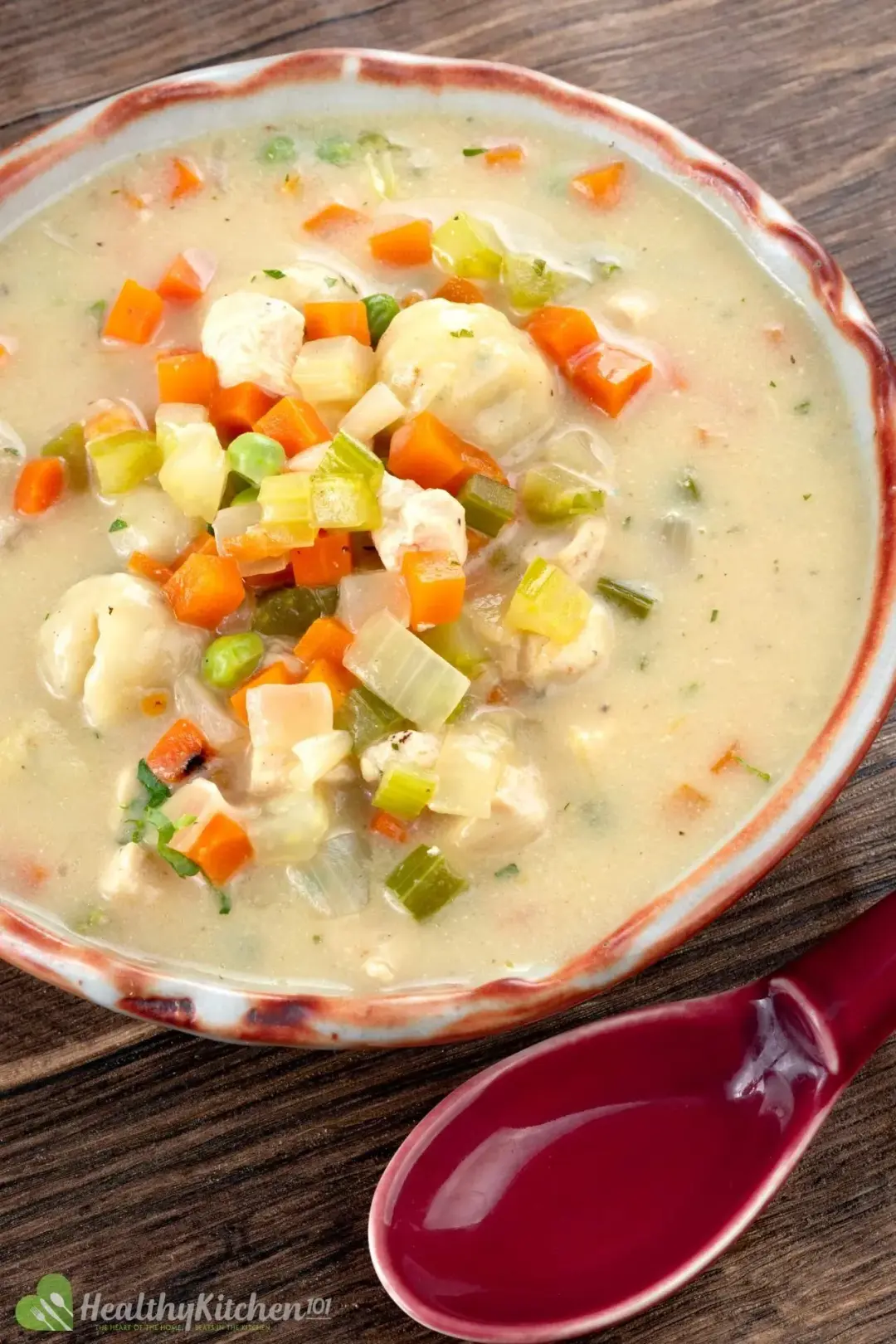 Easy Healthy Chicken and Dumplings Recipe