If you are looking for something exotic, this Thai chicken massaman curry recipe is just the one for you. The dish is thick, silky in texture and gives comfort in every bite.
What Is Massaman Curry?
Massaman curry is among the many curries that Thai cuisine has to offer. The dish possesses a distinct aroma, harmonic tanginess and sweetness, mild heat, and creaminess with coconutty undertones.
Massaman curry often includes potatoes, carrots, and bone-in chicken thighs chopped into large chunks (use boneless if you want). And like any other curry, massaman curry is eaten over hot white rice with nutty crushed peanuts sprinkled on top.
1. Massaman Curry Paste
The traditional massaman curry paste is created by first pounding the spices in a mortar using a pestle. The spices used are cumin, cinnamon, cloves, cardamom, nutmeg, dried chili, and black pepper.
As the whole spices turn into powder, we then add the herbs and pound the mixture into a paste. Lemongrass, galangal, shallots, cilantro roots and garlic— these are the basic aromatics of Thai cuisine.
This paste needs to be fried in hot oil so the flavors can be fully released and infused in the broth. Once it is cooked through, your kitchen will be full of beautiful aroma, and then you are well on your way to a good curry.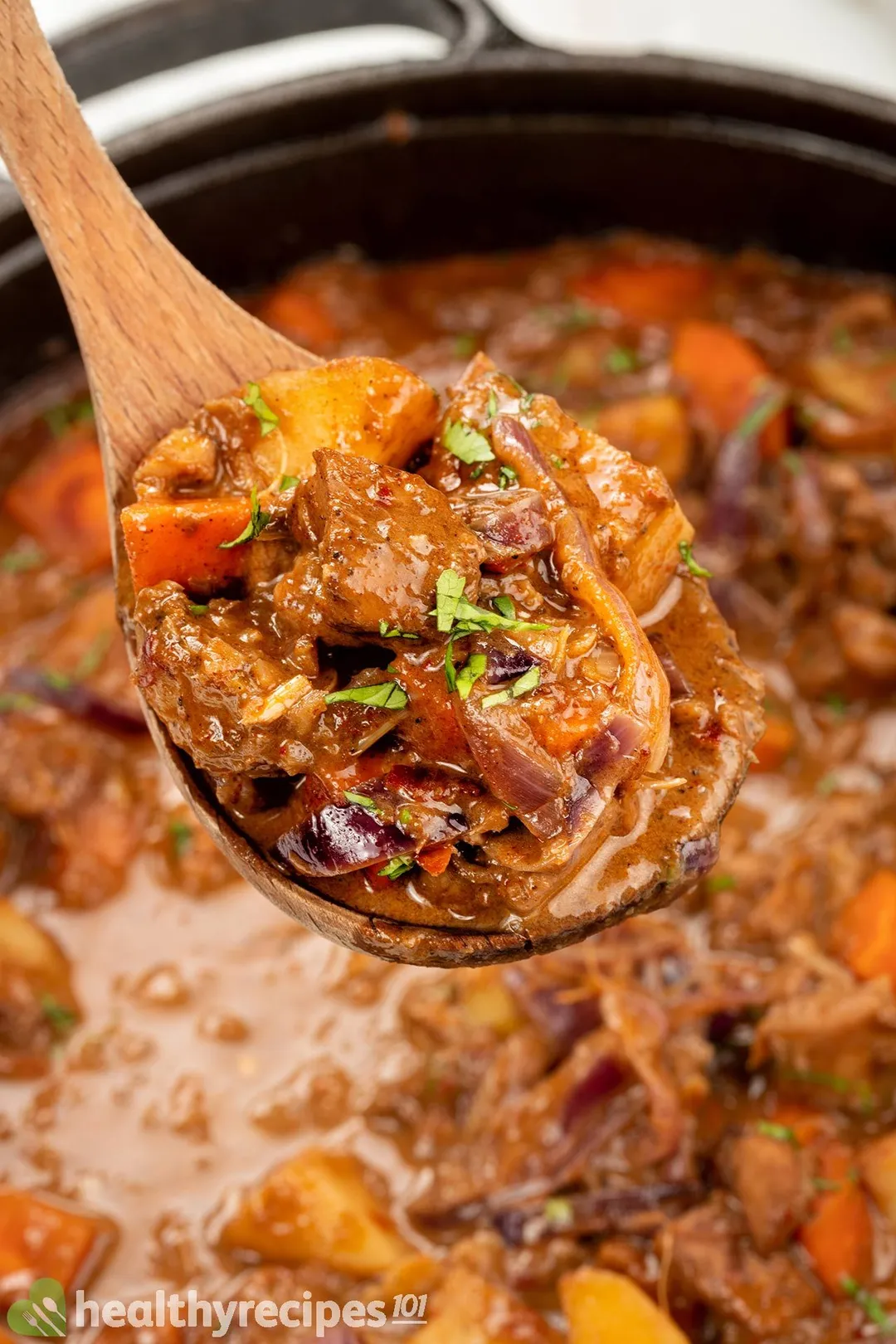 2. Panang Curry vs Massaman
Besides massaman, there are red, green, yellow, and Panang curries. Having a similar shade, Panang curry is easily mistaken for massaman curry but their taste differs slightly.
For starters, massaman curry uses an assortment of Indian spices and Thai herbs. It is also tangier in taste thanks to the tamarind concentration, and definitely more aromatic.
Meanwhile, Panang curry paste includes no Indian spices (besides cumin) and instead has shrimp paste and roasted peanuts. The roasted peanuts give the curry a thick consistency and nutty flavor that is unforgettable once tasted.If you're in the mood for curry, here is another one for you to try: red curry recipe. It has the heat and all of the delicious flavors you will love.
Is Our Recipe Healthy?
For starters, our chicken massaman curry recipe complies with our healthy eating guidelines based on the USDA's dietary guidelines:
Each serving holds less than 500 calories.
Sodium content is around 570 mg. Per day, it is recommended to consume no more than 2300 mg.
The amount of saturated fat falls between 7-11 grams— 6 grams per serving. The guidelines also suggest that saturated fat should be kept below 23 or 30 grams, depending on which diet you are following.
Apart from that, our recipe guides you to make your own massaman curry paste from scratch. When we searched online, we could not find any massaman curry paste products with moderate amounts of sodium, so we made it ourselves.
What Goes with This Curry?
In Asian cuisine, cooked rice is a crucial part of most meals, and this Massaman curry is no exception. The light sweetness of cooked rice will balance out the strong flavors of the creamy, aromatic curry sauce.
Our chicken massaman curry recipe uses white rice because it is the most basic kind. You can use other types of rice as well.
If you are not into cooked rice, have the curry served with soft bread or a warm baguette. Choosing sandwich bread is okay, but do not toast it; freshly baked bread is always better.
And here is how soft bread is better: tear a piece, dip it in curry, and allow it to soak. Then quickly place it in your mouth and feel as the bread disintegrates and the curry slowly melts on your tastebuds.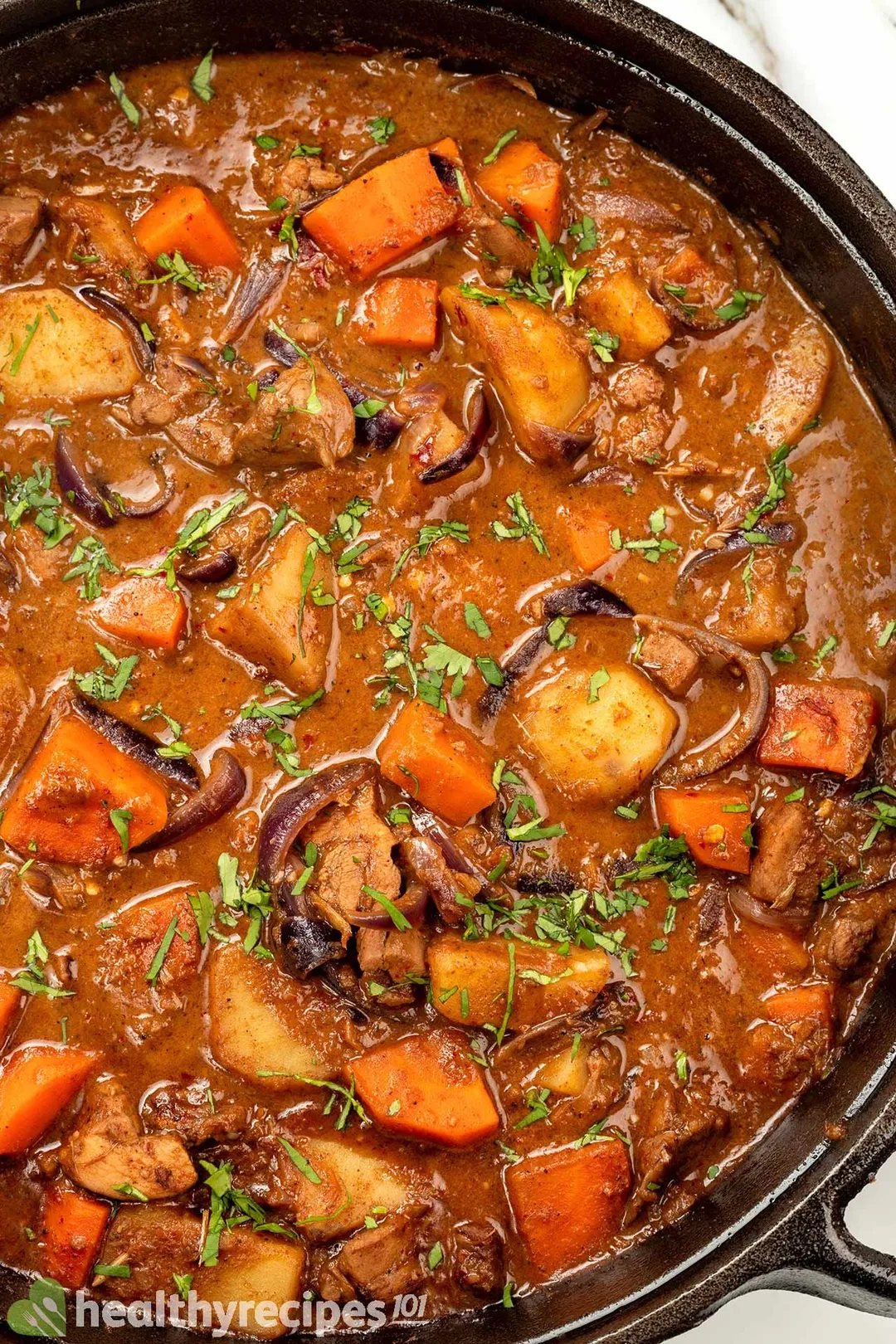 Thai people appreciate the balance of flavors, so to get a natural sweetness, they sometimes use sweet potato instead. In terms of texture, sweet potato is starchier and slightly chewier than potato, which makes the broth thicker when finished.
But acknowledging that potato is more beloved, we thought introducing potato to the curry is a wonderful Asian-American fusion. You can use either, but when you do, remember to tell us which one you like better.
You can add broccoli or cauliflower to add texture and more nutrients to your curry, making it less overwhelming with protein and fat. They also bring a modest amount of fiber that aids your digestive system.
Peanuts are often used in Thai cuisine because they are cheap, readily available, yet add a unique nuttiness to any dish. They can be bought raw, then toasted in a wok over medium heat until a little bit charred.
However, we could not find peanuts the day we made it and decided to go with cashews instead. Toasted cashews turned out okay— they pair well with curry and are a little more oily.
Variations
Besides chicken curry, massaman curry also comes in a beef version, and the best beef would be bone-in short ribs. Thanks to the marrow in the bones, the curry becomes even more flavorful after simmering.
One thing to note though, is that beef bone makes dark and foamy clumps as it simmers. People often remove this part to get a nicer stock.
To skip the hassle, you can use boneless beef and cook the curry with low-sodium beef stock.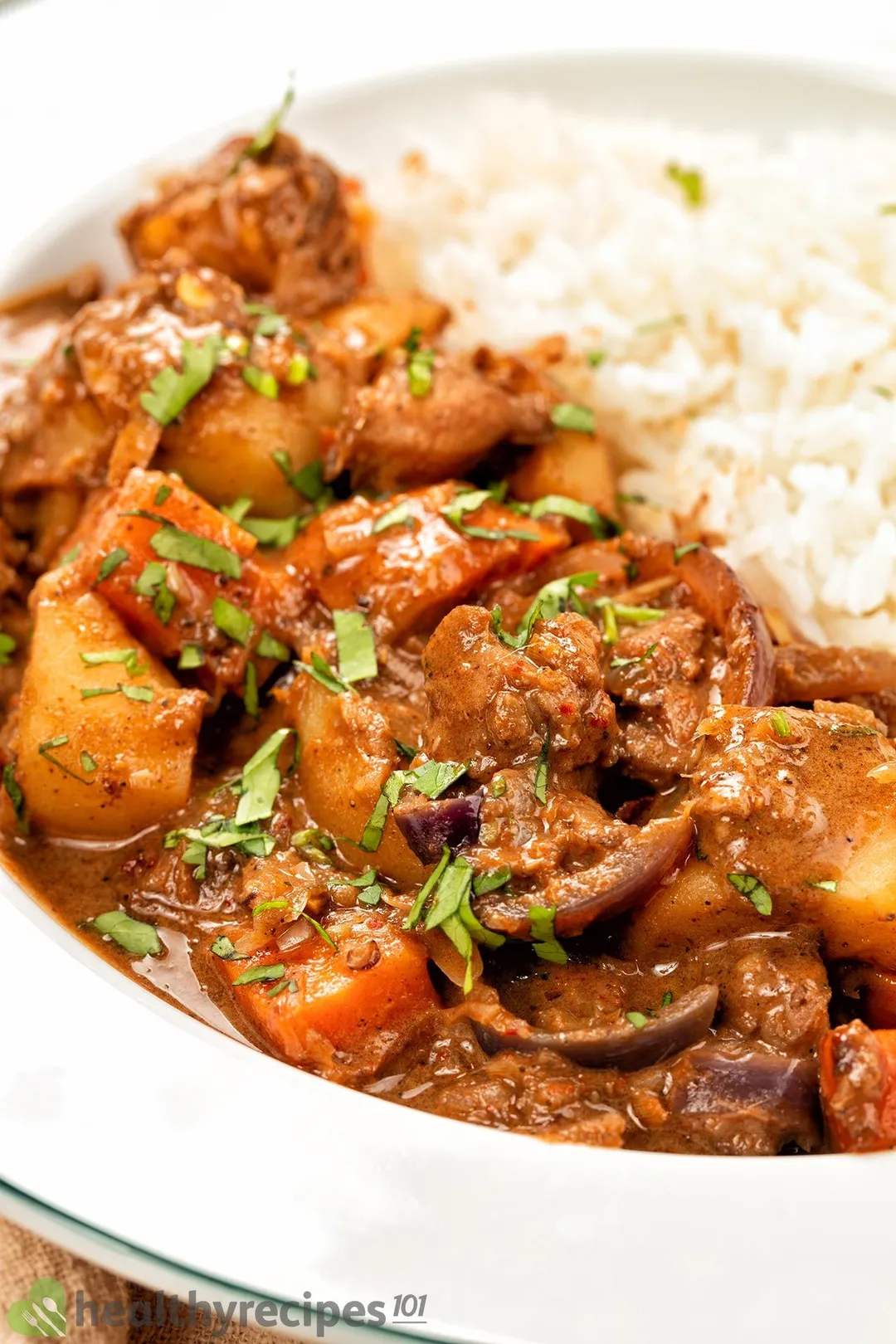 Tofu and curry might sound strange, but this is a vegan version of curry that is adored by many. Depending on how it is prepared, it can have a variety of textures while having a similar taste to the meaty version, just without the meat.
The tofu should not be the soft kind, but the fried ones with a yellow-ish skin and creamy interior. It will absorb the curry sauce as it cooks, so be prepared for delicious saucy bombs.
And since only vegetables are involved, you can add lots more vegetables to include various textures. Mushrooms, green beans, or even bell peppers, they are all great options for vegan curry.
For more delicious and healthy chicken recipes, check out our best 50 chicken roundup or the top 20 chicken thigh recipes.
How Long Does It Last?
Cooked food can last up to one week if stored properly. And since this is a curry, reheating it would not be a difficult task.
You can place the whole pot in your fridge if possible and reheat the whole thing when you need. Or, you can store the leftovers in a bowl, cover it with cling wrap, and reheat it in the microwave when desired.
Can You Freeze It?
You can place the curry in a container or into small Ziploc bags and it can last for up to 1 month in the freezer. You can reheat the curry in the microwave or on your stove.
Remember to allow the curry time to cool down to room temperature before storing. Storing hot food is a bad idea as it can spoil other foods in your freezer/fridge.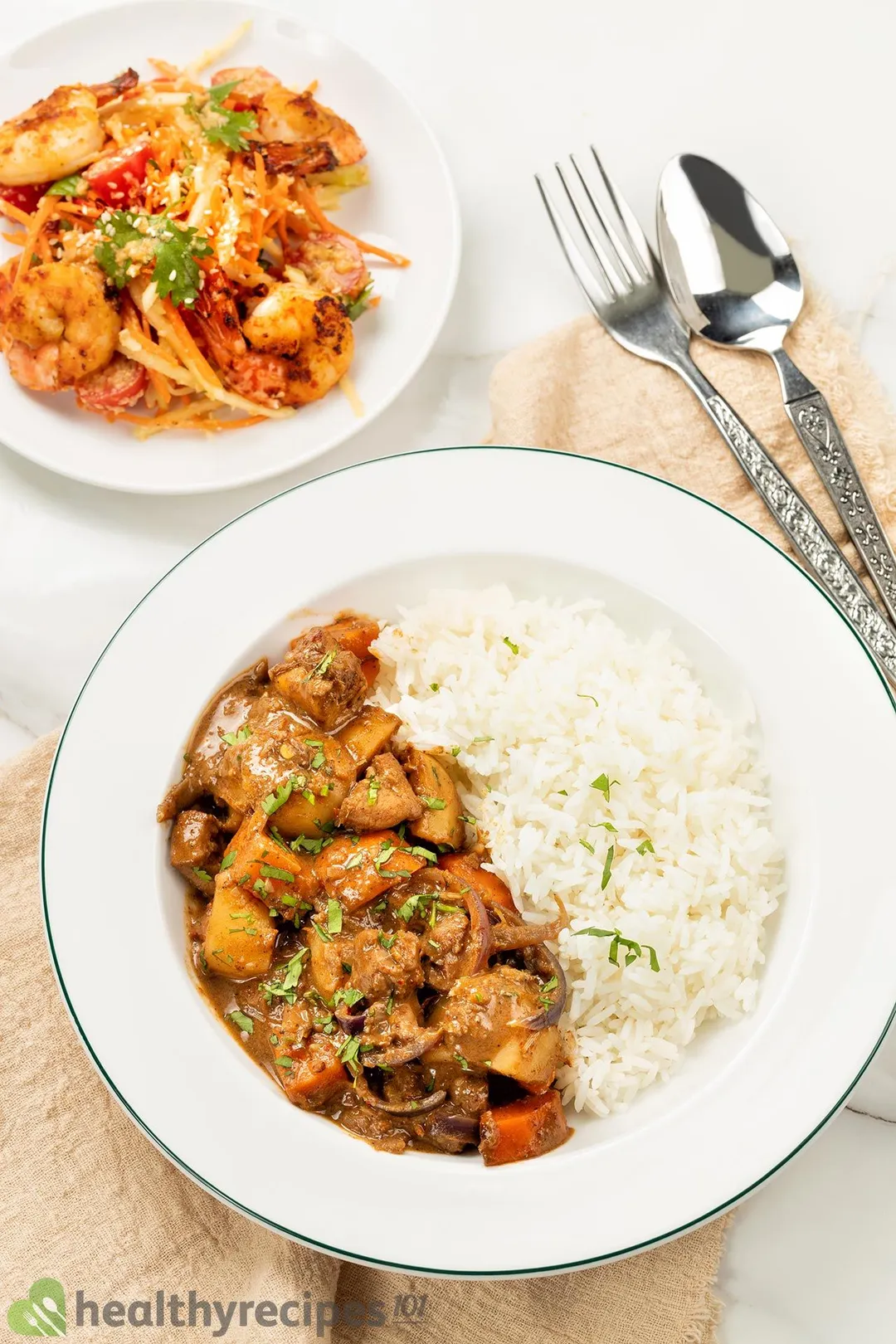 More Chicken Over Rice Recipes
Bring a new breeze to your diet with this easy, "homemade" takeout food. It's Kung Pao chicken, the saucy, spicy, nutty chicken and bell peppers skillet you know and love, plus the skillet full of sauce remains that you can mix rice in. These last spoonfuls are so heavenly siblings fight over them in Asian households.
That skillet pretty much represents Chinese cuisine, so we're now turning to a dish from another cuisine: Italian's chicken risotto. The chicken thighs are cooked until all chewy and gorgeous, and the risotto is simmered with cream until perfection. Chewiness is its highlight, and flavor is what it's full of.
Chicken Massaman Curry
This Chicken Massaman curry recipe is a great starter recipe for newcomers to Thai cuisine. Even when made from scratch, it is still the next best thing to being fresh off the farm.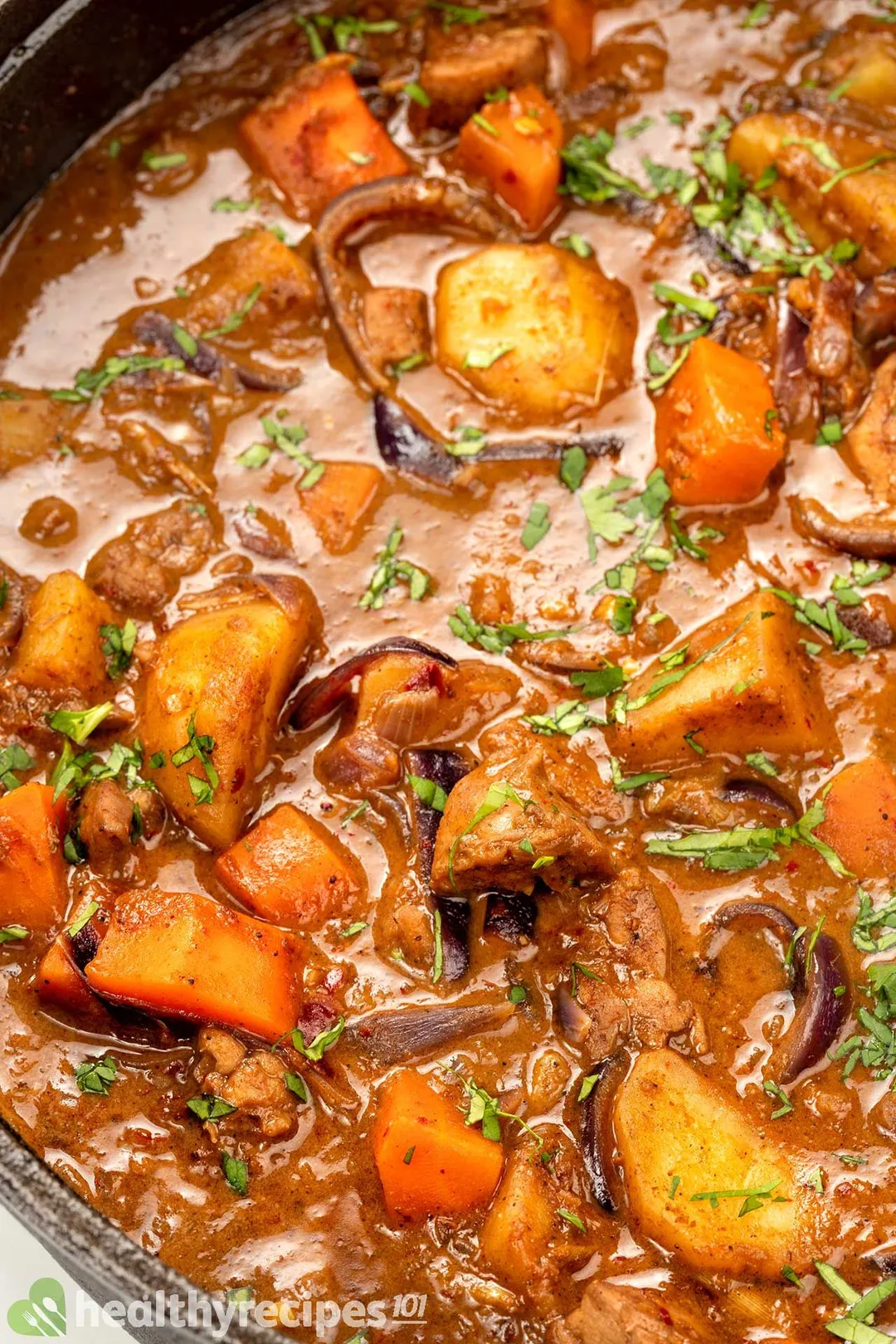 cook TIME

30 mins

prep TIME

10 mins

total TIME

40 mins
COURSE

Main Course

CUISINE

Asian, Thai

SERVINGS

CALORIES

495 kcal
INGREDIENTS
Massaman Paste:

0.5 oz

lemongrass

(chopped)

0.5 oz

galangal

(chopped)

1/2 tsp

ground coriander powder

1/2 tsp

ground cumin powder

1/4 tsp

ground white pepper

3

sun-dried hot chilies

(reduce if too hot)

Massaman Curry:

8 oz

skinless boneless chicken thighs

(cut into chunks)

14.5 oz

cooked medium-grain rice

8 oz

carrots

(cut into chunks)

6 oz

russet potatoes

(cut into chunks)

2 cups

unsalted chicken broth

4 tbsp

tamarind concentrate
INSTRUCTIONS
1
Add the massaman paste ingredients: 1 oz shallots, 0.5 oz lemongrass, 0.5 oz galangal, 0.25 oz cilantro roots, 0.5 oz garlic, 1/2 tsp coriander power, 1/4 tsp ground pepper, 3/4 tsp ground cinnamon, 1/4 tsp ground cloves, 1/8 tsp ground nutmeg, 1/4 tsp ground cardamom, and 3 sun-dried hot chillies to a food processor and blend until it becomes a coarse paste.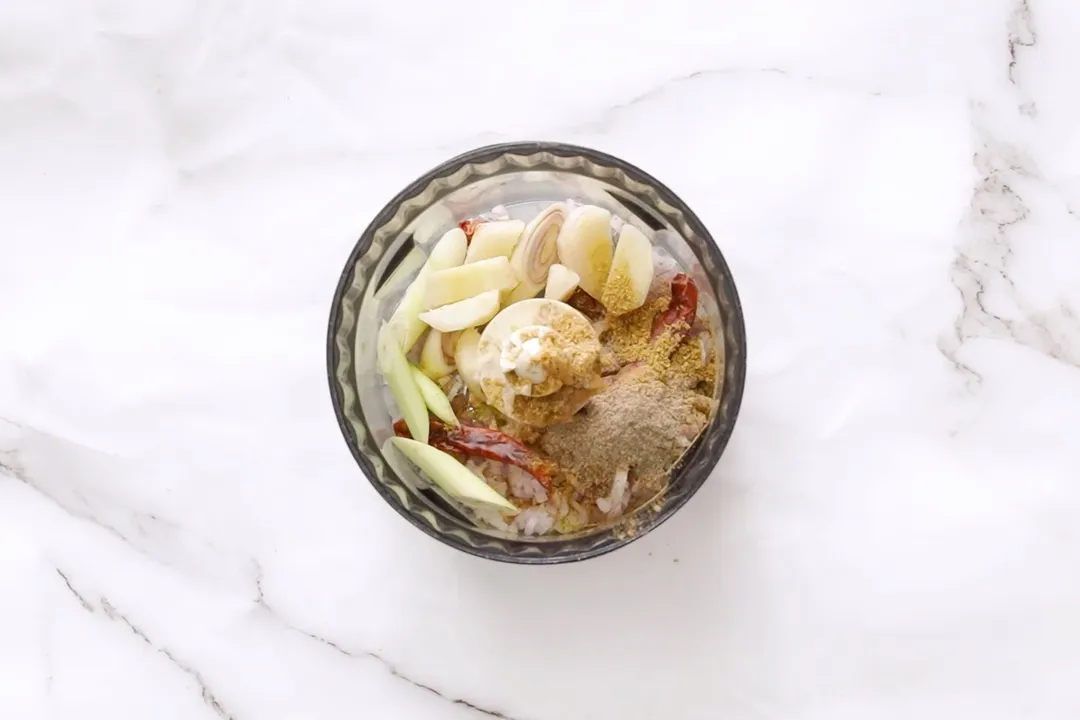 2
Heat olive oil in a nonstick pot over medium heat, and add 8 oz skinless boneless chicken thighs. Cook for 3 minutes both sides or until the chicken seems cooked on the outside, then take them out.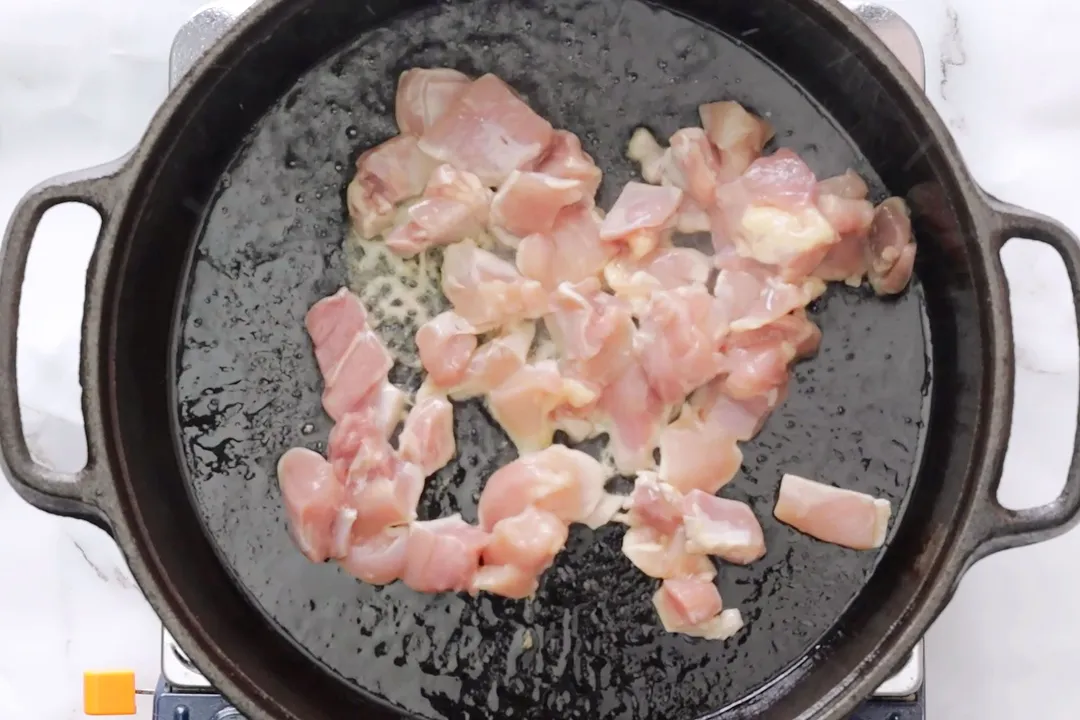 3
Add 6 oz russet potatoes, 8 oz carrots, and 6 oz red onions in and cook for 2 minutes.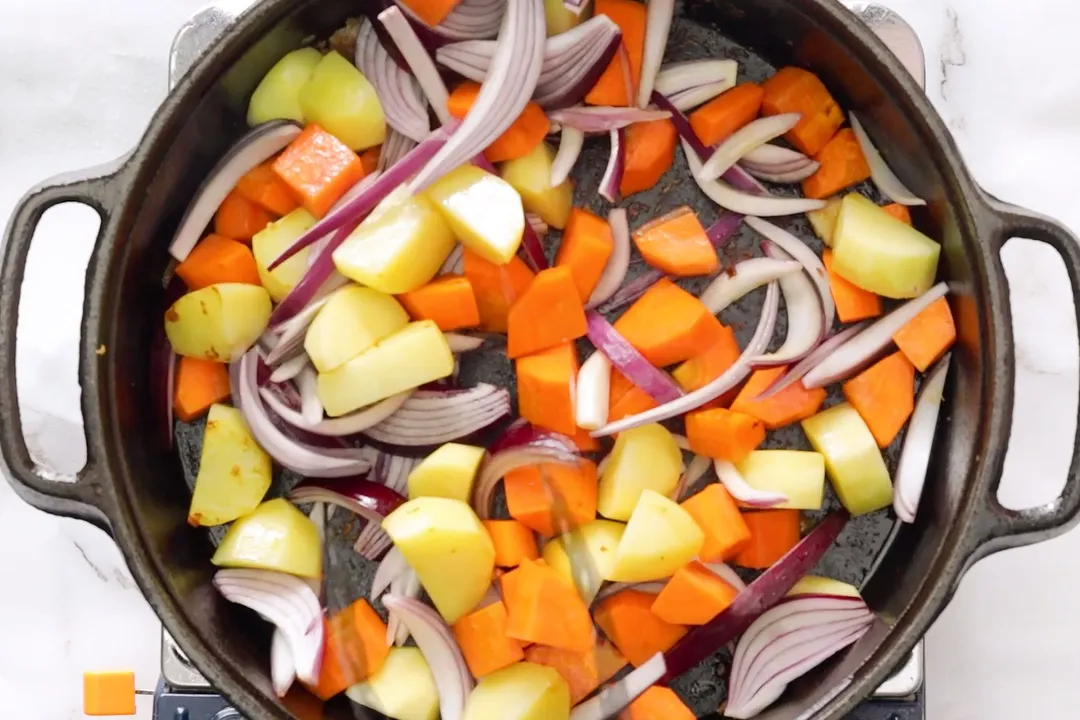 4
Put the chicken back in the pot, and add massaman paste. Cook for a minute.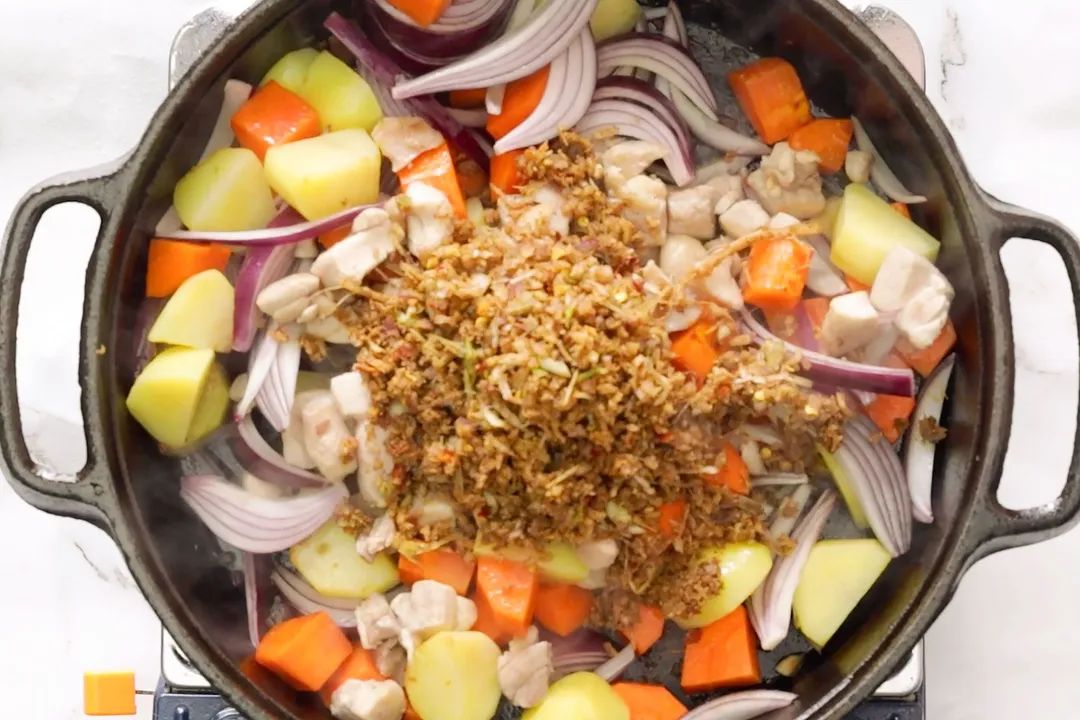 5
Add 2 cups unsalted chicken broth in, 2 tbsp red curry paste, 1 tbsp brown sugar, 1/4 tsp salt, 1 tsp paprika and cook over medium heat for 20 minutes, uncovered.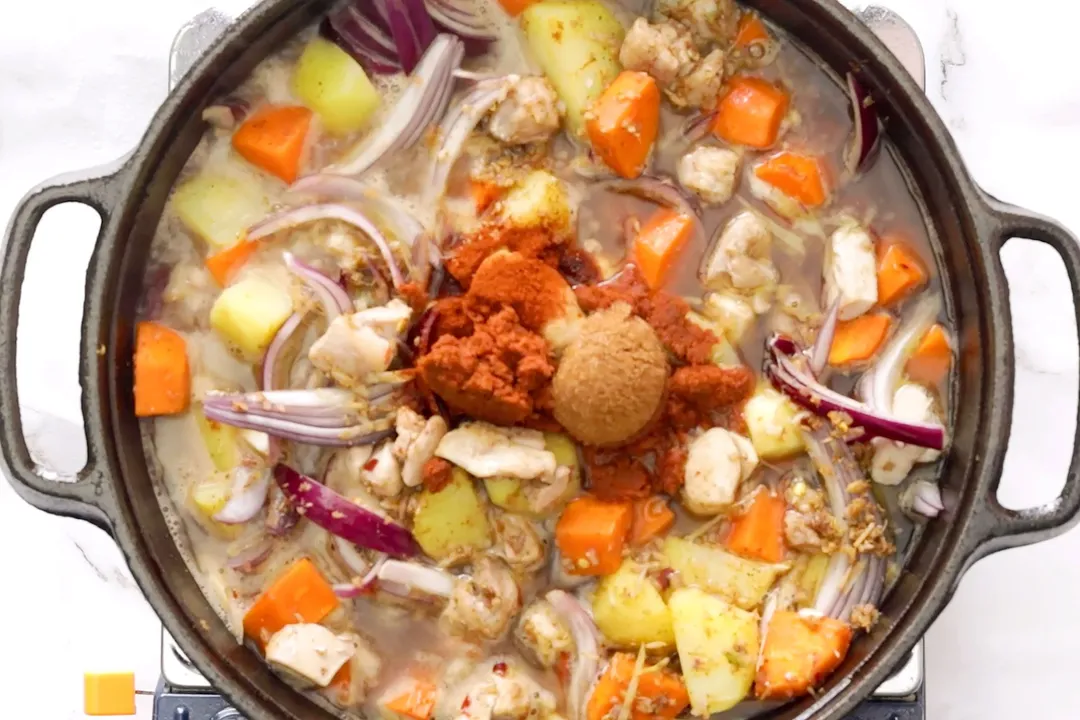 6
Add 1/2 tsp Thai fish sauce, 6 tbsp coconut milk, 1 tbsp peanut butter, and 4 tbsp tamarind concentrate. Stir to corporate, then turn off the heat.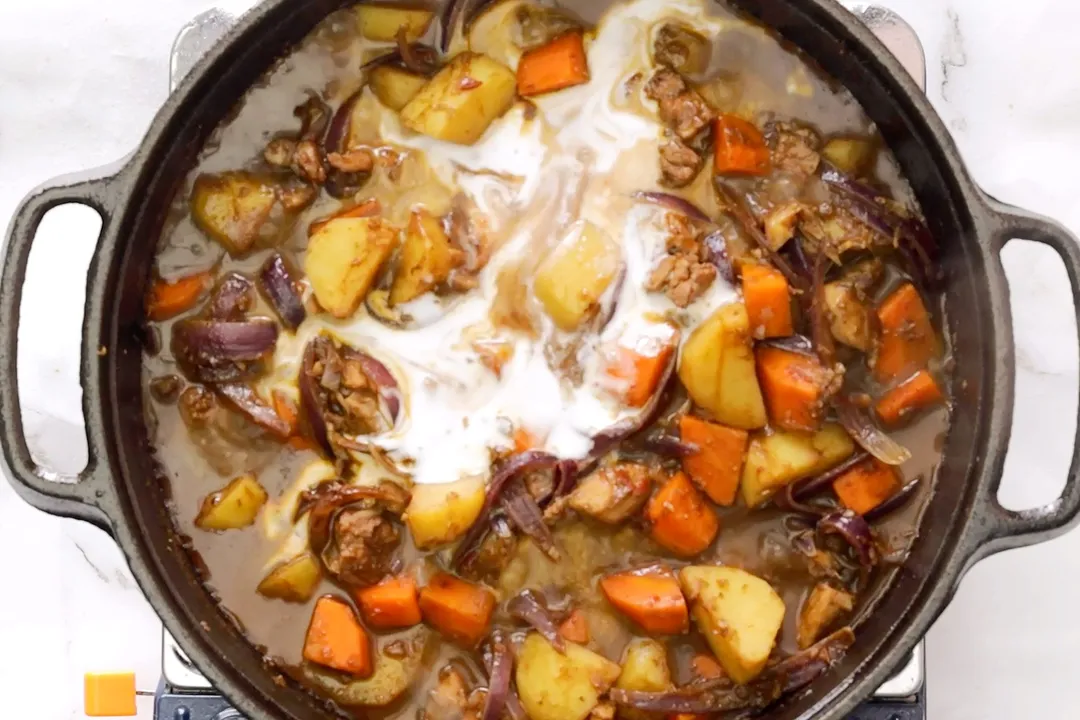 7
Serve with 14.5 oz cooked medium-grain rice.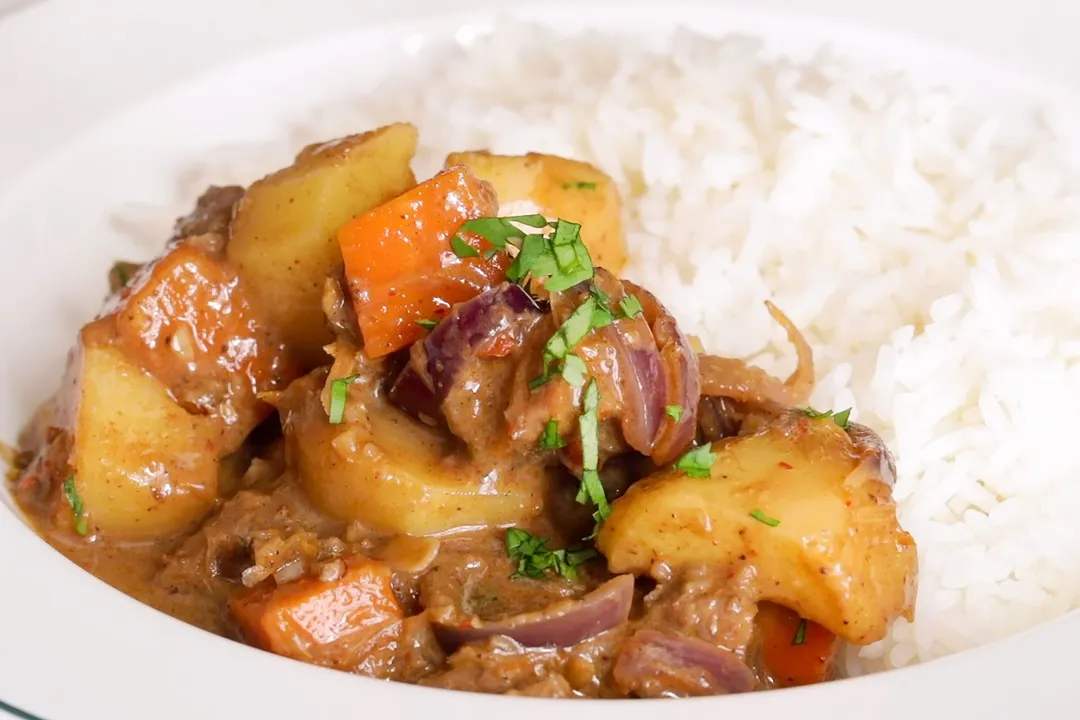 NUTRITION
Nutrition Facts
Chicken Massaman Curry
Amount Per Serving (1 serving)
Calories 495
Calories from Fat 126
% Daily Value*
* Percent Daily Values are based on a 2000 calorie diet.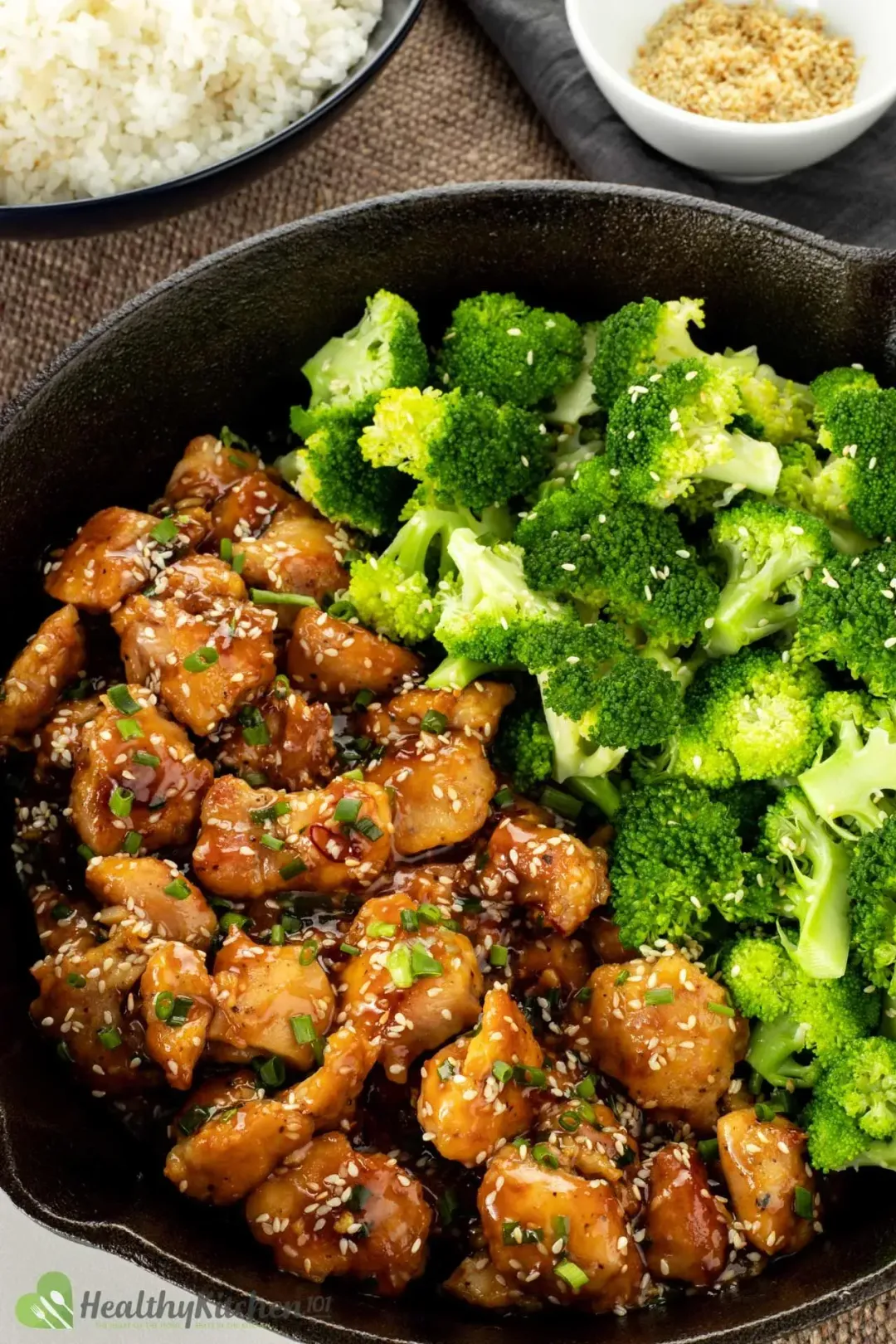 Previous Recipe
Honey Sesame Chicken
Honey Sesame Chicken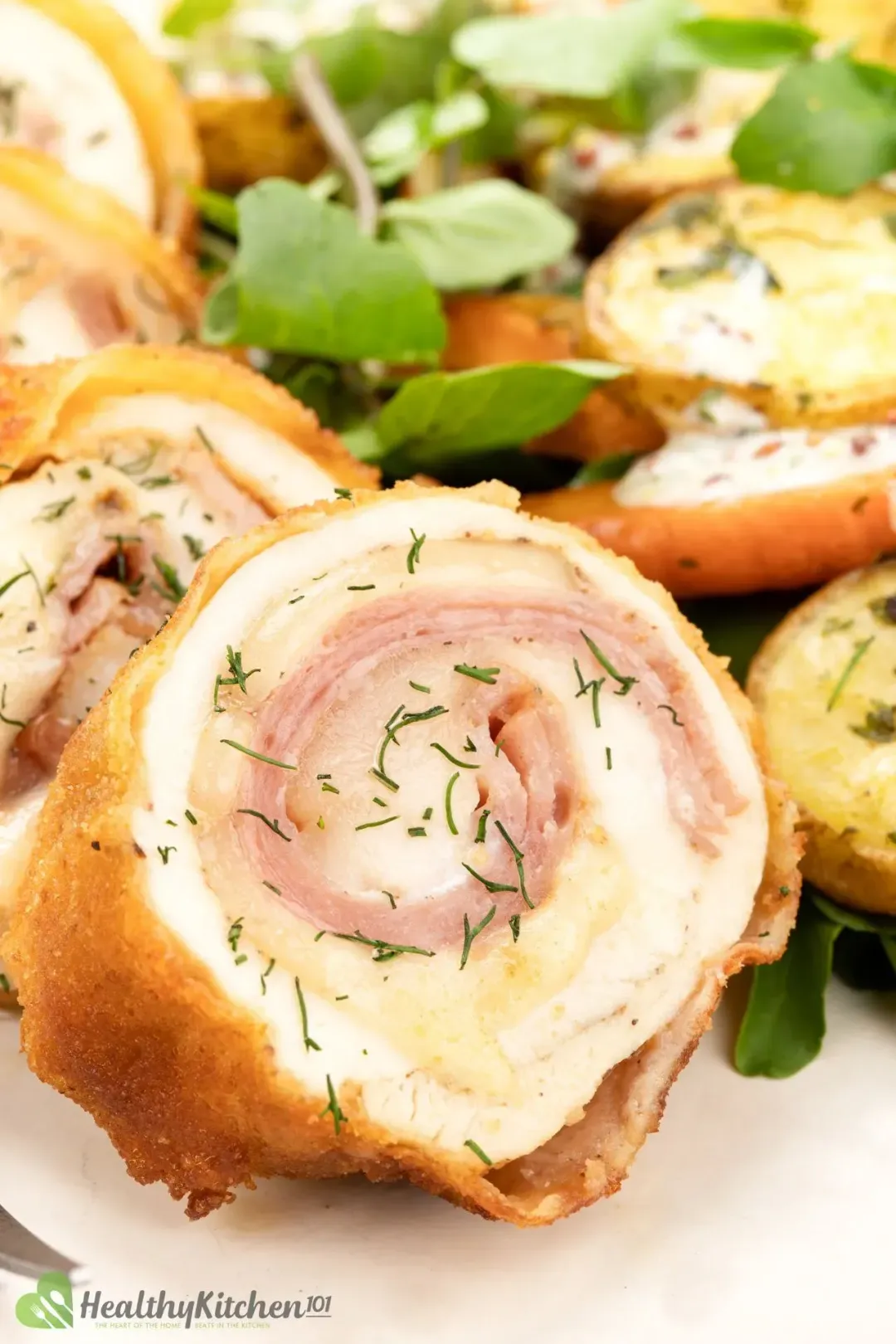 Next Recipe
Chicken Cordon Bleu
Chicken Cordon Bleu
Head Chef, Culinary Consultant
Tuyet Pham is an award-winning Saigonese chef who believes that joy is the secret ingredient to delicious food. At Healthy Recipes 101, Tuyet personally tests and simplifies every recipe, ensuring maximum flavor with minimal effort. With a background at prestigious French restaurants P'TI Saigon and Le Corto, Tuyet knows how to make every dish exceptional.
Writer, Author
Luna Regina is an accomplished writer and author who dedicates her career to empowering home cooks and making cooking effortless for everyone. She is the founder of HealthyKitchen101.com and HealthyRecipes101.com, where she works with her team to develop easy, nutritious recipes and help aspiring cooks choose the right kitchen appliances.
Nutrition Reviewer
Lizzie Streit is a Minneapolis-based dietitian and founder of It's a Veg World After All. She completed her MS in Human Nutrition from Drexel University, and is an expert in culinary nutrition, recipe development, and nutrition communications. Lizzie's philosophy is centered around making nutrition recommendations, and especially the advice to eat more vegetables, approachable and realistic. She is excited to be working with the team at Healthy Recipes 101 to ensure that their recipes are both nutritious and delicious.
These photos are incredibly stunning. And I can only imagine how incredibly delicious it is!

Aww thanks Valentina, glad my photos gave you chills! It is indeed yummy, you won't believe how my fam devours it everytime 😀

Flavorful and comforting chicken Massaman curry.