Are you looking for something flavorful, super saucy, yet simple to make? Our chicken enchilada soup might just be for you. We're throwing together enchilada ingredients you love to make a spicy, flavorful soup.
How Good Is Enchilada Soup?
Chicken enchiladas are chewy and tasty and all, but they do take quite a while to prepare. Well, if it's just the taste of it that you crave, this soup is the perfect thing to make. It takes 10-15 minutes less to make than a typical chicken enchiladas, and basically has it all.
In the tomato broth, we have garlic, onion, chicken, beans, and corn all properly cooked. That means before the broth is added, we make sure to let them heat to the point they're charred to give them more flavor. To season the broth, except for the salt, we do not hold back on seasonings: there are cumin, cayenne, paprika, garlic powder, onion powder, and many more. We even add a dollop of tomato paste in there, to deepen the tomato-y flavor we all know and love.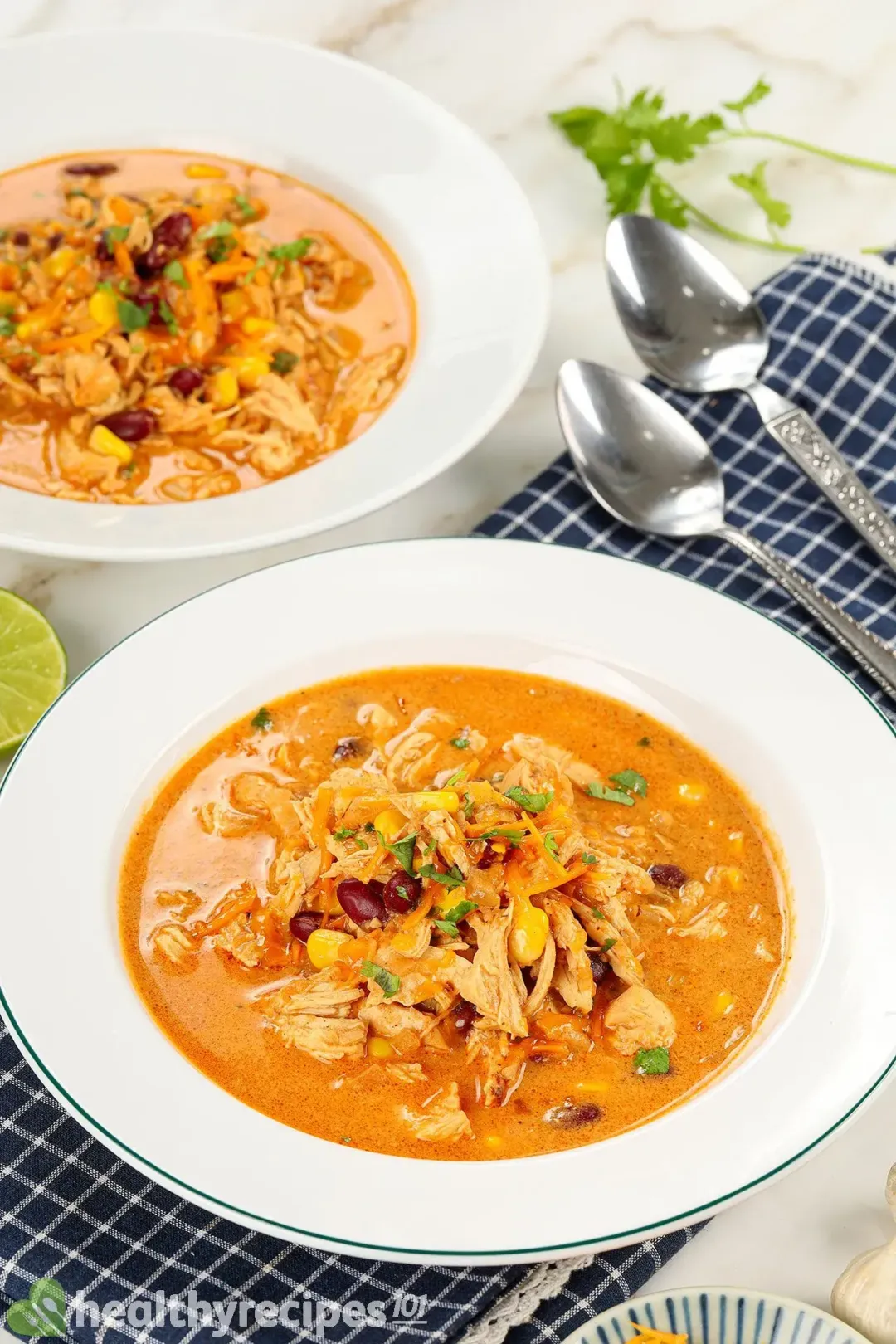 All is topped with fresh herbs, shredded cheddar, and sour cream, just like how the classic enchiladas are enjoyed.
How Healthy Is This Soup?
With less salt and cheese than many recipes, our soup is lower in sodium and saturated fat. One portion contains 530 mg sodium, 10 g saturated fat, and around 450 calories. It's still pretty tasty and fulfilling, in our opinion.
Apart from that, the soup also has certain health benefits:
It has 38.4 g protein per serving coming from the beans and lean chicken breasts. 
There's 21.4 g carbohydrates from corn and beans, all of which are non-refined.
Corn and beans contain some fiber to aid digestion and promote satiety.
All ingredients combined provide B vitamins, vitamin C, magnesium, iron, phosphorus, potassium, etc.
Main Ingredients
Chicken breasts: skinless, boneless. You can also use chicken thighs.
Kidney bean and corn: canned. Give them a quick rinse to remove the salt before using.
Onions and garlic: and some butter to cook them.
Tomato sauce: unsalted. We couldn't find any locally, so we made it ourselves in advance. It's already pretty good, but for this recipe, we add some tomato paste as well to amplify the tomato flavor.
Spices and seasonings: garlic powder, onion powder, cumin, cinnamon, mustard, paprika, cayenne, chili powder, salt, and pepper. Mustard isn't typically used, but it adds plenty of savoriness.
Cheese: cheddar and cream cheese.
Broth: chicken broth.
Herbs: fresh cilantro or parsley.
Lime juice: to your preference.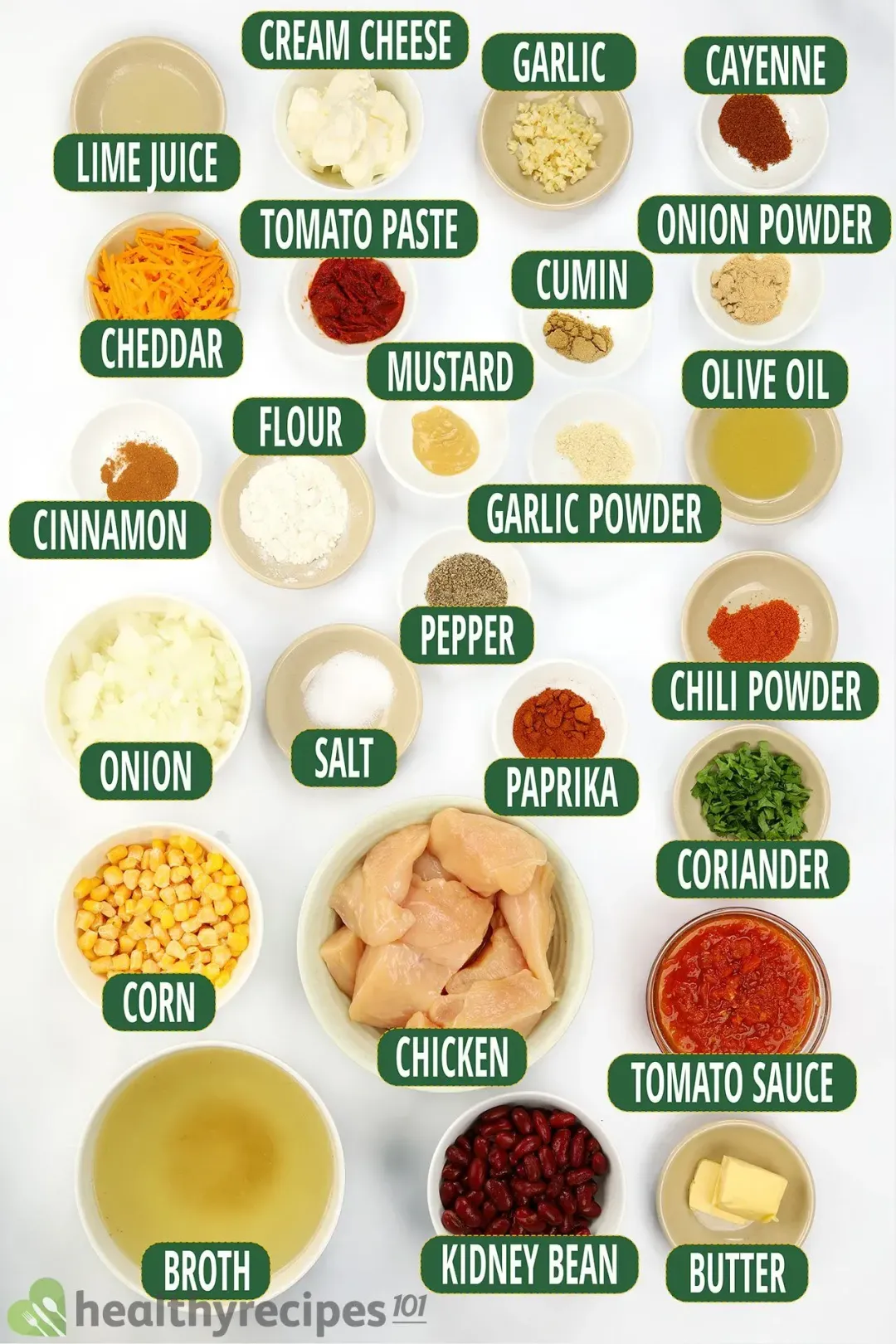 Store and Reheat
The enchilada soup stores and reheats more easily than the classic enchiladas:
Divide the soup into portions, and store each portion in an airtight container. It can be a glass container or a sealable bag.
Place the containers into your fridge or freezer. Keep refrigerated for four days only, or frozen for up to three months.
Transfer the portion(s) to a pot for reheating. Turn the heat to medium, wait until it simmers, then transfer it into serving bowl(s). Enjoy.
Easy Chicken Soups to Make
Leftover rotisserie chicken is dry and unpleasant, but it can be reused for our lemony chicken rice soup recipe. We call it "lemony" because not only is it bright and tangy, but the lemon slices also impart a citrusy, therapeutic aroma.
And on cold nights or when you're sick, allow this ground chicken soup recipe to keep you company. It carries a wholesome sensation that will warm you right up, with tender meat and colorful vegetables all simmered in chicken broth and hearty spices.
How to Make Chicken Enchilada Soup
This chicken enchilada soup recipe takes just 30 minutes to give you a flavorful, wholesome soup for four people. It's as flavorful as the real-deal enchiladas.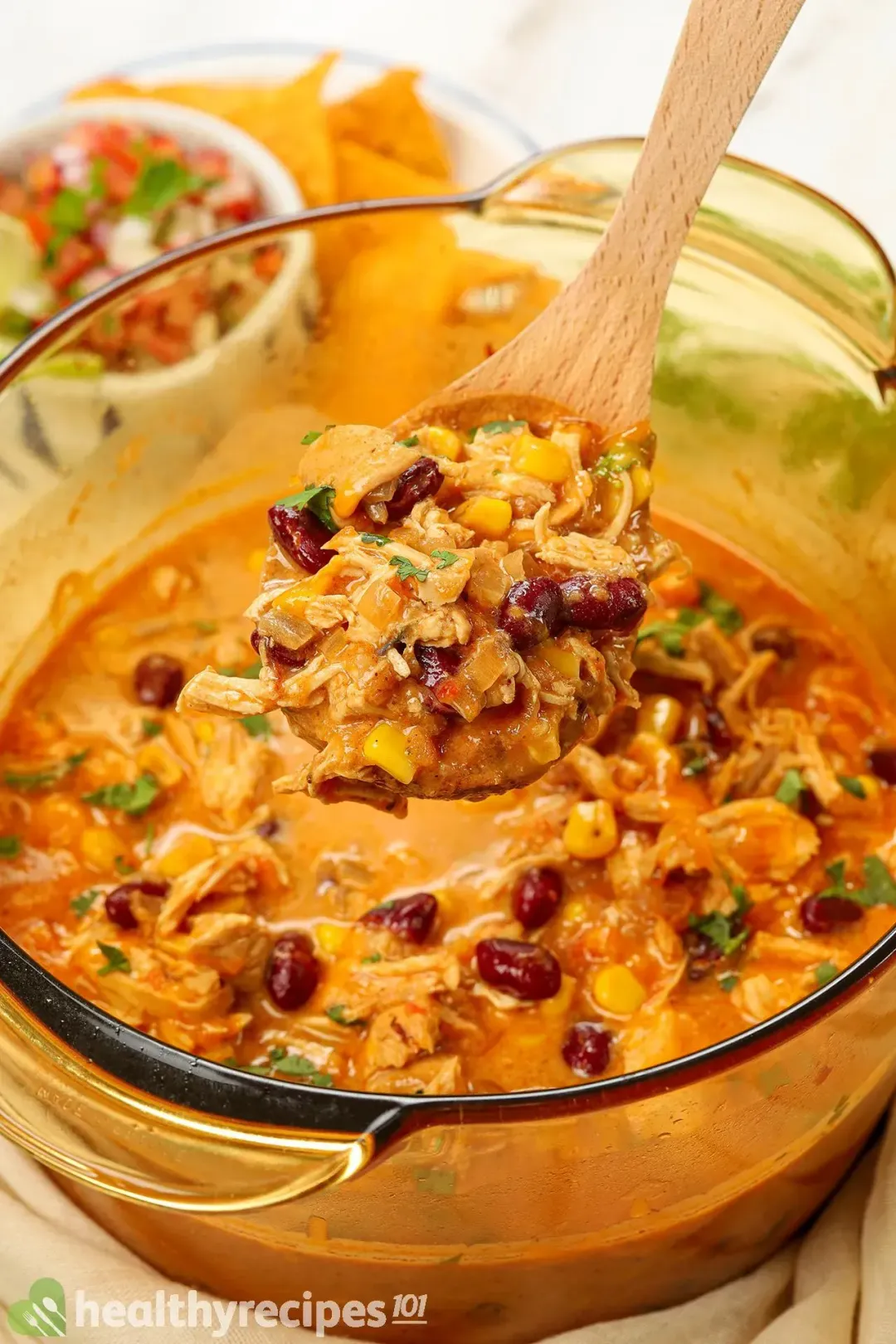 cook TIME

25 mins

prep TIME

5 mins

total TIME

30 mins
COURSE

Main Course

CUISINE

Mexican

SERVINGS

CALORIES

449 kcal
INGREDIENTS
19 oz

skinless boneless chicken breast

(cut into chunks)

4 oz

unsalted dark red kidney beans

(drained and rinsed)

4 oz

canned corn

(drained and rinsed)

1 oz

cheddar cheese

(shredded)

2 cups

unsalted chicken broth

1/2 cup

homemade tomato sauce

1 tbsp

Hunt's tomato paste

1 tsp

traditional Dijon mustard

1/2 tsp

ground black pepper

1/4 cup

cilantro

(chopped)
INSTRUCTIONS
Prep:
1
Cut the chicken into 2" chunks.
2
Drain and rinse 4 oz corn.
3
Drain and rinse 4 oz kidney beans.
4
Peel and mince the garlic: Cut to remove the root of each garlic clove and mash them down with a knife to remove the peel with ease. Mince the peeled cloves.
5
Chop the onion: Halve the onion lengthwise and peel the skin. Make vertical slices 1/4" apart from each other towards the root, but leave about 1/4" so they're still intact. Turn the half 90 degrees, and grip the root. From the bottom, make horizontal cuts 1/4" apart from each other into the onion, also leaving 1/4" to keep everything intact. Slice the onion to create even cubes.
6
Shred 1 oz cheddar cheese.
Cook:
1
Cook the aromatics: In a pot, add 1 tbsp olive oil, 2 tbsp unsalted butter, 4 oz onion, and 1 tbsp garlic. Turn the heat to medium and stir for 2 minutes.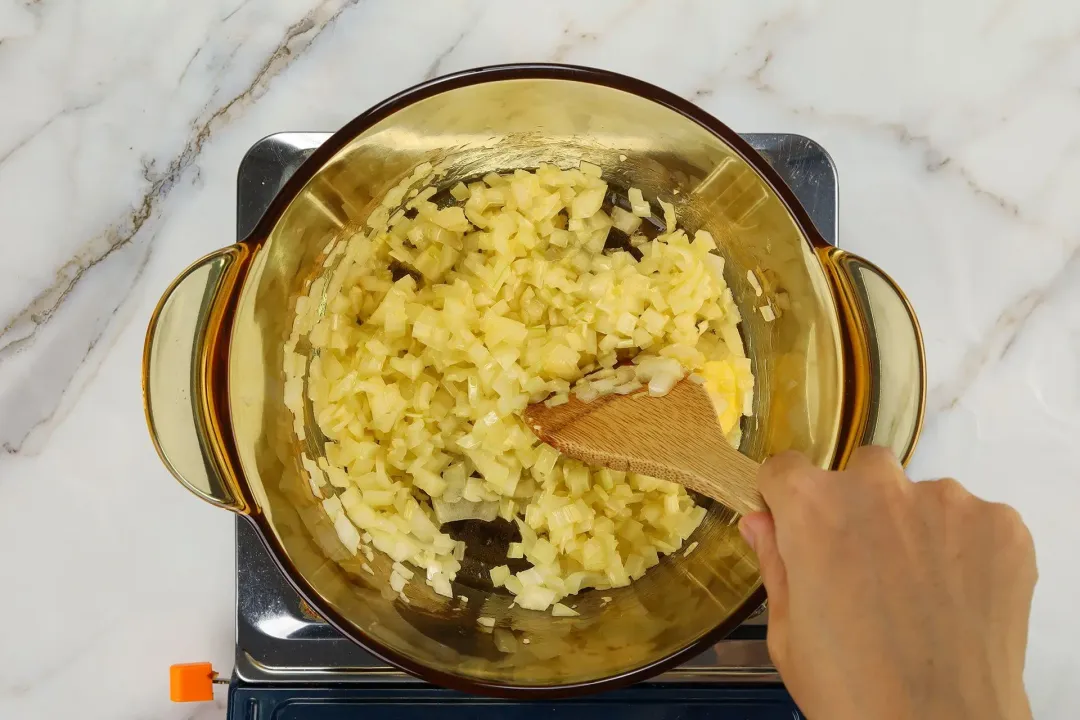 2
Cook the chicken: Add 19 oz skinless, boneless chicken breast and stir to cook for 5 minutes or until the meat looks cooked on all sides.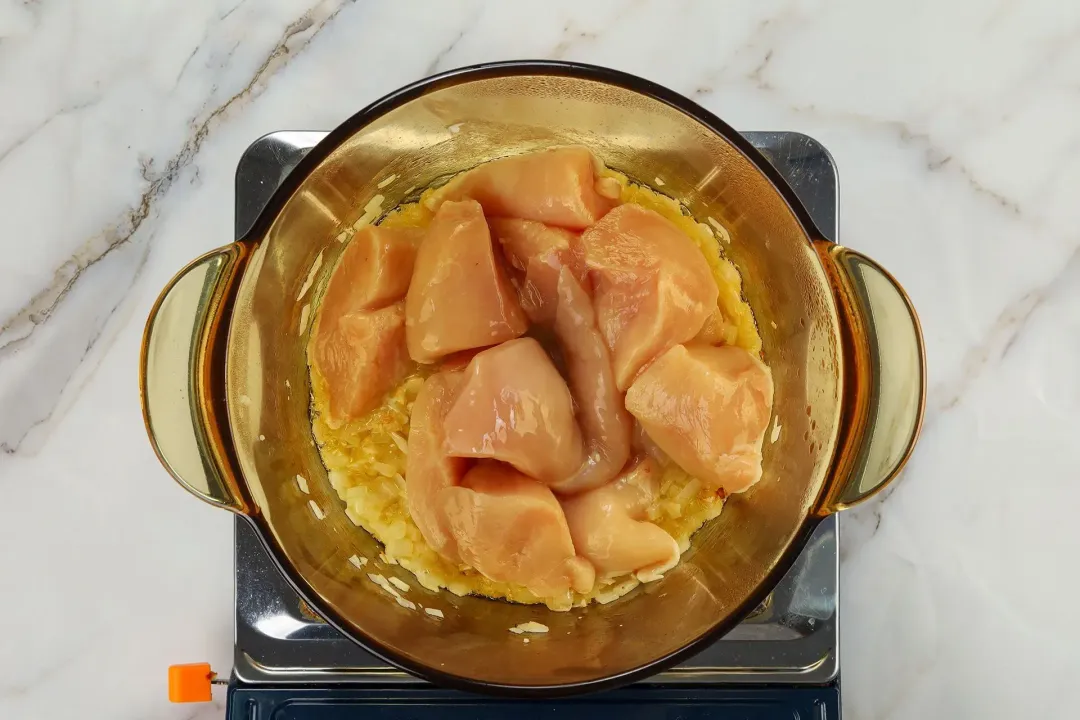 3
Add the seasonings: Add 1 tbsp all-purpose flour, 1 tsp cayenne, 1 tsp paprika, 1 tsp traditional Dijon mustard, 1/2 tsp ground black pepper, 1/2 tsp salt, 1/2 tsp cumin, 1/2 tsp chili powder, 1/2 tsp garlic powder, 1/2 tsp onion powder, and 1/4 tsp cinnamon. Stir to combine.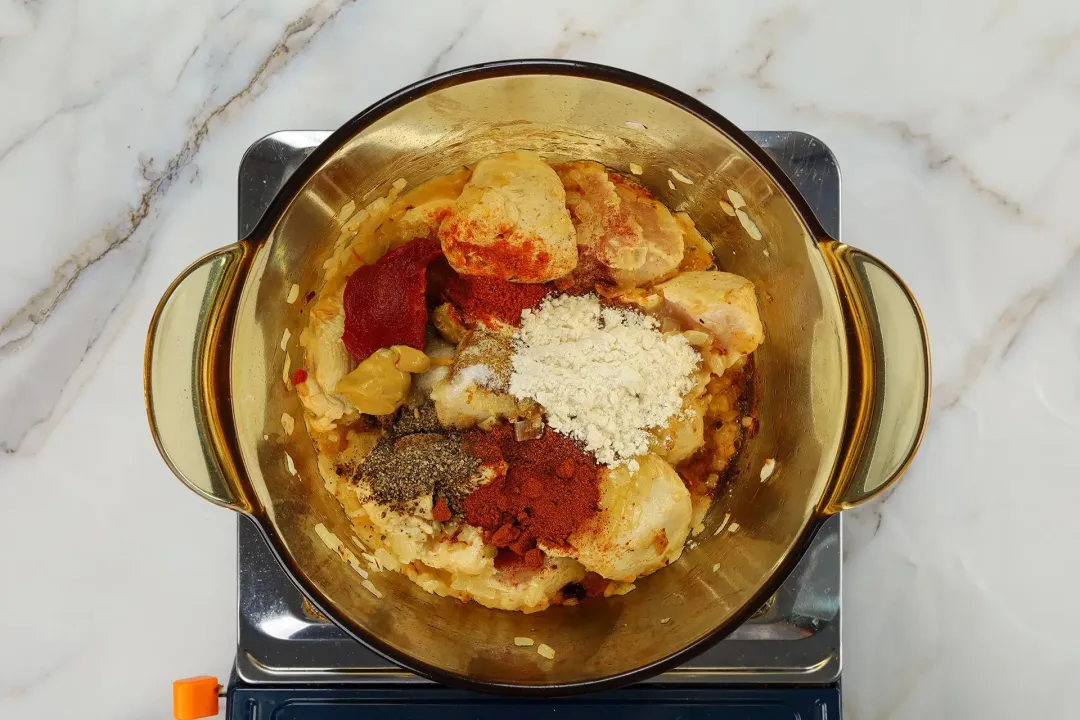 4
Add the liquids: Add 2 cups unsalted chicken broth, 1/2 cup homemade tomato sauce, 1 tbsp Hunt's tomato paste, and 1 tbsp lime juice. Stir to combine and simmer on medium heat for 15 minutes.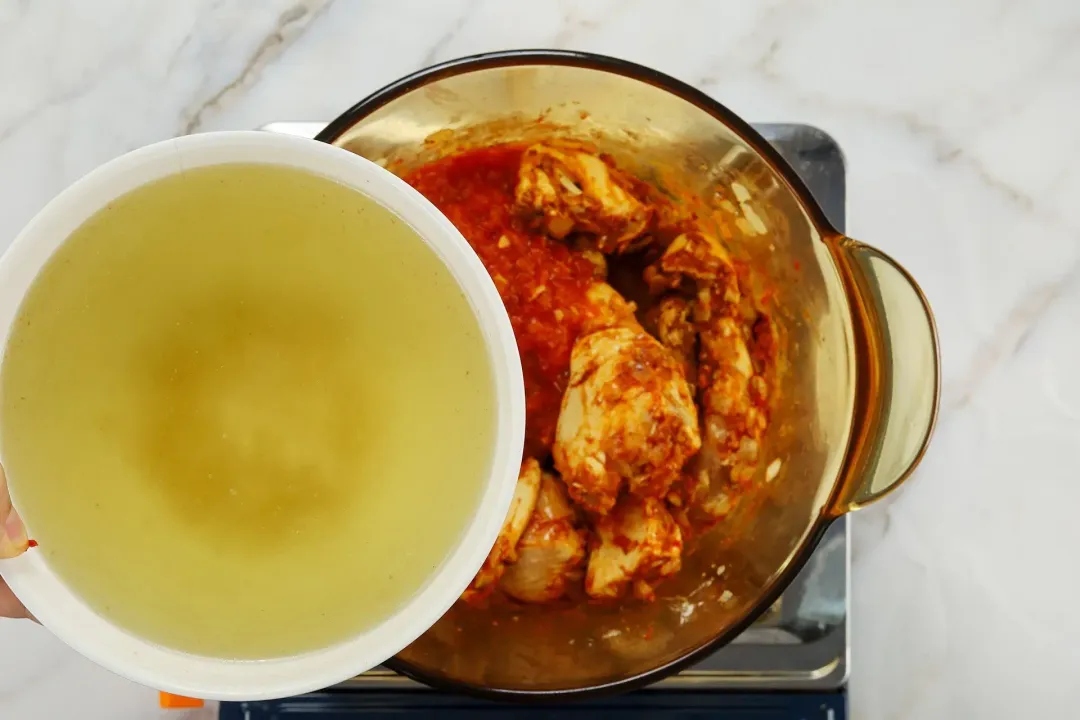 5
Shred the chicken: Transfer the chicken chunks to a large bowl, and shred them with two forks.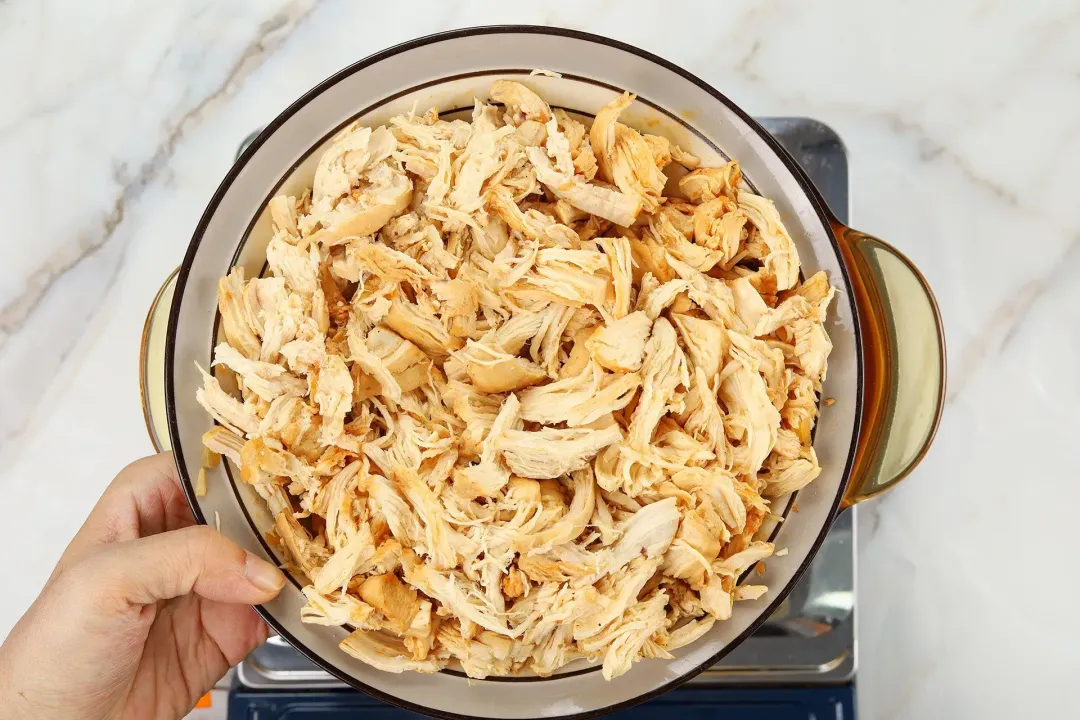 6
Add corn and beans: Add the chicken back to the pot along with 4 oz kidney beans and 4 oz corn. Stir to combine.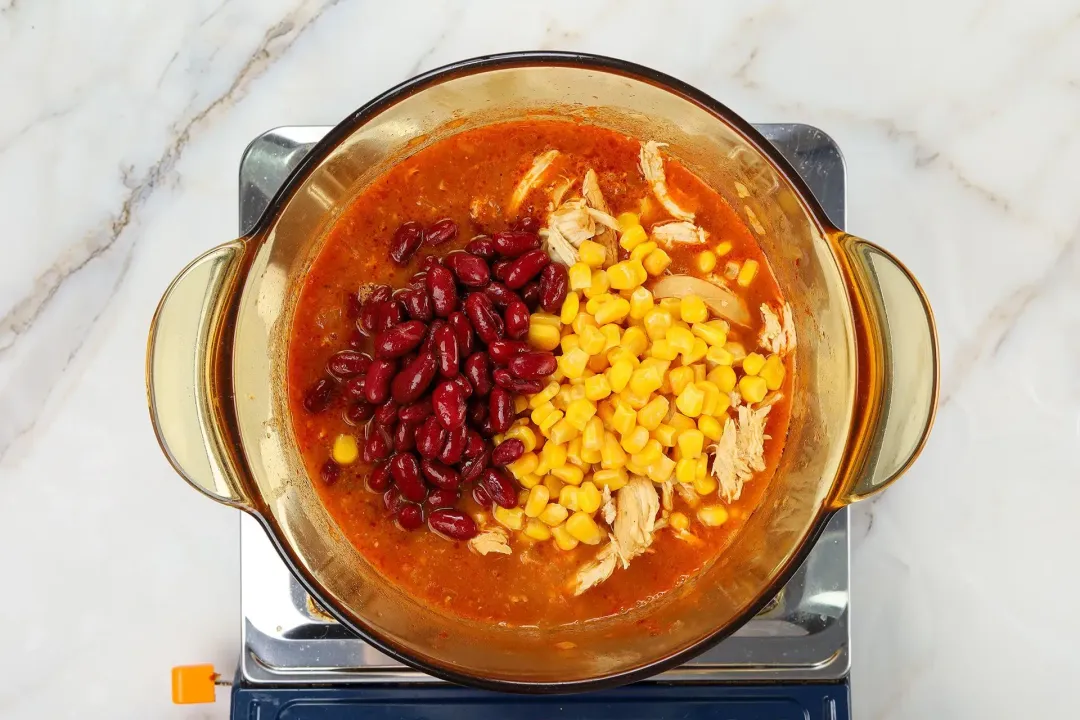 7
Add cream cheese: Stir in 2 oz cream cheese until it melts into the broth, then turn off the heat.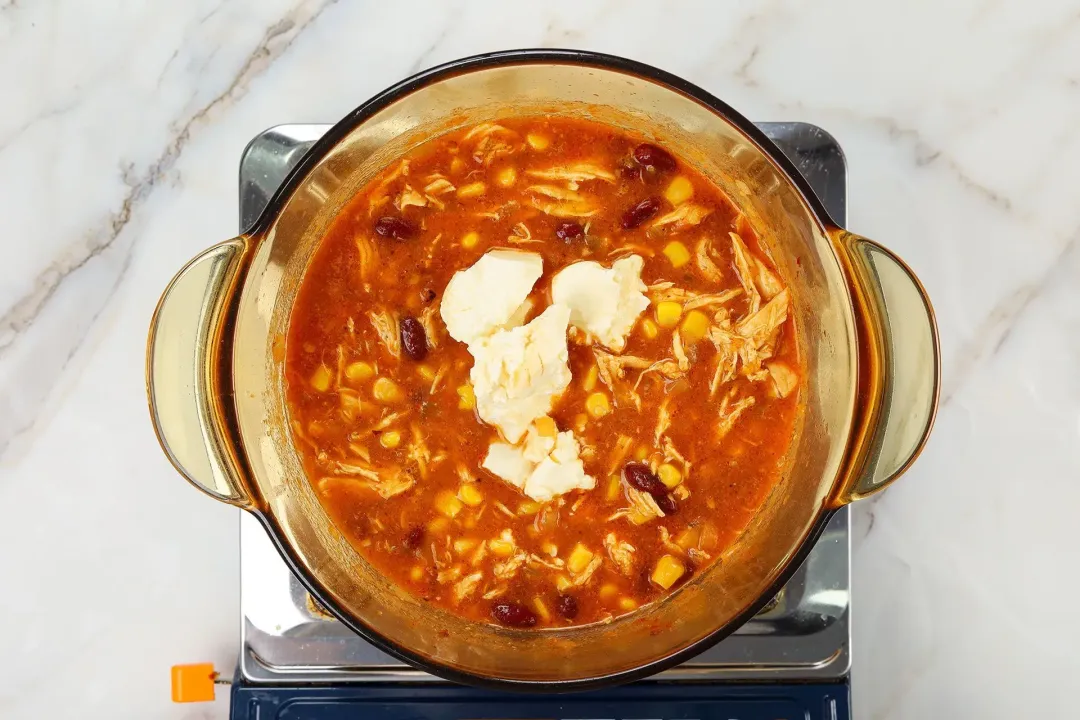 8
Serve: Just before serving, sprinkle 1/4 cup cilantro on top. Ladle the soup into serving bowls and top with 1 oz cheddar and more lime juice (to your desire).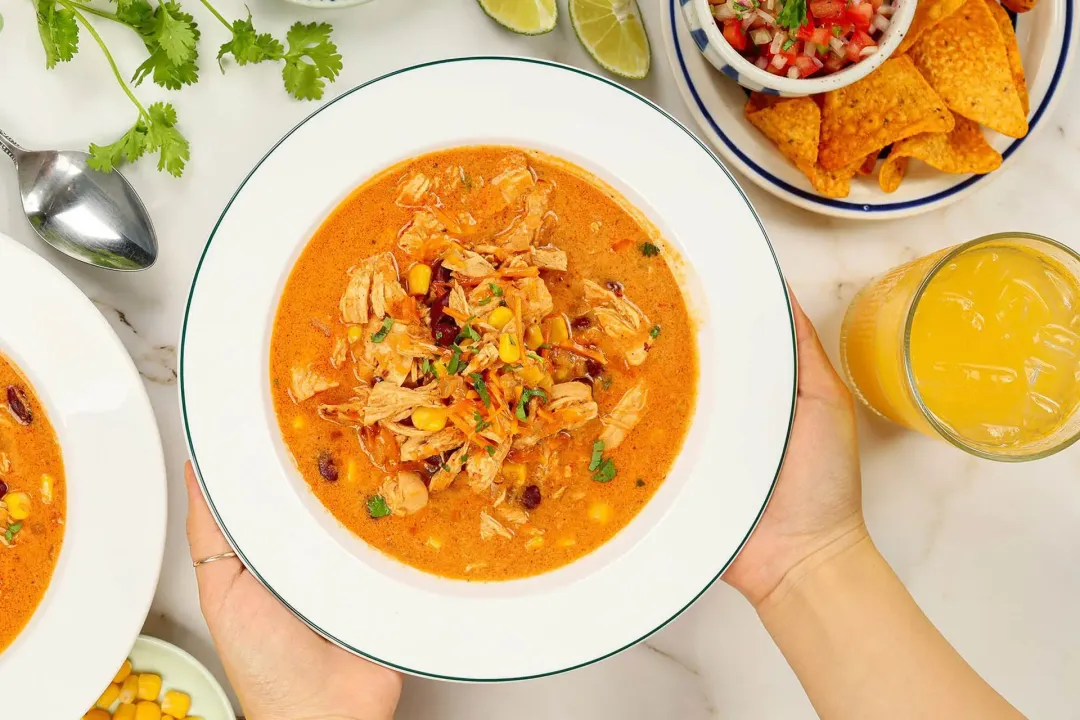 NUTRITION
Nutrition Facts
How to Make Chicken Enchilada Soup
Amount Per Serving (1 serving)
Calories 449
Calories from Fat 214
% Daily Value*
* Percent Daily Values are based on a 2000 calorie diet.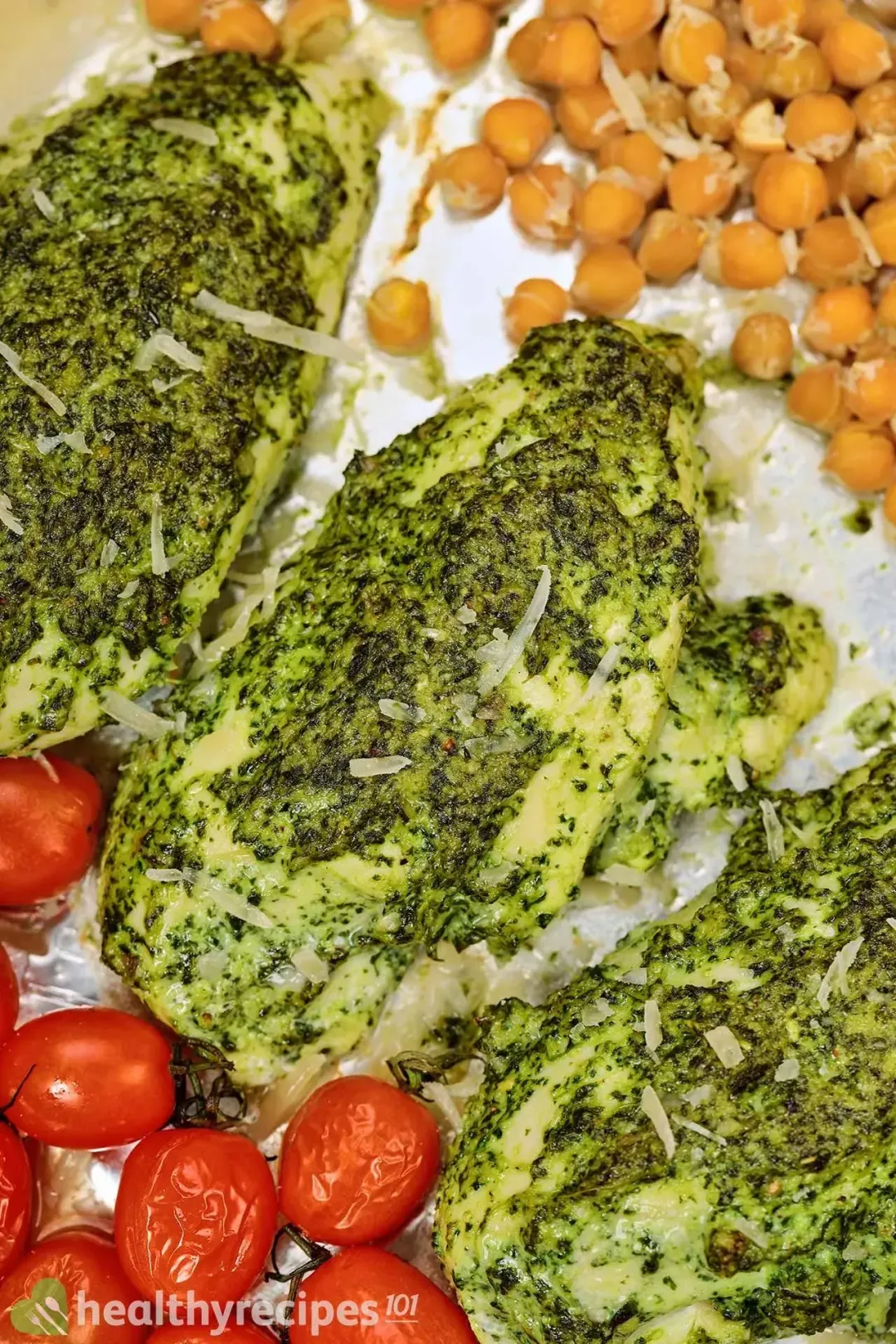 Previous Recipe
Pesto Chicken
Pesto Chicken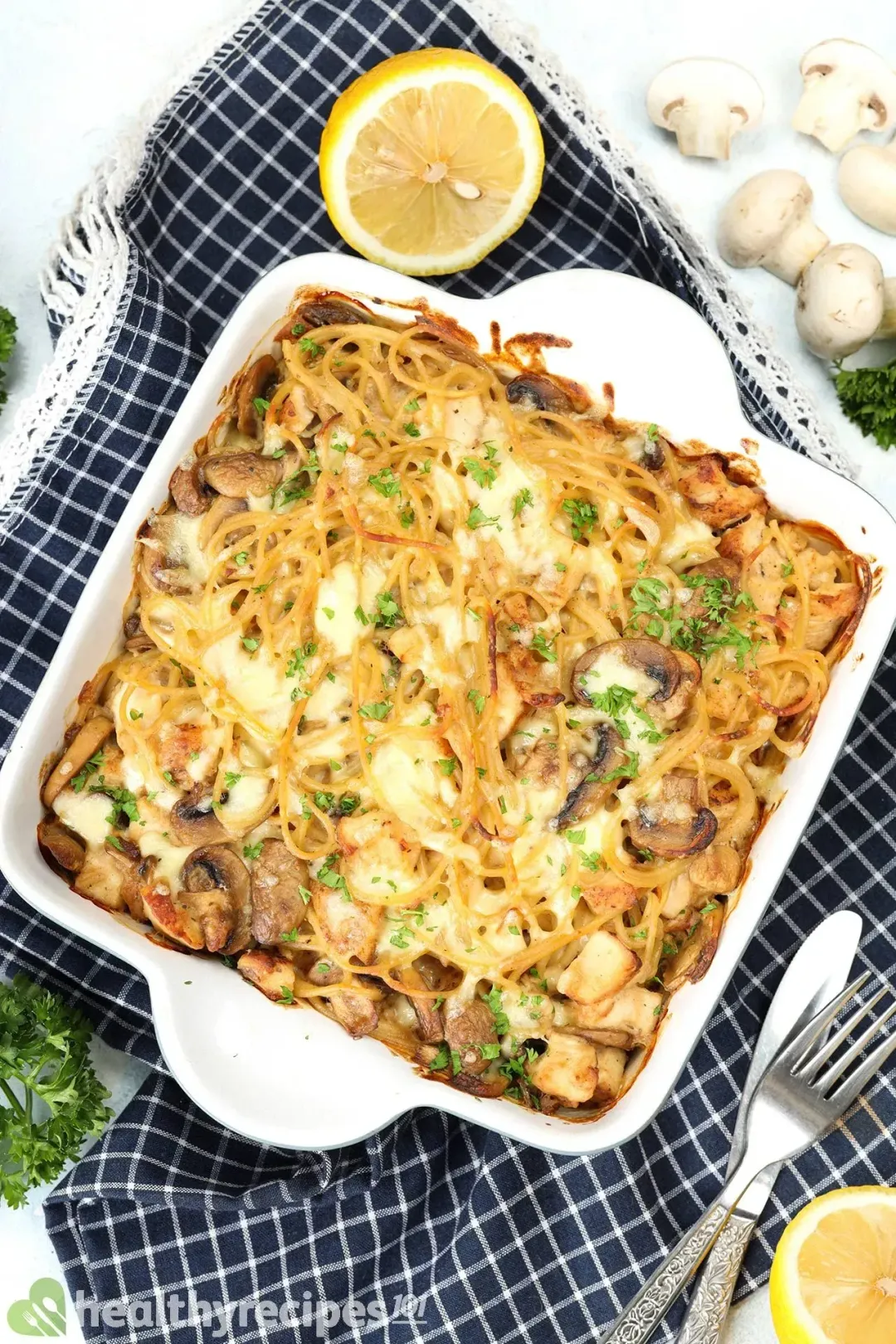 Next Recipe
Chicken Tetrazzini
Chicken Tetrazzini
Head Chef, Culinary Consultant
Tuyet Pham is an award-winning Saigonese chef who believes that joy is the secret ingredient to delicious food. At Healthy Recipes 101, Tuyet personally tests and simplifies every recipe, ensuring maximum flavor with minimal effort. With a background at prestigious French restaurants P'TI Saigon and Le Corto, Tuyet knows how to make every dish exceptional.
Writer, Author
Luna Regina is an accomplished writer and author who dedicates her career to empowering home cooks and making cooking effortless for everyone. She is the founder of HealthyKitchen101.com and HealthyRecipes101.com, where she works with her team to develop easy, nutritious recipes and help aspiring cooks choose the right kitchen appliances.
Nutrition Reviewer
Natalie Butler is a registered dietitian nutritionist with a passion to help others live their best life through food, fitness, safer beauty and a healthy lifestyle. She has expertise with a variety of diets and diseases and believes that there is no one-size-fits-all approach for health.
a delicious and hearty soup that's perfect for chilly days. The recipe is easy to follow and the result is a flavorful and satisfying meal.