Let this ground chicken soup recipe keep you company on those cold nights or when you're feeling under the weather. With tender meat and colorful veggies all simmered in chicken broth and hearty spices, it carries a wholesome sensation that will warm you right up.
What's more, since it's so easy to make with only simple ingredients, you won't have any trouble putting together a big, budget-friendly pot for the whole family to enjoy.
Why You Should Make This Soup
Packed With Wholesome Flavors
With an abundance of veggies, meat, and hearty spices, this soup is packed with deliciously warming flavors—an ideal dish for all those cold nights or sick days when you just really need something comforting to soothe the soul.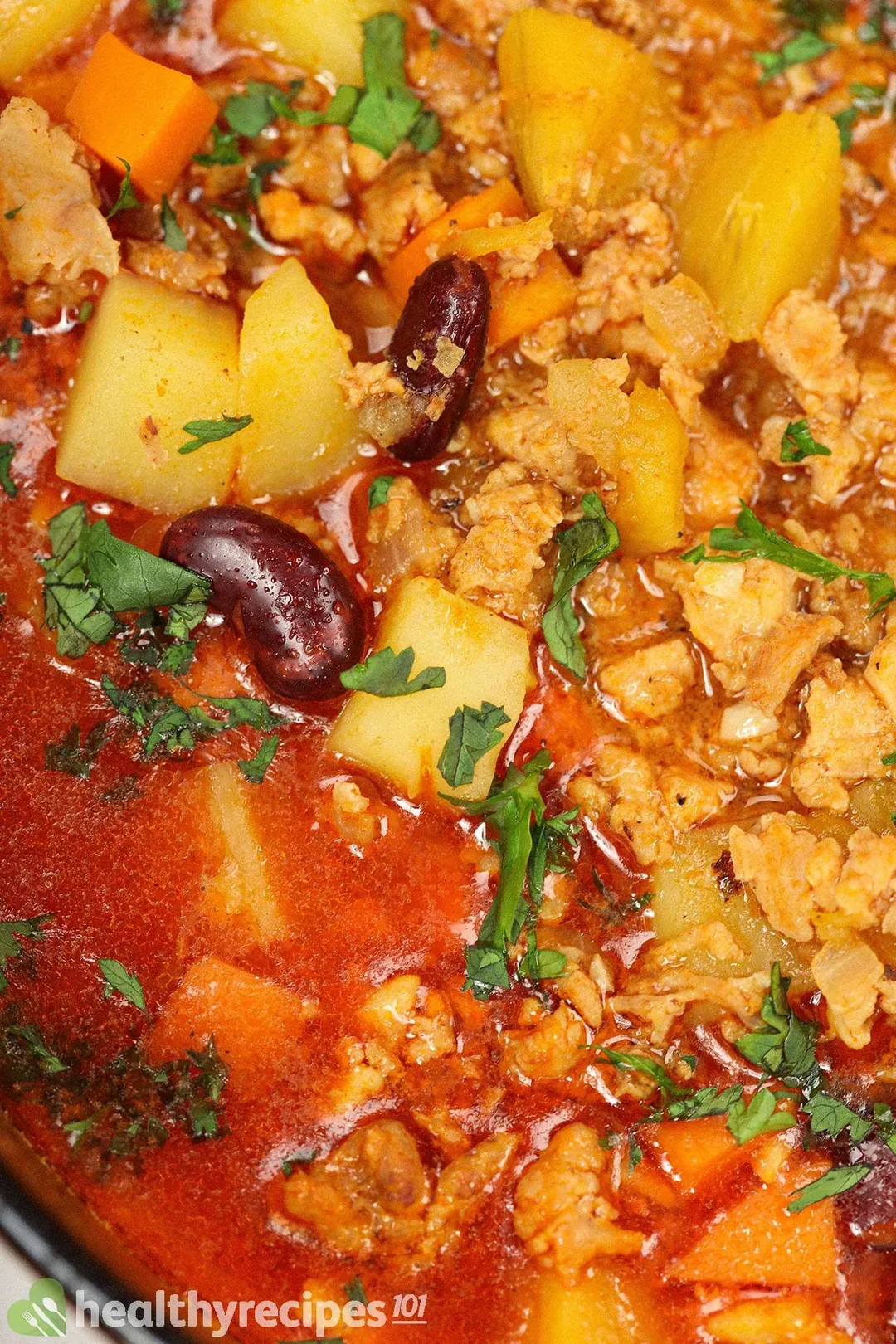 This soup leaves a lot of room for adjustment and adaptation. Feel free to switch out the veggies from this recipe for your favorite varieties, use a different type of meat, or add some noodles and pasta. Don't be afraid to play with the ingredients to come up with your own version of this homemade staple soup.
A pot of soup filled to the brim with colorful veggies and pieces of ground chicken may give the impression of requiring a lot of hard work, but that's far from the truth. Everything comes together in just one pot in half an hour with little preparation and even less cooking. All you need to do is stir and let the food simmer to perfection.
Ingredients You'll Need
This soup is quite budget-friendly, so you won't find anything other than pantry staples in this recipe. In fact, we believe you may already have most of the following ingredients at your disposal:
Chicken: It goes without saying that ground chicken is the preferred option for this soup. If you can't find any that's readily available, don't fret. Just get any other regular meat cut, preferably boneless and skinless, then use a food processor to grind it to bits. For this recipe, we went with the thighs to give the dish a deeper flavor.
Vegetables: This part is quite customizable, so you can go with almost any veggies you have at your disposal. We went with potatoes, sweet potatoes, and carrots. They're all cut into medium-sized chunks to ensure they won't become too mushy when cooked.
Legumes: In addition to the chunky vegetables, we also added some kidney beans. They have a mildly sweet taste that pairs quite well with the remaining veggies' similar sweetness. Plus, they have a creamy texture that makes each bite quite delightful.
Aromatics: Infusing the soup with a subtle yet warming fragrance, we added some classic aromatics like onion and garlic, along with a few sprinkles of cilantro and parsley for an herbaceous touch.
Chicken Broth: The soup wouldn't have its distinct warmth without this essential ingredient. You can use your own homemade version, but we believe store-bought would work just as well.
Condiments: We gave the soup a few dollops of Dijon mustard and tomato paste to thicken its texture and intensify the overall sweetness.
Seasonings: People love chicken soup for its heart-warming qualities, so we went with robust spices like chili powder and paprika to kick the flavors up a bit, as well as the staple duo of salt and black pepper to enhance the ingredients' natural flavors.
Bread: This soup can be eaten on its own, but we recommend pairing it with a few slices of toasted bread for a filling but light meal.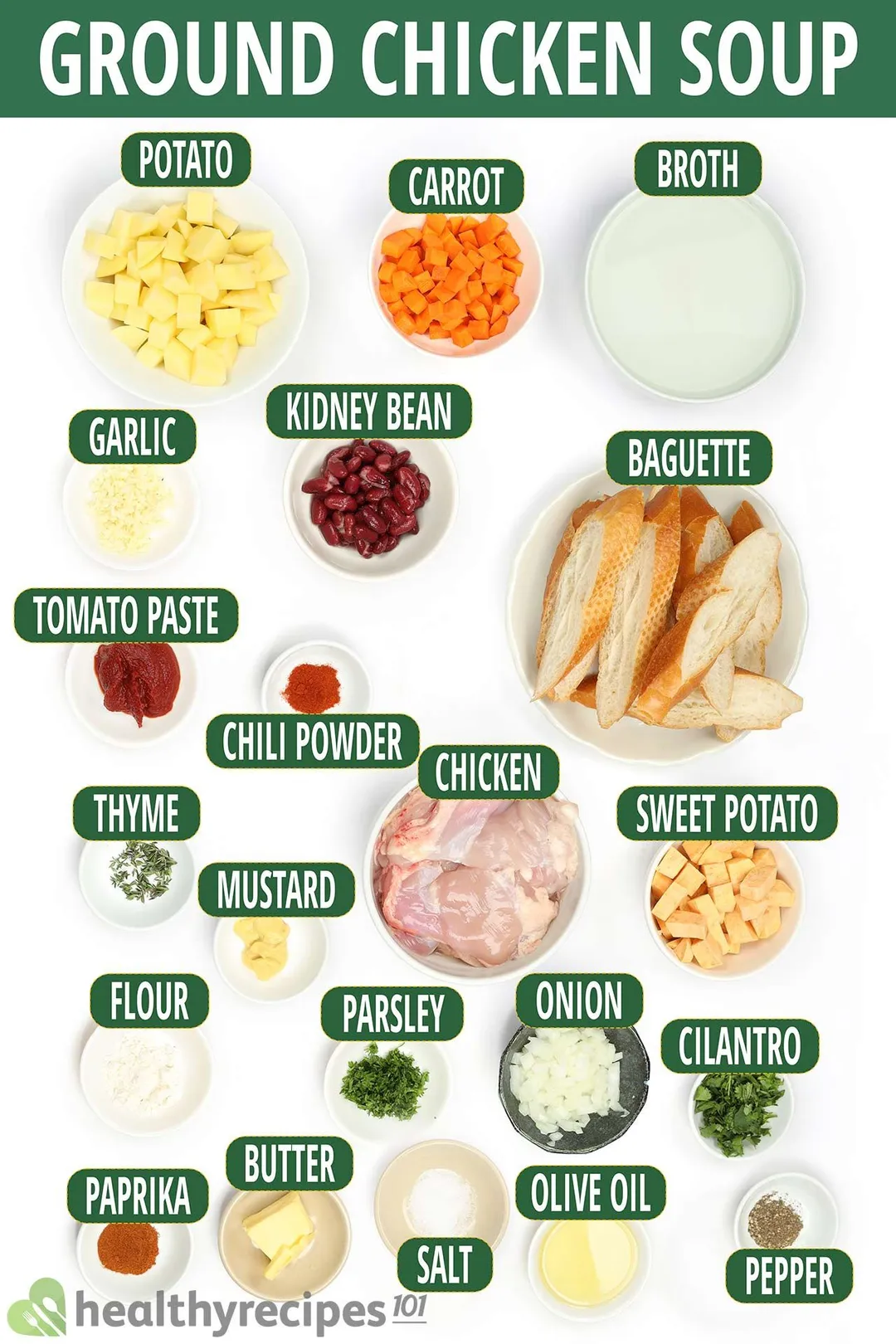 Is This Soup Healthy?
Yes, we believe this soup is quite healthy. Having chicken as the main ingredient, it comes with 32.1 g protein—a relatively decent amount of energy for your daily activities.
We also loaded it with potatoes and sweet potatoes, which help to provide fiber, choline, folate, and important antioxidants. Sweet potatoes, in particular, are a significant source of vitamin A.
We also made sure to keep an eye on important dietary components like calories, saturated fats, and sodium, making sure they all stay within the limits set by our nutrition guidelines. As a result, each serving contains approximately:
453 calories
6 g saturated fat
573 mg sodium
How to Store and Reheat the Leftovers
When kept in airtight containers in the fridge, this ground chicken soup can last for 2-3 days. You can reheat it on the stovetop over medium heat or simply use the microwave.
What to Serve With
This soup already comes with a side of toasted bread, making it relatively filling and satisfying to enjoy on its own. However, you can still add a side dish to round out the meal if you want. Here are a few of our recommendations: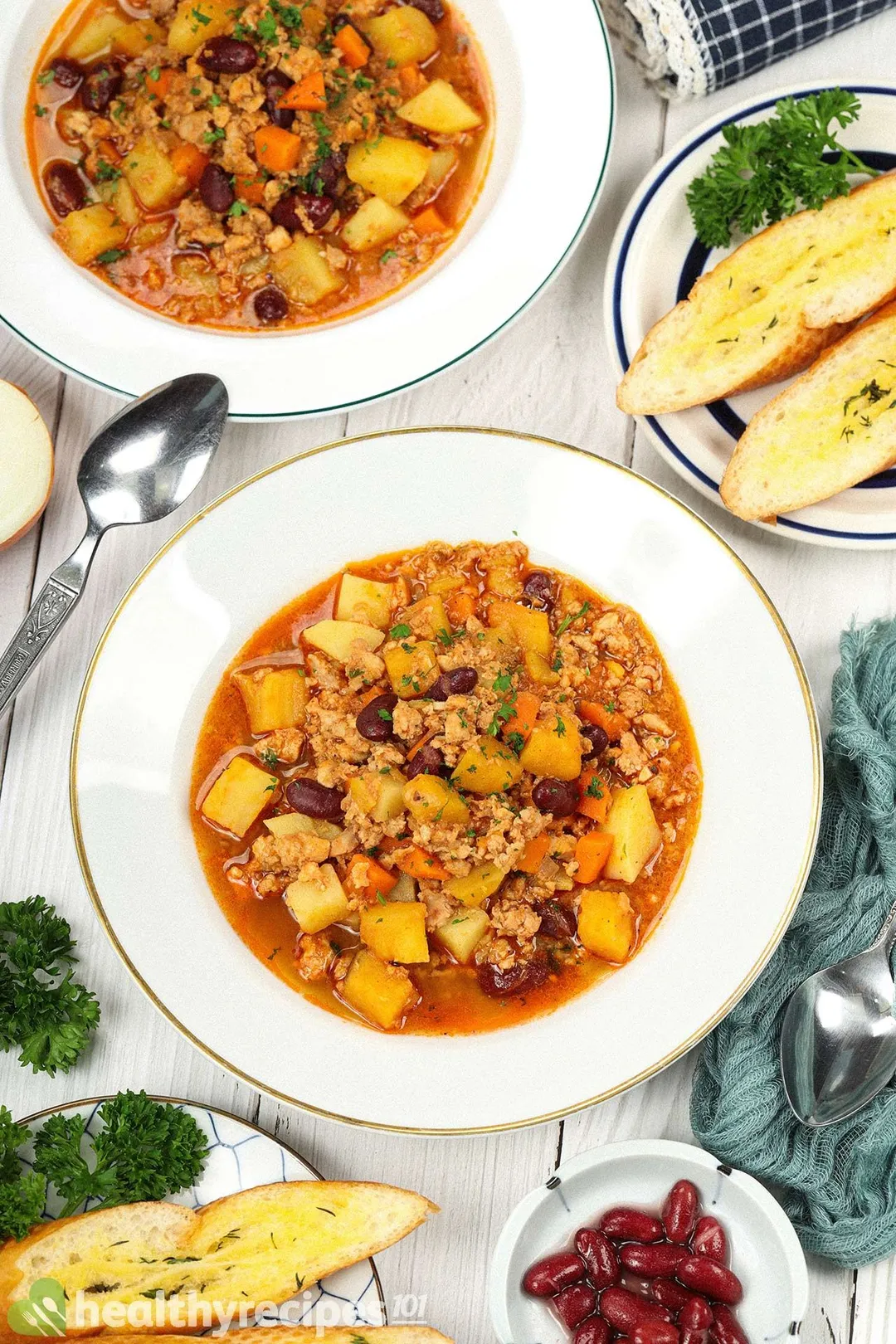 More Delicious Takes on Chicken Soups
Our ground chicken chili recipe will help you prepare a tasty meal for the whole week in advance. It simmers chicken breasts and vegetables in a tomato-based sauce, and the end results promise to not disappoint.
Dry leftover rotisserie chicken can be invigorated using our recipe for lemony chicken rice soup, and it works every single time. Very light and bright with squeezes of lemon juice, the soup also has lemon wheels in it, imparting a citrusy, therapeutic aroma.
Ground Chicken Soup
Let this ground chicken soup recipe keep you company on all those cold nights or when you're feeling under the weather. With tender meat and colorful veggies all simmered in chicken broth and hearty spices, it carries a feeling of wholesomeness that will warm you right up.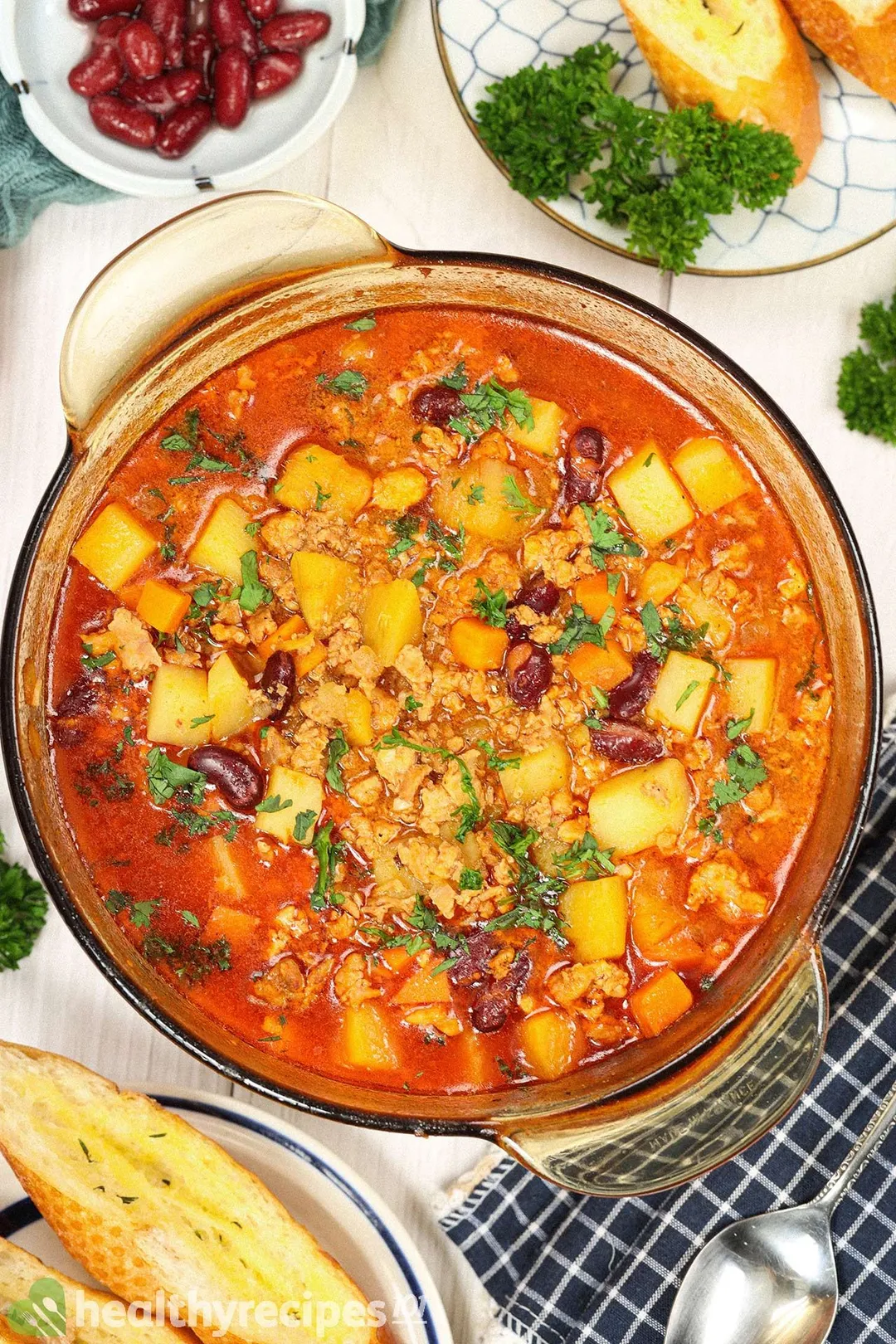 cook TIME

33 mins

prep TIME

10 mins

total TIME

43 mins
COURSE

Main Dish

CUISINE

American

SERVINGS

CALORIES

453 kcal
INGREDIENTS
18 oz

skinless boneless chicken thigh

4 oz

sweet potato

(sliced into cubes)

6 oz

potato

(sliced into cubes)

4 oz

carrot

(coarsely diced)

1/4 cup

cilantro

(chopped)

3 oz

unsalted dark red kidney beans

1/2 tbsp

all-purpose flour

2 cups

unsalted chicken broth

2 tbsp

Hunt's tomato paste

2 tsp

traditional Dijon mustard

1/2 tsp

ground black pepper
INSTRUCTIONS
Prep:
1
Prepare the Chicken: Slice 18 oz skinless boneless chicken thigh into small cubes then place into a food processor and process until the texture resembles ground meat.
2
Slice the Sweet Potatoes: Remove the skin, then slice it lengthwise into large pieces. Stack the pieces and slice lengthwise again into 1/2-inch strips. Gather the strips and slice them crosswise into medium-sized cubes.
3
Slice the Potatoes: Remove the skin, then slice the potatoes lengthwise into thick wedges. Gather the wedges, stack them up, and slice them crosswise into medium-sized cubes.
4
Dice the Carrots: Peel the outer skin then cut the carrot crosswise into thirds. Slice each third lengthwise into thick sticks then gather and lay them horizontally. Cut crosswise into medium-sized cubes.
5
Mince the Garlic: Bash the cloves with the flat side of the knife to remove the peel then thinly slice each clove. Rock the knife over the sliced pile a few times until they are finely minced.
6
Dice the Onion: Cut the onion in half lengthwise. Lay the half vertically flat and make thin slices but leave the root intact. Then turn the onion horizontally and push the knife crosswise into the slices. Finally, thinly slice to make small, diced pieces.
7
Chop the Herbs: Discard the stems then gather the leaves and thinly slice them. Rock the knife over the sliced pile a few times until they are finely chopped.
Cook:
1
Sauté the Aromatics: In a saucepan over medium heat, sauté 2 oz onion and 1 tbsp garlic with 2 tbsp olive oil for 2 minutes until fragrant.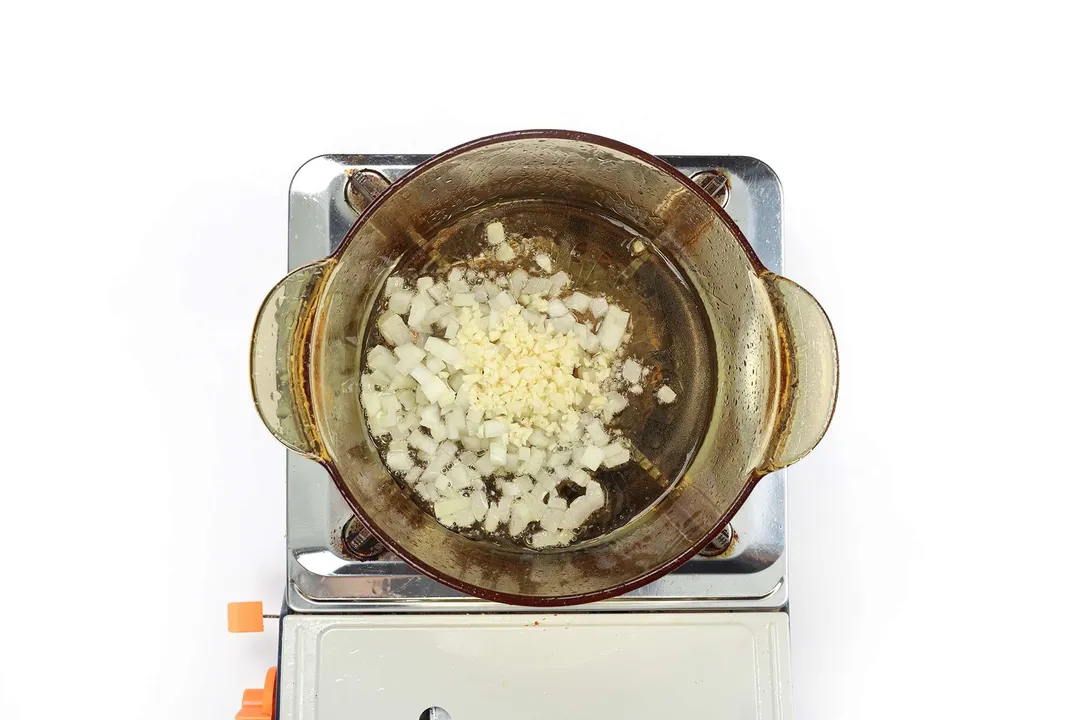 2
Add the Tomato Paste: Then add 2 tbsp Hunt's tomato paste and continue stirring around for another 30 seconds.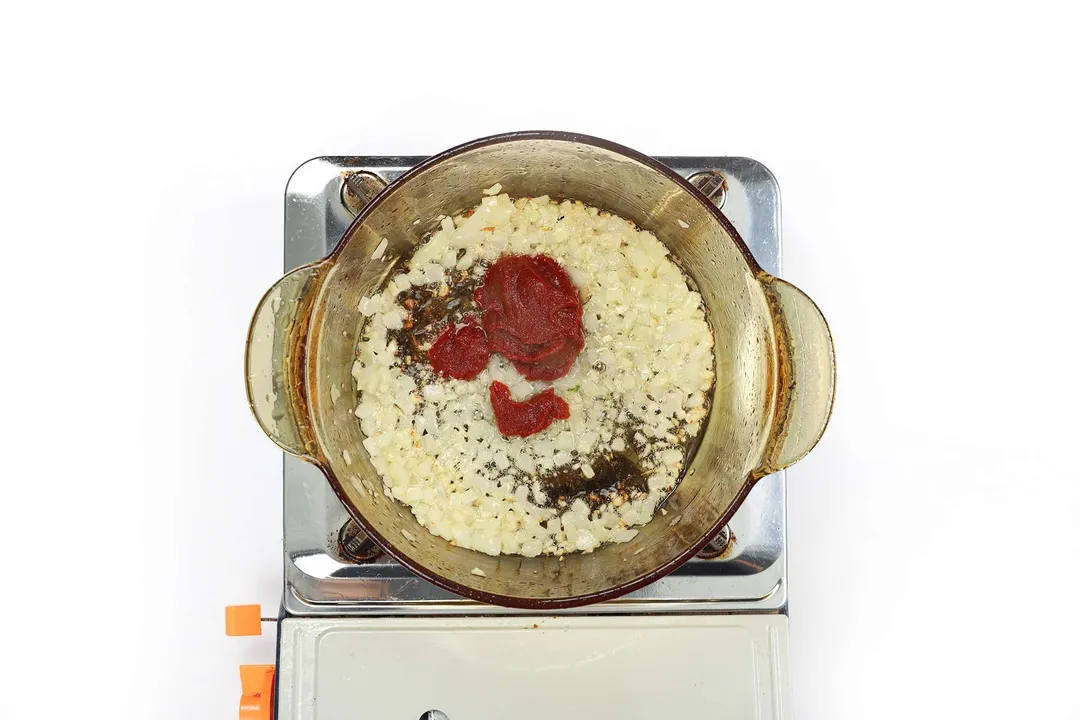 3
Add the Chicken: Add the ground chicken to the saucepan and stir around for 3 minutes until the meat is thoroughly coated in the tomato paste.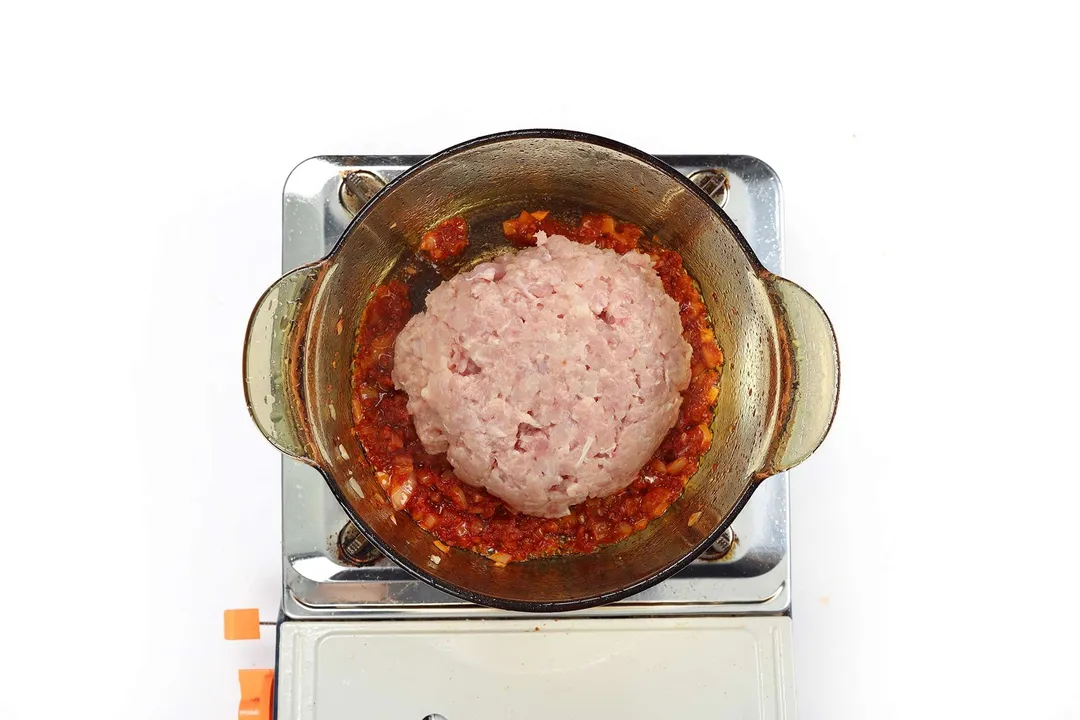 4
Add the Condiments: Continue adding 1/2 tbsp all-purpose flour, 2 tsp traditional Dijon mustard, 1/4 tsp salt, 1/2 tsp ground black pepper, 1/2 tsp chili powder, and 1 tsp paprika, and sauté for 2 minutes until everything is well-mixed.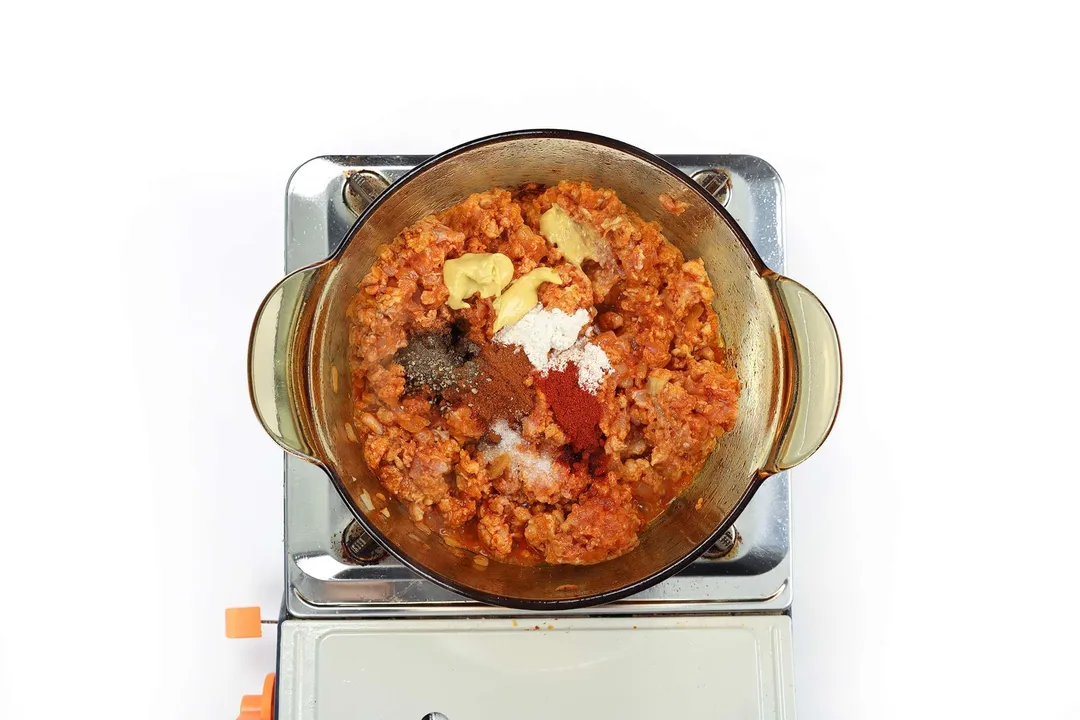 5
Add the Veggies: Add 4 oz sweet potato, 6 oz potato, and 4 oz carrot, and stir them around for 3 minutes.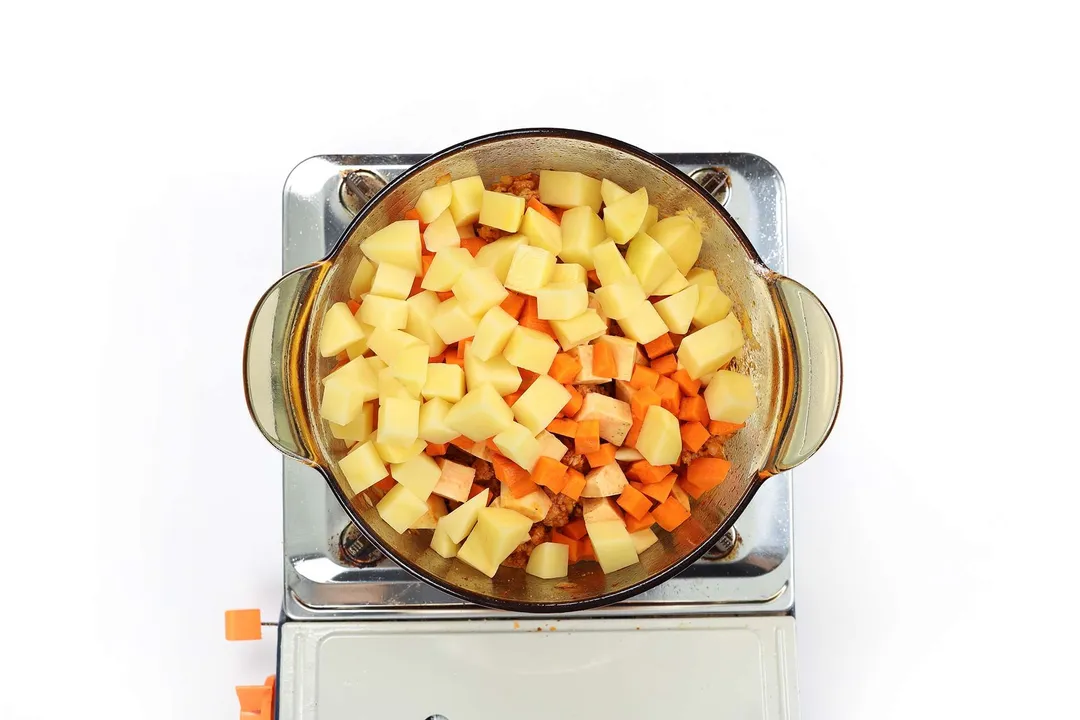 6
Add the Broth: Add 2 cups unsalted chicken broth and bring to a boil then reduce the heat and let the saucepan simmer for 20 minutes.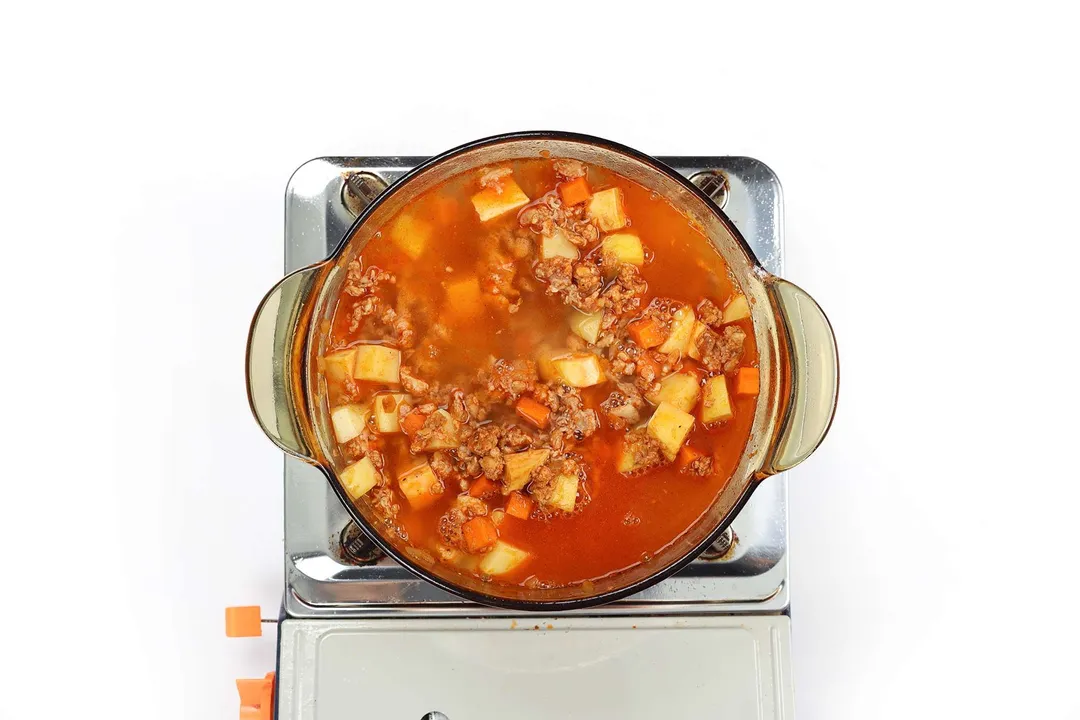 7
Make the Butter Mixture: In a small microwave-safe bowl, add 2 tbsp unsalted butter and 1 tsp thyme and microwave them at full power for 30 seconds.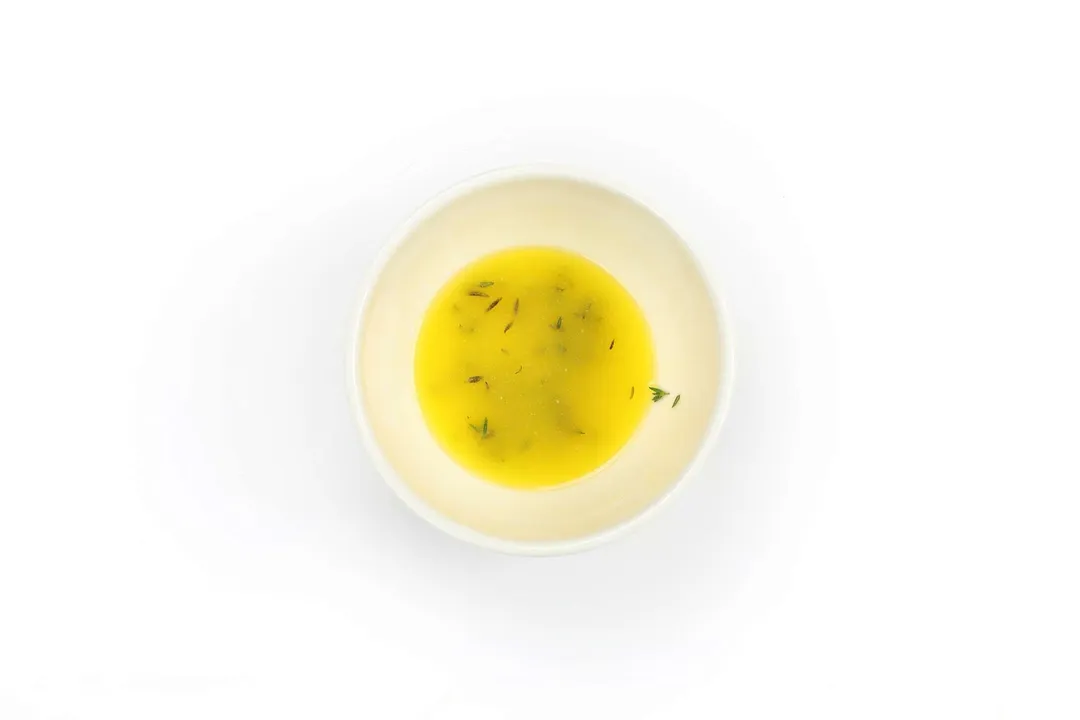 8
Spread the Mixture Onto the Bread: Slice 4 oz french baguette into pieces then spread the butter mixture onto the bread. Air-fry them at 400 °F for 4 minutes.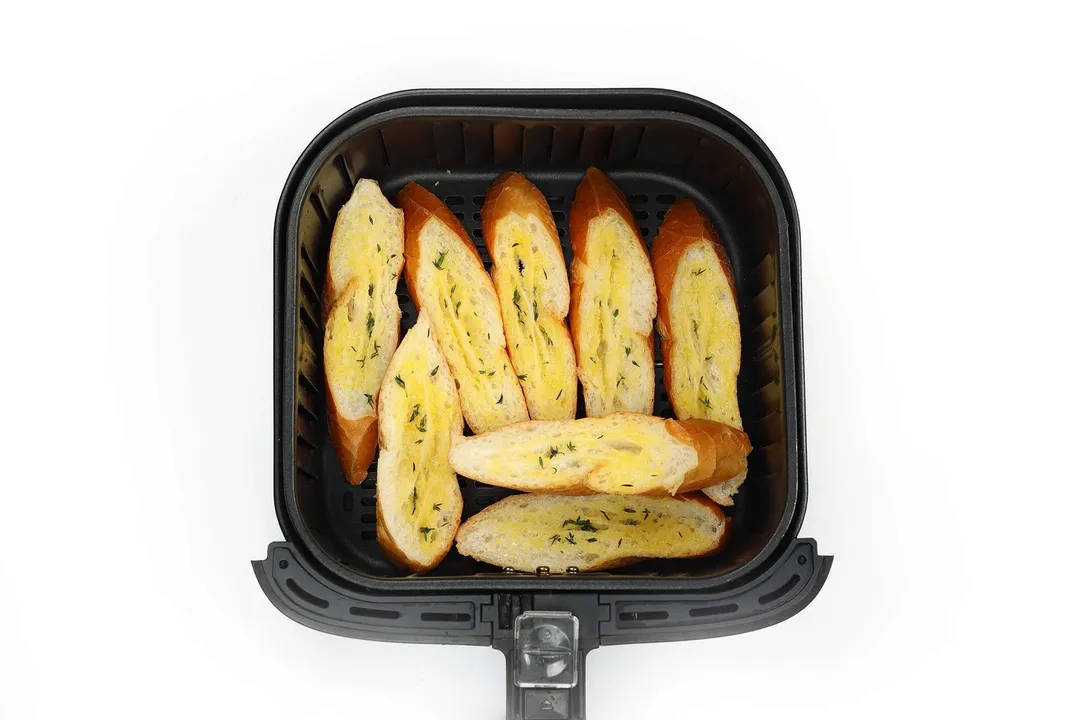 9
Add the Kidney Beans to the Saucepan: Add 3 oz unsalted dark red kidney beans to the simmering saucepan and cook the soup for an extra 2 minutes.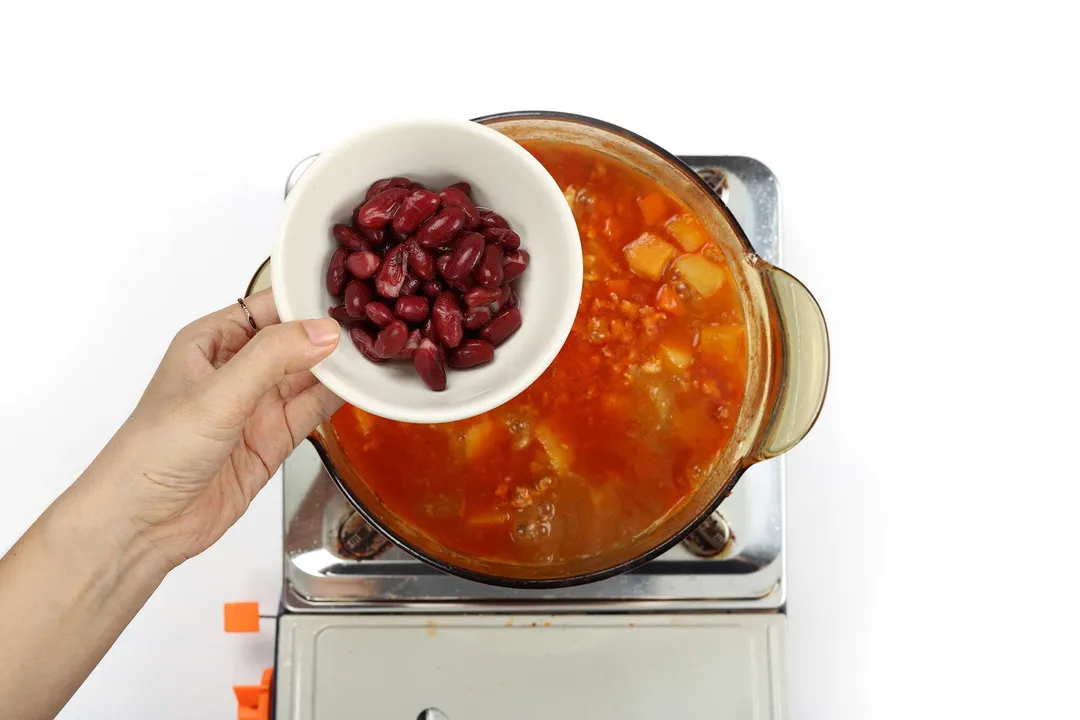 10
Garnish and Serve: Sprinkle 2 tbsp parsley and 1/4 cup cilantro into the soup then serve hot alongside the air-fried bread slices.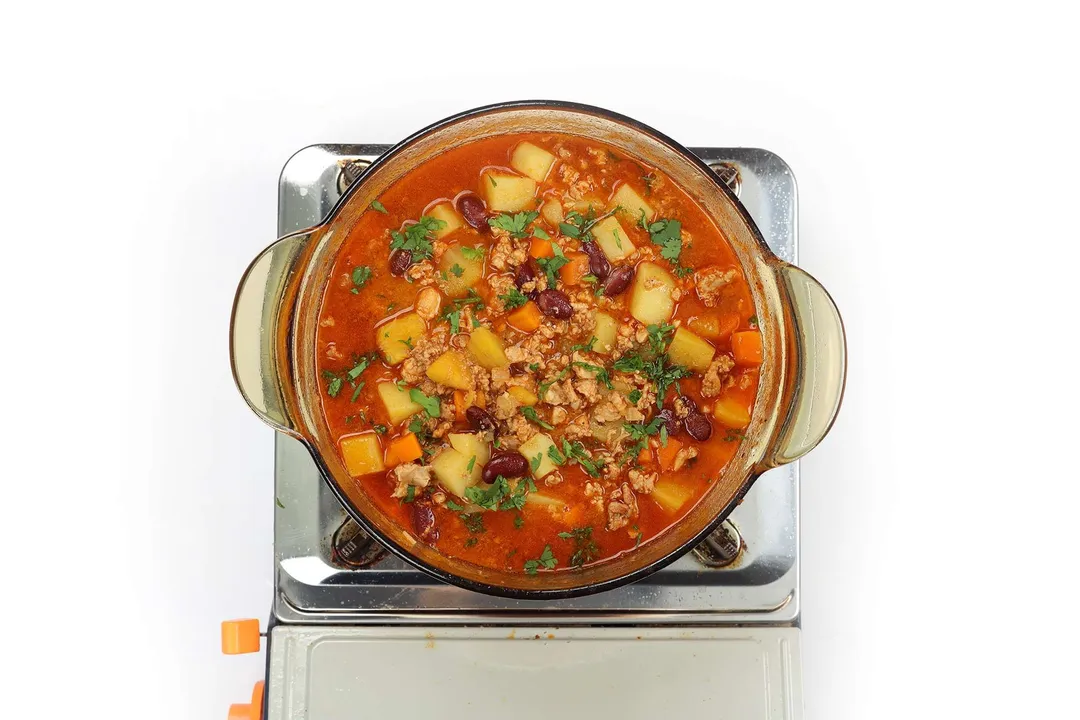 NUTRITION
Nutrition Facts
Ground Chicken Soup
Amount Per Serving (1 serving)
Calories 453
Calories from Fat 169
% Daily Value*
* Percent Daily Values are based on a 2000 calorie diet.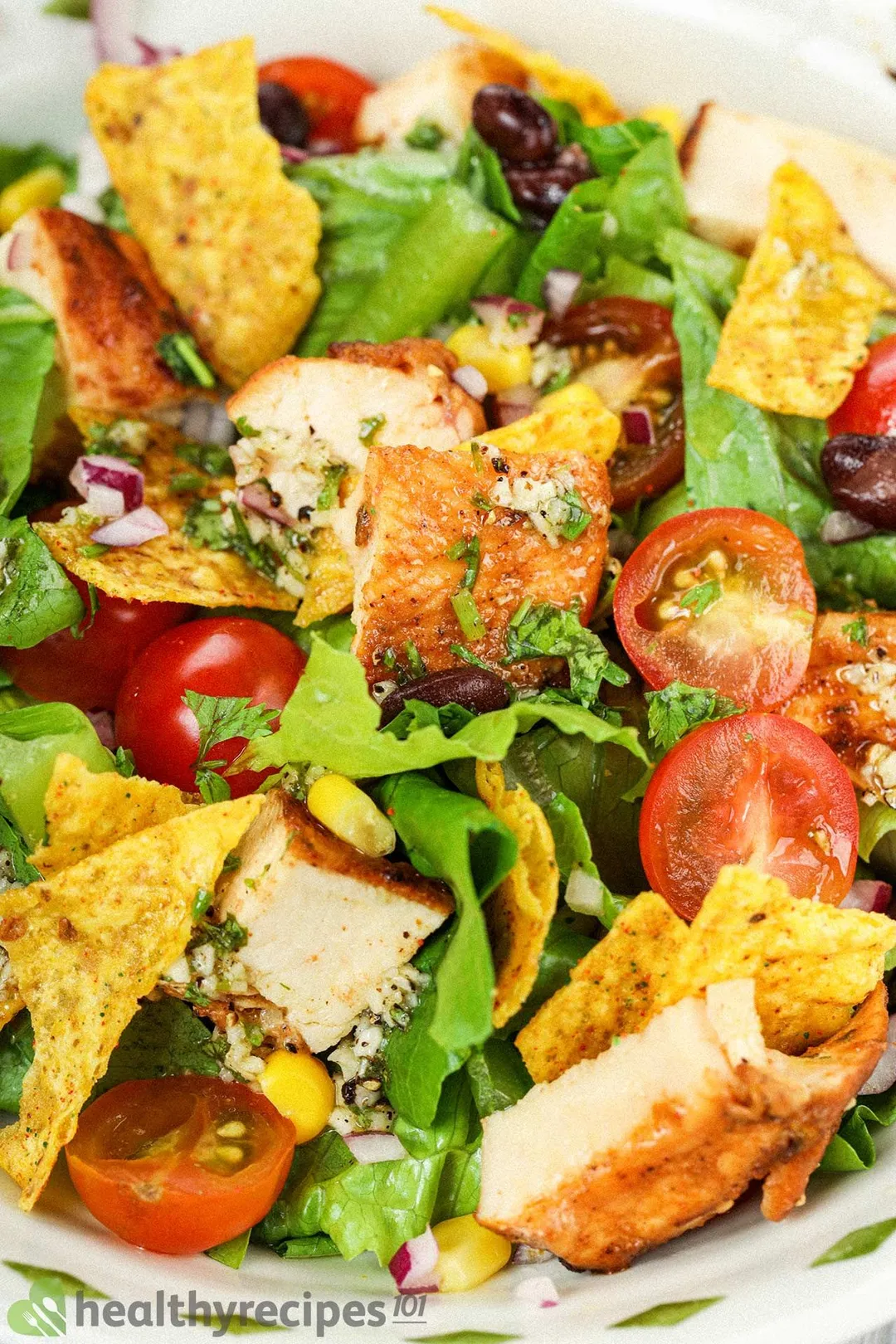 Previous Recipe
Chicken Taco Salad
Chicken Taco Salad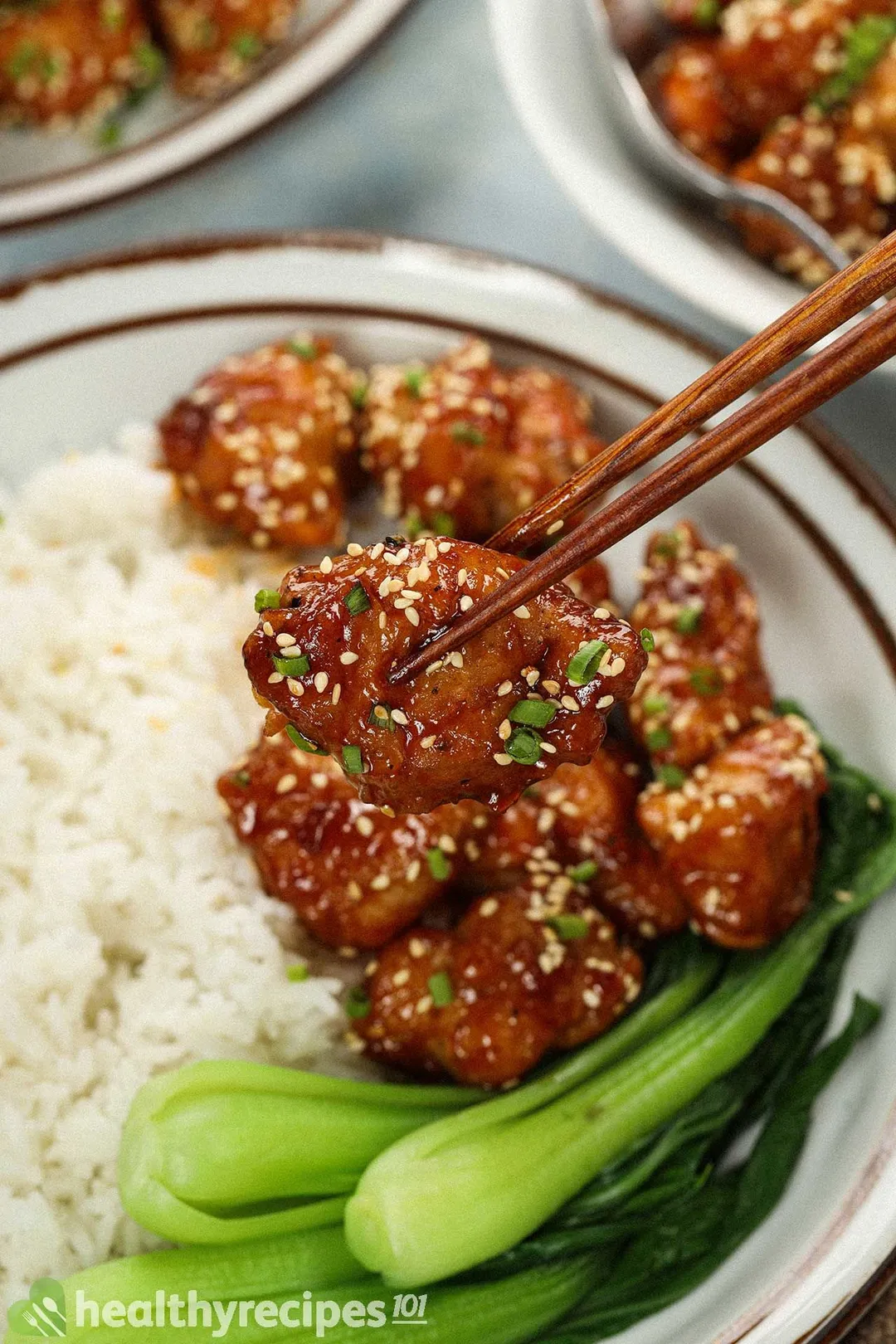 Honey Chicken
Head Chef, Culinary Consultant
Tuyet Pham is an award-winning Saigonese chef who believes that joy is the secret ingredient to delicious food. At Healthy Recipes 101, Tuyet personally tests and simplifies every recipe, ensuring maximum flavor with minimal effort. With a background at prestigious French restaurants P'TI Saigon and Le Corto, Tuyet knows how to make every dish exceptional.
Writer, Author
Luna Regina is an accomplished writer and author who dedicates her career to empowering home cooks and making cooking effortless for everyone. She is the founder of HealthyKitchen101.com and HealthyRecipes101.com, where she works with her team to develop easy, nutritious recipes and help aspiring cooks choose the right kitchen appliances.
Comforting ground chicken soup - a bowl of warmth!