Leftover rotisserie chicken is dry and unpleasant, but it can be reused for our lemony chicken rice soup recipe. Then, the only steps required are chopping, sautéing, and waiting for the soup to simmer. We call it "lemony" because not only is it bright and tangy, but the lemon slices also impart a citrusy, therapeutic aroma.
If you want to reduce prep time, the frozen section may sell carrots, celery, and onion all chopped up, packaged, and ready to put in soups. They may not be in the ratio our recipe calls for, but that's fine—the taste wouldn't change much.
How Healthy Is Our Soup
Made with lots of lean meat and veggies, the soup is pretty high in proteins, fiber, and micronutrients.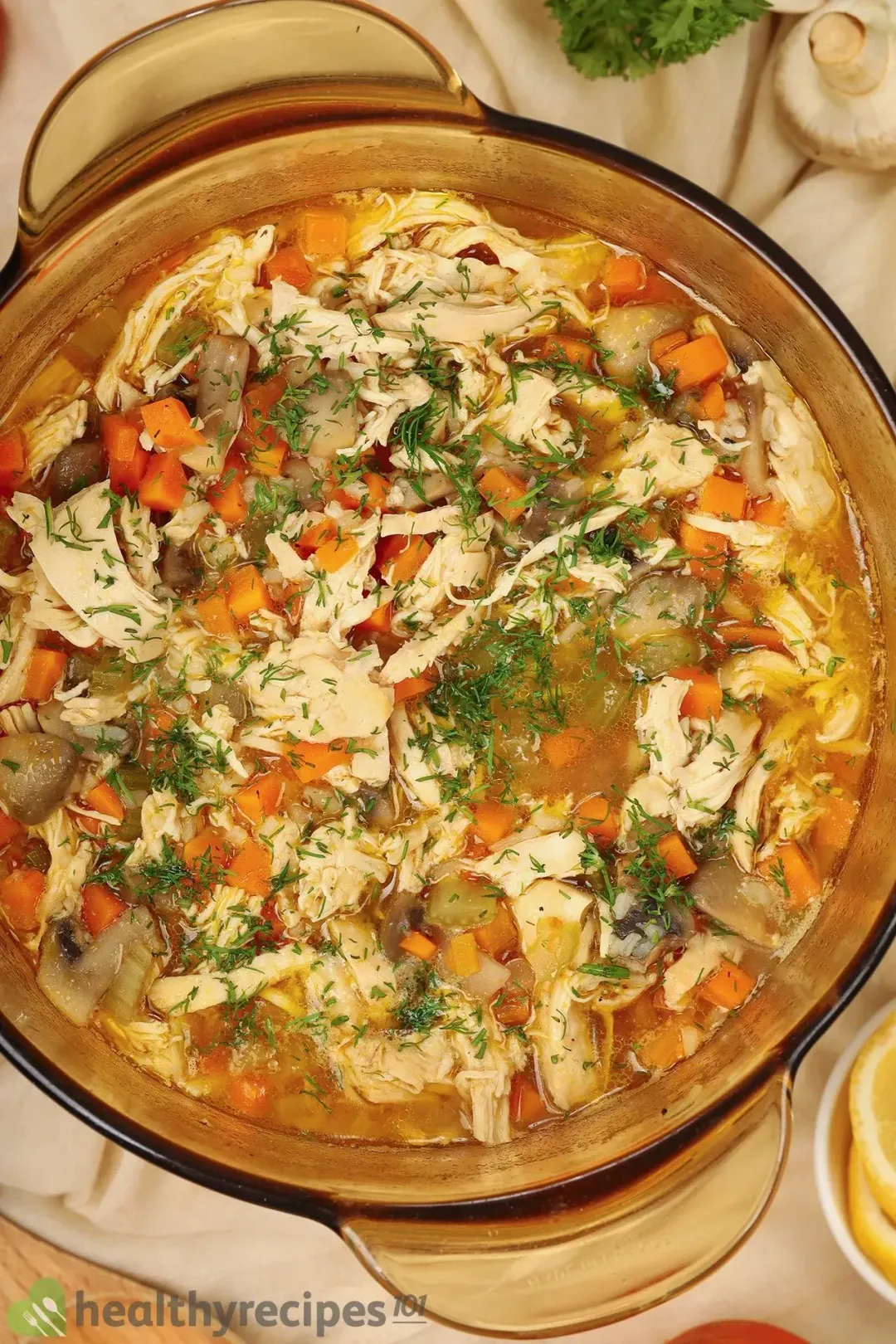 The cut we use for our soup is chicken breast as it's known to be the least fatty of all meats. The soup has no cream or milk, so by default, it's low in saturated fat.
We only needed to size each serving reasonably and with a decent calorie count. 'Reasonably' means it's able to fill the belly, yet providing somewhere around 500 calories only.
As a result, each serving contains 474 calories, 6.7 g saturated fats, and 585 mg sodium. We believe these amounts are moderate and make your calorie goals easier to reach.
Ingredients You Will Need
Chicken: we used chicken breasts, but you can use leftover rotisserie chicken. Twenty-six oz of chicken breast is equivalent to 20 oz of cooked chicken.
Rice: raw jasmine rice. It doesn't need to be rinsed—the outer starch layer acts as a thickener.
Vegetables: garlic, onion, mushroom, celery, and carrot. It's also nice to add a handful of spinach in there, too.
Herbs: in addition to parsley, we also added dill. Dill has a strong aroma that complements the soup well.
Stock: we used chicken stock, but vegetable stock also works.
Seasonings: salt, pepper, lemon juice, bay leaf, and parmesan.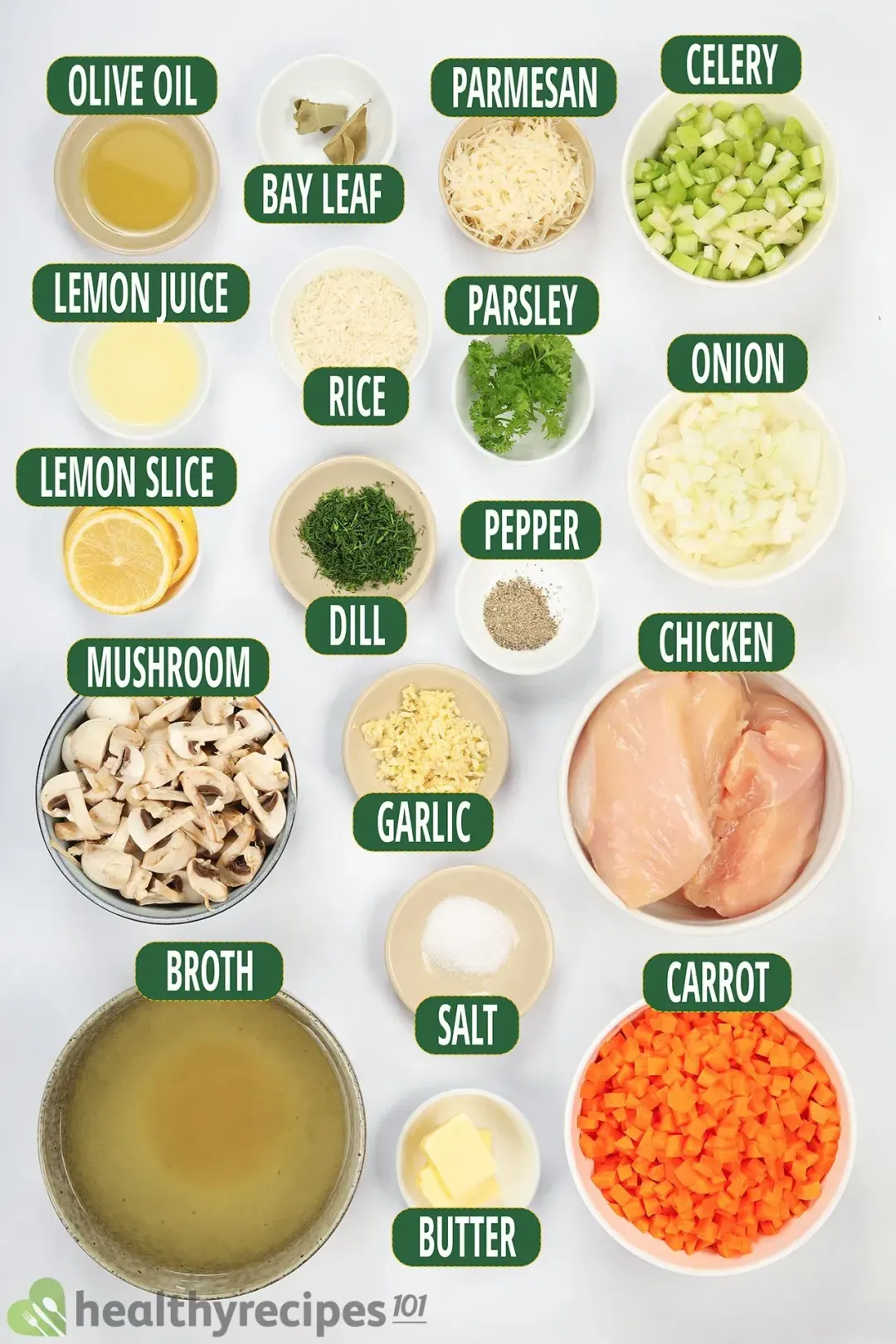 Tips to Make The Best Soup
How Much Rice Do You Put in Chicken Soup?
We added just a little rice here because we think it's how this soup is supposed to be. It's a matter of preference only. Our chicken and rice soup has lots of rice in it, but that's what makes it so comforting in the first place.
Should You Cook Rice Before Putting It in Soups?
You can use cooked rice in soups, but if you haven't any cooked rice, raw rice would work, too. Cooked rice, however, doesn't absorb any more water and will get mushy.
Should you be going with cooked rice, you'll want to:
Reduce the broth to just 2 1/2 cups.
Swap raw rice with 1/2 cup cooked rice
Add the rice once the chicken has cooked.
Make-ahead, Storing, and Reheating
This soup keeps in the fridge for up to 4 days, and freezes for up to 3 months.
To freeze soups, we avoid putting all of the leftovers into one container. We divide it into portions and keep each portion in separate small Ziploc bags. Doing so saves more fridge space and makes it easier to get the soup out.
To reheat, transfer the soup into a pot and simmer it over low heat until bubbling.
Not only does the container take up more space, but the soup is also impossible to get out without thawing.
Instead, use many small Ziploc bags: divide the soup into portions and keep them in separate bags. To reheat, simply rinse the bag under water and the block of soup should come off in seconds.
Then, all that needs doing is adding the soup to a pot and simmering it over low heat until bubbling.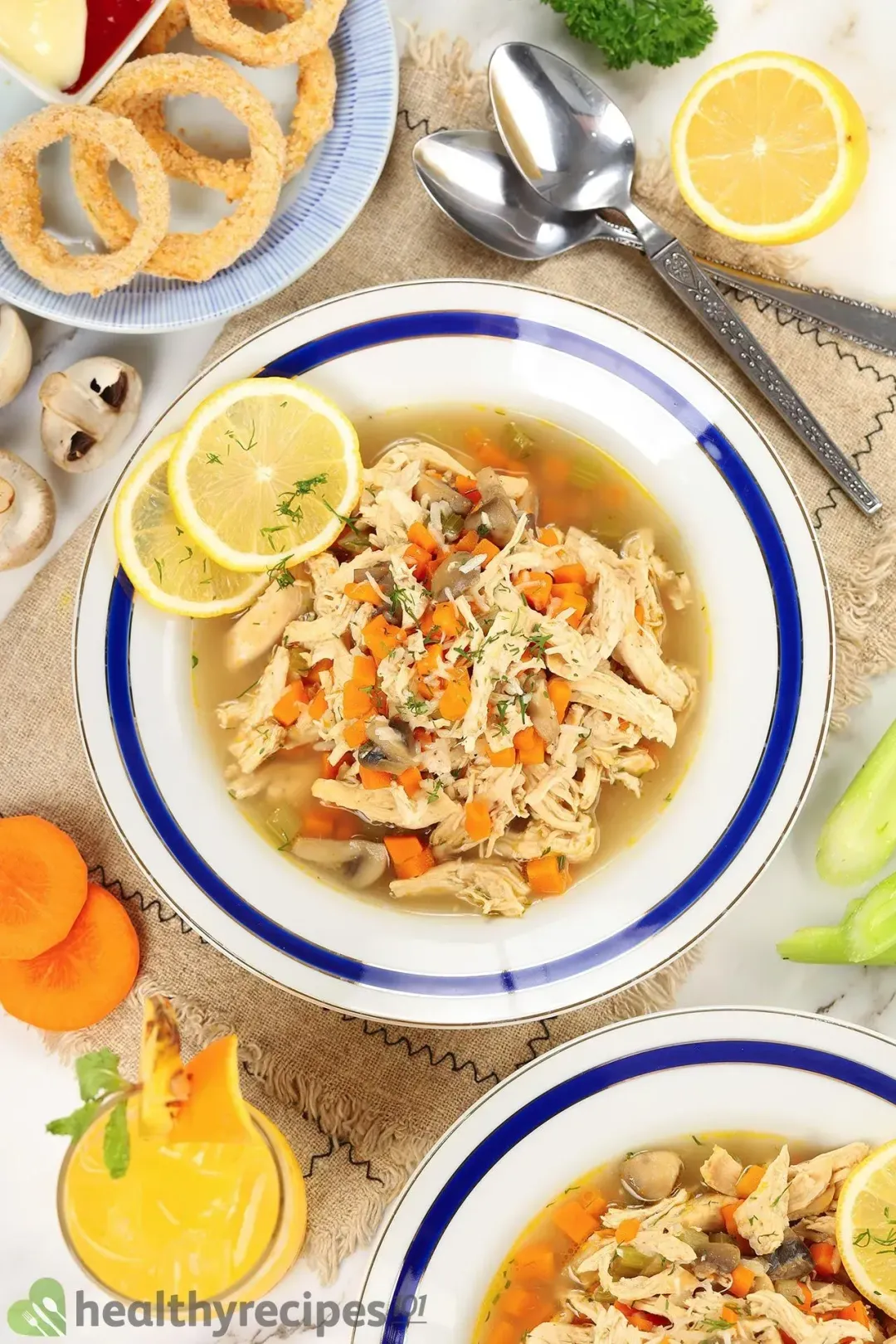 Easy Ideas for Cozy Soup Bowls
Let this ground chicken soup recipe keep you company on those cold nights or when you're feeling under the weather. With tender meat and colorful veggies all simmered in chicken broth and hearty spices, it carries a wholesome sensation that will warm you right up.
Asian cuisine is known for its hearty and homey dishes made with fresh ingredients, and this congee is no exception. The toppings for this filling dish include chicken, eggs, shallots, cilantro, and scallions.
How to Make Lemony Chicken Rice Soup
Our lemony chicken rice soup recipe is the best soup to make when you're with leftover rotisserie chicken. Get some frozen veg and it's basically a breeze.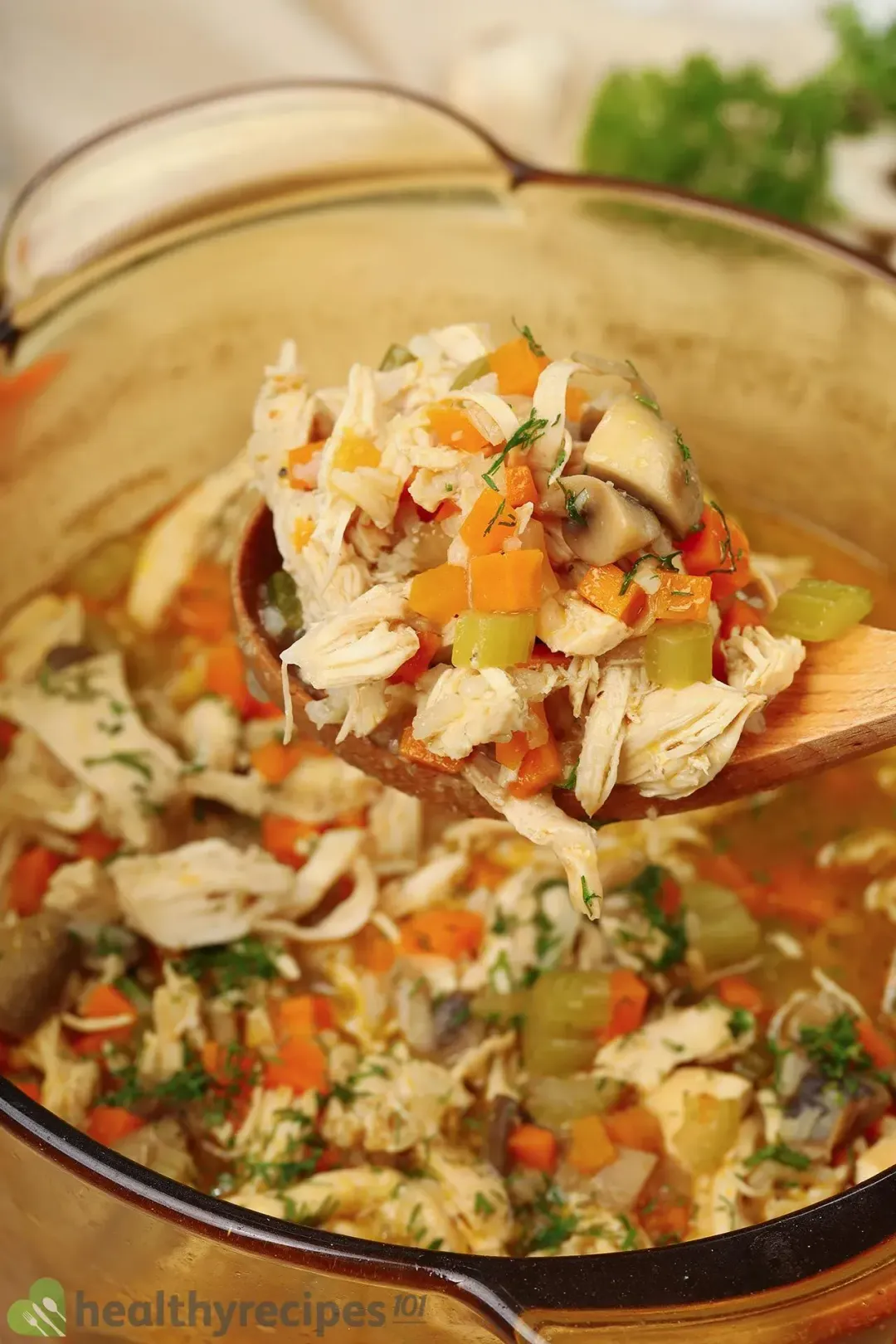 cook TIME

30 mins

prep TIME

10 mins

total TIME

40 mins
COURSE

Main Course

CUISINE

Global

SERVINGS

CALORIES

474 kcal
INGREDIENTS
26 oz

skinless boneless chicken breast

1/4 cup

uncooked long-grain rice

3 cup

unsalted chicken broth

6 oz

white mushroom

(quartered)

0.75 oz

shredded parmesan cheese

1/2 tsp

ground black pepper
INSTRUCTIONS
PREP:
1
Mince the garlic: Slice the head off of 2 cloves of garlic, and press them on your cutting board with your knife. Peel the skin away, chop them finely, and measure out 1 tbsp.
2
Chop the onion: Half an onion and store the other half away. Peel the half, chop it, and measure out 2 oz.
3
Chop the celery: Slice the leaves off of 3-4 celery stalks and chop the stalk. Measure out 4 oz. The leaves can be saved for making stocks or stir-fries.
4
Quarter the mushrooms: Measure 6 oz white button mushrooms and quarter them.
5
Chop the carrot: Slice off the carrot's head and peel the skin away. Cut it into 1/2" slices, cut the slices into fingers, then the fingers into chunks.
6
Slice the lemon: Cut 1 lemon into slices roughly 1/8" in thickness. Measure out 2 oz
7
Juice the lemon: Slice a lemon in half and put one half away. Squeeze the other and measure out 1 tbsp.
8
Chop the parsley: Chop some parsley and measure out 2 tbsp.
9
Chop the dill: Chop some dill and measure out 2 tbsp.
10
Grate the cheese: Grate and measure out 0.75 parmesan.
COOK:
1
Sauté aromatics: Heat 2 tbsp olive oil over medium heat for 30 seconds, and melt 2 tbsp in it. Sauté 1 tbsp garlic and 2 oz onion for 30 seconds or until fragrant.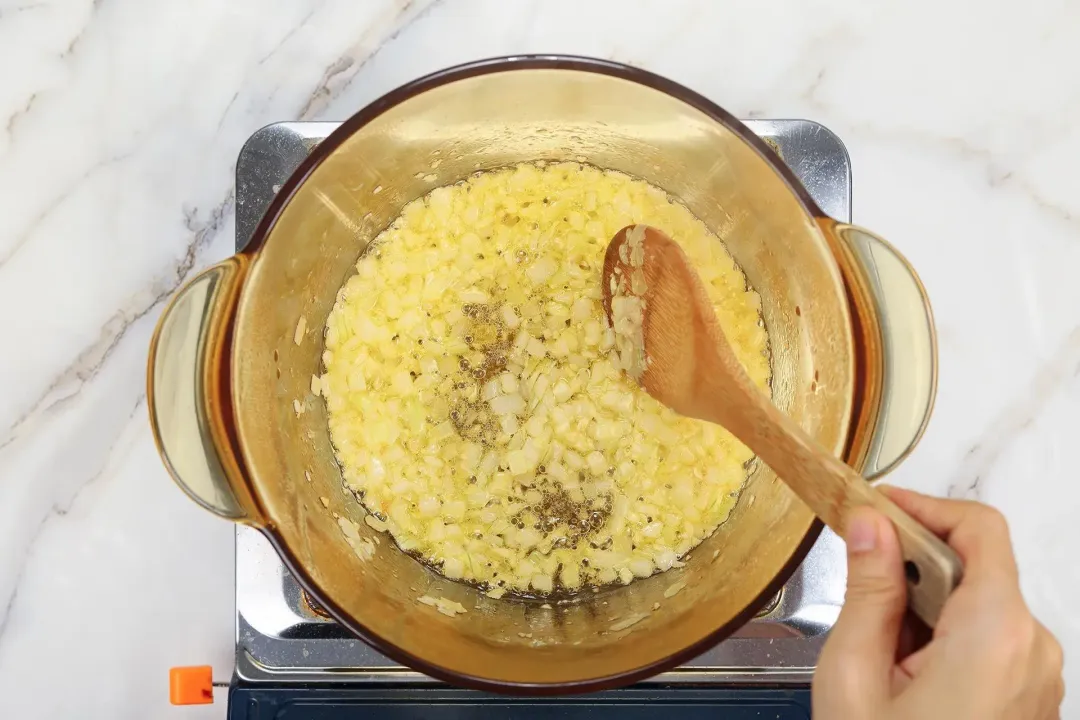 2
Add mushrooms: Add 6 oz quartered mushrooms and sauté for about 2 minutes.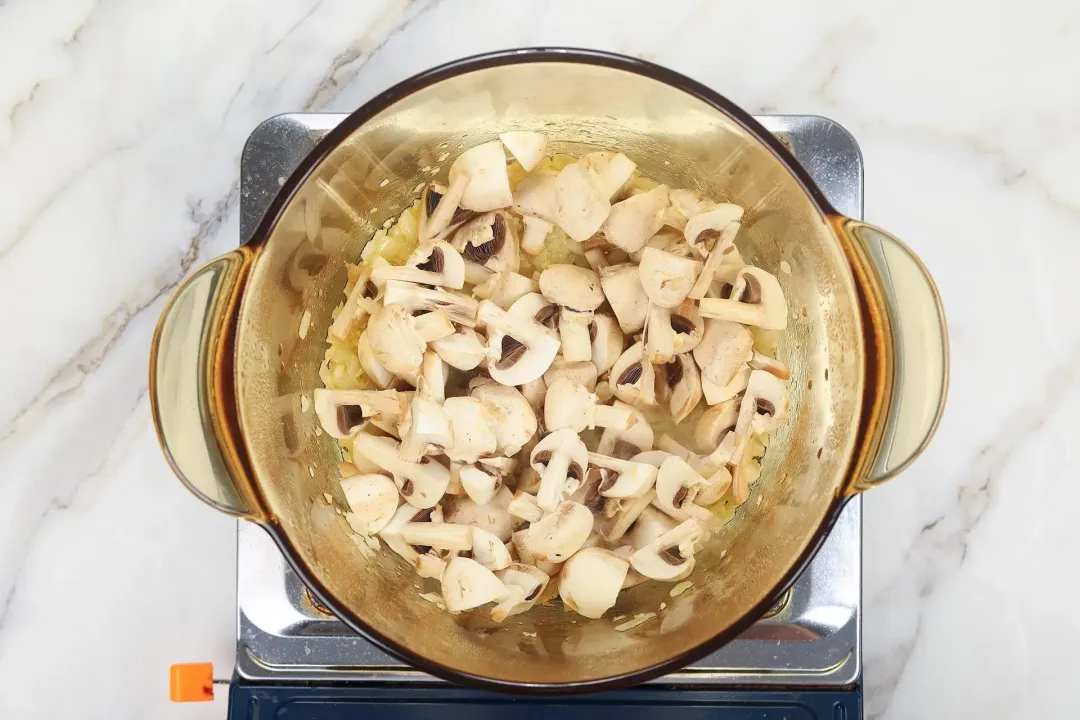 3
Add celery and carrots: Add 4 oz celery and 12 oz carrot and sauté for about 2 minutes.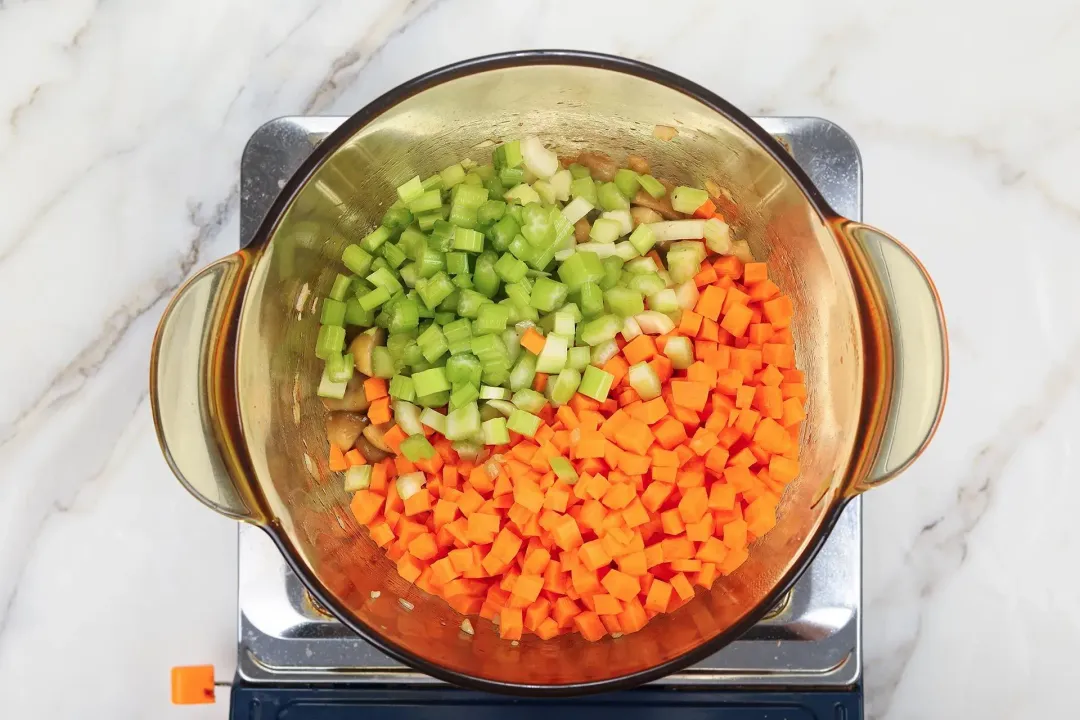 4
Stir in the seasonings and rice: Stir in 1/4 cup uncooked long-grain rice, 1/2 tsp salt, 1/2 tsp pepper, and 1 bay leaf. Stir until everything is well-mixed.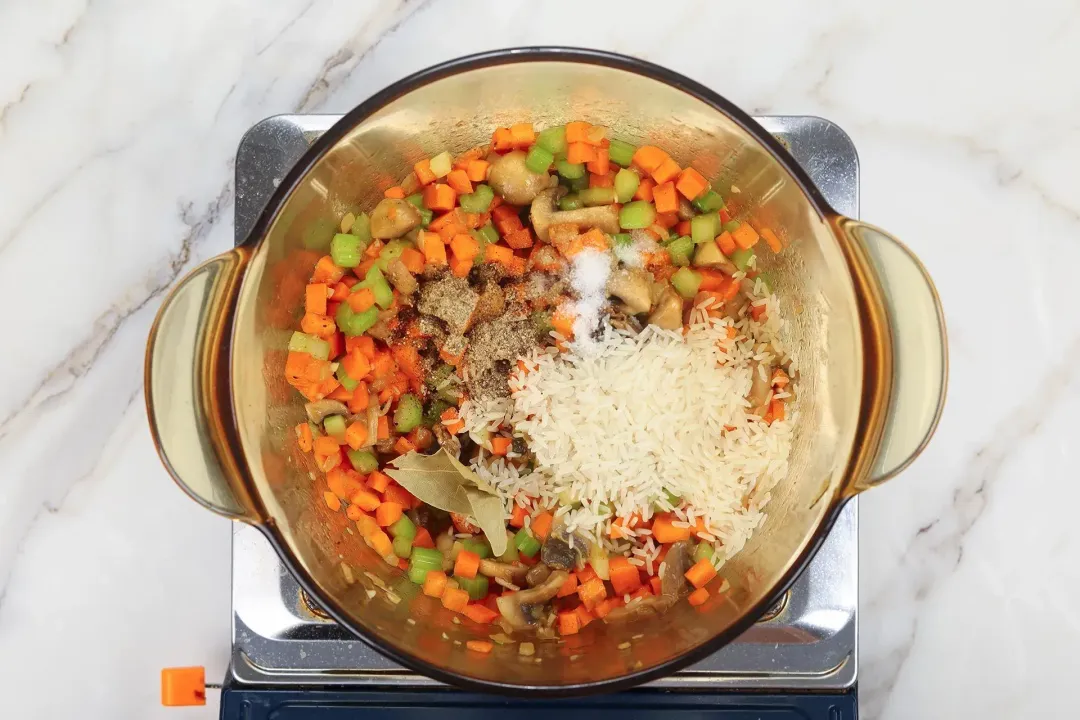 5
Add chicken broth and chicken breasts: Pour in 3 cups unsalted chicken broth and submerge 26 oz skinless boneless chicken breasts in the pot. Simmer for 20 minutes on medium heat, uncovered. If you're using rotisserie chicken, 15 minutes only.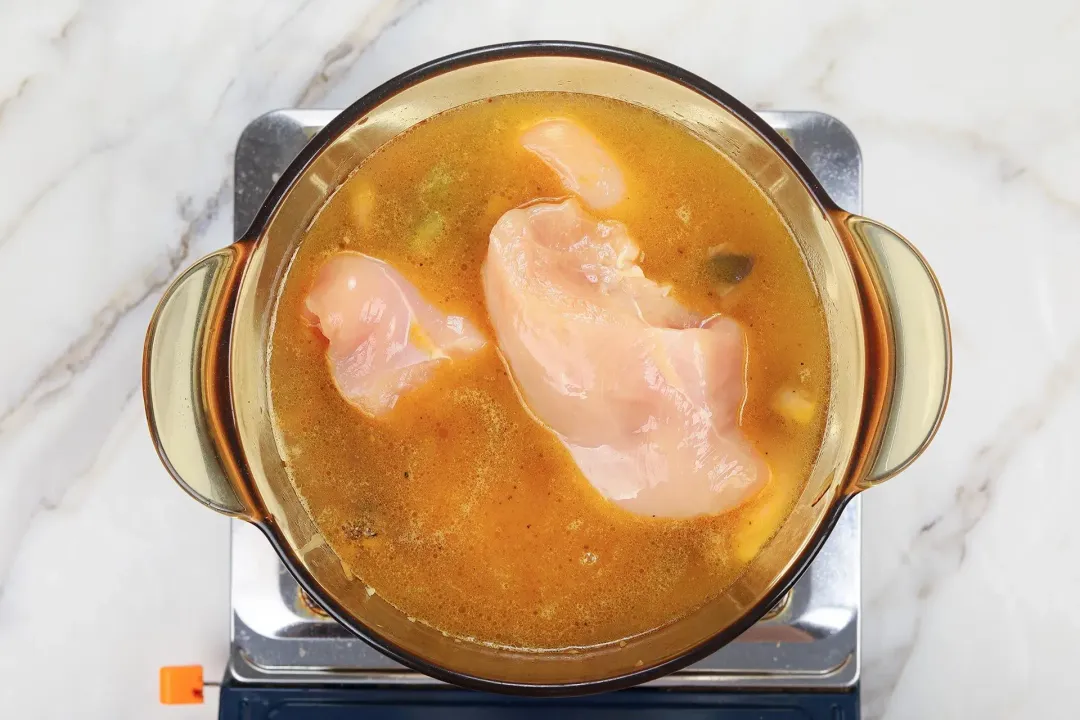 6
Turn off the stove and shred the chicken: There are two methods: chopping the chicken breasts with a knife, which is quicker, and shredding them up using two forks. The latter takes some time but we love how fine the shreds are.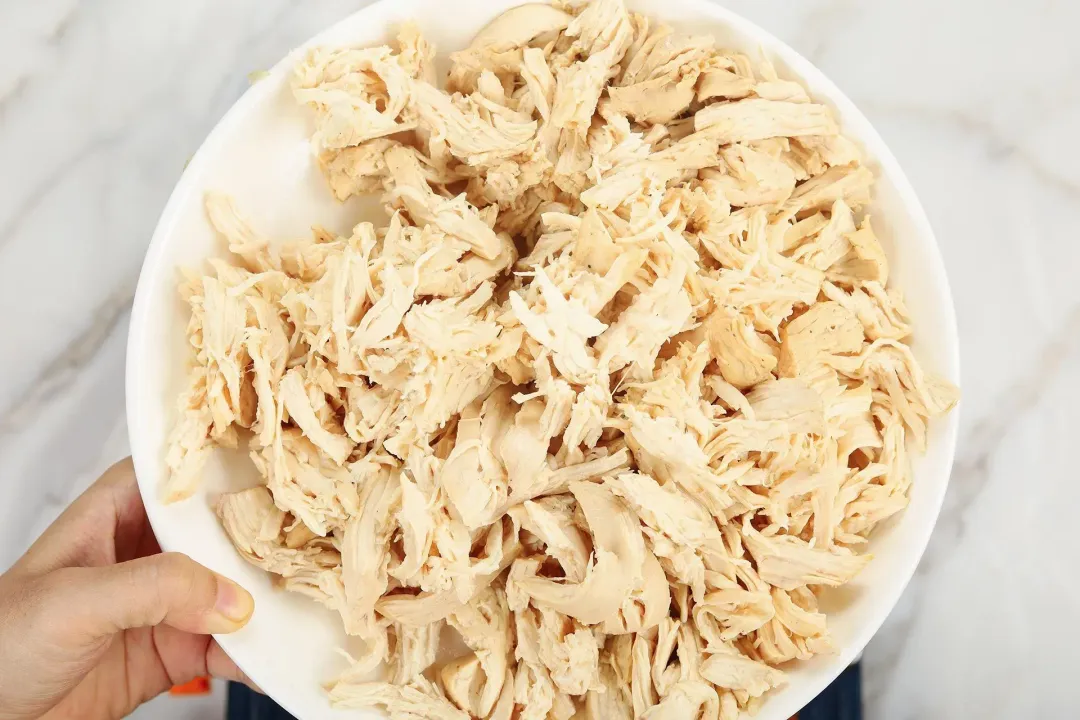 7
Add them back to the stove and cook: for an additional 2 minutes, just to get things warmed up.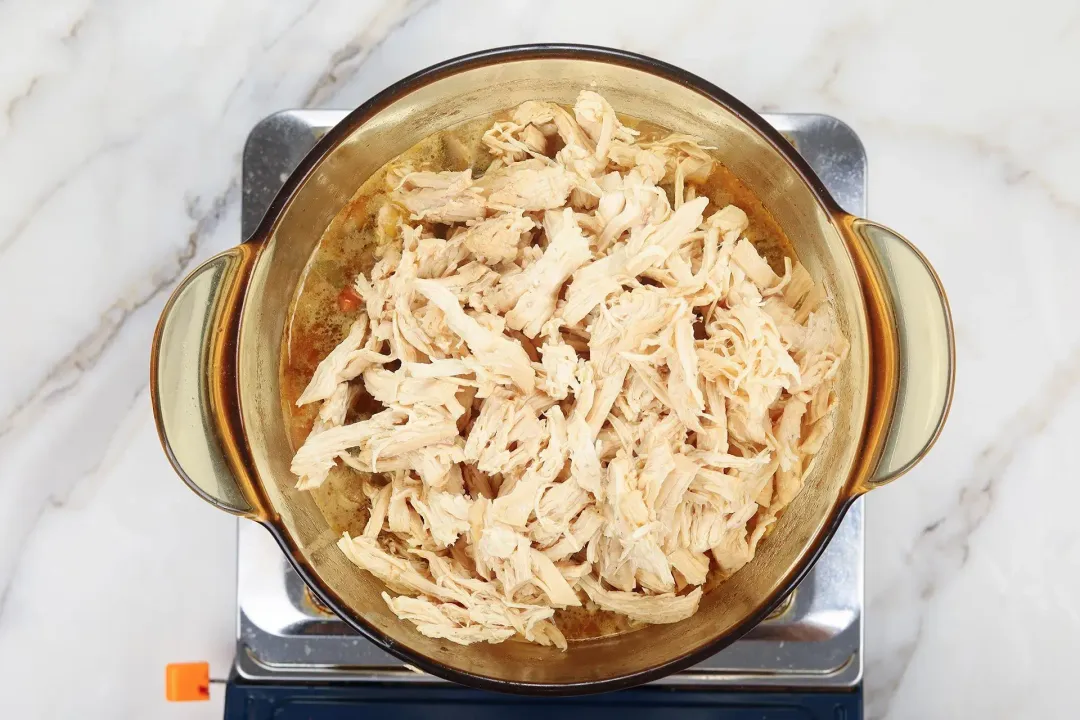 8
Stir in cheese and lemon juice: 0.75 oz parmesan cheese and 1 tbsp lemon juice. Turn off the heat.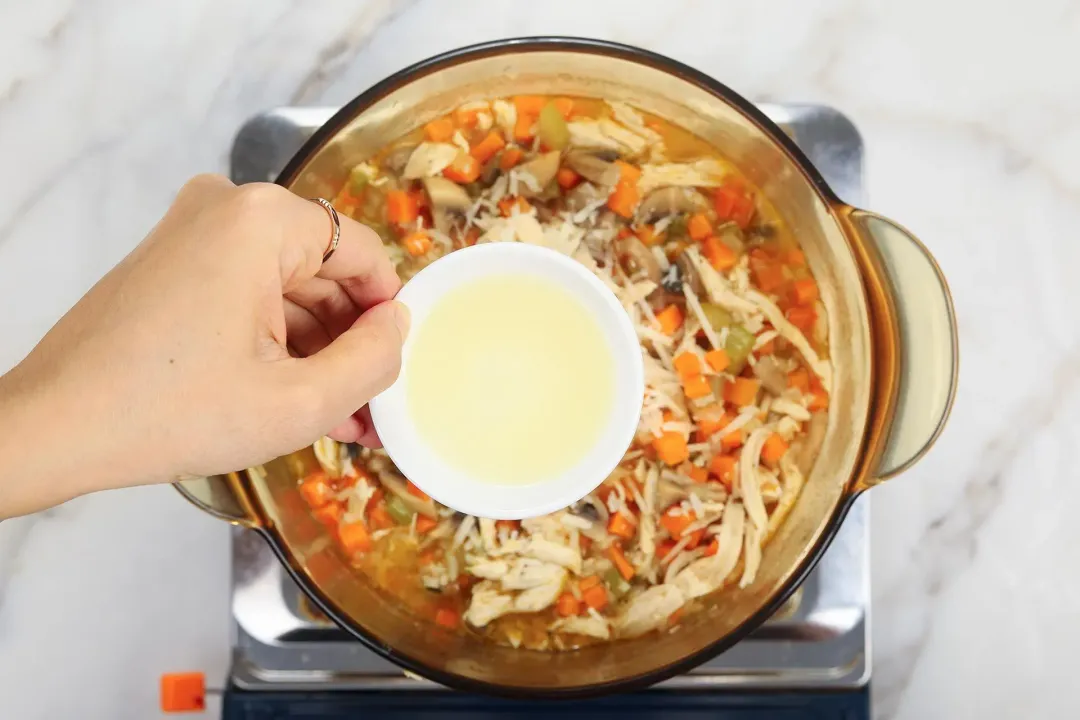 9
Garnish and serve: Sprinkle 2 tbsp dill and 2 tbsp parsley on top of the soup. Ladle it into serving bowls.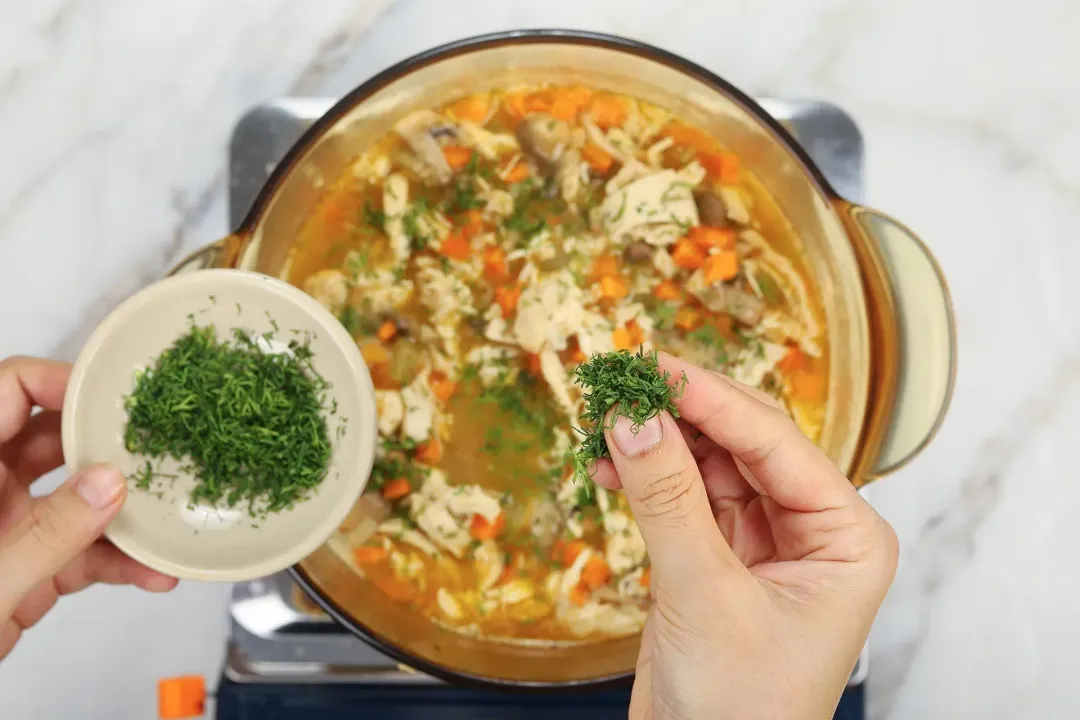 NUTRITION
Nutrition Facts
How to Make Lemony Chicken Rice Soup
Amount Per Serving (1 serving)
Calories 474
Calories from Fat 177
% Daily Value*
* Percent Daily Values are based on a 2000 calorie diet.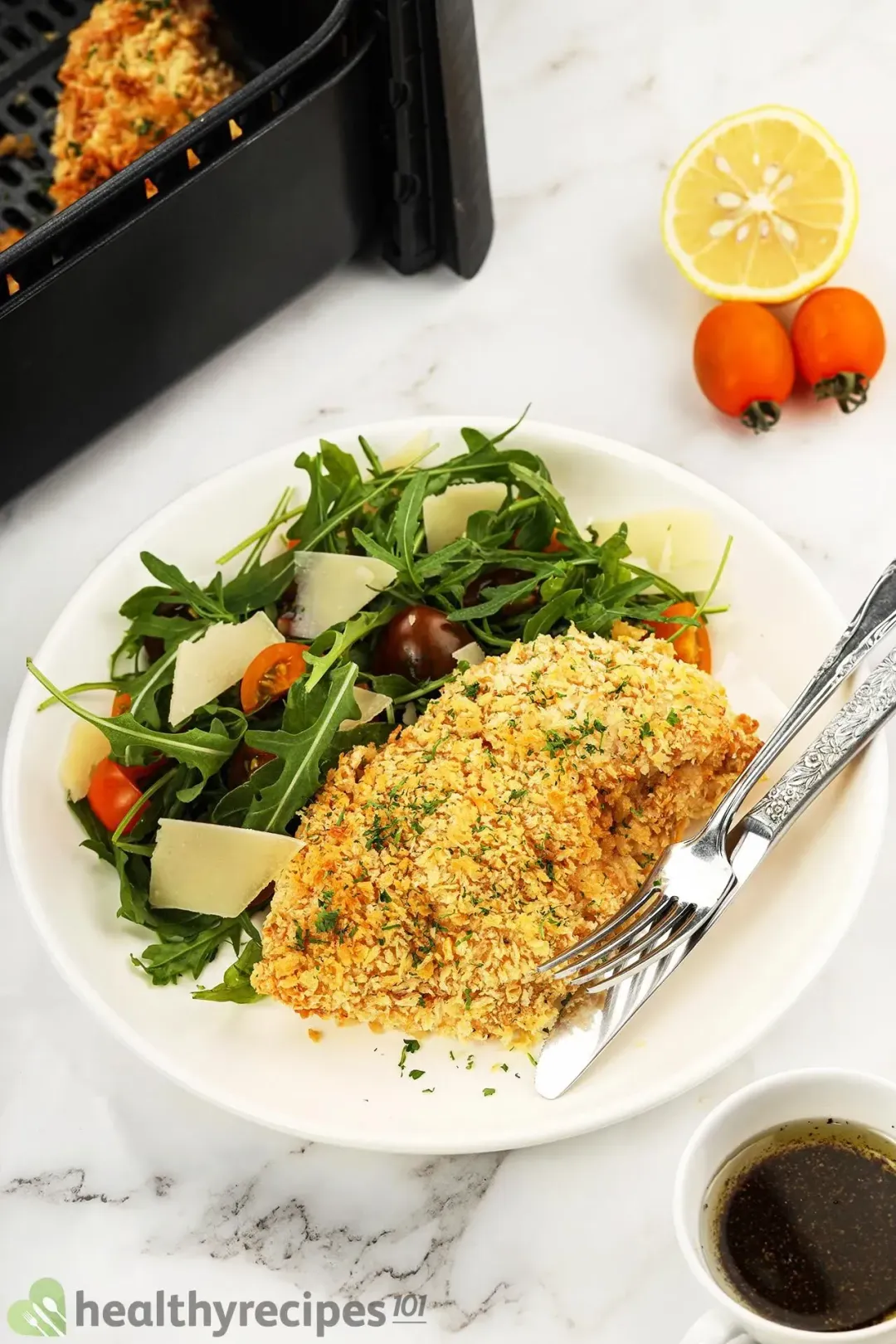 Previous Recipe
Air Fryer Chicken Milanese
Air Fryer Chicken Milanese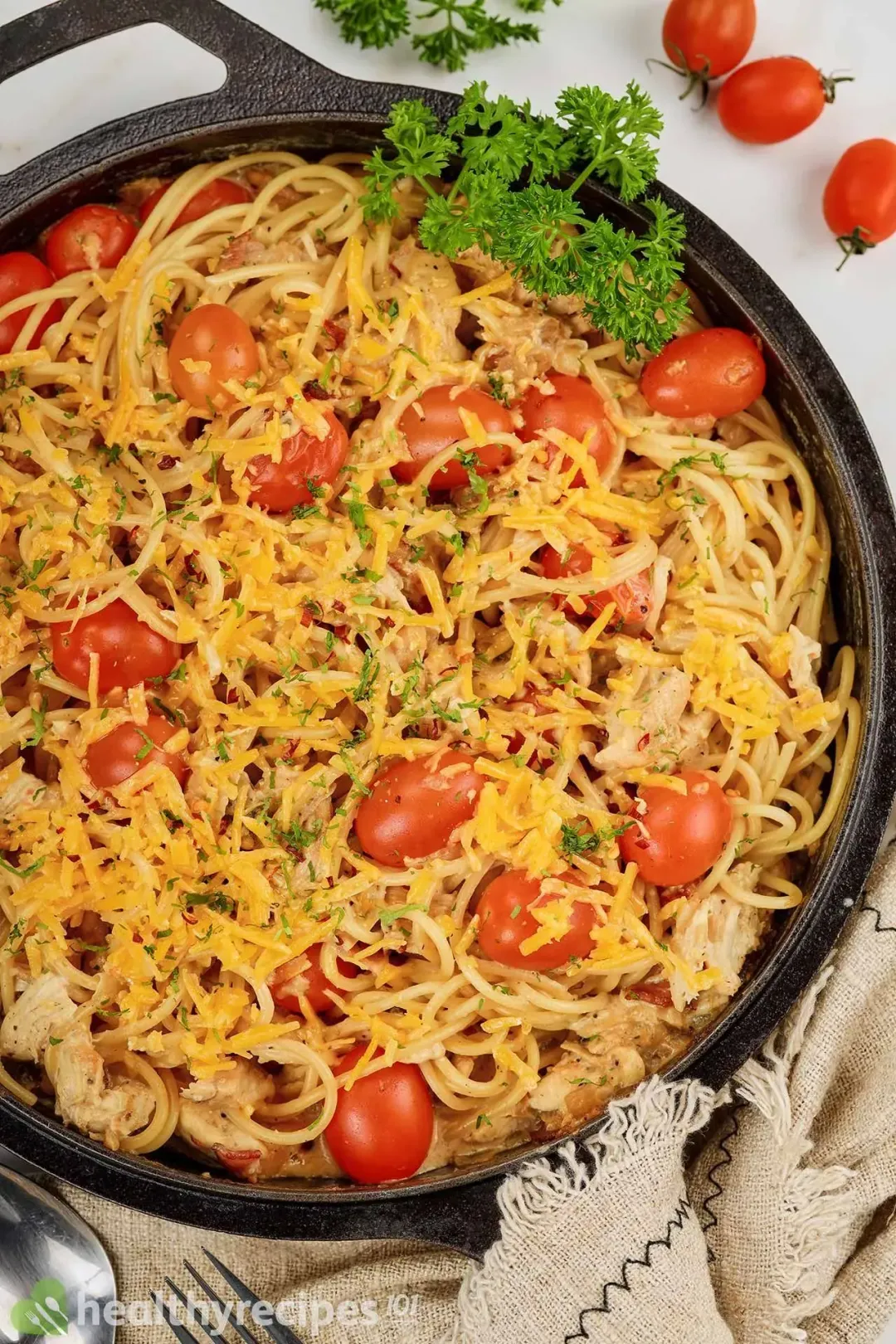 Next Recipe
Chicken Spaghetti
Chicken Spaghetti
Head Chef, Culinary Consultant
Tuyet Pham is an award-winning Saigonese chef who believes that joy is the secret ingredient to delicious food. At Healthy Recipes 101, Tuyet personally tests and simplifies every recipe, ensuring maximum flavor with minimal effort. With a background at prestigious French restaurants P'TI Saigon and Le Corto, Tuyet knows how to make every dish exceptional.
Writer, Author
Luna Regina is an accomplished writer and author who dedicates her career to empowering home cooks and making cooking effortless for everyone. She is the founder of HealthyKitchen101.com and HealthyRecipes101.com, where she works with her team to develop easy, nutritious recipes and help aspiring cooks choose the right kitchen appliances.
Nutrition Reviewer
Natalie Butler is a registered dietitian nutritionist with a passion to help others live their best life through food, fitness, safer beauty and a healthy lifestyle. She has expertise with a variety of diets and diseases and believes that there is no one-size-fits-all approach for health.
I cooked this chicken & rice soup and it was so comforting! The broth has such a bright tang from the lemon, with tender chicken pieces throughout every spoonful making it enjoyable to eat even at its healthiest version.