If you are just starting to discover the world of Mexican cuisine, this chicken fajitas recipe is for you.
The smoky flavor of chicken fajitas might seem hard to replicate if you want to reach that exact Tex-Mex restaurant version, but the dish is actually super easy to make at home just by using plain skillets.
Is Our Recipe Healthy?
Our chicken fajitas recipe is healthy since it contains several nutritious ingredients, including avocado and onions.
Creamy and tasty, avocado is a great source of vitamins C and K, potassium, beta-carotene, and omega-3 fatty acids.
Onions, whether red, yellow, or white, are loaded with benefits. These vegetables are an excellent source of vitamin C, iron, and folate. Far from making us cry, onions can support your skin and hair health.
1. Calories
There are 503 calories in this chicken fajitas recipe. You can have this dish with some salad or soup to reach about 750 calories, which is our recommended daily intake for dinner. 
2. Carbs
Each serving of this chicken fajitas recipe contains 47 grams of carbohydrates which takes up 16 percent of the total carbs that you should consume daily.
Main Ingredients
1. Chicken
For this fajitas recipe, chicken gets marinated in a special sauce of salt, pepper, chilli, cumin, paprika, cayenne, and garlic powder. Then it is seared for an appealing crisp outer edge while still juicy on the inside. 
A small tip is that you should cook the chicken before the onions and peppers, then remove it from the skillet. The chicken will be added back to the skillet only when the vegetables are cooked through and softened. This helps to avoid over cooking your chicken, and also adds more flavor to the vegetables.
2. Onions
This veg has a strong smell and flavor in the raw form, but with a little heat, it turns out sweet and tasty.
Any type of onion: red, white, or yellow, can work well in this recipe.
3. Bell Pepper
You can use bell peppers of all kinds from red, orange, green, and yellow. This colorful vegetable adds an extra crunchiness and a touch of natural sweetness to your fajitas.
4. Avocado
The flavor of chicken and vegetables is upgraded with creamy avocado. And there is a small twist here: you can grill the avocado for an interesting smoky flavor.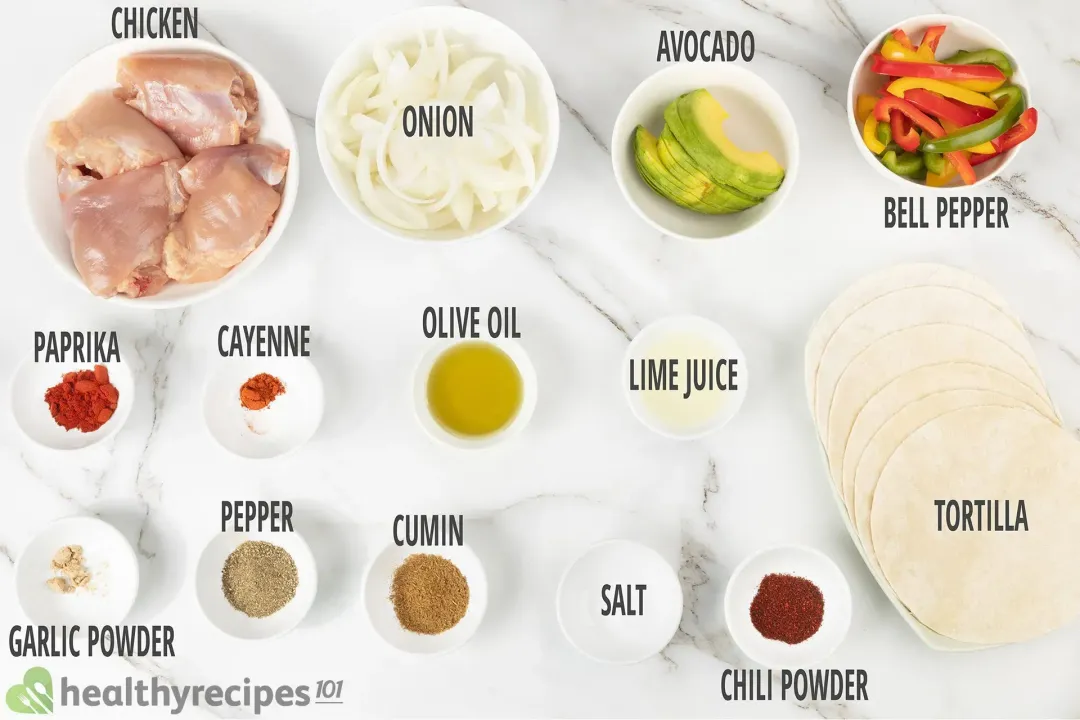 How to Cut Chicken for Fajitas
Pounding the chicken breasts properly to tenderize is one thing (approximately to an even ½ inch of thickness), but keeping your chicken tender actually takes more than just careful prepping.
For any kind of meat anywhere, there is always some juice built up inside during cooking. This juice will need some time to redistribute back throughout the meat post-cook. 
So, if you wish your meat to be juicy and tender enough, then remember to never cut it up to serve right away, since its moisture will leak out and leave you with a dry roast.
Besides, the meat will continue to cook a little after being taken out of the skillet. Its internal temperature will still continue to rise for a couple of minutes even when removed from the heat source. So that's why it's crucial to take your chicken out of the skillet a little bit earlier than it's supposed to be.
When your chicken has cooled down completely, you should cut across the grain, which helps to make the meat more tender. Sometimes, the grain is not straight, so you might have to change direction several times during this step.
For more chicken recipe ideas, have a look at our delicious chicken roundup or top healthy chicken thigh recipes.
How to Season Chicken
The seasoning for chicken fajitas contains some herbs, paprika, black pepper, cayenne pepper and chilli powder. All you need to do is stir them all together, then season the chicken with it and cook together with the veggies on the pan.
You get to completely control what goes into your spice mix. For example, you could ditch pepper or paprika if you're a bit more sensitive to heat. Then switch it with other natural herb powders like cumin, dill or oregano to achieve the desired pungent flavor and astringent mouthfeel. 
Here's one final fact: this fajita seasoning is not only adaptable for this chicken fajitas recipe alone, but is actually fitting for any tacos, soups, stews or burritos.
Marinade
Our marinade for this chicken fajitas recipe is a mixture of chili powder, cumin powder, paprika, cayenne pepper, garlic powder, salt, and black pepper. This is a simple yet flavorful marinade that everyone can make at home. 
Let your chicken sit in the seasoning mixture for a minimum of 15 minutes. This rest is literally the best way your meat can obtain its maximum flavor. 
Larger meat pieces like standing ribs, butt roasts or whole turkeys will need a longer rest, while it'll be shorter for smaller ones like tournedos of veal paillards.
To speed up the process, you can season and marinate the chicken the night before, so it's ready to go when it's time to make dinner.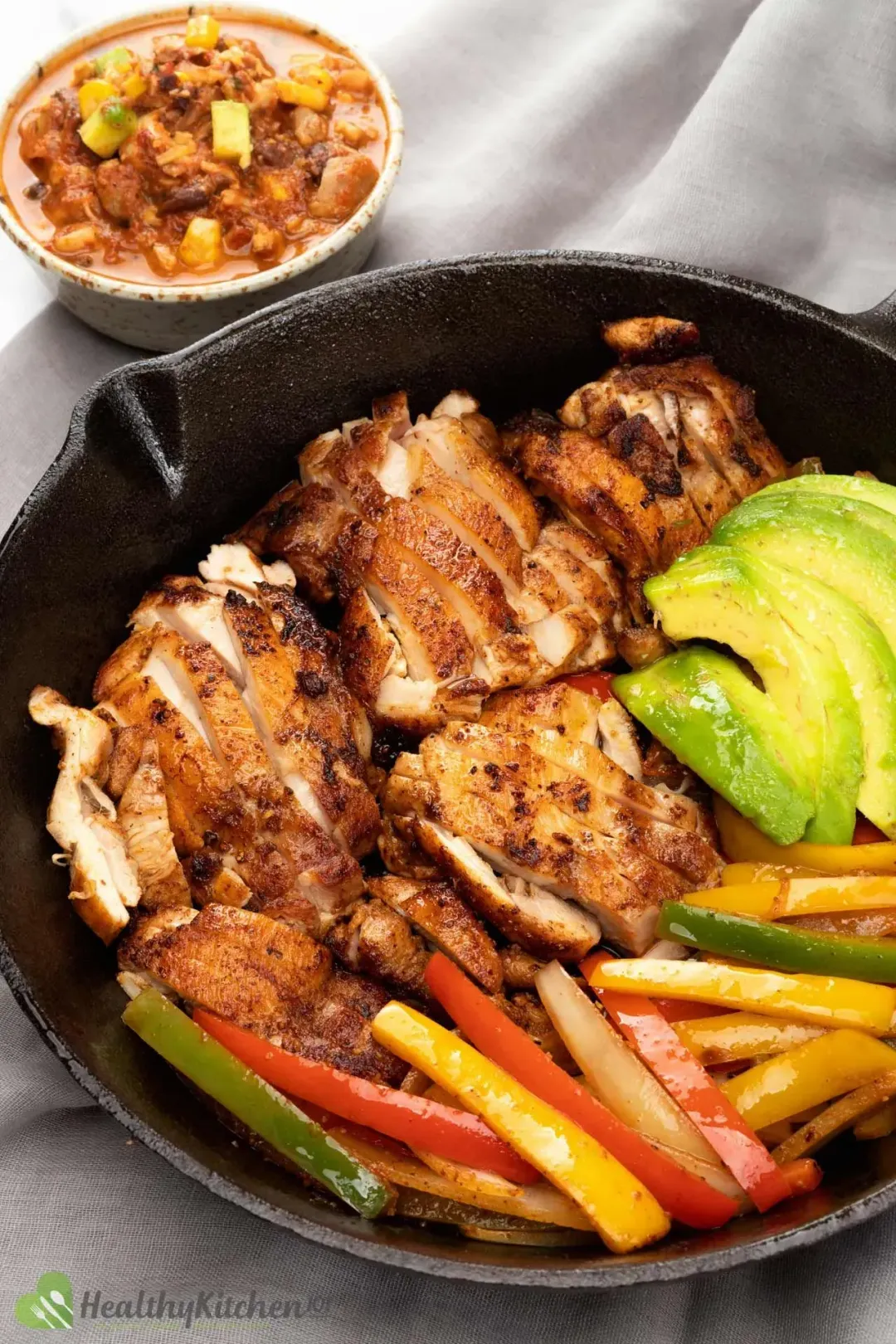 What Goes with This Recipe
We love this chicken fajitas recipe not only because it is hearty, tasty, and healthy but also because it's easy to make and customizable. You can swap any main ingredients out and use your favorites.
1. Mushroom
If you want to make classic fajitas into a vegetarian version, mushroom is all you need to have. Mushrooms offer a great meaty textured substitute for chicken or beef, and the result is still amazing.
2. Cheese
You can top fajitas with any cheese that your heart desires. Shredded cheese strips, dollops of sour cream or even gobs of salsa fresca go fantastically well with this dish.
3. Broccoli
These Mexican wraps are so versatile that you can use almost any type of vegetables in the filling. We sometimes have broccoli along with onions and bell peppers. 
Besides adding a vibrant green color to the dish, broccoli complements the chicken and helps give the fajitas extra freshness.
What to Serve with
Fajitas are a simple recipe to make which can save you from a bustling weeknight dinner. 
A basic chicken fajitas recipe calls for sauteed onions, bell peppers, and chicken breast. You can serve them with various carb dense ingredients.
1. Rice
Since fajitas contain meat and vegetables, you can have it with rice which gives you a comforting and filling meal. 
2. Pasta
A bed of pasta covered in chicken fajitas sounds amazing and tasty! A plate of pasta and fajitas gives you enough energy until the next meal and is a delicious dinner idea that you will love.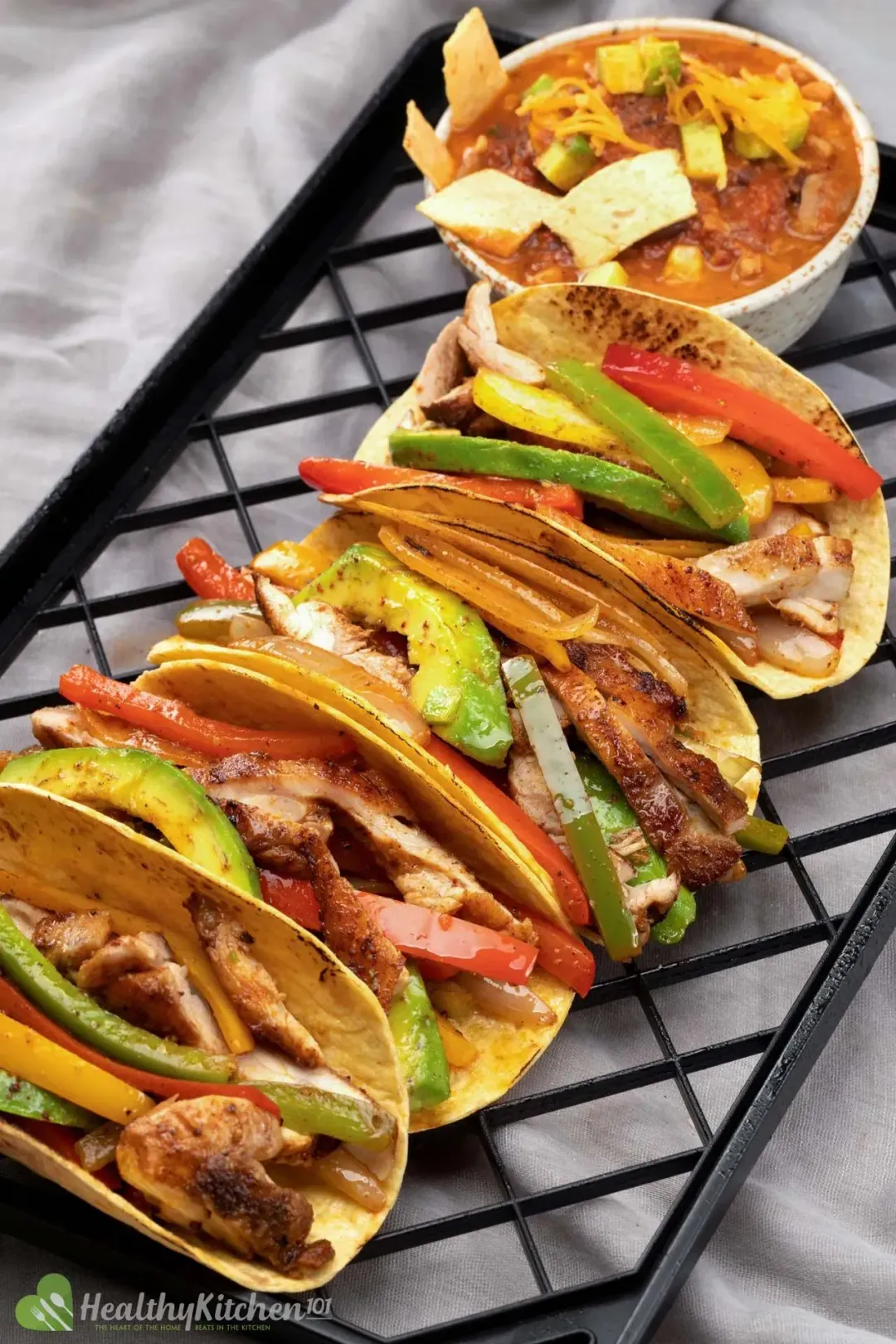 3. Flour Tortilla
Tortillas are no stranger to many people since they always appear with chicken fajitas. With the mixture of savory chicken, charred onion, bell pepper, and creamy avocado as the filling, a tortilla wrap is the perfect accompaniment. 
For those who are on a low-carb diet, choose a corn tortilla to pair with your chicken fajitas as we did with our Instant Pot Chicken Fajitas Recipe.
We recommend serving this chicken fajitas recipe with tortilla soup on the side for a hearty nutritious meal. Here are the nutrition facts for the whole meal:
More Delicious Chicken Ideas
Do you enjoy robust flavors? Have a look at our grilled chicken thigh, Thai-style. The glossy, red-ish skin takes on its color from chili powder and sriracha, and tastes salty, sweet, and spicy. It's served with cooked rice, a side of salad to ease the robust flavors, and sprinkled with some nuts and crispy garlic.
This cheesy, rich skillet of chicken breasts, on the other hand, has a strong savory taste. Everything is perfectly done, from the searing of the chicken, crispiness of the bacon, to the seasonings. That rich sauce is drizzled onto a fresh batch of potato mash and poached green beans, tying the whole meal together nicely.
For more chicken recipe ideas, have a look at our delicious healthy chicken thigh recipes.
Chicken Fajitas
Packed with fresh greens, these Chicken Fajitas are tender, crisp and can totally be prepped ahead of time, allowing you to have dinner ready in no more than 25 minutes! Minimal time and little effort but delicious results!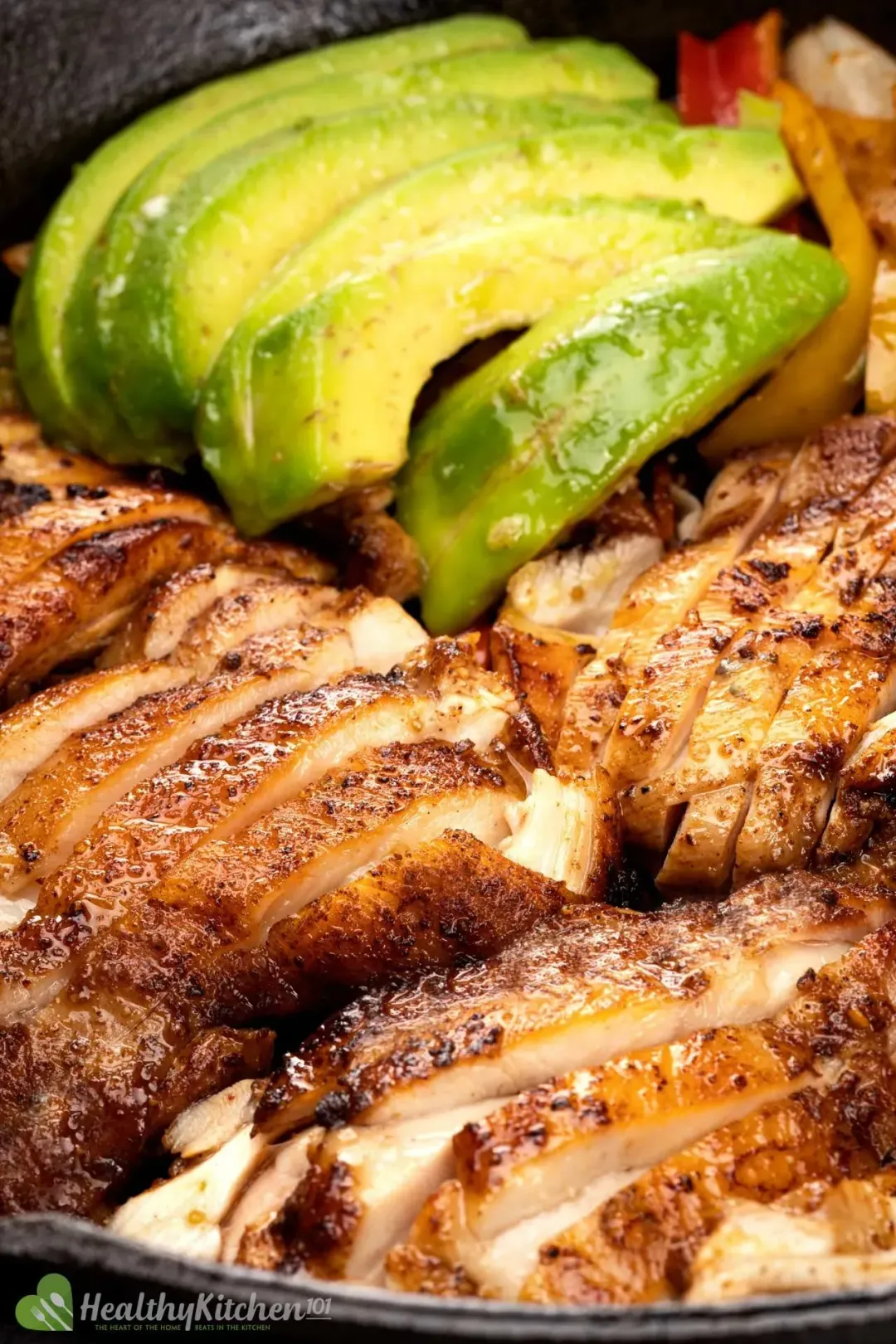 cook TIME

20 mins

prep TIME

5 mins

total TIME

25 mins
COURSE

Main Course

CUISINE

Mexican

SERVINGS

CALORIES

503 kcal
INGREDIENTS
16 oz

skinless boneless chicken breast

7 oz

onion

(2 medium, thinly sliced)

7 oz

bell pepper

(2 medium, sliced)

3 oz

avocado

(1/2 medium, thinly sliced)

1 tsp

ground black pepper
INSTRUCTIONS
1
In a plate, add 1 tsp chili powder, 1 tsp cumin powder, 1 tsp paprika, 1/4 tsp cayenne pepper, 1/4 tsp garlic powder, 1/4 tsp salt, and 1 tsp black pepper. Mix together.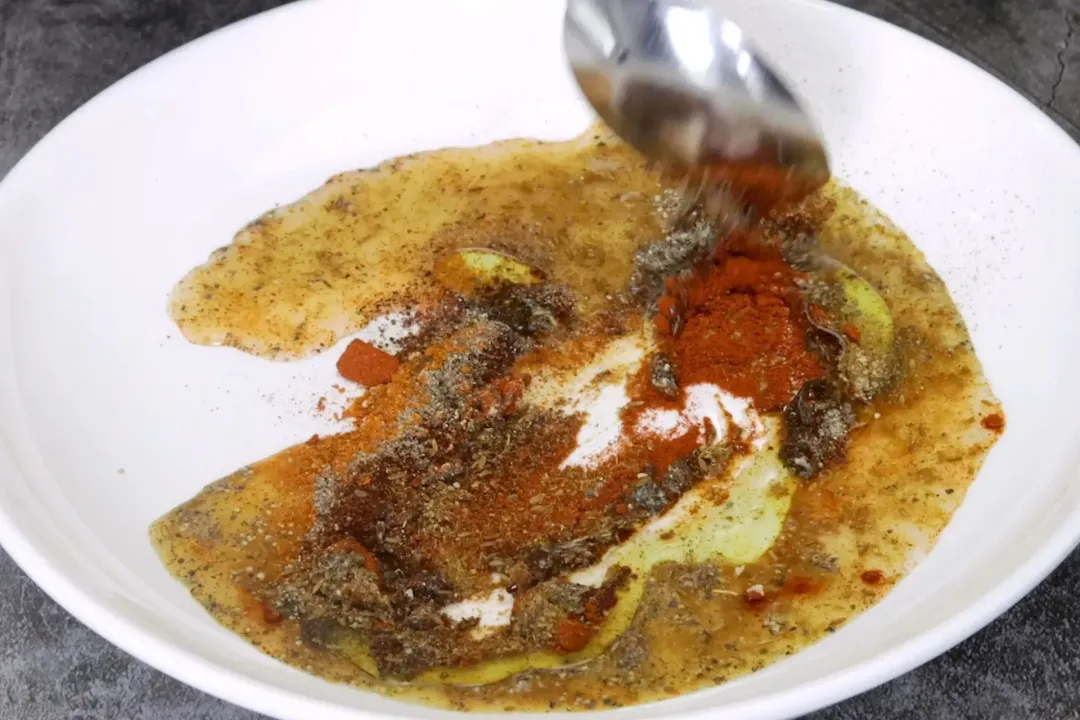 2
In this plate, season 16 oz chicken with the spice mixture, about 2 teaspoons. Let marinate for 15 minutes.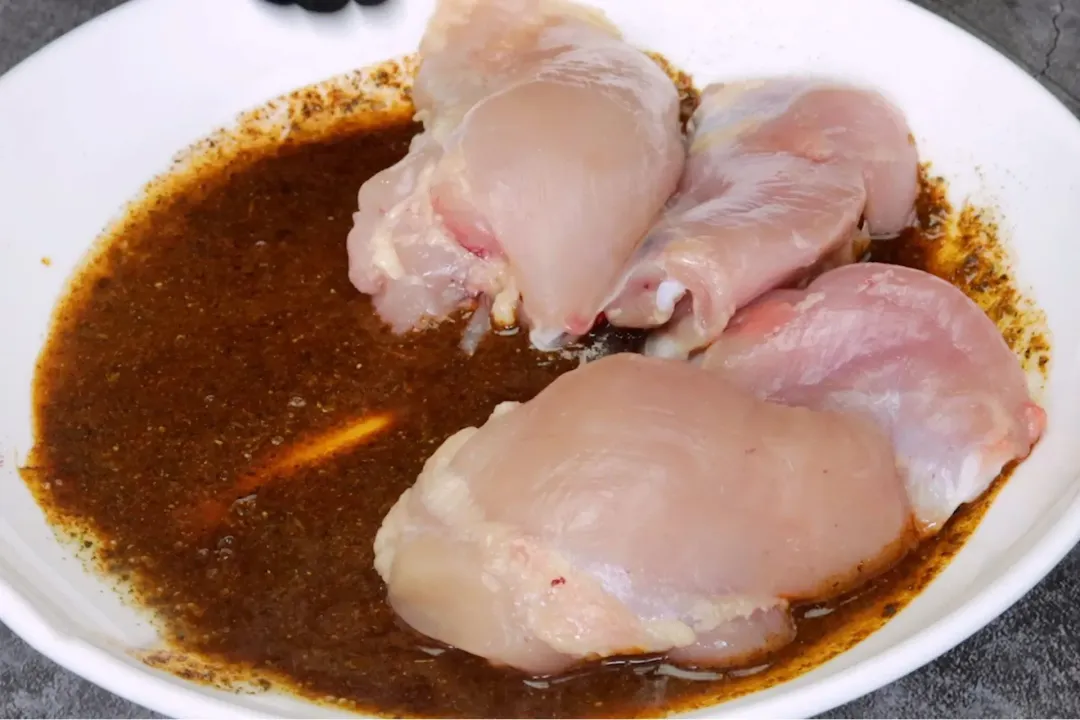 3
Heat a cast iron pan with 2 tbsp of olive oil on medium heat. Sear the chicken on both sides until golden, charred and cooked through (about 6-8 minutes on each side).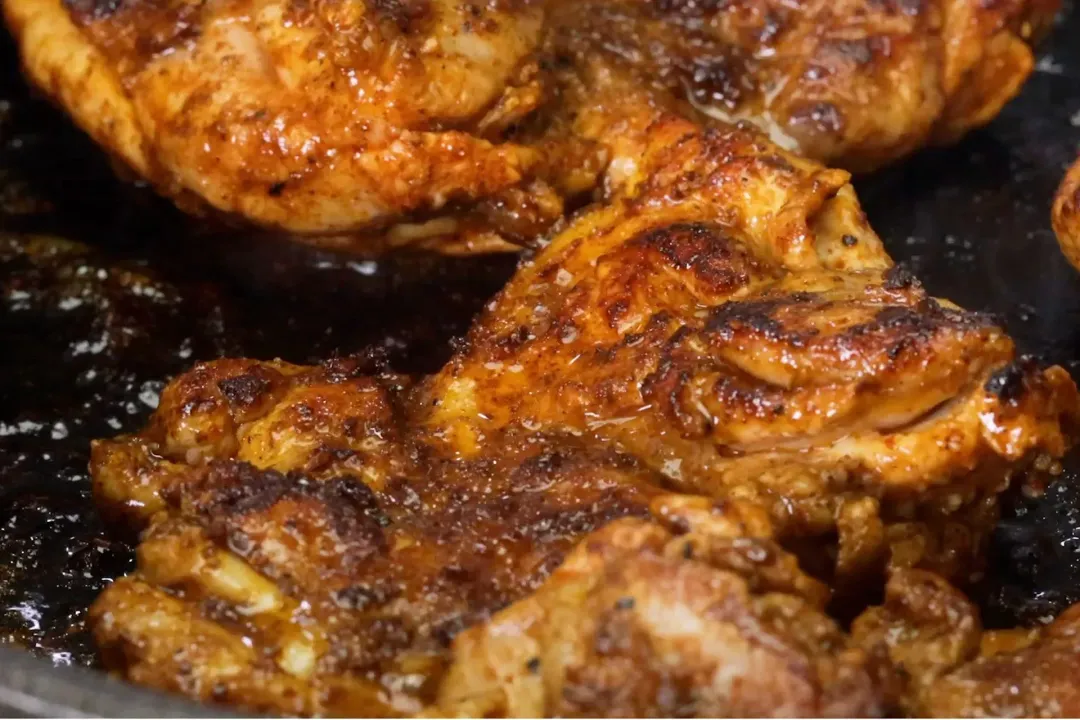 4
Transfer the chicken to a plate, and slice into strips.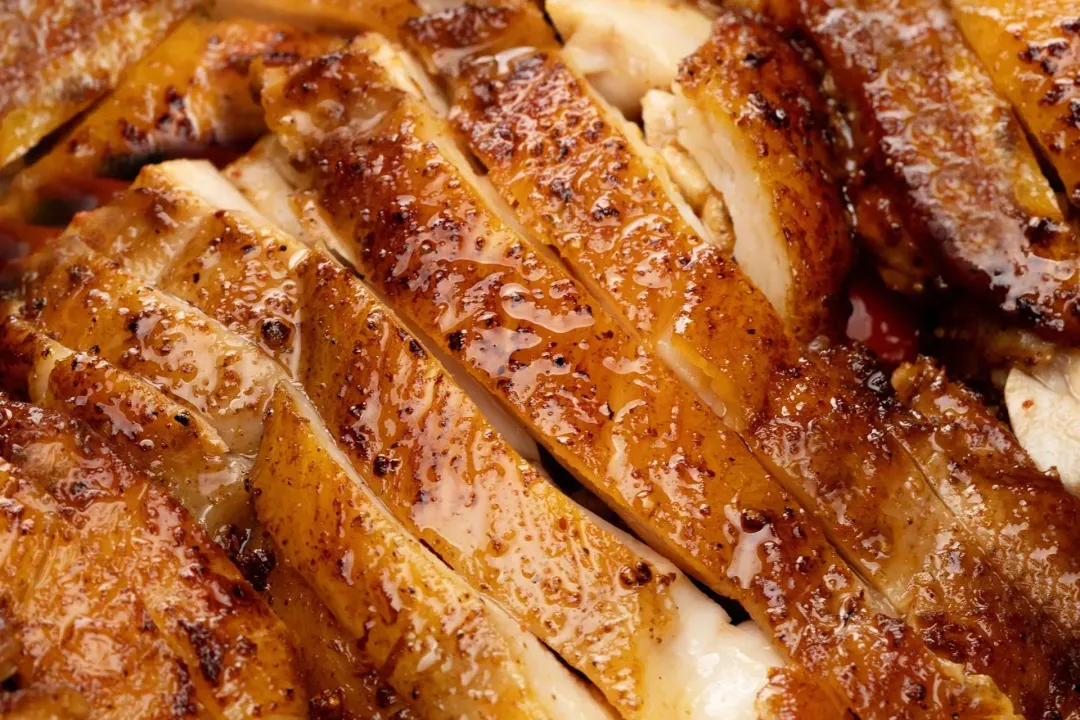 5
Heat the pan with 1 tbsp olive oil, add 7 oz bell peppers and 7 oz onions. Stir-fry until the veggies are tender. Season with the spice blend and 2 tbsp lime juice.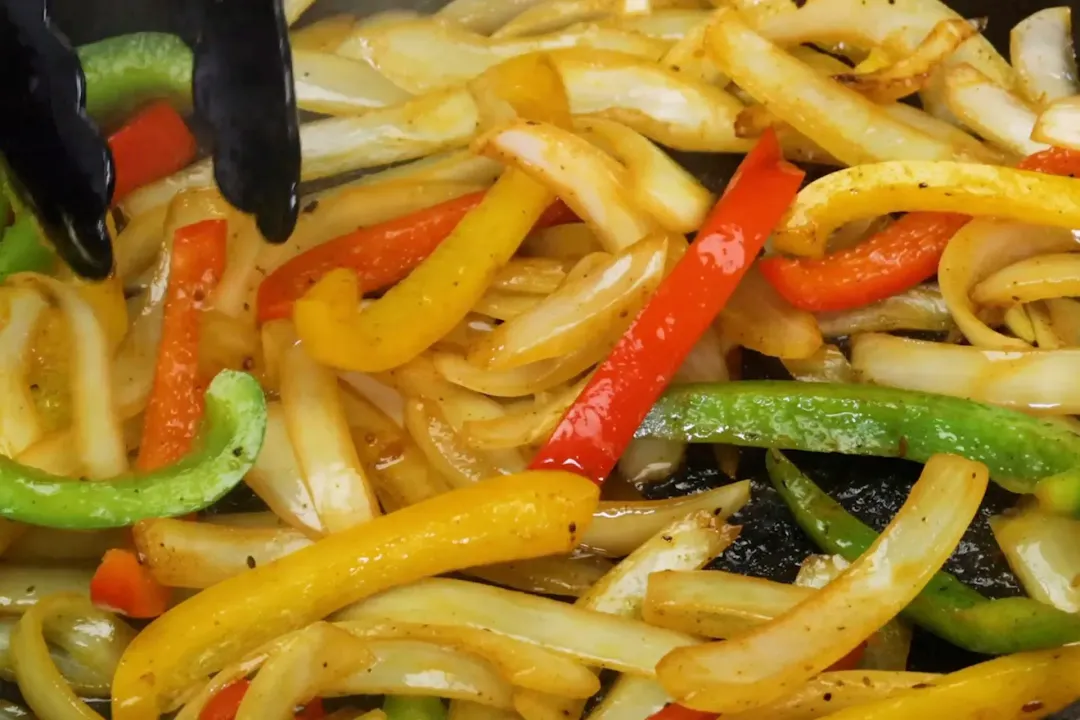 6
Warm 6 tortillas in the oven on low heat (275°F) for 3 minutes. Remove.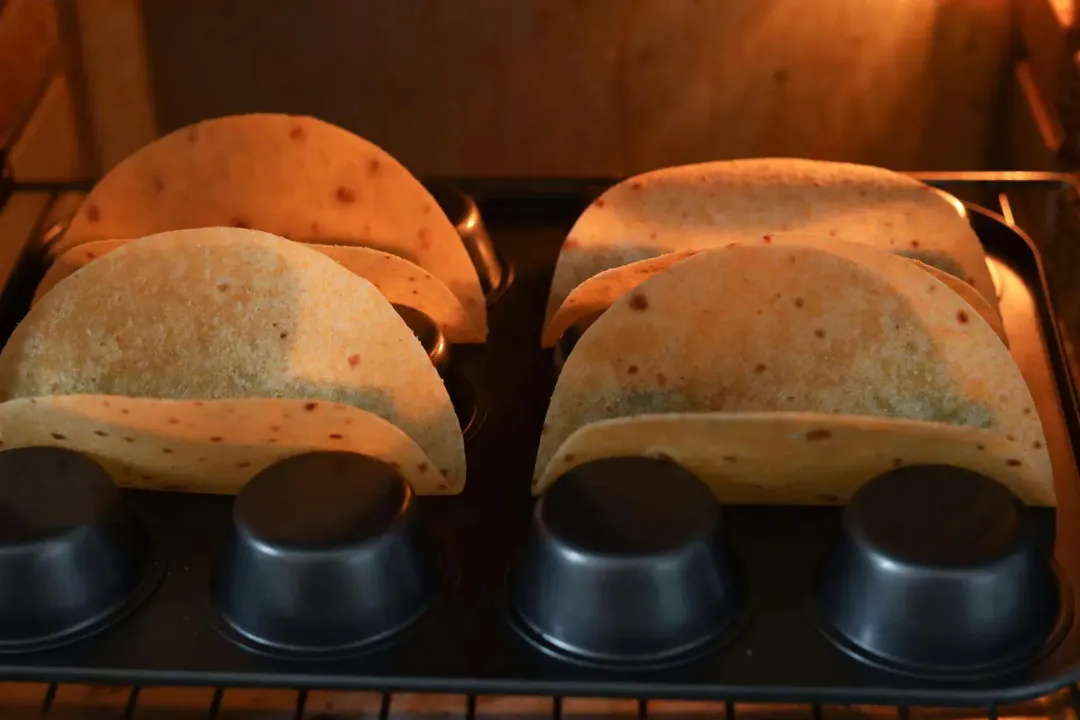 7
Fill the warm tortillas with the chicken, 7 oz avocado and veggie mixture above. Add more of your favorite toppings. Enjoy!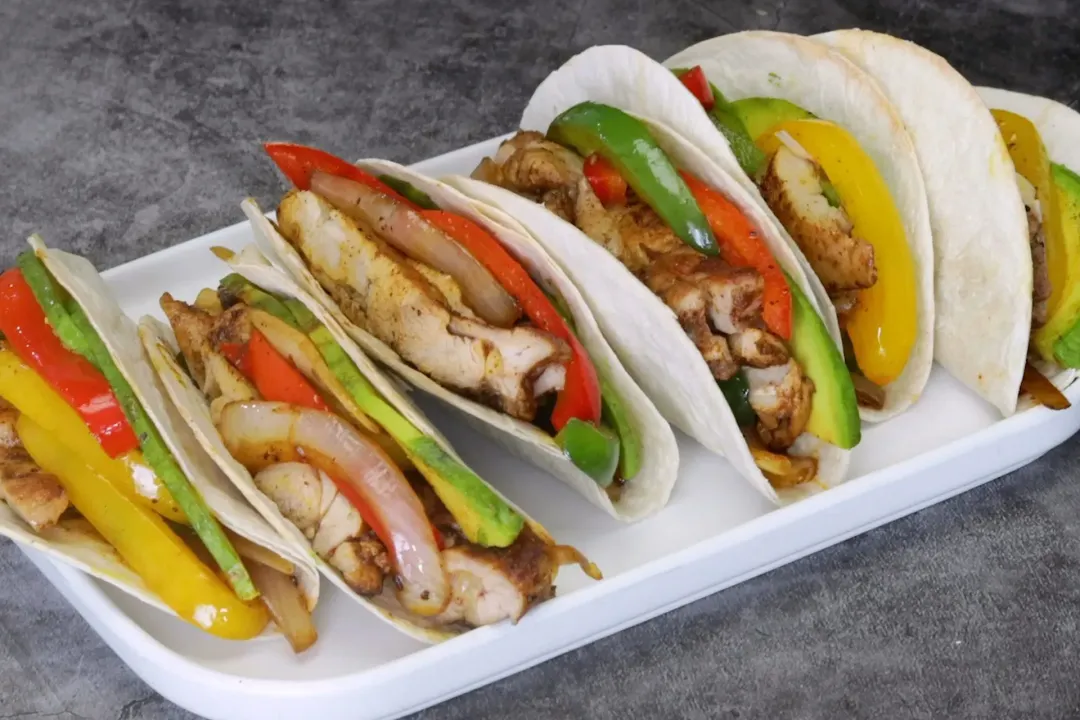 NUTRITION
Nutrition Facts
Chicken Fajitas
Amount Per Serving (1 serving)
Calories 503
Calories from Fat 189
% Daily Value*
* Percent Daily Values are based on a 2000 calorie diet.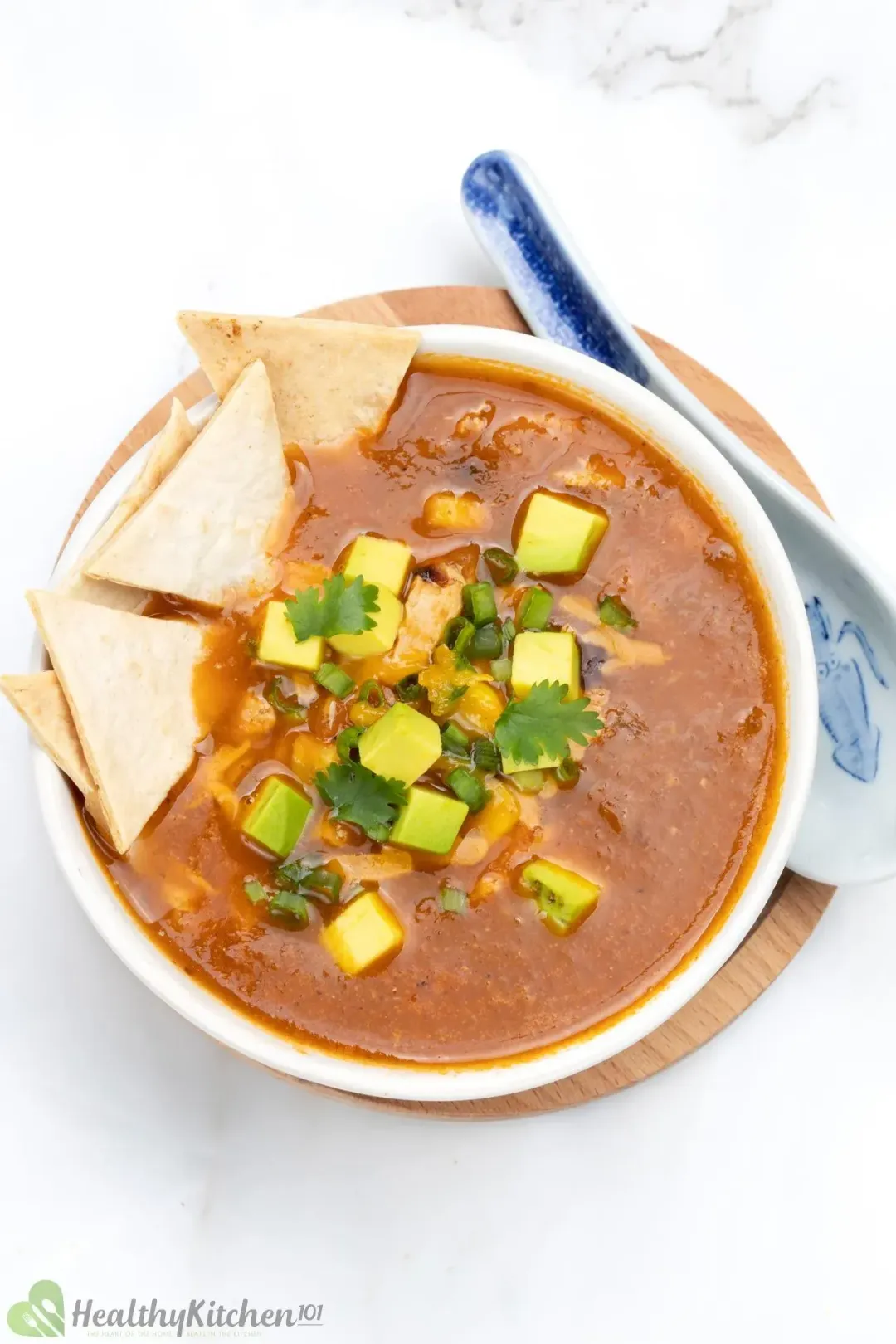 Previous Recipe
Chicken Tortilla Soup
Chicken Tortilla Soup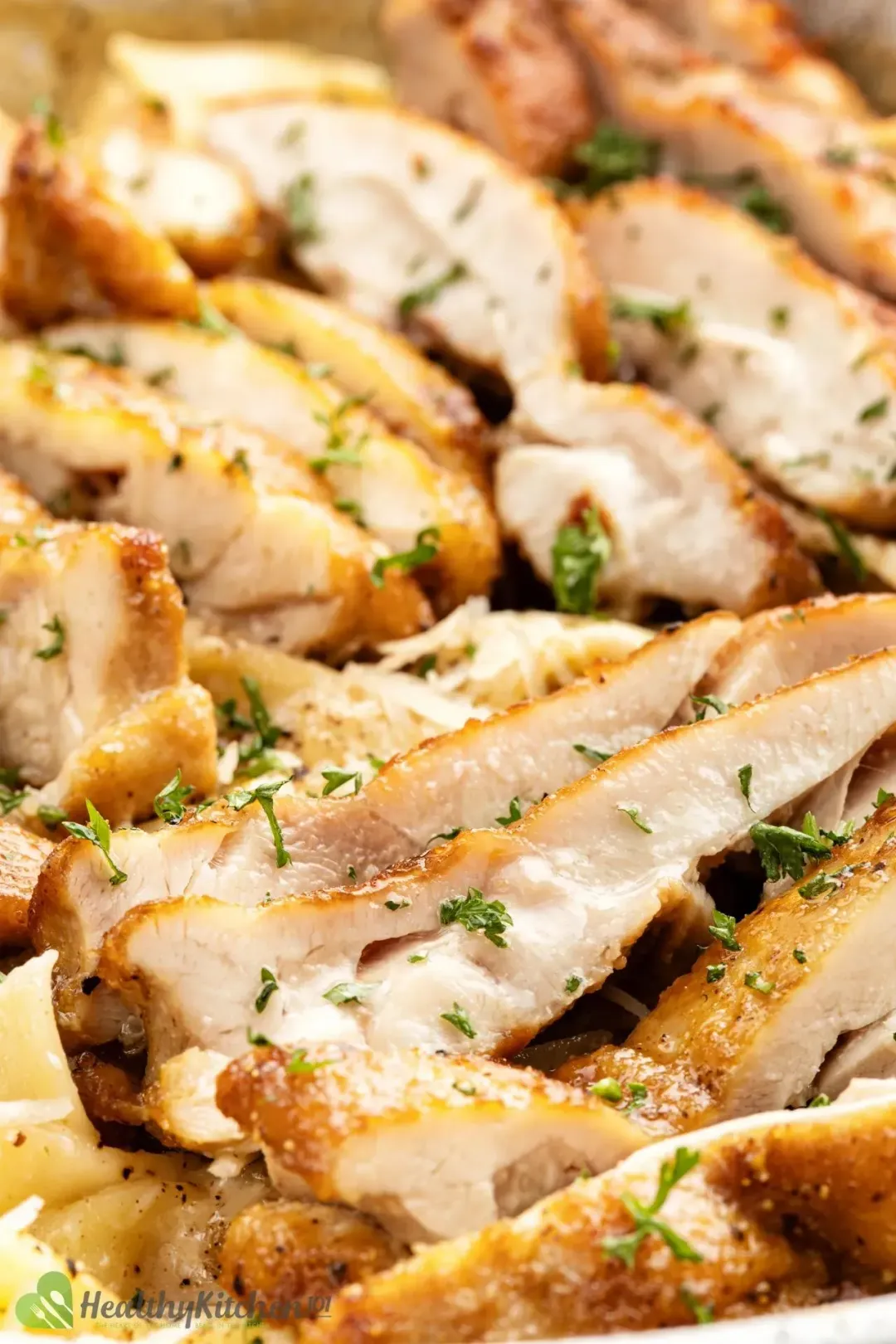 Next Recipe
Chicken Alfredo
Chicken Alfredo
Head Chef, Culinary Consultant
Tuyet Pham is an award-winning Saigonese chef who believes that joy is the secret ingredient to delicious food. At Healthy Recipes 101, Tuyet personally tests and simplifies every recipe, ensuring maximum flavor with minimal effort. With a background at prestigious French restaurants P'TI Saigon and Le Corto, Tuyet knows how to make every dish exceptional.
Writer, Author
Luna Regina is an accomplished writer and author who dedicates her career to empowering home cooks and making cooking effortless for everyone. She is the founder of HealthyKitchen101.com and HealthyRecipes101.com, where she works with her team to develop easy, nutritious recipes and help aspiring cooks choose the right kitchen appliances.
Nutrition Reviewer
Lizzie Streit is a Minneapolis-based dietitian and founder of It's a Veg World After All. She completed her MS in Human Nutrition from Drexel University, and is an expert in culinary nutrition, recipe development, and nutrition communications. Lizzie's philosophy is centered around making nutrition recommendations, and especially the advice to eat more vegetables, approachable and realistic. She is excited to be working with the team at Healthy Recipes 101 to ensure that their recipes are both nutritious and delicious.
Oh my god, this is so yummy. I love dit.

It came out great - delicious, juicy and beyond easy.