This chicken tortilla soup recipe is made from a rich broth, veggies, and dotted with chili powder to enhance a perfect smoky flavor. With just slight spiciness and tender shredded chicken meat, it is either a beautiful surprise for a relative visit or a cozy daily treat.
As with this classic chicken tortilla soup recipe, we love to top it with ripe avocado slices and lime. This simply finishes it off with a creamy but fresh note. 
Easy to make and burst with Mexican flavor – this recipe deserves a space in your recipe list!
What Is Tortilla Soup?
Tortilla soup is a tomato-based Mexican soup. The main ingredients usually contain corn, beans, and jalapenos. It is served with avocado, fresh cheese cubes, sour cream, and tortilla chips.
The original Mexican soup is often made with chicken, but other types of meat like beef, lamb, or fish can be used, too. These proteins complement and add tons of flavor to the soup.
Is This Soup Healthy?
Our chicken tortilla soup recipe is made from scratch and it also follows our healthy eating guidelines. We tested and played with the ingredients a bit to create this healthy and tasty recipe.
1. Calories
Our chicken tortilla soup recipe yields 245 calories for a serving. We recommend serving this soup as a side dish with a main dish for a 750-calorie lunch or dinner. 
2. Carb
A serving of this chicken tortilla soup recipe contains 27 grams which account for 9 percent of your daily intake. This chicken tortilla soup recipe is great for anyone who is on their low carb diet.
How to Thicken
Tortilla chips are the very first ultimate agent when it comes to increasing the thickness of the soup. Simply throw a few scraps of tortilla chips right into the boiling pot and let them dissolve completely. 
There are also some other ways, let check out the alternatives below.
Starch: Apart from the top-flavored tortilla chips, starch is the first runner-up. 
All you need to do is whisk a tablespoon of starch with some water to create a compo. Then pour it right in the chicken soup bowl while still piping hot.
The starch will then be disrupted under high temperature and its granules will also absorb the liquid to thicken. This gives you the creamy soup of your dreams.
Stale bread crumbs or Oats: Theoretically, bread crumbs are also starch, so stale bread and oats can work the same way that tortilla chips do. They absorb liquid when soaked in water, then turn to a purée state to give you a consistency in texture. 
Stale bread is also especially favored for varying flavors and aroma, for example, rosemary or thyme.
Yogurt or coconut milk: Plain yogurt might taste a bit sharp and tangy on the tip of your tongue. However, it's hands-down the easiest way of all for a perfect creamy soup texture without a starchy feeling.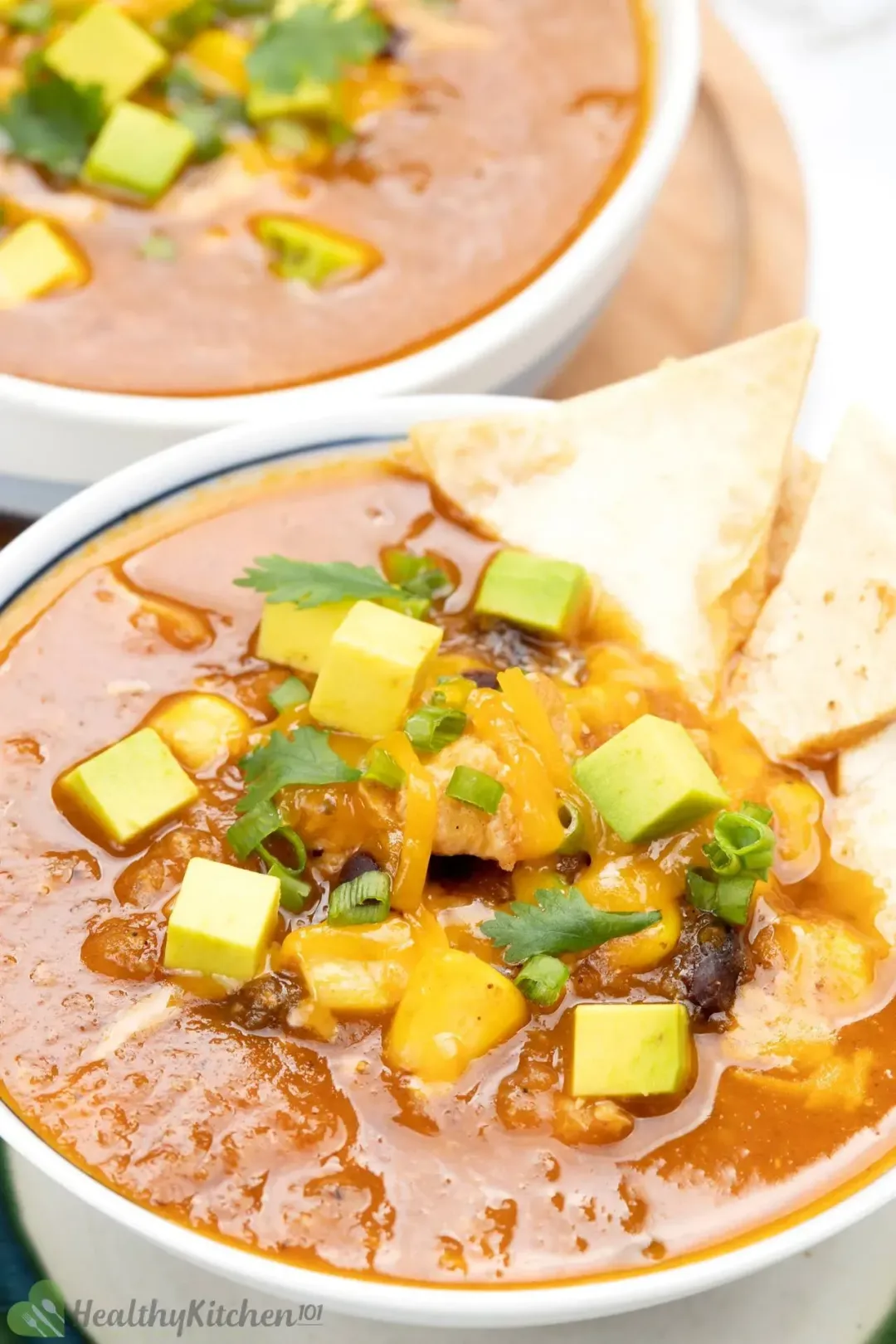 The same goes for coconut milk. Their hearty sweetness is undoubtedly ingenious and captivating to the taste buds. Also, try Greek plain yogurt if possible.
How Long Does Chicken It Last in the Fridge?
When it comes to soup, there are usually leftovers. You can keep them in an airtight container. The soup can last for about 3 days once refrigerated.
One important thing is to let your chicken tortilla soup cool down completely before keeping it in the fridge. If you want to speed up the cool-down process, separating the soup into different containers. 
To reheat the soup, pour it in a pot over low heat until warmed through.
If you are craving some chicken soup ideas, our Chicken and Rice Soup, Chicken and Sausage Gumbo or Thai Chicken Curry are definitely worth a try. It's simple, tasty and healthy, as with all recipes on our website!
Can You Freeze?
Yes, you can. Chicken tortilla soup is easy to freeze and reheat because it doesn't contain dairy. 
Simply cool your soup down completely at room temperature, then store it in a freezer-safe container. Frozen tortilla soup can last up to 3 months. 
What Goes With This Recipe?
This filling chicken tortilla soup recipe is packed with a lot of healthy and tasty ingredients like chicken, vegetables, and avocado. An interesting thing is that you can go wild with all these elements. 
Here is a list of some alternatives that we love to add to the tortilla soup.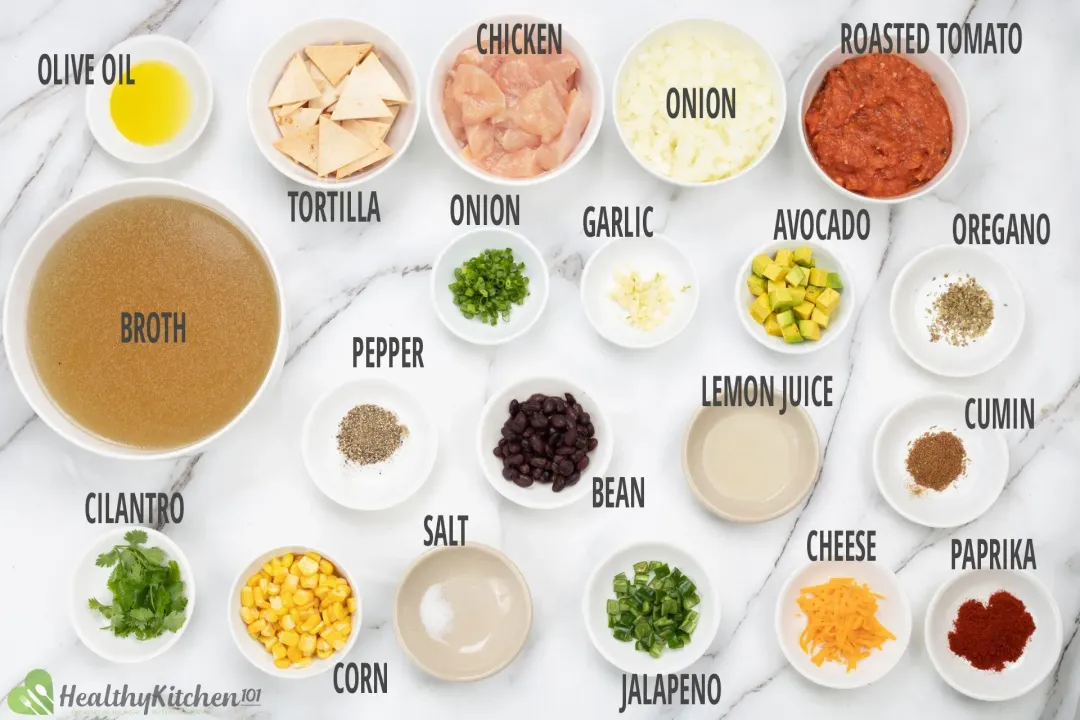 1. Zucchini
A lot of veggies and herbs work well in chicken tortilla soup recipes.
Some of our favorites are bell pepper, corn, onion, and the list can go on. One sure thing – they're all healthy and probably on-hand foodstuffs. There isn't a cost hit to preparing it at all.
We sometimes twist the classic tomato-based tortilla soup and use zucchini for a thicker texture and sweeter taste. 
2. Hominy
Hominy is made from dried corn and treated in a special process to remove the hull and germ.
It provides a chunky texture that you will love. You can substitute corn or chickpeas.
3. Black Beans
Beans add a little starch and protein to the soup and also help to keep you full longer. Rinse them well before using, and you can add as much like black beans as your preference. 
You could swap black beans for other types like red beans or pinto beans.
4. Salsa
If you have any leftover salsa on hand, try to make a chicken tortilla soup recipe with it. Salsa gives the tomato flavor and also spices up the tortilla soup.
You can try with any salsa of choice, but we suggest something spicy and balance it with corn and avocado.
5. Tortilla Chips
It's not the ingredients, but rather the toppings that take the soup to the next level of a showstopper. What can tortilla strips do better in a tortilla soup rather than floating, nourishing the rich flavor for your soup pot?
If you're up a stump with too much tortilla from your daily grind, Quesadilla is also another fine option.
What to Serve with
This chicken tortilla soup recipe is so versatile that you have many ways to combine it in the meal.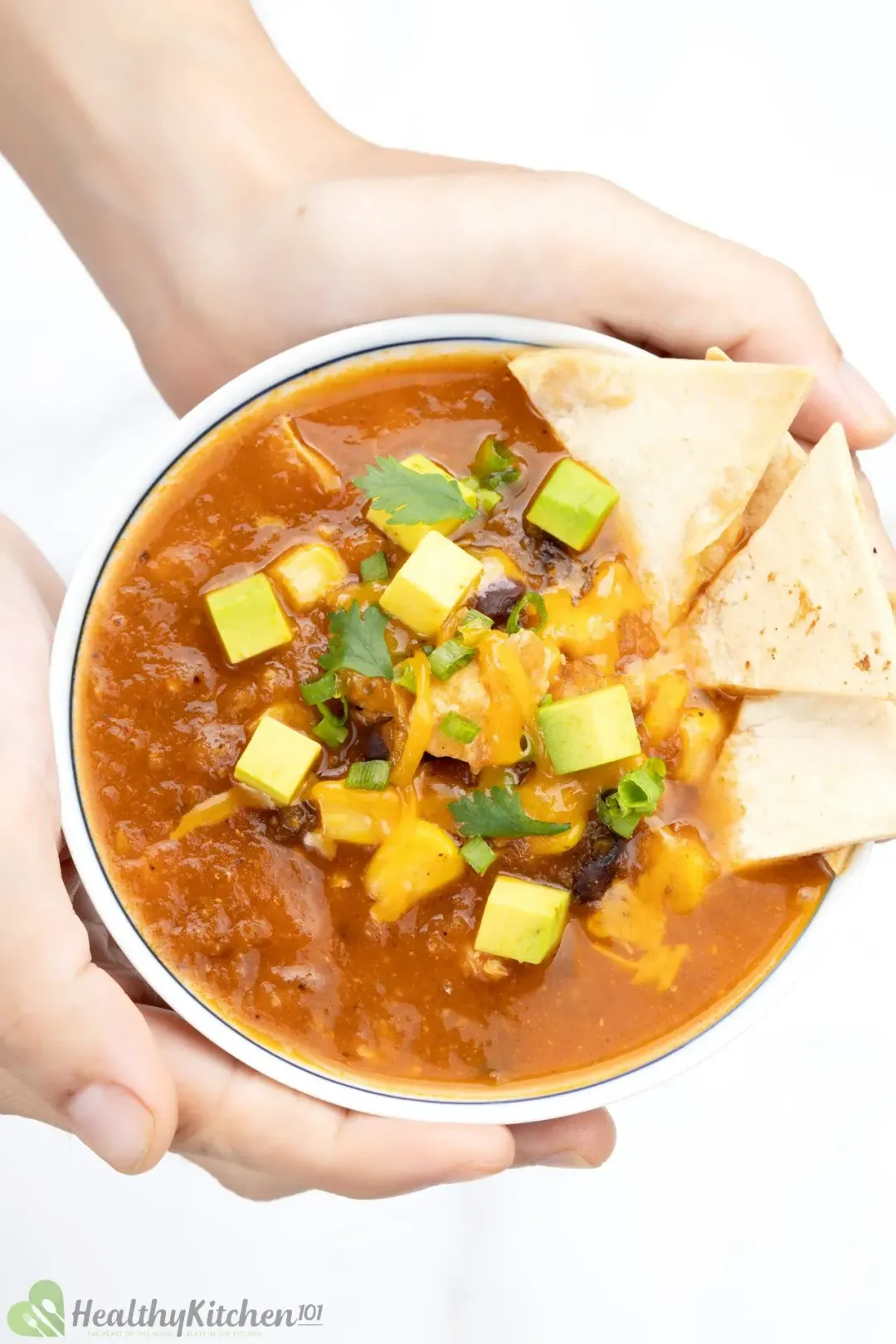 1. Rice
If you want to make tortilla soup into the main dish, try serving it over white or brown rice. 
Another way to combine rice to the recipe is to add cooked rice into the broth and simmer until tender. Then garnish the soup with sliced avocado and tortilla chips for a nutritious and comforting meal. 
2. Salad
You can have a green salad to serve with a starchy soup like the tortilla. A light salad which is made from lettuce, olive oil, lime juice would be so astonishing. You are looking for soup for the main dish, our stuffed pepper soup is a great option.
For more chicken ideas, try our best delicious chicken recipes.
Chicken Tortilla Soup
The amazing thing is, Chicken Tortilla Soup Recipe takes you only more than an hour but will arrive at the table like a piping hot gourmet meal that demands great enthusiasm to be done. So warm and mouth-watering.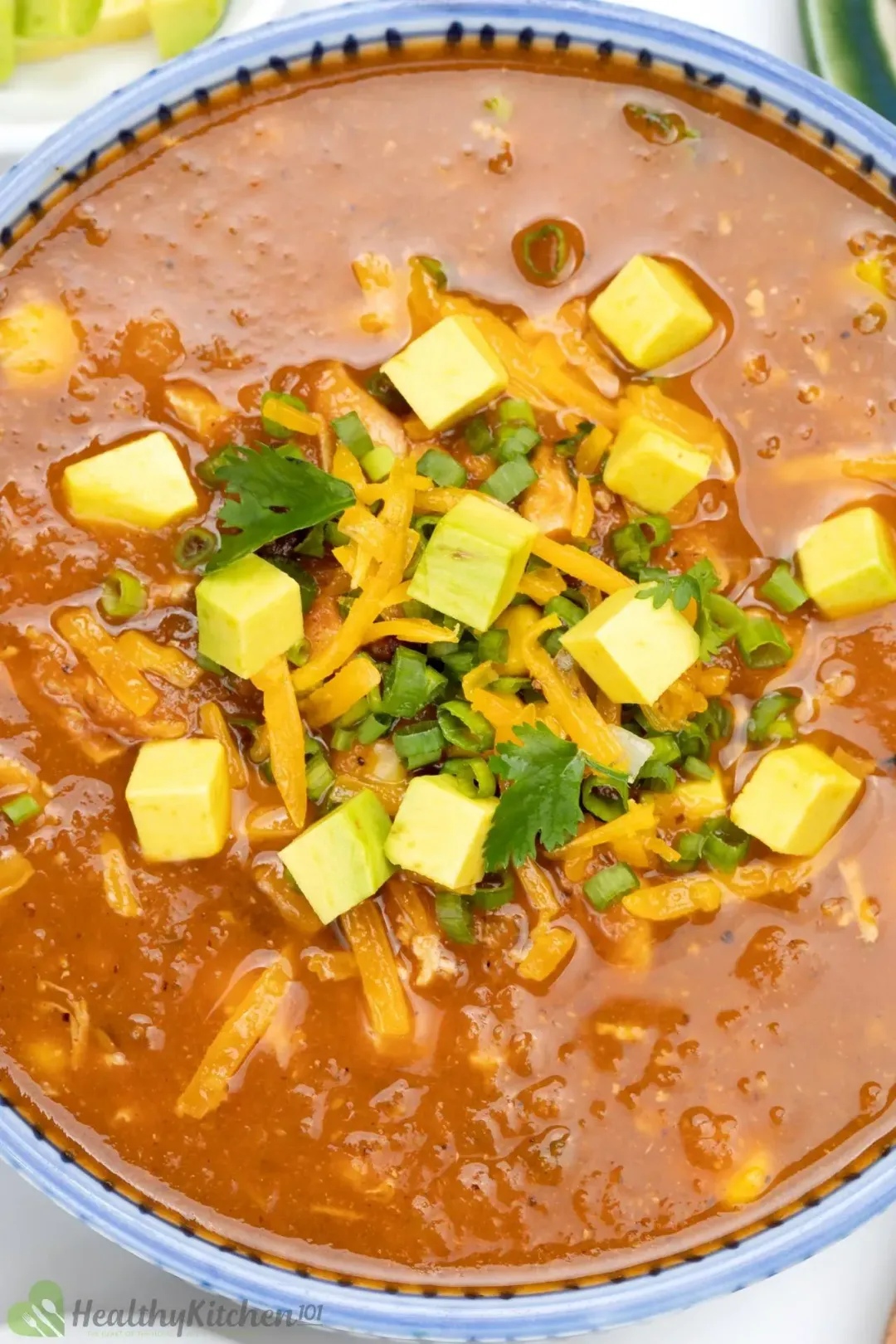 cook TIME

1 hr

prep TIME

15 mins

total TIME

1 hr 15 mins
COURSE

Appetizer, Side Dish, Soup

CUISINE

Mexican

SERVINGS

CALORIES

245 kcal
INGREDIENTS
8 oz

skinless boneless chicken thighs

4 cups

unsalted chicken broth

1 cup

onion

(1 medium, chopped)

1 cup

fire-roasted whole tomatoes

1 tsp

jalapeno pepper

(seeds removed and chopped)
INSTRUCTIONS
1
Pour 1 tsp of olive oil into a small pan over medium-high heat. Add 8 oz chicken thighs and cook for about 7-8 minutes per side, until the outside is golden brown and the meat is cooked through.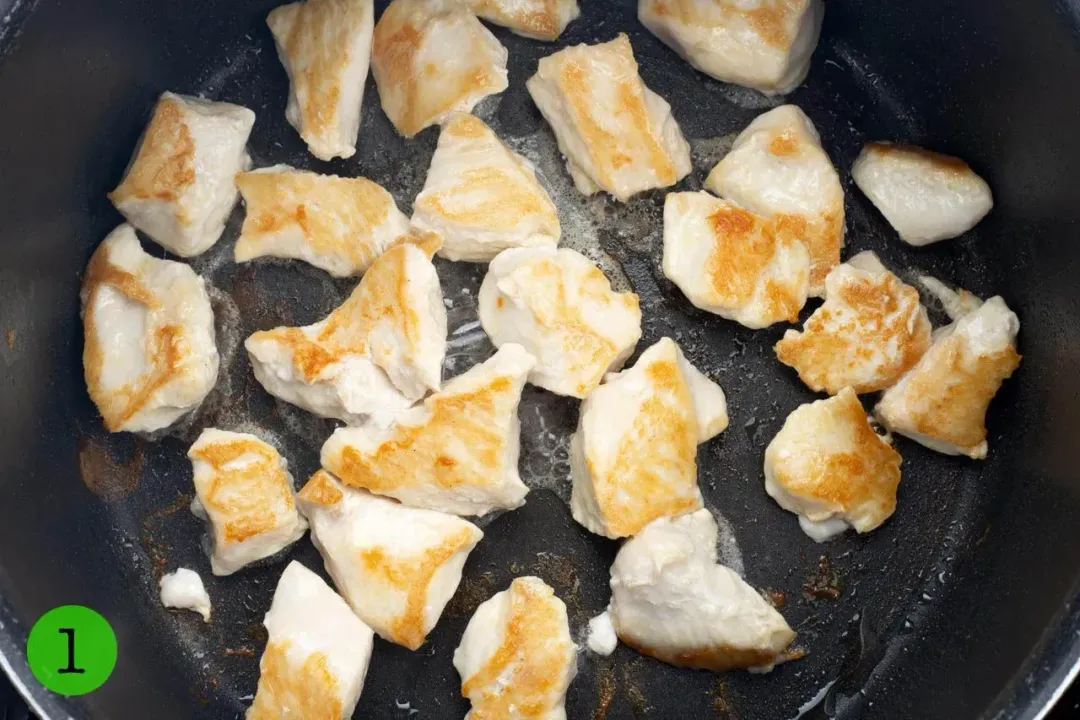 2
Let the chicken cool completely and shred it.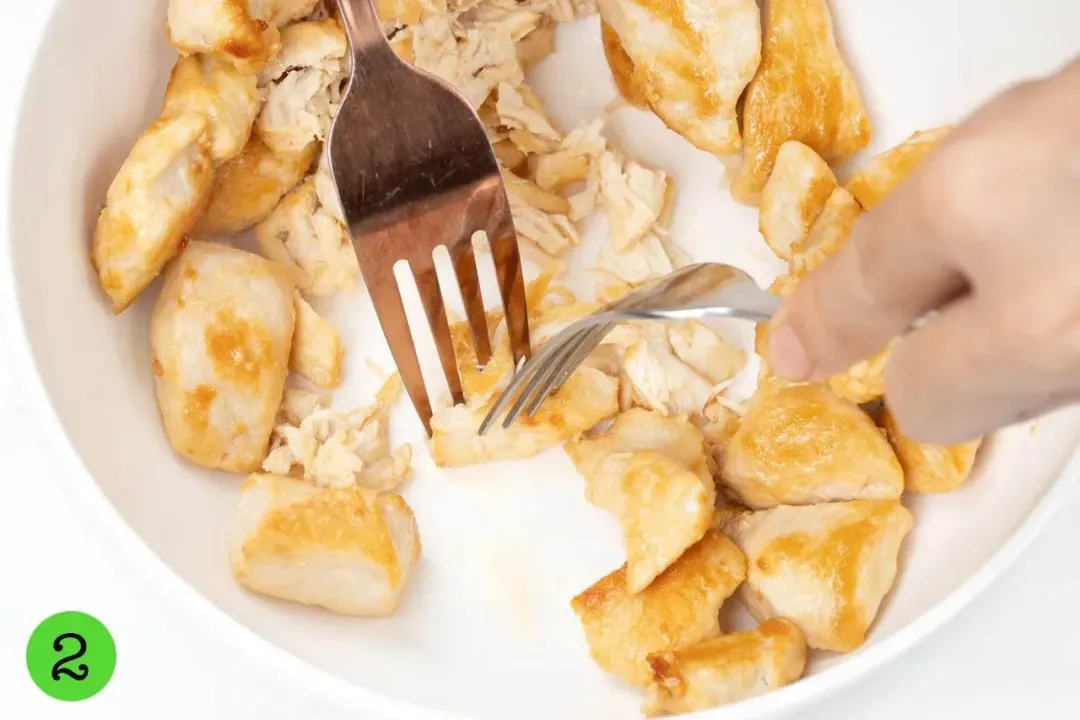 3
Heat a saucepan over medium-high heat. Add 1 tsp of olive oil, 1 cup chopped onion, 1 tsp jalapeno pepper, 1 tsp garlic, and saute until the onion softens. Season with 1/8 tsp salt, 1/2 tsp pepper, 1/4 tsp dried oregano, 1/2 tsp cumin, 1 tsp chipotle pepper. Stir until well combined.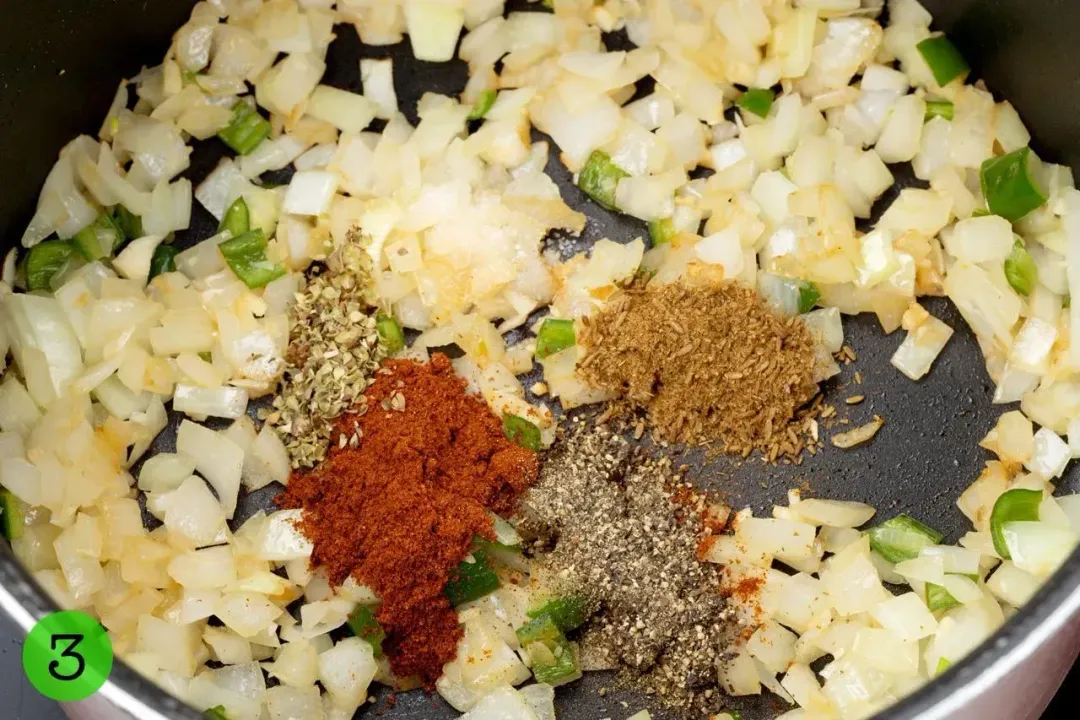 4
Add the 1 cup fire-roasted tomatoes and 4 cups chicken stock. Bring the mixture to a boil and simmer for 30 minutes.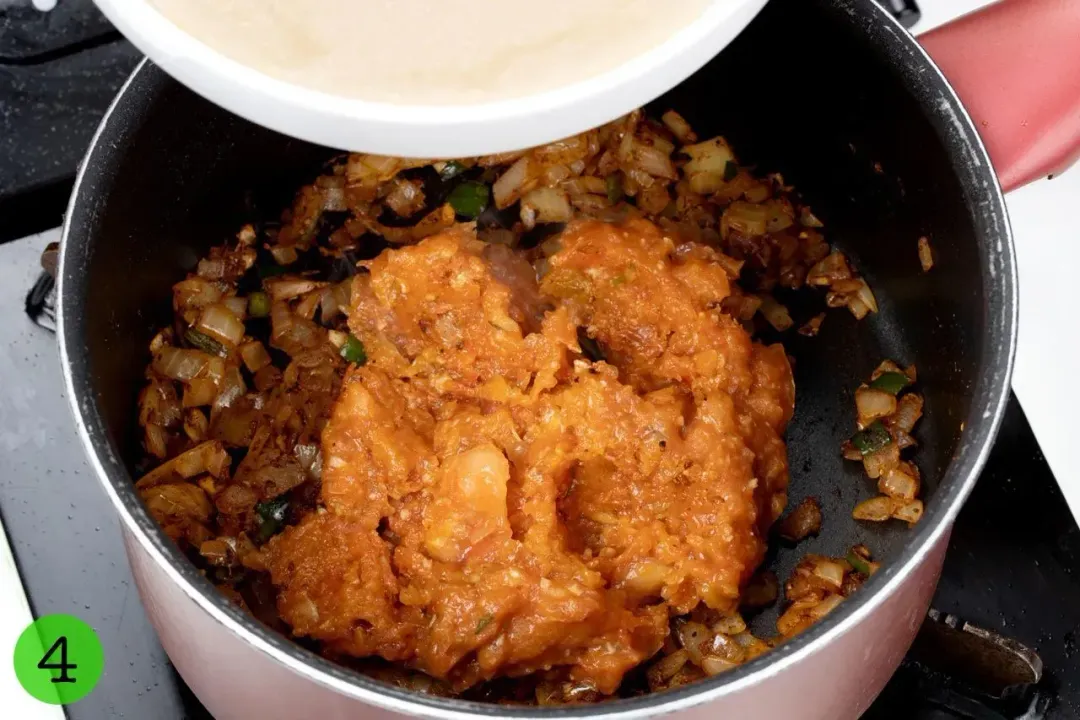 5
Use an immersion blender to blend the soup until smooth.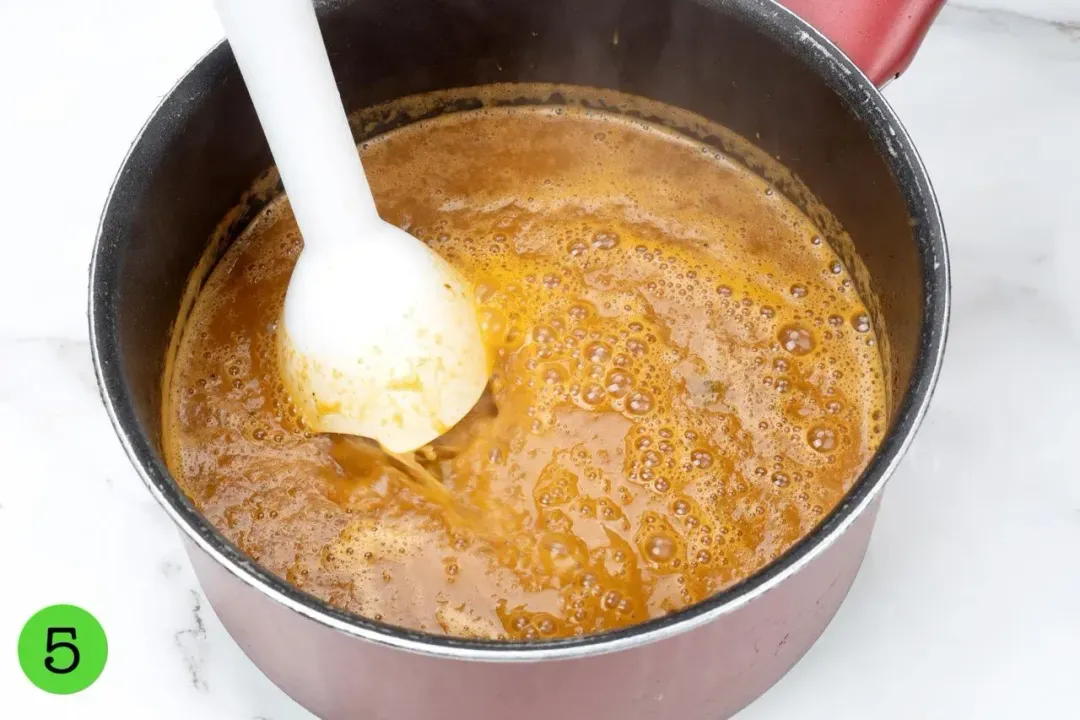 6
Add 1/2 cup corn, 1/3 cup beans, shredded chicken, and 1 tbsp lemon juice.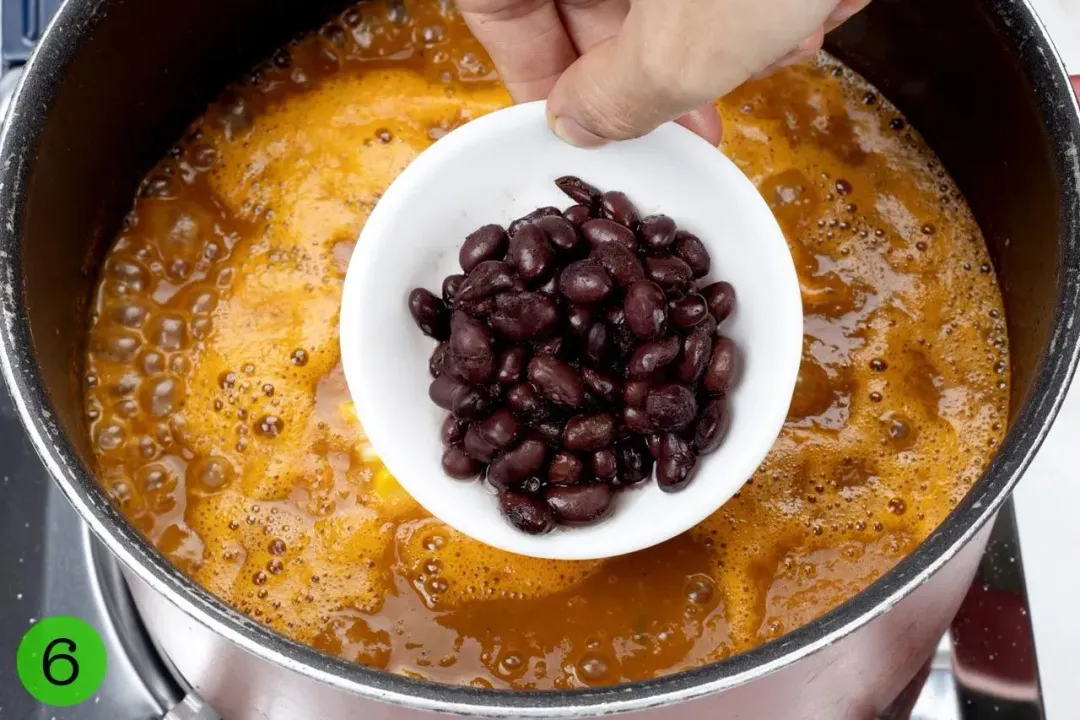 7
Top with 1 tbsp cilantro, 1 tbsp scallions, 1/4 cup avocado, 1 tbsp cheese, and 1/2 tortilla strips. Serve immediately.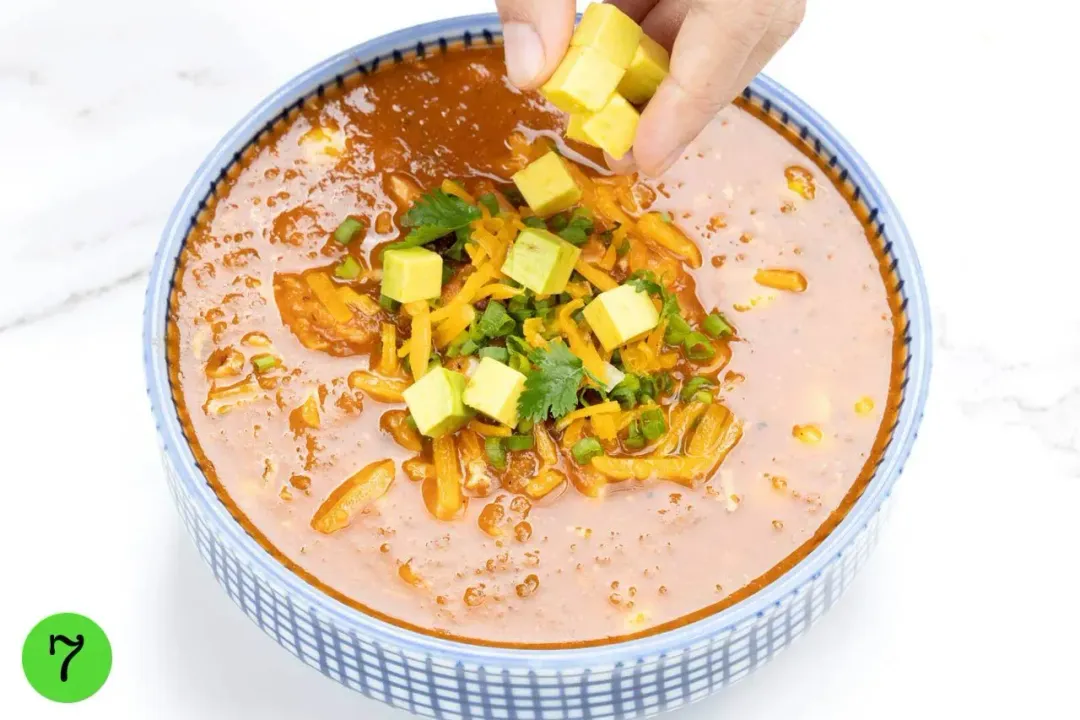 NUTRITION
Nutrition Facts
Chicken Tortilla Soup
Amount Per Serving (1 serving)
Calories 245
Calories from Fat 63
% Daily Value*
* Percent Daily Values are based on a 2000 calorie diet.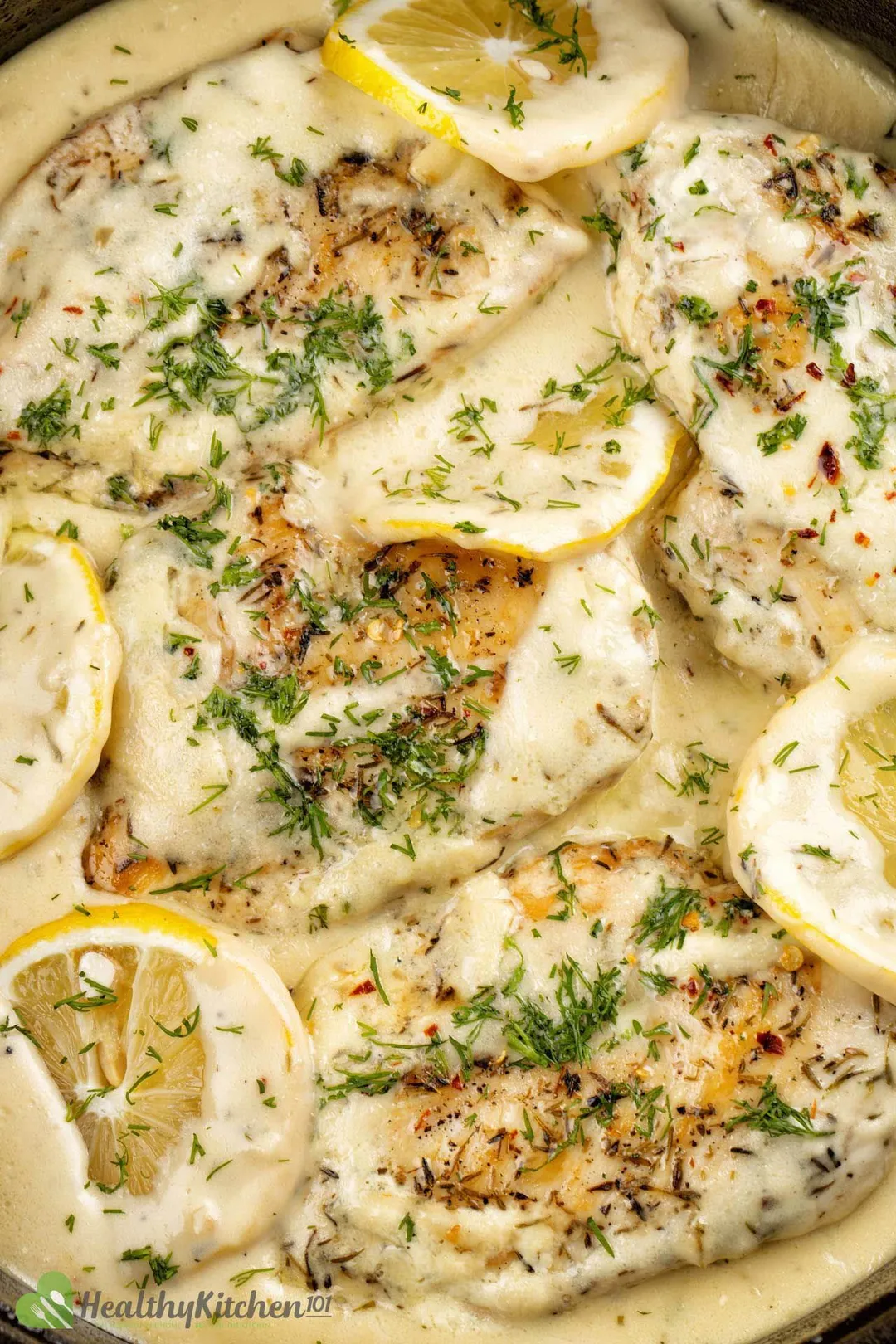 Previous Recipe
Healthy Lemon Chicken
Healthy Lemon Chicken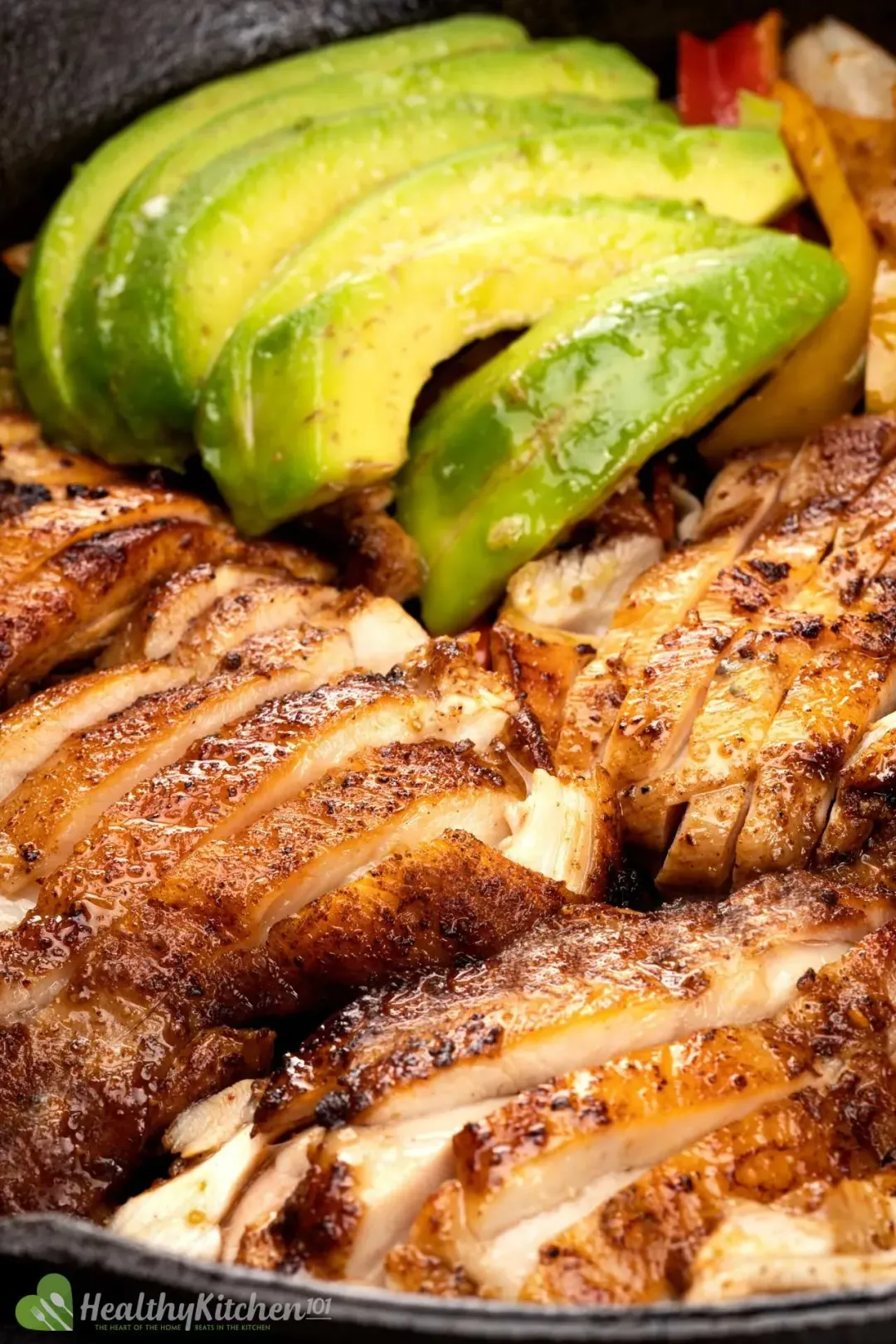 Next Recipe
Chicken Fajitas
Chicken Fajitas
Head Chef, Culinary Consultant
Tuyet Pham is an award-winning Saigonese chef who believes that joy is the secret ingredient to delicious food. At Healthy Recipes 101, Tuyet personally tests and simplifies every recipe, ensuring maximum flavor with minimal effort. With a background at prestigious French restaurants P'TI Saigon and Le Corto, Tuyet knows how to make every dish exceptional.
Writer, Author
Luna Regina is an accomplished writer and author who dedicates her career to empowering home cooks and making cooking effortless for everyone. She is the founder of HealthyKitchen101.com and HealthyRecipes101.com, where she works with her team to develop easy, nutritious recipes and help aspiring cooks choose the right kitchen appliances.
Nutrition Reviewer
Lizzie Streit is a Minneapolis-based dietitian and founder of It's a Veg World After All. She completed her MS in Human Nutrition from Drexel University, and is an expert in culinary nutrition, recipe development, and nutrition communications. Lizzie's philosophy is centered around making nutrition recommendations, and especially the advice to eat more vegetables, approachable and realistic. She is excited to be working with the team at Healthy Recipes 101 to ensure that their recipes are both nutritious and delicious.
My favorite Mexican restaurant has a Tortilla soup I love. It was my mom's absolute favorite. This recipe looks delicious too. Love all of the "toppings."

Hi Valentina,
Yes! It's so tasty xo Thanks for stopping by 🙂

Love a good healthy soup! This chicken tortilla soup looks so good!

Aww, thanks Phi 😀 So colorful yet so tasty and wholesome, isn't it? Enjoy!

This looks delicious but it isn't Paleo.

Hi Susan, thank you for your comment. This pin is from an old recipe. We recently has developed the recipe and turned out that the new one isn't Paleo anymore. Sorry about that! You can try our new recipe without using any types of legumes and tortilla. I believe that your soup still tastes delicious!

Great recipe. I haven't made this in a while and I needed a refresher. Thanks can't wait to try it.. it's cold and rainy to day so the perfect weather or soup

Hi Marry, welcome and thanks for a stopping by! Yes, and for me there's nothing can beat a bowl of tortilla soup in such cold days, too 🙂