Chicken, bacon, and a creamy sauce, we can't think of a better combination! This creamy chicken bacon recipe creates an indulgent dish of tender chicken and crispy bacon, all submerged in a decadent cream sauce.
Every bite melts with simple yet gorgeous flavors, complemented by a wonderful contrast in textures. Everything comes together in one pan in less than an hour, giving you a dreamy treat to quickly whip up for casual dinners as well as fancy feasts.
Is This Chicken Healthy?
Based on the name alone, you may be inclined to think this creamy chicken bacon is unhealthy. However, with this recipe, we have carefully moderated the ingredients to follow nutrition standards, making it perfectly appropriate to indulge in. Each serving offers 490 calories while the saturated fat and sodium amounts are limited to just 8 g and 494 mg, respectively.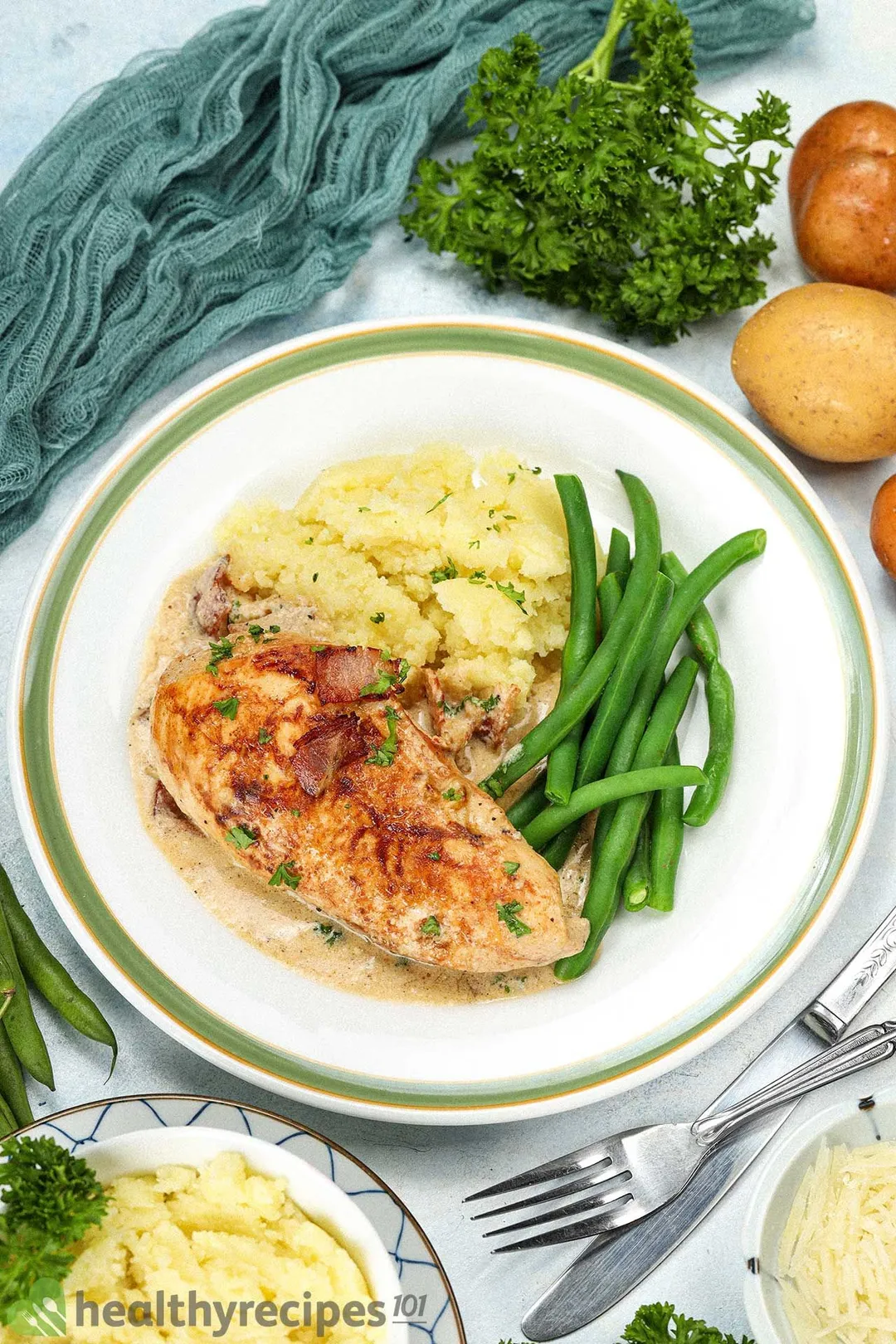 You can also obtain a good deal of lean protein—42 g to be exact—from this dish. This comes primarily from the chicken, which also offers various other nutrients like vitamins B6 and B12, heme iron, zinc, selenium, potassium, collagen, etc.
On the side, we included some mashed potatoes and green beans. They're both incredible sources of fiber, which can provide potential health benefits such as supporting the digestive system, decreasing the risk of heart disease, and aiding in weight management.
Ingredients
As lavish as this dish looks, it doesn't require much to put together. There's a good chance that you already have most of the following ingredients readily available in your pantry:
Chicken: We used boneless skinless chicken breasts for this recipe. The cut is butterflied, which helps it to absorb the sauce more thoroughly as well as cook faster and more evenly.
Bacon: The tiny pieces of smoky and savory bacon stand out quite spectacularly when smothered in the creamy sauce. Cooked until crispy, they also offer a delightful texture contrast to the tender chicken and soft mashed potatoes.
Dairy Products: Evident from the name, the dish's base is a luscious and creamy sauce that coats the tender chicken with an addictive sweetness. You'll be pleased to find out that it doesn't require anything complicated, just a small amount of heavy cream, a cup of milk, and a small sprinkle of parmesan cheese.
Spices: Since the sauce and the breasts are both relatively tame in taste, we seasoned the chicken with robust spices like paprika and garlic powder to kick things up a notch. As usual, salt and pepper are in there to bring out all the ingredients' natural flavors.
Vegetables: As mentioned above, this dish comes with a side of mashed potatoes and cooked green beans. It's a simple but foolproof combination, offering subtle earthy and sweet flavors while also giving every bite a voluminous mouthfeel.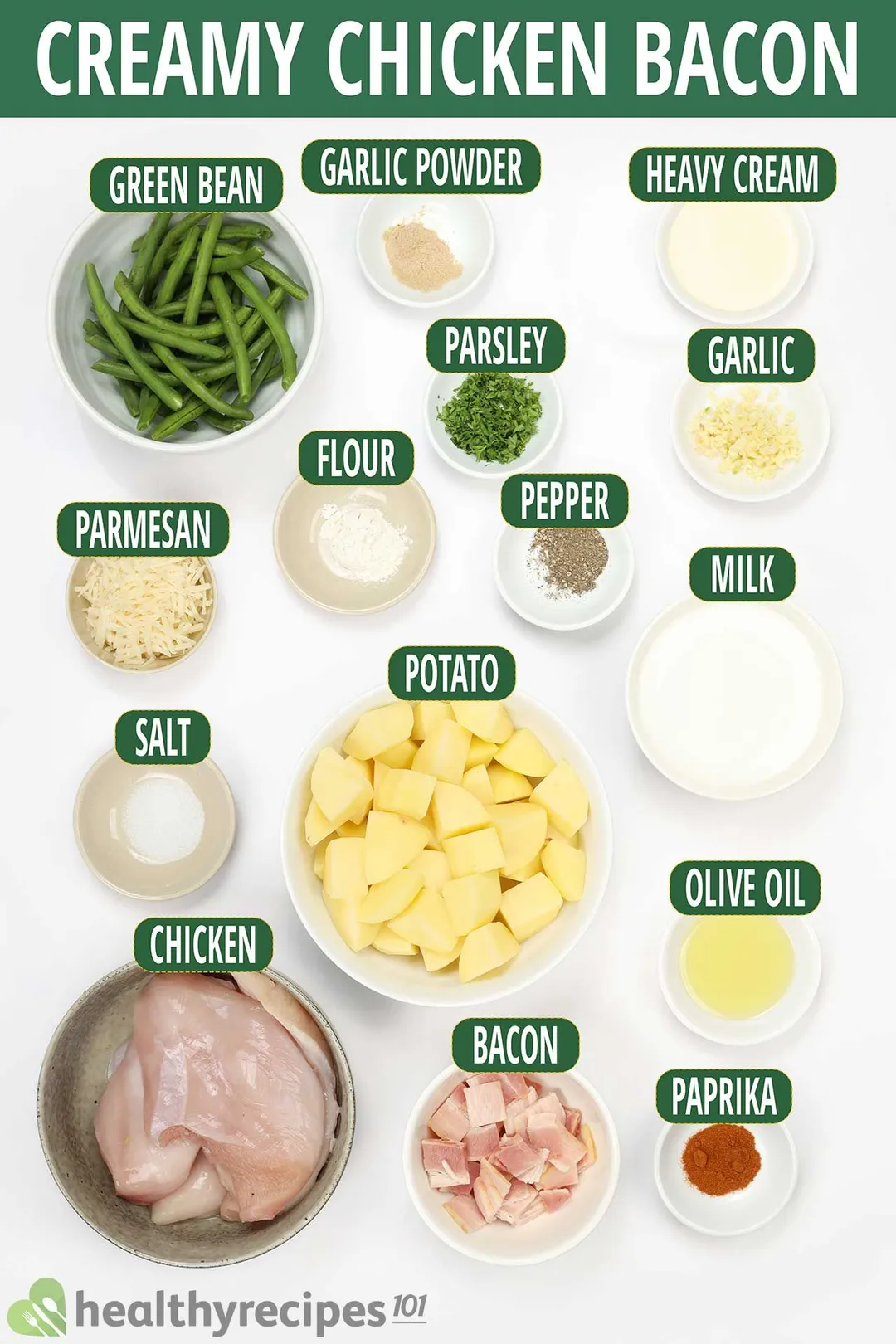 Substitutions
The main ingredients in this recipe are adjustable, so here are a few substitutions you can make:
Chicken: Aside from breasts, chicken thighs will also work for this recipe. This cut yields more flavor than breasts, although it might slightly raise the sodium level of the dish.
Dairy Products: Even though this is a cream-based recipe, there are dairy-free alternatives you can use if you're lactose-intolerant. The heavy cream can be replaced with plant cream while chicken broth or almond milk will work in place of the milk.
These substitutions, however, might result in the dish tasting different from the original recipe. The sauce might end up having a different texture, richness, and flavor intensity, depending on the specific ingredients you use.
How to Store the Leftovers
When kept in airtight containers in the fridge, the leftovers should last for 2 days. To reheat, simply place the dish in the microwave for 1 minute. Note that the sauce might thicken a little and the meat may become drier than when it was first made.
What to Serve With
This dish is already quite rich and filling, so we recommend keeping it light with the side dishes. A fresh salad is more than enough for a scrumptious and satisfying meal. Here are a few suggestions: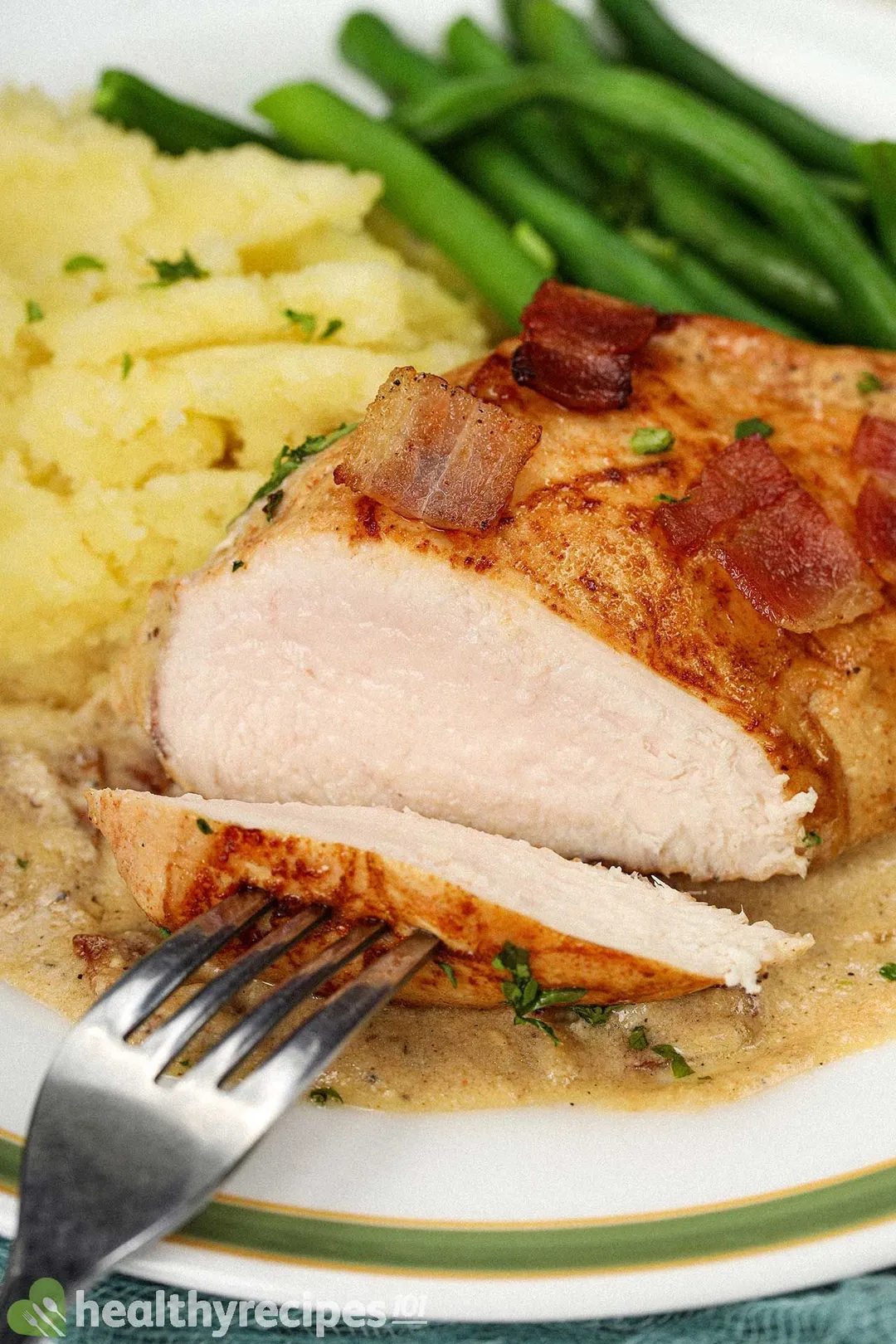 Chicken Skillets Drenched in Creamy Sauce
What if I tell you that the orange sauce you're seeing is completed with a swirl of extra cream? As spice-full as it looks, our Tikka Masala chicken recipe is an easy dish to have on hand.
If you're looking for a quick recipe for dinner, this healthy chicken piccata recipe is the one for you. It takes less than 30 minutes and has a bold, creamy lemon sauce that's extra tang and sour with the capers.
Creamy Chicken Bacon
This creamy chicken bacon recipe creates an indulgent dish of tender chicken and crispy bacon, all submerged in a decadent cream sauce. Everything comes together in one pan in less than an hour, giving you a dreamy treat to quickly whip up on casual dinners as well as fancy feasts.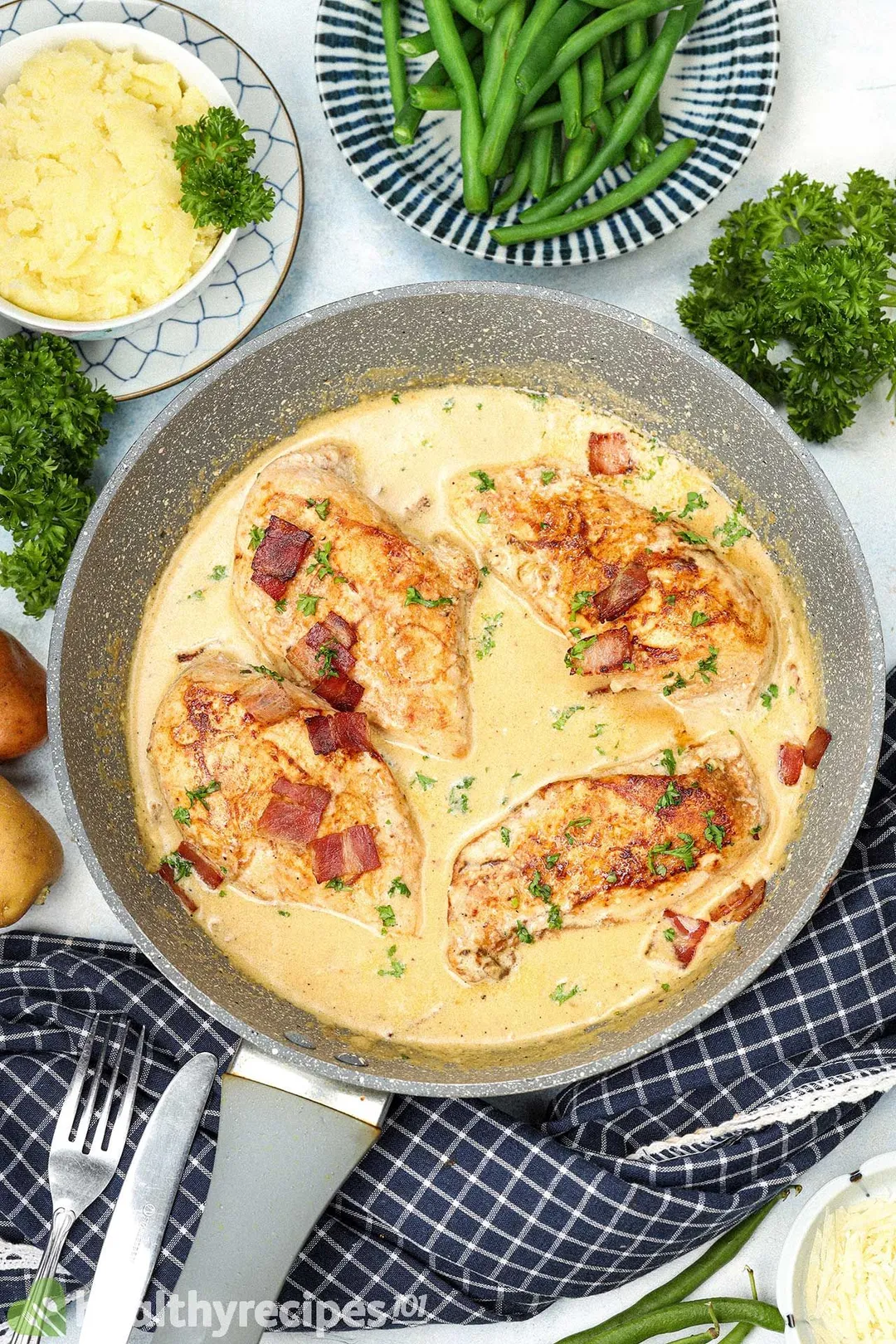 cook TIME

33 mins

prep TIME

7 mins

total TIME

40 mins
COURSE

Main

CUISINE

American

SERVINGS

CALORIES

490 kcal
INGREDIENTS
20 oz

skinless boneless chicken breasts

20 oz

potato

(sliced into cubes)

4 oz

green bean

(ends removed)

3 oz

raw cured bacon

(cut into small squares)

0.75 oz

shredded parmesan cheese

1/2 tbsp

all-purpose flour

1/2 tsp

ground black pepper
INSTRUCTIONS
Prep:
1
Slice the Potatoes: Peel off the skin then slice the potatoes in half crosswise, then slice the half lengthwise into large cubes. Soak them in water to remove excess starch.
2
Mince the Garlic: Bash the garlic with the side of the knife to remove the skin then thinly slice each clove. Move the knife in a rocking motion back and forth over the sliced pile until finely minced.
3
Chop the Parsley: Bunch the leaves together and thinly slice. Then, rock the knife over the sliced leaves a few times until they are finely chopped
4
Butterfly the Chicken: Slice the breast in half from the side using a sawing motion but leave about 1/4 inch so the separated sides are still connected.
Cook:
1
Microwave the Green Beans: In a microwave-safe bowl, add 4 oz green beans, and cover with plastic wrap. Microwave for 4 minutes then quickly run over cold water.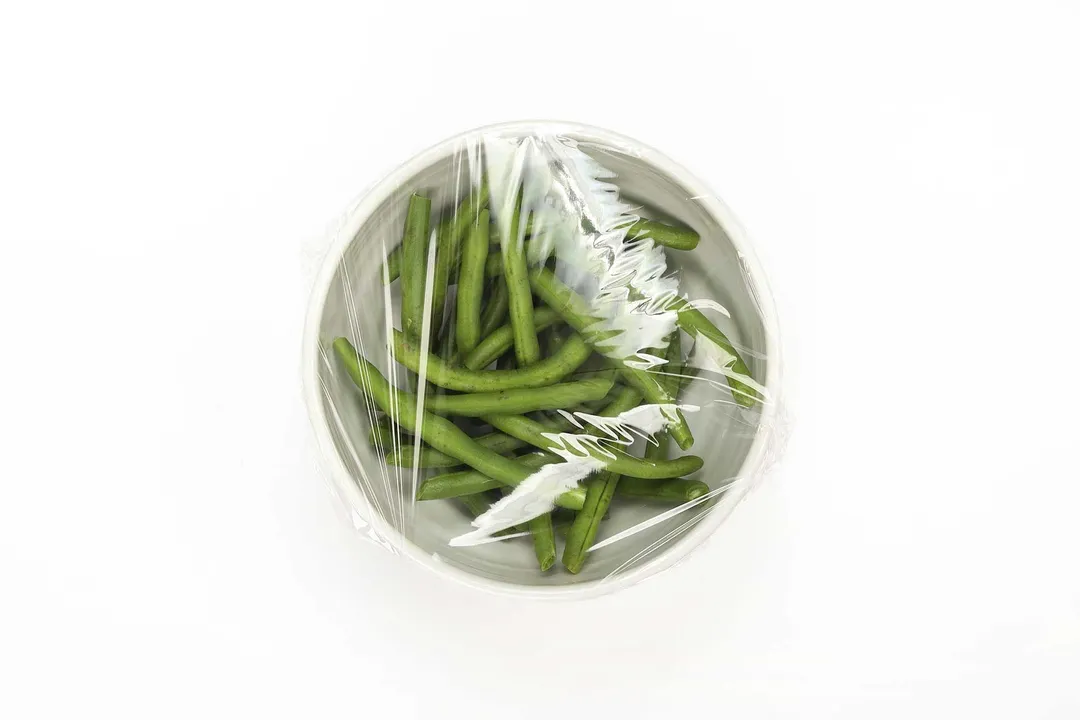 2
Microwave the Potatoes: In a microwave-safe bowl, add 20 oz potatoes and cover with plastic wrap. Microwave for 12 minutes then mash into a creamy consistency.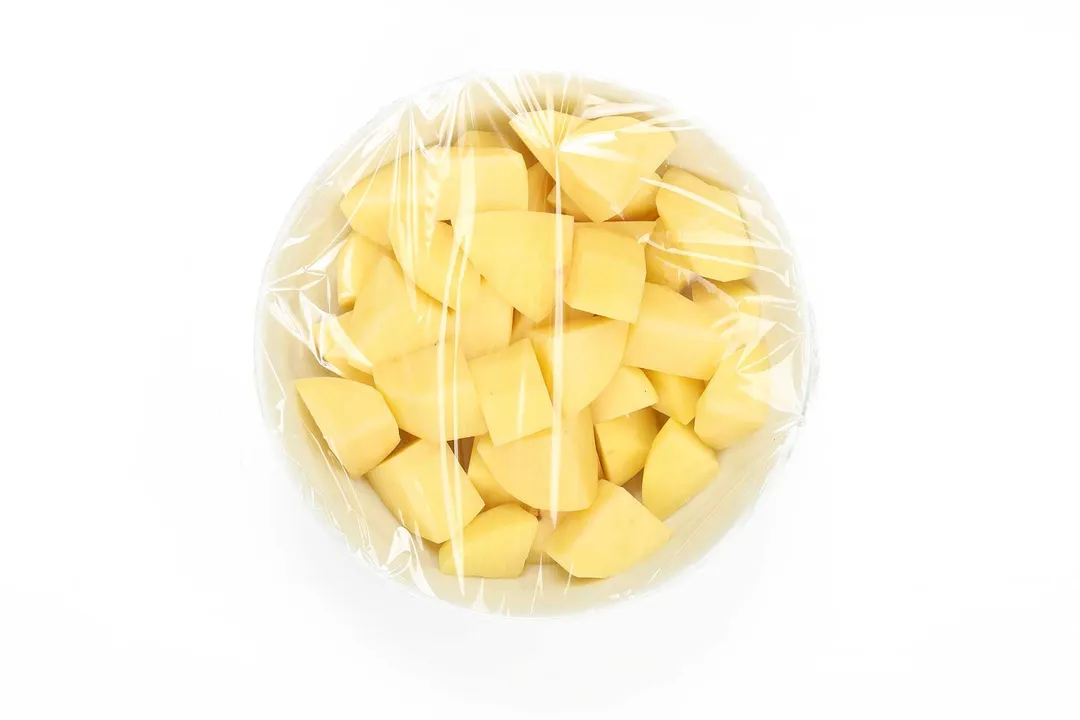 3
Season the Chicken: Dry rub 1/2 tsp garlic powder and 1/2 tsp paprika over 20 oz skinless boneless chicken breasts. Make sure to evenly coat all the surfaces and insides.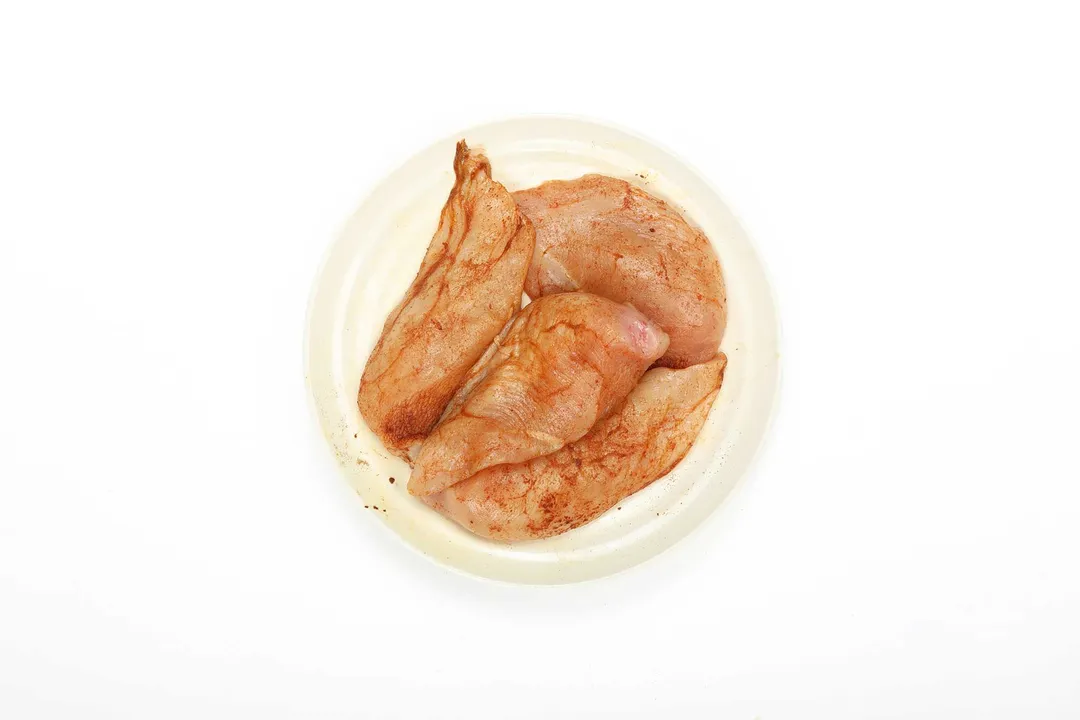 4
Cook the Bacon: In a pan over small heat, add 3 oz raw cured bacon and sauté for 2 minutes until the meat turns crispy with a vibrant red-brown shade.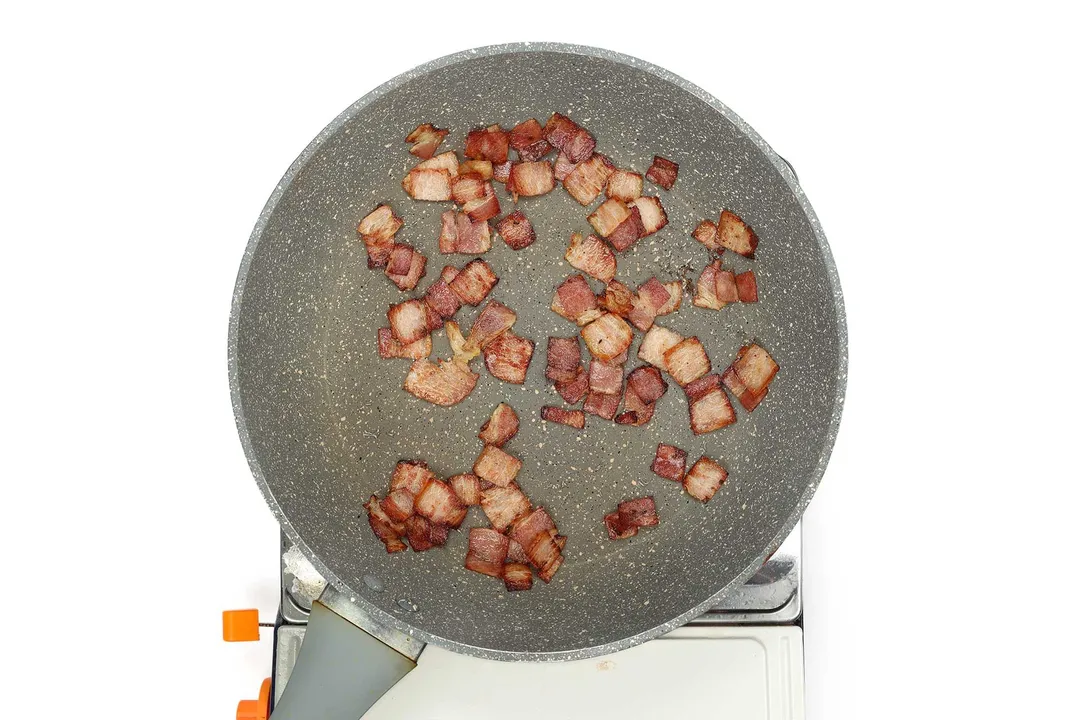 5
Cook the Chicken: Transfer the bacon onto a plate then turn the heat up to medium, add the seasoned chicken breasts and 1 tbsp olive oil to the pan; sear for 7 minutes on both sides until the meat turns white with a browned exterior.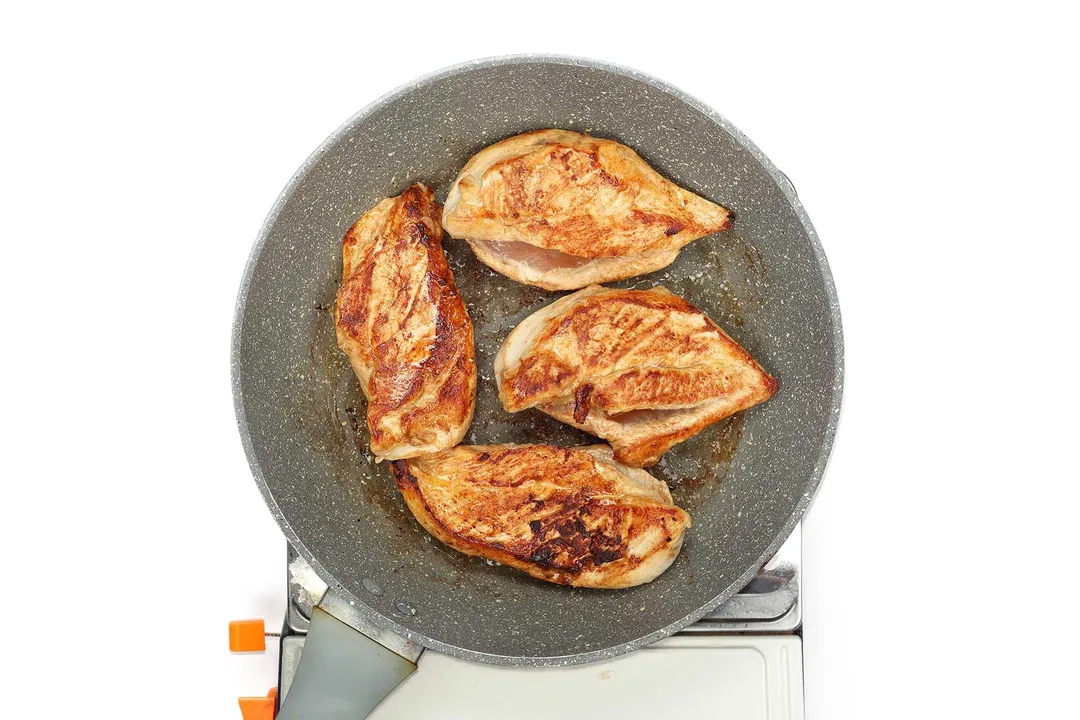 6
Add the Garlic: Add 1 tbsp garlic to the pan and sauté for 30 seconds until fragrant.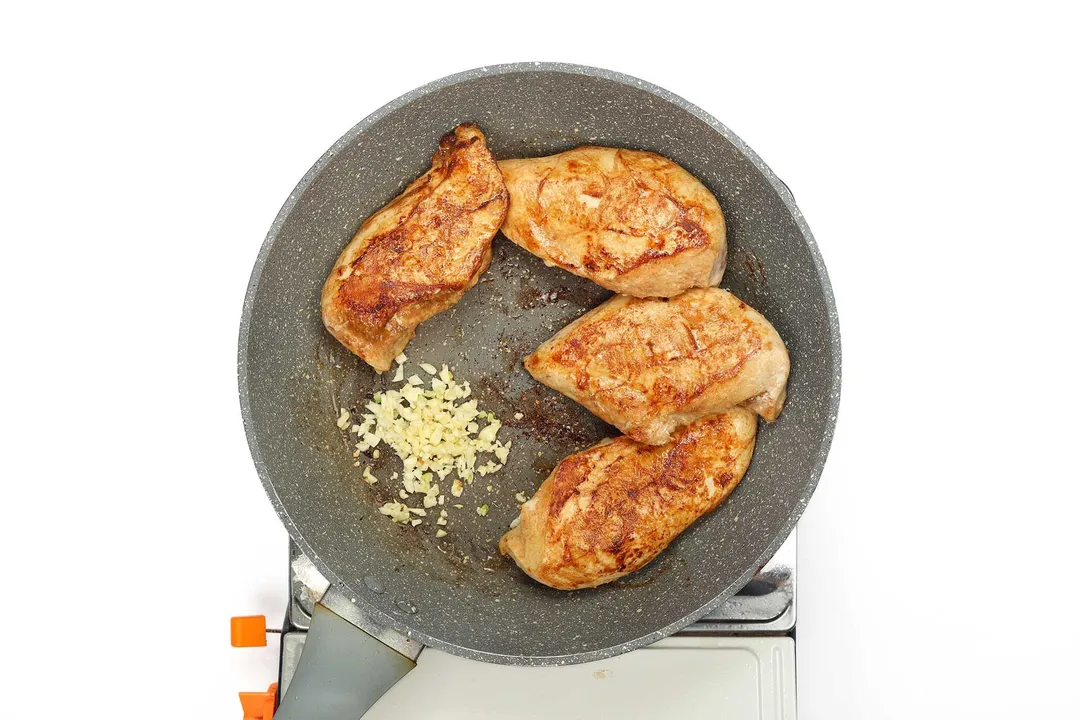 7
Make the Sauce: Add 1/2 tbsp all-purpose flour to the pan and stir around for 30 seconds. Then add half of the cooked bacon, 2 tbsp heavy cream, 1 cup milk, 0.75 oz shredded parmesan cheese, 1/4 tsp salt, and 1/2 tsp ground black pepper. Lightly stir to mix everything together and cook for 5 minutes on low heat.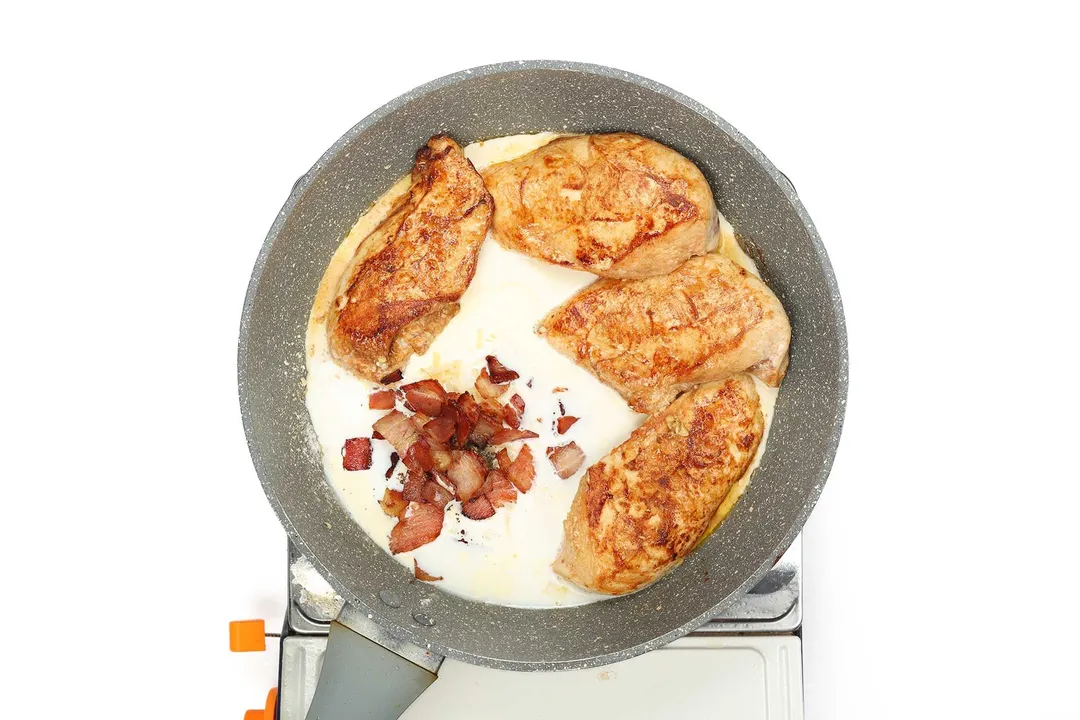 8
Add the Bacon and Parsley: Sprinkle the remaining bacon and 2 tbsp parsley onto the cooked mixture.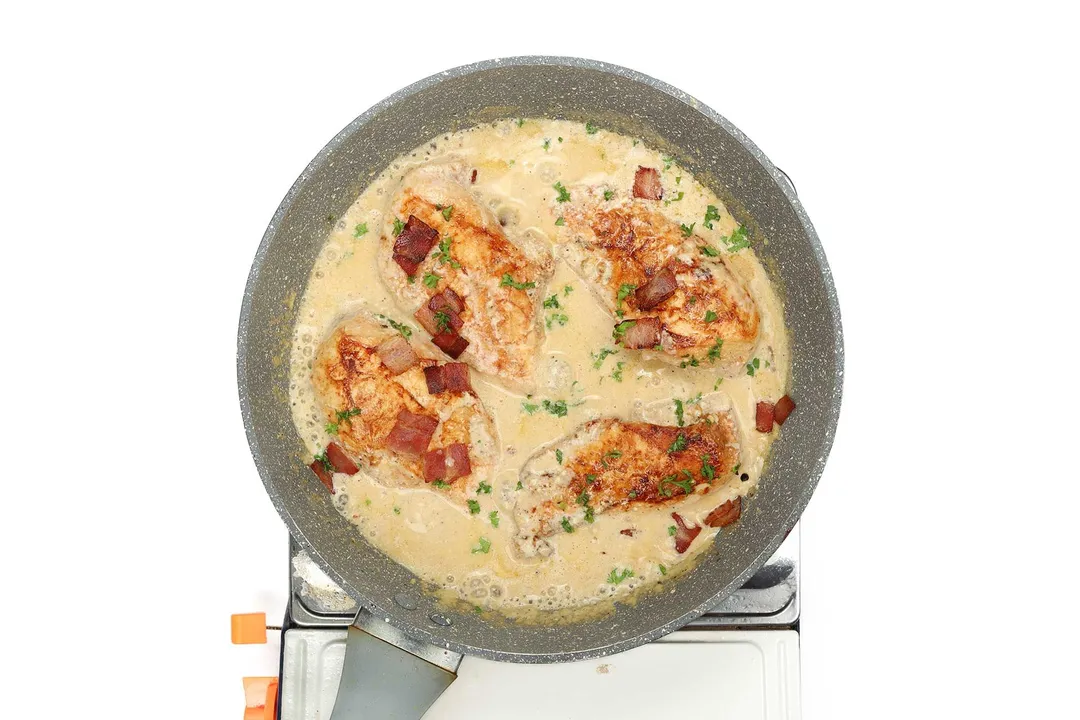 9
Serve: Transfer the cooked chicken, bacon, and sauce onto serving plates along with the mashed potatoes and green beans. Serve hot.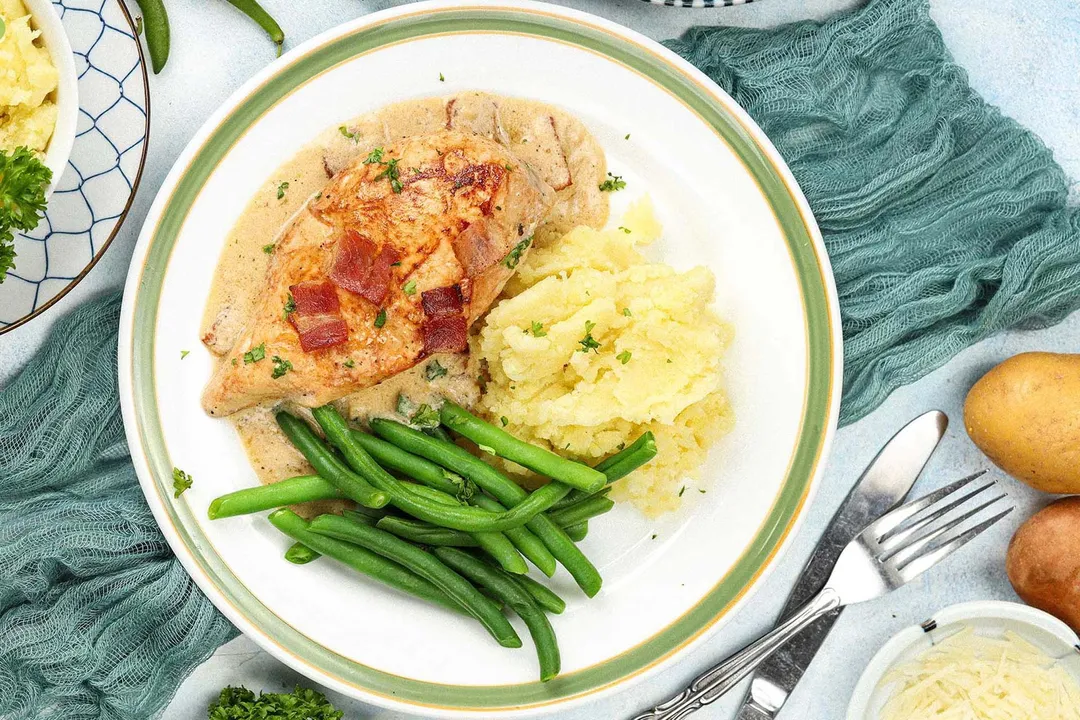 NUTRITION
Nutrition Facts
Creamy Chicken Bacon
Amount Per Serving (1 serving)
Calories 490
Calories from Fat 199
% Daily Value*
* Percent Daily Values are based on a 2000 calorie diet.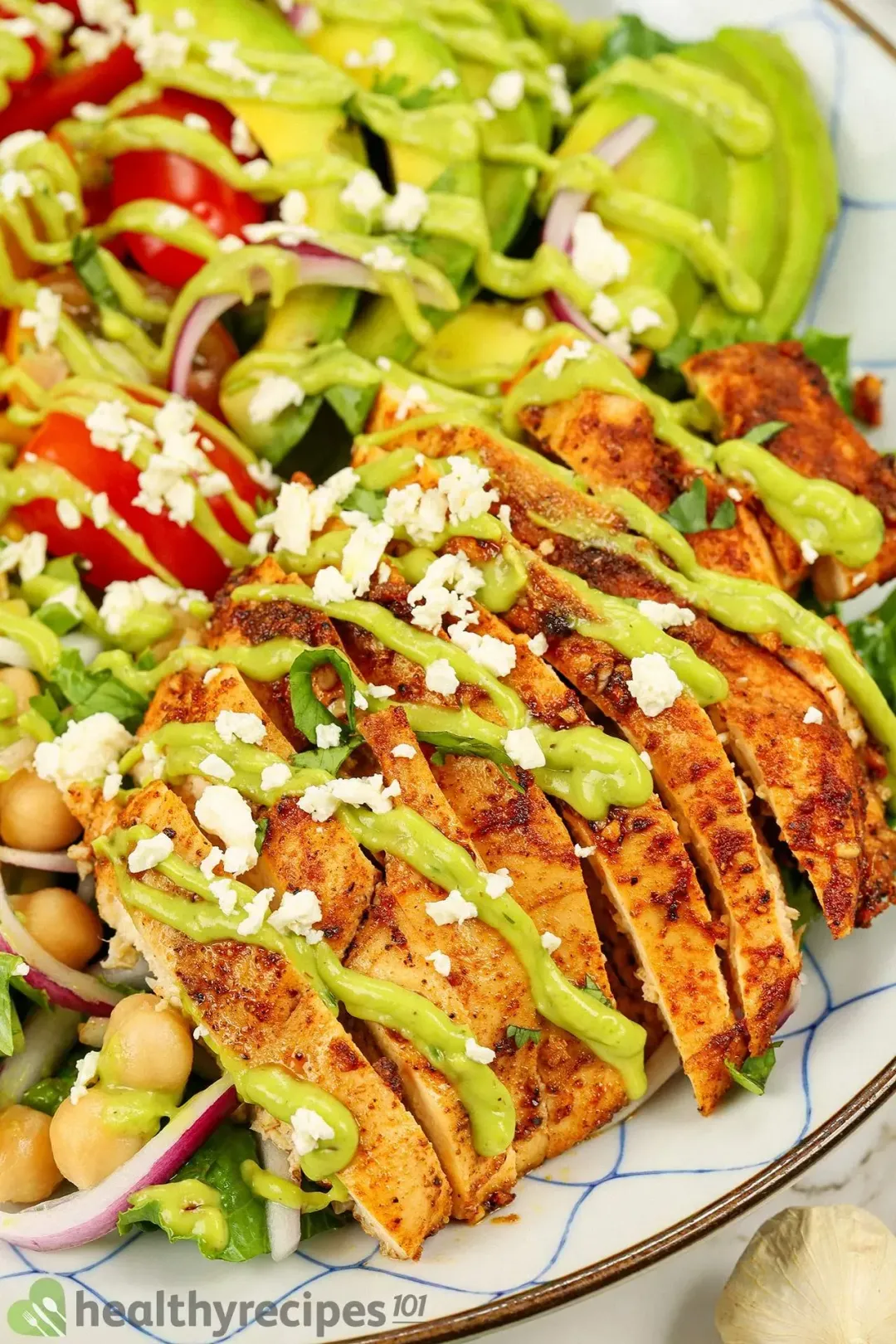 Previous Recipe
Chicken Salad With Avocado Sauce
Chicken Salad With Avocado Sauce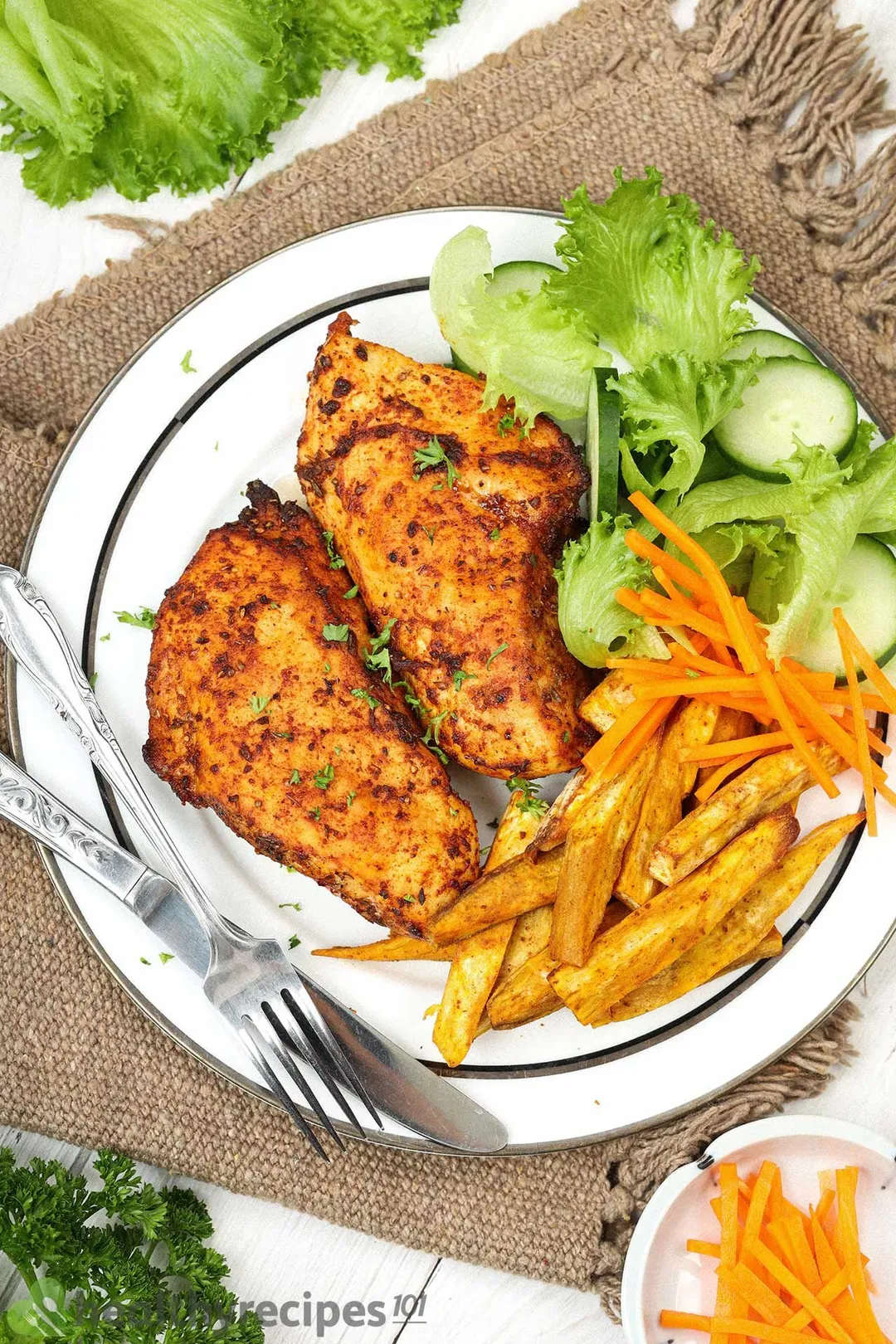 Cajun Chicken
Head Chef, Culinary Consultant
Tuyet Pham is an award-winning Saigonese chef who believes that joy is the secret ingredient to delicious food. At Healthy Recipes 101, Tuyet personally tests and simplifies every recipe, ensuring maximum flavor with minimal effort. With a background at prestigious French restaurants P'TI Saigon and Le Corto, Tuyet knows how to make every dish exceptional.
Writer, Author
Luna Regina is an accomplished writer and author who dedicates her career to empowering home cooks and making cooking effortless for everyone. She is the founder of HealthyKitchen101.com and HealthyRecipes101.com, where she works with her team to develop easy, nutritious recipes and help aspiring cooks choose the right kitchen appliances.
A decadent and flavorful dish that's perfect for a cozy night in.