Spaghetti meatballs are well-beloved worldwide for being a kid-friendly comfort food recipe, so we will show you how to make your own with this chicken meatballs recipe.
This recipe features all the common ingredients: spaghetti, creamy tomato sauce, and tender meatballs. To separate this dish from the original one, we replace beef with chicken for the meatballs.
Is This Recipe Healthy?
Yes, chicken meatballs are healthy.
Each serving of this dish contains only 488 calories and 3.8 g of saturated fat, which are decent amounts for a stacked dish.
The amount of sodium is affected by the cheese and seasonings. However, we keep it at 603 mg per serving, still within the limits of our nutrition guidelines. Lastly, chicken thighs, egg, and cheese combine for 30.4 g of lean protein in each serving.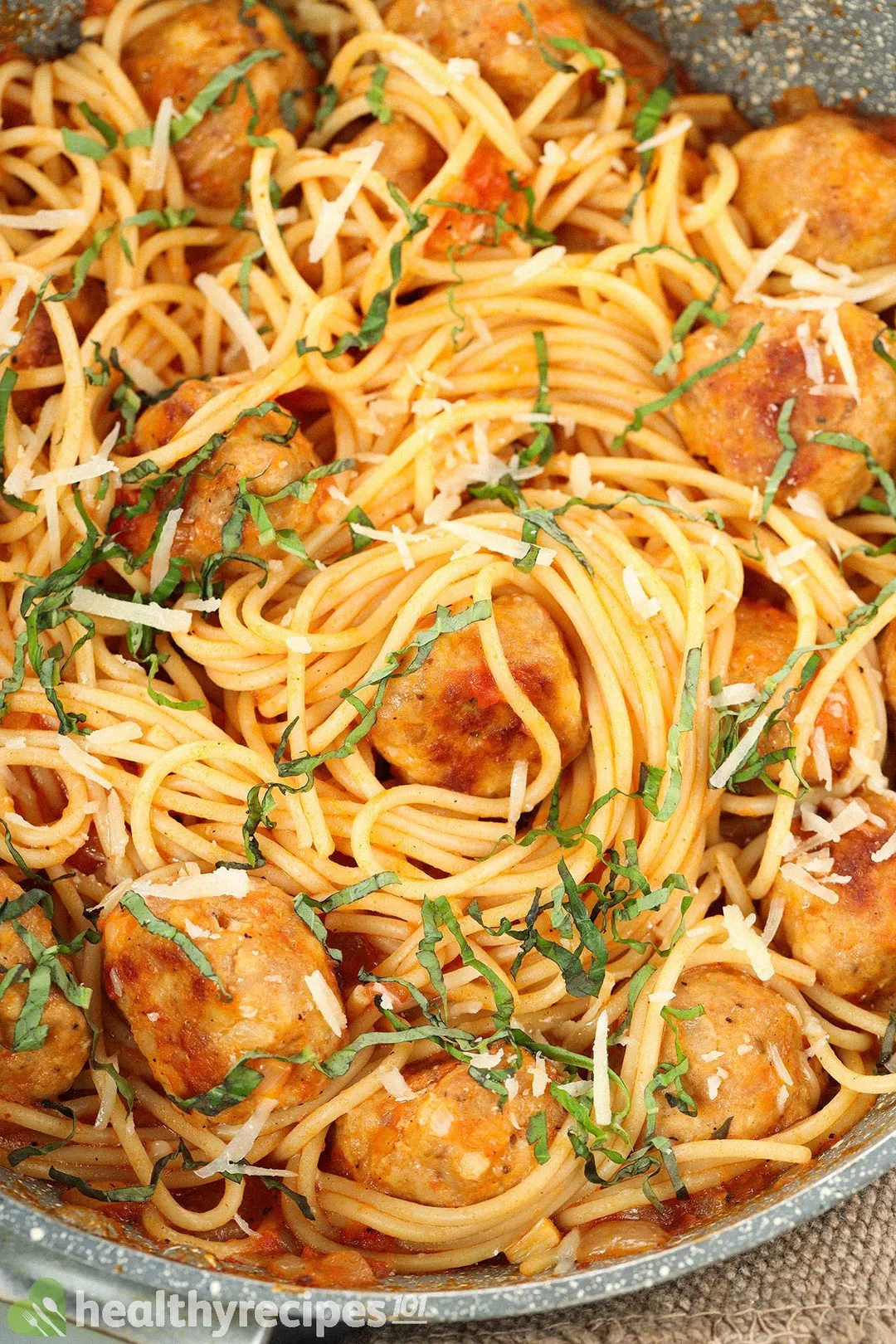 Ingredients
The blend we use for the chicken meatballs has various ingredients. The main ingredient is ground chicken thighs for their tenderness and moisture from the fat.
Chicken allows you to add lots of seasoning because its flavor isn't as bold as beef. In this recipe, we use onion, garlic, Italian seasoning, salt, paprika, and garlic powder. The seasoning blend is diverse and brings a ton of flavors to the meatballs.
The egg helps combine the ingredients and helps you to form firmer meatballs. Flour and Panko breadcrumbs absorb the juices of the chicken and keep them inside the meatballs, essentially locking in moisture.
There is no reason to break up the dynamic duo of spaghetti and meatballs. Also, it is arguably the most popular pasta shape.
You can certainly choose other pasta shapes to customize your dish. We recommend using pappardelle, fettuccine, linguine, etc. Rice or egg noodles are also good options.
We opt for a simple tomato sauce with tomato paste, homemade tomato sauce, chicken broth, salt, and pepper. Tomato sauce naturally works well with pasta and meatballs, giving you a beautiful Italian meal.
The two ingredients we use for garnishing are incredibly popular in Italian cuisine: parmesan cheese and basil.
A pasta dish wouldn't be complete without cheese, so we add parmesan on top. Lastly, the match made in heaven that is tomato and basil is reunited in this recipe to give this dish a hint of freshness.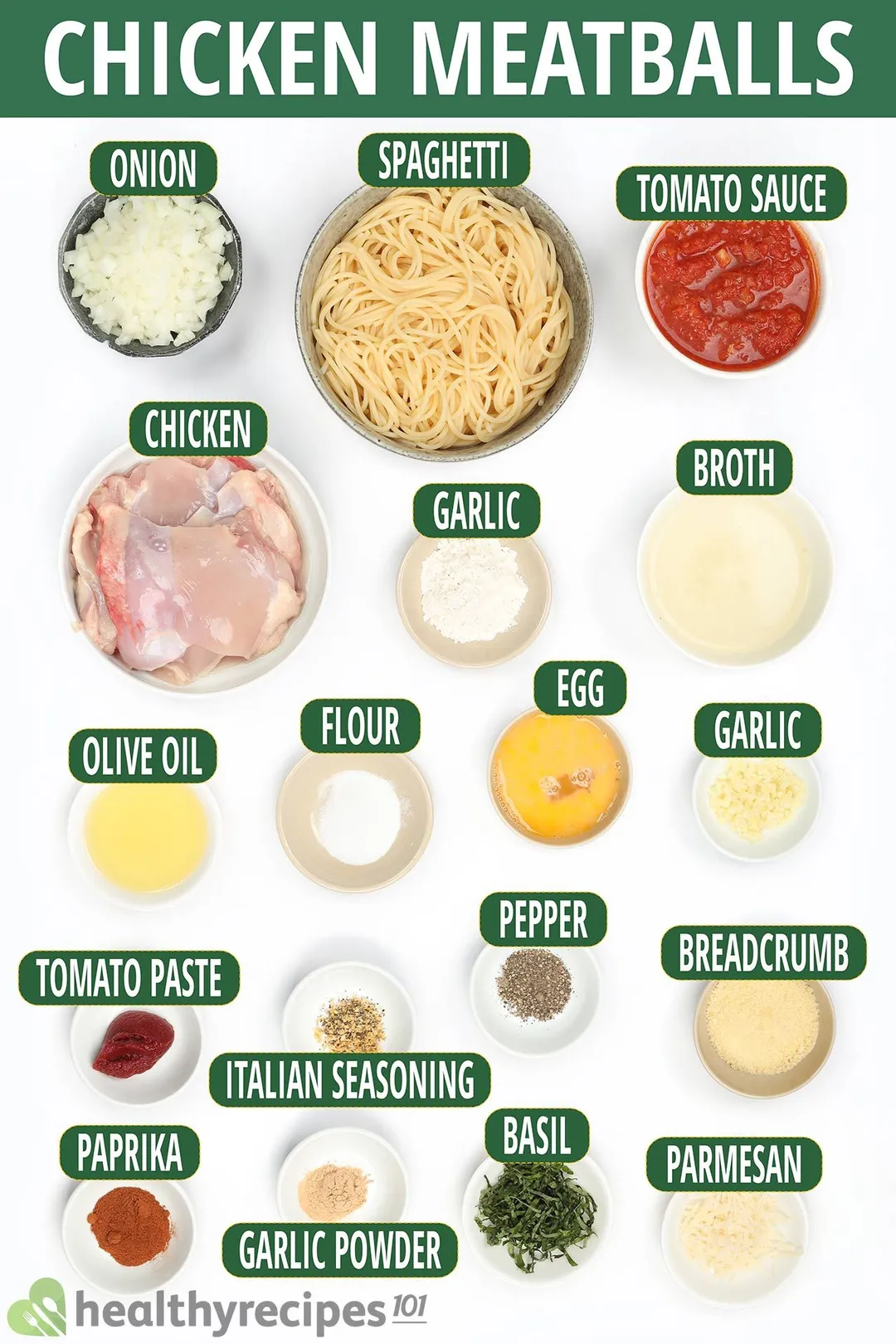 Tips for Cooking
Season the meat well before mixing all the ingredients
Unseasoned meatballs will be rather boring. Adding your favorite seasonings to the meatball mix will make your dish flavorful and unique.
You can cook up a small test patty to check the seasoning before cooking the whole batch. Adjust the seasoning if needed.
Adding eggs or breadcrumbs to lock in moisture is vital because dry meatballs will turn tough when cooked.
Shape the meatballs properly
There are two things you should note. Firstly, do not form the meatballs too tightly because they can turn chewy. Secondly, form evenly-sized meatballs to make sure they cook at the same time.
How to Store and Reheat Leftovers
Leftover chicken meatballs should last in the fridge for 2 to 3 days and in the freezer for up to 3 months. Store them in airtight containers or freezer bags.
To reheat the meatballs, place them on a lined baking tray, cover them with foil, and cook until warm.
What to Serve With
A simple salad will be great alongside this satisfying spaghetti meatballs dish.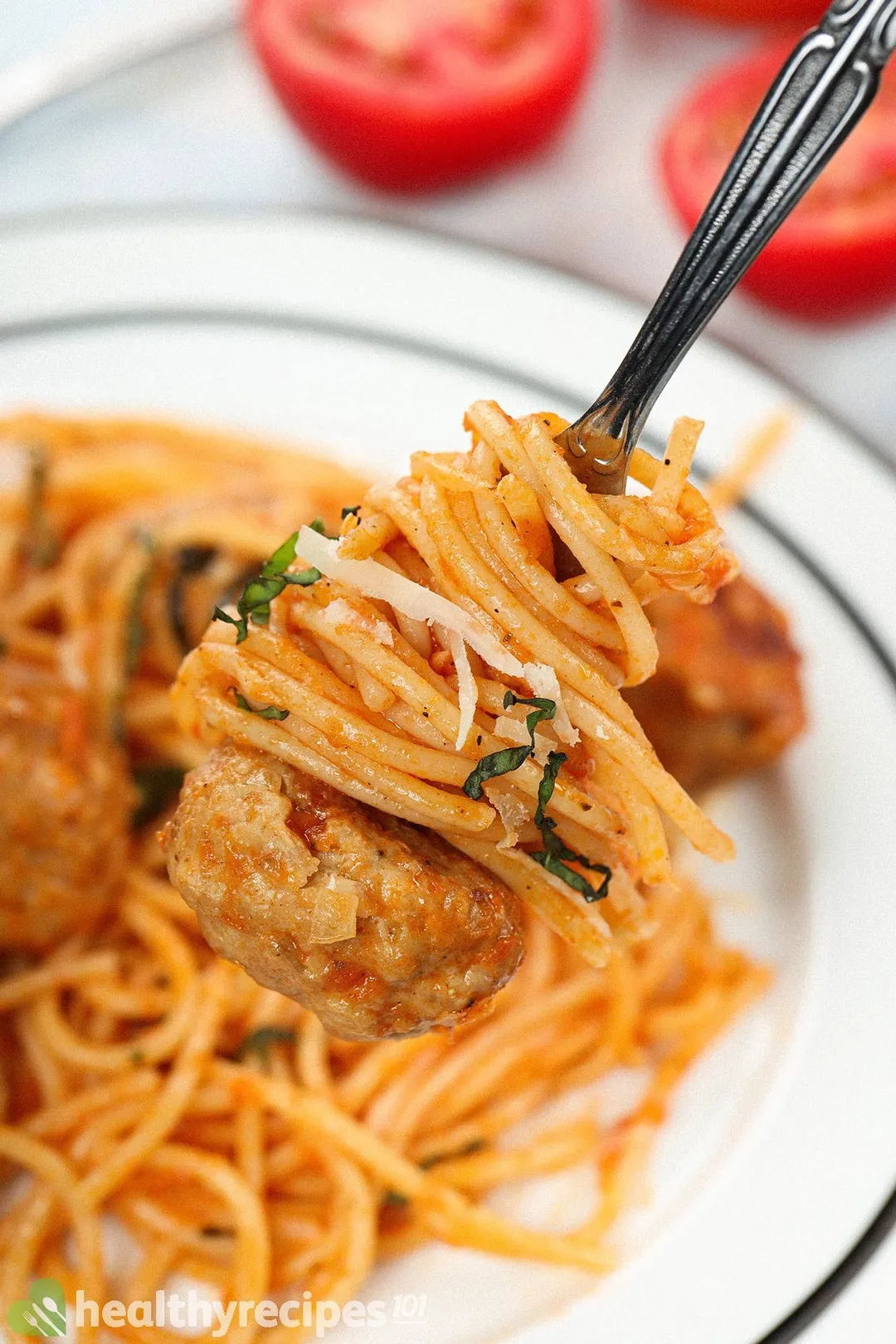 Chicken and Noodle Skillets for This Week of Yours
Our chicken and shrimp carbonara recipe makes a rich, savory meal in just 20 minutes. The al dente spaghetti is tossed in a creamy carbonara sauce and topped with pan-fried chicken, succulent shrimp, and crispy bacon.
Because of its flavors and simplicity, this ground chicken pasta recipe is sure to make it onto your list of comfort food recipes. It has everything you need for a tasty and kid-friendly meal: easy-to-eat ground chicken and a smooth, rich tomato sauce.
Chicken Meatballs
This chicken meatballs recipe is a familiar dish with the usual suspects of spaghetti, chicken meatballs, and a satisfying tomato sauce.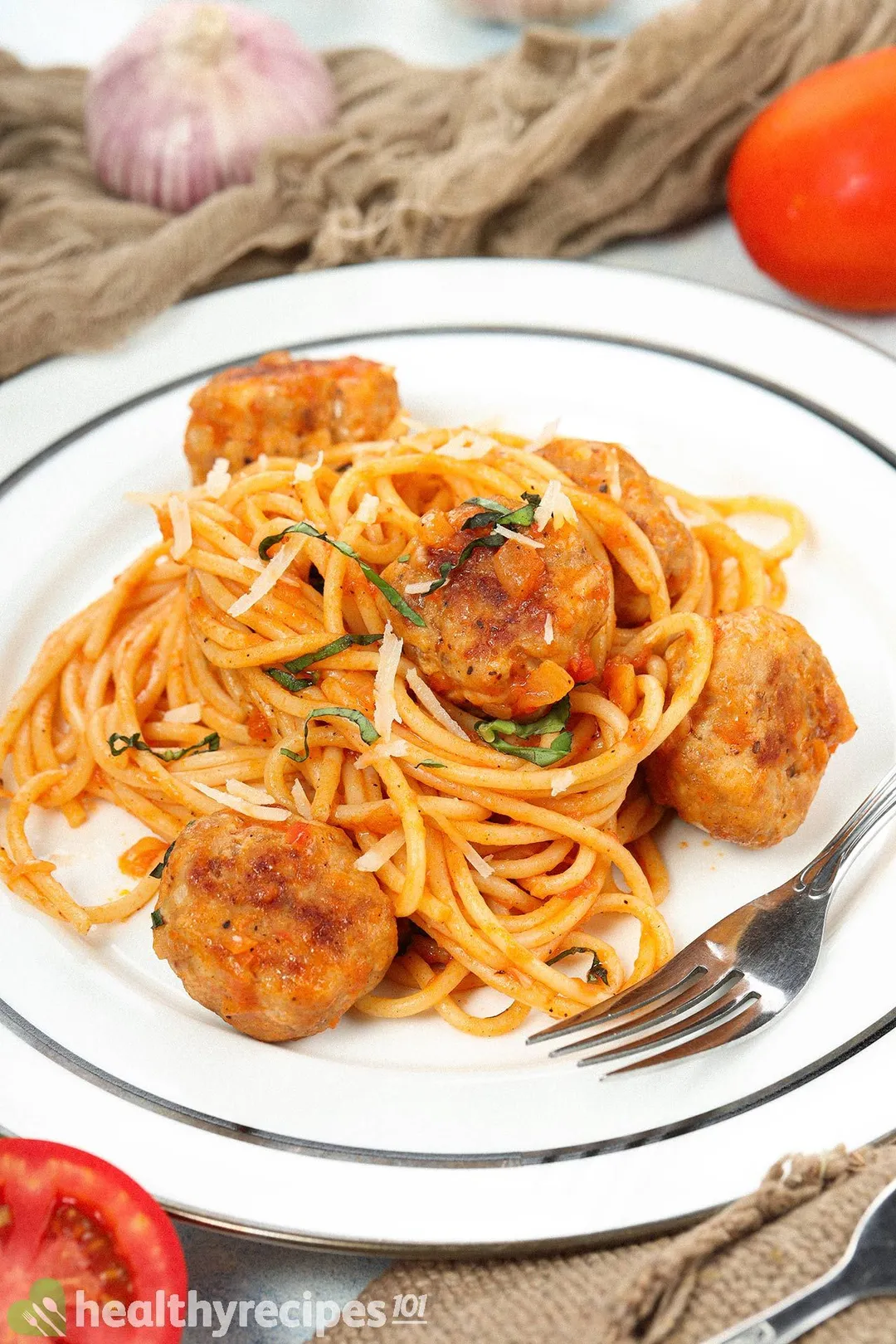 cook TIME

23 mins

prep TIME

12 mins

total TIME

35 mins
COURSE

Main

CUISINE

Italian

SERVINGS

CALORIES

488 kcal
INGREDIENTS
14 oz

skinless boneless chicken thighs

(ground)

14 oz

cooked spaghetti

(from 7 oz dry)

0.25 oz

shredded parmesan cheese

1/4 cup

plain Panko breadcrumbs

1/2 tbsp

Italian seasoning

1 tbsp

Hunt's tomato paste

1 cup

homemade tomato sauce

1/2 cup

unsalted chicken broth

1/2 tsp

ground black pepper
INSTRUCTIONS
Prep:
1
Grind the chicken: Cut the chicken thighs into small chunks. Add the chunks to a food processor in separate batches. Pulse until finely chopped.
2
Cook the spaghetti: Bring a pot of water to a boil. Cook the spaghetti for 1 minute less than the package instructions. Drain the pasta when done.
3
Chop the onion: Half the onion and peel off the skin. Make a crosshatch pattern on the onion half while keeping the root intact. Chop the onion into small cubes.
4
Whisk the egg: Crack the egg into a small bowl and whisk thoroughly.
5
Mince the garlic: Slice off the root and peel the skin of the cloves. Mince them with a knife or garlic mincer.
6
Chop the basil: Stack the basil leaves on top of each other and roll them tightly. Slice the roll thinly.
Cook:
1
Make the meatball mix: Prepare a large mixing bowl. Add 14 oz ground chicken thighs, 2 oz onion, 1 medium whisked egg, 1/4 cup plain Panko breadcrumbs, 1 tbsp all-purpose flour, 1 tbsp garlic, 1/2 tbsp Italian seasoning, 1/4 tsp salt, 1 tsp paprika, and 1/2 tsp garlic powder. Mix thoroughly until combined.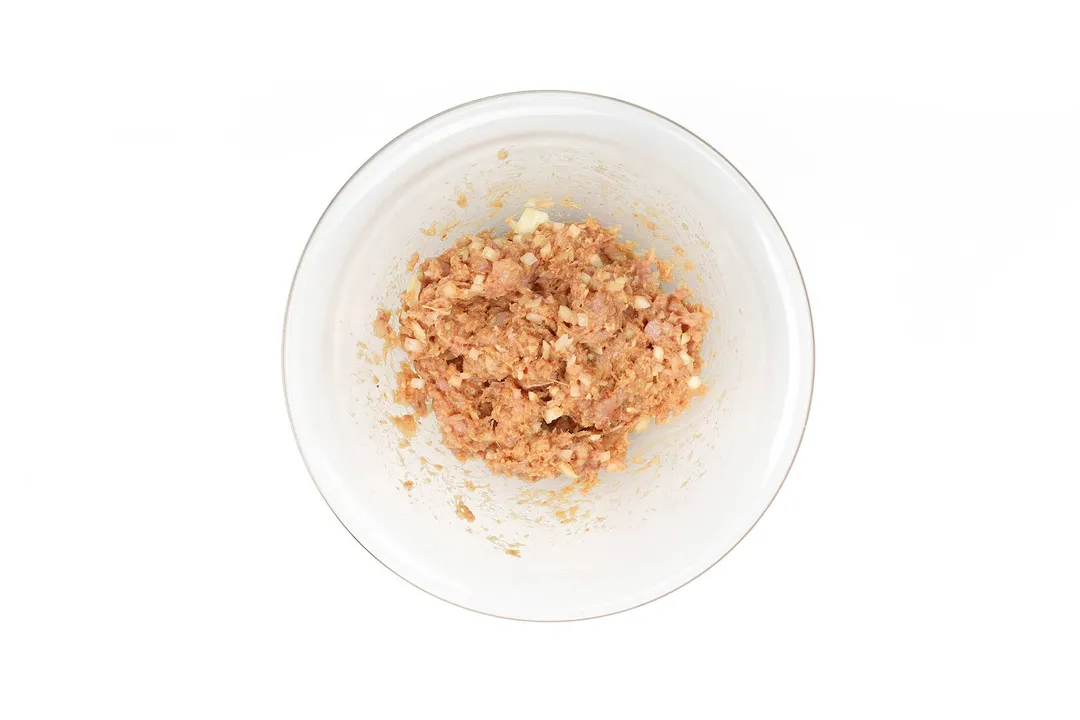 2
Form the meatballs: Use your hands and form the mixture into equal-sized meatballs.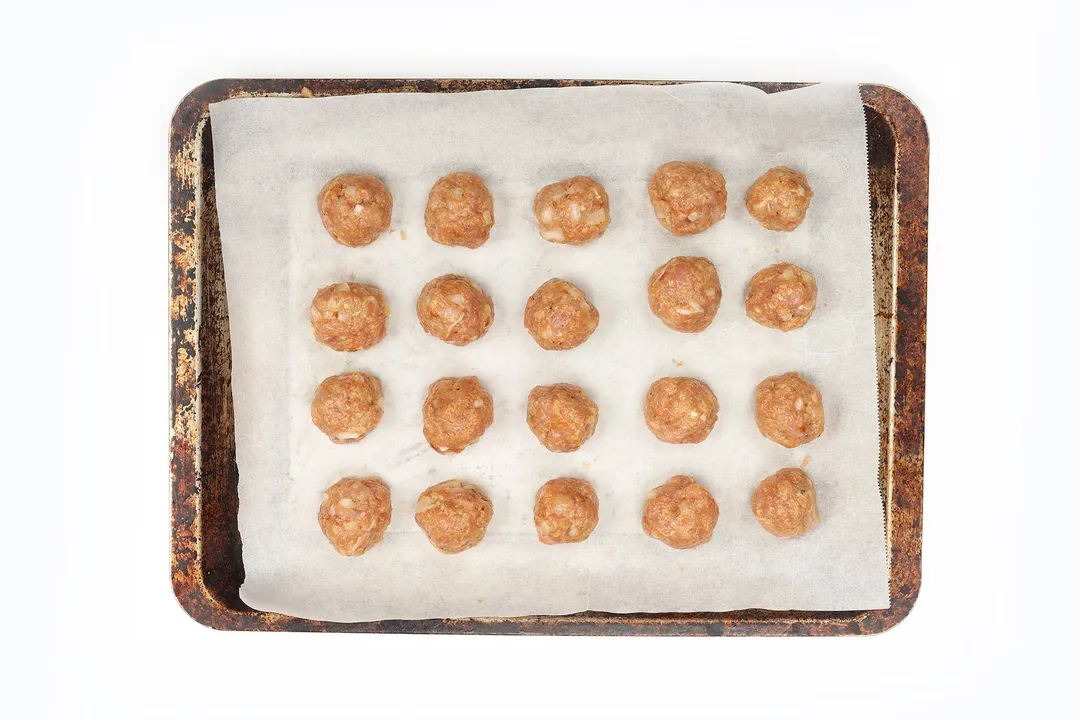 3
Bake the meatballs: Place the meatballs on a lined baking tray. Cook in the oven for 10 minutes at 425 °F.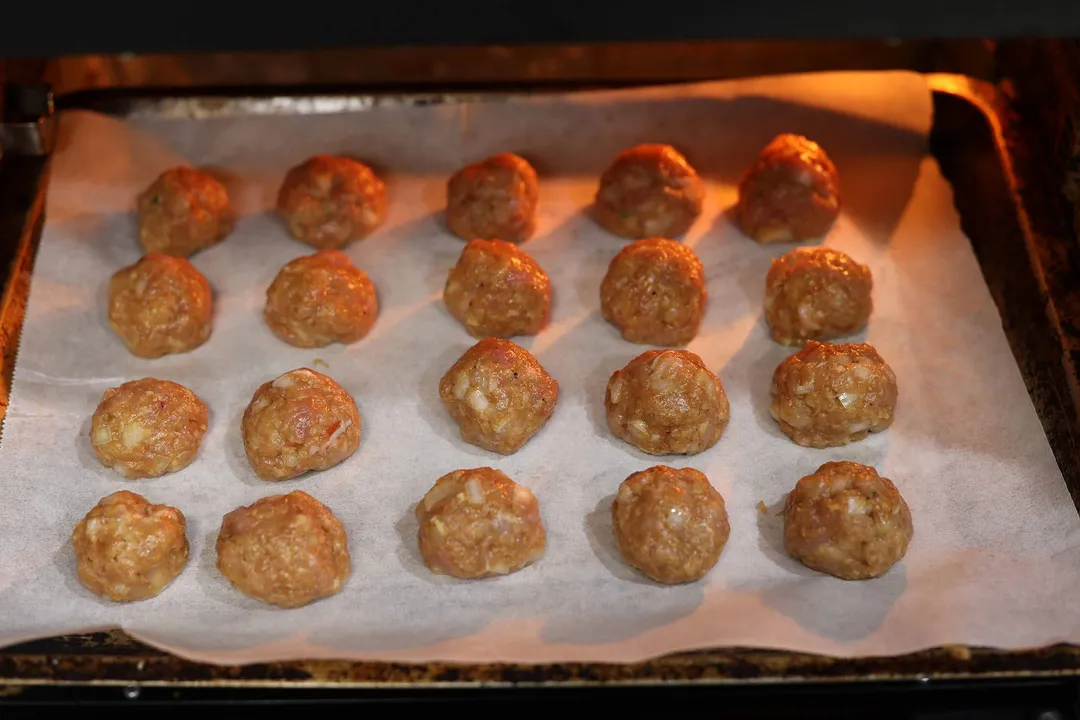 4
Caramelize the onion and add the tomato paste: Prepare a hot pan over medium heat. Add 2 tbsp olive oil and 2 oz onion. Stir for 2 minutes to caramelize. Then add 1 tbsp of Hunt's tomato paste. Stir for 30 seconds.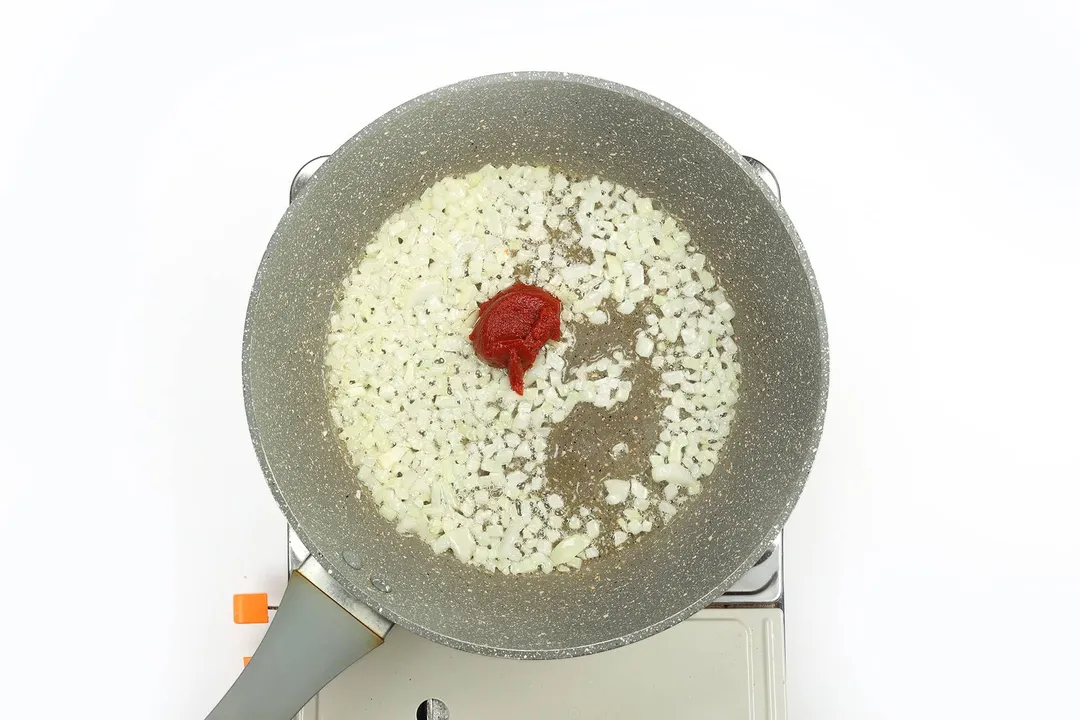 5
Add the flour: Add 1 tbsp of all-purpose flour. Stir for 30 seconds.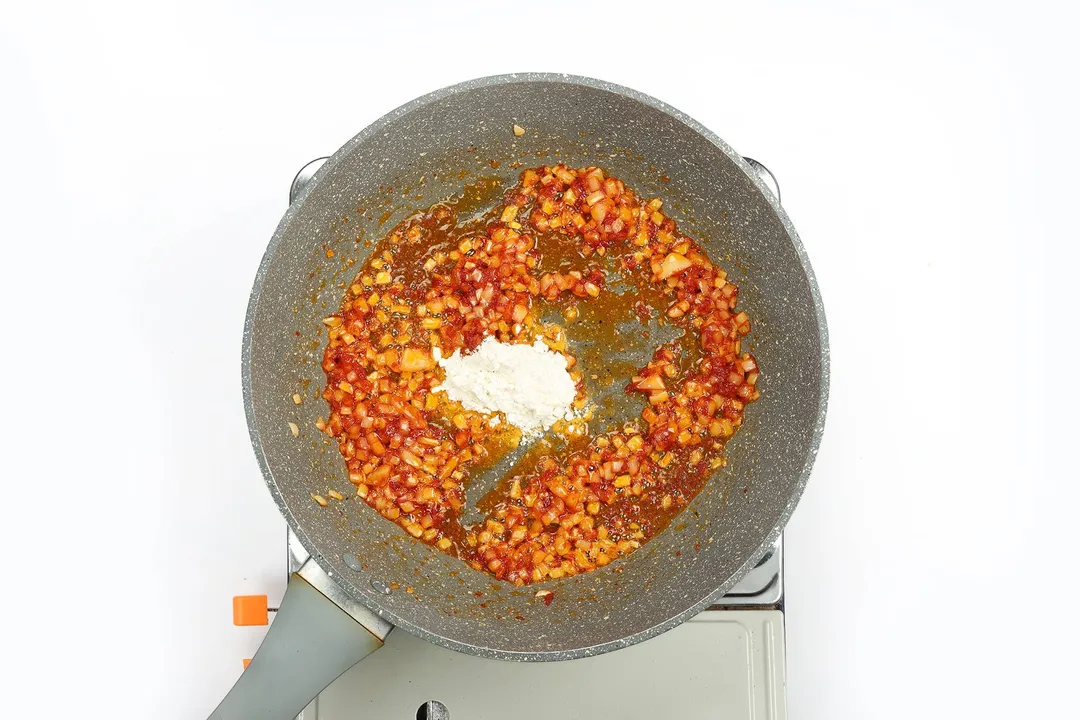 6
Make the sauce: Add 1 cup Homemade tomato sauce, 1/2 cup unsalted chicken broth, 1/2 tsp salt, and 1/2 tsp ground black pepper. Stir for 1 minute.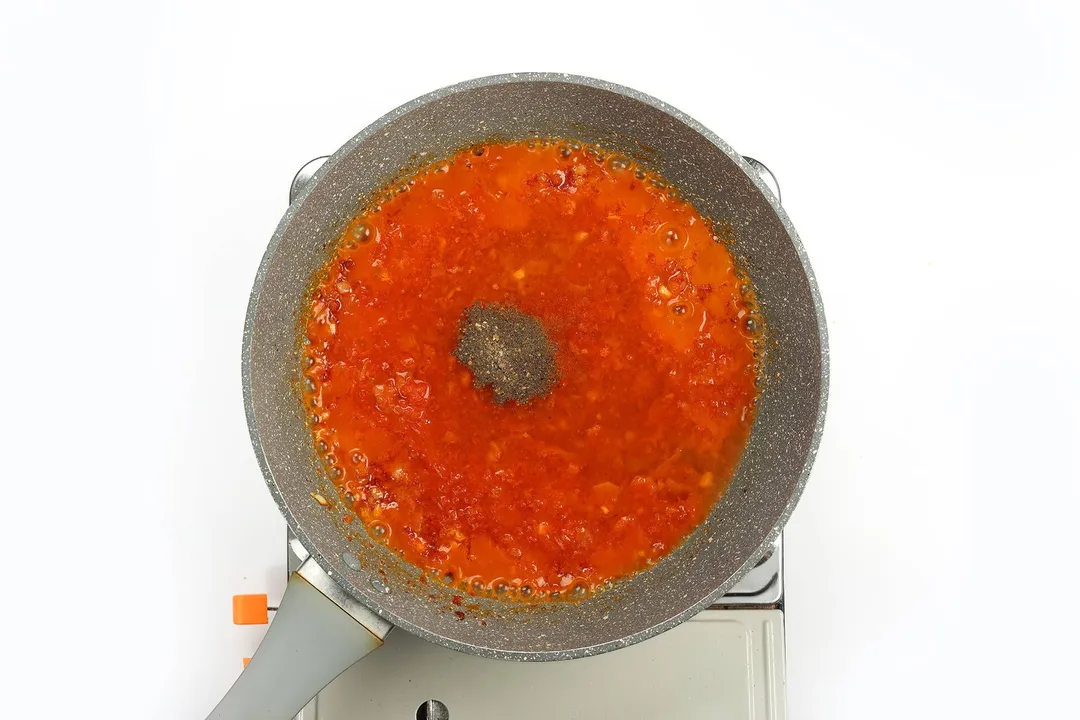 7
Stir the meatballs in the sauce: Add the cooked meatballs to the sauce and let them cook over low heat for 2 minutes.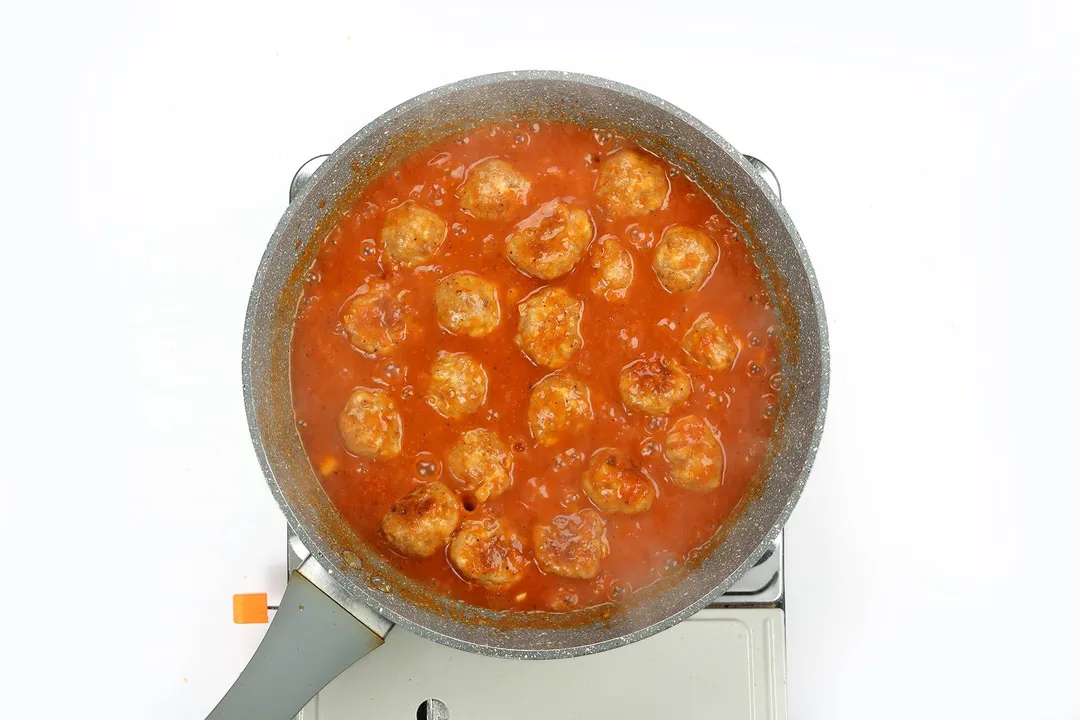 8
Add the spaghetti: Add 14 oz cooked spaghetti and cook for another 3 minutes.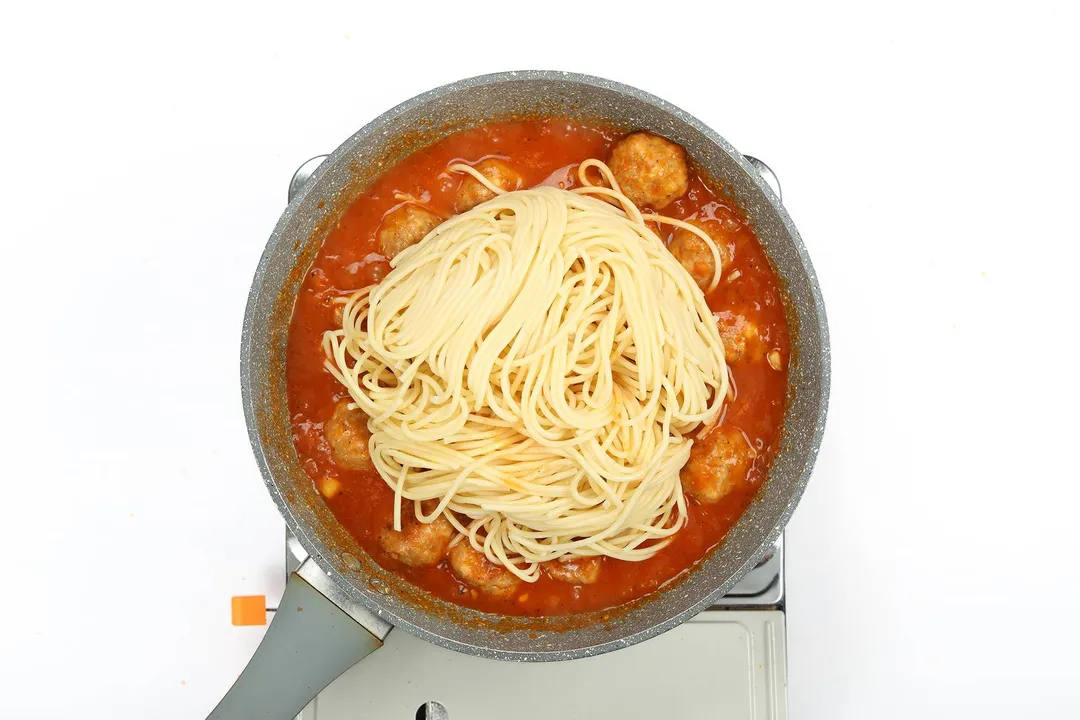 9
Garnish and serve: Sprinkle with 0.25 oz shredded parmesan cheese and 2 tbsp basil. Enjoy.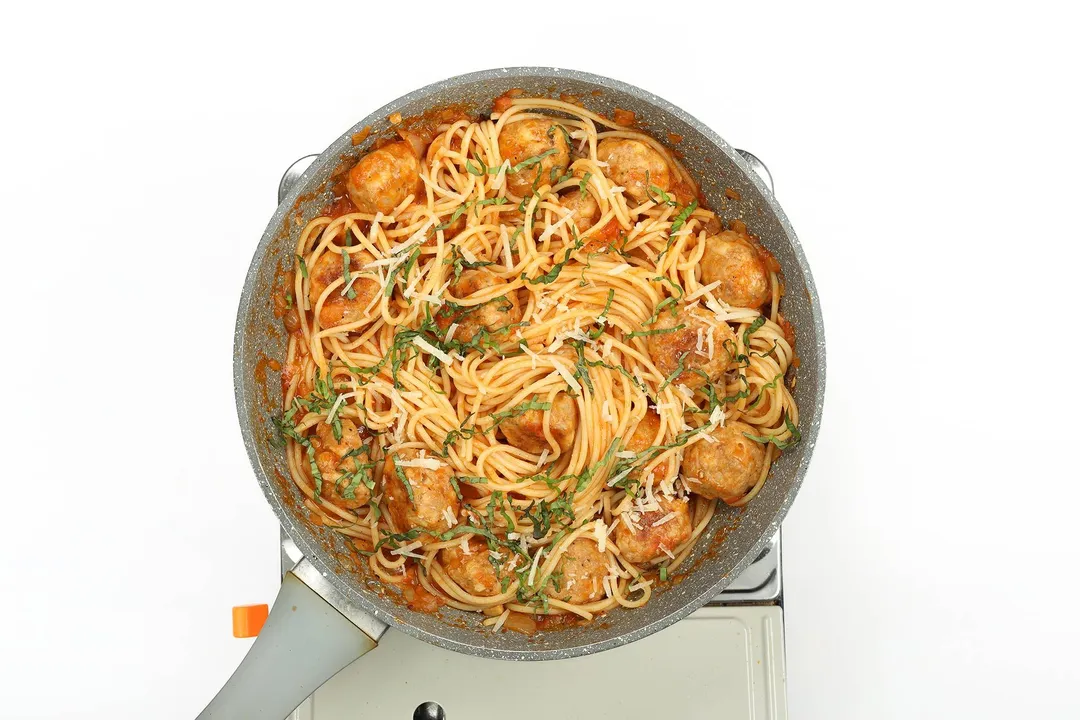 NUTRITION
Nutrition Facts
Chicken Meatballs
Amount Per Serving (1 serving)
Calories 488
Calories from Fat 174
% Daily Value*
Monounsaturated Fat 10.9g
* Percent Daily Values are based on a 2000 calorie diet.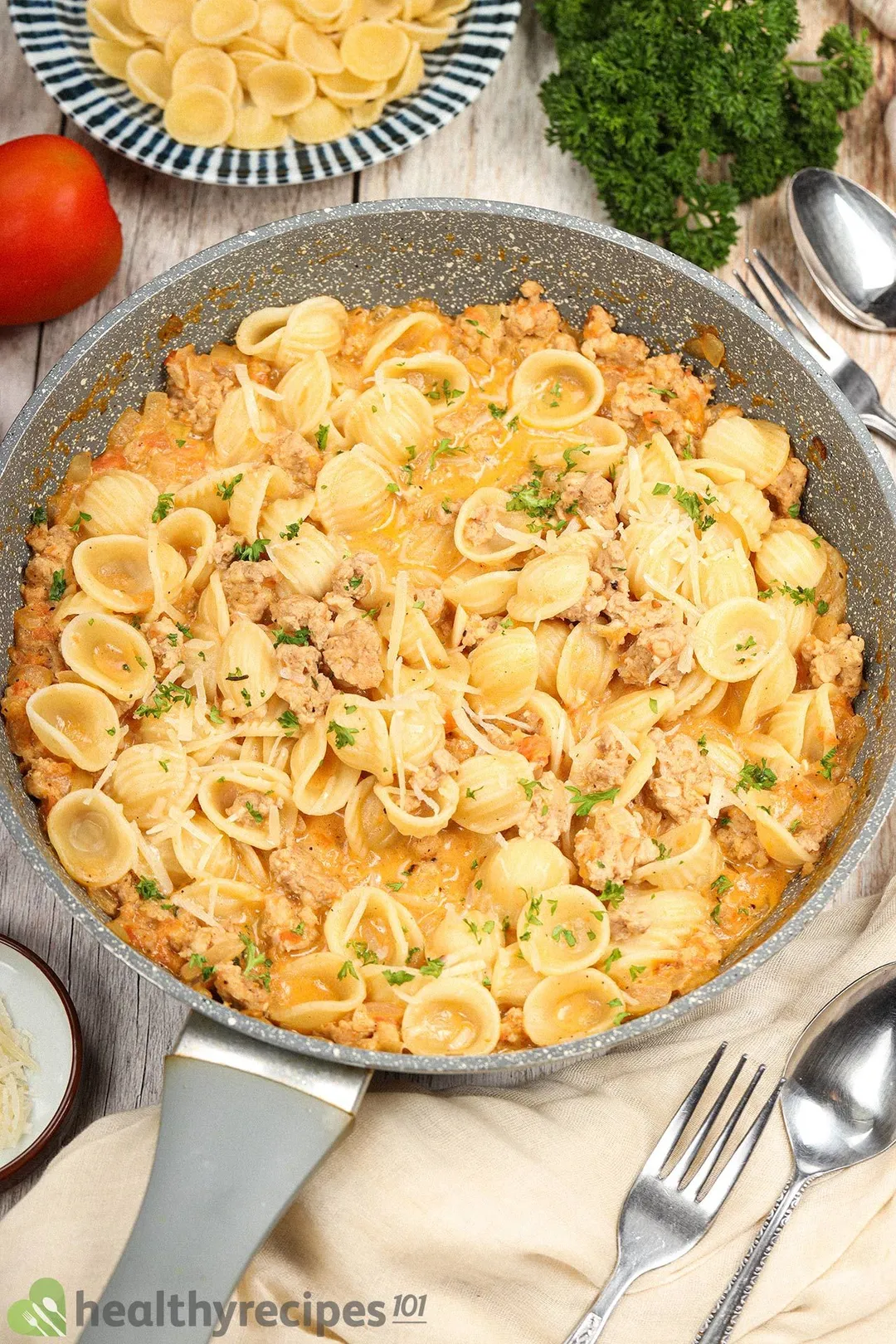 Previous Recipe
Ground Chicken Pasta
Ground Chicken Pasta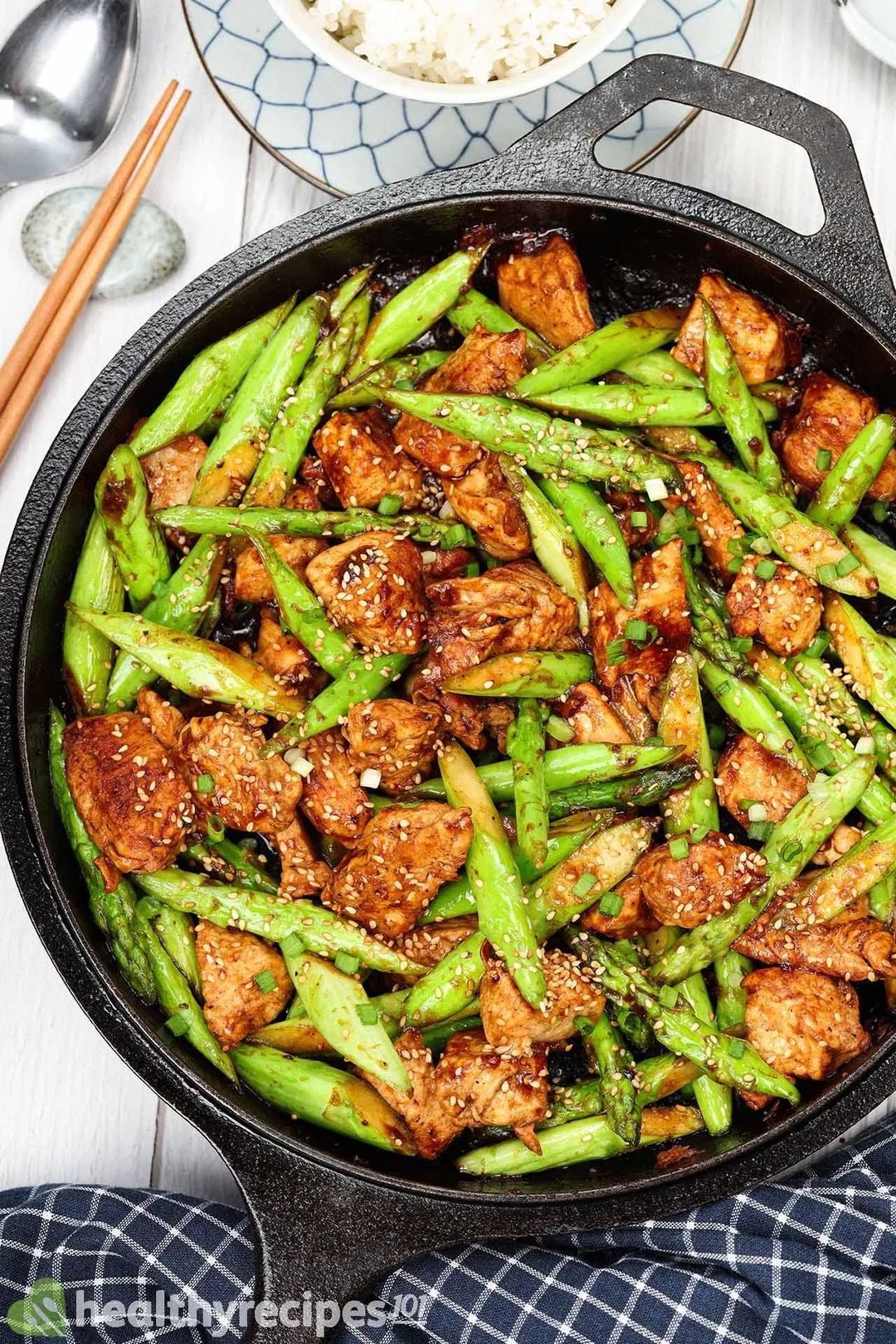 Next Recipe
Stir-fried Chicken Asparagus
Stir-fried Chicken Asparagus
Head Chef, Culinary Consultant
Tuyet Pham is an award-winning Saigonese chef who believes that joy is the secret ingredient to delicious food. At Healthy Recipes 101, Tuyet personally tests and simplifies every recipe, ensuring maximum flavor with minimal effort. With a background at prestigious French restaurants P'TI Saigon and Le Corto, Tuyet knows how to make every dish exceptional.
Writer, Author
Luna Regina is an accomplished writer and author who dedicates her career to empowering home cooks and making cooking effortless for everyone. She is the founder of HealthyKitchen101.com and HealthyRecipes101.com, where she works with her team to develop easy, nutritious recipes and help aspiring cooks choose the right kitchen appliances.
Delish & flavorful chicken meatballs.

Yummy! Easy for beginner.