Today's stir-fried chicken asparagus recipe, featuring succulent chicken served with tender-crisp asparagus, will make an ideal spring-welcoming dish.
Bite-sized chicken breast chunks, flavored with paprika and garlic powder, are pan-seared to perfection with snappy asparagus. We also add an Asian-inspired condiment, made of hoisin sauce, reduced-sodium soy sauce, oyster sauce, sesame oil, etc., to bring out the best of chicken and greens. 
It's time to forget that greasy takeaway food and give this healthy version a whirl!
Is Stir-fried Chicken Asparagus Healthy?
Yes, our stir-fried chicken asparagus is healthy.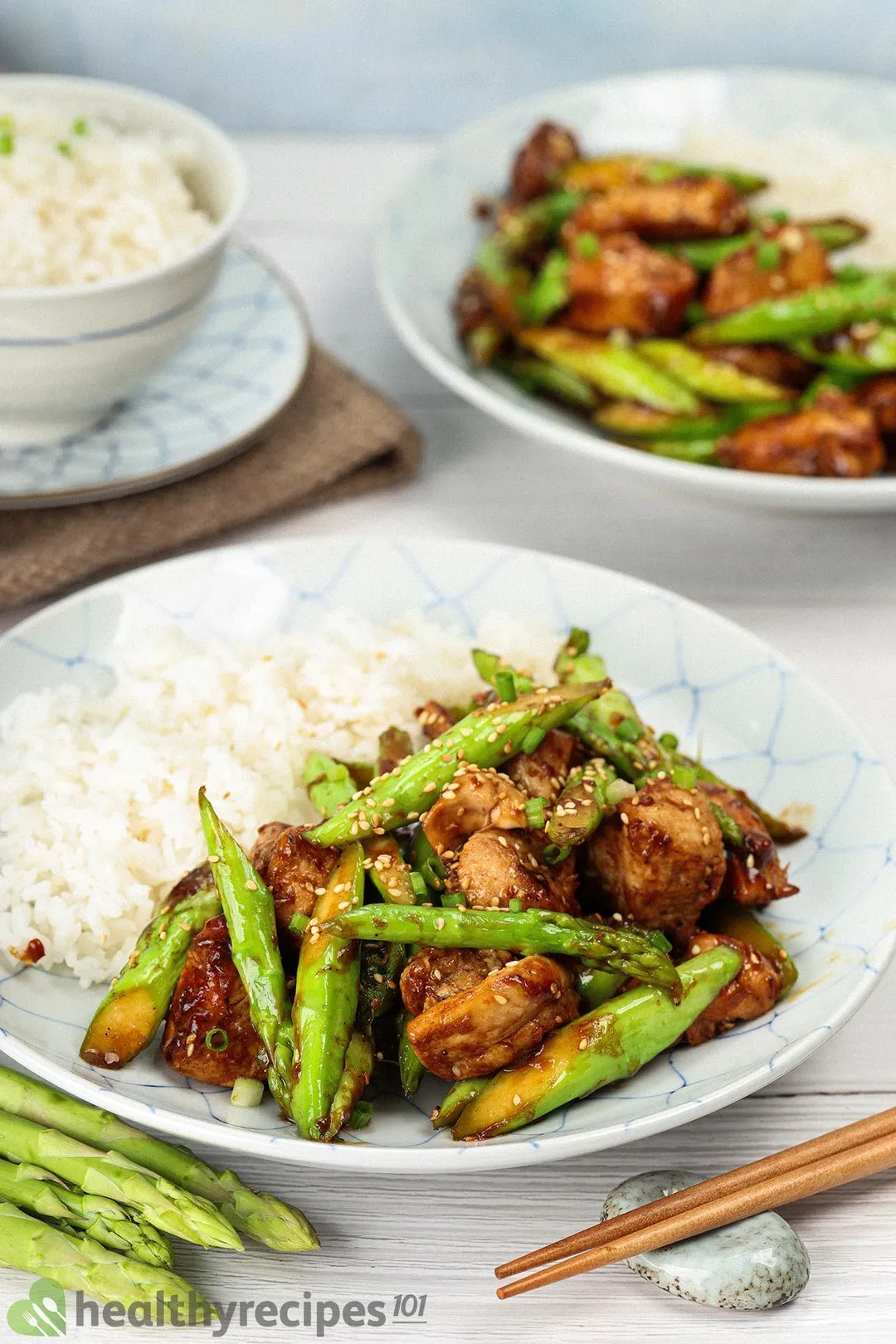 Featuring lean chicken breasts, fibrous greens, and a moderate amount of seasonings, this main dish offers tons of nutrients.
Let's gain an insight into its nutritional profile, shall we?
We chose chicken breasts as the star of this healthier-than-store-bought version. This cut is low-fat, low-calorie, and protein-dense. Thus, one serving of our stir-fried chicken asparagus provides 35.8 g of lean protein while only yielding 500 calories. 
Besides, home-cooking the sauce allows you to reduce the amount of added salt and fat, around 585 mg of sodium and 1.8 of saturated fat per serving.
Fresh asparagus also contributes a considerable amount of dietary fiber and vitamins, especially vitamin K, to your diet.
Ingredients for Stir-fried Chicken Asparagus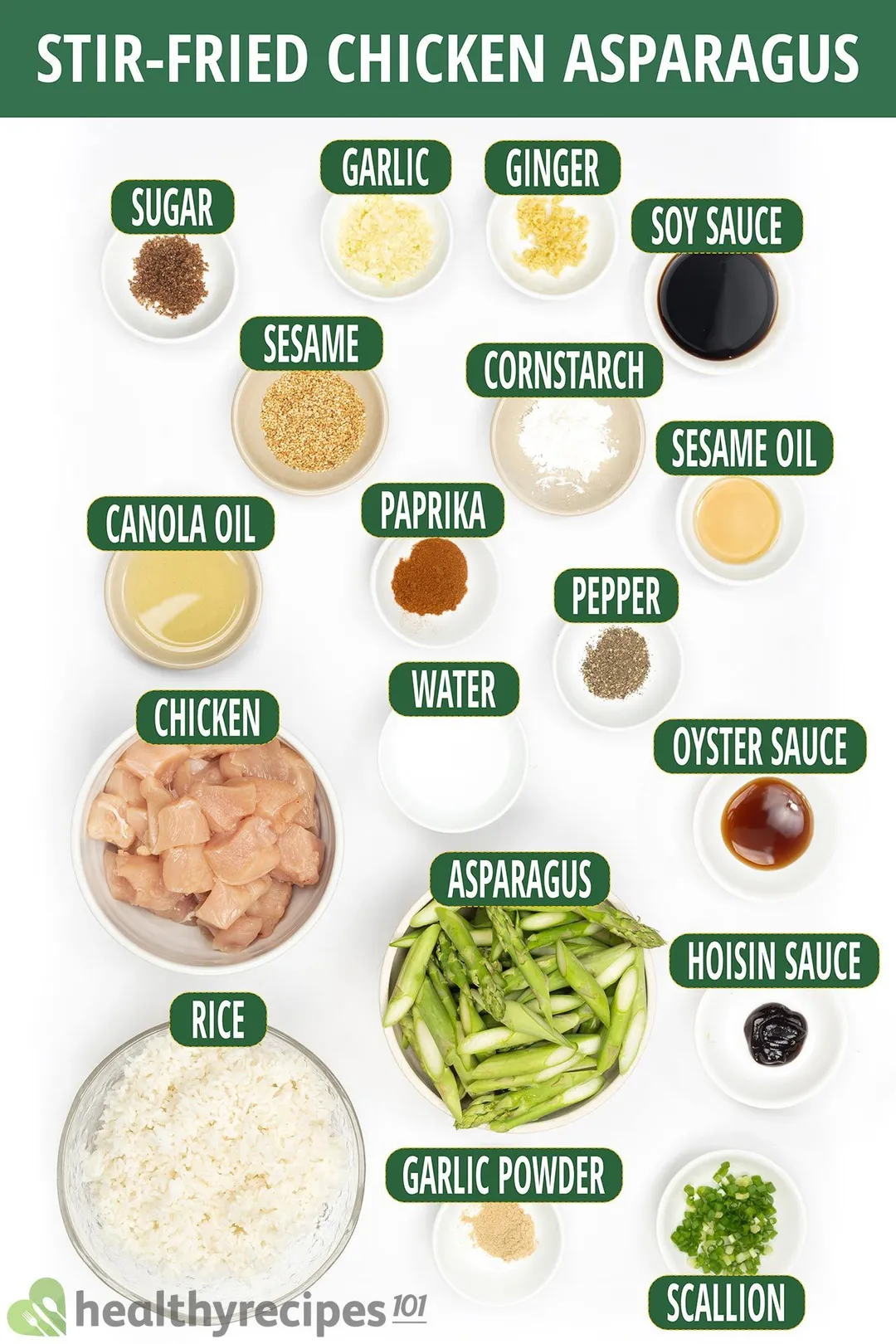 Chicken: We opt for skinless boneless chicken breast for three main reasons: it requires less prepping skills (no need to debone), its flavor works wonders in a wealth of recipes, and it's a budget-friendly ingredient. 
Asparagus: While the bright green hue of asparagus gives a refreshing aesthetic, its sweet-bitter flavor helps tone down the savory taste of the Chinese-style sauce. Plus, chicken breasts and asparagus call for a brief cooking time, which makes them perfect to combine into one dish.
Ginger: An authentic Chinese stir-fried chicken asparagus must have the warmth and heat of minced ginger. Fresh ginger has an impactive spiciness; however, it fades into a subtle peppery, sweet note, once cooked.
Garlic: During the stir-frying process, garlic infuses the chicken and asparagus with a robust taste and irresistible aroma. 
Paprika: If you are not a big fan of spicy food, you can still enjoy the goodness of paprika as its heat doesn't tend to leave a lingering sensation on the palate.
Pepper: Our chefs fancy the boldness and sharpness that black pepper imparts to the chicken breasts. Still, if you are keen on a gentler aftertaste, we suggest using white pepper as a substitute.
Sauce: Apart from a healthy reduced-sodium soy sauce twist, our chefs keep the sauce recipe as original as possible. The blend of nutty sesame oil, savory hoisin sauce, sweet-salty oyster sauce, and umami soy sauce makes the chicken and veggies shine.
Rice: For convenience, we purchase regular medium-grain white rice at our local grocery store. However, you can go with any other variety that suits your taste like jasmine rice, brown rice, or black rice.
Garnish: Top your stir-fried chicken asparagus with some chopped scallion and roasted white sesame seeds, and your dish is ready to serve.
How to Store and Reheat Leftovers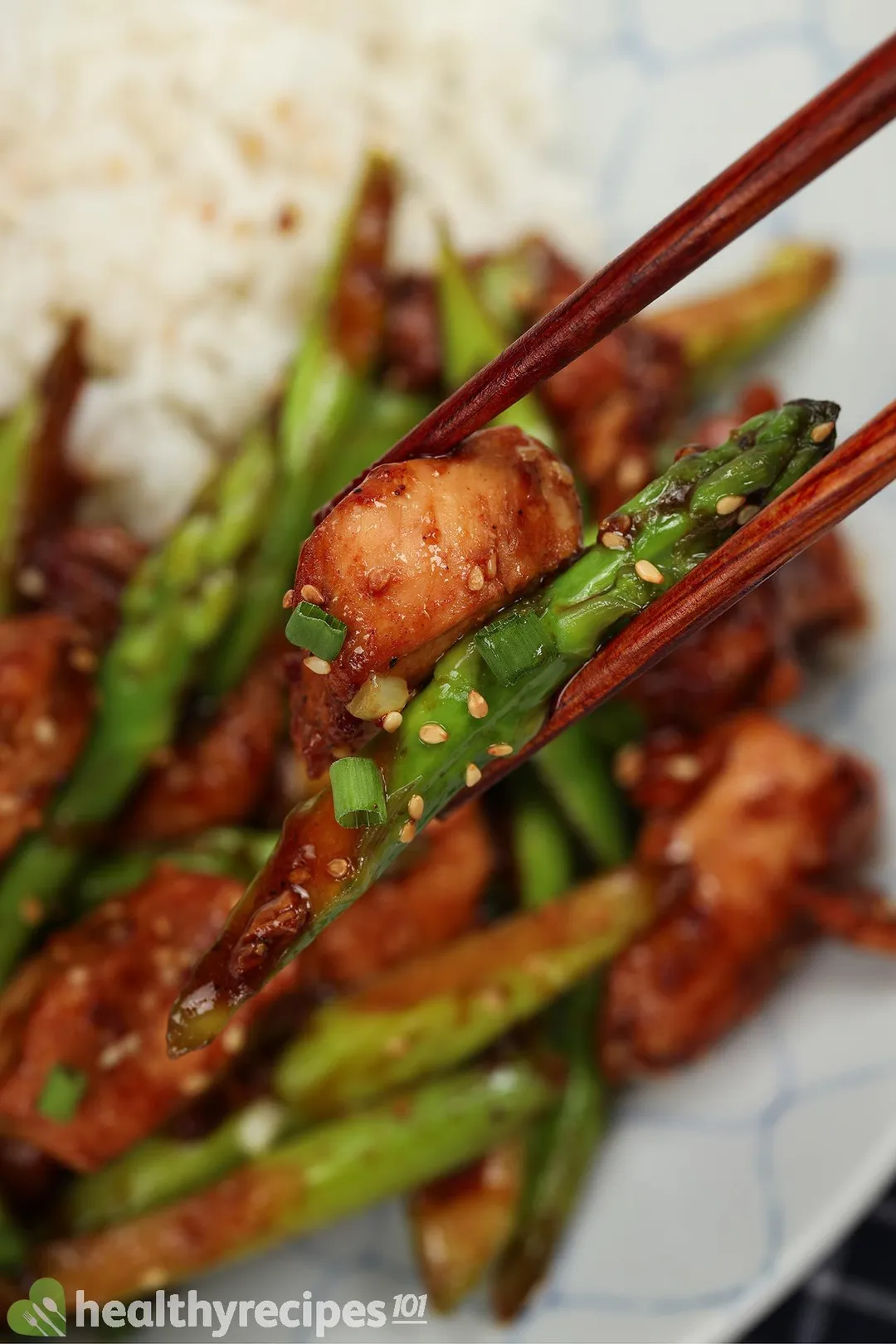 1. How to Store
Here are three simple steps to help better maintain the quality of your leftovers.
Step 1: Allow your chicken and asparagus to cool to room temperature before storing to prevent bacterial growth.
Step 2: Place your leftovers in an airtight container and label the date for storage-time tracking.
Step 3: Refrigerate them for a maximum of 4 days.
2. How to Reheat
To reheat, transfer your chicken and asparagus onto a microwave-safe platter, add a tablespoon of olive oil to retain the food's moisture, and cover it with plastic wrap. Microwave the dish at 'high' for 2 minutes or until hot.
What to Serve With Stir-fried Chicken Asparagus
What's missing to complete a full-on Chinese dinner are a bowl of steamed soup and a plate of sautéed vegetables as side dishes. Here are some of our suggestions.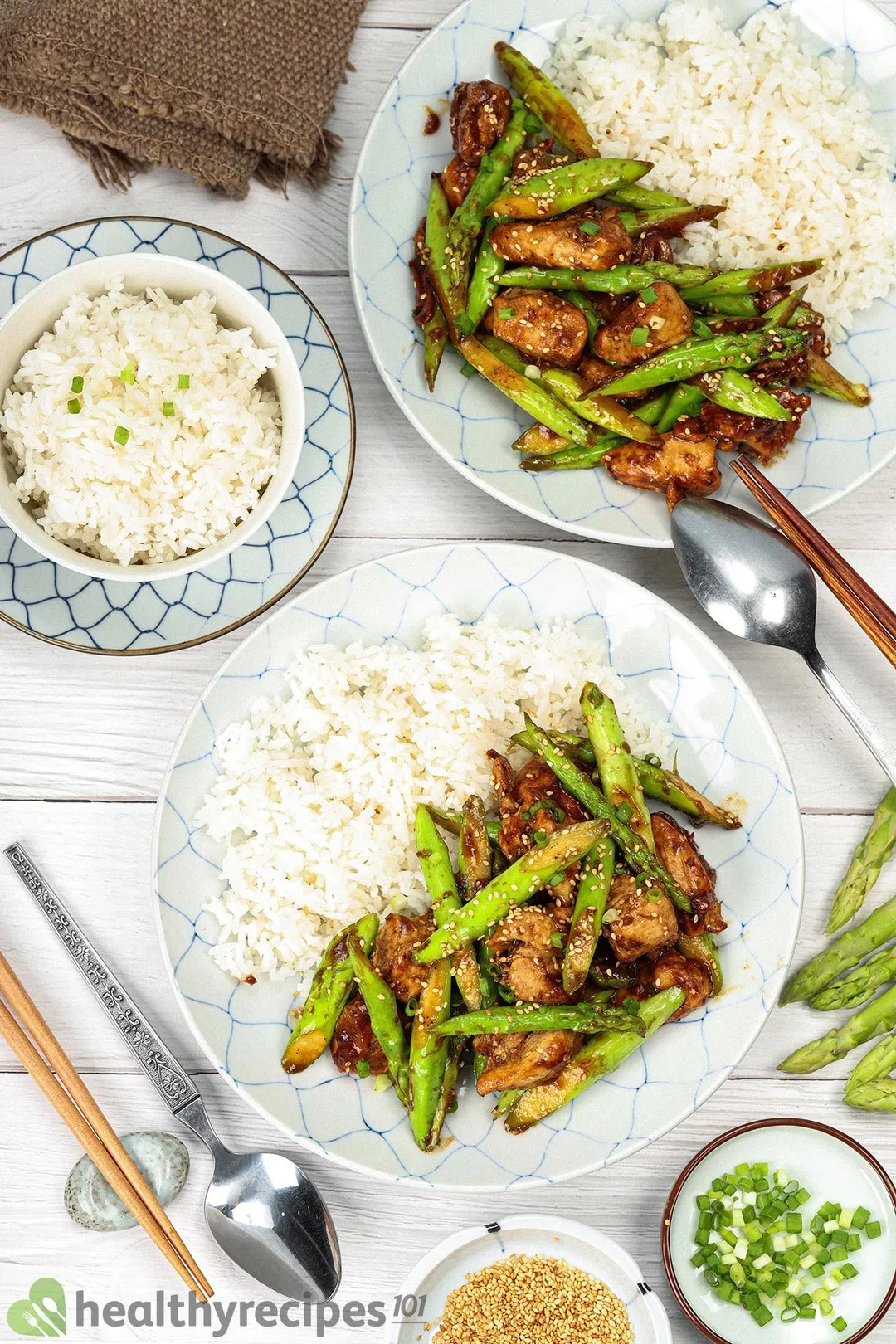 Sweet and Tangy Takes on Chicken and Rice
Orange chicken is, we don't think we need to say more, divine on top of cooked rice and cooked veg. It's one of the occasions where steamed broccoli doesn't taste boring—that sticky glaze ties things together.
Into something a little more fresh? This Thai basil chicken recipe is also pretty simple to prepare. In less than 30 minutes, you'll have a filling plate of chicken stir-fry infused with the delectable aroma of Thai basil leaves.
Stir-fried Chicken Asparagus
This stir-fried chicken asparagus recipe calls for tender chicken and crunchy asparagus evenly coated with a layer of Chinese-style sauce—flavorful and visual-appealing. Serve over white rice and prepare a steamy bowl of vegetable soup as a side dish, it's comfort food at its finest.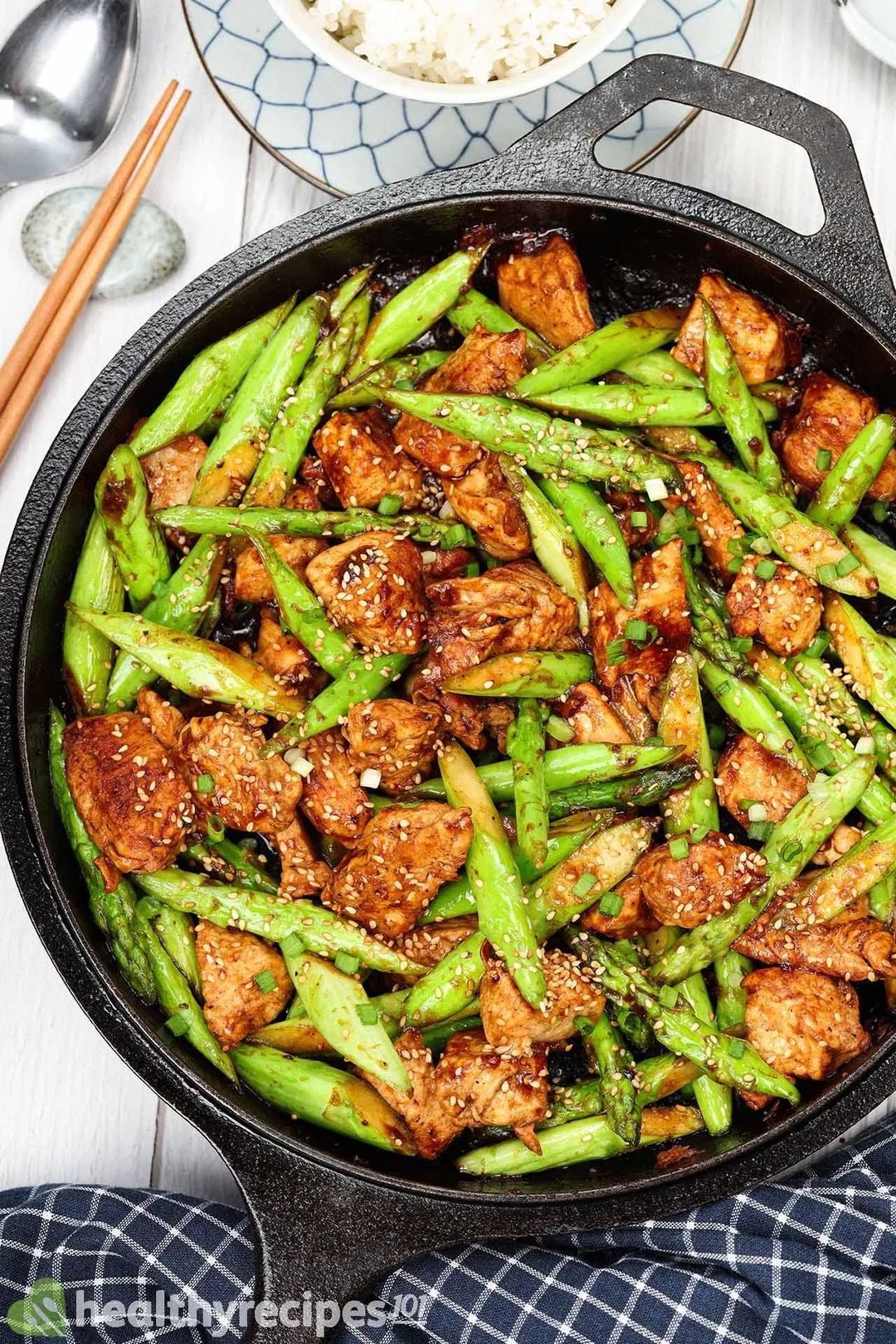 cook TIME

20 mins

prep TIME

15 mins

total TIME

35 mins
COURSE

Main

CUISINE

Chinese

SERVINGS

CALORIES

500 kcal
INGREDIENTS
18 oz

skinless boneless chicken breast

(cut into 1-inch cubes)

12 oz

asparagus

(sliced into 2 - 3-inch pieces, woody ends removed)

2 1/2 tbsp

reduced-sodium soy sauce

1 tbsp

unsalted roasted sesame seeds

1/2 tsp

ground black pepper

2 tbsp

scallion

(chopped)

3 1/2 cups

cooked medium-grain rice

(from 1 3/4 cups uncooked)
INSTRUCTIONS
Prep:
1
Place the chicken breasts on a cutting board. Use a sharpened knife to cut the breasts crosswise into 1-inch thick strips, then slice those strips into small cubes, about 1-inch thick.
2
Use a peeler to peel off the woody ends of the bottom half of each asparagus. Slice the asparagus diagonally into 2 - 3 inch pieces.
3
Separate the knobs and slice away the ginger skin with a knife. Cut the knobs into thin slices. Stack the slices up and slice them into thin strips. Rotate the strips 90 degrees, then cut them into tiny pieces.
4
Remove the garlic cloves from the bulb. Slice off the root of each garlic clove, then peel away the skin. Finely mince the peeled garlic.
5
Cook the rice using a rice cooker or an Instant Pot.
Cook:
1
Make the sauce: In a small mixing bowl, add 1/2 tbsp sesame oil, 1 tsp brown sugar, 2 tsp cornstarch, 1/2 tsp pepper, 1 tsp hoisin sauce, 2 1/2 tbsp reduced-sodium soy sauce, and 1/2 tbsp oyster sauce. Whisk well with a wooden spoon.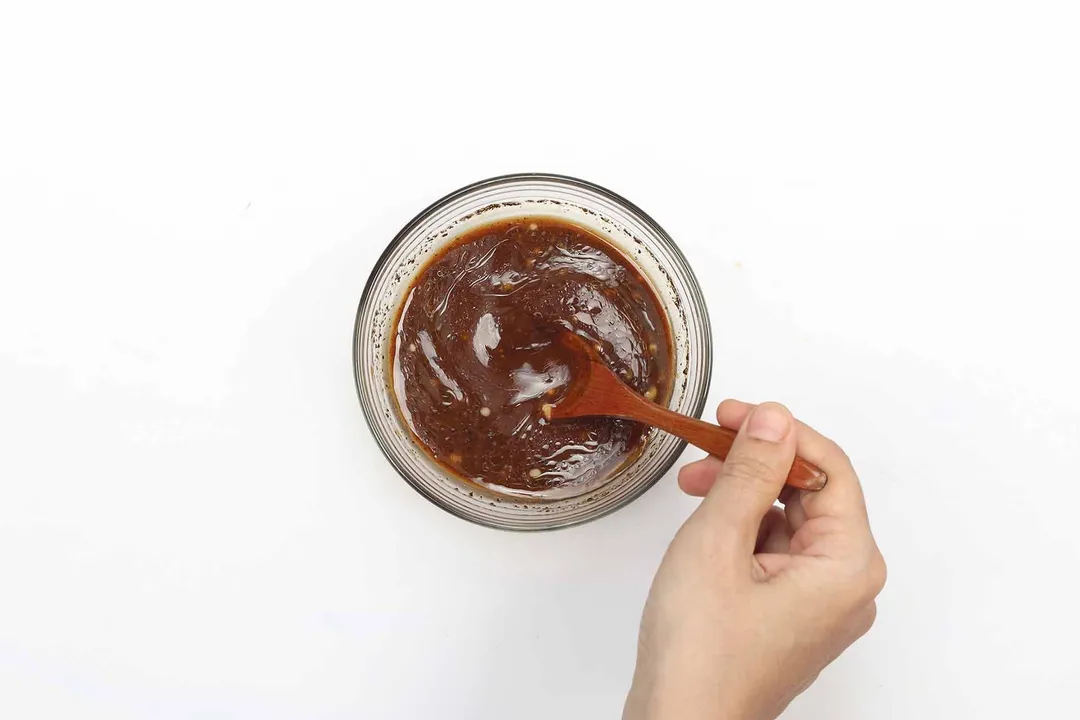 2
Season the chicken breasts: In a large mixing bowl, add 18 oz cubed skinless boneless chicken breast, 1 tsp paprika, and 1/2 tsp garlic powder. Mix well.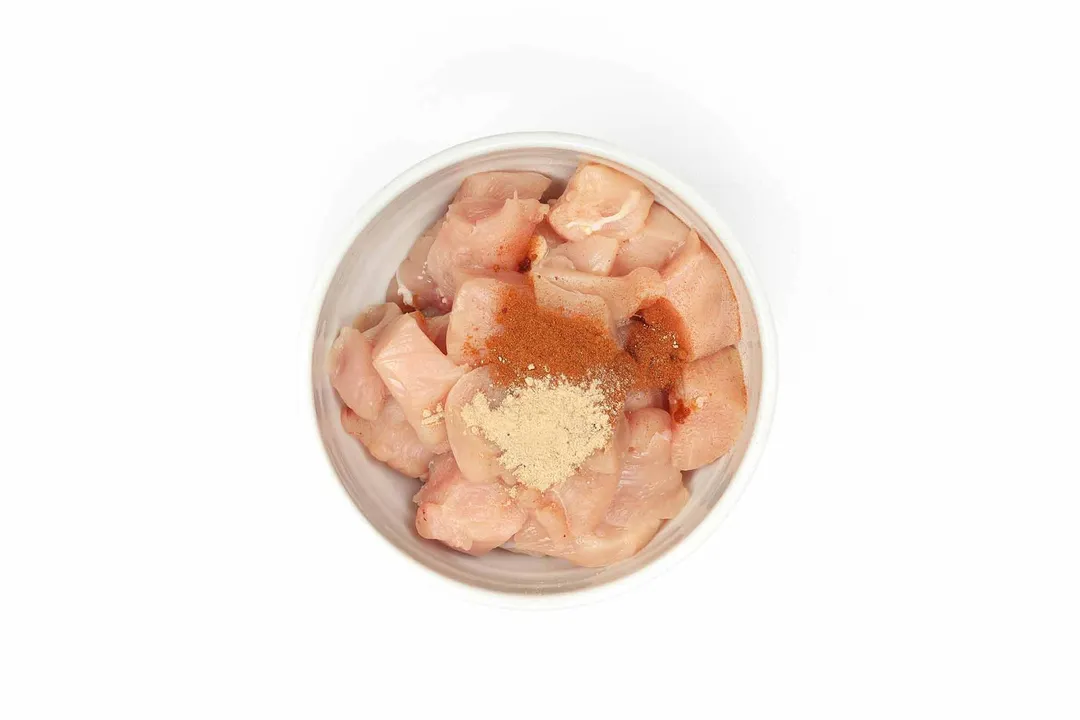 3
Pan-sear the well-seasoned chicken breasts: Place a large skillet over medium heat, then pour in 1 tbsp canola oil. Add the seasoned chicken breasts to the skillet and stir evenly to cook for 7 minutes. Remove from heat.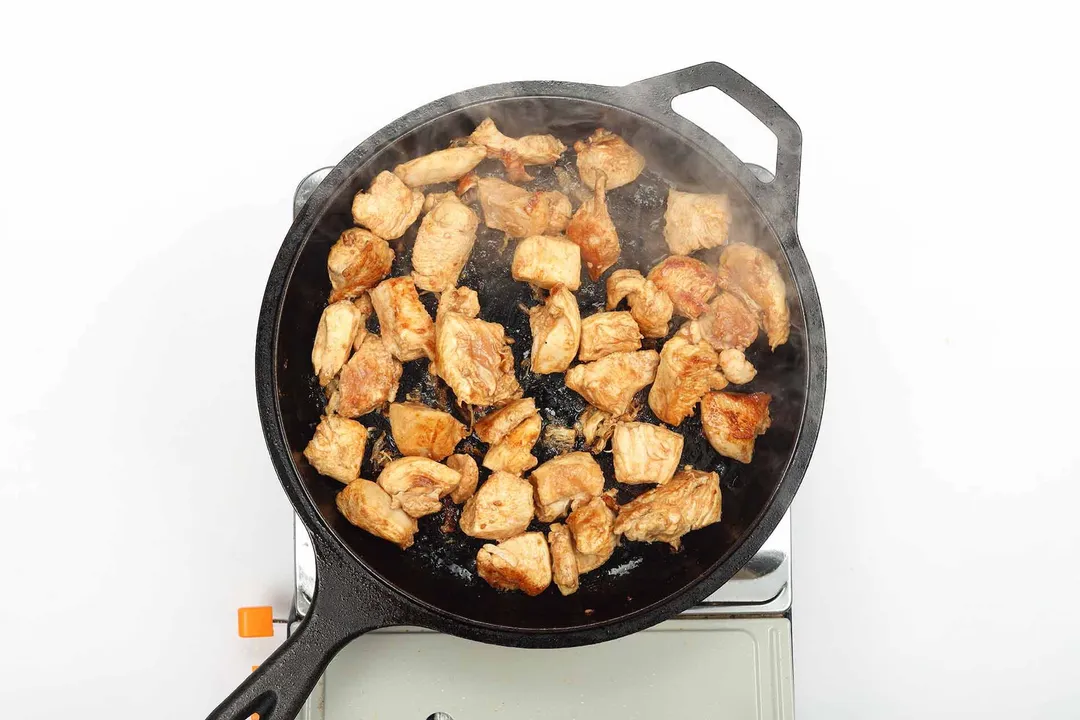 4
Cook the asparagus: Add the remaining canola oil and 12 oz asparagus to the same skillet. Cook them for another 7 minutes.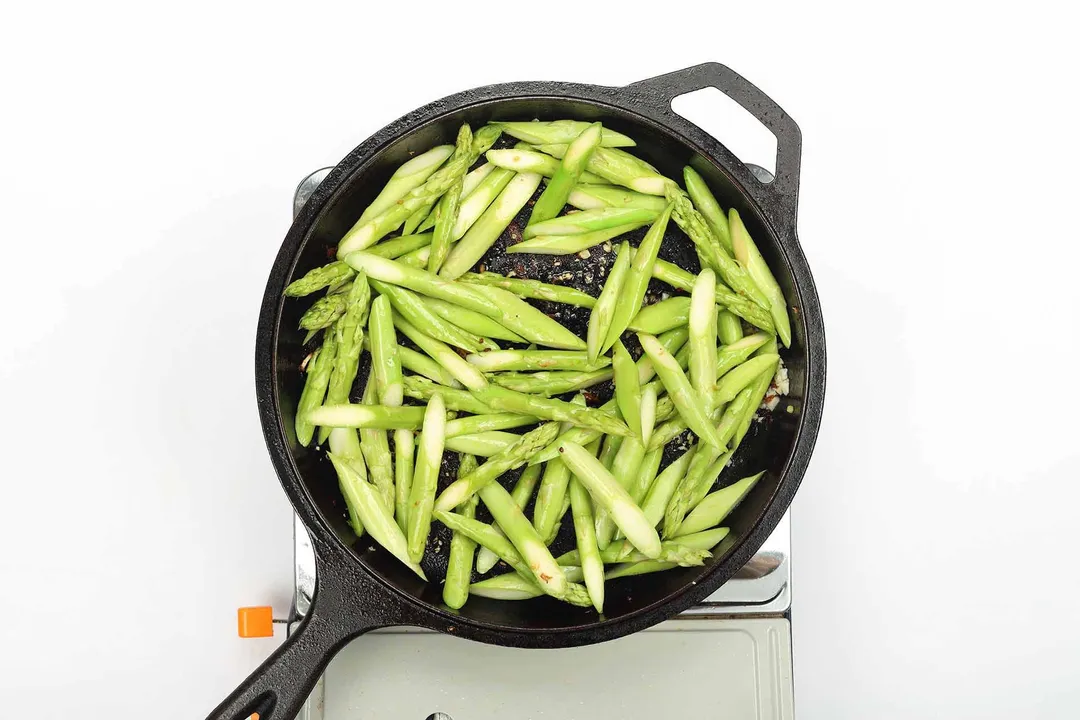 5
Return the chicken breasts to the skillet: To the asparagus, add in the pan-seared chicken breasts. Stir to cook the chicken and the asparagus for 3 minutes.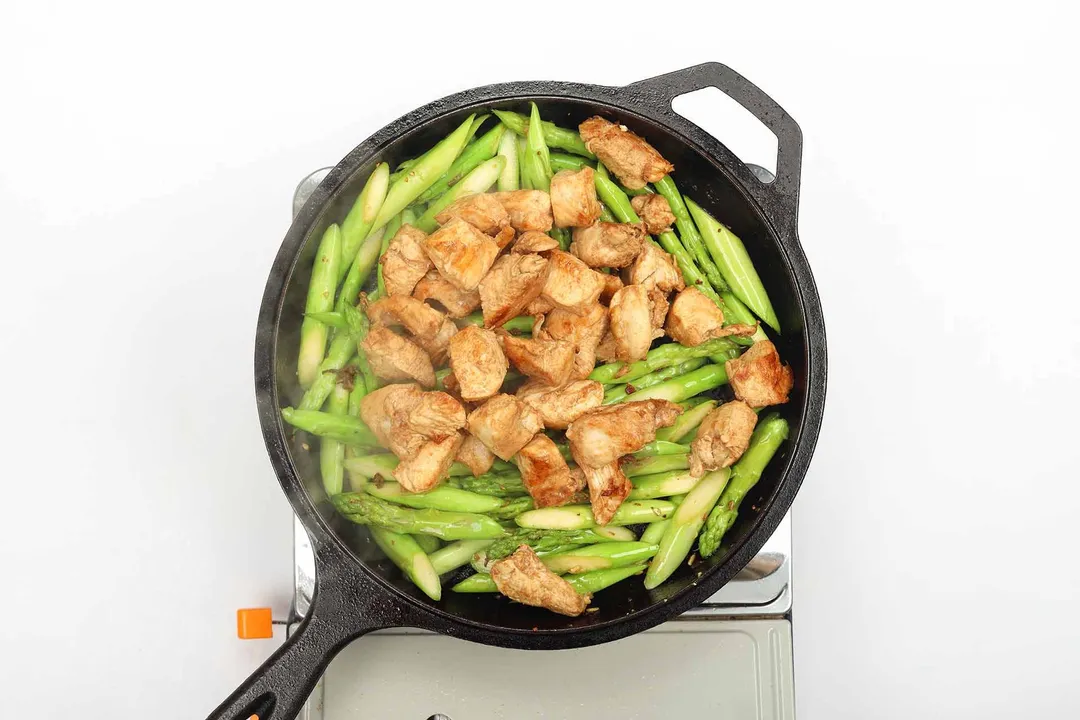 6
Combine the sauce: Pour the sauce mixture into the skillet and stir continuously for 1 more minute. Turn off the heat.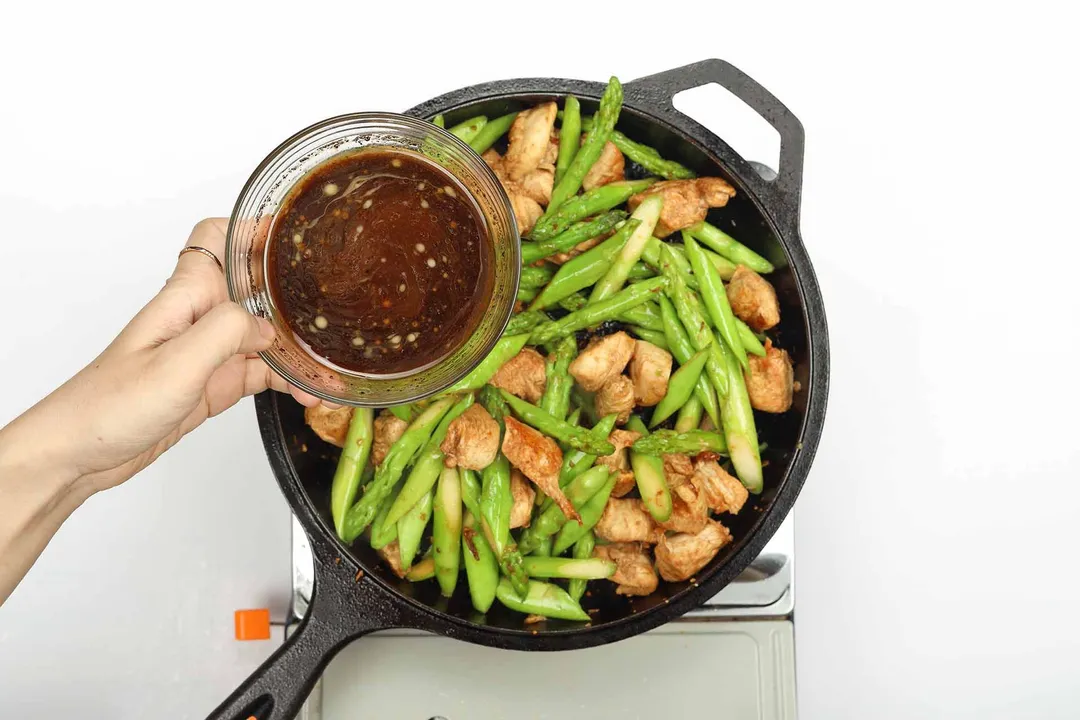 7
Garnish and serve: Transfer your desired portion onto a platter. Garnish with 2 tbsp chopped scallion and 1 tbsp unsalted roasted sesame seeds. Enjoy!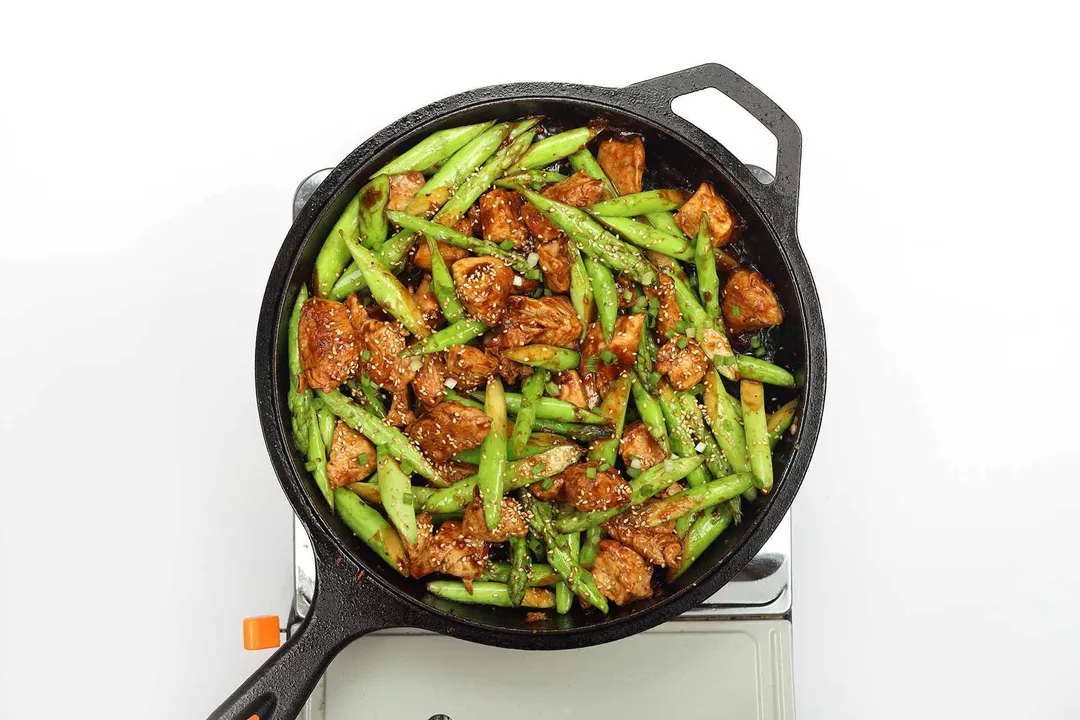 NUTRITION
Nutrition Facts
Stir-fried Chicken Asparagus
Amount Per Serving (1 serving)
Calories 500
Calories from Fat 123
% Daily Value*
* Percent Daily Values are based on a 2000 calorie diet.
Keywords: stir-fried chicken asparagus, stir-fried chicken asparagus recipe, how to make chicken asparagus stir fry, chicken asparagus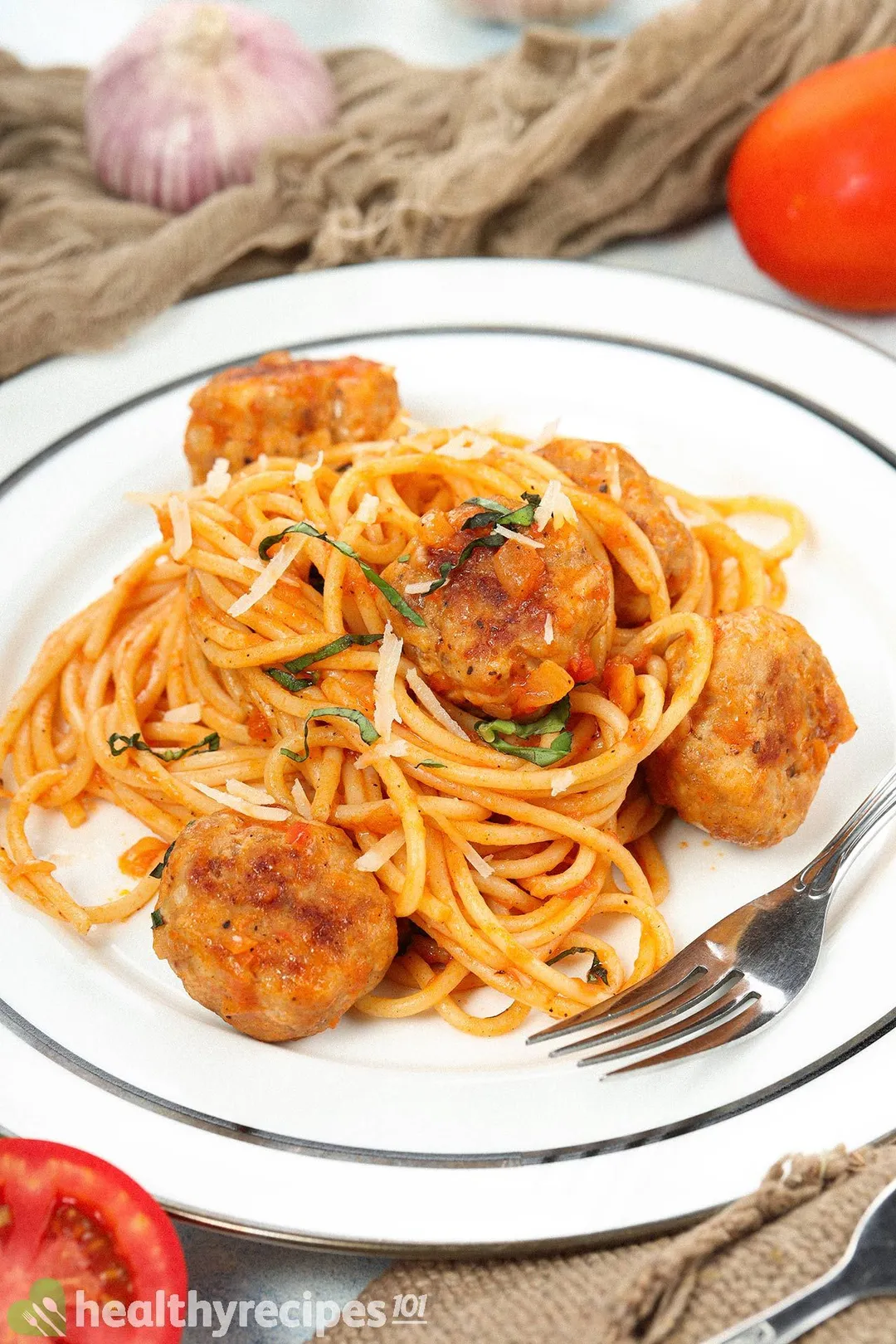 Previous Recipe
Chicken Meatballs
Chicken Meatballs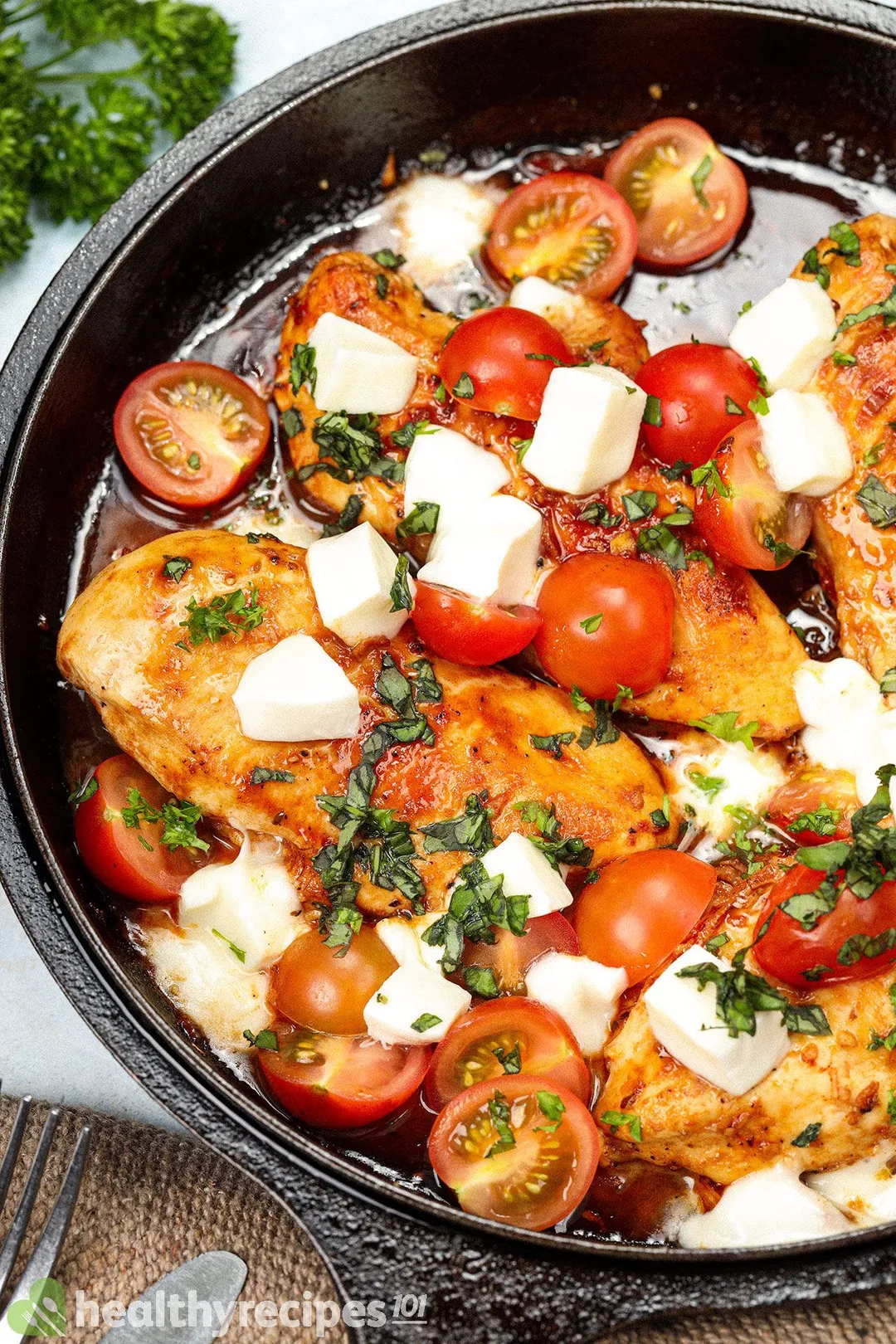 Next Recipe
Balsamic Chicken
Balsamic Chicken
Head Chef, Culinary Consultant
Tuyet Pham is an award-winning Saigonese chef who believes that joy is the secret ingredient to delicious food. At Healthy Recipes 101, Tuyet personally tests and simplifies every recipe, ensuring maximum flavor with minimal effort. With a background at prestigious French restaurants P'TI Saigon and Le Corto, Tuyet knows how to make every dish exceptional.
Writer, Author
Luna Regina is an accomplished writer and author who dedicates her career to empowering home cooks and making cooking effortless for everyone. She is the founder of HealthyKitchen101.com and HealthyRecipes101.com, where she works with her team to develop easy, nutritious recipes and help aspiring cooks choose the right kitchen appliances.
Delicious stir-fried chicken and asparagus for a healthy meal.