This hearty, comforting chicken and rice soup recipe is a remedy for cold weather; especially eaten when snuggled up in a thick, soft blanket. It creates the ideal comfort food for National Chicken Soup (November 12) for the Soul Day.
Is Chicken and Rice Soup Healthy?
Rice is considered a good source of carbohydrates, no matter what kind. To include more fiber and micronutrients, you could use brown rice, which we will discuss below.
In this chicken and rice soup recipe, we're using skinless, boneless chicken thigh. This part is around 4% fat and 20% protein in weight— protein-packed and flavorful.
Stuffed with not just healthy carbs and proteins, our soup also contains a vast amount of micros:
What Kind of Rice Is Best for This Soup?
For the sake of convenience and simplicity, we used medium-grain white rice. Although, it's not the only choice.
Brown rice is an accessible, healthier option. What's special about it is that it adds a decent amount of fiber as well as vitamins and minerals.
For example, one cup of cooked medium-grain brown rice yields 216 calories. That's about the same compared to that of cooked medium-grain white rice.
Plus, it gives about 6-15% RDIs of some B vitamins and a decent amount of an additional 7 minerals.
If you do use brown or wild rice, keep in mind that they demand a longer cooking time.
We suggest you chew the rice to check its texture after simmering for 40 minutes. Then do it again every 10 minutes, until it reaches the texture you want.
Calories in Chicken and Rice Soup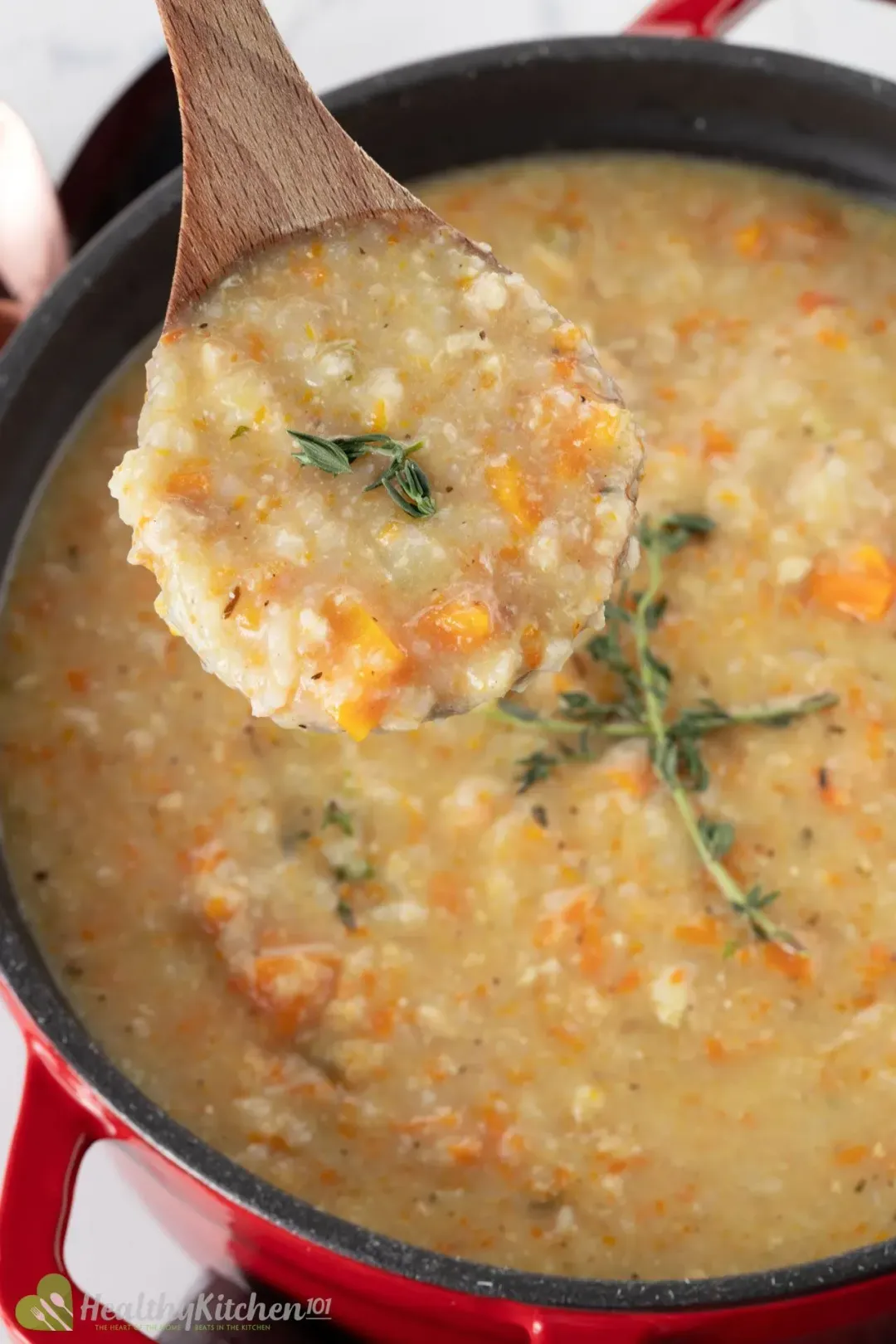 Although the ingredients our chicken and rice soup recipe calls for aren't calorie-packed, it yields around 500 calories per serving.
You can adjust ingredients so the calories match your liking and needs. But before that, have a look at our healthy eating guidelines first.
What Goes with Chicken and Rice Soup?
Including add-ins is a brilliant choice to make any recipe more delicious, nutritious, and personal. With this chicken and rice soup recipe, you can add:
1. Potatoes
It's been said a thousand times, cooked potatoes are comforting, and oh it's so true. They are tender, cozy, and add a unique mouthfeel to your soup.
But remember to get a balance between rice and potatoes. We'd say half a cup of rice, and half a cup of potatoes cubed into bite-sized pieces.
2. Peas
When it comes to soup, peas are a popular source of vegan protein. Since ours is already not vegan, it adds tender, nutritional little pockets to every bite.
In regards to how much, somewhere around half a cup, a little more or less. We don't want too much of anything.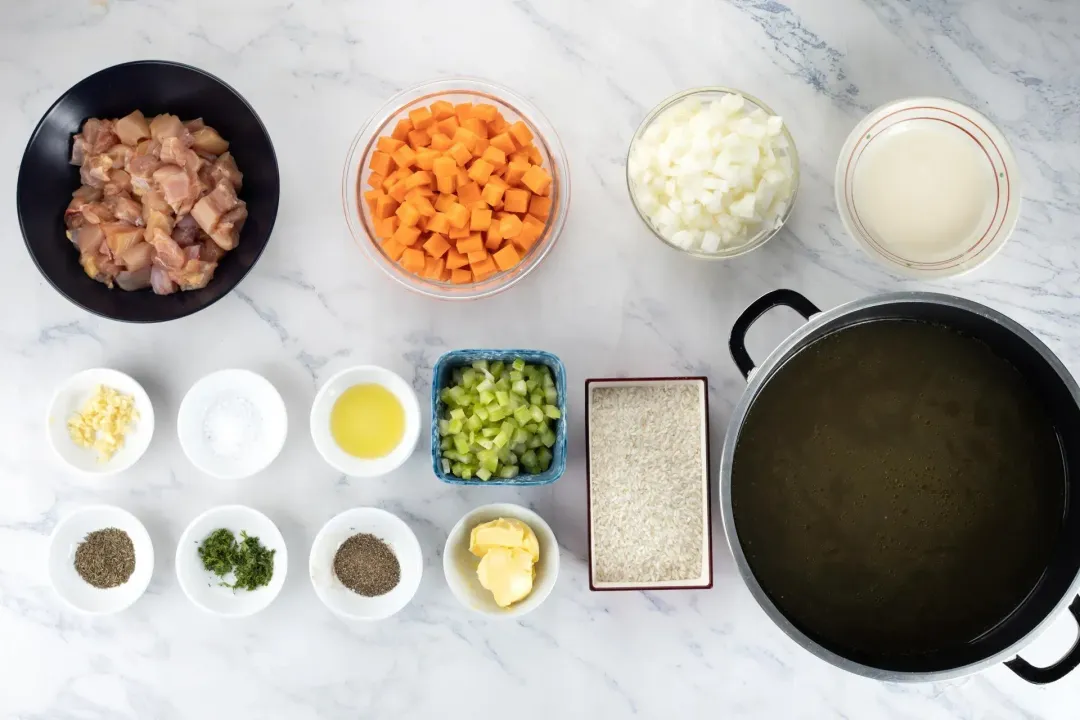 3. Mushrooms
More specifically, white/brown mushrooms, and they add tons of flavor when cooked until golden before submerged in the broth.
Throw them in at step 2 (where you cook the carrots) and be guided by the color of the skin. They add few calories and shrink when cooked, so around one and a half cups, sliced would satisfy your tastebuds.
Tips for Making The Perfect Chicken and Rice Soup
If you need to make this quickly, then you can use cooked rice in this chicken and rice soup recipe. But remember that there will be some adjustments on the cooking time and the order of ingredients going into the pot.
There is one step in our recipe which instructs you to stir-fry raw rice with veggies in butter. This chars the rice a little bit, which adds depth to the soup's overall flavor.
If you use cooked rice, it's fine to skip this step.
After that, since the rice is already cooked, you can add 9 instead of 10 cups of chicken stock. You can add some water if it's thicker than you would like.
One last thing to remember: this recipe requires you to simmer the veggies and raw rice for 30 minutes. However, doing this to cooked rice will make the overall soup texture mushy.
Unless you enjoy mushy textures, you need to cover and simmer the veggies for 15 minutes first. And after they're partially cooked, it's time to add the cooked rice.
Set the pot on low heat and after 15 minutes of simmering, continue with the remaining steps of the recipe.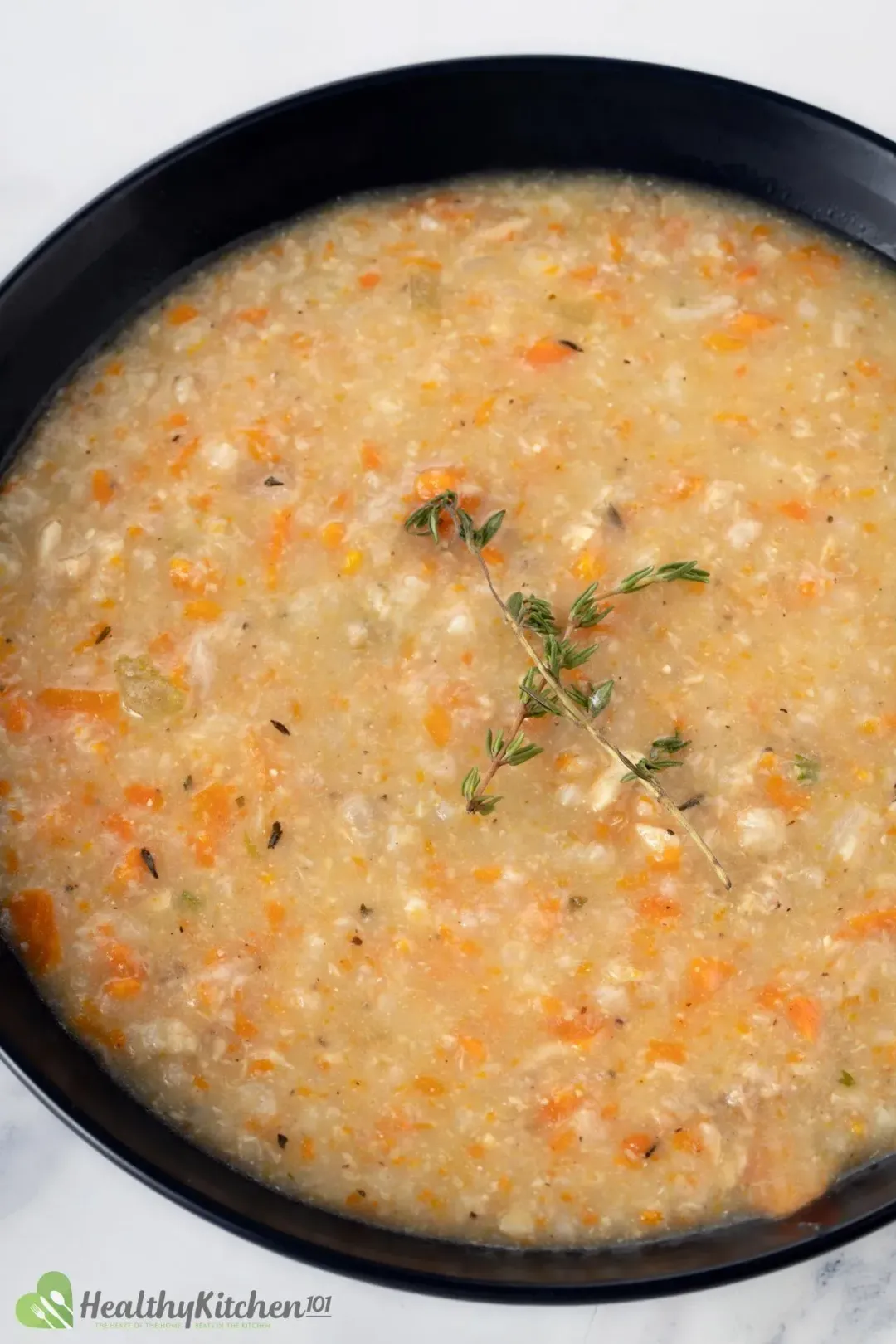 How Long Does Chicken and Rice Soup Last in Fridge?
The soup can last for 2-3 days in the fridge. It can be reheated in the morning and become a hassle-free breakfast, or leftovers dinner.
Can You Freeze Chicken and Rice Soup?
It's not necessary to freeze the soup if you want it the next morning, but other than that, yes, totally.
First, you need to completely cool the soup down to room temperature before freezing. A sudden shift in temperature can negatively affect your food.
After letting it cool, you can put the soup in either a freezer container or a ziplock bag. We found ziplock bags to be more useful, as you can take the "soup block" out with less effort.
Then, simply place it in a pot and start simmering.
We'd usually put 1-2 tablespoons of water to defrost the soup faster. This is also to make up for the loss of water due to evaporation.
Keep in mind that the reheating should also follow the temperature shifting rule. Never go straight to high heat immediately, but rather, work up to it from medium-low.
Check out our instant pot chicken and rice soup for a delicious version in just 30 minutes. Or if you're a big fan of chicken, this healthy chicken recipes might be of help.
What to Serve with Chicken and Rice Soup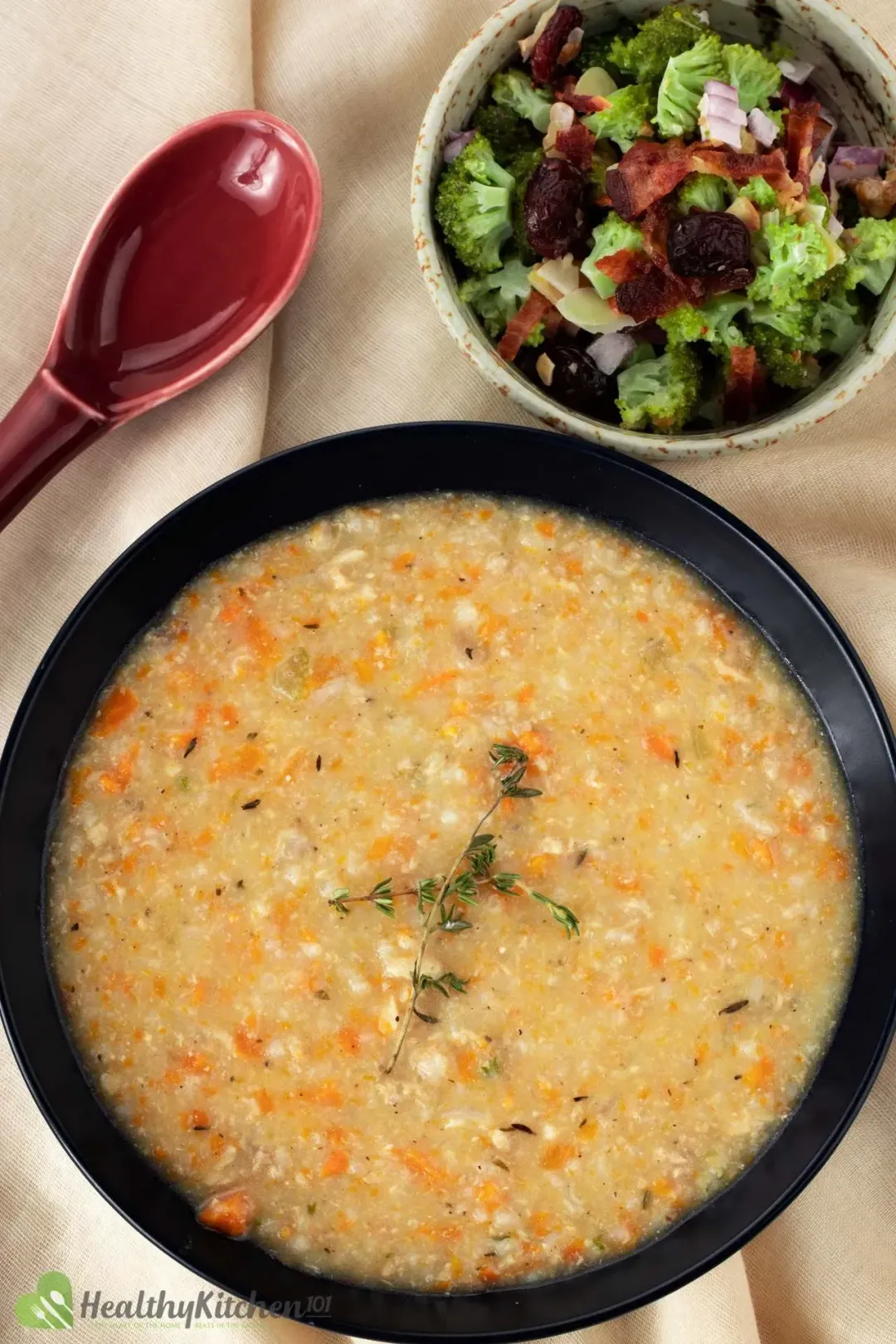 Although toasted bread is a nice complement to this chicken and rice soup, it's not the one and only choice.
We thought it'd be fun to have a bowl of broccoli salad on the side. It brings different textures and various tastes, and most importantly, it's packed with a lot of nutrients.
Delicious Soups to Make With Chicken
This Filipino soup with chicken, chayote, and chili leaves are just the side you need on cold winter days. The broth is warm not just because of heat, but the infused ginger substances that put "therapeutic" in its name. You can find the sweet, tender, melt-in-the-mouth chayote in Asian stores if regular stores don't have it.
This soup doesn't cook rice in it, but serves rice on the side like the Filipino one, and we think it's brilliant. It's an African soup that calls for peanut butter as the base, and builds around it sweet, tender, nutty elements. With contrasting textures in each spoonful tied together in this rich broth, we think you'll fall in love.
Chicken And Rice Soup
Chicken and rice soup recipe is wonderful anytime, but is also a bright and warm treat for those who are battling colds or sniffles (as many of us are in the winter months!) Just make a stockpile of it, fridge store and then warm it back up when it's time for a meal. You'll feel renewed in no time.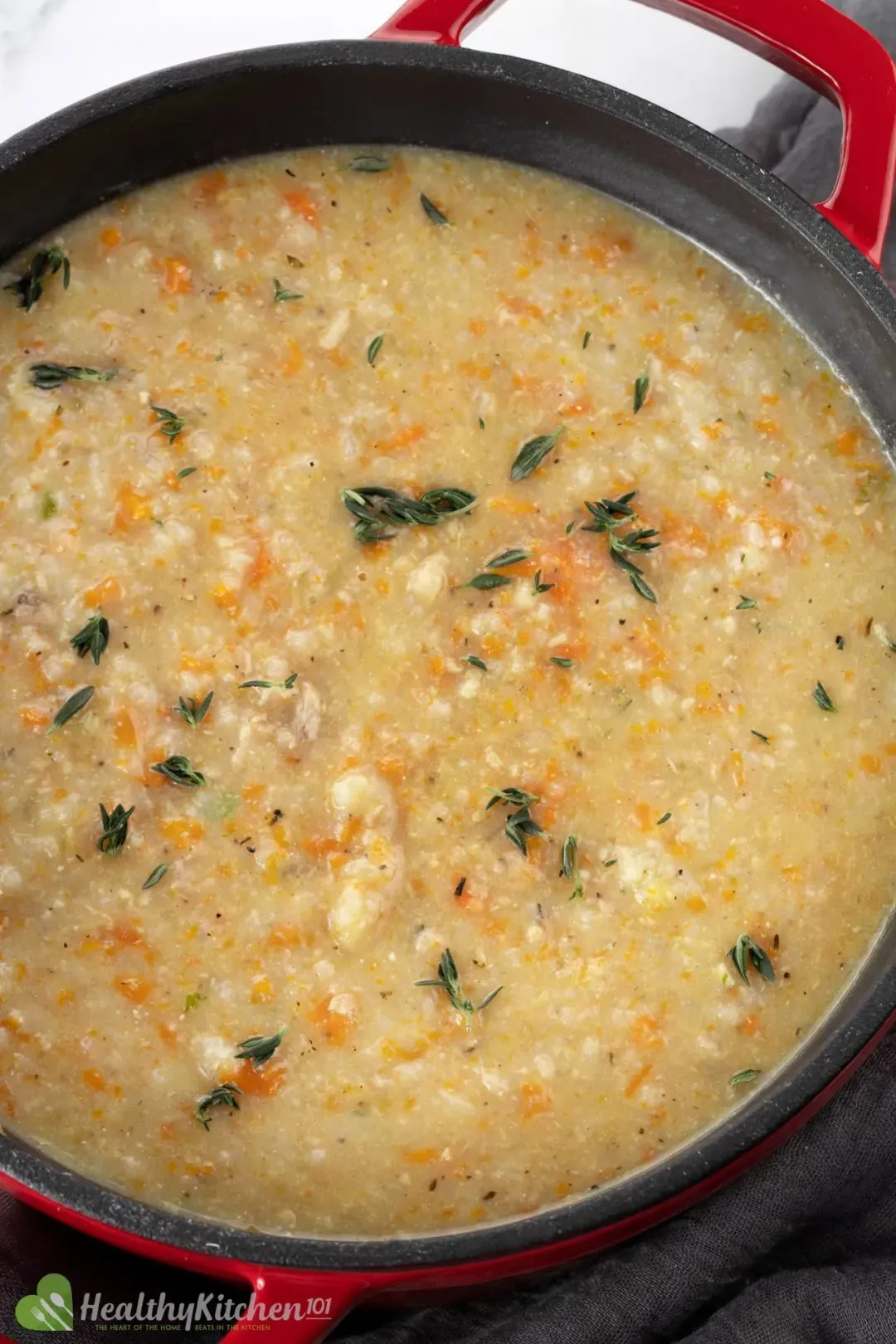 cook TIME

50 mins

prep TIME

10 mins

total TIME

1 hr
COURSE

Main Course

CUISINE

American

SERVINGS

CALORIES

504 kcal
INGREDIENTS
12 oz

skinless boneless chicken thighs

1 cup

uncooked long-grain rice

10 cups

unsalted chicken broth

1 tsp

dried thyme

(divided)

1 1/2 tsp

black pepper

(divided)
INSTRUCTIONS
1
In a soup pot, cook 12 oz chicken thighs in 1 1/2 tbsp olive oil on medium heat, for 5 minutes. Season the chicken with 1/4 tsp salt, 3/4 tsp black pepper and 1/2 tsp dried thyme.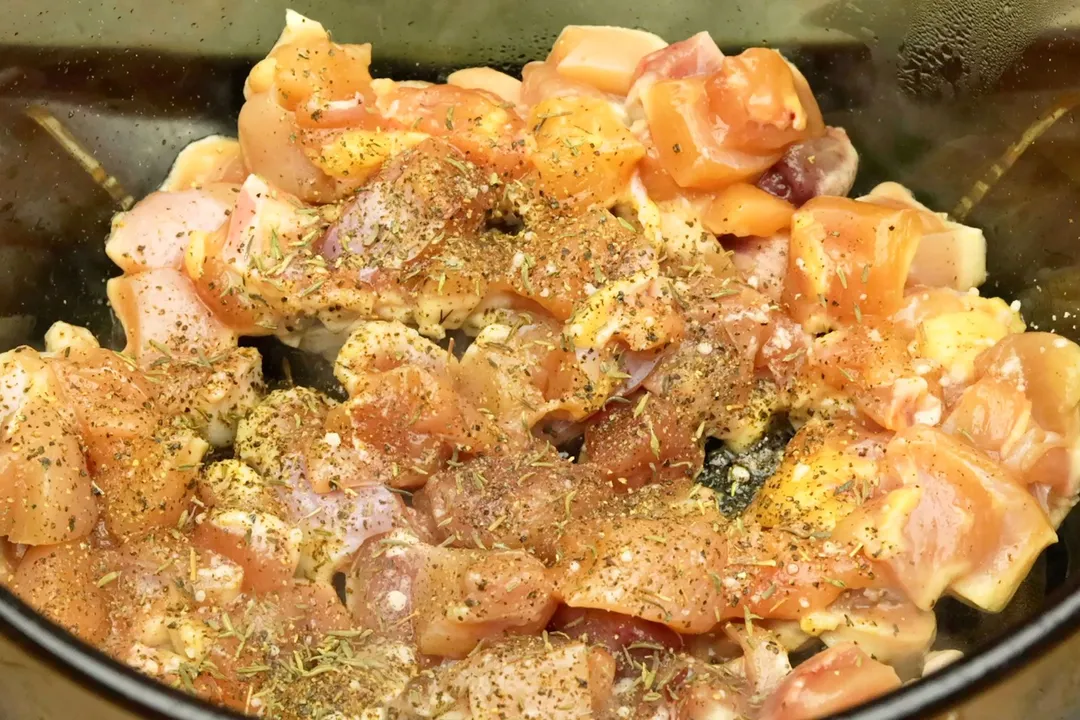 2
Take the chicken out. Add 2 tbsp butter, 12 oz carrots, and 8 oz onion into the same pot and cook for 4 minutes.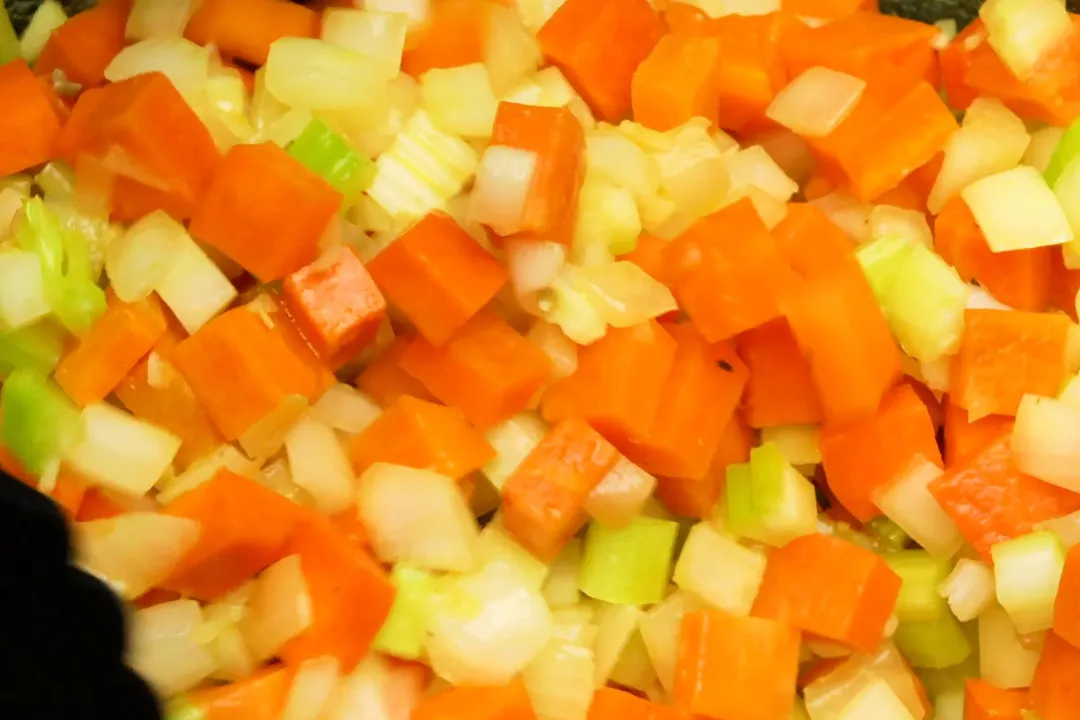 3
Then add the 1 cup rice, 4 oz celery, and 1 tsp garlic and cook for another 2 minutes.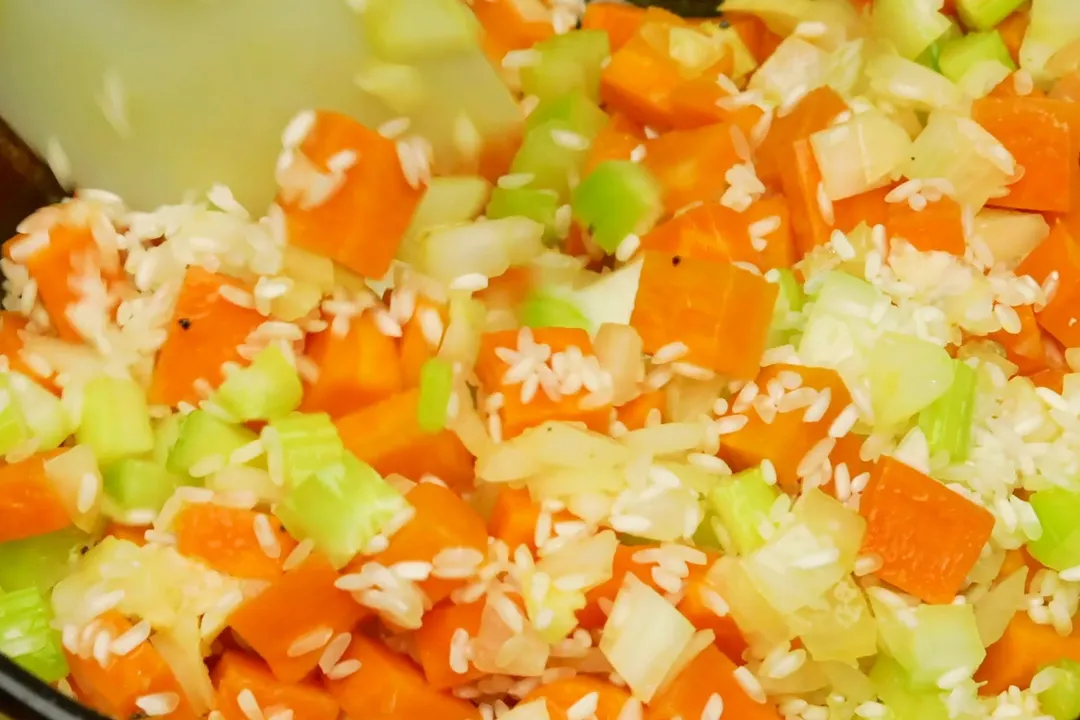 4
Add 10 cups chicken broth, cover and let simmer for 30 minutes.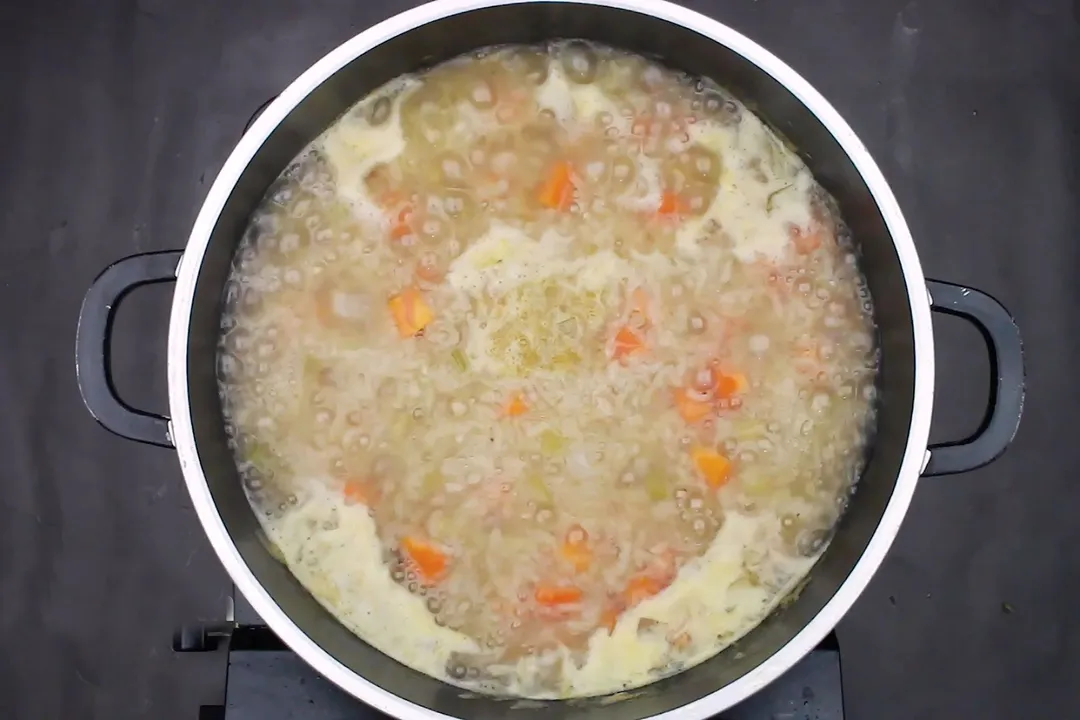 5
Add the cooked chicken and the remaining 1/4 tsp salt and 1/2 tsp dried thyme. Cook for another 2 minutes.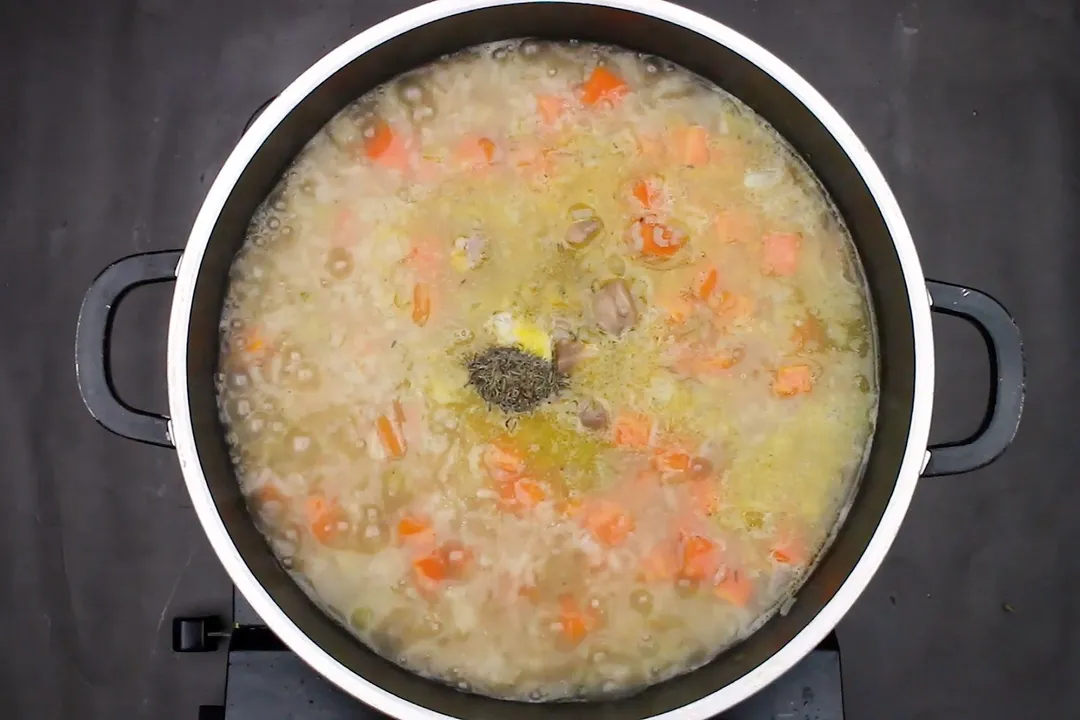 6
Use an immersion blender and blend for 5 seconds, no more, no less. It helps to thicken the soup and naturally turns the soup colorful.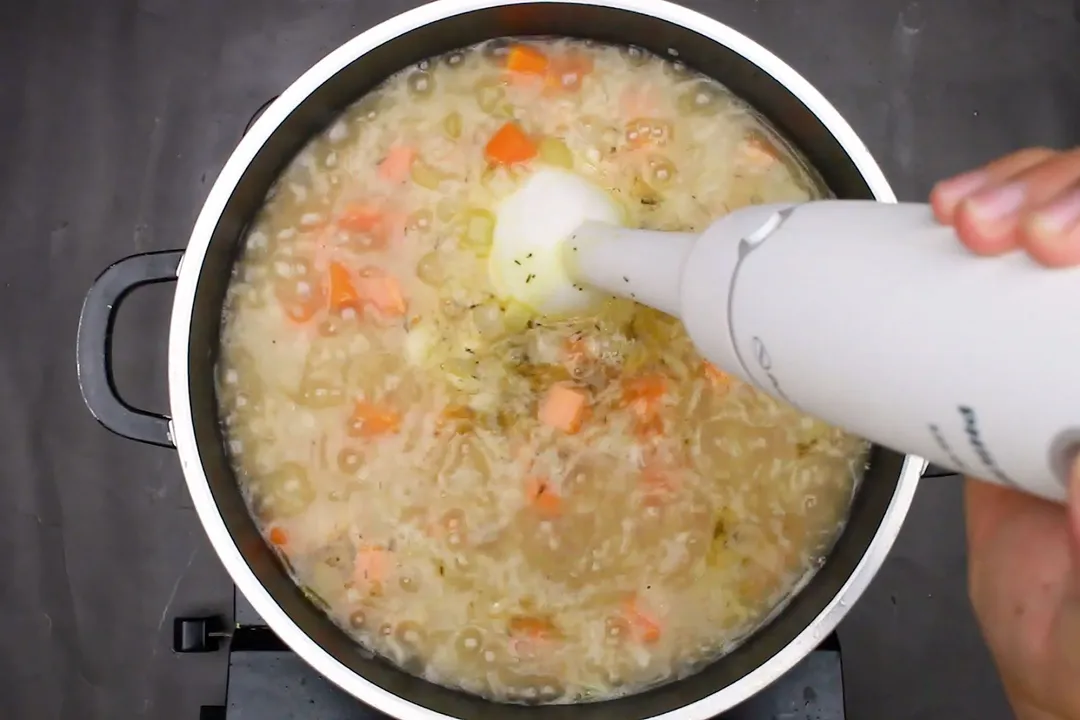 7
Add cream and mix well. Sprinkle parsley and 3/4 tsp black pepper on top to decorate.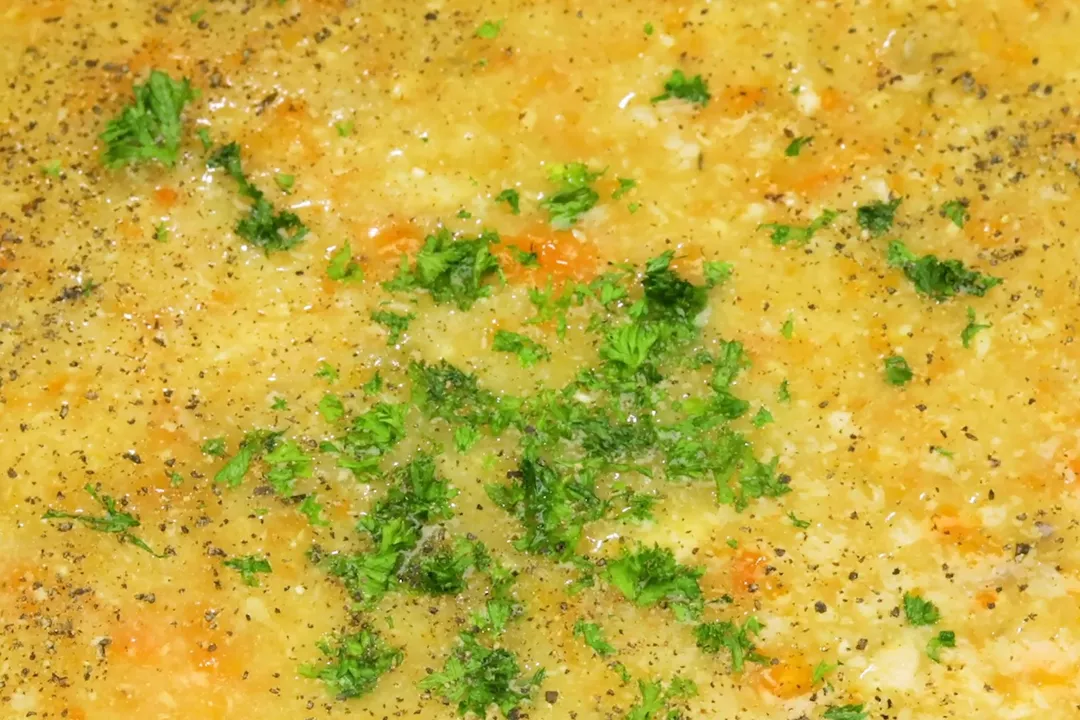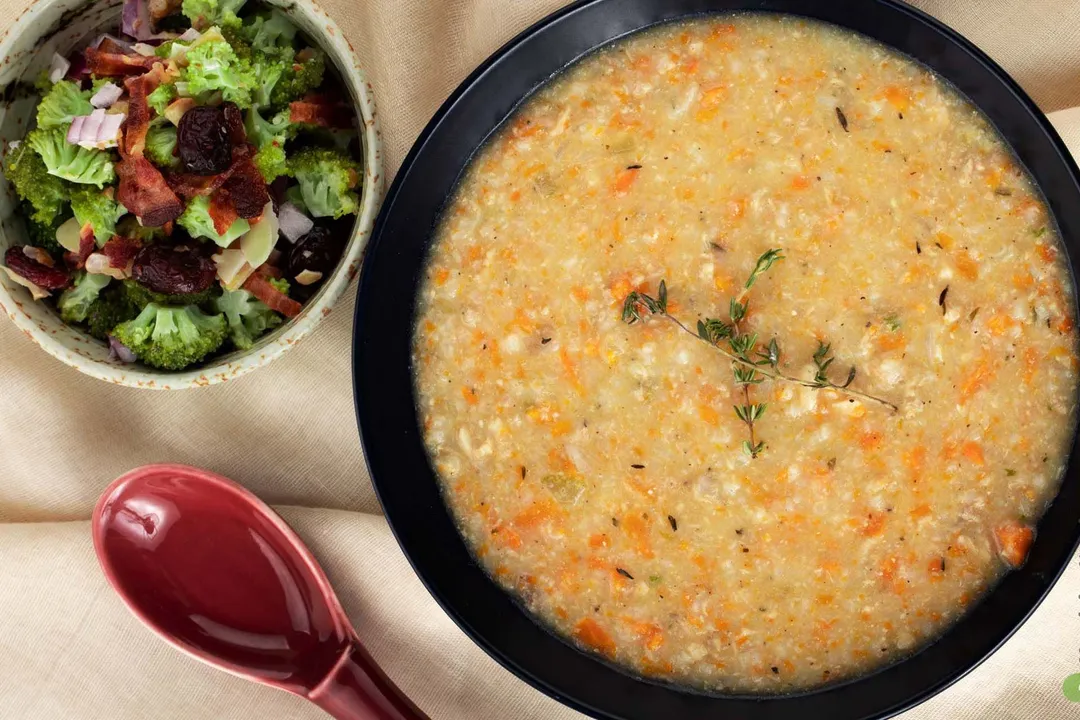 NUTRITION
Nutrition Facts
Chicken And Rice Soup
Amount Per Serving (1 serving)
Calories 504
Calories from Fat 171
% Daily Value*
* Percent Daily Values are based on a 2000 calorie diet.
Keywords: chicken and rice soup, chicken rice soup, chicken soup with rice, soup, soup recipes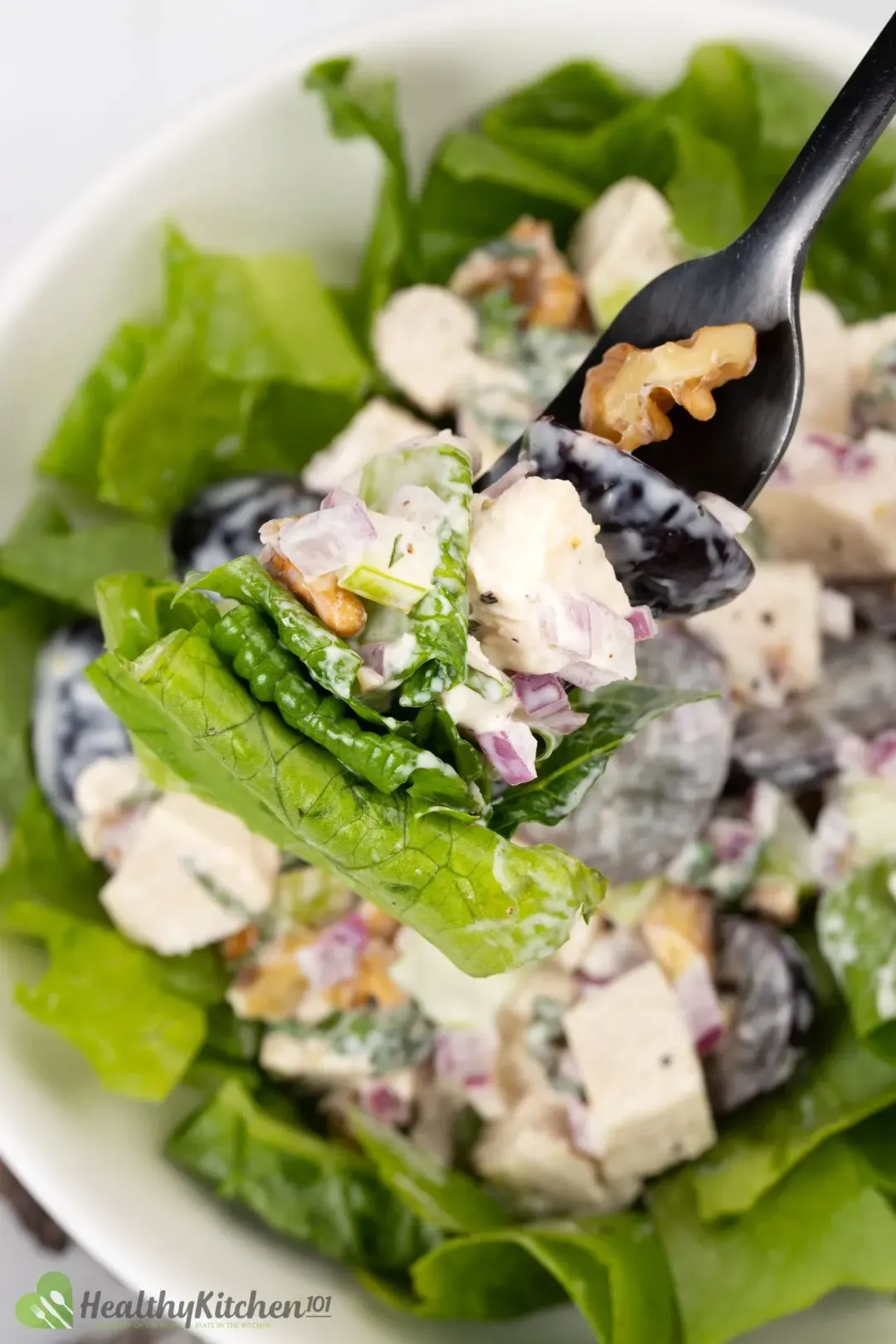 Previous Recipe
Healthy Waldorf Chicken Salad
Healthy Waldorf Chicken Salad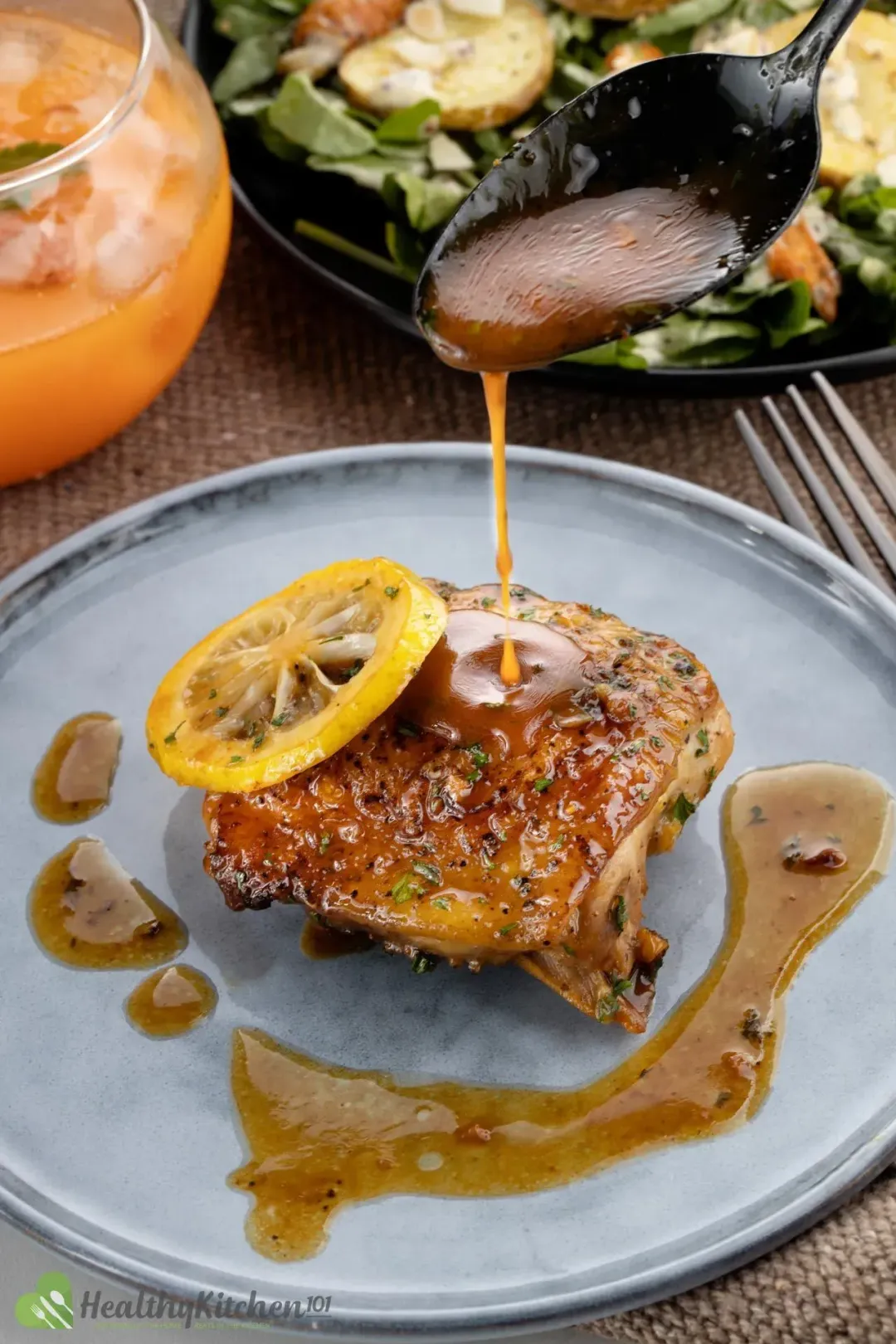 Next Recipe
Honey Butter Chicken
Honey Butter Chicken
Head Chef, Culinary Consultant
Tuyet Pham is an award-winning Saigonese chef who believes that joy is the secret ingredient to delicious food. At Healthy Recipes 101, Tuyet personally tests and simplifies every recipe, ensuring maximum flavor with minimal effort. With a background at prestigious French restaurants P'TI Saigon and Le Corto, Tuyet knows how to make every dish exceptional.
Writer, Author
Luna Regina is an accomplished writer and author who dedicates her career to empowering home cooks and making cooking effortless for everyone. She is the founder of HealthyKitchen101.com and HealthyRecipes101.com, where she works with her team to develop easy, nutritious recipes and help aspiring cooks choose the right kitchen appliances.
Nutrition Reviewer
Lizzie Streit is a Minneapolis-based dietitian and founder of It's a Veg World After All. She completed her MS in Human Nutrition from Drexel University, and is an expert in culinary nutrition, recipe development, and nutrition communications. Lizzie's philosophy is centered around making nutrition recommendations, and especially the advice to eat more vegetables, approachable and realistic. She is excited to be working with the team at Healthy Recipes 101 to ensure that their recipes are both nutritious and delicious.
Would love more of your recipes!

Warm and comforting chicken soup.