Today's chicken scallopini recipe is a healthy, Italian-style main dish that takes less than 30 minutes to make. But first – let's get to know it.
What Is Scallopini?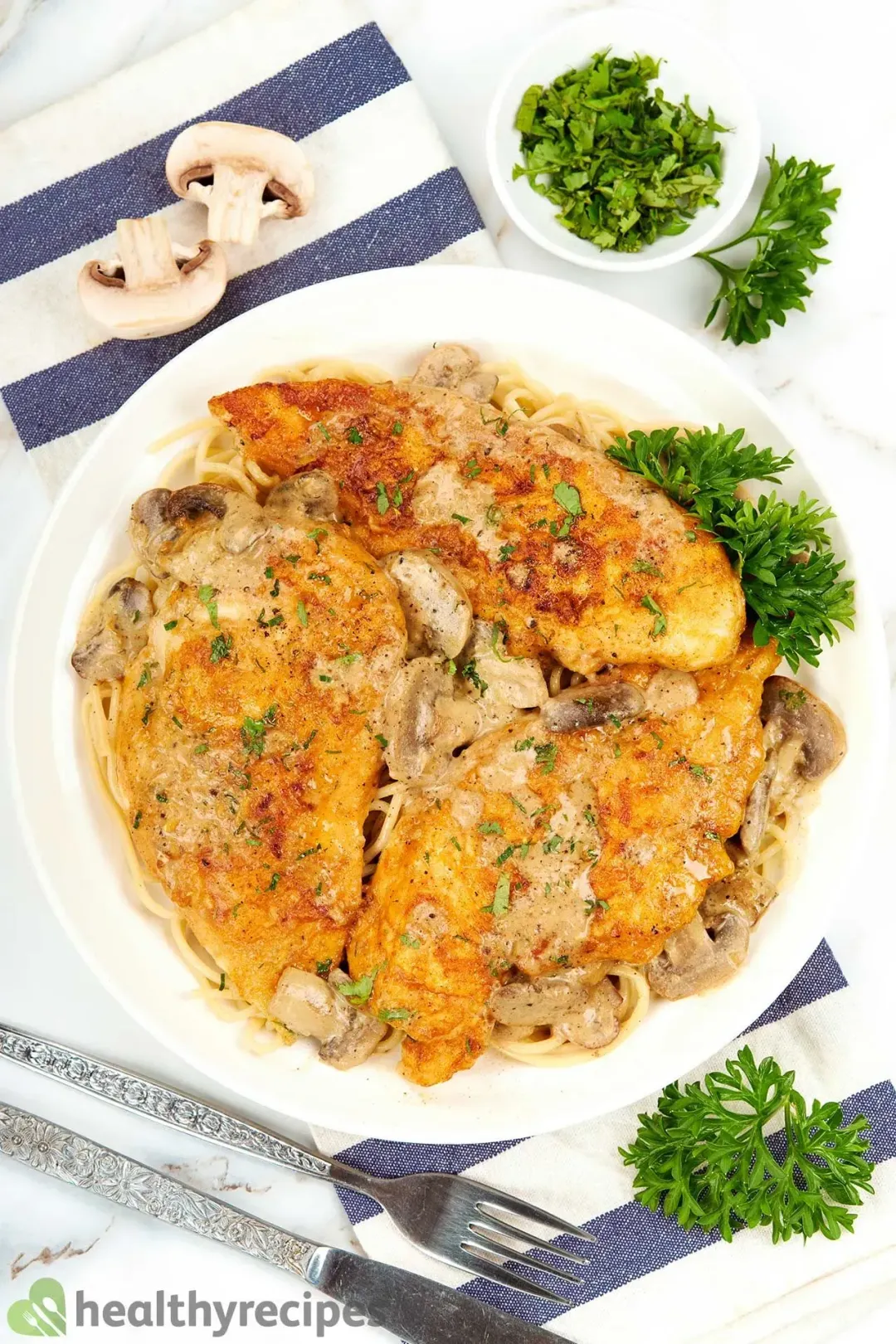 "Scallopini" is the English usage for "scaloppine", which means "small scallops". Does that mean this recipe contains scallops?
Surprisingly, the answer is no. "Scallop" is actually a culinary technique where the food is cooked or baked in dairy or a sauce, i.e. "scalloped potatoes".
The sauces for scallopini dishes are many and various, but the most common ones are tomato-based, mushroom, or lemon sauce. Chicken scallopini consists of thinly sliced chicken filet coated in flour and cooked in a lemon sauce.
What Is the Difference Between Scallopini and Piccata?
Technically, a piccata dish is a type of scallopini. A piccata dish also consists of breaded meat that is fried and cooked in a sauce.
As mentioned, scallopini can be made with various types of sauce. However, a piccata sauce is made with butter, fresh lemon juice, and capers.
Can you use piccata sauce for this chicken scallopini recipe? Yes, you can; and we'll tell you more about it later.
Is Chicken Scallopini Healthy?
Yes, our chicken scallopini recipe is healthy. As always, we kept a close eye on the amount of calories, fat, and sodium per serving.
As you may know, 1 gram of fat contains 9 calories. Meanwhile, 1 gram of either carbs or protein provides only 4 calories.
To reduce the fat content in this recipe, we used boneless, skinless chicken breast as the main source of protein. A 4-oz piece of this cut of chicken contains only 3 grams of fat while providing you with 25 grams of protein.
We still used olive oil, butter, heavy cream, and Parmesan cheese but as little as possible. We wanted to give the dish a rich flavor while keeping it healthy.
In addition, we also used very little salt and seasoned the chicken with Parmesan cheese to reduce the sodium content.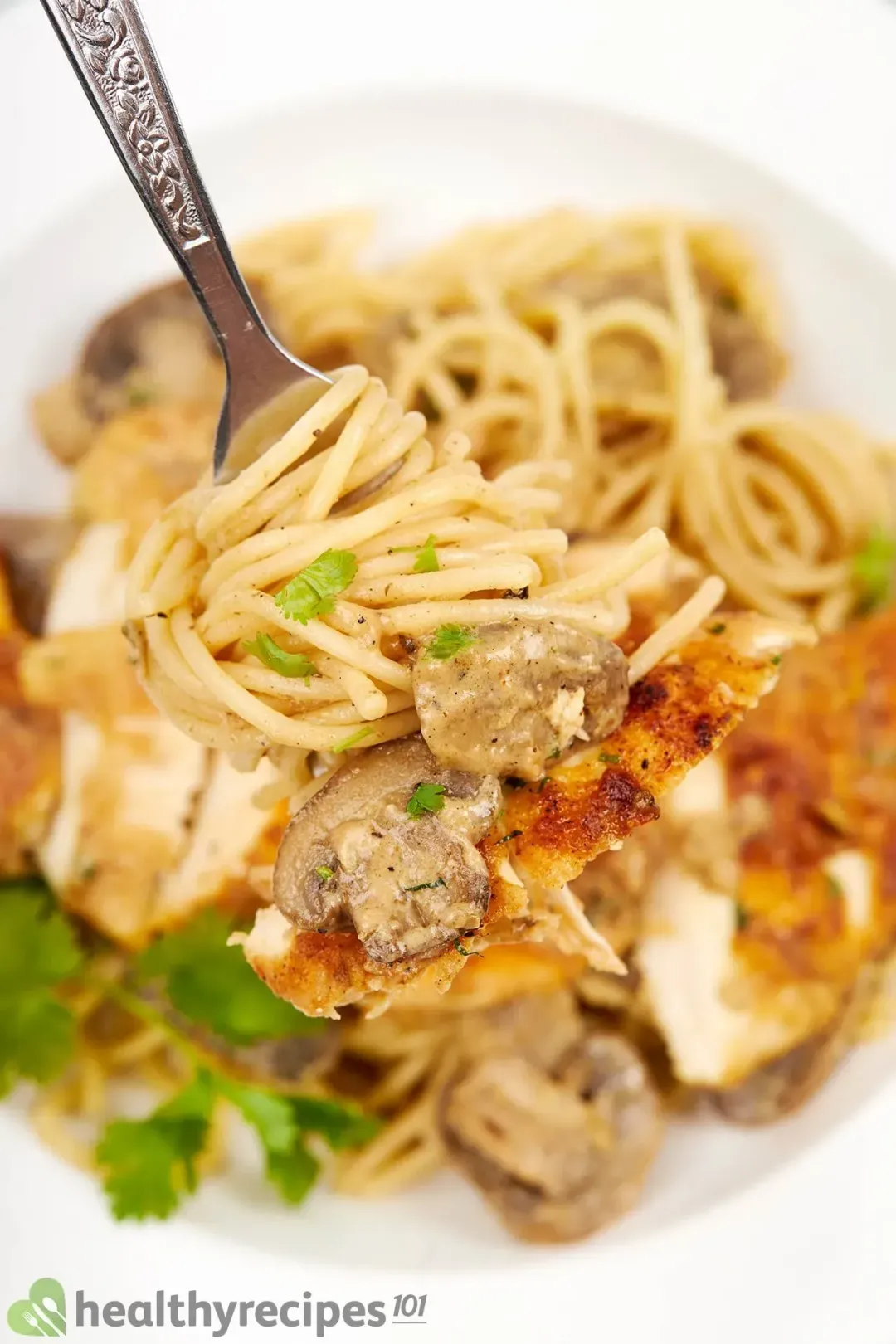 Want to know more about your recommended daily intake of sodium, fat, and calories? Check out our healthy eating guidelines for more details.
Ingredients for Chicken Scallopini
Here is a quick look at the ingredients for today's chicken scallopini recipe:
Meat: As mentioned, we used boneless, skinless chicken breast. The chicken was coated in a mixture of flour, Parmesan cheese, and spices before being seared until golden brown.
Sauce: We made a creamy, citrusy sauce reduction to pair with the chicken. We'll go into details later.
Herbs: We used fresh parsley and coriander. We also added fresh lemon zest to give the chicken a citrus flavor.
Pasta: We paired our chicken with spaghetti. It will help to keep you satisfied for longer.
Our Homemade Sauce
Here are the ingredients and a brief instruction on how to make the sauce:
White button mushrooms: We cooked it with unsalted butter and shallots to mask the earthy smell.
White wine: We used a Sauvignon Blanc but you can use any type you like — it doesn't have to be expensive. We added the wine to deglaze the skillet after sautéing the mushrooms.
Liquids: We added heavy cream and unsalted chicken broth to make the sauce. We reduced the sauce later to thicken it slightly.
Spices and condiments: We seasoned the sauce with salt, freshly cracked black pepper, Dijon mustard, and lemon juice. In the end, the sauce had a rich, tangy, and savory flavor.
If you're not a fan of mushrooms, you can try making this chicken scallopini with a piccata sauce.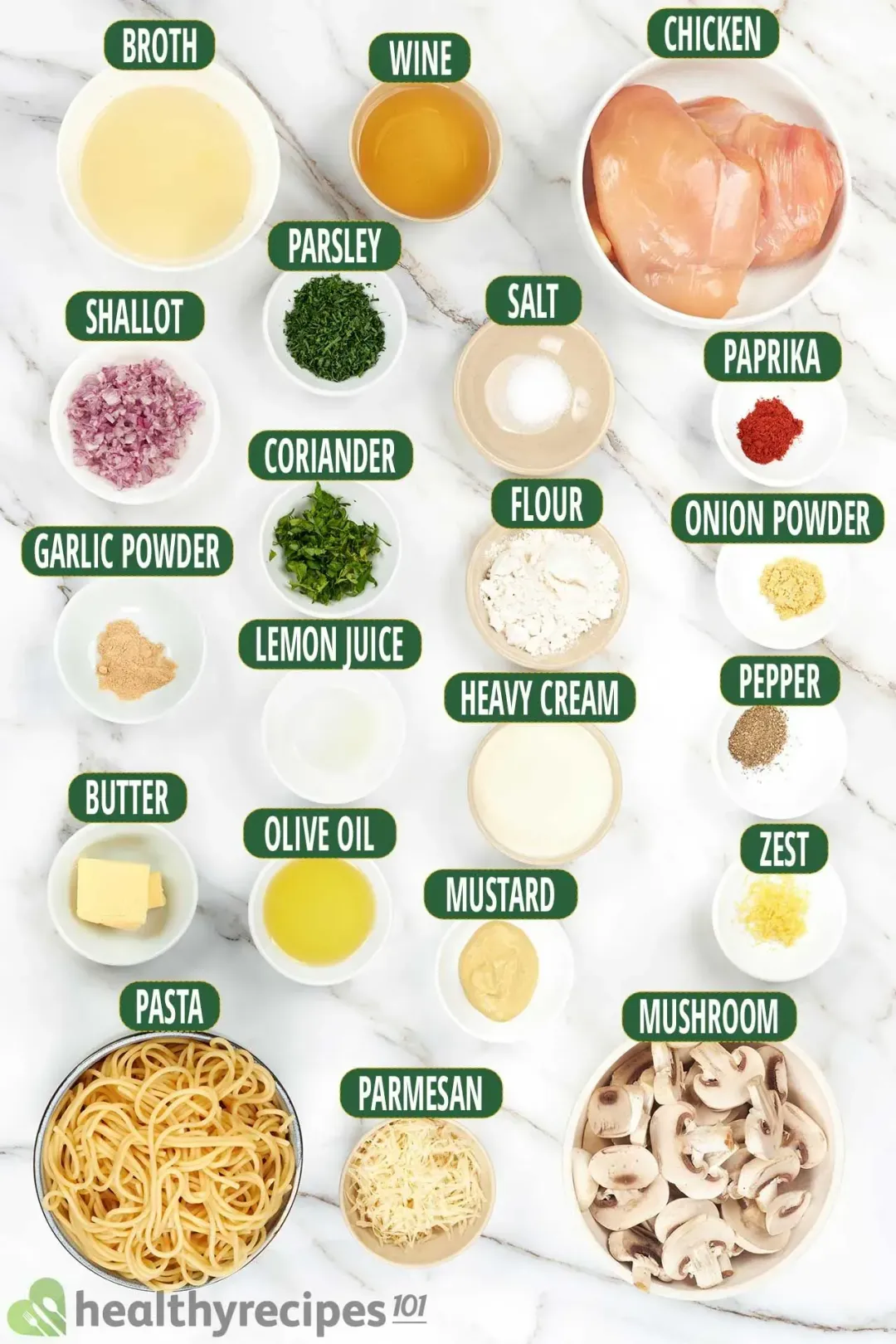 Making Piccata Sauce for This Recipe
As mentioned above, a piccata sauce is made with three simple ingredients: butter, capers, and fresh lemon juice. You will also need white wine, unsalted chicken stock, or water to dilute the sharp tanginess of the lemon.
Here's how you make a piccata sauce for this chicken scallopini:
After frying the chicken, remove it from the pan. Add unsalted butter, lemon juice, capers, and white wine or unsalted chicken stock/water.
Bring the sauce to a boil over high heat and scrape any sticky bits off the surface of the pan. 
Reduce the heat to medium and simmer for a few minutes to let the alcohol evaporate. At this point, if it suits your taste, you can add ½ cup of heavy cream to make the sauce richer.
Once the sauce has reduced, place the fried chicken back in the pan. Baste the chicken with the sauce and cook for a few more minutes until the sauce is slightly thickened.
This version of piccata sauce is similar to the one in our chicken piccata recipe. If you're a fan of tangy, lemony sauce, you should definitely give it a try.
But for now, let's get back to today's chicken scallopini recipe.
Tips for Making
There's only one important thing to remember when you're searing the chicken. If your skillet is not big enough, you should cook the chicken in batches.
If you add too many pieces of chicken to the skillet at once, the temperature of the oil will decrease quickly. This means your chicken will be soaked in oil and become soggy instead of golden brown and crispy.
How to Store and Reheat Chicken Scallopini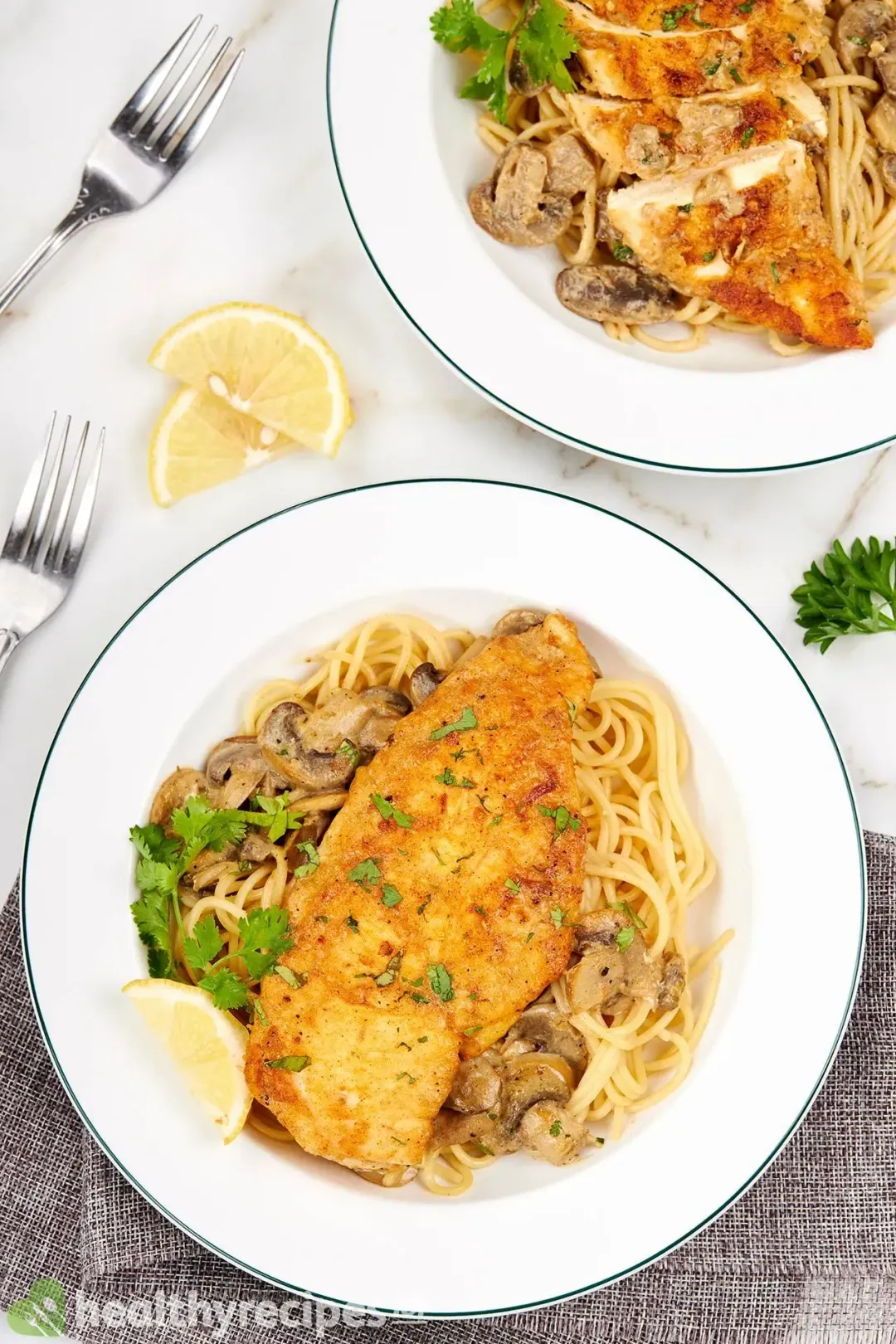 Our chicken scallopini is simple to store. Simply place it in an airtight container and into the fridge it goes.
We recommend placing the spaghetti in the container first and the chicken and sauce on top of it. That way, the pasta can absorb the flavor from the sauce.
You can keep it in the fridge for 5 days or up to a month in the freezer.
Whenever you're hungry, microwave the chicken and pasta for about 2 minutes and it should be warm and tasty again.
What to Serve With Chicken Scallopini
Although our chicken scallopini is packed with protein, there's not enough fiber per serving. For that reason, we're serving it with a side of Greek salad to bring some vegetables into your diet.
Instead of dessert, why not have a glass of low-calorie pineapple celery juice? It'll help wash down all that delicious food you just ate and cleanse your palate.
Here are the combined nutrition facts for today's meal: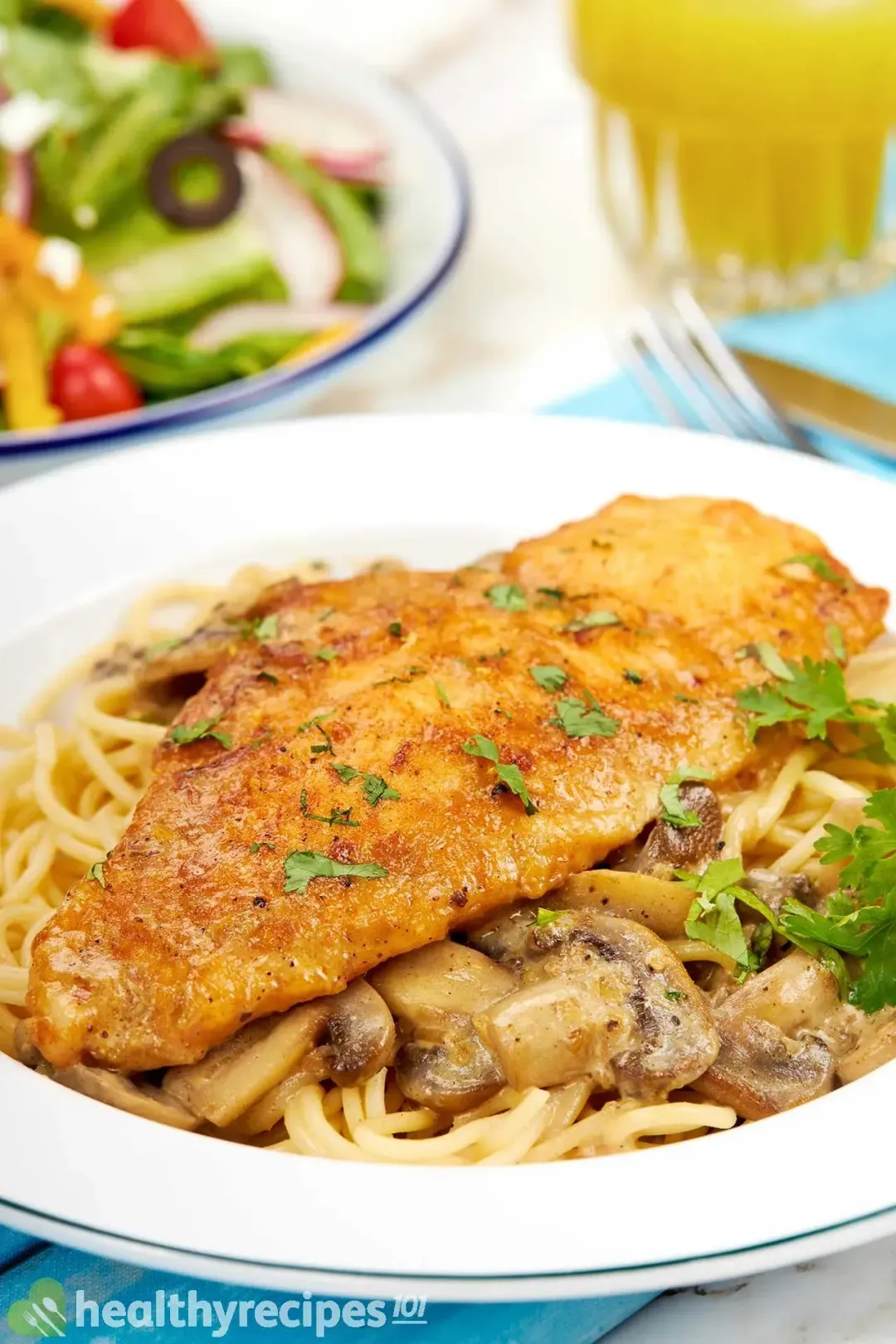 Other Saucy Pastas We've Made
If you're looking for new ways to enjoy pasta, try this Rasta pasta. It combines al-dente Penne, chicken breast chunks, and all three types of bell peppers into a colorful and delish main course.
Also, this golden plate of noodles dotted with colorful veg and succulent chicken could be just the centerpiece for your dinner. It combines the sweet and savory tones of various Asian staples to create a dish full of harmonious flavors and the comforting warmth of homemade food.
Chicken Scallopini
This healthy chicken scallopini recipe takes less than 30 minutes to make — perfect for a quick dinner. Let's check out the ingredients.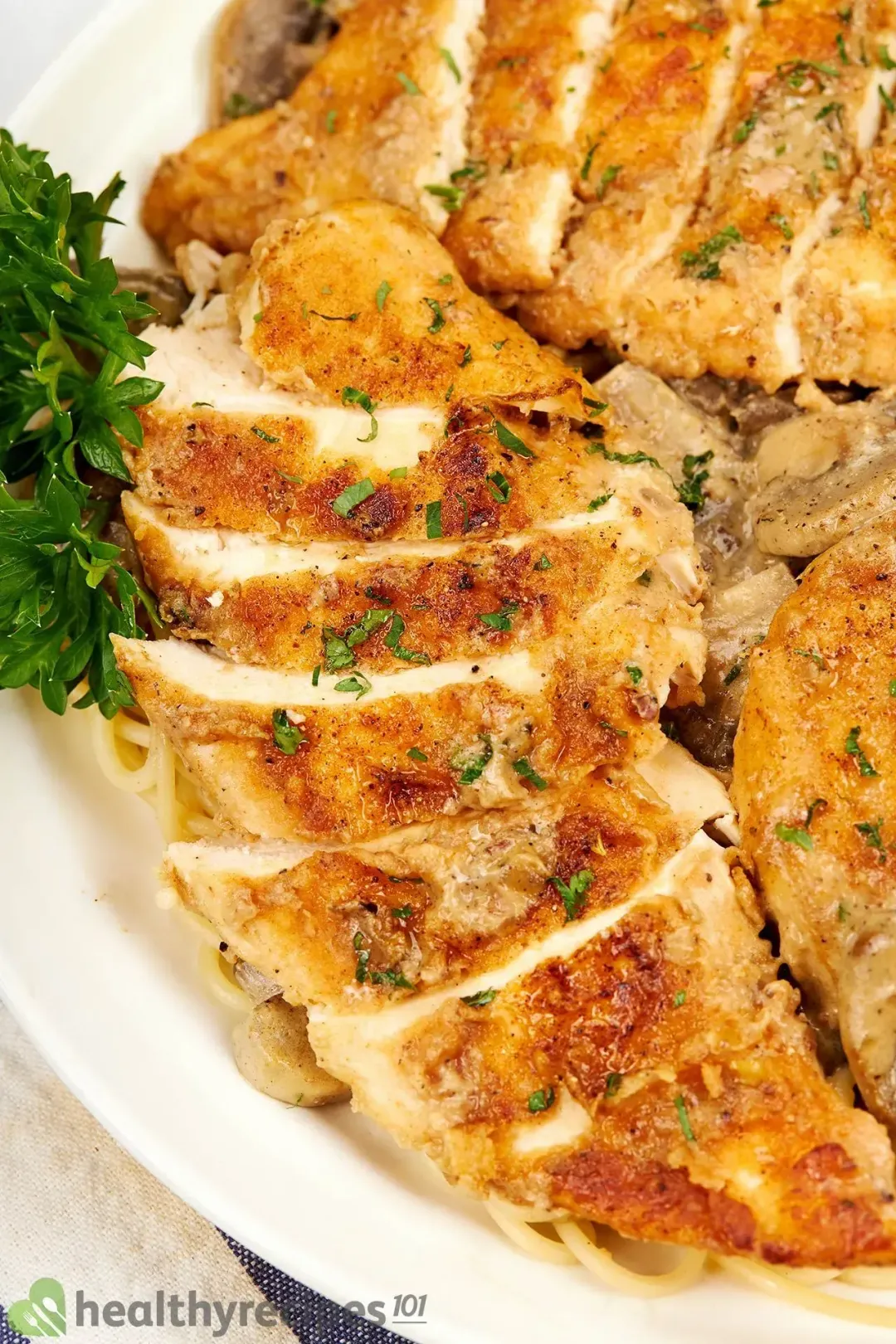 cook TIME

17 mins

prep TIME

10 mins

total TIME

27 mins
COURSE

Main Course

CUISINE

Italian

SERVINGS

CALORIES

500 kcal
INGREDIENTS
18 oz

skinless boneless chicken breast

(whole)

8 oz

white button mushrooms

(sliced)

1 1/2 tbsp

all-purpose flour

0.25 oz

shredded Parmesan cheese

1/2 cup

unsalted chicken broth

1 1/2 tbsp

traditional Dijon mustard

1/2 tsp

lemon zest

(freshly grated)

2 tbsp

parsley

(roughly chopped)

2 tbsp

coriander

(roughly chopped)
INSTRUCTIONS
1
Slice the chicken: Place a piece of 18 oz skinless boneless chicken breast on the cutting board. Hold the chicken in one hand and a sharp knife in the other. Cut horizontally along the side of the chicken into 2 thin slices. Repeat with the remaining pieces of chicken.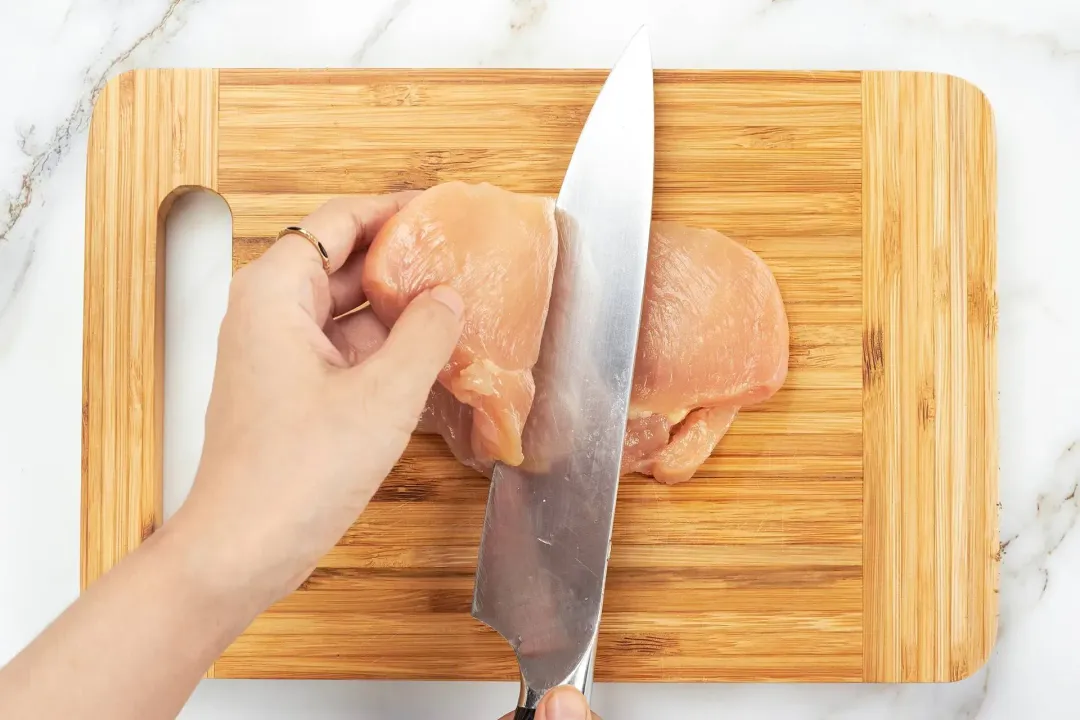 2
Mix the coating mixture: In a deep dish, add 1 1/2 tbsp all-purpose flour, 1/2 tsp paprika, 1/2 tsp garlic powder, 1/2 tsp onion powder, and 0.25 oz shredded Parmesan cheese. Mix well to combine.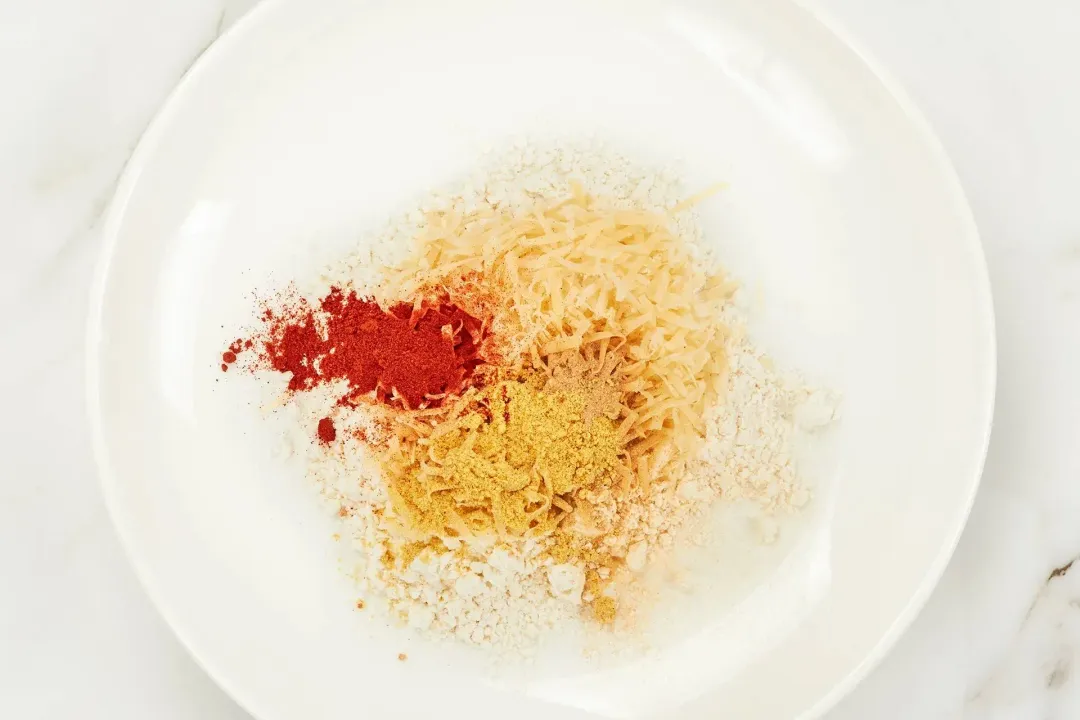 3
Coat the chicken: Dip each piece of chicken into the breading mixture and press gently so that the flour and seasonings stick to the chicken. Shake off the excess and set aside. Repeat with the remaining chicken.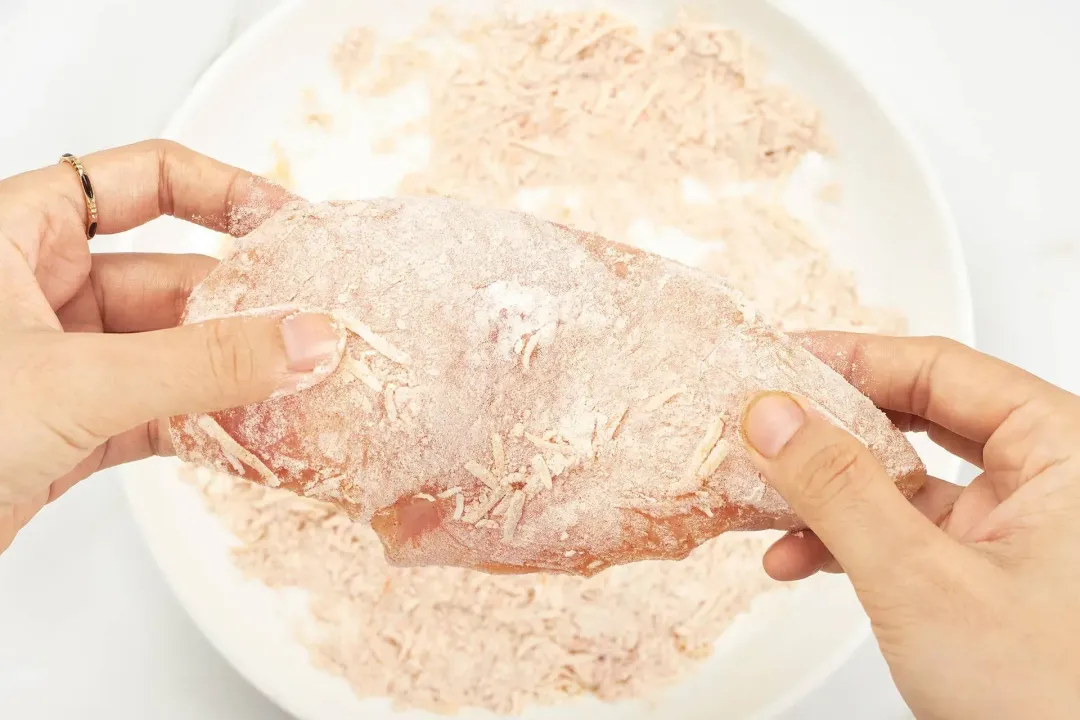 4
Sear the chicken: In a cast-iron skillet, add 2 tbsp olive oil and sear the breaded chicken over medium-low heat for 4 minutes, flipping halfway through. Once the chicken is golden brown on both sides, transfer to a plate and set aside.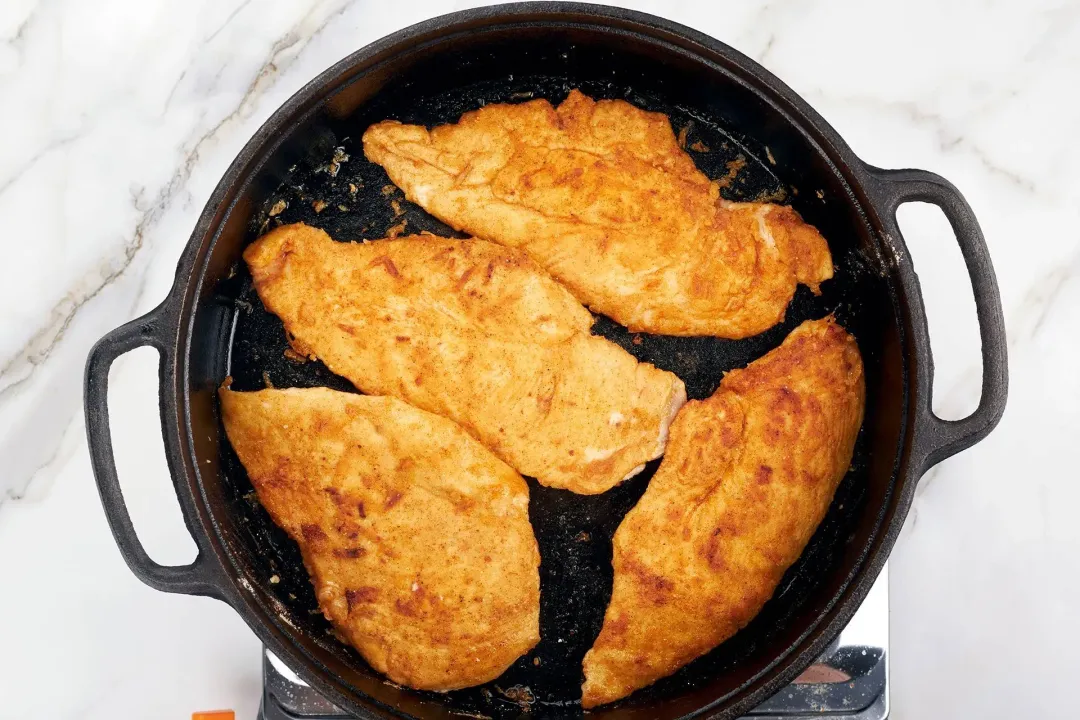 5
Sauté the mushroom: In the same skillet, add 1 tbsp unsalted butter, 2 tbsp minced shallot, and 8 oz sliced button mushroom. Cook for 5 minutes over medium heat or until lightly browned, stirring occasionally.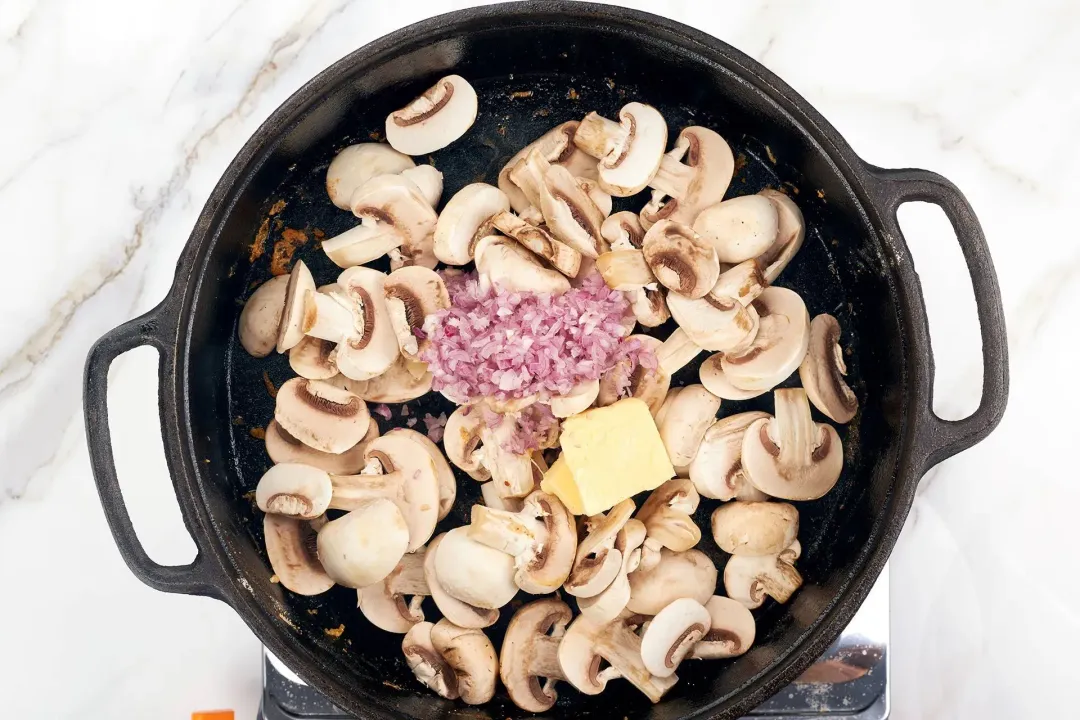 6
Deglaze the skillet: Add 1/4 cup white wine to the skillet. Cook and stir constantly for 1 minute or until the alcohol evaporates.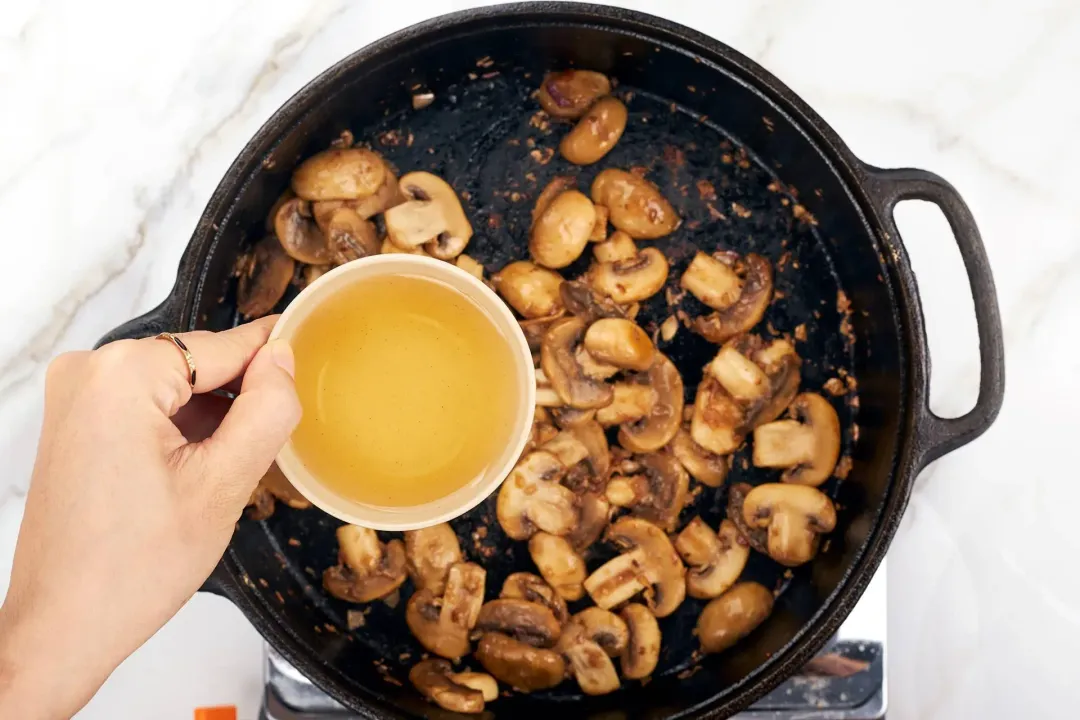 7
Make the sauce: To the skillet, add 1/2 cup unsalted chicken broth, 5 tbsp heavy cream, 1/2 tsp salt, 1/2 tsp pepper, 1 1/2 tbsp mustard, and 1/2 tbsp lemon juice. Stir to combine all the ingredients.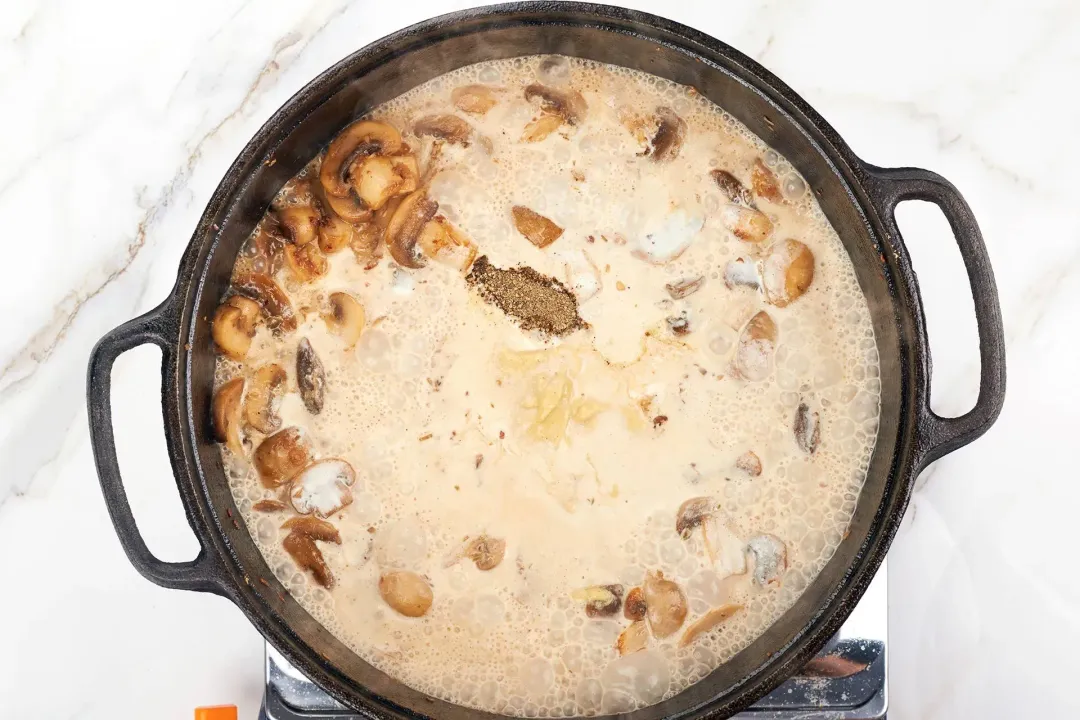 8
Reduce the sauce: Add the seared chicken back into the skillet. Cook the chicken in the sauce for 7 minutes over medium heat. The sauce should be thickened and reduced by half.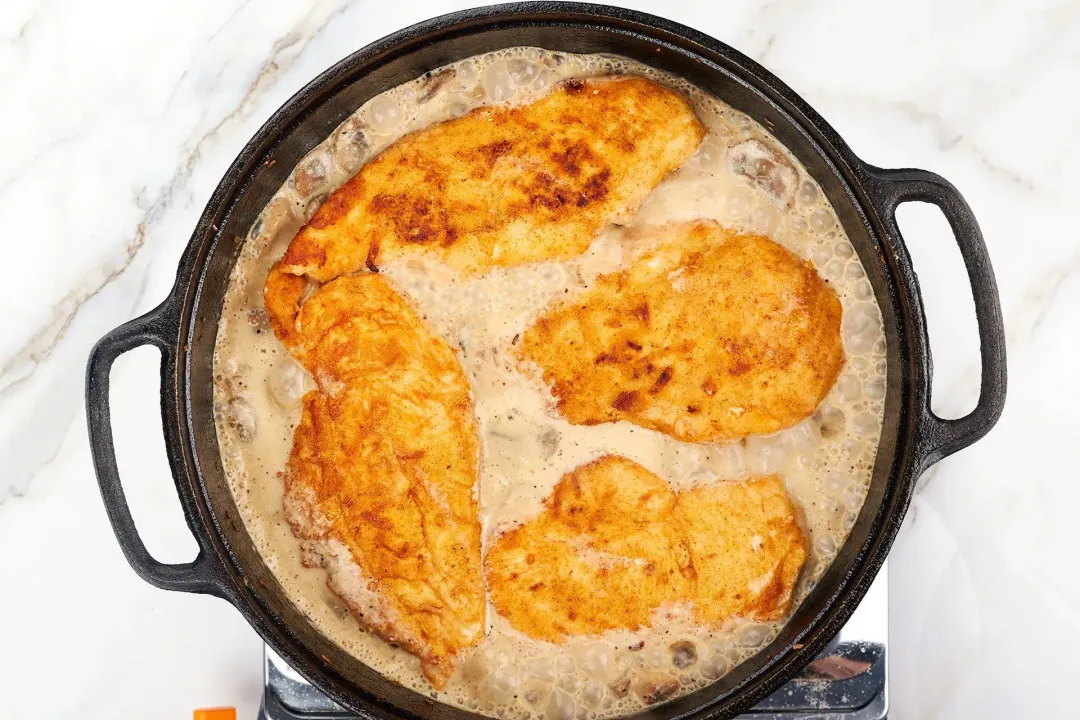 9
Garnish: Turn off the heat. Sprinkle 1/2 tsp lemon zest, 2 tbsp chopped parsley, and 2 tbsp chopped coriander over the chicken.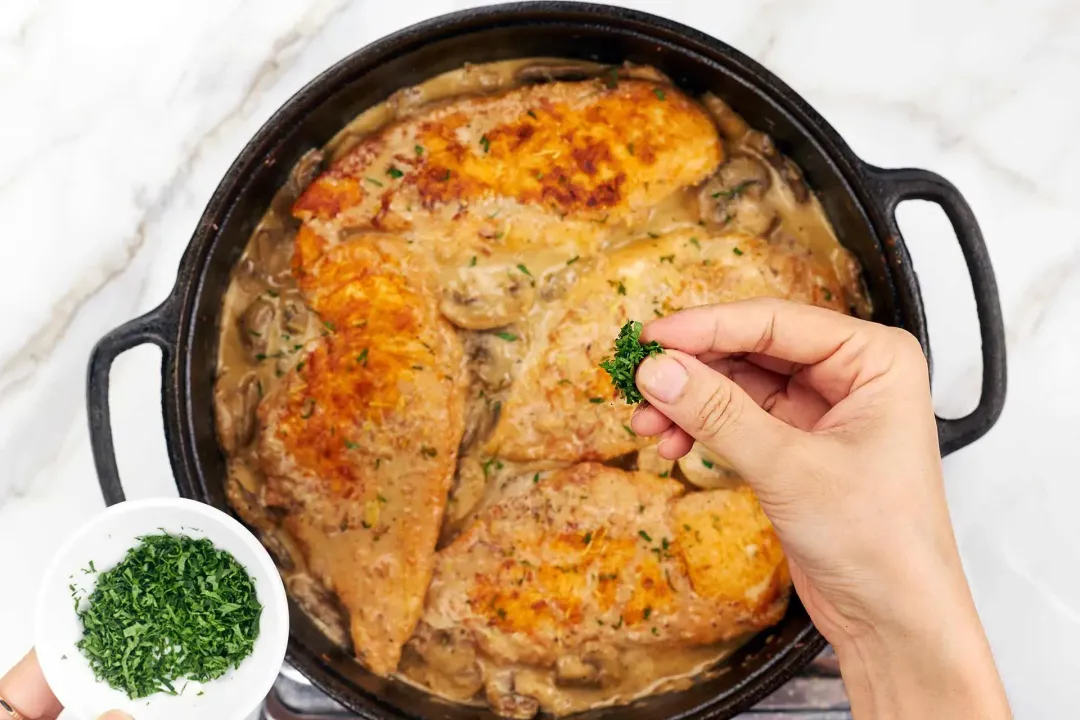 10
Arrange on a plate and serve: Divide 12 oz cooked spaghetti into four equal portions and place each one in a deep dish. Add the chicken and a spoonful of the tangy mushroom sauce and serve.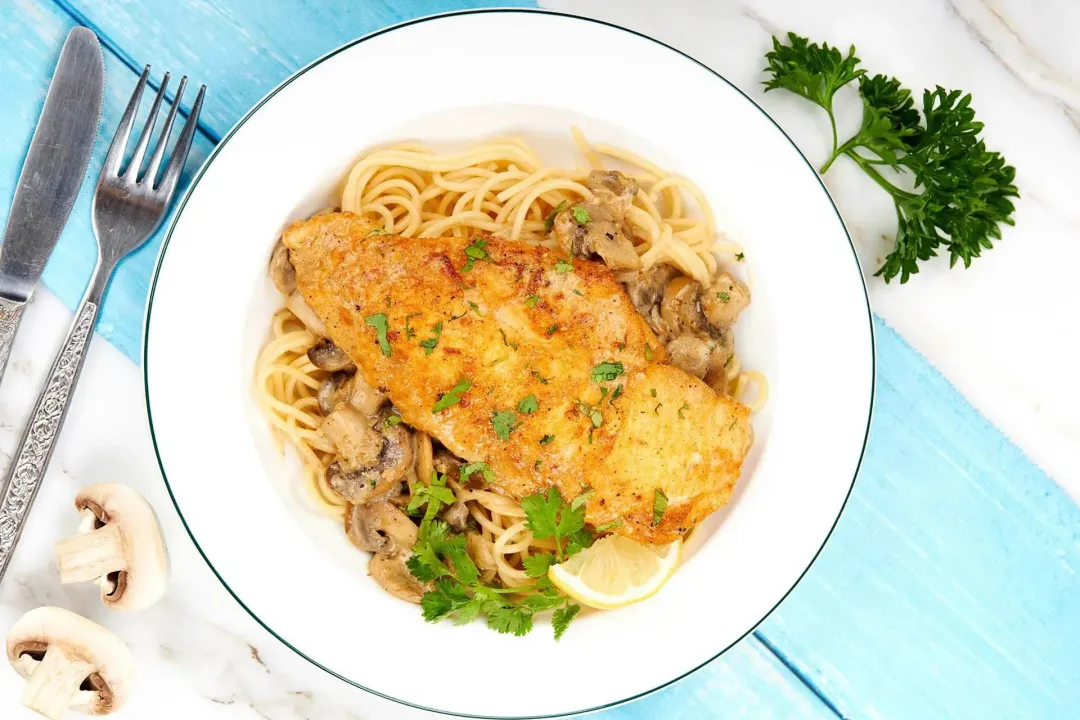 NUTRITION
Nutrition Facts
Chicken Scallopini
Amount Per Serving (1 serving)
Calories 500
Calories from Fat 198
% Daily Value*
* Percent Daily Values are based on a 2000 calorie diet.
Keywords: chicken scallopini, chicken scallopini recipe, healthy chicken scallopini, how to make chicken scallopini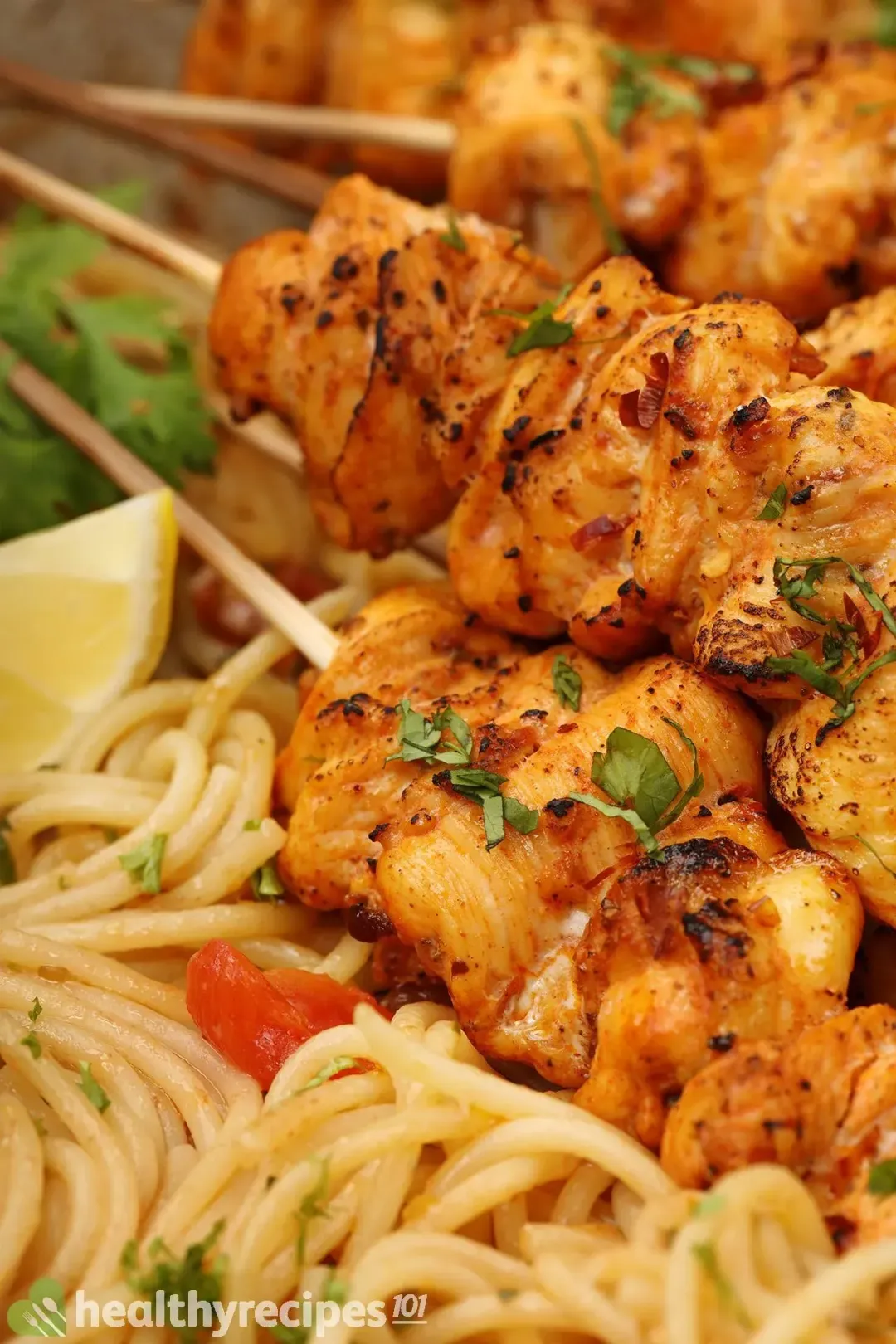 Previous Recipe
Chicken Spiedini
Chicken Spiedini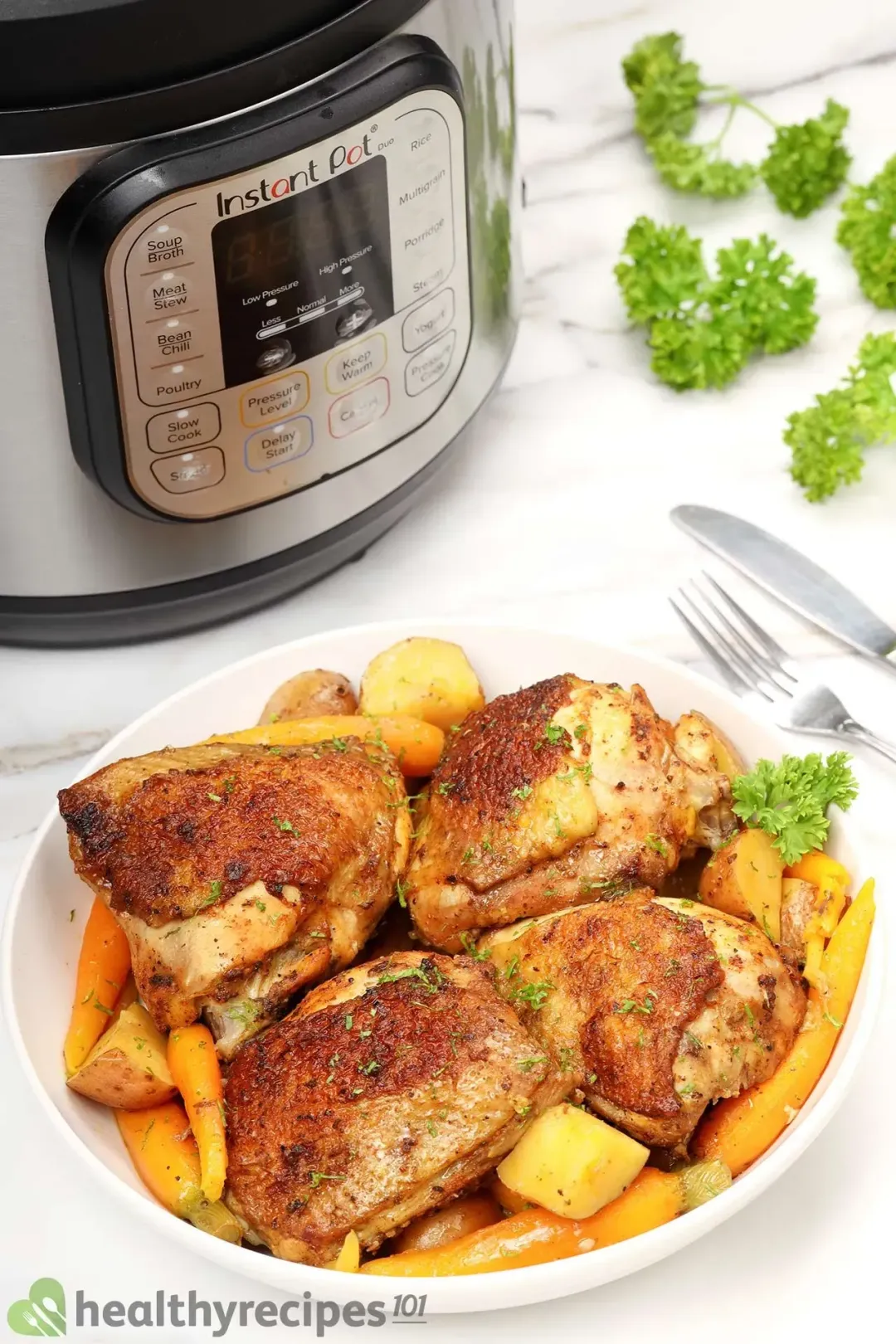 Next Recipe
Instant Pot Chicken Thighs
Instant Pot Chicken Thighs
Head Chef, Culinary Consultant
Tuyet Pham is an award-winning Saigonese chef who believes that joy is the secret ingredient to delicious food. At Healthy Recipes 101, Tuyet personally tests and simplifies every recipe, ensuring maximum flavor with minimal effort. With a background at prestigious French restaurants P'TI Saigon and Le Corto, Tuyet knows how to make every dish exceptional.
Writer, Author
Luna Regina is an accomplished writer and author who dedicates her career to empowering home cooks and making cooking effortless for everyone. She is the founder of HealthyKitchen101.com and HealthyRecipes101.com, where she works with her team to develop easy, nutritious recipes and help aspiring cooks choose the right kitchen appliances.
Nutrition Reviewer
Natalie Butler is a registered dietitian nutritionist with a passion to help others live their best life through food, fitness, safer beauty and a healthy lifestyle. She has expertise with a variety of diets and diseases and believes that there is no one-size-fits-all approach for health.
Made as written. Very good nice flavors