If you're looking for a tasty and fulfilling dish, we promise that this tender, moist air fryer chicken breast with fresh and creamy avocado salsa won't let you down. 
Is This Recipe Healthy?
Yes, our delicious chicken with avocado salsa is super nutritious.
With chicken breast as the star, the total amount of protein in our dish is 38.6g, which accounts for about 77% of the daily intake.
For this recipe, we use skin-on chicken breast for a fuller taste. Contrary to the widespread rumors about the harmful effects of chicken skin, it mostly contains healthy unsaturated fats.
To reduce your oil consumption, we would also recommend using an air fryer rather than a frying pan to cook the chicken.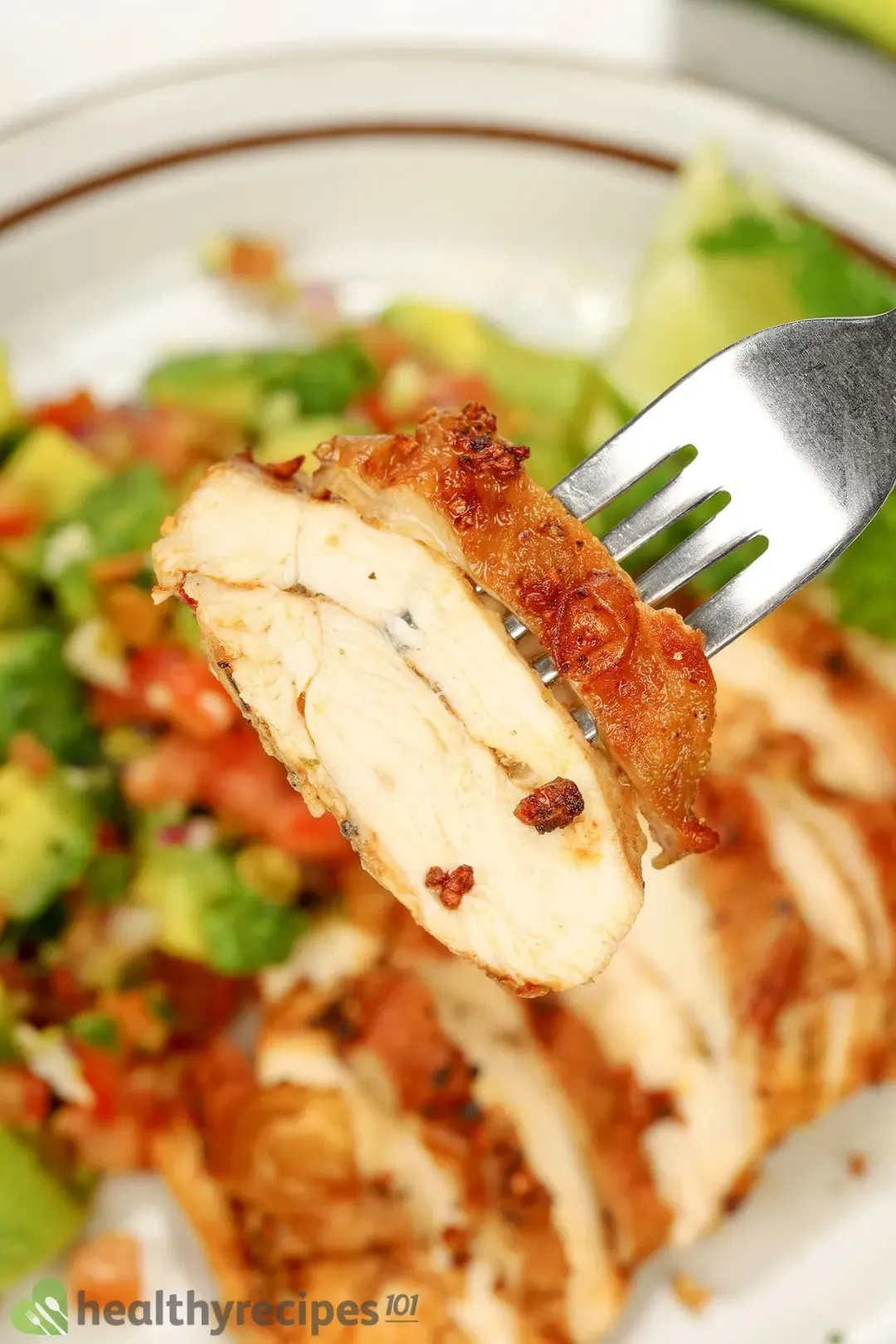 Apart from the chicken, the avocado also has amazing benefits for your body. This superfruit is known to contain lots of healthy fats and other essential nutrients. Our avocado salsa includes other veggies such as tomatoes, onions, garlic, and jalapeño, all of which add to the amount of fiber, vitamins, and minerals.
Plus, our chicken with avocado salsa is a great low-carb option, with a total amount of 12.4 g of carbohydrates per serving, taking up only 5% of the RDA.
Lastly, if you're still concerned about the calorie problem, then rest assured each serving does not rise above 500 cal, which follows the USDA Dietary Guidelines 2015-2020. 
Now it's time to take a closer look at the ingredients!
Ingredients You Will Need
1. For the Chicken
In this recipe, we prefer using moist chicken breast for its juiciness and lean source of protein. Leaving the skin on will also create a nice crisp texture and add extra flavors to the dish. You can still choose to remove the skin, however, depending on your preference. 
For marinating the chicken breast, we use a combination of olive oil and other spices, including salt, pepper, garlic, paprika, Italian seasoning, and Cajun seasoning.
2. For the Salsa
Avocado: We recommend choosing ripe avocados for making salsa. The ultra- creaminess of a perfectly ripe avocado will make your salsa a winner. Be very careful not to choose underripe or overripe ones, for they will likely be too hard or mushy.
Other veggies: Diced tomatoes, red onions, and jalapeños add a juicier and crunchier texture to the salsa, making each mouthful a more exciting experience.
Herbs: Garlic and cilantro are mixed into the salsa for a kick of flavor, while aromatic parsley on top makes our dish more inviting.
Seasoning: For seasoning, we add some olive oil and a bit of salt into the mixture. The salt enhances the overall flavor while the olive oil gently blends everything together.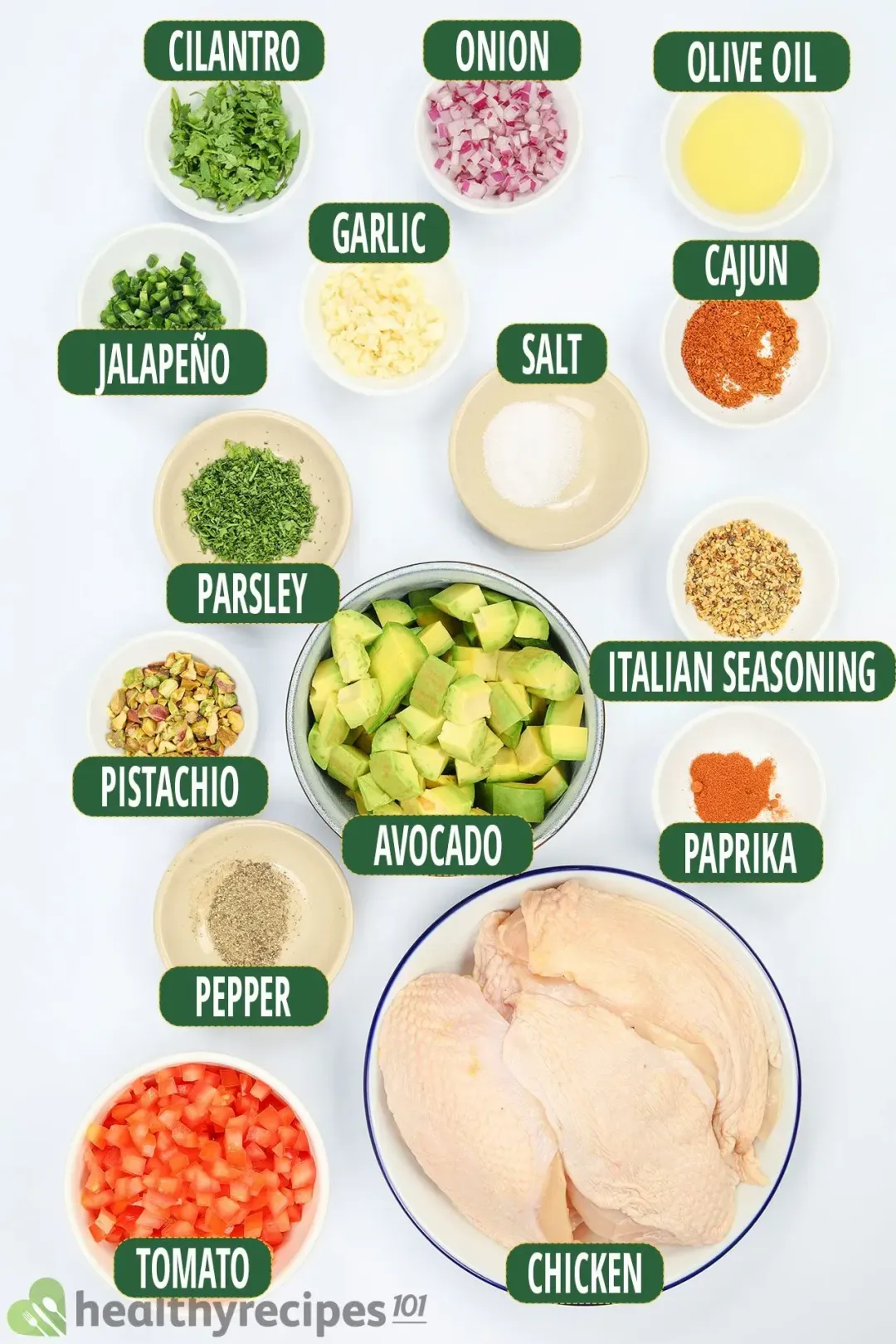 How to Store and Reheat the Leftovers
If there are any leftovers, you can store them in the fridge in resealable bags or airtight containers for later use.
Cooked chicken should last 3-4 days, while avocado salsa will only stay fresh for 1-2 days in the fridge. This is because the avocado will quickly go brown due to oxidation, and of course, no one wants brown avocado salsa. It's the vibrant green that makes our dish more appealing so the sooner you finish any leftovers off the better. 
Before reheating, you need to know that fried foods easily lose moisture during this process. If not done properly, your chicken can become dry and less appetizing. 
So, before placing your leftover chicken into the air fryer, either spray a layer of oil on top or wrap your chicken in aluminum foil to prevent loss of moisture when cooking. After that, reheat your chicken at 350°F for about 10 minutes or less.
What to Serve With
Fries, tacos, or toasts all work beautifully with this chicken and avocado salsa recipe. 
Here, we recommend eating this dish with air fryer potato wedges and a watermelon cucumber juice for a refreshing experience.
Moist potato wedges with a good crust complement the flavors of our chicken and salsa, while the sweet and refreshing watermelon cucumber juice brightens everything up.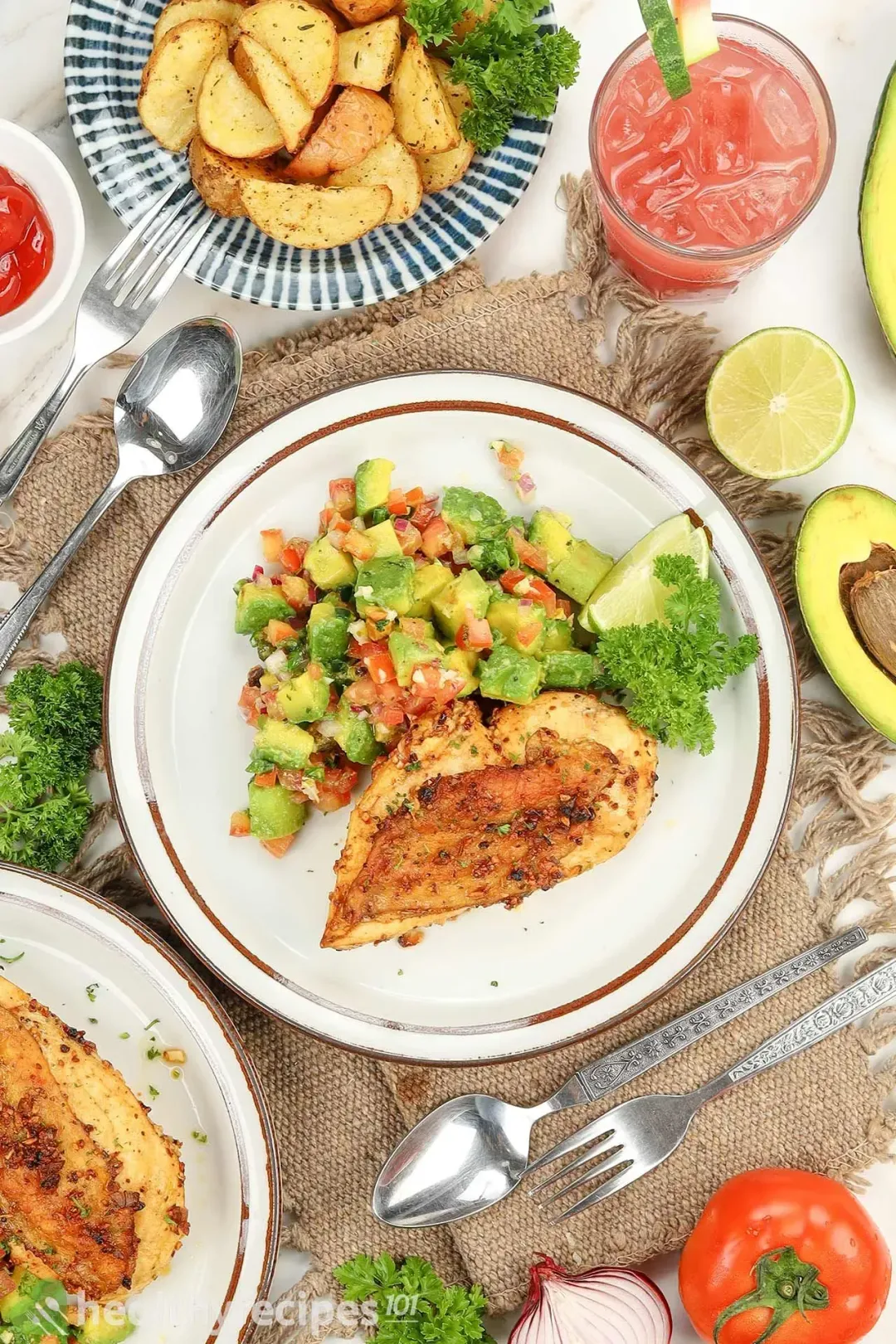 More Easy Air-Fryer Chicken Recipes
You can technically cook this Air Fryer General Tso's Chicken in a pan, but with the air fryer the job is so much easier. We put together this faux baking tray of foil in which the chicken cooked, and there was virtually nothing to clean afterwards. Saucy, flavorful, and with that kick of tantalizing heat, they're just the thing to make and enjoy on the weekends.
In just 30 minutes, our air fryer stuffed chicken breast recipe will turn out a fancy meal. It has cream cheese, parmesan, and spinach in each bite.
How to Make Chicken With Avocado Salsa
Tasty and healthy, our mouth-watering chicken with avocado salsa is a must-try to add to your eating list!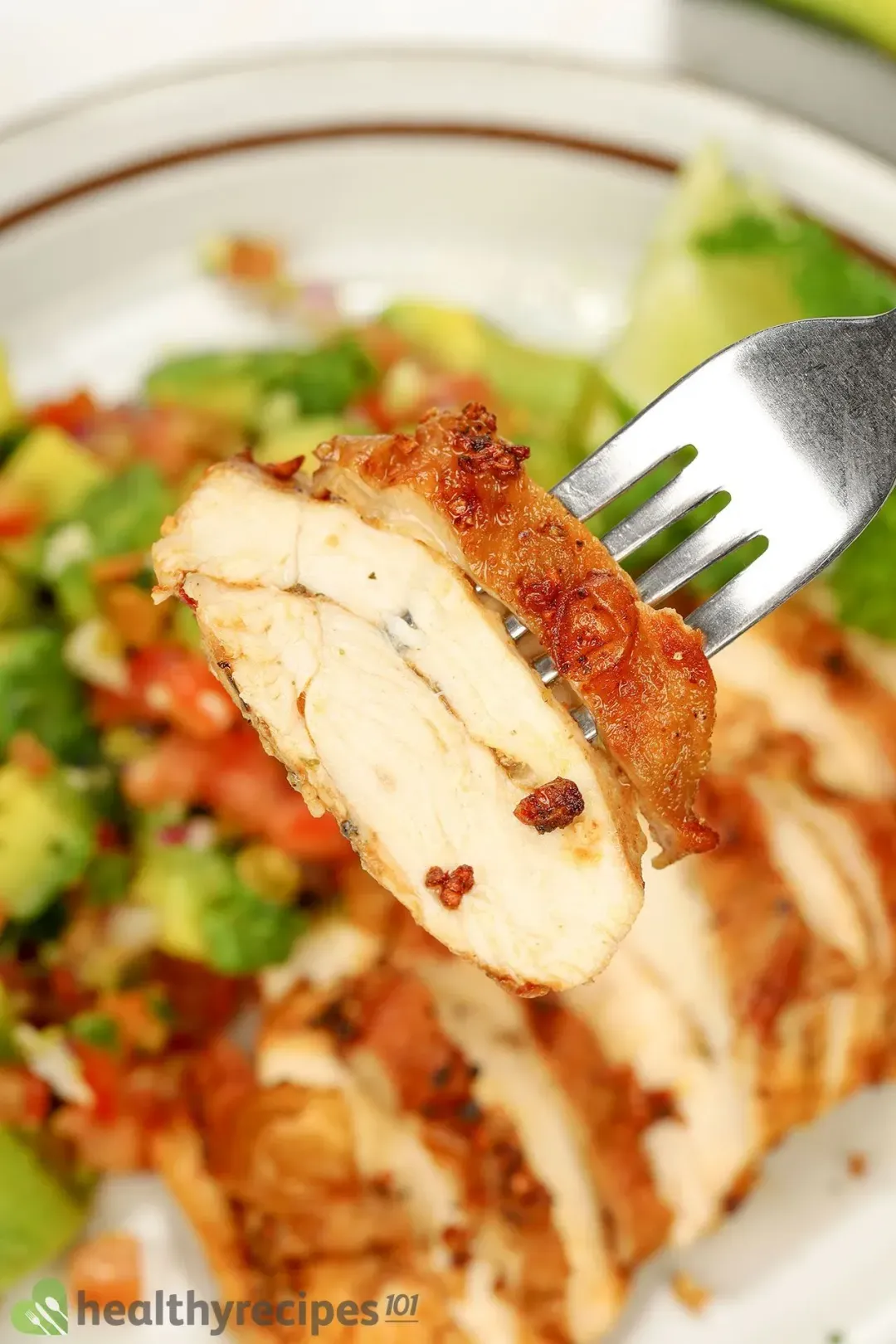 cook TIME

20 mins

prep TIME

10 mins

total TIME

30 mins
COURSE

Main Course

CUISINE

American, Mexican

SERVINGS

CALORIES

500 kcal
INGREDIENTS
24 oz

skin-on boneless chicken breast

6 oz

tomato

(deseeded and diced)

0.5 oz

jalapeño

(deseeded and diced)

2 tbsp

garlic

(minced, divided)

1 1/2 tbsp

olive oil

(divided)

1 3/4 tsp

Cajun seasoning

1/4 cup

cilantro

(chopped)
INSTRUCTIONS
1
Slice 24 oz chicken breasts open.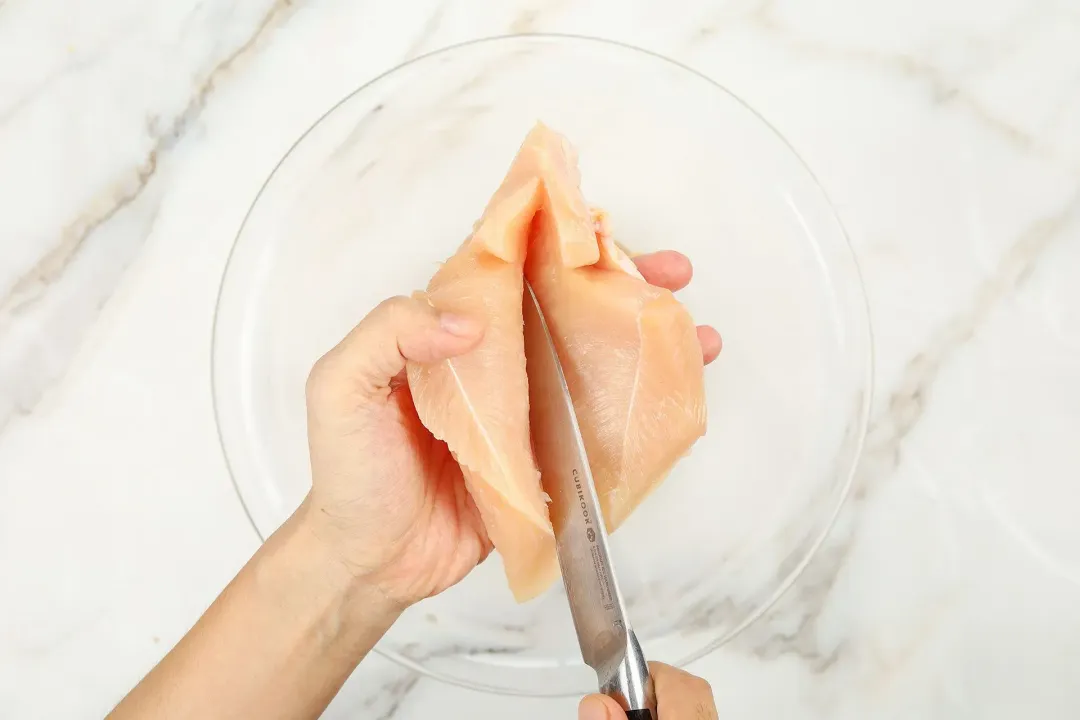 2
Season the chicken with 1/4 tsp salt, 1/2 tsp pepper, 1 tbsp garlic, 1/2 tsp paprika, 1 tbsp Italian seasoning, 1 3/4 tsp Cajun seasoning, and 1 tbsp of olive oil, then wait for 5 minutes for the chicken to absorb the flavors.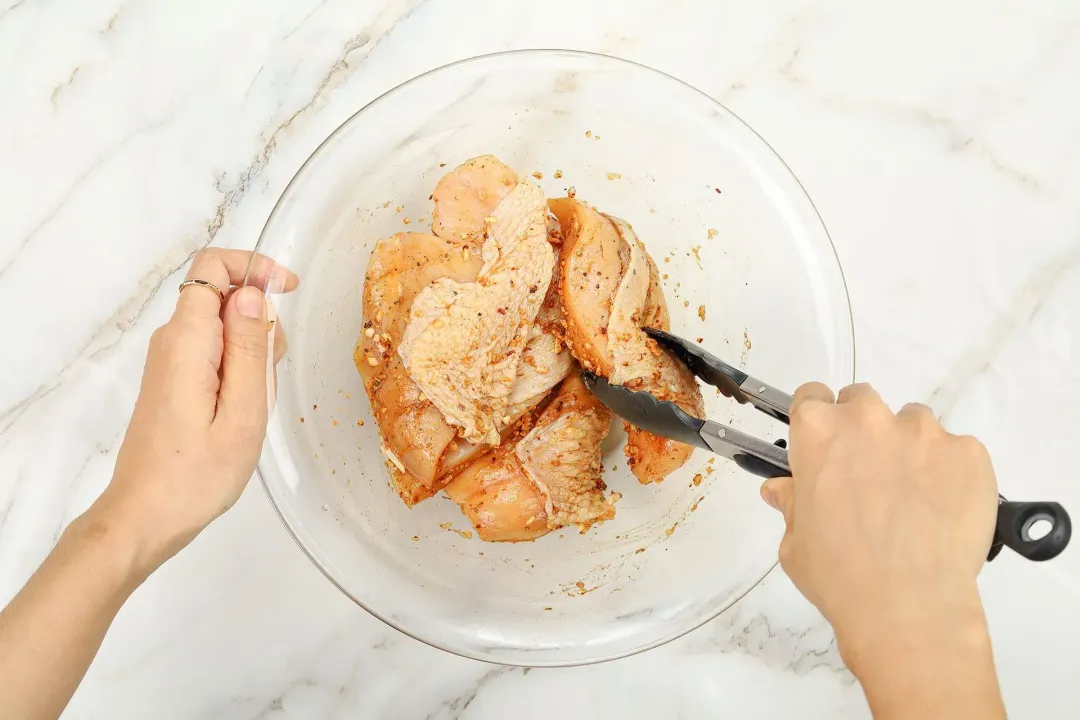 3
Preheat the air fryer for about 3-5 minutes. Air-fry the chicken at 375°F for 20 minutes.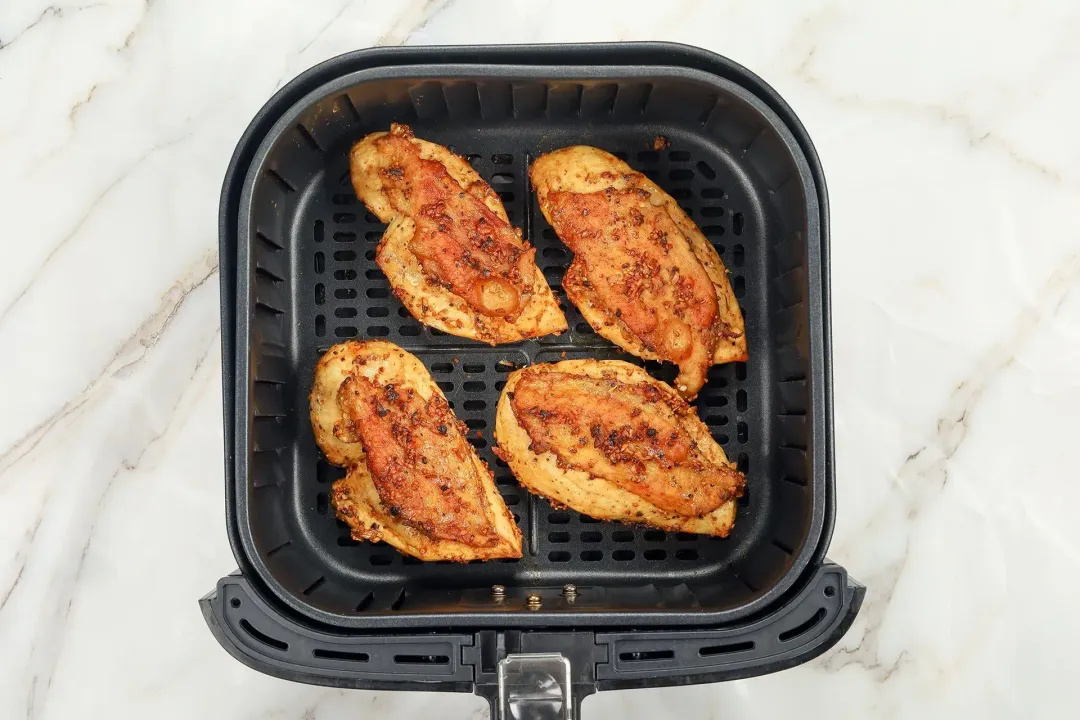 4
Make the avocado salsa while waiting for the chicken: Add 10 oz avocado, 6 oz tomatoes, 1 tbsp garlic, 1 tbsp olive oil, 1/4 tsp salt, 0.5 oz pistachio, 1 oz red onion, 1/4 cup cilantro, and 0.5 oz jalapeñno to a bowl. Mix well then garnish with some parsley on top.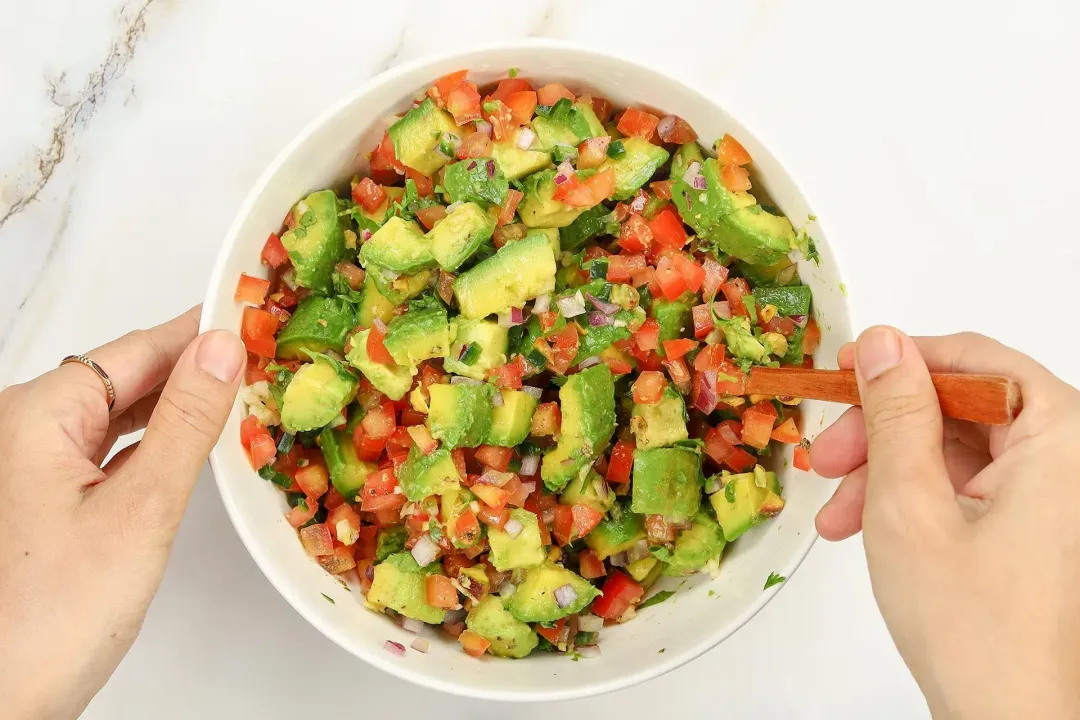 5
Serve the chicken and avocado salsa with air fryer potato wedges and watermelon cucumber juice.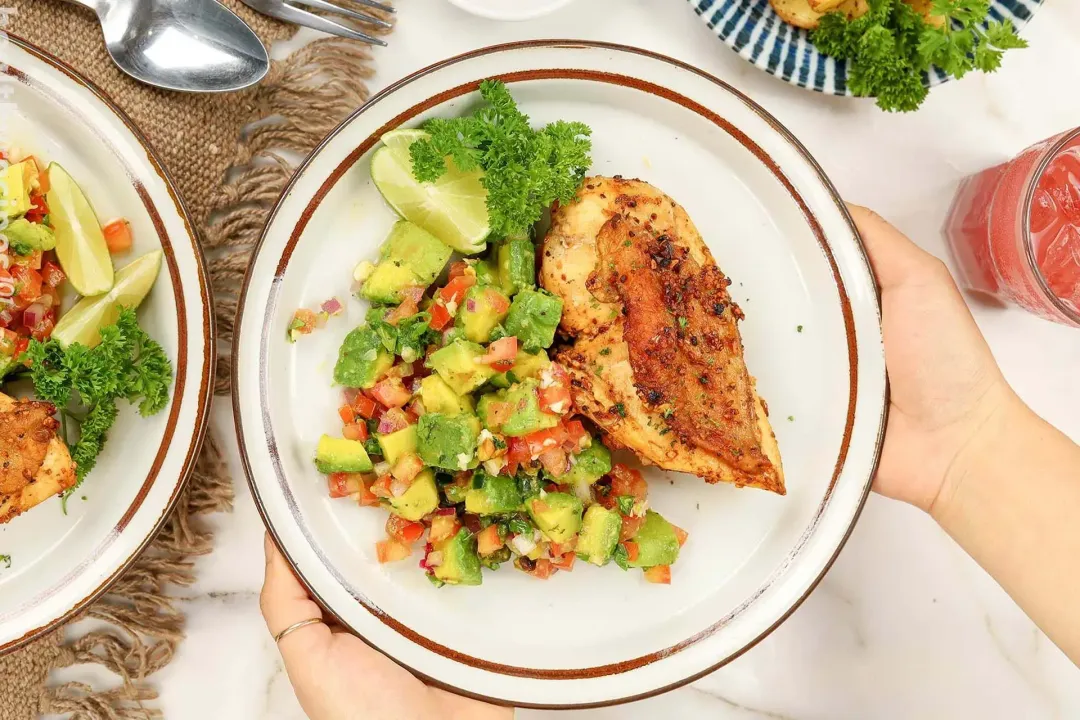 NUTRITION
Nutrition Facts
How to Make Chicken With Avocado Salsa
Amount Per Serving (1 serving)
Calories 500
Calories from Fat 306
% Daily Value*
* Percent Daily Values are based on a 2000 calorie diet.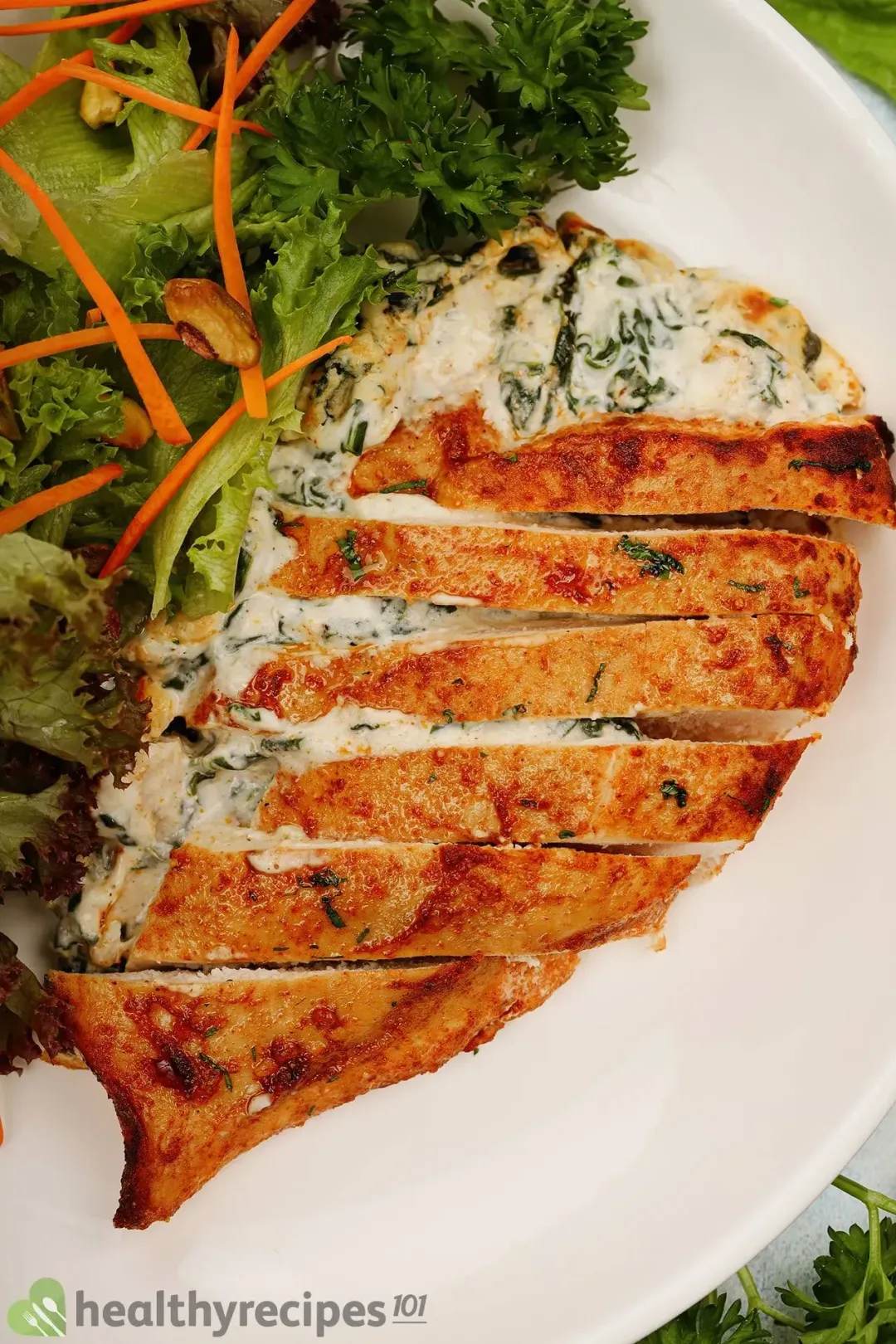 Previous Recipe
Air Fryer Stuffed Chicken Breast
Air Fryer Stuffed Chicken Breast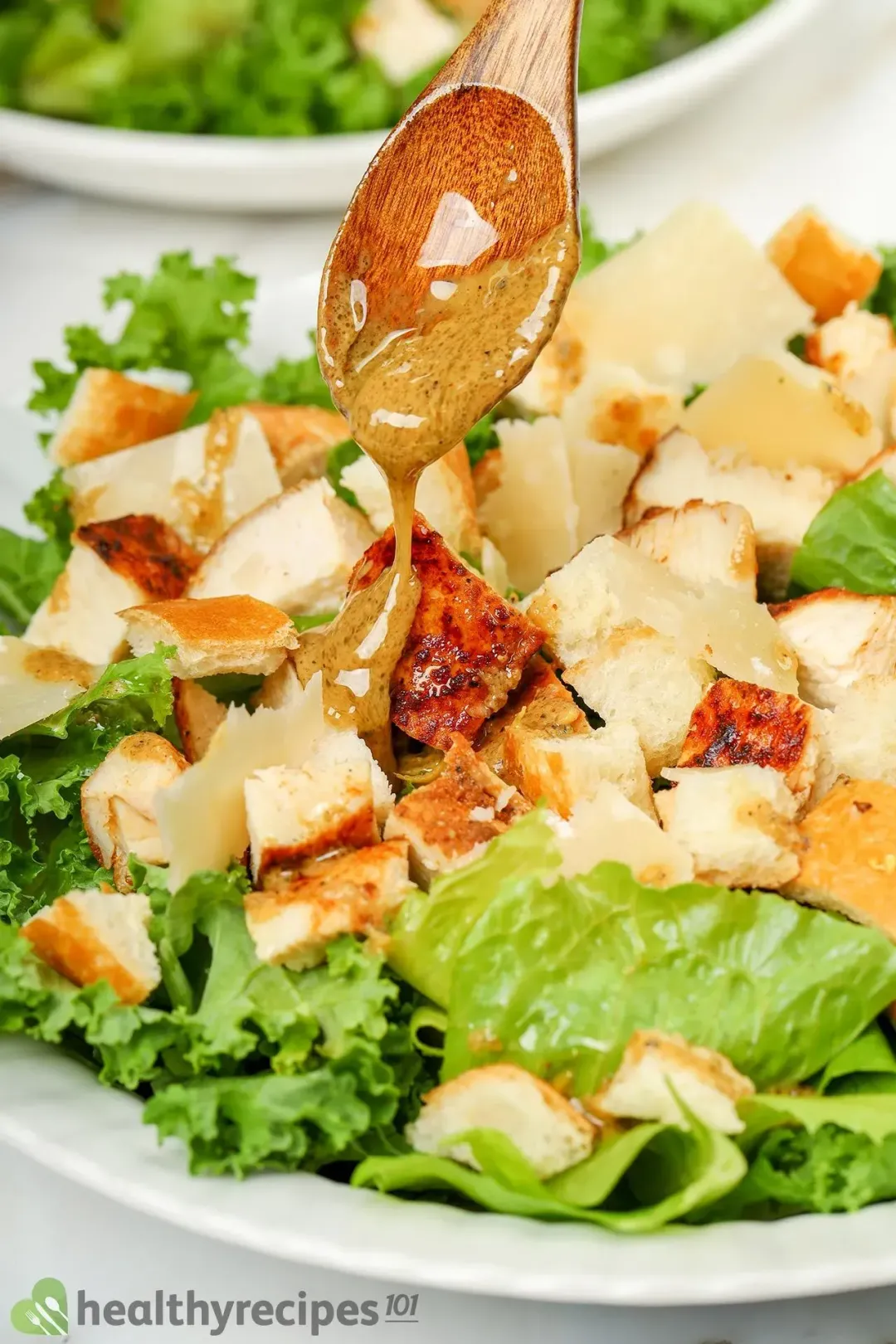 Next Recipe
Lemon Kale Caesar Salad
Lemon Kale Caesar Salad
Head Chef, Culinary Consultant
Tuyet Pham is an award-winning Saigonese chef who believes that joy is the secret ingredient to delicious food. At Healthy Recipes 101, Tuyet personally tests and simplifies every recipe, ensuring maximum flavor with minimal effort. With a background at prestigious French restaurants P'TI Saigon and Le Corto, Tuyet knows how to make every dish exceptional.
Writer, Author
Luna Regina is an accomplished writer and author who dedicates her career to empowering home cooks and making cooking effortless for everyone. She is the founder of HealthyKitchen101.com and HealthyRecipes101.com, where she works with her team to develop easy, nutritious recipes and help aspiring cooks choose the right kitchen appliances.
Nutrition Reviewer
Natalie Butler is a registered dietitian nutritionist with a passion to help others live their best life through food, fitness, safer beauty and a healthy lifestyle. She has expertise with a variety of diets and diseases and believes that there is no one-size-fits-all approach for health.