Our air fryer General Tso's chicken recipe will help you replicate the crispiness and iconic flavors of this popular Chinese takeout. If you have any leftover rice, this recipe is an excellent way to use it up.
Sesame Chicken vs General Tso's Chicken
Even lovers of Chinese food can mistake these two dishes but don't worry, we're here to help.
Air Fryer Sesame chicken is a saucy chicken stir-fry with a sweet and salty shiny glaze made of soy sauce and sesame oil. It's then garnished with lots of toasted (white) sesame seeds and drizzled with extra sesame oil.
General Tso's chicken comprises chunks of battered, deep-fried, sauce-coated chicken. The sauce should taste sweet, salty, and a little tangy. Recipes often call for vinegar or ketchup.
General Tso's chicken is also sometimes mistaken for orange chicken, but it's the citrusy undertone of orange juice that draws the line.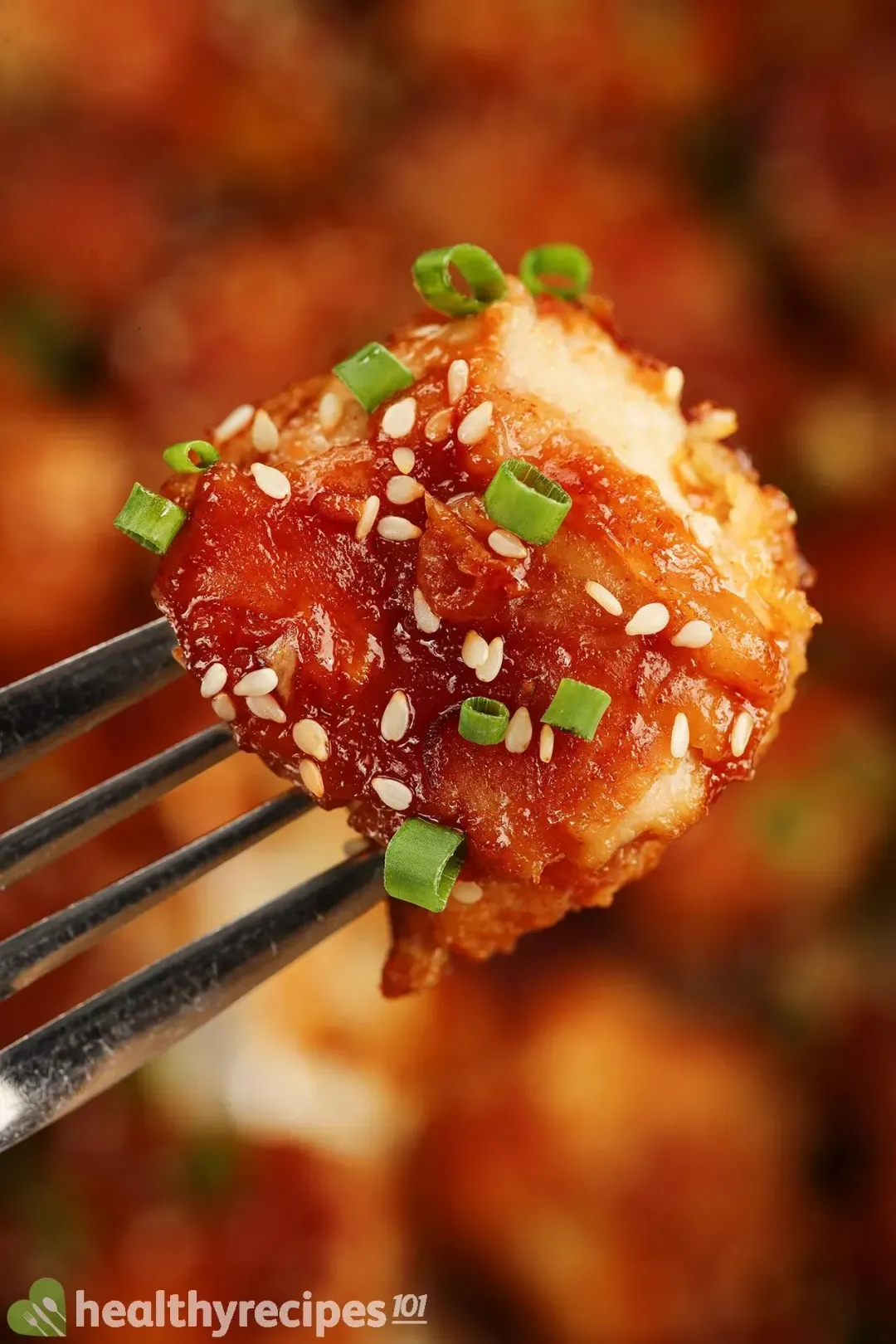 Is It Spicy?
Chinese dishes are often spicy, and this one is no exception. However, the heat is adjustable and you can tailor it to your taste.
Is Our Recipe Healthy?
Air frying is generally considered healthier than conventional frying, and for our General Tso's chicken, it's no exception. We only need a little oil to fry, which gives us more control over the fat and calories content.
Moderately sizing the portions goes even further to keep the calories, saturated fats, sodium, and added sugar content within healthy ranges. Our portions for this recipe only contain 498 calories, 2.2 g saturated fats, 580 mg sodium, and 7 g added sugar; all complying with our guidelines.
Main Ingredients
Our air fryer General Tso's chicken recipe calls for chicken thighs, soy sauce, honey, white vinegar, cornstarch, cooked rice, bok choy, and other ingredients:
Let's take a look at the main players:
1. Chicken and Batter
Chicken thighs are our cut of choice. If you prefer leaner meat, chicken breasts also work fine.
Since we batter and fry the meat, we slice the skin off; leaving it on would give the nuggets an unwelcome chewy texture.
The batter for today's chicken comprises all-purpose flour, water, and seasoning in the form of garlic powder and paprika. We've left out eggs and dairy as these ingredients would cause the batter to turn out less crispy.
Once battered, the chicken is coated in all-purpose flour before being placed in a lined frying basket.
2. Sauce
The base of the sauce consists of these basic components: garlic, ginger, soy sauce, honey, vinegar, Sriracha, and cornstarch to thicken. The sauce should be aromatic and balanced in flavor — sweet and salty with a tangy under-taste.
To this base, we add red pepper flakes for presentation and some extra heat. We also squeeze in some lime juice for a refreshing twist.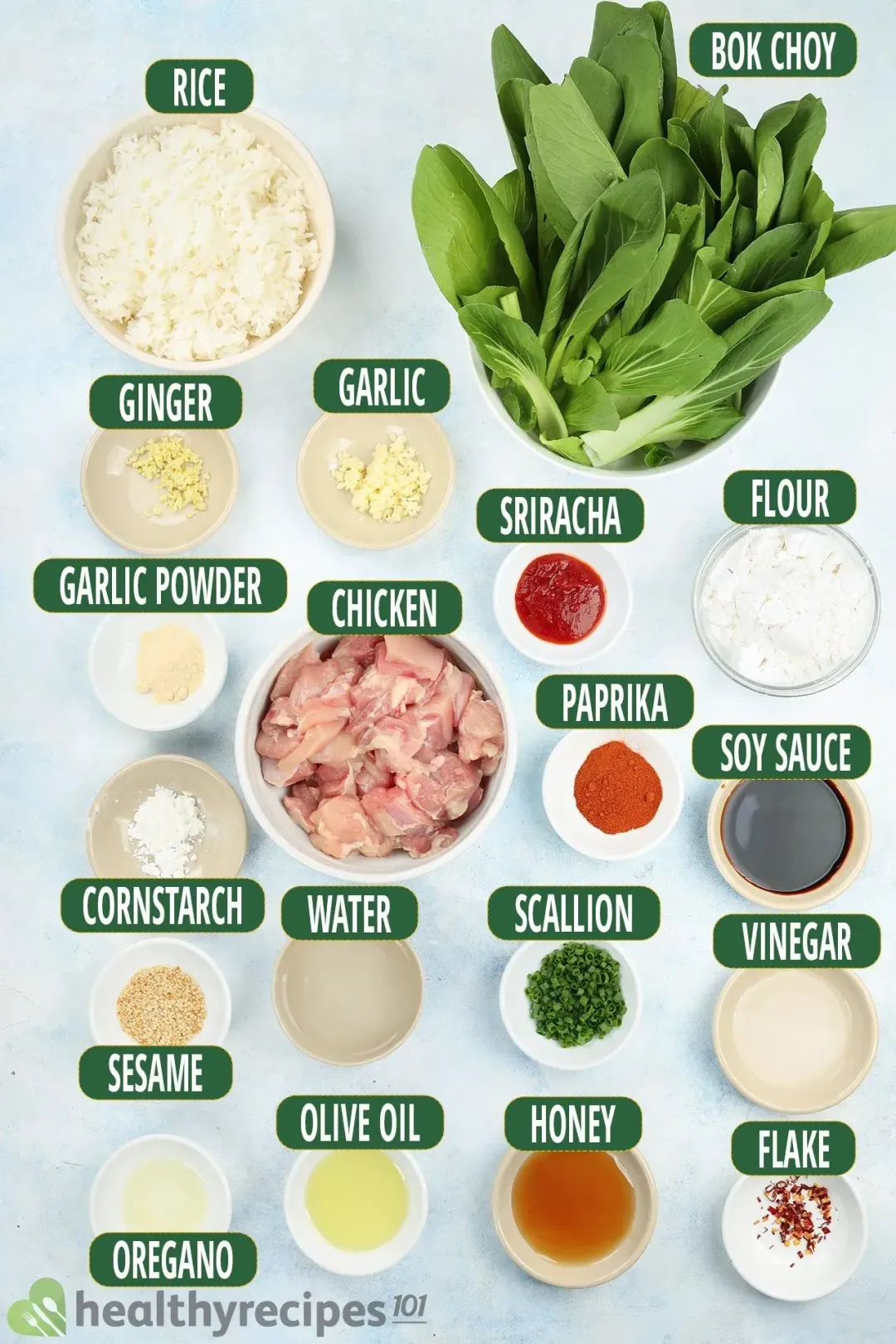 3. Cooked Rice
Like many Chinese recipes, this dish must be served with rice. It's typically medium-grain white rice, but virtually any type works well.
4. Bok Choy
We cook some bok choy to serve on the side, but it's replaceable with any green, crunchy vegetable. The color and texture lend the dish a healthy, delicious balance.
How to Store and Reheat
You can place the chicken in an airtight container and refrigerate for 5 days or freeze for up to 3 months. Be sure to date the container so you'll know when it expires.
Cooked rice can be stored in this manner as well, but for bok choy, it's best that you keep it in the fridge. Crisp, juicy vegetables tend to become mushy once thawed.
However, unlike chicken nuggets, it's impossible to reheat General Tso's chicken to be crispy again. We advise you to consume this dish in one sitting for the best experience.
We also have this air fryer dinner roundup, dedicated to air fryer lovers. The recipes are easy to follow and complied with our healthy eating standards.
What to Serve With
We serve it with a bowl of warm, wholesome cabbage potato soup and a glass of orange-pineapple juice. The soup's mild flavors help to refresh the palate, and the drink is a sweet way to end the meal.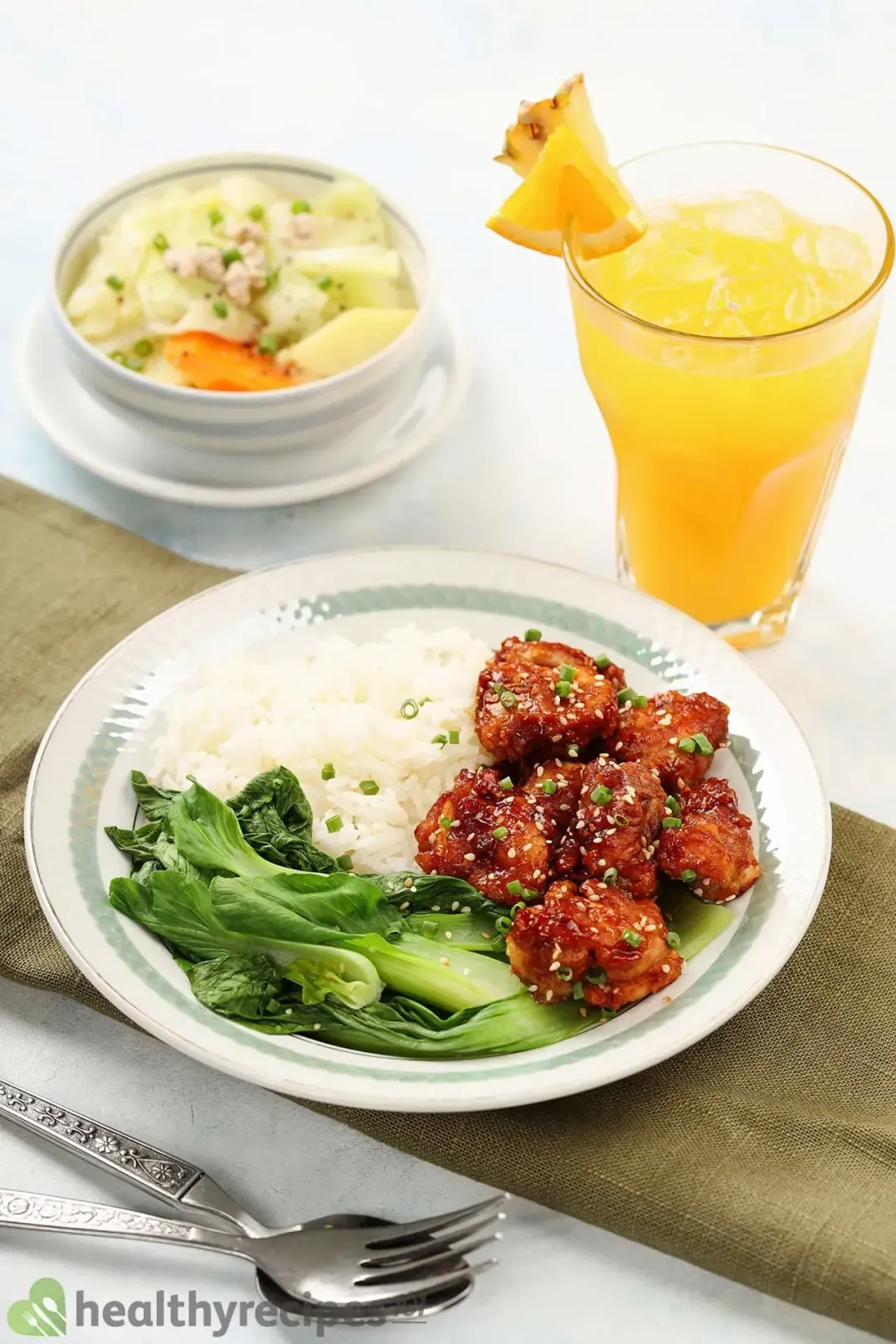 Try These Dishes With Air-Fried Chicken
This all-star recipe includes lean chicken breast as well as an abundance of veggies and dried fruits. All is dressed in a lemon vinaigrette sprinkled with a dash of Italian seasoning.
This air fryer blackened chicken recipe will assist you in preparing a nutritious, delectable meal in approximately 30 minutes. It includes grilled, juicy chicken with burnt bits, as well as a fresh, tangy salad on the side.
Air Fryer General Tso's Chicken
Our air fryer General Tso's Chicken recipe is a nice, healthy way to replicate the delicious Chinese take-out. We're serving it with rice, soup, and a drink.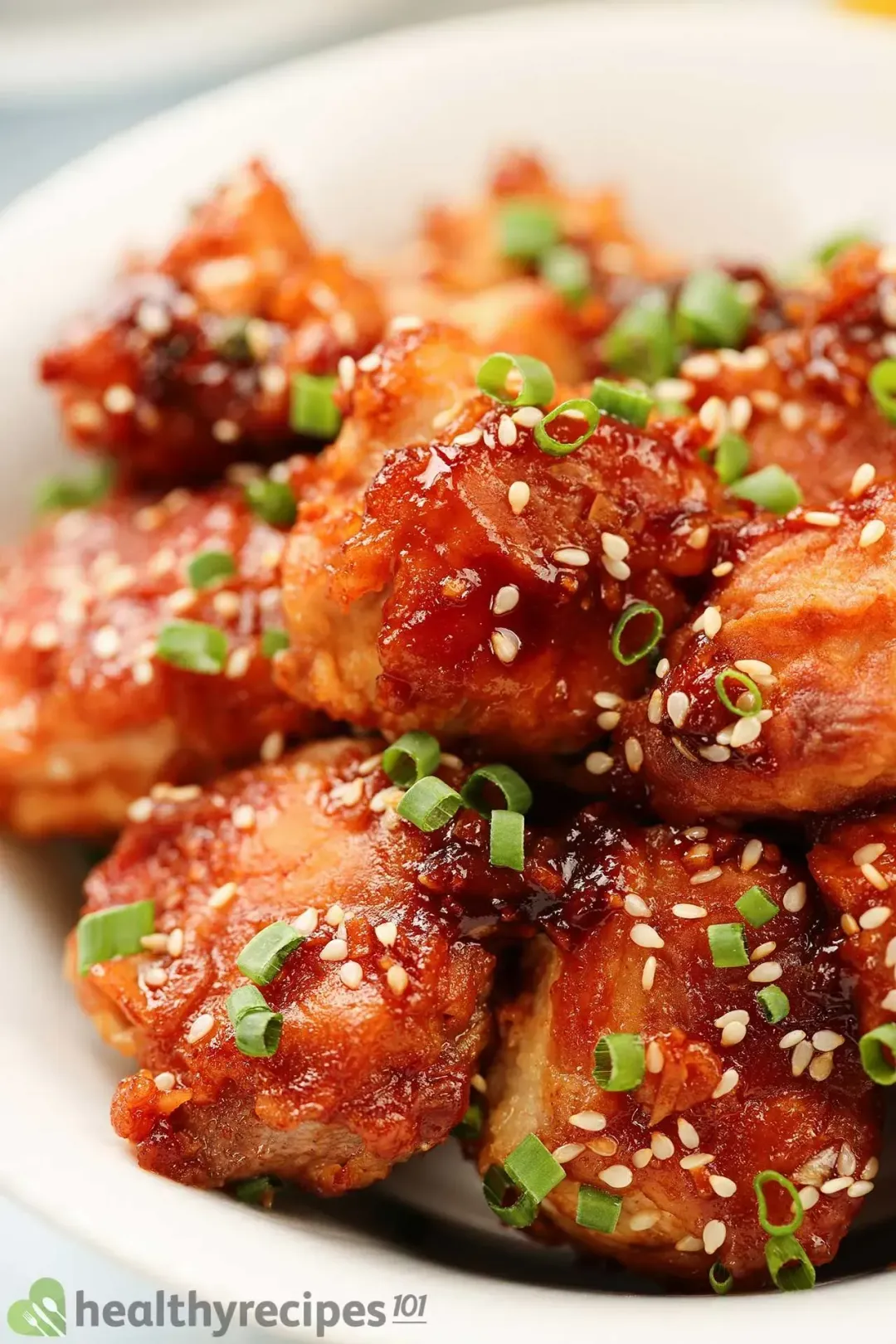 cook TIME

25 mins

prep TIME

5 mins

total TIME

30 mins
COURSE

Main Course

CUISINE

Chinese

SERVINGS

CALORIES

487 kcal
INGREDIENTS
16 oz

boneless skinless chicken thigh

(cut into chunks)

8 oz

bok choy

(rinsed and separated)

10 tbsp

all-purpose flour

(divided into 8 and 2 tbsp)

2 1/2 tbsp

reduced-sodium soy sauce

1 tbsp

white sesame seeds

(toasted)

2 tbsp

scallion

(chopped)

1 tbsp

garlic

(about 3 cloves, minced)

1/2 tsp

ginger

(finely minced)

3 cups

cooked medium-grain rice
INSTRUCTIONS
1
In a bowl, whisk together 8 tbsp all-purpose flour (save 2 tbsp for later use), 6 tbsp water, 1 tsp paprika, and 1 tsp garlic powder.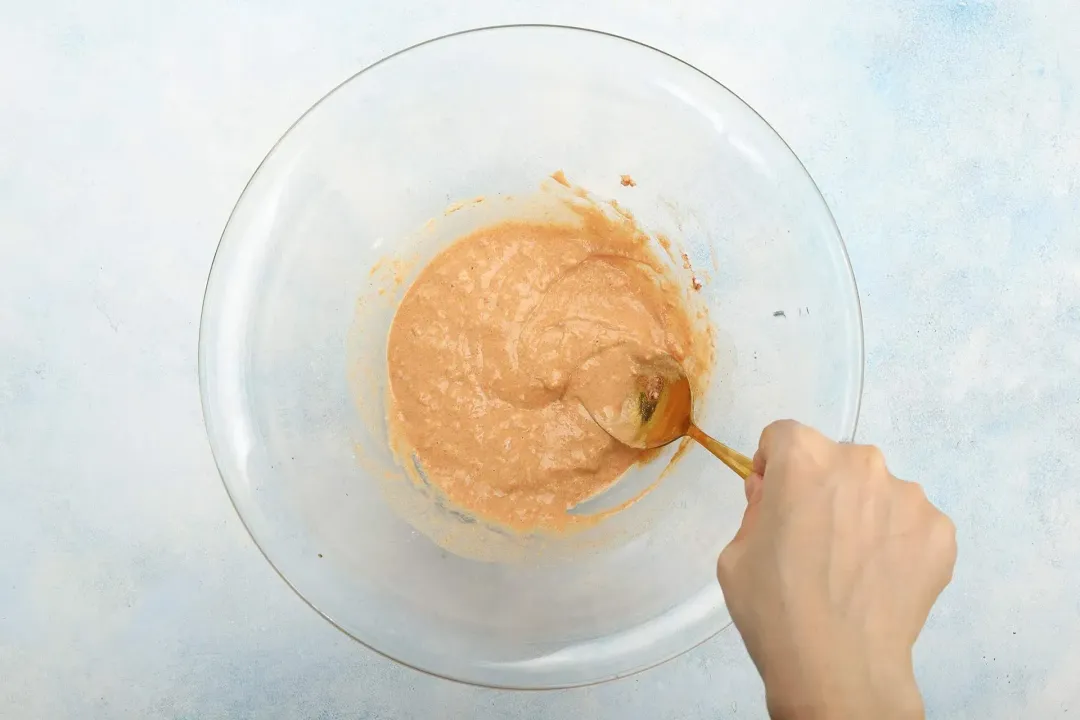 2
Add 16 oz chicken thighs to the bowl and mix well to coat. Coat the battered chicken with the remaining all-purpose flour (2 tbsp).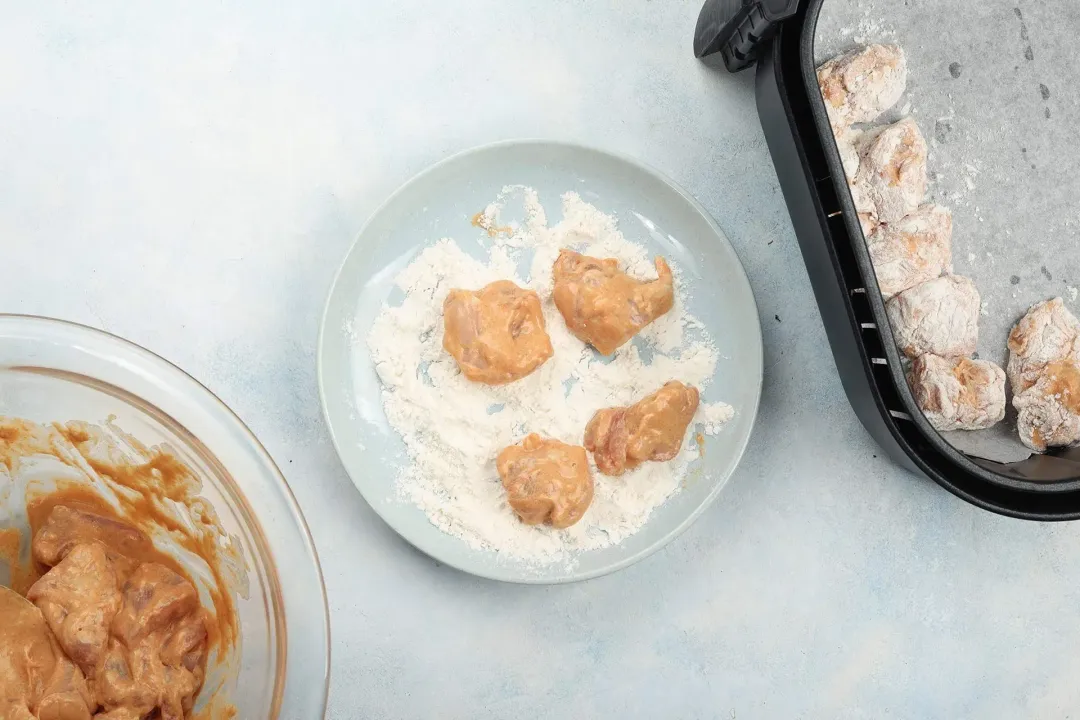 3
Line the air fryer's frying basket with parchment paper. Gently add the chicken and arrange them in 1 layer.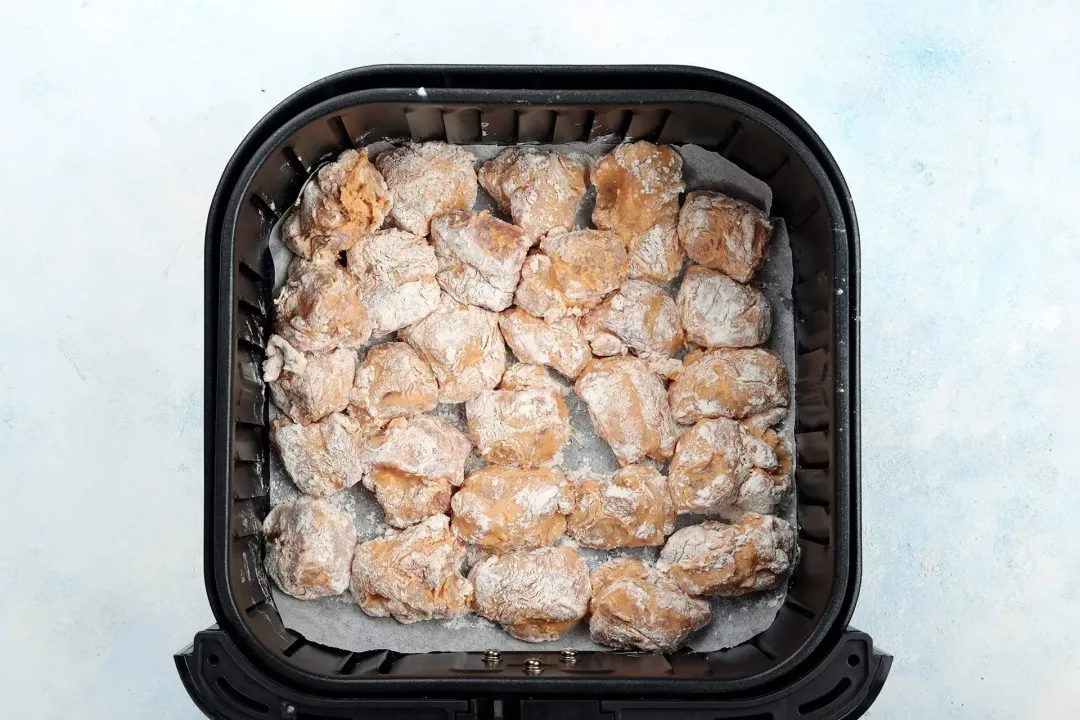 4
Brush the top with 1 tbsp olive oil and cook at 400°F for 15 minutes.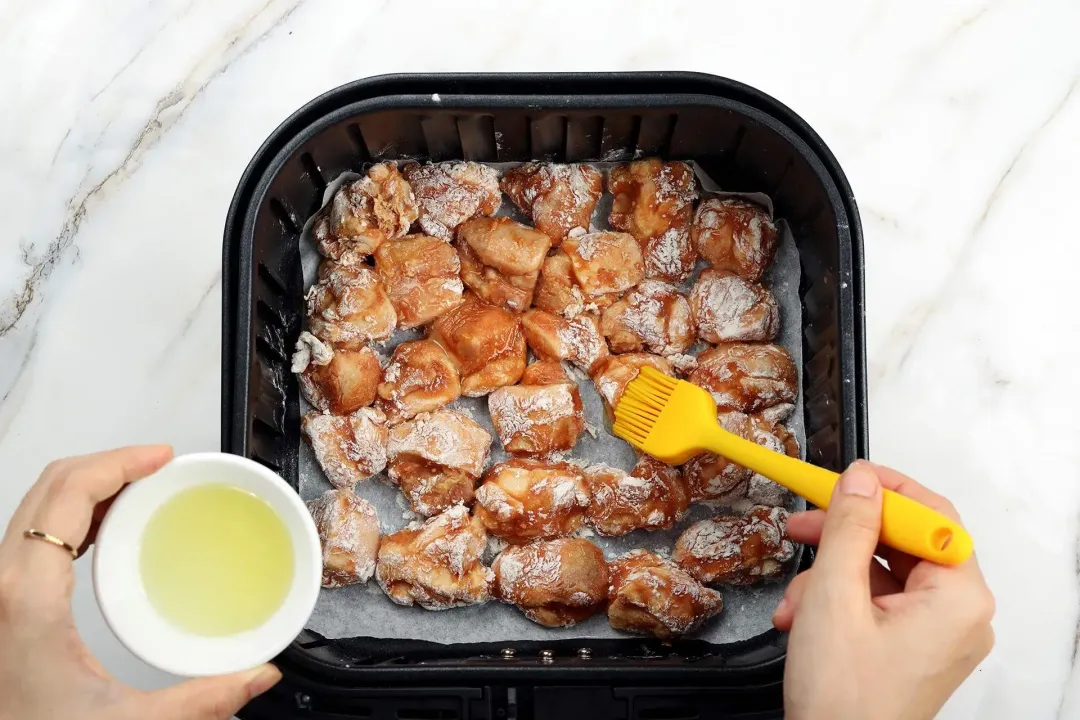 5
Meanwhile, prepare the sauce by mixing together 2 1/2 tbsp soy sauce, 1 1/2 tbsp honey, 1 tbsp garlic, 1 tbsp Sriracha, 1 tbsp rice vinegar, 1 tsp lime juice, 1 tsp cornstarch, 1 tbsp paprika, and 1/2 tsp ginger. Set aside.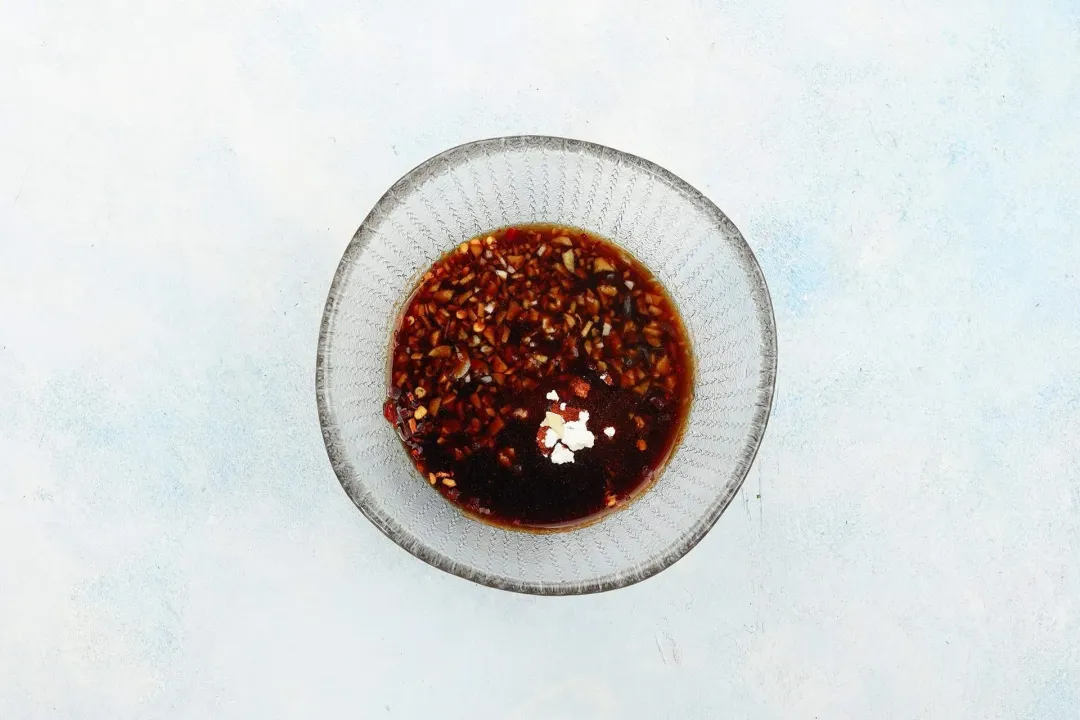 6
Remove the chicken and parchment from the air fryer. Line the basket with foil, fix the corners to avoid leaks and add the sauce. Cook for 5 minutes.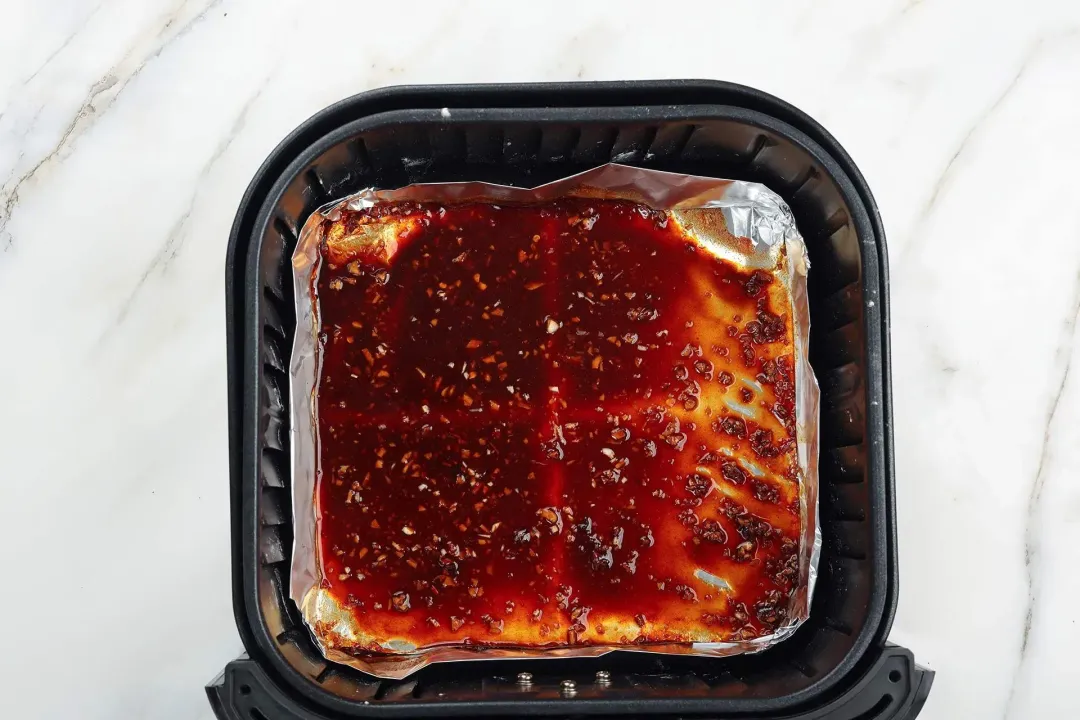 7
Place 8 oz bok choy into a bowl, cover with plastic wrap, and microwave on medium for 4 minutes. Shock it in an ice bath once it's cooked.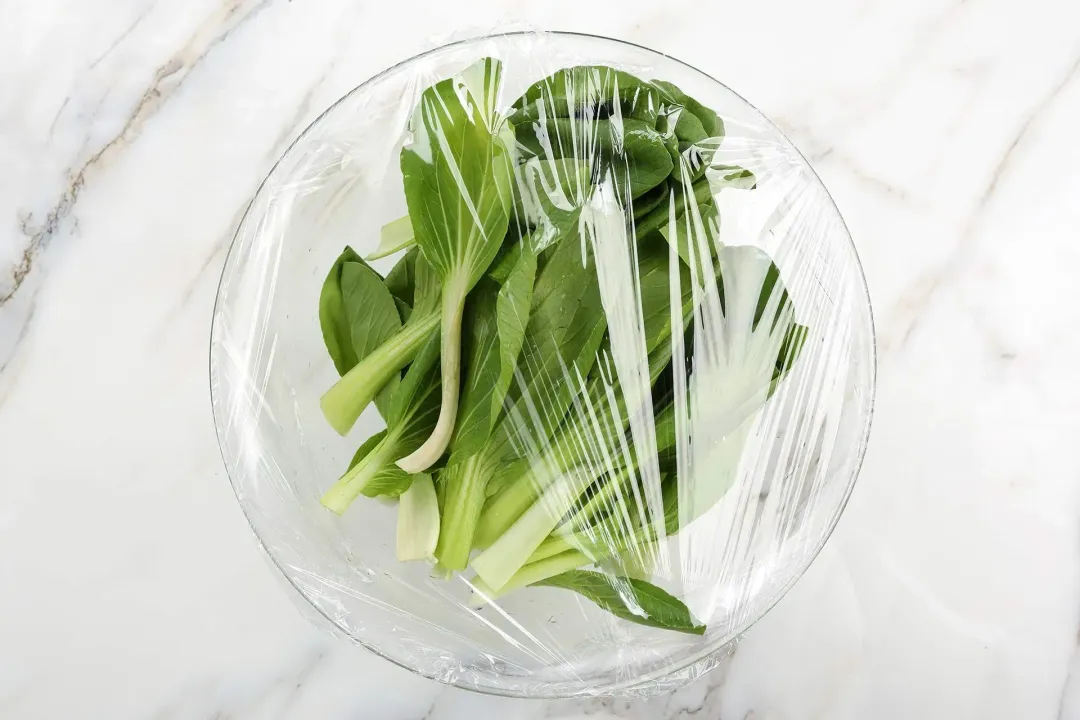 8
Toss the fried chicken with the sauce. Sprinkle on top 2 tbsp scallion, 1 tbsp white sesame seeds, and 1/4 tsp red pepper flakes.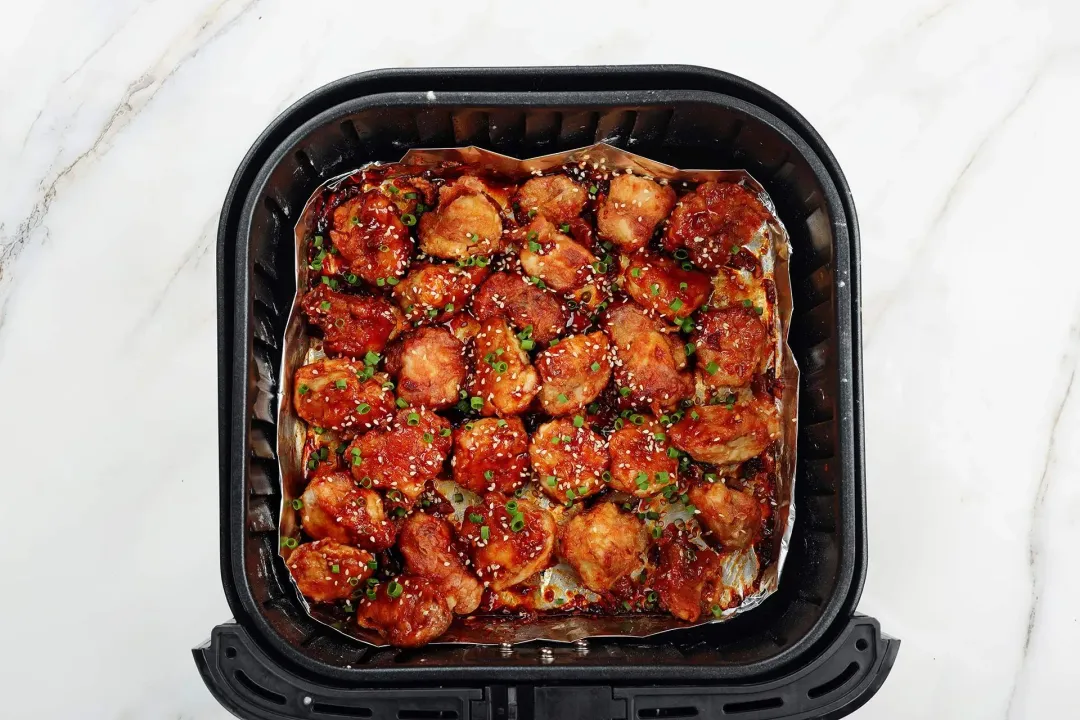 9
Enjoy with 3 cups of cooked rice.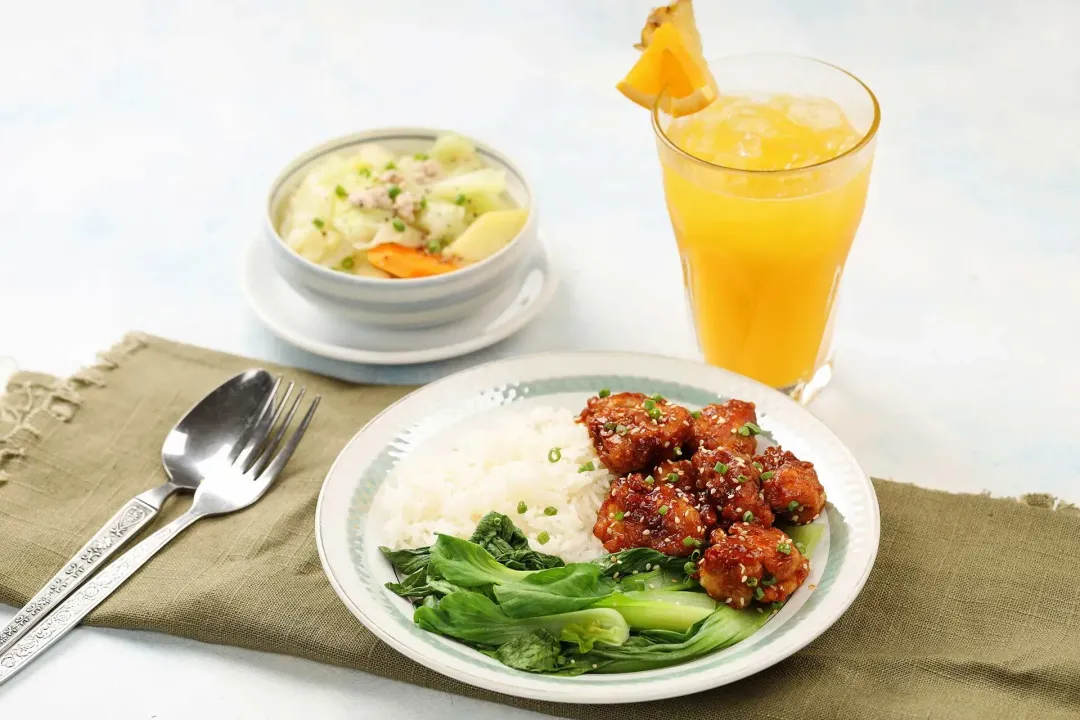 NUTRITION
Nutrition Facts
Air Fryer General Tso's Chicken
Amount Per Serving (1 serving)
Calories 487
Calories from Fat 90
% Daily Value*
* Percent Daily Values are based on a 2000 calorie diet.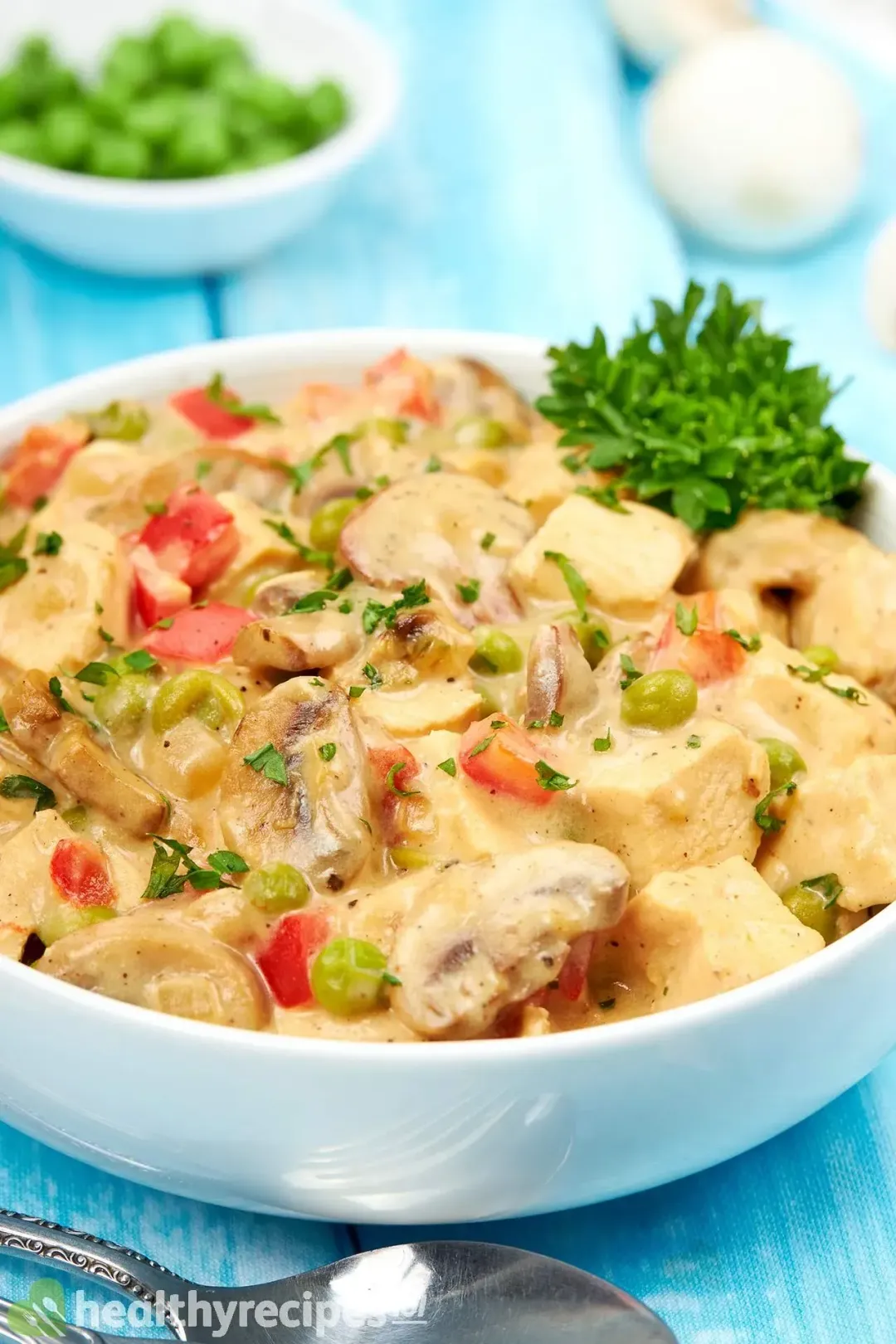 Previous Recipe
Chicken a la King
Chicken a la King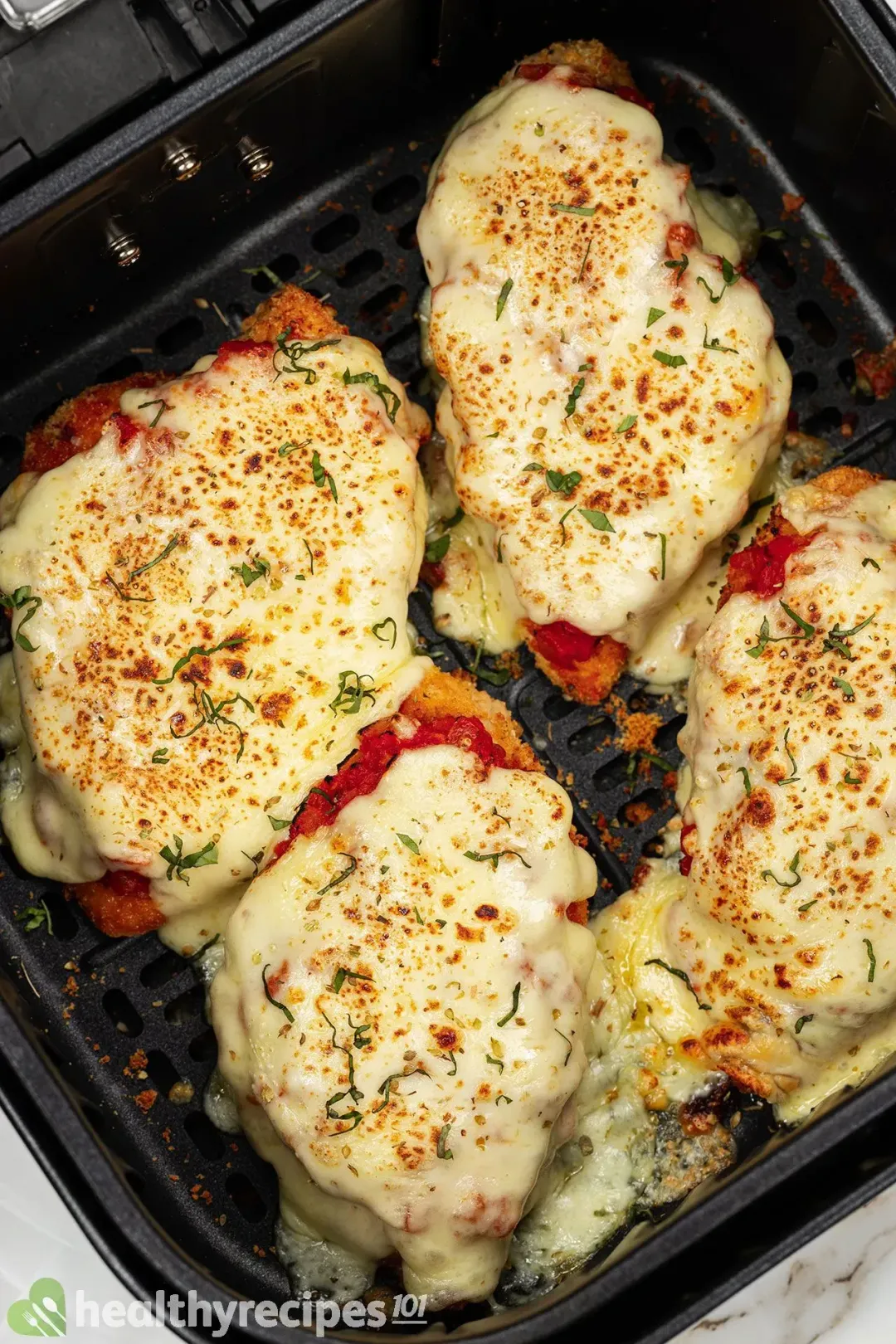 Next Recipe
Air Fryer Chicken Parmigiana
Air Fryer Chicken Parmigiana
Head Chef, Culinary Consultant
Tuyet Pham is an award-winning Saigonese chef who believes that joy is the secret ingredient to delicious food. At Healthy Recipes 101, Tuyet personally tests and simplifies every recipe, ensuring maximum flavor with minimal effort. With a background at prestigious French restaurants P'TI Saigon and Le Corto, Tuyet knows how to make every dish exceptional.
Writer, Author
Luna Regina is an accomplished writer and author who dedicates her career to empowering home cooks and making cooking effortless for everyone. She is the founder of HealthyKitchen101.com and HealthyRecipes101.com, where she works with her team to develop easy, nutritious recipes and help aspiring cooks choose the right kitchen appliances.
Nutrition Reviewer
Natalie Butler is a registered dietitian nutritionist with a passion to help others live their best life through food, fitness, safer beauty and a healthy lifestyle. She has expertise with a variety of diets and diseases and believes that there is no one-size-fits-all approach for health.
This air fryer General Tso's chicken is a healthier take on a classic dish, and it's packed with flavor!