This avocado chicken salad recipe introduces a hearty mixture of grilled chicken, avocado, corn, cherry tomatoes, red onion, cilantro, red kidney beans, and lime juice. It's full of invigorating flavors and textures, allowing you to enjoy a healthy meal with pleasure every National Avocado Day (July 31).
Is Avocado Chicken Salad Healthy?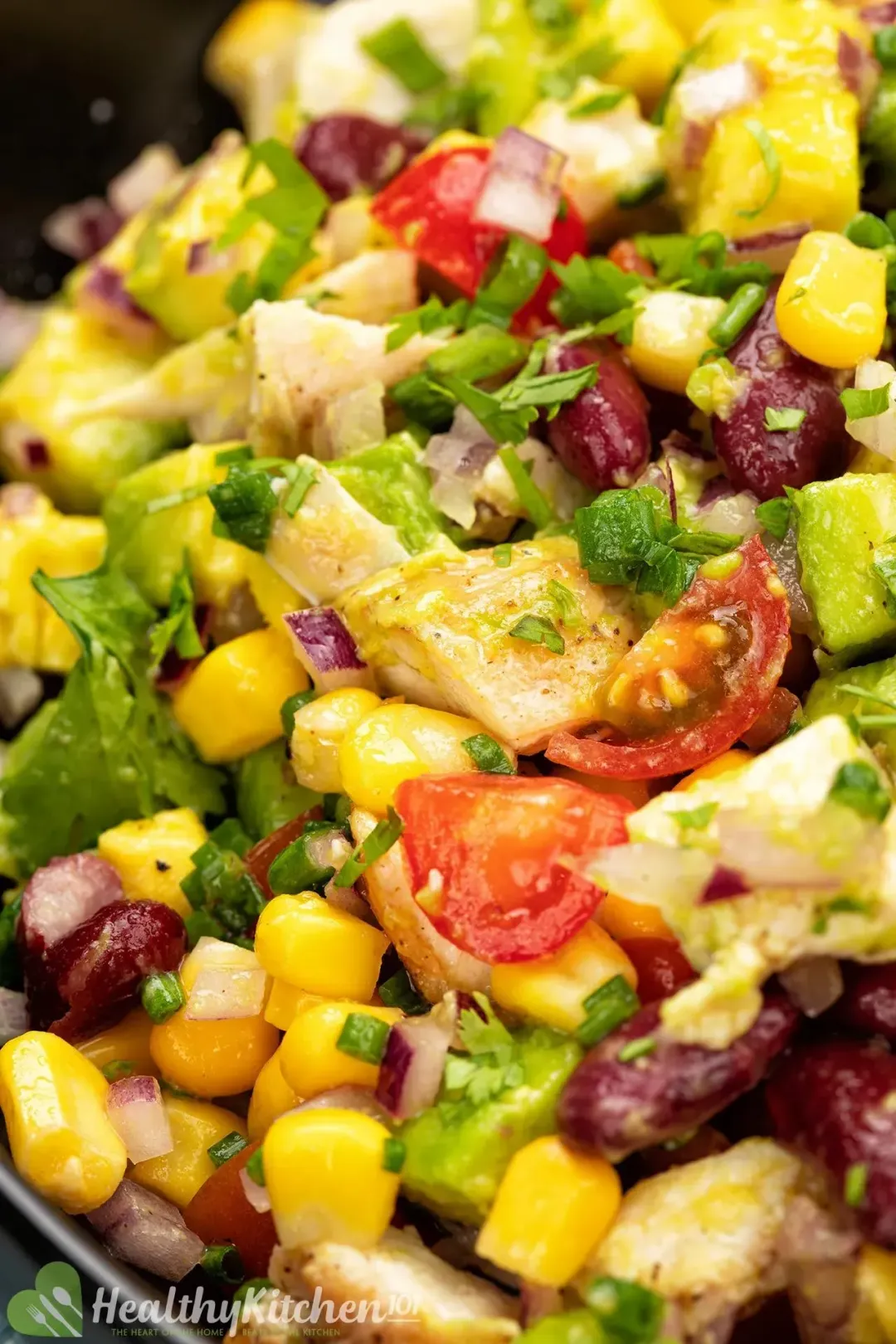 We believe the answer is yes, avocado chicken salad is generally a healthy dish. This salad is packed with healthy fat, lean protein, and tons of vitamins and minerals.
We all know chicken breast is an amazing source of lean protein— that's an indisputable fact around here. Then why avocado for the salad?
Avocado is considered a superfood, as it's one of the most nutrient-dense foods that are widely available on the market. It's loaded with healthy fats, fiber, and is an important source of nearly 20 different vitamins and minerals, including vitamins C, E, K, and B-6.
An avocado (which weighs about 201 grams) contains 322 calories, of which 77% of the calories are from fat. It is actually the only fruit that contains heart-healthy monounsaturated fatty acids (oleic acid, to be precise).
This amazing fruit also provides riboflavin, niacin, folic acid, pantothenic acid, magnesium, potassium, lutein, beta-carotene, and omega-3 fatty acids.
Ingredients for Avocado Chicken Salad
In this avocado chicken salad recipe, besides the juicy and savory chicken, you'll have fresh and vigorous flavors from the avocado and the combination of vegetables.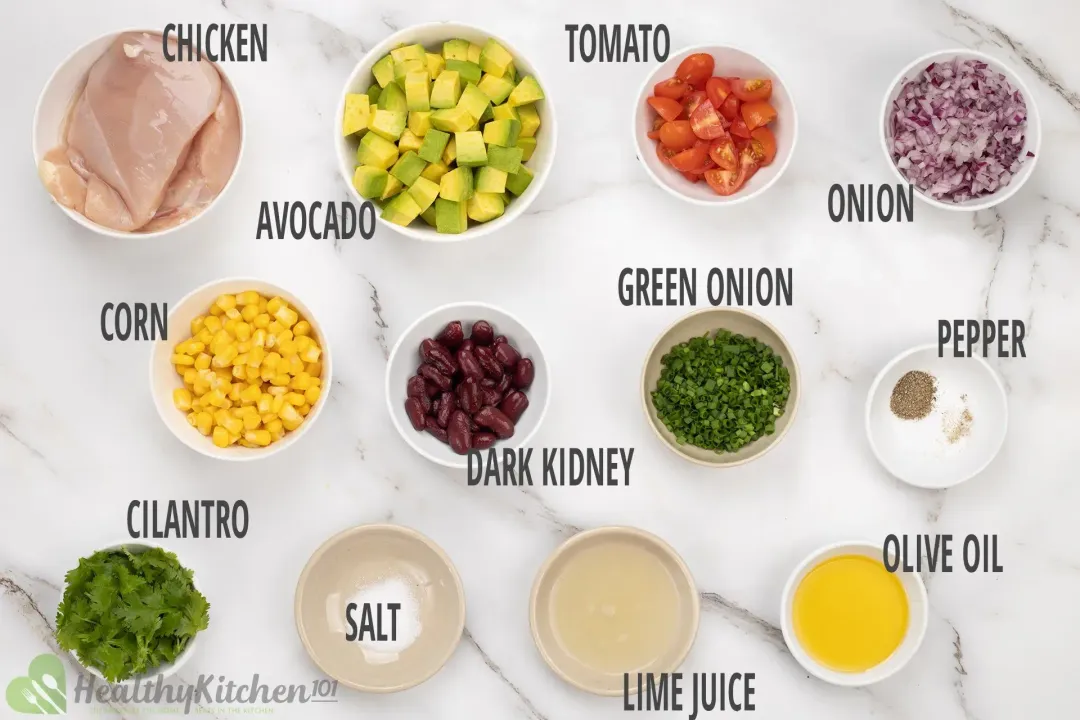 1. Chicken Breast
For any chicken dish, we always recommend you cook a fresh batch of chicken so the leftovers (if any) can last for a longer period. Either boiled, grilled, or poached chicken can work beautifully in this salad.
However, for quick and easy preparation, please feel free to use store-bought rotisserie chicken or canned chicken to toss in your salad.
2. Avocado
For this avocado chicken recipe, it's important to start with ripe avocados. Always look for avocados that have some dark brown spots on the skin; this indicates the avocado is ripe enough to eat.
The chosen avocado should be neither too green nor overripe— the inside flesh should be soft and bright green, but not mushy. This is because, when tossing the avocado in the salad, you'll need it to break down a bit to act as a binder between other ingredients.
In short, the avocado needs to remain creamy when combined with the chicken without turning the entire salad sloppy and muddy. 
If you want to use avocado to replace traditional mayo, you can even mashed, or puree it to super fine and smooth so it will coat the chicken completely. On the other hand, if you love a chunky salad where you can take a bite of everything, simply cut the avocados into large chunks instead.
In case you can't find a ripe avocado, packaged guacamole is also second to none. Packaged guacamole does not brown quickly, and it can save you a lot of time for preparation.
Awesome Chicken Salads to Try
Fill your belly with this super lean chicken salad, Chinese-styled. Apart from julienned veggies, it has crispy strands of fried egg noodles that basically make the salad a healthy snack.
Or, try making this Waldorf salad to satisfy your sweet tooth. The dressing is rich and tangy, but it coats chunks of grapes that add tons of sweetness and nutrients.
Dressing for Chicken Avocado Salad
In this avocado chicken salad recipe, the dressing includes only four ingredients: ground black pepper, salt, olive oil, and lime juice. The dressing is light in taste, herby, and slightly tangy, perfect to balance the richness and savoriness of the chicken and avocado.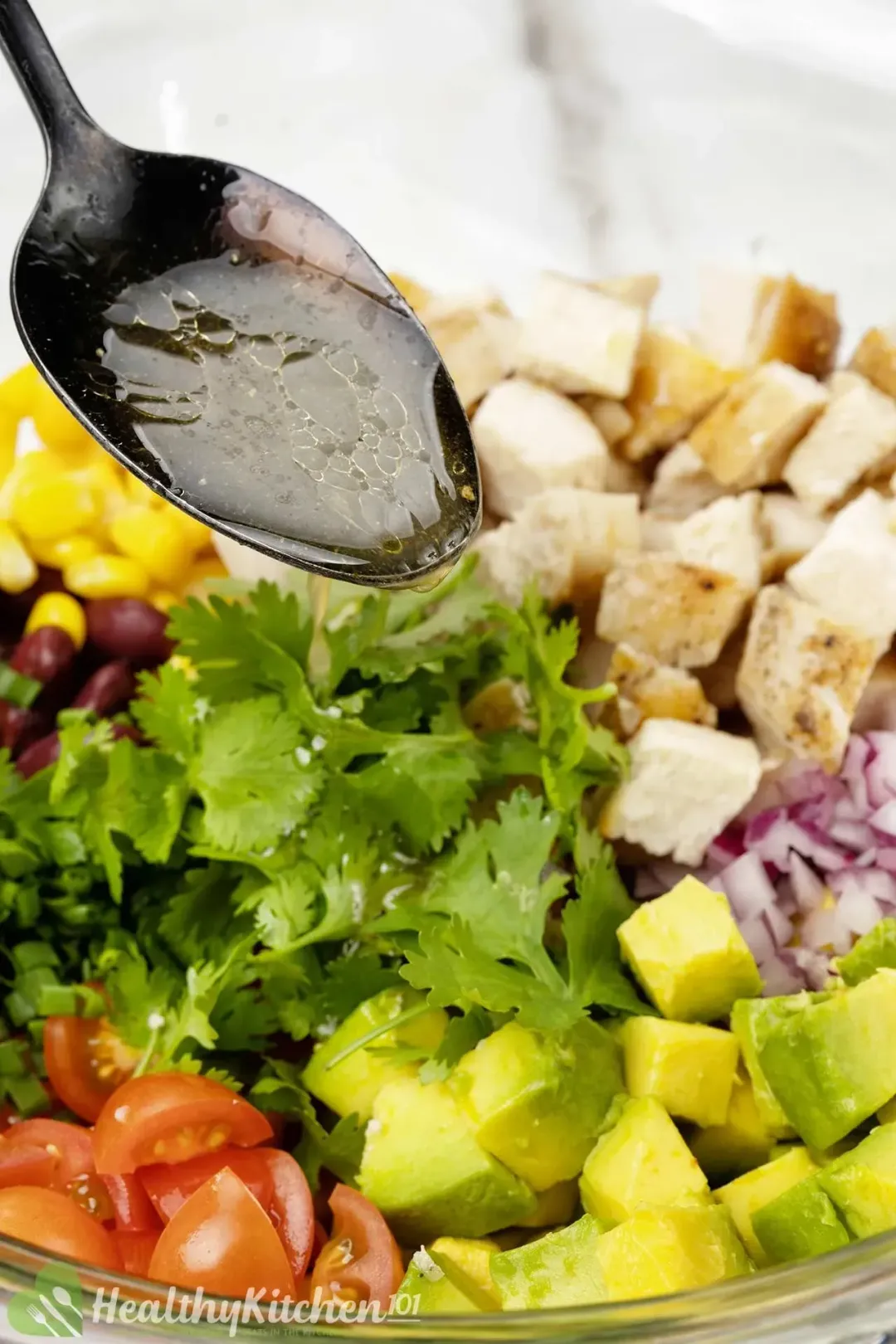 At times you can go with an olive oil and mustard dressing for a super simple salad or a tasty Southern appetizer. It's all up to you!
What Else Goes With Avocado Chicken Salad
The avocado chicken salad is a protein-rich meal, so it's suitable for work lunches or dinner. Not only can it make a quick and fulfilling meal for you, but it also allows you to customize it in many ways.
Here are some suggestions for additional ingredients to play with the recipe a little bit.
1. Mango
Mango can add a touch of sweet and sour taste to this salad while helping to round out the flavor at the same time. It also comes with a fun texture and gives you something more to chew besides the creamy avocado and the crisp, juicy cherry tomatoes.
2. Sandwich
Needless to say, this dish can easily be turned into an amazing chicken salad sandwich filling.
It's suitable for sandwiches, crepes, or lettuce rolls. Stuff it between some toasted whole-wheat bread and pile it high with tomatoes and romaine lettuce to create low-carb, high-fiber wraps.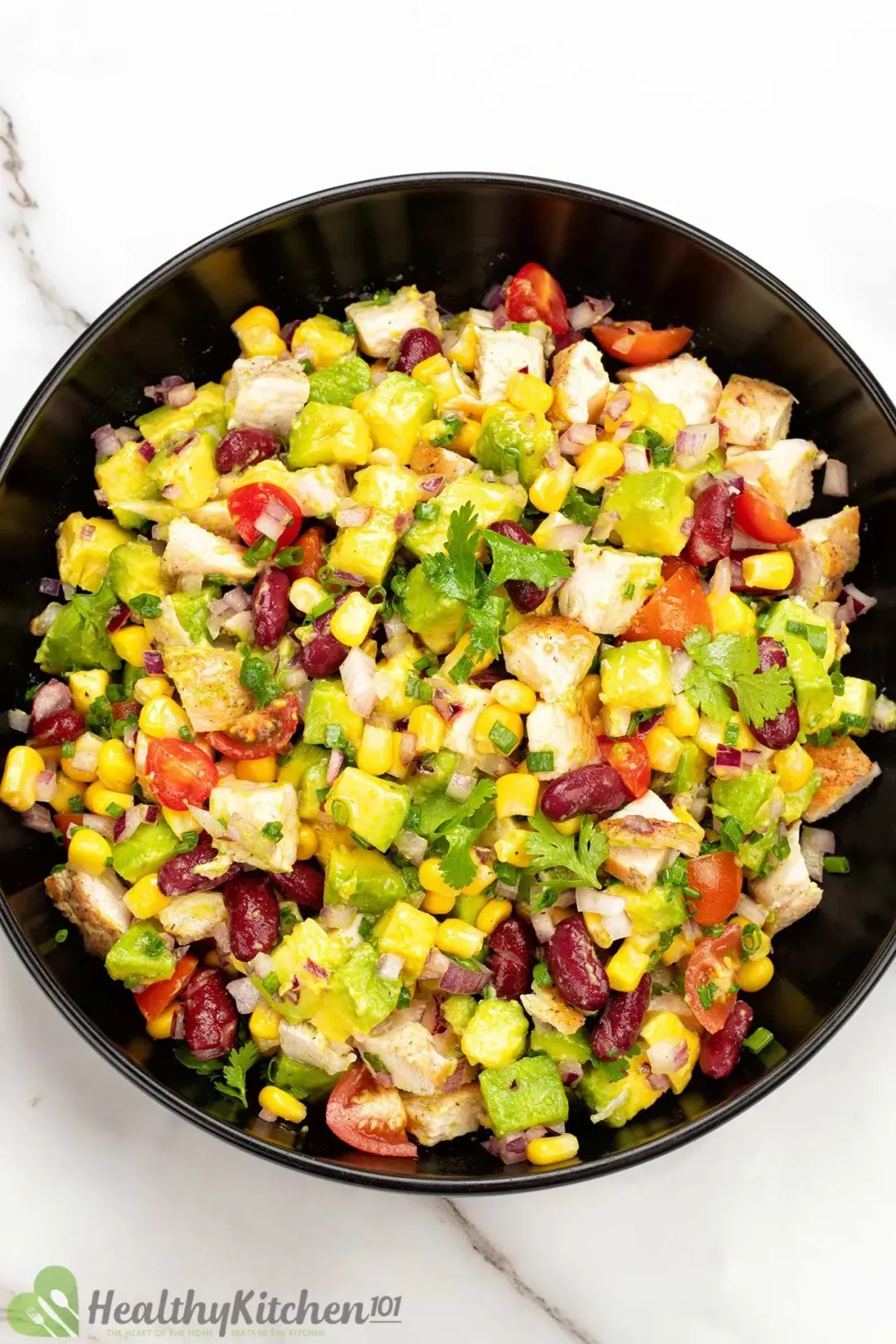 3. Greek Yogurt
Although avocado is enough to make the salad smooth, you can consider adding Greek yogurt or sour cream for more flavor. Of course, this would increase the nutritional values of the salad accordingly, including the total calories and fat.
Looking for another recipe to serve the family? Whether you want an easy dish at home or something perfect for lunch, we have the perfect accessories.
FAQ
1. How Many Calories Are in Avocado Chicken Salad?
This avocado chicken salad provides 235 calories per serving.
2. How Long Does Avocado Chicken Salad Last?
Avocado chicken salad can keep in the refrigerator for 3-4 days. Cover the salad tightly with plastic wrap to slow down the browning of the avocado and put in the fridge.
However, please note that the browning is simply unavoidable; all we can do is slow it down. Normally, the browning will happen within 1-2 days after preparing.
If you want to make this salad in advance, it's best to prepare everything except the avocado. When you are ready to eat, mash the avocado and add it to the salad right before serving.
3. Can You Freeze Avocado Chicken Salad?
Yes, you can. Simply follow the same storing process as when refrigerating, but this time, put it into the freezer.
Avocado chicken salad can remain edible for 2 months in the freezer. A word of warning, though: the salad will become murky and squashy after reheating, which can be unattractive.
Avocado Chicken Salad
In this avocado chicken salad recipe, besides the juicy and savory chicken, you'll have fresh and vigorous flavors from the avocado and the combination of vegetables. Finally, the addition of lime and coriander can also brighten the whole thing. Vibrant and attractive colors in one bowl of salad!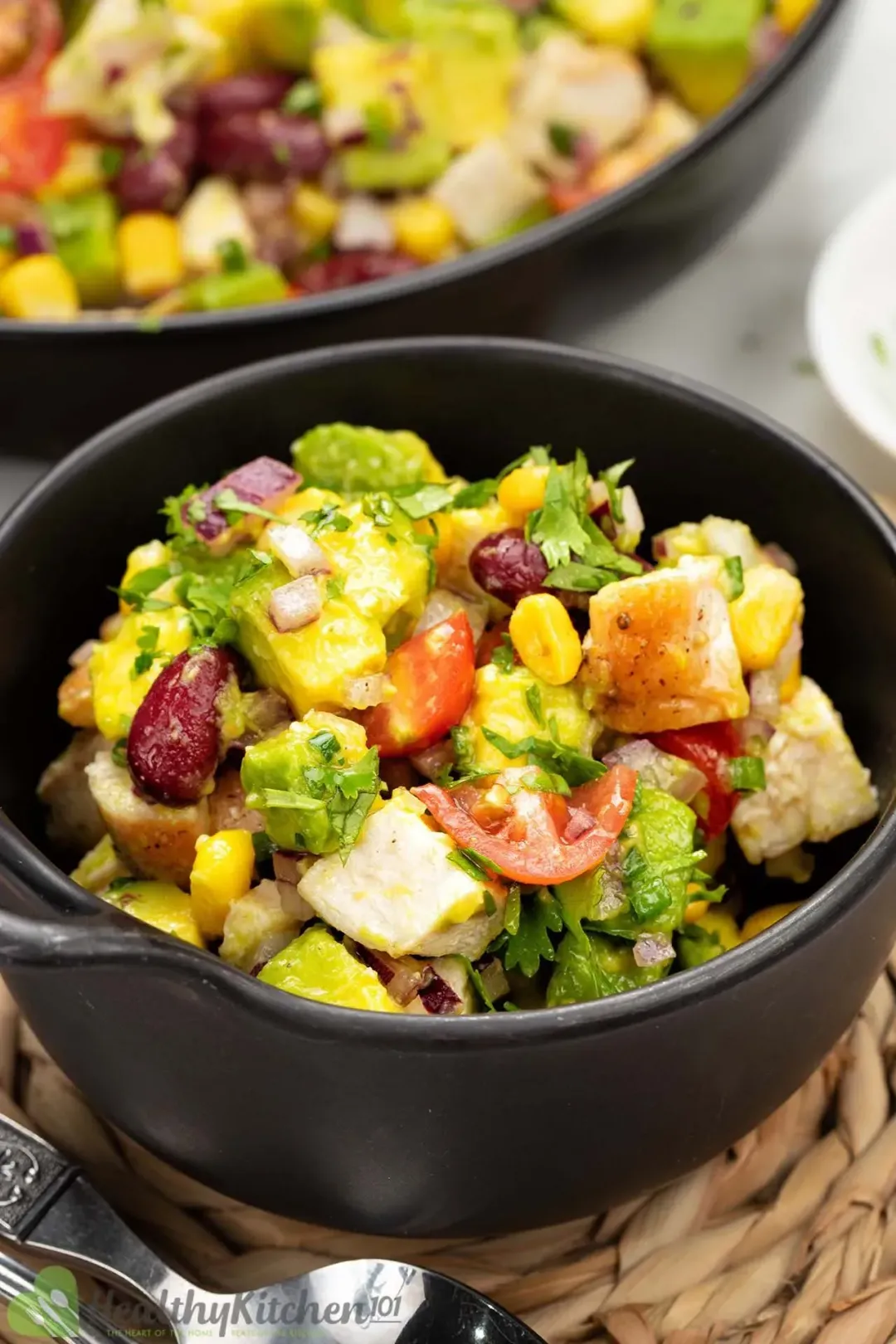 cook TIME

40 mins

prep TIME

10 mins

total TIME

50 mins
COURSE

Side Dish

CUISINE

American

SERVINGS

CALORIES

235 kcal
INGREDIENTS
6 oz

skinless boneless chicken breast

2 oz

cherry tomatoes

(halved)

2 oz

unsalted dark red kidney beans

3 tbsp

cilantro

(chopped)

2 tbsp

scallions

(chopped)

3/8 tsp

salt

(divided into 1/4 tsp and 1/8 tsp)

1/4 tsp

ground black pepper

(divided)

2 tbsp

olive oil

(divided)
INSTRUCTIONS
1
Rub the 6 oz whole-piece chicken breast with 1/8 tsp of ground black pepper and 1/8 tsp of salt. Let rest for 5 minutes.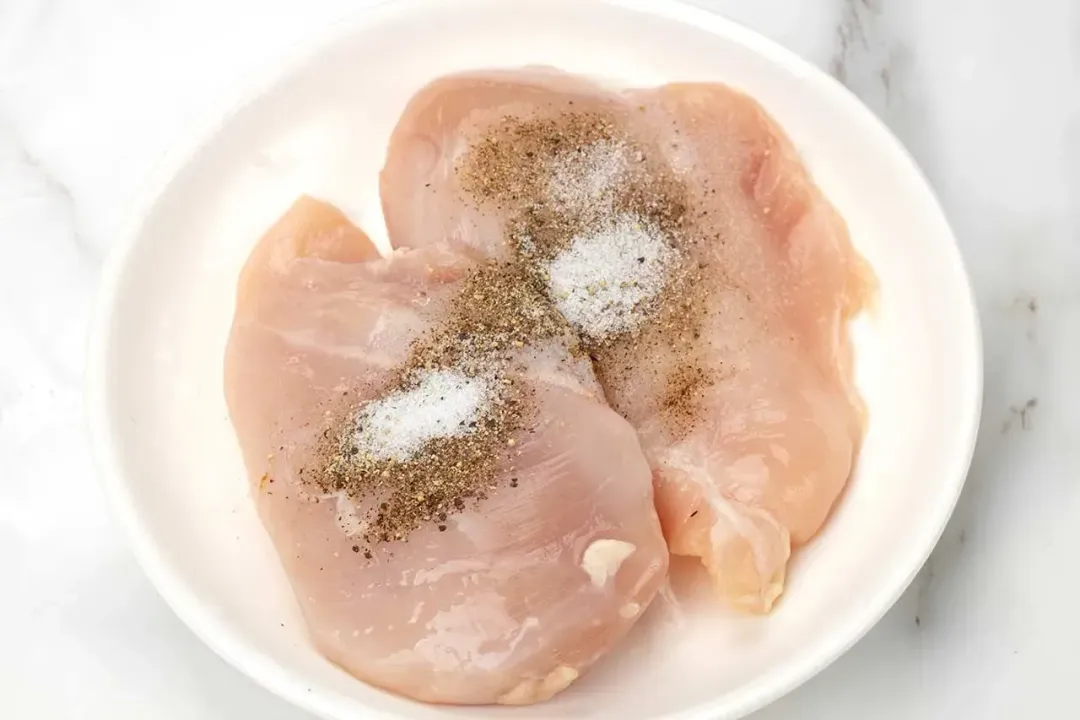 2
Heat 1 tbsp of olive oil over medium heat. Turn the heat down to low, add the chicken, and sear for about 10 minutes until golden on both sides.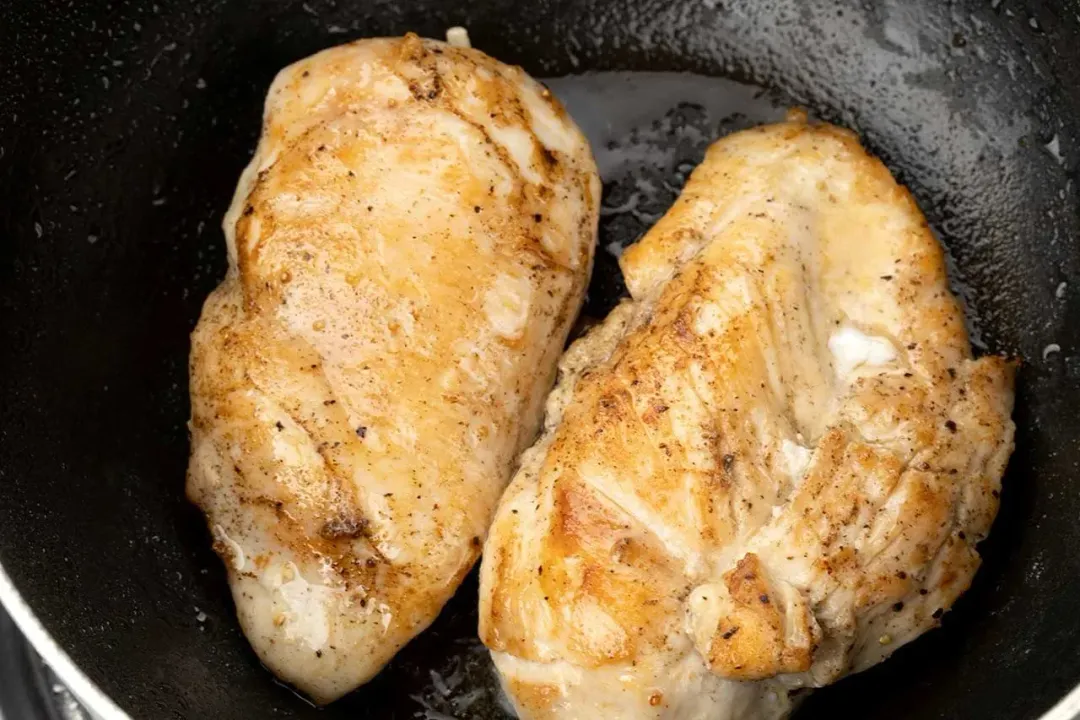 3
Allow it to cool down and then chop into chunks.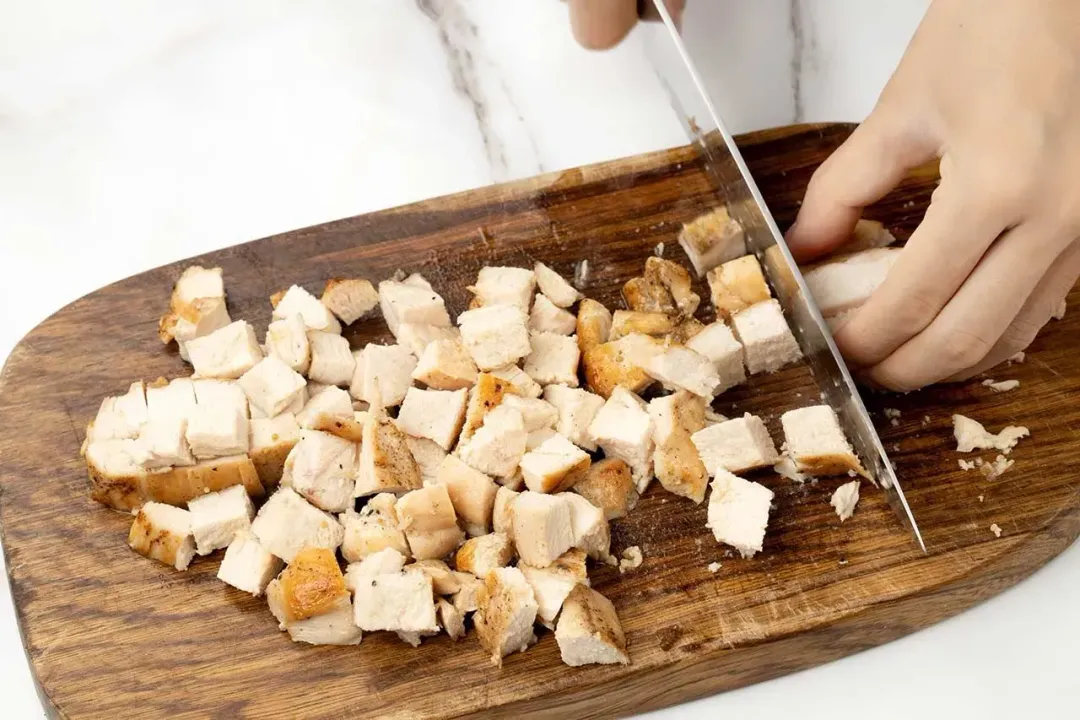 4
Make the dressing: In a small bowl, whisk together 1/8 tsp of ground black pepper, 1/4 tsp of salt, 1 tbsp of olive oil, and 2 tbsp of lime juice.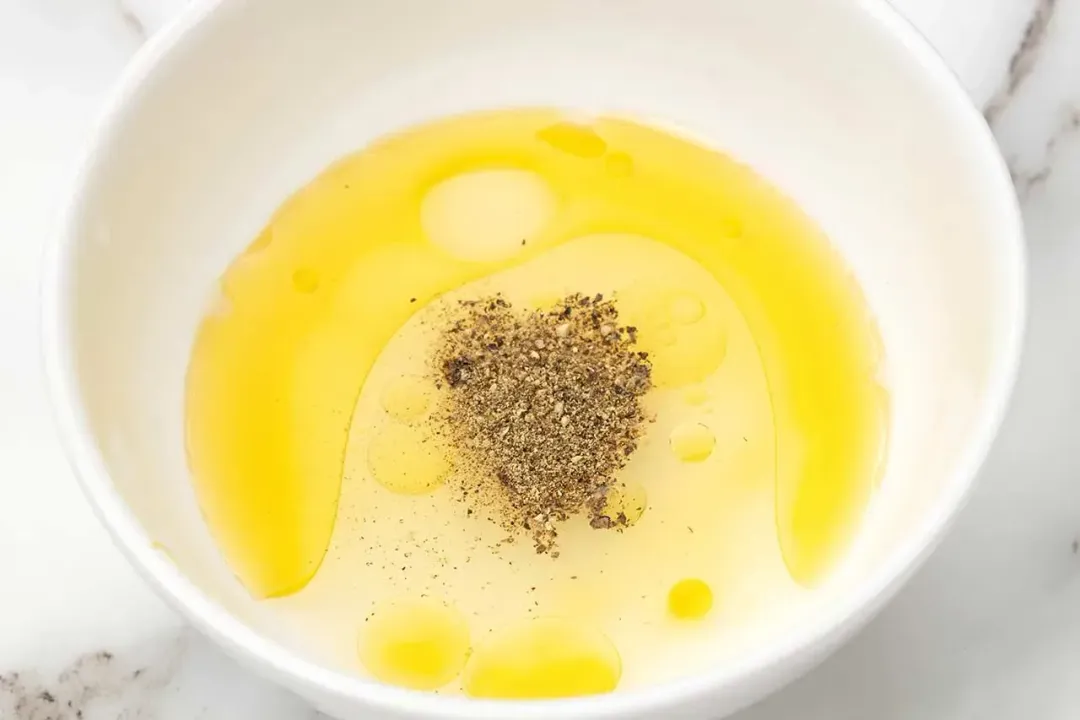 5
Toss the chicken, 7 oz avocado, 3 oz sweet corn, 2 oz cherry tomatoes, 2 oz red onion, 2 oz dark kidney beans, 2 tbsp scallions, and 3 tbsp cilantro together with the dressing.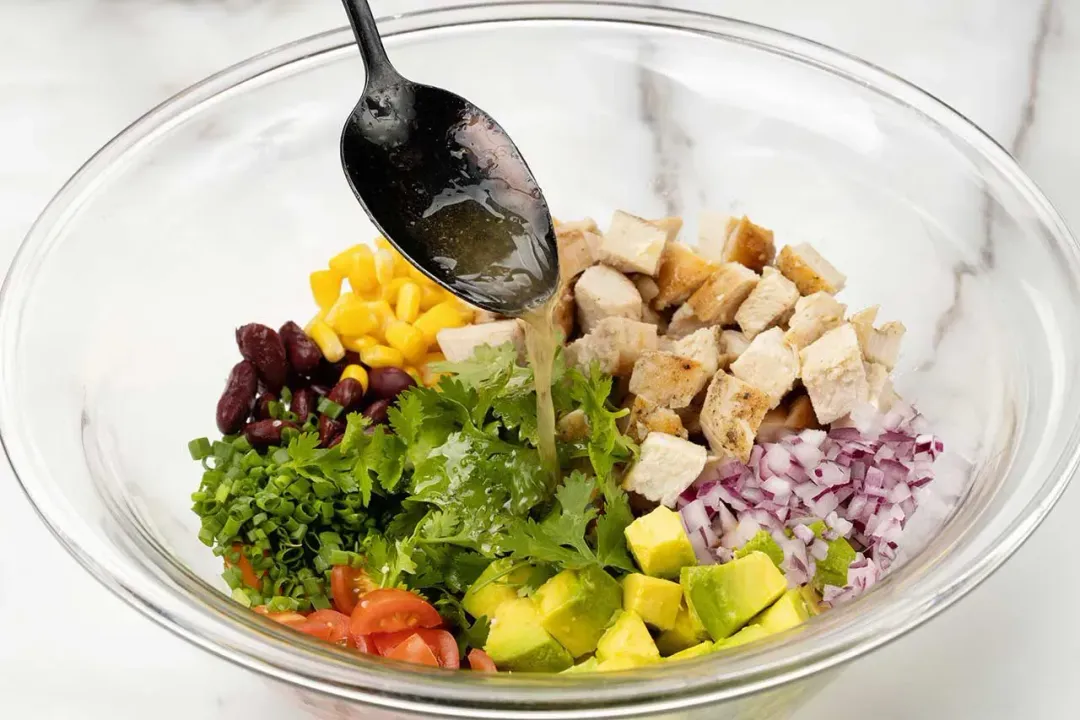 6
Serve immediately or chill first, if desired.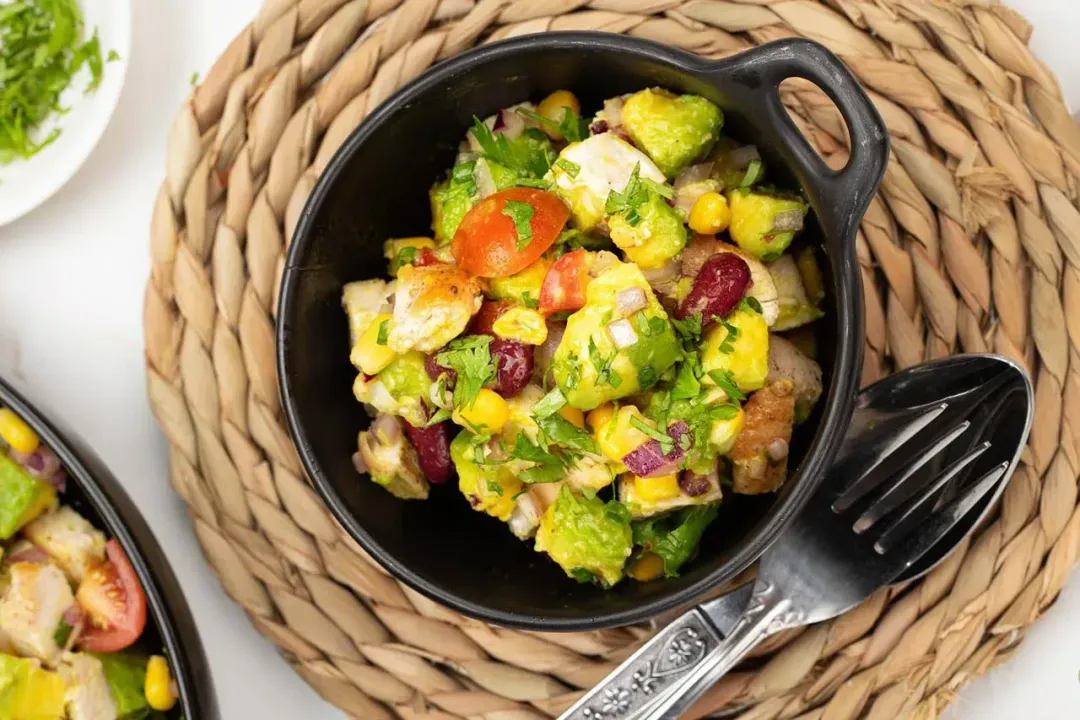 NUTRITION
Nutrition Facts
Avocado Chicken Salad
Amount Per Serving (1 serving)
Calories 235
Calories from Fat 144
% Daily Value*
* Percent Daily Values are based on a 2000 calorie diet.
Keywords: Avocado Chicken Salad, Avocado Chicken Salad Recipe, How to Make Avocado Chicken Salad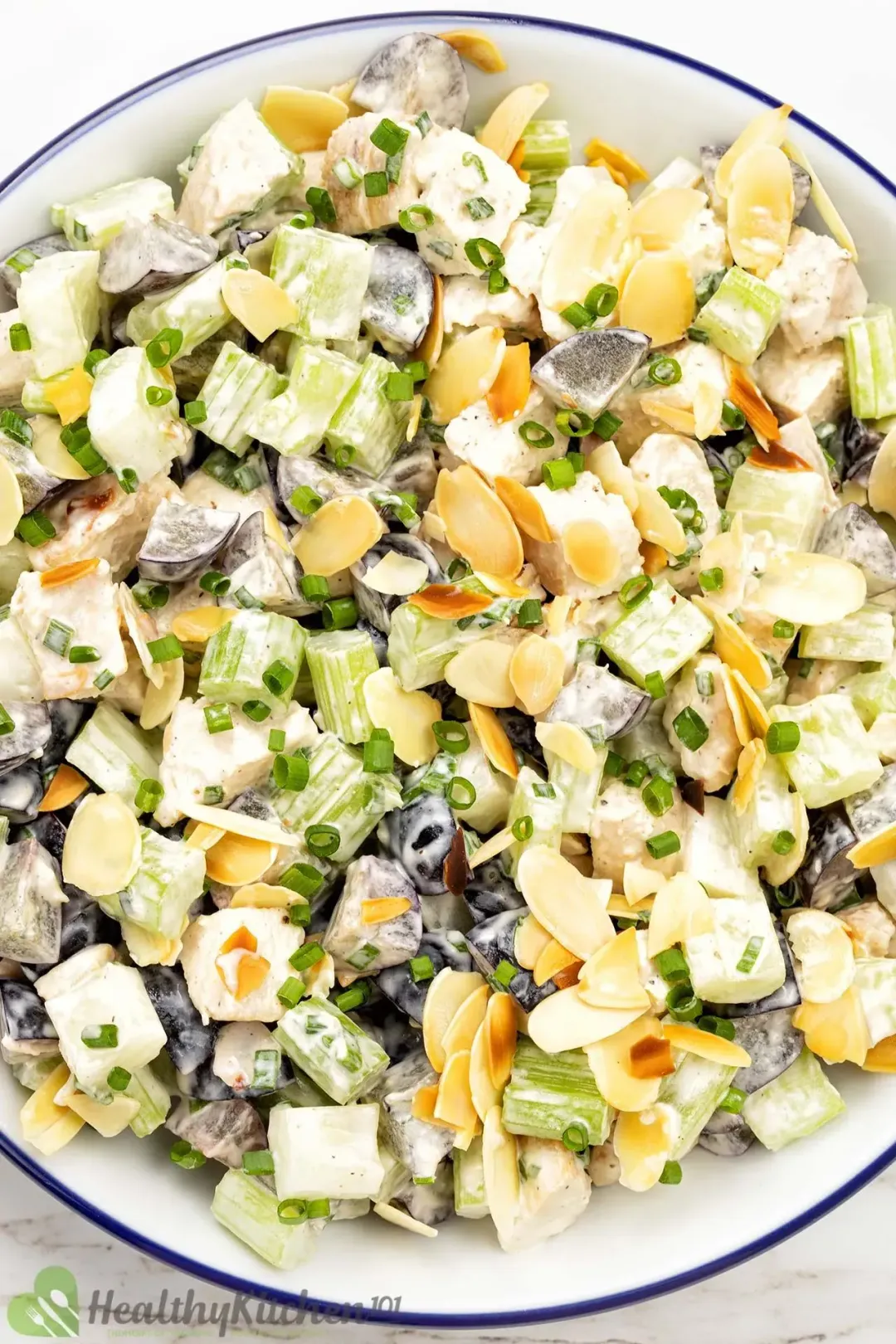 Previous Recipe
Chicken Salad With Grapes
Chicken Salad With Grapes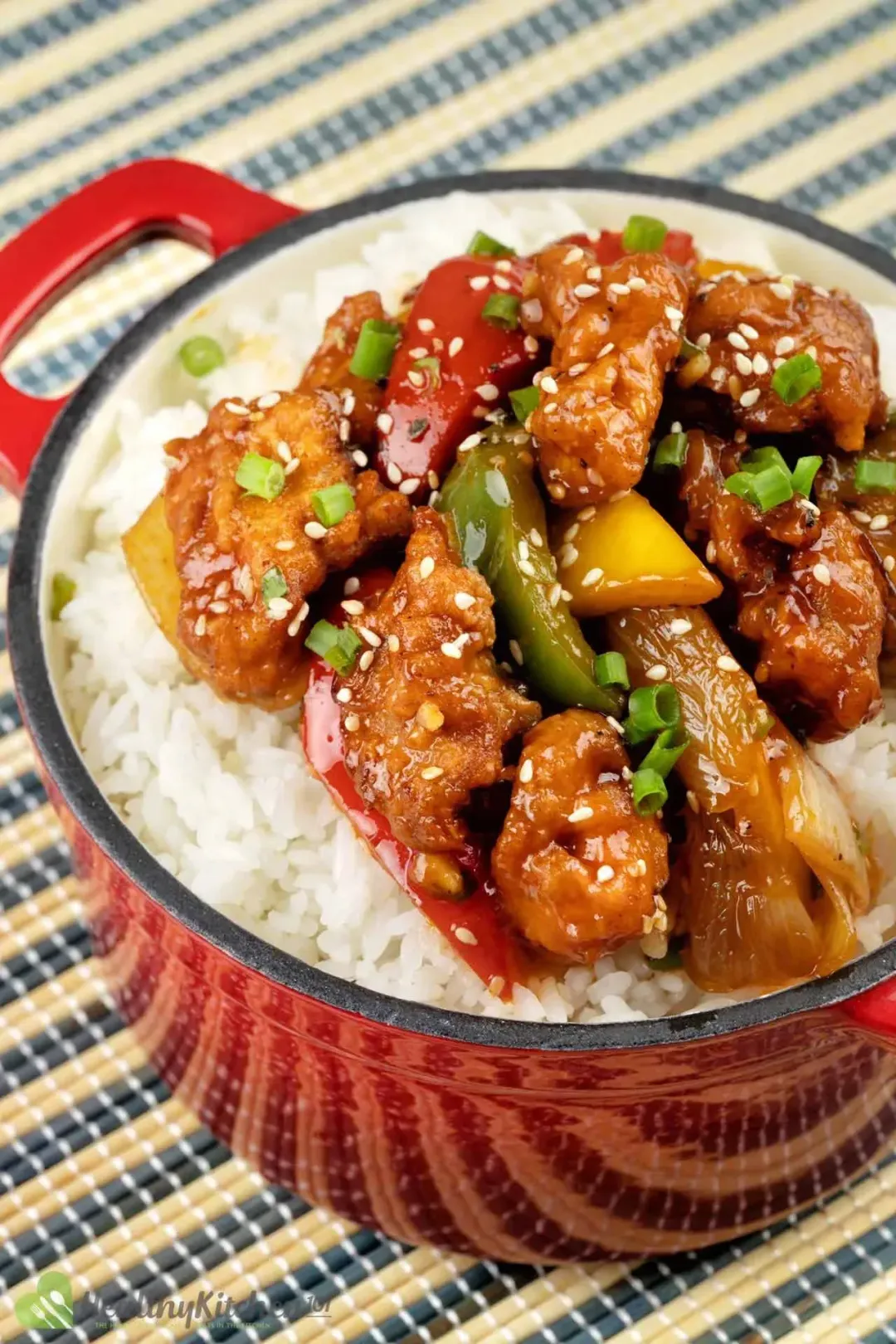 Next Recipe
Sweet and Sour Chicken
Sweet and Sour Chicken
Head Chef, Culinary Consultant
Tuyet Pham is an award-winning Saigonese chef who believes that joy is the secret ingredient to delicious food. At Healthy Recipes 101, Tuyet personally tests and simplifies every recipe, ensuring maximum flavor with minimal effort. With a background at prestigious French restaurants P'TI Saigon and Le Corto, Tuyet knows how to make every dish exceptional.
Writer, Author
Luna Regina is an accomplished writer and author who dedicates her career to empowering home cooks and making cooking effortless for everyone. She is the founder of HealthyKitchen101.com and HealthyRecipes101.com, where she works with her team to develop easy, nutritious recipes and help aspiring cooks choose the right kitchen appliances.
Nutrition Reviewer
Lizzie Streit is a Minneapolis-based dietitian and founder of It's a Veg World After All. She completed her MS in Human Nutrition from Drexel University, and is an expert in culinary nutrition, recipe development, and nutrition communications. Lizzie's philosophy is centered around making nutrition recommendations, and especially the advice to eat more vegetables, approachable and realistic. She is excited to be working with the team at Healthy Recipes 101 to ensure that their recipes are both nutritious and delicious.
A great way to use up any leftover chicken you may have.