This ginger chicken recipe showcases one of the signature traits of Asian cuisine, using fresh aromatics as the flavor base of dishes.
Dominated by the scent and flavor of ginger, this recipe is on the intense side of the Asian dish spectrum. However, the carefully-selected ingredients balance each other out nicely to create a harmonious dish.
Reasons to Love
Ginger is one of the most popular aromatics in Asian cuisine, and this recipe certainly puts the intense fragrance of this spice in the spotlight. Aside from ginger, this dish also benefits from the collective taste of multiple Asian spices like garlic, scallions, and shallots.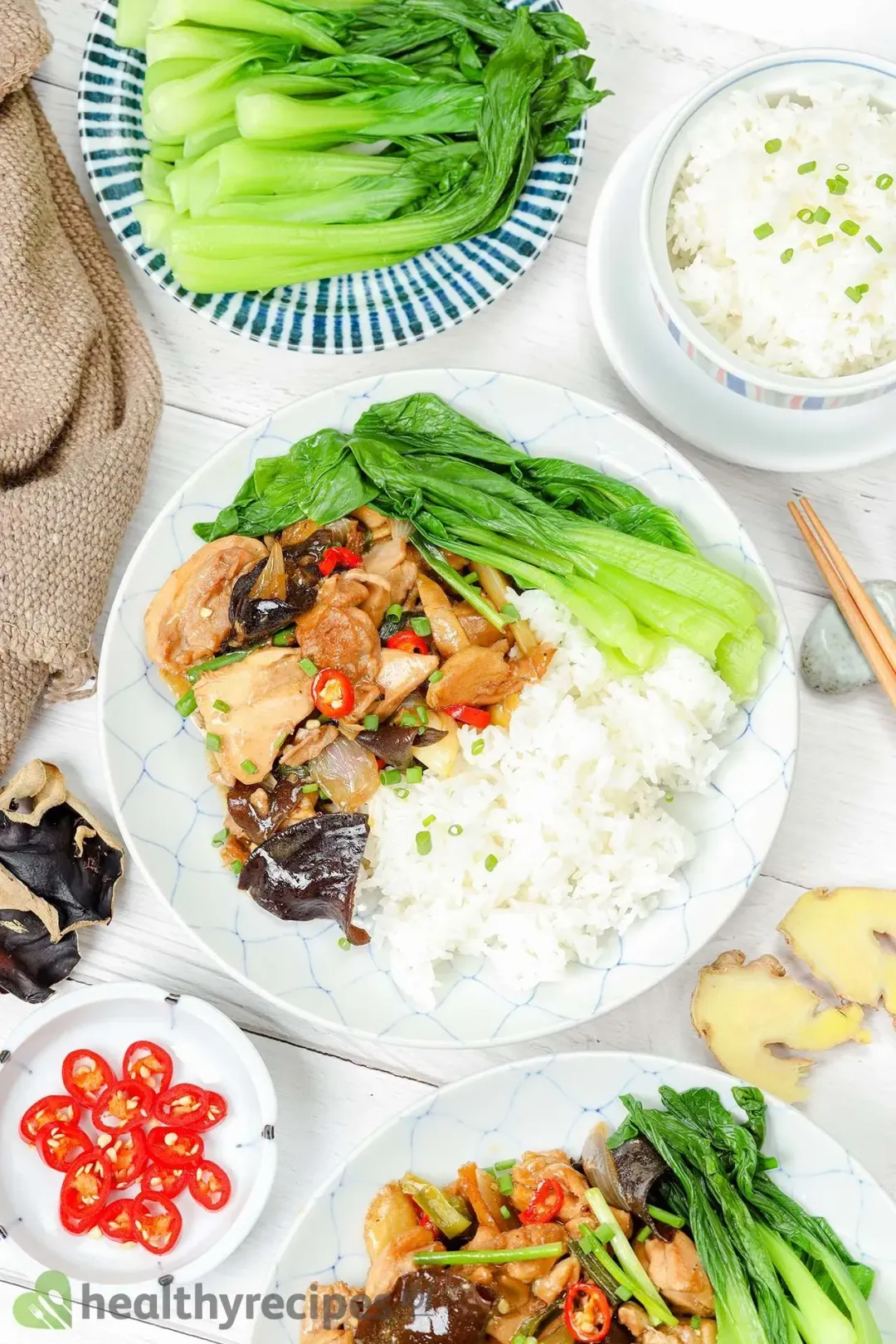 This recipe is also highly customizable so you can use your favorite chicken cuts and vegetables in place of the ones you'll find here. Lastly, the simplicity of this dish compensates for the long cooking time.
Is Our Recipe Healthy?
Yes, our ginger chicken makes a good option in a healthy diet.
This dish has only 495 calories and 2.2 g of saturated fat in each serving, which are reasonable numbers according to our nutrition guidelines. 
The combination of soy sauce and fish sauce takes the sodium level to 604 mg per serving. We make sure to use reduced-sodium soy sauce to keep this within the limits of our guidelines.
On another note, chicken thighs and wood ear mushrooms give you 31.8 g of protein in one portion. Bok choy and aromatics (ginger, garlic, shallot, and scallions) provide you with fiber, antioxidants, and minerals.
Ingredients for This Recipe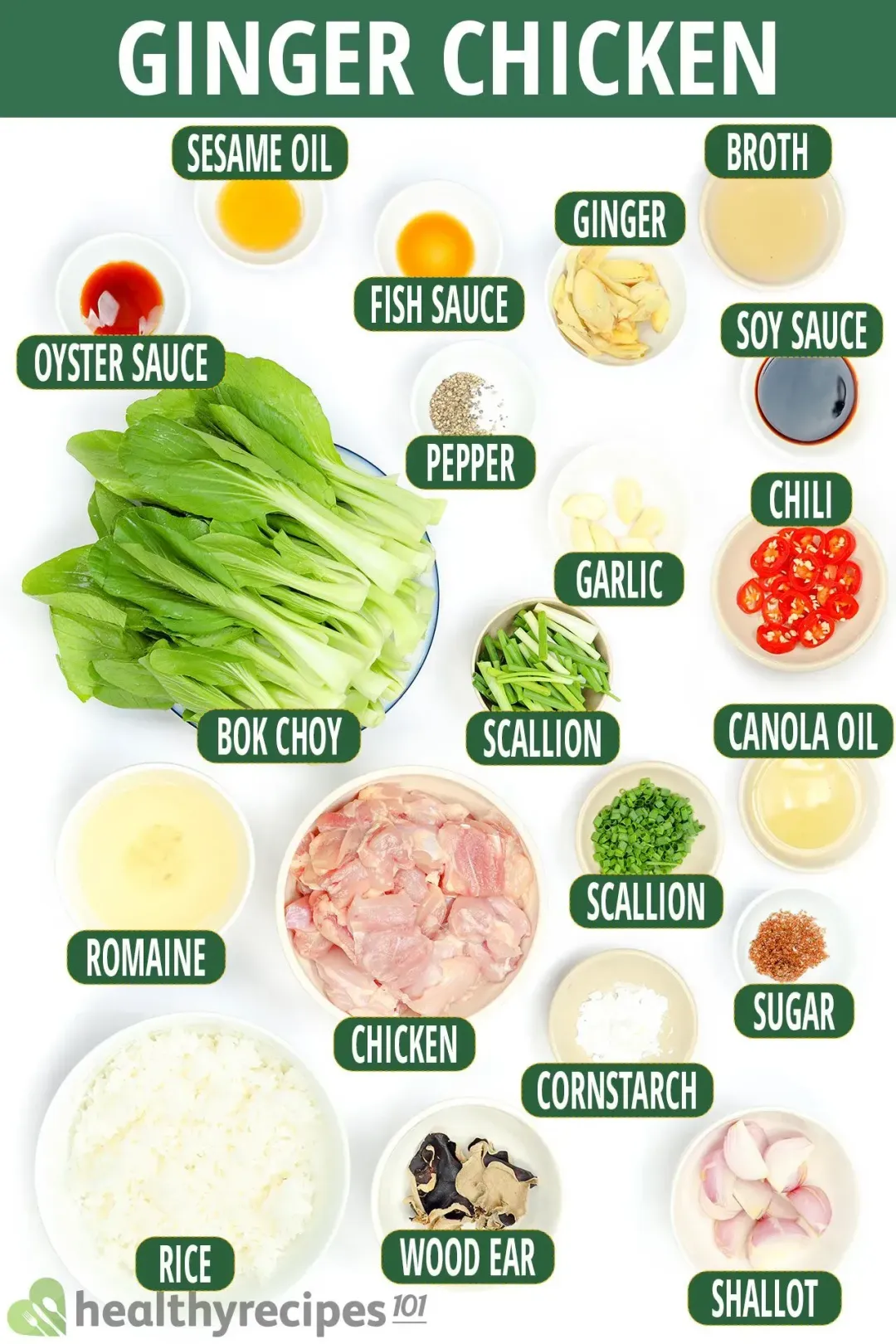 Chicken: Chicken thighs are more succulent and tender than chicken breasts. We do not include the skin and bone to cut down on the fat content and make this dish easier to eat. With that said, any cut of chicken will work in this dish, so you can choose your favorite. There's no need to marinate the chicken in advance because it will absorb a lot of flavors during the cooking process.
Sauce: This versatile sauce works with almost any protein and packs a ton of flavor into your dish. It is used by a lot of Asian home cooks and features some of the most prominent condiments of the cuisine. The sauce is a combination of chicken broth, soy sauce, fish sauce, oyster sauce, sesame oil, brown sugar, and ground black pepper. It gives the dish an intangible taste that may seem a bit much at first glance, but it is balanced enough to elevate the other ingredients without overwhelming them. Cornstarch is a vital ingredient to thicken the sauce and help it coat the chicken.
Aromatics: We need to single out the aromatics to show you how important they are. In this recipe, we have arguably the most common ones on one plate. Ginger, garlic, shallot, scallions, and white wine together give you a signature warm, spicy, and fragrant taste that you can't find in other ingredients.
Vegetables: Bok choy and wood ear mushrooms are the two vegetables playing the supporting roles. The crunchy and leafy textures of mushrooms and bok choy give this dish more diversity of character.
Others: We serve the chicken and vegetables with white rice to round out the meal. And lastly, bird's eye chili adds some color and a spicy kick.
How to Store and Reheat Leftovers
Ginger chicken should last in the fridge for 3 days and in the freezer for 2 to 3 months. Use airtight containers or freezer bags to store the leftovers.
You can reheat the leftovers in a skillet over low heat. Stir frequently to let it cook evenly and take it off the heat when warm through to avoid overcooking the chicken.
What to Serve With
We love to pair this delicious chicken dish with a light and refreshing soup or stir-fried vegetables. These are our suggestions: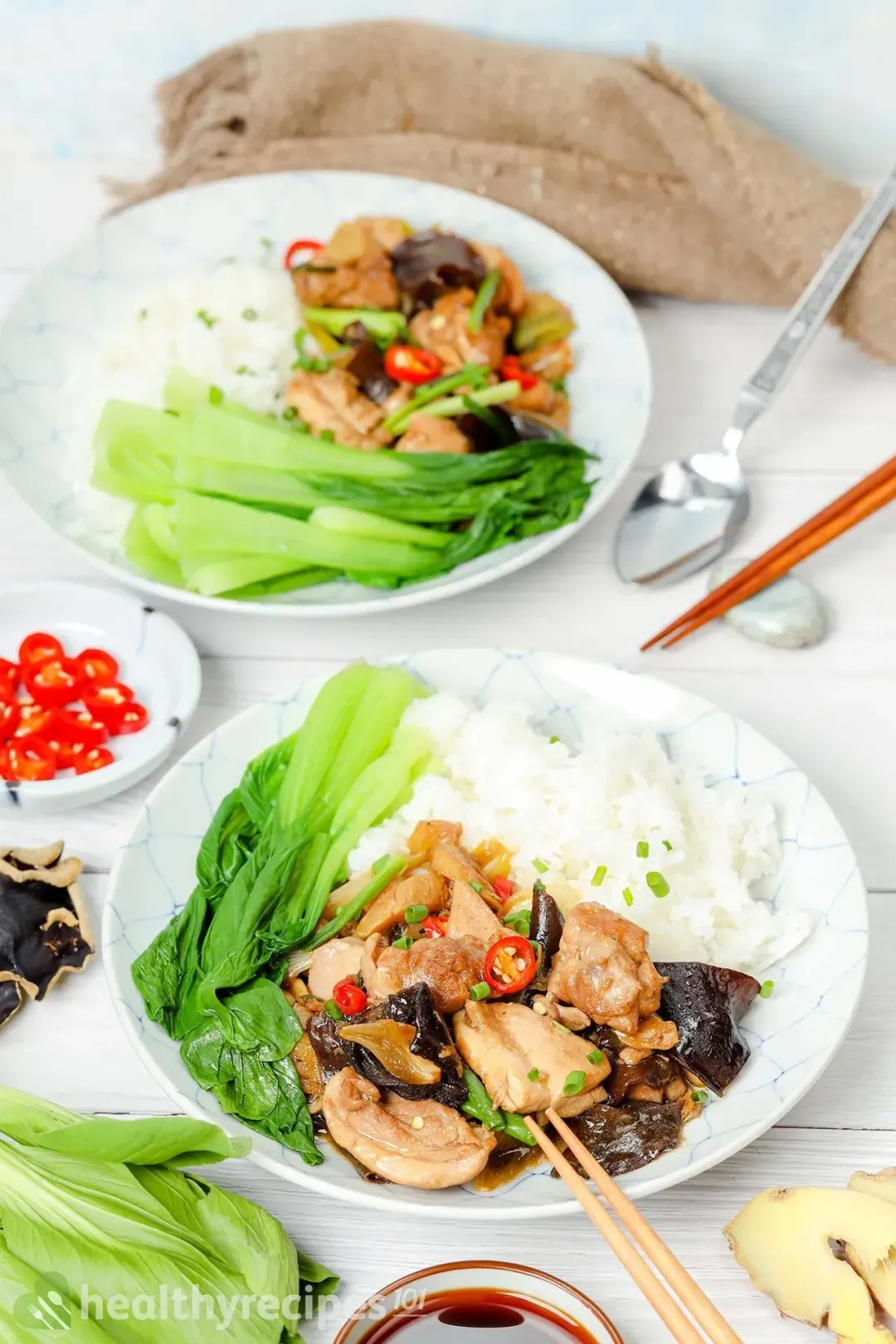 Some Really Juicy Chicken Dishes You Shouldn't Miss
Among our saucy chicken skillets, this one is the most savory. It combines both regular mustard and whole grain mustard, packing each bite with a serious depth of flavor. The sauce also cooks potato wedges, peas, and mushrooms, leftover of which you can also serve atop cooked pasta.
This Indian casserole not only coats, but also presses all of the flavors into each grain of rice and each strand of meat. The result is the most savory, robust meal you could have. Oh, we just checked—everything cooks in a skillet, so it's very easy.
How to Make Ginger Chicken
Our ginger chicken recipe shows you how to make a fragrant and aromatic chicken dish with ginger as the dominant ingredient.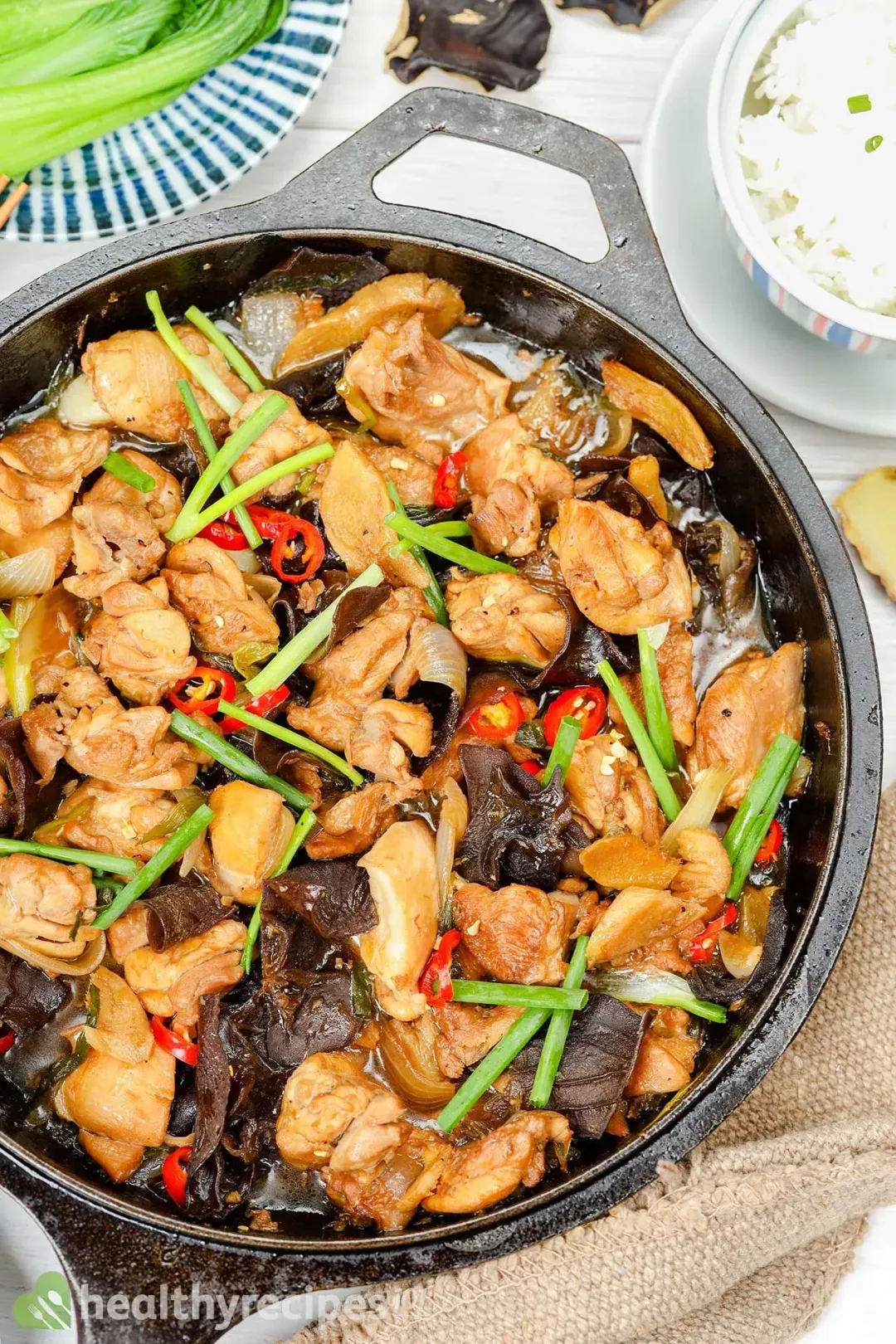 cook TIME

45 mins

prep TIME

15 mins

total TIME

1 hr
COURSE

Main Course

CUISINE

Asian

SERVINGS

CALORIES

495 kcal
INGREDIENTS
18 oz

skinless boneless chicken thighs

(cut into bite-sized pieces)

8 oz

bok choy

(leaves separated)

1 oz

shallot

(cut into wedges)

1 oz

scallion

(cut into segments)

1/4 cups

scallion

(sliced)

0.7 oz

dried wood ear mushrooms

1 oz

bird's eye chili

(sliced)

1 cup

unsalted chicken broth

2 tbsp

reduced-sodium soy sauce

1/2 tsp

ground black pepper

3 1/2 cups

cooked medium-grain rice

(from 1 3/4 cups uncooked)
INSTRUCTIONS
Prep:
1
Cut the chicken: Trim off the fat on the chicken thighs. Cut the thighs lengthwise into the strips, then cut the strips into bite-sized pieces.
2
Prepare the bok choy: Slice off the root of the bok choy and separate the leaves.
3
Slice the ginger: Separate the knobs and peel the skin with a knife. Cut the knobs into thin slices.
4
Cut the shallot: Slice off the top and bottom parts, then peel off the skin. Cut the shallots in half, then cut the halves into wedges.
5
Cut the scallion: Bunch the scallions together and cut 1 oz of 1-inch-long segments. Chop the rest of the scallions to get 1/4 cup of thin round scallion slices.
6
Slice the chili: Hold the chili firmly on the cutting board and cut it into thin slices, leaving the seeds intact.
7
Cook the rice: Use a pot, rice cooker, Instant Pot, or microwave to cook rice.
Cook:
1
Make the sauce: Prepare a small bowl. Add 1 tsp brown sugar, 1/2 tsp ground black pepper, 2 tsp cornstarch, 1 tsp sesame oil, 2 tbsp reduced-sodium soy sauce, 1/2 tsp Thai fish sauce, 1 cup unsalted chicken broth, and 1 tsp oyster sauce. Mix until fully combined.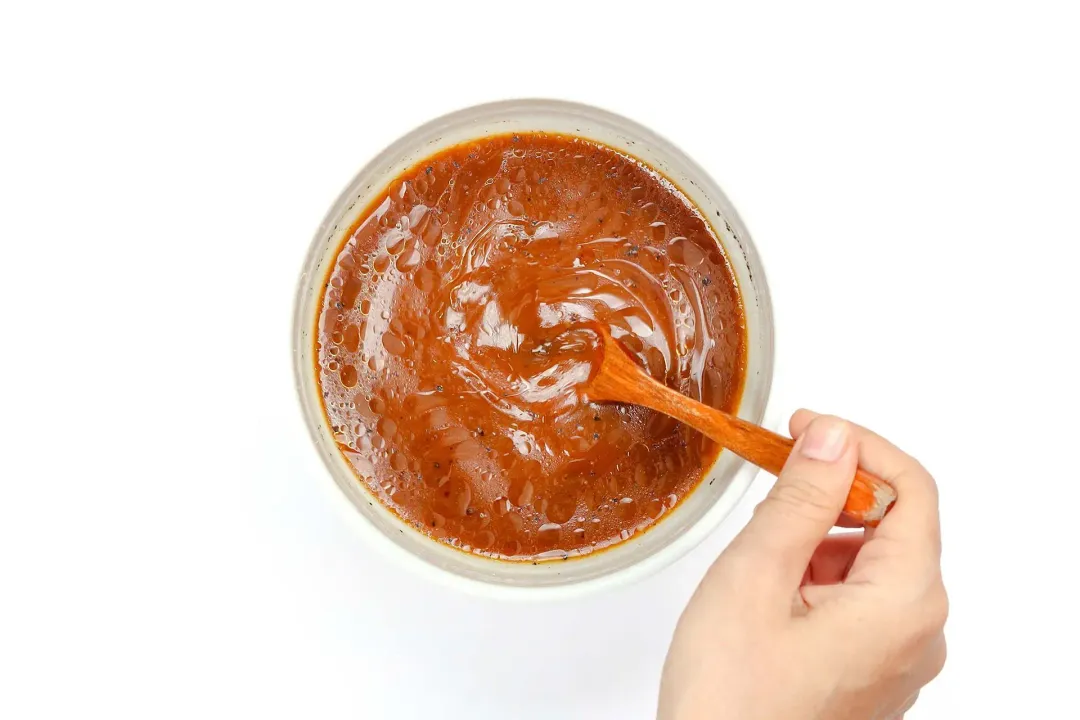 2
Soak the mushrooms: Soak 0.7 oz of dried wood ear mushrooms in warm water for 15 minutes.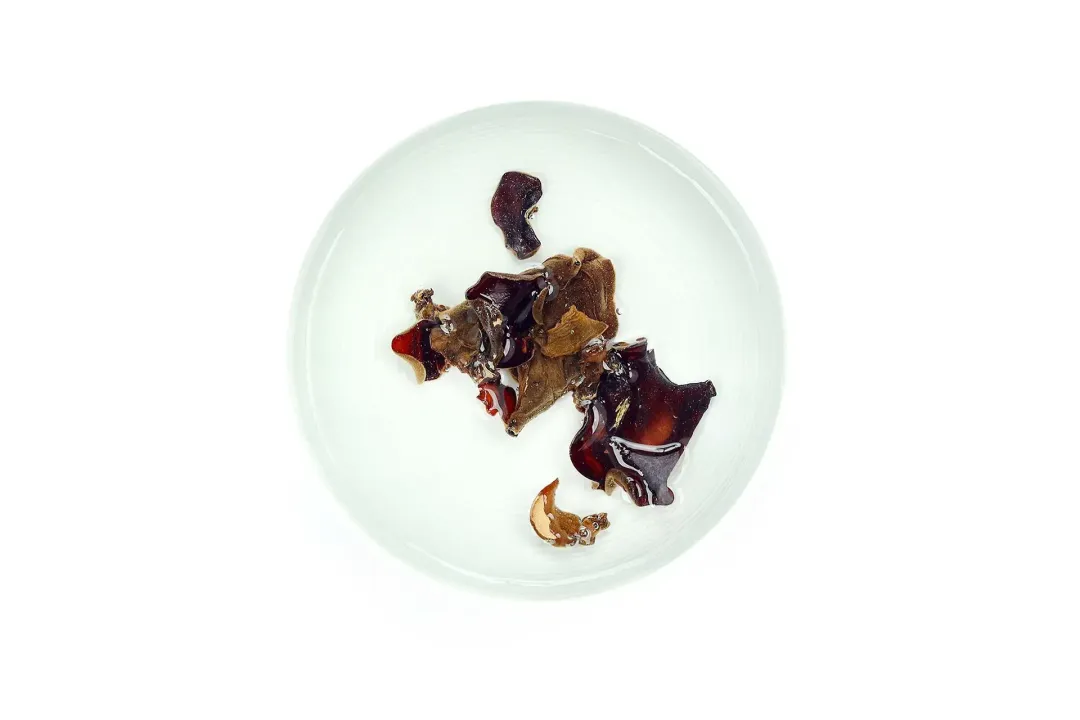 3
Caramelize the ginger: Prepare a hot pan, then add 2 tbsp canola oil and 1 oz ginger. Stir for 1 minute.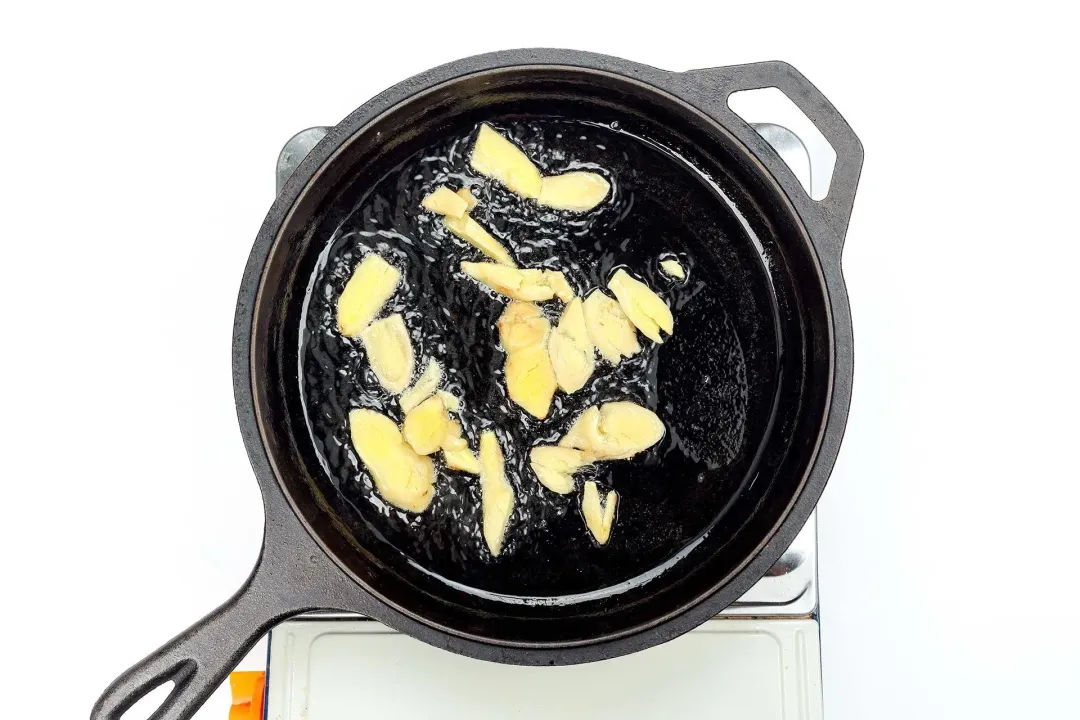 4
Stir-fry the chicken: Add 18 oz chicken thighs, 6 cloves of garlic, and 1 oz shallots. Stir-fry for 5 minutes.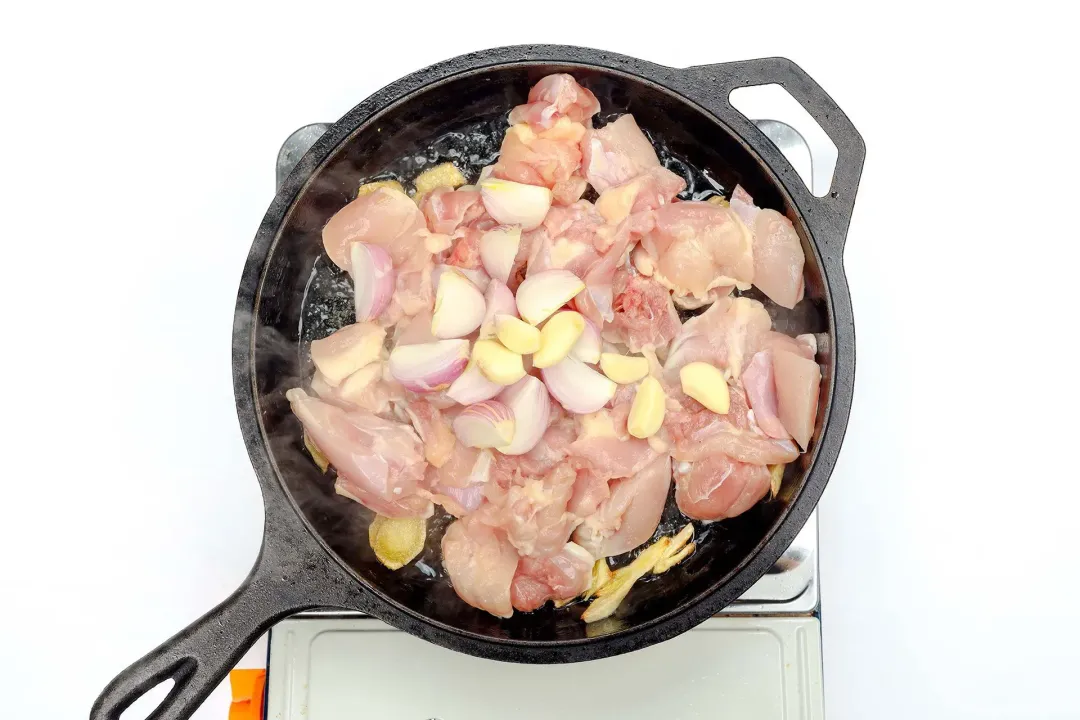 5
Season the chicken: Add the sauce, 2 tbsp white wine, mushrooms, and 0.5 oz scallion segments. Bring it to a boil, then turn it down to low heat and cook for 20 minutes until thickened. Take the pan off the heat.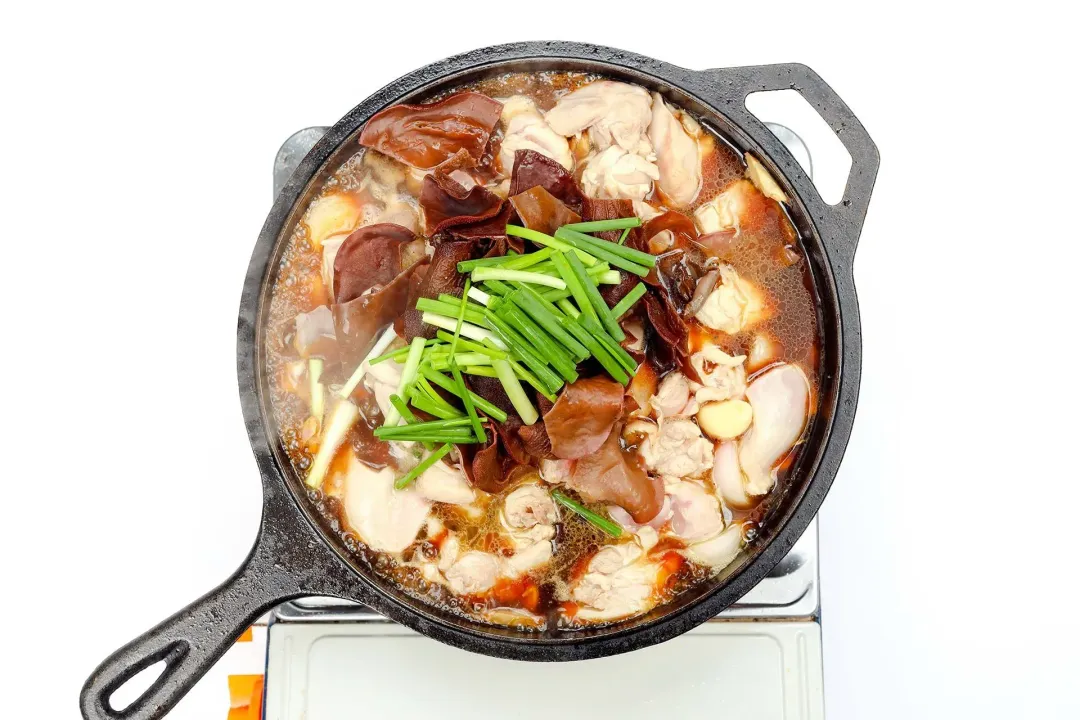 6
Garnish: Sprinkle the rest of the scallions (both segments and slices), and 1 oz bird's eye chili on top of the chicken.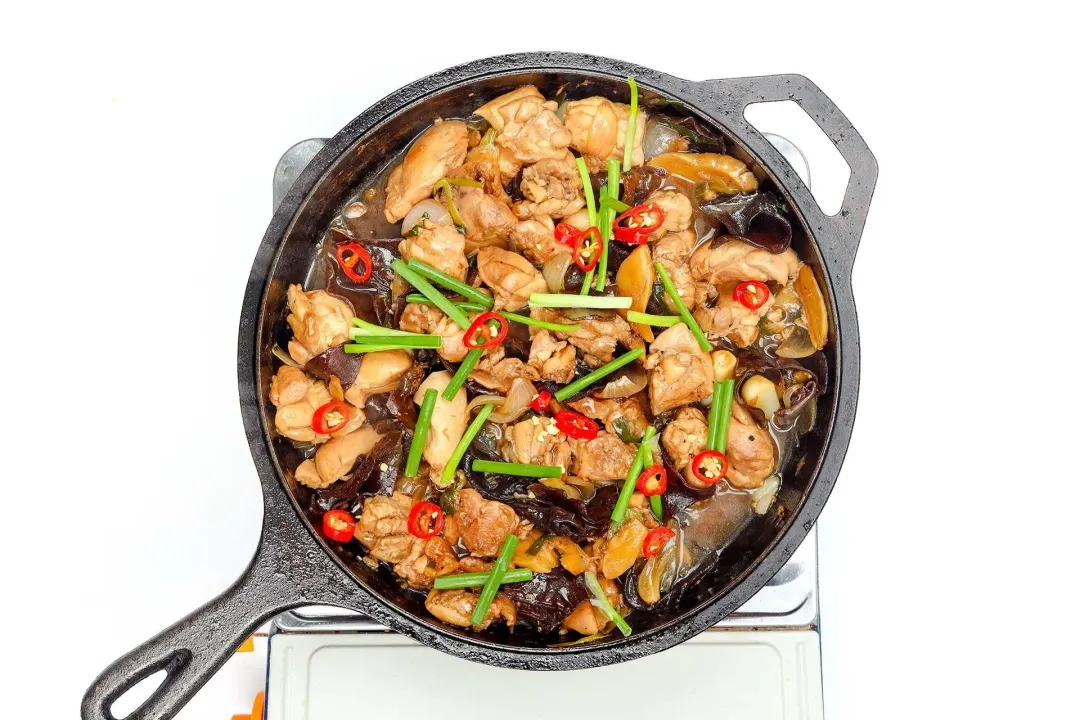 7
Boil the bok choy: Bring a pot of water to a boil and add 8 oz bok choy. Boil the bok choy for 2 minutes and drain.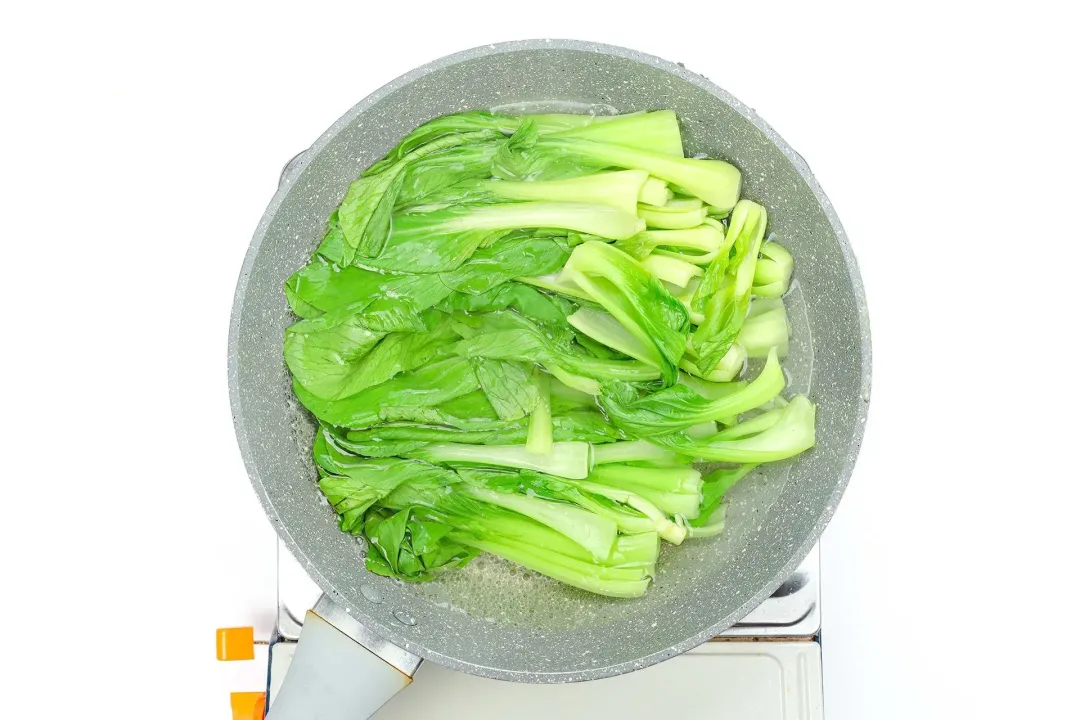 8
Serve and enjoy: Serve the chicken with the bok choy and 3 1/2 cups of cooked rice. Divide the ingredients into 4 servings.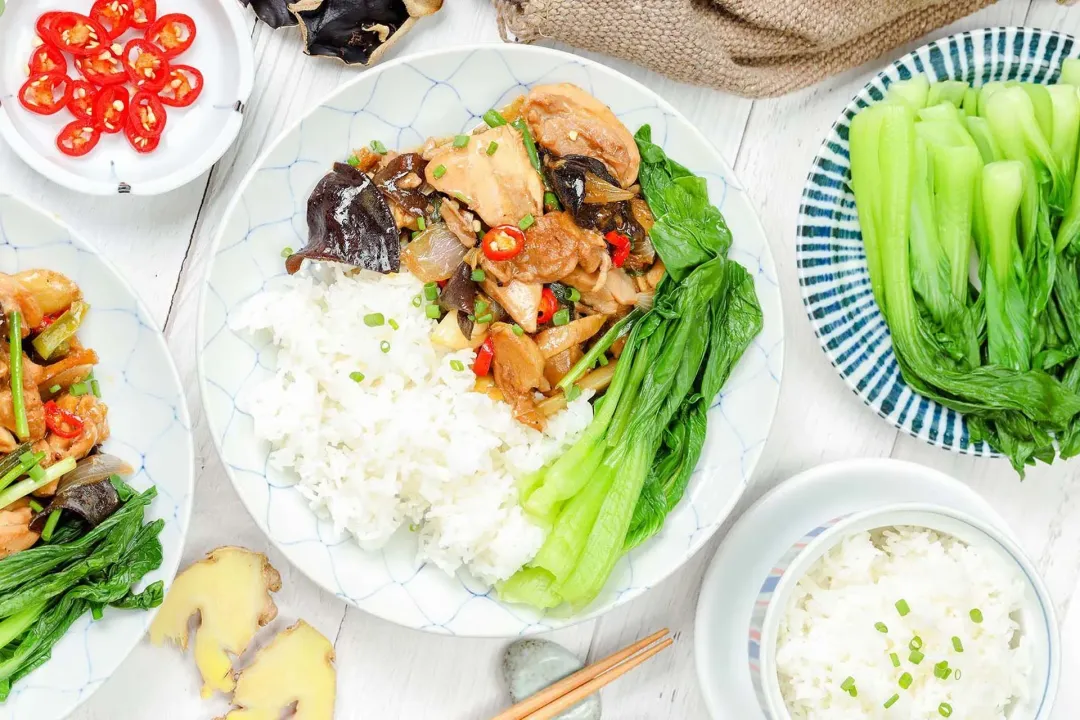 NUTRITION
Nutrition Facts
How to Make Ginger Chicken
Amount Per Serving (1 serving)
Calories 495
Calories from Fat 126
% Daily Value*
* Percent Daily Values are based on a 2000 calorie diet.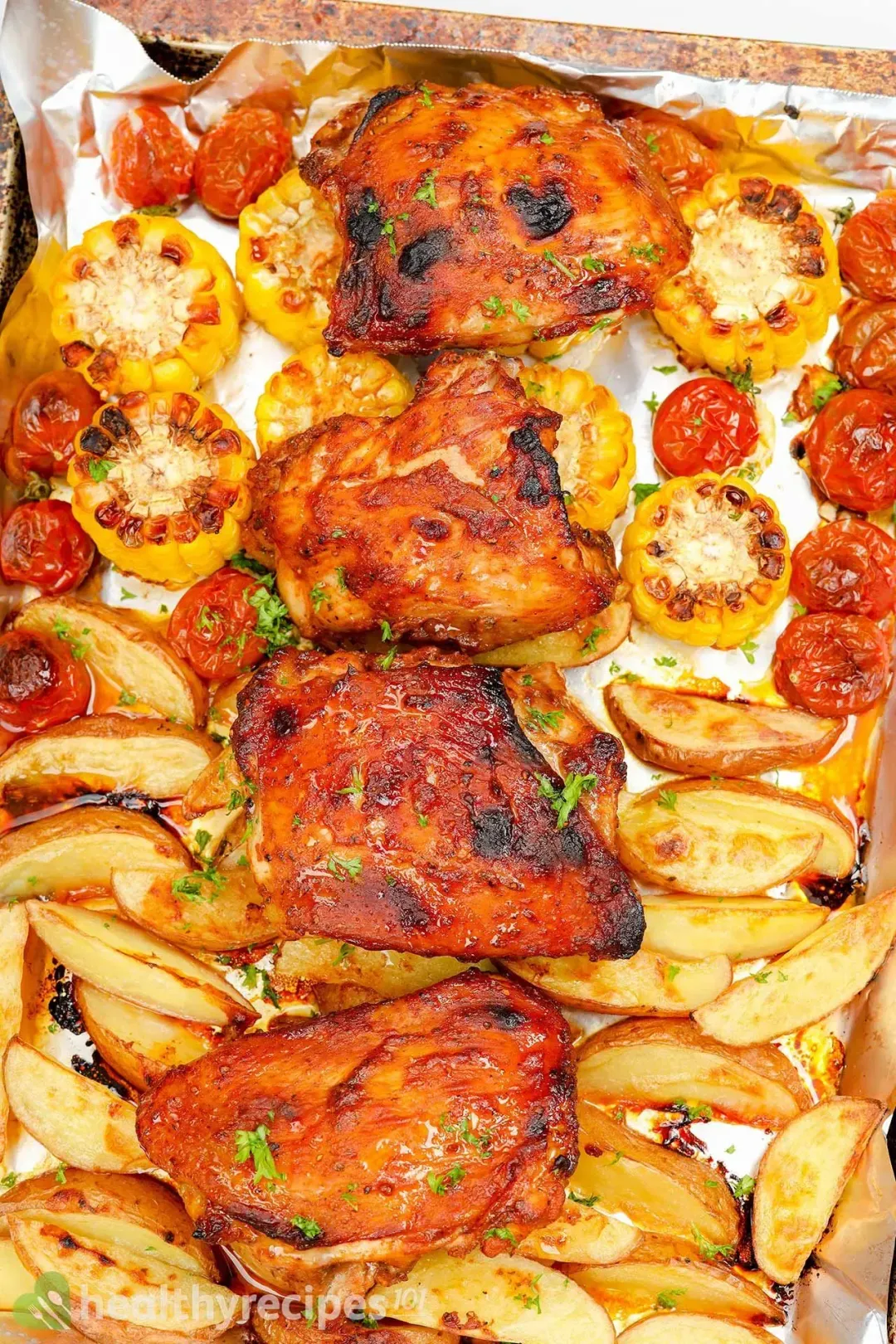 Previous Recipe
Barbecue Chicken
Barbecue Chicken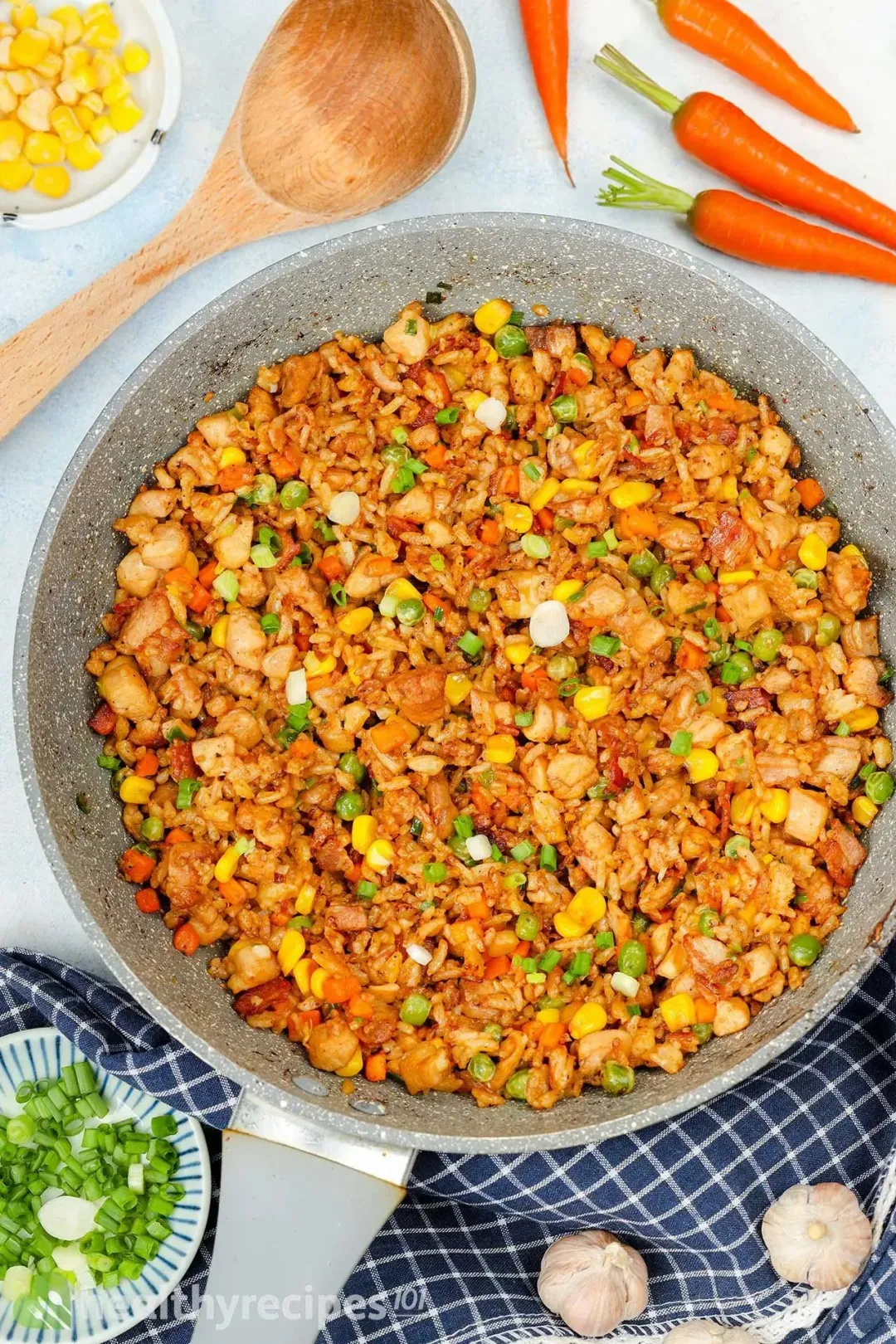 Next Recipe
Chicken Fried Rice
Chicken Fried Rice
Head Chef, Culinary Consultant
Tuyet Pham is an award-winning Saigonese chef who believes that joy is the secret ingredient to delicious food. At Healthy Recipes 101, Tuyet personally tests and simplifies every recipe, ensuring maximum flavor with minimal effort. With a background at prestigious French restaurants P'TI Saigon and Le Corto, Tuyet knows how to make every dish exceptional.
Writer, Author
Luna Regina is an accomplished writer and author who dedicates her career to empowering home cooks and making cooking effortless for everyone. She is the founder of HealthyKitchen101.com and HealthyRecipes101.com, where she works with her team to develop easy, nutritious recipes and help aspiring cooks choose the right kitchen appliances.
Nutrition Reviewer
Natalie Butler is a registered dietitian nutritionist with a passion to help others live their best life through food, fitness, safer beauty and a healthy lifestyle. She has expertise with a variety of diets and diseases and believes that there is no one-size-fits-all approach for health.
The ginger chicken recipe is a must-try! The combination of ginger and chicken creates a deliciously aromatic and savory dish.