If a simple and customizable weeknight dinner is what you're up for, then today's air fryer chicken thighs recipe is for you.
For sure, deliciously seasoned chicken thighs with extra-crispy skin are a classic staple — but this time, you won't be needing any oil to fry them. And that means no extra fat and no splattering all over your clean and tidy kitchen.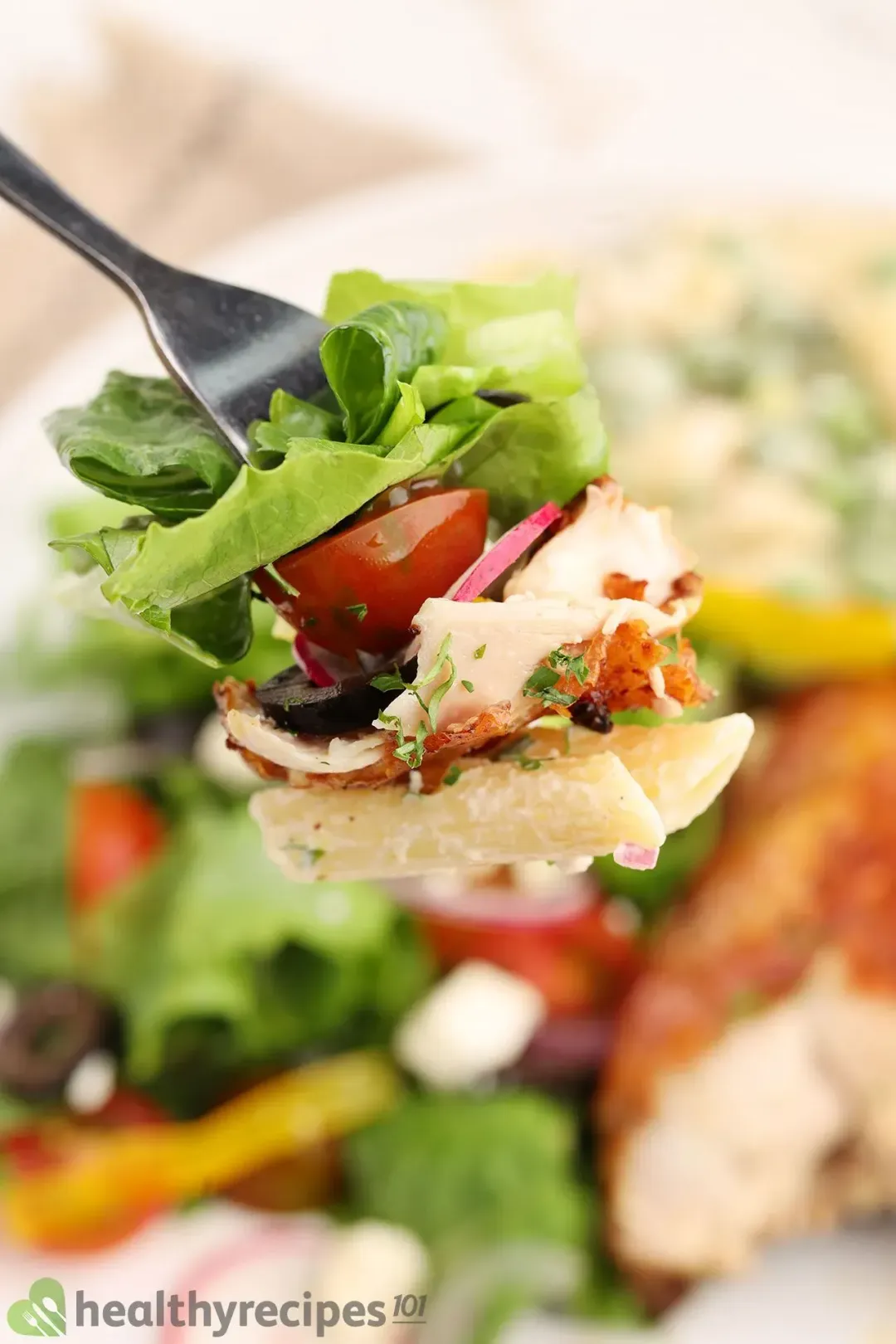 In this recipe, the method of air-frying allows the flavors to meld together in only half the time it takes when cooking on the stovetop. No more need to order out chicken wings; healthy, tasty, and easy home-cooked wings are now a reality!
Are These Air-Fryer Chicken Thighs Healthy?
Yes, we can honestly say with pride that they are!
The air frying method offers a faster, healthier, and more convenient way to roast chicken thighs. Not only that, but you'll also find that they're just as juicy and flavorful as their deep-fried cousins.
We believe air-frying is healthier than pan-frying or baking because there's no breading, added oil, or cooking spray required to create that deliciously crispy skin. As such, artificial trans fats are eliminated, the cooking process is simplified, and the kitchen is kept clean from burning, splattering oil.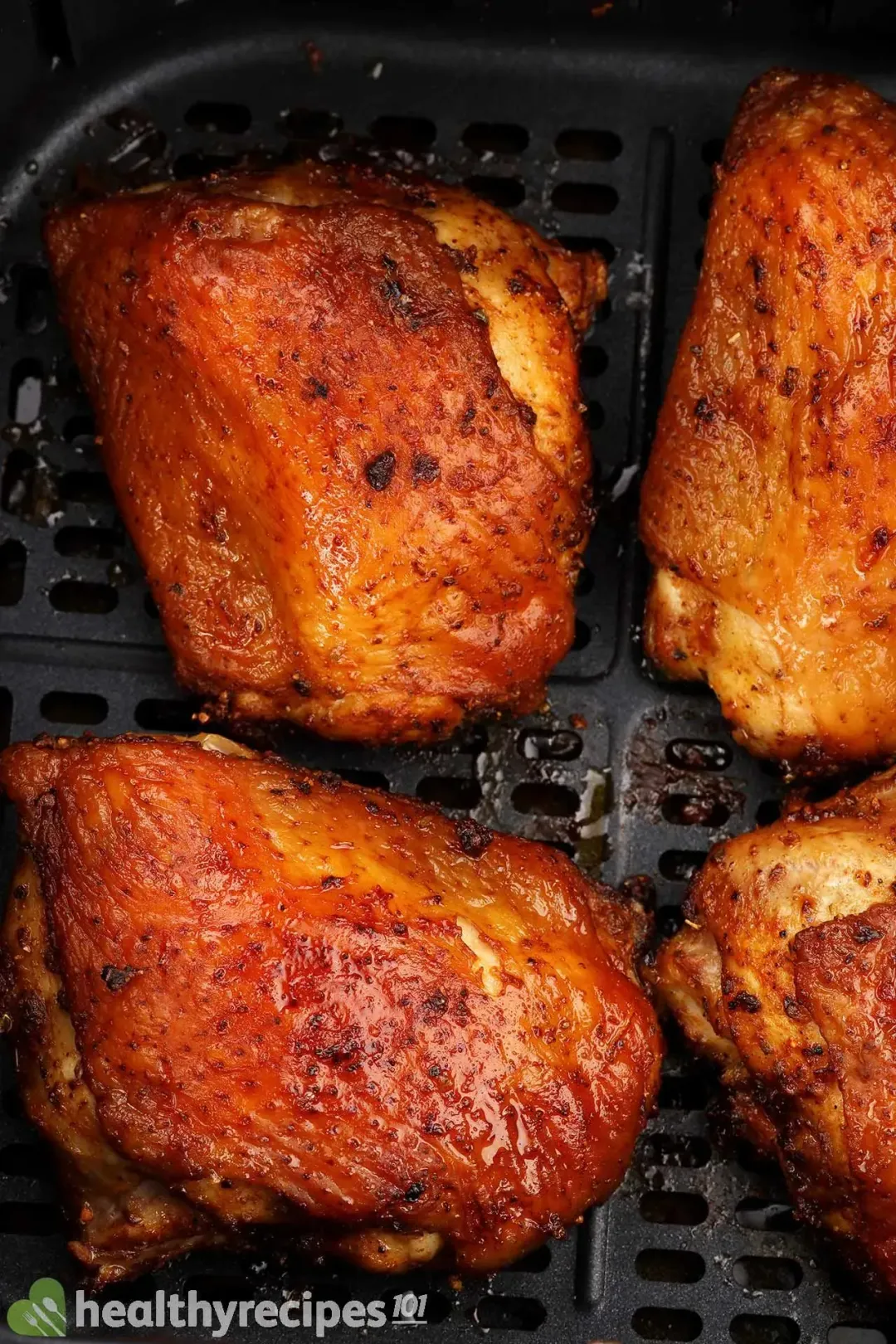 For more healthy and delicious chicken dishes using the method of air frying, check out these fool-proof recipes:
Air Fryer Chicken Legs — Tasty chicken drumsticks are seasoned with an aromatic blend of spices and fried to golden crisp perfection. Thanks to the air fryer, the chicken is crisped up fast with only a small amount of oil for coating.
Air Fryer Chicken Breast — By making this recipe, a wholesome and hearty meal without excess salt, oil, and calories will be rounded out within 15 minutes of cooking.
Air Fryer Chicken Wings — Crispy, succulent, satisfying buffalo wings can be made without deep-frying. The tasty hot sauce will leave you mouth-watering just by the look of it.
Main Ingredients for Air Fryer Chicken Thighs
1. Skin-on and Bone-in Chicken Thighs
Skin-on bone-in chicken thighs are our choice cut for today's recipe. They're easy on the budget and also great for frying.
Generally, chicken thighs lend themselves perfectly to high-heat cooking without the risk of drying or over-browning. They retain their flavor superbly due to the extra fat which keeps them juicy and moist on the roast.
By keeping the chicken skin on, we preserve its natural surface grease — a great replacement for cooking oil. The skin also helps increase moisture and retain the flavor of the meat inside, resulting in juicy, tender fried chicken.
For a wider selection of chicken thigh dishes, don't miss out this collection on the 20 amazing chicken thigh recipes that we've carefully sorted out for you!
2. Seasonings
Before frying, the chicken thighs are rubbed evenly with a seasoning mix consisting of paprika, salt, pepper, oregano, onion powder, Italian seasoning, garlic powder, and chili powder. As a result, your chicken will be spiced up with a mild heat and delicious pungency. 
This is another area where the skin fat proves helpful. Thanks to the grease, the spices stick fast to the chicken, and won't be blown off in the air frying basket.
This dry rub will spice up the flavor of your dish, so feel free to get creative and tweak it to suit your taste.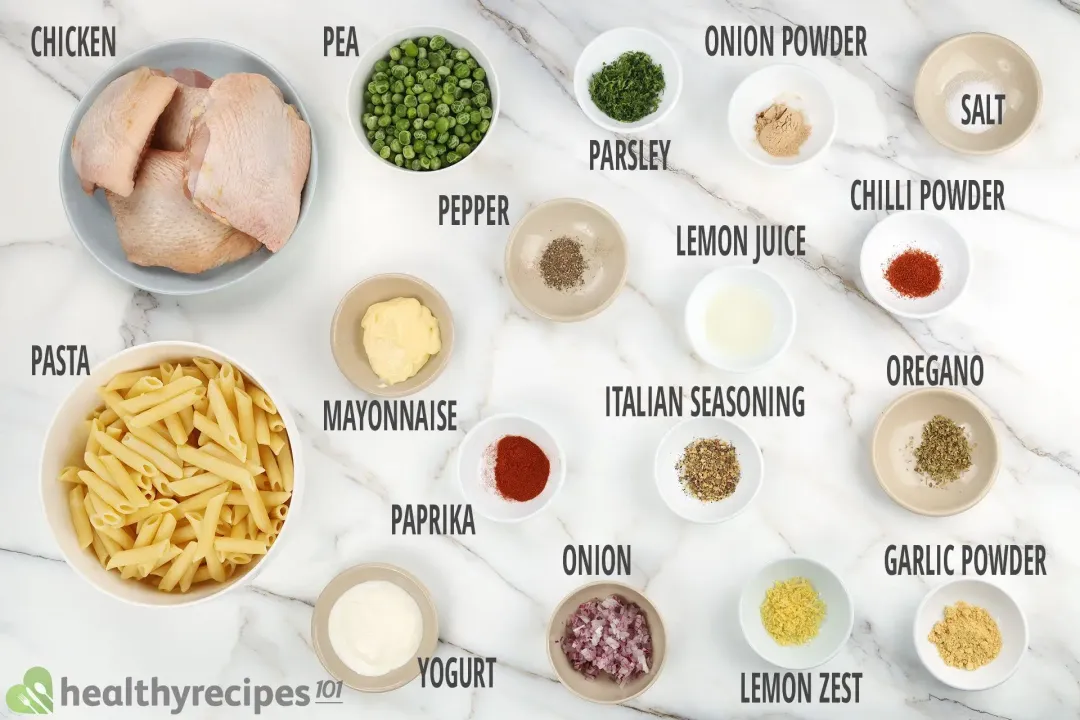 How Long to Cook Chicken Thighs in Air Fryer
Cooking time and temperature are definitely matters of concern, especially if it's your first time cooking with a new air fryer. Different models will heat up in quite different ways.
The FSIS suggests the internal temperature of poultry should reach 165°F at the minimum, to meet food safety guidelines. If you haven't invested in an instant-read thermometer, follow our recipe closely and you'll be fine.
Chicken thighs grill best over high temperature, so for this particular dish, set the air fryer at 360℉ and grill them for 25 minutes. Also, flip the chicken three times — twice for the skin side, and once for the skinless side.
Unlike pan-frying and oven-baking, when using the air fryer, there's absolutely no need to spray the chicken with oil halfway through the cooking time. As long as the frying basket heats up enough to soften and break down the meat fibers, perfectly tender juicy chicken is guaranteed.
If boneless, skinless chicken thighs are your preferred choice, simply reduce the cooking time by a few minutes and make sure they're also flipped halfway through the cooking.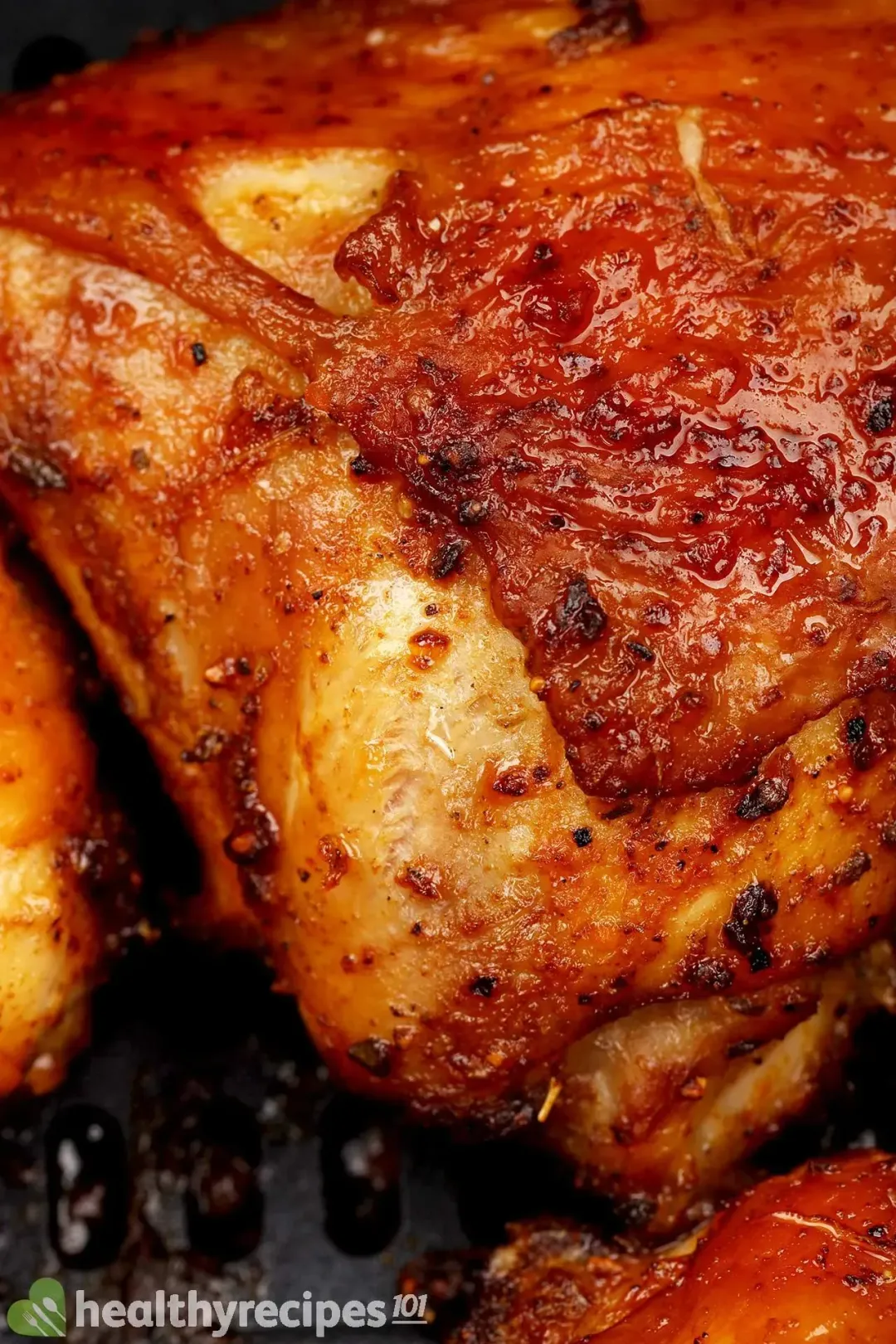 For more easy and nutritious air fryer ideas, take a look at our best air fryer dinner roundup.
Tips for Cooking Chicken Thighs in the Air Fryer
Our air fryer chicken thighs recipe is versatile and customizable even for rookie cooks. However, there are some very simple tips to keep in mind before you proceed:
Dry chicken skin without excess moisture on the surface will give rise to a beautiful crispness. Make sure you pat your chicken thighs dry all over with a clean kitchen towel before seasoning, especially if you're using bone-in, skin-on ones. 
Flip the chicken halfway at least once
Always start with chicken thighs placed skin-side down in the frying basket. By doing this, the skin will grease the bottom in advance and prevent burning during high-heat frying.
After the first flip, if you notice that the skin isn't charred and crisp enough, feel free to give them another flip later and check regularly until they get to the desired crispness.
Do not overcrowd & overlap the thighs in the basket
The air fryer works by circulating hot air around the basket to cook food evenly, so it's crucial to not overcrowd and overlap your chicken pieces.
If the size of the serving is too large or you happen to get really thick chicken thighs, consider dividing it into two or more batches. Cover the first cooked batches in tin foil to keep them warm while finishing the rest.
Preheating the air fryer is not a necessary step in this recipe. However, if your air fryer takes a little longer than you'd expected to reach the right temperature, an extra step of preheating might be necessary.
Some models of air fryers come with a preheating mode, in which case all it takes is the press of a button. However, other models may require you to set it manually by turning the empty oven on a few minutes before cooking.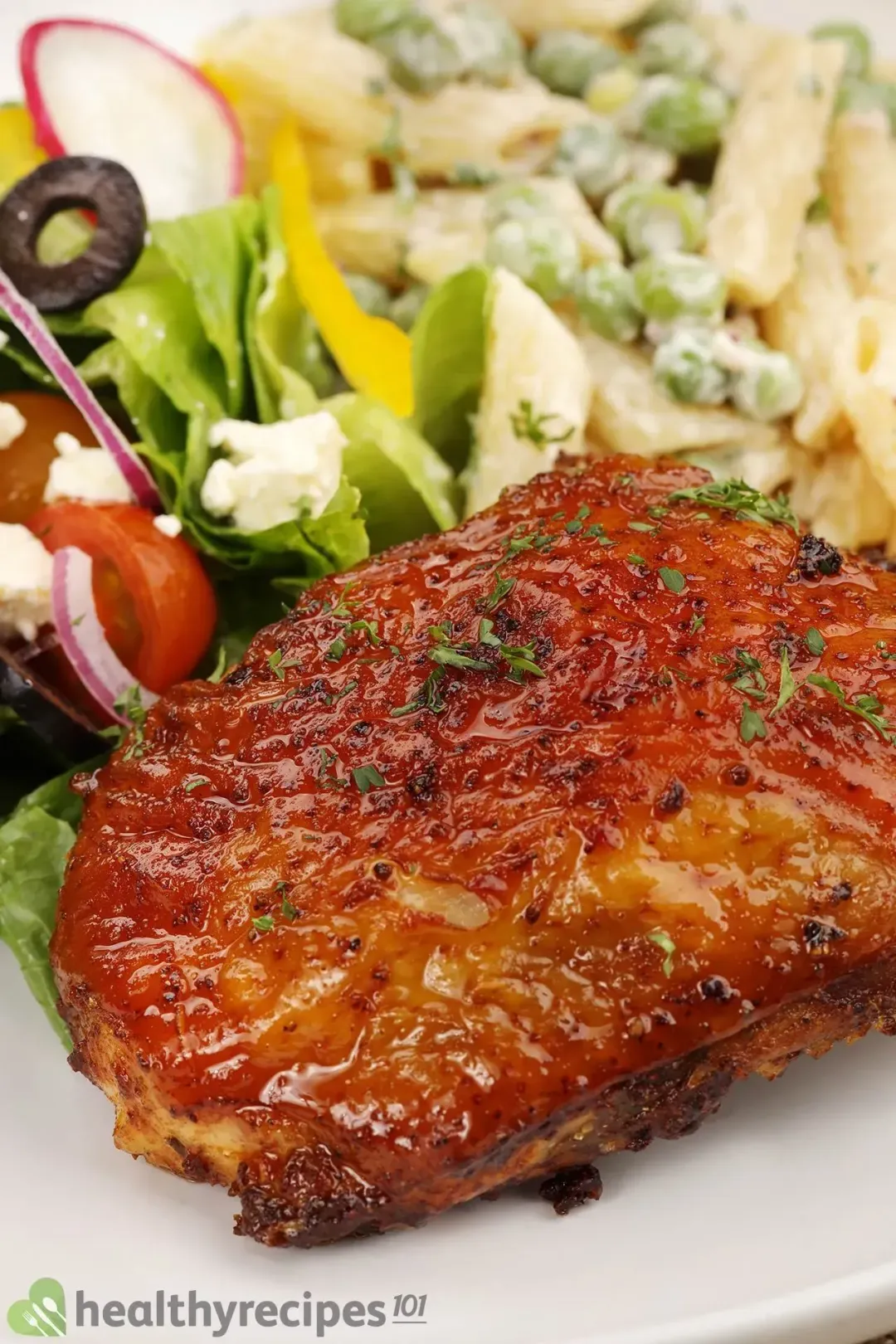 How to Store and Reheat Chicken Thighs
An already air-fried batch of chicken thighs can last up to 3 days in the fridge and 2 months in the freezer. To reheat after thawing, put the defrosted chicken thighs back in the air fryer and quickly heat them at 350°F for 2-3 minutes.
What to Serve with Air Fryer Chicken Thighs
Our air-fried chicken thighs are best paired with either rice, pasta, or steamed veggies on the side. The leftover chicken can also be shredded for tacos and burritos.
1. Greek Salad
Known natively as "Horiatiki salad", this popular Greek salad is a tasty, versatile side dish that goes nicely with our air-fried chicken thighs. It's packed full of greens including lettuce, tomatoes, and olives — all tossed in a tangy vinaigrette and garnished with heaps of pepper and feta cheese.
2. Pineapple Celery Juice
Now we've got a complete main and side dish, we believe a low-calorie beverage will finish off the meal perfectly. How about incorporating a cup of sweet-sour pineapple celery juice with a healthy dose of potassium and vitamin C into your meal?
Calling for fresh ingredients, this homemade drink packs plenty of nutrients to nourish and sustain your body. Enjoy it warm or chilled as you like!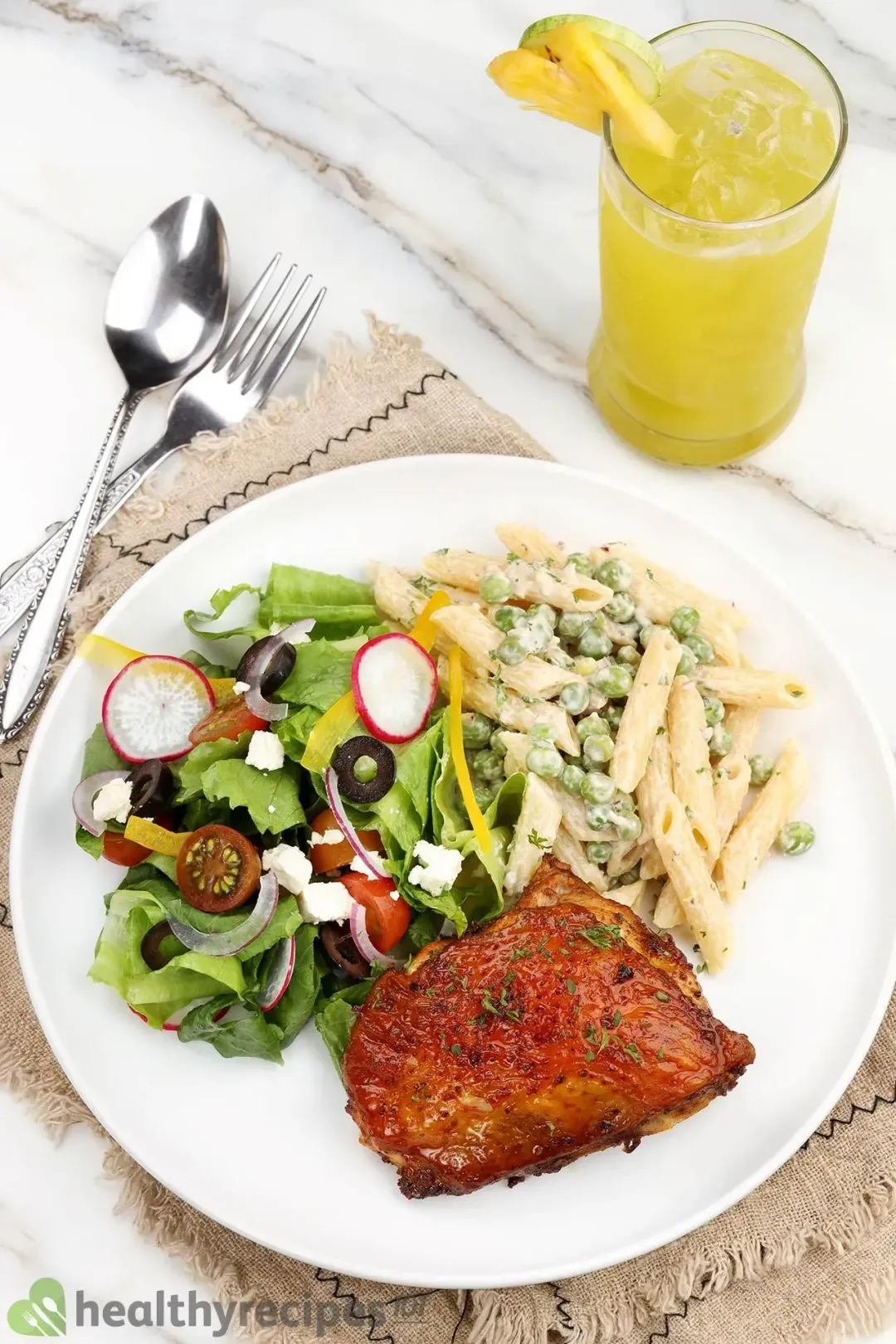 More Air-Fried Chicken Dishes to Satisfy Your Palate
This air fryer chicken parmigiana recipe is all you need for a quick, delicious meal. The chicken breasts are coated in a crisp breadcrumb layer, topped with tomato sauce and mozzarella, and baked to perfection.
This all-star recipe features lean chicken breast, as well as a plethora of vegetables and dried fruits. The flavors are out of this world when combined with an olive oil, fresh lemon juice, and Italian seasoning dressing.
Air Fryer Chicken Thighs
Tired of added fats and artificial liquids? Take the easy way out with this air fryer chicken thighs recipe! It calls for budget-friendly and readily available ingredients only. The result? Incredibly juicy and satisfying chicken thighs with a crispy exterior done in just 40 minutes!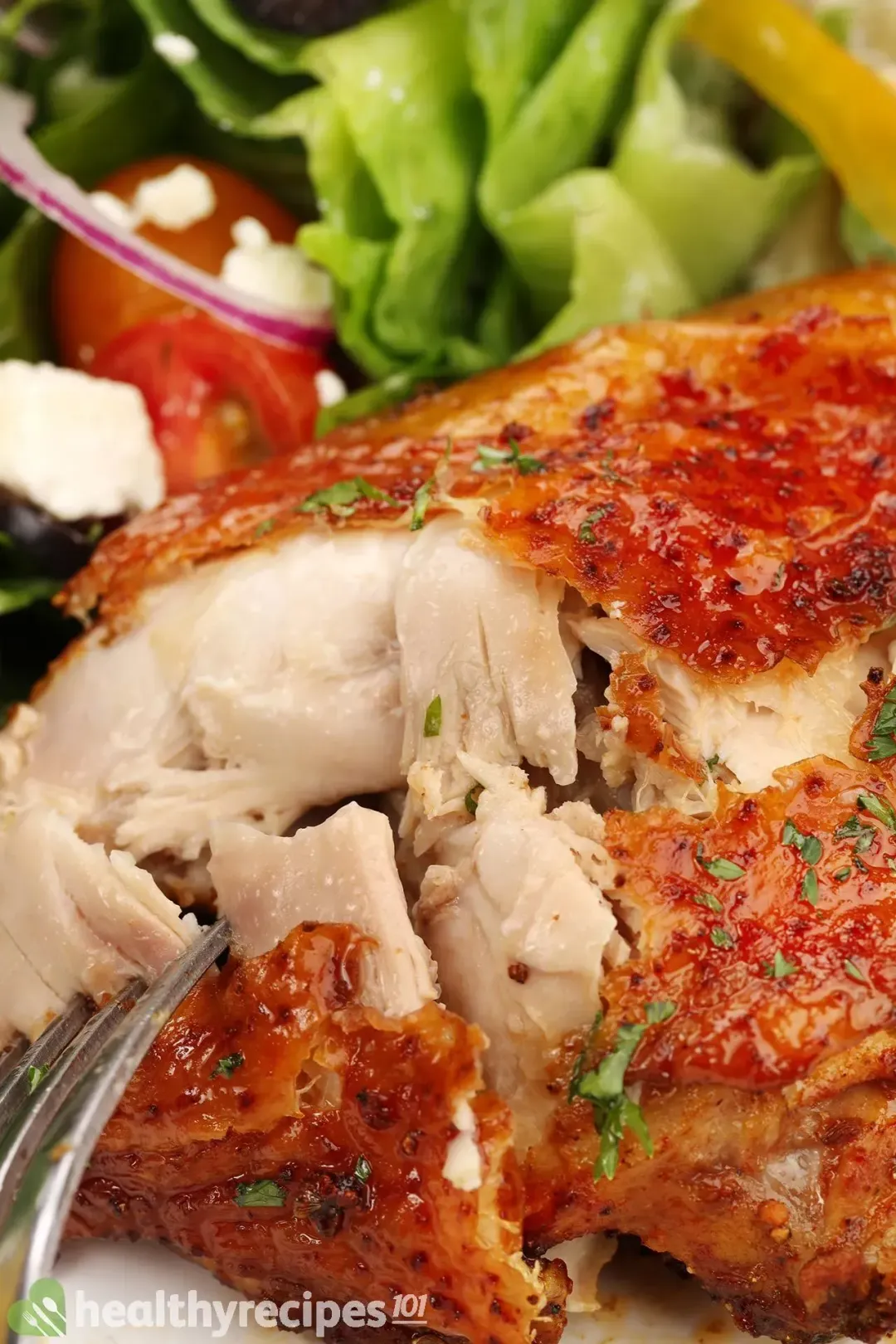 cook TIME

25 mins

prep TIME

15 mins

total TIME

40 mins
COURSE

Main Course

CUISINE

American

SERVINGS

CALORIES

508 kcal
INGREDIENTS
30 oz

skin-on bone-in chicken thighs

10 oz

cooked penne

(equals 4 oz raw)

1/4 tsp

ground black pepper

1 tsp

onion powder

(divided)

1/2 tsp

Italian seasoning

1 tsp

garlic powder

(divided)

2 tbsp

Japanese mayonnaise

2 tbsp

plain Greek yogurt
INSTRUCTIONS
1
Make the spice mix for the chicken: In a small bowl, combine 1 tsp paprika, 1/4 tsp salt, 1/4 tsp ground black pepper, 1/2 tsp oregano, 1/2 tsp onion powder, 1/2 tsp Italian seasoning, 1/2 tsp garlic powder, and 1/4 tsp chili powder.
2
Rub 30 oz chicken thighs with the spice mix evenly. Let them rest for 5 minutes.
3
Cook the chicken thighs skin-side down in the air fryer at 360℉ for 15 minutes.
4
Flip sides and cook for 10 minutes.
5
Flip sides again (back to skin-side down) and cook for another 10 minutes.
6
While cooking, make the dressing for the pasta-veggie mix: In a large bowl, whisk together 1/2 tsp onion powder, 1/2 tsp garlic powder, 1 tsp lemon juice, 1 tsp lemon zest, 2 tbsp mayonnaise, 2 tbsp chopped parsley, 2 tbsp Greek yogurt, and 1/4 tsp salt. Stir well.
7
Stir 10 oz penne, 4 oz green peas, and 0.5 oz red onion in the large dressing bowl.
8
Remove the chicken thighs from the heat. Enjoy with a light pasta salad on the side.
NUTRITION
Nutrition Facts
Air Fryer Chicken Thighs
Amount Per Serving (1 serving)
Calories 508
Calories from Fat 270
% Daily Value*
* Percent Daily Values are based on a 2000 calorie diet.
Keywords: air fryer chicken thighs, air fryer chicken thighs recipe, chicken thighs in an air fryer, how to make chicken thighs in an air fryer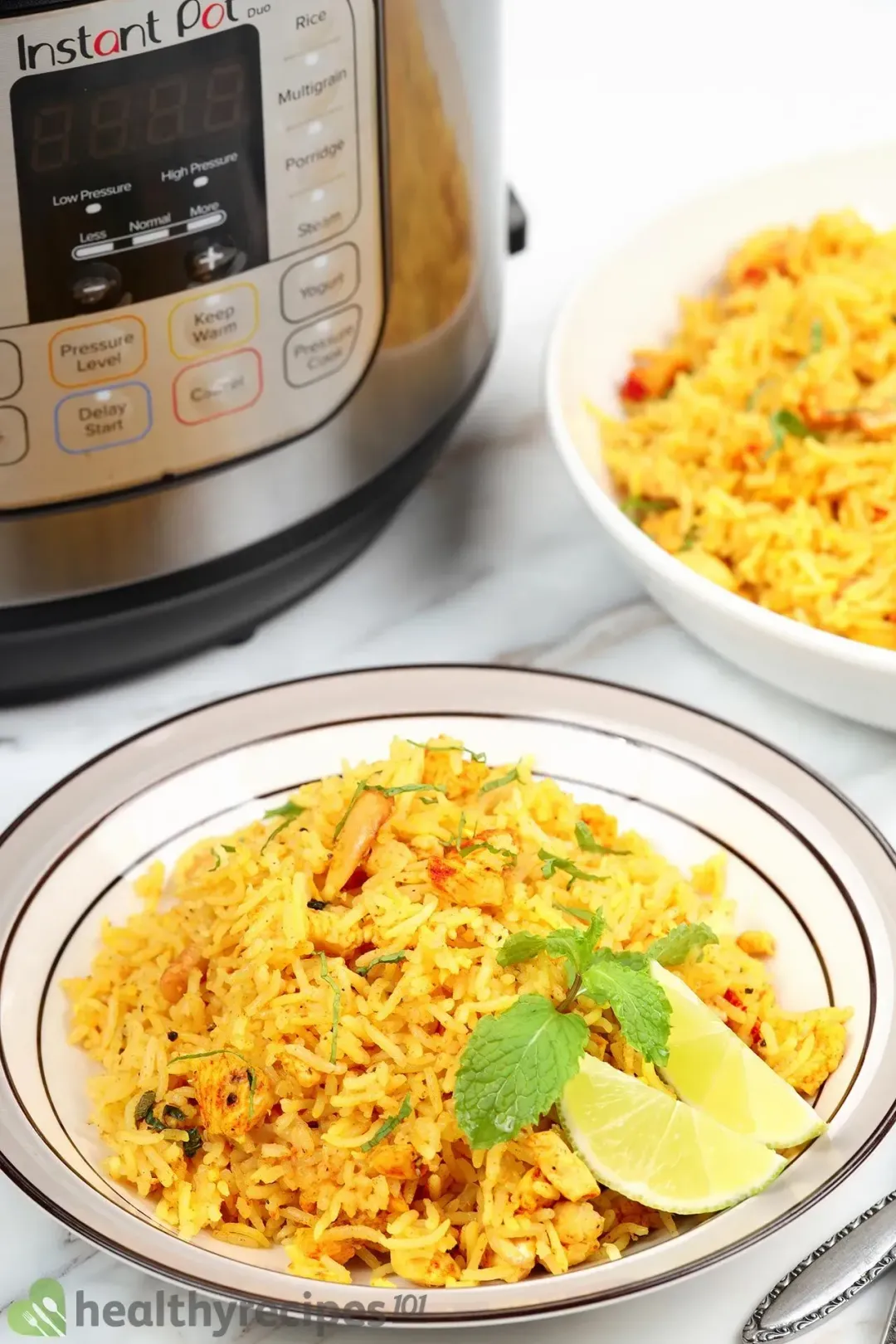 Previous Recipe
Instant Pot Chicken Biryani
Instant Pot Chicken Biryani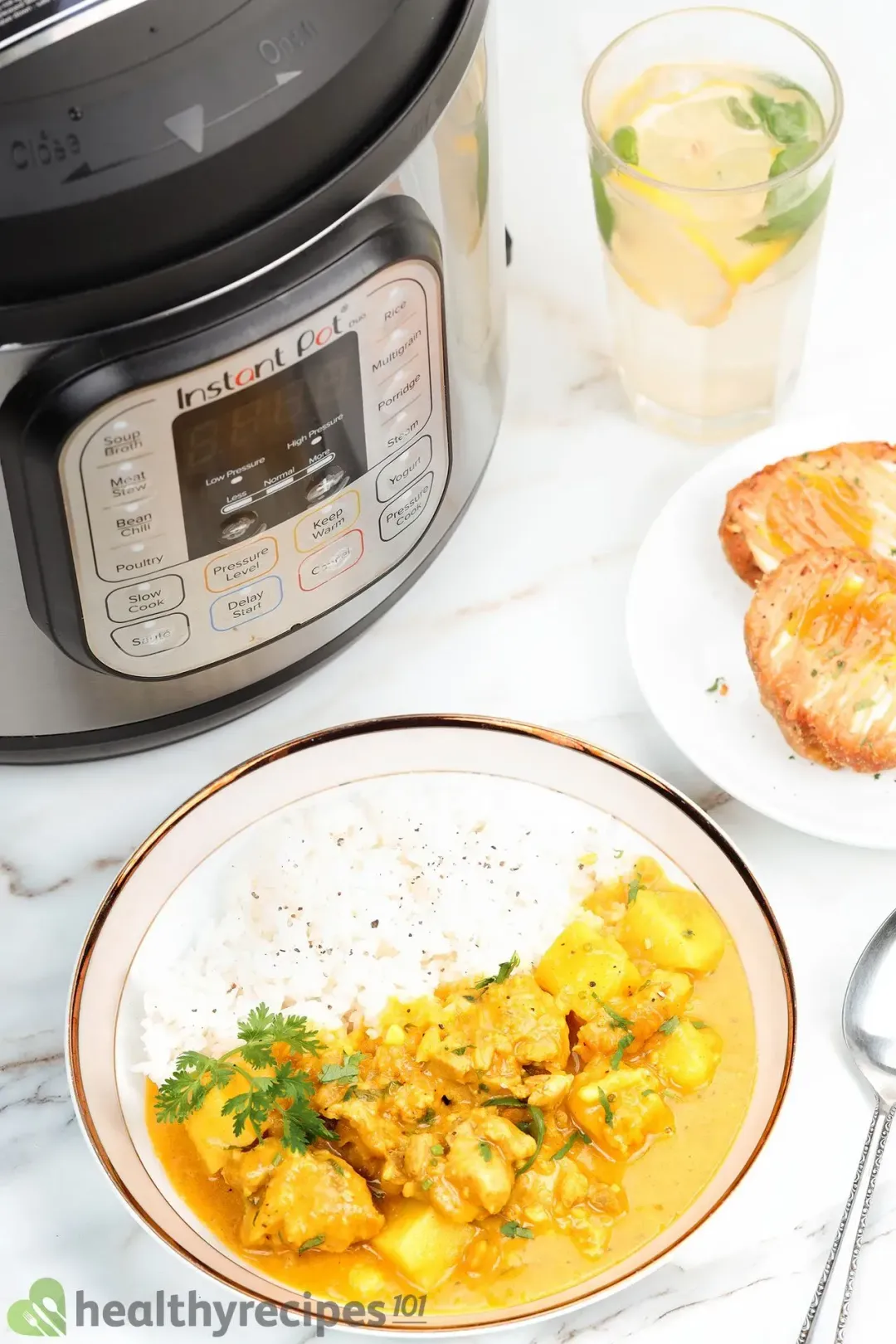 Next Recipe
Instant Pot Curry
Instant Pot Curry
Head Chef, Culinary Consultant
Tuyet Pham is an award-winning Saigonese chef who believes that joy is the secret ingredient to delicious food. At Healthy Recipes 101, Tuyet personally tests and simplifies every recipe, ensuring maximum flavor with minimal effort. With a background at prestigious French restaurants P'TI Saigon and Le Corto, Tuyet knows how to make every dish exceptional.
Writer, Author
Luna Regina is an accomplished writer and author who dedicates her career to empowering home cooks and making cooking effortless for everyone. She is the founder of HealthyKitchen101.com and HealthyRecipes101.com, where she works with her team to develop easy, nutritious recipes and help aspiring cooks choose the right kitchen appliances.
Nutrition Reviewer
Natalie Butler is a registered dietitian nutritionist with a passion to help others live their best life through food, fitness, safer beauty and a healthy lifestyle. She has expertise with a variety of diets and diseases and believes that there is no one-size-fits-all approach for health.
Was good! Crispy skin, close to pan fried.