This healthy Thai chicken curry recipe may require many ingredients, but it's actually simple to make. It comes together in 30 minutes and is perfect for cold days or National Hot and Spicy Food Day (August 19).
What Is Thai Curry?
"Thai curry" is a broad term that refers to any curry dishes native to Thailand. For each one, a curry paste is used to give it its unique flavor.
Although made with different ingredients, Thai curries share very specific traits: fresh, super fragrant, and with strong flavors (especially the heat). This is what Thai cuisine is all about, and we think that's beautiful.
If you love curry, be sure to check out our egg curry recipe. We also have a massaman curry recipe that is also inspired by Thai cuisine.
Maybe one of these simple curry recipes will become a favorite of yours too, so be sure to check them out later. But for now, let's get back to today's Thai chicken curry recipe.
Is This Recipe Healthy?
We've tried to make this Thai chicken curry recipe as healthy as possible by limiting fat and using nutritious ingredients. Our curry ends up containing:
About 7g of saturated fat per serving. This is considered rather low for a main dish that contains oil and coconut milk.
Only about 2.5g of added sugar. Added sugar comes from additional sweeteners (in this recipe, brown sugar) and you should only consume about 50g per day.
About 4g of fiber per serving. You should consume about 25 grams of fiber per day but we'll sneak more into this meal later.
Moreover, this Thai chicken curry also contains ingredients that can be beneficial for your health. And they are: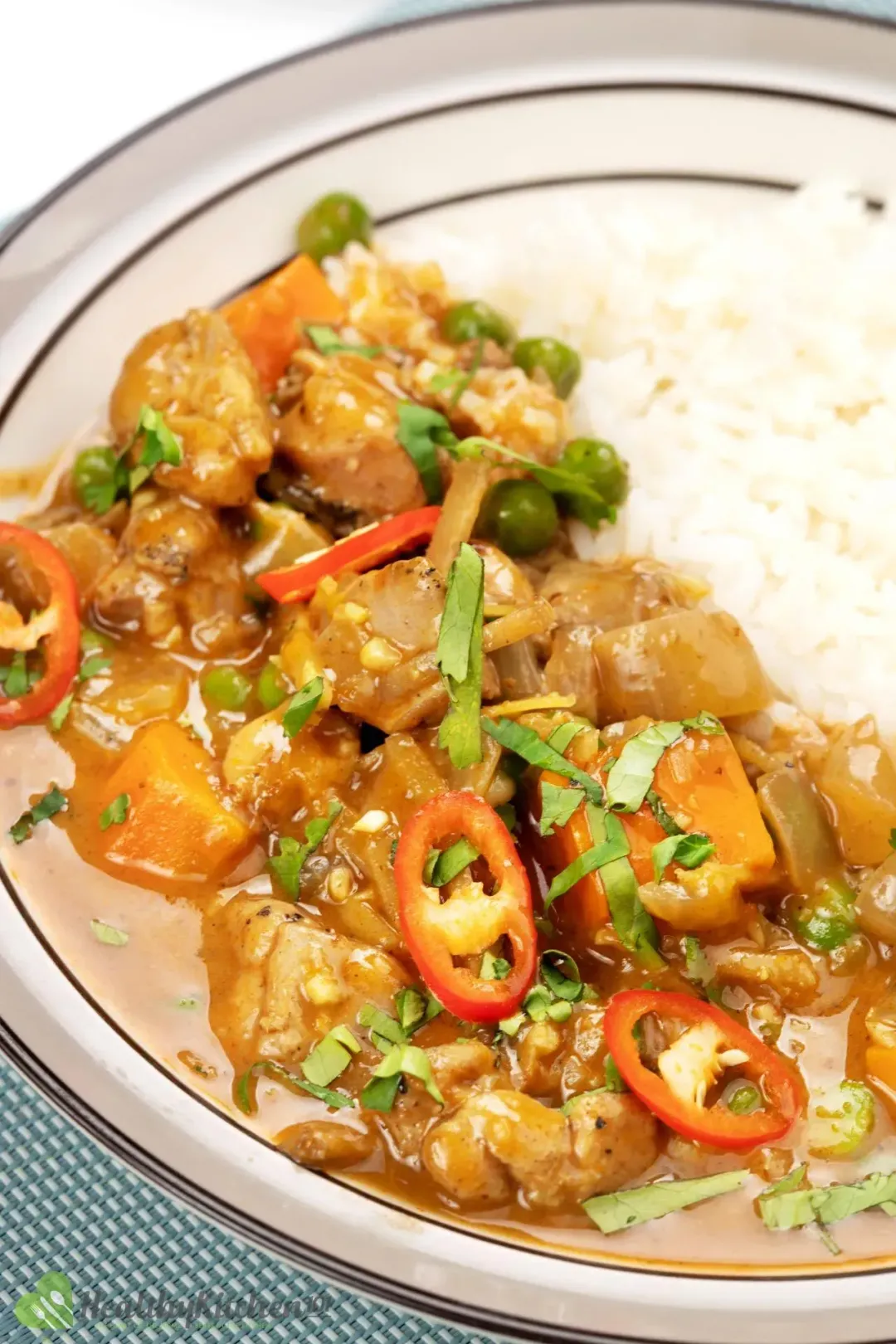 1. Turmeric
Turmeric is one of the key ingredients in a curry powder mix. This spice flavors the curry with a warm peppery taste alongside a subtle hint of an earthy, mustardy aroma.
Turmeric also includes curcumin, which gives curry its signature vibrant yellow color. It is curcumin in turmeric that may help treat breast cancer.
2. Ginger
What's a curry without a little ginger?
Sweet and mildly hot, ginger is one of the most flavorful spices in the world and helps give curry its warmth and comforting aroma.
Like turmeric, ginger also has medicinal benefits including the ability to reduce blood sugar levels.
3. Carrots
Here at Healthy Recipes 101, we love adding carrots to our recipes. They are full of flavor and go well with so many dishes.
Carrots also bring many health benefits. They contain carotenes— a type of carotenoid that gives carrots their signature orange color.
Studies have shown that foods that are rich in carotenoids may improve skin health.
How Many Calories?
There are about 500 calories per serving in our Thai chicken curry with one serving including a hefty amount of curry and ¾ cup of cooked rice.
If you plan to include our curry in a wholesome meal, pair it with a 250-calorie salad or side dish. We will discuss side dish options later but for now, let's get back to the recipe.
To have perfectly cooked chicken every time, check out our healthy chicken recipes.
Main Ingredients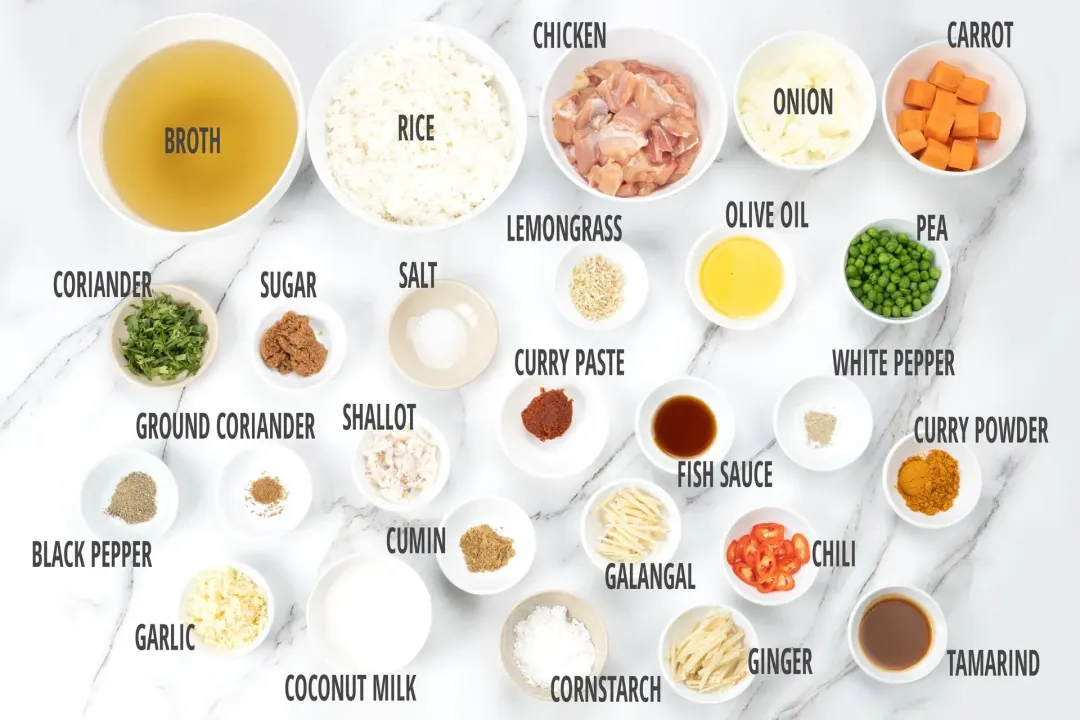 Here are some of the main ingredients in today's Thai chicken curry:
1. Chicken
We used boneless skinless chicken thighs because dark chicken meat is tender and full of flavor. Chicken breast, however, is a great alternative if you don't have any chicken thighs in the fridge.
Other than chicken, this recipe also works for other types of meat such as beef or lamb.
2. Coconut Milk
This dairy-free milk is one of the key ingredients in Thai cuisine. Coconut milk adds a rich flavor and silky texture to any dish it accompanies.
3. Vegetables
Curries are versatile and you can use any vegetables you have on hand. For today's recipe, we used carrots, onions, and peas.
Other vegetables that pair well with our Thai chicken curry are broccoli, pumpkin, zucchini.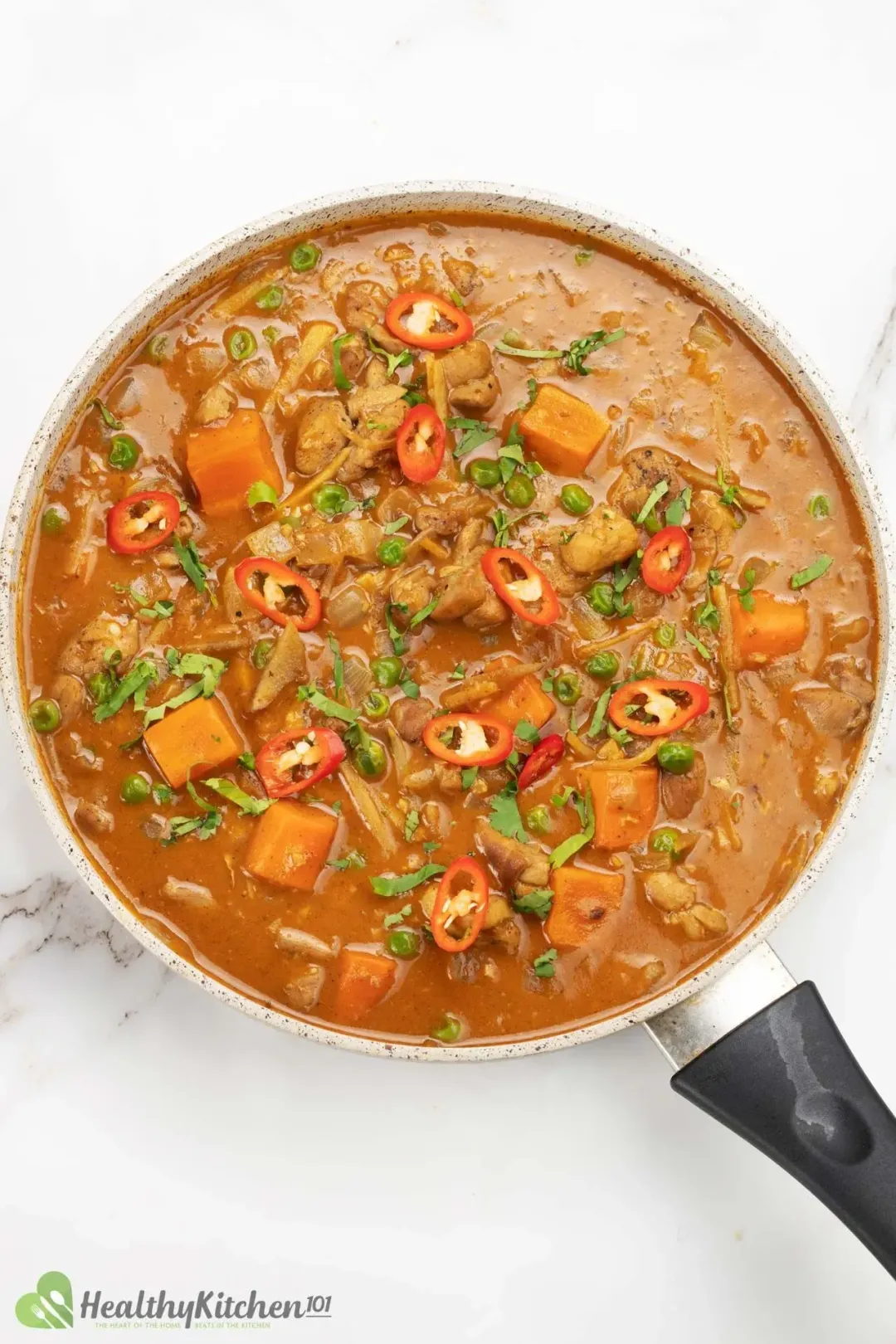 4. Seasonings
Here are the seasonings that bring out the flavors of our curry:
Red curry paste;
Herbs: shallots, lemongrass, ginger, galangal;
Spices: ground white pepper, cumin powder, ground coriander seeds, curry powder.
The trick is to use a little red curry paste to give your curry deep flavors and savoriness.
If you love Asian-style soups like this one, we also have Instant Pot curry recipe that you may like.
What to Serve With
For today's recipe, we want to keep it traditional and serve this curry over a bed of warm cooked rice. We use medium-grain rice, but we highly recommend using Jasmine rice.
A type of long-grain rice, it has a soft texture, sweet flavor, and subtle aromatic notes. It would both complement and complete this Thai chicken curry.
However, curry and rice alone won't make a fully nutritious meal. We recommend pairing them with a salad on the side.
Thai Mango Salad
Since we're on the Southeast Asian theme, a Thai mango salad is a perfect fit.
The freshness of this vibrant, sweet, and sour salad balances out our rich and spicy curry. Together, they make a great combo for an easy, healthy, homemade Thai-inspired meal.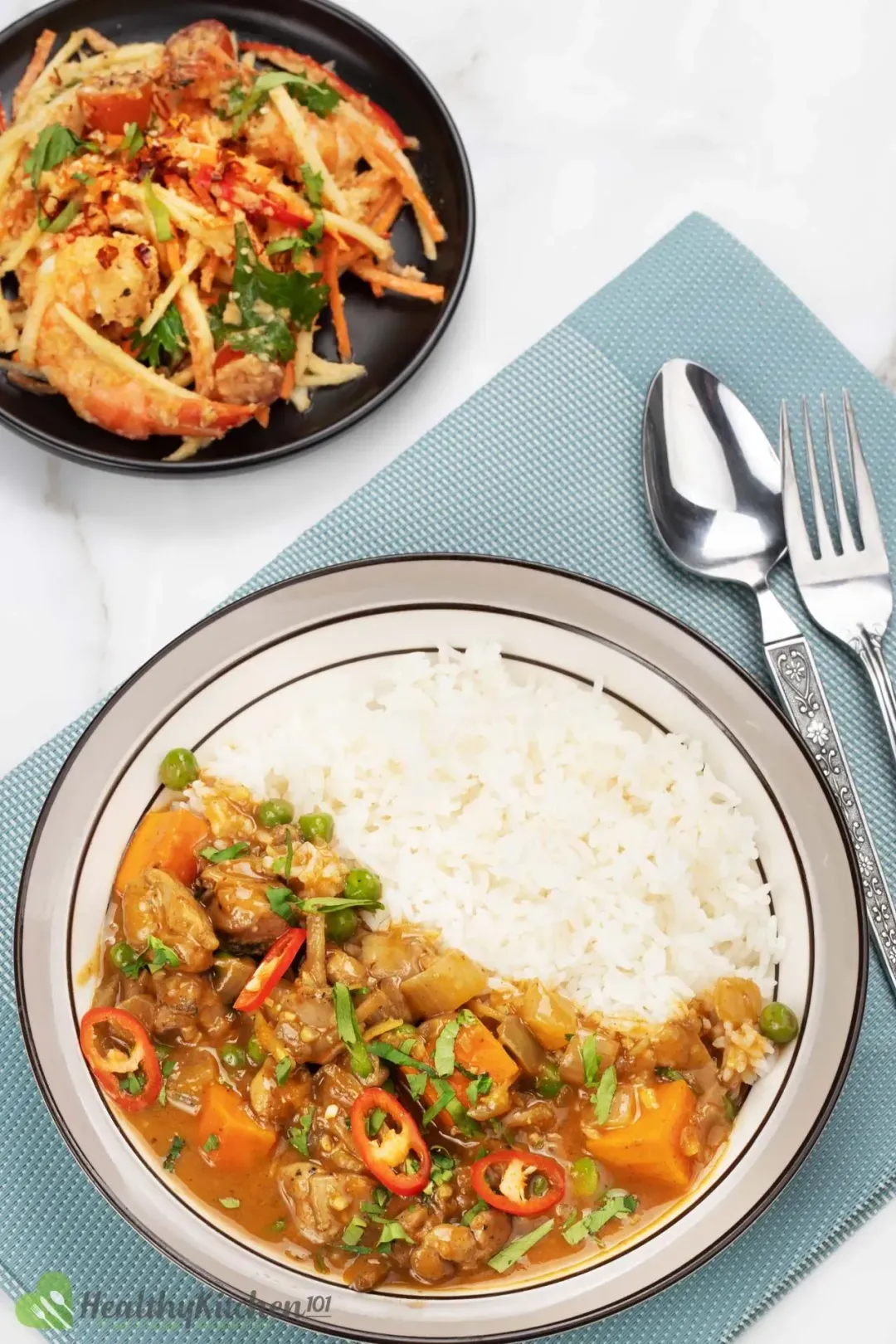 More Saucy Chicken Skillets We Have for You
Also goes perfectly on top of cooked rice, this colorful chicken and pepper skillet can make an easy, quick dinner for you. The sticky and sweet sauce ties everything together and is really addictive.
These balsamic chicken breasts, on the other hand, just serve with potato wedges, and we think that'd do. Each serving gets you a large filet that's succulent, topped with tangy balsamic glaze, cherry tomatoes, and cubes of fresh, melty mozzarella. It comes together in a skillet, so that means less cleanup afterwards.
We have more easy chicken ideas for you to try, in case you're wondering what to eat tomorrow. They're done in skillets, pots, and air fryers.
FAQ
1. Can You Use Coconut Cream in Curries?
Yes, you can. If you want your curry to be extra rich, use coconut cream instead of coconut milk.
Keep in mind that even though they basically taste the same, coconut cream is much more concentrated, thicker, and richer. The thicker consistency will affect the texture of your curry as well.
However, coconut cream is much higher in saturated fat than coconut milk. You might want to keep an eye on the nutritional values to make sure you don't consume too much fat.
2. Can You Freeze?
Yes, you can. Thai chicken curry freezes well and will stay good for about a month in the freezer.
We recommend dividing the curry into serving portions and putting each one in a freezer-safe container. That way you can take one out when you need it and thaw with ease in a microwave.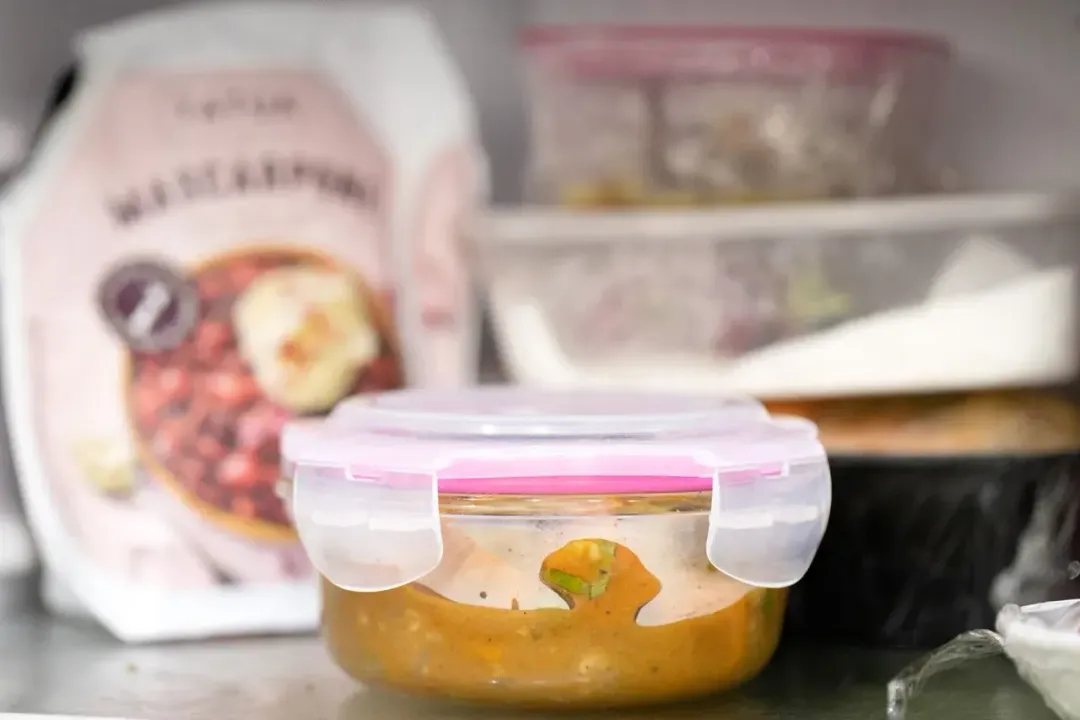 3. How Long Does It Last?
This curry will last up to 5 days in the refrigerator if you keep it in an airtight container. We recommend letting any leftovers cool before placing them in the fridge.
Thai Chicken Curry
Making dinner has just gotten much easier thanks to this Thai chicken curry recipe. Within 30 minutes, you will have a healthy, hearty spicy meal to share with your family.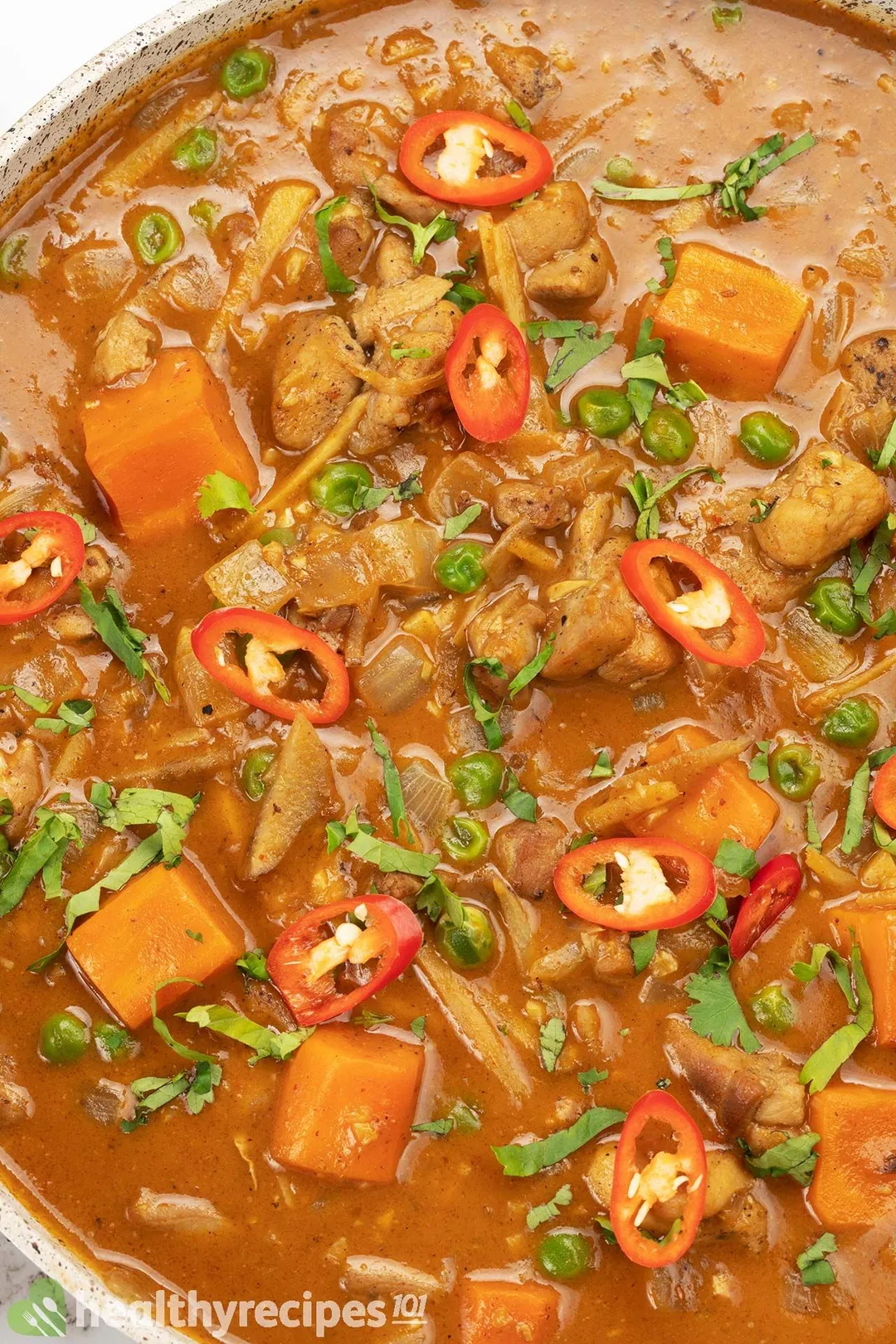 cook TIME

25 mins

prep TIME

5 mins

total TIME

30 mins
COURSE

Main Course

CUISINE

Asian, Thai

SERVINGS

CALORIES

500 kcal
INGREDIENTS
12 oz

skinless boneless chicken thigh

1/2 tbsp

lemongrass

(finely minced)

0.25 oz

red chile peppers

(cut into slices, for garnish)

0.5 oz

ginger

(thinly sliced)

0.5 oz

galangal

(thinly sliced)

4 oz

onions

(finely diced)

2 oz

frozen peas

(thawed)

3 cups

unsalted chicken broth

1 tbsp

tamarind concentrate

3 tbsp

garlic

(finely minced)

2 tbsp

olive oil

(divided)

1 tbsp

shallots

(finely minced)

1/2 tsp

ground black pepper

(divided)

1/8 tsp

ground white pepper

1/2 tsp

ground coriander seeds

1/4 cup

fresh coriander

(finely chopped, for garnish)

3 cups

cooked medium-grain rice
INSTRUCTIONS
1
Sear the chicken: Heat up 1 tbsp olive oil in a large pot over medium-high heat. Add 12 oz skinless boneless chicken thigh, 1/8 tsp salt, and 1/4 tsp black pepper. Sear the chicken for 5 minutes or until golden-brown on both sides. Transfer to a plate and set aside.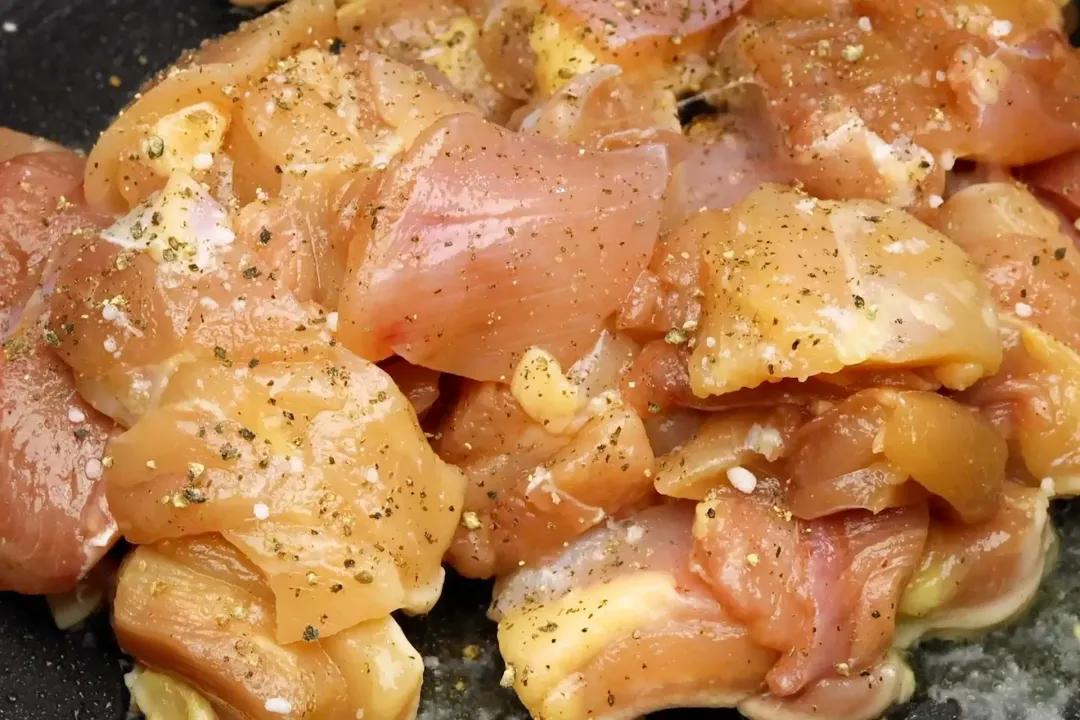 2
Sauté the vegetables: In the same pot, add the remaining 1 tbsp olive oil, diced 4 oz carrots, 4 oz onions, and 3 tbsp minced garlic. Cook over medium heat for 2 minutes or until the onions are slightly translucent.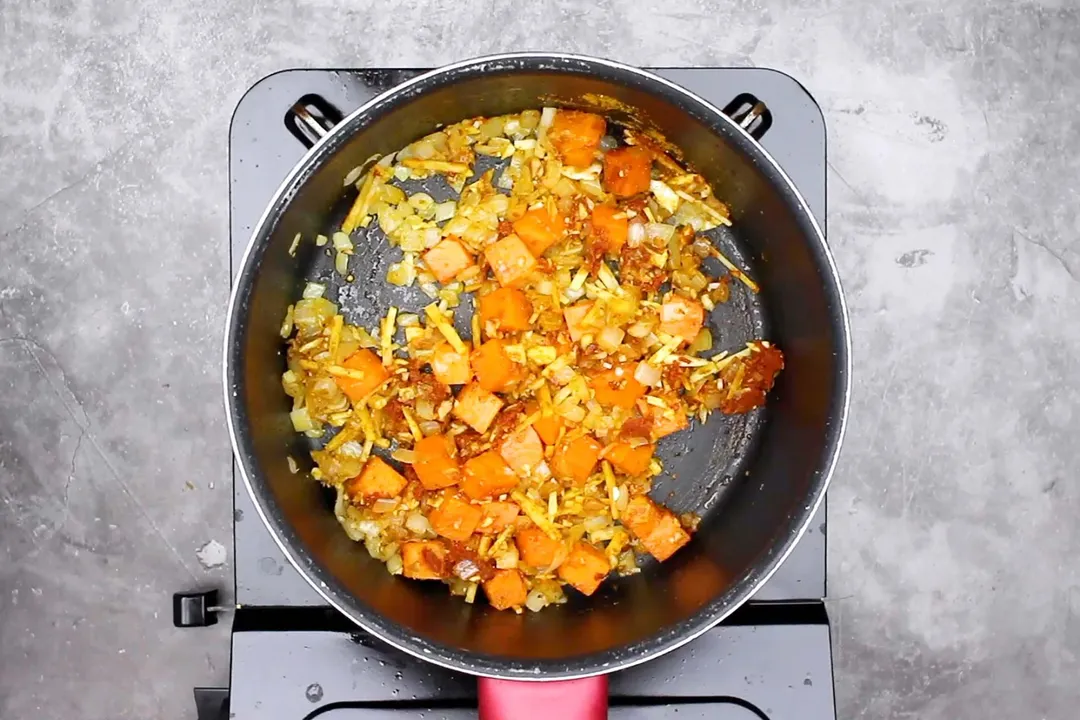 3
Sauté the seasonings: Add 1 tbsp red curry paste, 1 tbsp shallots, 1/2 tbsp lemongrass, 0.5 oz ginger, 0.5 oz galangal, 1/8 tsp ground white pepper, 1/8 tsp cumin powder, 1/2 tsp ground coriander seeds, and 2 tsp curry powder. Stir constantly for 1 minute or until fragrant.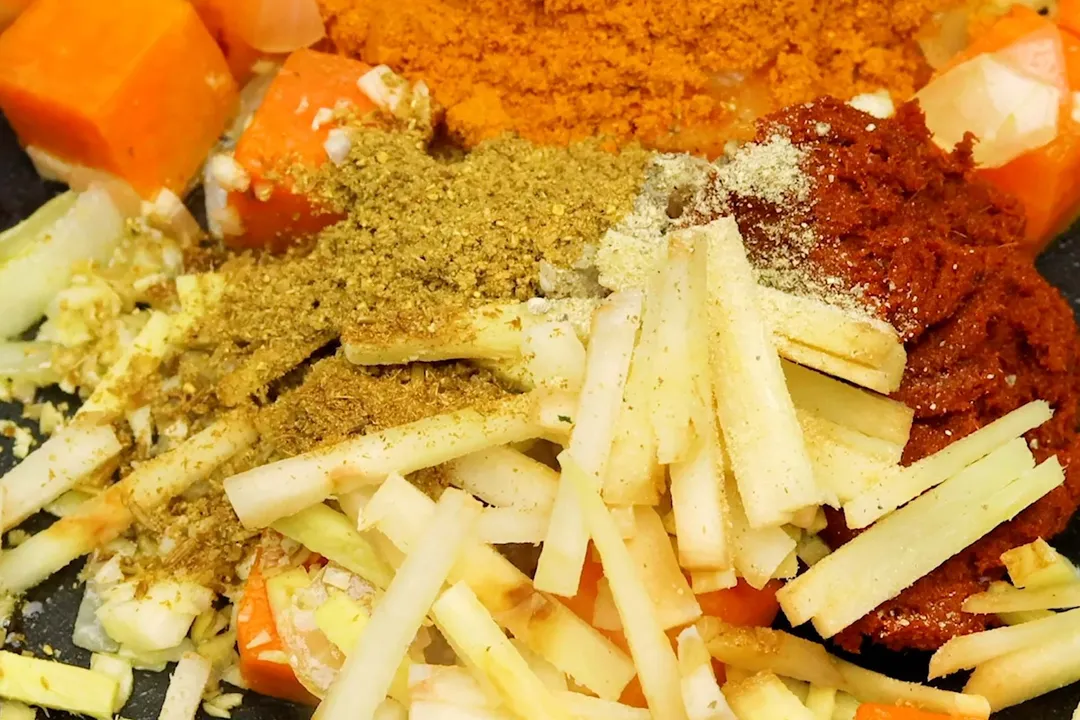 4
Add broth and simmer: Add the cooked chicken, 3 cups unsalted chicken broth, and 3 tsp brown sugar. Turn the heat up to high and bring to a boil, then simmer uncovered for 15 minutes over medium heat, uncovered.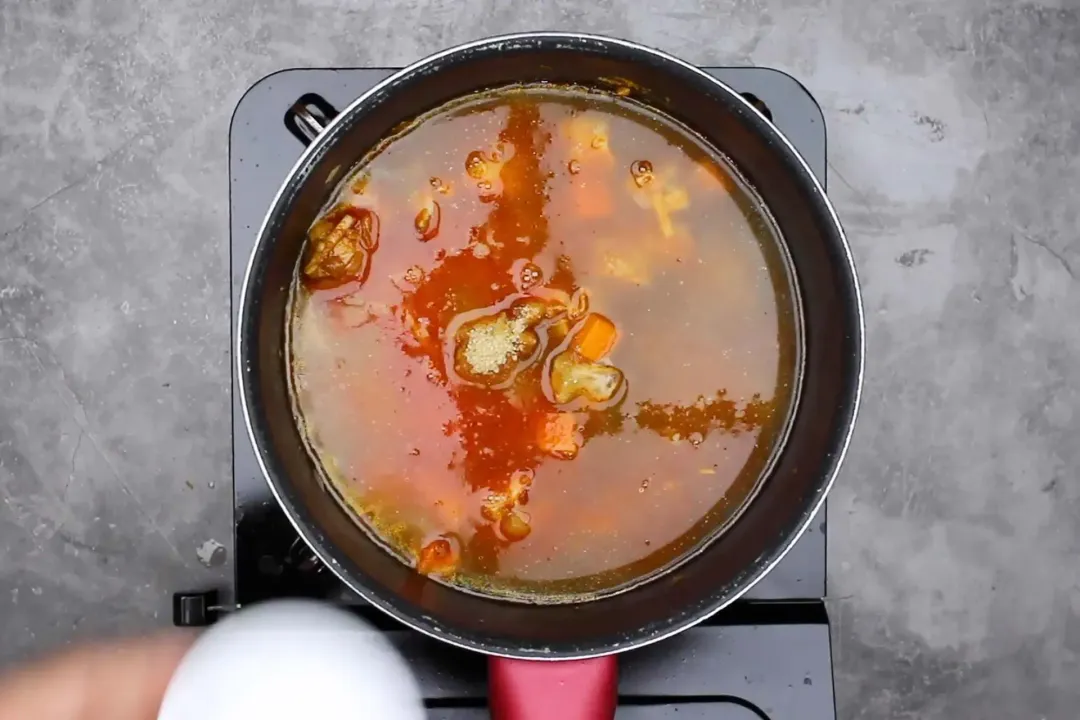 5
Mix the thickener: In a small bowl, combine 1/2 cup coconut milk and 1 1/2 tbsp cornstarch. Mix to dissolve.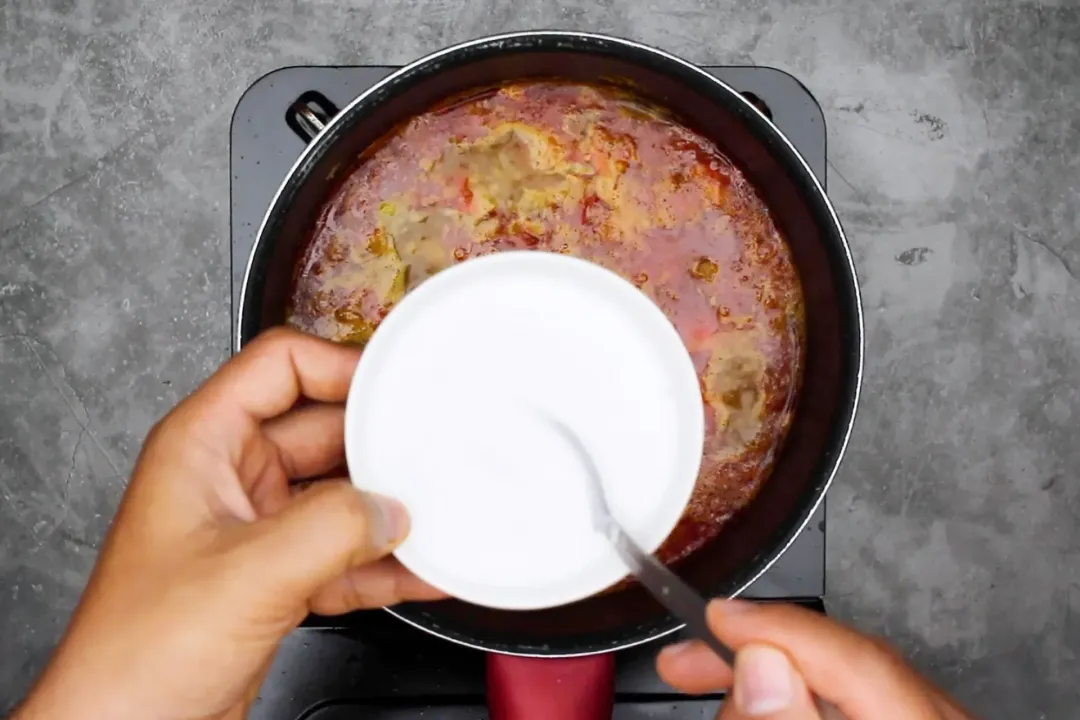 6
Add peas and thickener: Bring the heat up to medium. Add 2 oz frozen peas, coconut thickener, 1 tbsp tamarind concentrate, 1/2 tbsp Thai fish sauce, and the remaining 1/8 tsp salt and 1/4 tsp black pepper to the pot. Stir constantly and cook for another minute or until slightly thickened. Turn off the heat.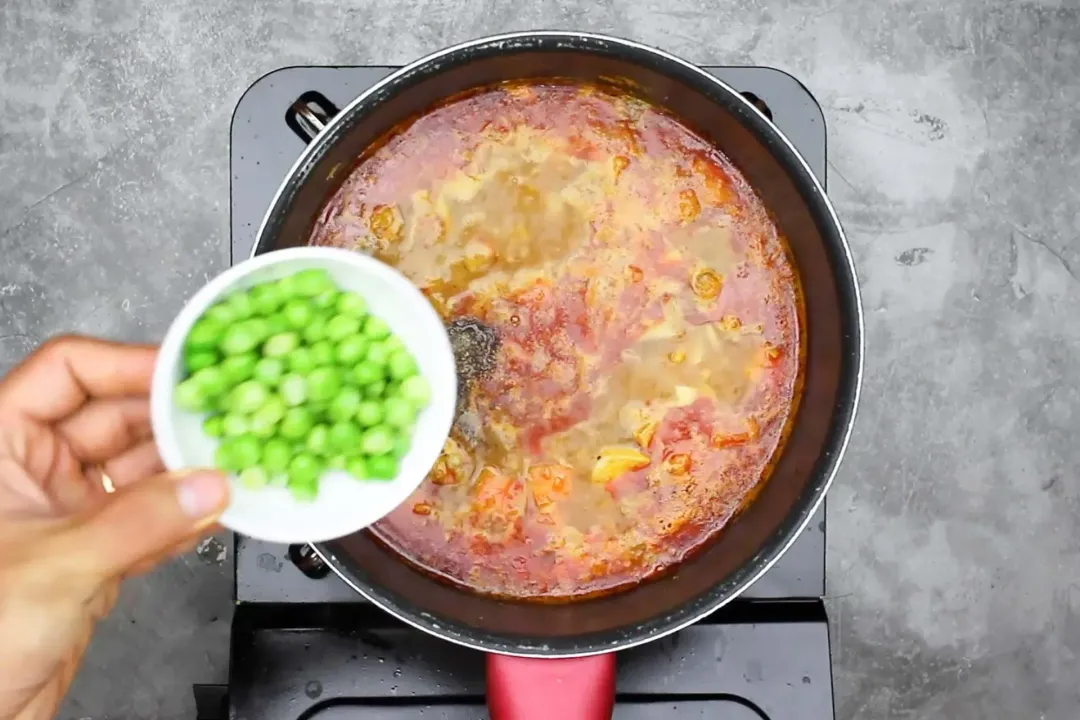 7
Serve: Ladle hot curry into a deep dish or a bowl with 3/4 cup warm cooked rice per serving and garnish with 1/4 cup fresh coriander and 0.25 oz red chili peppers.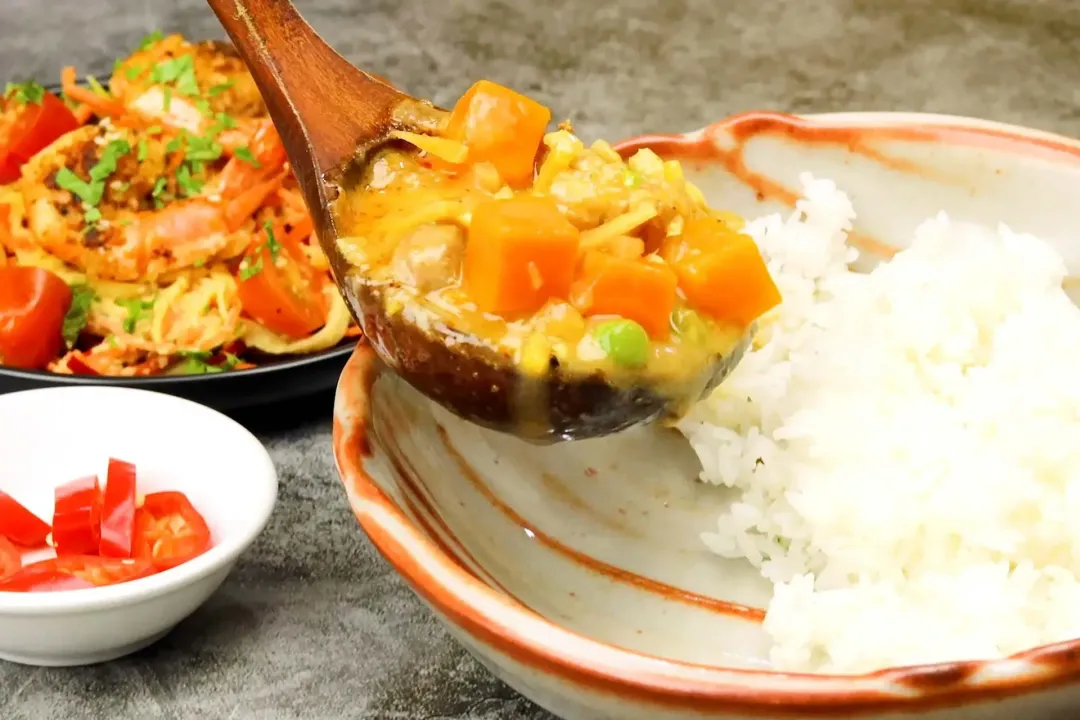 NUTRITION
Nutrition Facts
Thai Chicken Curry
Amount Per Serving (1 serving)
Calories 500
Calories from Fat 153
% Daily Value*
* Percent Daily Values are based on a 2000 calorie diet.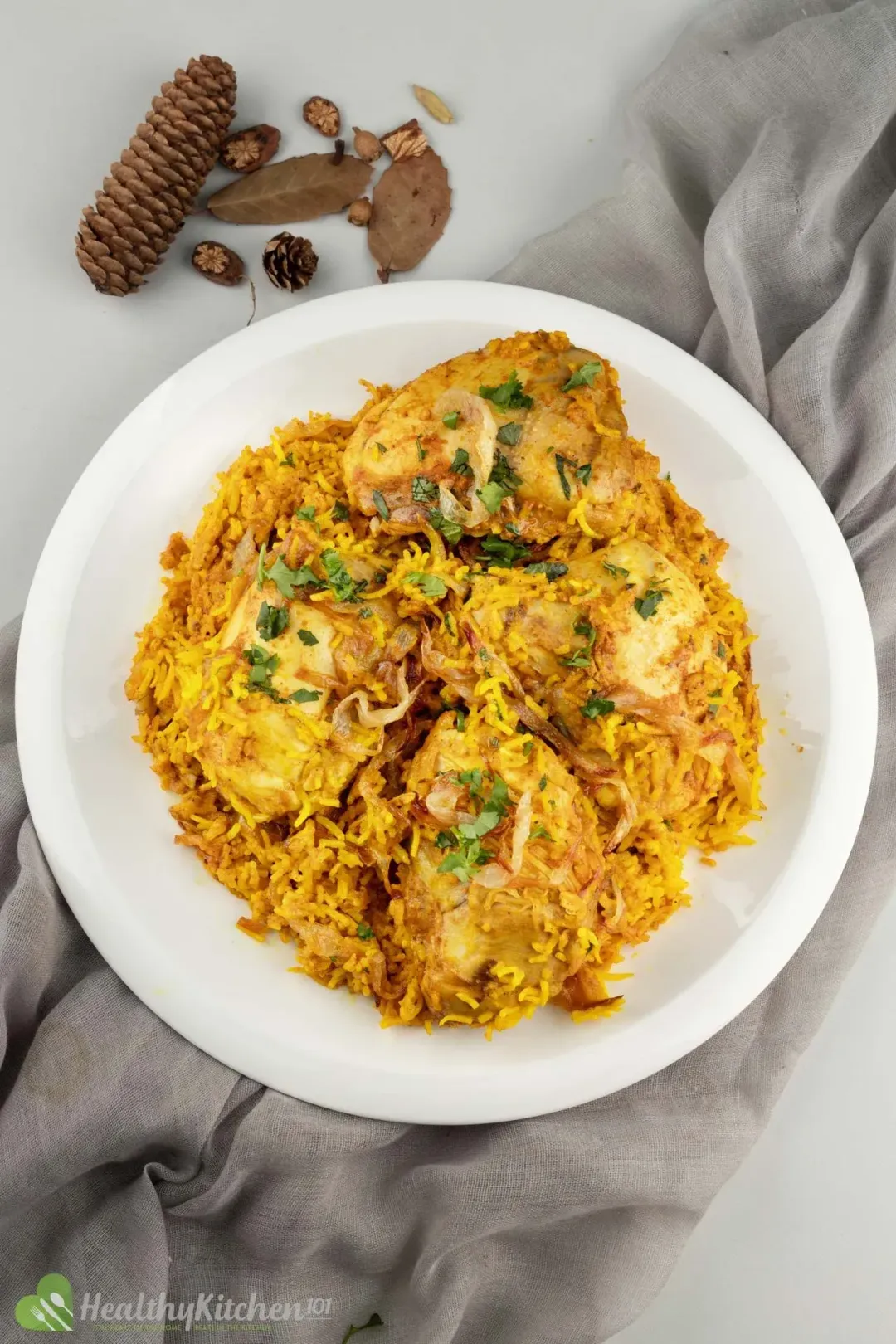 Previous Recipe
Chicken Biryani
Chicken Biryani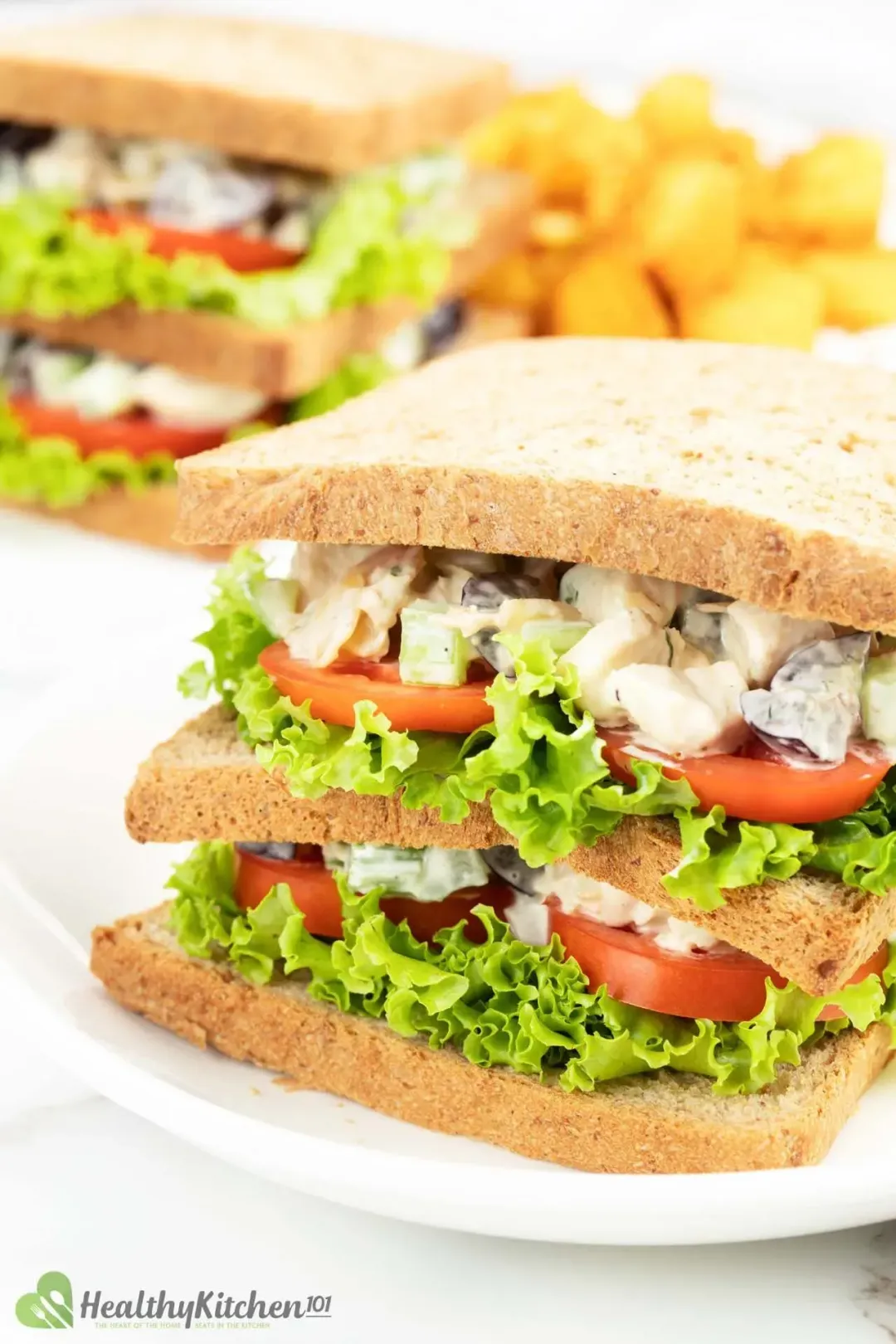 Next Recipe
Chicken Salad Sandwich
Chicken Salad Sandwich
Head Chef, Culinary Consultant
Tuyet Pham is an award-winning Saigonese chef who believes that joy is the secret ingredient to delicious food. At Healthy Recipes 101, Tuyet personally tests and simplifies every recipe, ensuring maximum flavor with minimal effort. With a background at prestigious French restaurants P'TI Saigon and Le Corto, Tuyet knows how to make every dish exceptional.
Writer, Author
Luna Regina is an accomplished writer and author who dedicates her career to empowering home cooks and making cooking effortless for everyone. She is the founder of HealthyKitchen101.com and HealthyRecipes101.com, where she works with her team to develop easy, nutritious recipes and help aspiring cooks choose the right kitchen appliances.
Nutrition Reviewer
Lizzie Streit is a Minneapolis-based dietitian and founder of It's a Veg World After All. She completed her MS in Human Nutrition from Drexel University, and is an expert in culinary nutrition, recipe development, and nutrition communications. Lizzie's philosophy is centered around making nutrition recommendations, and especially the advice to eat more vegetables, approachable and realistic. She is excited to be working with the team at Healthy Recipes 101 to ensure that their recipes are both nutritious and delicious.
Thanks for the compliment! 🙂

Friendly and tasty receipe. Thanks…

Thanks for stopping by! 🙂

Afrer the comments about tumeric why is there none in this dish

Hi Derek, the turmeric is actually in the curry powder 🙂

What is the yogurt supposed to substitute?