If you're on the lookout for a new chicken recipe to try out, look no further than this delicious Jerk chicken recipe.
This main course has the unique flavor profile of Jamaican cuisine which goes perfectly with chicken breast. The bold and vibrant taste of chicken is nicely balanced by the mango salsa and white rice, creating a harmonious meal.
What Is Jerk Chicken?
Originating in Jamaica, this recipe is one of the country's best-known dishes. The authentic dish features whole chicken marinated in the Jerk seasoning blend and grilled over an open fire with pimento wood.
The star of Jerk chicken is the seasoning blend, not the chicken. The unique mixture brings you a distinctive taste that cannot be found anywhere else.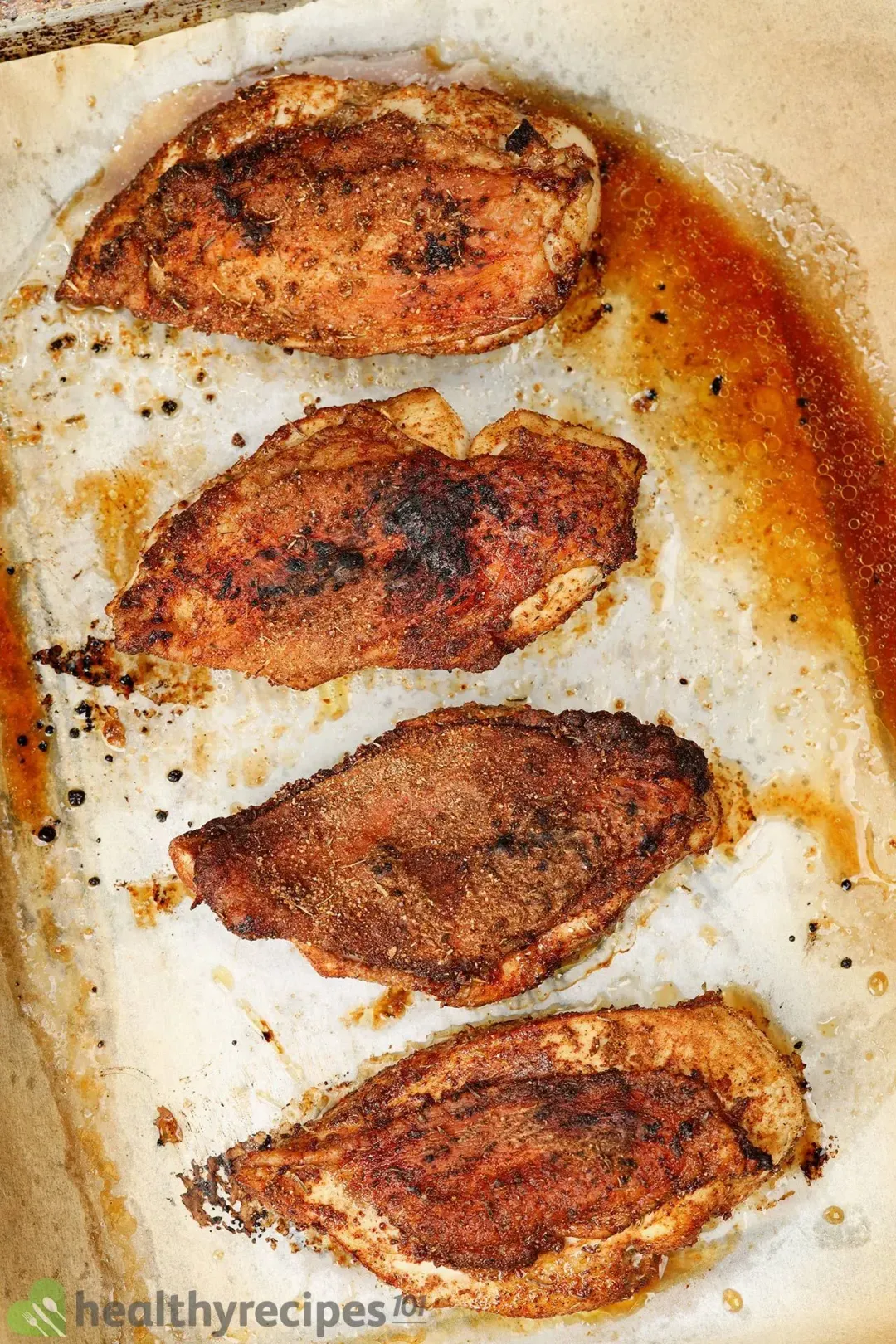 What Does This Chicken Taste Like?
Jerk seasoning has aromatic, sweet, and salty ingredients. Pimento wood infuses the chicken with a signature smokiness, and allspice is the key ingredient for the seasoning blend.
Overall, Jerk chicken has a multi-dimensional flavor profile. It is uniquely savory, sweet, fruity, and smoky.
Is It Spicy?
Yes, the original dish is spicy, but it's not the spiciness you get in everyday meals.
Scotch bonnet is used frequently in authentic Jerk chicken recipes, but it's optional. These peppers are very spicy and difficult to find outside of the Caribbean. You can use habaneros to add a kick to your Jerk chicken.
Ingredients for This Recipe
Chicken: Skin-on boneless chicken breast is the cut we chose for this recipe. The tender and juicy chicken flesh absorbs all the flavors from the seasoning blend, so you don't need to worry about bland chicken breast in this recipe. The skin adds a unique richness and acts as a barrier to protect the flesh from the heat.
Seasoning: We want to give you the closest experience to the authentic dish possible, so our take on Jerk seasoning has some of the original ingredients. Salt, pepper, and brown sugar are the basic seasonings in this blend. We add garlic and onion powder as aromatics, cayenne and paprika for the heat, and Cajun seasoning for some smokiness. Lastly, we have allspice and thyme as the spices in our blend.
Salsa: We make a refreshing, sweet, and sour mango salsa to balance out the bold taste of the Jerk seasoning. It is a straightforward salsa: we combine mangoes, red bell peppers, red onions, garlic, lime juice, and olive oil. If the flavors of chicken get too intense, this salsa will provide a soothing effect.
Rice: Rice is the starch ingredient to complete the meal. The fluffy consistency of white rice works harmoniously with the softness of mangoes.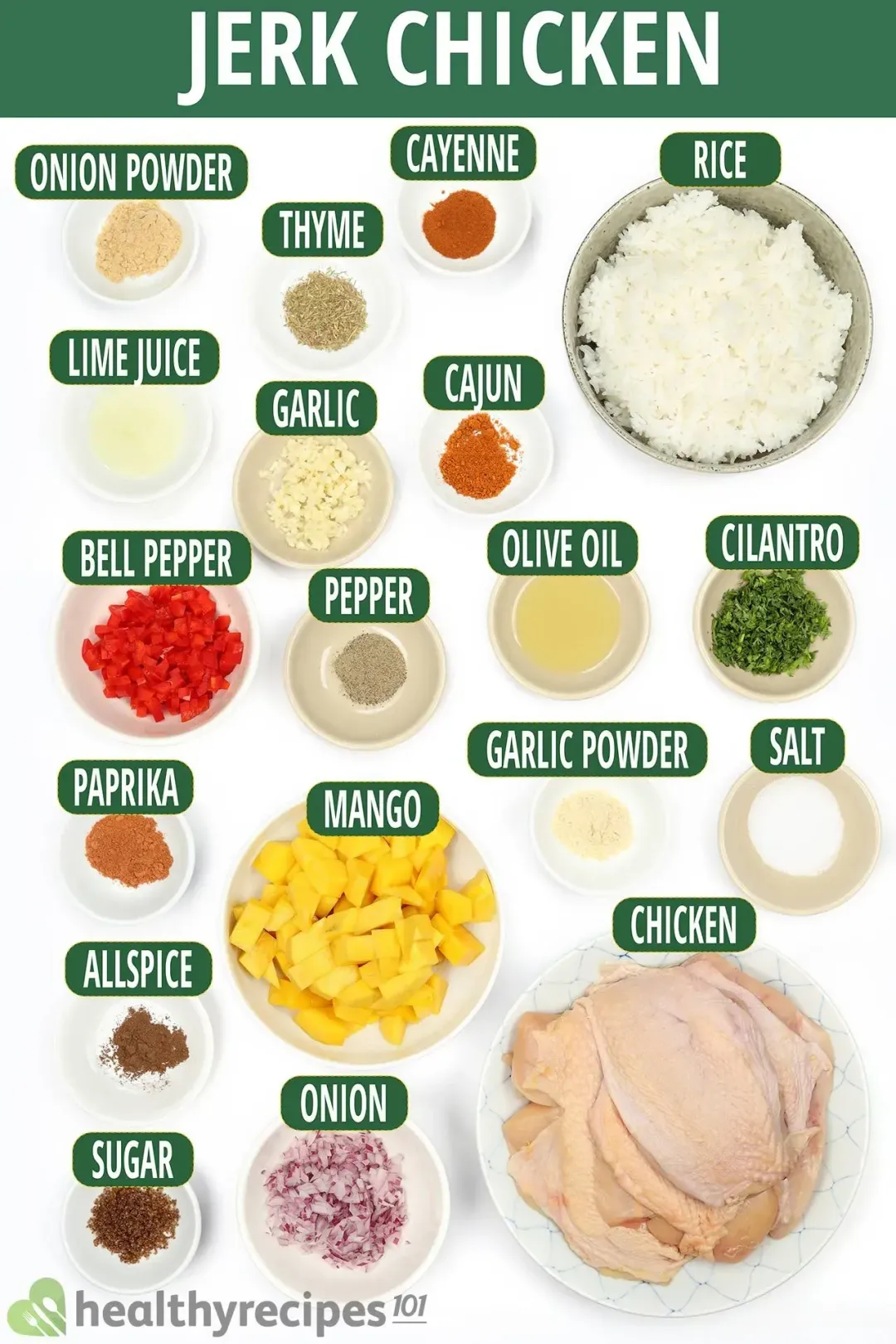 Is This Recipe Healthy?
Yes, we believe this Jerk chicken recipe is healthy.
Adhering to our nutrition guidelines, this dish has 499 calories and 4.6 g of saturated fat in each serving, which are moderate numbers for a main course.
The substantial number of seasonings may raise some eyebrows, but the amount of sodium is only 578 mg per serving.
With chicken breast at the forefront, this recipe provides you with 36.6 g of protein in each serving.
The salsa with mango, bell pepper, and red onion also contributes great amounts of fiber, minerals, vitamins, and other antioxidants.
How to Store and Reheat Leftovers
Let the leftovers cool and transfer them to an airtight container or freezer bag. Jerk chicken should last for 5 days in the fridge and 2 to 3 months in the freezer.
There are three ways to reheat Jerk chicken: Skillet, oven, or microwave. Add some water to the chicken if necessary to prevent drying.
Skillet: If you need to reheat quickly, cook on medium-low heat until warm.
Oven: Preheat the oven to 350 °F, and cook until warm. This is the best method because the oven can reheat the chicken evenly.
Microwave: For convenience, reheat in 30-second increments to avoid overcooking the chicken.
What to Serve With
We have a variety of light salads for you to serve with this stacked main course.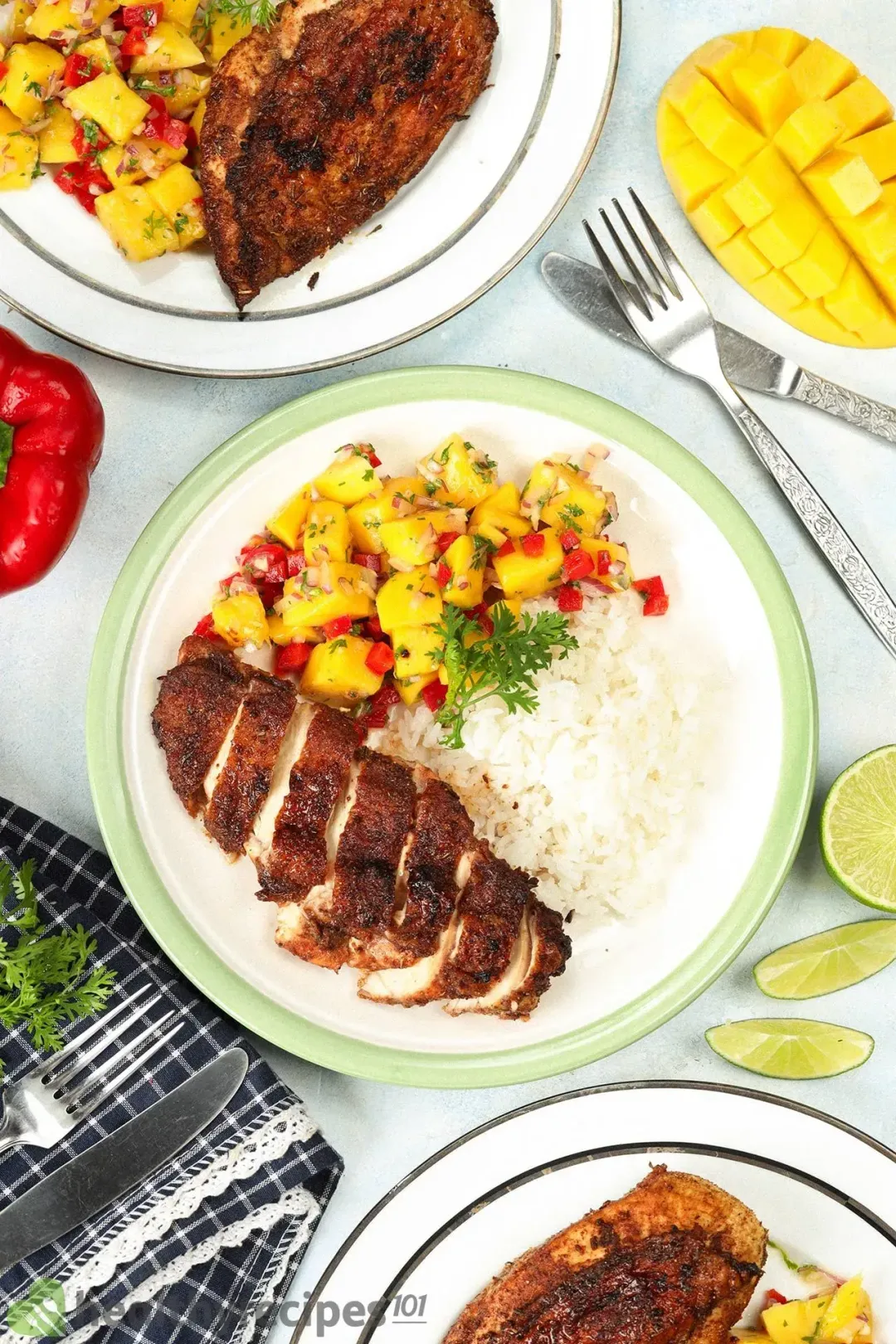 Tasty Chicken Cooked Separately From Rice
This skillet has breaded chicken nuggets, a medley of sweet vegetables, and a sweet, sour sticky glaze that ties everything together. It's quite time consuming for everyday cooking, but the taste is very suitable for special occasions.
We air-fry chicken thighs until the skin is crispy but the inside is still juicy and tender. Then, we layer on fresh lettuce, tomatoes, beans, and corn on top of steaming white rice to make this chicken goodness. It's ready to serve with a drizzle of homemade pink sauce.
How to Make Jerk Chicken
This Jerk chicken recipe serves up a fulfilling meal with flavorful chicken breast in Jerk seasoning, refreshing mango salsa, and white rice.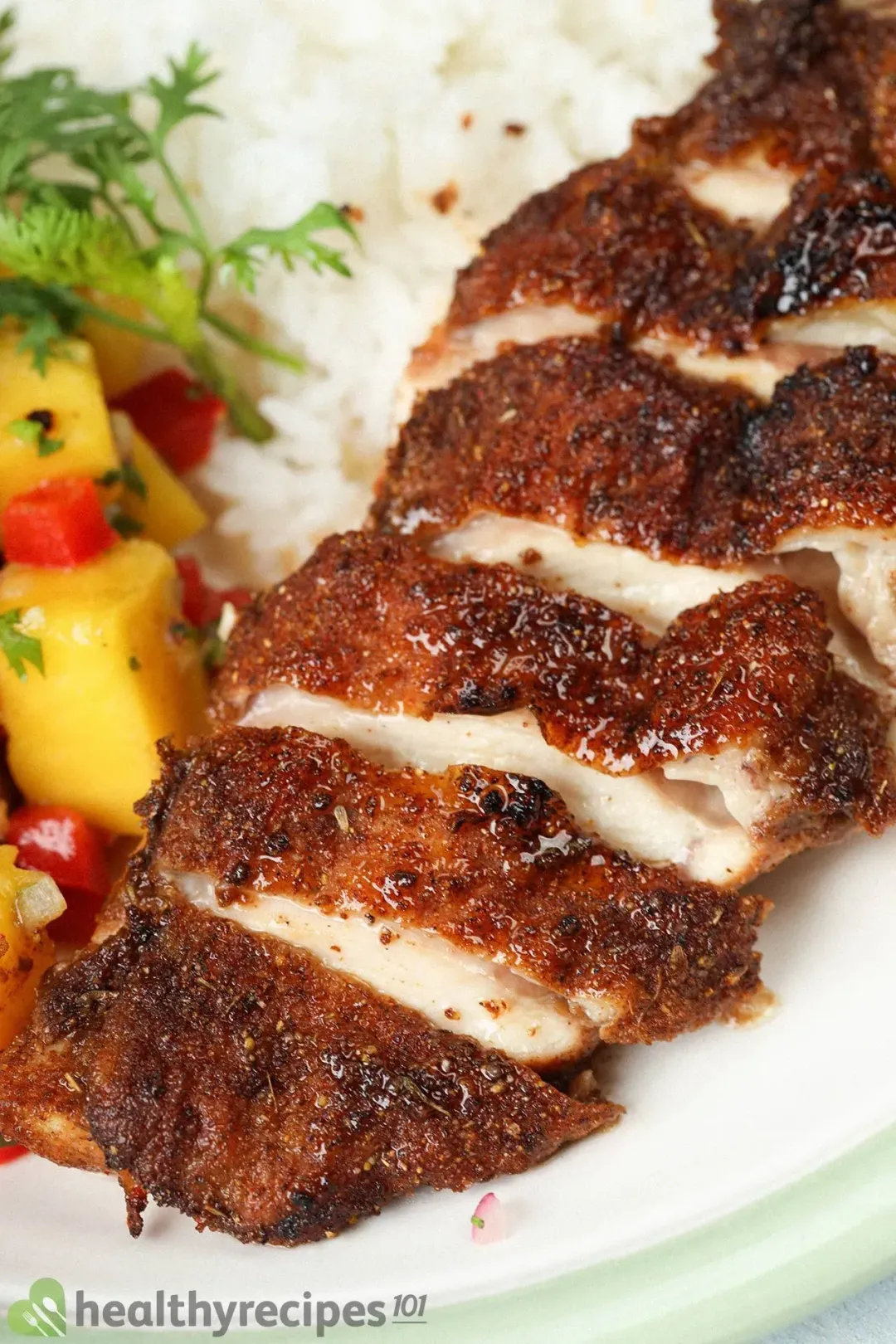 cook TIME

30 mins

prep TIME

15 mins

total TIME

45 mins
COURSE

Main Course

CUISINE

Global

SERVINGS

CALORIES

499 kcal
INGREDIENTS
22 oz

skin-on boneless chicken breasts

10 oz

mangoes

(cut into cubes)

2 oz

red bell peppers

(diced)

1 oz

red onion

(finely chopped)

1/4 cup

cilantro

(finely chopped)

1/2 tsp

ground black pepper

2 1/2 cups

cooked medium-grain rice

(from 1 1/4 cups uncooked)
INSTRUCTIONS
Prep:
1
Cut the mango: Slice off the flesh around the pit. For the big pieces, cut a grid on the flesh, then hold the edges and flip them inside out. Use a knife to slice off the mango cubes. For the small pieces, peel the skin with your knife, then cut into cubes.
2
Cut the bell peppers: Slice off the top and bottom parts of the peppers, then cut them in half. Carefully remove the seeds and the white part. Cut the rectangular pieces crosswise into 1/4-inch strips, then cut the strips into small dice.
3
Chop the red onion: Cut the onion in half and peel off the skin. Keeping the root intact, make horizontal and vertical cuts 1/4-inch apart from each other to make a crosshatch pattern. Slice across the onion half to chop.
4
Chop the cilantro: Bunch cilantro together on a cutting board and use your knife to chop finely.
5
Mince the garlic: Cut off the root part of the cloves. Bash the cloves with your knife and peel the skin. Use a knife or a mincer to mince the garlic.
6
Cook the rice: Cook rice with a pot, a rice cooker, an Instant Pot, or a microwave.
Cook:
1
Make the salsa: Prepare a mixing bowl. Add 10 oz mango, 2 oz red bell peppers, 1 oz red onion, 1/2 tbsp olive oil, 1/2 tbsp lime juice, 1 tbsp garlic, 1/4 cup cilantro, and half the prepared amount of salt to the bowl. Mix well.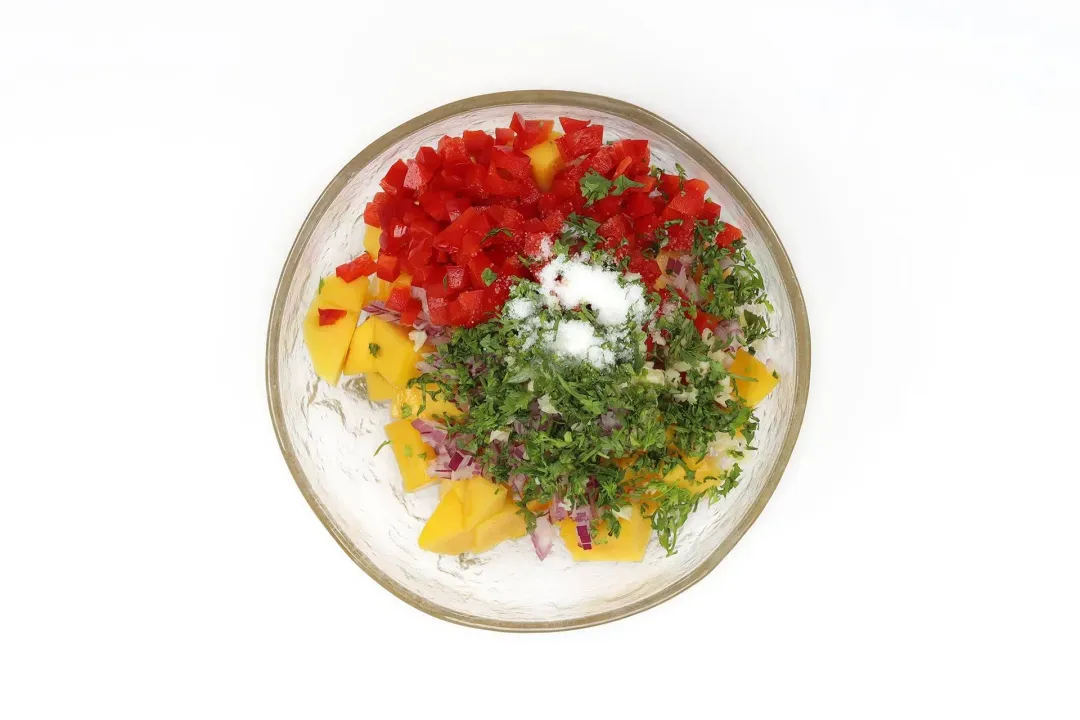 2
Mix the seasoning blend: Prepare a large plate. Add 1/2 tsp ground black pepper, 1 tsp brown sugar, 1 tsp onion powder, 1 tsp cayenne pepper, 1 tsp garlic powder, 1/2 tsp paprika, 1/2 tsp ground allspice, 1/2 tsp Cajun seasoning, 1/2 tsp dried thyme, and the rest of the salt. Mix well until combined.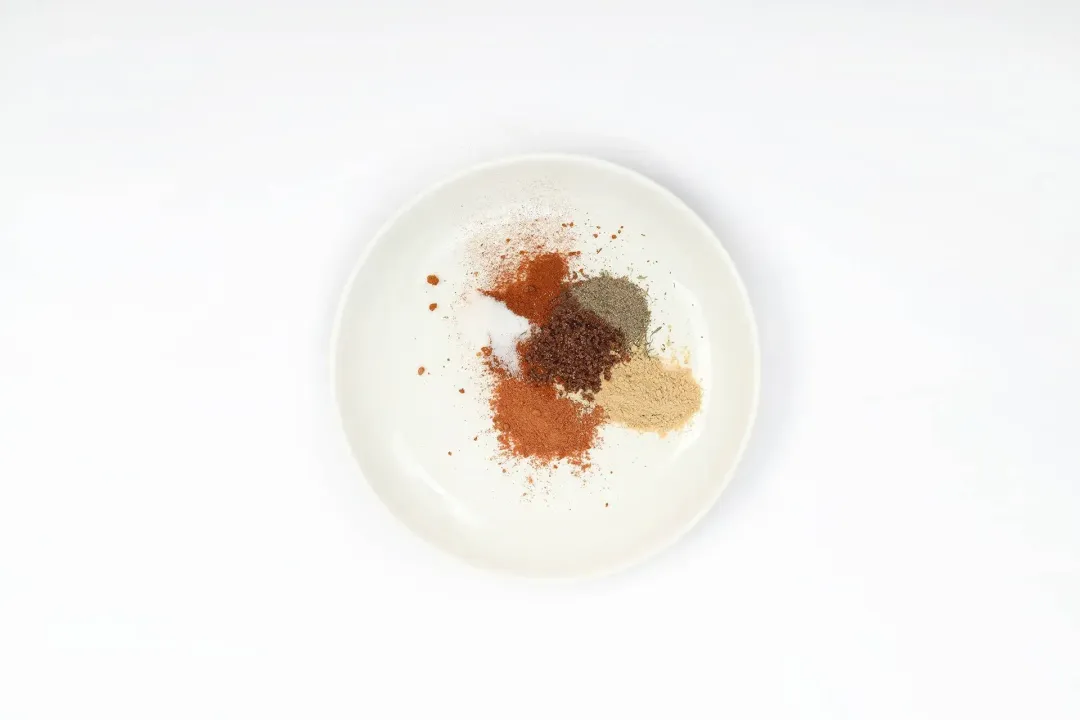 3
Season the chicken breasts: To the same plate, add 22 oz chicken breasts to the seasoning blend. Rub the blend thoroughly on the chicken and let them rest for 5 minutes.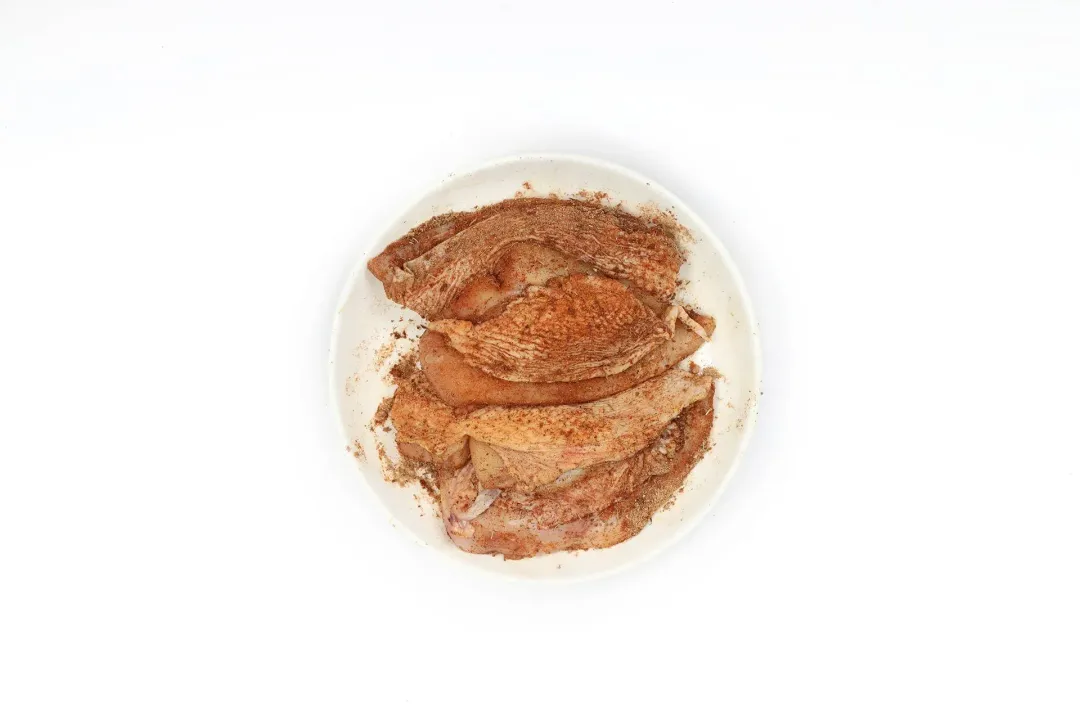 4
Prepare a baking tray: Prepare a lined baking tray and place the seasoned chicken breasts on it.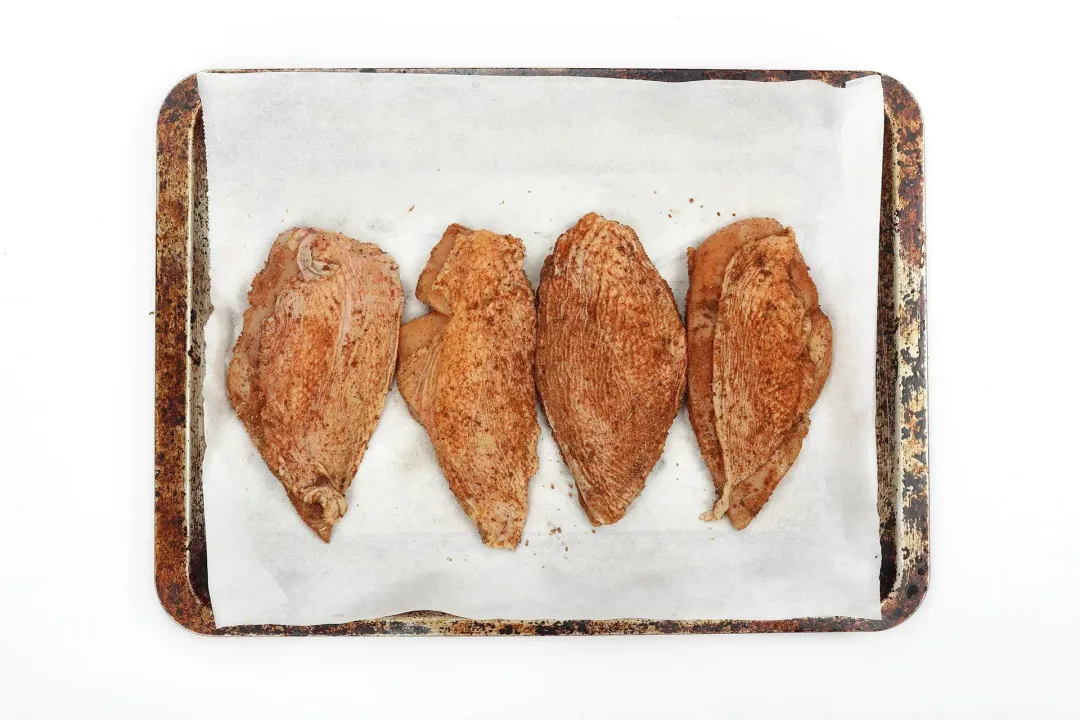 5
Cook the chicken: Cook the chicken in a preheated oven at 425 °F for 17 minutes.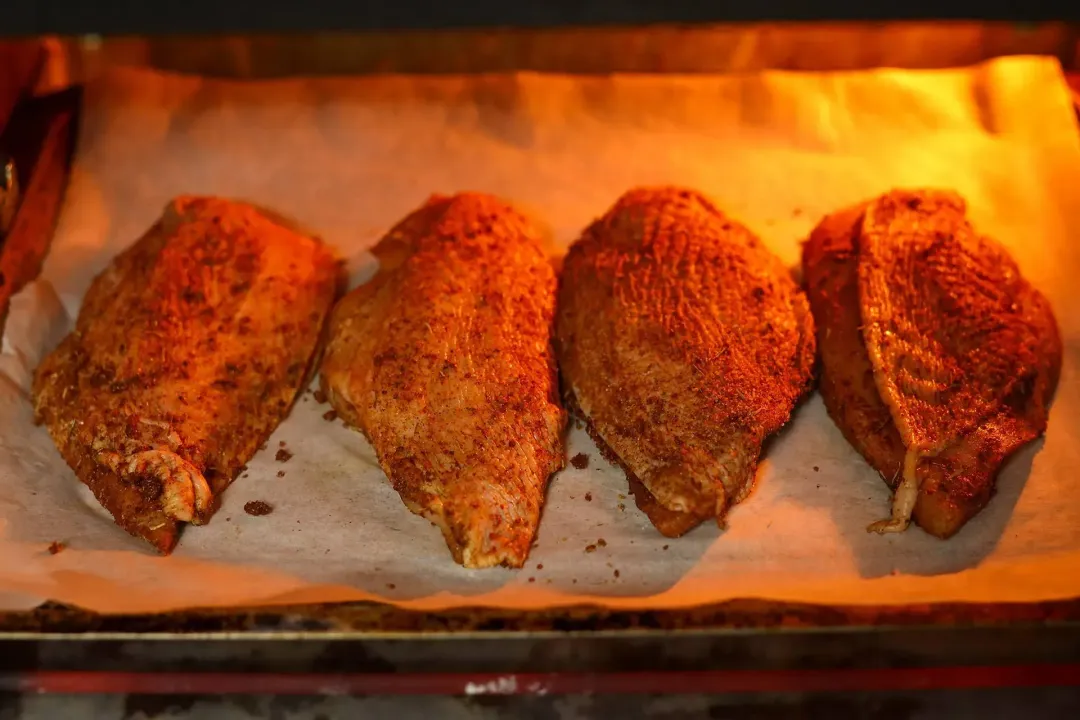 6
Serve and enjoy: Serve the cooked chicken breasts with the mango salsa and 2 1/2 cups of cooked white rice. Divide all three into 4 portions to serve.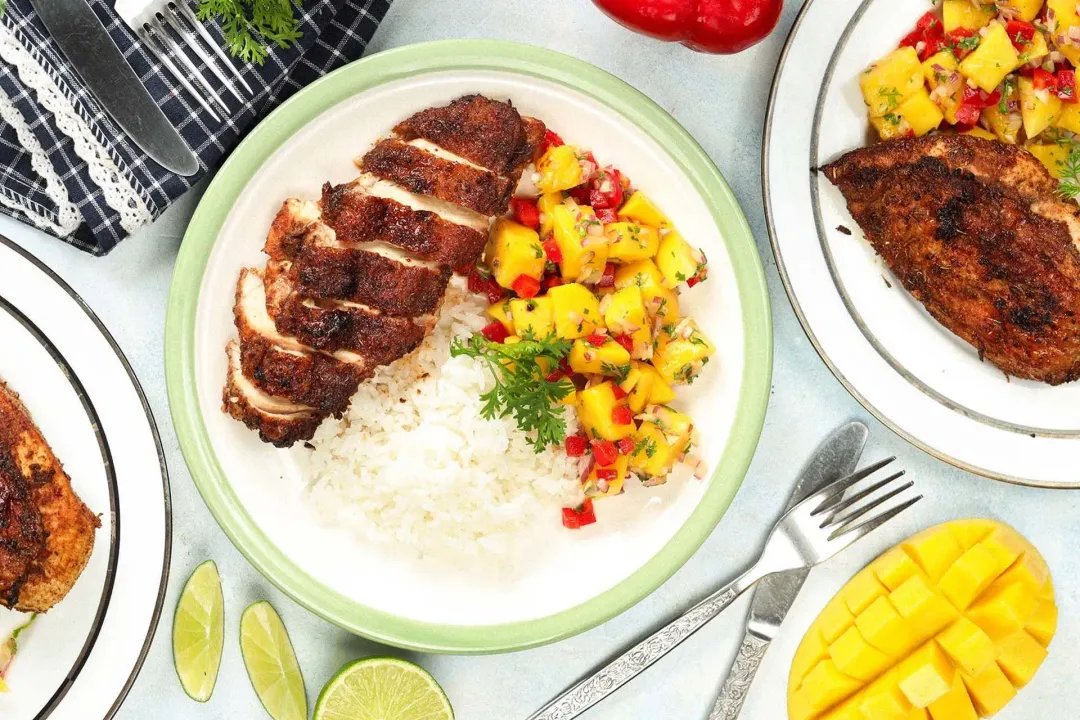 NUTRITION
Nutrition Facts
How to Make Jerk Chicken
Amount Per Serving (1 serving)
Calories 499
Calories from Fat 152
% Daily Value*
* Percent Daily Values are based on a 2000 calorie diet.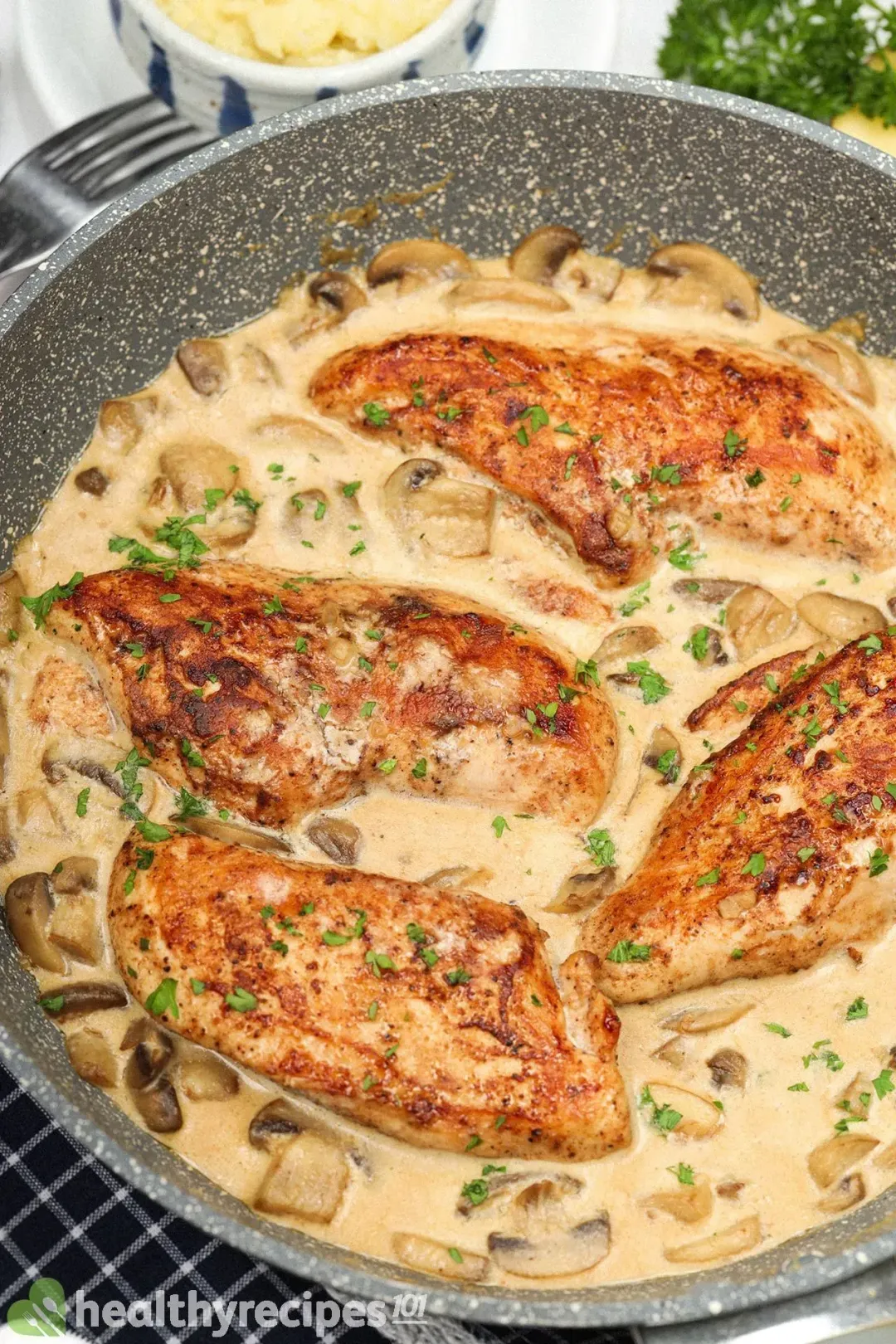 Previous Recipe
Mushroom Chicken
Mushroom Chicken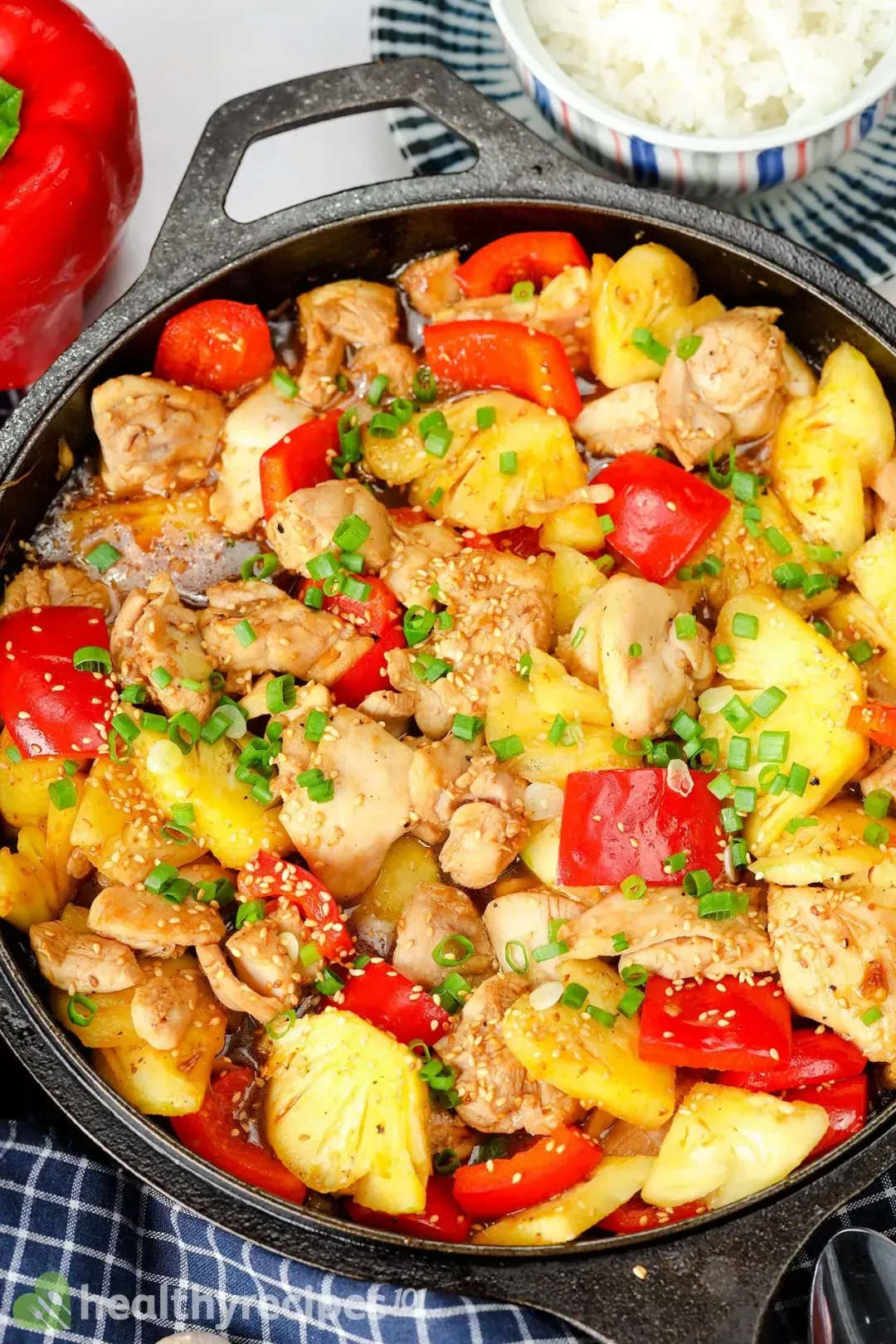 Next Recipe
Pineapple Chicken
Pineapple Chicken
Head Chef, Culinary Consultant
Tuyet Pham is an award-winning Saigonese chef who believes that joy is the secret ingredient to delicious food. At Healthy Recipes 101, Tuyet personally tests and simplifies every recipe, ensuring maximum flavor with minimal effort. With a background at prestigious French restaurants P'TI Saigon and Le Corto, Tuyet knows how to make every dish exceptional.
Writer, Author
Luna Regina is an accomplished writer and author who dedicates her career to empowering home cooks and making cooking effortless for everyone. She is the founder of HealthyKitchen101.com and HealthyRecipes101.com, where she works with her team to develop easy, nutritious recipes and help aspiring cooks choose the right kitchen appliances.
Nutrition Reviewer
Natalie Butler is a registered dietitian nutritionist with a passion to help others live their best life through food, fitness, safer beauty and a healthy lifestyle. She has expertise with a variety of diets and diseases and believes that there is no one-size-fits-all approach for health.
This jerk chicken was packed with spices and had the most amazing aroma coming from it.

That was delicious! Did not change anything on the recipe.