Looking for a recipe for a delicious dinner that'll delight the whole family? The answer is simple: sweet and sour chicken recipe.
Crunchy vegetables and tender chicken is tied together by a silky, well-seasoned sauce, making this sweet and sour chicken a staple in many family tables.
What Is Sweet and Sour Chicken?
Sweet and sour chicken consists of deep-fried chicken of bite-sized chunks that are coated in a special sauce made of sugar, salt, ketchup, and vinegar. Other add-ins such as bell peppers, onions, pineapples, or broccoli are also stir-fried in this delicious sauce.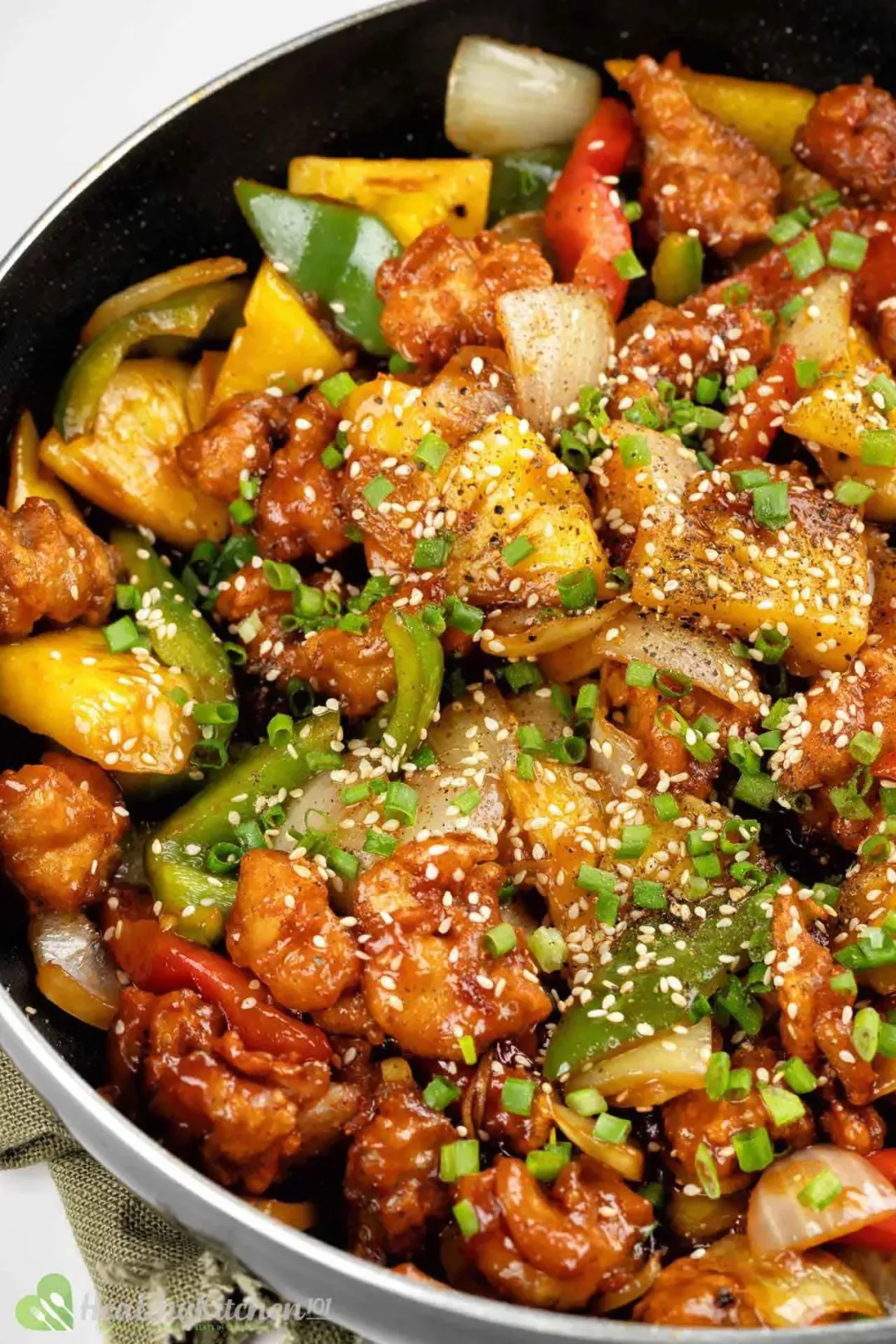 The origin of sweet and sour chicken began in the 18th century in China. With the arrival of Chinese immigrants in the 20th century, the dish then spread to America. 
Traditionally, pork is the main protein in the dish, however, chicken has become a more common choice since it is easier to buy and is acceptable to everyone. The classic blend of sugar and vinegar is complemented by ketchup— an American favorite. This helps the recipe evolve even more with the American palate.
How to Make Sweet and Sour Sauce
Sweet and sour chicken is nothing without the sauce. Associated with the combination of various seasonings, the sauce boats right at the balance of sweet, sour, and savory with a tender herbal aroma to complement the juicy chicken.
You can't go wrong with this sweet and sour sauce. It's terrific and all the elements in the combination are easy to find in any supermarket.
We tried different options such as sugar or honey, rice vinegar or red wine vinegar, ketchup or tomato sauce, and the proper ratio of each element until we reached the best sauce formulation.
Here is the list of all ingredients we use to create the sauce:
Tomato ketchup
Brown sugar
Soy sauce
Salt
White wine vinegar
Don't let the length of the list intimidate you. Most of them are just whisked together until combined to a thick, silky sauce which is quick and easy to make. 
Plus you might have all of the seasonings in the pantry. This means you can make this palatable sauce whenever you are craving a homemade sweet and sour chicken.
Substitution
Apart from the sweet and sour sauce, another important ingredient needs to be carefully chosen: chicken. Not to worry, we are here with some simple breakdowns to help give you guidance and clarity.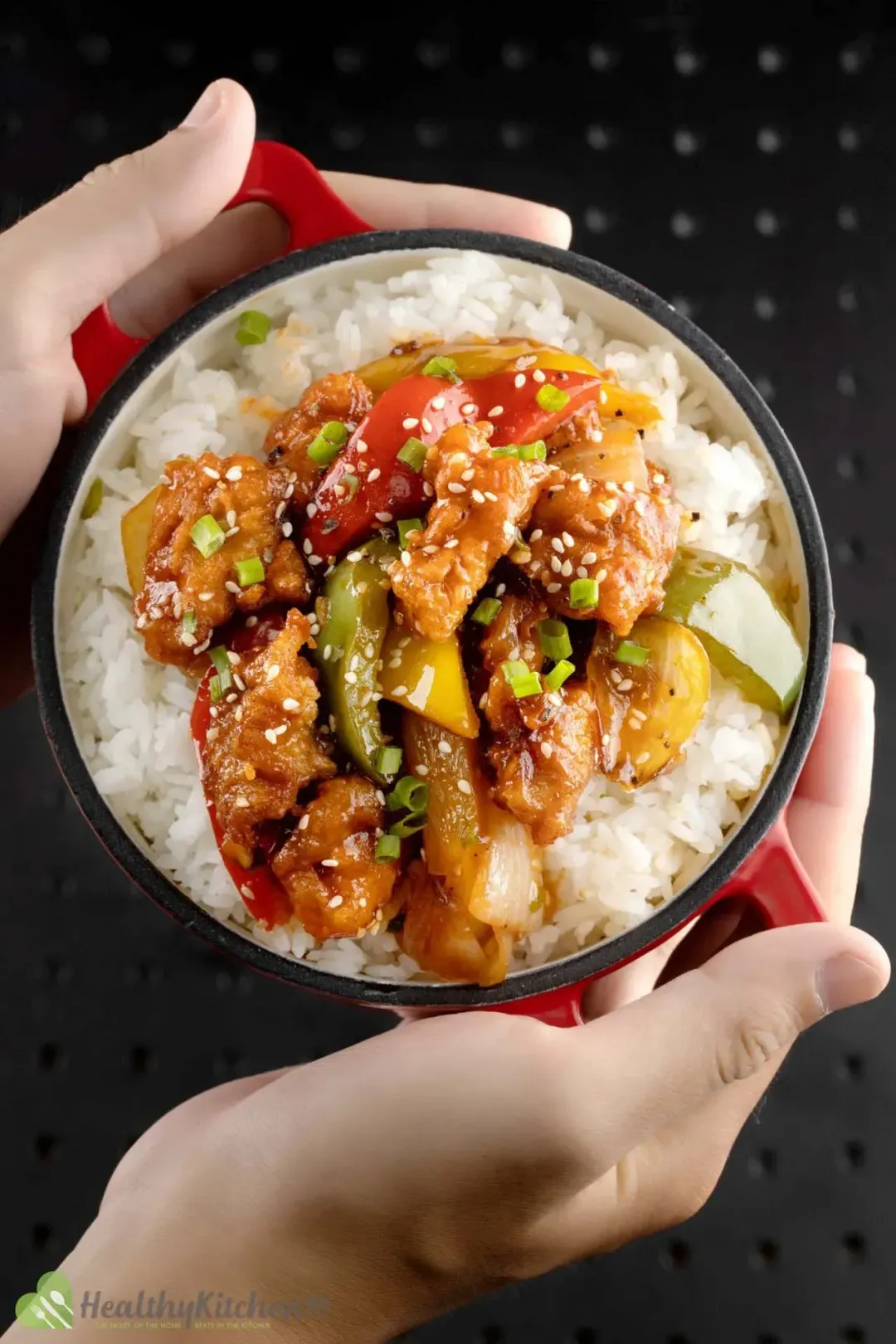 1. Chicken Breast
Skinless boneless chicken breast— one of the most versatile meat— works nicely in the recipe. With very little fat contained, this white meat can be easily cut into bite-sized chunks and deep-fried in oil without resulting in a greasy taste.
2. Chicken Thigh
Containing a little more fat, the chicken thigh is slightly more tender than the whole chicken breast. We recommend buying chicken thighs as fillets with skin and bones removed.
This way you can reduce the fat content in the dish, making it more appetizing and healthier.
3. Chicken Wings
Chicken wings are a cheaper part of a chicken, but this doesn't make them less tasty than others. The higher percentage of skin even creates the succulent mouthfeel in every bite, making this sweet and sour chicken wings a great appetizer.
Our favorite way to eat the dish is to serve it hot over cooked rice and pair it with some green salads for a fulfilling and satisfying dinner.
Is Sweet and Sour Chicken Healthy?
With a list of fresh ingredients including white meat, vegetables, and herbs, this sweet and sour chicken is undoubtedly healthy. 
1. Calories
One serving of our sweet and sour chicken with rice combined delivers 511 calories. We recommend having the dish with a hearty soup or light salad to get a fulfilling 750-calories meal.
2. Carbs
With 70 grams of carbohydrate in each serving, our sweet and sour chicken recipe might not be for low carb dieters. That number might sound a lot, however, we carefully tested and calculated the nutritional value to ensure the recipe satisfies the US dietary guidelines.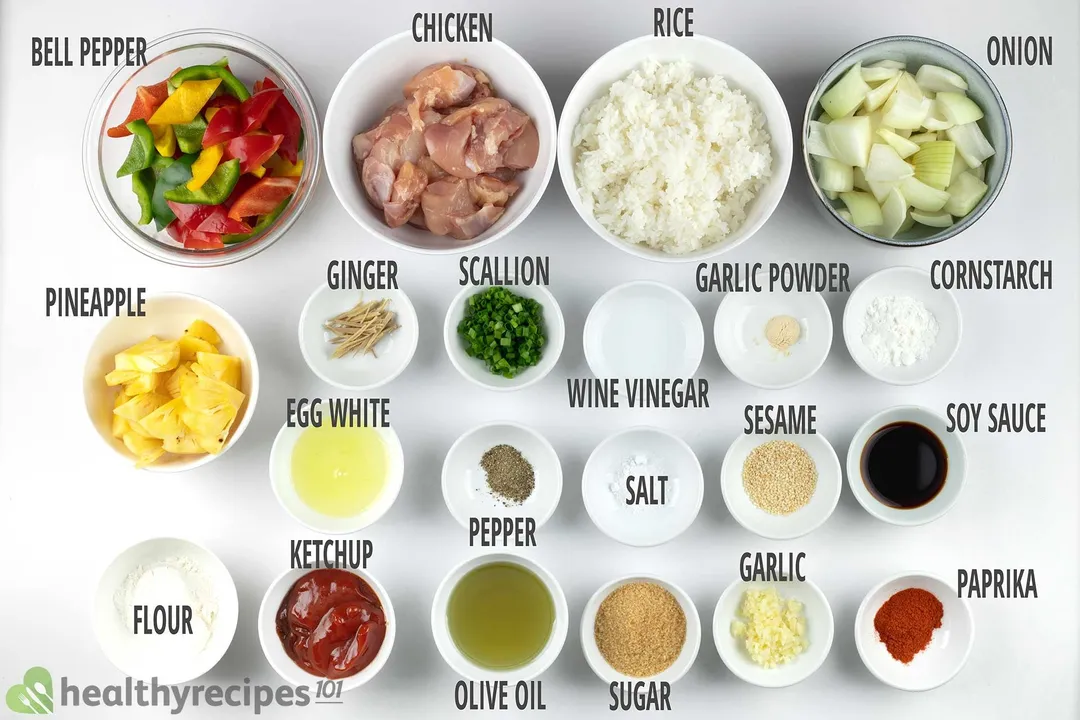 How Long Does Sweet and Sour Chicken Last?
Over time this sweet and sour chicken will deteriorate in quality, so the best time to eat the dish is when it is fresh from the pan after frying. The chicken is still juicy and the crispy outer is coated with the goodness from the sweet and sour sauce.
Since our sweet and sour chicken doesn't contain any preservatives, it should be consumed within the first 2 hours. In case you want to prolong the shelf life of the leftover, follow these steps. 
Store your chicken and the sauce separately in different airtight containers, and place them in the refrigerator. 
Can You Freeze Sweet and Sour Chicken?
Yes, sweet and sour chicken is quite freezer-friendly. Store the dish in an airtight container for up to 3-4 months.
When ready to use, thaw the chicken in the refrigerator the night before. Then reheat in a microwave or a saucepan over medium heat.
Protip: You can store the sauce separately from the chicken to preserve the crispiness of the fried chicken.
What to Serve with Sweet and Sour Chicken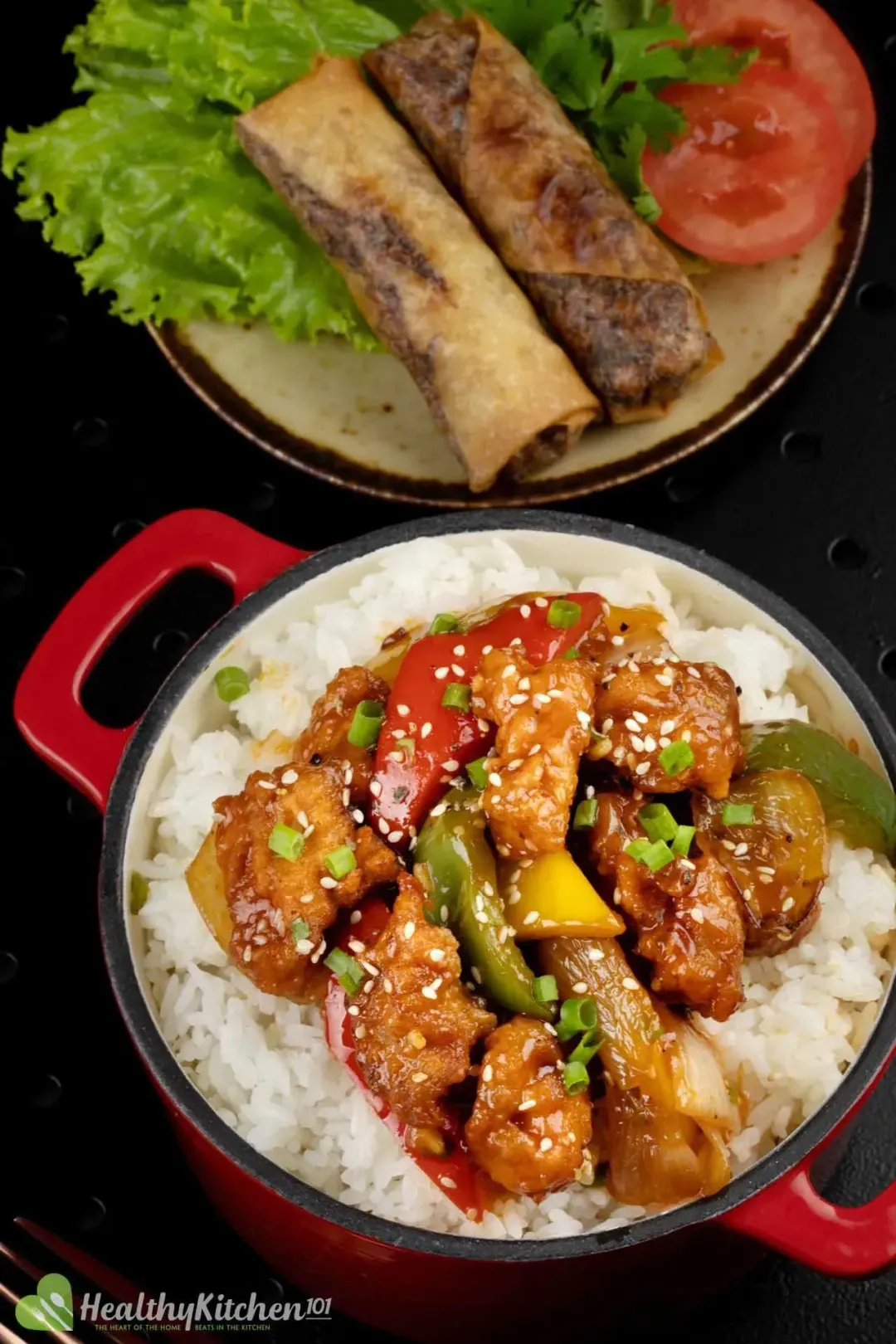 1. Rice
The combination of sweet and sour chicken with steamed rice is a classic dinner for most Asian families. If you are trying to cut down on the daily carbohydrates, simply switch the regular white rice to cauliflower rice for a similar mouthfeel.
2. Noodles
Another common starchy option to go with this recipe is noodle. The best way to cook noodles is to stir fry them in the same pan with other ingredients. This allows noodles to absorb the sauce and beautifully blend with flavors. 
One thing to note about this sweet and sour chicken noodles is that the leftover will continue to soak up the liquid even when it sits in the fridge. So you should add a tablespoon of water or chicken broth to the pan when reheating the dish.
3. Soups
Comforting Asian soups like cabbage soup or egg drop soup can wonderfully pair with sweet and sour chicken. Those soups can be made from scratch with only some available ingredients in your fridge within 30 minutes.
We serve this sweet and sour chicken with Vietnamese egg rolls and pineapple ginger juice for a delightful 750-calorie meal. The following tables will give you more details about the nutrition of the meal.
More Sticky, Gorgeous Chicken Filets Over Rice
Starting off this list is our Thai-style grilled chicken: spicy, umami, and tangy. The plate is finished with toasted peanuts and a quick carrot pickle.
This one, on the other hand, really does chicken breasts great justice. The skin is crisp, the meat is juicy, and the flavorful spice mix is complemented by a side of mango salad. We think they're best served with cooked rice.
Sweet And Sour Chicken
Today's sweet and sour chicken is going to introduce a healthier take on the restaurant version. Serve with a light soup or salad and you'll have a nutritious, yet tasty dinner within an hour.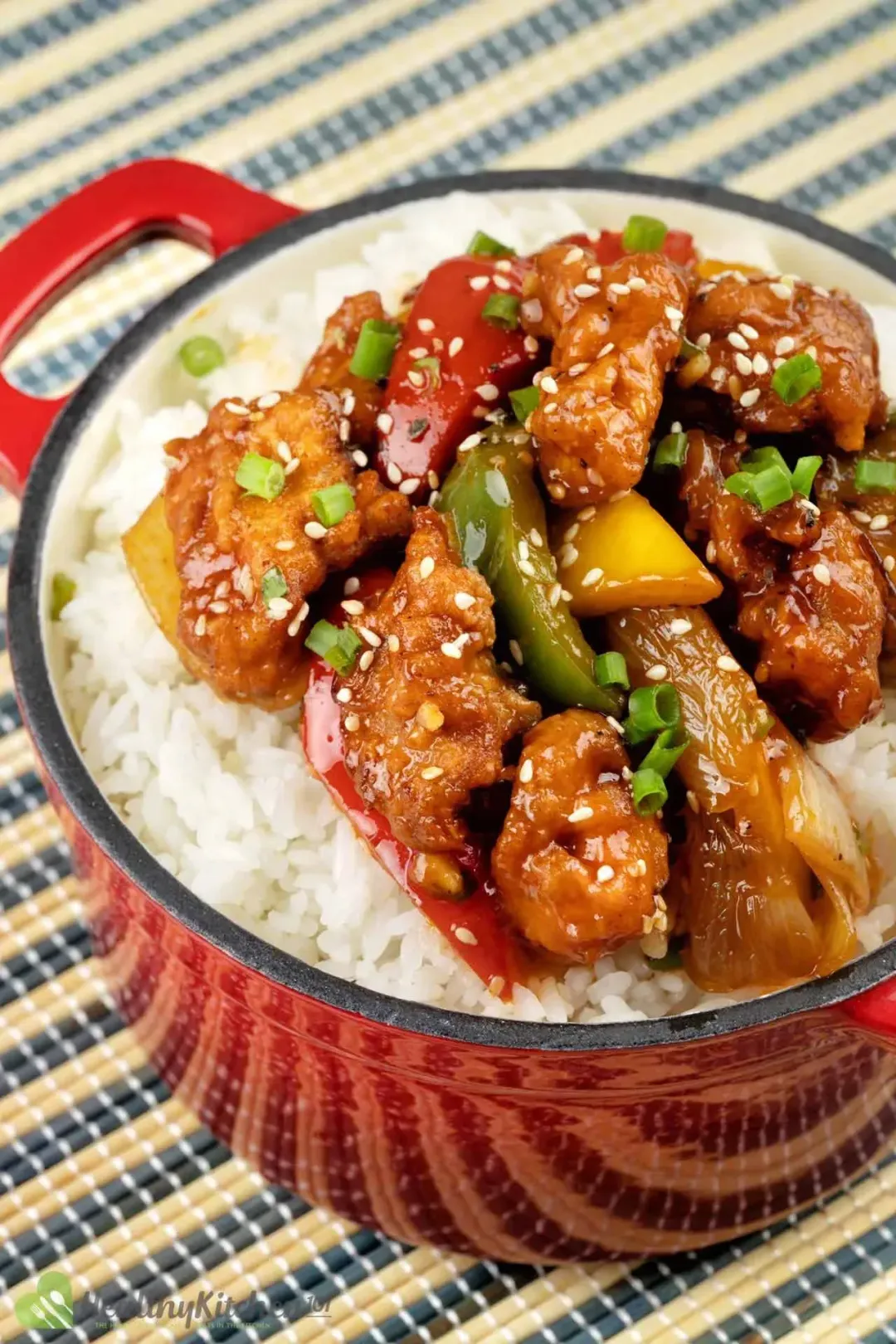 cook TIME

15 mins

prep TIME

10 mins

total TIME

40 mins

INACTIVE TIME

15 mins
COURSE

Main Course

CUISINE

Chinese

SERVINGS

CALORIES

511 kcal
INGREDIENTS
12 oz

skinless boneless chicken breast

(1-inch cube)

8 oz

bell pepper

(red, yellow, and green)

1 cup

olive oil

(for frying *)

1/4 cup

unsalted chicken broth

1 tbsp

reduced sodium soy sauce

1 tbsp

white wine vinegar

3 cups

cooked medium-grain rice
INSTRUCTIONS
1
In a big clean bowl, whisk together 3 tbsp all-purpose flour, 1 tbsp cornstarch, 1/4 tsp garlic powder, 1 tsp paprika, 1/4 tsp ground pepper, and 1 white egg until resulting in a smooth batter.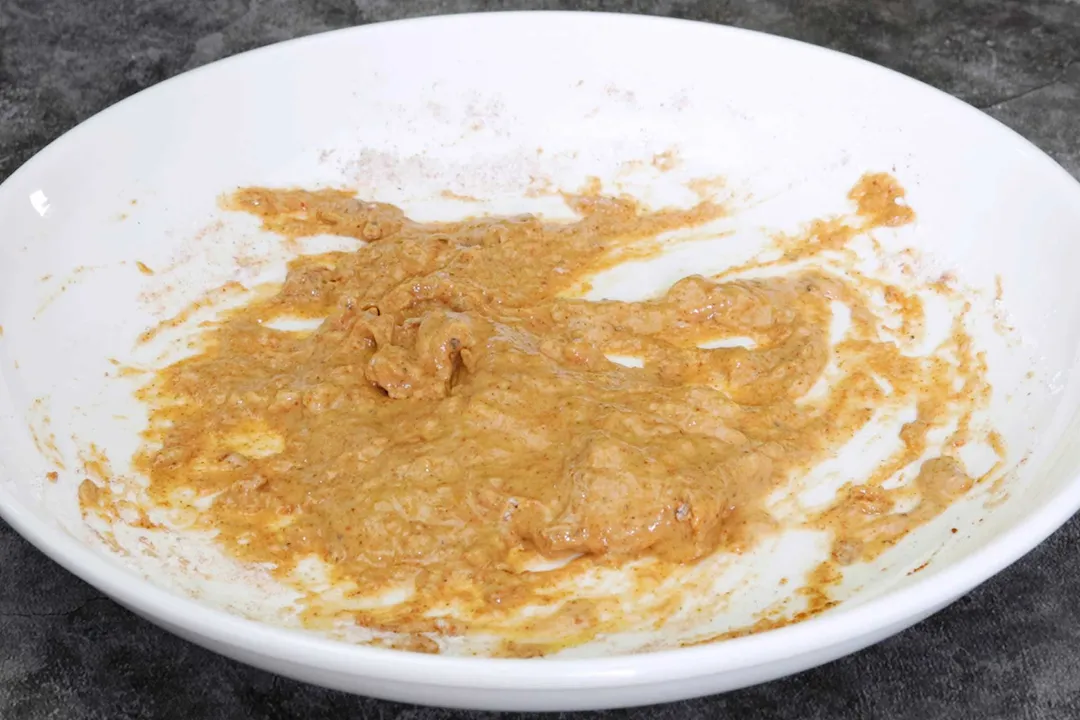 2
Coat each piece of chicken in the batter. Then let the bowl sit in the refrigerator for 15 minutes.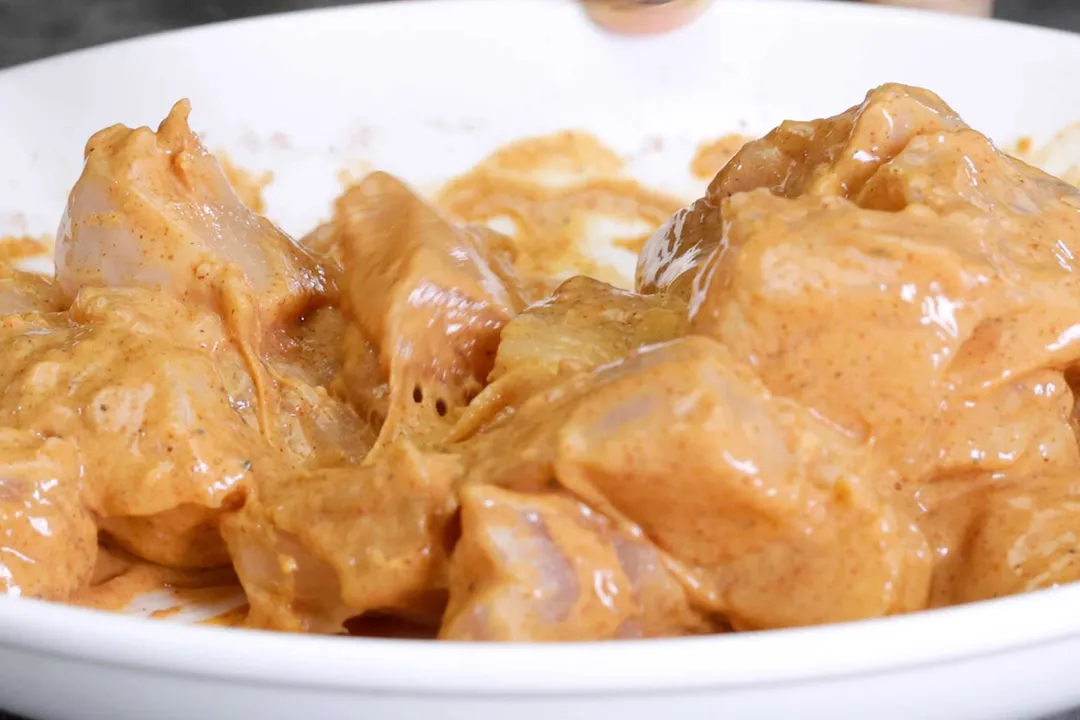 3
For the sauce: In a small bowl, stir together 4 tbsp tomato ketchup, 2 tbsp brown sugar, 1 tbsp soy sauce, 1/4 tsp salt, 1/4 cup chicken broth, and 1 tbsp white wine vinegar. Set aside.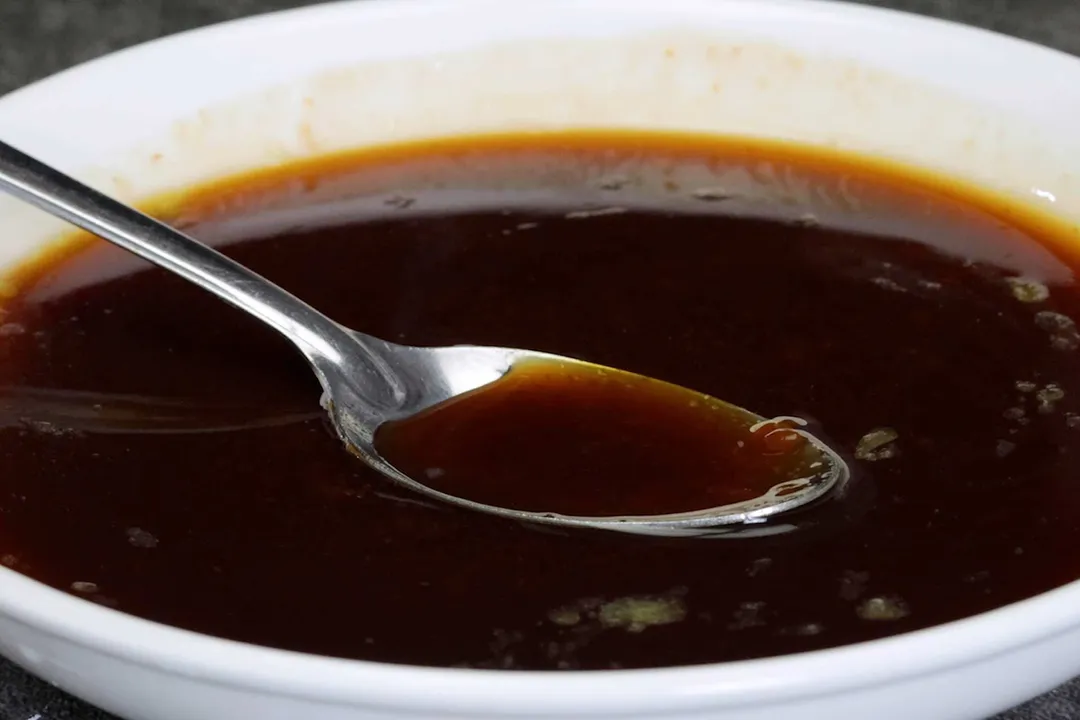 4
Take the chicken out of the refrigerator. Deep-fry chicken in 1 cup of olive oil over medium-low heat until they are golden brown and cooked through. Reduce the heat if needed so that the chicken is not over brown. Remove the chicken and drain on a plate lined with kitchen paper. Refry the chicken for the crispier texture.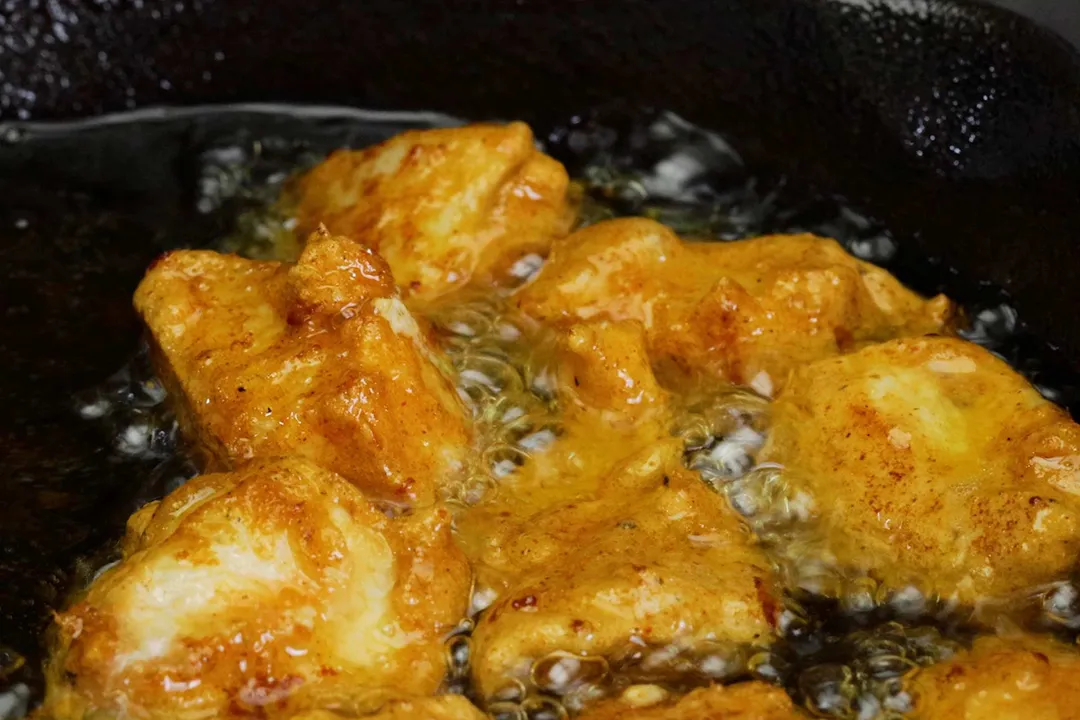 5
In a nonstick pan, add 2 tbsp olive oil over medium heat. Stir fry 2 tsp garlic, 1 tsp ginger, 6 oz onion, 8 oz bell pepper, and 4 oz pineapple over medium heat for about 3 minutes.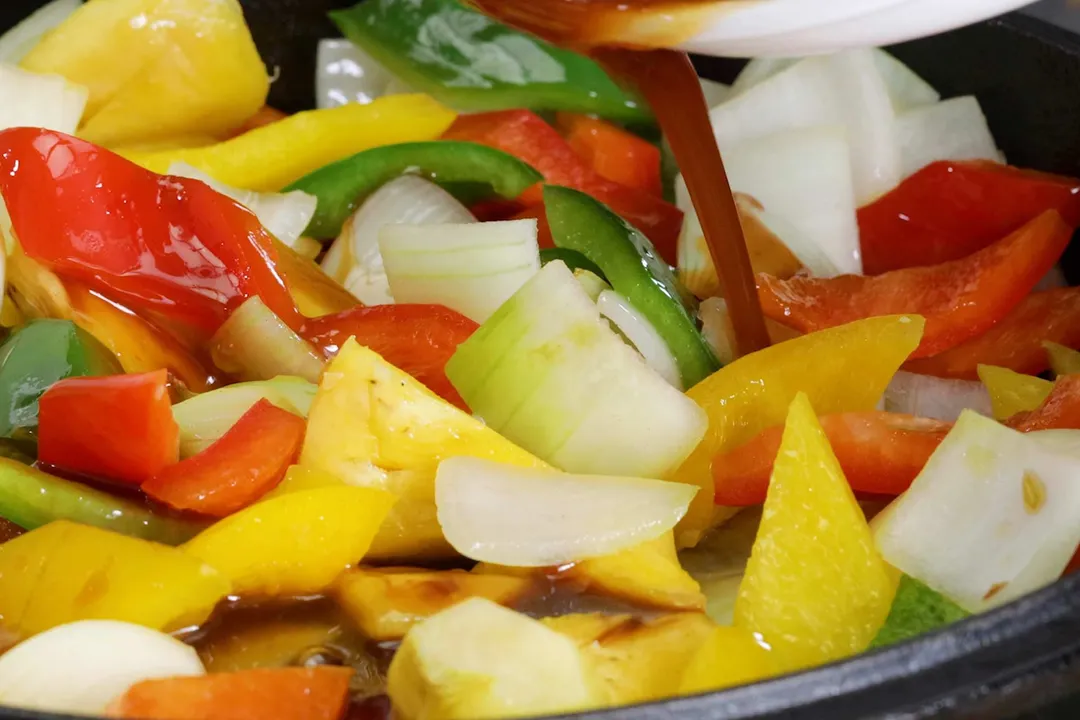 6
Add in the sauce, fried chicken, 2 tbsp green onion, and 1 tsp sesame seeds and mix through heat.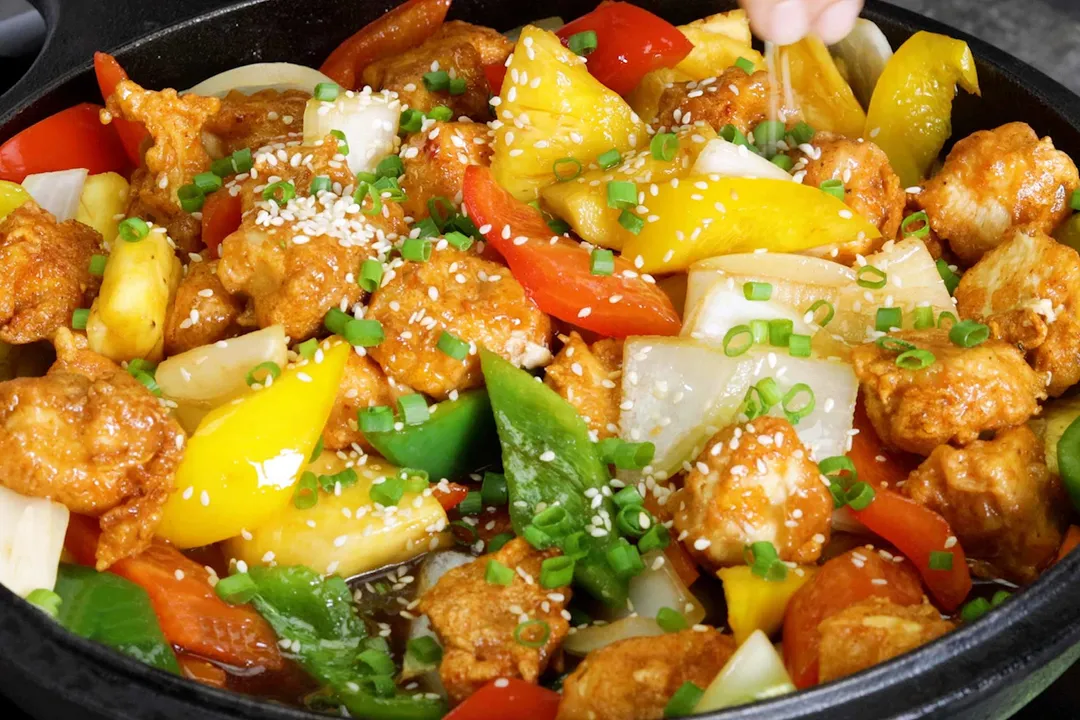 7
Serve hot with cooked rice.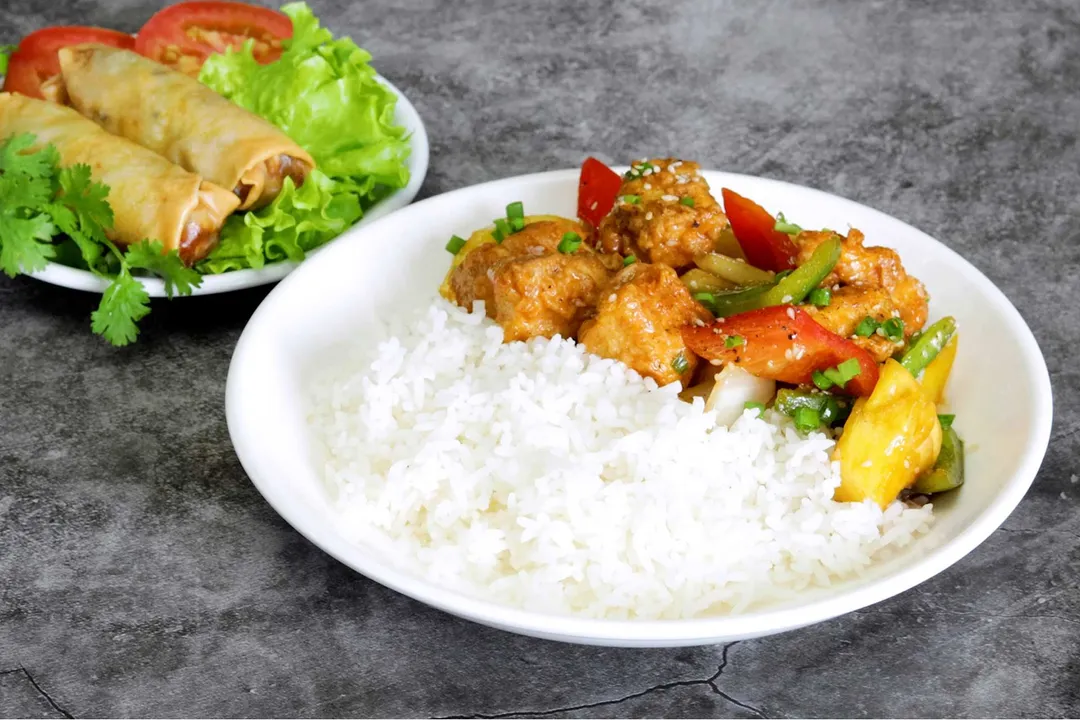 (*) Only part of these ingredients will end up in the final product, and we have calculated nutritional values based on those amounts. The whole amount is needed for the frying process, but what actually ends up being consumed is 1 tablespoon of olive oil.
NUTRITION
Nutrition Facts
Sweet And Sour Chicken
Amount Per Serving (1 serving)
Calories 511
Calories from Fat 117
% Daily Value*
* Percent Daily Values are based on a 2000 calorie diet.
Keywords: how to make sweet and sour chicken, sweet and sour chicken, sweet and sour chicken recipe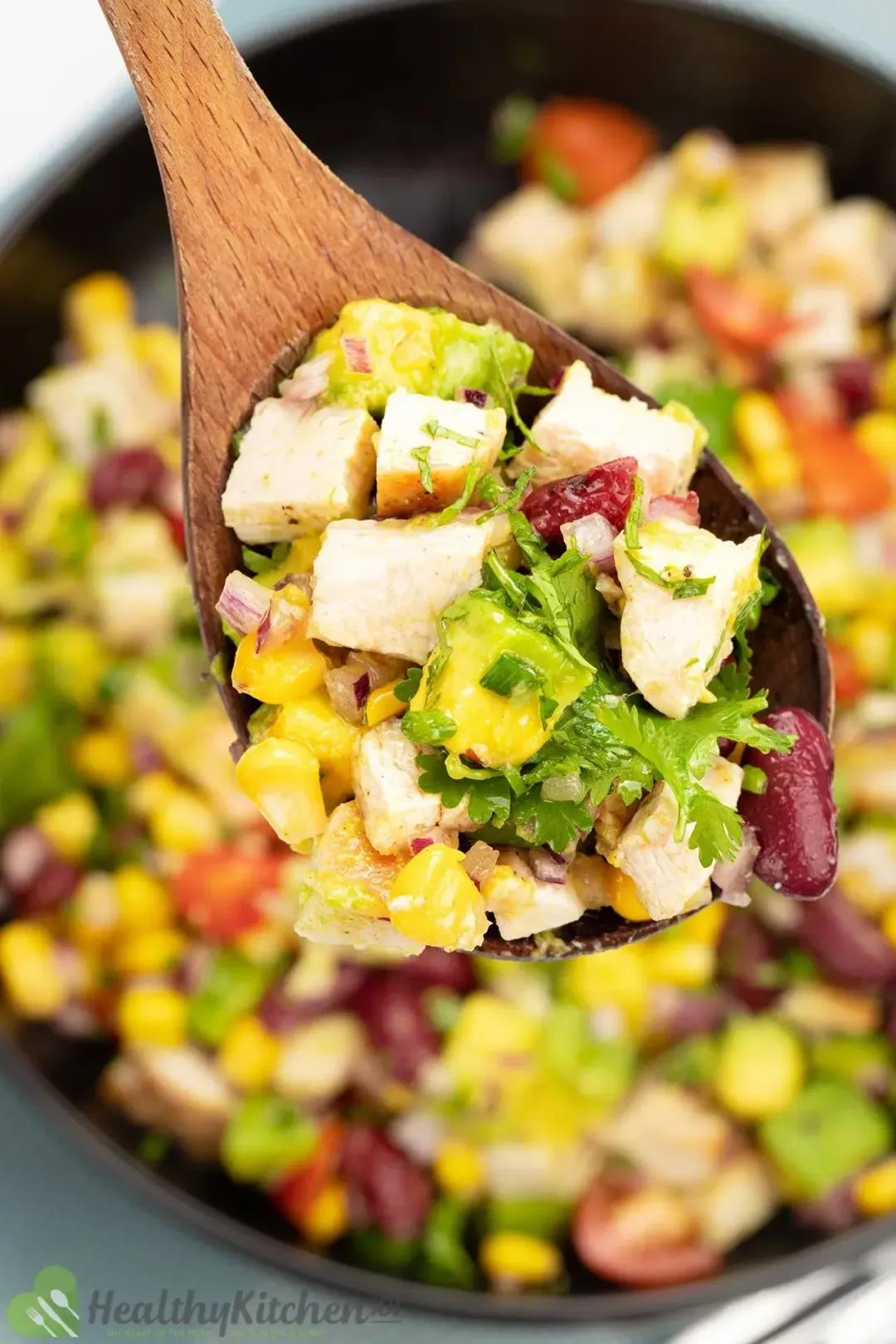 Previous Recipe
Avocado Chicken Salad
Avocado Chicken Salad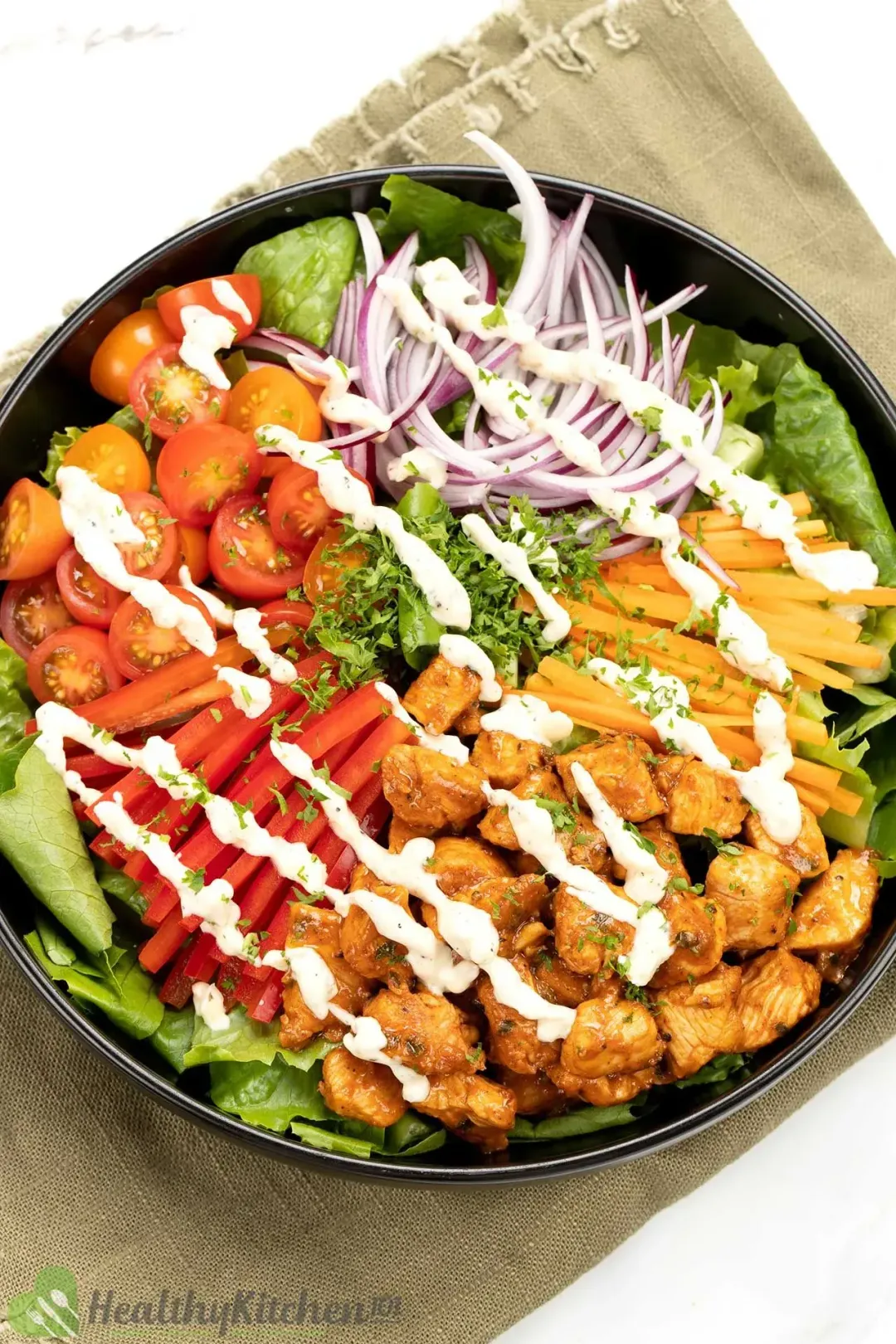 Next Recipe
Buffalo Chicken Salad
Buffalo Chicken Salad
Head Chef, Culinary Consultant
Tuyet Pham is an award-winning Saigonese chef who believes that joy is the secret ingredient to delicious food. At Healthy Recipes 101, Tuyet personally tests and simplifies every recipe, ensuring maximum flavor with minimal effort. With a background at prestigious French restaurants P'TI Saigon and Le Corto, Tuyet knows how to make every dish exceptional.
Writer, Author
Luna Regina is an accomplished writer and author who dedicates her career to empowering home cooks and making cooking effortless for everyone. She is the founder of HealthyKitchen101.com and HealthyRecipes101.com, where she works with her team to develop easy, nutritious recipes and help aspiring cooks choose the right kitchen appliances.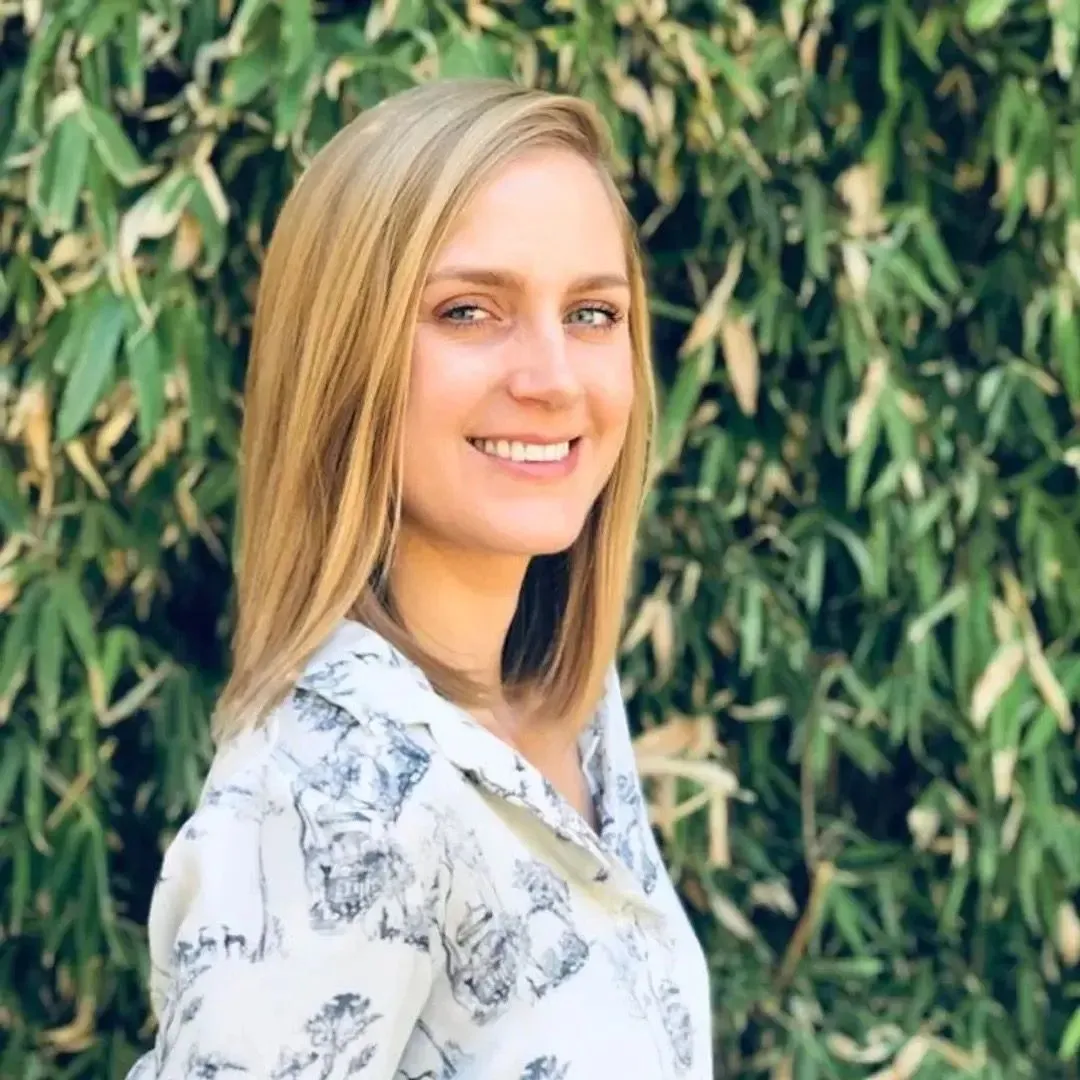 Nutrition Reviewer
Emily Rogers is a California-based Registered Dietitian Nutritionist who specializes in Public Health Dietetics. She has had an eclectic career working as a health educator, nutrition counselor, recipe developer, clinical dietitian and outpatient dietitian. Emily is currently a full-time Public Health Nutritionist with the County of Orange where she teaches Nutrition Education and Community Nutrition courses.