Are you into tangy and savory chicken thighs with crispy skin and perfectly tender flesh served with colorful veggies, all so simple to make with a few ingredients? Then, our lemon chicken thighs recipe is the one for you.
Every bite livens your taste buds with the deliciousness of lemony chicken, smoky garlic bulbs, baked potatoes, carrots, and beets. With less than 60 minutes of prepping and cooking, a delectable weeknight dinner that everyone will love is ready.
Ingredients
We keep the list of ingredients very straightforward with chicken thighs, all-season vegetables, and common spices—all easily found at any grocery store or supermarket.
Let's take a look at some main components!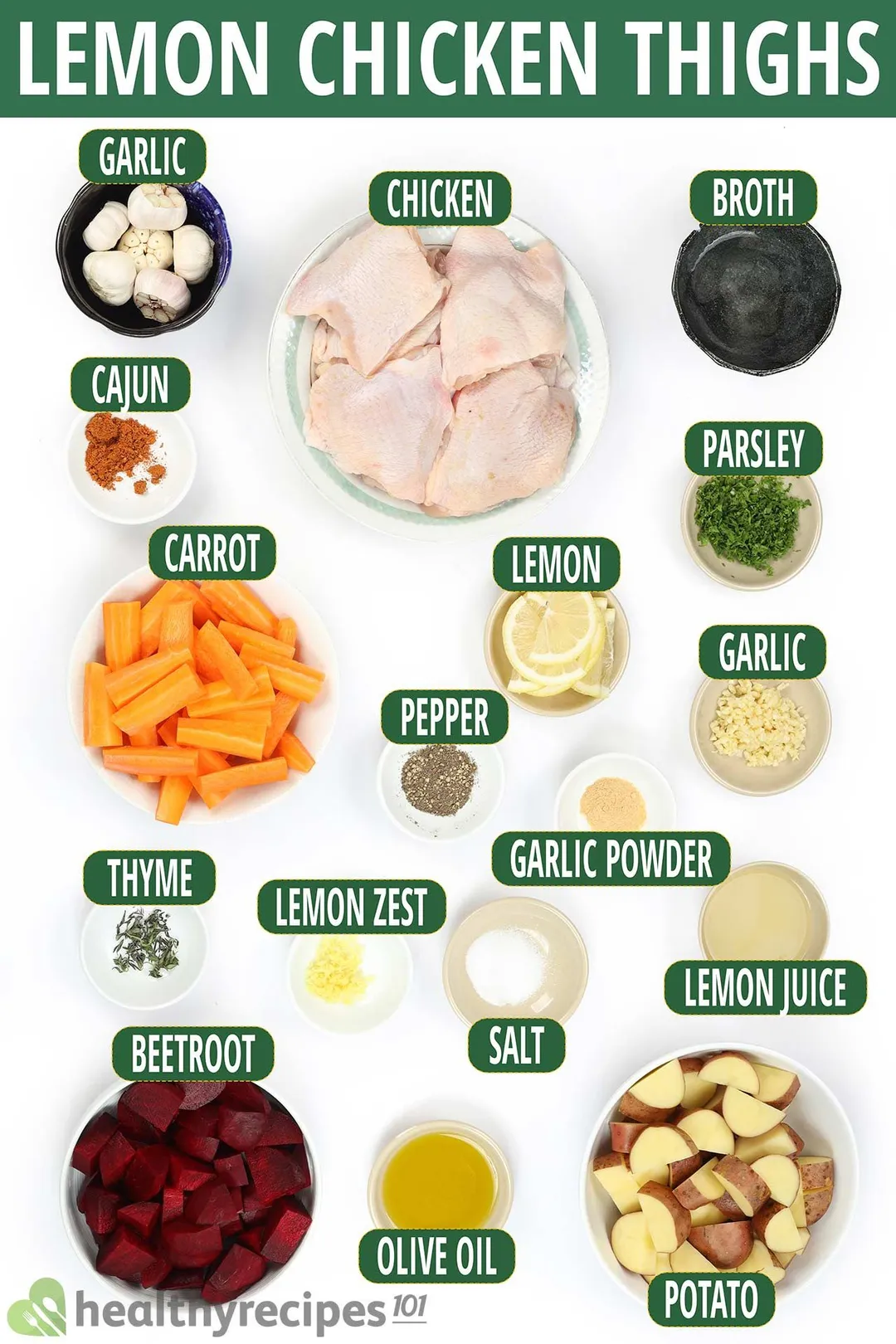 Chicken: Dark meat (chicken thighs or drumsticks) is the first option on our minds whenever we look for a succulent and flavorful chicken dish. The extra fat in the skin and flesh not only adds more flavor but also helps lock in the natural moisture of the chicken, preventing the meat from drying out. 
Garlic bulbs: Have you ever noticed that many fancy restaurants love pairing pan-seared meat (beef, chicken, pork, and lamb) with smokey, roasted garlic bulbs? Thanks to the caramelization process, garlic cloves soften and become sweeter, offering an irresistible aroma to the dish.
Vegetables: We go with our favorite veggie trio: carrots, beets, and potatoes, but you can replace them with your favorites. We season the veggies with Cajun seasoning and garlic powder to accentuate their flavor before baking them to fork-tender in the oven.
Lemon zest: A teaspoon of freshly-grated lemon zest goes a long way in enhancing the zingy aspect of the dish.
Thyme: When pan-seared with the chicken, this herb infuses the food with a minty and slightly earthy scent.
Chicken broth, lemon juice, and other spices: The combination of broth, citrus juice, salt, and ground black pepper is essential in introducing flavors to the chicken thighs. Simmering the thighs in this flavorful concoction also helps retain their desirable juiciness to the fullest.
FAQ
1. Is This Recipe Healthy?
Our lemon chicken thighs make a healthy meal with nutritious ingredients.
With chicken thighs as the main ingredient, each serving offers a considerable amount of high-quality protein and other micronutrients. Specifically, you will gain 26.6 g of complete lean protein per serving, up to 53% of the recommended daily value.
As for the side add-ins, we opt for a wide range of baked vegetables to create a diverse nutrition profile. Skin-on potatoes, beets, and carrots are rich sources of dietary fiber while also being packed with essential vitamins and minerals.
Our team also ensures to keep the dietary figures of this dish (the calorie count, level of saturated fat, and added sodium) within healthy limits. A single portion contains 506 calories, 6.6 g of saturated fat, and around 606 mg of sodium, all reasonable for a fulfilling main course.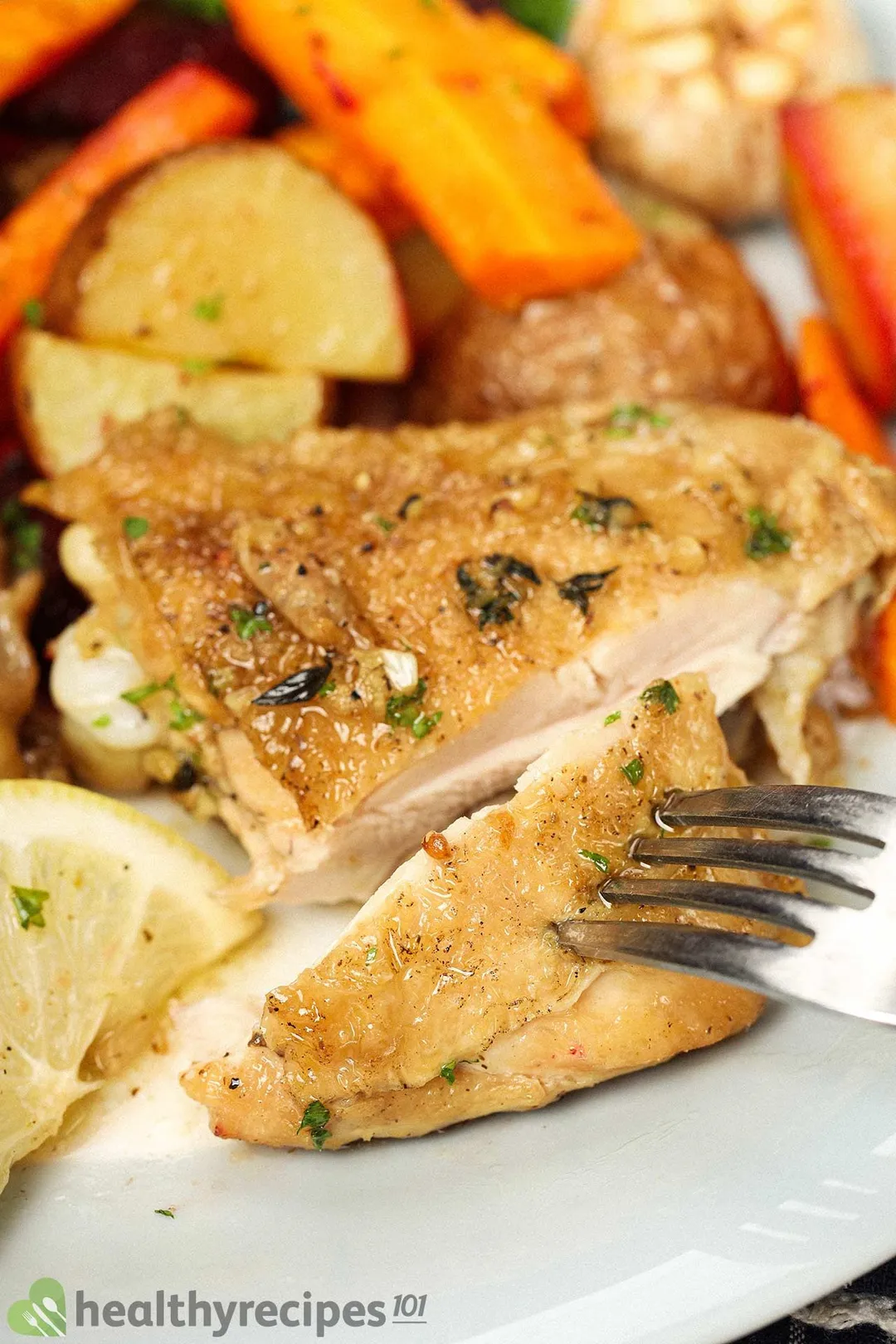 2. How Do You Make Lemon Chicken Not Bitter?
Lemon is a great flavor enhancer as it helps brighten the dull taste of many foods. However, too much acidic juice will make your chicken dish taste overly sour and bitter—wasting all the time and effort you spent on it.
Here are two useful ways to cut the bitterness of lemon:
Slowly adding a pinch of baking soda into the sauce (1/4 teaspoon per 1 cup of liquid) will help neutralize the acidity of the lemon without affecting the overall flavor.
Diluting the sauce by adding more chicken broth or plain water also helps tone down the bitterness.
How to Store and Reheat
If you haven't finished the dish in one sitting and plan to enjoy it the next day, place the food in an airtight container and refrigerate it. The leftovers will keep well in the fridge for 1-2 days.
We don't recommend freezing this meal since the acidic lemon sauce may affect its flavor and texture once thawed, turning the chicken and veggies mushy and unappealing.
Transfer your leftover chicken thighs and vegetables onto a baking tray lined with parchment paper, add a tablespoon of olive oil, cover the tray loosely with aluminum foil, and bake it at 356° F for 10 minutes.
What to Serve With
This main dish has already come with a hefty amount of vegetables, however, if you're a big fan of leafy greens, there's still plenty of room for a salad. Here are some great accompaniments: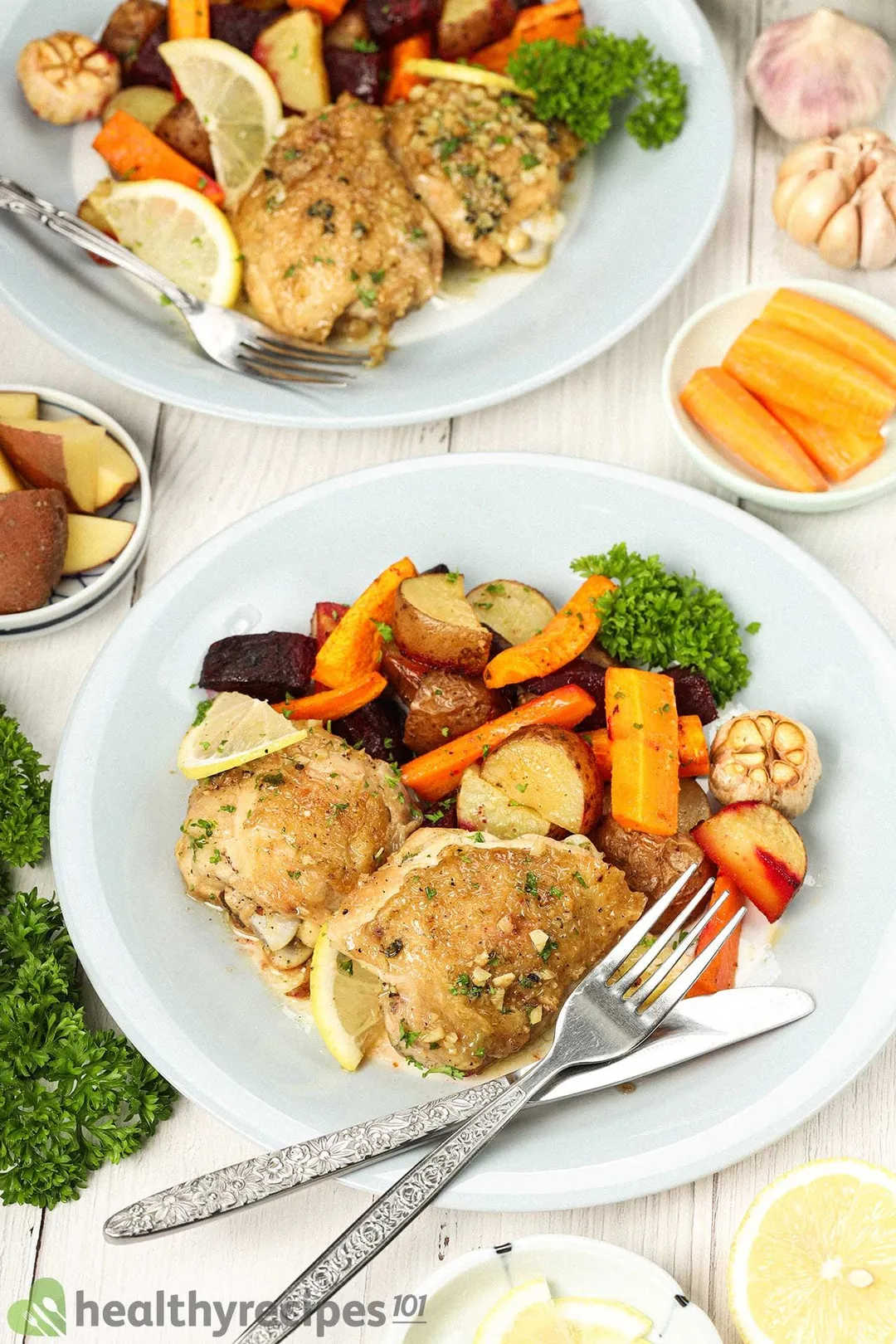 Rich, Creamy Takes on Chicken
This easy cheesy chicken recipe is an awesome way to dress up a delicious weeknight dinner. The chicken breast? Wonderfully light and tender. It pairs perfectly well with our rich and savory cheese sauce.
Our Chicken Fricassee recipe is a healthier version of the French classic, featuring a special garlicky white wine sauce. It's a skillet full of saucy chicken thighs and tender, flavorful vegetables.
Lemon Chicken Thighs
Every bite of today's lemon chicken thighs is loaded with incredible flavors—tangy, savory, and mildly peppery, bringing you a satisfying weeknight meal. Add this recipe to your rotation, and it may become your next favorite.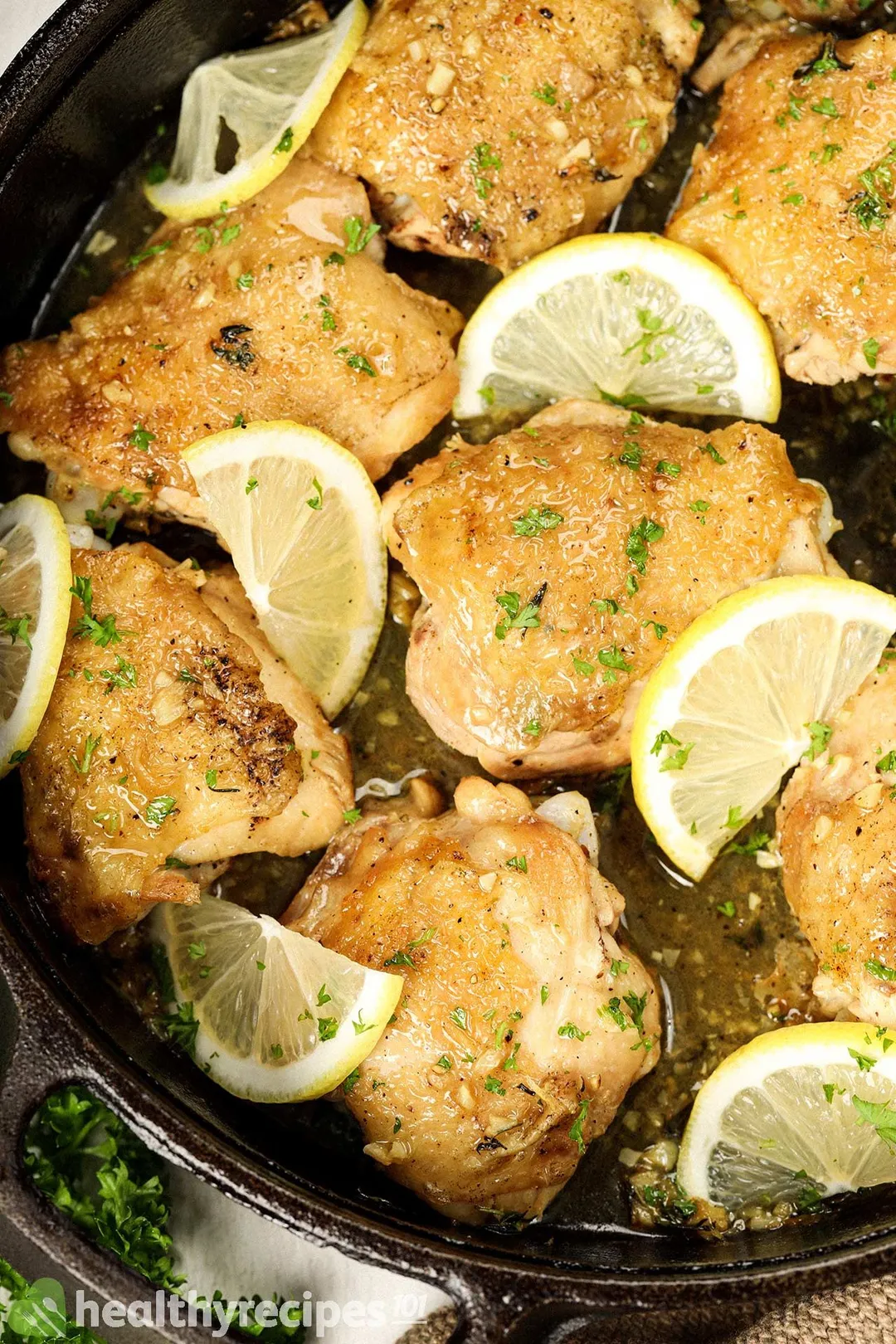 cook TIME

45 mins

prep TIME

10 mins

total TIME

55 mins
COURSE

Main Dish

CUISINE

American, Global

SERVINGS

CALORIES

505 kcal
INGREDIENTS
18 oz

skin-on bone-in chicken thighs

(8 small-sized pieces)

16 oz

potatoes

(cut into small chunks)

10 oz

carrots

(cut into batons)

10 oz

beets

(cut into small chunks)

6

garlic bulbs

(ends trimmed)

1/2 cup

unsalted chicken broth

1/2 tsp

ground black pepper
INSTRUCTIONS
Prep:
1
Place the chicken thighs on a cutting board and trim off any excess fat. If you go with large-sized chicken thighs, make a few cuts into the flesh so it will cook faster and more evenly later.
2
Slice the potato in half lengthwise. Place the halved potato cut-side down on a chopping board then cut it crosswise into 1/2-inch thick chunks. Repeat this process for the remaining potatoes.
3
Trim off the top and the end, then peel away the skin of the carrot. Halve the peeled carrot crosswise, then cut each half lengthwise in half again.
4
Peel away the paper-thin outer skin of the garlic bulbs, then cut off the top part of each bulb.
5
Cut the lemon into thin rounds. Stack them up and cut them crosswise into half-moon slices.
6
Finely mince the peeled garlic.
7
Finely chop the fresh parsley.
Cook:
1
Season the vegetables: On a large baking tray lined with parchment paper, add 16 oz potatoes, 10 oz carrots, 10 oz beets, 6 garlic bulbs, 1 1/2 tbsp olive oil, 1 tsp Cajun seasoning, and 1/2 tsp garlic powder. Rub the seasonings evenly onto the vegetables.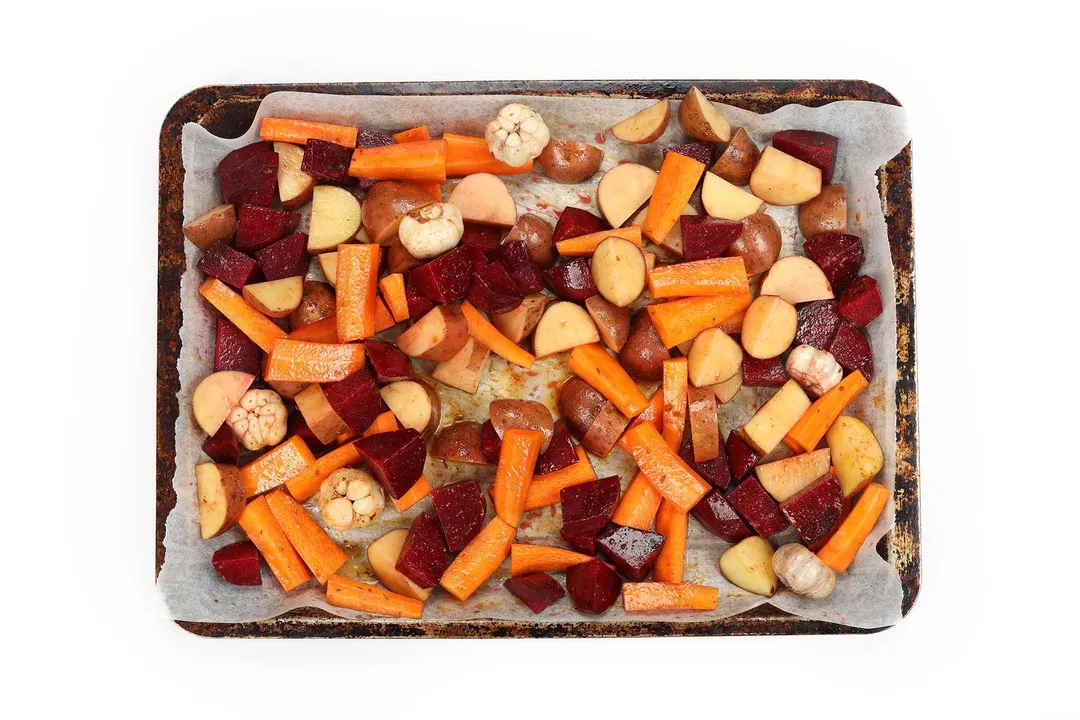 2
Bake the vegetables: Preheat the oven to 475 °F. Place the baking tray in the middle rack of the oven and bake it for 25 minutes. Once the timer's up, remove the vegetables from the oven.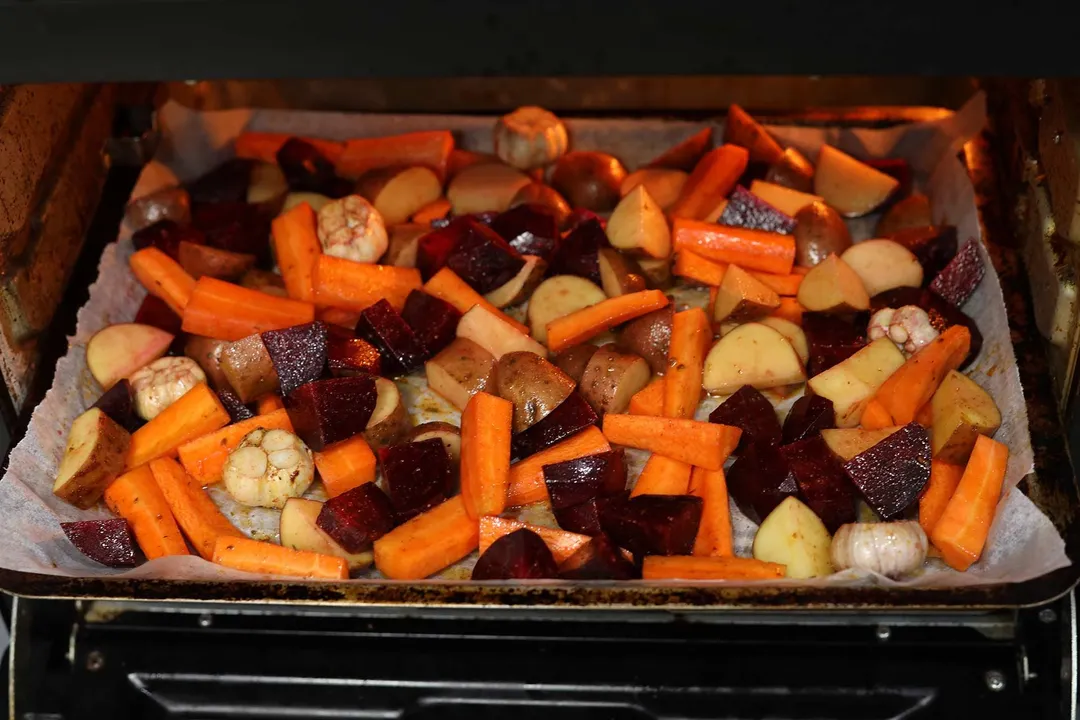 3
Pan-sear the chicken thighs: Place a cast-iron pan over medium heat. Sear 18 oz skin-on, bone-in chicken thighs skin-side down for 2 minutes, then lower the heat and let them cook for 5 minutes. Flip to the other side and cook the chicken thighs for another 5 minutes.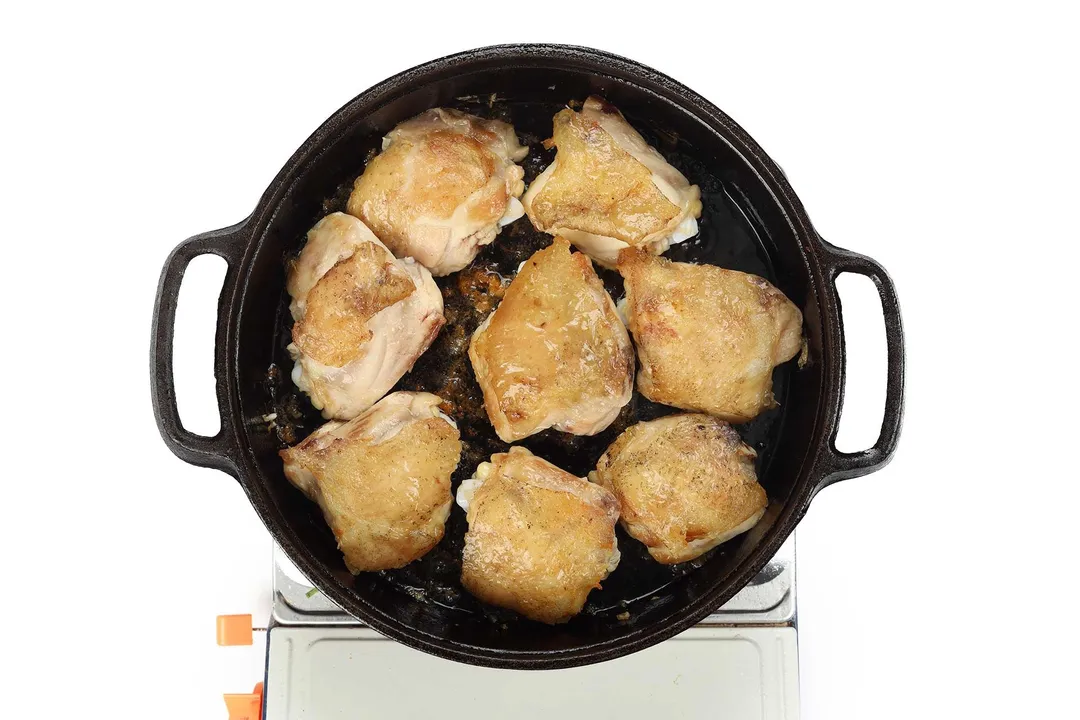 4
Add the spices and herbs: In the cast-iron pan, add 1/2 tsp salt, 1/2 tsp ground black pepper, 2 tbsp minced garlic, 1 tsp lemon zest, and 1 tsp thyme. Stir to coat the chicken thighs with seasonings evenly.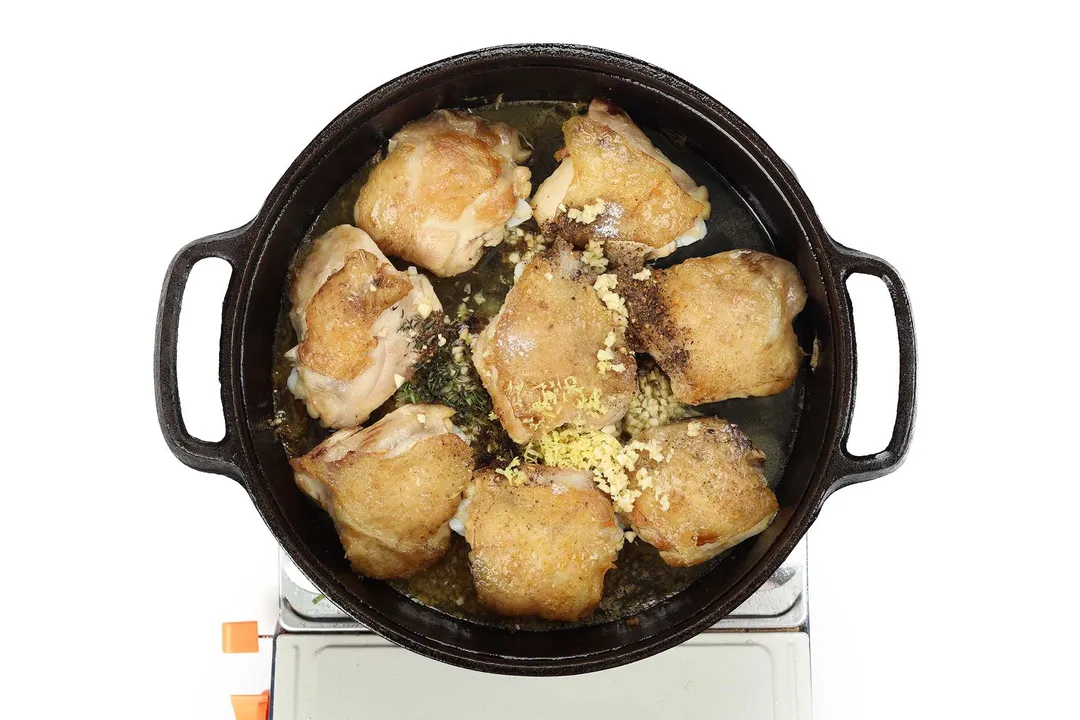 5
Add the chicken broth and lemon juice: Pour 1/2 cup unsalted chicken broth and 3 tbsp lemon juice into the cast-iron pan. Simmer the chicken thighs on low heat for 10 minutes. If you use larger size chicken thighs than those in our recipe, add 5 more minutes to the timer.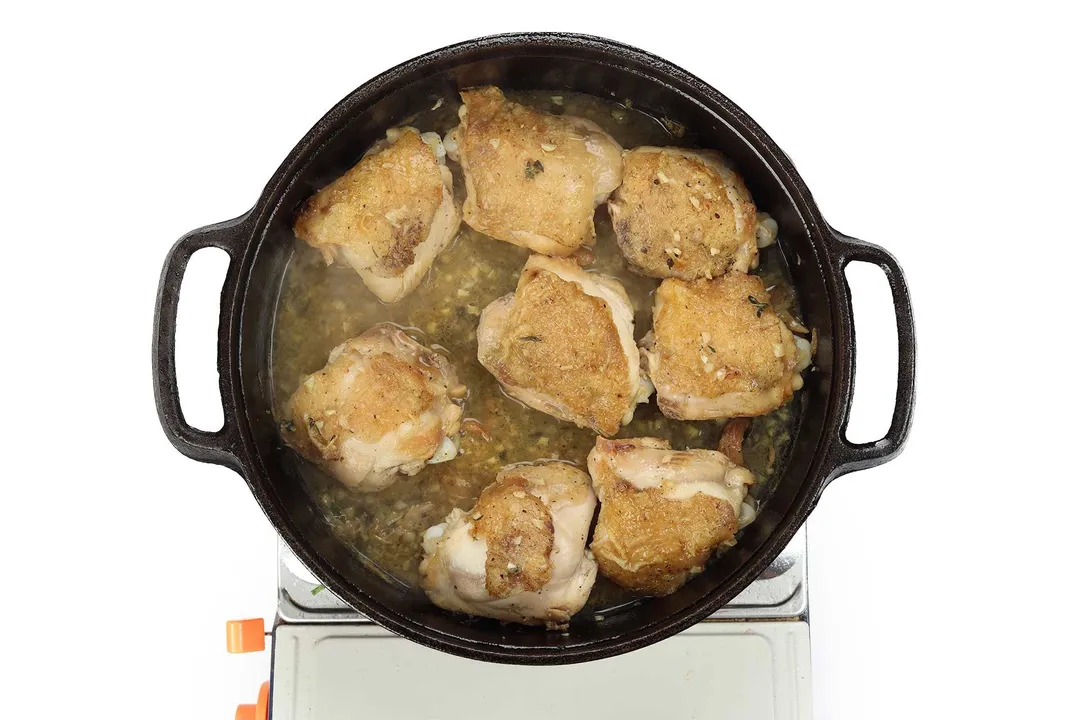 6
Garnish and serve: When the timer goes off, remove the cast-iron pan from the heat. Scatter slices of lemon and 2 tbsp chopped parsley onto the chicken thighs. Transfer your desired portion onto a platter and enjoy it with baked vegetables.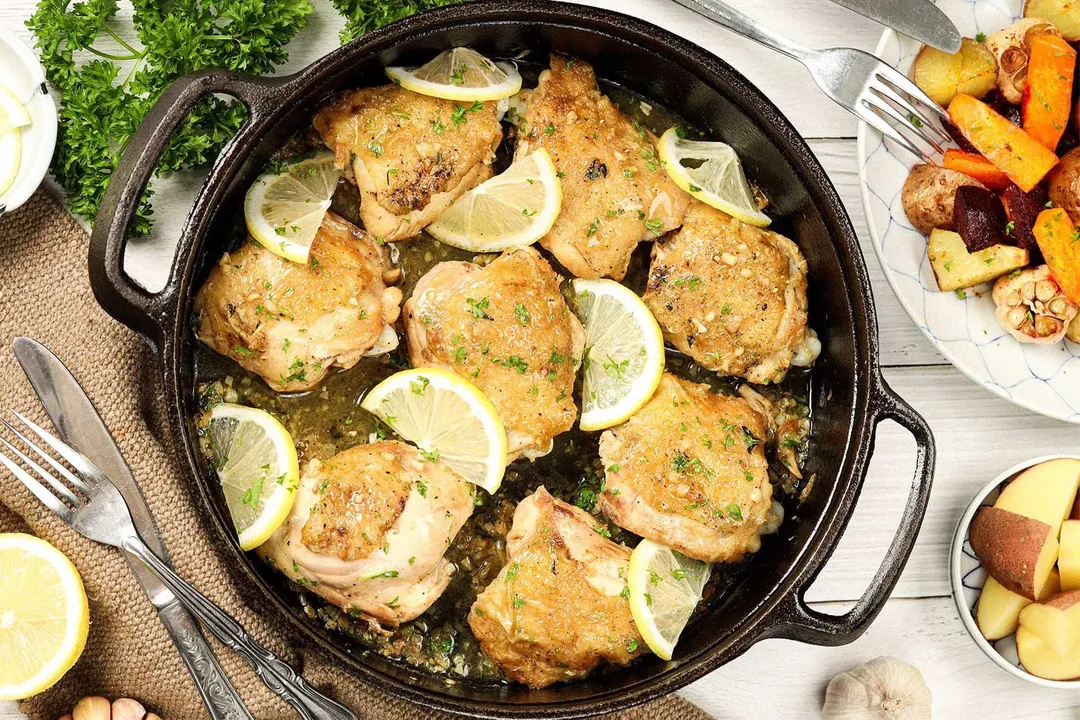 NUTRITION
Nutrition Facts
Lemon Chicken Thighs
Amount Per Serving (1 serving)
Calories 505
Calories from Fat 244
% Daily Value*
Monounsaturated Fat 12.6g
* Percent Daily Values are based on a 2000 calorie diet.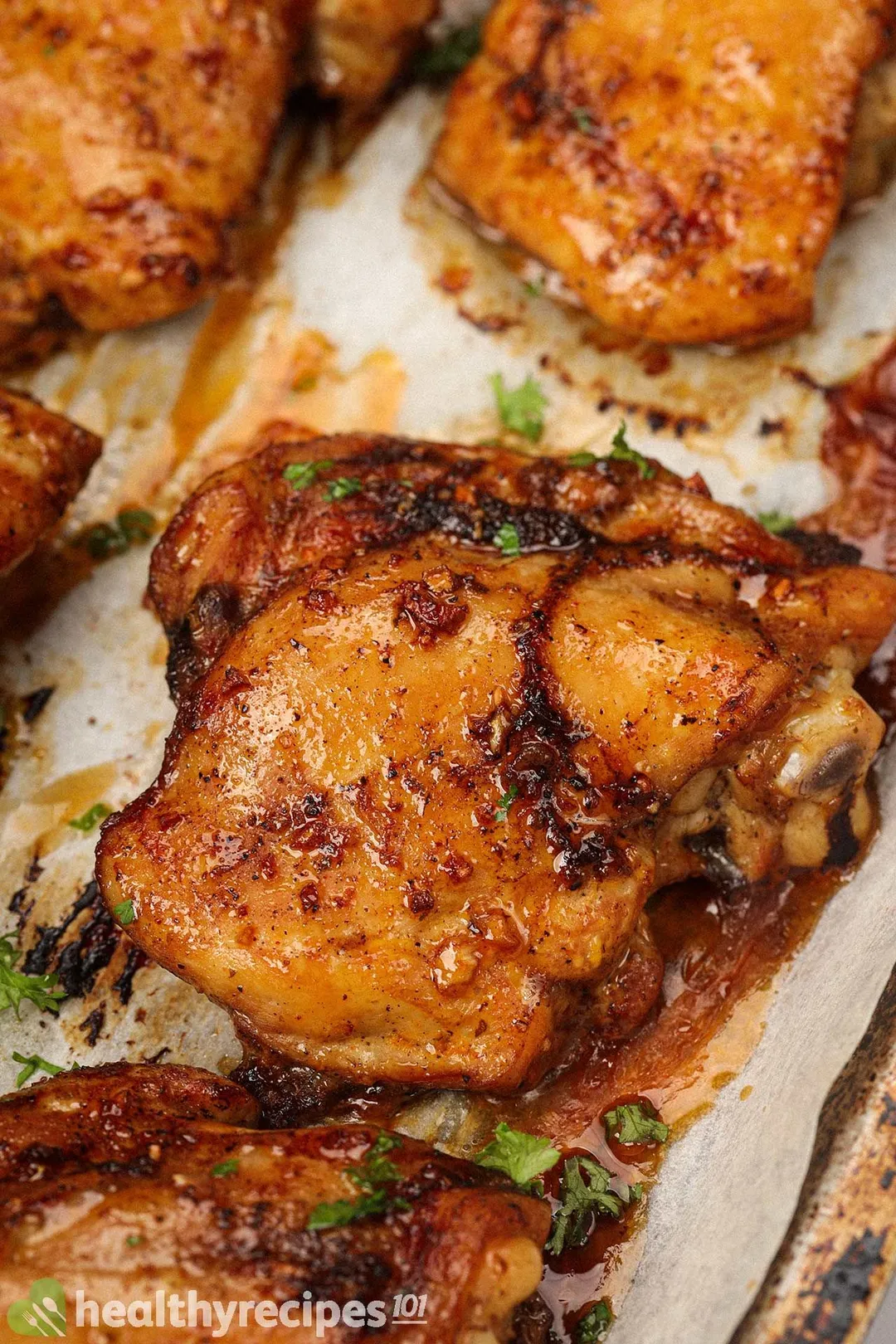 Previous Recipe
Chicken Thigh Marinade
Chicken Thigh Marinade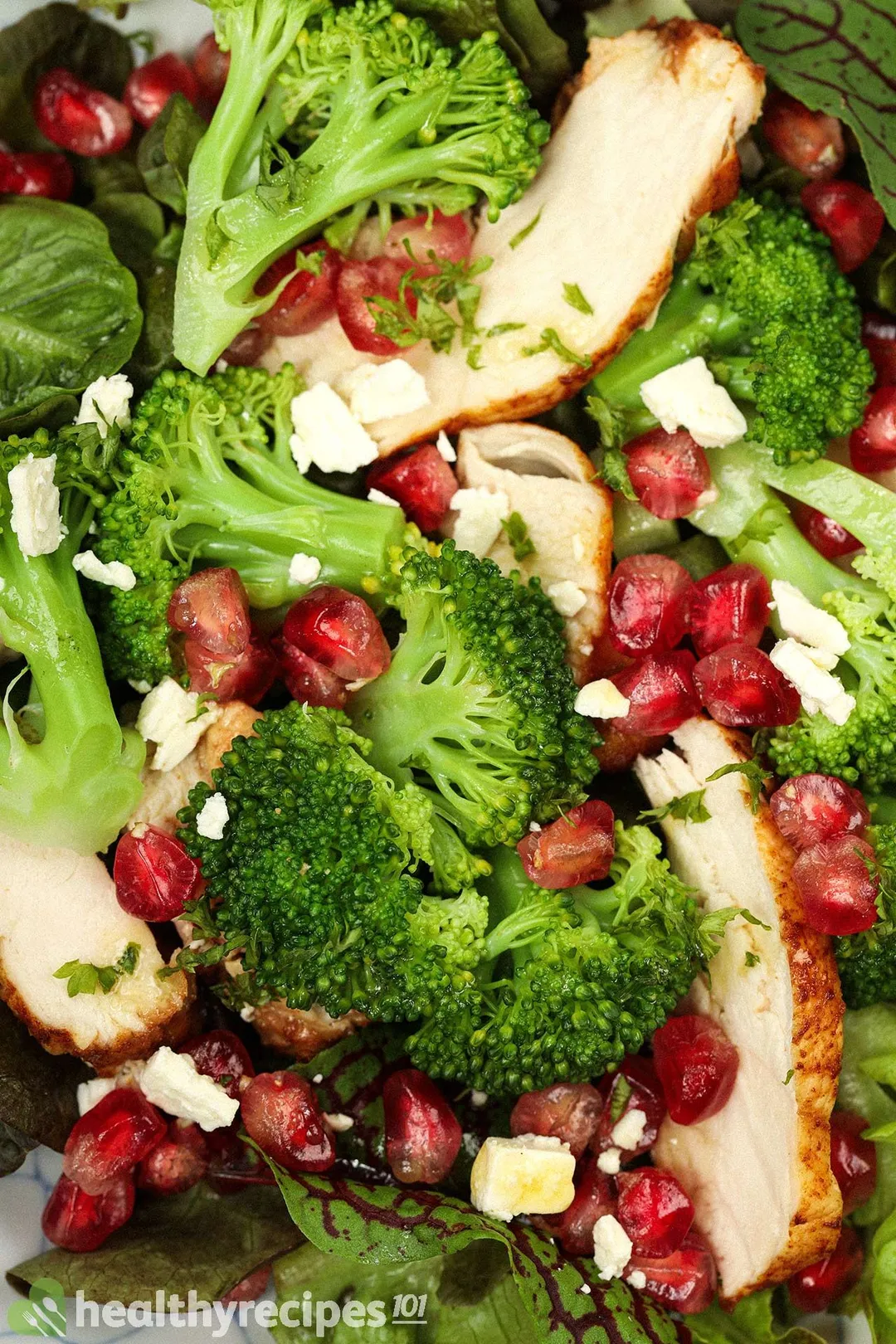 Next Recipe
Chicken Broccoli Salad
Chicken Broccoli Salad
Head Chef, Culinary Consultant
Tuyet Pham is an award-winning Saigonese chef who believes that joy is the secret ingredient to delicious food. At Healthy Recipes 101, Tuyet personally tests and simplifies every recipe, ensuring maximum flavor with minimal effort. With a background at prestigious French restaurants P'TI Saigon and Le Corto, Tuyet knows how to make every dish exceptional.
Writer, Author
Luna Regina is an accomplished writer and author who dedicates her career to empowering home cooks and making cooking effortless for everyone. She is the founder of HealthyKitchen101.com and HealthyRecipes101.com, where she works with her team to develop easy, nutritious recipes and help aspiring cooks choose the right kitchen appliances.
The lemon juice adds a refreshing tangy taste to the chicken, making it perfect for a satisfying dinner meal.