This chicken fricassee recipe gives you a pan of saucy chicken thighs with tender, flavorful vegetables. It takes only 20 minutes to prep and 25 minutes of hands-free time, something to fit in your tight schedule.
What Is Fricassee?
Fricassee is somewhere between a sauté and a stew: the meat gets seared beautifully, but then simmered in a broth. This brilliant technique gives the dish the best of both worlds: the caramelized flavors and savory sauce.
If this tickles your fancy, have a look at our chicken afritada recipe. The drumsticks are similarly saucy, cooked with hearty vegetables and seasoned pretty much the same way.
The technique welcomes all types of meat (beef, poultry, veal, or even exotic ones like rabbit) as well as vegetables. We used carrots, celery, peas, and some mushrooms — what we had on hand.
Is Chicken Fricassee French or Italian?
We guess it's French, since the first cookbook that mentioned it was French, published sometime in the 1300s. The term 'fricassee' is thought to be a compound of the words 'to fry' and 'to break apart' in French, but it's yet to be fully understood.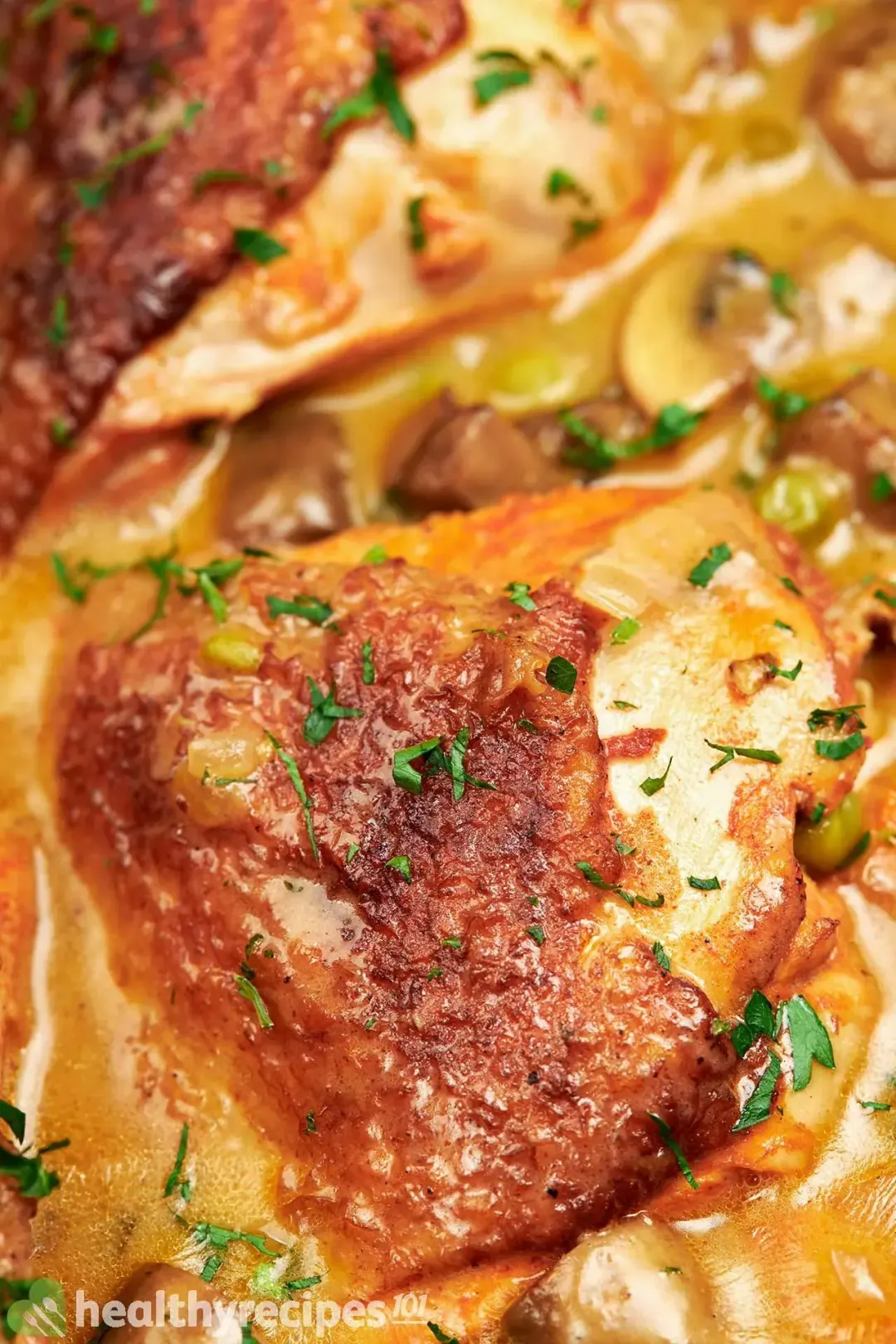 Other countries' versions of fricassee have made certain changes, too. Italians thickened the sauce with egg yolks and lemons, English yolks only, and Americans flour. The recipe for it has become so versatile that people can use béchamel, cream, or anything they have on hand that works.
What we're sharing today uses cream, milk, and a flour slurry. The dairy products add not only richness but also a silky texture to the sauce.
Is Chicken Fricassee Healthy?
Chicken fricassee provides you with a good amount of proteins from chicken, complex carbs from vegetables, and tons of micronutrients. It's a nutritious meal, no doubt, but it needs some adjustments to become a healthy dish.
A strict calorie controlled diet is the first requirement on our nutrition guiChicken Afritada Recipedelines. For easy management, our main dishes have been designed to yield around just 500 per serving, including this chicken fricassee recipe.
Most of the dish's possible thickeners (egg yolk, cream, milk) are high in saturated fat, which is something you should limit. Ours uses a combination of cream, milk, and flour, keeping the saturated fat level low and the delicious texture uncompromised.
The dish isn't typically salty or sodium-rich, but it can be if someone gets generous with the salt. We used an optimal amount of salt to avoid this, while preserving the dish's deserved flavors.
In the end, we have a delicious eat with a sound nutritional profile:
489 calories, out of the daily recommendations 2100-2300.
9.9 g saturated fats, out of the daily limit 23-30 g.
576 mg sodium, out of the daily limit 2300 mg.
For optimal results, we recommend that you follow the ingredients measurements strictly. A scale, measuring cups and spoons are our everyday tools when it comes to healthy cooking.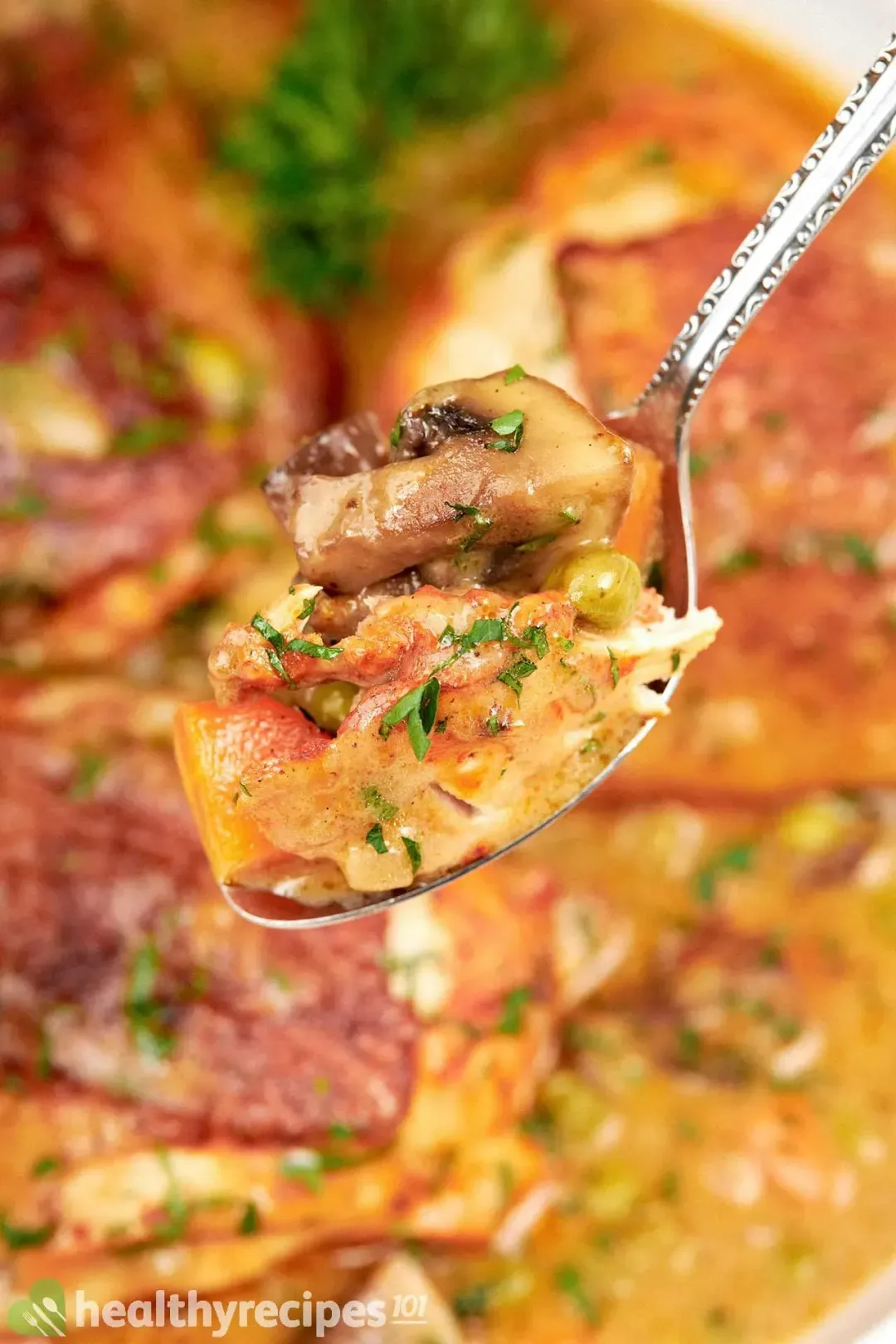 Ingredients for Chicken Fricassee
Refer to our chicken fricassee recipe card at the bottom for the precise measures. This section discusses the ingredients, possible alternatives, and related trivia.
1. Chicken Cuts
Stews like fricassee are best cooked with thighs; the juiciest, most flavorful cut of the bird. They're typically bone-in, but you can find boneless chicken thighs or remove the bones yourself, like we did.
If you're into leaner meat cuts, chicken breasts also work.
To give the chicken an appetizing color, we coated them in paprika before marinating. Sweet paprika isn't spicy at all, plus it gives this unforgettable aroma when you bite into the meat.
2. Vegetables
Fricassee can be made with anything you have on hand, in theory. We think ours represents the best combination: sweet carrots, tender peas, juicy celery, and chewy mushrooms — the most delicious textures all in one.
If you like, several ounces of cooked spinach will give a boost of vitamins and a delicious soft texture.
3. Sauce
Fricassee's primary flavors revolve around the broth, so we went for the best one: our homemade variety of roasted chicken bones, veg, and herbs simmered for 1 hour. You can also use Swanson unsalted chicken broth — its flavors are just as good and its sodium level is acceptable.
Before adding the stock, we deglazed the pan with white wine once the vegetables were cooked, to collect all the flavors. Any bottle will do, though red wine, on the other hand, complements red meat (beef, veal, etc.) better than poultry.
To the mixture, we added some lemon juice for a bright tanginess, thyme for fragrance, mustard for its pungent flavor, a bay leaf for savoriness, and some salt and pepper.
As mentioned, we thickened the sauce by stirring in some flour, cream, and milk. To avoid lumps, we cooked the flour with the veg, then added the liquids (milk, cream, stock) gradually while constantly stirring.
We'll explain the sequence in more detail in the how-to-make section.
Tips to Make Chicken Fricassee
We're after a golden skin color, so be sure to sear the chicken skin-side down. Set it aside as soon as the color has developed, as we don't want overcooked meat.
Using frozen chicken puts you at risk of overcooking or undercooking, so we recommend cooking with fresh or thawed thighs. If frozen is your last resort, give it 5 more minutes in each cooking stage (2 and 7).
Frozen peas can be used straight from the freezer.
Again, once the flour is cooked, add the liquids a little at a time. Stir to make sure there's no lumps before adding more liquid.
Step 7 requires 25 minutes, ideal for you to prepare the side dishes — mustard potato salad and pineapple water.
How to Store and Reheat Chicken Fricassee
One of the benefits of cooking boneless meat is storage versatility. You can keep chicken fricassee in the fridge (for 5 days) or freezer (for 3 months).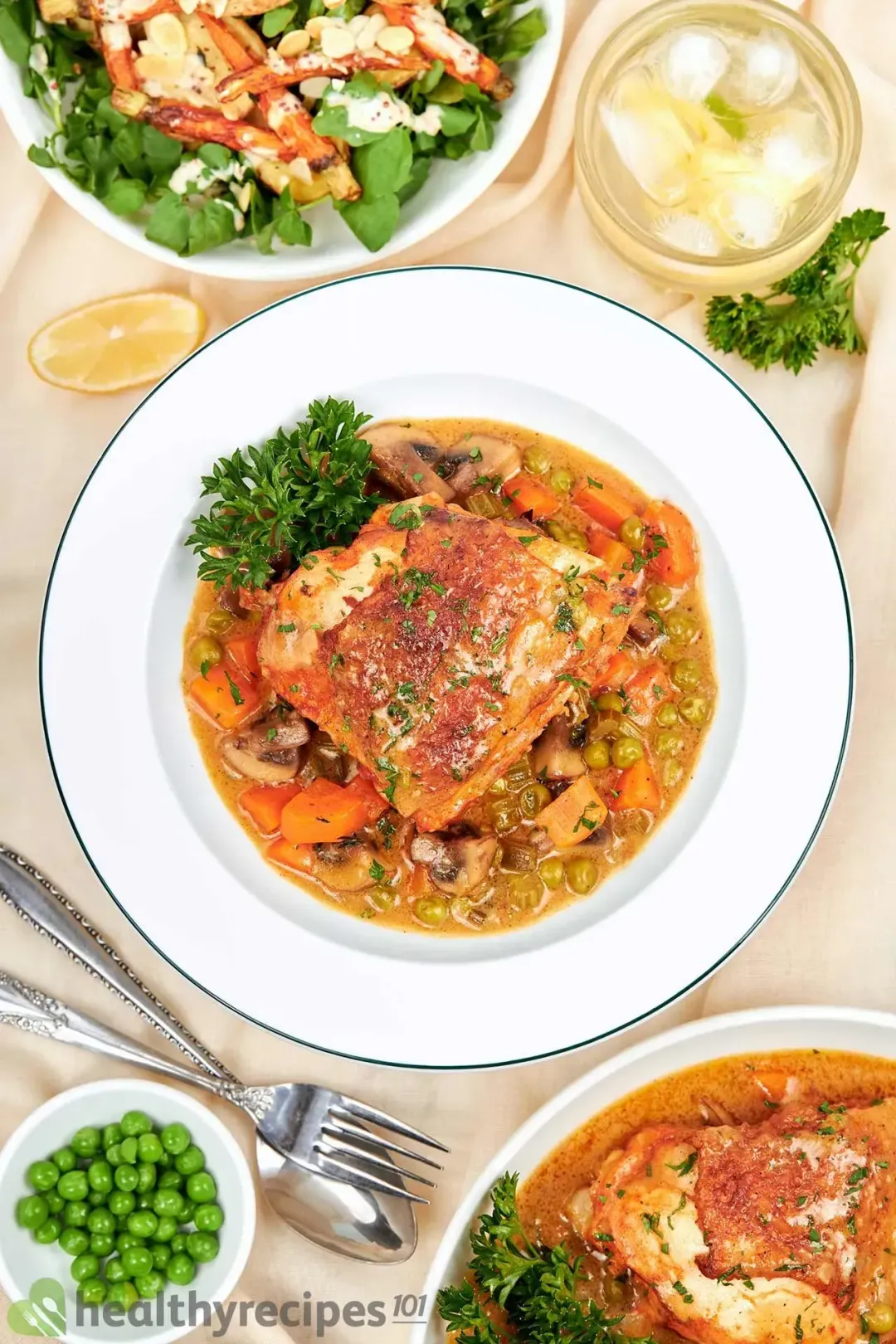 In terms of container choice, airtight containers, bowls or pots with covers, Ziploc bags, and biodegradable bags are possible options. We often use the bags, plural, as we love storing the portions separately for easier reheating.
To reheat, simmer in a saucepan over low heat and let it bubble for about 2 minutes. If it's frozen, 4 minutes extra.
What to Serve With Chicken Fricassee
A rich stew like fricassee is best complemented with either a salad or something tender and creamy. Our mustard potato salad ticks them all, featuring refreshing watercress and baked potatoes tossed with a tangy dressing.
To round off those flavors, we chose a fresh, tangy, and super aromatic beverage from our archive: pineapple water. It has very few calories, too, bringing the whole meal to a beautiful 755 calories.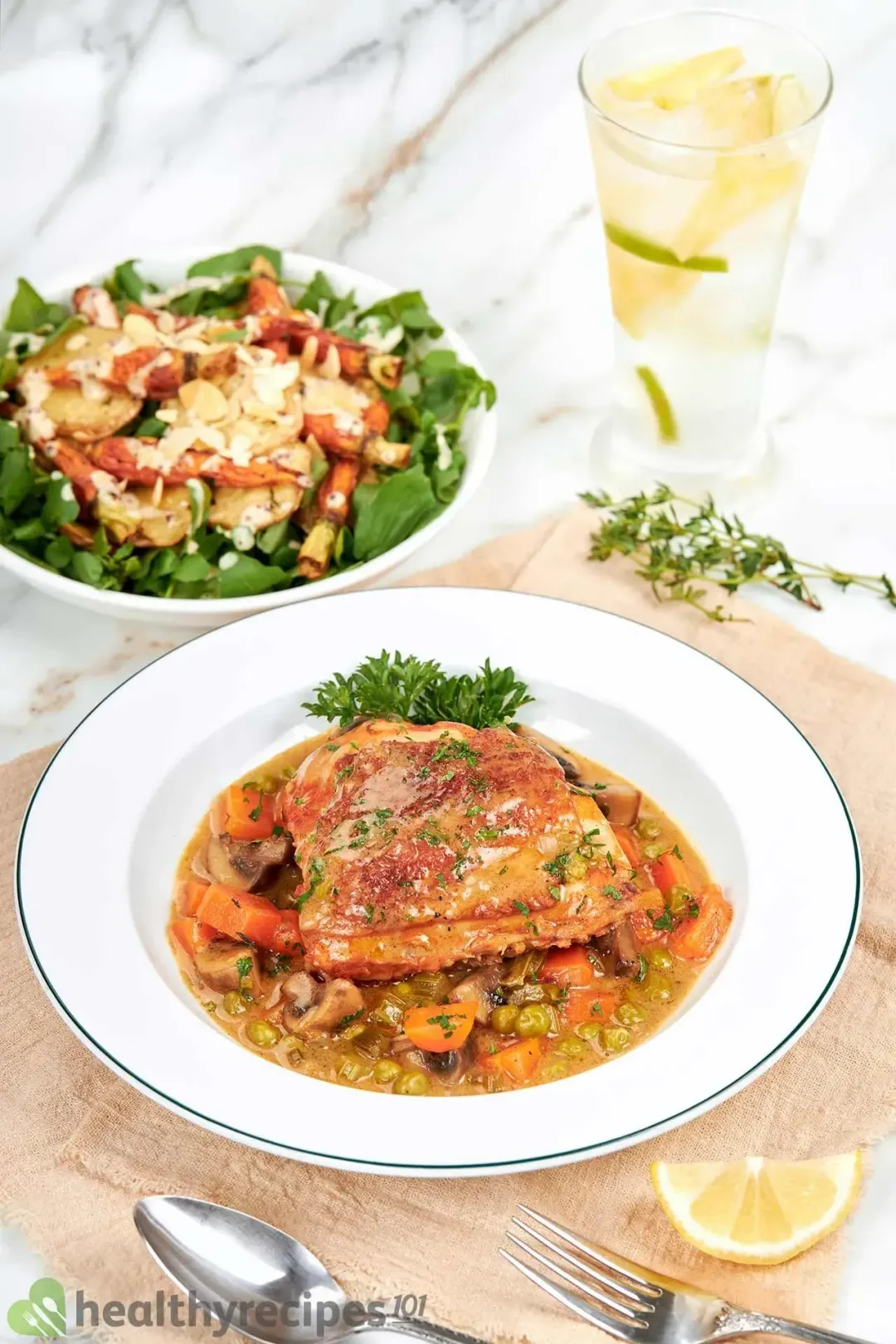 Chicken Skillets Filled With Amazing Sauces
This Thai Chicken Curry is a very saucy, spicy treat that coats chunks of chicken and carrots in a broth full of spices. We love how the fresh aromatics perfectly complement the warm spices within the curry.
This French onion chicken is also a must-try. Our chefs sear chicken breasts then use the pan to caramelize onions to collect all the flavors. Finally, a simple red wine de-glaze to bring up a beautiful color—an enticing feast for the eyes and taste buds.
Chicken Fricassee
This 45-minute chicken fricassee recipe gives you a saucy sauté of juicy meat and hearty vegetables. It might take a while but you'll have plenty of hands-free time.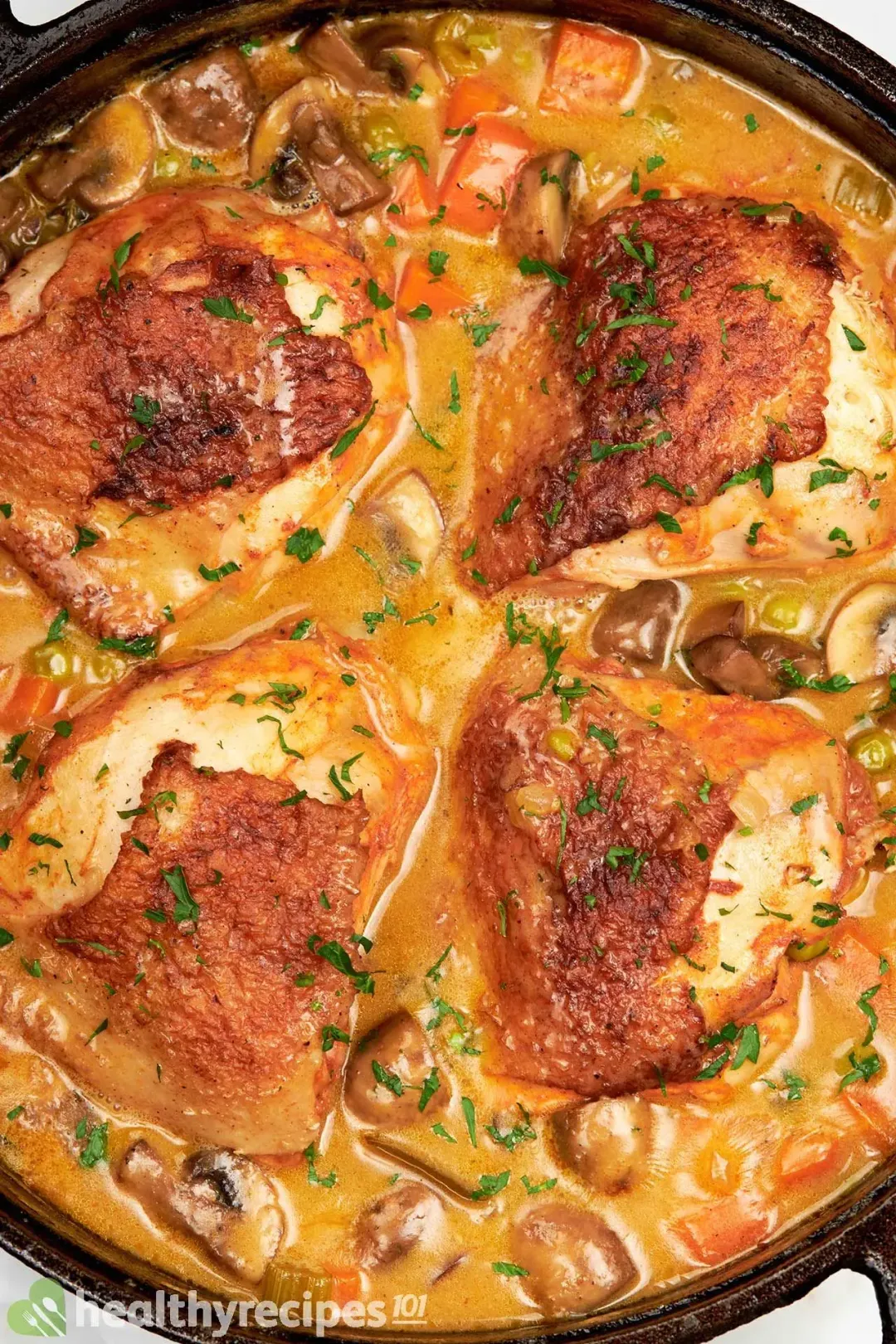 cook TIME

38 mins

prep TIME

7 mins

total TIME

45 mins
COURSE

Main Course

CUISINE

French

SERVINGS

CALORIES

489 kcal
INGREDIENTS
20 oz

boneless chicken thighs

(from 29 oz bone-in, about 4 large thighs)

6 oz

carrots

(about 2 and a half medium, quartered lengthwise then sliced 1/2" thick)

4 oz

green peas

(frozen or fresh)

2 oz

celery

(about 1 large stalk, chopped)

2 oz

onion

(half a medium, chopped)

2 cups

unsalted chicken broth

2 tsp

traditional Dijon mustard

1/2 tsp

ground black pepper
INSTRUCTIONS
1
Coat 20 oz boneless thighs in 1 tsp paprika.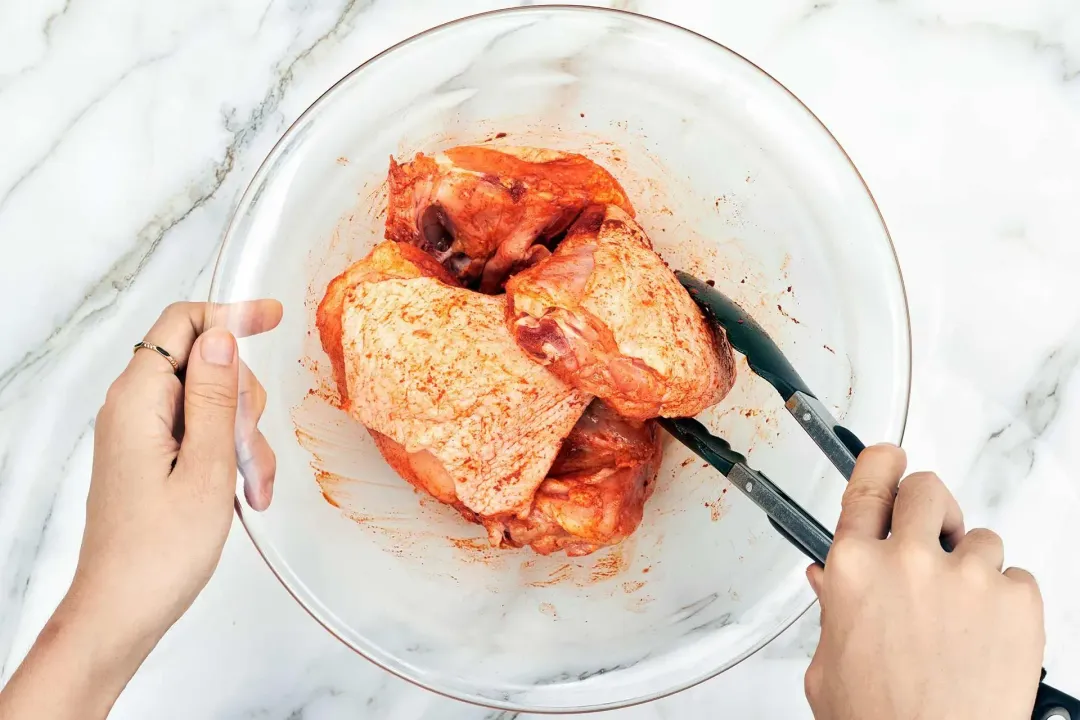 2
Heat a non-stick skillet over medium heat, add 1 tbsp olive oil, and sear the chicken for about 5 minutes, skin-side down. Set aside.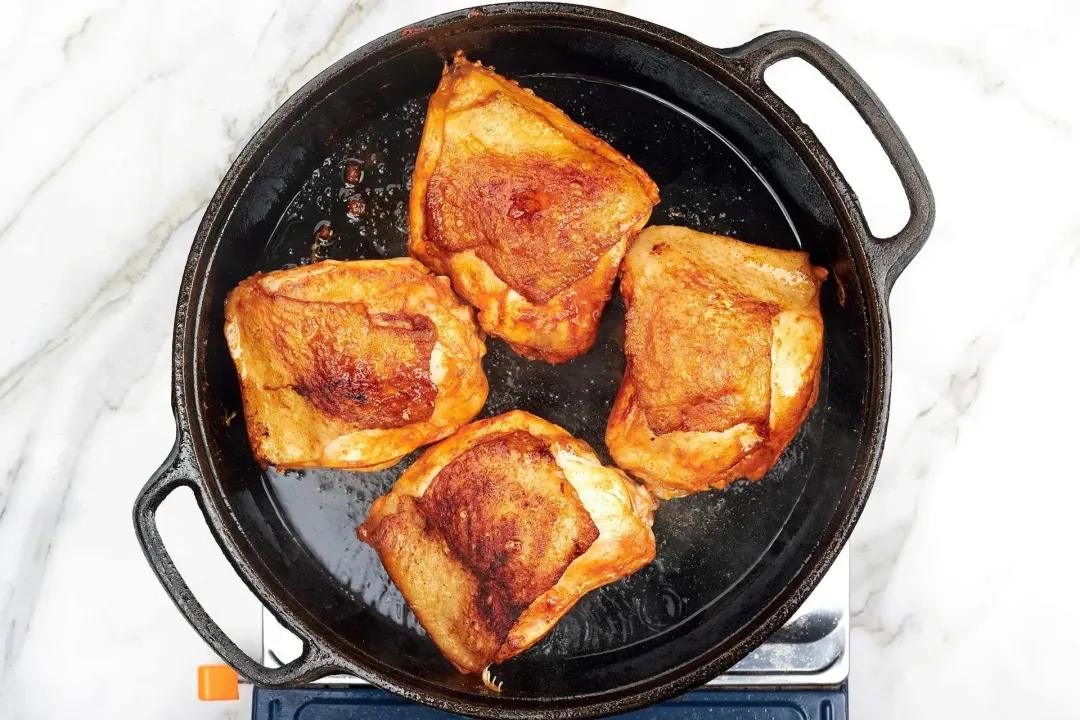 3
Add 2 oz chopped onions and sauté for about a minute or so.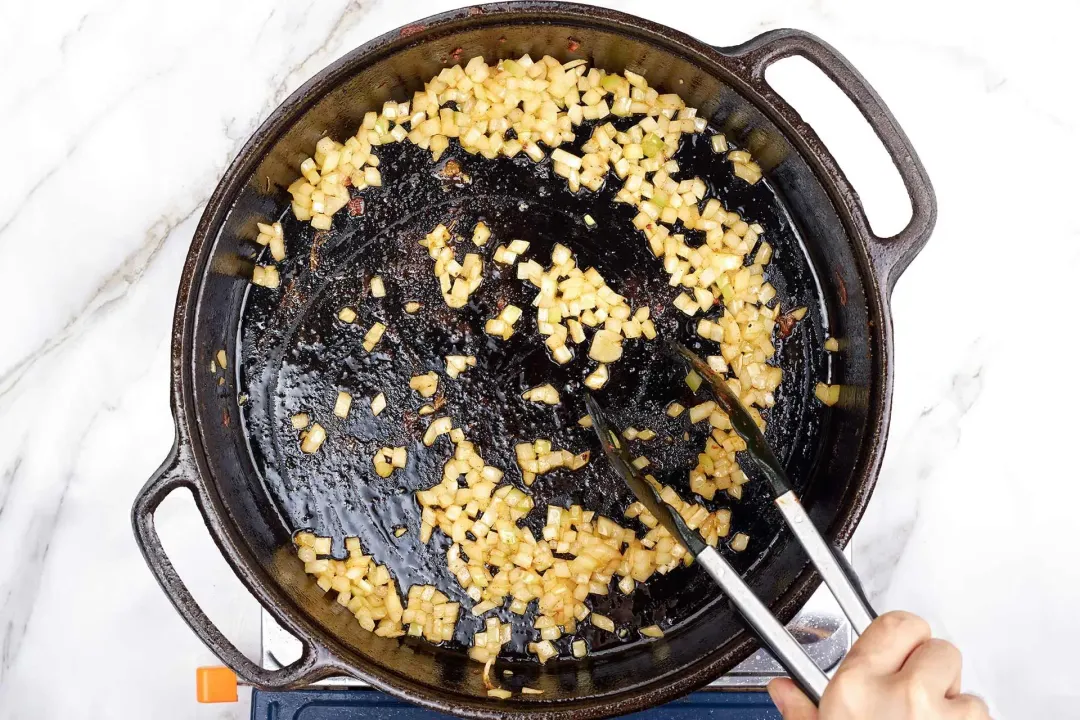 4
Add 6 oz mushrooms, 6 oz carrots, 4 oz green peas, and 2 oz celery. Sauté for 2 minutes.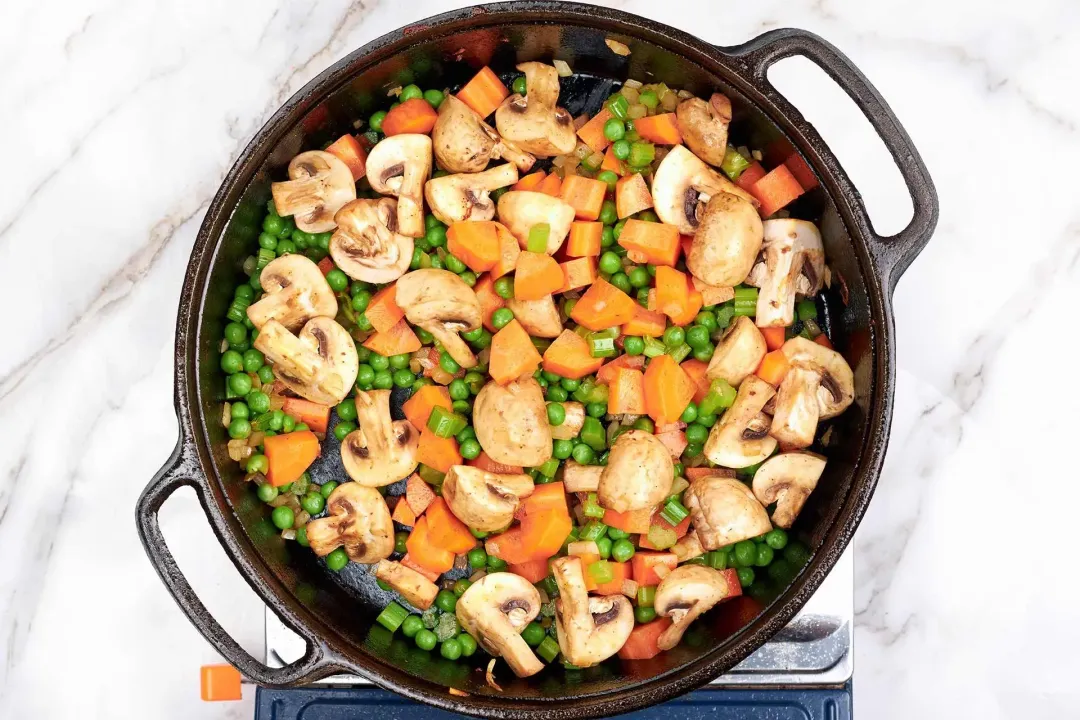 5
Deglaze the skillet with 1/4 cup white wine.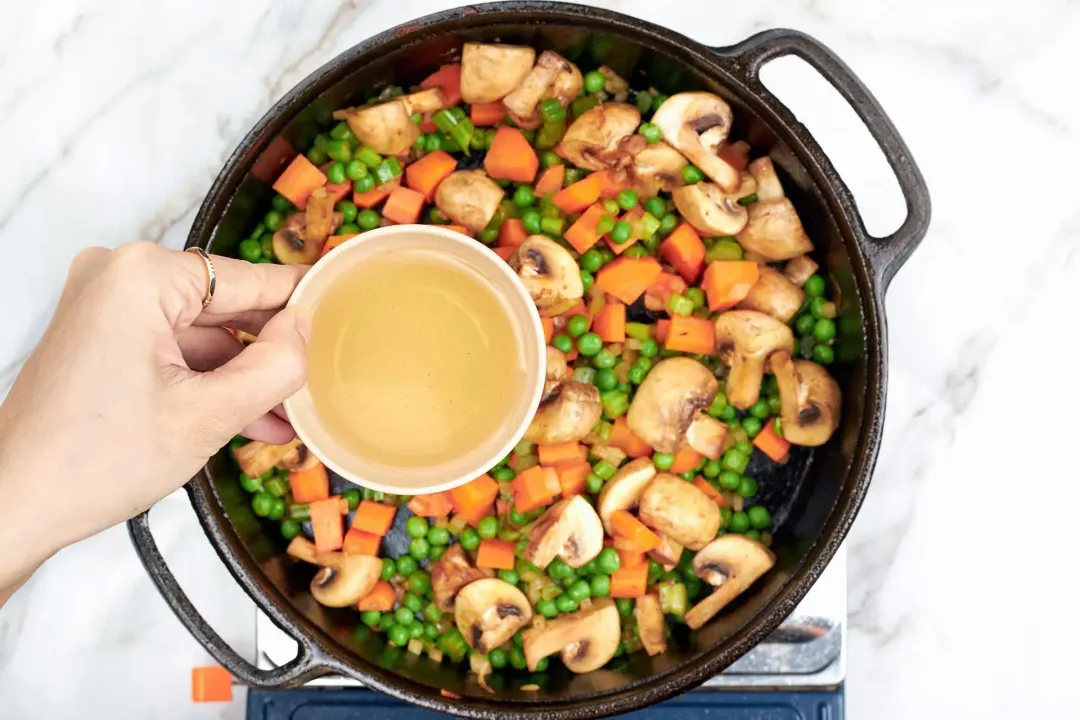 6
Add 2 tbsp flour, 2 tsp lemon juice, 2 tsp Dijon mustard, 1 tsp thyme, 1/2 tsp salt, and 1/2 tsp pepper. Stir to incorporate.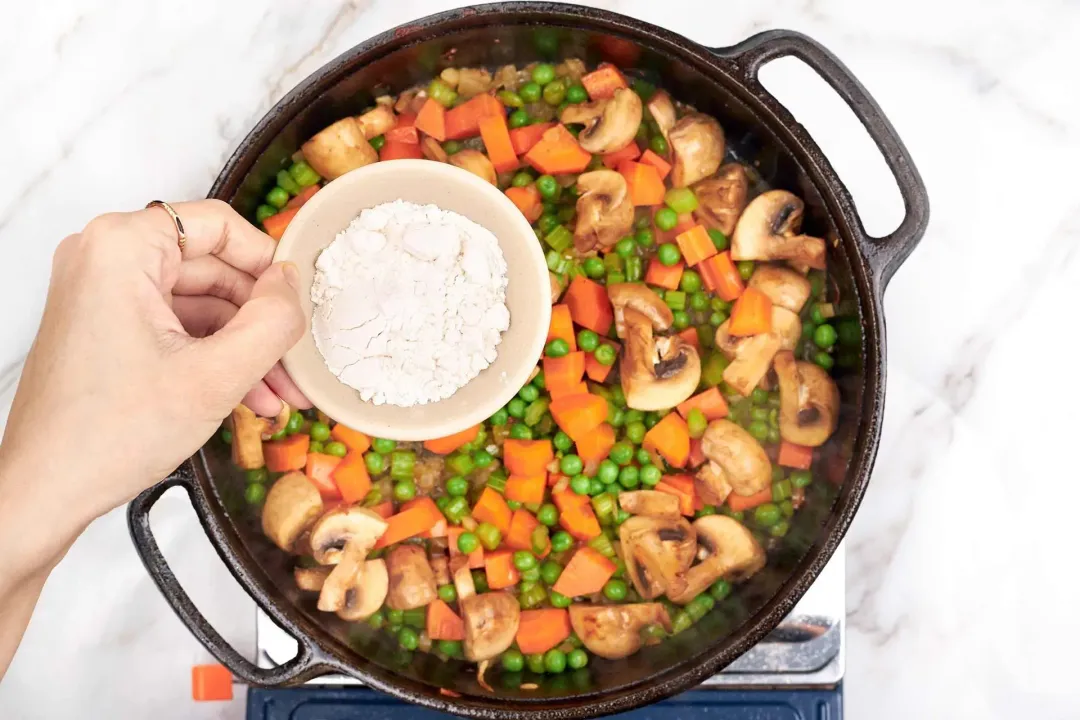 7
Add the chicken back. Pour in 2 cups unsalted broth, 1/4 cup whole milk, and 3 tbsp heavy cream. Stir to incorporate. Add 1 bay leaf, and turn the heat on high. As soon as it bubbles, turn it to low and leave to simmer for 25 minutes, uncovered.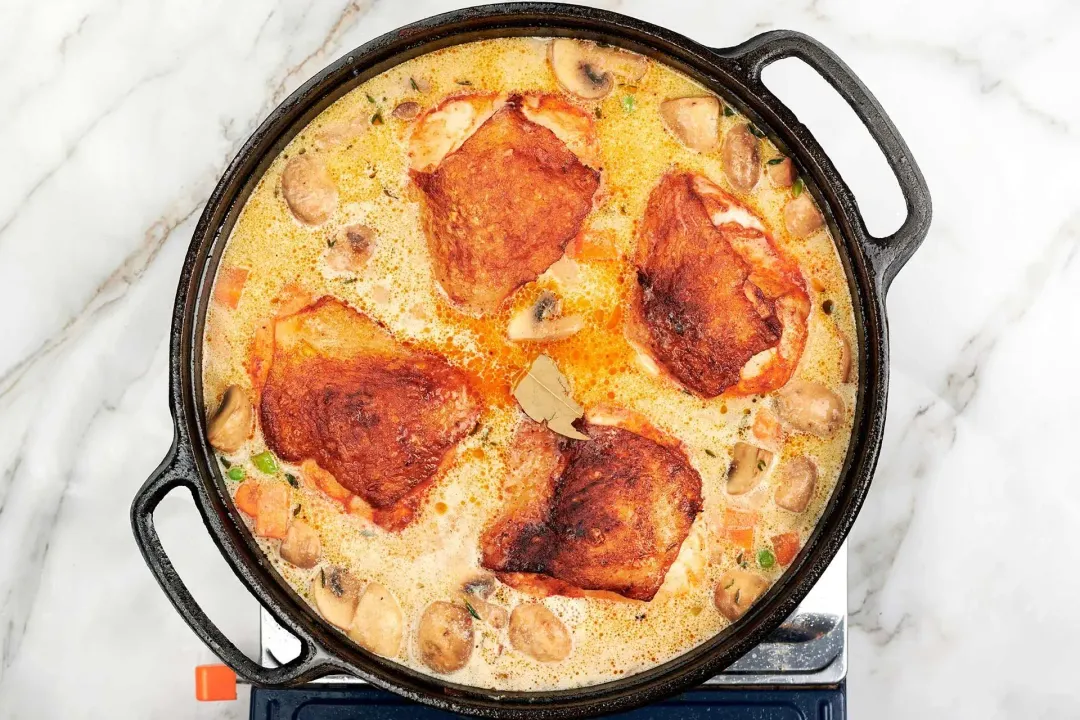 8
Remove from the heat. Garnish with 2 tbsp parsley and enjoy.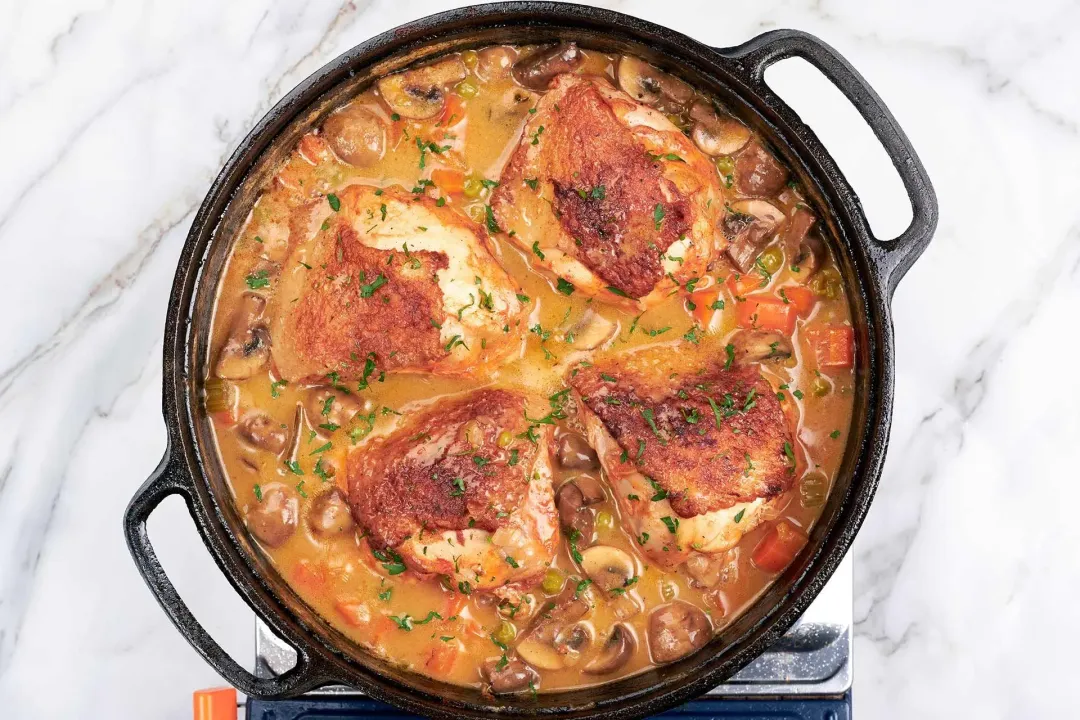 NUTRITION
Nutrition Facts
Chicken Fricassee
Amount Per Serving (1 serving)
Calories 489
Calories from Fat 288
% Daily Value*
* Percent Daily Values are based on a 2000 calorie diet.
Keywords: chicken fricassee, chicken fricassee recipe, how to make chicken fricassee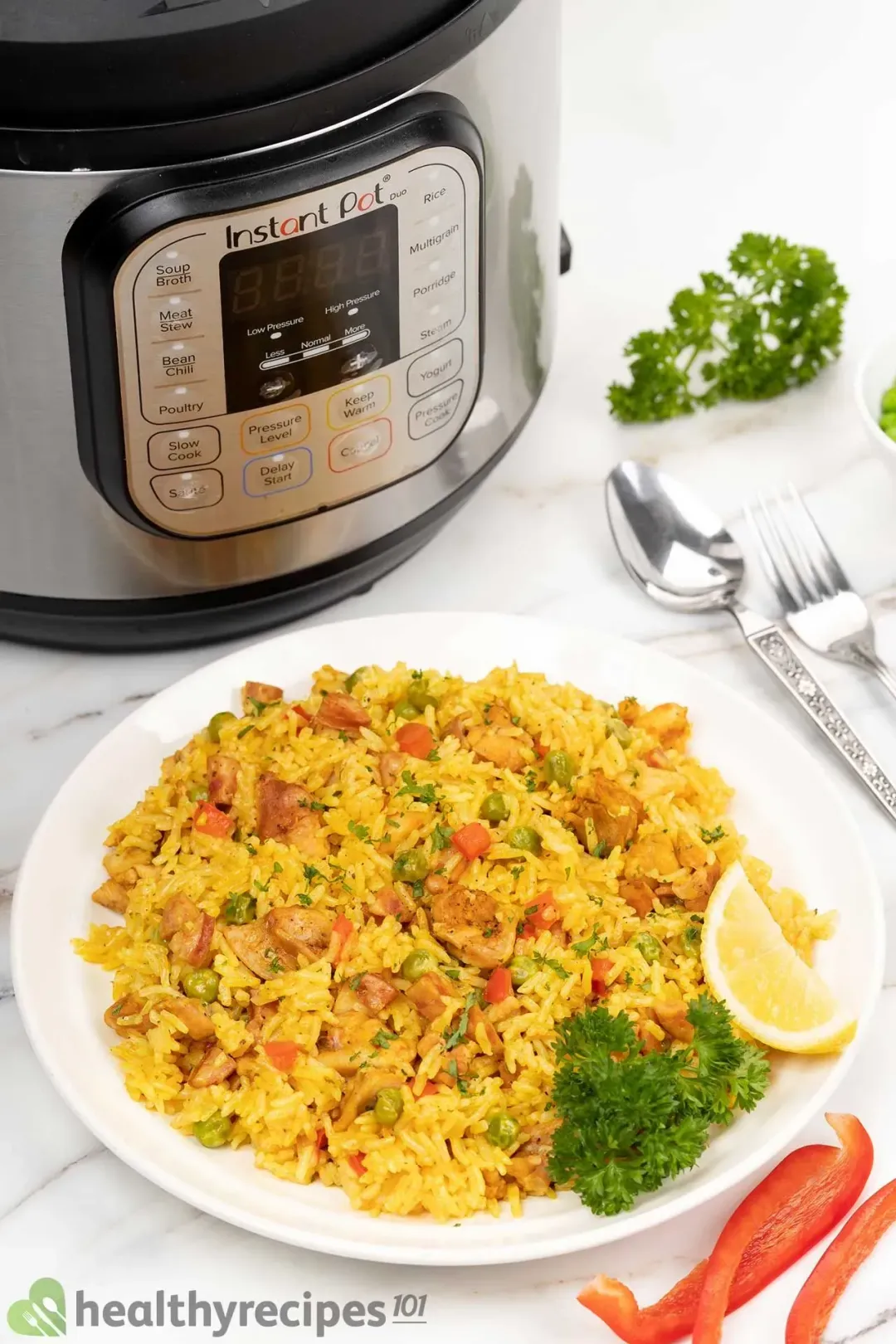 Previous Recipe
Instant Pot Paella
Instant Pot Paella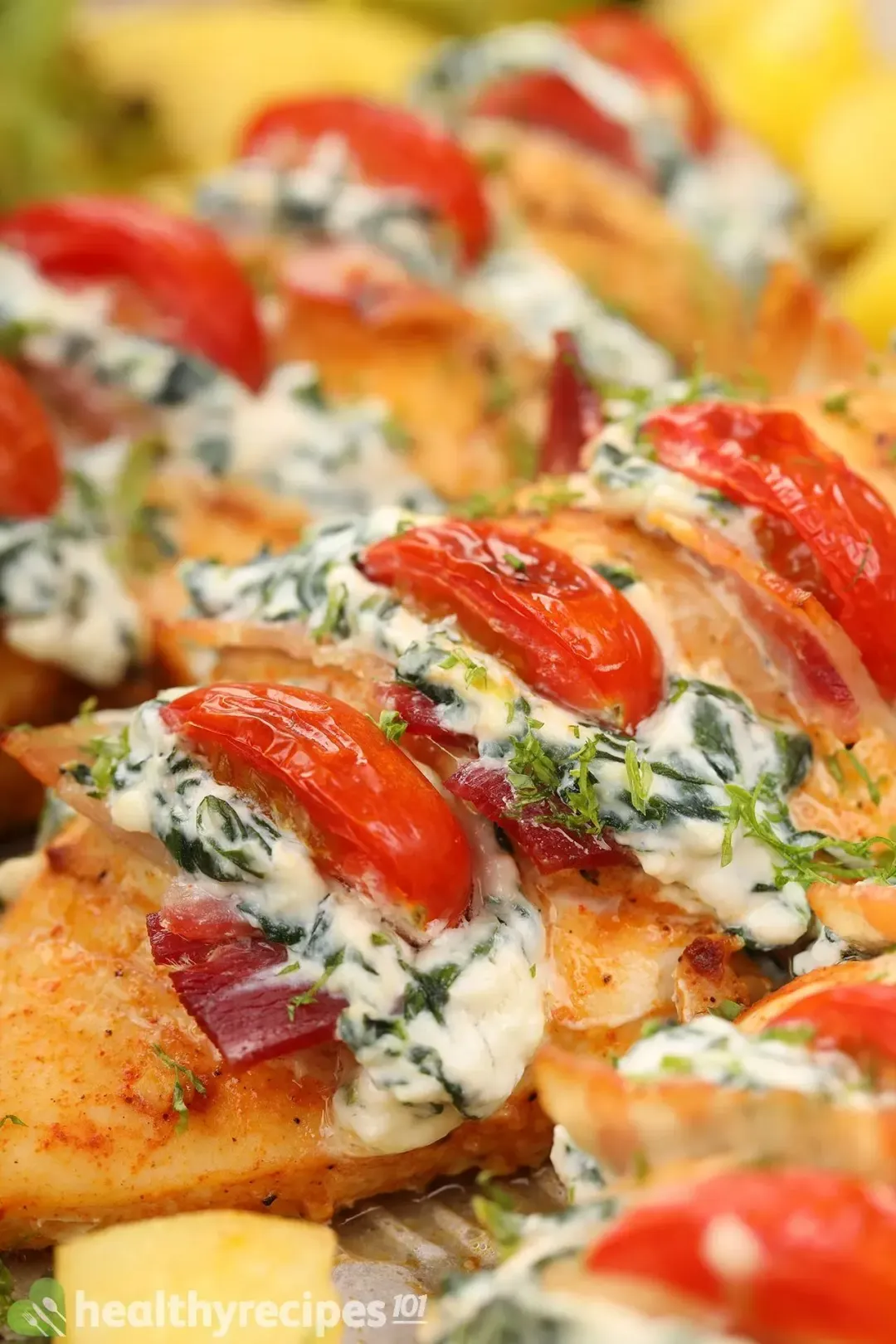 Next Recipe
Hasselback Chicken
Hasselback Chicken
Head Chef, Culinary Consultant
Tuyet Pham is an award-winning Saigonese chef who believes that joy is the secret ingredient to delicious food. At Healthy Recipes 101, Tuyet personally tests and simplifies every recipe, ensuring maximum flavor with minimal effort. With a background at prestigious French restaurants P'TI Saigon and Le Corto, Tuyet knows how to make every dish exceptional.
Writer, Author
Luna Regina is an accomplished writer and author who dedicates her career to empowering home cooks and making cooking effortless for everyone. She is the founder of HealthyKitchen101.com and HealthyRecipes101.com, where she works with her team to develop easy, nutritious recipes and help aspiring cooks choose the right kitchen appliances.
Nutrition Reviewer
Natalie Butler is a registered dietitian nutritionist with a passion to help others live their best life through food, fitness, safer beauty and a healthy lifestyle. She has expertise with a variety of diets and diseases and believes that there is no one-size-fits-all approach for health.
My chicken Fricassee turned out fabulous - it had so much flavor without being overpowering, plus all of my spices worked perfectly in unison for an unbeatable taste.