Cozy, easy, and utterly delicious, this miso chicken recipe is a comfort food dream come true. The chicken is seared to perfection, with the juicy and tender meat wonderfully contrasting the crispy-skinned exterior. Drenched in a luscious miso sauce, it carries a gorgeous combination of sweet, savory, and umami flavors.
Even better, this dish comes together in around 30 minutes with just a few simple steps. You'll have no trouble putting delicious dishes on the table for everyone to enjoy, no matter what the occasion is.
What Does Miso Taste Like?
Miso is a staple Japanese condiment made from fermented soybeans, salt, grains, and koji—a fungus often used for culinary purposes. It's most commonly used as the main ingredient in miso soup, but can also be incorporated into various dishes as a glaze, sauce, marinade, and many others.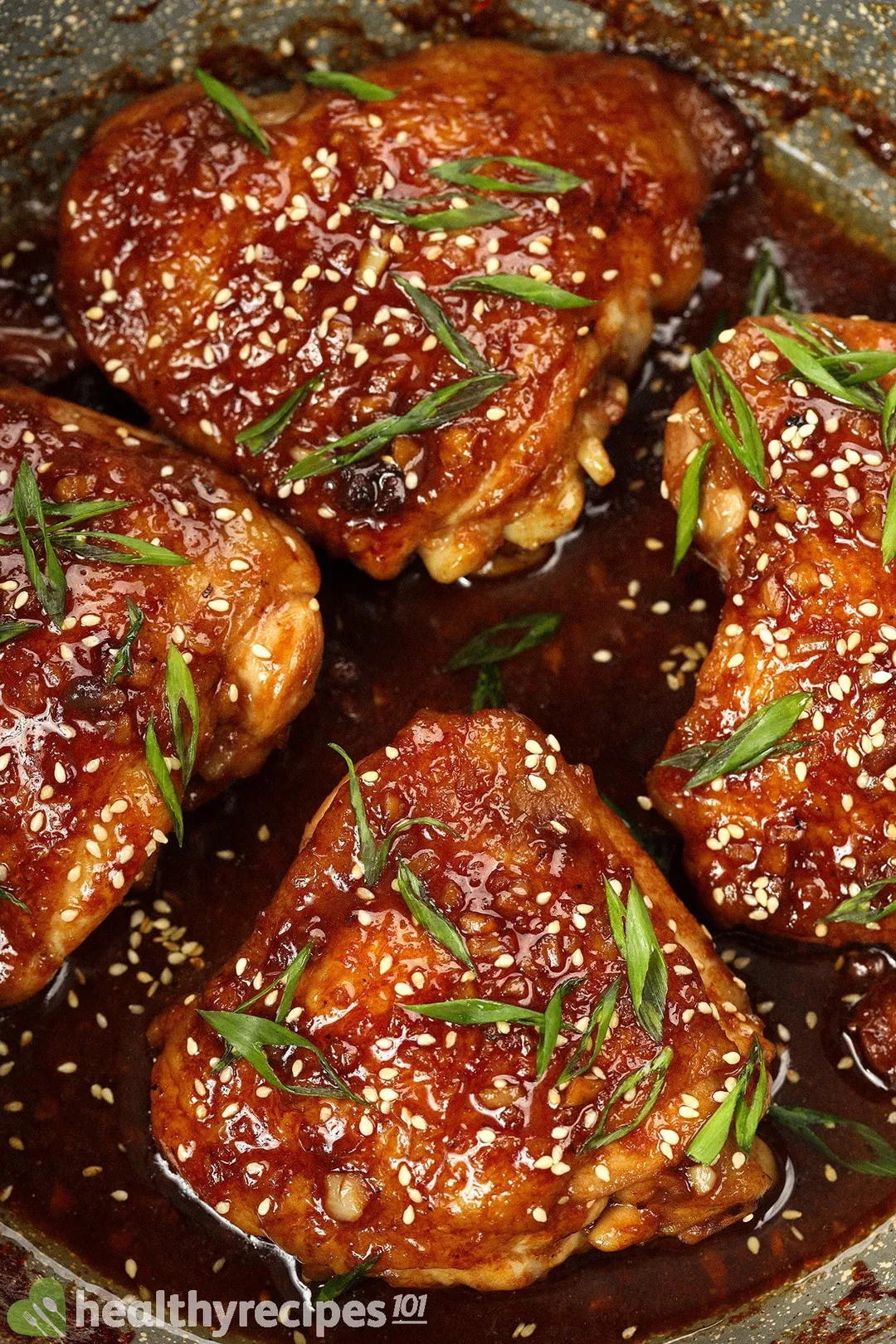 Depending on the specific variety, miso's taste and texture can widely vary. The darker the color, the deeper its flavors will be. Generally speaking, it has a thick and buttery texture, accompanied by an umami and savory taste and a slightly salty undertone.
Ingredients
Since this is an Asian recipe, you'll be needing a couple of staple Asian condiments. However, everything else is just pantry staples so you should have no trouble putting together this dish. Here's everything you'll need:
Chicken: We went with skin-on chicken thighs since this cut of meat yields more flavors than the others as well as being less dry. When seared, the skin also turns delectably crispy, creating a nice contrast with the tender and juicy meat.
Miso: As mentioned above, miso's color tends to indicate the intensity of its flavors. Light miso (white or yellow) is mild and sweet, but we believe dark miso (red, brown, and almost black), with its strong umami taste, is more suitable for this recipe.
Condiments: In addition to the miso, we also used a handful of other Asian staples like soy sauce, mirin, and sesame oil. The blend of these condiments creates a harmonized mixture of sweet, salty, and tangy flavors that perfectly complements the miso's deep umami taste.
Brown Sugar: Brown sugar has added molasses that significantly deepens the miso sauce's flavor, giving it a wonderful caramelized sweetness.
Cornstarch: This is an essential ingredient that gives the sauce a slightly thick and syrupy consistency.
Aromatics: To infuse the chicken with a subtly aromatic undertone, we added some garlic and ginger to the recipe.
Green Beans: The chicken is served alongside green beans to add a little bit of crunchiness and an earthy taste to the dish. You can also use any veggies that you have at your disposal.
Rice: In addition to the green beans, we also included some white rice to make the dish more filling.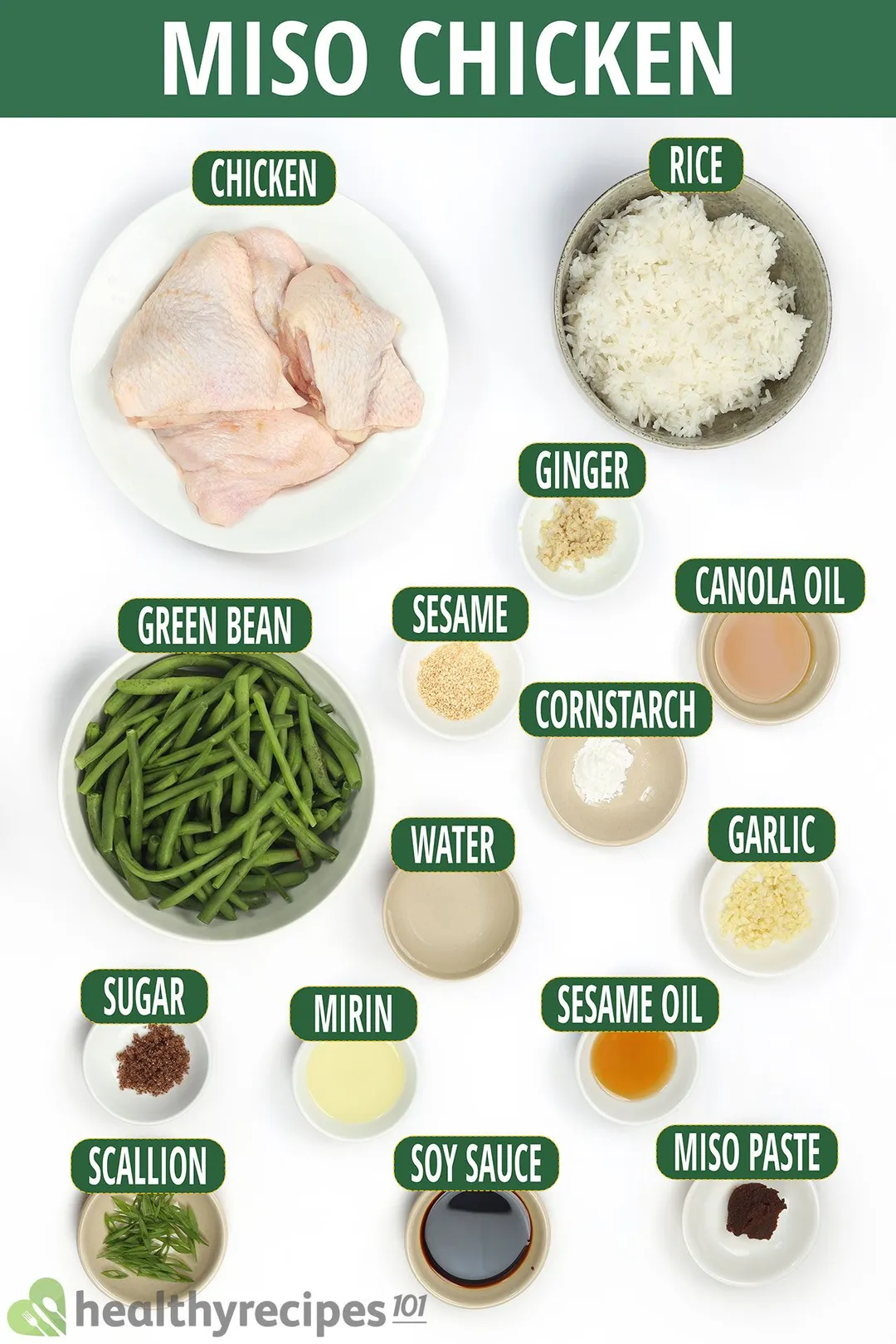 Is Miso Chicken Healthy?
Yes, it is.
This miso chicken recipe follows the standards set by our nutrition guidelines, ensuring that important dietary components are kept within limits while still maintaining the dish's flavors. As a result, each serving contains approximately 510 calories, 5.7 g saturated fat, and 523 mg sodium.
Furthermore, with chicken as the main ingredient, this dish comes with a decent amount of protein—around 24 g per serving. Chicken is also a good source of other nutrients like vitamin B12, zinc, iron, choline, etc.
We paired the chicken with a hefty side of green beans. This legume offers essential nutrients such as fiber, vitamins A, K, and C, as well as calcium, magnesium, phosphorus, and many more to the dish.
How to Store and Reheat the Leftovers
When stored in airtight containers in the fridge, this miso chicken could last for up to 3 days.
To reheat the chicken, give it a quick sear on the stovetop or simply use the microwave. However, note that reheated leftover meat might be drier than when it was first made.
What to Serve With Miso Chicken
For a full Asian meal filled with comfort and warmth, pair this miso chicken with one of the following side dishes: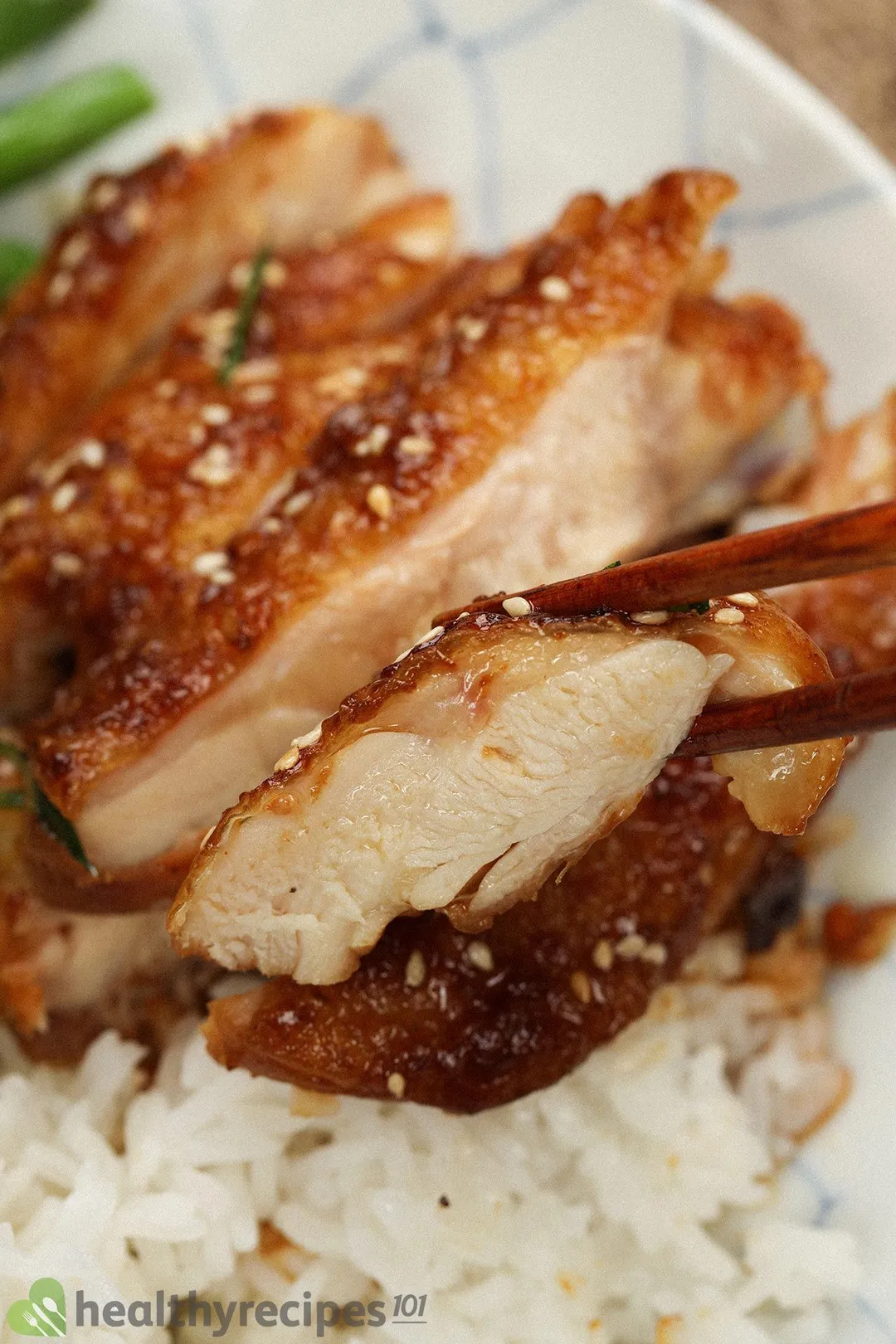 Try These Chicken and Rice Dishes, too
To make this chicken goodness, we air-fry chicken thighs until the skin is crispy and the interior remains juicy and tender. Then we layer on fresh lettuce, cherry tomatoes, black beans, corn, and blistered chicken on top of a bowl of steamy white rice, and call it a beautiful meal.
Our Thai-style grilled chicken is also worthy of your time. The chicken is juicy and seasoned in a mix that is spicy, umami, and tangy. Everything is rounded off with toasted peanuts and a quick carrot pickle.
Miso Chicken
Cozy, easy, and utterly delicious, this miso chicken recipe is a comfort food dream come true. The chicken is seared to perfection and covered in a luscious coat of miso sauce. Served over a steamy bed of rice and some green beans, this dish makes an ideal comfort food for all your weeknights.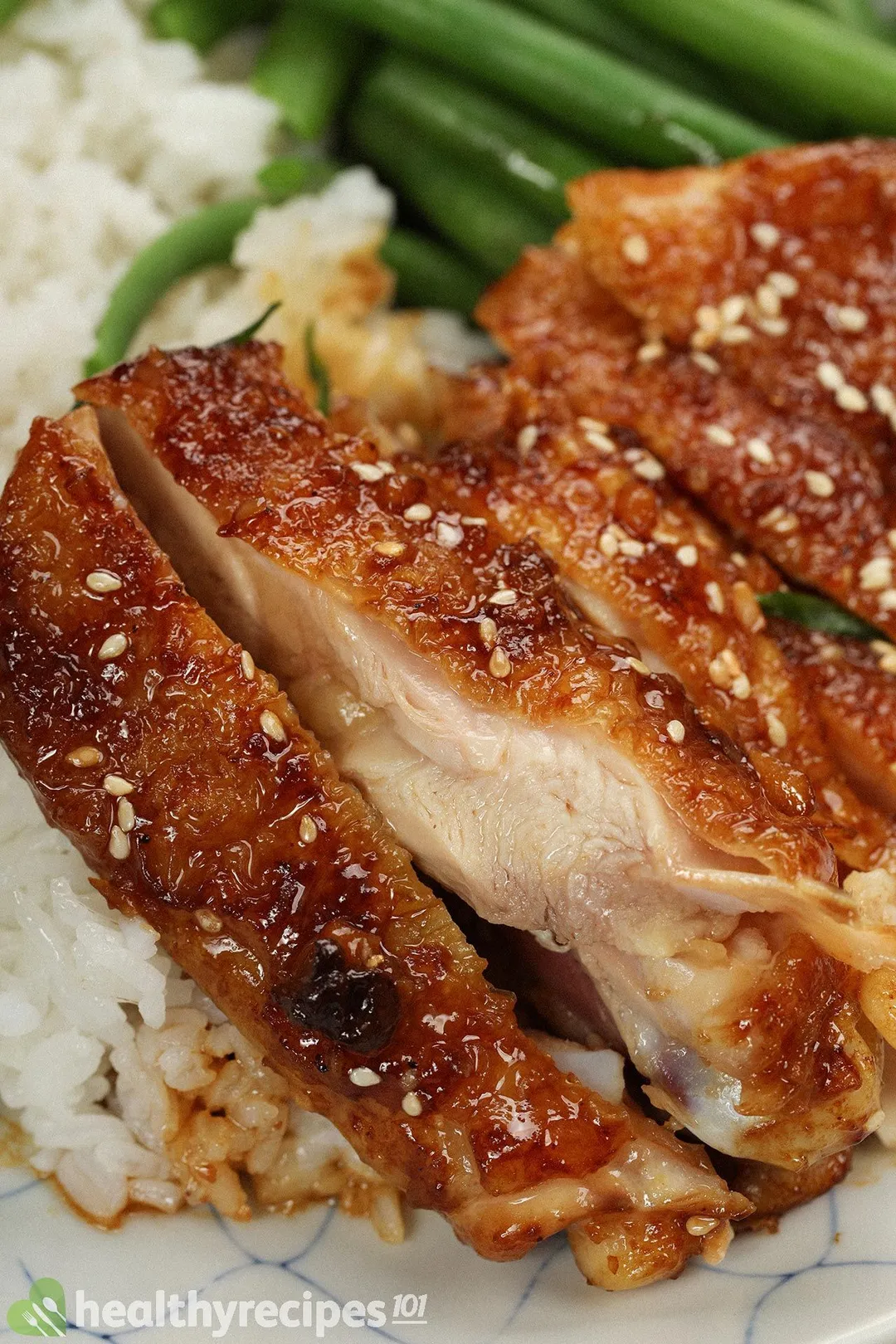 cook TIME

17 mins

prep TIME

15 mins

total TIME

32 mins
COURSE

Main Dish

CUISINE

Asian

SERVINGS

CALORIES

512 kcal
INGREDIENTS
16 oz

skin-on bone-in chicken thighs

12 oz

green beans

(ends removed)

2 tbsp

scallion

(chopped)

2 tbsp

reduced-sodium soy sauce

1 tsp

unsalted roasted sesame seeds

2 1/2 cups

cooked medium-grain rice

(from 1 1/4 cups uncooked)
INSTRUCTIONS
Prep:
1
Cook the Rice: Rinse the rice then cook according to the package instructions. It should typically take around 15-20 minutes to cook.
2
Prepare the Chicken: Use paper towels to pat the chicken dry and remove any excess moisture.
3
Mince the Garlic: Separate the cloves then thinly slice them. Chop over the sliced pile with a rocking motion a few times until they are finely minced.
4
Mince the Ginger: Scrape the skin off then thinly slice the ginger crosswise. Cut the pieces into matchsticks then gather the sticks and thinly slice into minced pieces.
Cook:
1
Make the Sauce: In a small bowl, mix 2 fl oz water, 1 tsp sesame oil, 1 tsp cornstarch, 1/2 tbsp red miso paste, 2 tbsp cooking mirin, 2 tbsp reduced-sodium soy sauce, and 1 tsp brown sugar until well-combined.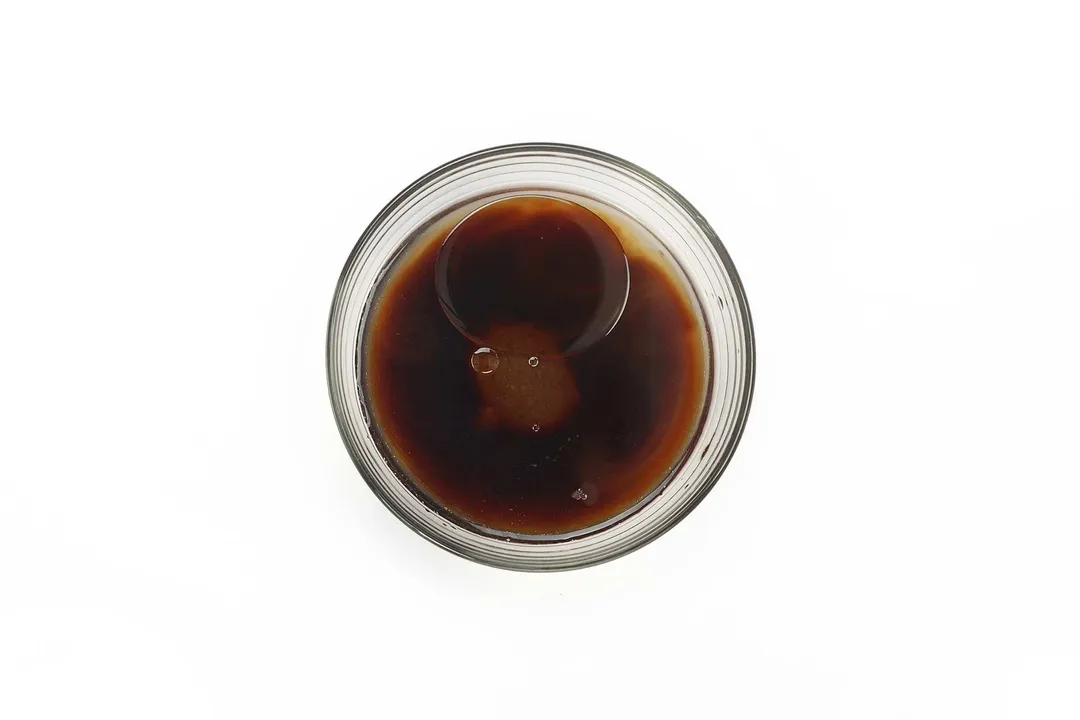 2
Blanch the Green Beans: In a pan or pot, bring some water to a boil, then put 12 oz green beans in for 3 minutes, then drain to remove.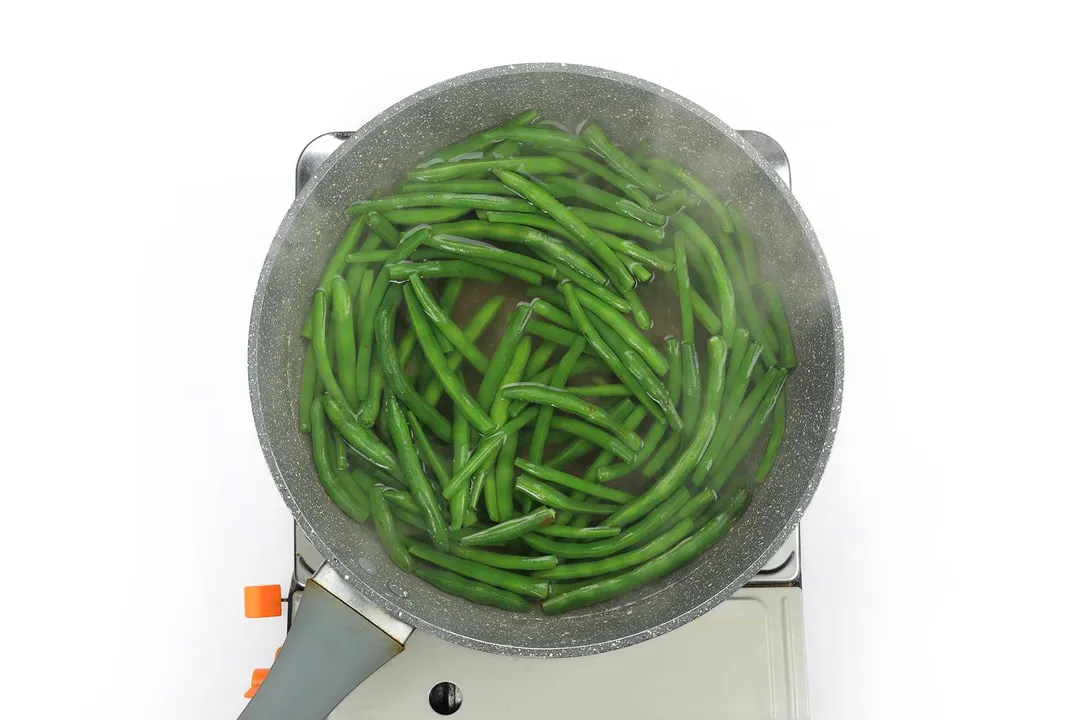 3
Sear the Chicken: In a pan over medium-small heat, sear 16 oz skinless chicken thigh with 1 tbsp canola oil for 10 minutes on both sides.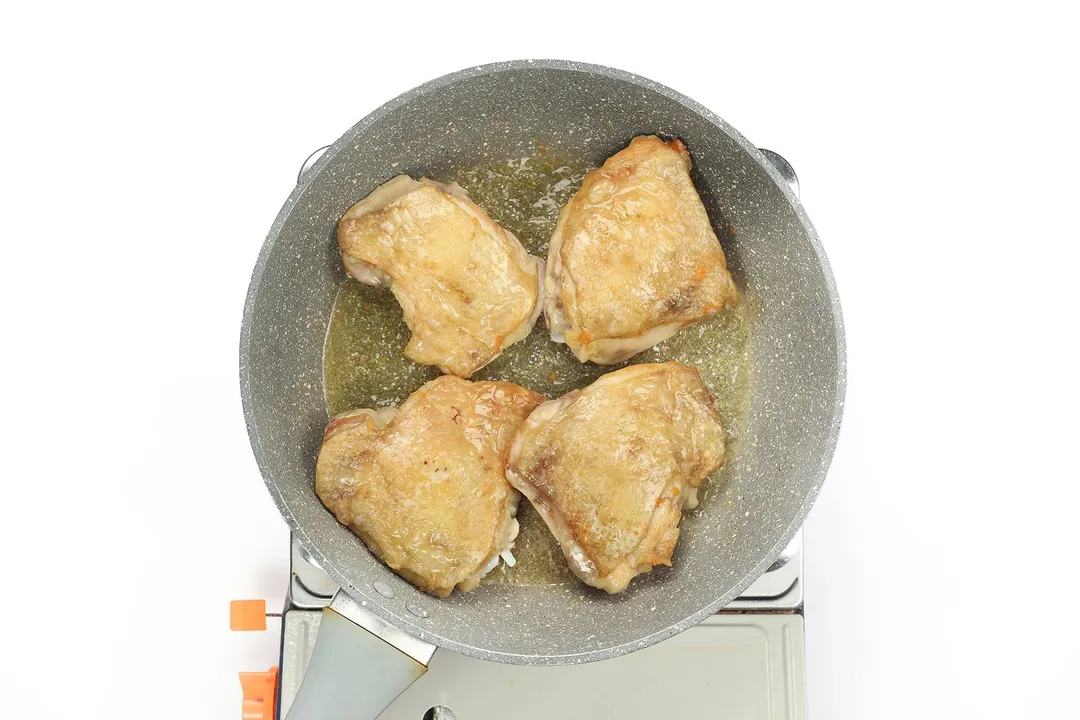 4
Add the Aromatics: Add 1 tsp ginger and 1 tbsp garlic to the pan and gently stir for 30 seconds.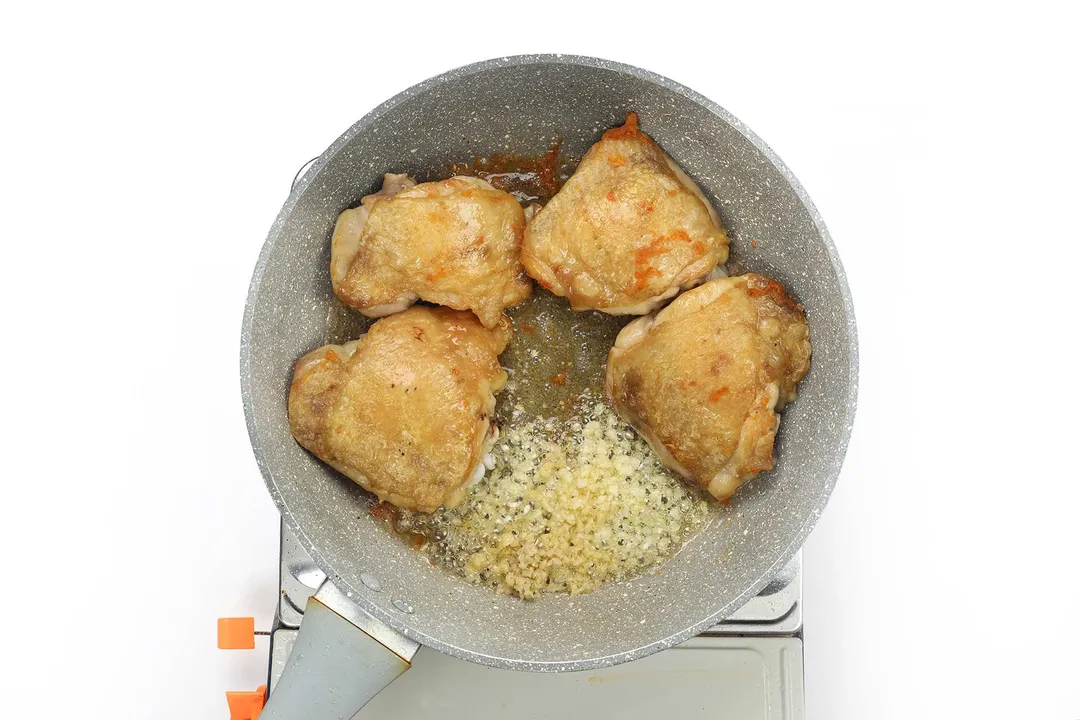 5
Add the Sauce: Add the sauce, reduce the heat to low, then let it simmer for 3 minutes until the sauce thickens and the meat turns tender and white.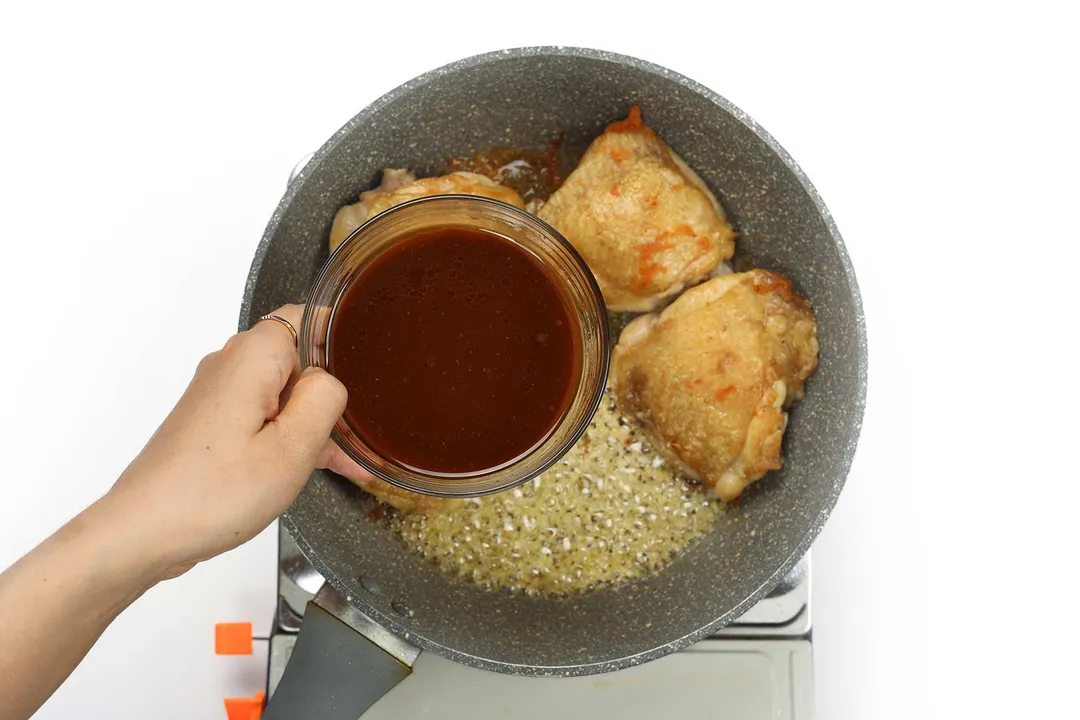 6
Garnish and Serve: Transfer the cooked chicken and miso sauce onto serving plates alongside the cooked green beans and 2 1/2 cups cooked medium-grain rice. Garnish with 2 tbsp scallion and 1 tsp unsalted roasted sesame seeds and serve hot.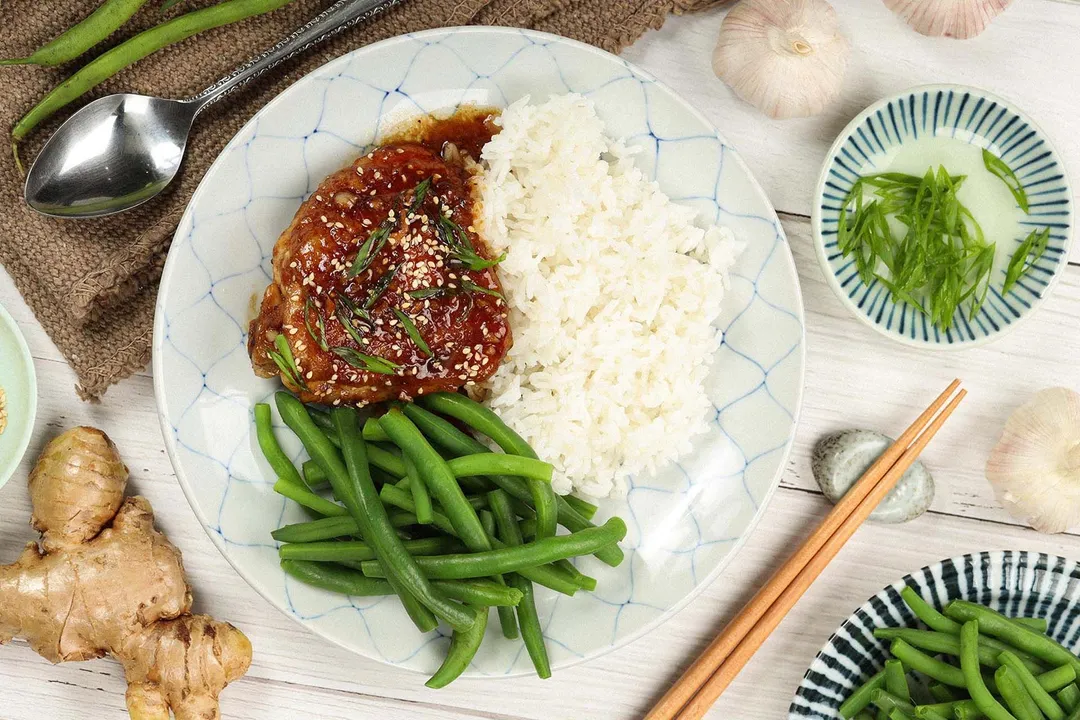 NUTRITION
Nutrition Facts
Miso Chicken
Amount Per Serving (1 serving)
Calories 512
Calories from Fat 220
% Daily Value*
Monounsaturated Fat 10.7g
* Percent Daily Values are based on a 2000 calorie diet.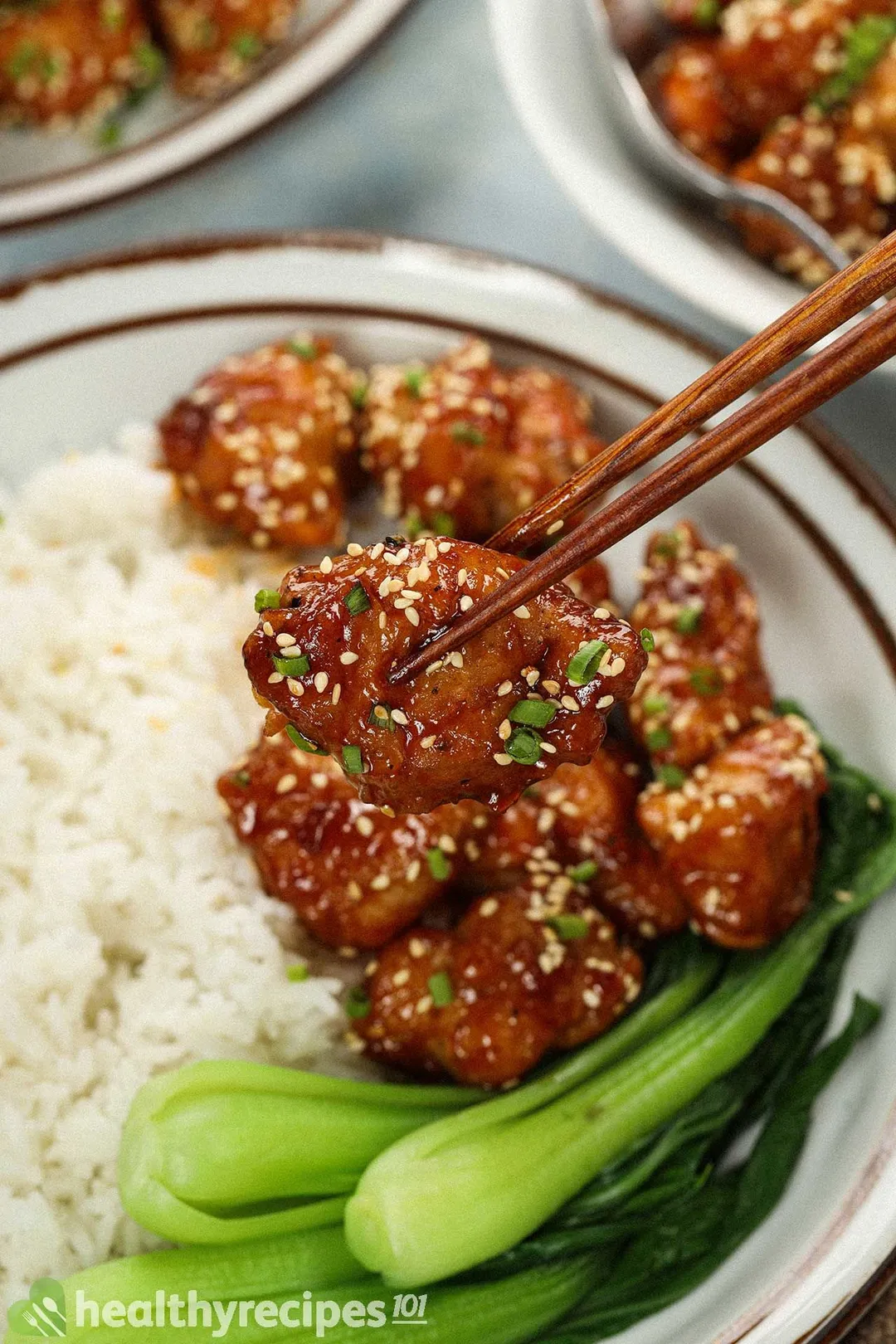 Previous Recipe
Honey Chicken
Honey Chicken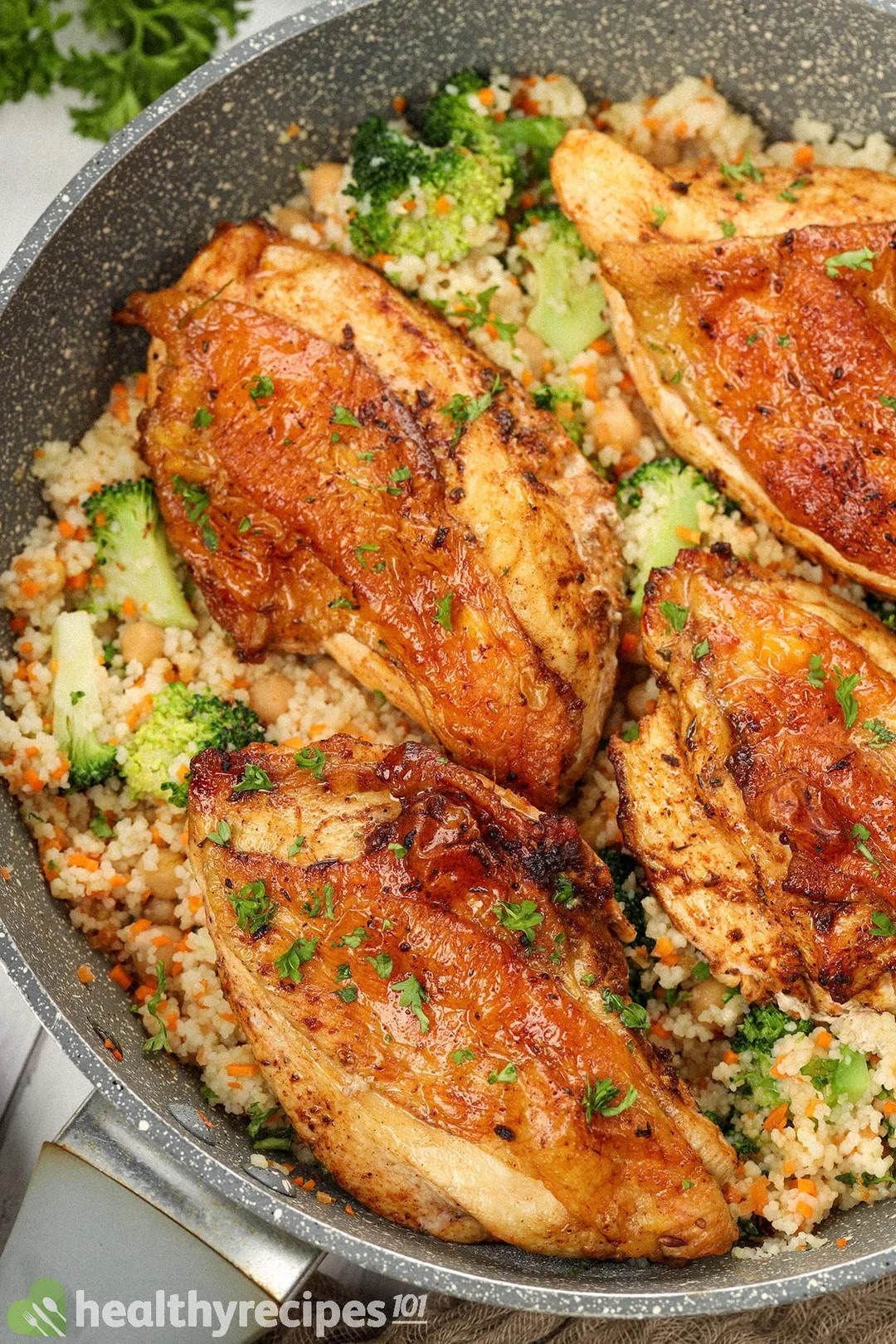 Next Recipe
Chicken Couscous
Chicken Couscous
Head Chef, Culinary Consultant
Tuyet Pham is an award-winning Saigonese chef who believes that joy is the secret ingredient to delicious food. At Healthy Recipes 101, Tuyet personally tests and simplifies every recipe, ensuring maximum flavor with minimal effort. With a background at prestigious French restaurants P'TI Saigon and Le Corto, Tuyet knows how to make every dish exceptional.
Writer, Author
Luna Regina is an accomplished writer and author who dedicates her career to empowering home cooks and making cooking effortless for everyone. She is the founder of HealthyKitchen101.com and HealthyRecipes101.com, where she works with her team to develop easy, nutritious recipes and help aspiring cooks choose the right kitchen appliances.
Miso chicken is a flavorful and healthy dish.