Turn a classic Chinese takeout into your very own homemade staple with this honey chicken recipe. 
The chicken is deep-fried to a golden brown and crispy perfection, delightfully contrasting the tender meat inside. The highlight, however, is the honey sauce that coats the meat. With a luscious texture and a heavenly sweet taste, it gives the chunks of chicken a melt-in-the-mouth quality that will have you hooked from the first bite.
We paired the chicken with a bed of rice and some bok choy, creating a simple yet filling dish full of homemade comfort. Taking only around 30 minutes to make, this is an ideal go-to choice for all your weeknight dinners.
Is This Dish Healthy?
We believe so.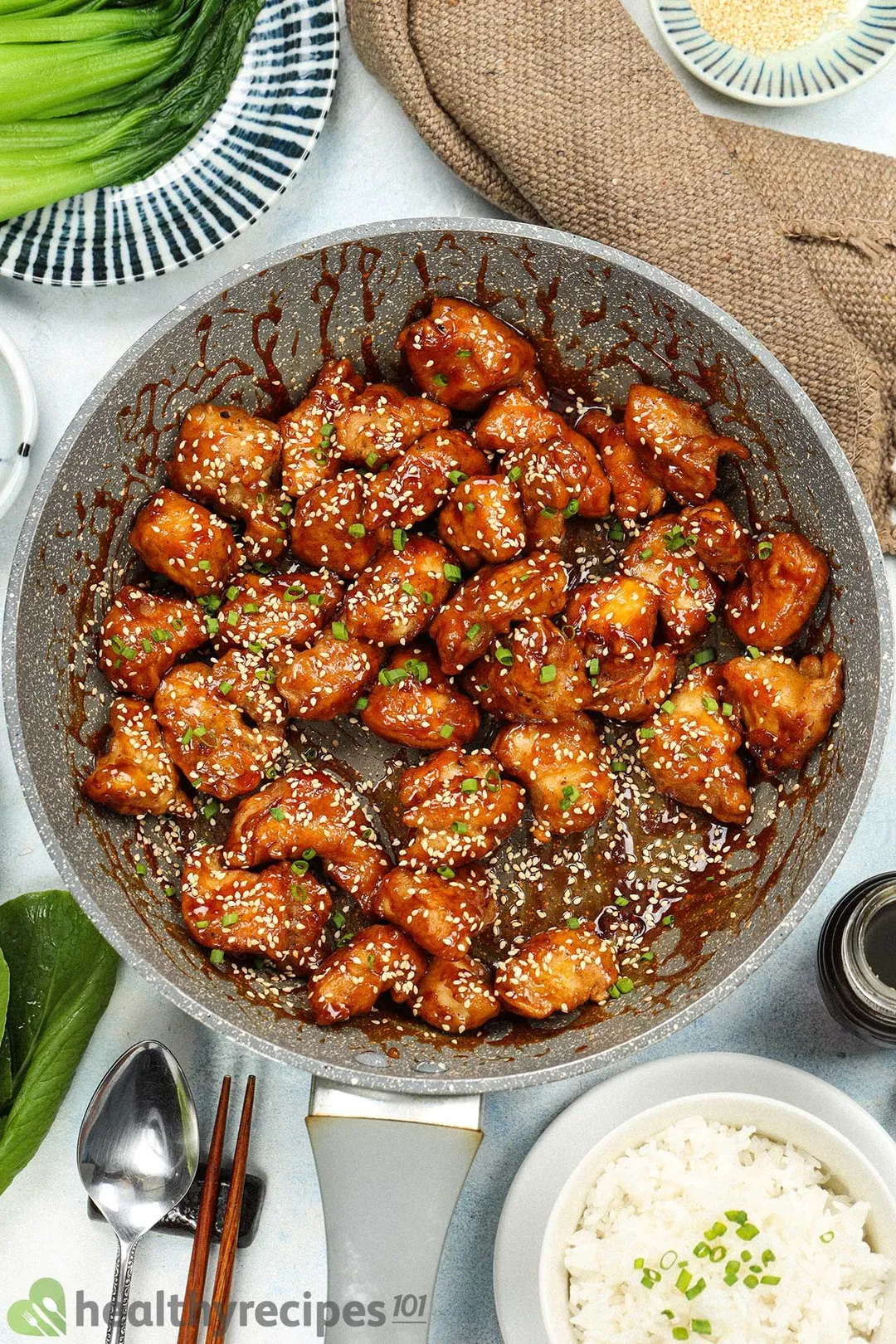 With approximately 1.5 g saturated fat and 612 mg sodium in a 507-calorie serving, this dish adheres to the standards set by our nutrition guidelines. We made sure to moderate the ingredients so that these important dietary components are kept within acceptable limits.
What's more, since chicken is the main ingredient, this dish is loaded with protein—providing 33.9 g per serving. This white meat also contains various other nutrients, such as vitamin B12, choline, zinc, iron, selenium, potassium, magnesium, etc.
Adding some fiber as well as vitamins A, C, and K to the dish, we served this honey chicken with a side of bok choy. This leafy vegetable may have potential health benefits such as supporting bone health and regulating blood pressure.
Ingredients
You'll have no trouble putting together an effortless dish with this recipe since almost everything can easily be found and assembled. Take a look at the following list to see what you'll need:
Chicken: We went with the boneless skinless breast to keep preparation to a minimum. The sauce comes with enough flavor and lusciousness that you don't have to worry about the meat being too dry or bland.
Flour and Cornstarch: Since the chicken will be deep-fried, this combination is quite essential. They coat the chicken in an irresistible layer of crispiness as well as tenderize the meat and lock in the moisture. This results in succulent and tender insides that perfectly contrast with the exterior.
Spices: We kept things simple and only used salt and pepper to season the chicken and enhance its natural flavors. Meanwhile, paprika was added to the batter for a hint of spiciness.
Vegetable: We served the chicken with a side of bok choy—a popular Chinese leafy green. However, feel free to switch it out for any other veggies that you have at your disposal.
Rice: A bed of white rice is a staple in most Asian dishes, giving them that much-needed filling quality.
Garnishing: Giving the dish an appealing appearance, we sprinkled some white sesame seeds and chopped scallion all over the chicken.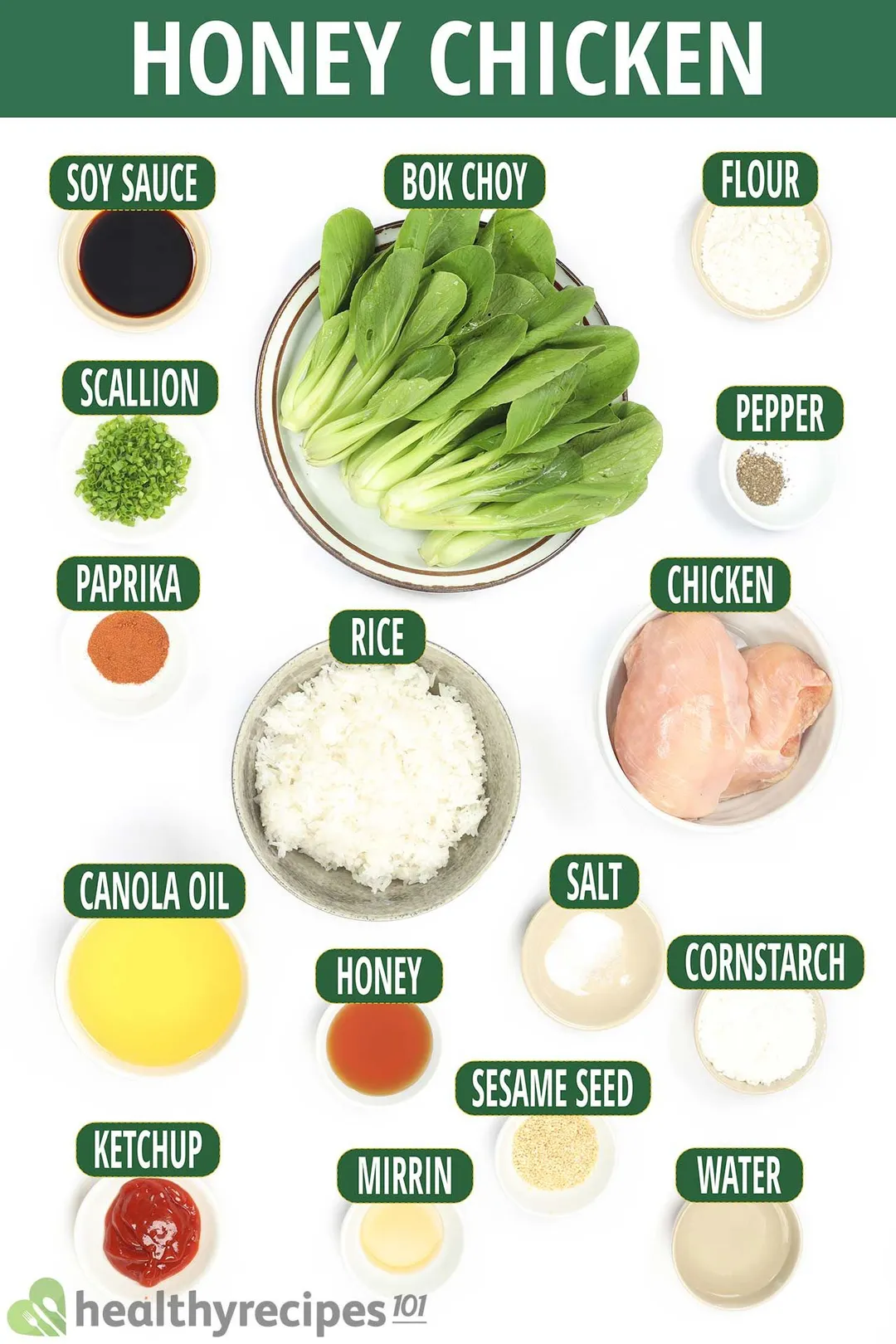 Sauce for Honey Chicken
As the star of this recipe, this delectable condiment gives the sauce its syrupy texture and rich sweetness. For convenience, you can use whichever variety you have available at home but we recommend something mild to keep the dish from being overwhelmingly sweet.
Since this is an Asian dish, the honey is mixed with a couple of Asian staples. We used mirin—a Japanese cooking rice wine with an umami sweetness, along with soy sauce. Go for light or all-purpose soy sauce since the dark variety might be too strong.
Slightly enhancing the sweetness a bit more, we also added some ketchup.
Variations & Add-Ins
This honey chicken recipe seems pretty straightforward, but it also leaves some room for changes and experimentation. Here are a few ways for you to switch things up each time you make it:
You can use the thighs if you prefer a little flavor depth to your meat, or switch to bone-in and skin-on meat cuts. Note that with these changes, the cooking time might need to be adjusted accordingly.
We kept things simple with white rice, but you can go for quinoa, brown rice, egg noodles, cauliflower rice, zucchini noodles, or even fried rice.
As for the vegetable, just about anything will do. Stir-fry some colorful veggies together, mix them in a salad, or keep things simple with some coleslaws, the choice is yours.
Spice things up a bit by adding red pepper flakes, chili paste, chili powder, cayenne pepper, or Sriracha to the sauce. You can test out the amounts and condiments as you cook to find out which combination works best.
How to Store and Reheat the Leftovers
The chicken will stay crispy for a few hours after it's made. However, the crispiness will lessen the longer it's soaked in the sauce. You can reheat it on the stovetop over medium heat to make it slightly less soggy.
For storage, keep this dish in airtight containers in the fridge for up to 3 days.
What to Serve With
Bring the comfort and warmth of a classic Chinese meal to the table by pairing this honey chicken with one of the following side dishes: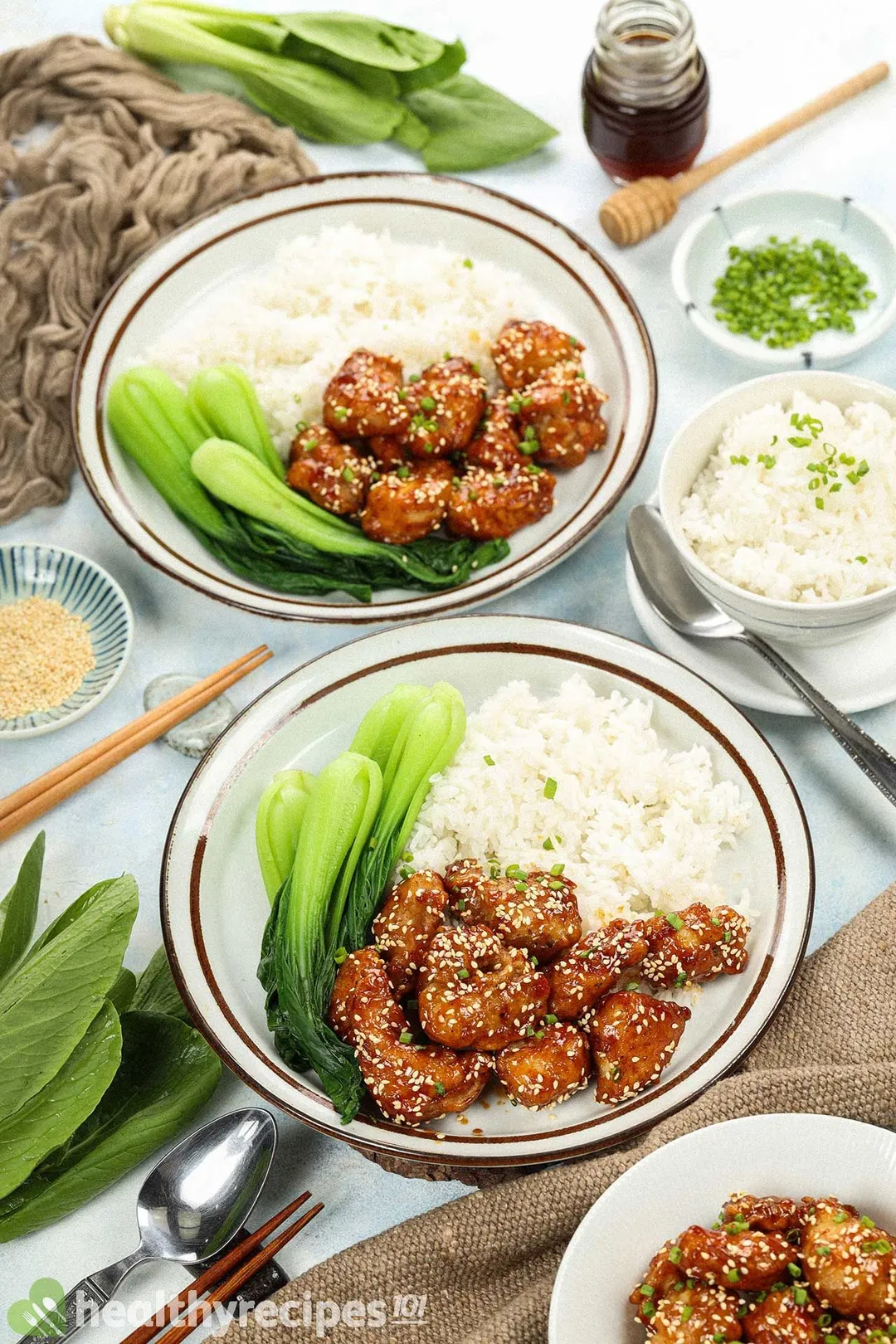 These Chicken Ideas Also Make Great Dinners
By 'dirty' we really mean just the look and not the content. What makes the colorful fried rice dirty is the addition of chicken liver, adding a rustic look and a rich taste that really makes the dish unique. It also has peppers, sausages, and ground pork mixed in with the rice.
This chicken couscous recipe is an excellent choice for all of your weeknight meals. It brings together gorgeous flavors and textures that melt right onto your taste buds: fluffy couscous, hearty chicken, and lightly crunchy veggies. Everything finishes in about 20 minutes, giving you a quick dish that is sure to impress.
Honey Chicken
Turn a classic Chinese takeout into your very own homemade staple with this honey chicken recipe. The crispy chicken is coated in luscious and heavenly sweet honey sauce, making each bite incredibly addictive. Taking only around 30 minutes to cook, this dish is an ideal choice for all your weeknight dinners.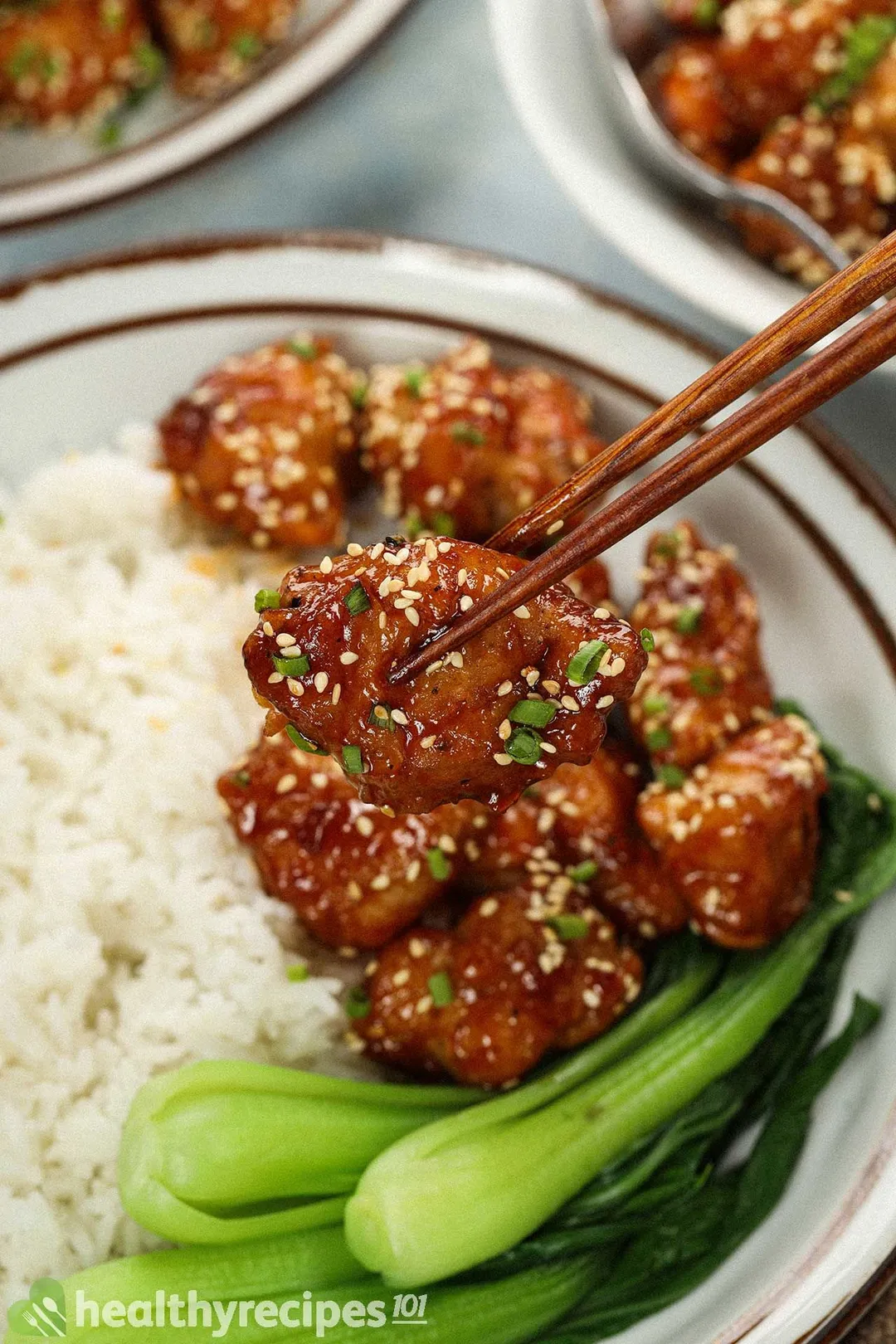 cook TIME

15 mins

prep TIME

15 mins

total TIME

30 mins
COURSE

Main Dish

CUISINE

Asian

SERVINGS

CALORIES

506 kcal
INGREDIENTS
18 oz

skinless boneless chicken breast

2 1/2 cups

cooked medium-grain rice

(from 1 1/4 cups uncooked)

1/4 cup

all-purpose flour

2 tbsp

reduced-sodium soy sauce

1/4 tsp

ground black pepper

2 tbsp

scallion

(chopped)

1 tbsp

unsalted roasted sesame seeds
INSTRUCTIONS
Prep:
1
Cook the Rice: Rinse the rice then cook according to the package instructions. It typically takes around 15-20 minutes to cook, with the water to rice ratio being 2:1.
2
Prepare the Chicken: Gently pat the chicken dry with paper towels to remove excess moisture.
3
Chop the Scallions: Cut off the white roots and the 1-2 inches at the top. Bunch the stalks together in one hand and chop the bundle into small rounds.
Cook:
1
Slice the Chicken: Slice 18 oz skinless boneless chicken breast into medium-sized cubes.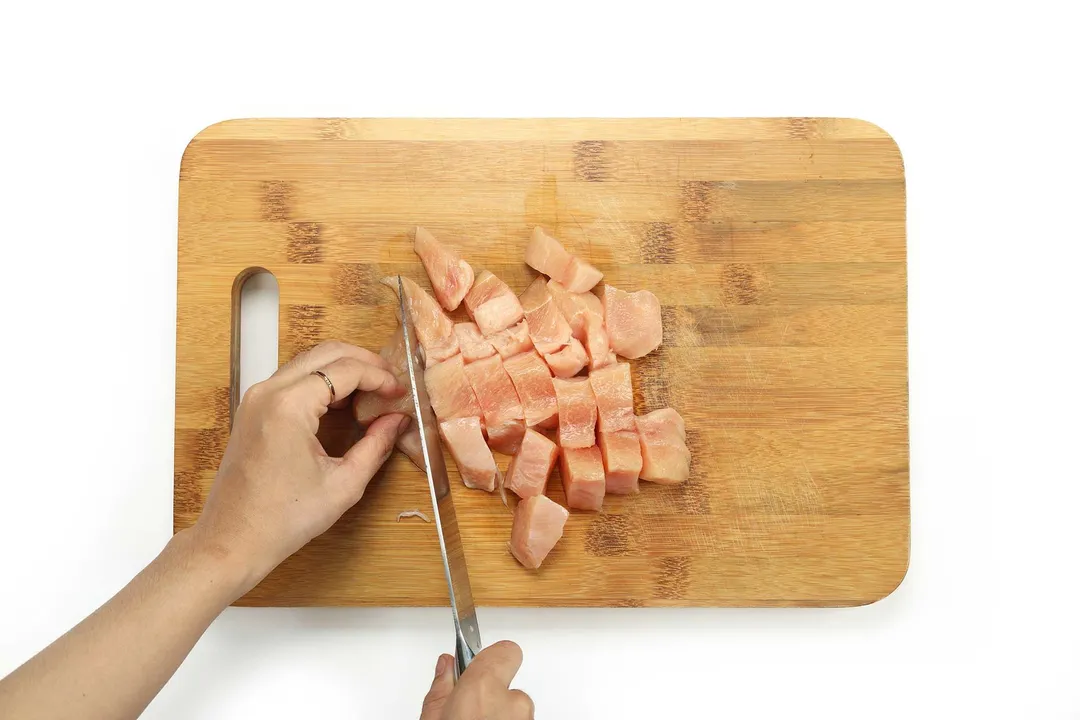 2
Season the Chicken: Put the chicken cubes in a bowl then add 1/4 tsp salt and 1/4 tsp ground black pepper then mix to evenly coat the meat in the spices.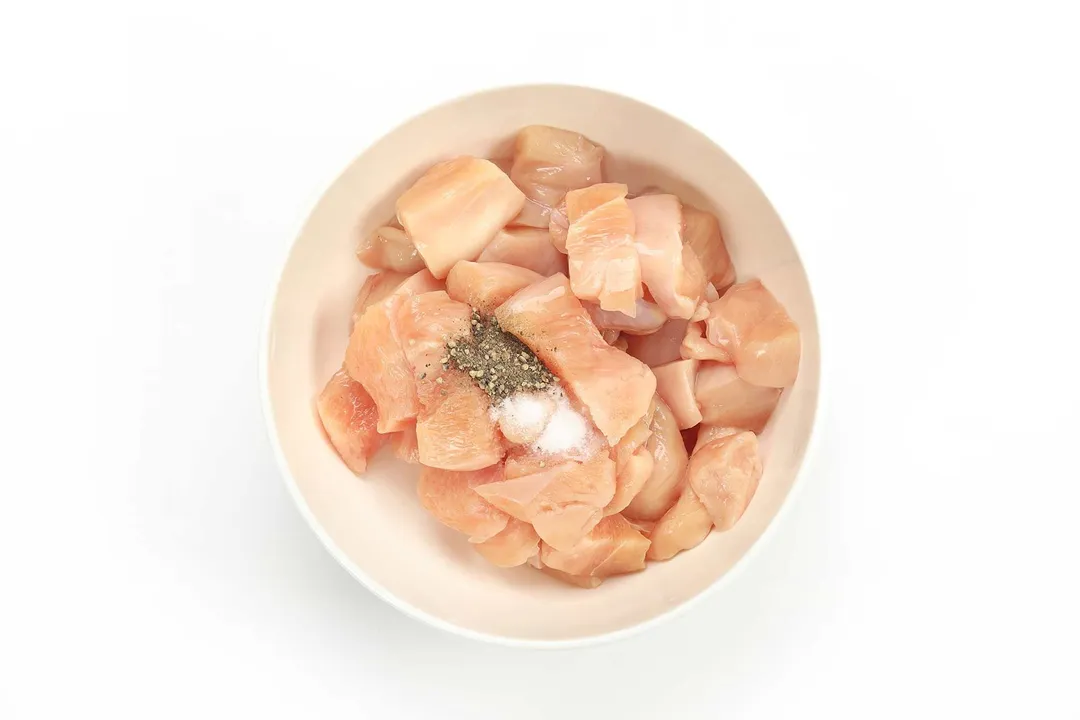 3
Make the Batter: In a bowl, mix 1/3 cup cornstarch, 1/4 cup all-purpose flour, 1/2 tsp paprika, and 1/2 cup water (leave out 2 tbsp water) until the batter thickens and has a sticky consistency.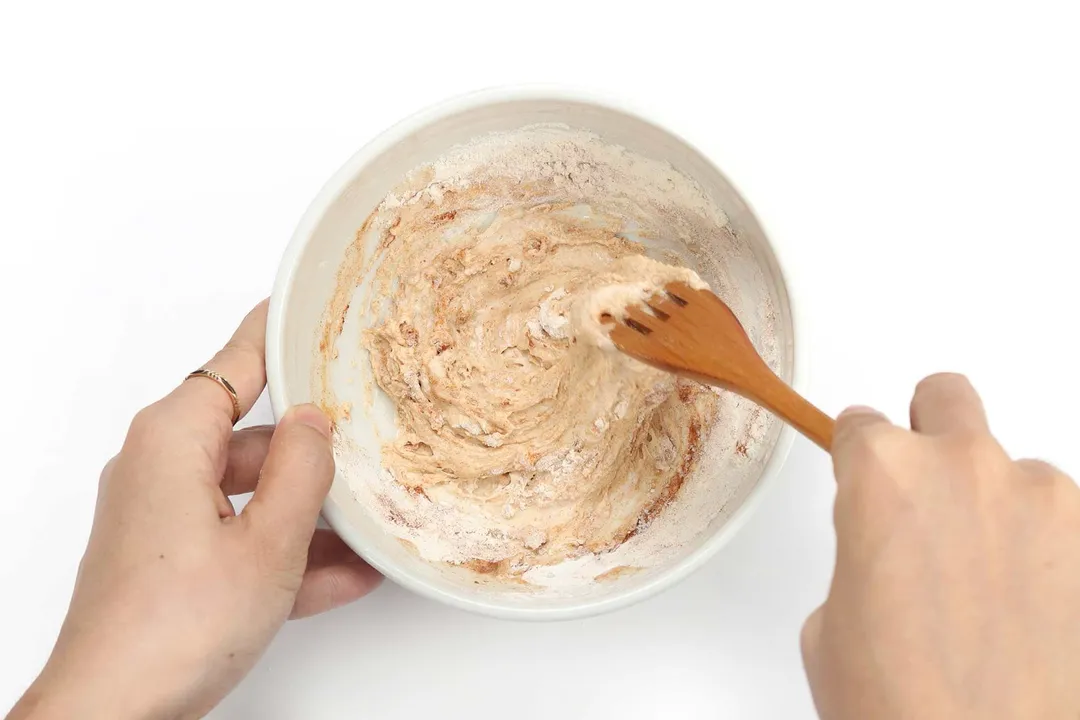 4
Coat the Chicken: Put the seasoned chicken in the batter and swirl around to evenly coat.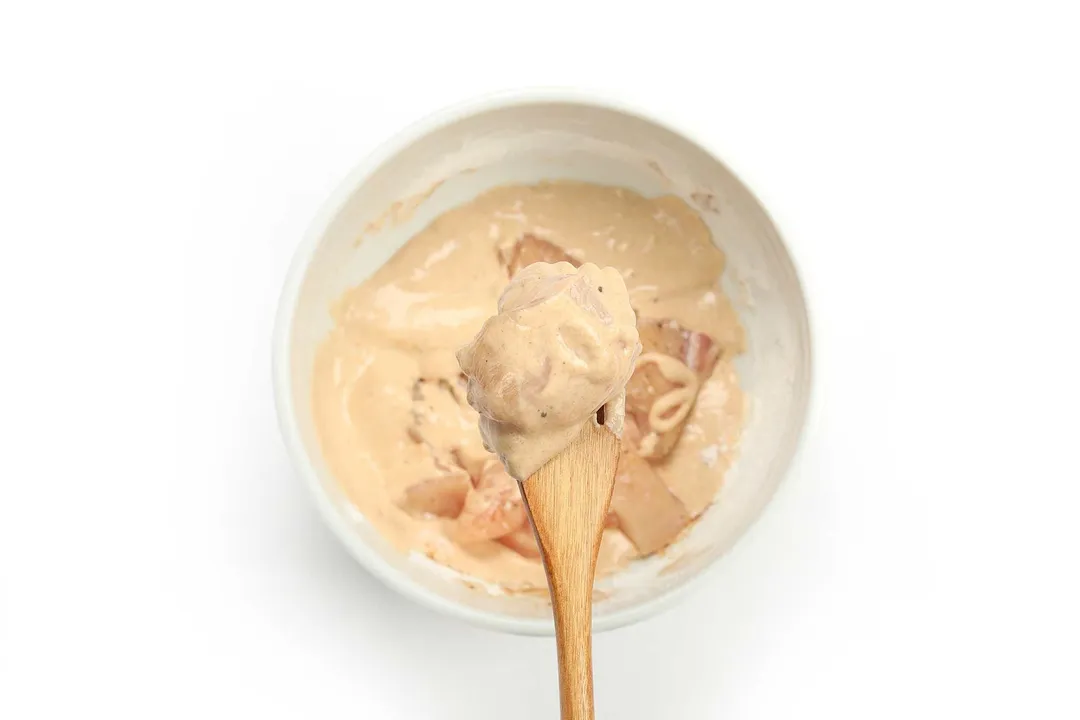 5
Deep-fry the Chicken: In a deep-frying pan or any with a relatively deep dish, add 1 cup canola oil and bring it to a boil. Then, reduce the heat to low and carefully drop the chicken in batches, and deep-fry for around 7 minutes until golden and crisp.
Once done, use a slotted spoon to remove the pieces and lightly dab away the excess oil.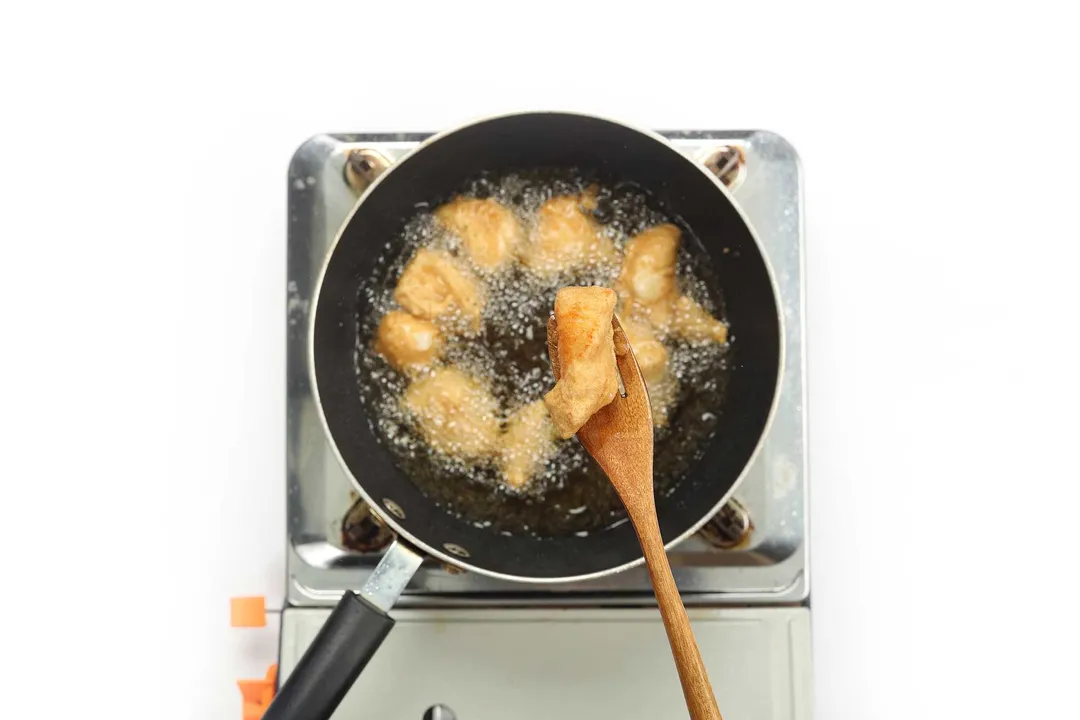 6
Refry the Chicken: Put the chicken back into the pan then deep-fry for another 2 minutes to maintain the crispiness then remove the pieces and place them onto a plate with paper towels.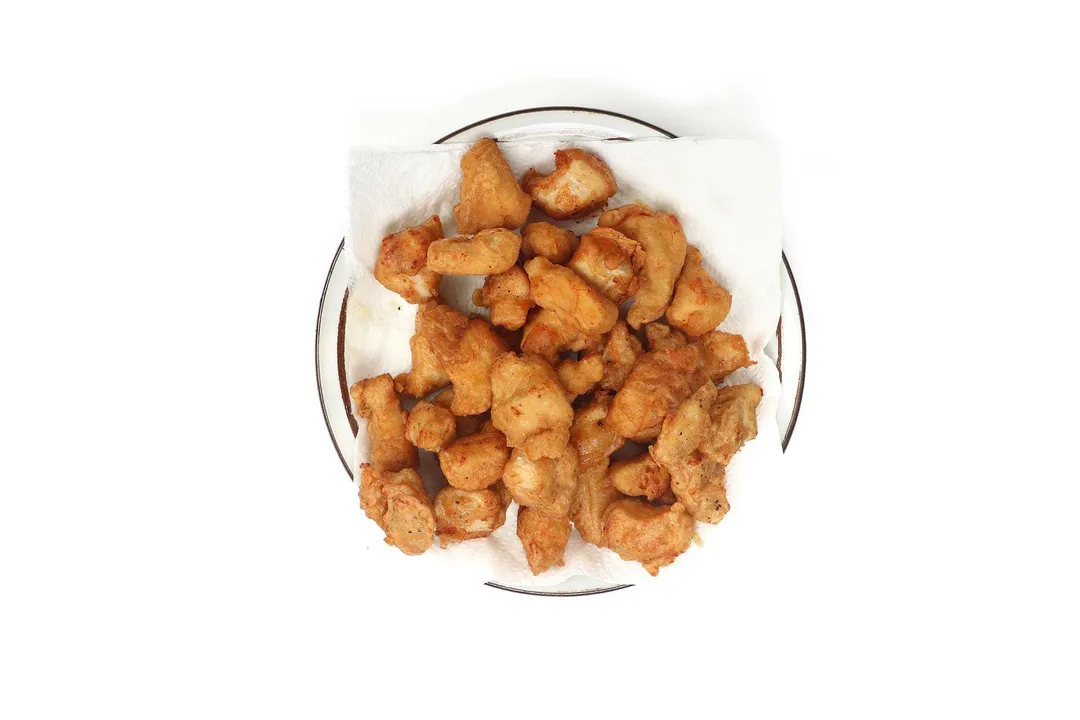 7
Blanch the Bok Choy: Discard the oil or use a different pan, bring some water to a boil and cook 6 oz bok choy for 3 minutes.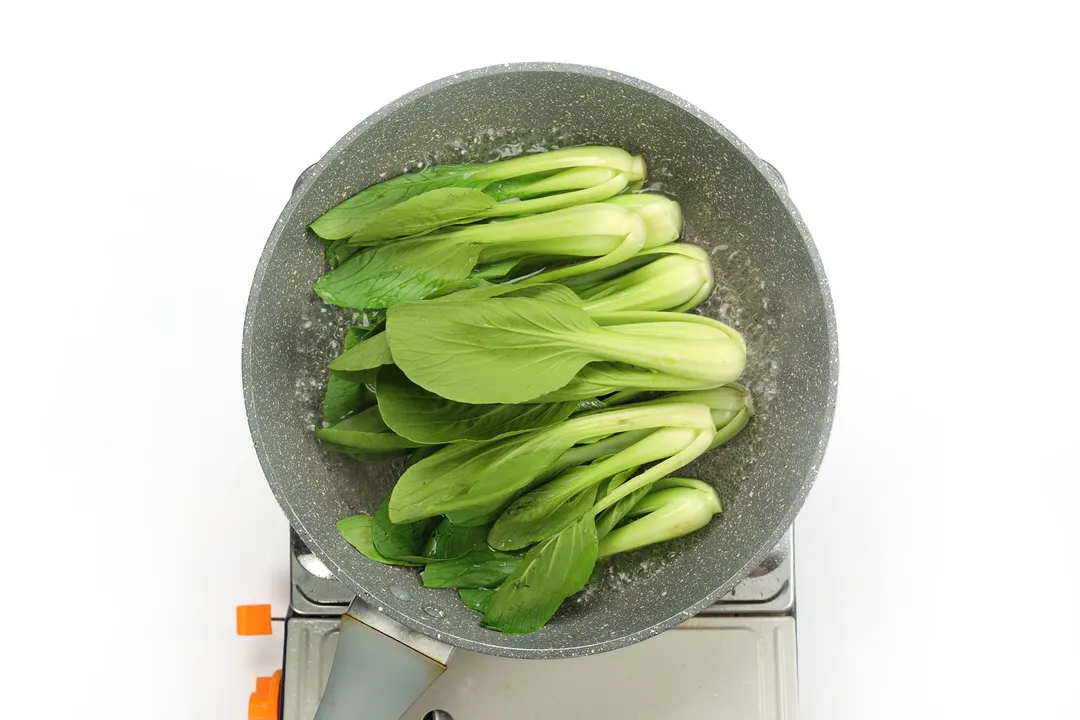 8
Mix the Sauce: Leave the pan to cool then add 2 tbsp water, 2 tbsp honey, 2 tbsp reduced-sodium soy sauce, 1/2 tbsp cooking mirin, and 2 tbsp Heinz ketchup and mix them together until the mixture thickens to a syrupy consistency with a glossy dark brown shade.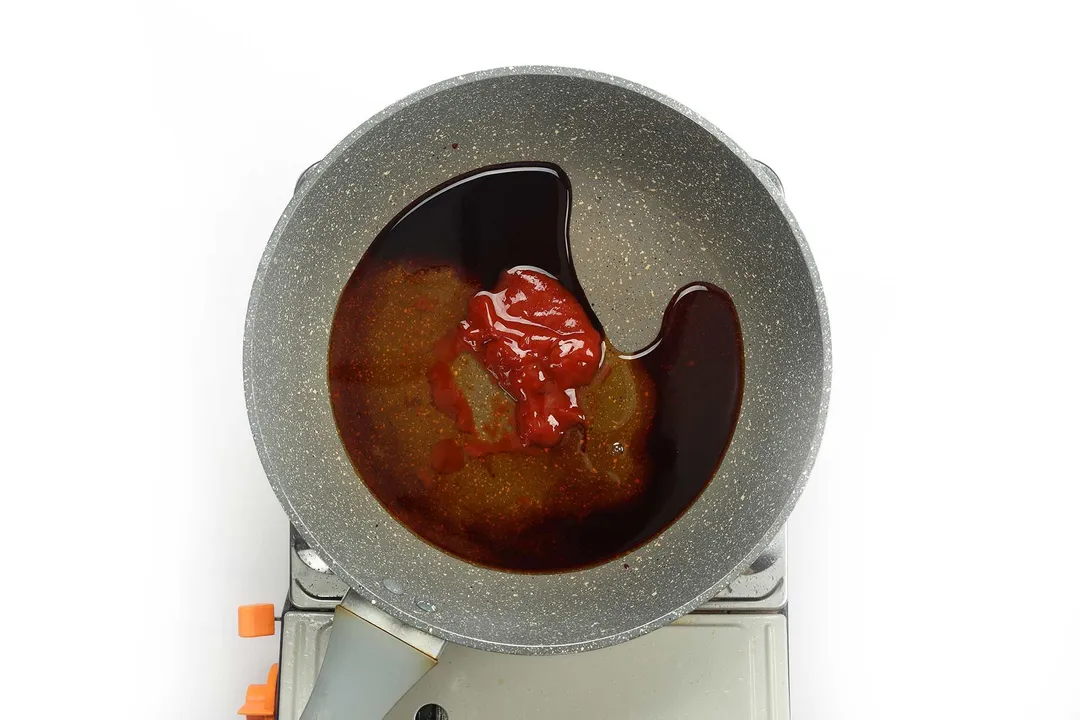 9
Caramelize the Sauce: Over medium heat, cook the sauce for 3 minutes until it bubbles and starts to caramelize.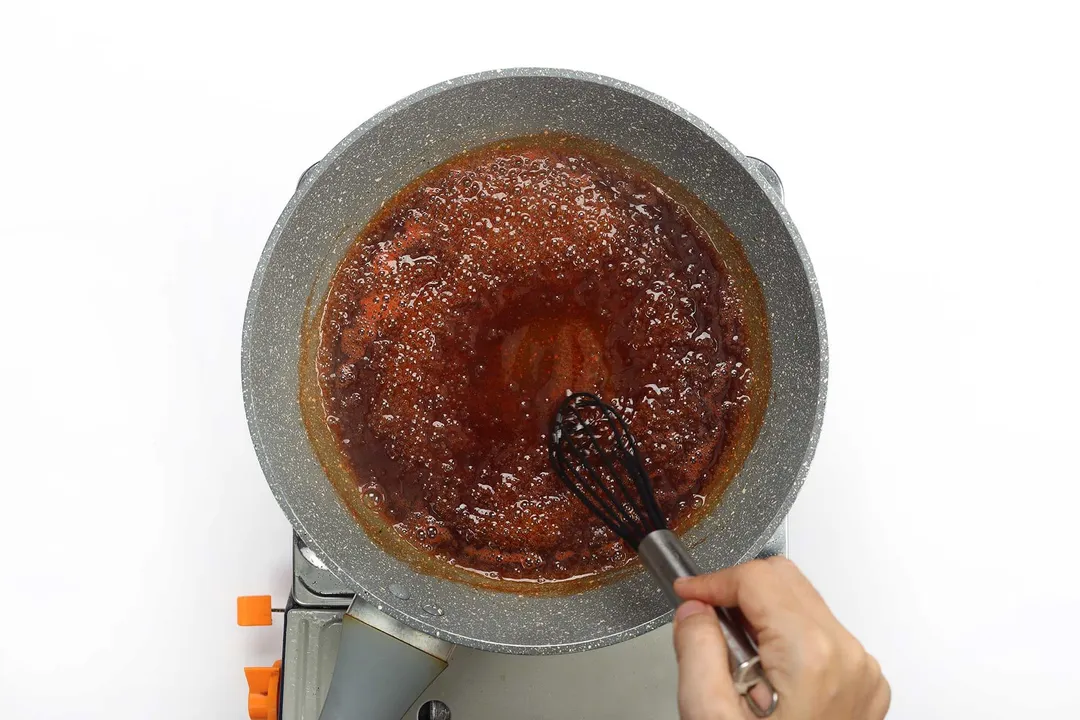 10
Add the Chicken: Add the deep-fried chicken into the saucepan and lightly stir around to evenly coat the chunks.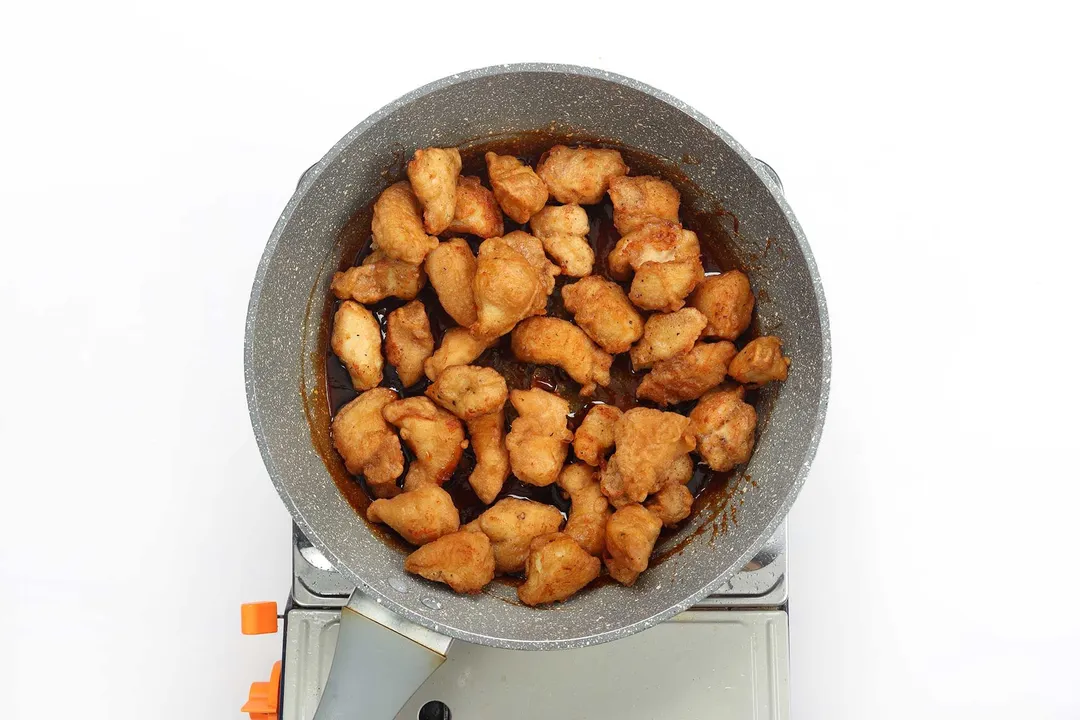 11
Garnish and Serve: Lay the honey chicken and cooked bok choy over a bed of 2 1/2 cups cooked medium-grain rice, then garnish with 1 tbsp unsalted roasted sesame seeds and 2 tbsp scallion. Serve hot.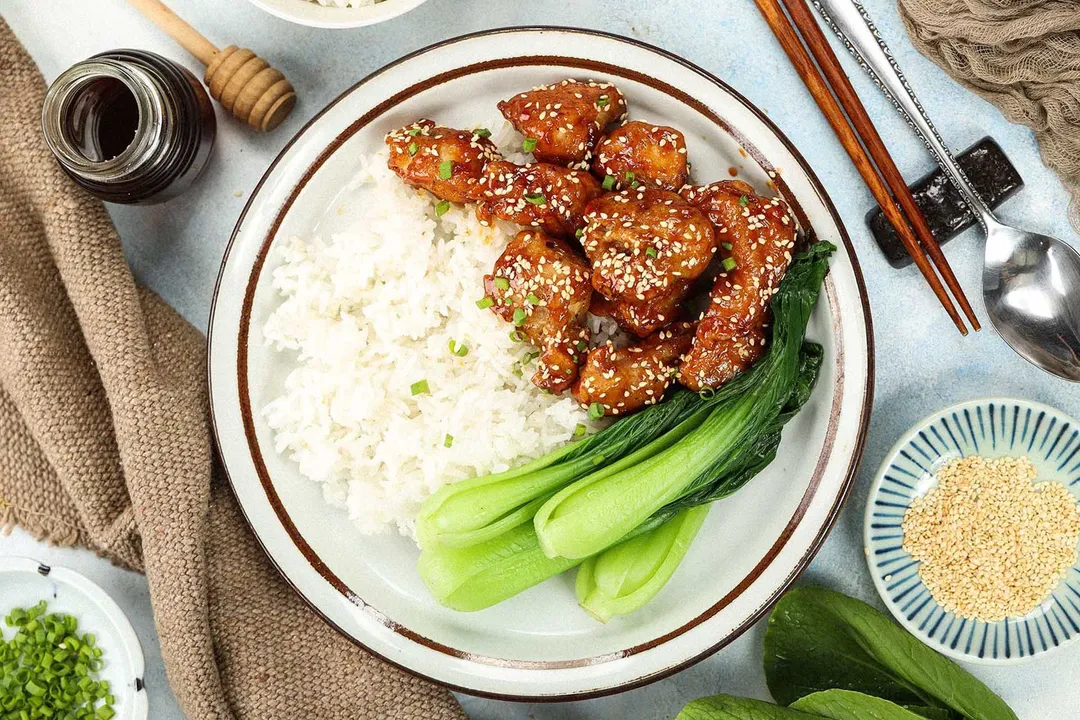 (*) Our nutritional calculation is based on the part of the oil that will be absorbed in the final product. The whole amount is needed for frying, but only 2 tbsp will end up being consumed.
NUTRITION
Nutrition Facts
Honey Chicken
Amount Per Serving (1 serving)
Calories 506
Calories from Fat 107
% Daily Value*
* Percent Daily Values are based on a 2000 calorie diet.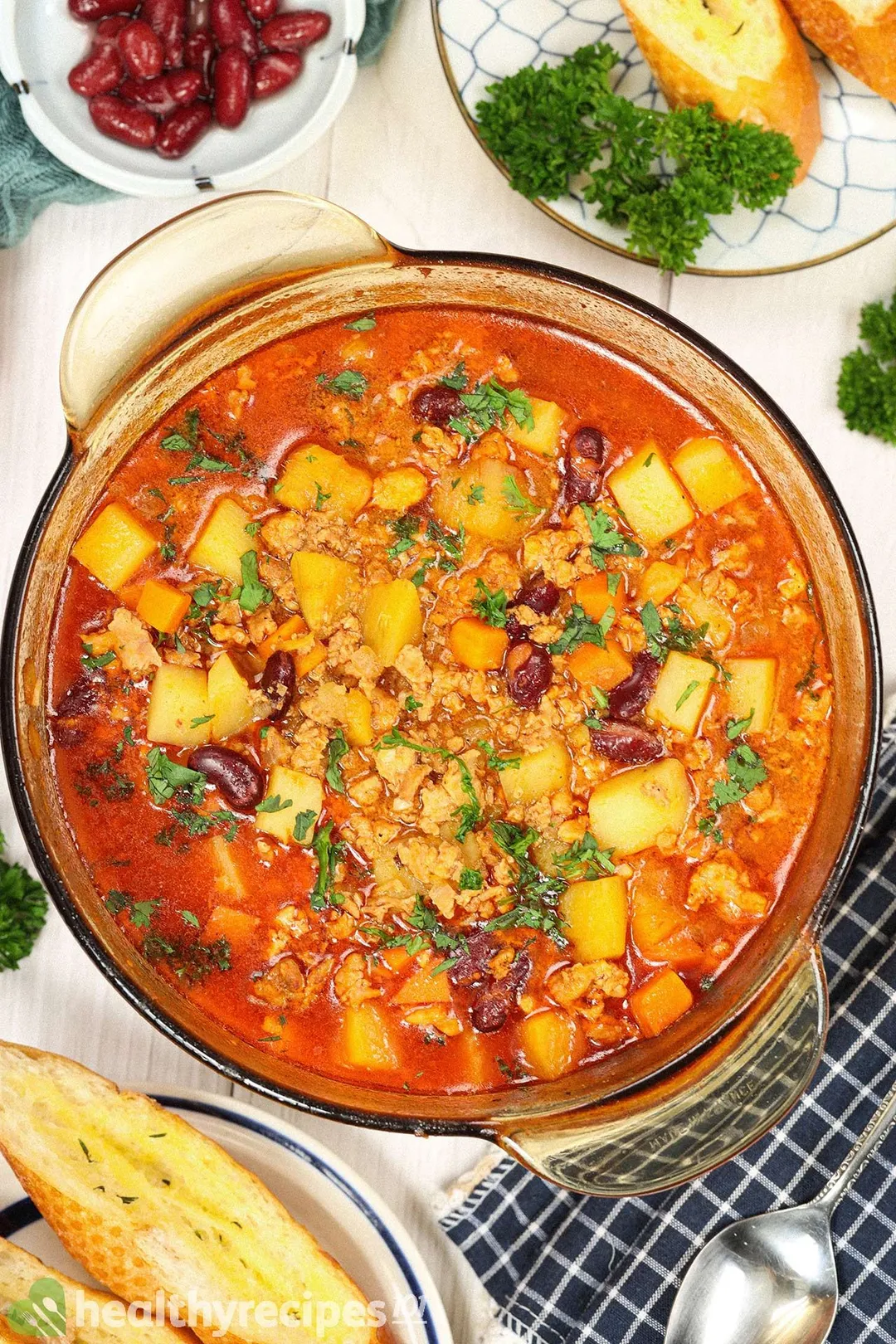 Previous Recipe
Ground Chicken Soup
Ground Chicken Soup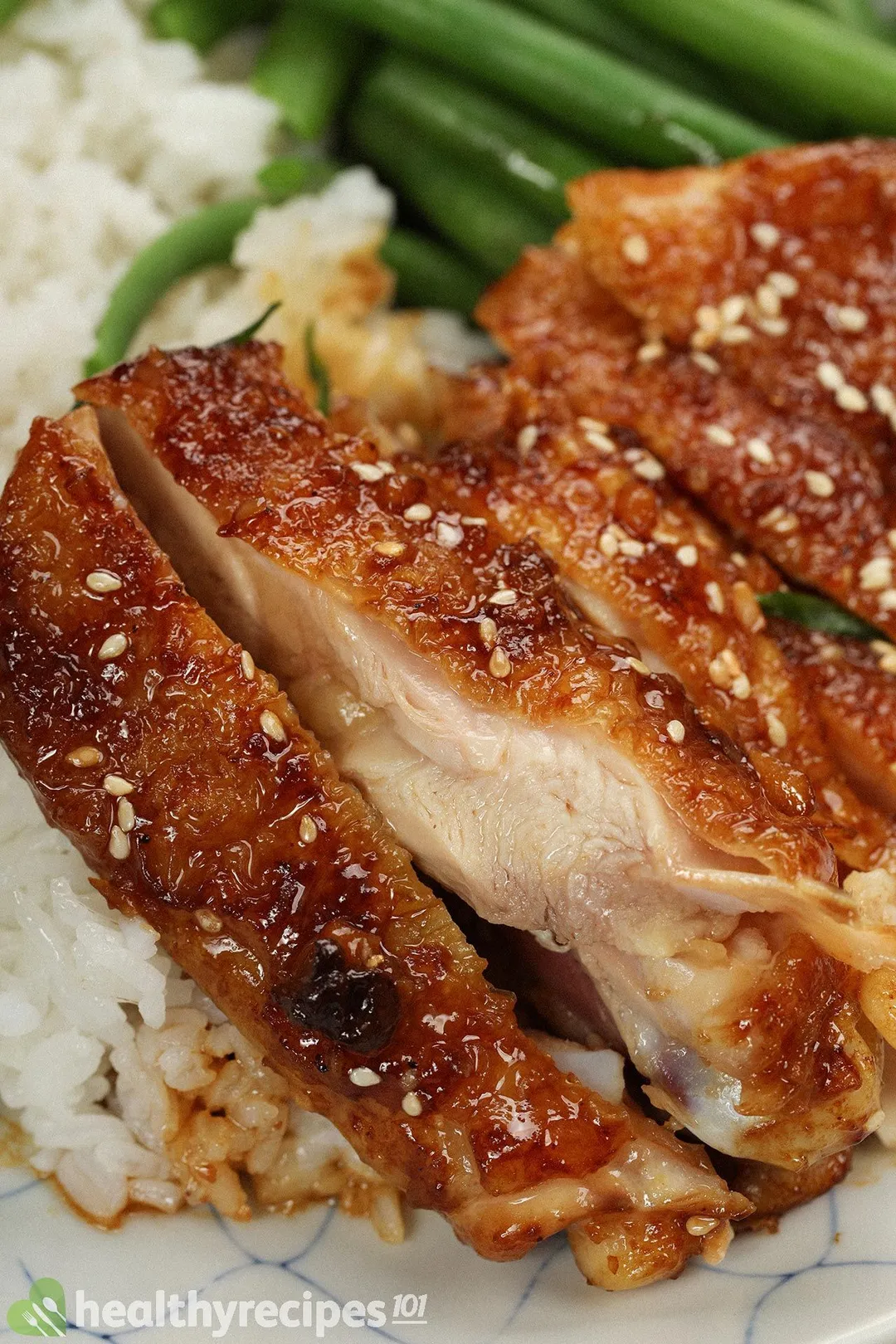 Miso Chicken
Head Chef, Culinary Consultant
Tuyet Pham is an award-winning Saigonese chef who believes that joy is the secret ingredient to delicious food. At Healthy Recipes 101, Tuyet personally tests and simplifies every recipe, ensuring maximum flavor with minimal effort. With a background at prestigious French restaurants P'TI Saigon and Le Corto, Tuyet knows how to make every dish exceptional.
Writer, Author
Luna Regina is an accomplished writer and author who dedicates her career to empowering home cooks and making cooking effortless for everyone. She is the founder of HealthyKitchen101.com and HealthyRecipes101.com, where she works with her team to develop easy, nutritious recipes and help aspiring cooks choose the right kitchen appliances.
Deliciously sweet and sticky honey chicken recipe!